February has not been the best month in terms of weather, we've had so much rain and strong winds.  Not ideal for getting out with the kids!  I was really hoping for snow, we usually have deep enough snow to sledge in every February where we live, but this year it's just been so wet that the snow won't lie.  Rather annoying for the end of winter!  We did manage to get to quite a few of our outdoor Scottish home education groups, but it's always so hard in this weather with all the warm clothing and waterproofs!
Just a note for any other home educators reading this blog post.  Please don't look at this and think we're constantly doing lots of activities.  I promise you that we're not!  I don't sit down and 'educate' the children, everything we learn about is through discussions with the children and what they have chosen to do.  The most I do is lay out some items on shelves or the sofa as part of 'strewing', usually following on from previous discussions or upcoming activities/travel.  The majority of our time is spent playing and it's amazing what the children learn from this alone.  please do message me if you have any questions about home education. 
So here is what the kids have learnt in the last month.
Science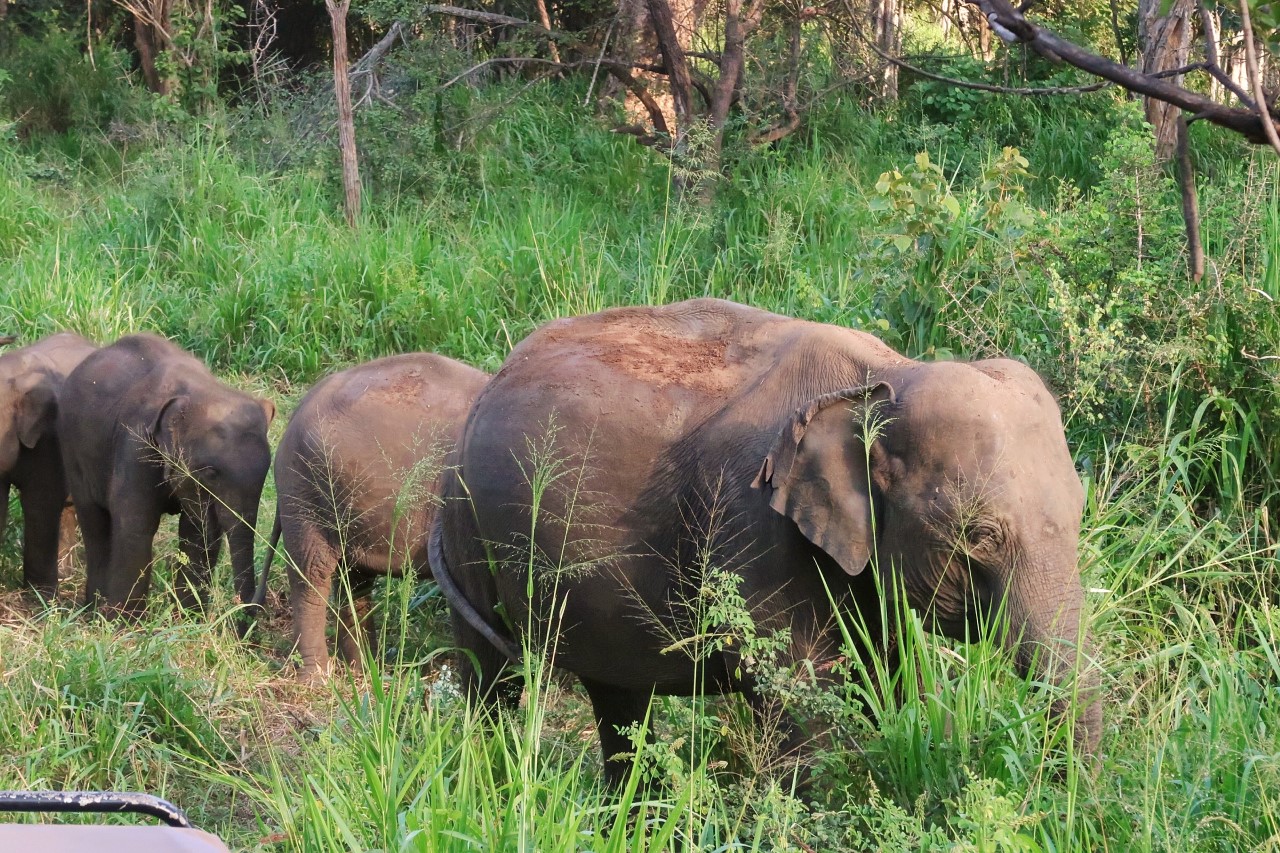 We spent the first week of the month in Sri Lanka, which was very educational in many ways.  The children learned about elephants, their habitats and got to watch them close up in family groups.  They also found out a little about endemic frogs in Nuwara Eliya and how the local hotel is helping to create new wetland habitat for the frogs.  We found out about the process of making tea, from picking to grinding and separating the leaves.
The following week after arriving home from Sri Lanka and recovering from Jetlag we visited the Engine Shed in Stirling.  It's a great enterprise which you can visit with the kids and look at the giant map of Scotland, using the Ipad to spot historic sites.  There are lots of interactive activities including an arch build you can build yourself and plenty of different types of bricks to build with!  A great place to spend a morning or afternoon at the bottom of the pedestrian bridge over the railway station, so very easy to get to.
The kids have enjoyed some new episodes of their favourite podcasts, 'Wow in the World' and 'Science Adventures for Kids' in February.  They've been waiting for over a month for new episodes, so were excited to learn more about sharks, animal habitats and why the star Betelgeuse may explode any time soon.  If your kids love science and you spend 30 minutes or more in the car with them each week I highly recommend checking out these podcasts, the kids love them and they are incredibly educational.
We often go through series of different documentaries on television, the kids enjoy watching them and this month they've been watching a documentary with a difference.  They chose to watch Spy in the Wild on the BBC, which features lots of different animal species with close ups of the animals taken by robotic animals with camera eyes or drones made to look like those animals.  The work gone into the spy animals is amazing and the children had fun deciding how life like each one looked and how well they moved.  Interesting to learn about the animals and a little about how robots can actually look and be programmed to behave.
As anyone in the UK may have realised we've had a lot of strong winds this month!  So we had an obvious choice for science projects at our weekly science group!  The kids learnt about the wind and created different inventions to measure it.  Littlest chose to make a device a bit like a wind sock to show the direction of the wind and the 8 year old went for a more anemometer design with some help from me.  We later saw a wind sock on Gigha's airfield and an anemometer on a wind turbine to compare their designs the following week.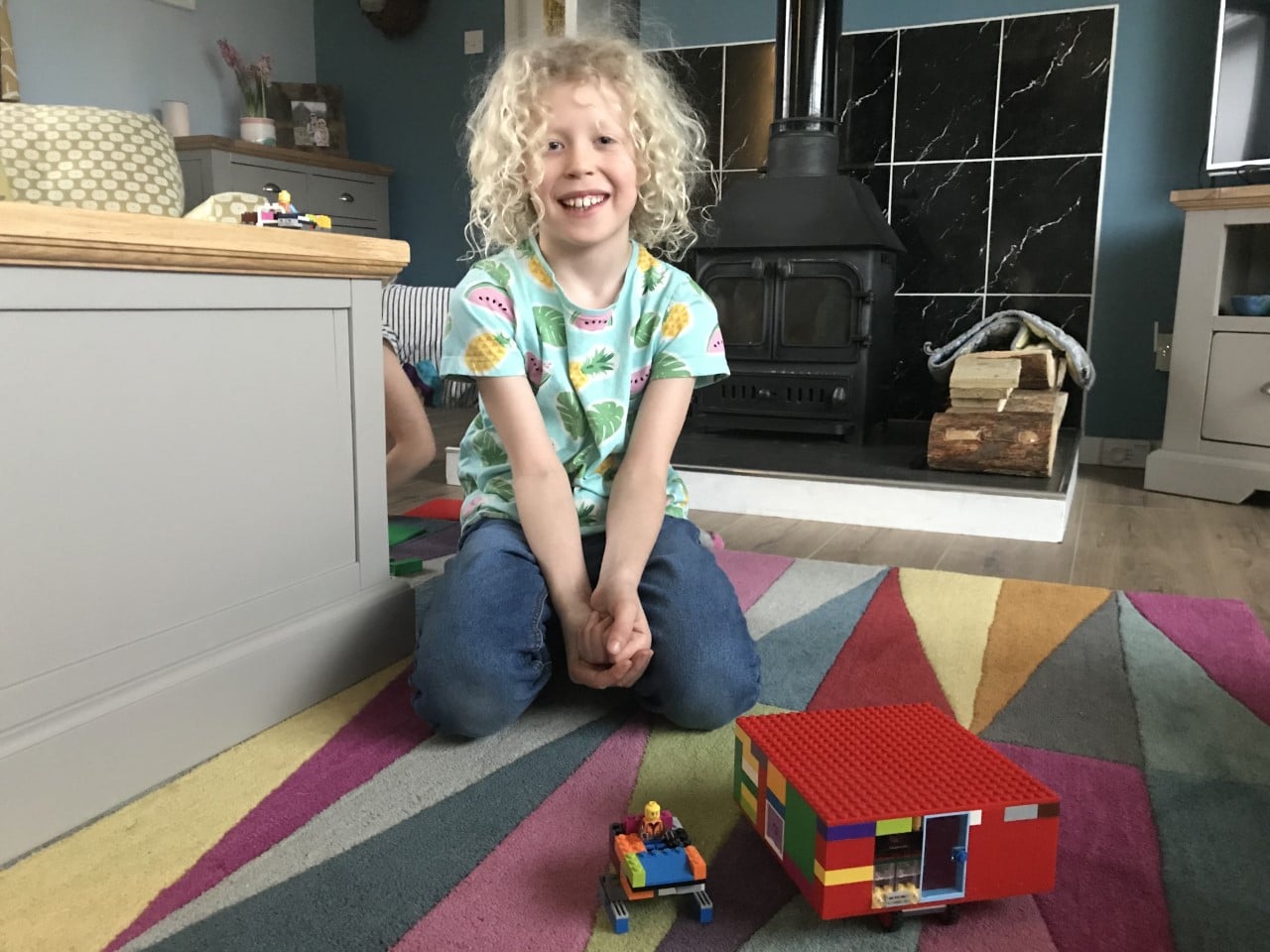 The 8 year old as usual had been fairly into his Lego when at home. He often builds it in the morning when the rest of us are still asleep, no matter what we say he still wakes at around 5.30am and can't get back to sleep!  So he's taken the time to build an airport security area, complete with conveyor belts made from vehicle tracks and a railway to get people around the airport.  He made flying machines for both himself and his brother (the 6 year old claims he can't build anything with Lego, but I think it's just because he know his brother will do it for him!).  He's also recently made another train ferry out of Lego and two separate train tracks for the ferry to joint to.  I'm always impressed with his inventiveness, he's definitely an engineer at heart!
We always have certain activities the kids like to do again and again.  For the youngest this includes zip wires across the living room for Lego and Playmobil figures and this month he chose to make parachutes again for his Playmobil people.  We tested out different materials and shapes, making hypotheses to which would work best.  We've also discussed how we should only change one parameter on each set of parachutes for a fair test.  However he wasn't keen to stick to this!
Another activity was creating a funicular out of cups and string, which the kids had great fun experimenting and playing with!
I placed their Gravity Maze game out on the display shelf along with the parachute making materials as a bit of a gravity themed set-up and was pleased to see them getting it out a lot this month.  Gravity maze comes with different blocks with holes that you put together to make a sort of marble run.  They can only fit together in certain ways and either you follow the designs on the cards or come up with your own.  It's a great activity for logic, working out which way to face the next block for the marble to run through.  Both children have enjoyed using it, which is good considering it's been a couple of months since it was last out!  This is one of the reasons I like to try 'strewing', simply bringing lesser used items to an open space so the kids may actually consider using them!
The littlest spent some time going through various science experiments and included the colour dye type experiments. His favourite was the walking water, where the coloured water transfers and mixes in empty glasses.  We also tried the bouncy egg experiment which removes the egg shell and the egg can bounce!
As usual the children ask a lot of questions.  If I don't know the answer we look it up, either online in or in books.  But most the questions this month are those we've discussed previously and the kids just want to build on their knowledge or remind themselves of facts.  We've had a lot of discussion on evolution, how humans have evolved and what it would be like to have similar human type species around in the past.  The 6 year old has also brought up more discussion on how babies are made, which he likes to discuss every so often.
Unstructured Play
Unstructured play in home education terms is simply playing in their own way with no interference from adults over how or what to play.  Children may play alone or together and it's a great way for them to develop self esteem, confidence, problem solving and determination amongst other things.  Unstructured play with groups of children is great for social skills and developing empathy.
Despite the weather in February we still found plenty of time for unstructured play both outdoors and indoors.  The children played outdoors together in the garden and whilst we were in Sri Lanka.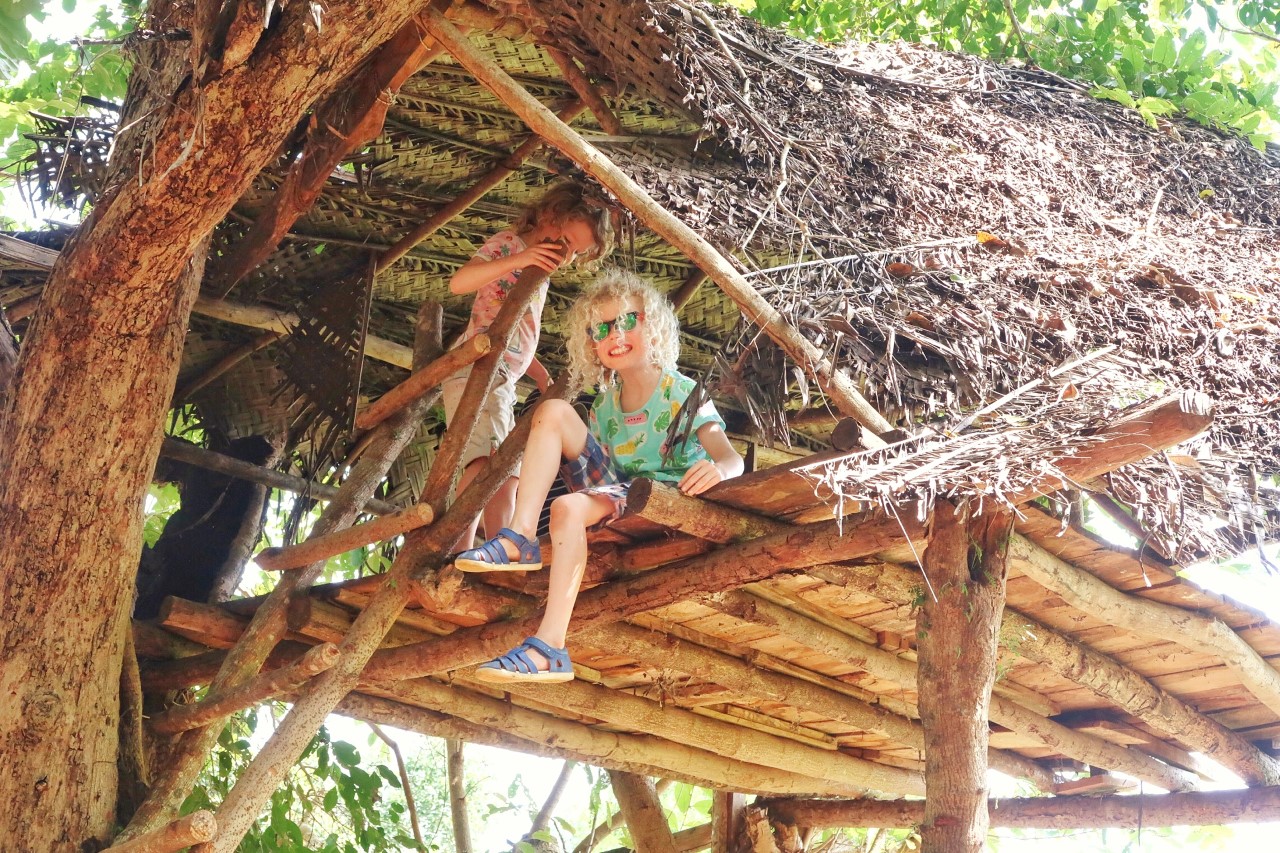 They have played with friends at groups and at home, racing around in a little pack playing whatever games they choose and enjoying every last minute of free play.  It's great to see how much they enjoy this type of play and makes me think about that old phrase of 'a village to raise a child'.  In that village there is more than likely going to be little gangs of children playing and looking out for each other.
Current games include spies and agent, lions and tigers and ninjas!  They also love to make up imaginary games at home, with cushion forts, cars made from cushions and using various items to create new play ideas.
Of course, as most parents do on rainy days, we've also spent time at local soft play areas!  Not my favourite place but if it's torrential rain and cold it at least lets them get out all that energy!
Reading and Writing
We've really been working on the 8 year old's reading this month.  He's taken an interest in the Magic Key books from Oxford Reading Tree and we're currently part way through the level 6 set.  He's managing to remember certain words that are repeated throughout and is learning how to decode new words, although obviously needs some help with those sight words that aren't anything like they sound!  I'm impressed at how well he's doing considering he only began reading 3 months ago and is probably considered a more reluctant reading, mostly to do with lacking confidence.  The more he reads the easier it will get, so hopefully that confidence will get a boost soon!
Both children have created their own story for a local Scottish home education book.  The book will be filled with stories or poems from lots of other home educated children in the area and they are excited to see it created!  It will be lovely to have the printed copy of the book with both their own stories and those of friends too.
Our eldest has also chosen to begin an illustrated book using a blank pop-up book he was given at Christmas.  Instead of beginning with a story and illustrating it, he chose to create pictures first and has then gone back to write the story.
The 6 year old has not had as much interest in learning letters or writing as his brother, however he's more interested in writing now he can send things to friends.  So he's begun more detailed drawings and writing single words to send to friends.  He is also spending more time discussing how words are spelt from how they sound, so it's nice to hear that he's begun to be interested in reading and writing!
Maths
For maths this month the children have mostly been interested in board games.  I've just joined a Facebook group called gameschooling, (home educated kids learning via board games), it's mostly American so the deals they find can't be found over here.  However I have found some great new games I want to get the kids!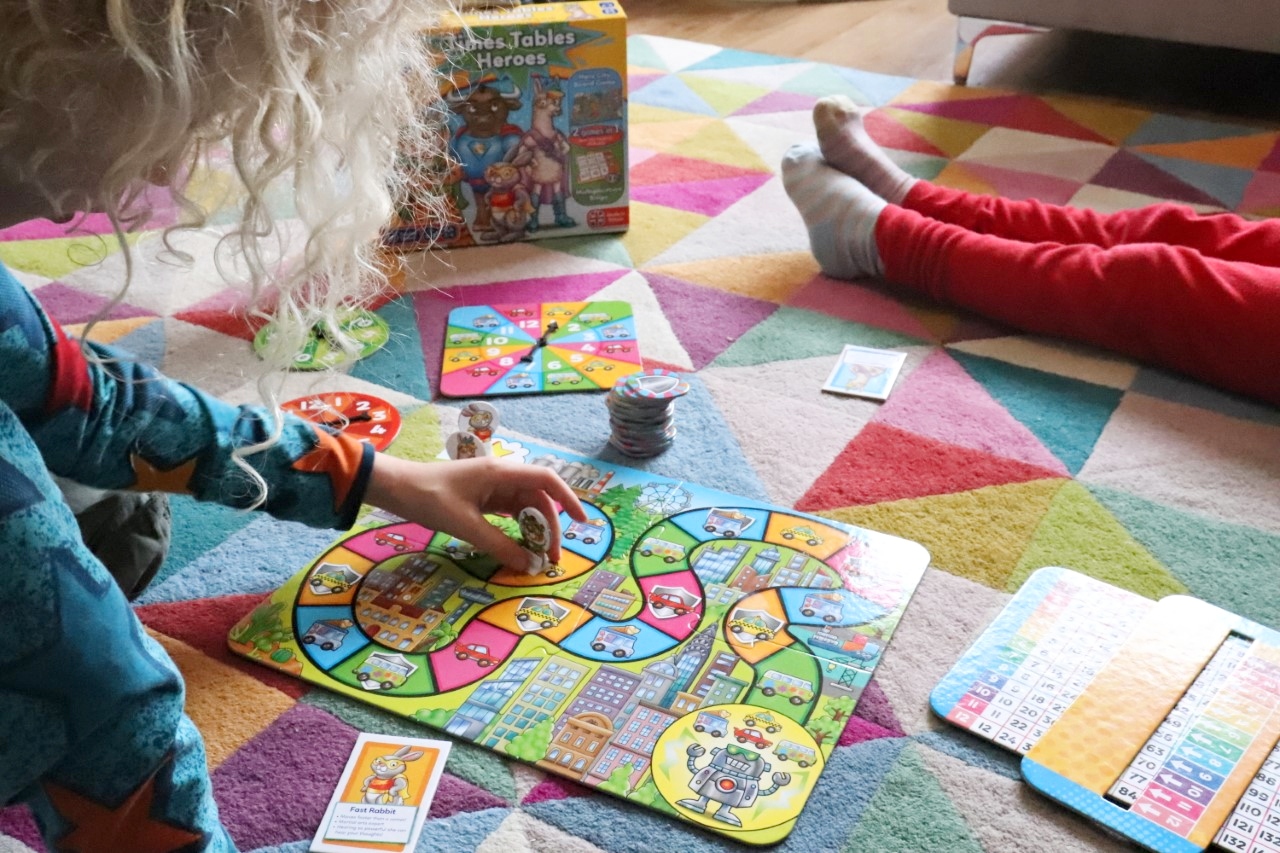 We were sent several Orchard Toys maths board games at the beginning of the month.  So the children have spent a lot of time using these to practice their times tables and addition/subtraction skills.  They've also used other board games including Labyrinth, Kingdominoes and Monopoly.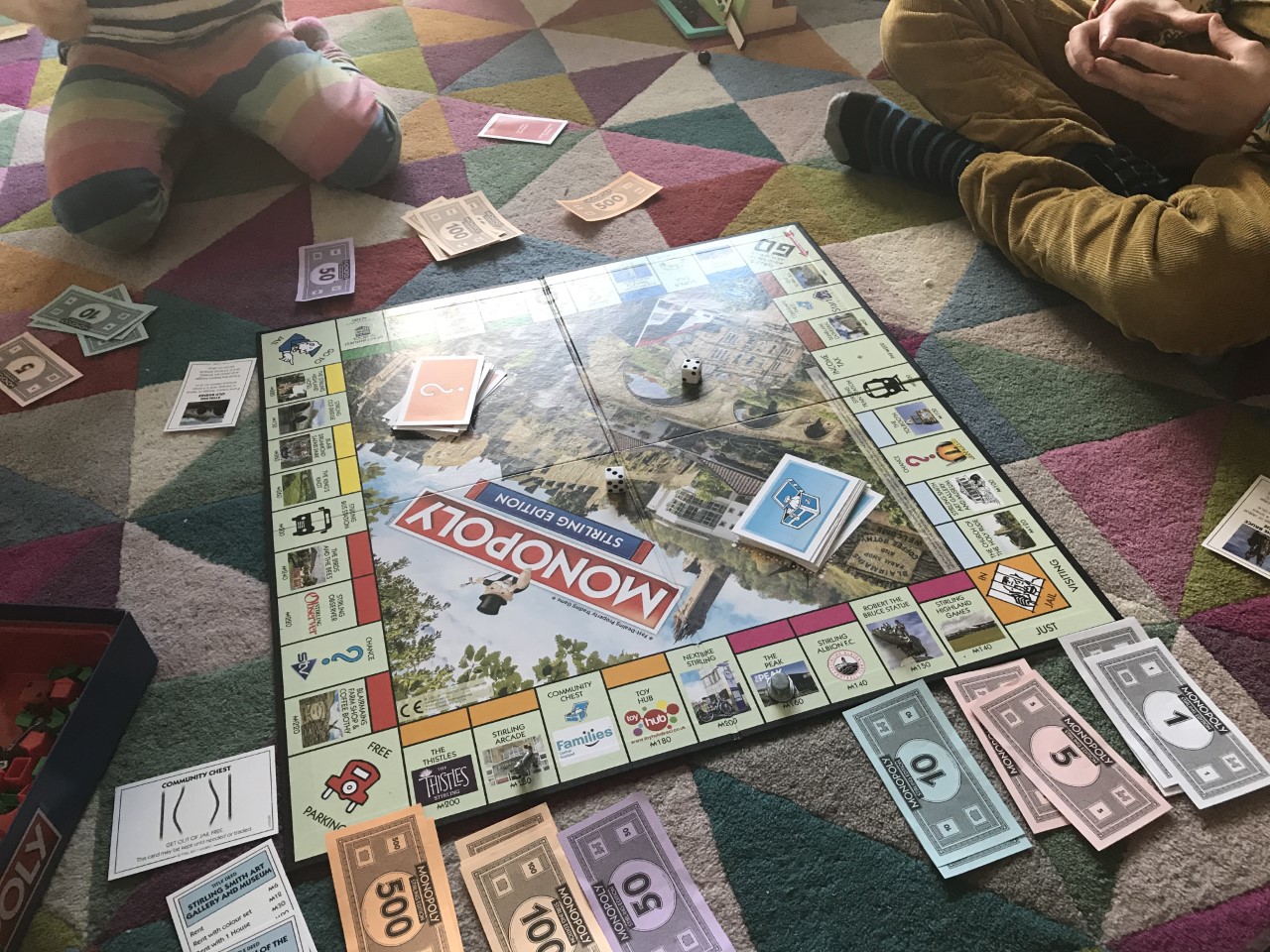 In their Adventure Tool Kits they were given for Christmas (a DIY version of Mindy's adventure tool box from WOW in the world) have been well used during February.  In particular they have been playing games with their measuring tapes and littlest has had great fun measuring all sorts of items using his.  As a result he's much better at recognising larger numbers and understanding how the tape numbering works.
The 8 year old isn't always that interested in workbooks, but he did choose to fill in a little of a maths workbook when he realised it was quite easy to do!  I think it was mostly the stickers that swayed him!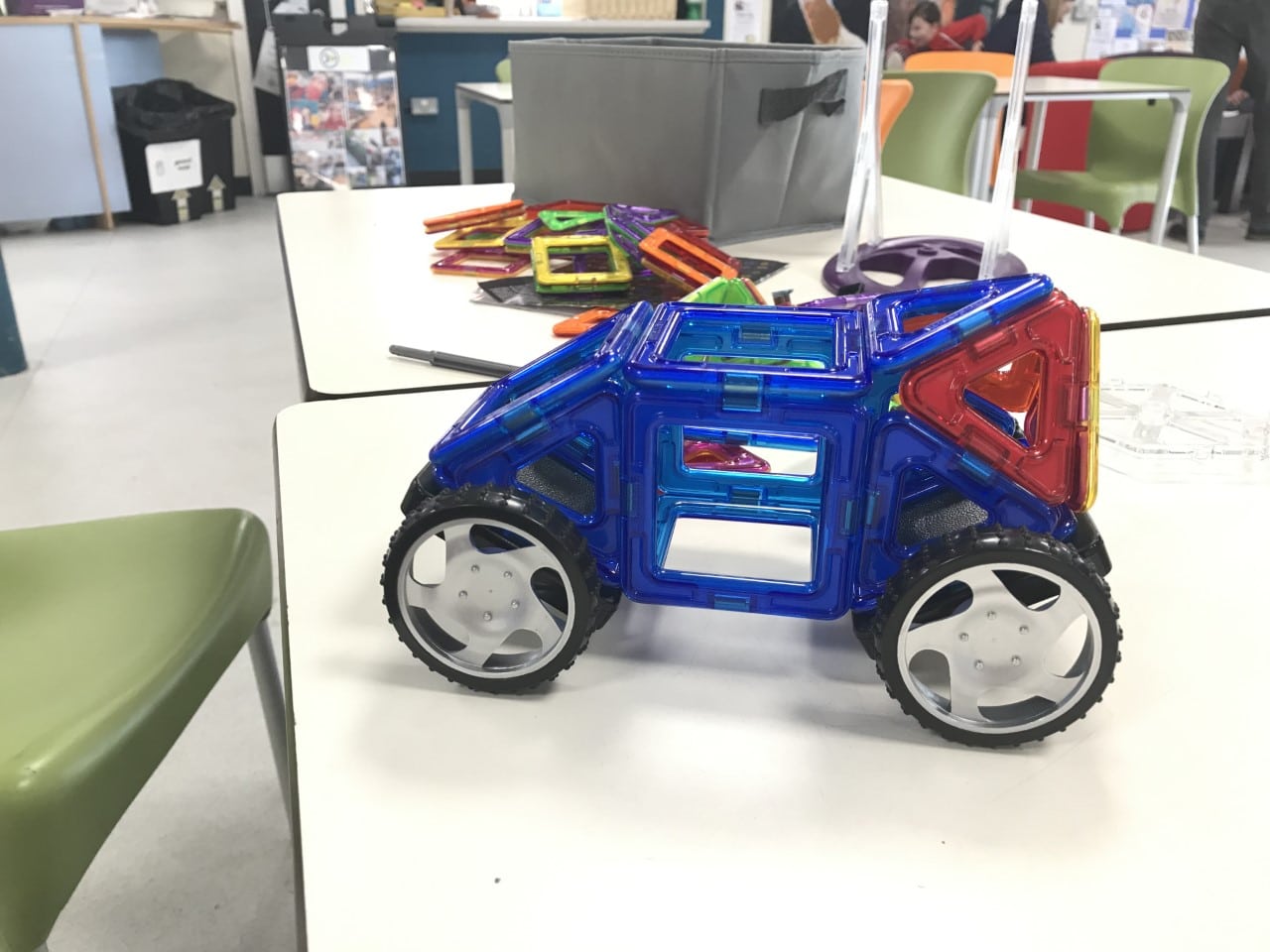 We've also had the Magformers out again, great for awareness of shapes and building skills.
Geography
As we began the month half way across the world in Sri Lanka we had a good start to geography for the month!  In Sri Lanka the children were introduced to a completely different culture to their own.  They learned a few words of Singalese, learnt about various animals that live in Sri lanka, were introduced to elephants up close on safari and learnt about frog conservation in Nuwara Eliya.  There was the chance to see how tea leaves are picked and how they are processed and also discuss Buddhism and visit a few temples where they were given a Buddhist blessing.
Whilst in Sri Lanka the children met others from around the world, it was good to see they were completely unphased about this, they seem to take different accents and languages in their stride.
We've spent time discussing where different countries were on the world map.  Our eldest is particularly interested in Qatar, where we stopped to change planes on the way to Sri Lanka.  Whilst on the plane to and from Sri Lanka we could see our route on the flight map, the 8 year old was particularly interested in this.  It was quite fun to watch which countries we flew over!
The children have also been using their latest One Third Stories book of Ada Bell to learn more Spanish words.  It's one they have particularly favoured as it's about Ada who's an explorer with a pet puffin!  They also filled in one of the last Geo Journey subscriptions.
History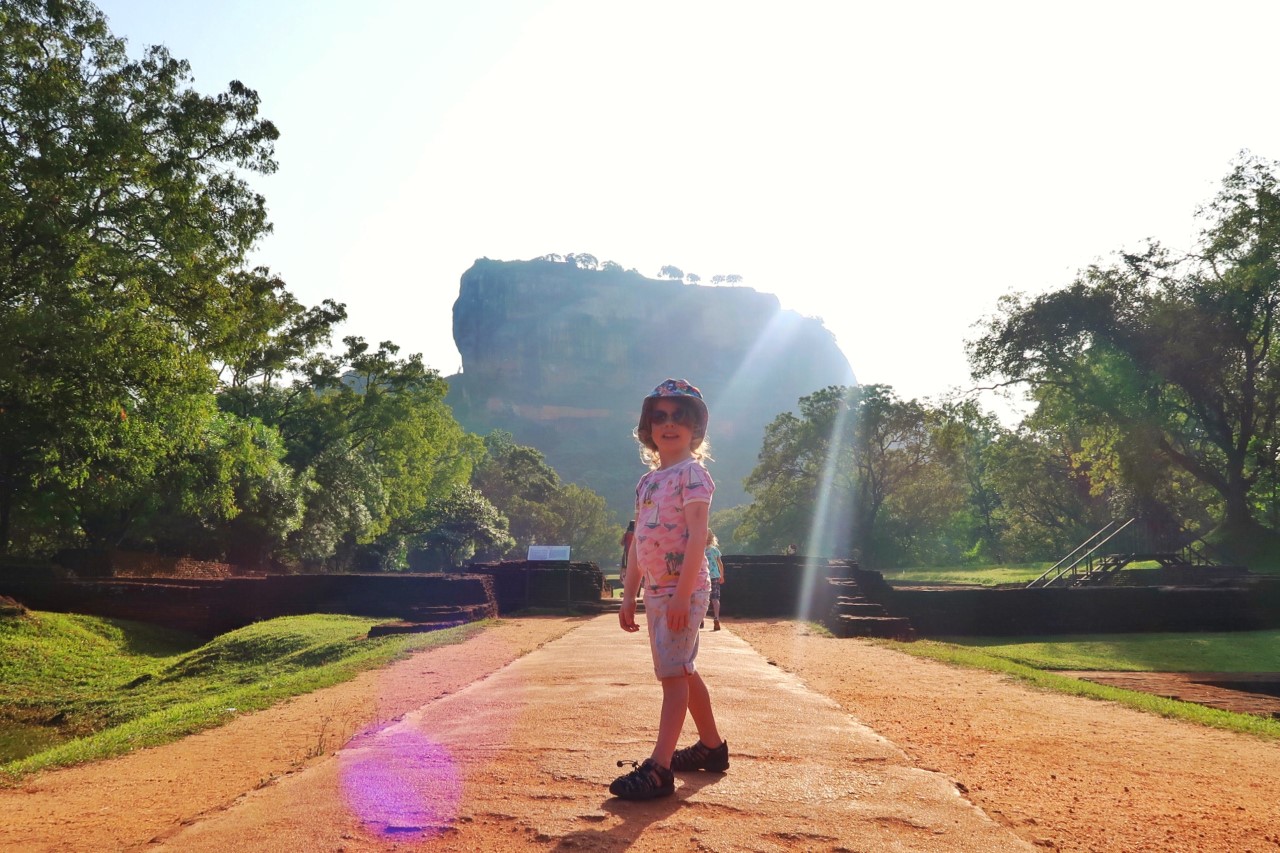 We began with a little of Sri Lanka's history, both in Colombo and the tea plantations further inland.  The kid's favourite historical place that we visited had to be Sigiriya rock where there was once a palace with stunning frescoes painted onto the lower rock.
Back at home we visited several castles using our Historic Scotland Membership card.  Despite a particularly wet and windy day we headed to Stirling Castle.  Although there are a lot of interesting places around the castle that are open to the elements, there are also plenty of indoor areas too.  We went straight to the tunnel full of interactive children's activities below the palace rooms.  We also visited the palace (the actors are always brilliant!), kitchens and the rooms beside Queen Anne's gardens.
At Doune Castle the children went round the building with friends and filled in a quiz (mostly!).  I also found a pipistrelle bat in the wall of the castle to show them how our little bats hibernate in Scotland.
Another day we chose to visit Blackness Castle on the Firth of Forth.  It's almost always windy, but the kids still had a great time exploring the castle and again filling in the quiz, which is good to get them looking a little closer.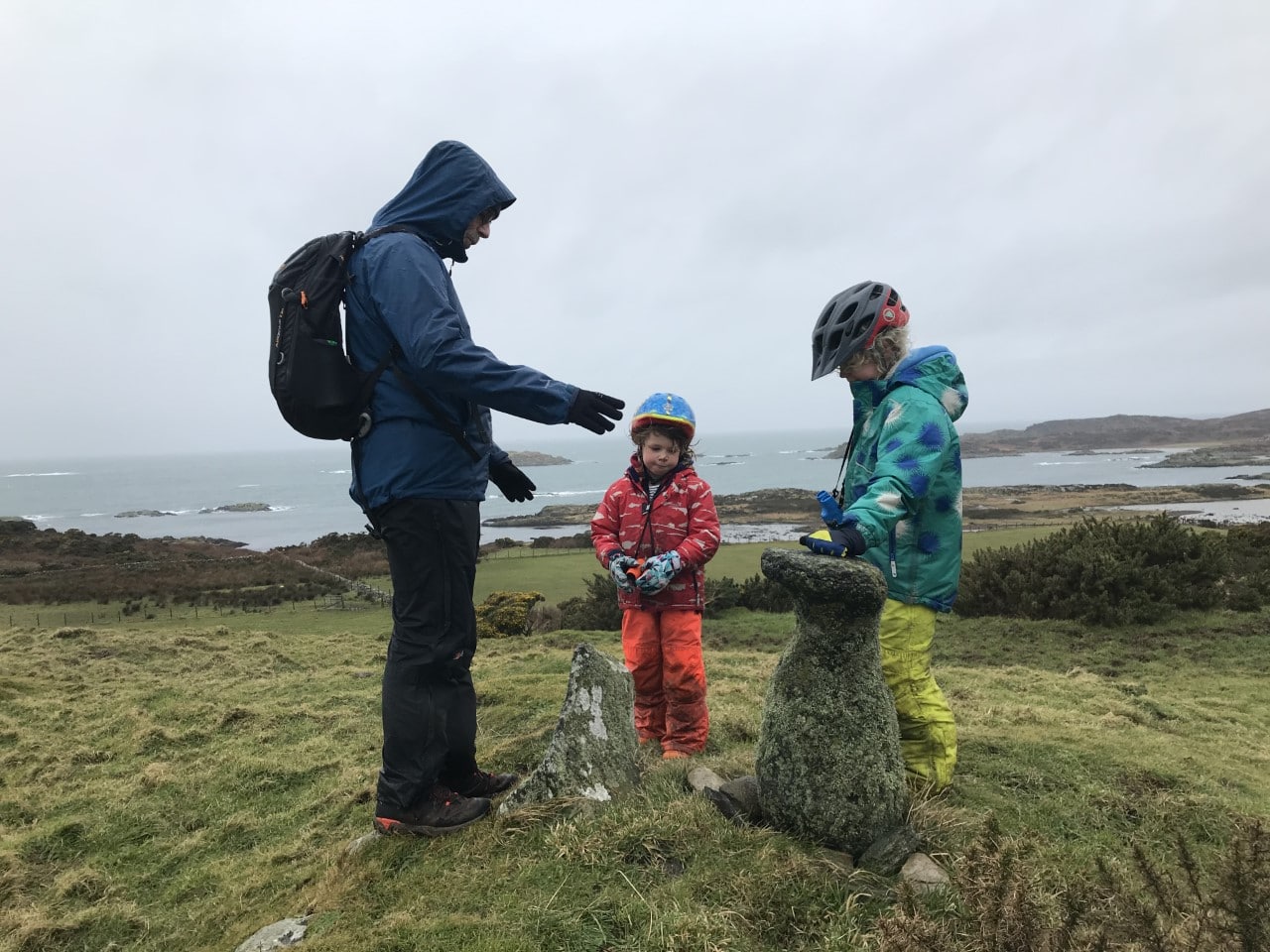 On the little island of Gigha the kids went up to the Dancing Ladies wind turbines to visit two very old stones on a little mound behind.  We learned that they are called the Bodach (old man) and Cailleach (old woman), in the past sailors stopping at Gigha would visit the two stones to give offerings and if one had fallen over they would right it again.  There's a saying that at night the stones come to life and wander around the moor!
Music and Art
Both children have enjoyed playing the keyboard and the tambourines they were given in Sri Lanka.  Although we haven't had any new songs recently!
Both children have been much more interested in drawing throughout February.  The 6 year old has realised he can draw more than he thought and has been practising with different animal drawings.  For some reason he has decided that cows are easiest to draw and we now have a collection of different coloured cows pictures!  The eldest has drawn various pictures, although his favourites appear to still be trains and buildings.
Littlest also made a pasta necklace using dried pasta and paint, a very simple craft but he was pleased with the result.
We also found out how Batik's were made whilst in Sri Lanka.  It's an interesting process and I bought a Batik to take home with us and the children chose a simple designed shirt each too.
Exercise
If you follow me on Instagram and watch my stories you'll know we're always out and getting exercise!  The kids do various classes throughout the week, including swimming, multisports and horse riding.  Our 8 year old was very excited at winning the player of the week trophy at of his multisports classes this month!  A shame he lost the trophy the day we had to hand it back…  After 30 minutes of searching it finally turned up in his overflowing laundry basket!!
Whilst visiting the little island of Gigha the kids spent a couple of days cycling and battling the strong winds and hail stones to visit parts of the island!  We always like to be outside at the islands, but this was the first time we couldn't make it into the sea!
Littlest is also now onto his brother's old bike, which is great news as he finally has gears!  It makes it so much easier for him to go up hills and keep up with his brother on the flats.  Fingers crossed it makes longer bike rides less stressful as he can get into a higher gear and pedal less than he did on his old bike.
Despite the rain and wind we still went out to visit Almond Valley in February.  The kids had been asking to go back for a while, so we spent a day playing on some of their indoor and outdoor play areas, as well as visiting the animals.
Inbetween showers we visited a few local parks, even when it's been wet we've still just donned waterproofs and get out there.  I'm pretty sure it's worse for me as I'm not busy engrossed in play like they are!  We had a quick visit to the Botanic Gardens in Edinburgh to meet a friend too, the kids had a great time racing about the gardens!
Clubs and Groups
The kids have had their usual clubs and groups.  Littlest chooses to do as many as he can, which is currently swimming and horse riding every fortnight, and weekly dancing, gymnastics, drama and multisports classes.  He's waiting for a place at Beavers to come up, but unfortunately it's fully subscribed at the moment.  The 8 year old also has fortnightly horse riding and swimming, weekly he has Cubs and multisports classes.
I leave it up to the children which classes they want to take, although for the littlest he would do every class going.  I need to remind him that he can't fit anything else in without dropping current classes!
Pin For Later