[AD] I have been compensated for this post.
When The Schools Close
Everything seems a little surreal at the moment with country after country announcing lock downs, travel bans and schools and attractions shutting down.  It will only be a matter of time before schools close in the UK too, all in a bid to slow down the spread of COVID-19 to the population and prevent the most vulnerable from getting ill.  So in a sense a lot of the UK will be temporarily home educating (home education is the legal term in the UK, home schooling is an American term).  There are lots of different things to help you get into your new routine of temporary home education, but to make it easy to start I would check out some of the science and craft kits on Wicked Uncle, the gifting site, to entertain the kids whist you are planning home education ideas.
Temporarily Home Educating
So now you are home educating, albeit just temporarily, it may be hard to suddenly jump into educational mode.  But it really isn't as hard as you think and once you get into it you'll soon find that almost anything can become educational!  There are lots of different things you can use around your house to home educate the kids and I highly recommend browsing Pinterest, you can check out my home education ideas board here.
Below I've listed 20 simple ways to entertain and educate the kids whilst the schools are shut, let me know of any other ideas you have in the comments.
20 Ways To Entertain and Educate
1. Themes
One of the best ways to organise home education is through different themes.  Themes can be for a few days, a week, however long your kids enjoy it.  To choose a theme think about what the kids are interested in. Are they currently talking about the Egyptians, did they recently learn about the first moon landing or are they interested in famous works of art?
Once you know which theme you are going for find any books around the house on that theme, look up activities or crafts on Pinterest (Pinterest is the home educators friend!), bookmark any YouTube videos on the subject and find any small play style toys to create a display on a table or bookshelf somewhere around the house.  The more enticing the display is the quicker the kids will get into it and start using the items.  Also, check out Twinkl (educational printables and activities), they have a free month subscription available for those whose children are off school due to schools shutting down.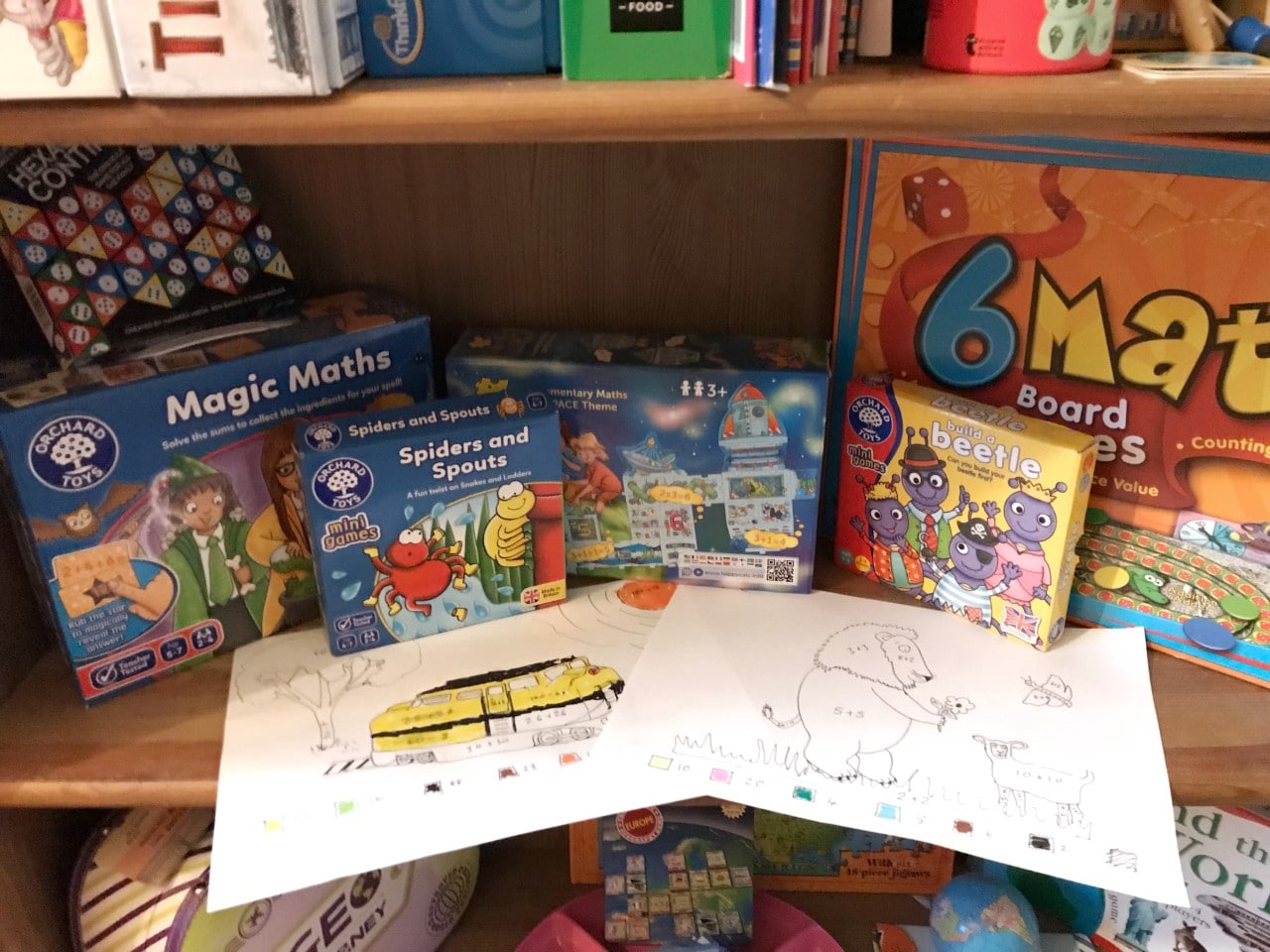 Some ideas for themes:
Volcanoes – Volcano books (English), playdough to create volcanoes and vinegar and bicarbonate of soda to make the volcano erupt (crafts and chemistry), volcano top trumps (or a printable game, for maths, Geography and English), YouTube video on the history of Pompeii (history).
Egyptians – Books featuring Egyptians (English), YouTube documentaries and Horrible Histories (History), make a map of egypt and the Nile using playdough (geography and art), make paper (art) and write a message in hieroglyphics (history and science) and printables from Twinkl or Pinterest for Maths activities.
Honeybees – Research different types of bees using books and internet (English and science), Make a hive using egg boxes and bees using ideas from Pinterest (art and science), create a pollen activity (check out this bee activity) to show how bees transfer pollen (science and craft), learn about the decline in bee numbers and what plants bees need to survive (science) and build a bee habitat for the garden (craft).
World War II –  Find documentaries on YouTube or use Horrible Histories and books to research (English and History), create a timeline of what happened when throughout the war (Maths and History), learn about rationing and make some wartime recipes (History and Maths), Make a map of the world and show where different parts of the war took place (Geography), Make paper airplanes to re-enact Battle of Britain (history and steam), make medals from clay or playdough and ribbon (art).
Picasso –  Look at Picasso's paintings and compare several to see what his 'style' was (art and history), choose a painting to reproduce (art), learn about Picasso's life (history), set up your own art exhibition and charge for entry and artwork sales (art, English and maths).
Rainforests – Learn about the different levels in a rainforest using books and documentaries (English and geography), create a rainforest display labelling the different levels from leaf litter to canopy (art and geography), choose a specific rainforest animal to study such as a Jaguar and make a lap book about how and where it lives (English, Geography and science), Make a terrarium using a jar (science).
2. Science Can Be Fun
Seriously!  Science is fun and the kids love creating loads of different experiments!  Most experiments we do can be created with things you probably have in your kitchen.  Again, Pinterest is your friend, there are literally tons of different science experiments to choose from, just type in science experiments for kids and see what pops up!
One of our favourites are definitely creating erupting volcanoes (we've used playdough, soil, sand and papiermache for making volcanoes), the eruption is the reaction of bicarbonate of soda and white vinegar in a little well in the volcano.  You can also add red food colouring to make it look more like lava.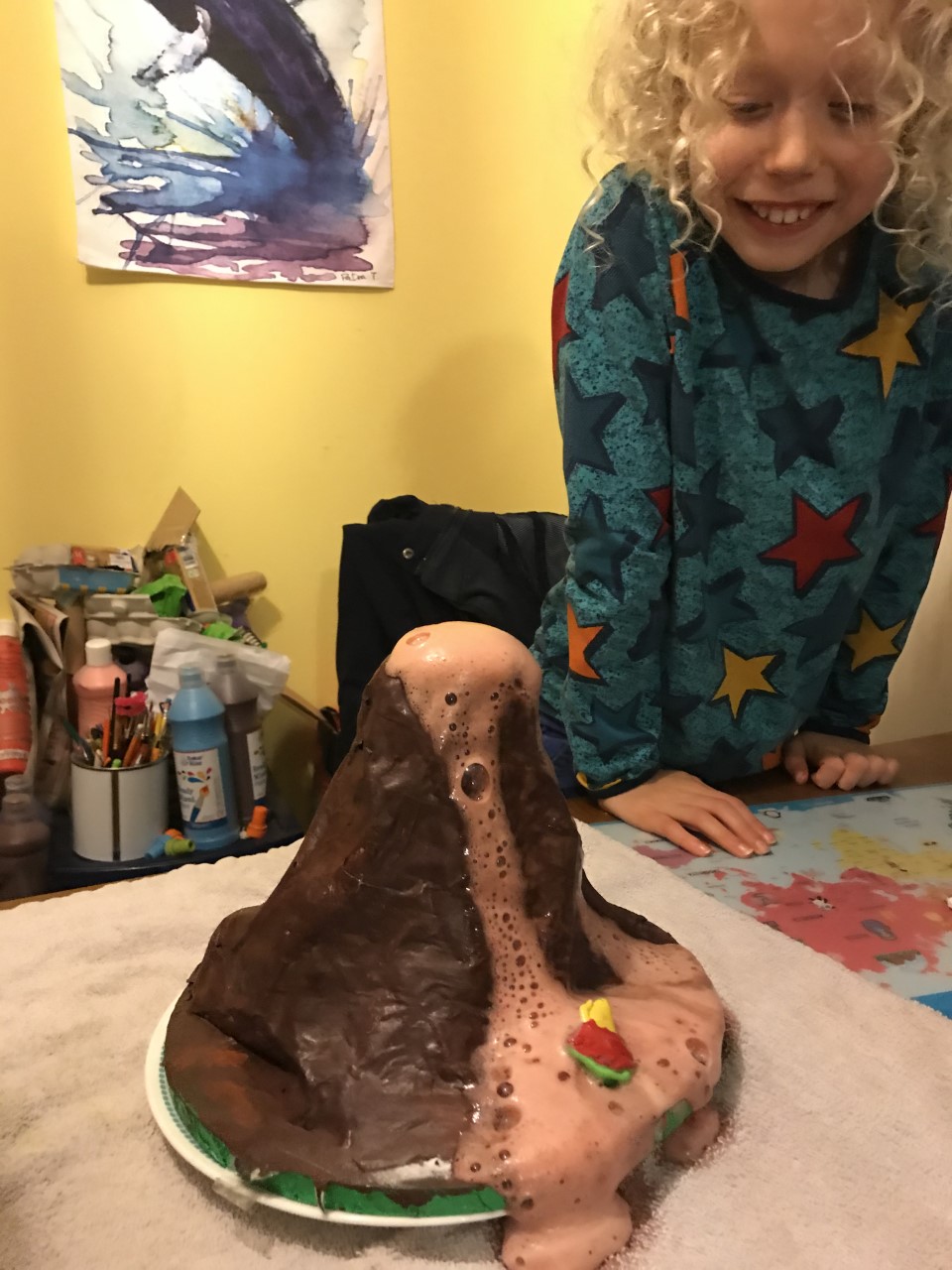 Chemistry is also perfect for any wizarding children, as they can create some cool reactions with their 'potions', don't forget to make a wand first for it to be more authentic!
Body science is another hit with kids, we had a great science group meet up where we showed the children how the digestive system works. Putting food into a washing up bowl with 'saliva' and mashing it up with the end of a rolling pin to show eating in a mouth before pouring into a zip lock bag to squash up and add 'digestive juices'.  The final part of the experiment is of course squeezing out the 'poo', which as you can imagine, is something the kids thought was hilarious and will certainly help them remember the activity!  This page has a great description of exactly how to create this digestive experiment.
3. Board Games
Board games are brilliant for learning maths and logic.  If you haven't got many board games I recommend ordering a few in now or going to your local charity shop to see if they have any (clearly this has to be done in advance of any closures!).  For younger primary aged children the Orchard Toys range of games are brilliant.  We recently reviewed some Times Tables games for them which are certainly helping my two remember their tables without any nagging!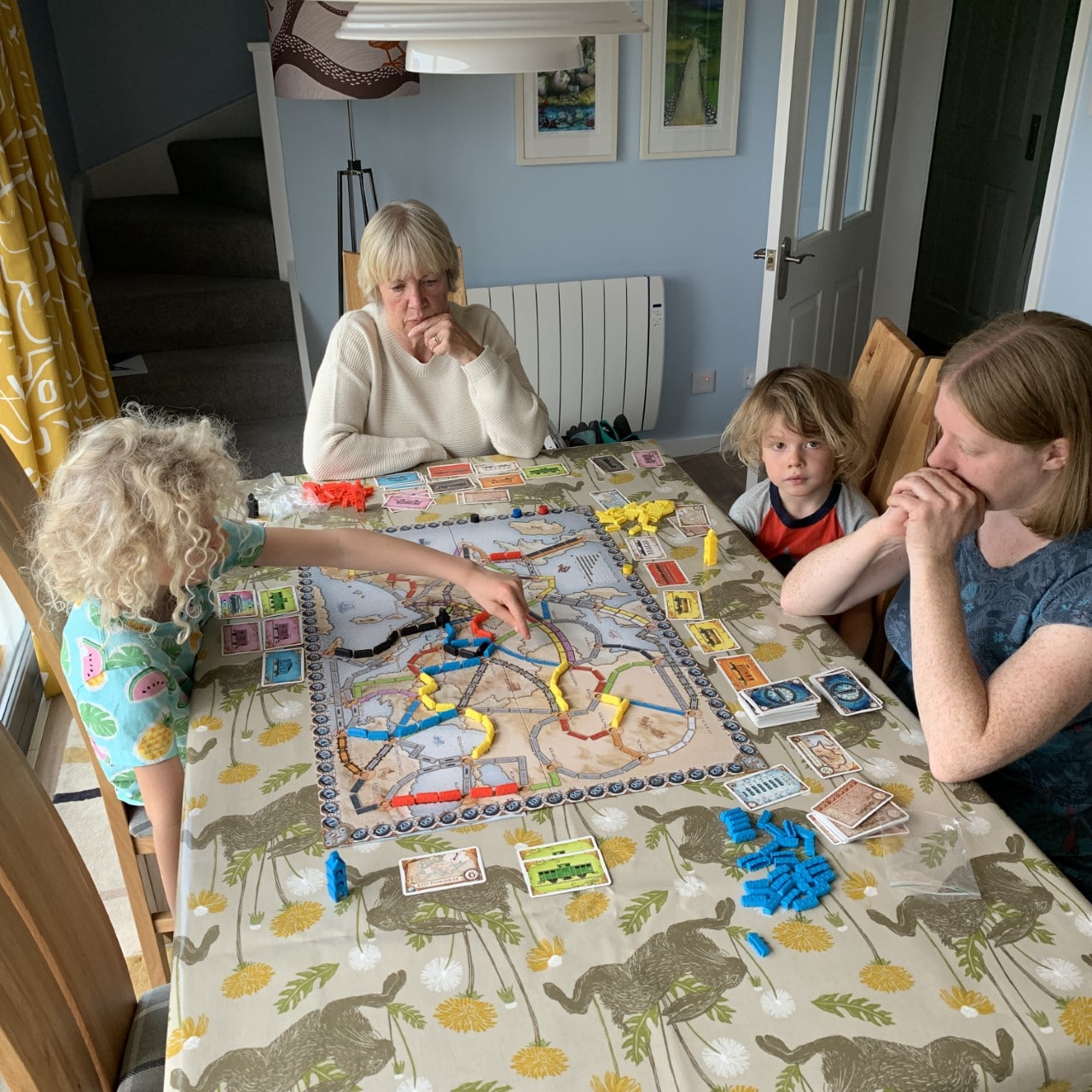 I also recommend old favourites such as Monopoly and Life Junior.  However the kids current top favourites are Kingdomino, Labyrinth and Ticket To Ride.  All three help with maths and logic, plus are interesting enough to keep them playing for quite a while.
If you are stuck for new games to play, then search for printable board games on Pinterest.  There's lots of free ones available.  Or you can challenge the kids to create their own board game!
4. Adventures
Yes, I know in a lock-down you should be staying at home, however that doesn't mean you can't have adventures.  If you are in the countryside you may be able to get away for some outdoor adventures along quiet tracks and open countryside paths where you can avoid other people.  However, those in towns and cities can create their own adventures in the garden or house.
Think about recreating favourite books, such as the bear hunt for younger kids.  Act out different parts of the book, creating swamps out of cushions (sofa cushions are brilliant for indoor adventures) and a tub of water to splash in for the river, let your imagination run wild and take the kids on an awesome indoor adventure!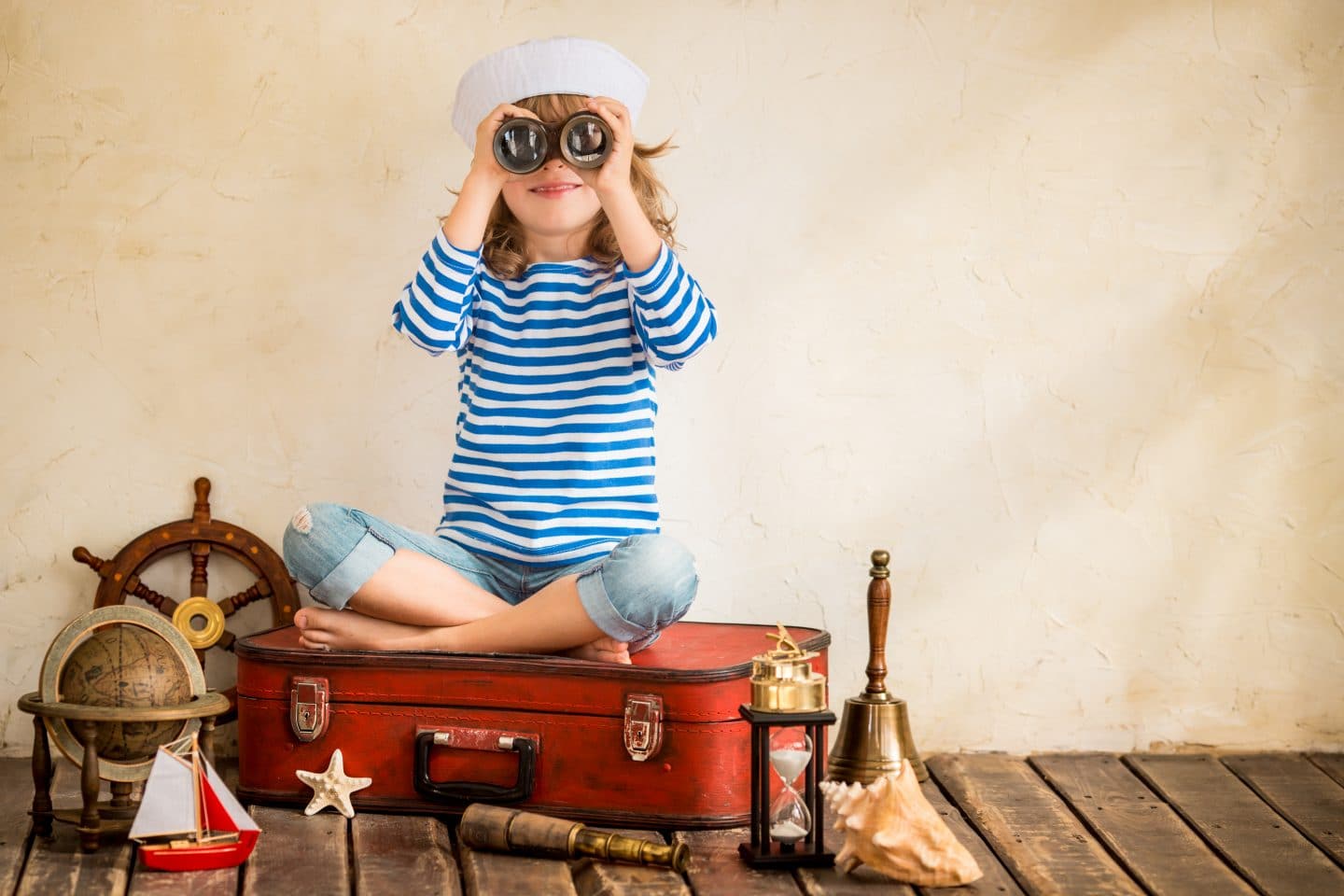 You can hunt down dragons (use a toy one or make a cardboard dragon for the kids to fight) and really get the kids imaginations running.  Let them use the sofa cushions to make a fort and defend themselves against the attacking dragon!
Once you've done this a few time you will be surprised at what their imaginations will create next!  If you have cardboard boxes in the garage, get them out, these are the best tool for indoor adventures!!
5. Treasure Hunts
This can be linked to the adventures above by creating treasure maps and hunts to go along with the kids adventures.  However, it's also a good standalone activity.
Treasure hunts can begin with kids creating pirate maps and treasure boxes (painted egg boxes) full of treasure.  Let them hide the box in the house and put an x on the map, to see if their sibling (or you!) can find the treasure!  If it's dry it's a good one for the garden as they can actually bury and dig it up in a bare patch of soil.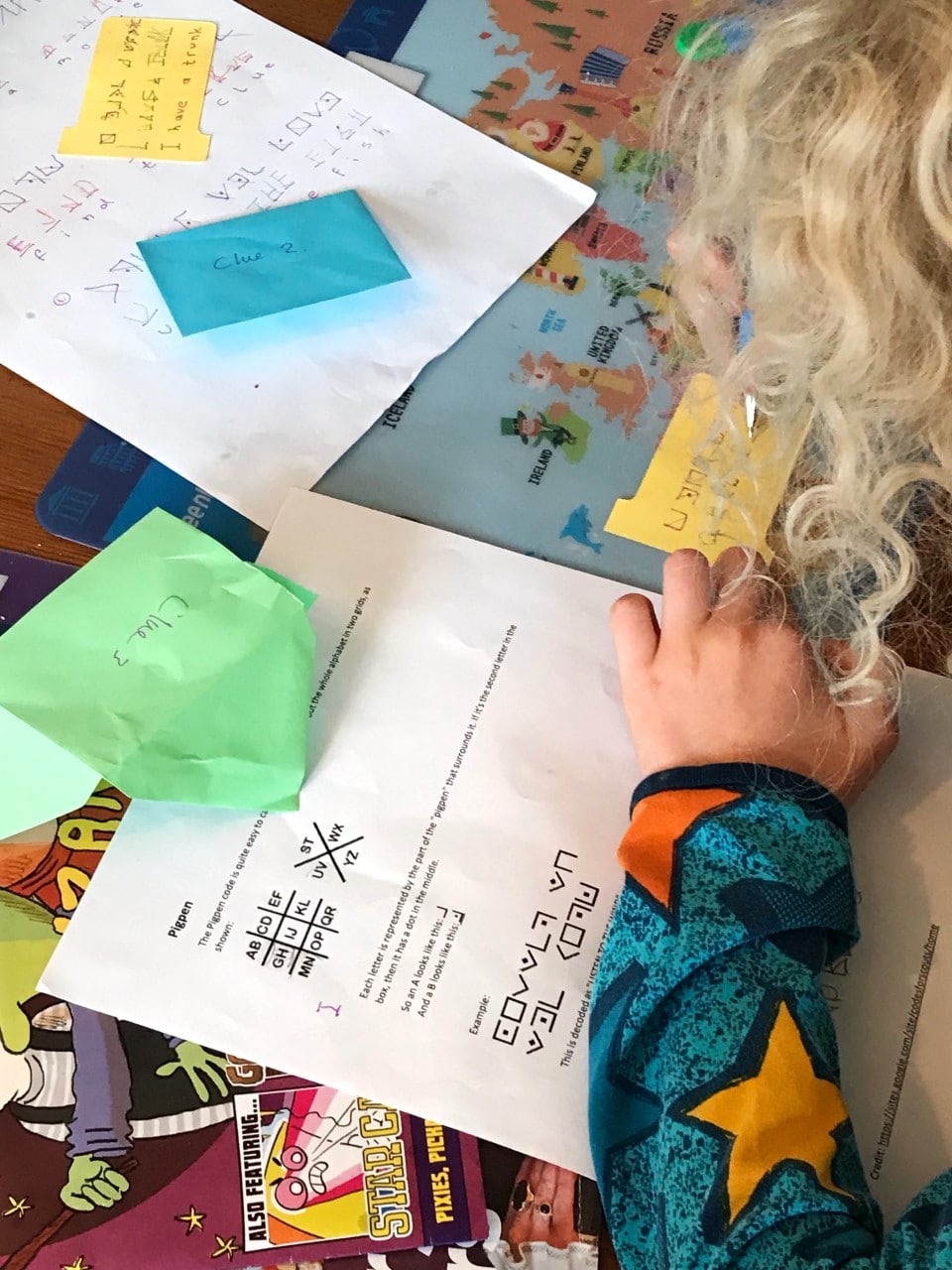 If your children like secret codes then download some printable codes, such as these. Create some clues to hide around the house using the codes, with some treasure at the end.  Give the child the first clue and set them off on the hunt!  They will have to decipher each clue before they can find the next one, which can also take them a while, giving you a chance to sit down with a cup of tea!
Other options for treasure hunts include using vanishing ink (mix of bicarbonate of soda and water to paint the clue) once it's dry you can hide the clues (maybe number them so you know where to hide them!) and then use rubbing alcohol or red cabbage juice to brush over and reveal the clue.
Another type of treasure hunt is a scavenger hunt, indoors a photography scavenger hunt can work well.  Write a list of different items to find and then set your child off with the camera to take photos of all the items.
6.  Lego Challenges
If you have a child who love Lego like my eldest, then this will be a huge hit and fantastic for STEM education!  Playing with Lego itself is part of engineering, reading and maths.  However, it can be fun to change things a little and add in a few more challenges for the kids.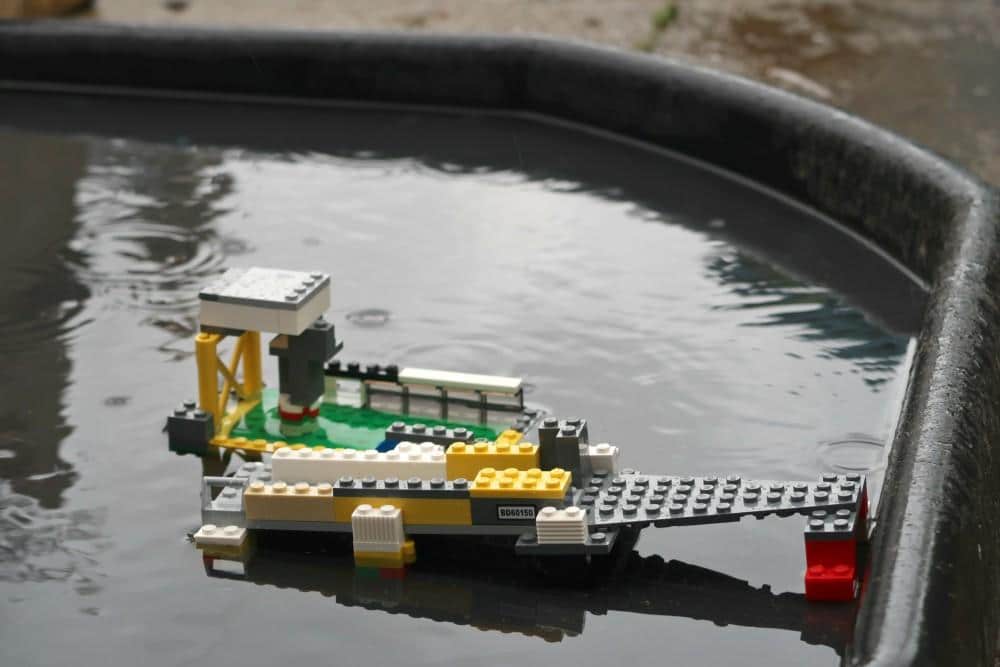 You can challenge the children to create a wind racer, which is simply a Lego vehicle with a sail made from paper and a cocktail stick.  See which design is faster and work out why.  Time the racers to reach a certain distance and simply race each other!
Lego mazes are always fun, to do this they will need a couple of base plates joined together and using other bricks on top to make a maze.  Once it's complete, place a marble in the maze and get the kids to move the board around to navigate the marble from start to finish.
Challenge the children to create the tallest tower they can without it falling over.  It's not as easy as it sounds!  Discuss the importance of good foundations of the tower with the children if they can't get it very high without falling.
7.  Junior Bake Off
For children who enjoy baking, watching a couple of episodes of Junior Bake Off (or the adult version!) is a must.  Then let them choose their own recipes to bake themselves.  For this it can be good for them to write out the ingredients they need and head to the shop (if possible) to buy the ingredients with their own shopping list.  Back home they need to read the recipe, add the correct amount of ingredients and follow instructions to make their food.  It's a great all-round educational activity involving science, writing, reading, maths and perhaps geography or history if you go for a country specific or historical recipe.
8.  Junk Modelling
It may seem just like crafting to you, but junk modelling is a useful activity.  Children can use junk items from the recycling and create whatever they want, but to do this they need to consider design, test out ideas and engineer their creation.  It's actually a useful educational skill to be able to make items out of junk and just as much a STEAM activity as building Lego!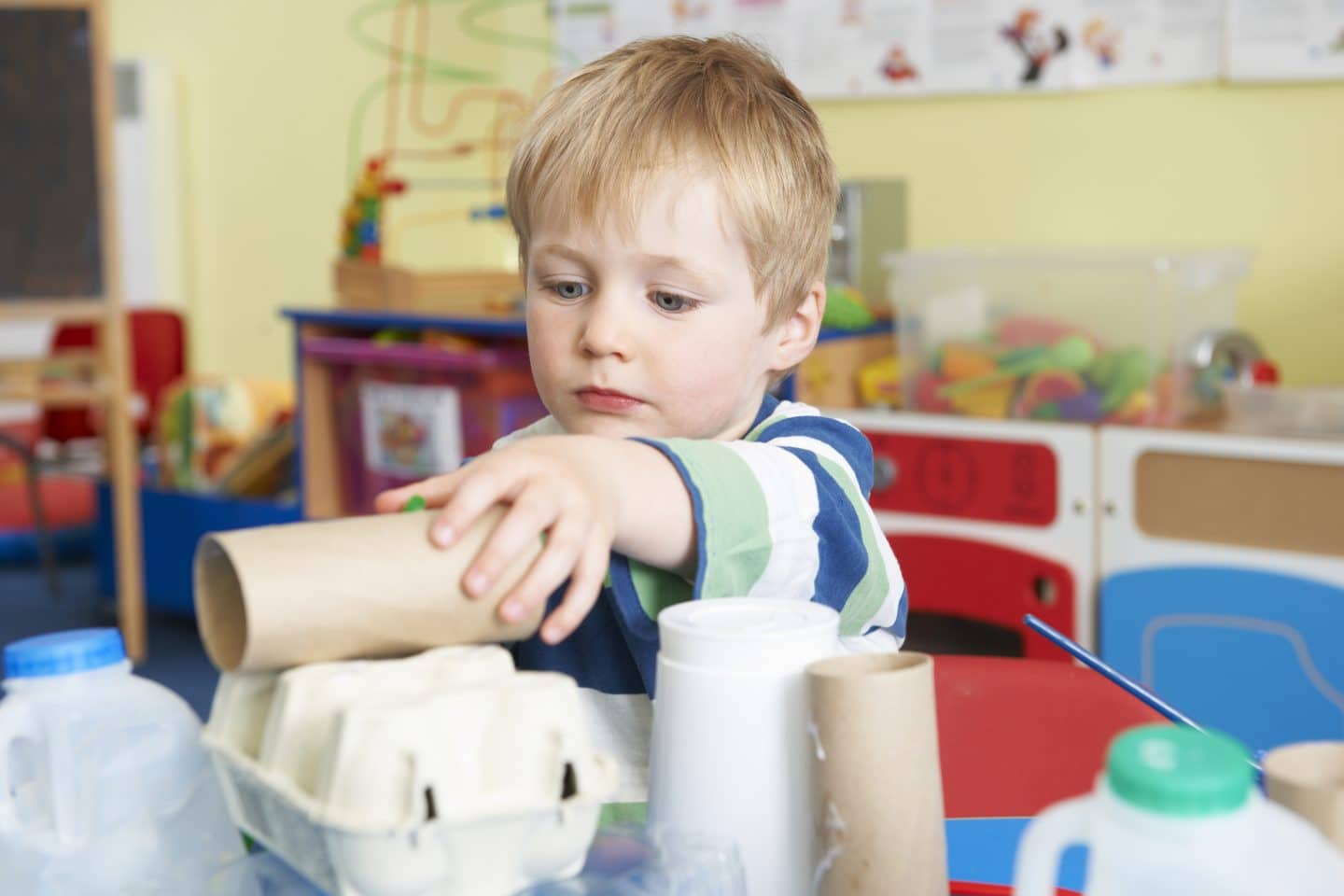 Simply set out a heap of items, such as cereal boxes, egg boxes, kitchen roll tubes, plastic boxes (cleaned), plastic bottles, glue, tape, paints and scissors.  Then just let the kids go to town and supervise smaller children.
9.  Planning Trips
A great geography exercise is to get the kids to plan an imaginary trip.  This can be a local trip or one abroad, but get the children to think of where they would really love to visit.  Then set them the task of working out how to get there, is it a by car, bus, train, plane, foot or hot air balloon?  They can work out costs of the trip, which route is cheapest, most expensive and quickest.
What can they see on their trip, are there any famous landmarks or museums, would they want to zipline over a gorge or canoe across a lake?  Both the dreamers and organisers among our kids will really enjoy this.  As it's an imaginary trip they can choose to go wherever they want and can really take this activity as far as they want creating maps of routes, lists of places to see, budgeting money and time they would need for the trip.
Maybe you can even take their planned trip next year when everything has cleared up?!
10. A Box Solves All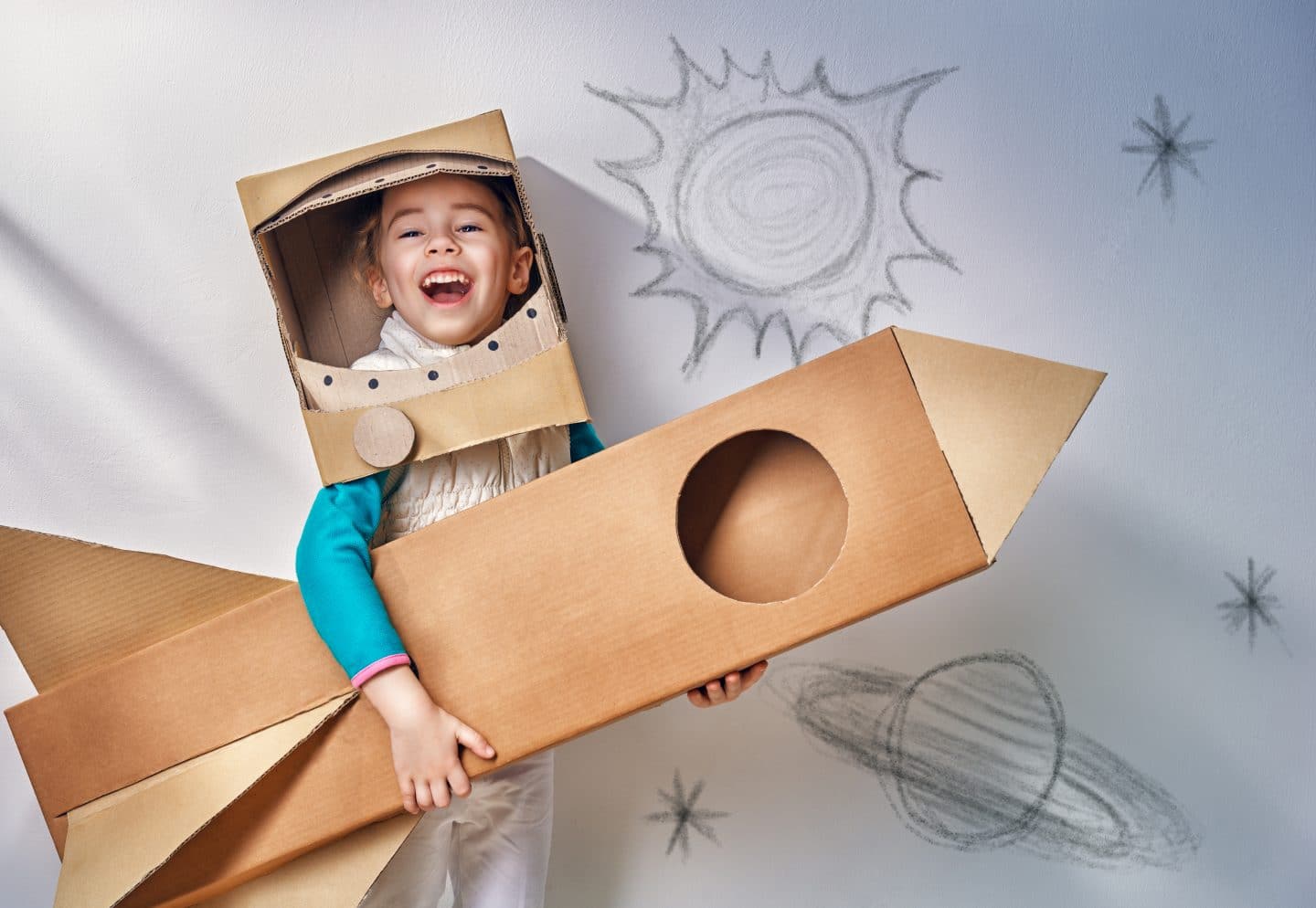 A big cardboard box is the solution to so many problems.  It can be anything and kids imaginations are amazing when they are given the freedom.  Let them play with it as it is, or cut and tape together into different shapes (we've had rockets, trains and boats!) and decorate it in whichever way they choose.
This is can be a craft and engineering project, but it's also play and play is probably one of the most important things a child can do!
If you have any children who are feeling anxious about COVID-19 pop over to Louise's post to get ideas on how to help anxious kids cope.
Pin For Later