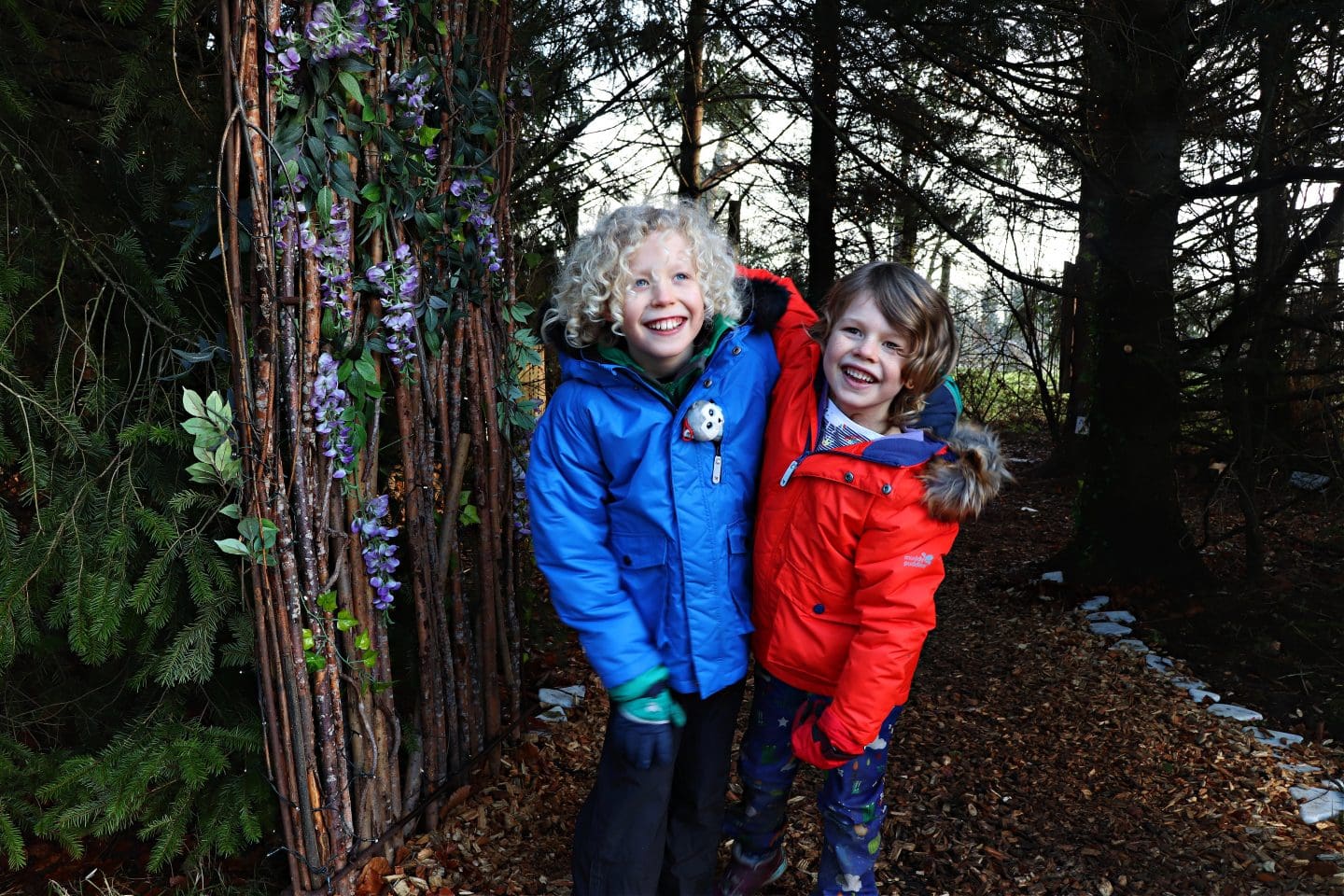 Scottish Home Education Diary – December
That's it 2020 is over and hopefully this year is a fresh start.  Got my fingers tightly crossed that vaccines work and the governments don't mess it up!  It would be brilliant to see friends and family properly again!  However here is what the kids learnt this past month, the last of the year!
Science
We always manage to get a fair bit of science topics covered each month.  So many other topics fit into it so well and it's really all around us!  So amongst all the Christmas activities and fun we fit lots of science'y' things too.
Zoology Workshops
This month we took part in two different Wildside Nature Workshops, one at the beginning of the month and one at the end.  The first was a hibernation workshop with plenty of information about hibernating animals. Their favourite part was definitely a game that involved finding berries (ball pit balls) and taking them to their dens. This involved some counting of the different coloured berries to see what type of berries were their favourite.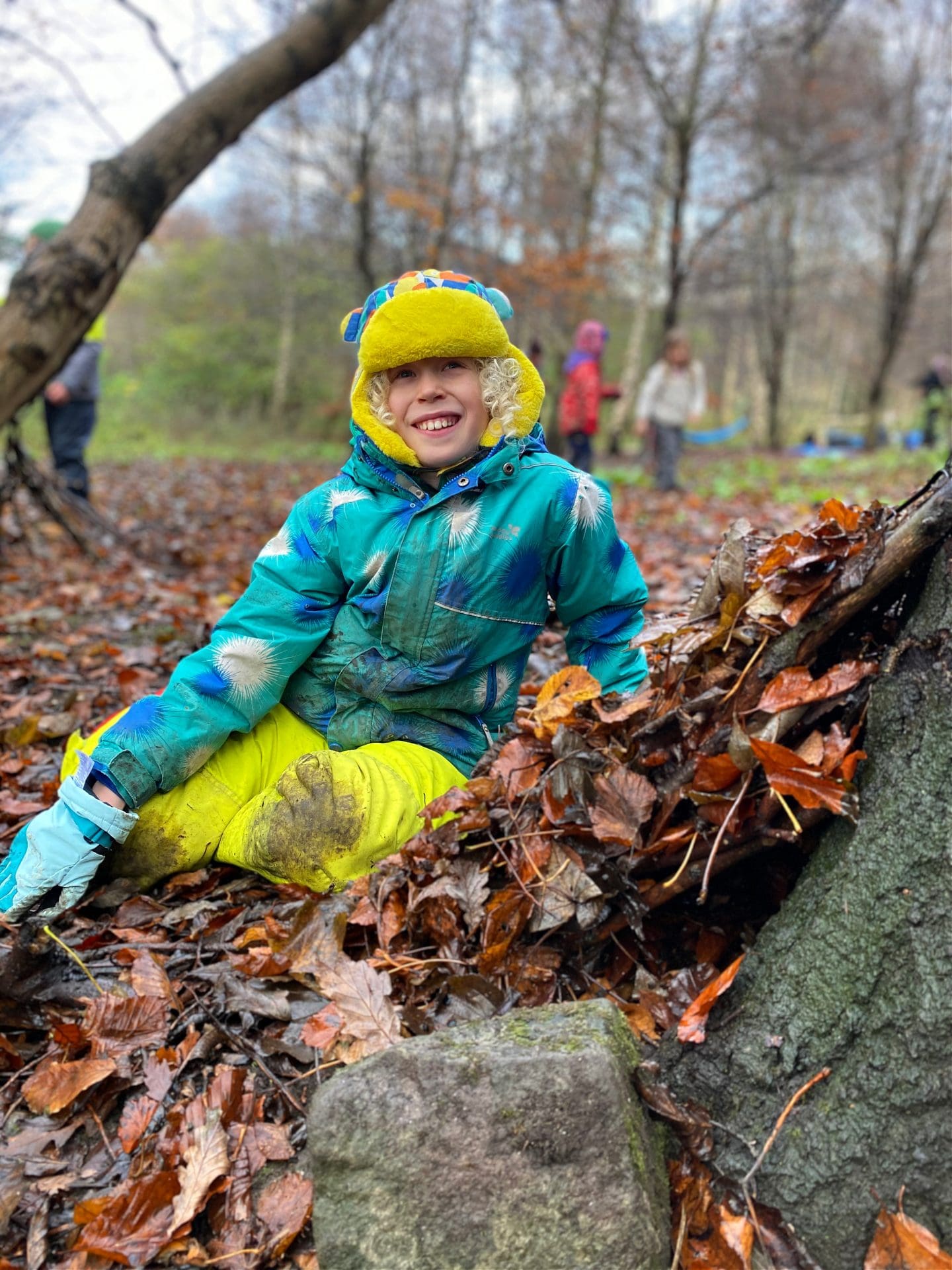 In the second workshop it was 'Christmas animal' themed.  They learnt about penguins and leopard seals, robins and reindeer.  Herding reindeer may have been the favourite part of this particular workshop!  Littlest has now decided that when he grows up he might be a zoologist, when he's not on stage dancing of course…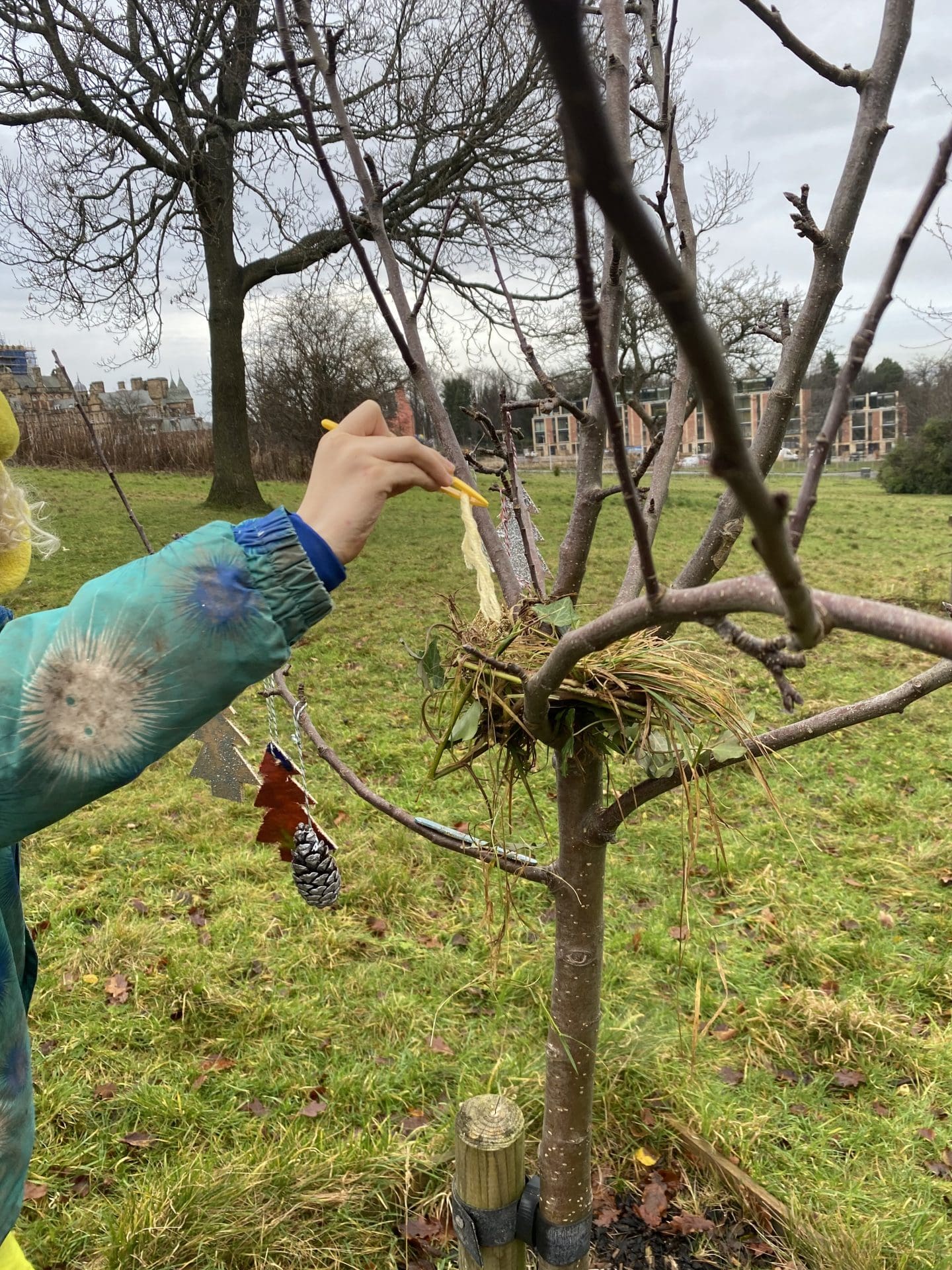 Wildlife Documentaries
The kids are quite happy to sit and watch different wildlife documentaries.  We've watched all the Planet Earth ones and many others too.  This month we've been watching Gordon Buchanan's Snow Cat Family And Me.  It's all about a family of Lynx, which was very interesting to learn about.
We've begun the Polar Bear Family And Me series now, but still have two more episodes left.
LEGO Engineering
My eldest has been enjoying building LEGO sculptures, including a research vessel complete with shark cage and crane to put it in the water.  He also received some K'Nex for Christmas and is in the middle of building a rollercoaster and made a helicopter without any instructions too.  Engineering challenges are definitely his forte!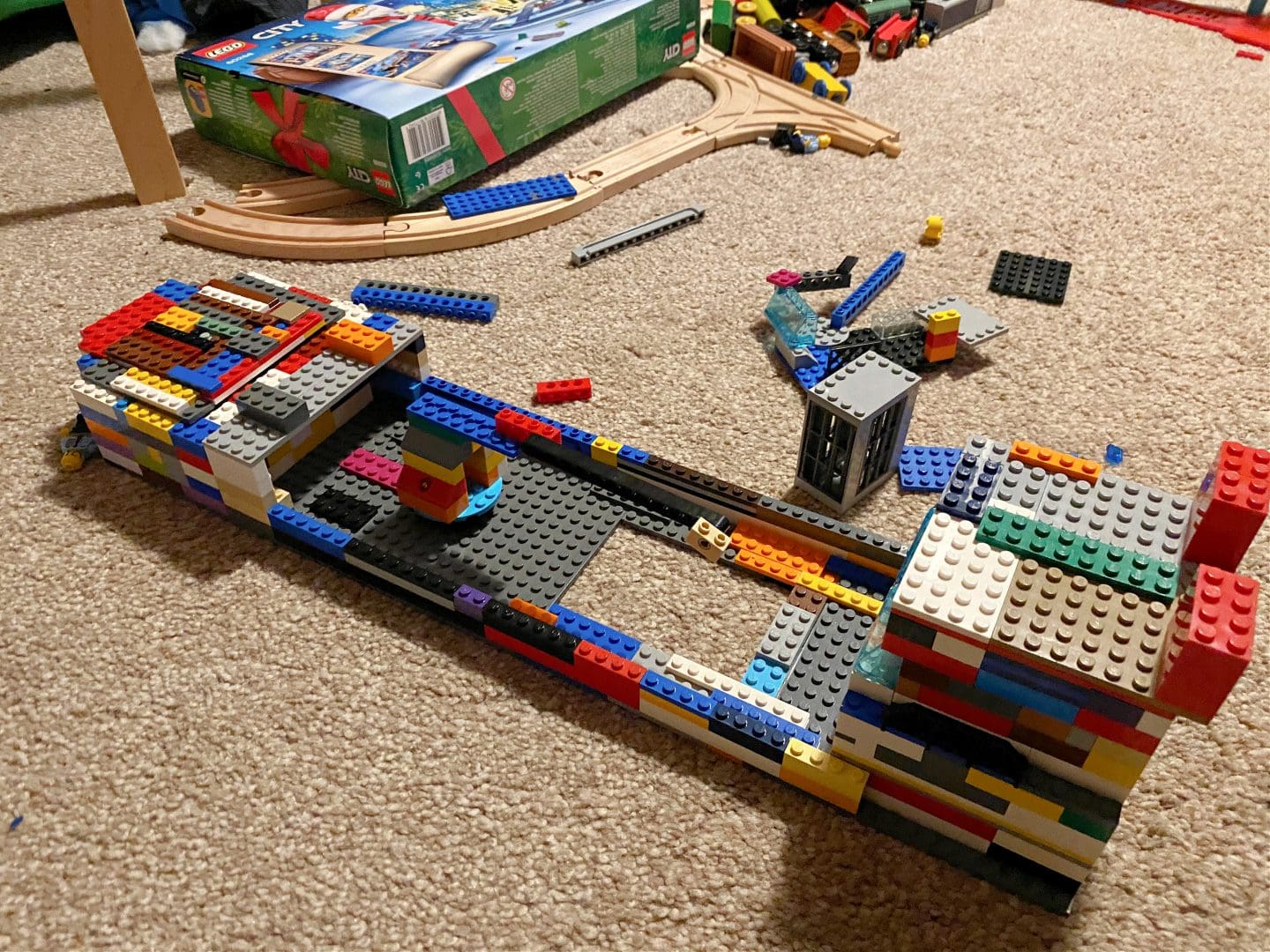 Littlest also enjoyed making some LEGO Christmas decorations for the tree.  It was a task for both of them, although the eldest chose to make a Santa and the youngest made a wreath, snowflake and 2 baubles.  All were his own design, which he was very happy with!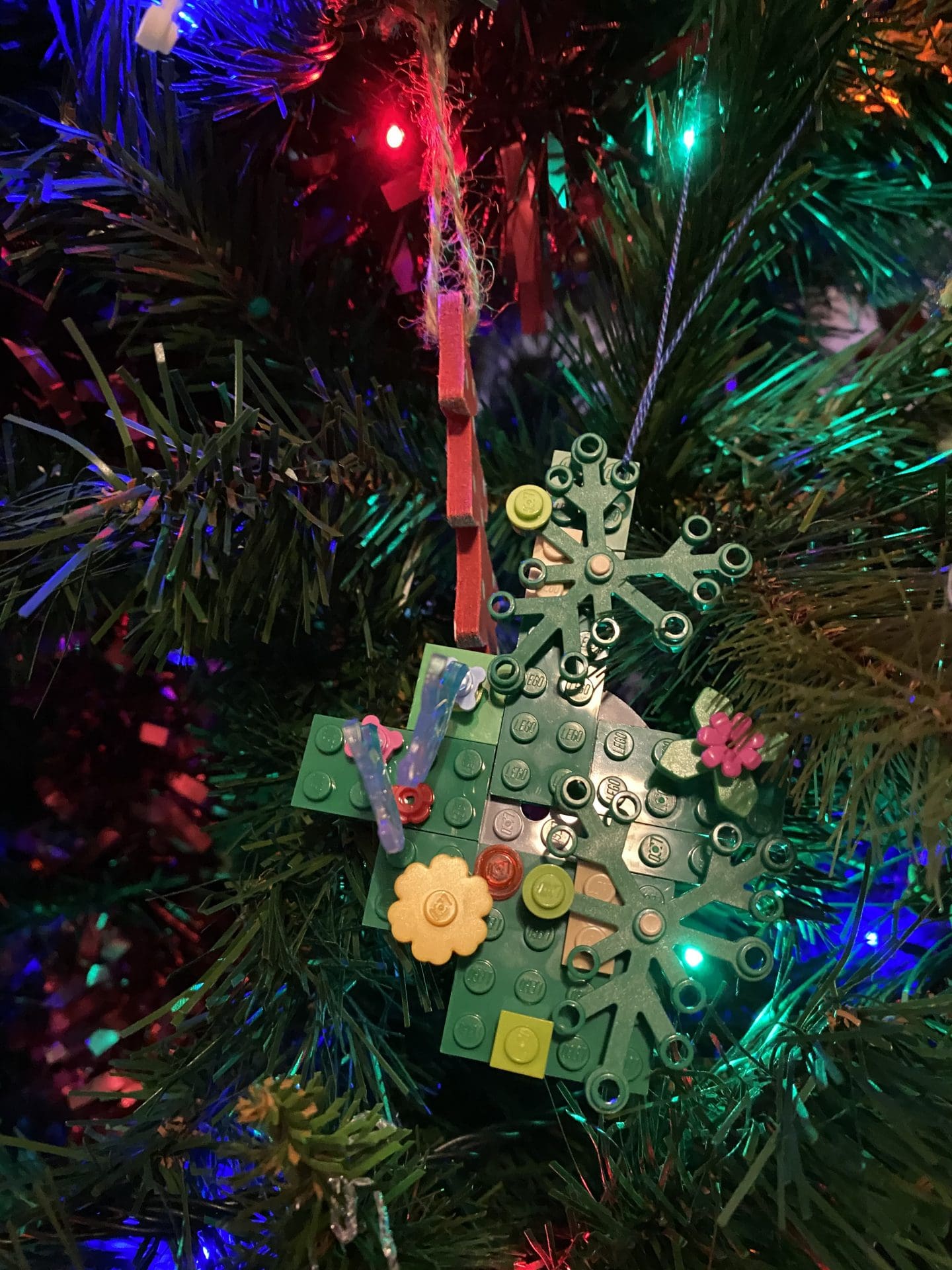 Home Education Science Group
At the beginning of the month our science group bought some owl pellets to dissect.  The pellets came from Barn Owls in Scotland and after a lot of dissection and cleaning bones we found it was pretty much just voles remnants!  There was a LOT of fur in the pellets, but we could find plenty of parts of bones to make almost a whole vole skeleton.  It was interesting matching up the bones to the diagrams we had.  Littlest wasn't as interested in taking part in this as he thought it looked disgusting!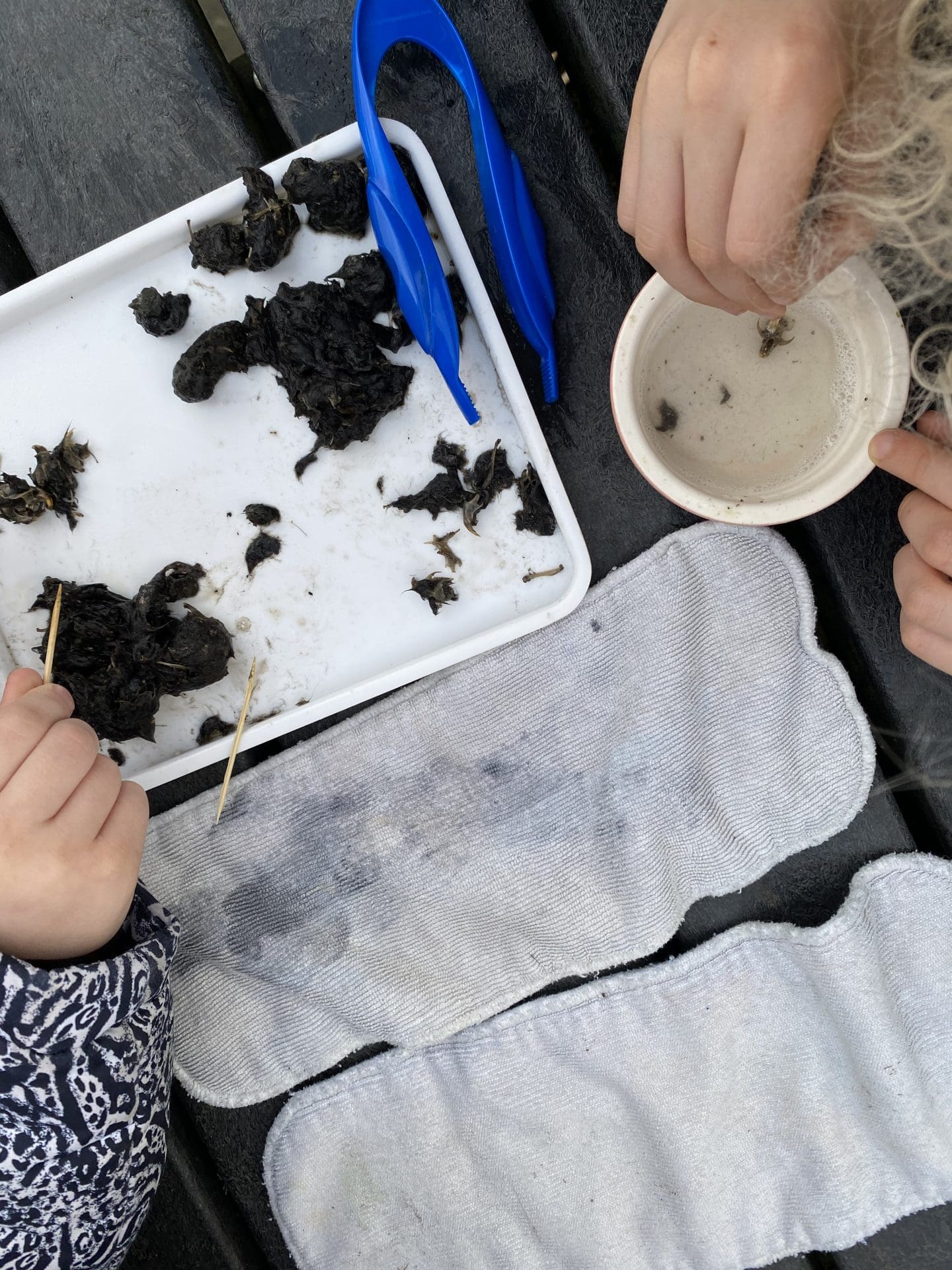 Books and Podcasts
We have had quite a few new books this month.  Including the Usborne Atoms and Molecules lift-the-flap book, which both children enjoy, but especially my youngest who loves anything to do with atoms!  These books sound like they should be aimed for younger kids as they have flaps, but really they aren't!  There is so much information packed in to the books and illustrated in a fun way so they do remember things.  I don't think I learnt about protons and electrons until high school, but the kids understood them whilst we read the book!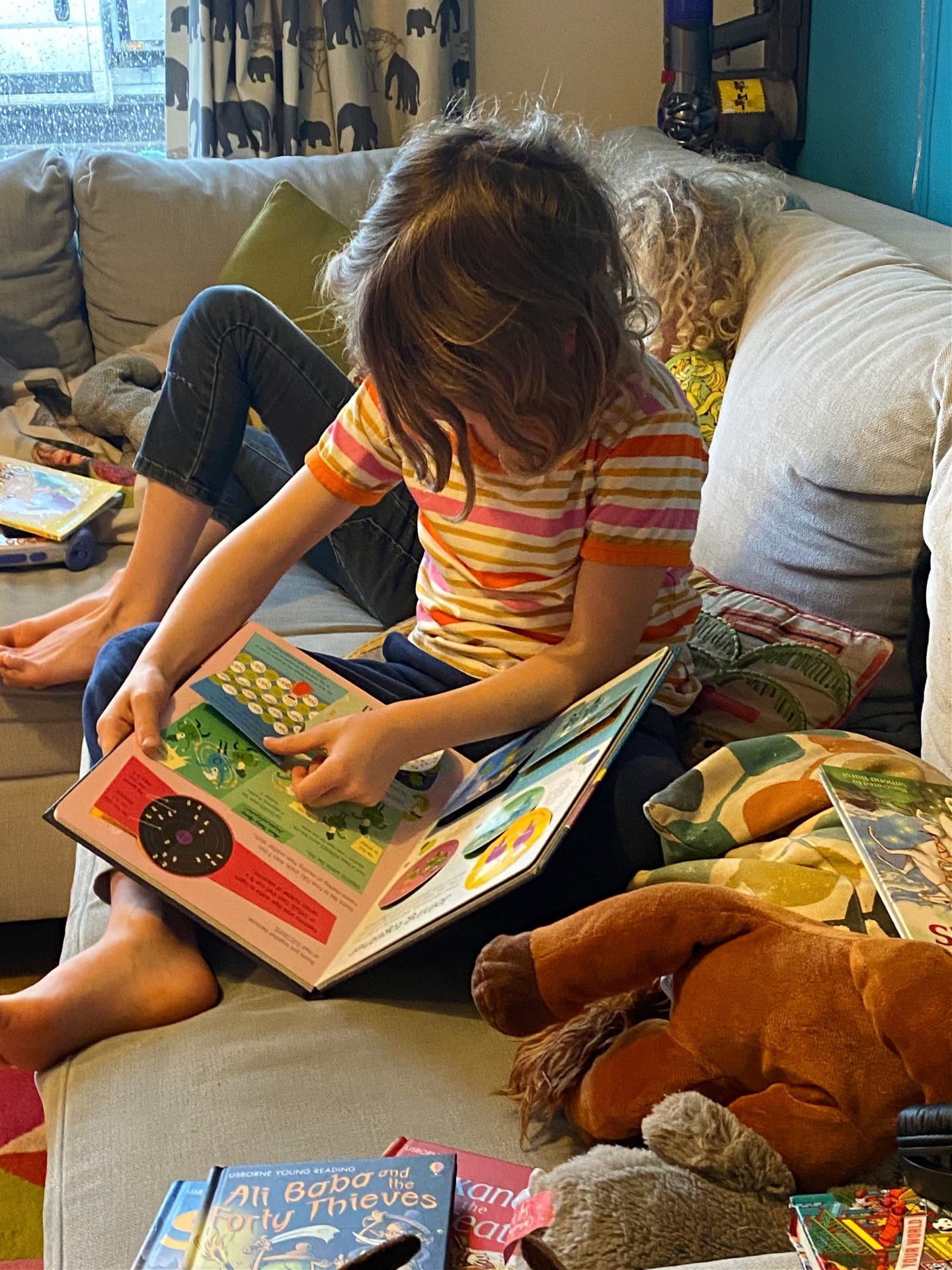 We have also had plenty of podcasts this month. Both WOW In The World and Tumble podcasts are great for kids science.  We've only recently begun listening to Tumble and it's great how they answer children's questions, even if the answer can initially be complicated.
Blairdrummond Safari Park
We're lucky that Blairdrummond safari park is only just round the corner from us.  We were able to visit even though we were in tier 4 at the beginning of the month.  The kids are interested in learning more about the animals, but we also had fun learning about dinosaurs.  It helps when the dinosaurs are huge and roar and move too!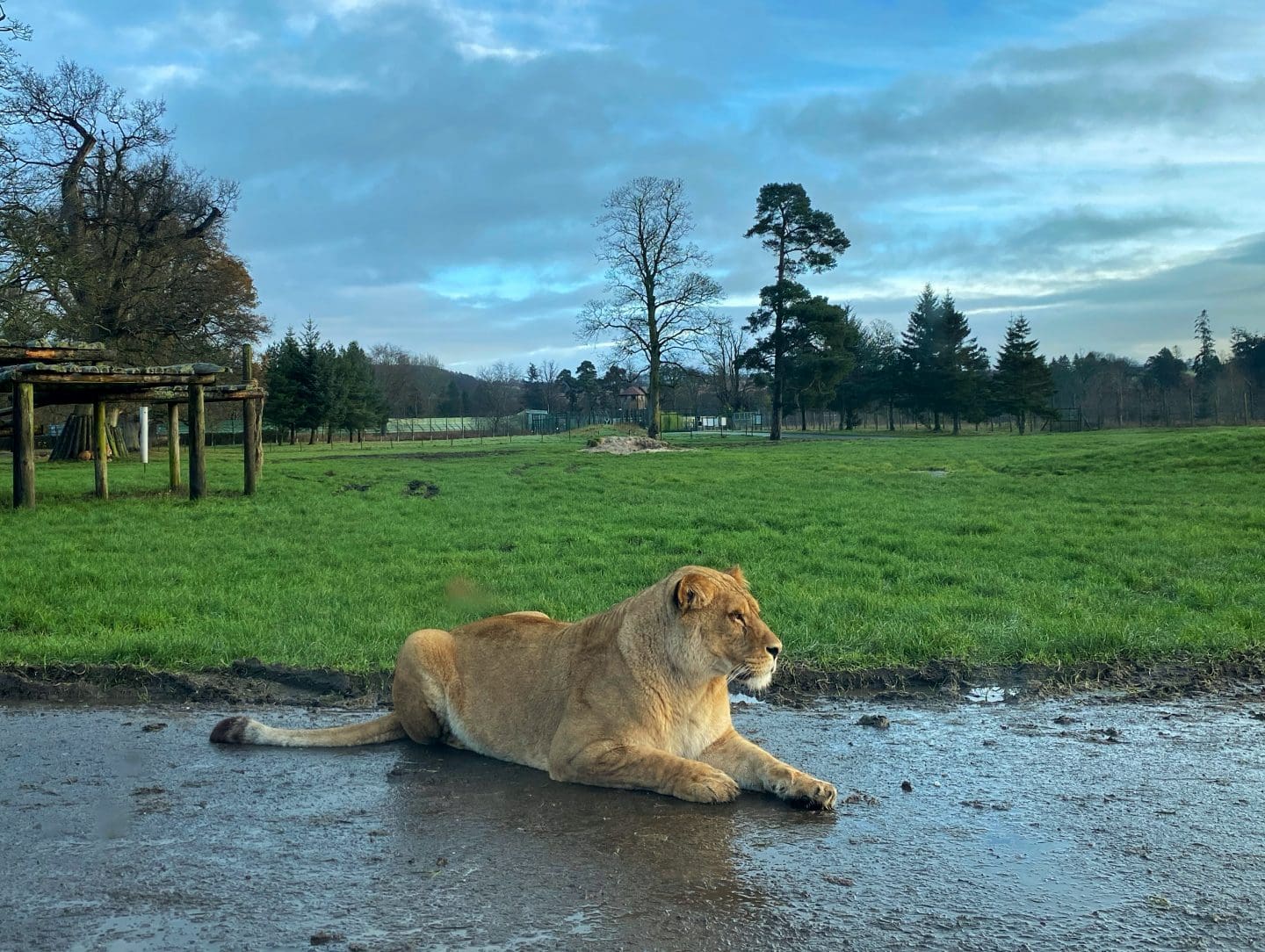 English
The kids have both been excited by lots of new library books this month.  We've been getting quite a few of the Dog Man books for our eldest, which he has been particularly enjoying.  Although I'm hopeful he'll find another series he likes as he reads them so quickly that there aren't too many left!
Alongside the reading his writing has improved, albeit in short stints.  He's written his letter to Santa of course, tags for gifts and a bit of a mean note to his brother!  However, we were impressed that the note to his brother had the correct 'you're' in it.  Maybe next time he can write something nicer to him…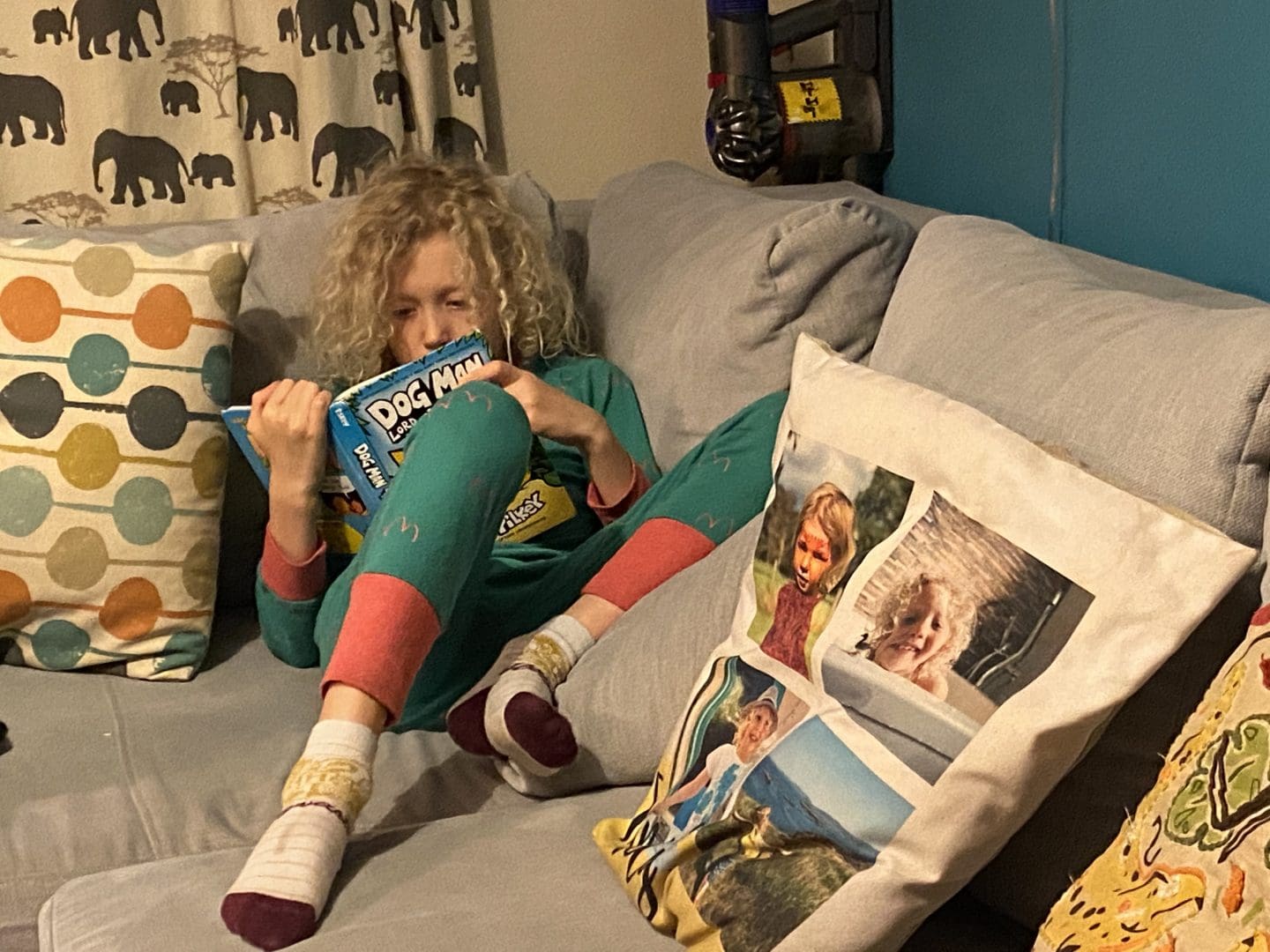 His younger brother has also written his letter Santa, with a lot of help.  He's not as keen at writing and gets upset that the letters aren't exactly as he wants them.  He's keen to try and improve and has shown interest in using some letter writing workbooks.  We'll see if the interest holds over the next month!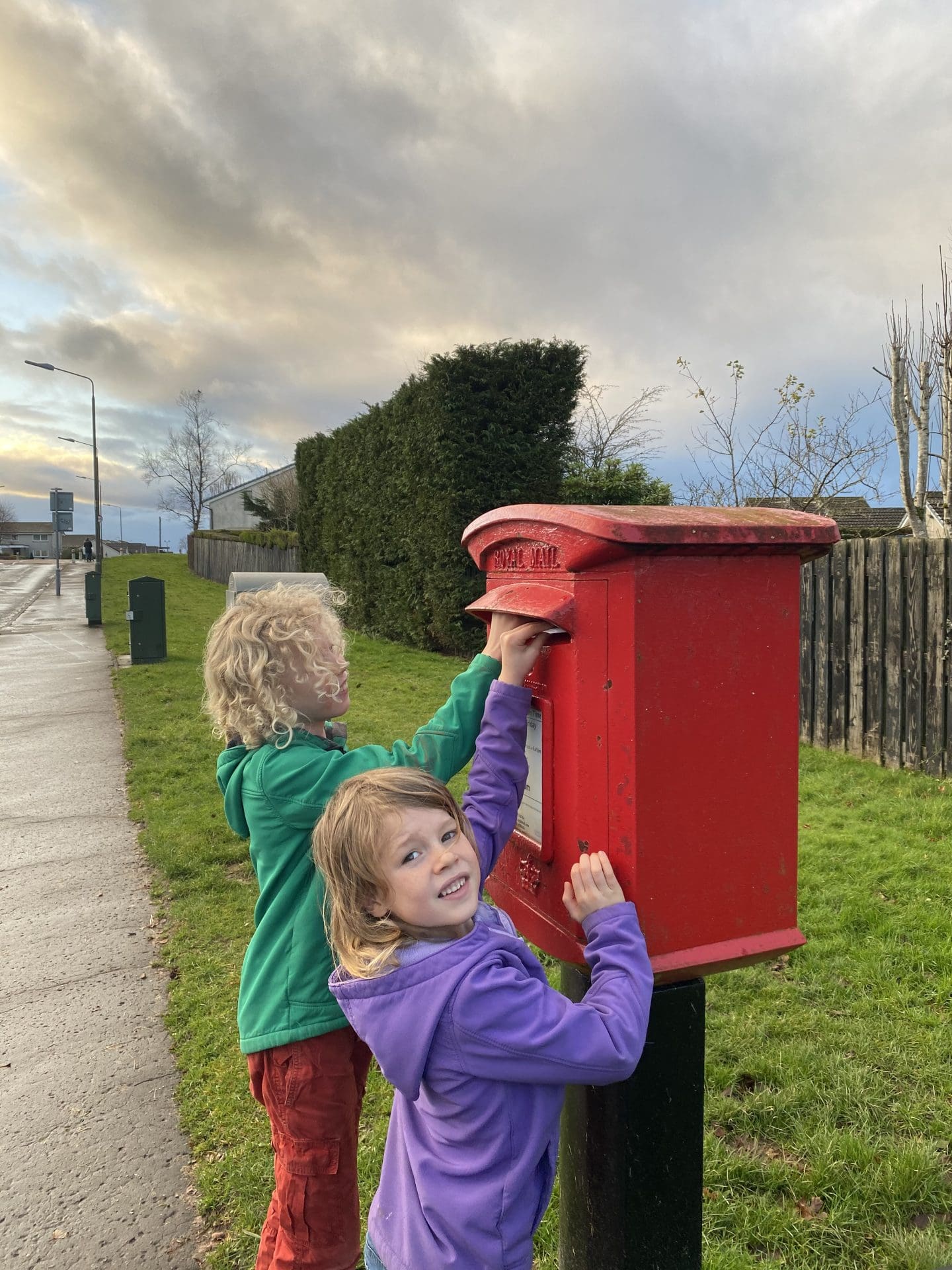 Maths
Maths has mostly consisted of board games.  The kids are very into their games at the moment, although we have had issues with the youngest getting upset when losing.  There were at least another 4 board games gifted to the kids for Christmas!
The game pictured below is a logic game where your opponent has to work out what order of coloured pins through deduction.  Our 9 year old was trying to trick his dad by making all the pins the same colour…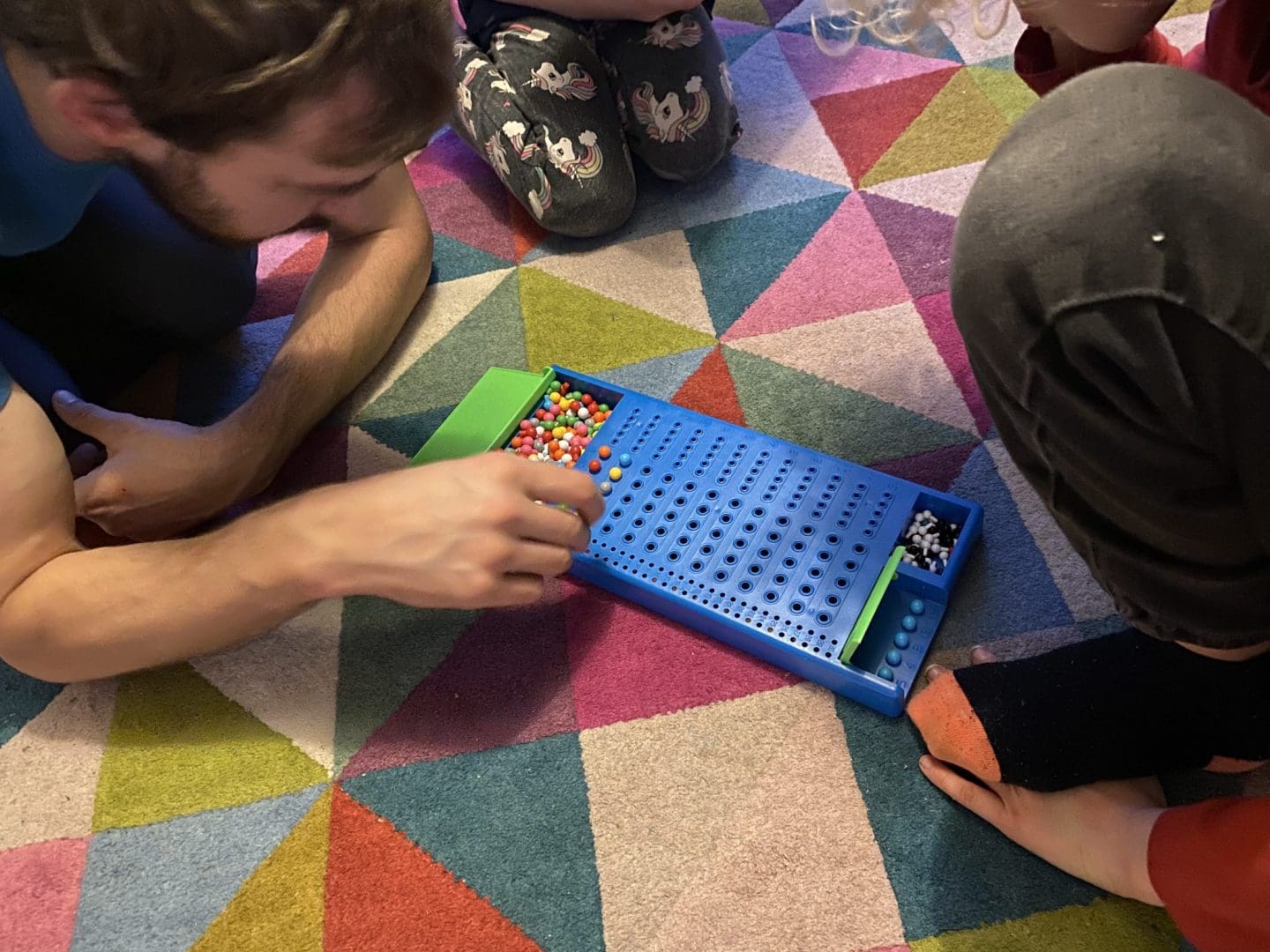 Klask below is more a game of skill, but good for fine motorskills.  Other games they have enjoyed playing are Outfoxed, Run Run As Fast As You Can (Orchard Toys) and Shut The Box.  Most games involve some mathematic skills and logic for tactics.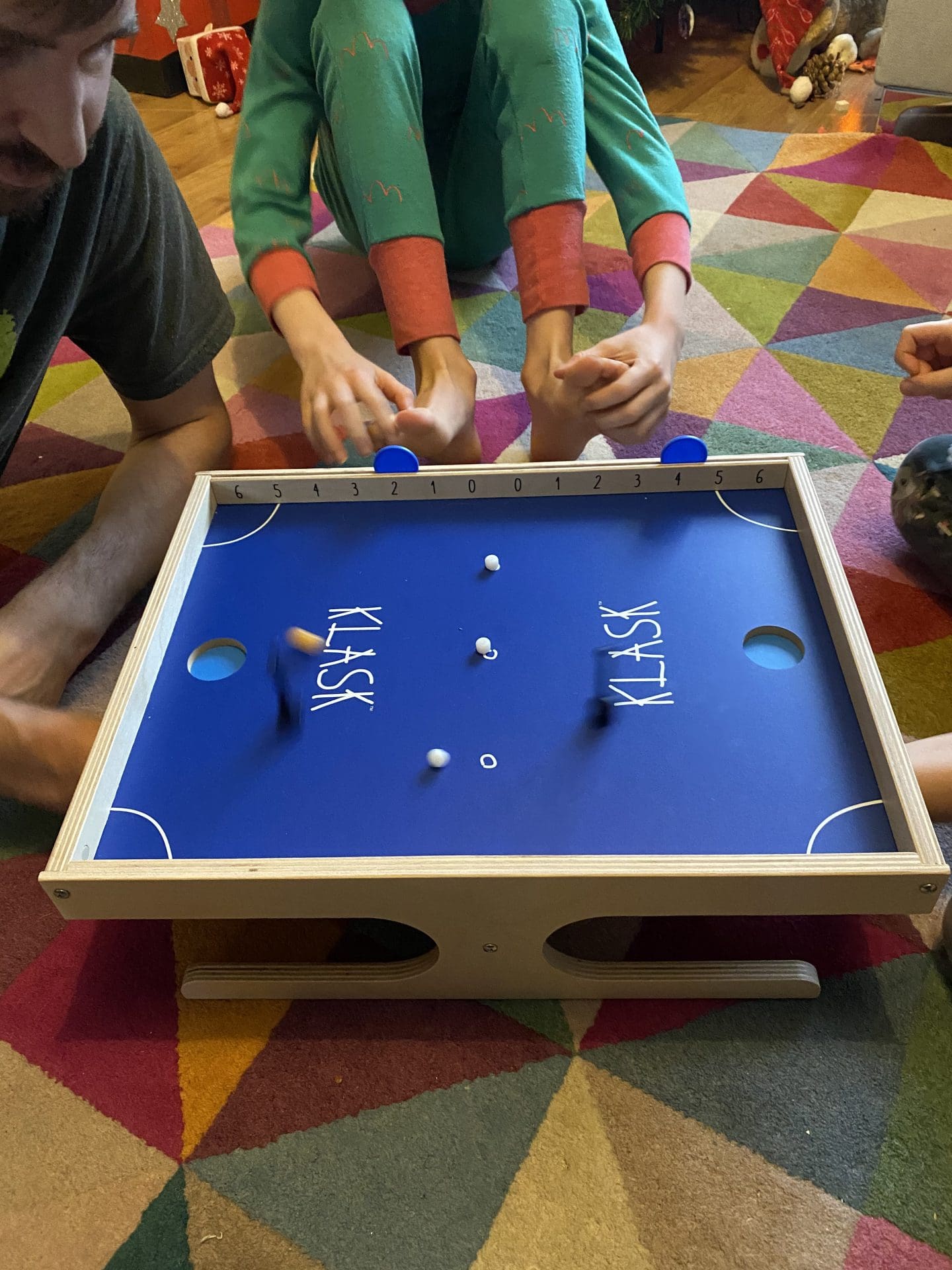 Maths has also been involved in the copious amounts of baking this month.  We've made mince pies, a gingerbread house and several types of biscuits.  They both are getting good at measuring, although when the jars are quite full of dry ingredients it can be difficult to lift!  So I still help when needed, but they can make most of a recipe by themselves now.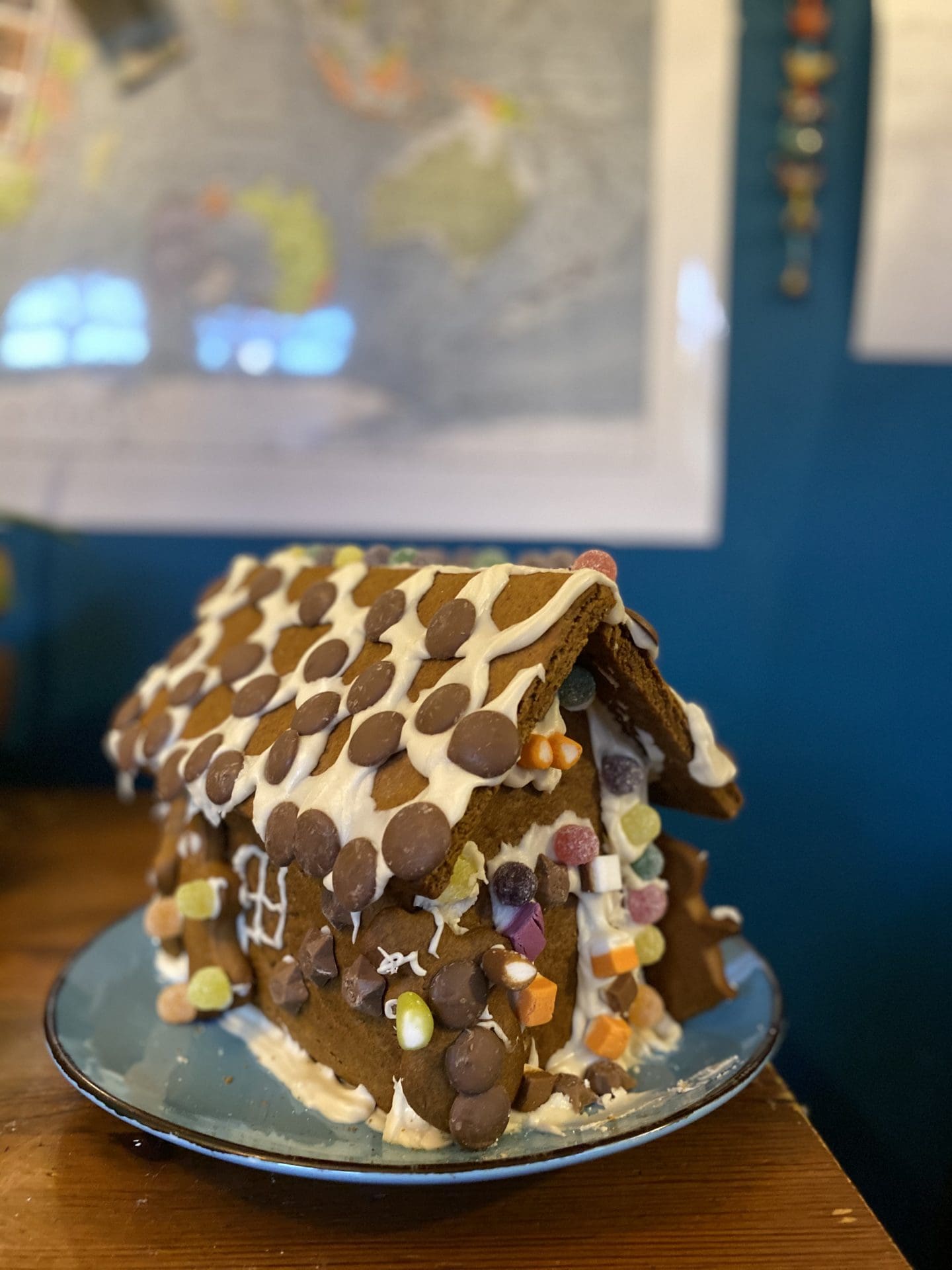 Geography
Geography has mostly been discussion based.  Talking about countries we have visited and looking at the various maps and globes dotted around the house.
Our eldest remembers more countries location than the youngest.  All with their interactive globe our 6 year old remembers the countries with his favourite national anthems.  His whole life seems to revolve around music and dancing, so it's not surprising that he remembers countries for music!
History
As usual we have been listening to the History Storytime podcast that my kids love.  There's a new story every week and at only around 10 minutes long they are the perfect length for kids.  Plus it's mostly narrated by two young children, so it really makes it more enjoyable for the children.
Our home education history group continued this month with lots of great presentations and battles.  I'm pretty sure the kids just like to act out history rather than talk too much though! It's great to see what they remember and how they decide to present it.
We also visited a local graveyard with stones dating back to the 1600's.  It was very interesting, although the kids spent most their time playing.  They were interested to see the different pictures on the gravestones showing what the person's job in life was.  I learnt a lot from one of the volunteers who happened to be there at the same time.  So next time we visit I can tell the children a bit more about the people buried there.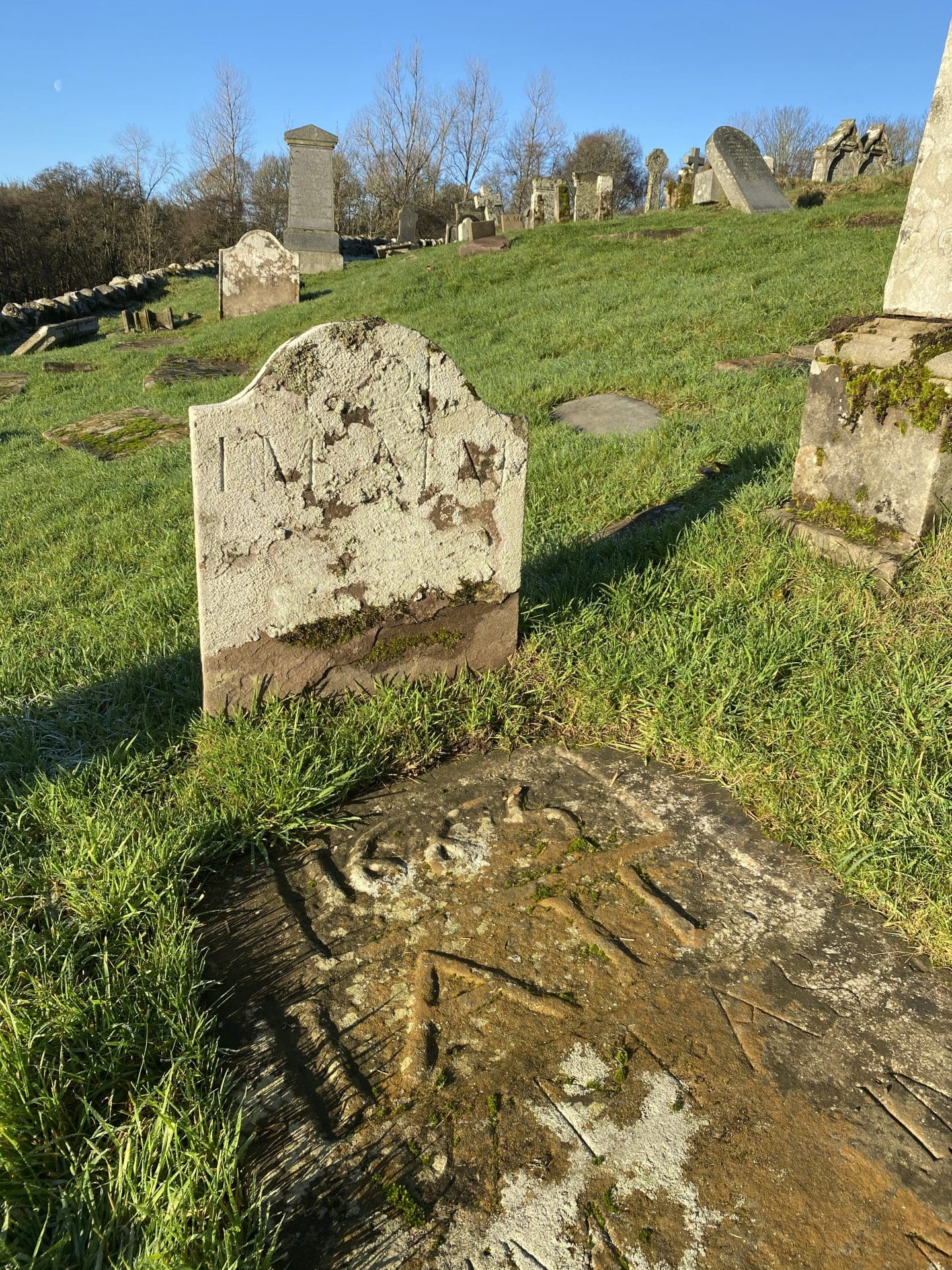 Art and Music
Art and music has clearly had a rather Christmassy feel this month.  They have been busy making Christmas cards, clay sculptures as gifts, wrapping paper using marbling techniques.  Below is our 6 year old making a gingerbread house from a Toucan box kit.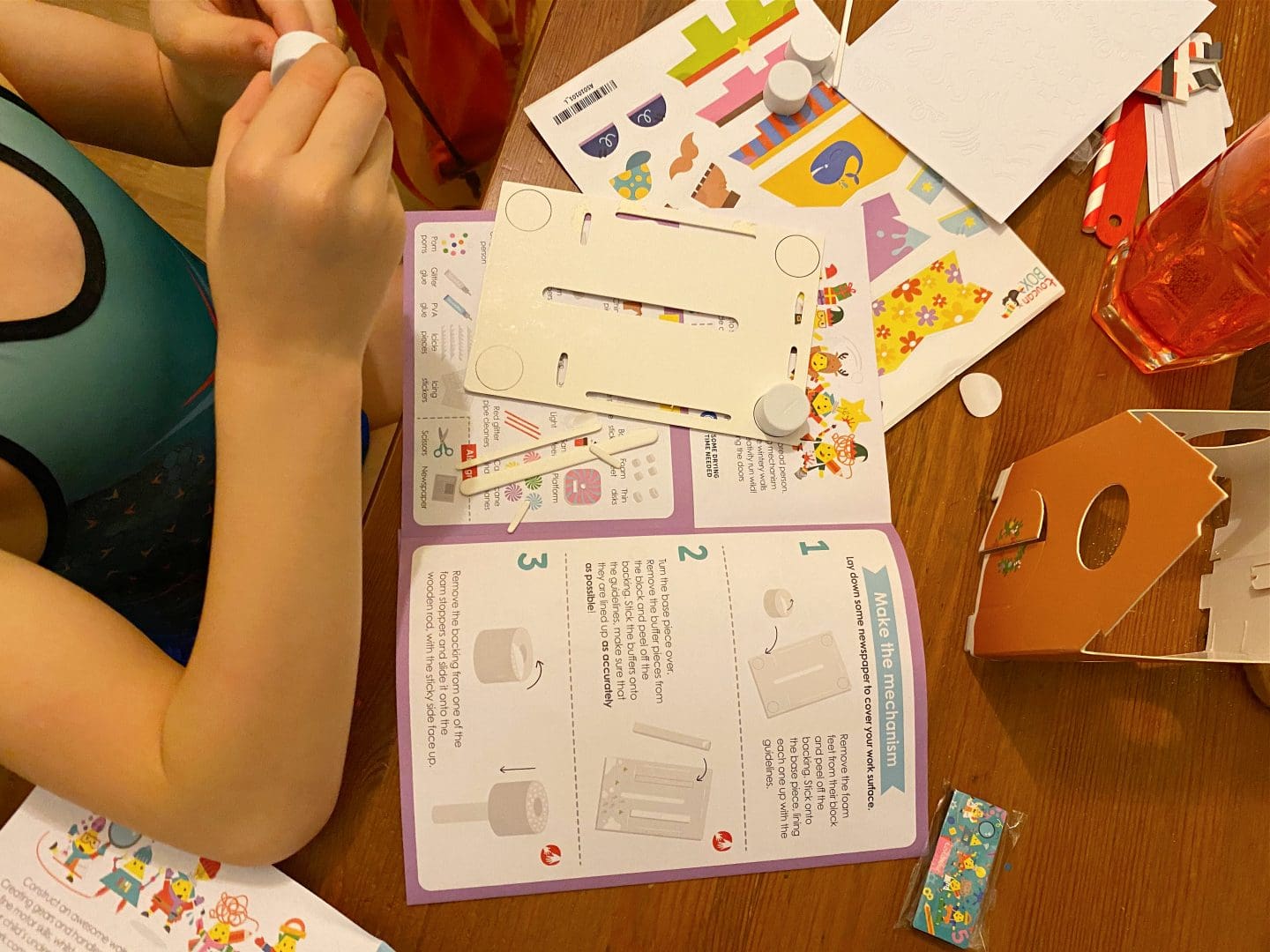 I've bought a few kits for the kids to paint or make, but we've also made things from scratch ourselves.  Including making snowflakes and paper chains!  Below are some painted ceramic tealight houses.  They are particularly interested in painting everything gold at the moment!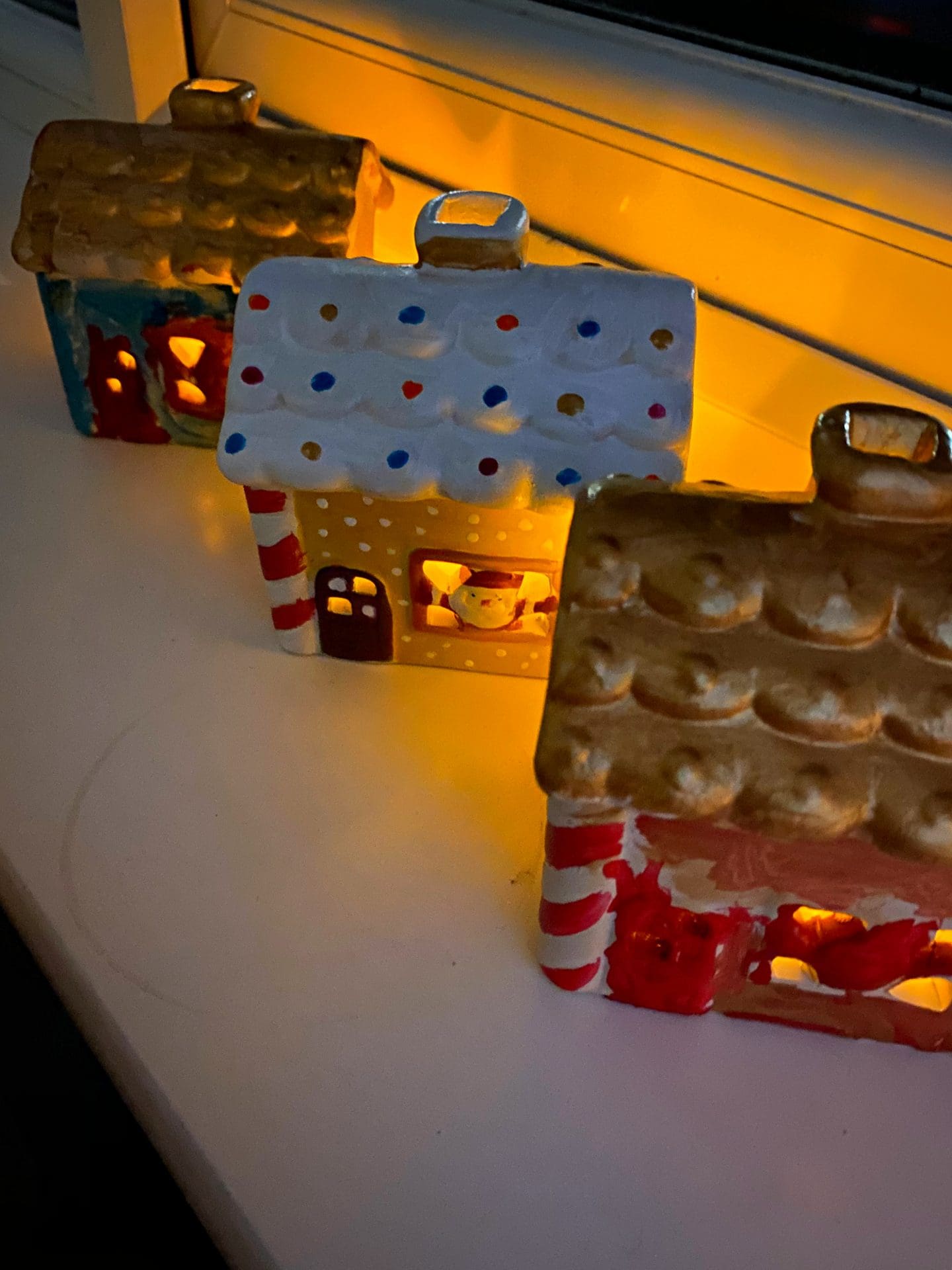 My youngest took part in a local light and theatre trail outdoors with his drama group.  They had 3 songs to sing and dance a routine for each group of people walking round.  He may only be 6, but he absolutely loved it!  The same drama group also held an outdoor musical which was filmed and streamed for people to watch over Christmas.  He's definitely got the stage bug now!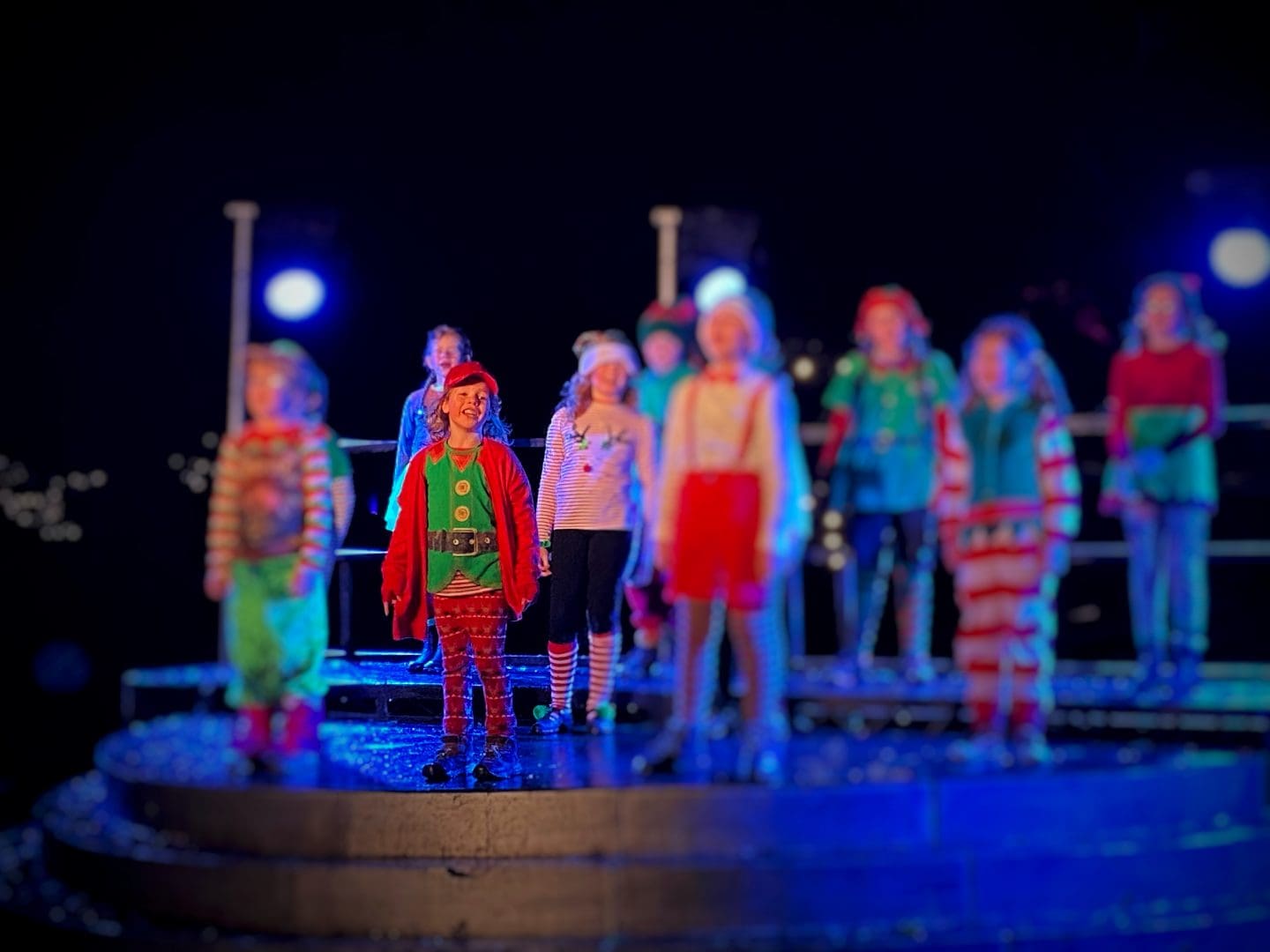 Exercise
There has been plenty of exercise, we've met with friends several days each week.  The kids spent a fair amount of time running around outside climbing trees, playing tig or sledging together.  It's great to get out!
We've also had a lot of walks too, from climbing hills in the rain with family to walking in the ice and snow.  It's good that we live in an area where there are plenty of beautiful places to walk.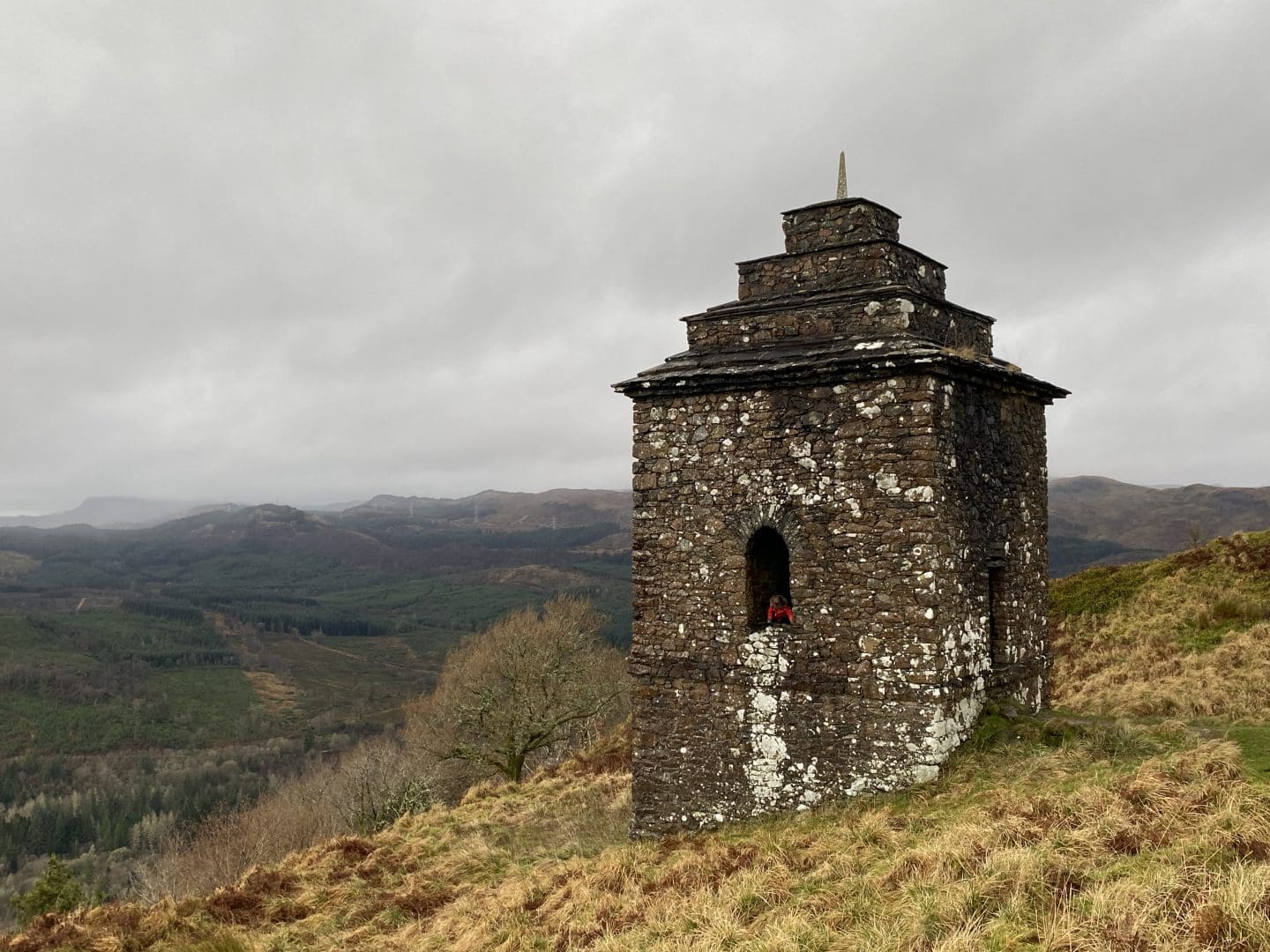 We've also found some great sculptures too.  The eldest was particularly pleased to be able to climb up to the seat of this bike!  I always refuse to help them climb up, if they can get up themselves then they can also get down again.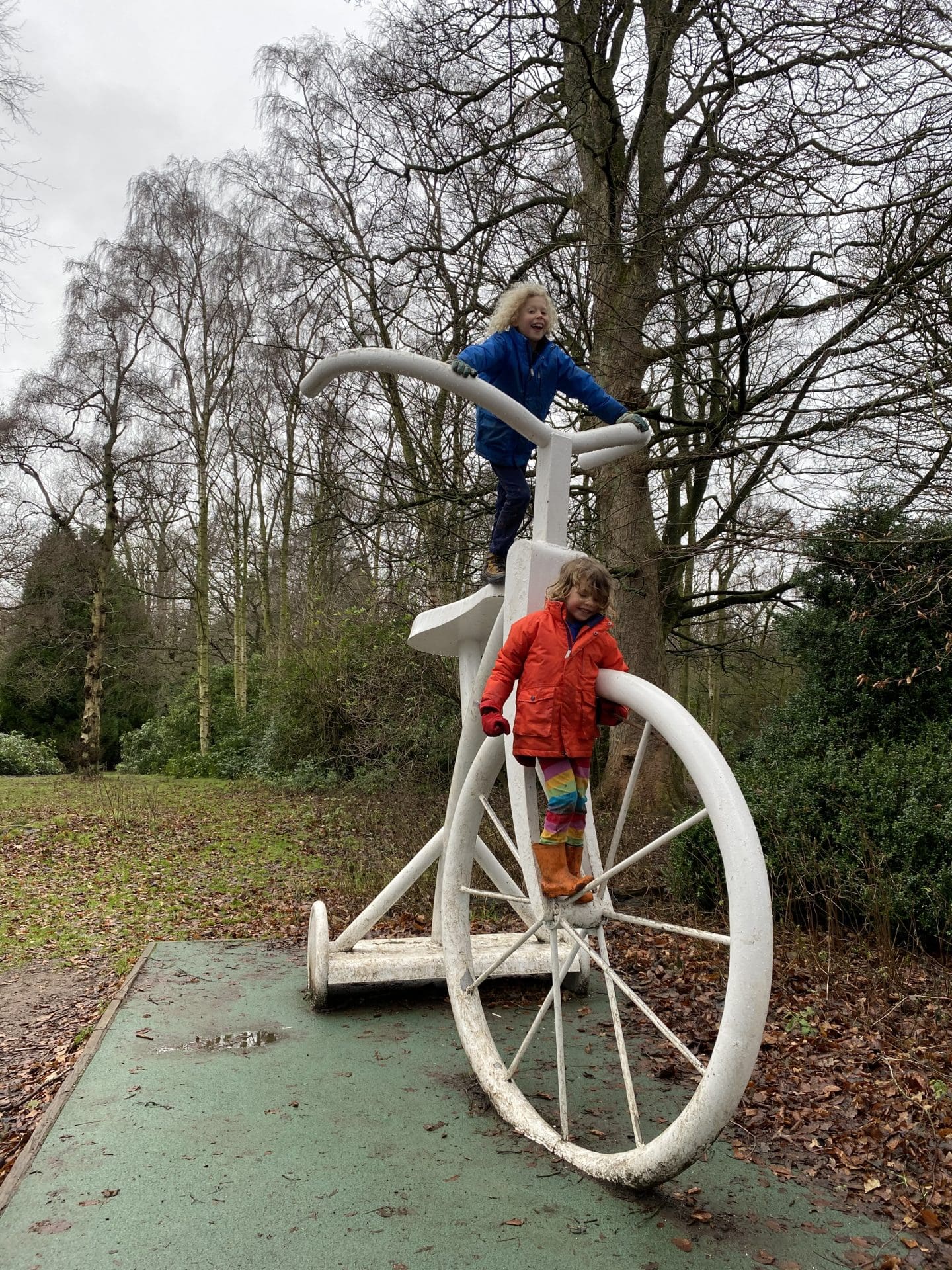 Littlest has also had his gymnastics class for a couple of weeks before Christmas.  Hopefully it won't be long until he can get back to it again after the January lockdown.
Unstructured Play
We spend a lot of time outdoors at the moment.  It's the only way to meet friends or family, but it's also the best time for the kids to just run free.  Unstructured play luckily included snow days and sledging this month.  But we also just spend time playing in the woods too.
Of course there is unstructured play inside the house, but that's more likely to lead to arguing die to lack of space.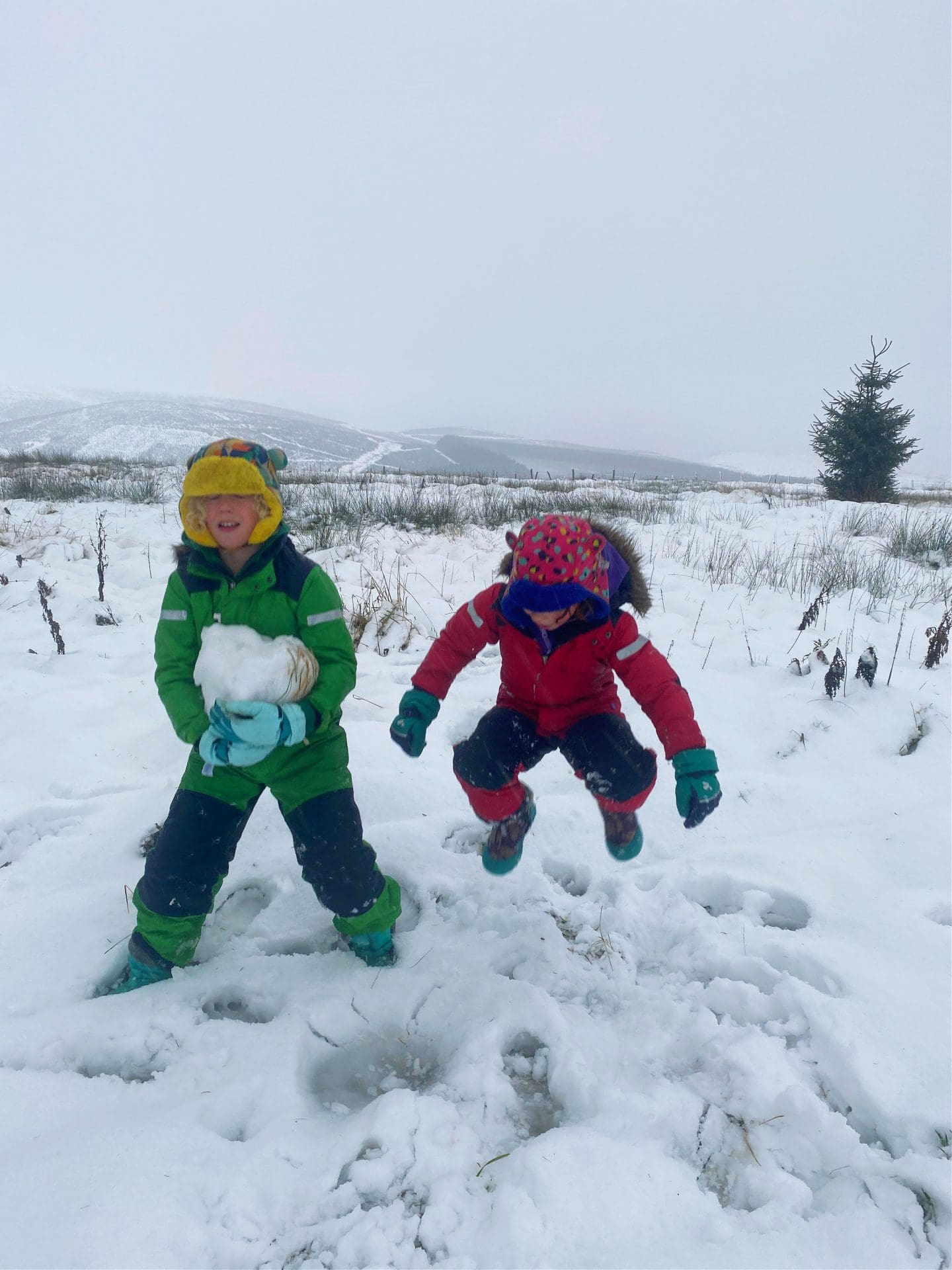 Groups and Clubs
The 6 year old has finally managed to join a Beavers unit.  He should have joined by Easter 2020, but obviously that couldn't happen.  So in December he finally became an official Beaver Scout and has been very pleased meeting up with his unit.  He makes friends easily so has enjoyed being in a new group.
Unfortunately the eldest's Cub unit hasn't returned in December.  He's a little sad about it, but hopefully they return soon in January.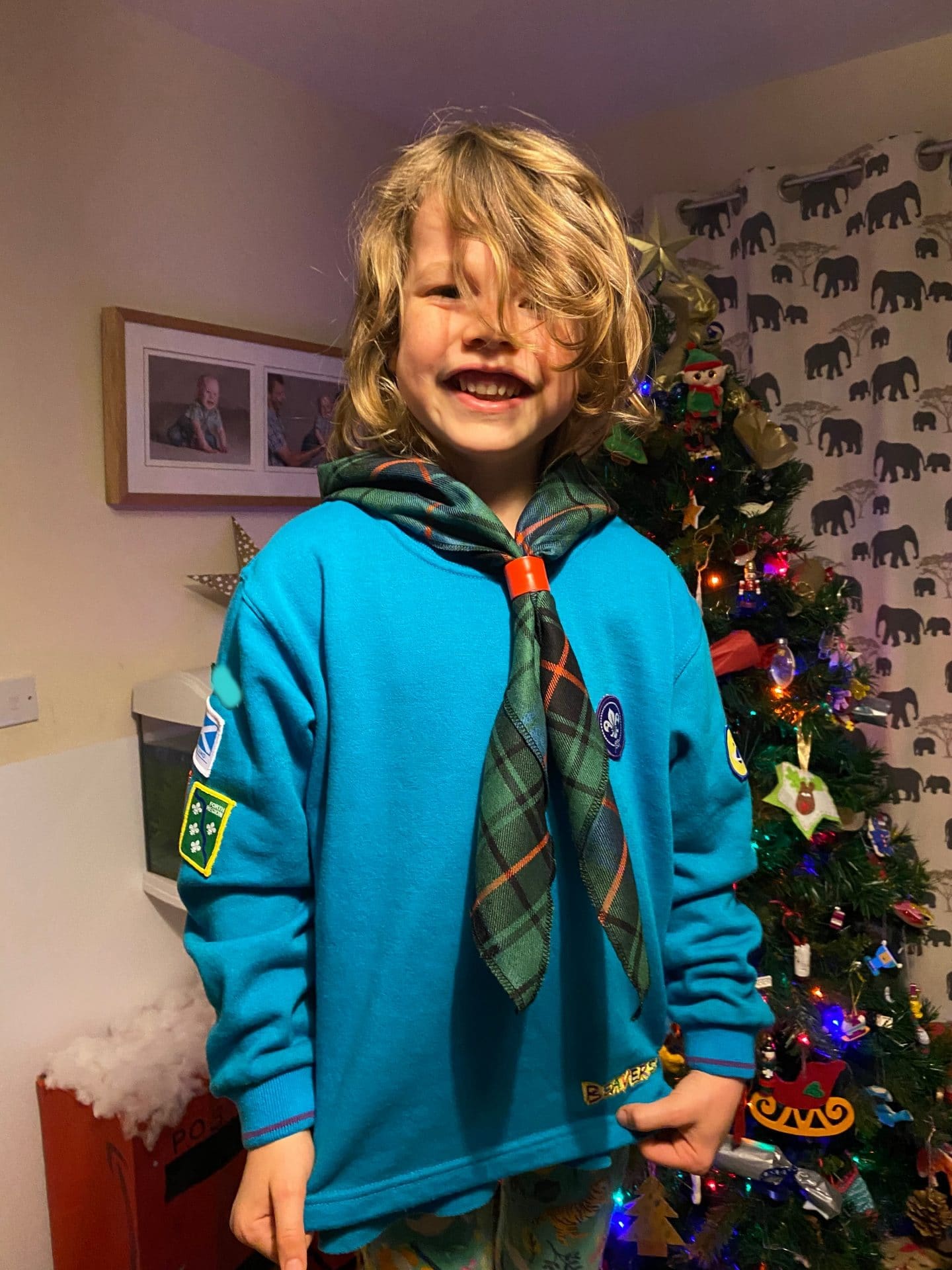 As mentioned above, the youngest's drama group put on a filmed Elf musical show that was streamed at Christmas time.  He loved taking part both the musical and the outdoor light trail.  He also had his drama group for a few weeks in December.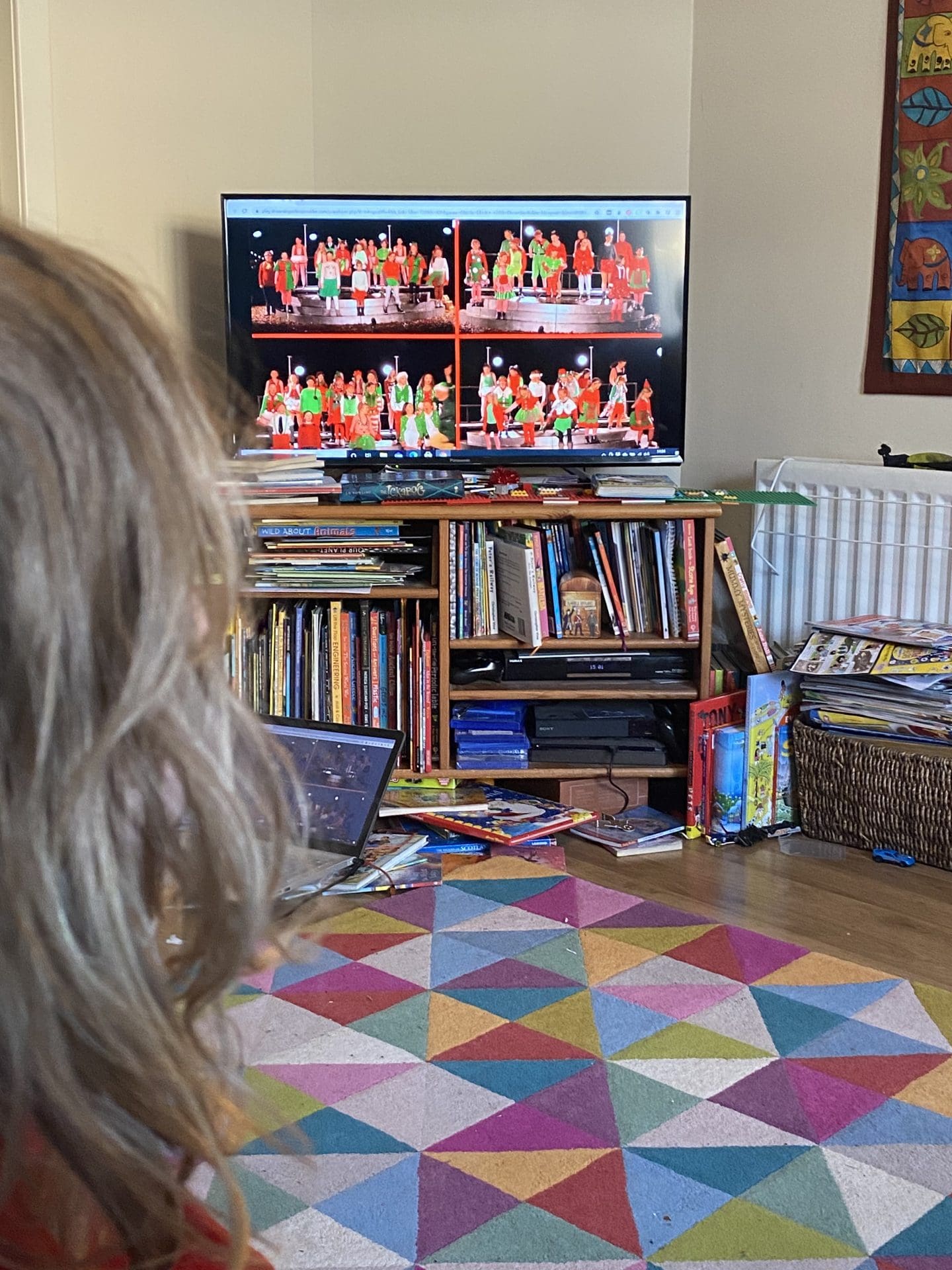 Gymnastics and the children's multisports classes had a couple of sessions before Christmas. But not as many as usual due to our area being in tier 4 at the beginning of December.
Our usual home education groups were still able to go ahead, so we managed to meet up with groups at least twice a week.
Pin For Later