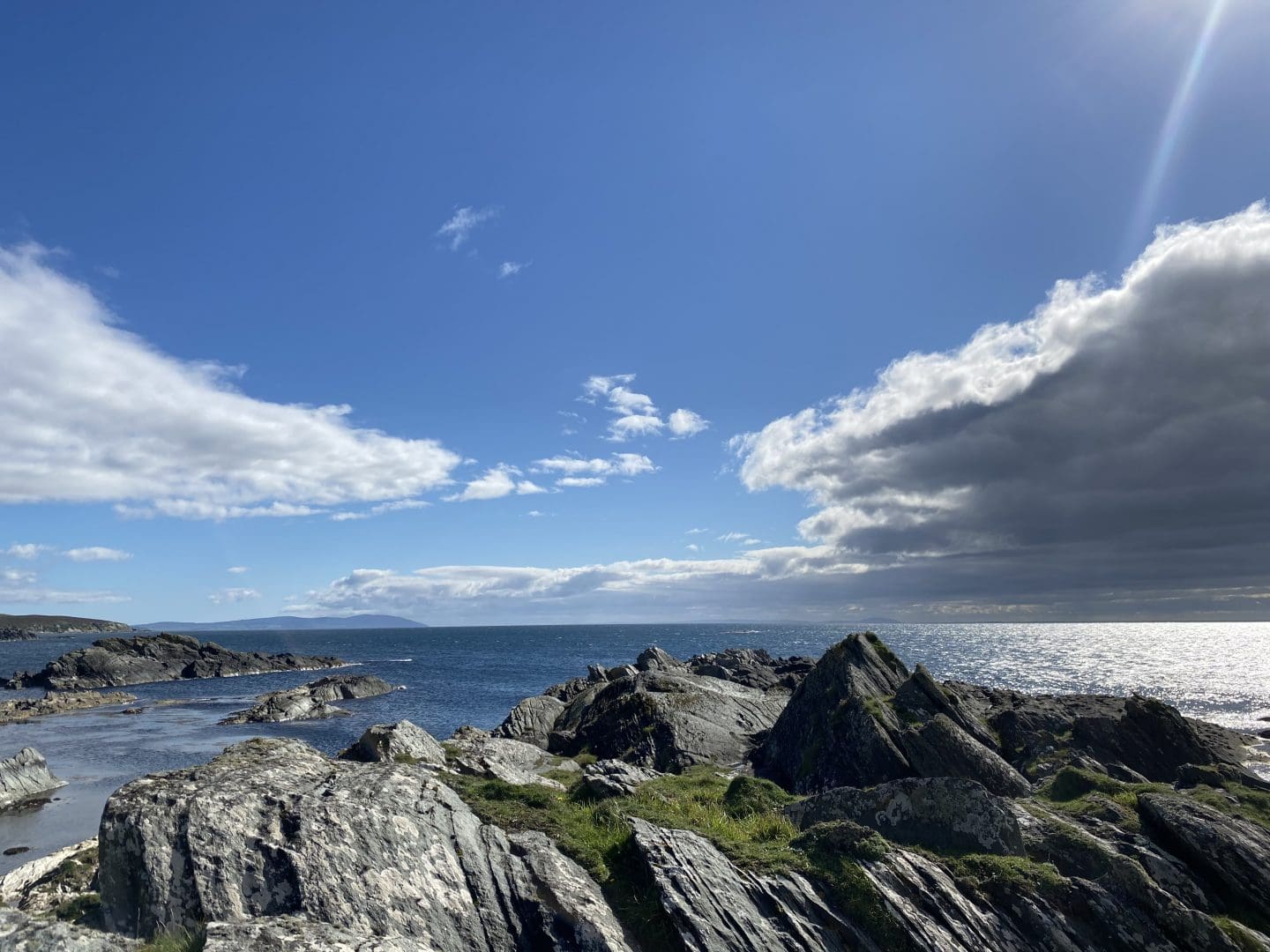 Home Education in Scotland
August still hasn't exactly been normal for home education in Scotland, but there HAS been a few more kids activities.  We've met with several friends and the kids have been playing on the street again.  Normally in the holidays the children are all playing out on the street together.  In and out of houses and gardens together.  Of course there has been no going in and out of each others houses, but finally they can play on the street and in gardens.
Annoyingly the Scottish coronavirus numbers are increasing again, including cases in our own area.  So we are making the most of the kids freedom by playing with friends whilst they can.  Despite it not being the driest month, we still had a LOT of outdoor time!
Here is our Scotland home education diary for August 2020.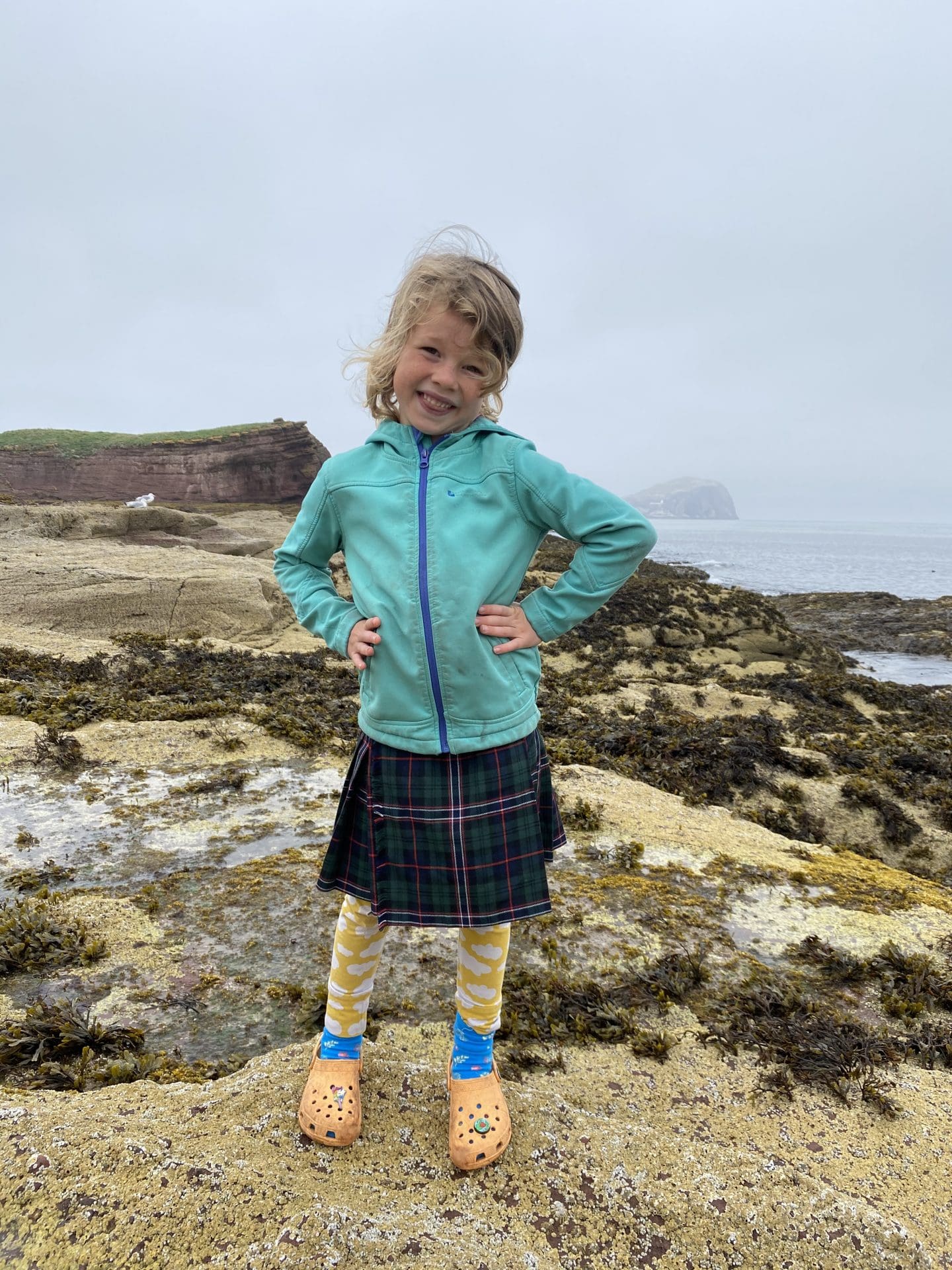 Science – Scottish Home Education
Science can cover so many topics, from physics and engineering to chemistry and biology.  It's surprising just how many things we do end up under this heading!
We've been getting a Kiwi and Tinker Crate for the kids for the last few months, but this month we're changing over to the Big Bang Science subscription.  Our first box arrived and contained various insect themed activities.  So there were worms for a wormery, beeswax wrap craft, chromatography flowers and butterfly feeders.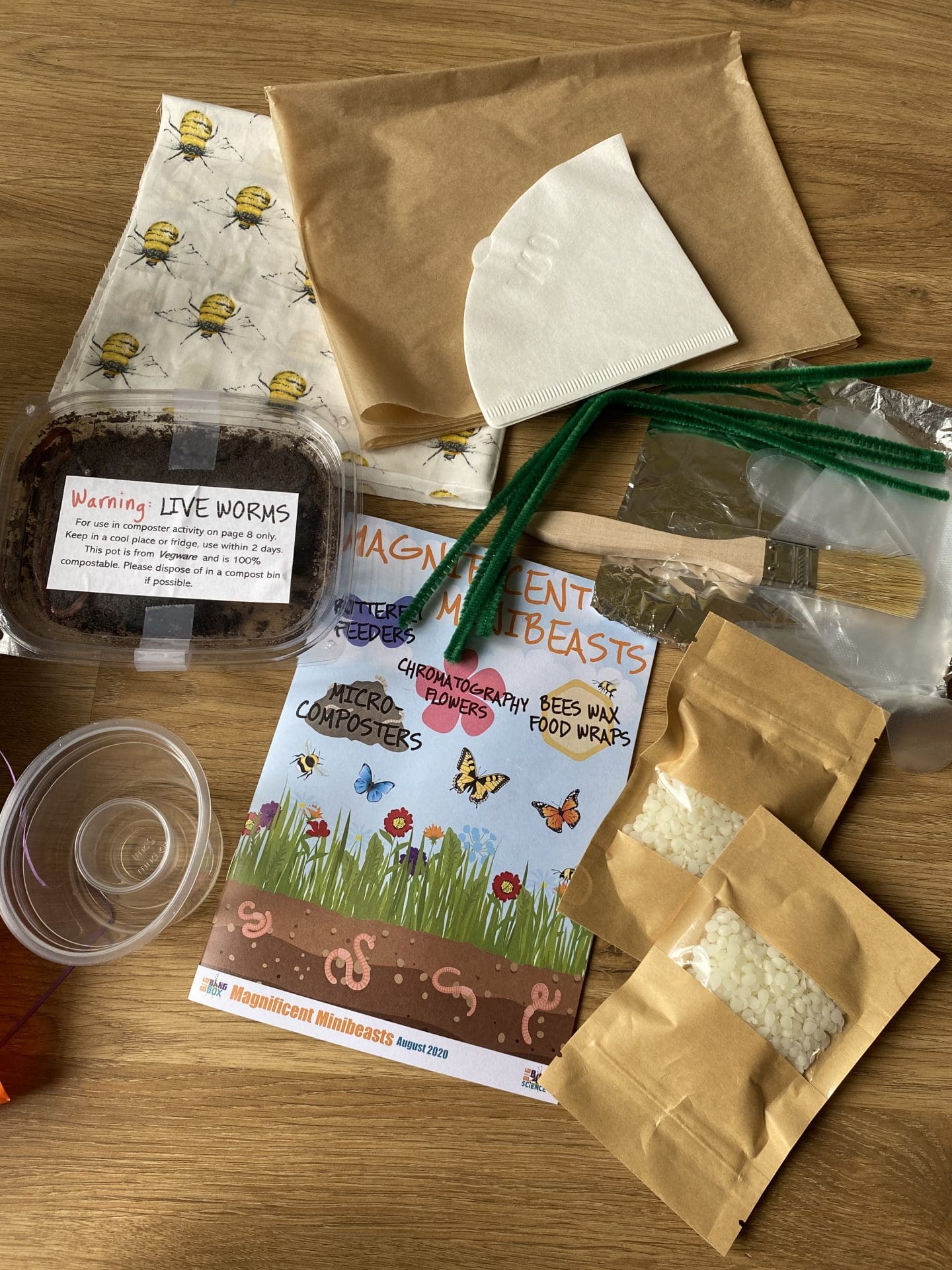 We're looking forward to the next box being delivered!  They do have a home education discount available, just email to ask how to get it.
Of course every month in our house contains a lot of Lego building.  My eldest is the one who mostly loves building.  The youngest prefers his brother to build him things and then just play!  Although our 6 year old has managed to make a few vehicles and buildings himself this month too.  I think his talents lie elsewhere, whereas our 8 year old has more of a logical engineering mind.
We were walking past a kit car in a nearby town recently.  When the 8 year old realised it was a kit car he spent a little while staring at, as if trying to work it how it went together.  I can quite easily see him wanting to make his own car in the future!!
Animal Observations
We have also been lucky enough to see several different types of animals this month.  Whilst away on Gigha we usually spot mink at one or two of the beaches we visit.  The kids are getting quite good at spotting them too, the mink don't seem to care how noisy we are.  They just run off under the rocks ahead and are completely unafraid.  It's interesting to compare the different mink colours and sizes.  We've seen dark grey brown through to pale sandy white mink on the island.  Islanders are now noticing an increase in the mink numbers, which affects other wildlife and chickens. We are likely to see a cull of mink on Gigha to control their numbers soon.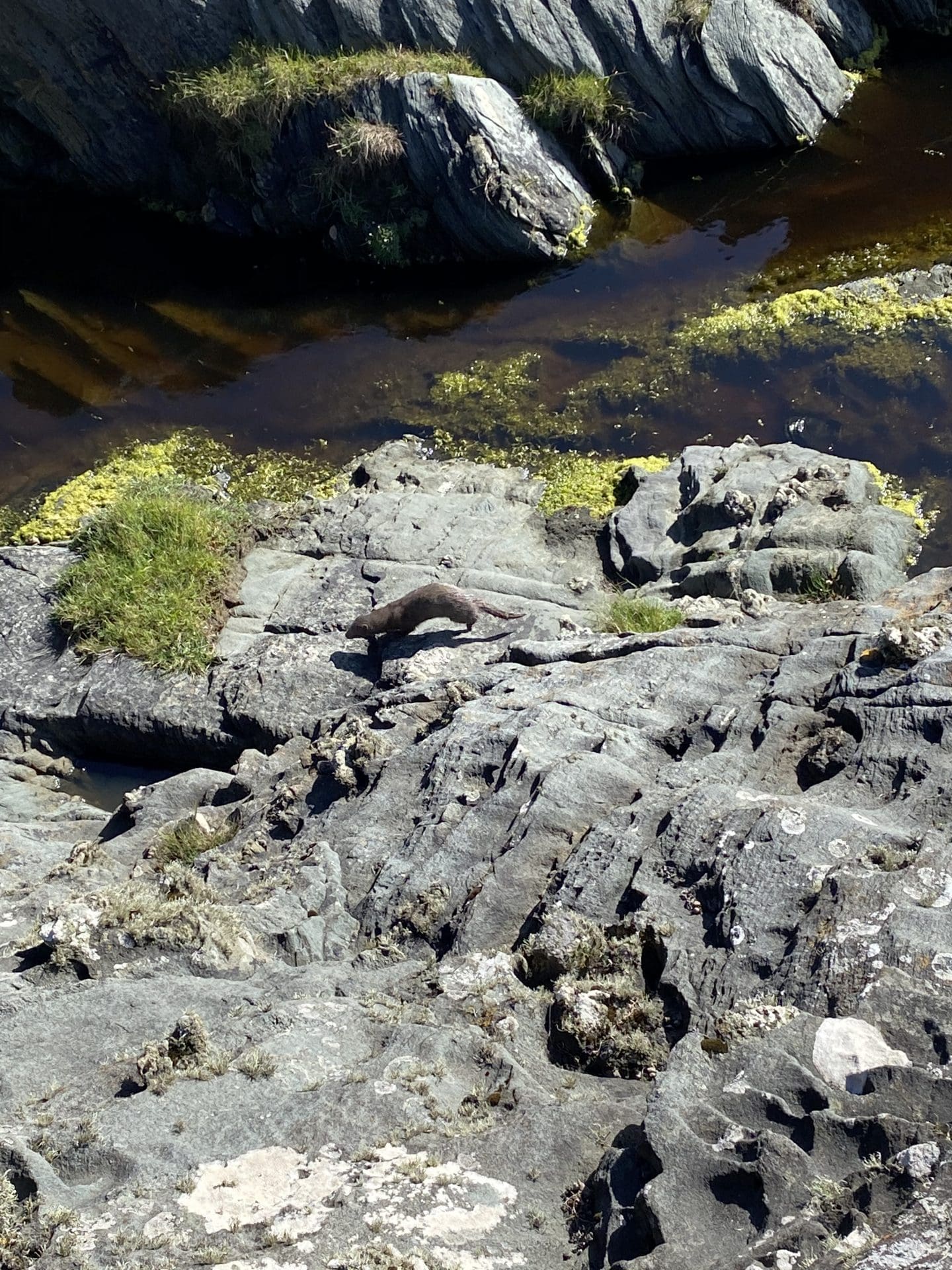 Much more exciting than mink, we saw an otter!  When we were kayaking around the East coast of the island we came across the otter fishing just off the rocky coastline.  It popped it's head up with a fish, gulped it down and went back under water for more.  We watched it for a little while, paddling a little closer until it popped up right beside the kayak.  It turned it's head and saw us, then dived under again quickly.  The kids enjoyed watching for a short while, but were keen to get to a little beach to play.  They were both surprised to see it so close though!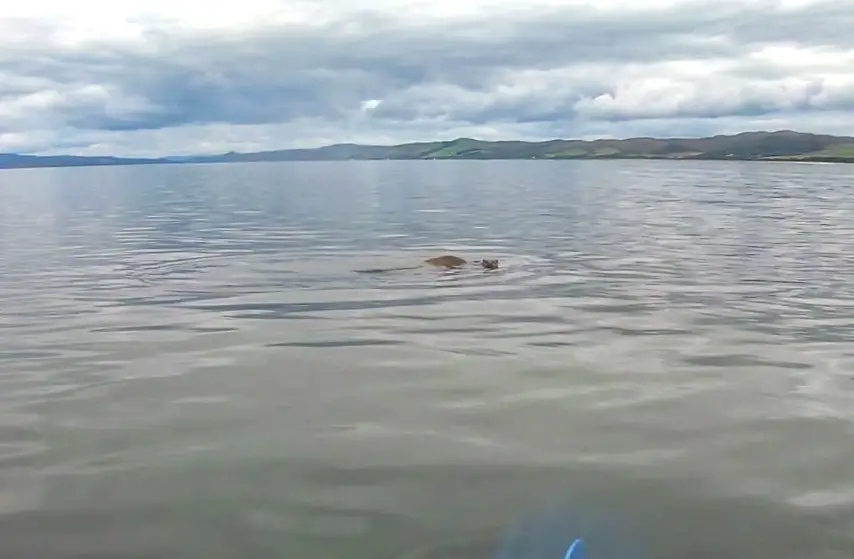 Our other Gigha wildlife included porpoises in the distance from a little island we landed the kayak on.  But the main reason for landing on the island was to see the seals.  There were quite a few seals on the rocks nearby, that slid into the water when they saw us.  We sat in the water as they kept popping up around our kayaks and watching what we were doing.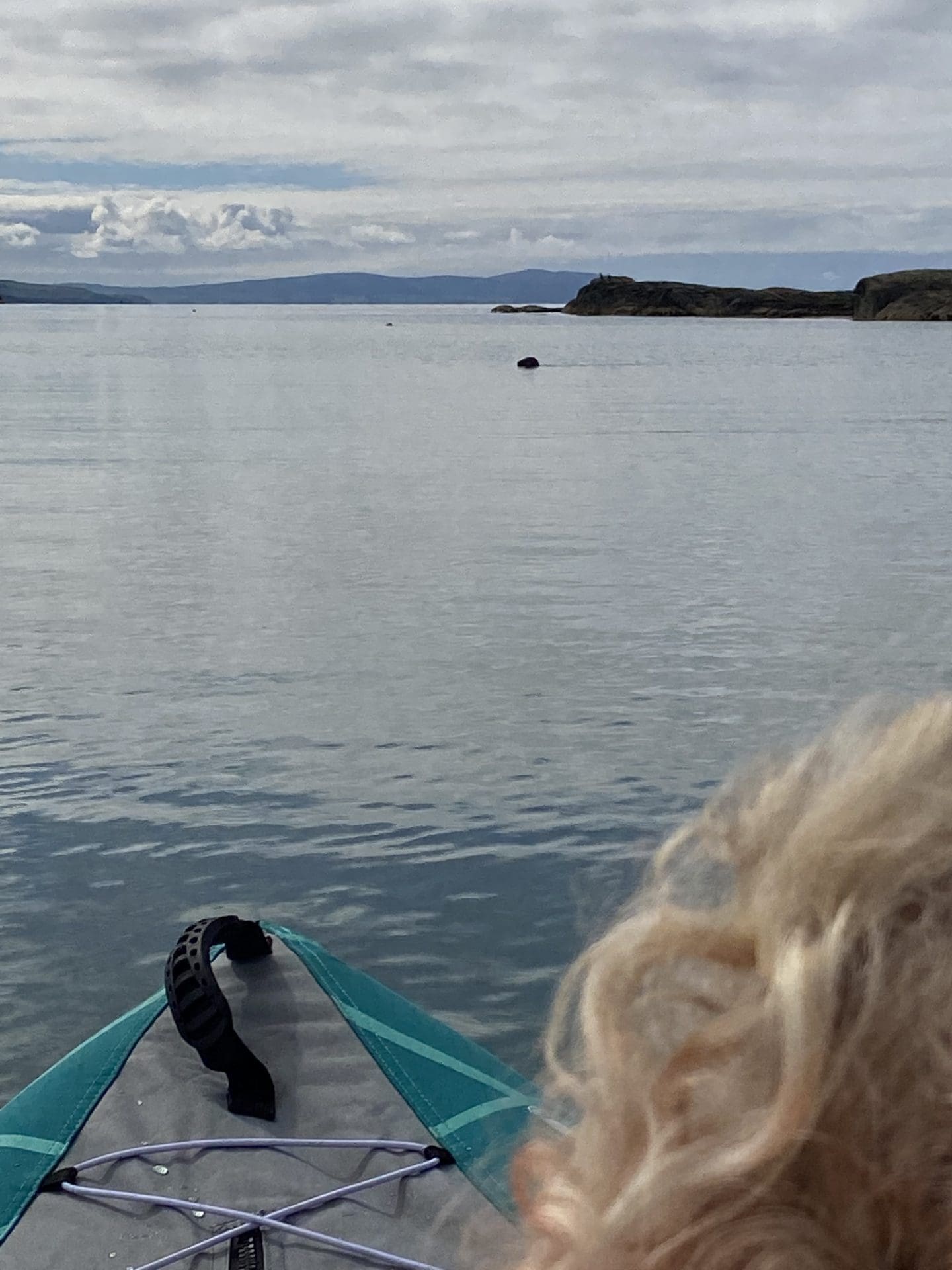 Back on the mainland we visited Jupiter Artland and unexpectedly found a tiny frog.  The children loved getting a chance to hold it and watch it bounce around the amethyst cave.  It's the second time we found a frog in this part of Jupiter Artland.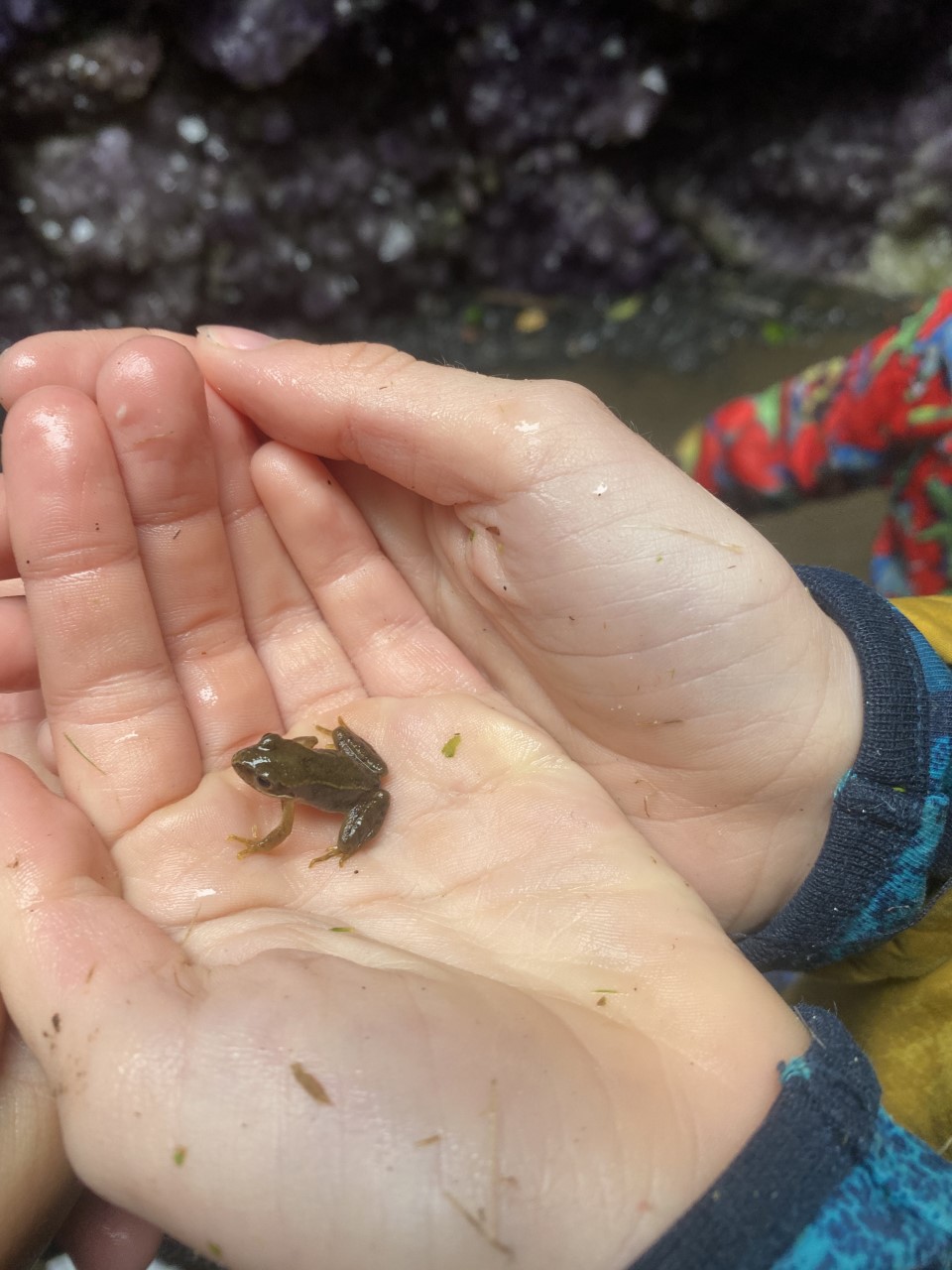 Whale Remains
Back on Gigha we visited a little beach out the way of the normal tourist areas.  There is a whale carcass that's been there for over 2 years an still some parts are held together by very smelly rotting fibres.  There are plenty of whale bones lying around still and the kids had fun putting the vertebrae back together like a jigsaw puzzle.  We found little discs that we worked out must be the discs between the vertebrae and a few rib bones.  The massive skull was still on the beach too, but we had to do a little research back home when we had internet access.  The skull was missing a the main beak part and the lower jaw was entirely gone.  It was definitely interesting to see how it should look by looking at whale skeletons online.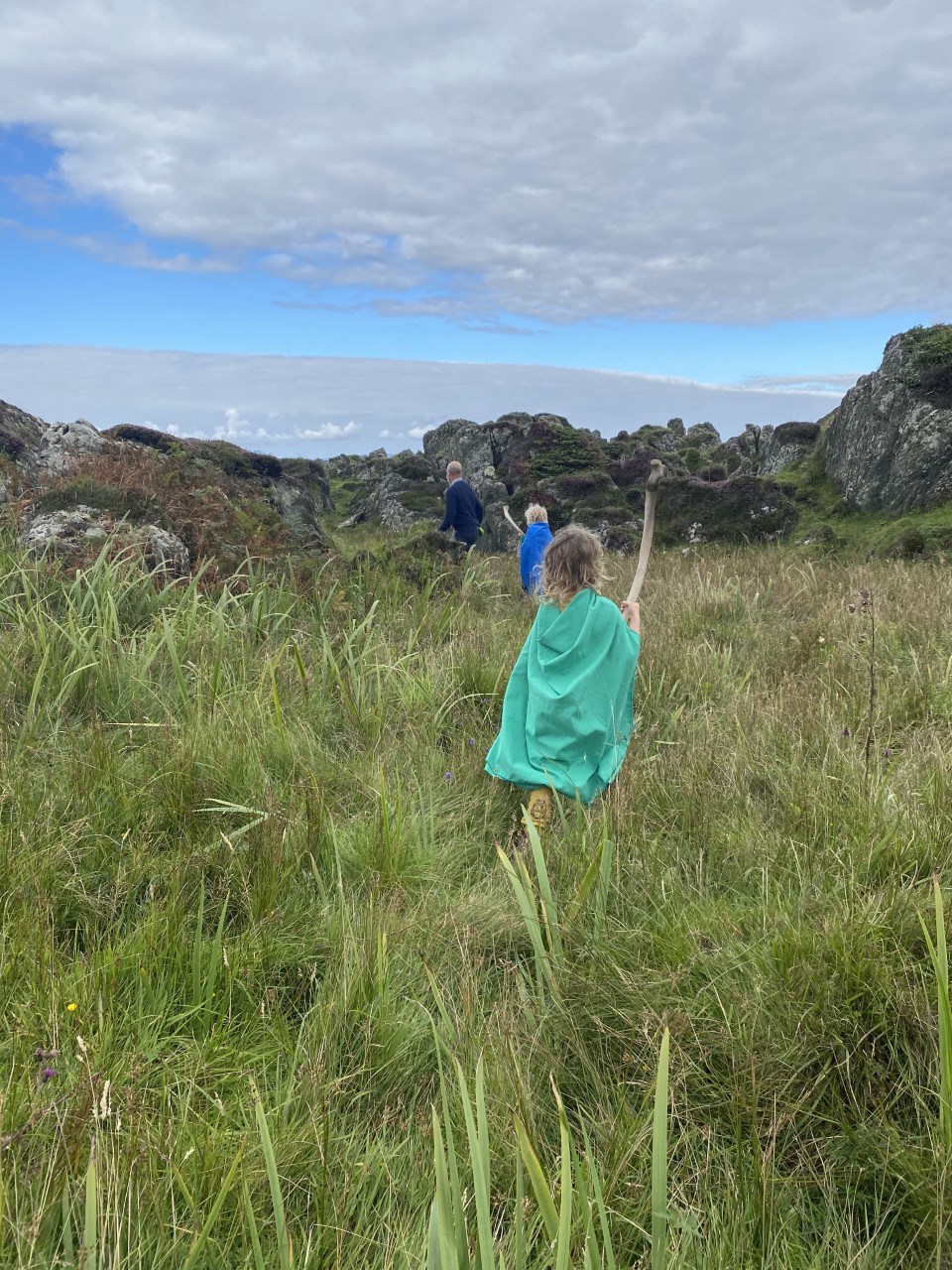 Of course the kids kept a rib bone each to use as a tool on the beach.  Partly for drawing and digging, partly as a weapon!
Usborne Lift-the-Flap Books
The kids had a delivery of Usborne books this month and chose several more of the lift-the-flap science books.  These included See Inside Germs and Computers and Coding.  Both things that interest the children.  Despite the fact that the 8 year old gets overwhelmed by a lot of words to a page he sat and looked through the books for ages.  The youngest can't read much at all, but he was happy to look through the books and pointing out what was happening in the pictures.
My husband and I have read through the books with the kids and as usual they love them.  Lift-the-flap books are just as relevant for the ages!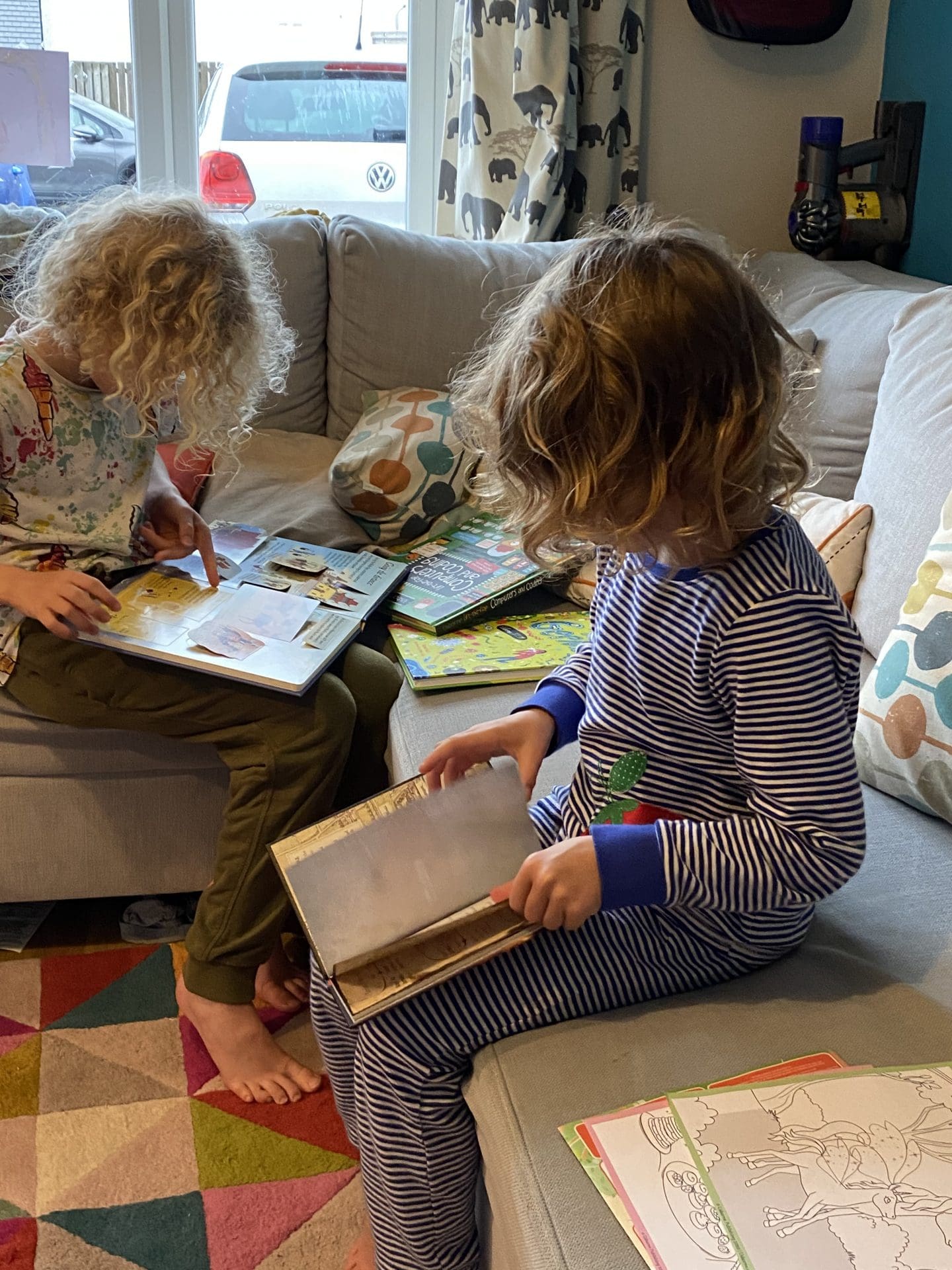 Unstructured Play – Home Education Scotland
As it's summer and because of Covid-19, there have been very few classes and groups.  So the kids have had a lot more time for simple unstructured play.  They don't need to take any toys are things when we're out at beaches really.  They usually find a game to play with whatever is there. I'm not sure about others in my home education circle in Scotland, but unstructured play is a big part of our days.
On Gigha they spent a lot of time climbing and jumping off of rocks, playing with whale bones and being superheroes.
We brought my parents microfibre quick drying towels with us to the beach one day.  The kids dried off from body boarding and proceeded to wear them round their necks as superhero capes.  They had so much fun with them that I think I might buy them one each for Christmas, perfect multi-use item for days out!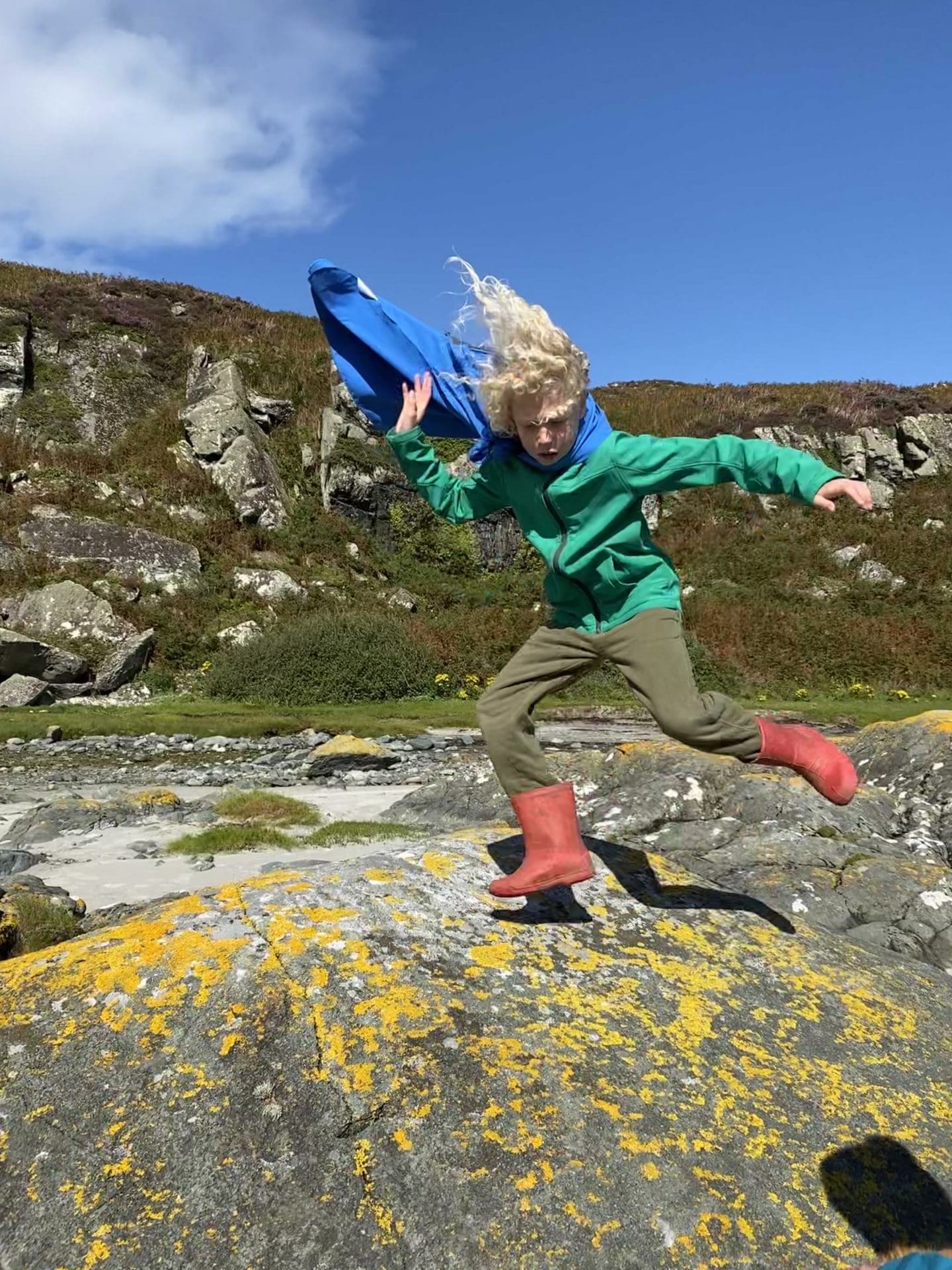 Water Play
We also visited a local river with a sandy beach again.  The kids love playing in there on warm days and we've visited a couple of times with friends.  It's the perfect spot for a picnic and play.  Plus plenty of space for unstructured water play and digging channels in the sand.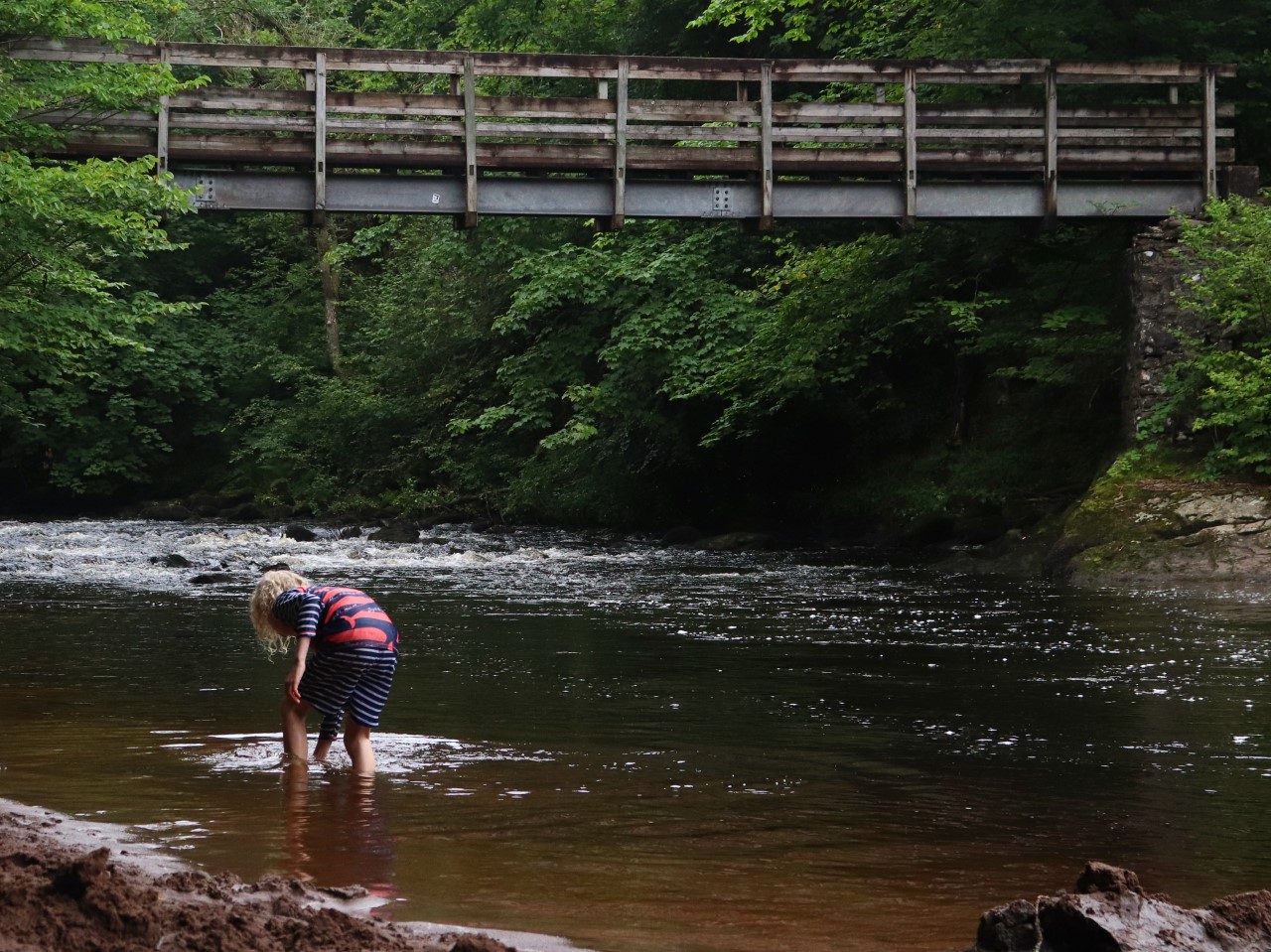 We managed to visit a beach on the South East of Scotland's coast with a blogging friend.  The kids got on well and had fun playing on the beach making a sea wall and trench and jumping off of rocks into the sea.  Of course the sun came out after we put the wetsuits away, so the kids got their clothes soaked instead!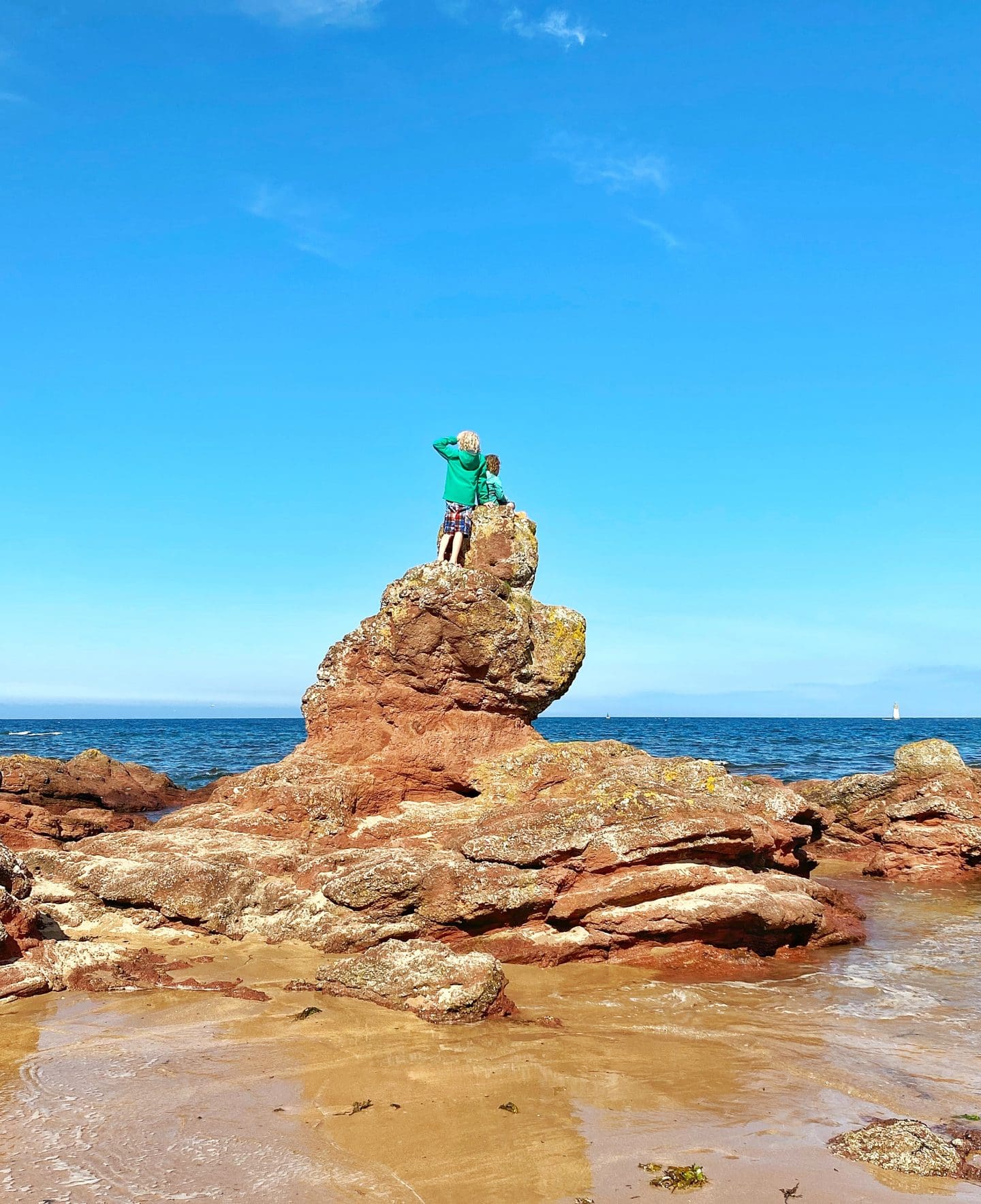 The littlest was particularly enjoying commanding the sea and trying to get it to keep back from their sand sea wall.  It really looks like the sea is listening in this particular photograph below!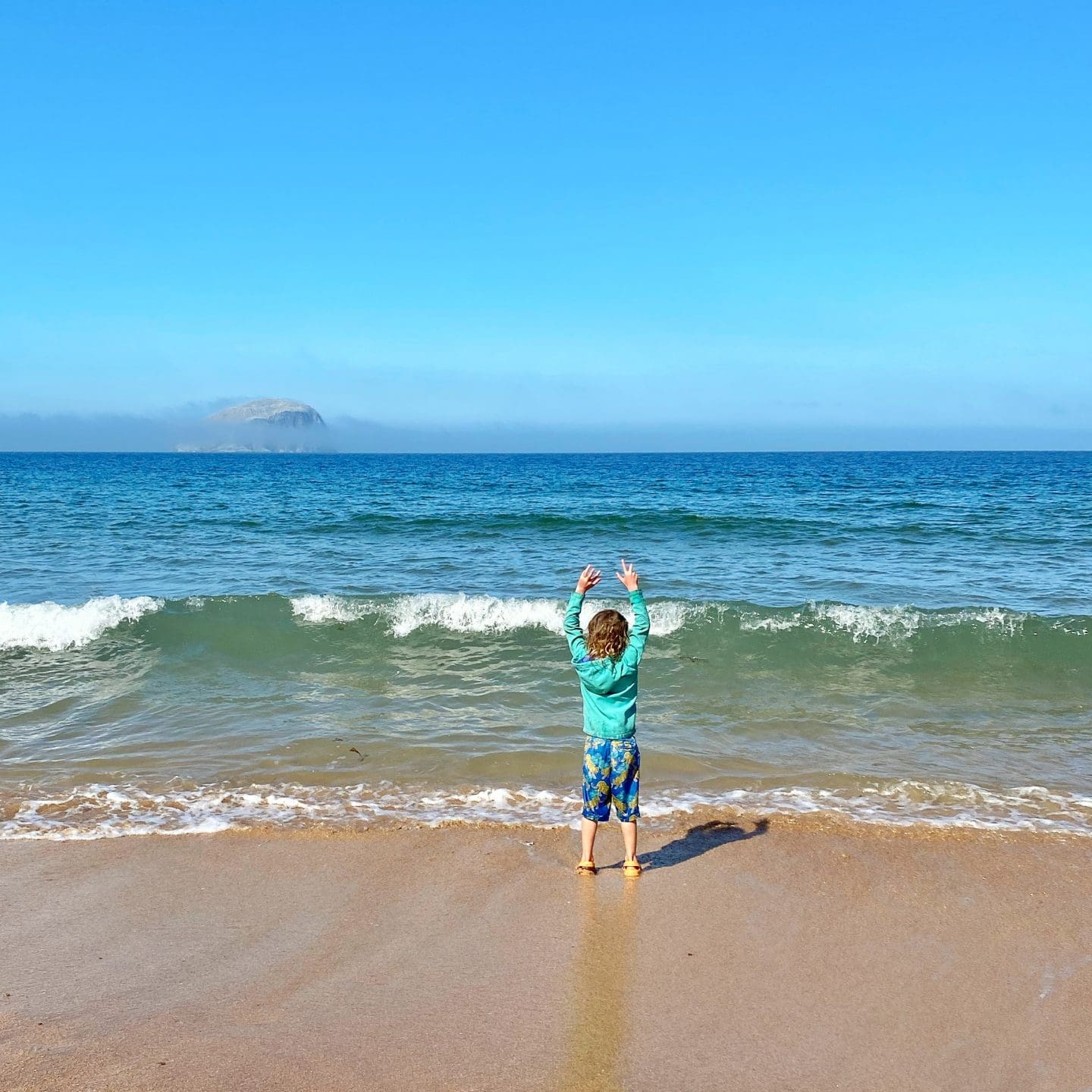 Aside the play at the beach the kids have had plenty of time in their wetsuits elsewhere.  Jumping into the sea off rocks and swimming in the sea is a fun one.  The Scottish sea can be quite chilly though!  So they can only have jumping in and swimming for a little while before they need to warm up again.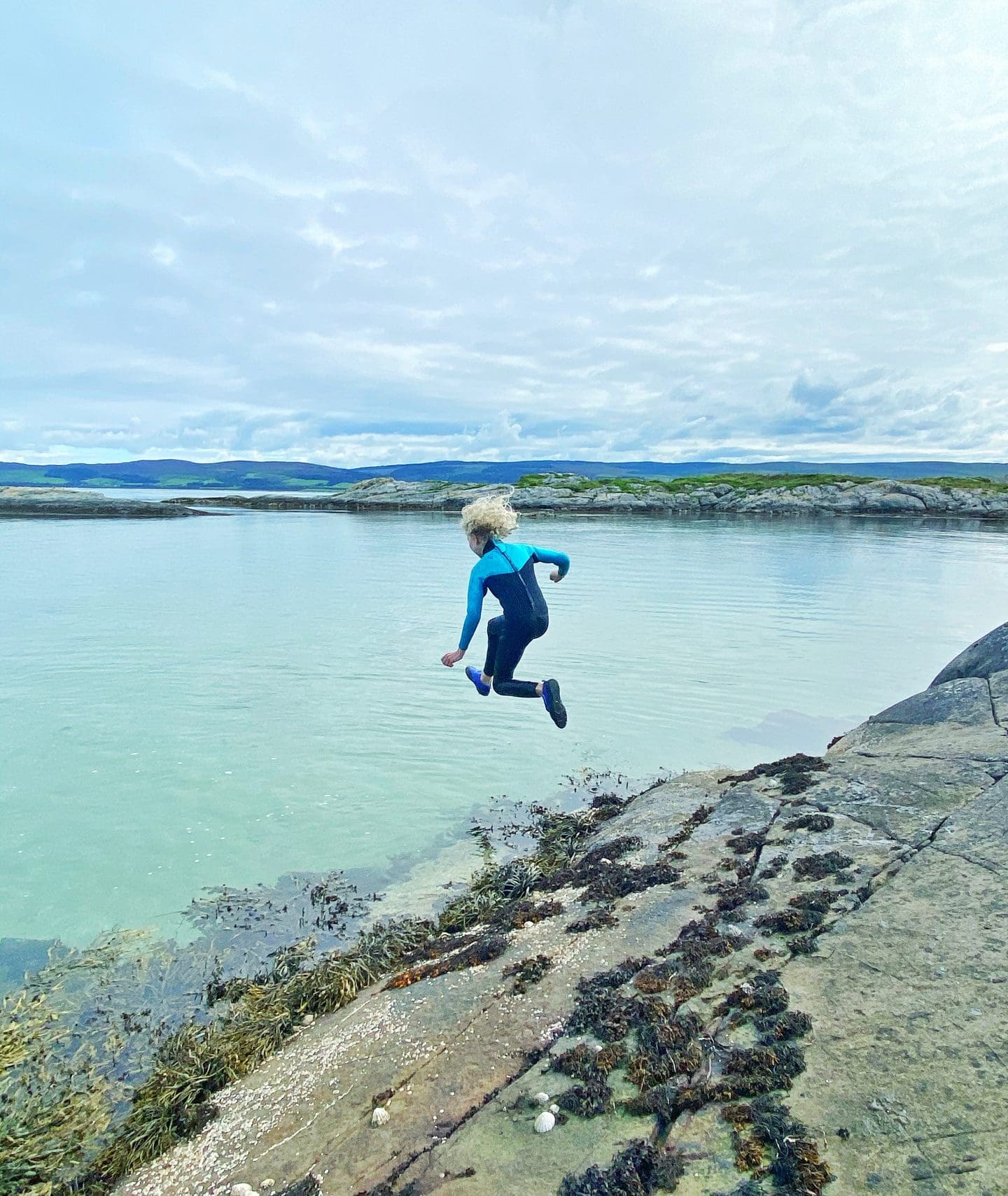 Back at home they have found plenty of time for climbing trees.  Always their favourite thing to do, climb up things and jump off!  On warm days they can do this for hours, especially when water is involved!  I'm not sure why we bought a paddling pool this year, they've been out by rivers a lot more often!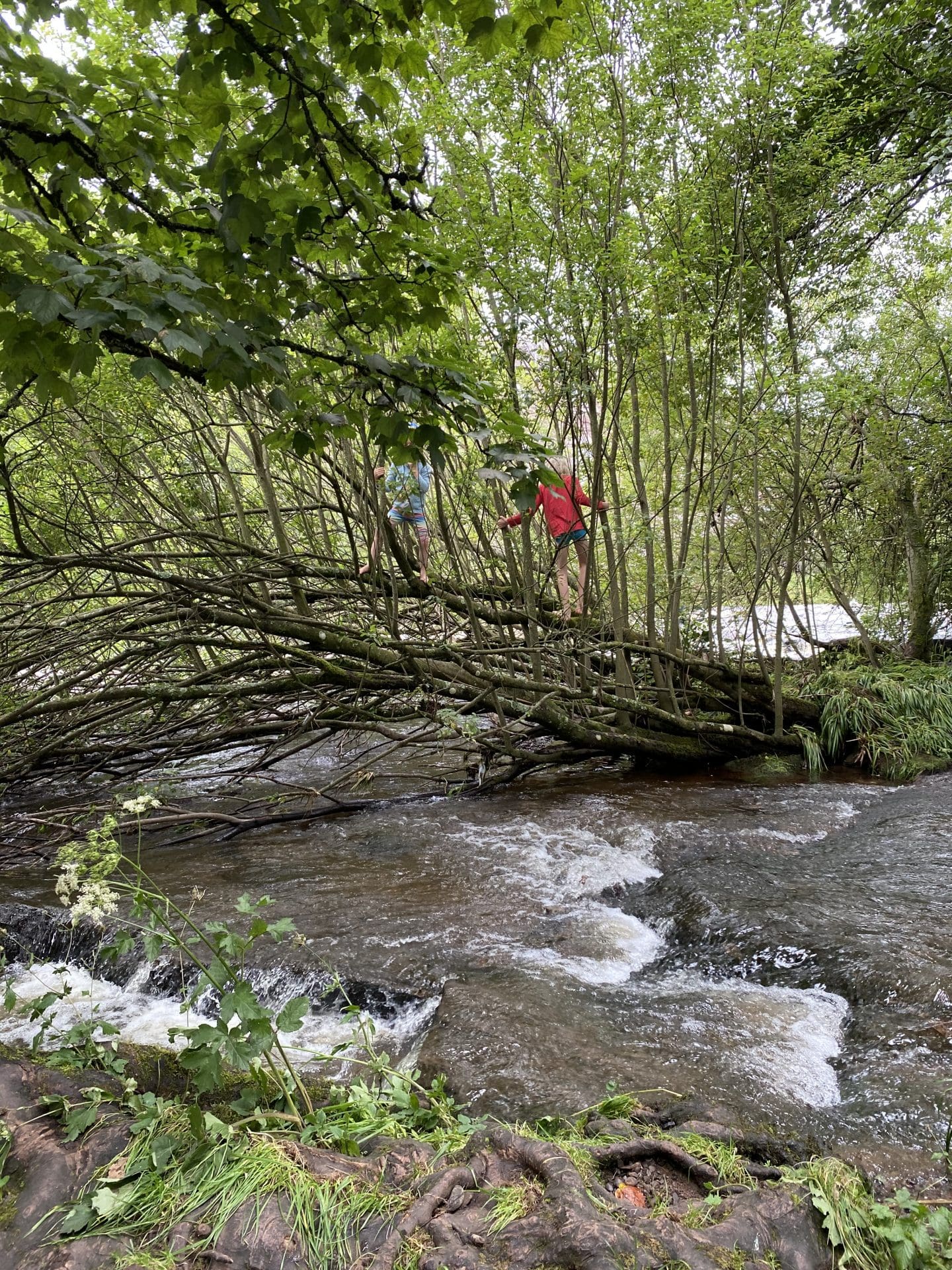 Playing With Friends
As mentioned before the kids have been excited to be out again with their friends.  Playing on the street with bikes, scooters, skateboards and go-karts.  Whenever their friends are home they are all out playing together, which is wonderful to see.
We have also met up with a few home ed families over the last month.  Mostly in woodlands and by rivers to let them play together again.  It's surprising how they just go back to playing the same as before, despite not seeing each other in person for 4 months!
Reading and Writing – Home Ed Scotland
Our eldest is getting much quicker at reading words, although can often be overwhelmed by a lot of words on a page.  It's been nice to see him pausing whilst walking past signs or looking at backs of packaging to read what it says.  I'm hopeful he'll soon get used to reading a lot of words together, rather than having to decipher them each time.
I have noticed that he is writing more annotations on his drawings too.  His writing is not exactly what I would call legible, but he's getting better at attempting to write rather than ignoring it.  I guess a lot of my own writing isn't legible to others either, my husband often questions words on the shopping list!! I hardly write anything other than using a computer nowadays.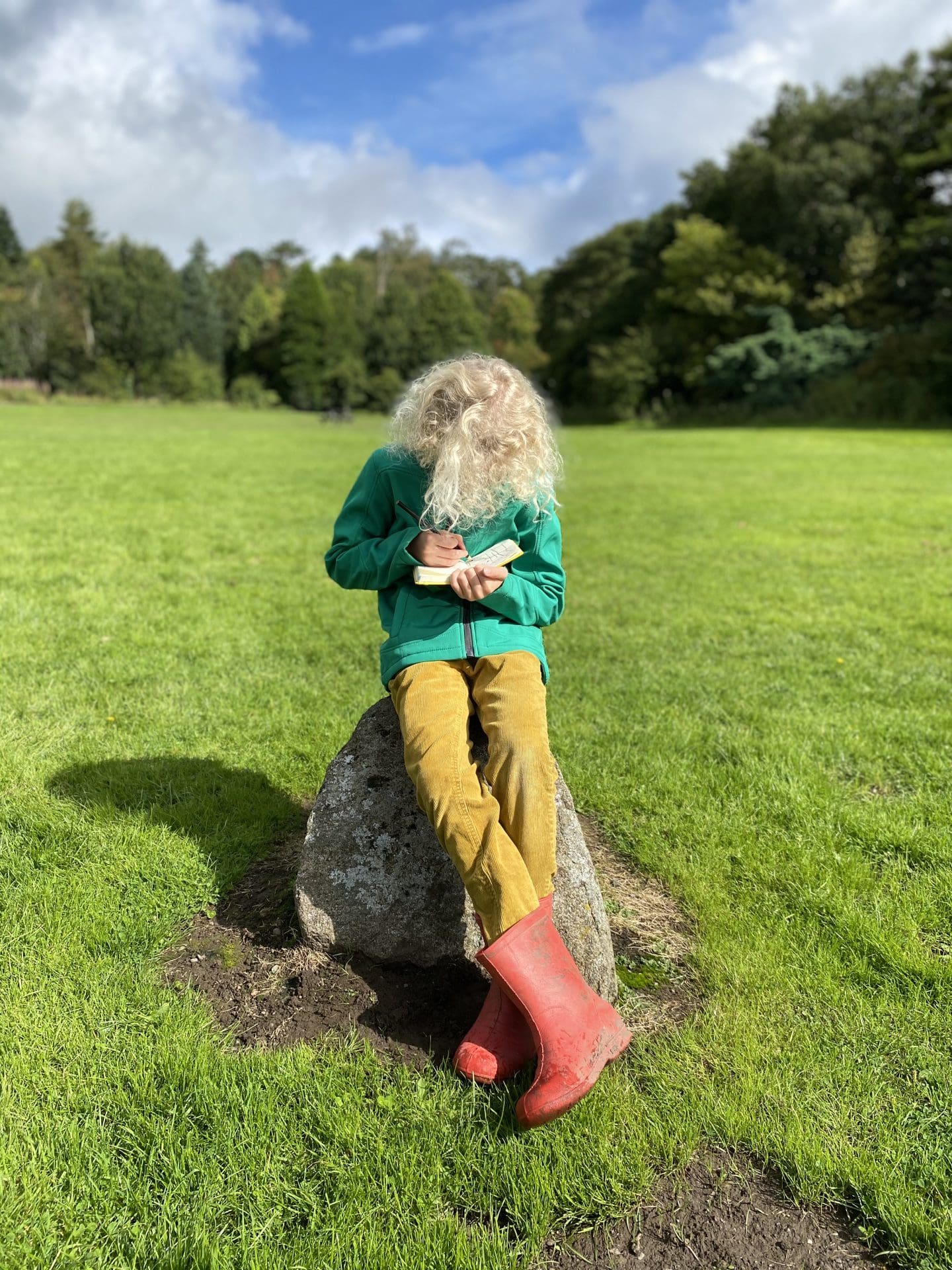 Notebooks were a new addition to their backpacks and they're both enjoying drawing or writing in them when we're out.
We've also had a few more click and collect visits to the library.  Each time the kids want to see the books straight away and can be seen standing by the wall outside looking at the books they've been given.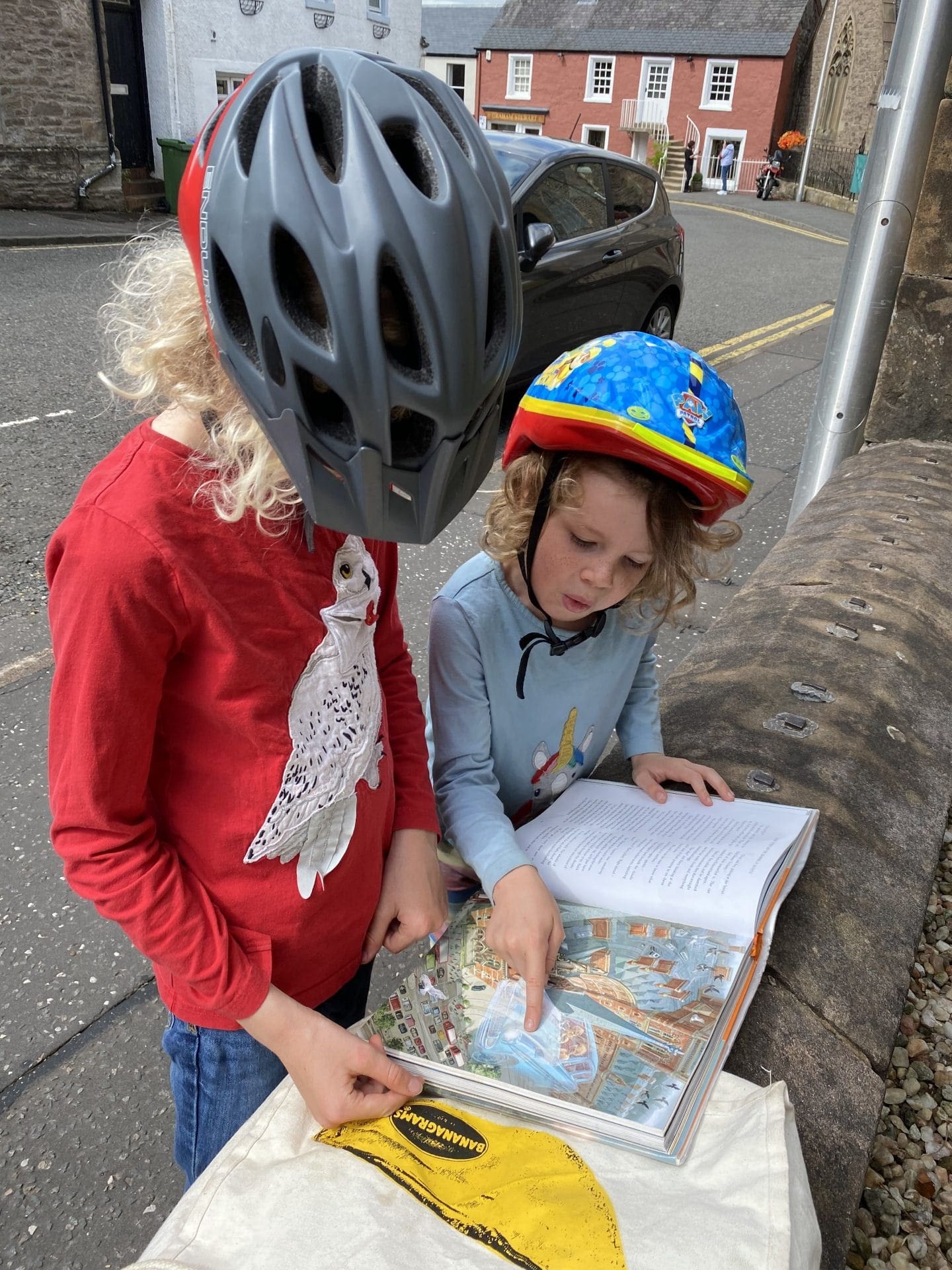 One of the library books was a recipe book and my 8 year old read the instructions for them to make a cake together.  It was lovely to see that they made the cake together with little help from me.
Both children have been trying out Reading Eggs again.  They enjoy playing it so it's not too hard to convince them to have half an hour to practise!  The youngest has even managed to read 3 letter words, which is a first for him! I think the love of computer games is definitely helping.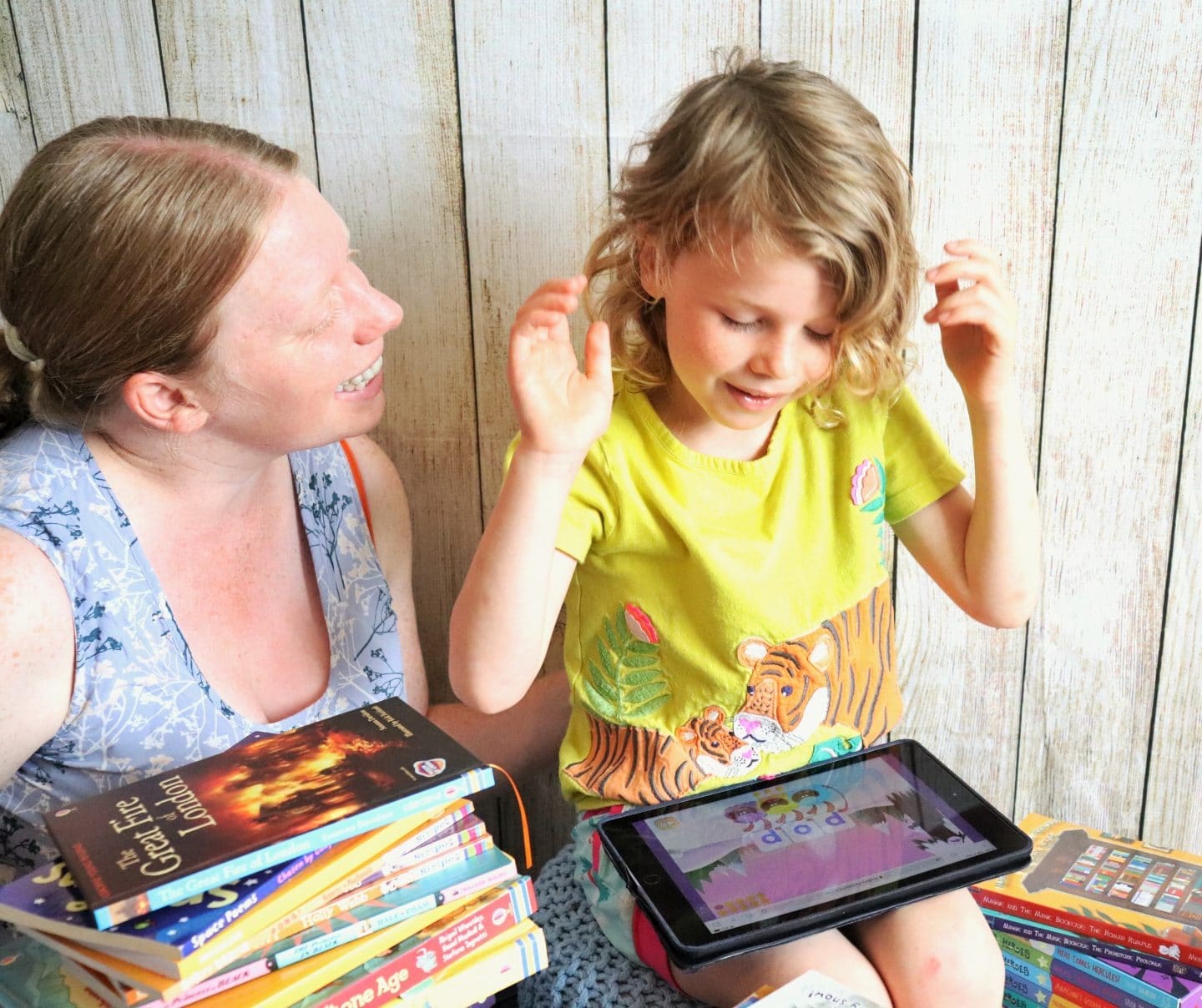 Mathematics – Scotland Home Education
The baking mentioned above is also great for the kids maths.  Measuring ingredients takes time and I'm trying to persuade them to take their time measuring.  Sometimes they tip the box too much and a huge amount of flour tips out!  They seem to be getting the hand of it now though.
Board and card games have also been a big part of the kids maths. Shut the box is a good one to help both kids quick addition and number splitting skills.  Although we've also played quite a few other games including Sleeping Queens, Game of Life and Gangsta Granny.  All contain some amount of mathematics.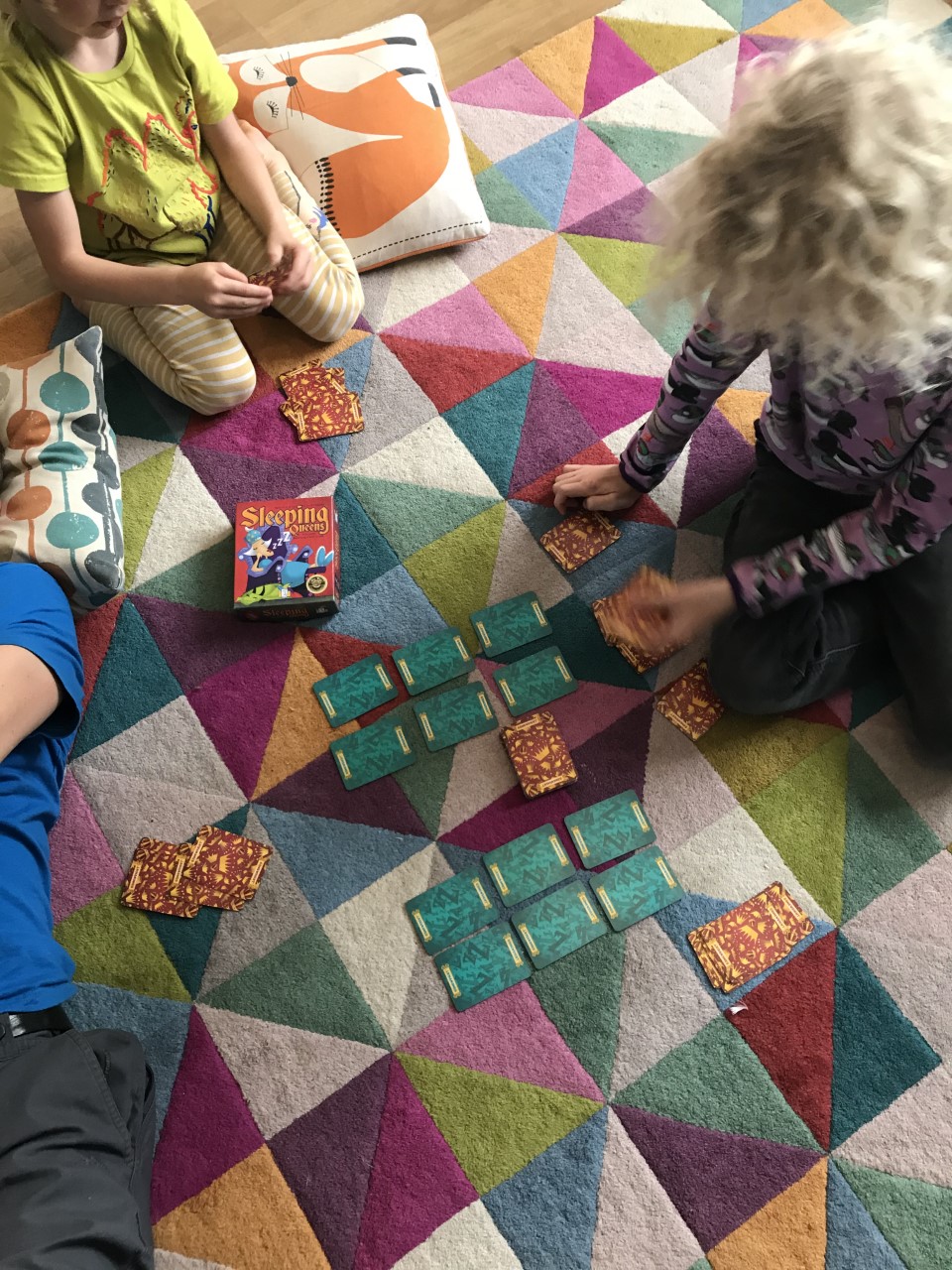 Exercise – Scottish Home Education
Spending a lot of time outdoors during August has meant a lot of exercise.  We've not been walking near home quite as much as previous months.  Instead we've been out playing with friends and enjoying the water and beaches.
The children took their body boards with them to the beach on the East coast and had a great time.  They dived on top of the waves and squealed as they skidded onto the sand.  We took the boards with us to Gigha too, although we only took them out onto the sea once.  Perhaps in a warmer country we might try taking them for surfing lessons!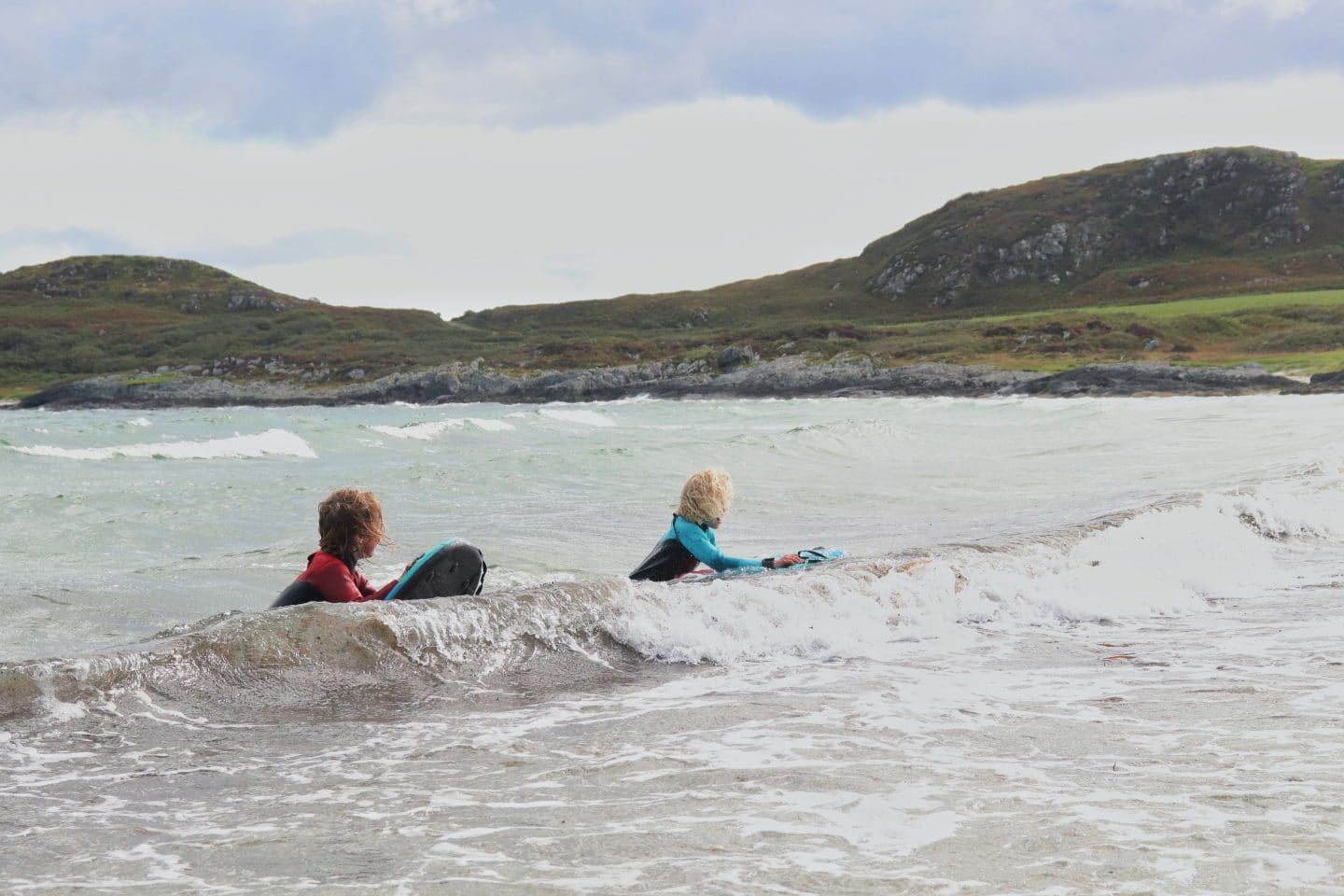 As well as body boarding the kids will happily splash about in the sea and go for a swim.  On a visit to Coldingham bay to see the children's aunt and grandparents they spent the whole day running in and out of the sea swimming and splashing.  Perfect for a rather warm Scottish day!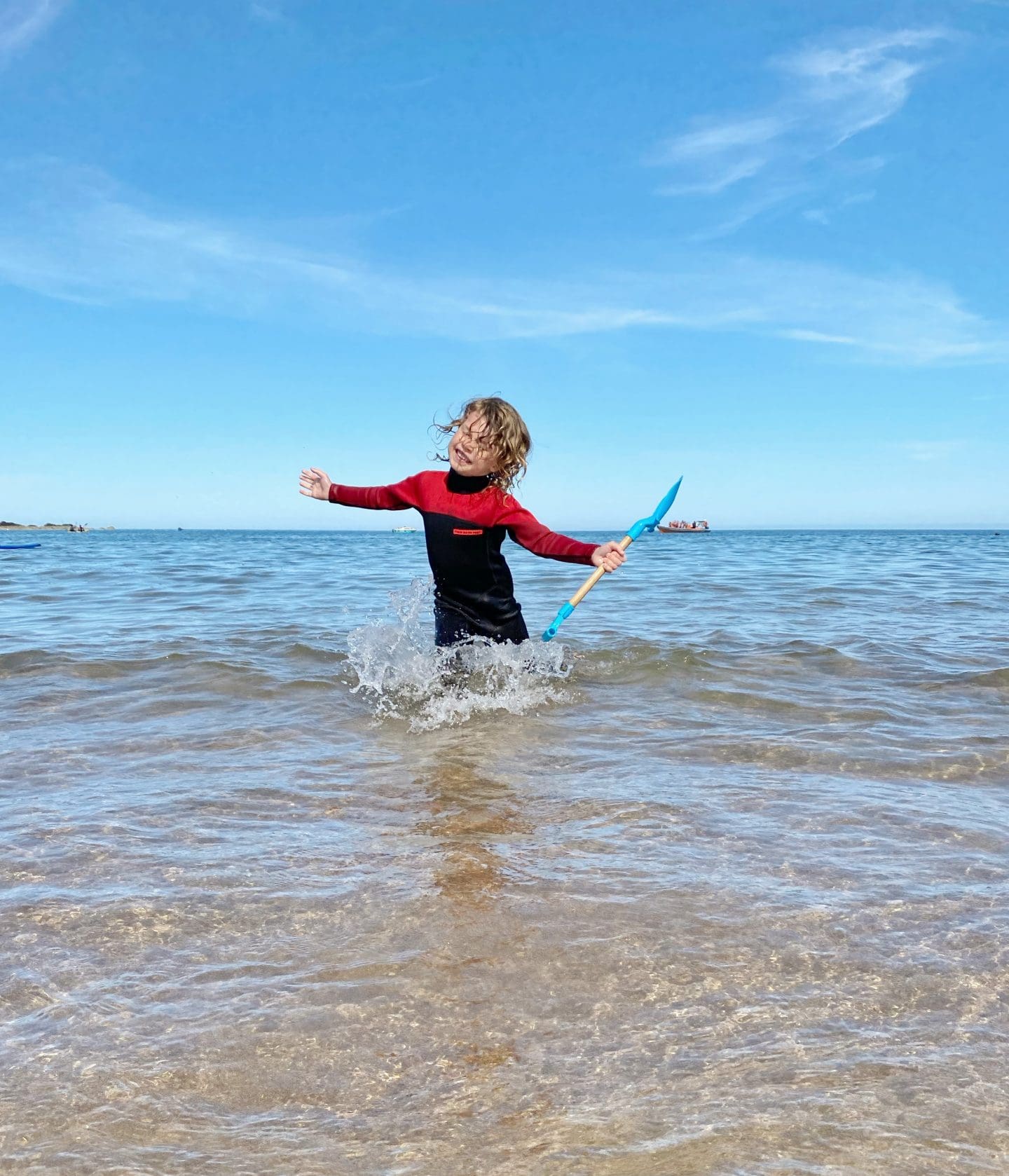 The kids love their bikes and can be found cycling around neighbourhood and frequently to nearby villages.  We also took the bikes with us to Gigha and spent a lot of time cycling.  It can be difficult to walk along the hard tarmac road so the kids usually cycle until the point we turn off.  Then they can leave the bikes to walk over the grass and to beaches or rocks.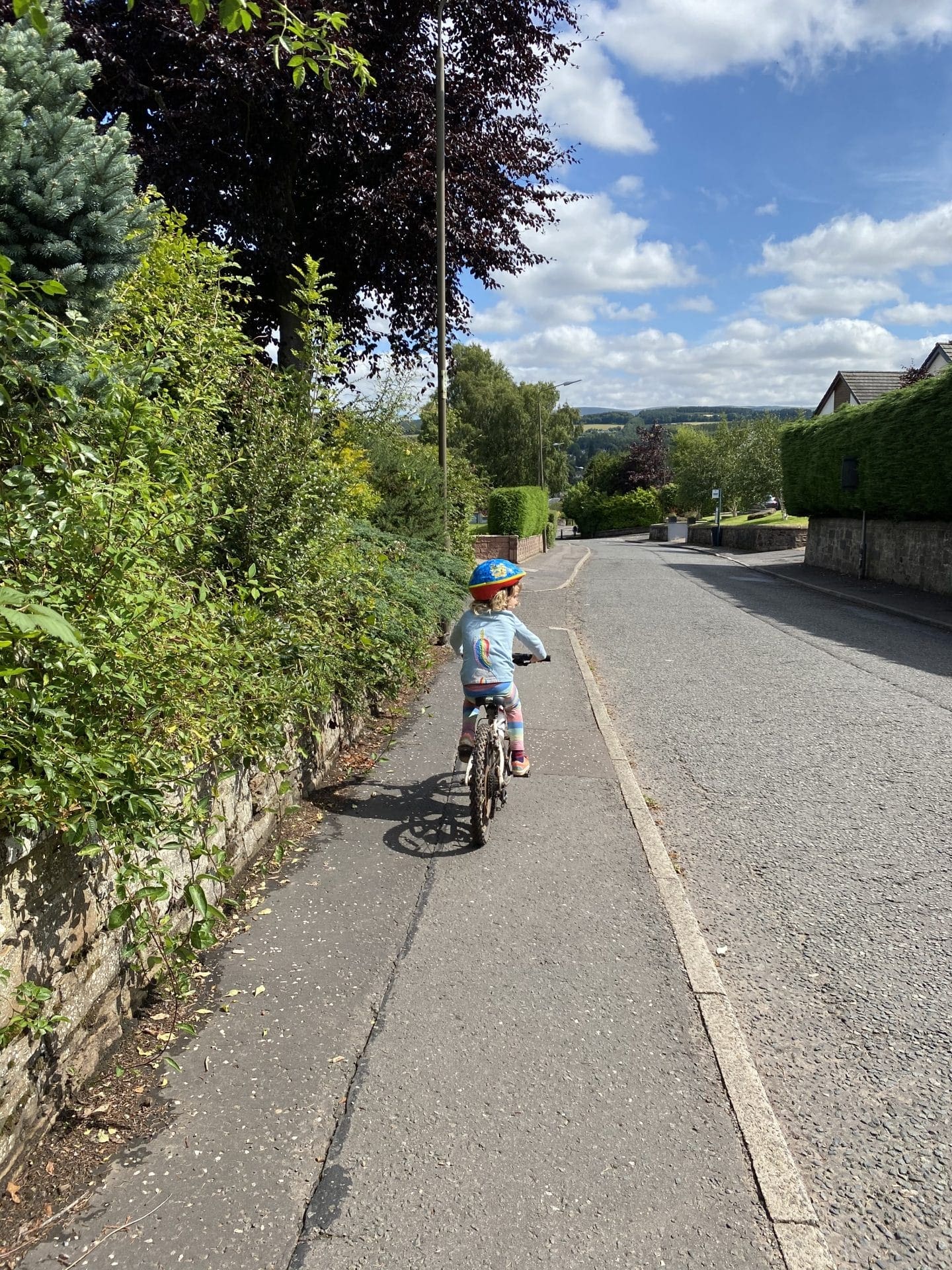 One sunny morning we headed out early to climb Dumyat.  A small hill in the Ochils above Stirling, you can read more about Dumyat here, but it's a great climb for kids.  We were definitely one of the first and at the top of the hill by 9am.  The kids ran most the way down again afterward!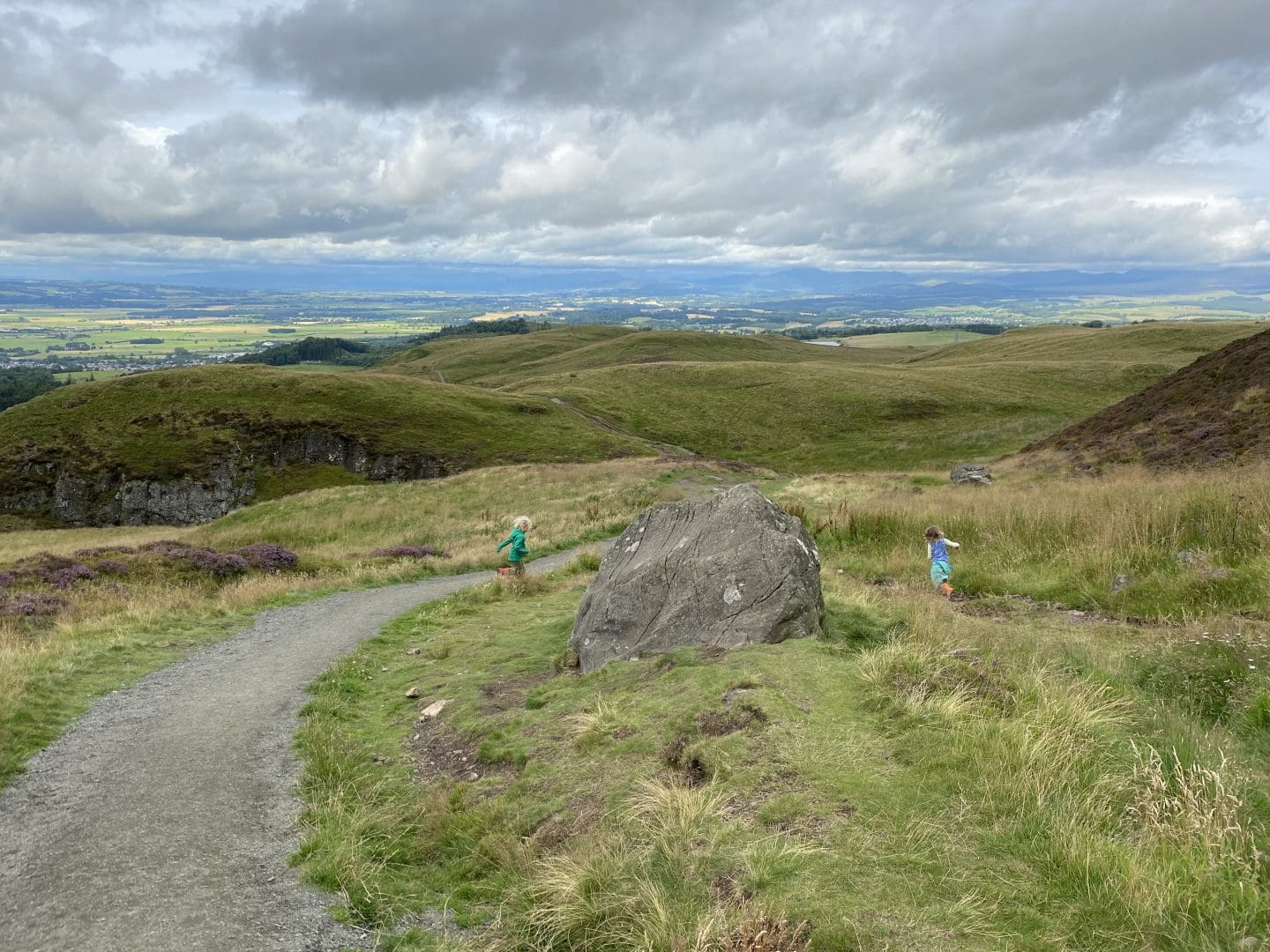 The last type of exercise has to be kayaking, although I can't say the kids managed to paddle that much.  Their attempts were to either paddle us backward or round in circles.  Certainly a workout for my arms though!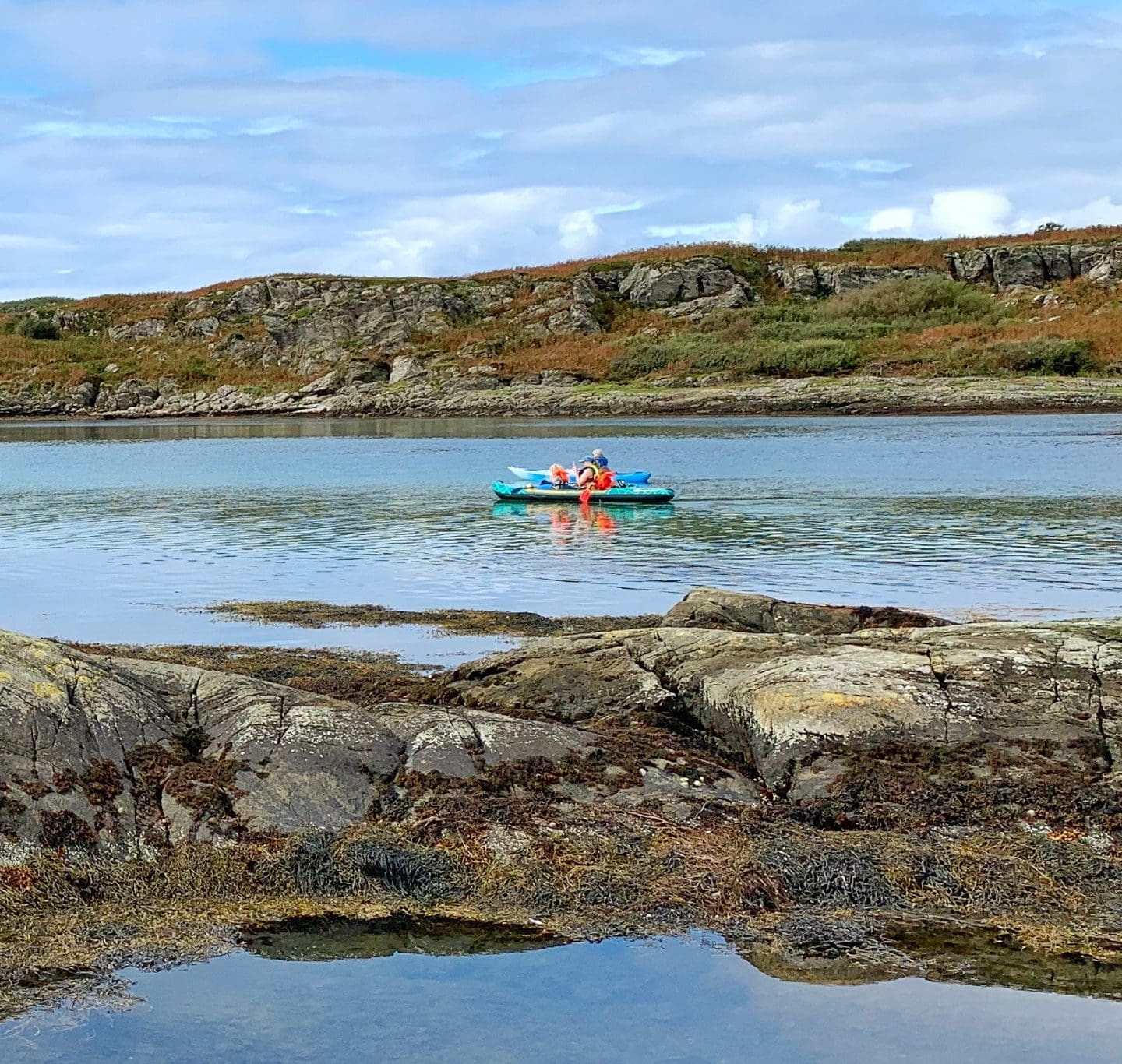 History
History Storytime
The children are suddenly becoming more interested in history.  The main reason for this seems to be from listening to the podcast History Storytime – For Kids.  The stories are currently released every Monday and have interesting stories from both the UK and around the world.  As it's told by 2 children the same age as my kids it really resonates with them.  The last couple of weeks have been about William Wallace, which we were excited about as it was about Scotland!  Previous weeks in August included Franz Ferdinand and why WWI started and the Spanish flu.
Scottish History
Home education in Scotland has to contain some Scottish history.  So I'm really trying to help them learn more after their recent history interest.
I've followed on from the podcasts by finding some kids Scottish history story books.  We have read about Bonnie Prince Charlie and Mary Queen of Scot's this month.  I've also got another book with a more general history of Scotland from the beginning!
Do let me know if you have any good Scottish history books that are aimed at primary aged kids.  We have plenty for Egyptians, China, Romans etc., but not so much about Scottish history!
A trip to Kilmadock cemetery in Doune was very interesting.  The gravestones were dated from the 1600's onward and many had pictures rather than writing.  The children had fun finding different pictures including skull and crossbones, lions, crowns and spades.  After a while they became bored and started playing on the steps and wall nearby, whilst my mum and I explored more!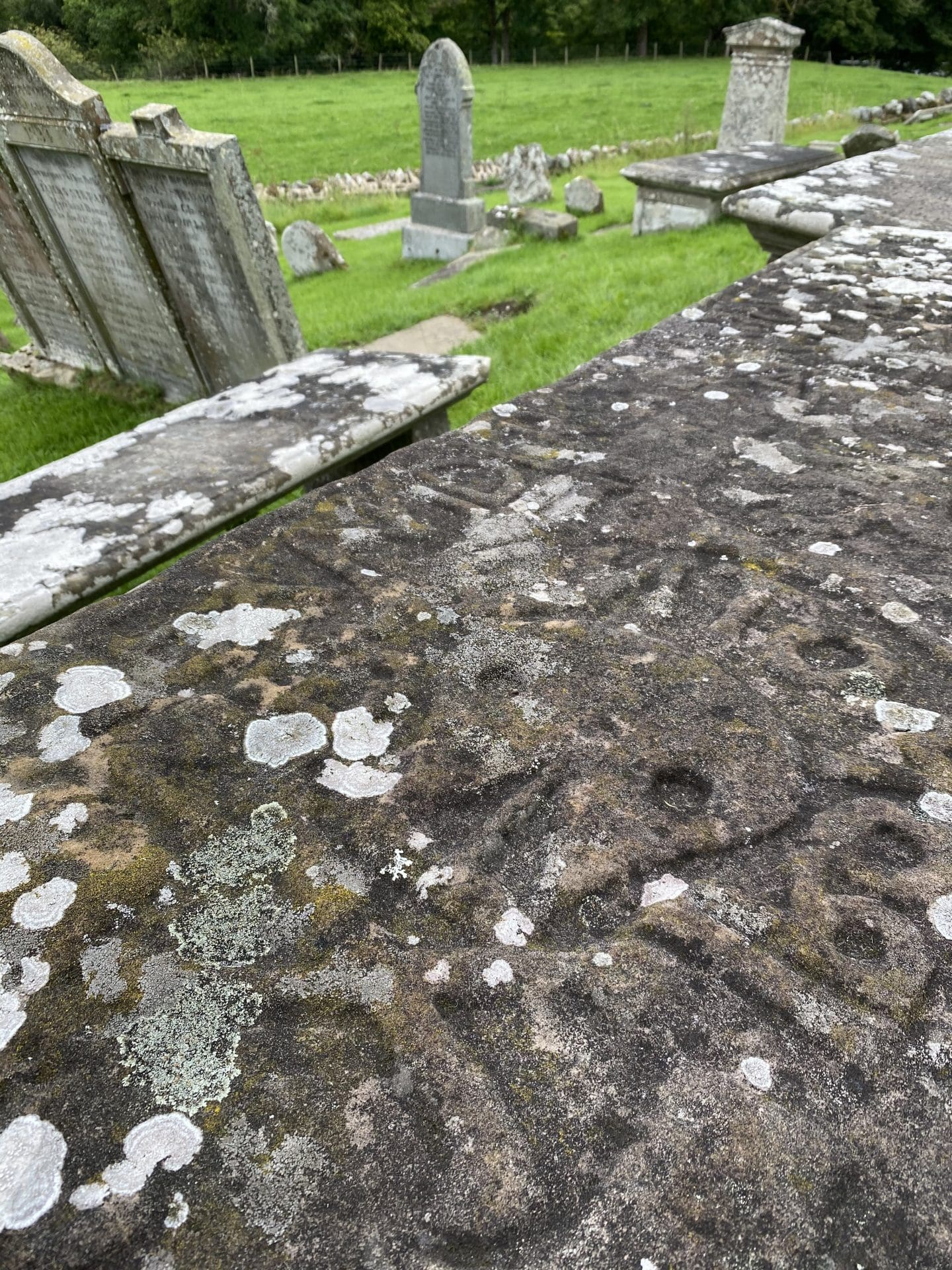 Back on Gigha we explored a cave called the Basket weaver's cave.  At first it just appeared to be a cave, but at the back I notice there was writing and a boat picture.  An interesting find!  The children had a look at the boat and letters too, but were probably more interested at climbing in and out the cave!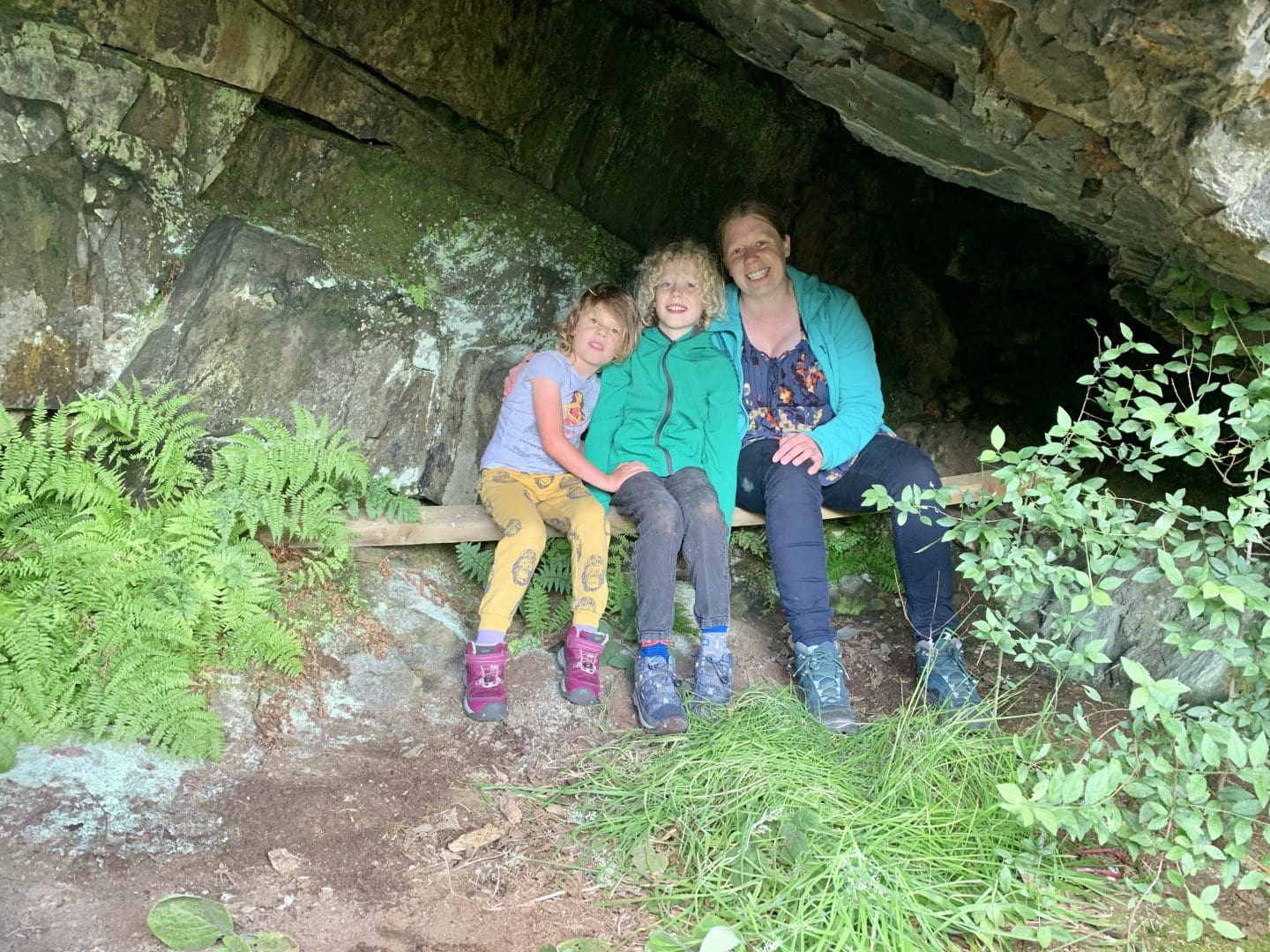 Apart from Scottish history we've also been learning a little more about Greek gods through books.  Currently we're learning more about Hercules and Hera.
Wallace Monument
The Wallace Monument is still shut, it has a narrow stairwell and impossible to distance on it, so understandable to be shut.  However you can still walk through the woods and explore the different wood carvings and read more about the local history through the ages. Plus the view from the top is just as amazing.  We've visited many times before and one of the kids favourite things is watching the actors outside.  So our little visit reminded my eldest of the acting and how the Battle of Stirling bridge played out.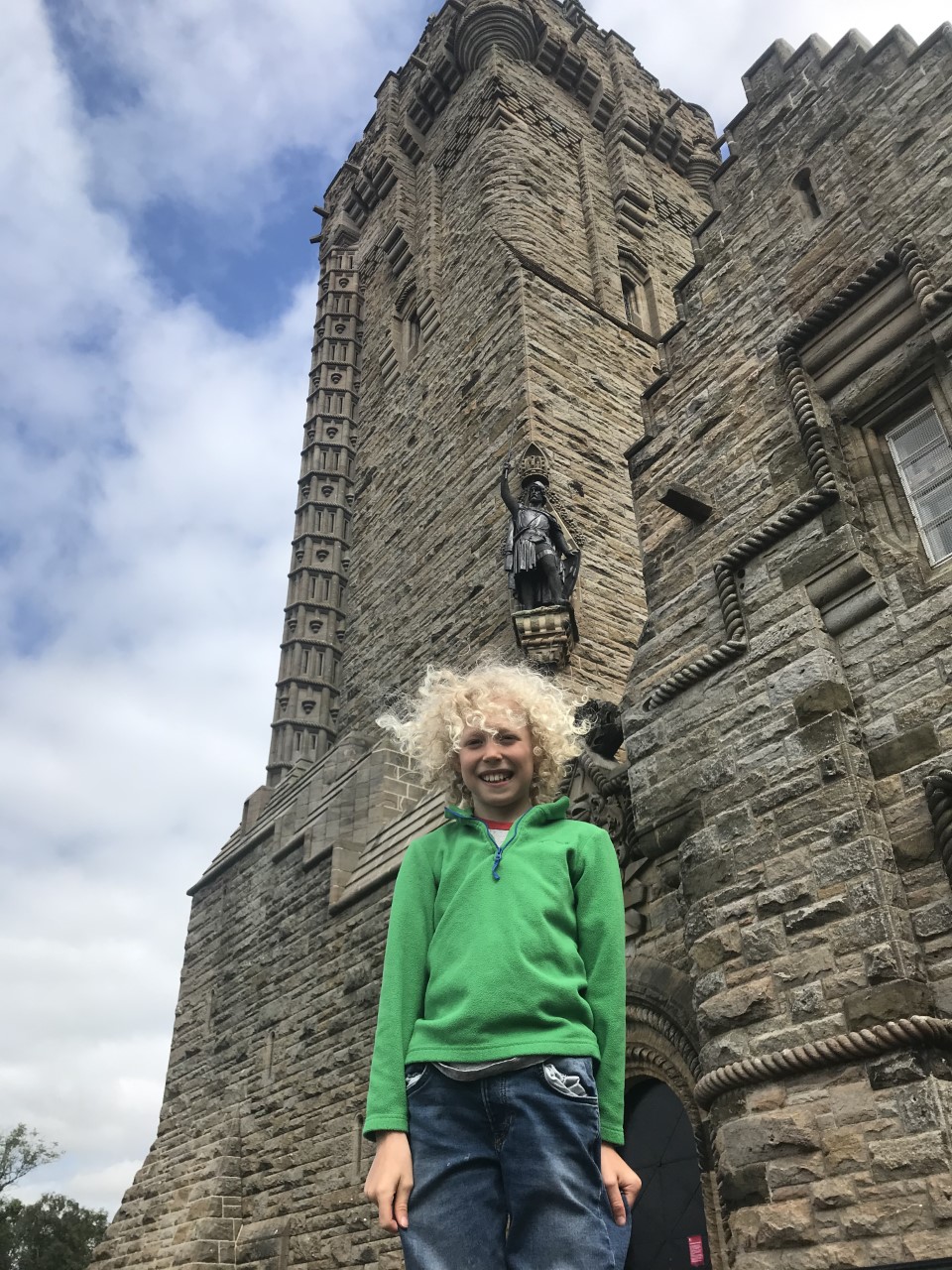 Geography
We should have spent the month of August travelling Europe by train.  Clearly that did not happen!  So our geography has been limited to podcasts and activities at home.
Grandpa's Globe on Purple Rocket Podcast has a second series and the kids have been waiting throughout the month for new episodes.  In August the exciting podcast travelled on missions to Saudi Arabia and then to Scotland.  It's definitely a great podcast and worth it for those kids who love adventures or travel.
We also took out the Our Little Globe Peru subscription box, which we were gifted just before lockdown.  We were meant to review it before going to Peru in May, but as we never were able to go it's been a little ignored as we were a bit too sad to try the activities.  A new blog post showing the contents will be on the blog soon.  It's definitely great to get to know other countries through fun activities.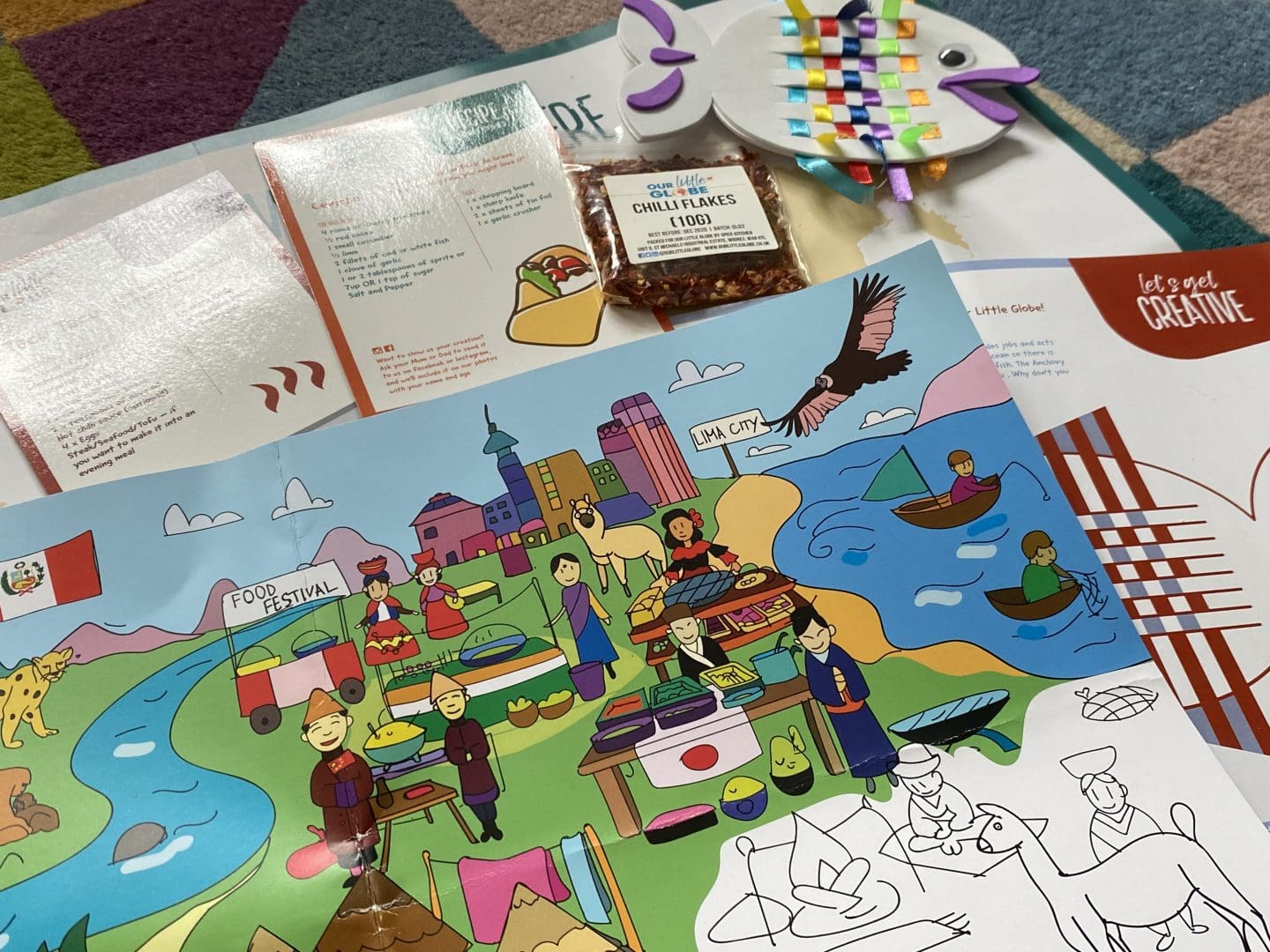 Music and Art
As mentioned before my eldest has been practising drawing maps and pictures in his notebook.  He's also been making MANY, MANY paper airplanes and colouring them in.  I would say there are too many, he thinks there aren't enough!
We also chose to visit Jupiter Artland and were pleasantly surprised at how quiet it was to walk around.  We did get very wet, but it was fun to see the different exhibits again.  The amethsyt cave is probably my shiny loving child's favourite part!
If you live in Scotland and are in the home education groups, keep an eye on events.  Once a year or so someone tends to plan a home ed visit to Jupiter Artland.  Usually in spring time.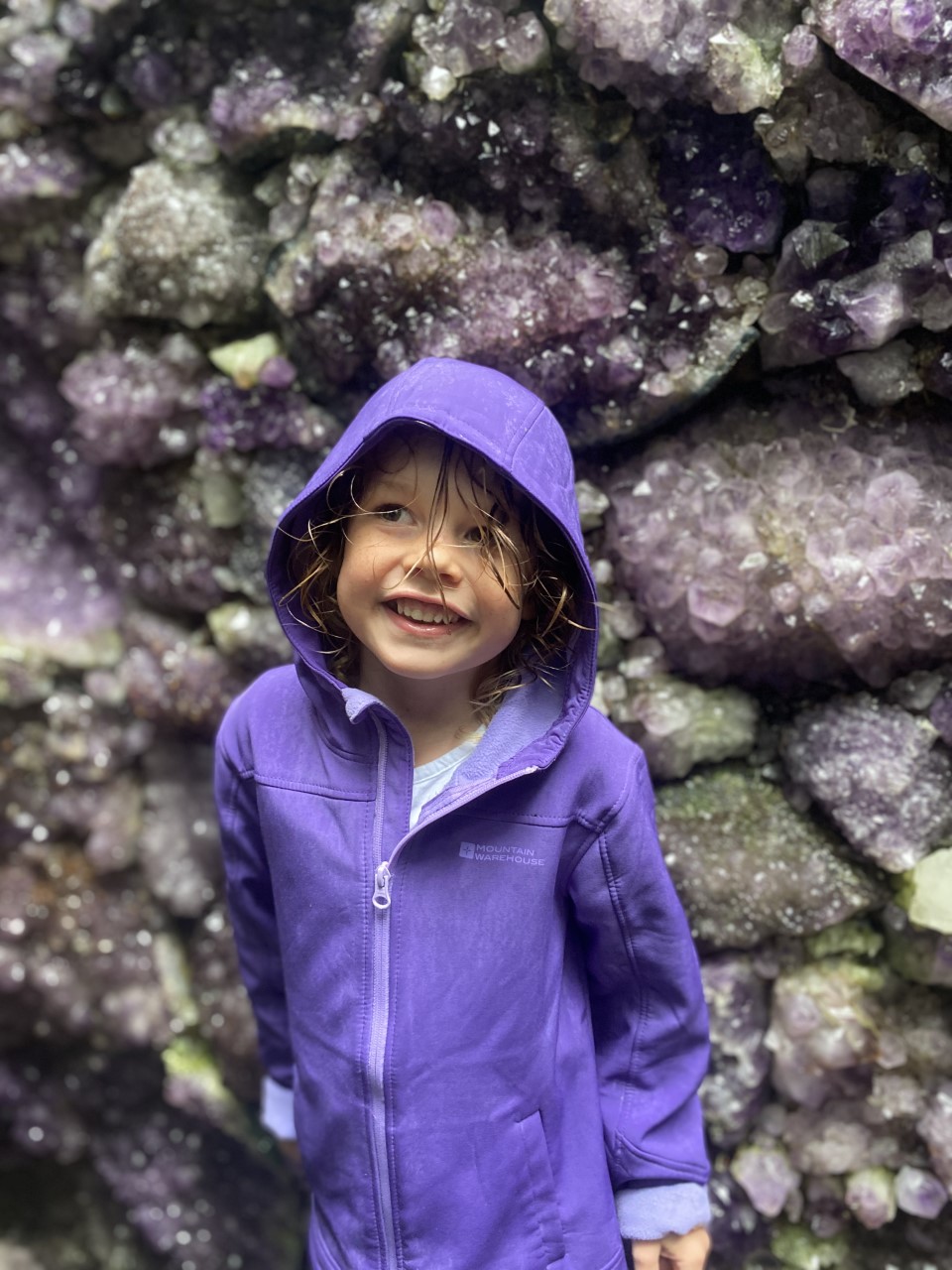 The children chose to bake a Room on the Broom mud monster cake using a library recipe book.  A lot of this included forming pieces with fondant icing.  I think that is part of artwork, although it certainly does look like a swampy monster!  I'm impressed at how well they did considering how complicated the recipe construction was!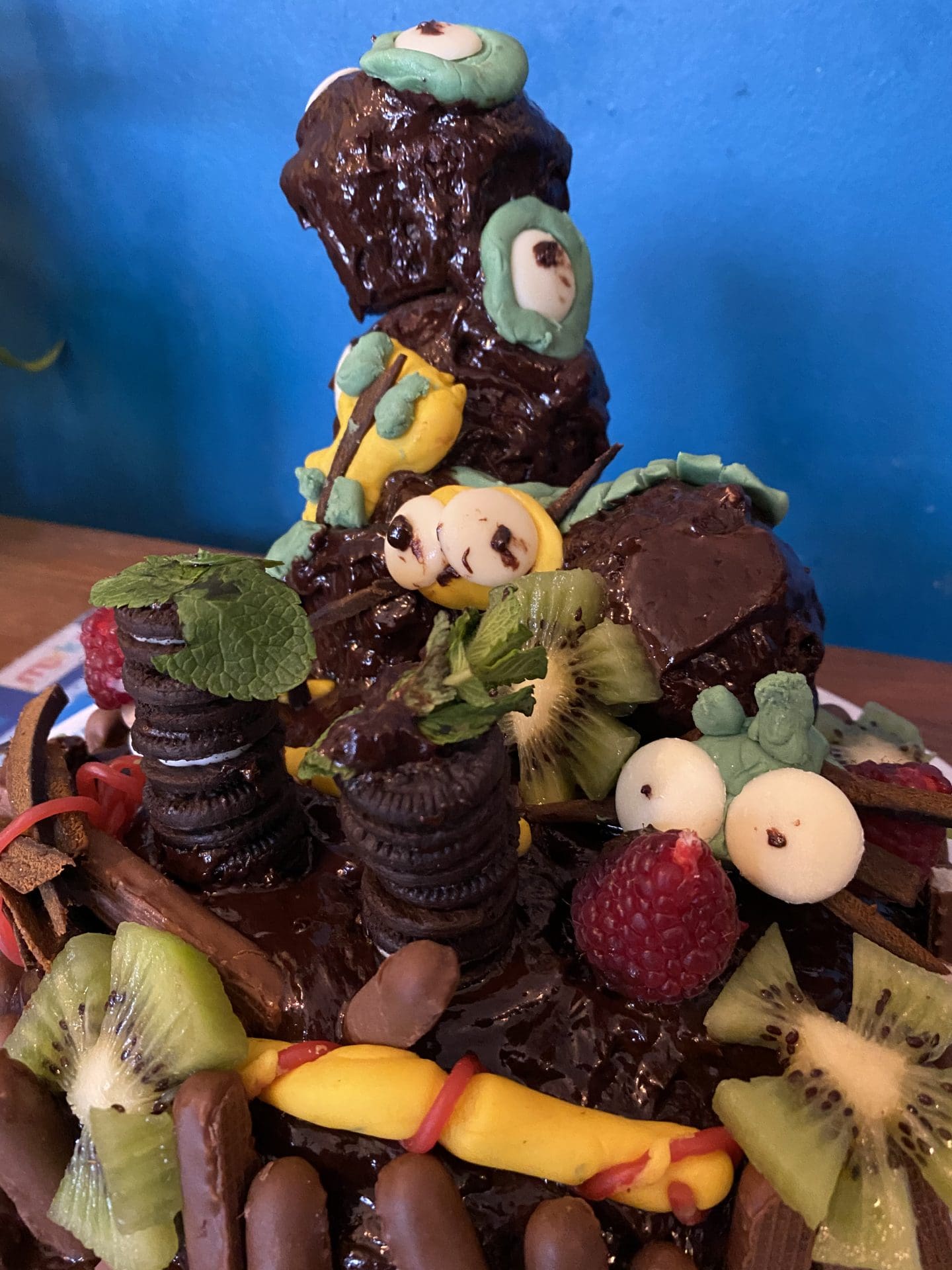 Kids Groups and Clubs
Obviously most of the kids clubs have not been going ahead lately.  However our 6 year old's gymnastic club started outdoor gymnastics classes when it's good weather.  He managed quite a few of them throughout August, although a couple were called off due to weather.
The children have also managed to get back to their multisports class, which has been outdoors in a local car park.  Again it's been called off a couple of times for weather.  But I guess that's what happen when things are outdoors!
Next month should be a bit different for home education in Scotland, with several more groups open.  Some of the groups will also be able to open up indoors.
Pin Scotland Home Education Diaries For Later