Scottish Home Education Diaries March
So March started off well, but obviously has finished on a bit of an awful note with Covid-19 rearing it's ugly head in the UK.  The first case in Scotland was on the 1st March and we were put in lockdown on the 23rd March.  Although we had already been asked to social distance before this and the last time we had contact with any friends was on the 15th March.  That's a long time without seeing anyone and playing with friends!  We're currently still wondering when it will end, but more than likely we'll be in lockdown for the rest of April and beyond.  So you are definitely going to see a bit of a difference in our monthly Scottish home education posts from now on!
Just a note for any other home educators reading this blog post.  Please don't look at this and think we're constantly doing lots of activities.  I promise you that we're not!  I don't sit down and 'educate' the children, everything we learn about is through discussions with the children and what they have chosen to do.  The most I do is lay out some items on shelves or the sofa as part of 'strewing', usually following on from previous discussions or upcoming activities/travel.  The majority of our time is spent playing and it's amazing what the children learn from this alone.  please do message me if you have any questions about home education. 
So here is what the kids have learnt in the last month.
Science
We begun the month with our usual science group and enjoying playing in the forest with friends whilst learning about various topics.  From invisible ink to germ experiments, growing mould on bread.  It was fun and very interesting!  That seems a long time ago now, but we did keep our bread for quite a while noticing the difference between our control bread (only handled by a gloved hand) and those rubbed with dirty and then washed hands.  Certainly a topical project!
My eldest has been using Magformers a lot this month.  We often take them for him to play with whilst we're waiting at the 6 year old's dance class.  He tends to make his own vehicles from it now, rather than using the instruction sheets, he's a bit of a pro!  If you haven't seen Magformers before they are magentic shapes that can be joined together in various ways, we have the WOW set with wheels to make vehicles.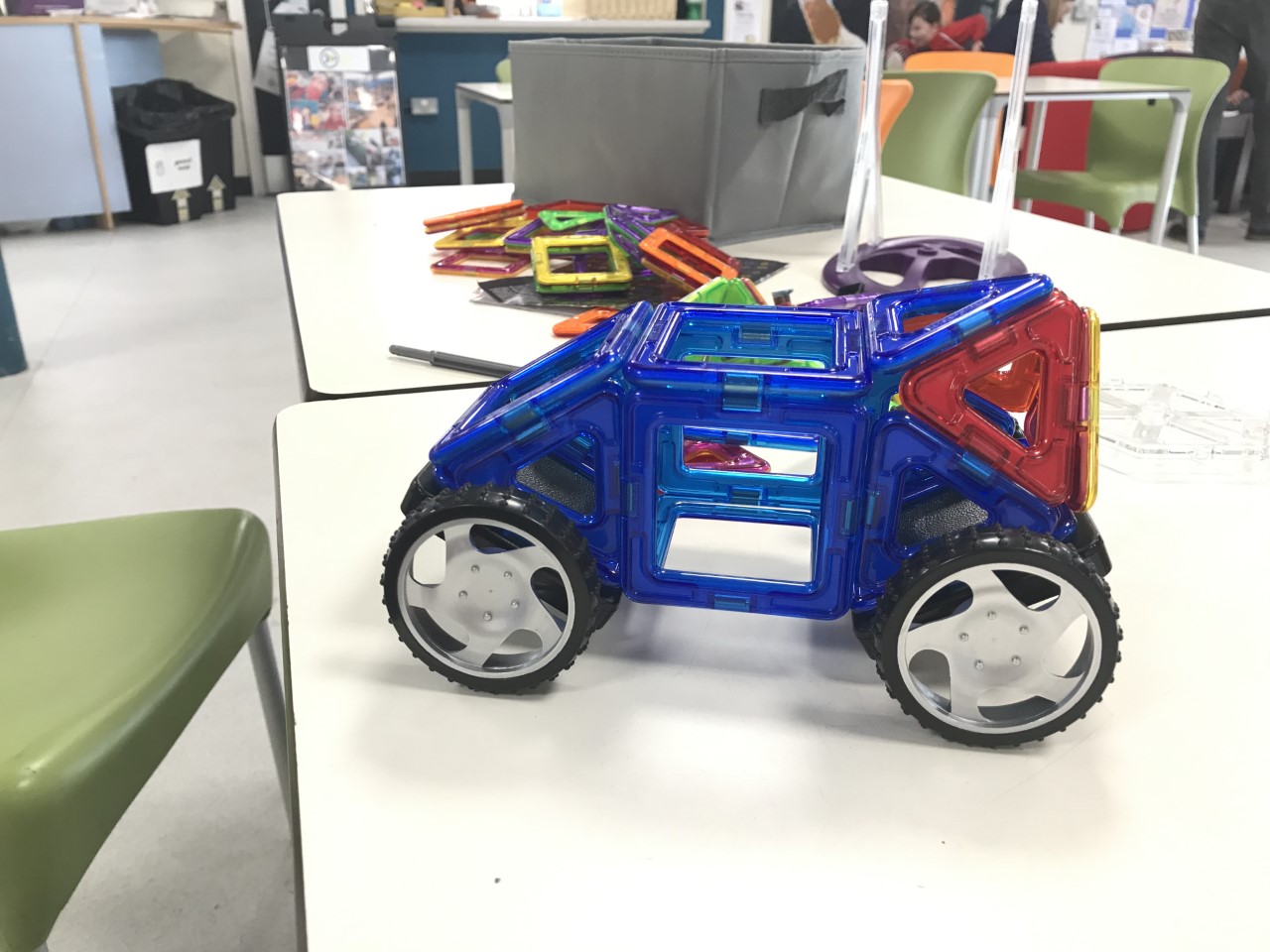 Both kids enjoy space themed activities and although we didn't do much other space things this month the kids did enjoy looking at the moon and making Oreo moon phases (not the best example, they kept trying to eat them…).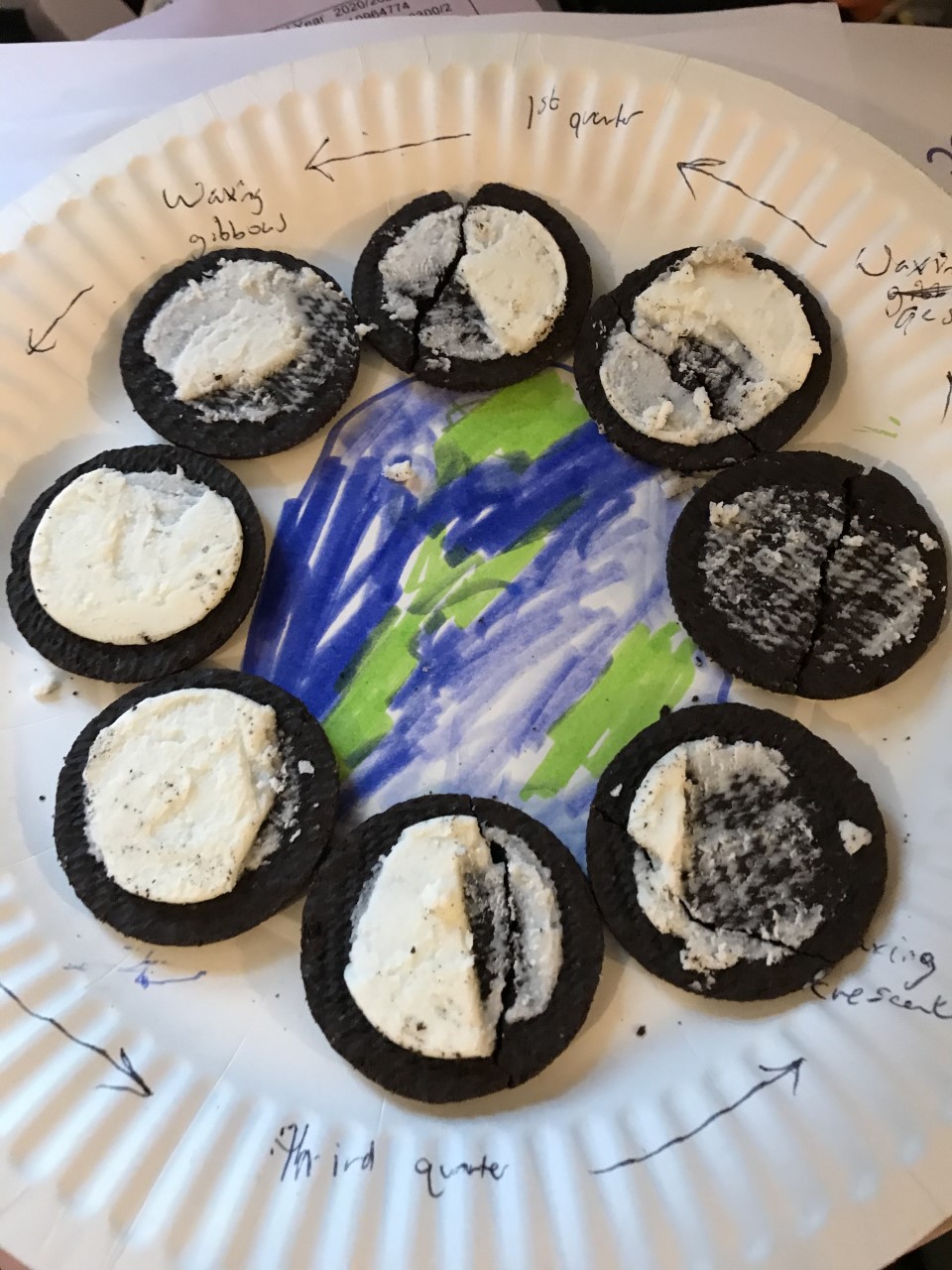 Littlest is also very into baking at the moment.  We made bread and scones along with biscuits and cakes this month.  We've discussed why kneading and yeast helps the bread grow and enjoyed the whole process.  The eldest isn't so interested, he only tends to help make sweet things!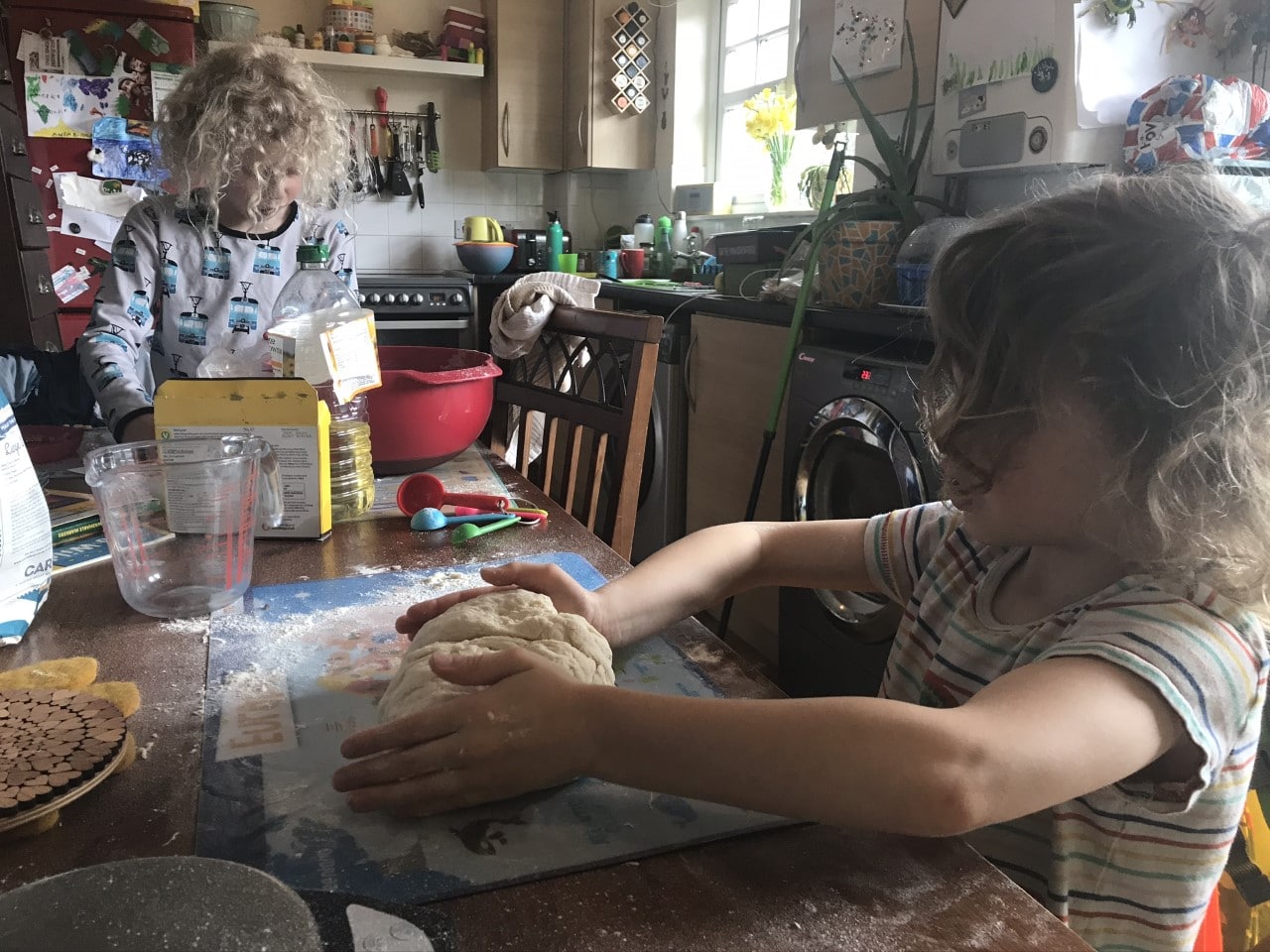 Whilst in lockdown we managed a science meet-up via Zoom.  Not quite so easy for the kids to talk and get each others attention.  But the children enjoyed seeing their friends and had fun playing around and learning about static charge.
We've been enjoying watching Maddie and Greg's 'Let's Go Live' show over on Maddie Moate's YouTube channel.  It's live at 11am every day and the first series was featuring gardens.  One episode was about insects, so the kids had fun searching for minibeasts outdoors. They also learnt more about mammals and birds.  Littlest was especially excited to take his binoculars out on various walks during the month.  A spot of bird watching as well as using them to spot frog spawn and newts!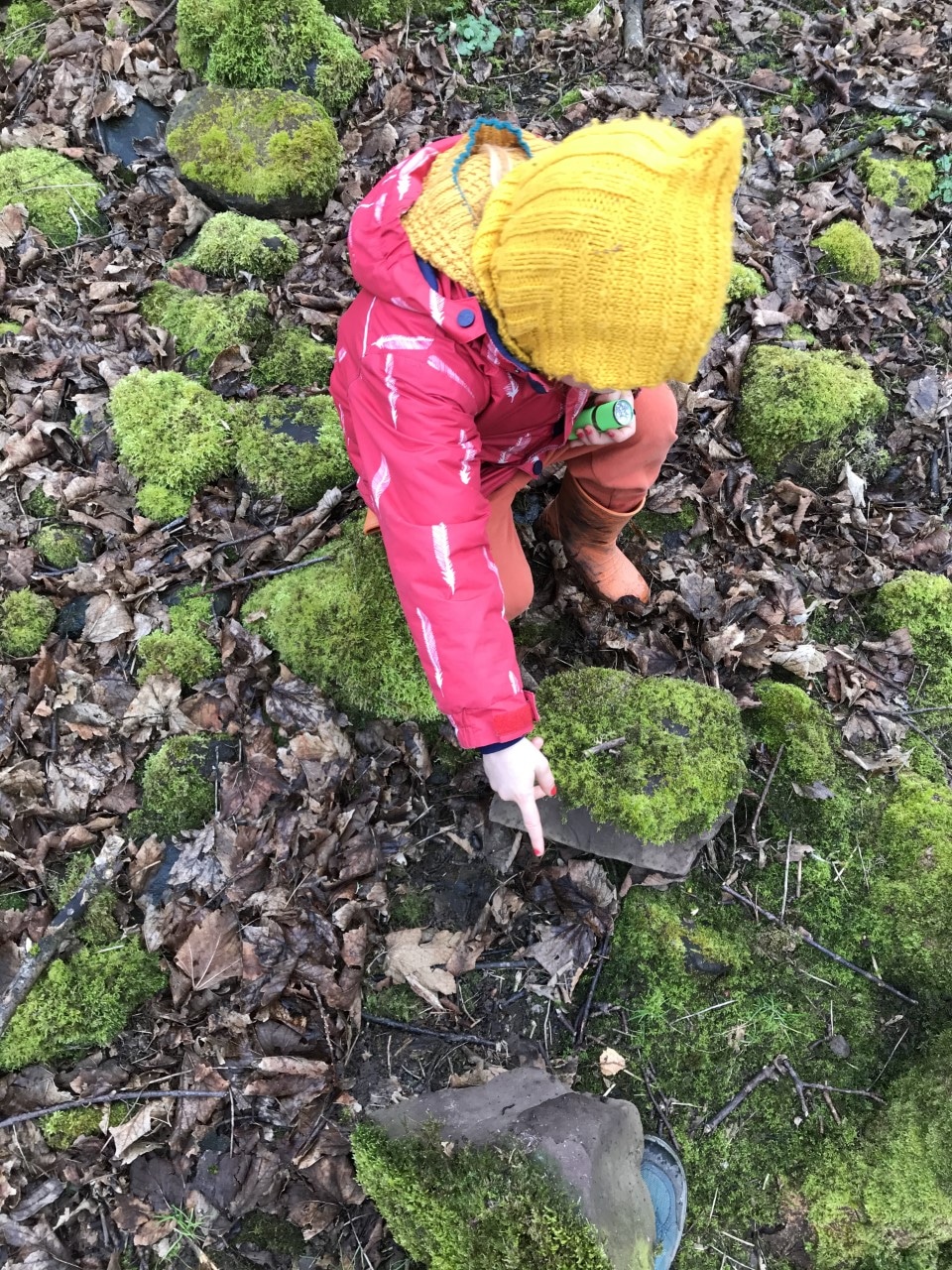 Whilst watching Glasgow Science Centre's weekday Facebook videos the kids have tried out several activities.  They had great fun designing their own planets, whilst also learning about other fun science things!
Unstructured Play
The kids have always enjoyed unstructured play, both together and with friends.  We're used to having wide open spaces for this.  However after a couple of lovely meet ups earlier in the month we've been much more restricted in our space.
Before social distancing was brought in we enjoyed a lovely day out in St Andrews with my parents.  The kids had fun playing in the sea on a log.  Enjoying imaginary play with the log as their ship, moving it around and standing on it as the waves crashed into them.  It was lovely to watch them play by the coast.  I can't wait to get back to the sea again!
They haven't totally given up on unstructured play, it's just been restricted to our small garden and daily walks.  Whilst we are out on our walks we try to find somewhere quiet to stop for a short while.  Just so the can run about wild and climb trees, jump into the mud and be free.  We certainly have to remember that being stuck at home most of the day for weeks and weeks is not easy on children at all.  Especially the wilder ones!
Reading and Writing
As I mentioned before littlest is enjoying a lot of baking.  Earlier in the month we wrote shopping lists for ingredients more than once and went to the local shop to buy things.  This helps a lot with my two, firstly they actually attempt writing!  Then secondly it keeps them busy in the shop with a task.  Clearly we can't do this at the moment, but I can still get them to write what they need for when one of us adults need to do the weekly shop.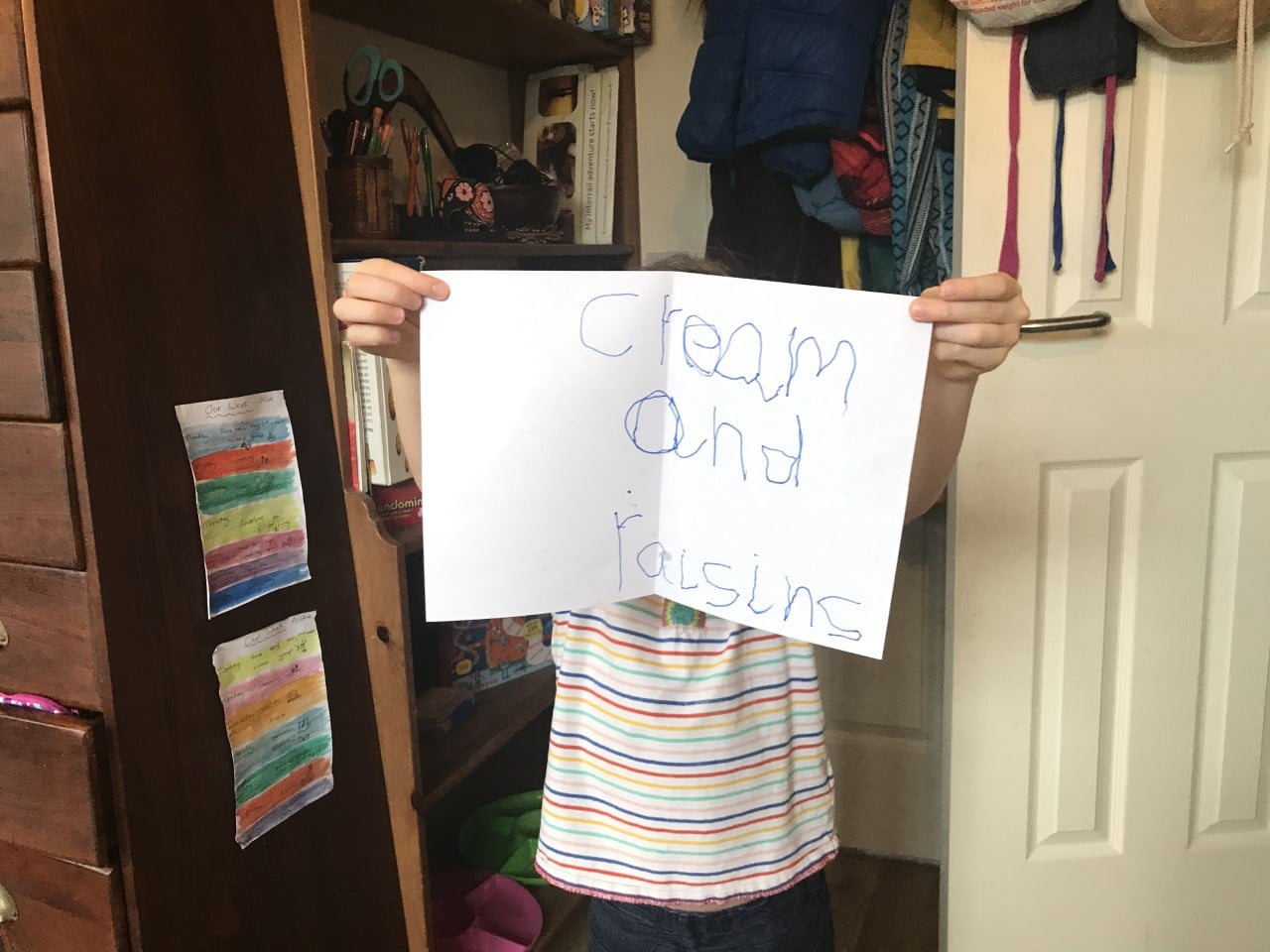 At the very beginning of the month we went to a local library to see the fantastic author, Justin Davies.  He has written two kids books about monsters, whilst also working as cabin crew.  The kids loved his interactive presentation and as soon as we got home they started writing their own stories.  It's lovely to see them so inspired!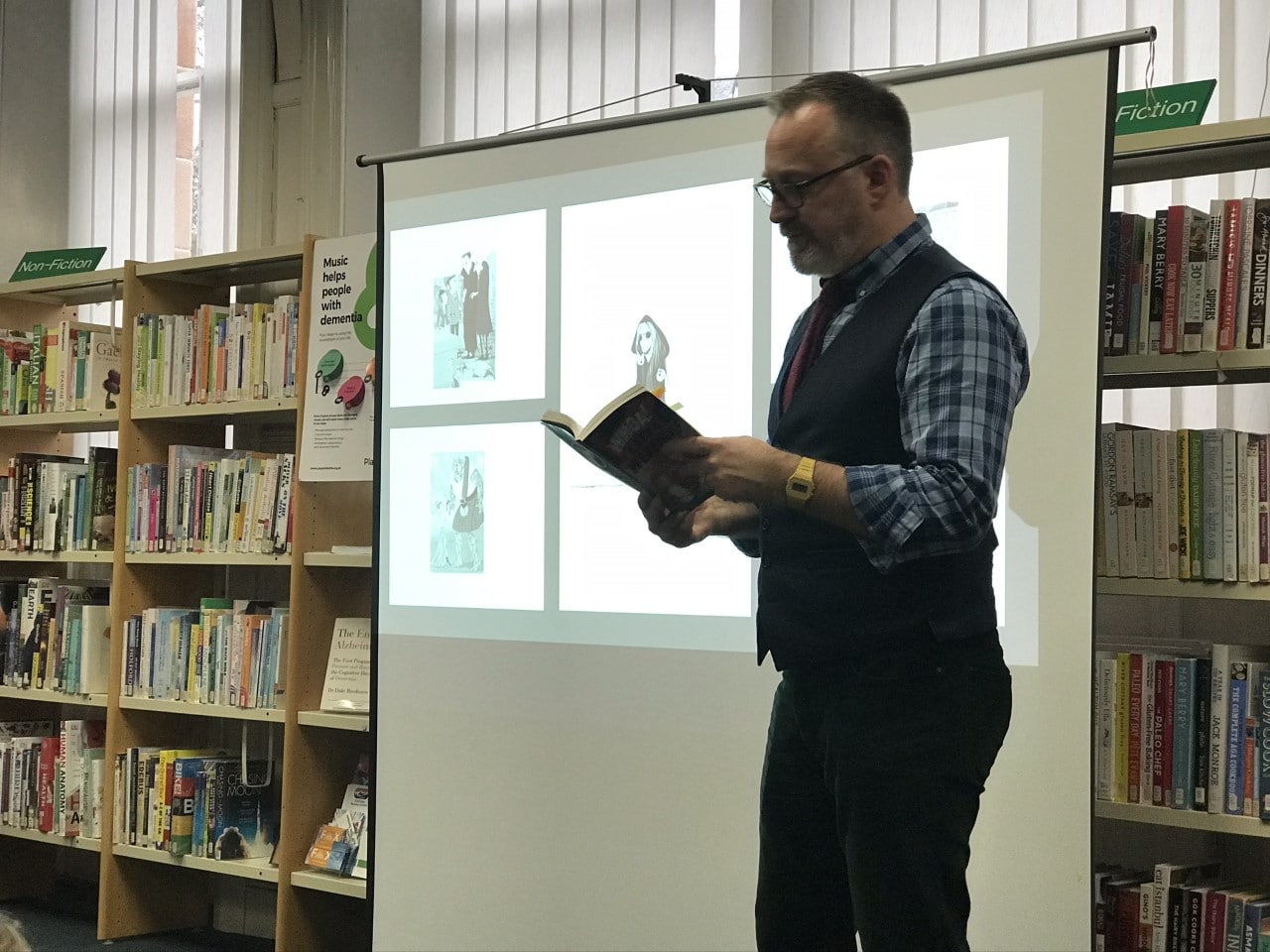 For his Christmas our 8 year old was given a couple of blank pop-out books which he has been drawing and writing in.  It's great to see him thinking up stories!
One of our lovely Scottish Home Education friends has set up a group so the kids can each write an item for a book to be printed.  We have over 50 'chapters' which will be printed out later in the year once the proof has been received.  My two have each written a story to be included and many of their friends have added their own stories or poems too.  I can't wait to see what the final book looks like!
The 8 year old's reading is improving still, he's coping with larger words and remembering common words by sight.  The main issue I have is that his little brother wants to look and can be quite distracting by talking and making noises.  My go-to at the moment is distracting his little brother with food or a bath so I can read with the 8 year old in peace!  It's surprising how quick he can read sentences when he's concentrating!
Maths
Maths has mostly been around board games at the beginning of the month.  Both children love their board games and they are currently learning their times tables via some new Orchard Toys games.
As the month progressed we took up the offer of a free month with Maths Factor.  It's gone well so far, although both children need to go a little slower and check their answers before continuing.
Geography
The kids love visiting the Kelpies in Falkirk, which we did at the beginning of the month with some friends.  After a lot of fun at Helix park we headed over to the cafe and visitor centre.  The kids enjoy the little video about the history of Falkirk and sat through it several times! To be fair you spot something new each time you watch the animation!
Whilst in lockdown I'm trying to set up themes for the kids, some they can earn Pawprint badges and others jut for fun.  Last we month we learnt more about Ancient China as well as pandas.  The 8 year old has always been interested in the Great Wall, but it was good to go into a bit more depth about why it's there.  We also covered the silk road and Teraccotta Army, labelling them on a map (yes the map below is wrong, but fixed now!).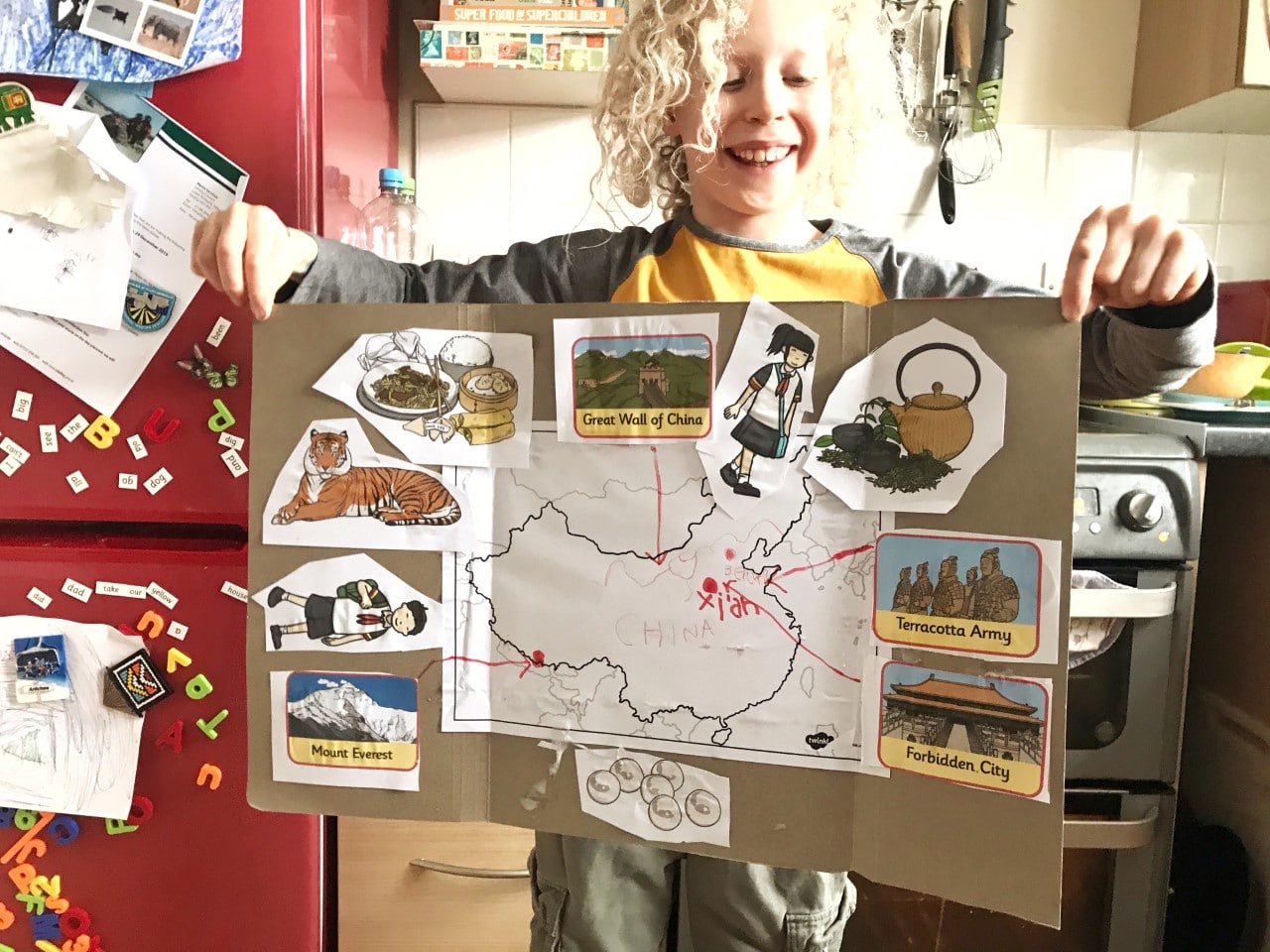 They both enjoy learning about different countries and looking at maps.  Probably because I do too and have tons of maps around the house to interest them!
History
Before lockdown we headed over to Castle Campbell above Dollar, a brilliant place to visit with kids.  The children both took part in the quiz and searched the castle for different pieces of information.  It's a great castle to visit if it's misty, this makes it very atmospheric!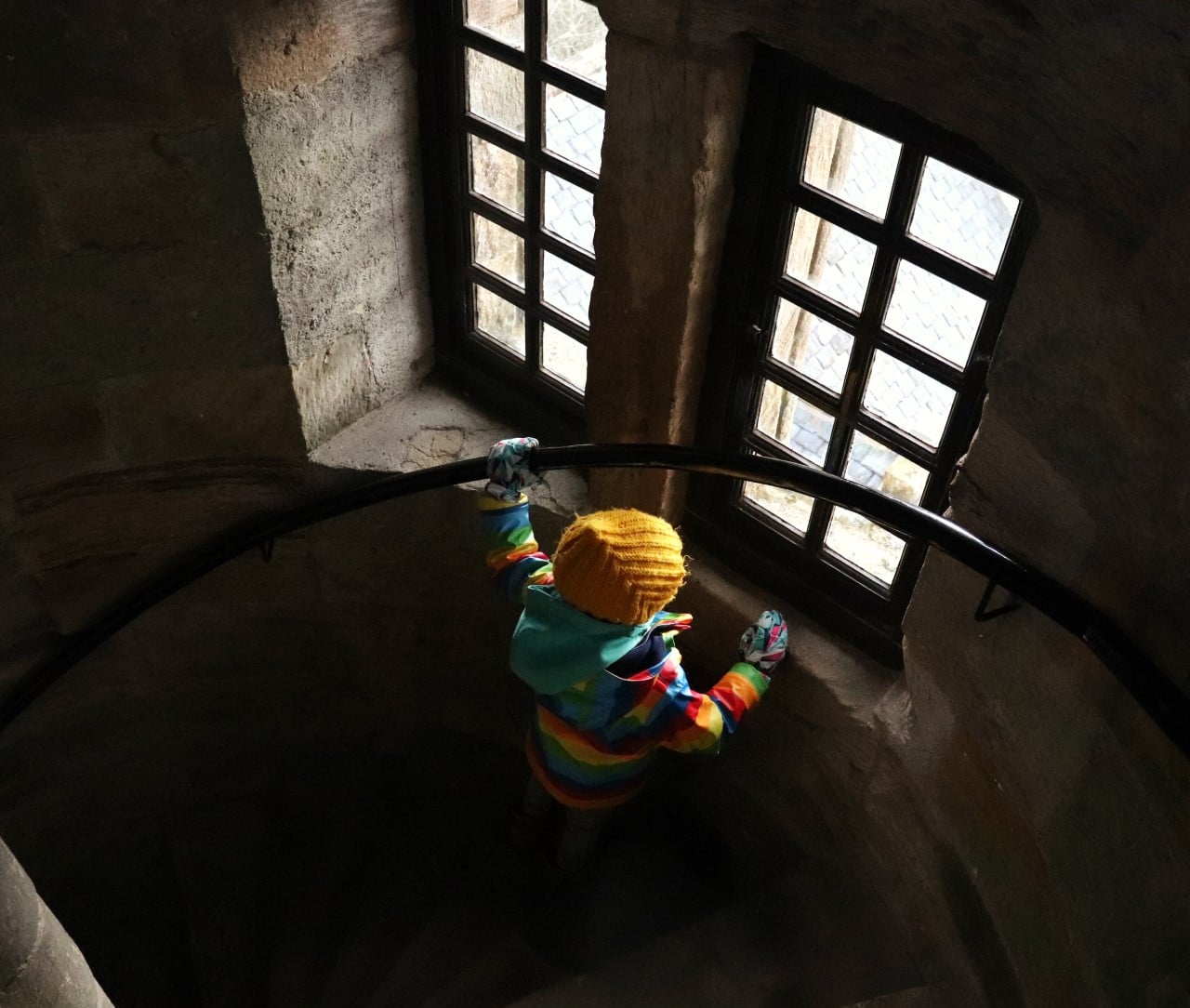 We also took a trip to St Andrew's Castle with my parents. The most exciting part was going through the tunnel underneath where the opposition army had dug a tunnel to try and place gunpowder under the castle.  Fortunately the occupying army dug another tunnel faster to stop them reaching the castle in time.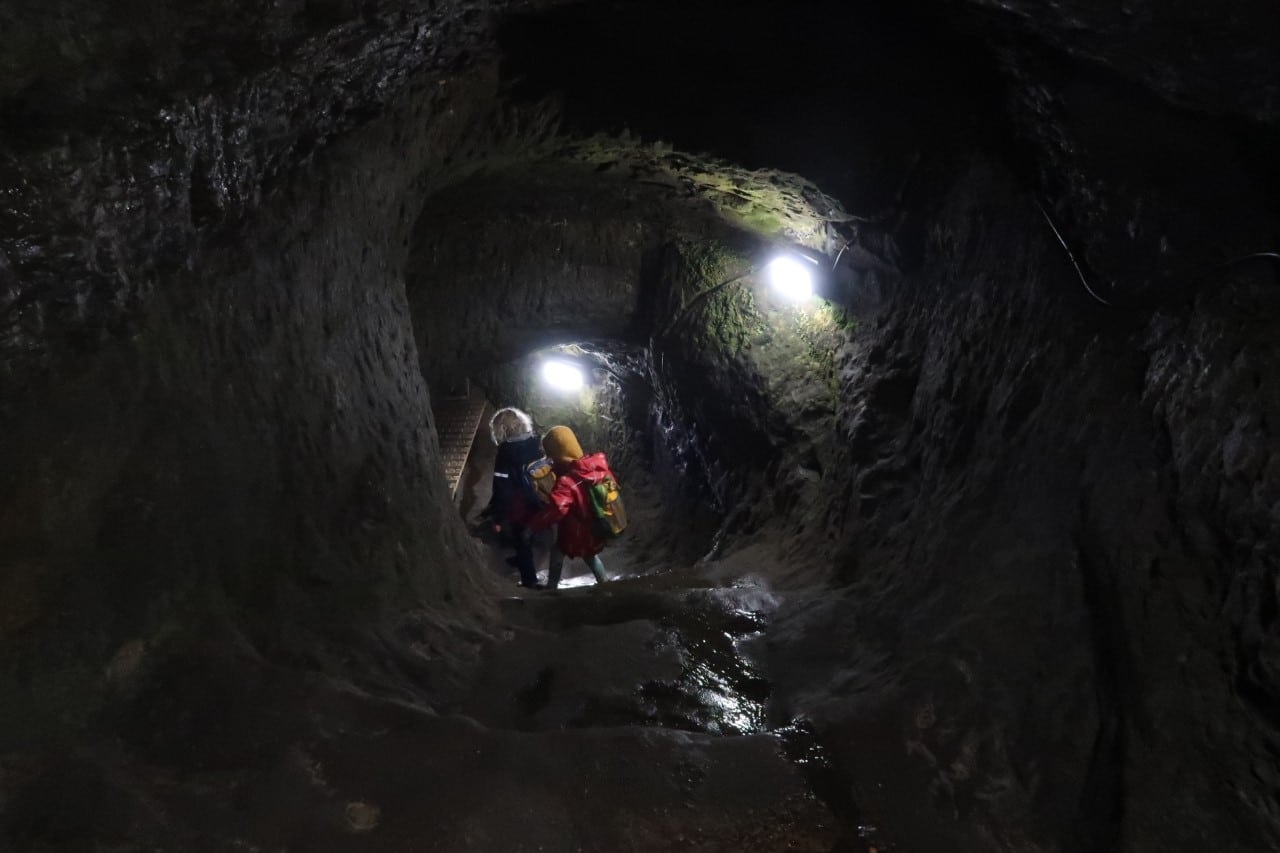 Learning about Chinese history was very interesting.  With the children learning more about the Great Wall of China and the purpose of the Silk Road.  They even made their own Great Walls out of clay and blocks!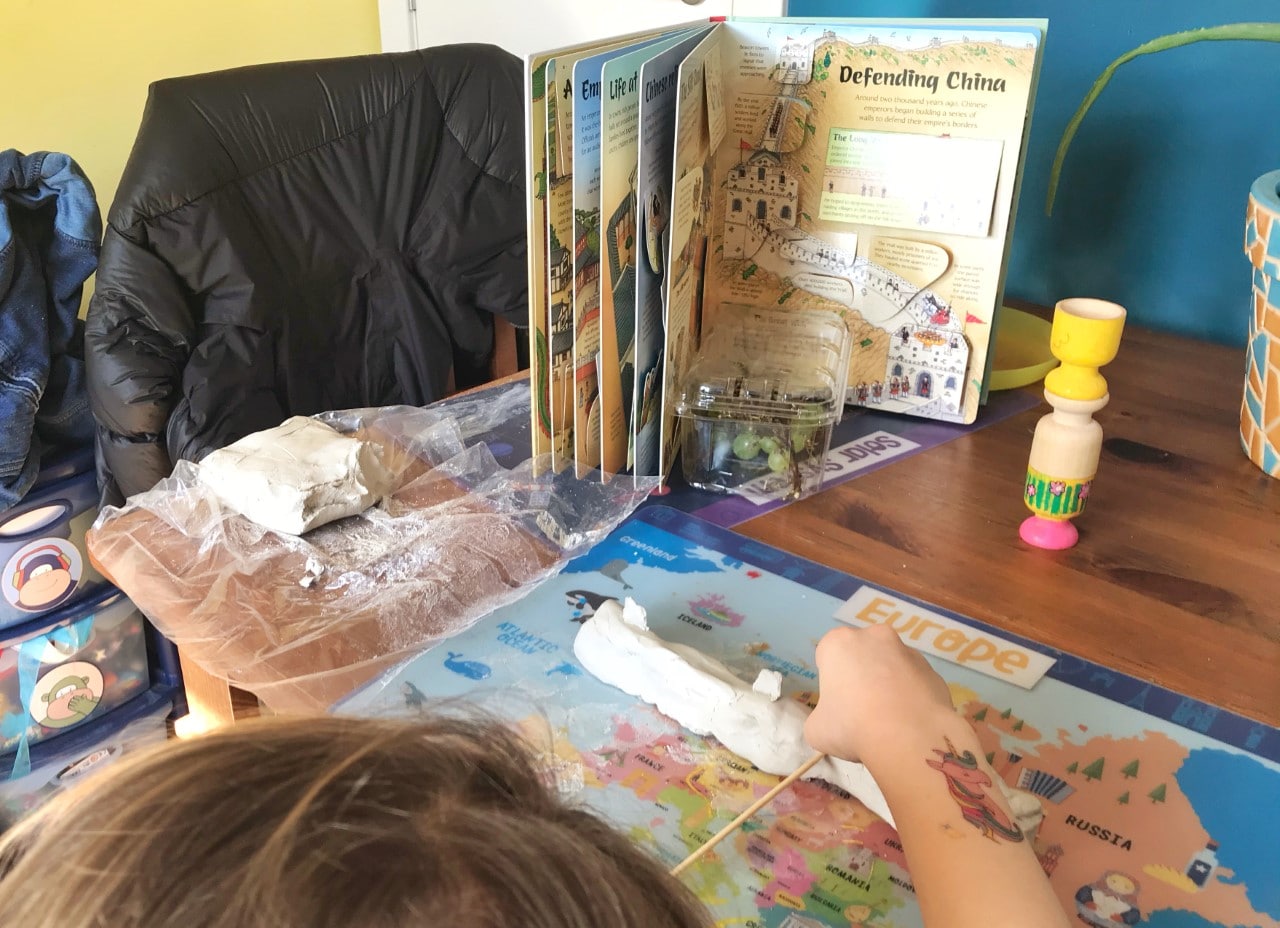 Music and Art
The eldest has especially enjoyed drawing and colouring this month.  Both had fun colouring wooden egg cups and then making their own Chinese banners as part of their China topic.  Crafting always seems to go down well, particularly if it's something they haven't done before!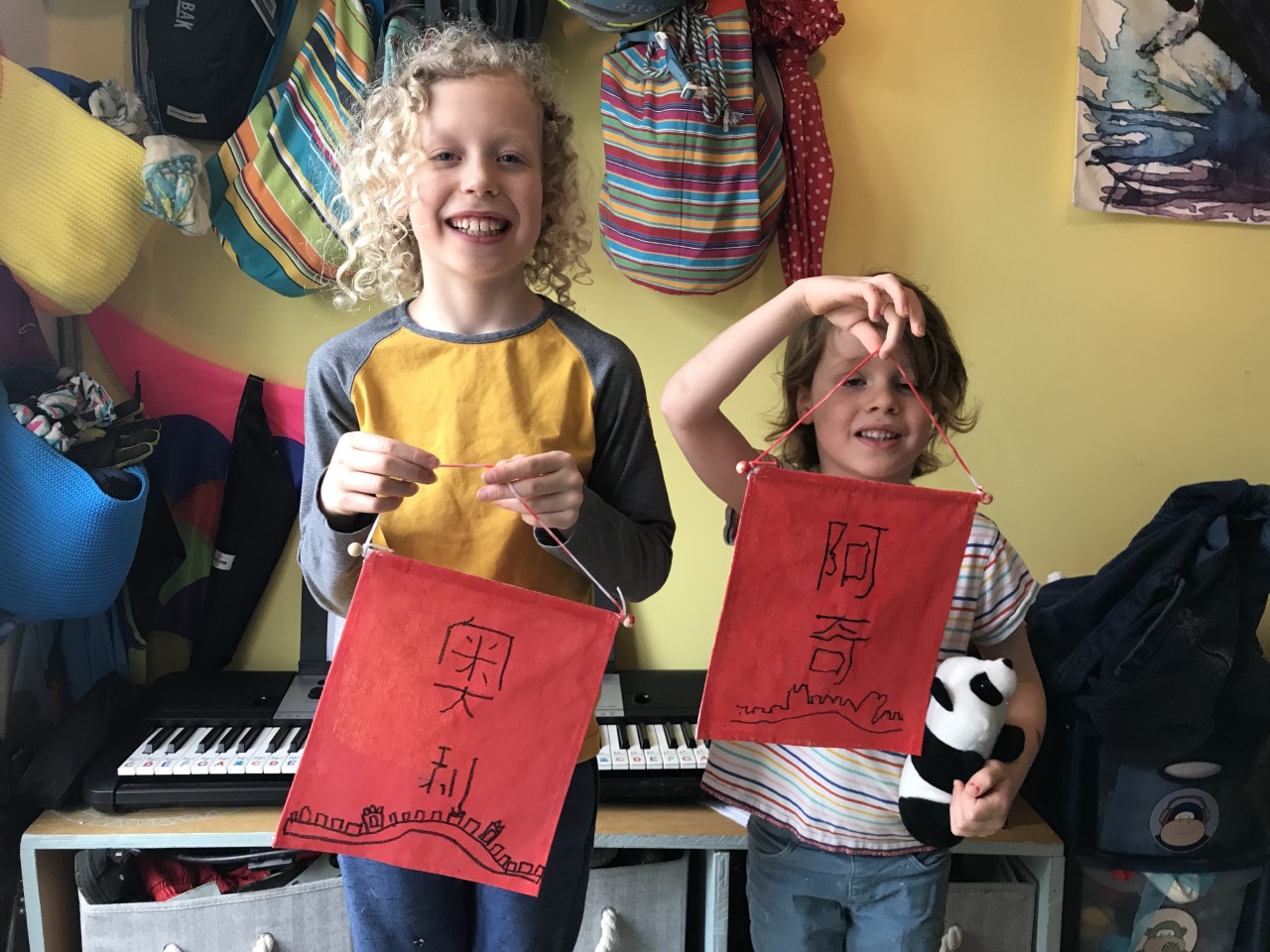 Exercise
Despite the lockdown we've been getting out daily for exercise.  We often choose to go out later when it's less likely to be busier, even going out in the dark once!  It's definitely still possible for the kids to run around or cycle despite only getting to go out once a day.
Climbing trees has clearly featured as I don't know what my two would do if they couldn't climb and jump down!
Clubs and Groups
The children's last group was on the 14th March, so they only had a couple of weeks of groups this month.  Which is obviously very depressing for them, but they have done so well with coping with their disappointment.
Before lockdown they had their usual schedule of swimming and horse riding every two weeks, dancing, gymnastics, science group, multi sports and cubs.  But now we have to make do with seeing friends via video chats, which isn't quite the same!  We are certainly looking forward to going back to our normal Scottish home education routine!
Pin Scottish Home Education Diaries For Later