Family Friendly Adventures In Sri Lanka
'Look mummy, an BABY elephant, it's walking over here!'  The words of my 6 year old on his first ever safari!  This was pretty much the commentary from my two throughout our week long stay in Sri Lanka.  They were amazed by everything and in awe at all the fantastic sights throughout our stay.
Here are our recommendations for some brilliant family friendly adventures in Sri Lanka and if you're looking for a family friendly Sri Lanka itinerary, head over here.
Elephant Safari
As mentioned above the children were thrilled to see the elephants.  In February we took an elephant safari through the popular Habarana Elephant Safari (different National Parks are recommended dependant on the season you visit).  The elephants are all wild and live between national parks, you may see them crossing the road between the parks.
Although it's likely it will be busy with lots of other 4×4's attempting to get close, the elephants do not seem to mind and continue on with grazing or walking.  If you get a good guide (or if you ask!) you will find that they will attempt to get you somewhere less busy and see the elephants with fewer vehicles around.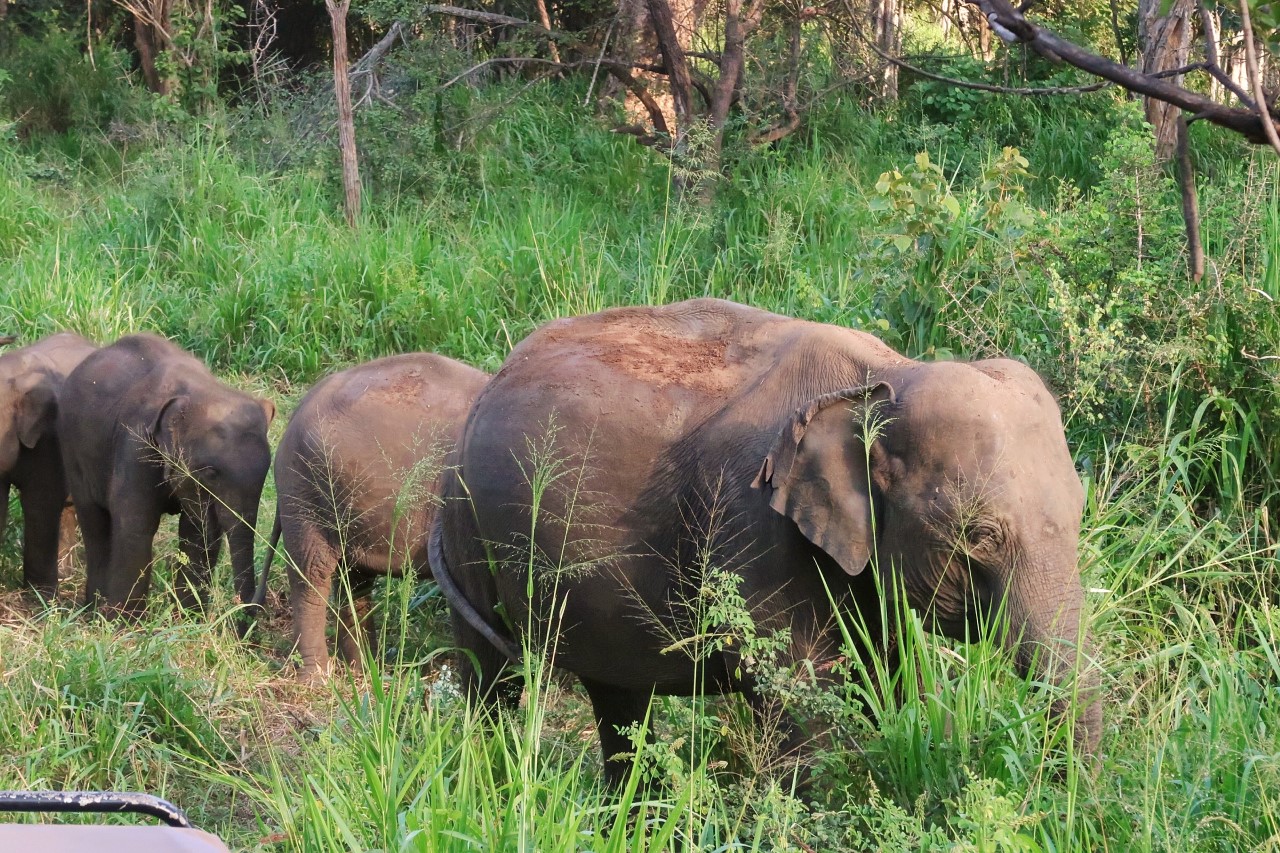 Seeing the young elephants with their mother was probably my youngest's favourite thing.  My eldest (8 years old) who loves anything to do with transport had most fun standing up in the jeep and holding on tight to the metal roof bar as the vehicle bumped along the track!
Sigriya Rock Fortress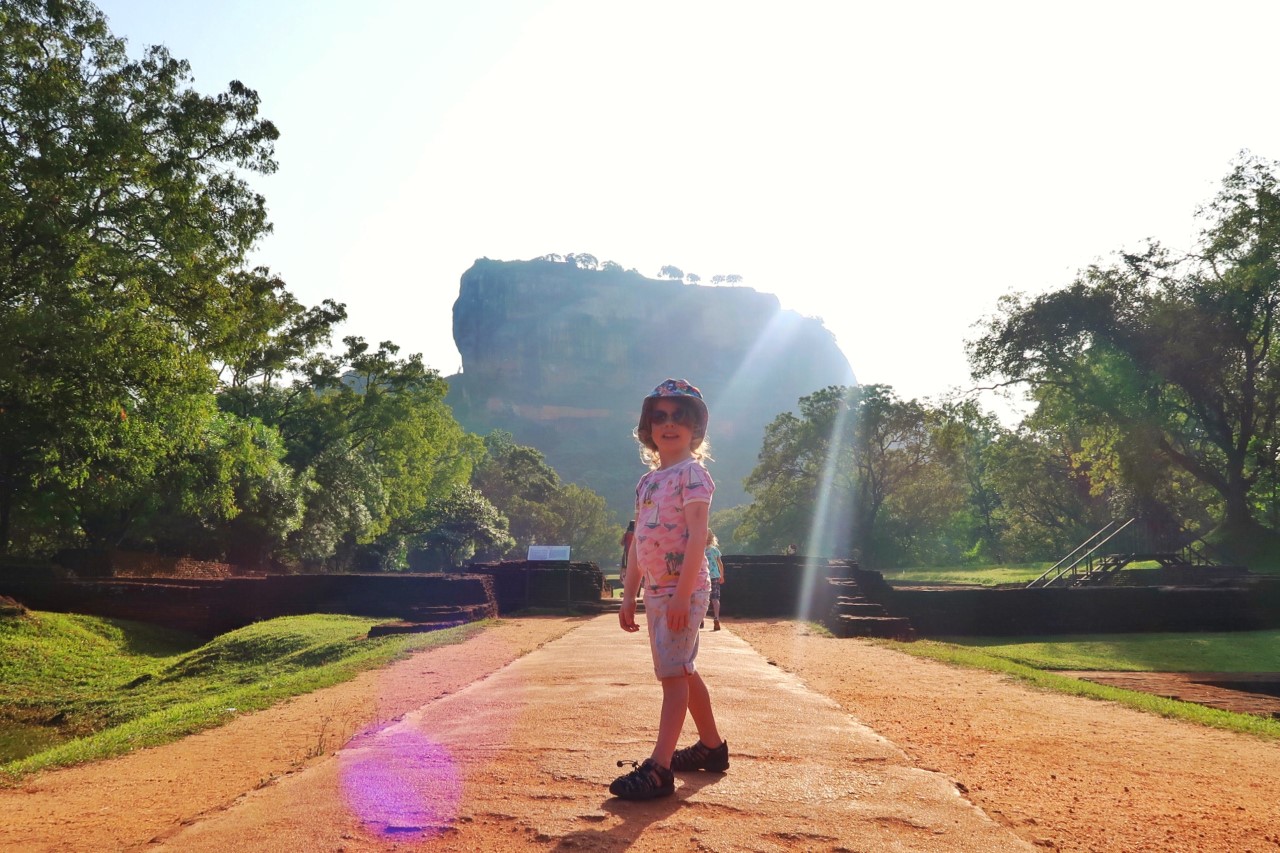 With impressive images like this why wouldn't you want to climb Sigriya.  This must be one of my favourite family friendly adventures in Sri Lanka!  Even leaving early (6.30am!) we were far from the first at Sigriya, however it's essential to arrive early to beat the heat.  I found it very warm climbing up as it was, although I didn't think it was strenuous, just hot!  The kids practically ran all the way up, only stopping when I requested photos.
Most of the climb is up large wide stone steps, but the last part is made up of a narrow metal staircase that's screwed into the rock.  It appears much more precarious than the stone steps and people who were afraid of heights found this part more difficult.  As this section of the climb is narrower, it's also much busier and slow.  But when you reach the top you will know it was all worth it!
The views over the forest below are amazing and the remains of the old structures are very interesting.  The kids will want to explore immediately, but it may be a good idea to find a quiet spot for some water (bring plenty!) and top up their sunscreen.  It's very exposed at the top so you will need to protect your skin from the sun.
Rafting at Kitulga
For older children who are confident swimmers, this is a must!  On the way down from Nuwara Eliya we went past Kitulgala as small town renowned for it's rafting opportunities.  You can't miss the signs for rafting experiences, there are so many businesses to choose from!  Ask around for the most reputable company and make sure that you are confident that they have suitable equipment before you go.
My youngest isn't a swimmer yet so we skipped this.  However another group on our tour (with teenagers) did the raft tour and had a fantastic time.  So those older children and teenagers will probably be excited for a bit of an adrenaline activity!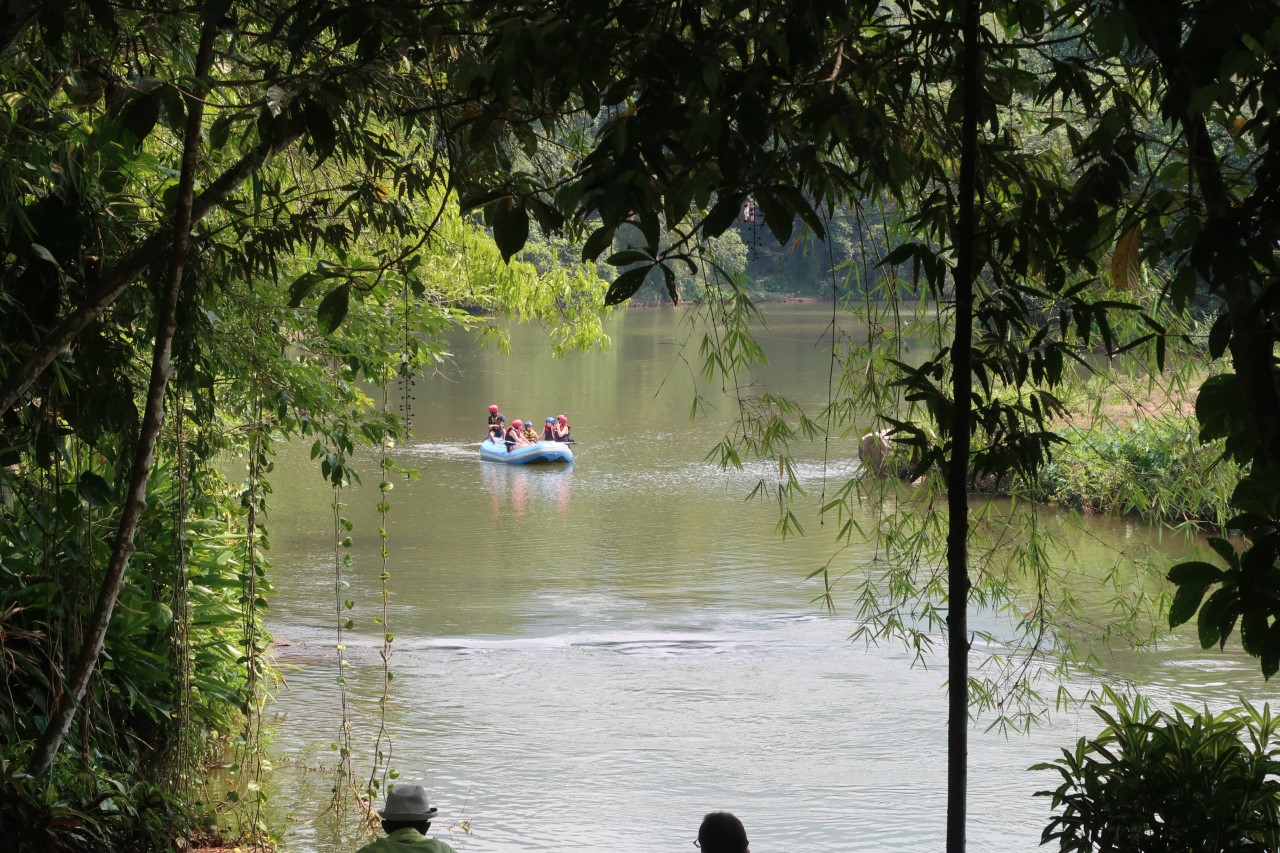 Sigriya Village Tour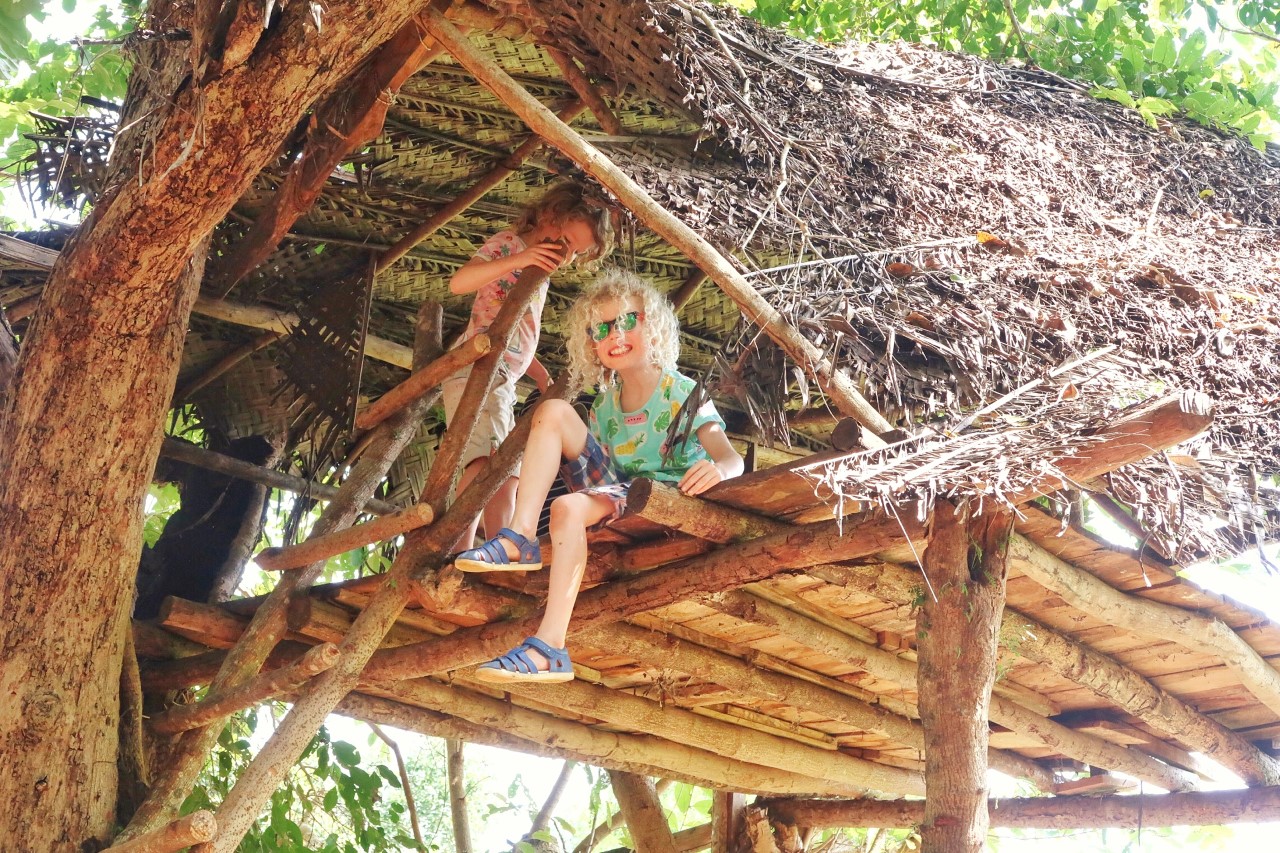 The Sigriya village tour was an option we took after climbing Sigriya.  As we were arrived at Sigriya so early it didn't take too long to get back down to our vehicle and gave us time in the late morning for another activity.
We were taken in an ox and cart along through a village past houses and into the countryside beside a lake.  At the lake we got on a little raft (the kids were given life jackets) and the cart driver rowed us over to the other side (remember to tip the person on the boat).  At the other side we were met at a little traditional hut where we would be having lunch.
The lady who was preparing lunch showed us how she opens the coconuts to prepare them and the children had great fun watching the monkeys climbing the nearby trees.  For the kids it was mostly about playing in a treehouse (I assume it's there to show how people would have traditionally lived in the area) and attempting to climb a palm tree!
The food was a buffet of different rice, curries and crackers.  We all found something we could eat and particularly enjoyed the fresh juice!  As a pescatarian I was pleased that there were river fish available to eat and my youngest fussiest eater enjoyed the plain rice and crackers.
Whale Watching in Sri Lanka
We didn't have time to fit whale watching into our itinerary as were only in Sri Lanka for one week.  However, knowing how much the kids love animals and fun transport, this would definitely be a huge hit!
The whale watching season in Sri Lanka is from November to the end of April as the rest of the year the water is too rough from monsoon weather.  You are likely to see whales such as the Blue, Humpback, Sperm or Bryde's whales, as well as sightings of Spinner or Bottle-nose dolphins. Check out TripAdvisor for tours in your area, Mirissa appears to be a popular whale tour operator location, but you can spot whales from various other parts of Sri Lanka too.
Trying Their Hand At Picking Tea
Picking tea at a plantation may not be everyone's cup of tea, but it's something a bit different for the kids.  They will first learn how the tea is processed in the factory before coming outside to try their hand at picking it too.  We were there when Sri Lanka is at it's warmest, so it was too hot to pick tea for long.  But it was still good for the kids to experience how difficult it is for tea pickers and how much effort is put in to picking enough tea to fill the basket.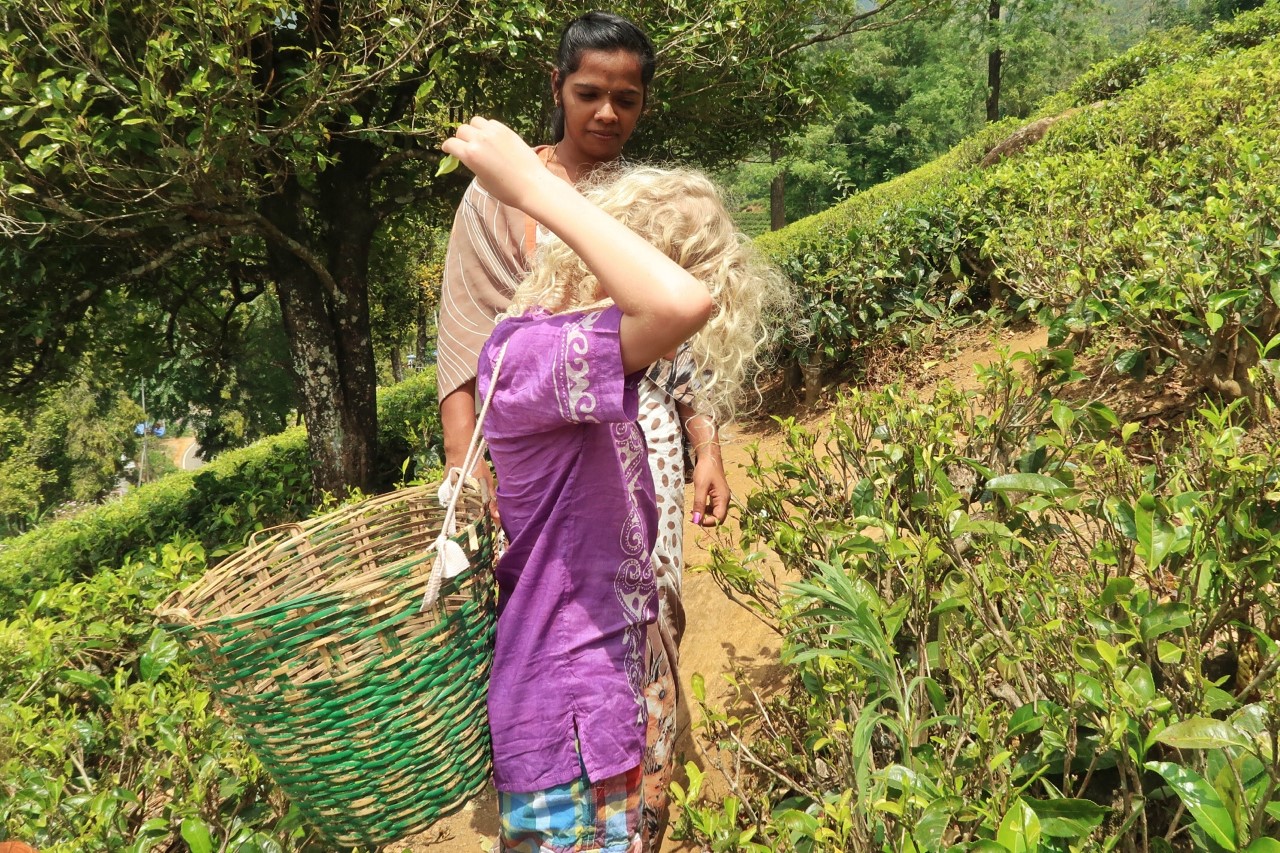 Exploring Belilena Cave, Kitulga
Belilena Cave is somewhere else we didn't have time to visit, but sound like an interesting historical site.  I don't know about your children, but mine love a good cave!
This cave is accessible either by foot, tuk tuk or using a 4×4 and is hidden 8km into the jungle near Kitulga.  The reason it's such an exciting cave is that remains of the prehistoric 'Balangoda man', Homosapien Balangdensis, were found in the cave.  The Balangoda man is similar to modern humans, although it appears he is taller in stature to modern Sri Lankan's.  They also found plenty of other artefacts in the cave, with evidence that Balangoda man occupied parts of Sri Lanka long before modern humans travelled to Sri Lanka from India.
Aside the prehistoric remains the cave is also very picturesque and has a beautiful waterfall flowing nearby.
Visiting A Buddhist Temple
You will spot impressive temples everywhere you travel in Sri Lanka.  It may be of interest to introduce them to different religions, where they can find out what others believe in.  We are personally an atheist family, however I think it's important for the children to learn to respect others beliefs.
Near Colombo we visited a lovely white washed Buddhist temple, with a chance for a blessing and discussions of why the local Buddhists revere a certain fig tree, lighting of candles and generally getting a feeling of what is important to Buddhists.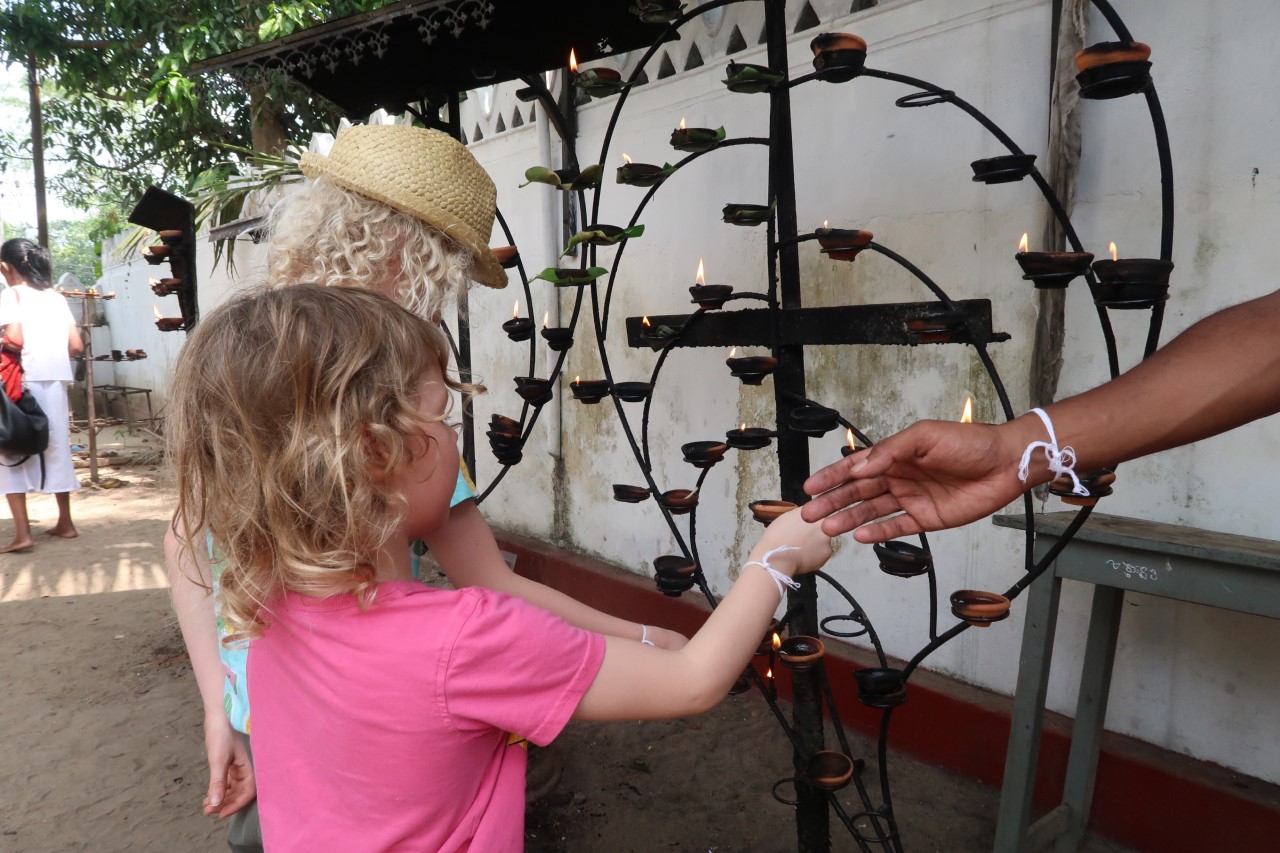 Riding In A Tuk-Tuk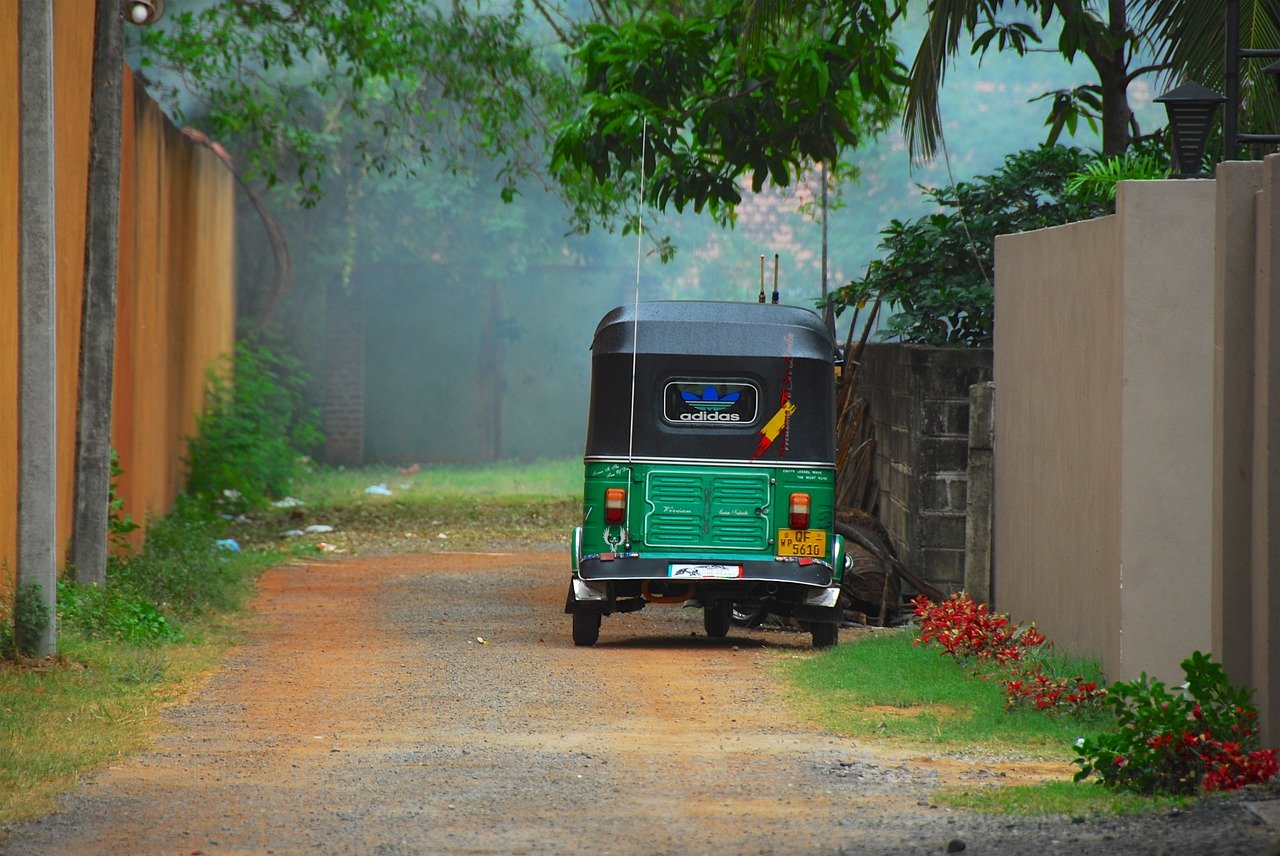 When you are in Sri Lanka it's going to be rather obvious that the vast majority of Sri Lankans travel by tuk tuk!  The kids loved watching them and it's certainly a different type of transport than they are used to at home!
You can simply flag down a tuk tuk for a trip in Colombo or in some places you can hire one to explore Sri Lanka.  I've seen some great blogs about renting a tuk tuk to travel around Sri Lanka, although it may be easier for a 4 person family to have 2 tuk tuks!
Climb Little Adam's Peak
This is the perfect walk for young children and a satisfying hill to climb!  To make Little Adam's Peak in Ella doable, even for toddlers. you can take a tuk tuk part the way and the kids walk the last 40 minutes to the top.
It will give them a great sense of achievement and there are fab views across the local area from the top!  Don't just take my word for it, hop over to Jenny's blog at Jenny's blog at Travelynn Family to find out more!
Pin 10 Family Friendly Adventures In Sri Lanka For Later