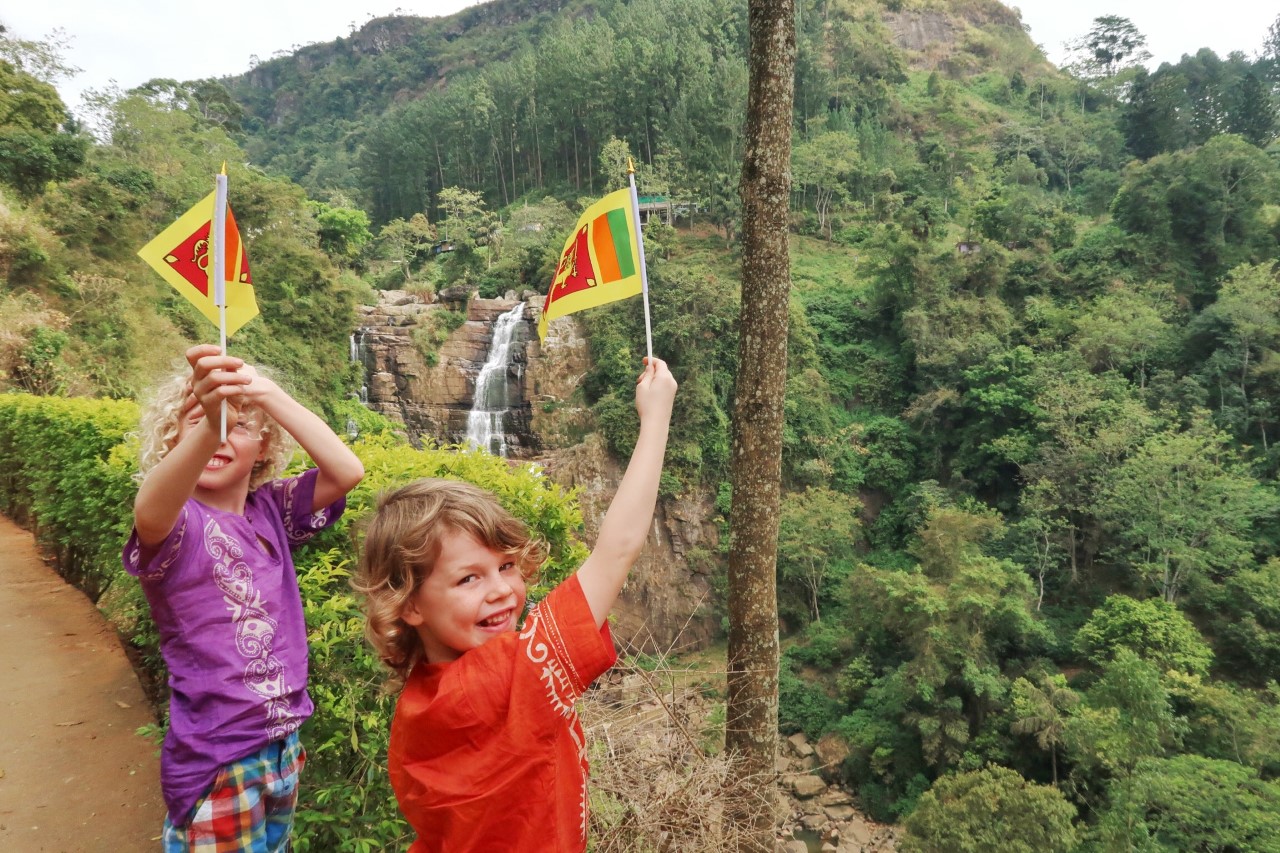 AD [Press trip]
First I must confess that we did a tour of Sri Lanka in only 7 days, but I think that for most families this is just a little too short with long drives on two days.  So to break up the longer drives I've added in some extra days to the itinerary, which also gives a little more time for the kids to relax in the pool or at the beach.
This itinerary is designed for parents of young children and it's assumed that you will hire a guide with a car to take you around the main sights.  After visiting Sri Lanka twice I know that the traffic is a little crazy for foreigners and most people are not going to want to drive there!  It would make for a stressful holiday for the driver and the chance of returning a hire car unscathed is very slim!  So my top tip would be to hire a car with guide so that you can easily get to all the main areas and also it gives you plenty of chance to stop for toilet breaks (essential for small bladders!) or simply to stretch legs.
10 Days Sri Lanka Itinerary For Families
Day 1: Arrival and Colombo
Depending where you are arriving from, you are going to need a day to reset to the new time zone and relax a little.  If you have been travelling from a cooler country (like us!) then you may need that time to get used to the heat too!  Sri Lanka is VERY hot compared to the UK, so take your time to relax by the pool or go for a short walk to explore the area.
Don't forget to get some Sri Lankan Rupees when you arrive, there are ATM's at the airport and I suggest taking enough out to pay for tips, and snacks.  You can use your credit card to pay for services at hotels.
Day 2: Colombo
Hopefully you are getting over the jetlag by now and ready to explore Colombo a bit further. You can tour the city by a open top double decker bus, or if you have hired a driver ask them to take you on a tour of the cities main sights.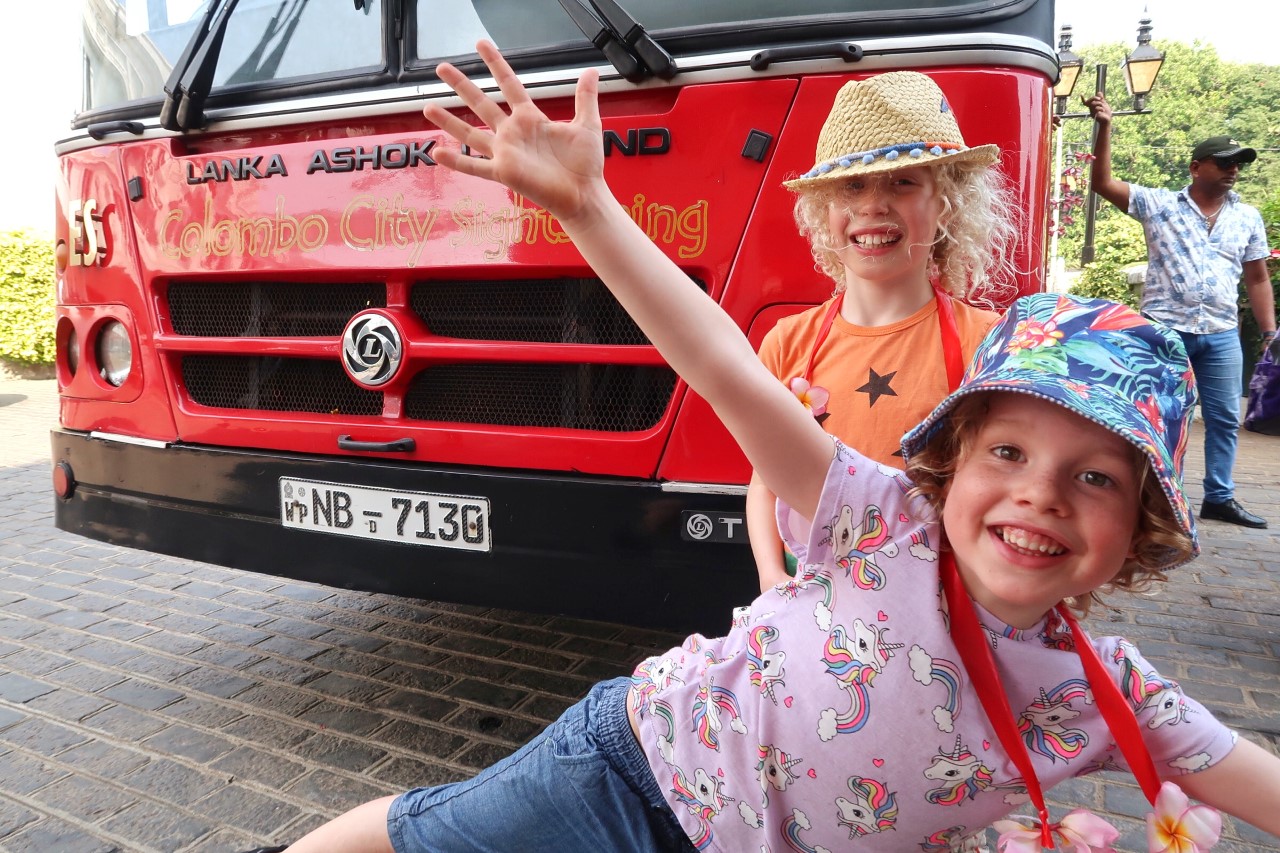 One of the major Sri Lankan religions is Buddhism and you can visit one of the many temples in Sri Lanka.  When you visit you will need to remove footwear and cover both shoulders and knees.  We were invited to a temple near Colombo and it was a great experience for the children to see what people did as part of their beliefs.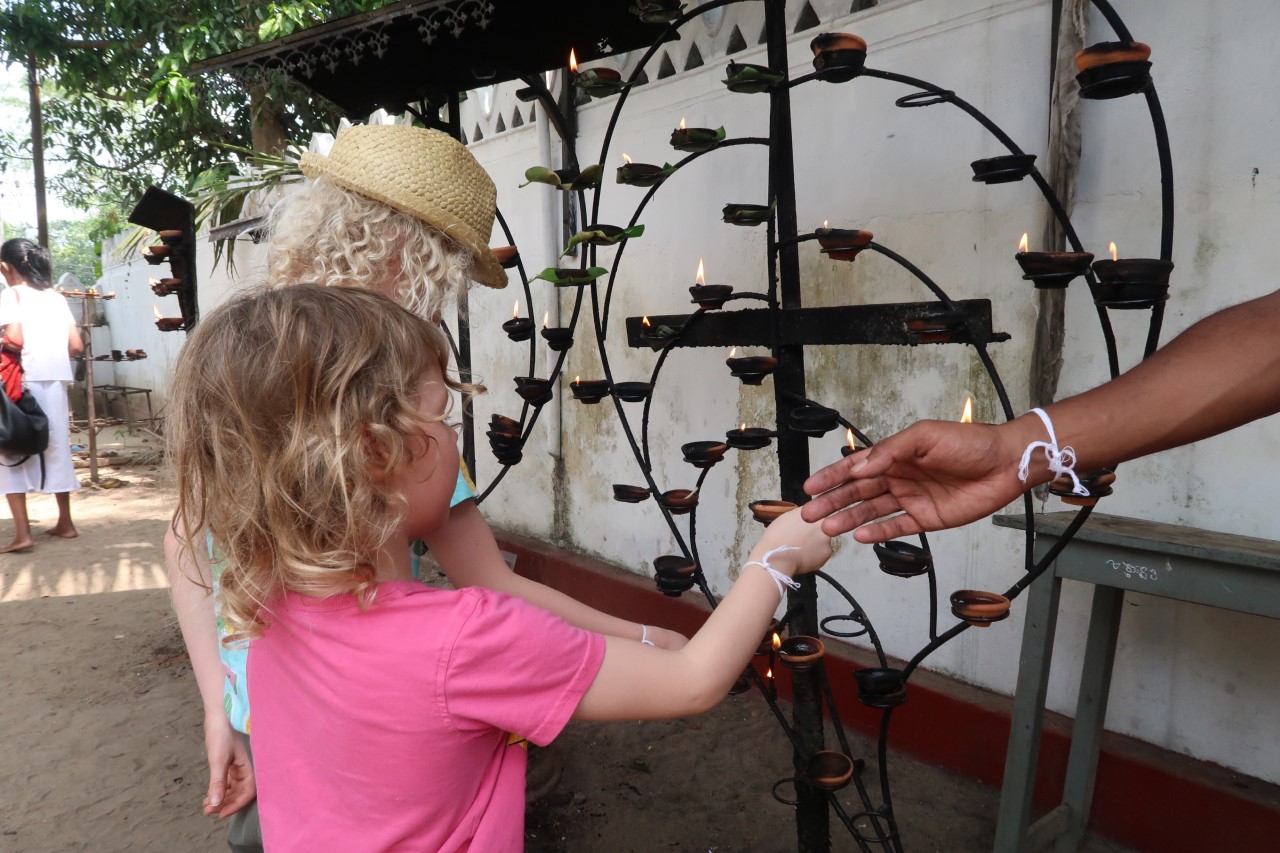 Another good stop whilst travelling around Colombo is the Dehiwala Zoological Gardens, which is Colombo's zoo.  The animals are kept for breeding and conservation purposes, as well as education for locals and visitors alike.  It's definitely somewhere of interest for families.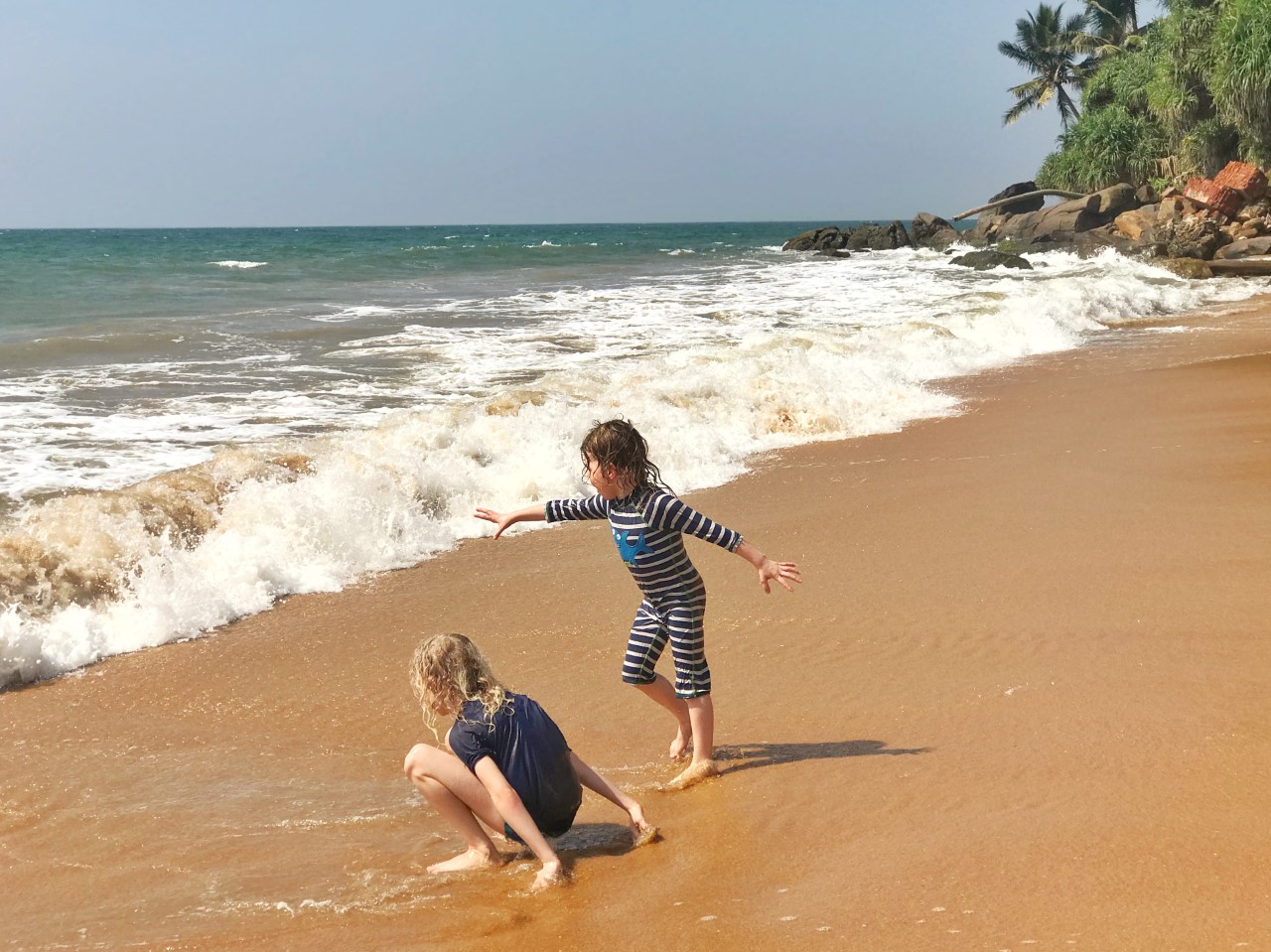 Finally head back to the hotel to cool off in the pool or in the sea if your hotel is by the beach.
Day 3: Kurunegala
Drive across to Kurunegala and stop off for a night to enjoy exploring the area around Kurunegala lake.  If you want to explore a little further afield there is an interesting temple a short drive away at Ridi Viharaya.  Ridi Viharaya is an ancient temple with many murals to explore, a nice side trip on your way toward Dambulla.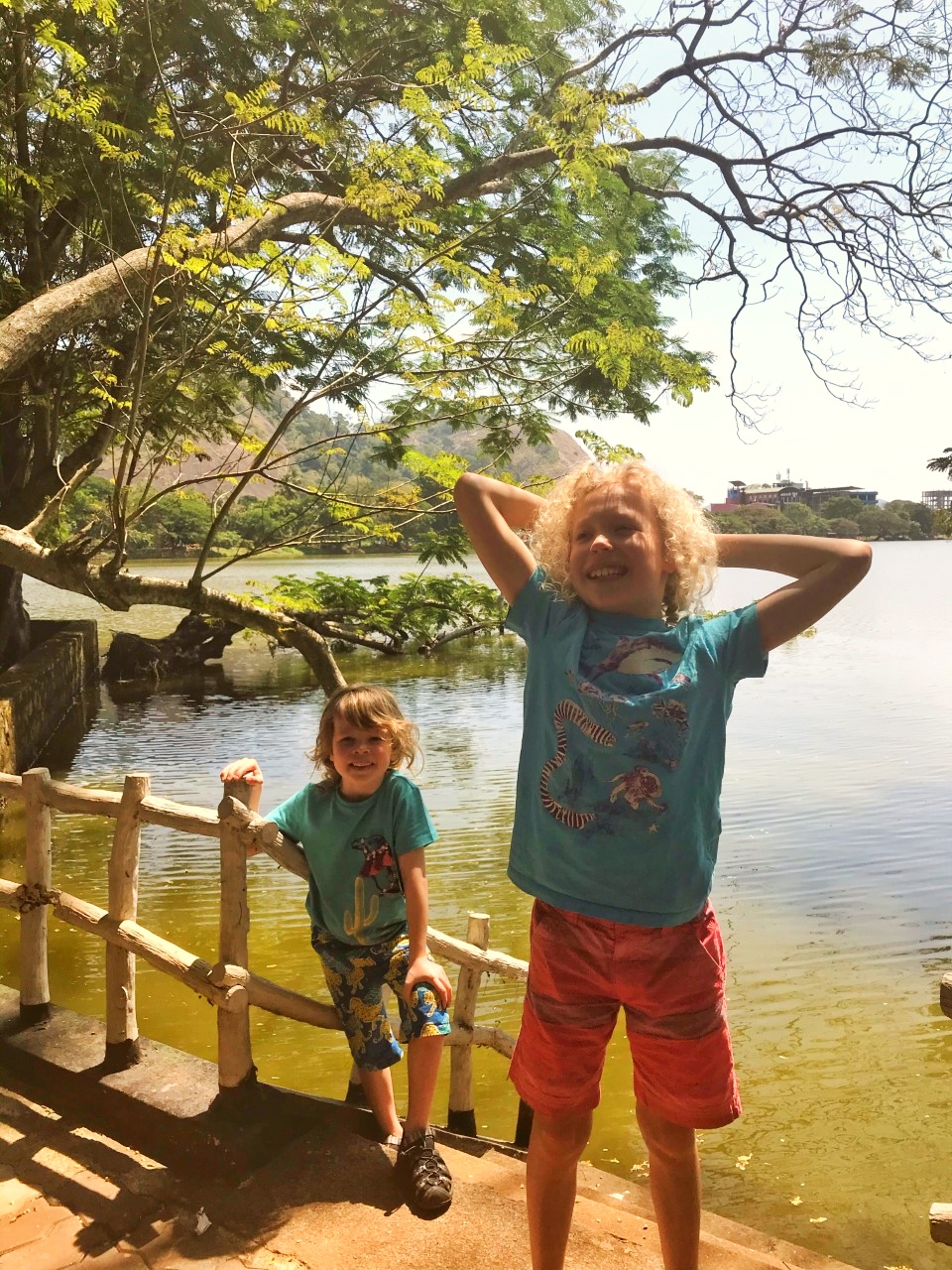 Day 4: Dambulla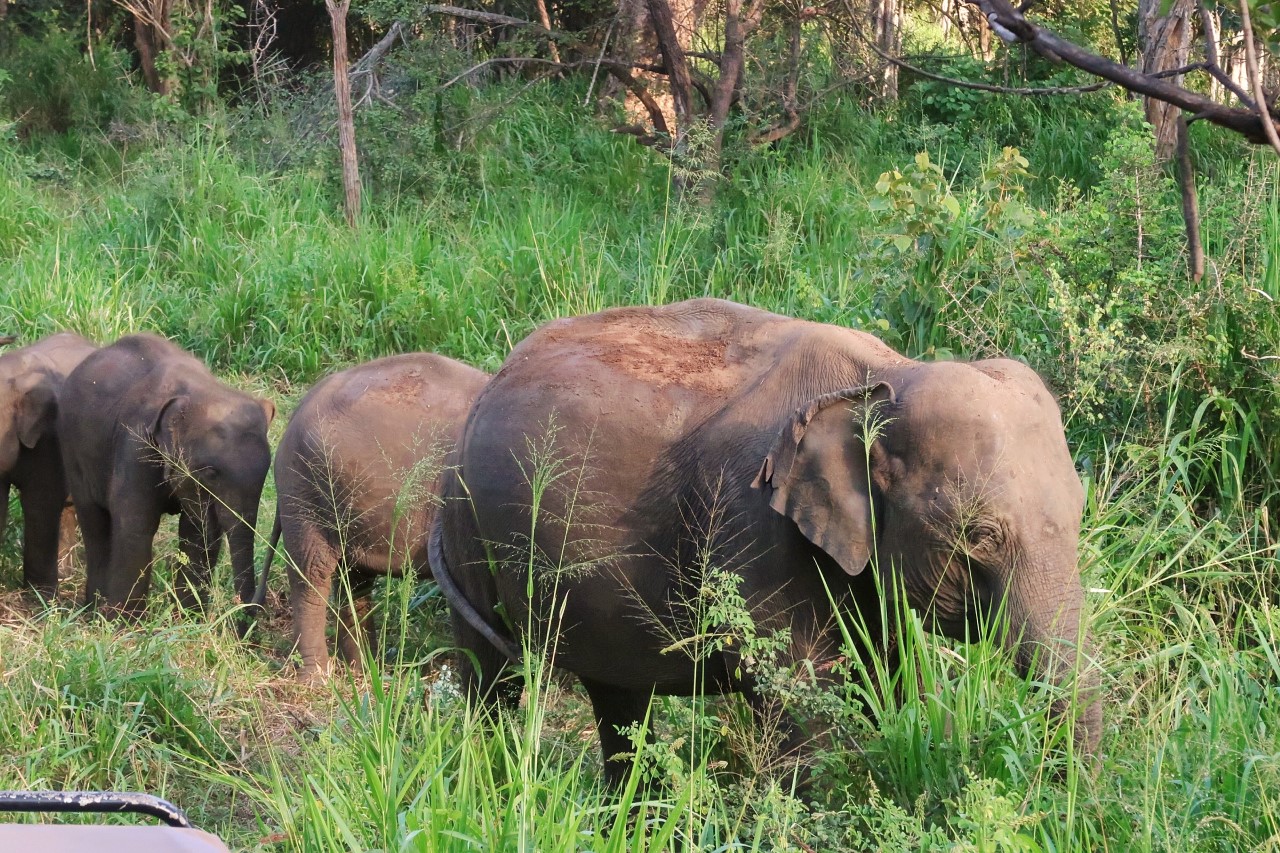 In the Dambulla area you can find plenty of opportunities for an Elephant Safari.  The elephants move around the different National Parks depending on the season, so check with locals to find out which park is the best to go to.  In early February we went to the Eco Park at Habarana as this is where most the elephants were located at that time and we weren't disappointed!  When you arrive you will be given a driver and jeep to travel around the park, although don't expect it to be comfy, you will be bumped about in the jeep whilst navigating the rough tracks through the park! This was probably my 8 year old's favourite part, standing up and bumping along the tracks on the look out for elephants!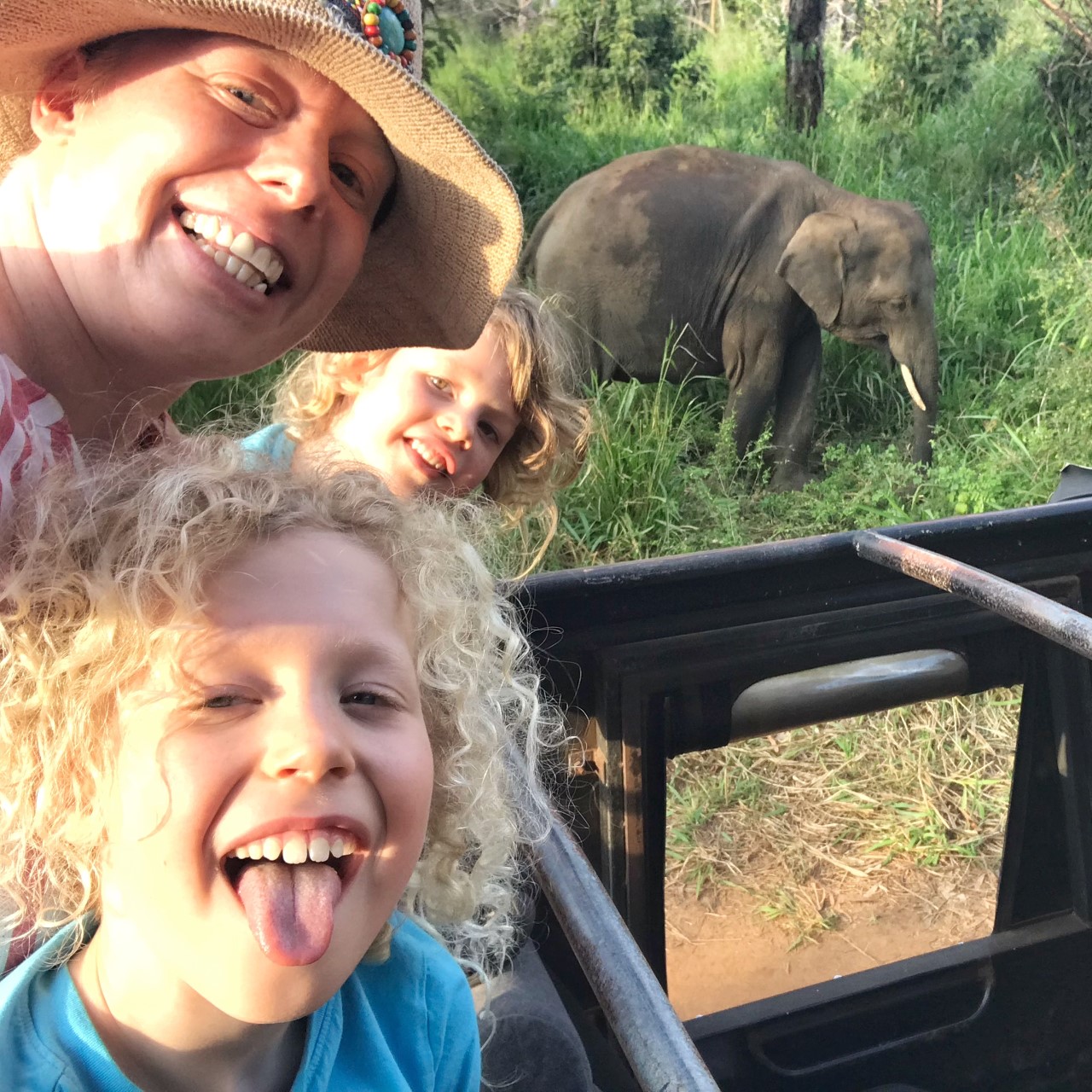 As the drivers all talk to each other and know roughly where the elephants were last seen then it won't take long until you find your first elephants.  It's a great sight to see elephants in the wild and the children were excited to see families and even tiny hairy baby elephants!  It's certainly one of our favourite trips in Sri Lanka!
If you have time after the elephant safari head into Dambulla to visit the Golden Buddha (watch out for the mischievous monkey's on the steps!) and the cave temple complex.  I visited this area on a previous trip to Sri Lanka and it's very awe inspiring!  With kids it may be a good idea to ask them to count how many buddha statues they can find whilst walking through the cave temples, it will keep them busy whilst you have a proper look!
Head back to the hotel to relax and play in the pool!
Day 5: Sigiriya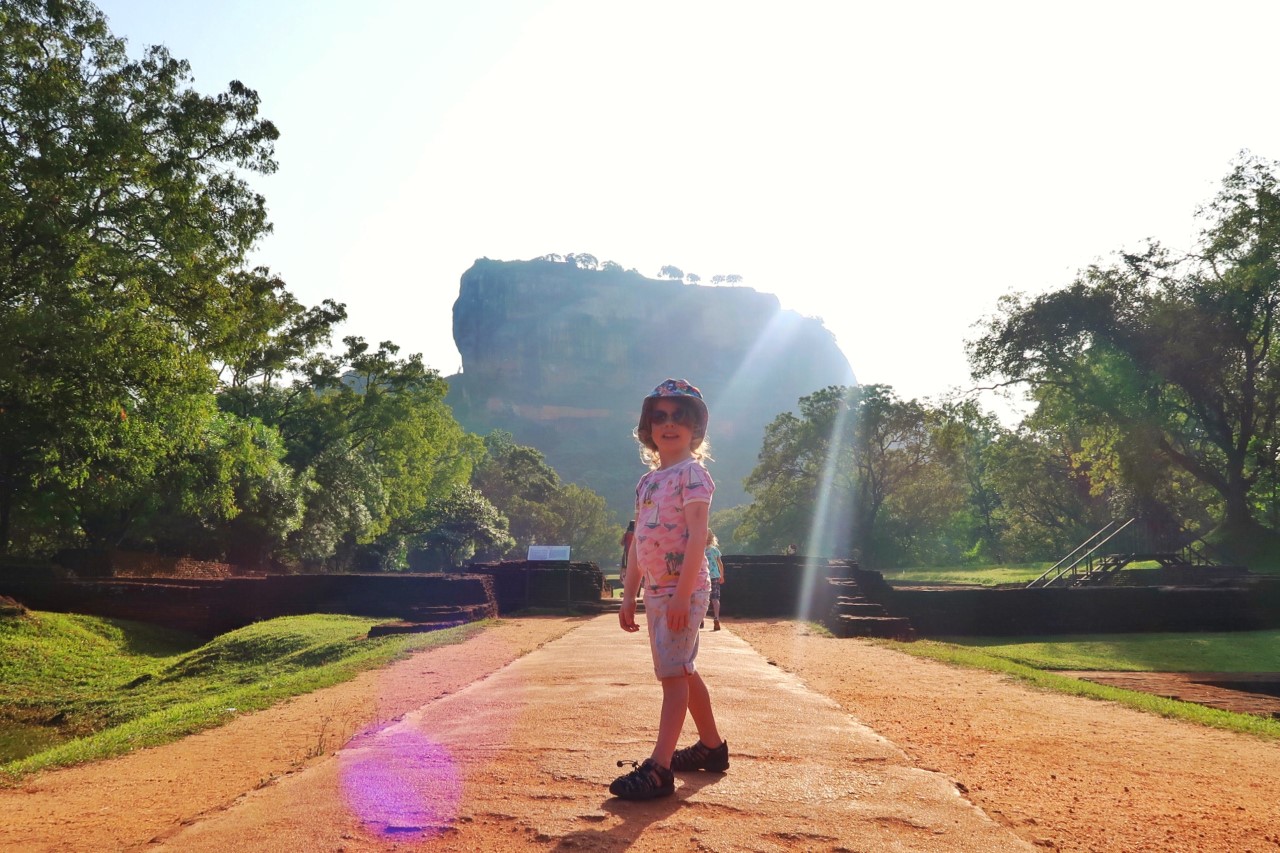 You will need to rise early to get to Sigiriya for opening, or soon after, this is when the it will be cooler and there are less people climbing.  The early start is worth it as you're going to sweat climbing up all those steps!  We saw children from around 4 years old climbing up the rock, so it's definitely do-able for younger children.  My boys are 6 and 8 years old and managed the climb easily, they're much fitter than I am!
Don't forget to buy your tickets in advance to make it a little easier to access.  You can head to the Cultural Fund website to book tickets, although it's also possible to buy tickets on the day at the ticket office.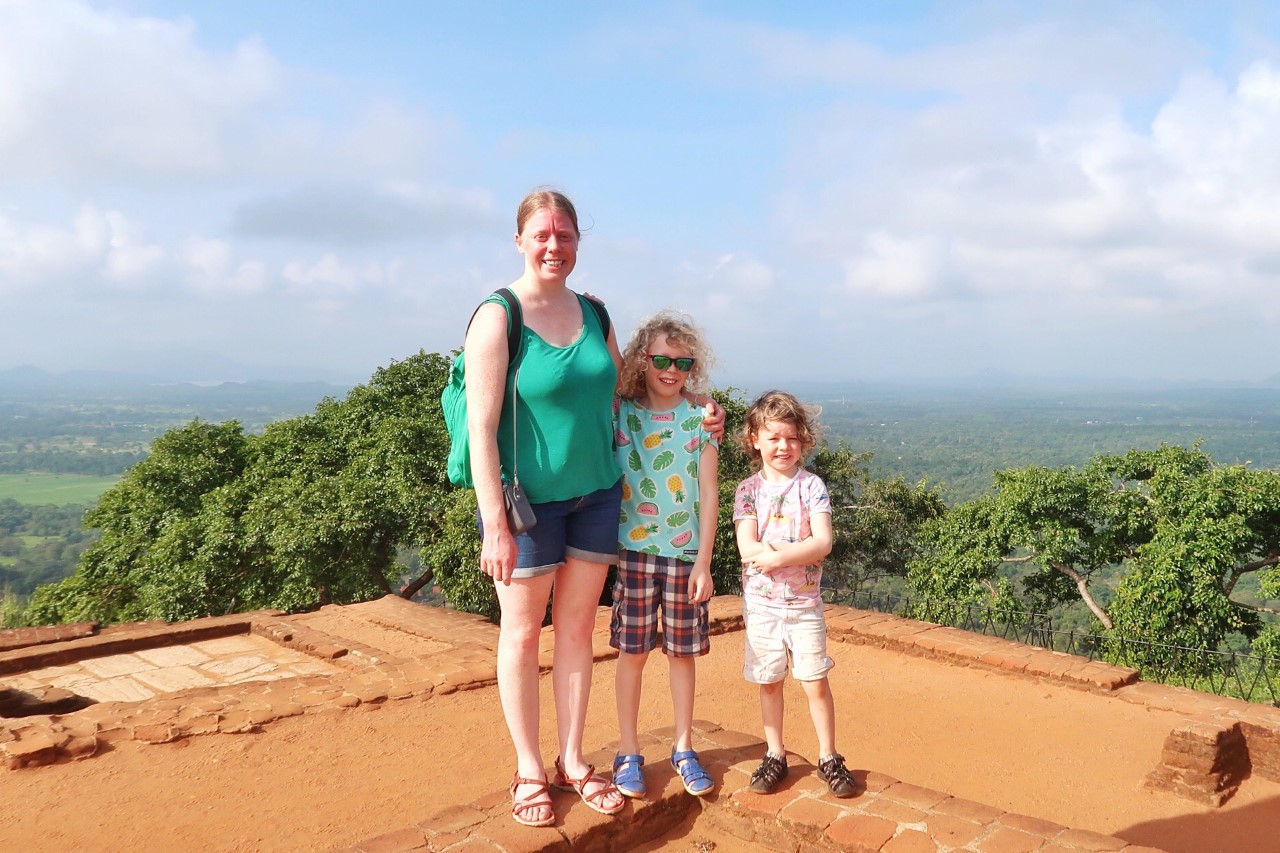 Take your time to appreciate the palace at the top of the rock and get plenty of photographs of your accomplishment. Don't forget to admire the lion paws carved into the rock and the fresco paintings on the rock wall on the way up the rock, you won't pass the paintings again on the way down.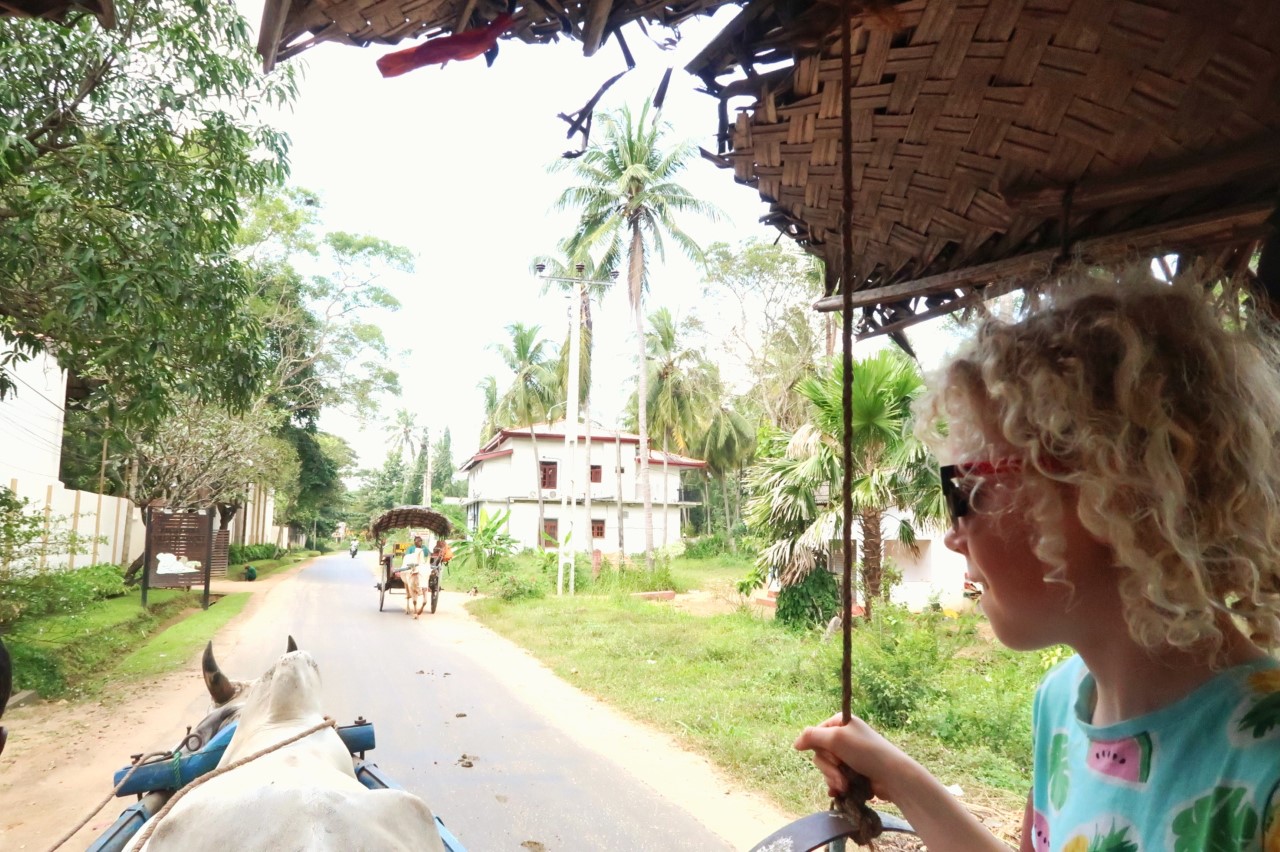 After you have been to Sigiriya ask your driver to take you to a local village tour, where you can travel by bullock cart and canoe to a local village for a traditional Sri Lankan lunch.  There are various different village tours around, so make sure you are specific in what you request.  The usual tours appear to be a bullock cart ride to a lake and then a canoe ride over the lake to a mud house where you will have lunch.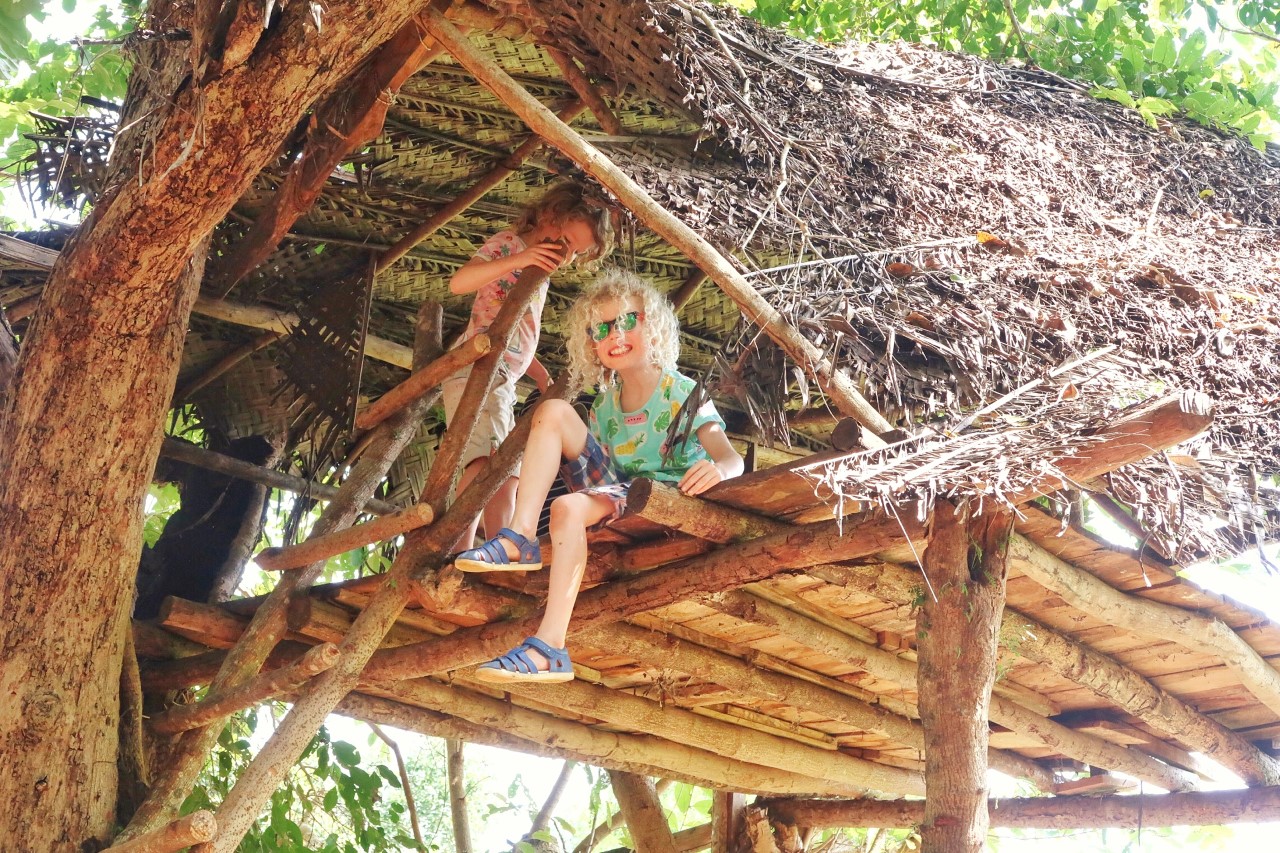 My two loved this as it gave them a chance to climb up and down a tree house beside the lake and attempt to climb a palm tree.  A great place for some downtime in our busy schedule!  The food cooked was delicious, with various different dishes from a banana flower dish to a type of curry.  They even put out some plain bread for the kids in case they didn't like any other options.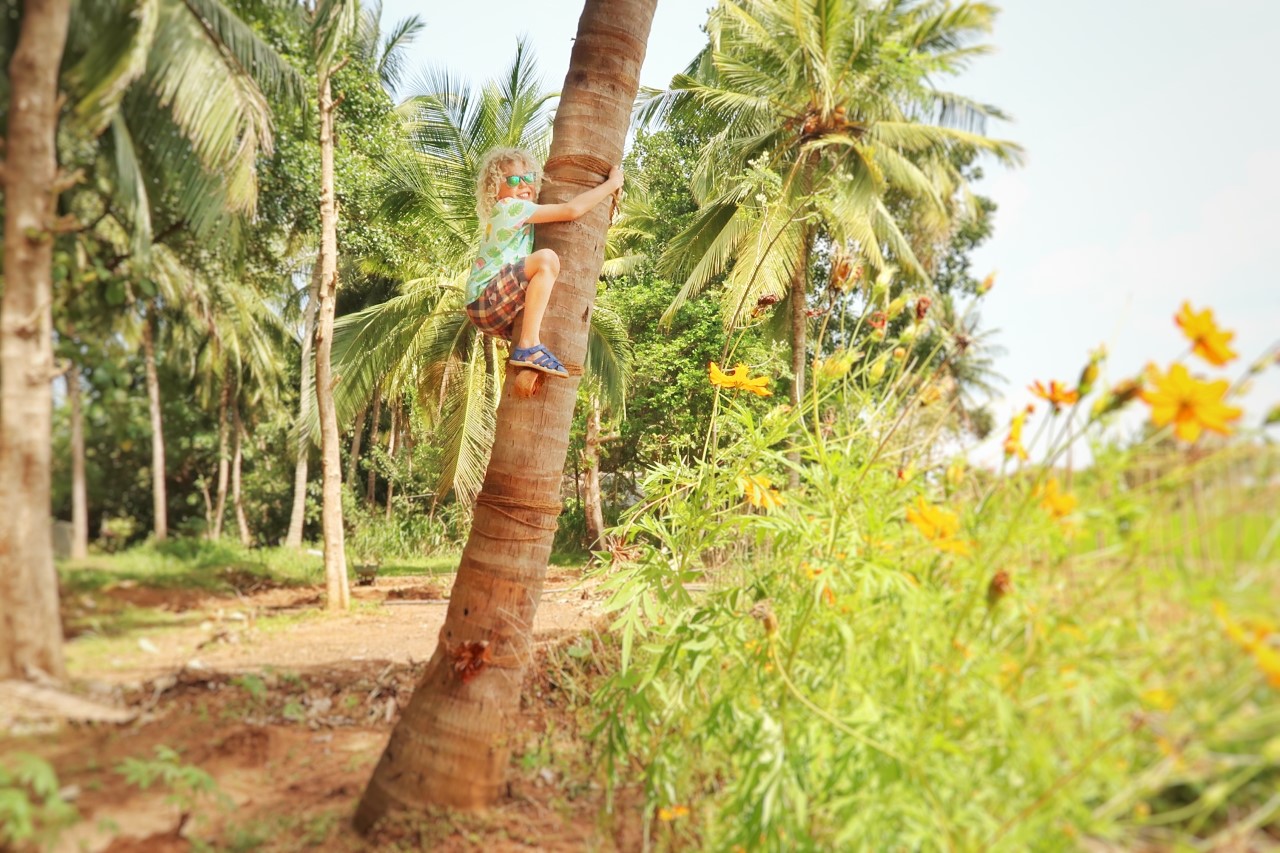 Either head back to the hotel to relax or explore a local market.
Day 6: Kandy
Drive from Dambulla to Kandy in the morning and check in to your hotel to change into clothing appropriate for the Temple of The Tooth.  You will need to cover your knees and shoulders (both men and women, although they appear more lenient for very young children) and only take a small bag in with you, this will be checked at security.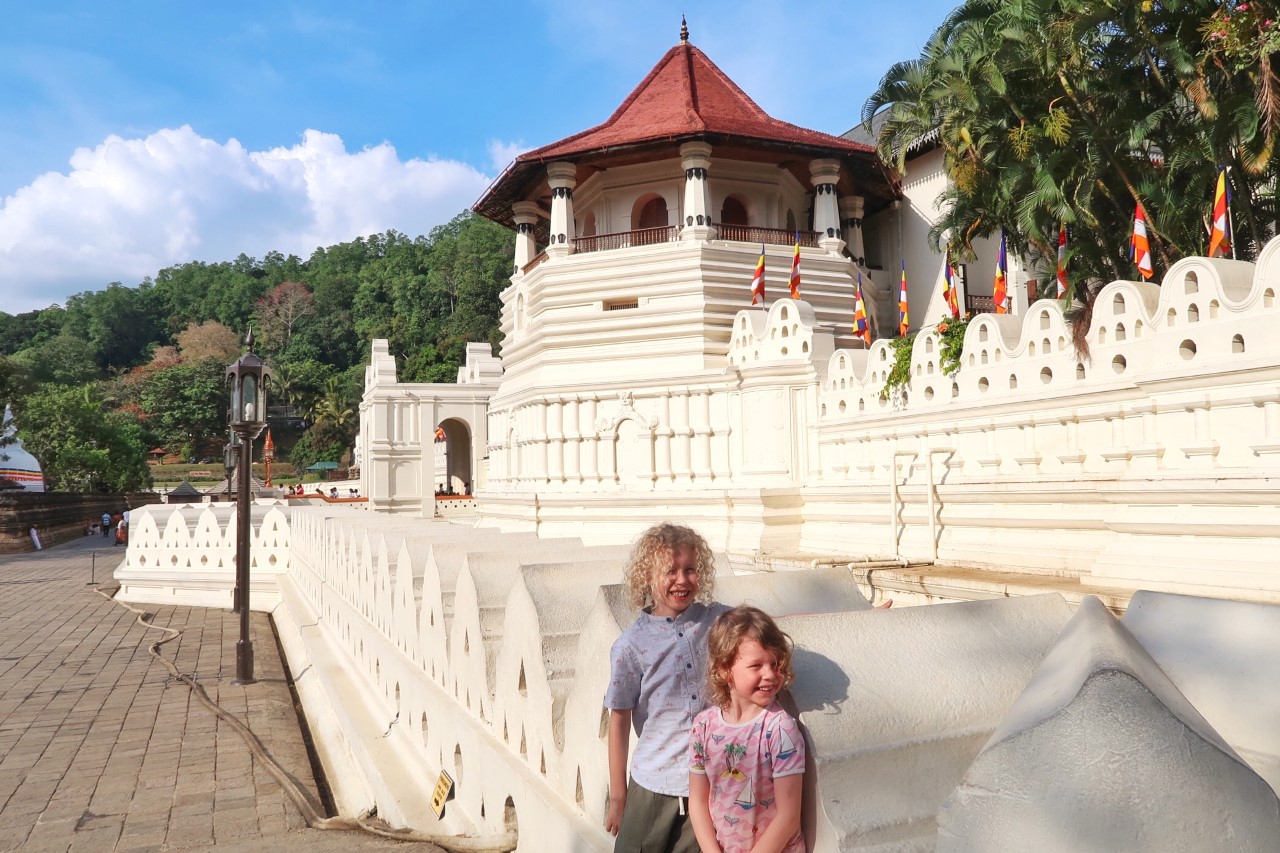 Once you're changed head across to the The Temple of the Sacred Tooth Relic.  This is a very important Sri lankan Buddhist temple famous for holding one of Buddha's teeth.  You won't actually get to see the tooth as it's held within a gold casket contained within several other caskets within the temple.  Although the temple is on most tours around Sri Lanka, the temple will still have many Buddhist visitors and locals who come to the temple to pray and worship.  So care has to be taken to respect those worshipping in the temple and not cause any offence.
It's best to have a guide take you around the Temple of The Sacred Tooth Relic as they can best explain all the details and make sure you don't miss anything.
Return to your hotel for dinner and then head out to a local cultural show, where you can watch dancers perform traditional Sri Lankan dances.
Day 7: Nuwara Eliya
This morning is a long drive up to Nuwara Eliya, where the temperatures will be at least 10 degrees less than Kandy!  Make sure you leave a jumper out of your luggage to wear when you arrive in this highland town.  Before you leave Kandy head off for a wander around the shops and enjoy the bustling market place.  Pick up a few souvenirs or visit a Batik shop to see how they create these works of art.  Then jump back in your car and head up the road toward Nuwara Eliya.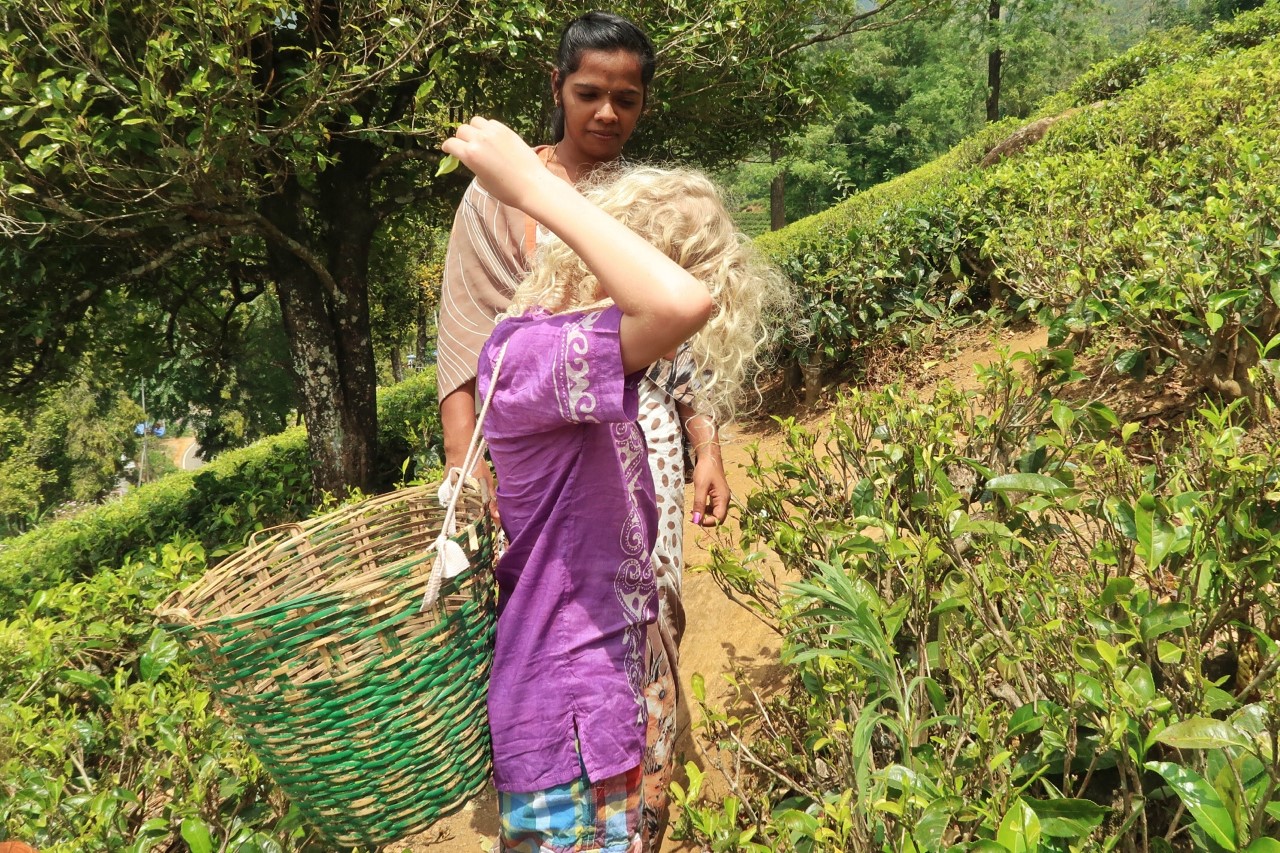 On the way to Nuwara Eliya you will be able to stop off at one (or several!) tea plantations to find out how tea leaves are picked and processed in the factories.  This will include a cup of tea to enjoy after the tour.  We only visited one tea plantation, Glenloch, however I think it could be fun for the children to visit at least a couple of plantations to compare the process.
Driving through the plantations you will soon begin to notice familiar sounding names.  For a Scottish person I was surprised to see plantations named Sanquar, Inverness and Edinburgh amongst others.  I'm guessing during colonial times these plantations were owned by Scottish families!  Children might enjoy spotting plantation names and working out where the names have come from.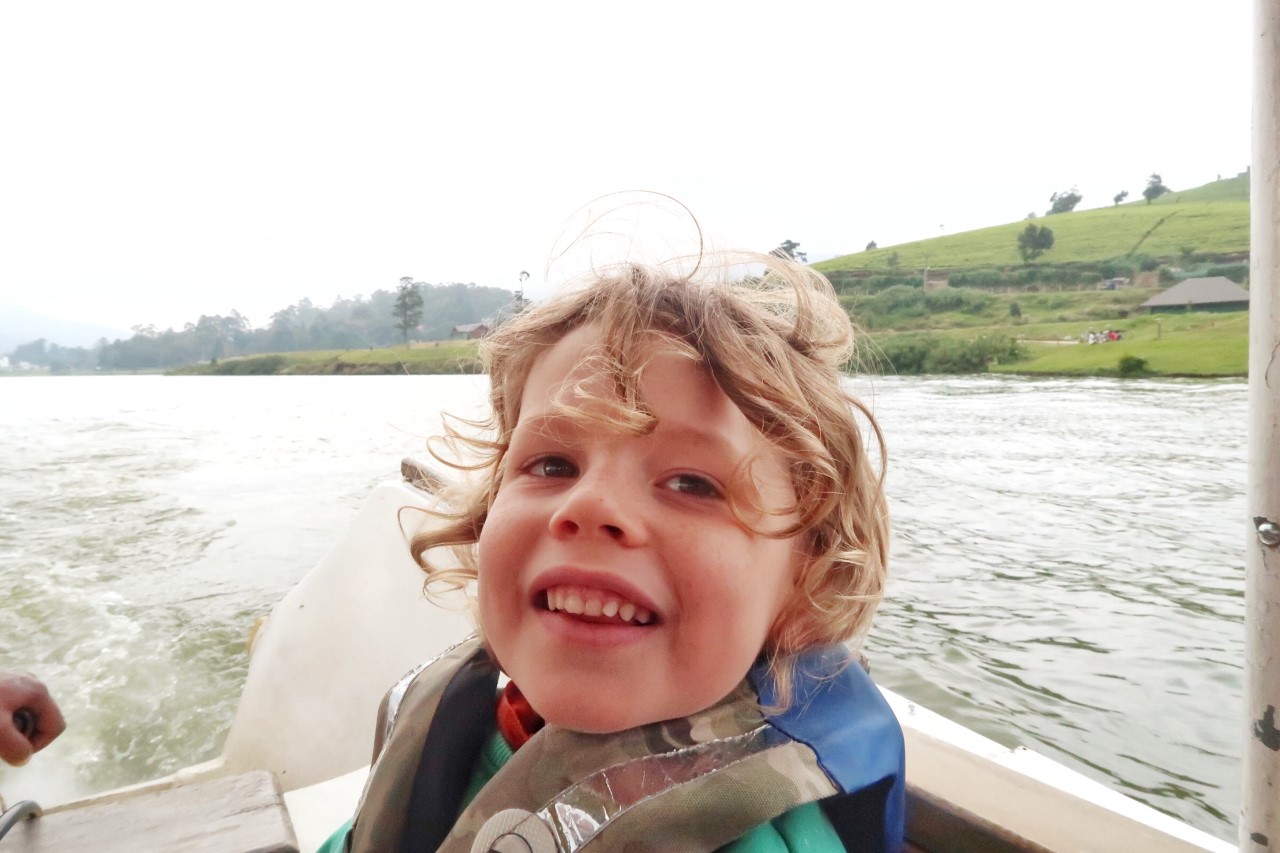 Once you arrive in Nuwara Eliya put on that jumper you left out (you will feel cold!) and head out on a boat across Lake Gregory for a look around the area known as Little England.  This is where many British families stayed in colonial times as it was probably a more manageable temperature compared to the heat elsewhere in Sri Lanka.  You can spot various buildings, such as the post office, that look like they've been taken out of a town in the UK.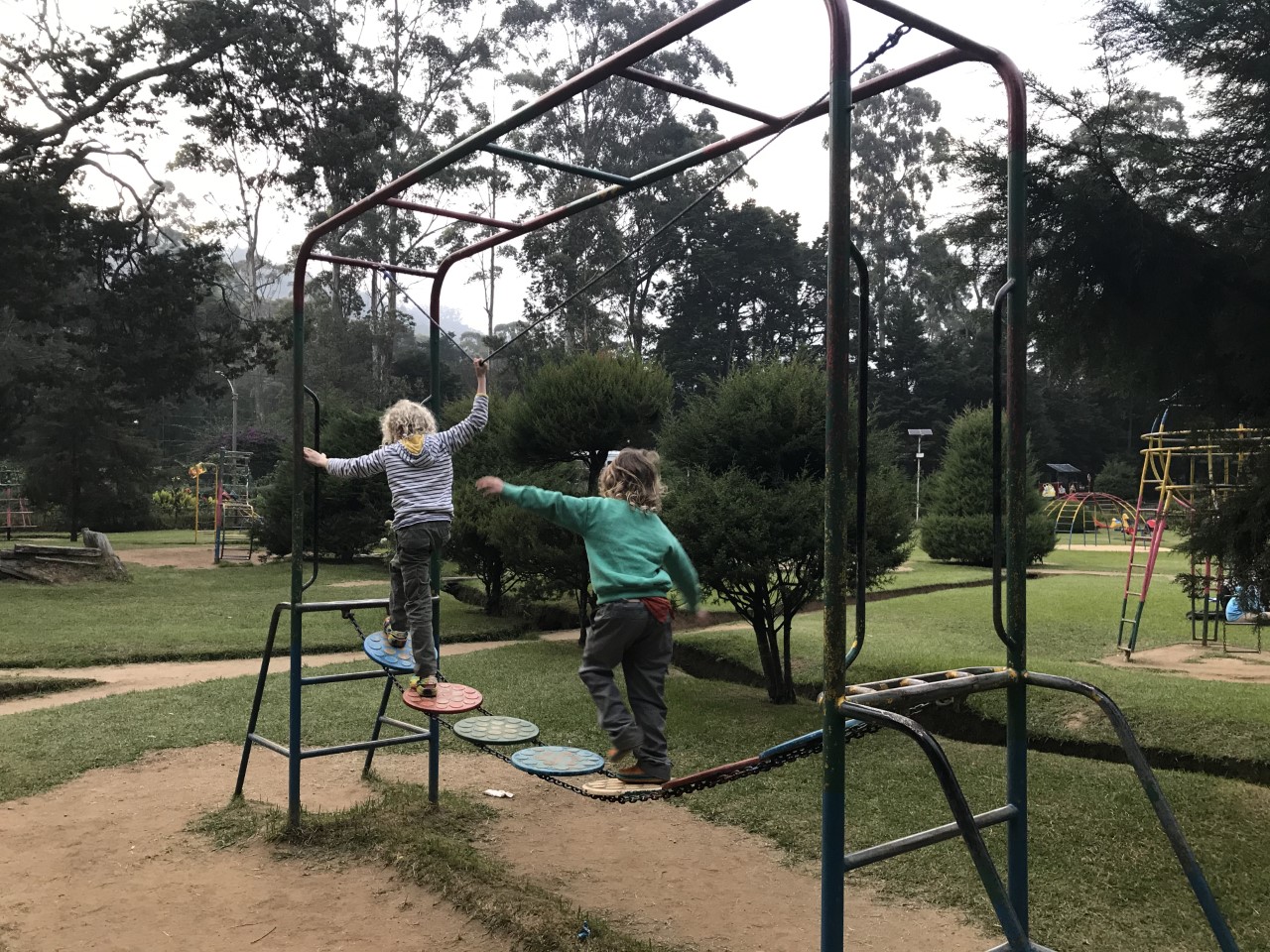 We also took some time to visit the children's play area at Victoria Park.  The park close between 5-6pm and you will need to buy a ticket at the entrance before you will be allowed entry.  We arrived 10 minutes before closing, but managed a total of half an hour before the park guard began asking people to start making their way out of the park.
Day 8: Kithulgala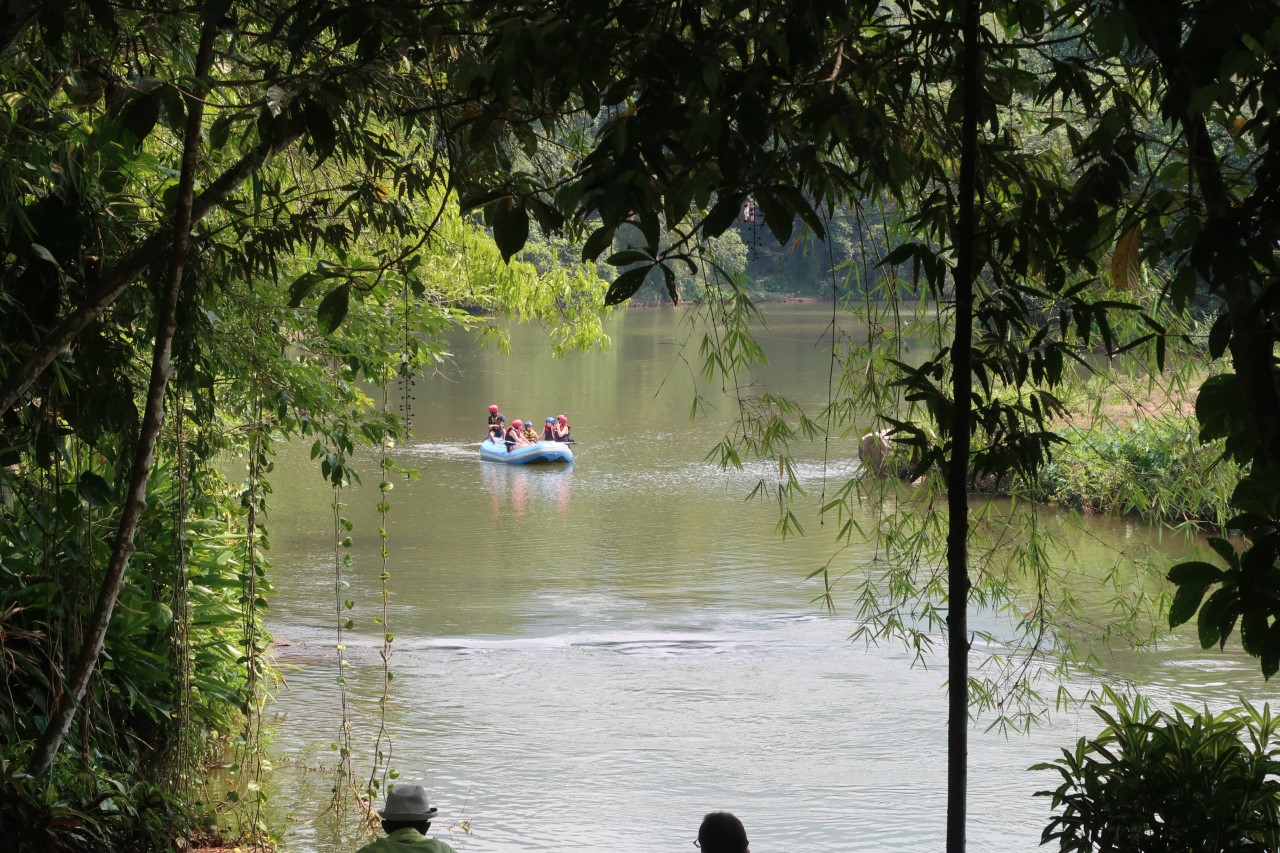 Kithulgala is the home of white water rafting in Sri Lanka!  You will find many companies offering the sport when driving through the town, it might be a good idea to ask your driver which would be best for your family.  If it was just myself and my 8 year old we would probably have gone rafting, but as my 6 year old is not a good swimmer (and doesn't like his face going in the water!) it didn't seem sensible for us to try this.  However we did watch other families with older children and teenagers attempt the rapids and enjoy their adrenaline filled trip.
The other option in this area would be a hike to Belilena Cave, where 12,000 year old skeletal remains were found.  It's an interesting place and you can either walk 8km from Kithulgala itself or opt for a tuk-tuk or another vehicle dropping you off much closer along the track.  You can walk inside the cave and behind a waterfall, which looks pretty spectacular!
Day 9: Negombo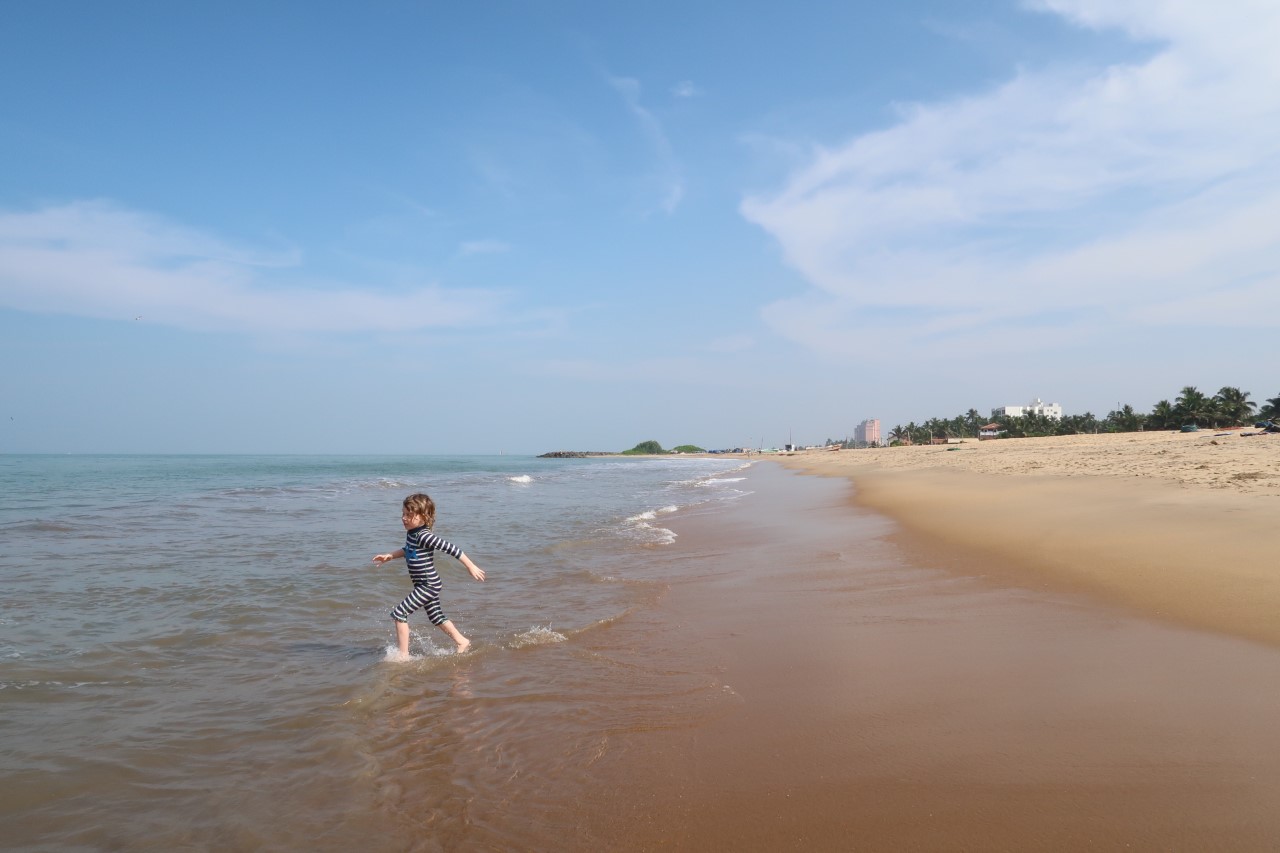 Negombo is all about the beach!  Yes it's a bit tourist'y', but if you have kids like mine they will be ecstatic to have time to play in the sea, racing in and out of the waves together.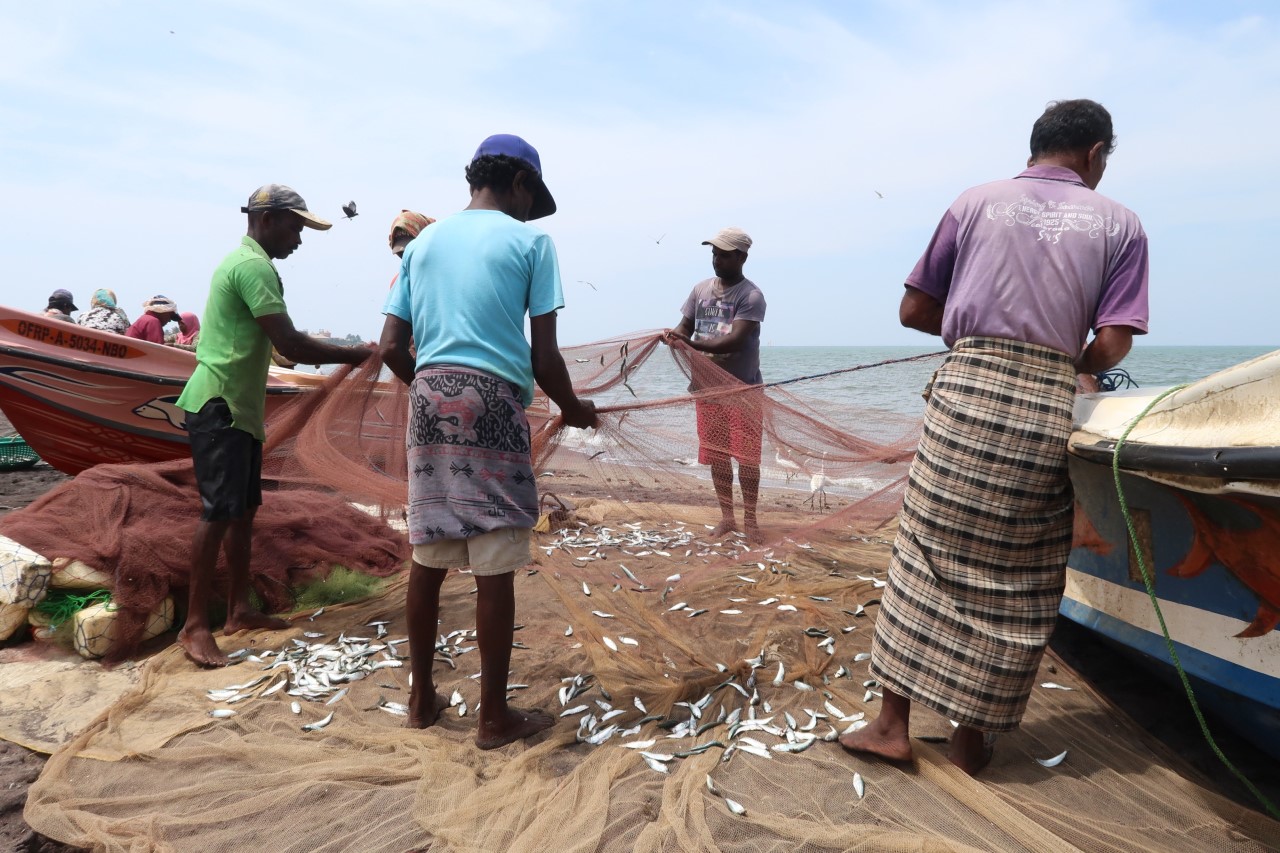 It will take a few hours to get to Negombo from Kithulgala, but leave early to maximise your time in Negombo.  You can also take the opportunity to visit a local fish market in Negombo, where you can see the process of extracting fish from nets, drying fish in the sun and selling all sorts of sea life from crabs and squid to huge tuna!
Day 10: Negombo and Depart
As it's your last day in Sri Lanka, enjoy some time on the beach or at the pool, buy a few last minute souvenirs at local shops (don't wait until the airport, it's overpriced there!) and soak up the last of that sun!
Accommodation
Days 1-2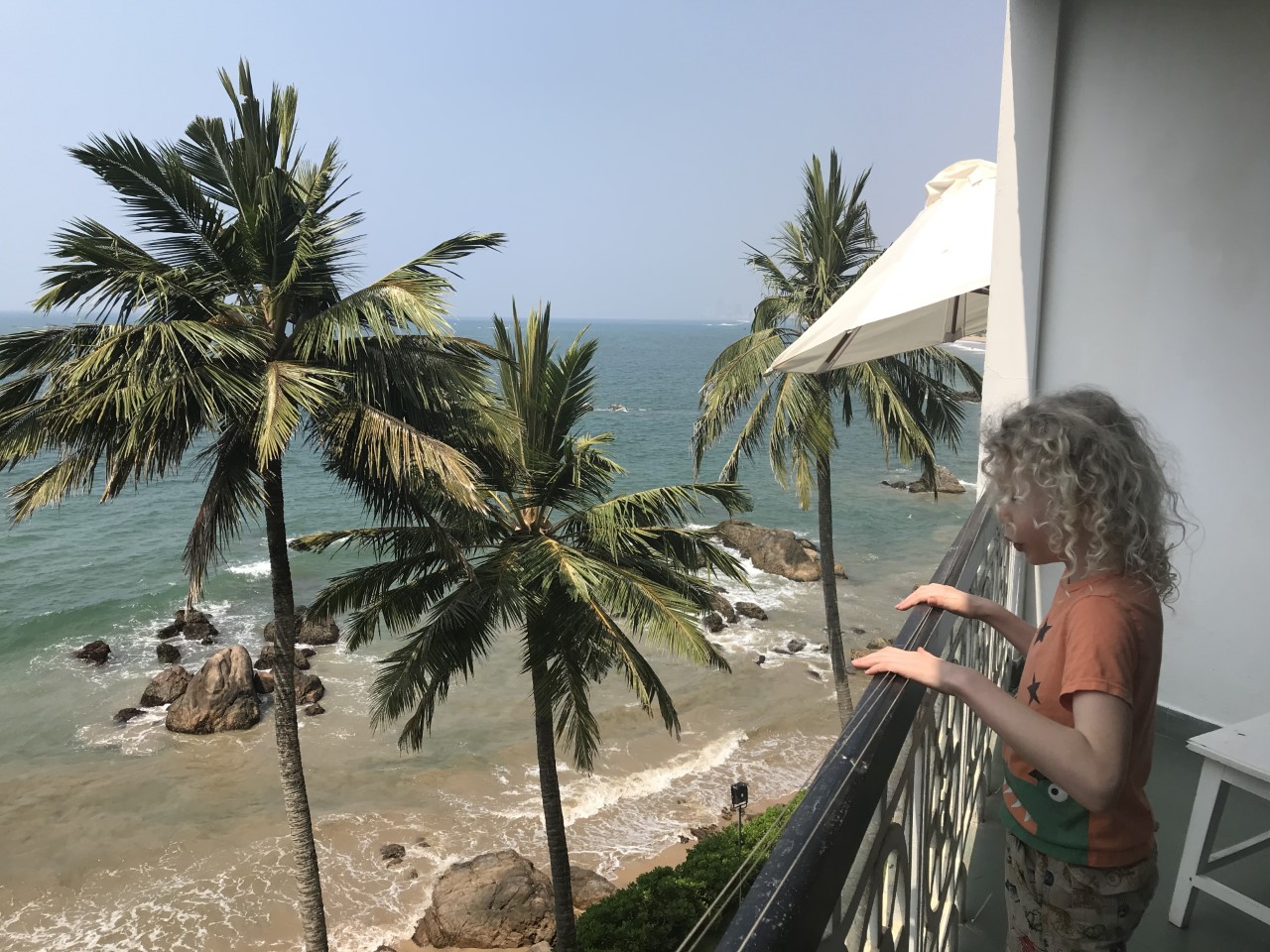 The first 2 nights are in Colombo and I definitely recommend staying along the coast where you can visit the beach to relax.  We personally had an excellent time at Mount Lavinia Hotel, a colonial building which has direct access to a quiet beach and a great pool on the terrace.  Half board includes buffet breakfasts and dinners, with plenty of European style dishes that children will enjoy too.  The best bit has to be the view from the balconies overlooking the sea, a great introduction to Sri Lanka!
Day 3
The Kandyan Reach in Kurunegala looks like a great hotel to stay in, although from reviews I think it may be best to book a deluxe room as these have been refurbished recently.  There is a large outdoor pool and a restaurant with both local and European food available.
Days 4-5
Jetwing Lake near Dambulla is the perfect location for visiting both the elephant safari and Sigiriya rock.  It's located in a stunning lake setting with sleek modern rooms to rest in.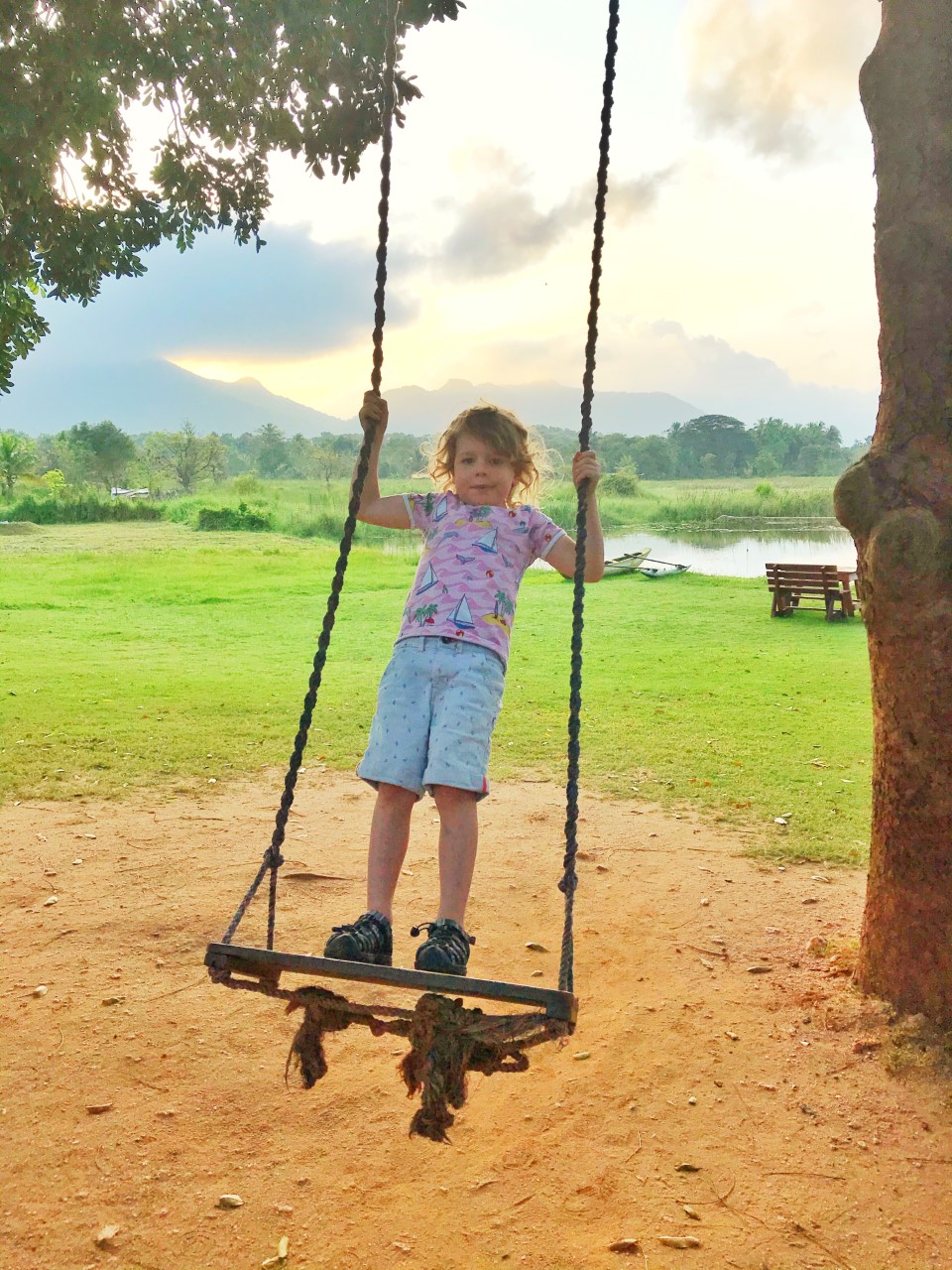 Make sure you find time to relax in the beautiful grounds and visit the pool.  Again you will be treated to a delicious buffet dinner and breakfast, just make sure not to miss the dessert area at dinnertime, so many tasty treats to choose from!
Day 6
In Kandy there are many great hotels located just outside the main city area.  We stayed at the Mahaweli Reach Hotel, which is right beside the river and has a fantastic swimming pool.  You can also make use of the Ayurverdic spa, which has very reasonable rates for treatments.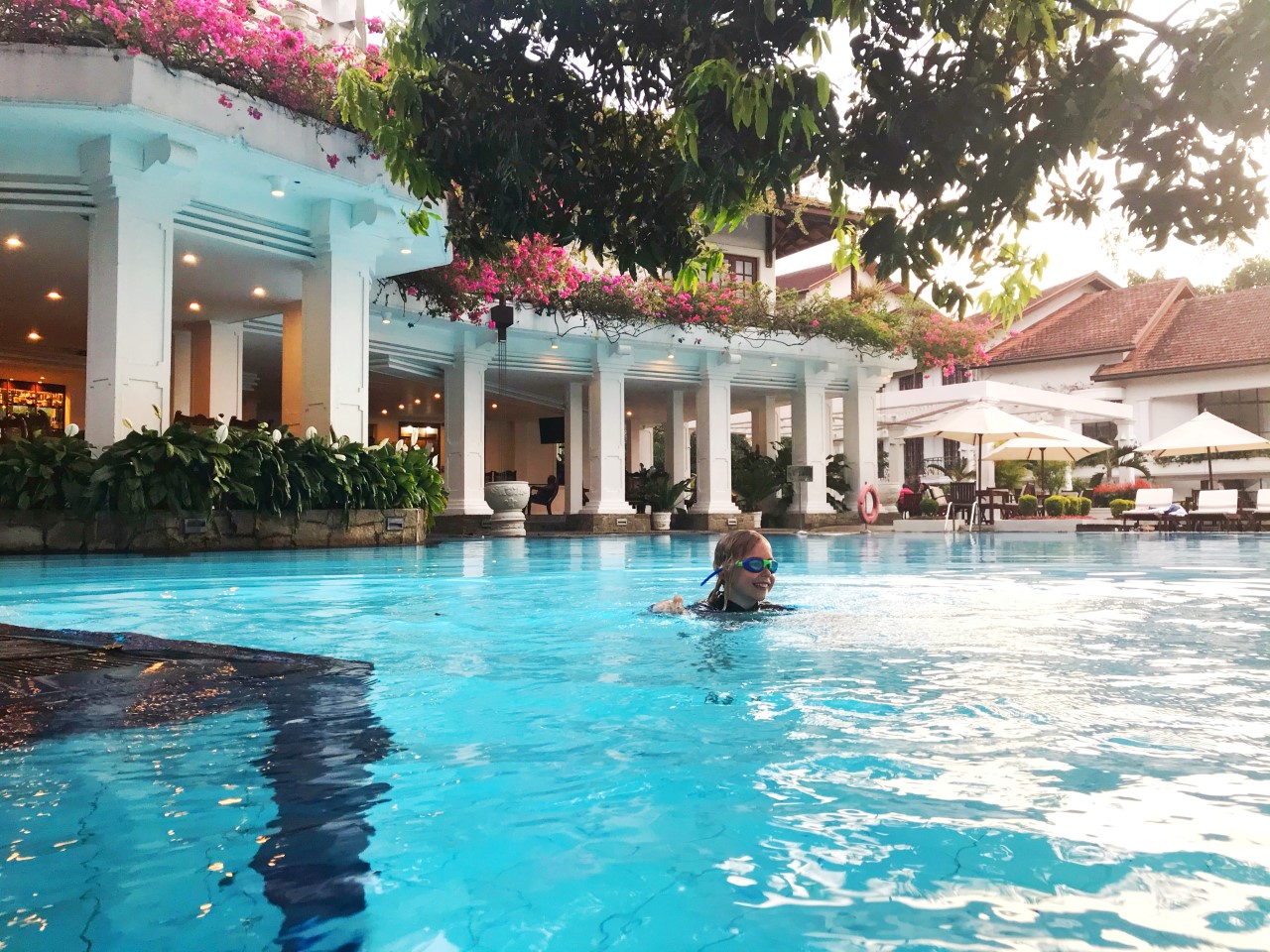 Dinner consisted of a huge buffet with Sri Lankan curries, European foods, past cooked to order, sushi and a huge desserts table (obviously the kids ate every dessert!).
The bedrooms are large and in the evening they turndown your beds (taking the covers down a little) and arrange the towels in different forms, spread out petals and leave some delicious treats to enjoy as well as bottled water.
Day 7
Nuwara Eliya is the coldest place on our itinerary, so you will need to pack a couple of jumpers for this part of your trip!  Fortunately the rooms at Jetwing St Andrew's have heating to keep you toasty at night when the temperature can go down to 6 degrees celsius.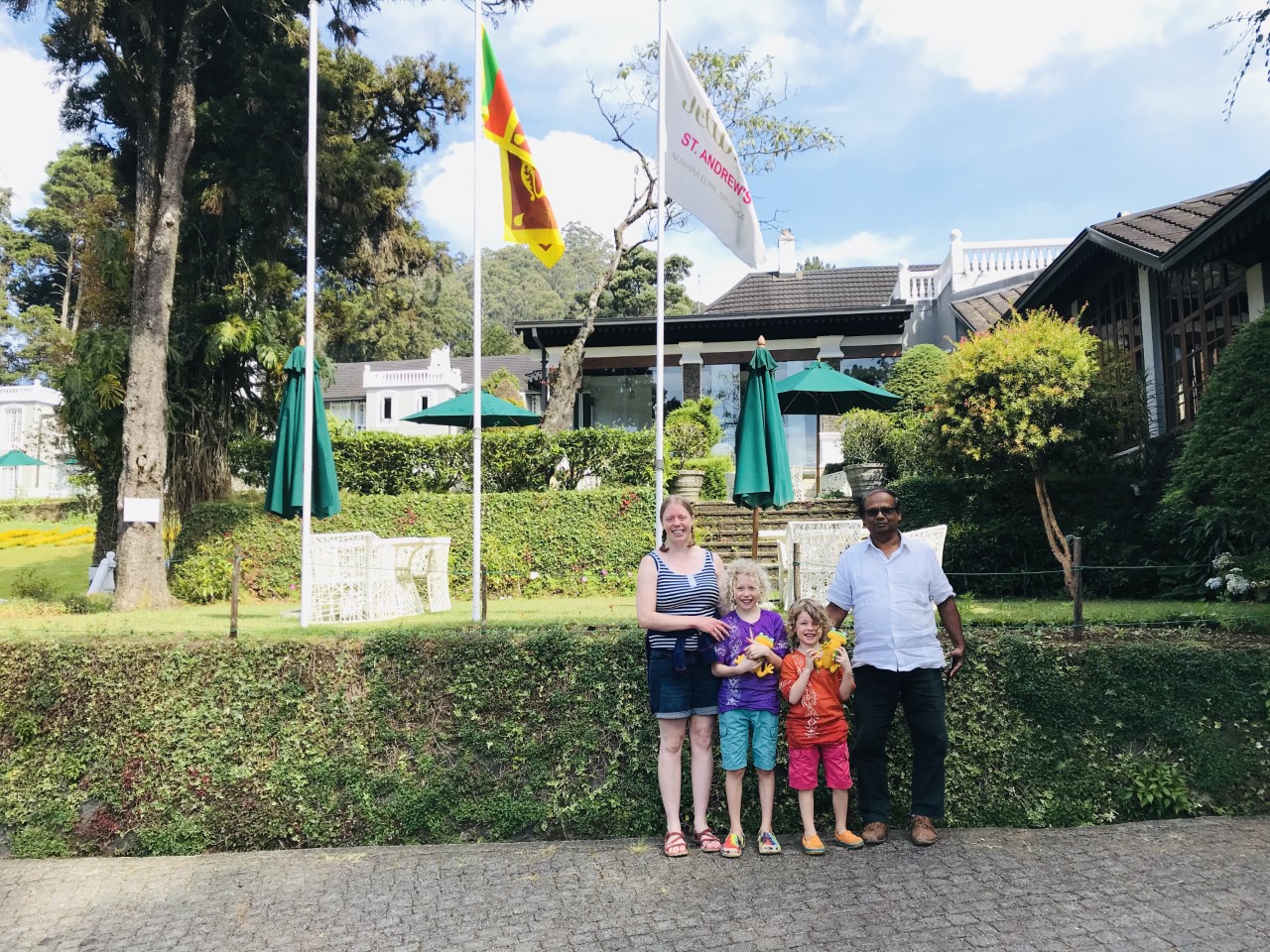 We were given a tour of the facilities at Jetwing St Andrews and I was particularly impressed that they are recycling the water used in the hotel in the vegetable and flower gardens.  The produce from the gardens are used in the hotel and they also heat the hot water using leftover parts from cinnamon harvesting.  To top their eco credentials off they are also improving a wetland area behind the hotel for endemic frog species found in the area! Good to see big hotel chains in Sri Lanka are as interested in looking after the environment as we are.
Day 8
We didn't stop overnight in Kithulgala, but I have heard good things about the hotel Palmstone Retreat at Kithulgala.  This is a luxury 5 star hotel set in dense rainforest, so you can just imagine how beautiful it's surroundings must be.
Choose from rooms with a private plunge pool and steam room or a river view deck and jacuzzi.  There is also an outdoor pool and a restaurant serving both Sri Lankan and European food.
Days 9-10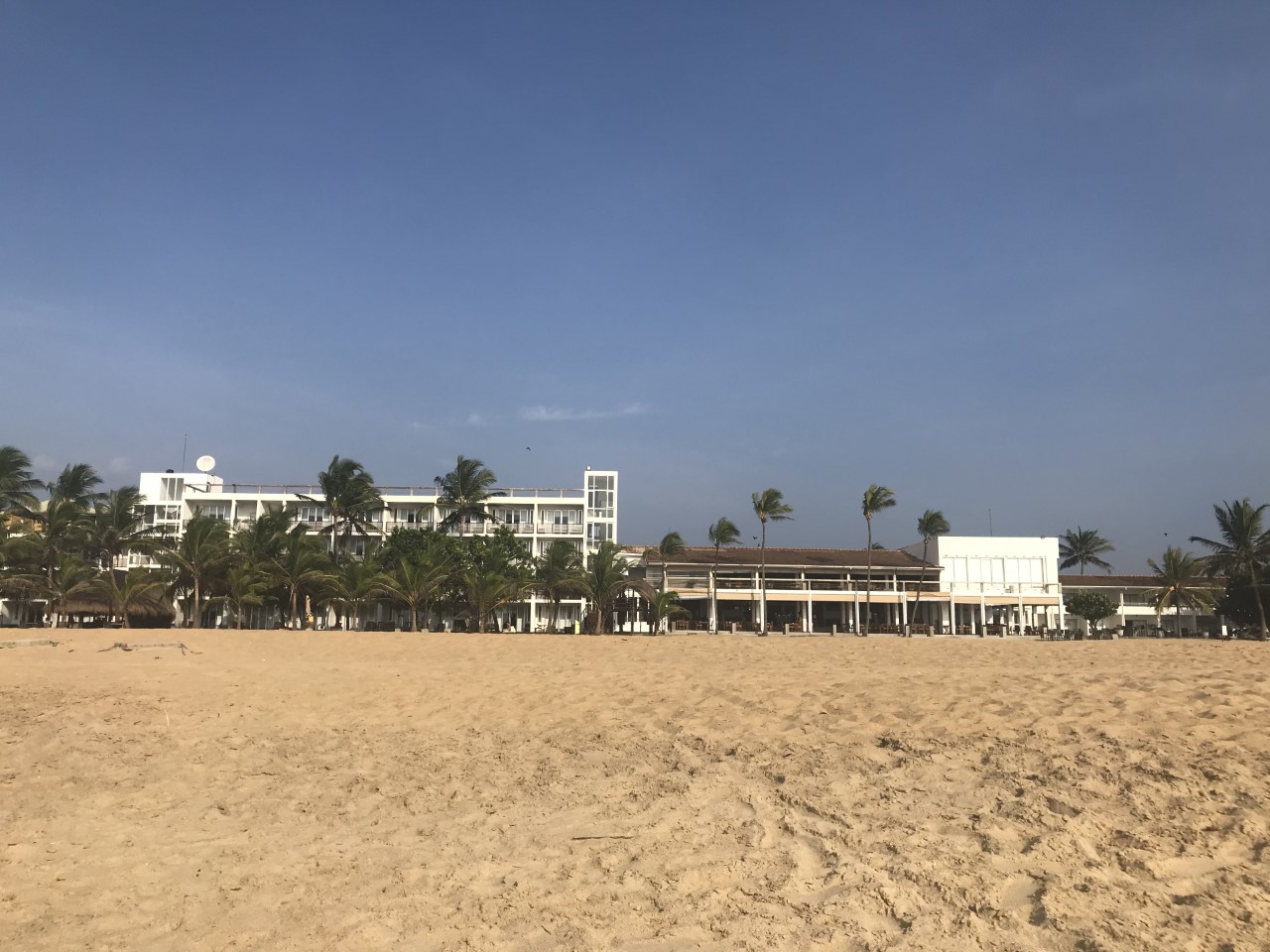 Back at the coast in Negombo, spend your final days in Sri Lanka relaxing on the beautiful beach beside Jetwing Sea hotel.  With sandy beaches and access to a variety of nearby shops for souvenirs, it's a good last stop on your journey.
The rooms were great, with fantastic air conditioning (definitely required!), big open showers in the bathroom and balconies overlooking the beach.  We didn't spend much time in the room though, as the kids were determined to soak up every last minute by playing in the sea!
Watch Our Video For More Inspiration!
Pin For Later