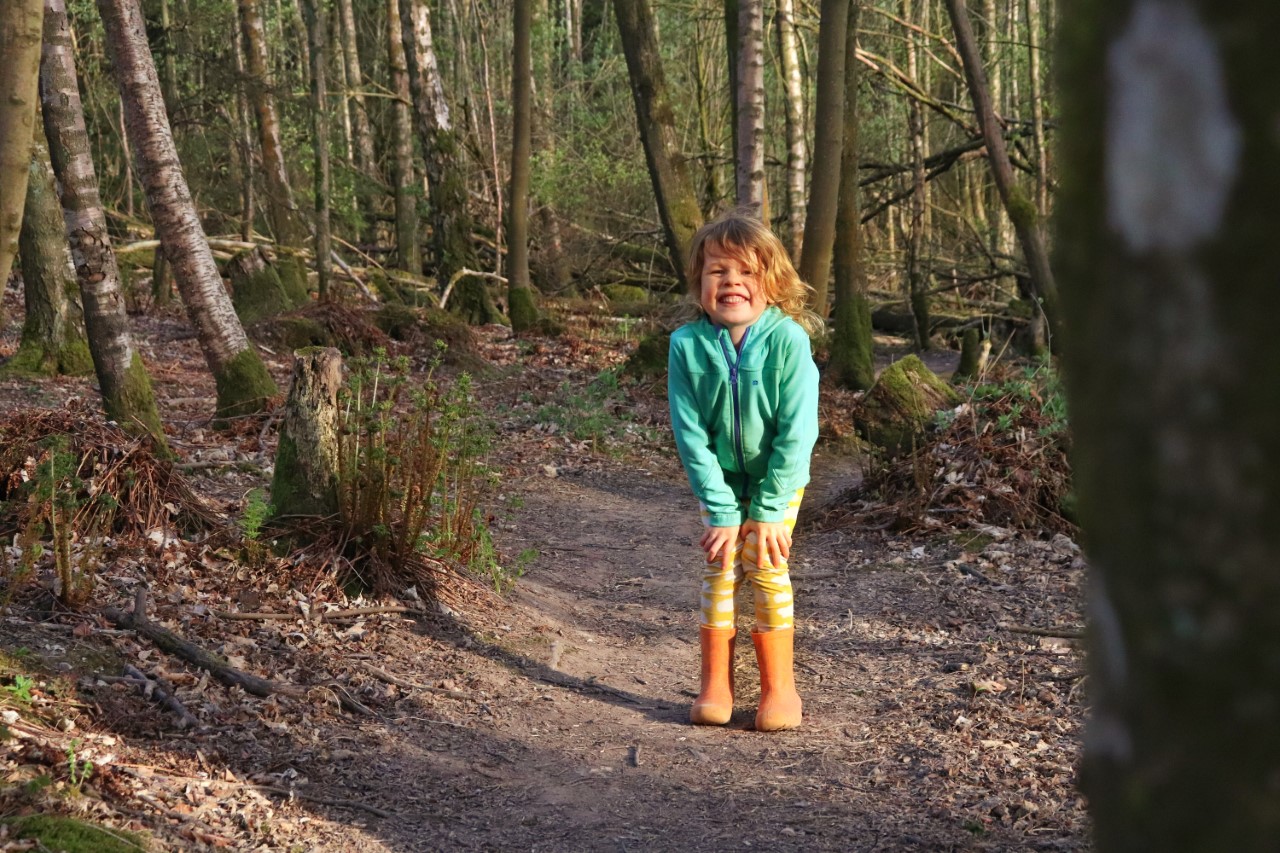 So as everyone knows April 2020 has been a complete month of lockdown.  We have been told to stay at home and we have!  This has meant very limited walks and our socialisation has gone completely down to just a few video calls a week.  But I have still completed our home education diaries to reflect this and we seem to have fit a lot in!
Here's what we have learnt in April 2020!
Scottish Home Education Diaries April
We managed to get through a lot as I've been putting themed items on one of the shelves each week.  Just something to keep them busy with different tasks when they can't find anything else to do.  For some of the themes I have a Pawprint badge to give them at the end.  I don't want to put pressure on the kids, so they don't HAVE to do all the tasks I put out to get the badge.  As long as they try a few things from the shelf they get it.  Although to be fair on the kids they usually choose to try everything!
The kids have definitely learnt a fair amount throughout lockdown, so here's a breakdown of everything we've managed in April.
Science
Science always seems to be the main focus of the children's education and why not?  It's often the most interesting and engaging, plus it incorporates just about every other educational study, from maths to reading and history.
The children have been enjoying watching Let's Go Live on You Tube with Maddie Moate and Greg Foote.  It's a daily programme at 11am each week day morning.  Every week there is a different topic and April included Bodies week, space week, dinosaurs, project earth and mini makers.  So the children have been inspired by some of these episodes to create their own things.
One of the first activities this month was making soap, which is basically chemistry.  The kids chose to make surprise soaps and watched as the liquid set hard around little toys and people.  Once they are used up we have plenty more soap to make more!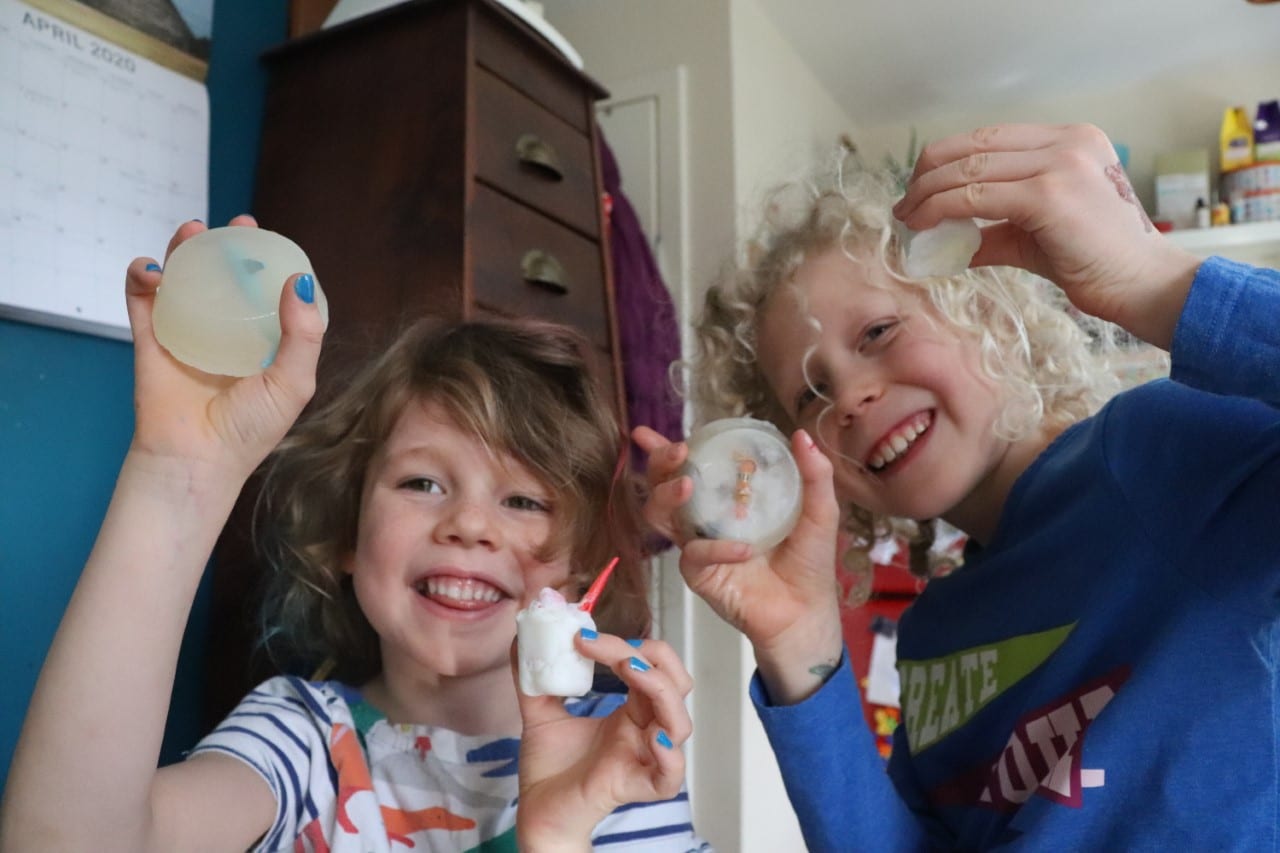 For Christmas I made both children a science kit, so we have tested out a few of the experiments in there.  As soon as they realised one of the experiments included sweets they had to try it!  The simple experiment of colour being drawn out from the skittles and making a rainbow in the water was fun for them.  Plus they could eat the soggy sweets afterward!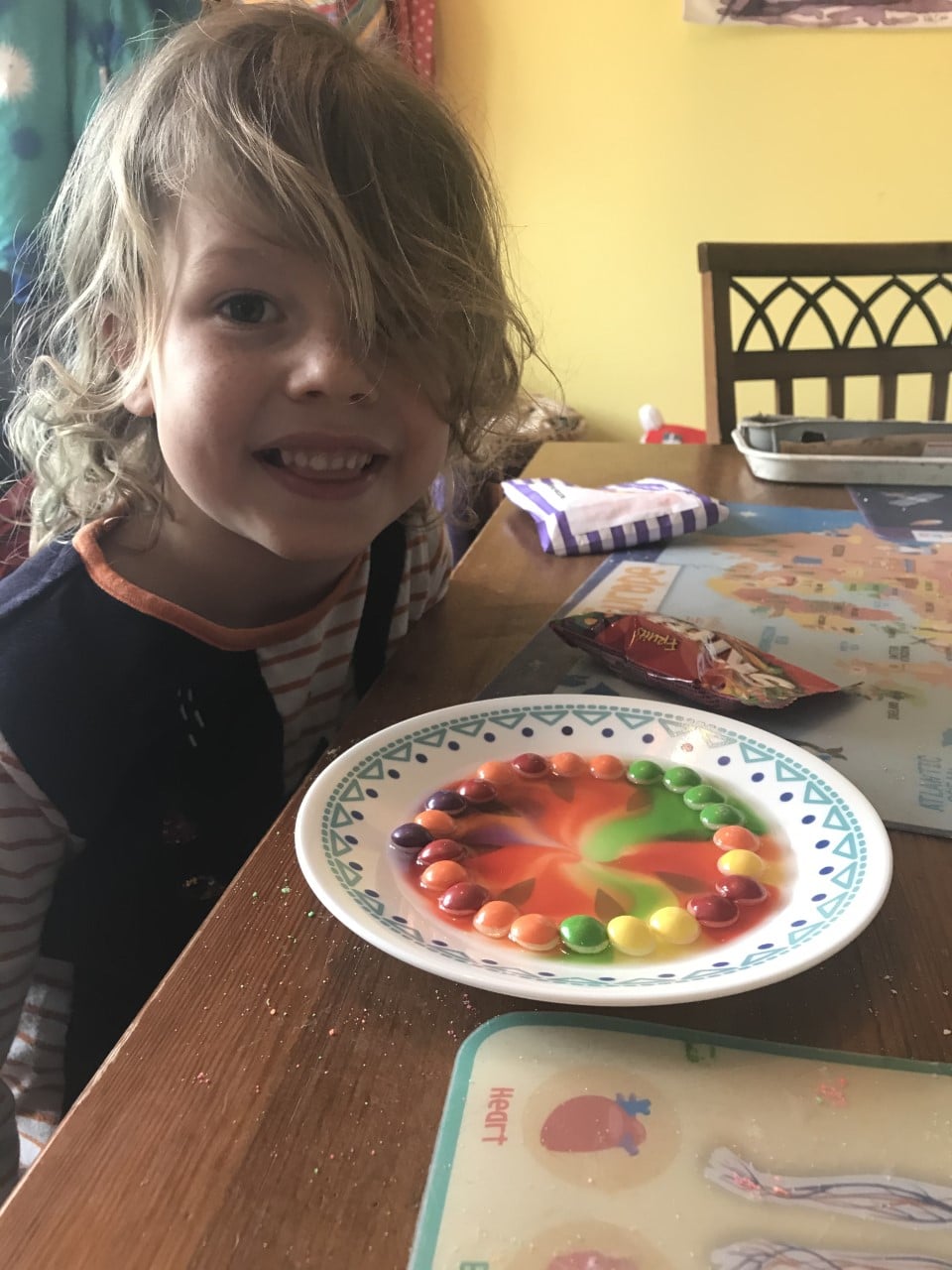 Space Week
As they were doing space week on Let's Go Live, we chose to do some space themed activities for the children to earn their astronaut Pawprint badge.  They are both interested in space anyway and have watched a fair few space themed documentaries.  So we decided to continue this and watch some footage from the ISS, which they LOVED, I highly recommend checking out YouTube videos of inside the ISS.  We also made fizzy moon rocks, which is a variation of the volcano experiment with bicarbonate of soda and vinegar.  We made the rocks using a mix of bicarb and water with black food colouring.   Then pipettes of vinegar to make it foam and dissolve.  Always a fun chemistry experiment.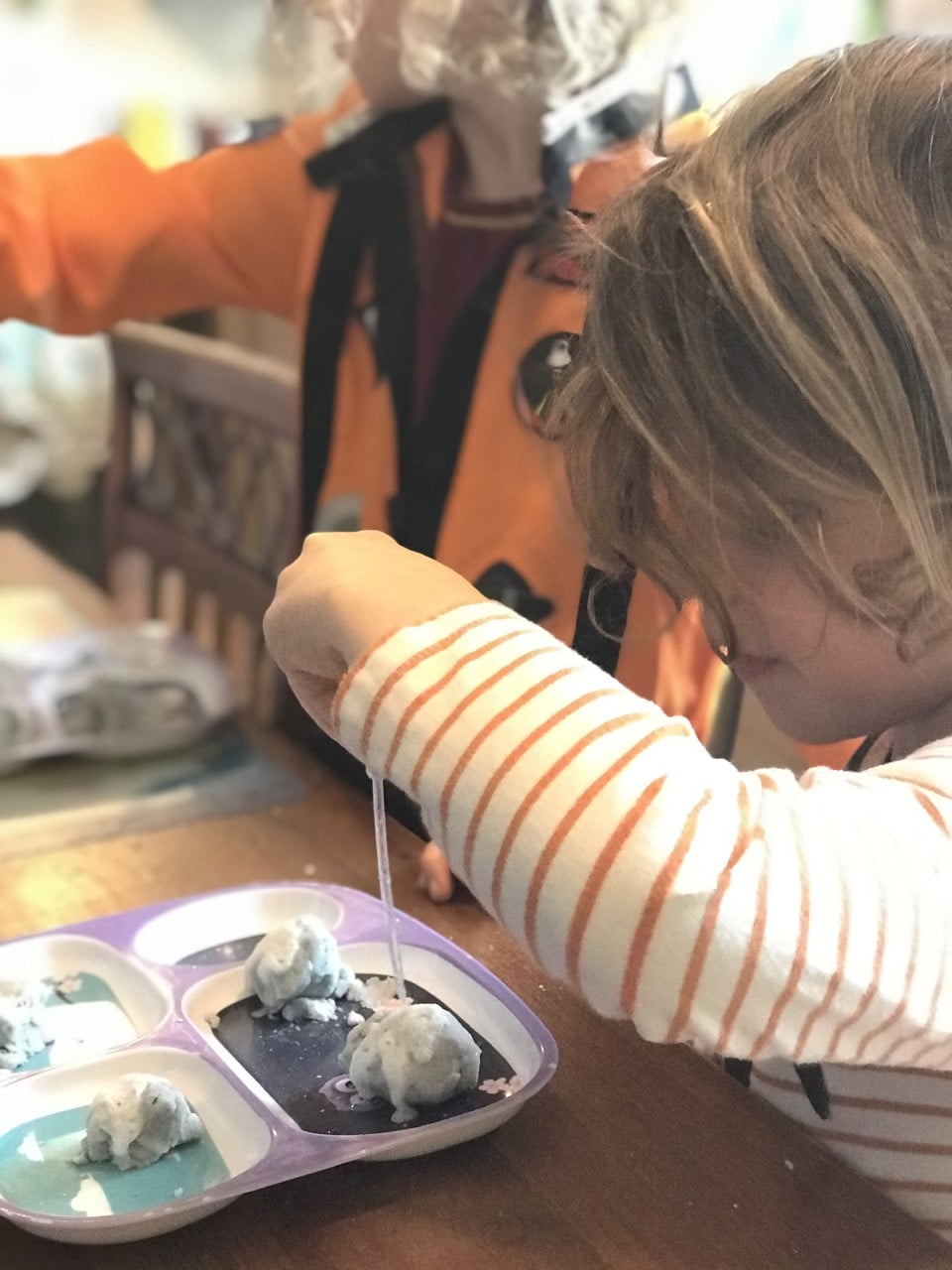 Helmets were engineered from cardboard and plastic.  The children then decorated them to make them more realistic.  The eldest wanted to add an oxygen tank, but we didn't have anything suitable to use at the time.  They had great fun playing with them anyway!
I bought a couple of cheap solar system kits, basically polystyrene balls and sticks.  The children then decorated the balls to look like planets and the sun and placed them in the correct order around the sun.  They had great fun doing this and have their results on display in their rooms.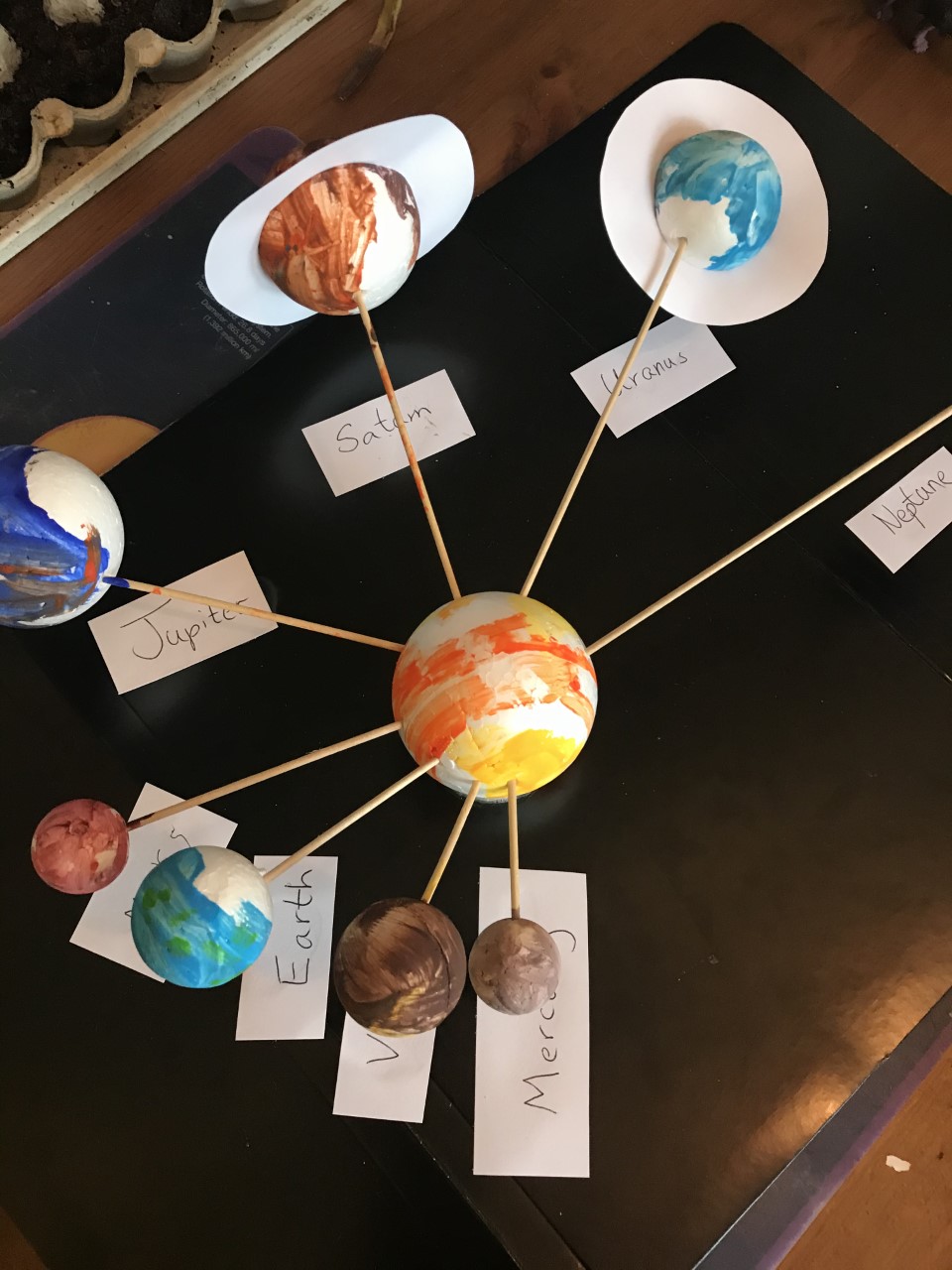 One of the final space experiments they chose to do was making astronaut food.  This is basically food science, mixing up different food stuffs to make a dry mix.  They 'hydrating' the food with water to make a delicious concoction.  It doesn't look too appealing (green food colouring!), but they both enjoyed it!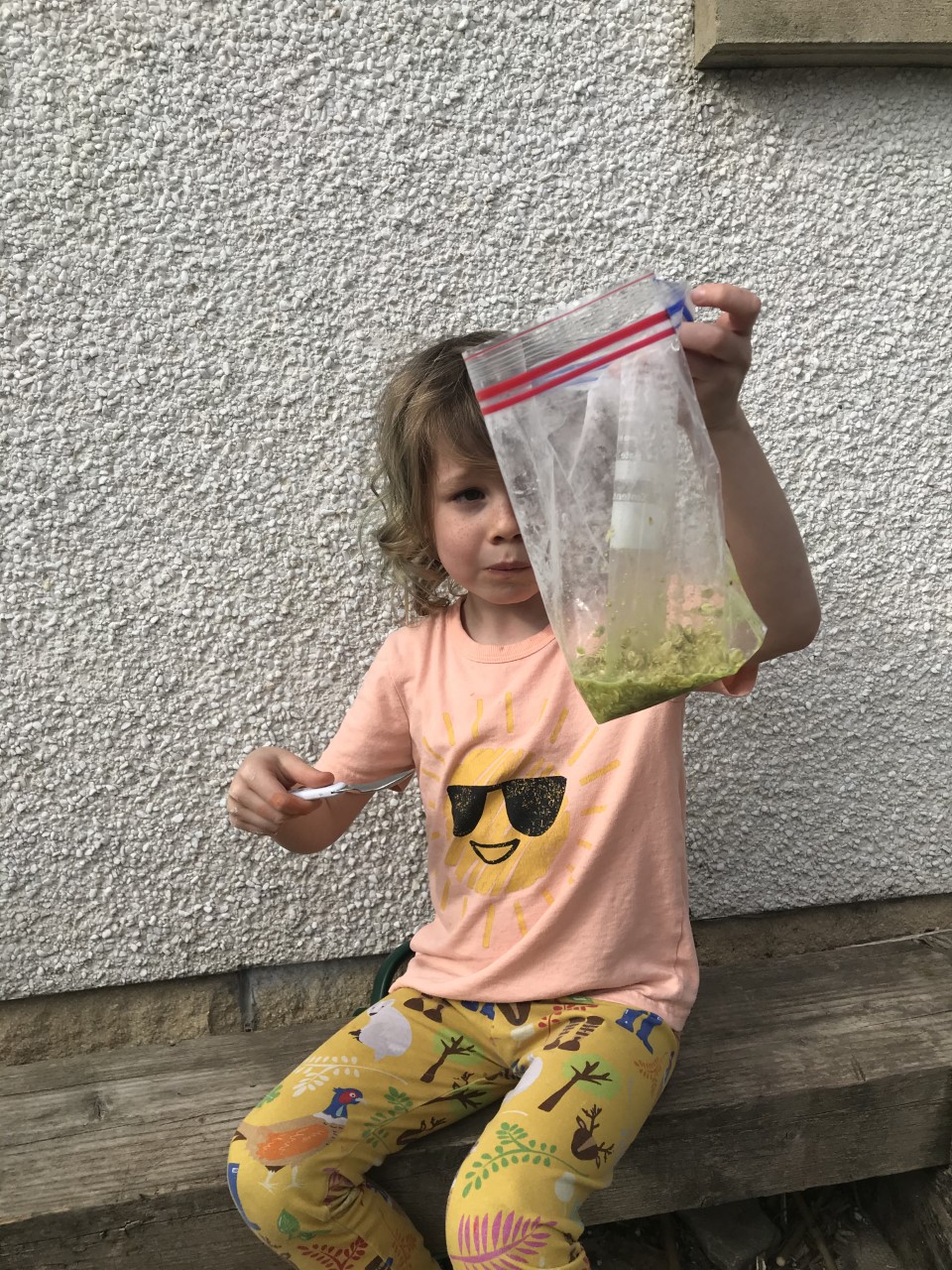 Glasgow Science Centre
We've also been watching some of the Glasgow Science Centre videos over on Facebook and the littlest wanted to try making oobleck.  He had a lot of fun with this and learnt a new phrase 'non-newtonian fluid'.  He spent and hour playing with the liquid, making balls of it to watch it slip away again!  Definitely more of an outdoor activity, but a fun one!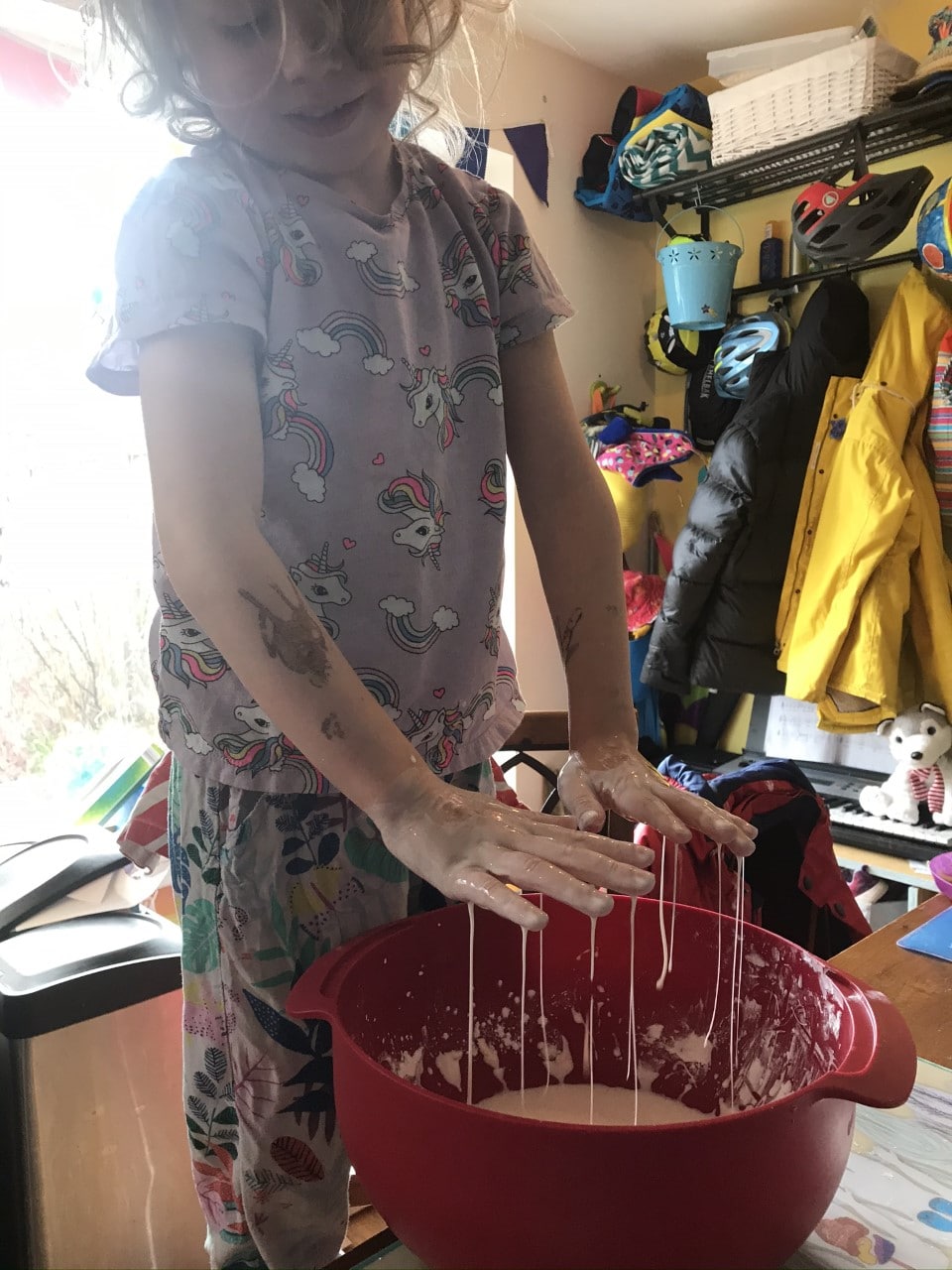 The science centre also had a great video of showing you how to create your own Mars Rover out of junk materials.  So the kids enjoyed going through the recycling to find different items to make their own rovers.  They were considered everything they needed and included drill bits, lasers, cameras and other things.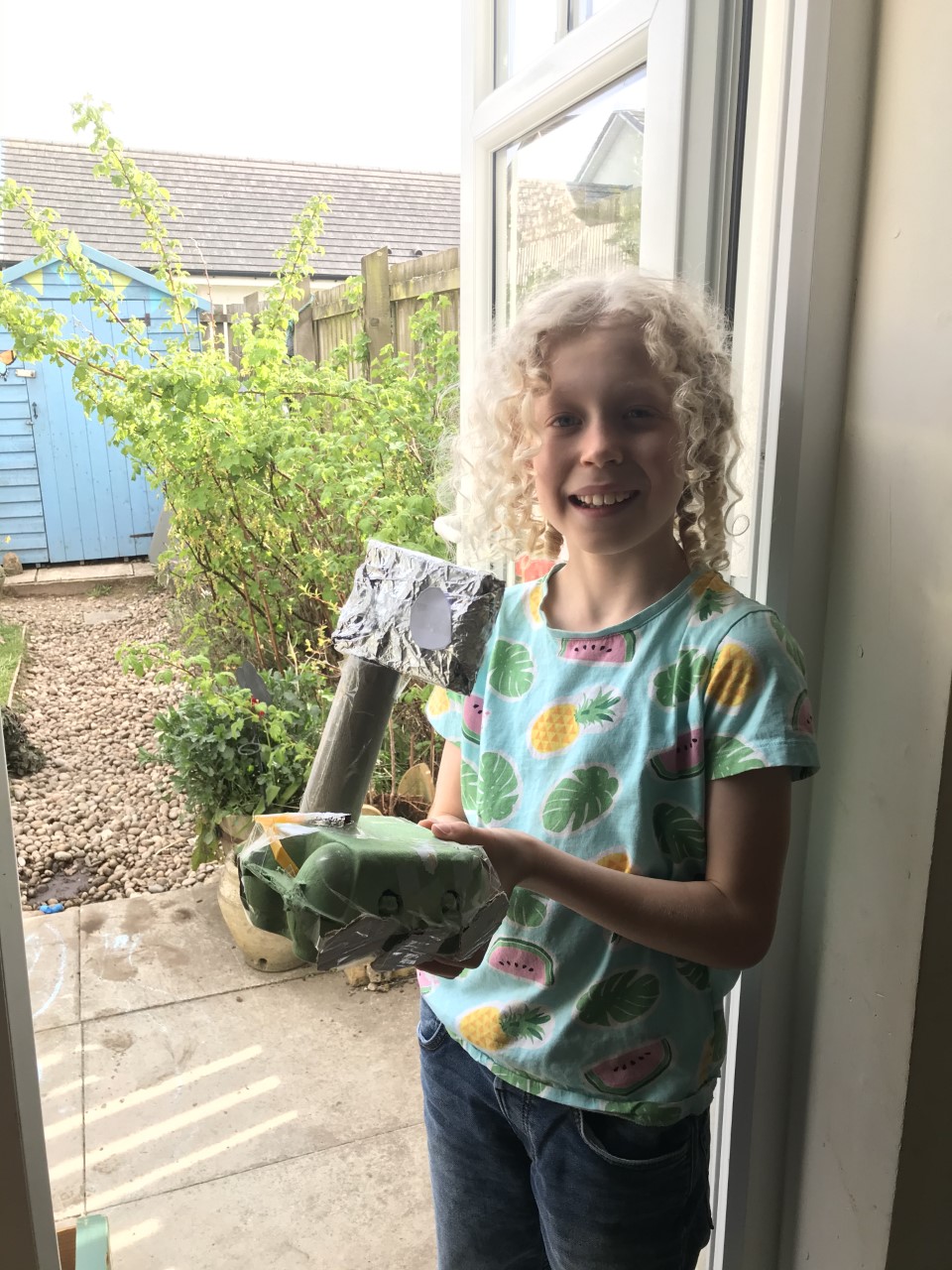 Other Science Activities
With dinosaur week on Let's Go Live the 6 year old made his own 'fossils'.  Which was making a mixture of different materials and forming it round toy dinosaurs.  They dried in the sun and then he broke them open with a screwdriver to find the exciting fossils inside!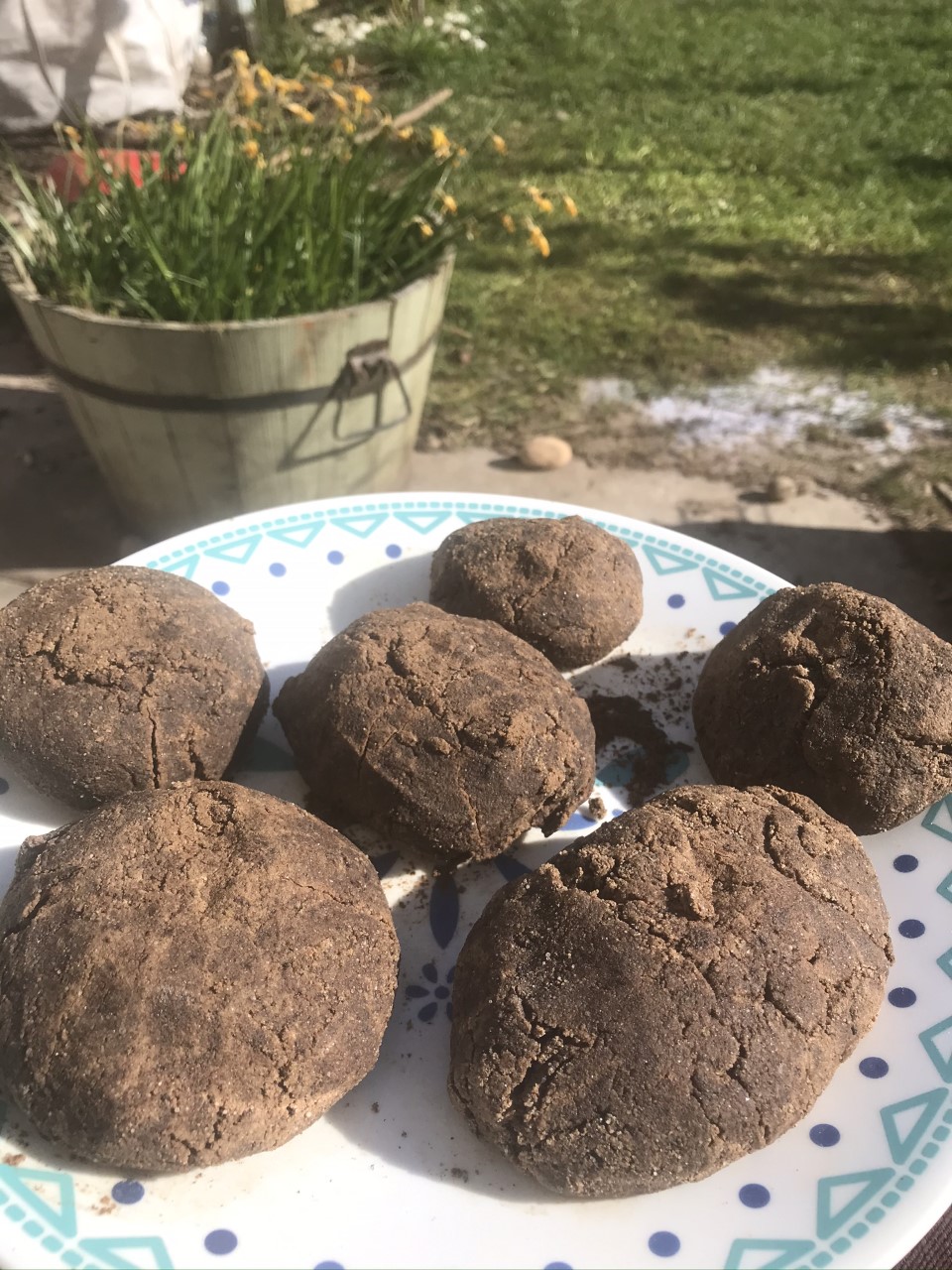 We had our own gardening themed week, including making safari gardens outside and learning about where different foods came from.  We also had a look at soil and made our own wormery to watch the worms mixing the sand and soil. But the kids favourite part of gardening activities was making their own edible soil!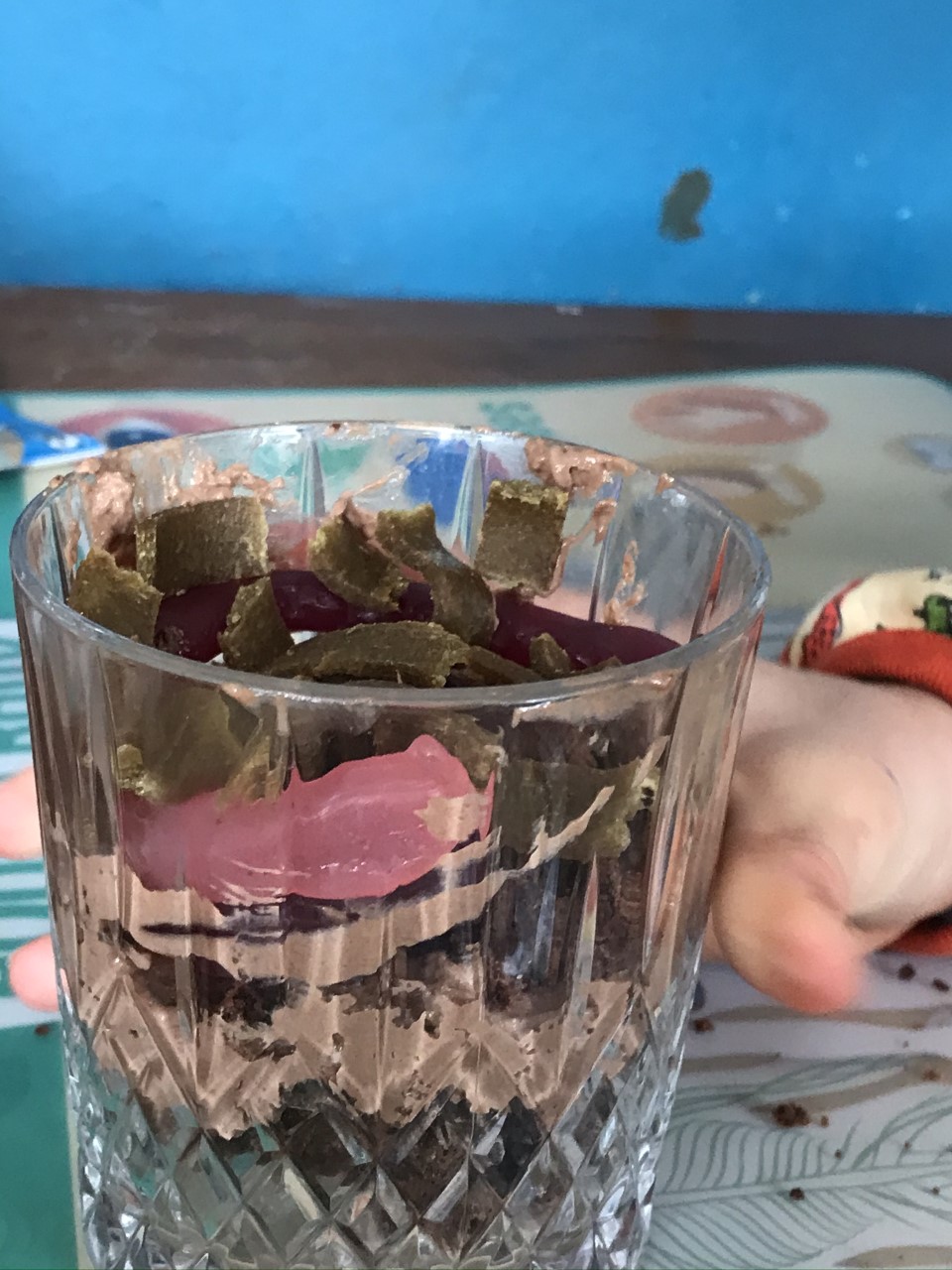 We've got a lot of board games, but one of the kids favourite is Planet.  My husband complains that I try too hard to beat the kids at this game.  But it's a great one to help children think about habitats and the planet as a whole.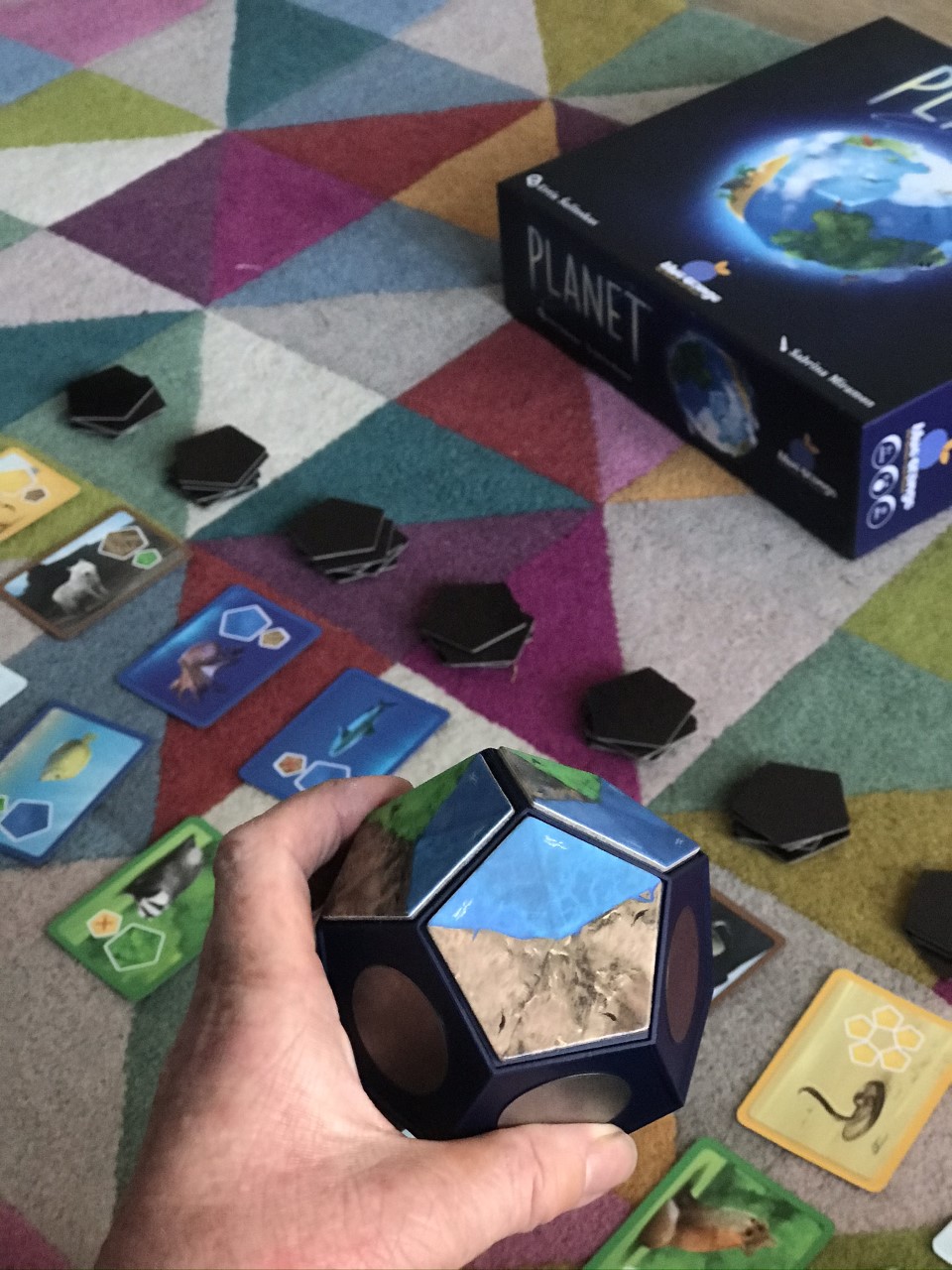 We've made solar ovens before, but as it was so hot during April we tried it again!  Anything to do with food is a hit with the kids, so they loved melting smores with the solar oven.  A good task to show them what the heat from the sun can actually do and how to harness it's energy.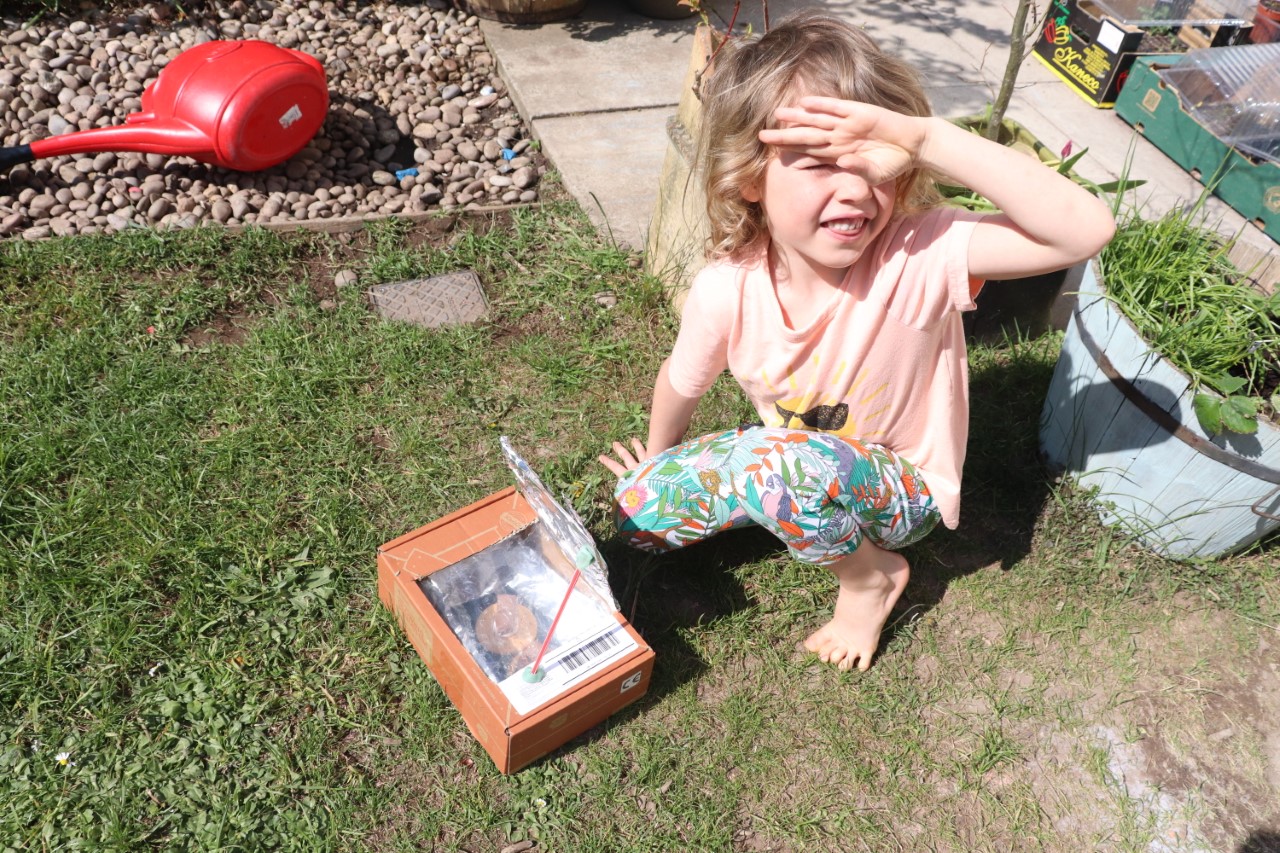 Both children have also completed this month's Tinker Kiwi crates, which were a labyrinth for the eldest and an air rocket for the littlest.  They absolutely love their crates and always enjoy making whatever is inside.
Unstructured Play
We may only have been allowed out once a day for exercise, but we've still managed to give the children a chance for unstructured play each day.  The kids love to climb trees and run about the woods freely.  We can't be quite so free due to others being around, however, we have found some areas possible to explore more freely as nobody else visits!  This has been great to let the kids explore without us asking them to stay near us or go into the side to allow others past etc.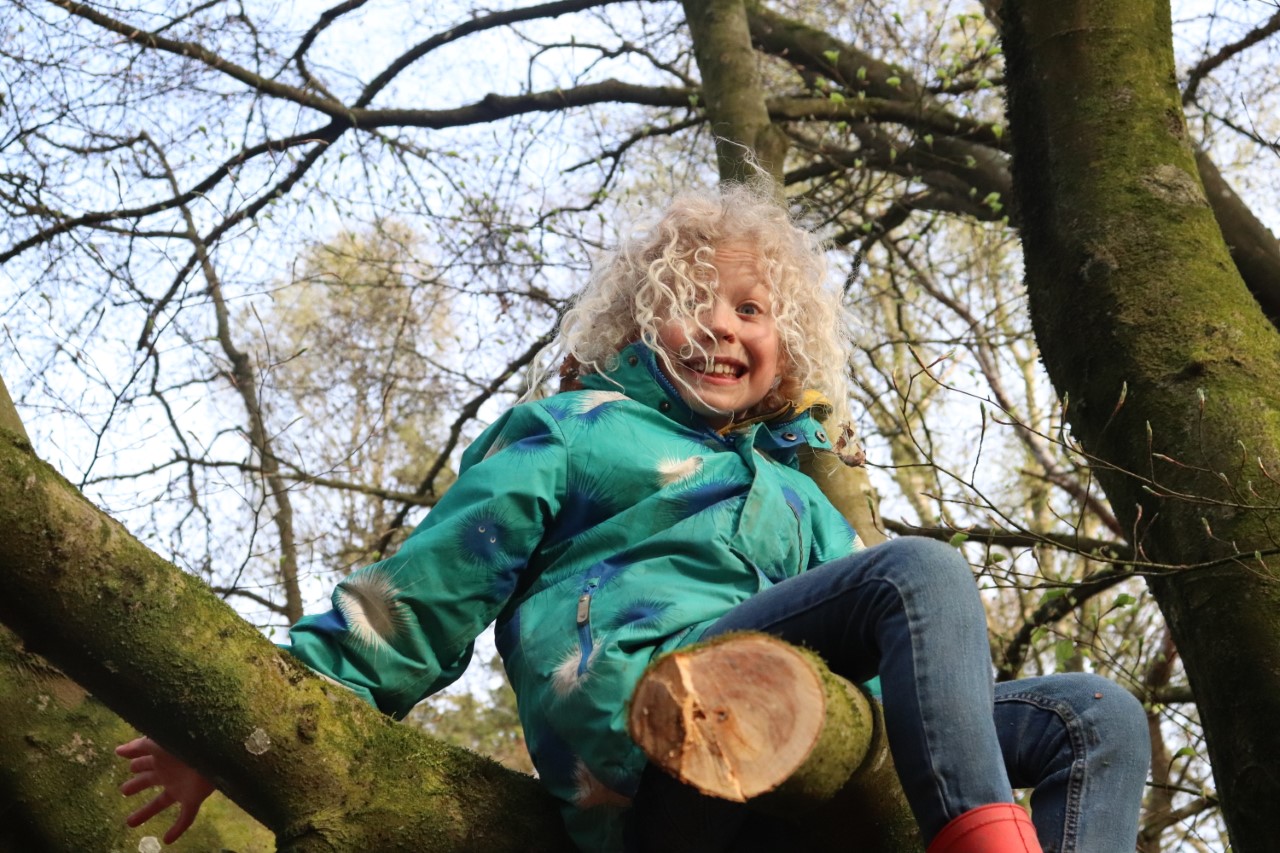 The children's favourite part of the woods is beside a main path and busy during the day, so instead we go in the evening when it's much quieter.
The kids have also had a lot of unstructured play in the garden and the house too, but there are more rules there so they don't break things.  Which clearly isn't as much fun for them!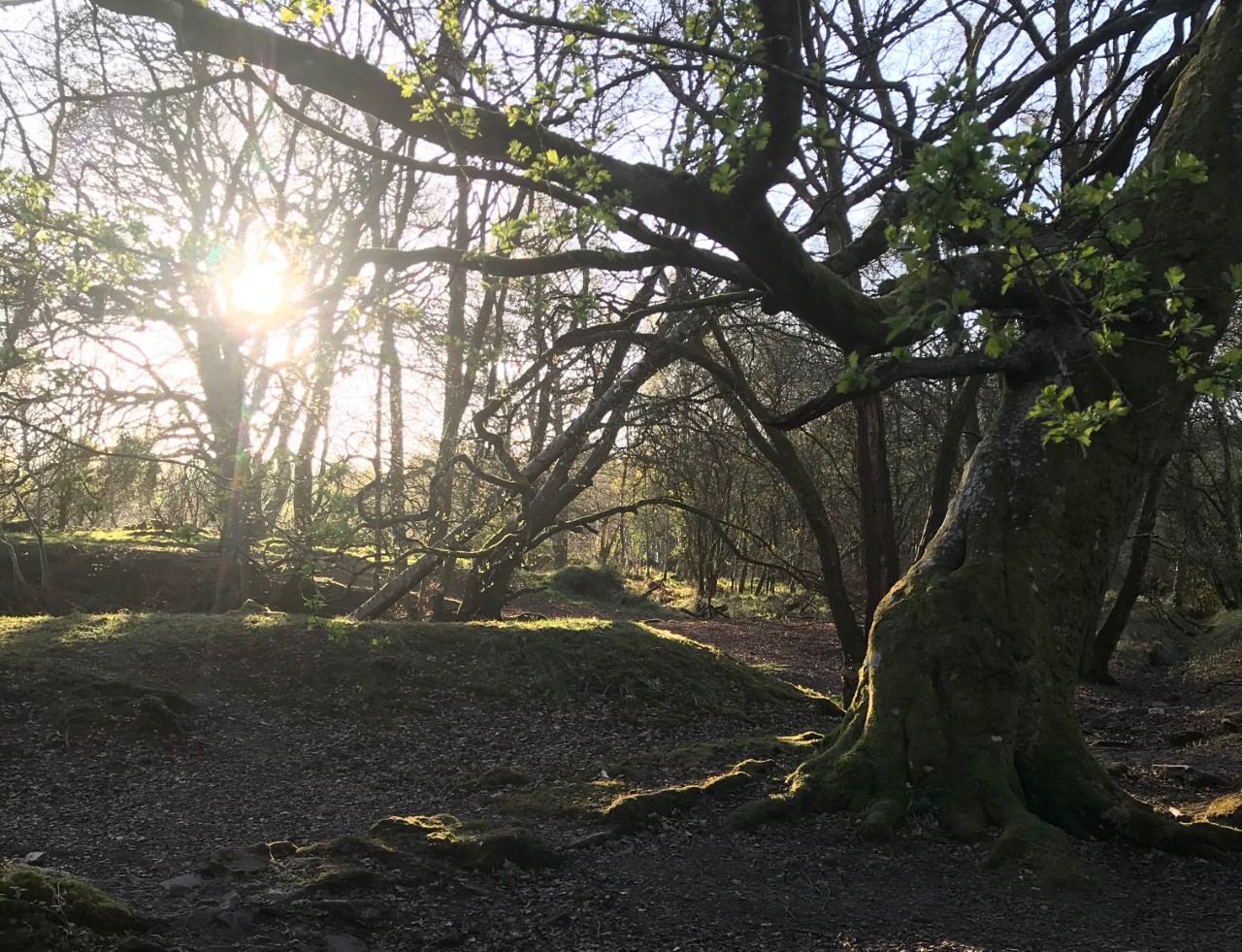 Reading and Writing
We begun the month practising a lot of reading with our eldest, but he's not very willing to do much at the end of the month.  So instead we tried a few other ways of helping him practice, including a word hunt.  The word hunt used the plastic eggs from our Easter egg hunt and I out words inside instead.  The 8 year old found all the eggs and made a sentence out of them.  I mostly used words and sounds he struggled with, so it wasn't hugely easily, but he enjoyed it nevertheless.
We also filled in a pea diary to track the progress of the pea plants they planted, although we haven't kept up with this!  I need to get them to measure and write a bit more now!
Maths
Maths has mostly been through board games this month, which suits both my children.  We've had games of Planet (can be complicated to understand but the maths is simple counting and matching), Ticket To Ride, Monopoly and some of the Orchard Toys multiplication games.
The kids have also managed a LOT of baking and the eldest could probably do some of the recipes himself now as he's fine with measuring, although it may take some time to read a recipe.  He would also need to not eat all the mix before it's made though!!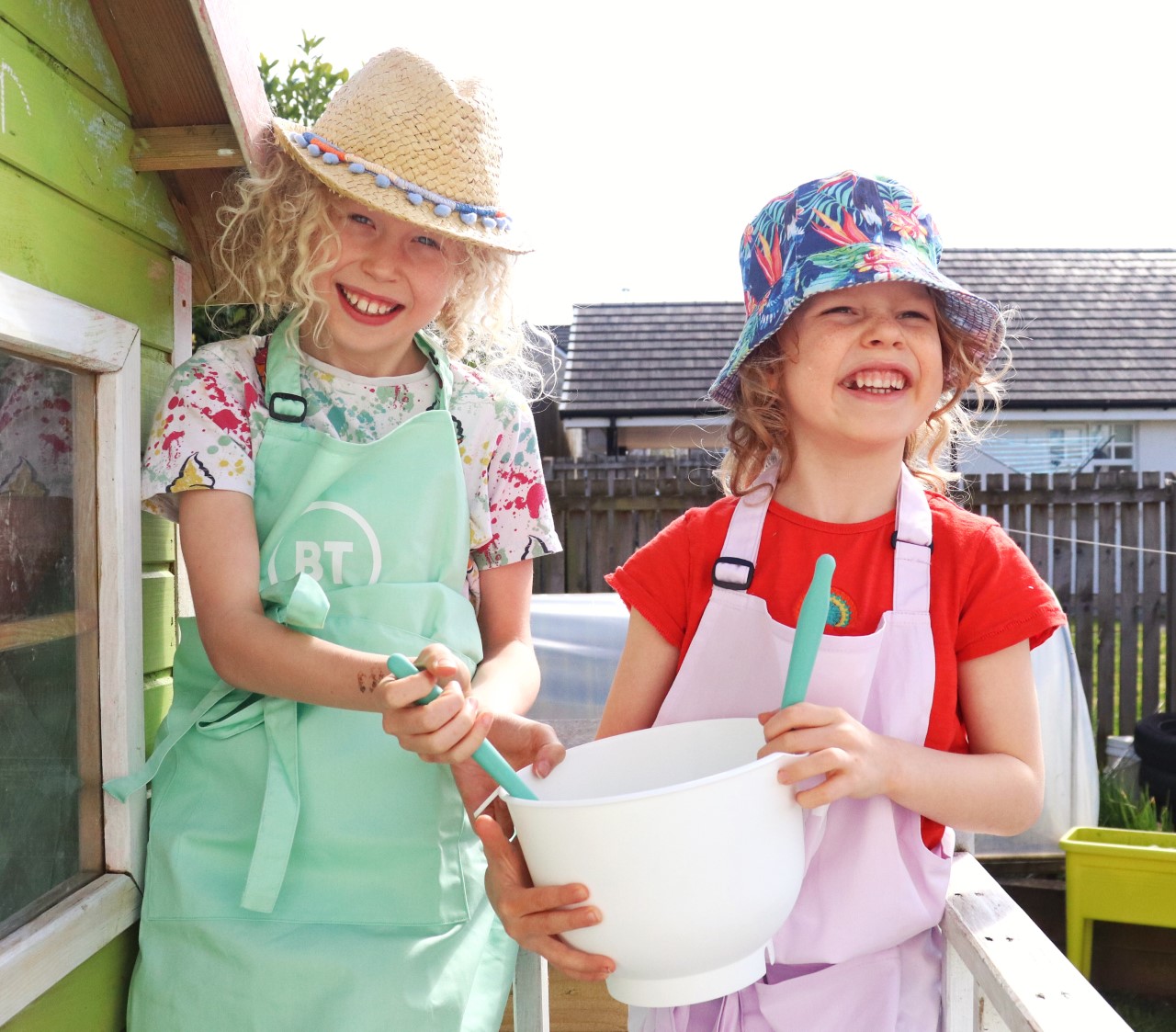 Along with our other board games we have had a weekly battleships battle with my parents over Facetime.  We're doing 5 rounds, with the winner being the champion of battleships and receiving a handmade trophy!  It's great for kids learning co-ordinates and helps the youngest practice his letters.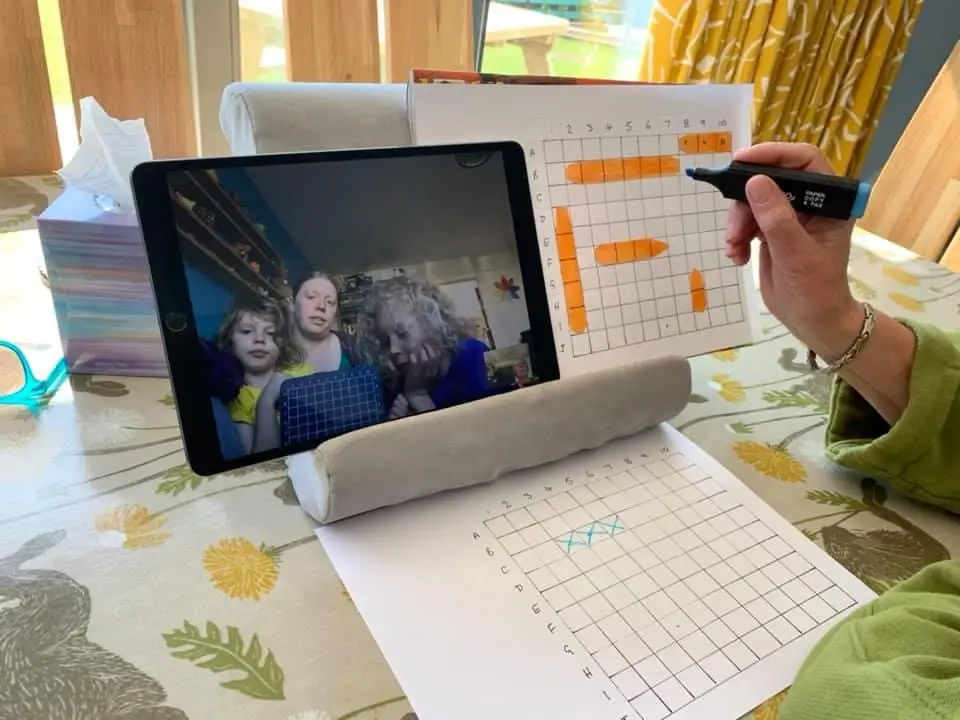 Geography
Battleships has also been great for learning how to look up locations on maps.  I need to get our OS maps and maybe play some games with the eldest using those.  He's pretty good at 2-3 digit co-ordinates now, as we've tried a couple of books with map co-ordinate activities.
We've also been playing the Planet game which is great for introducing different animals and habitats to the kids.
History
We've learnt a lot about Egyptians this month.  The children both enjoy learning about Egyptians and have completed a few crafts looking at different books and reading Egyptians stories.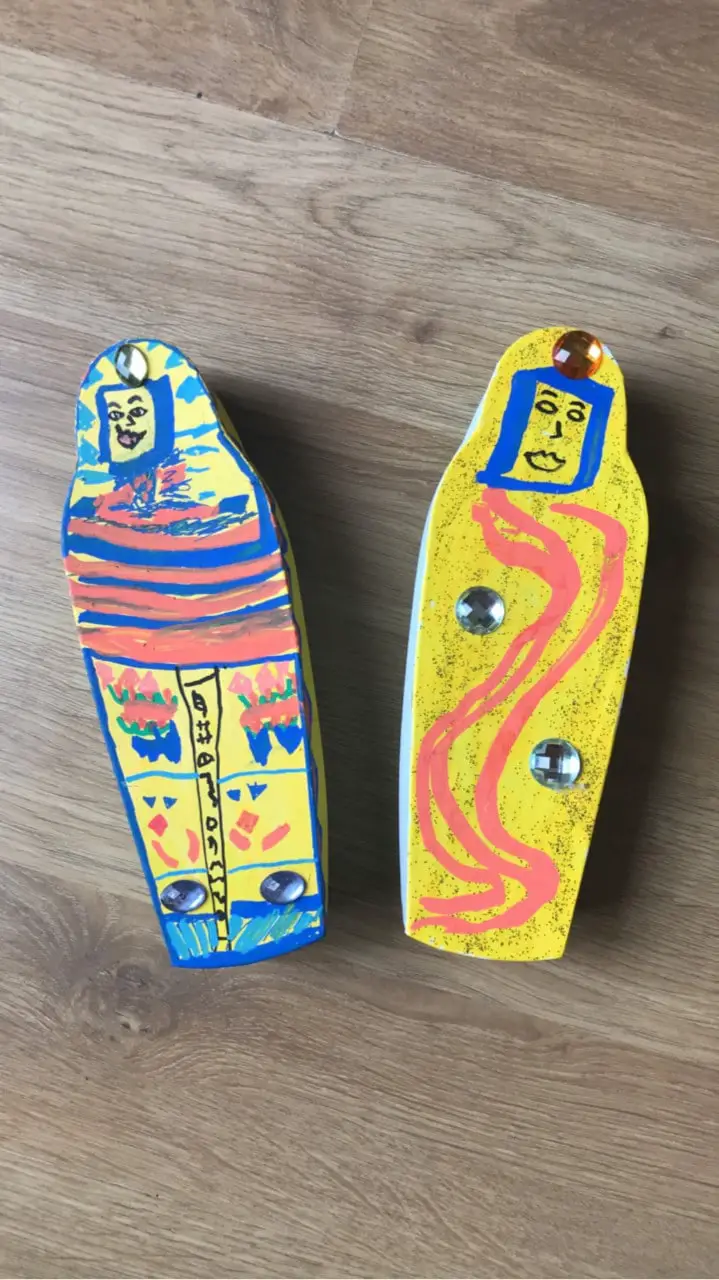 We've also learnt about dinosaurs and the possible reasons they died.  Which included the fossils I mentioned in the science section, as well as the cool dinosaur head dress my youngest is wearing below.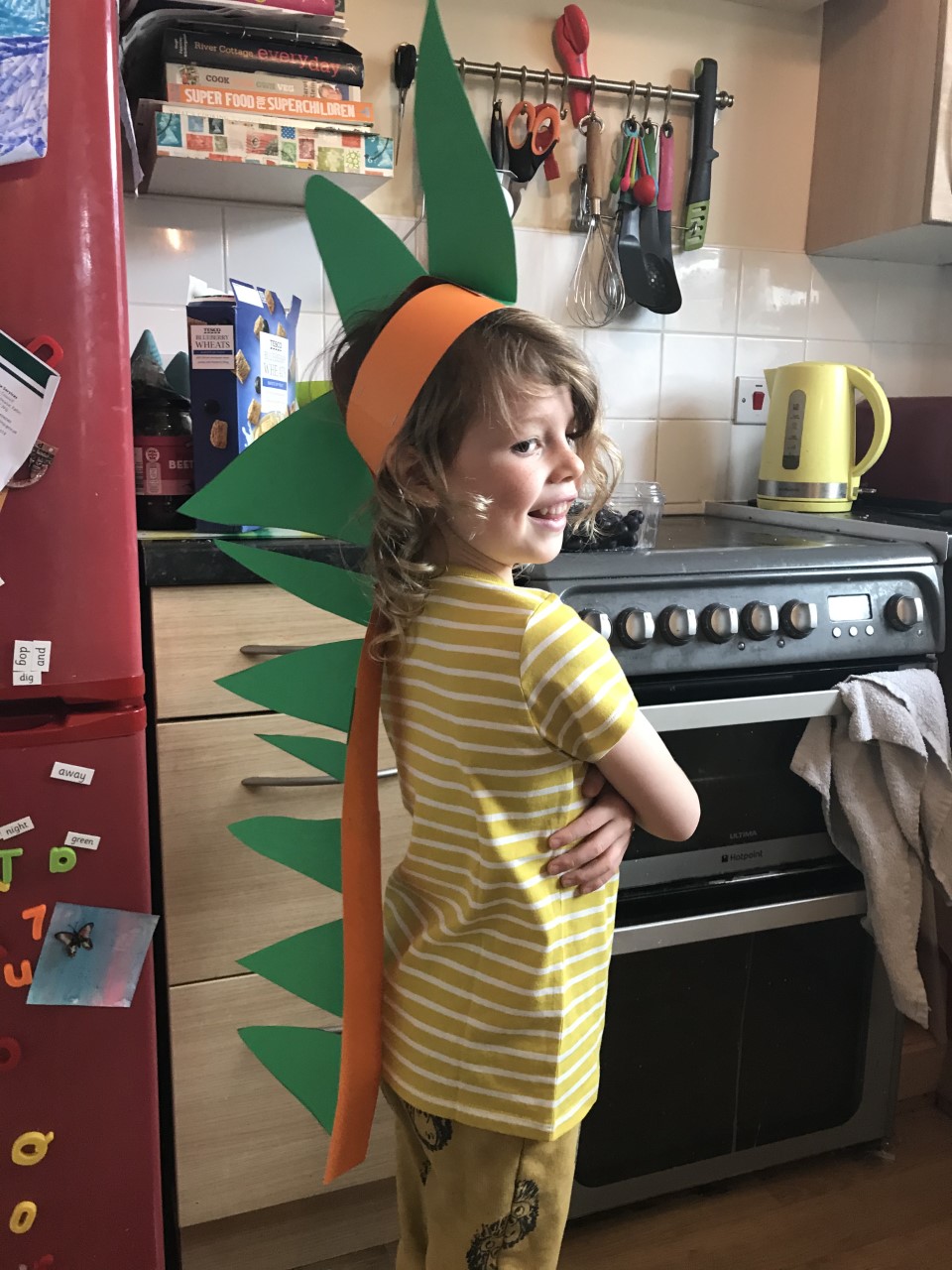 Music and Art
Clearly a lot of our other activities has included crafts and art elements, so we have plenty of crafting and artwork.  But the children also made their own shadow puppet theatre and put on shows for us.  This lasted at least 2 full days of story telling!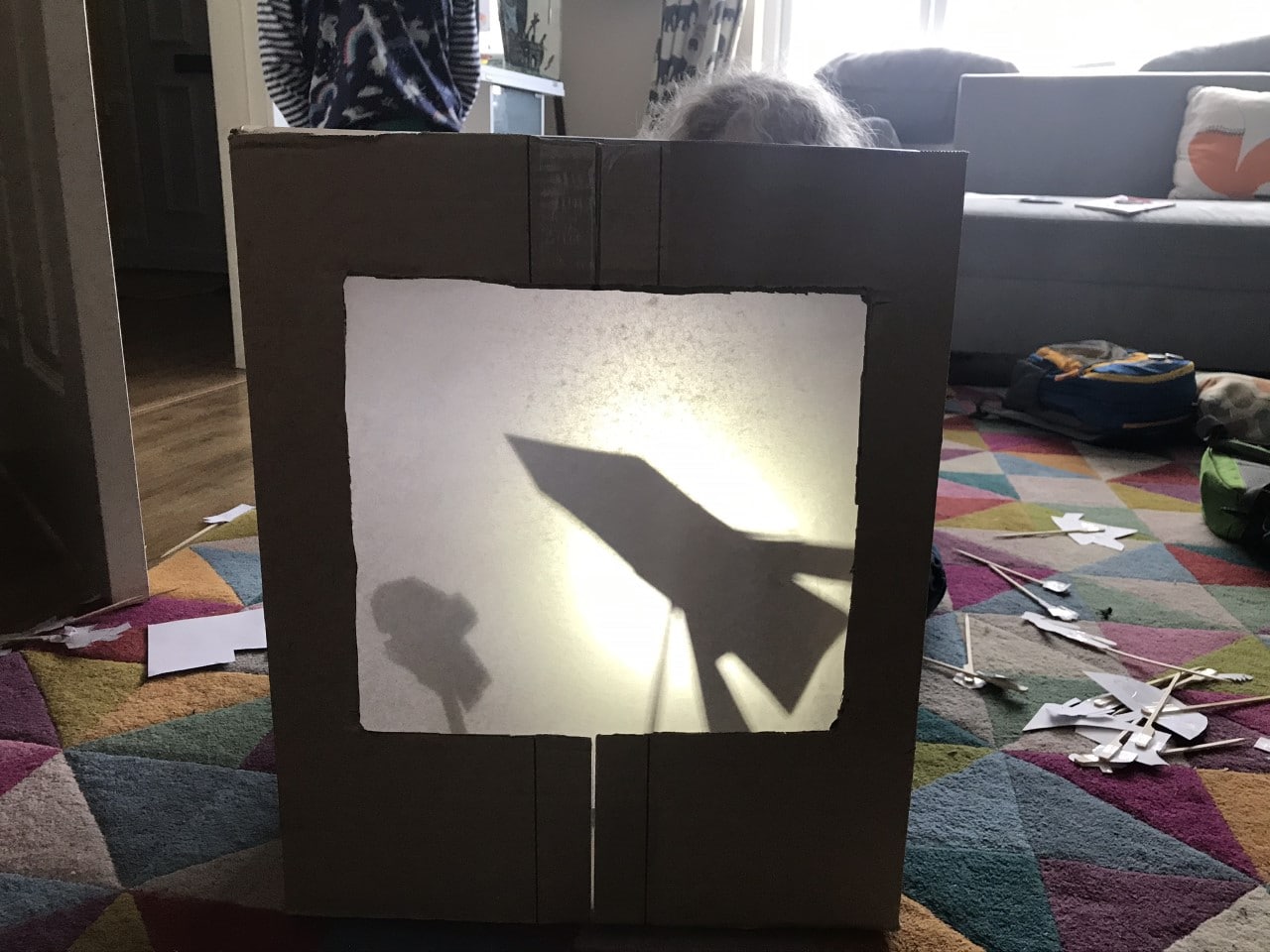 Both children are also interested in paper airplanes and have decorated many of the origami planes they have made.  My eldest is especially interested in this and decorating them according to the real life planes.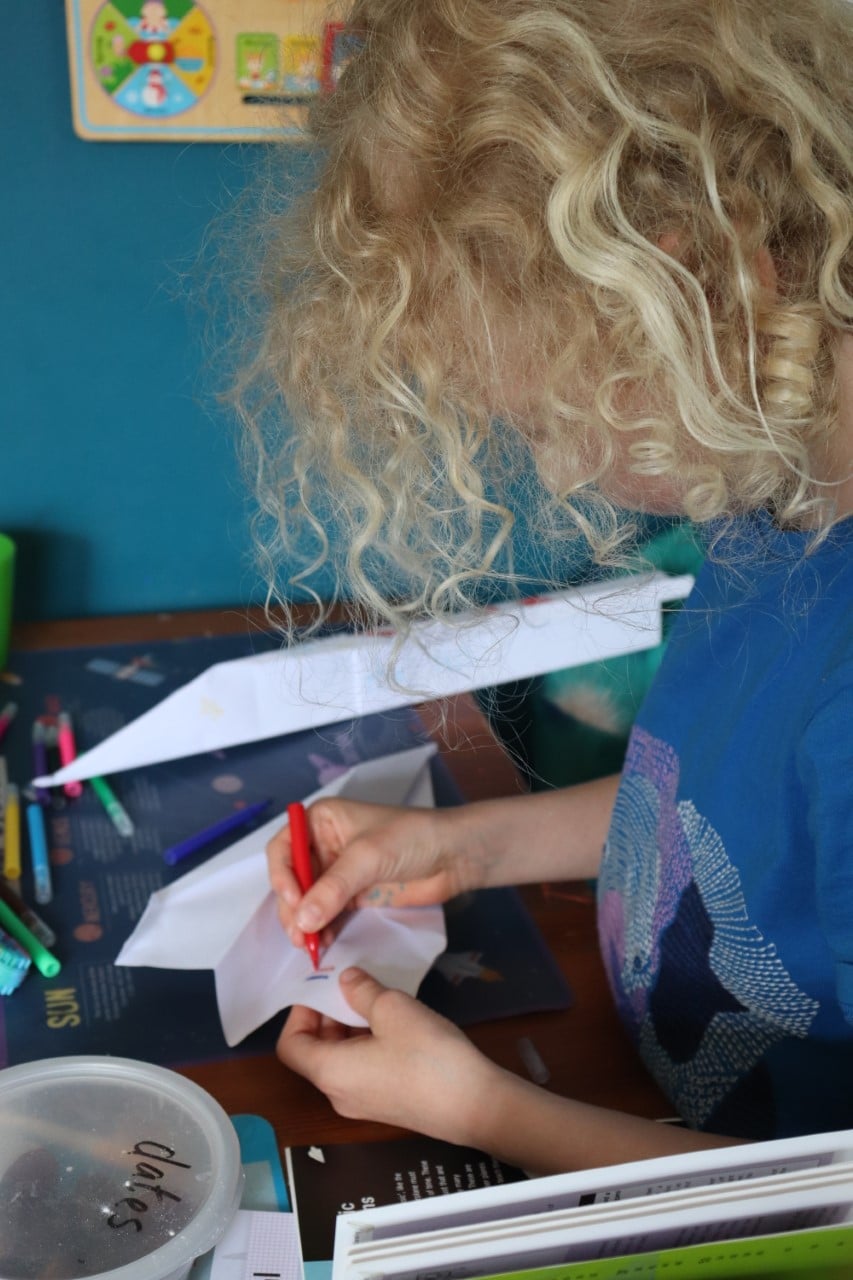 Exercise
As I mentioned before we are trying to get out for our once daily exercise, although it's obviously a lot busier than usual.  The children love playing in the woods, climbing trees and running about getting muddy.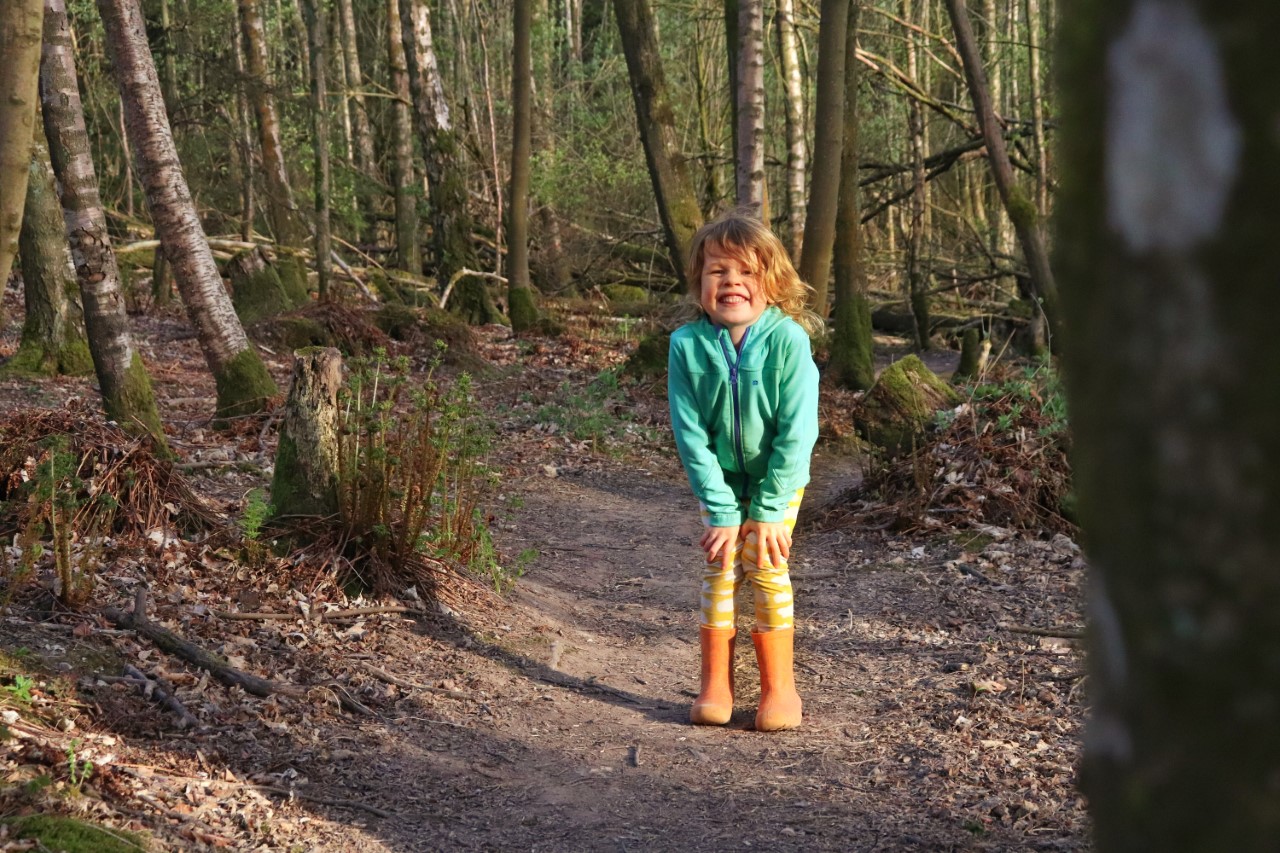 We've also visited a local football field for cricket, long jumps and then cycling around the local area too.  Plenty of fresh air for an hour or so at least!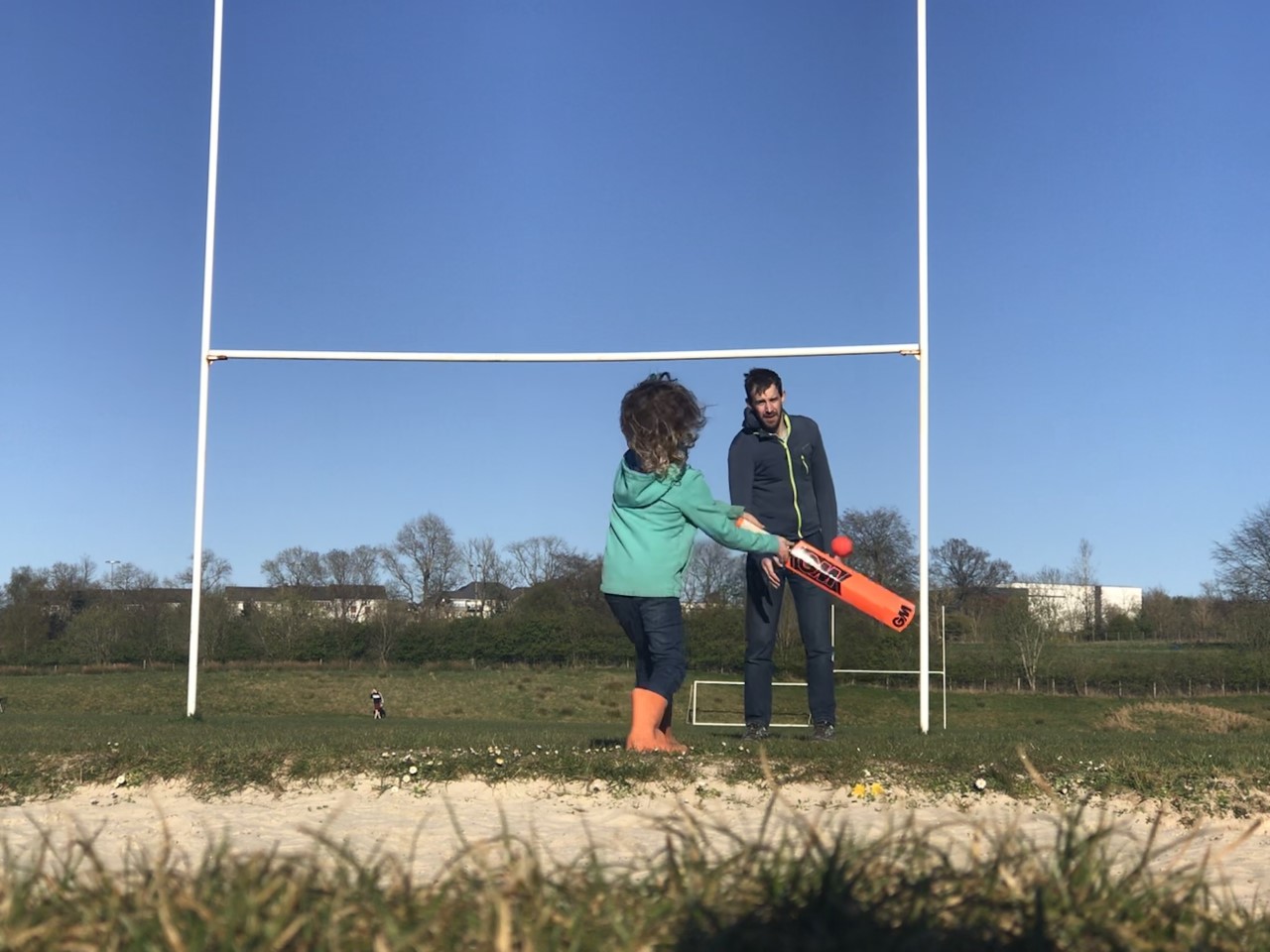 Clubs, Groups and Social Life
Well.  What can I say about this section?! April 2020 was entirely in lockdown so none of the kids groups were available.  I know in some areas of the UK there have been group meetings online via things like Zoom, but the clubs the kids go to don't have that at the moment.
The youngest's drama and gymnastics clubs have put challenges on Facebook to complete.  However, there is never enough time in the day to fit these in at the moment.  I think I would prefer actual classes that I can schedule as for some reason that is easier!
We have still managed to find time to chat with some of the children's friend's over Messenger and one set of grandparents via Facetime.  The children's other set of grandparents don't have internet unfortunately (due to location) so we've been sending weekly postcards via Touch note.  These little moments of connection are so very important at the moment.
Pin Scottish Home Education Diaries April