Home Education Diaries
Despite being another month greatly affected by Covid-19 and pretty rubbish weather, we still kept ourselves very busy.  We've met up with other home educators, some old friends and some new.  There have been quite a few more organised groups recently due to some new home educators wanting to get organised.  We've been taking full advantage of this as once people have been home educating for a while they tend to stop organising things.  This might be due to it being difficult to organise and get payments, or simply that they get busy with their own activities.  Either way we've been enjoying some fun outdoor home ed activities.
October Home Ed Diaries
So here is our October home education diary, a little late though, apologies!
Science
Science as always has been a big part of our month, with Wow In The World a popular science podcast in our house.  Well more in the car actually as it's great to occupy the kids on longer drives.  There have been some new episdoes released, including one about how a Japanese water beetle manages to escape from the stomach of a frog without being digested!  It's all produced in a fun cartoon'y' voice way so the kids love it!
My eldest has a fascination with making paper airplanes and is getting fairly good at following most of the rules for origami.  It did take a while for him to understand the folds had to be perfect and the crease flat.  He seems to understand that now that the ones that weren't didn't fly so well.
We've started back with our weekly science group and have tried a few different experiments. Starting again with rocket cannisters which they love to do.  Using an effervescent tablet and water in a film cannister, sealing it quick and watching it fire into the sky.  We experimented with amount of tablet and water to find out which is more effective.  We also made kites with different materials to work out which materials were best (thin bin bags!).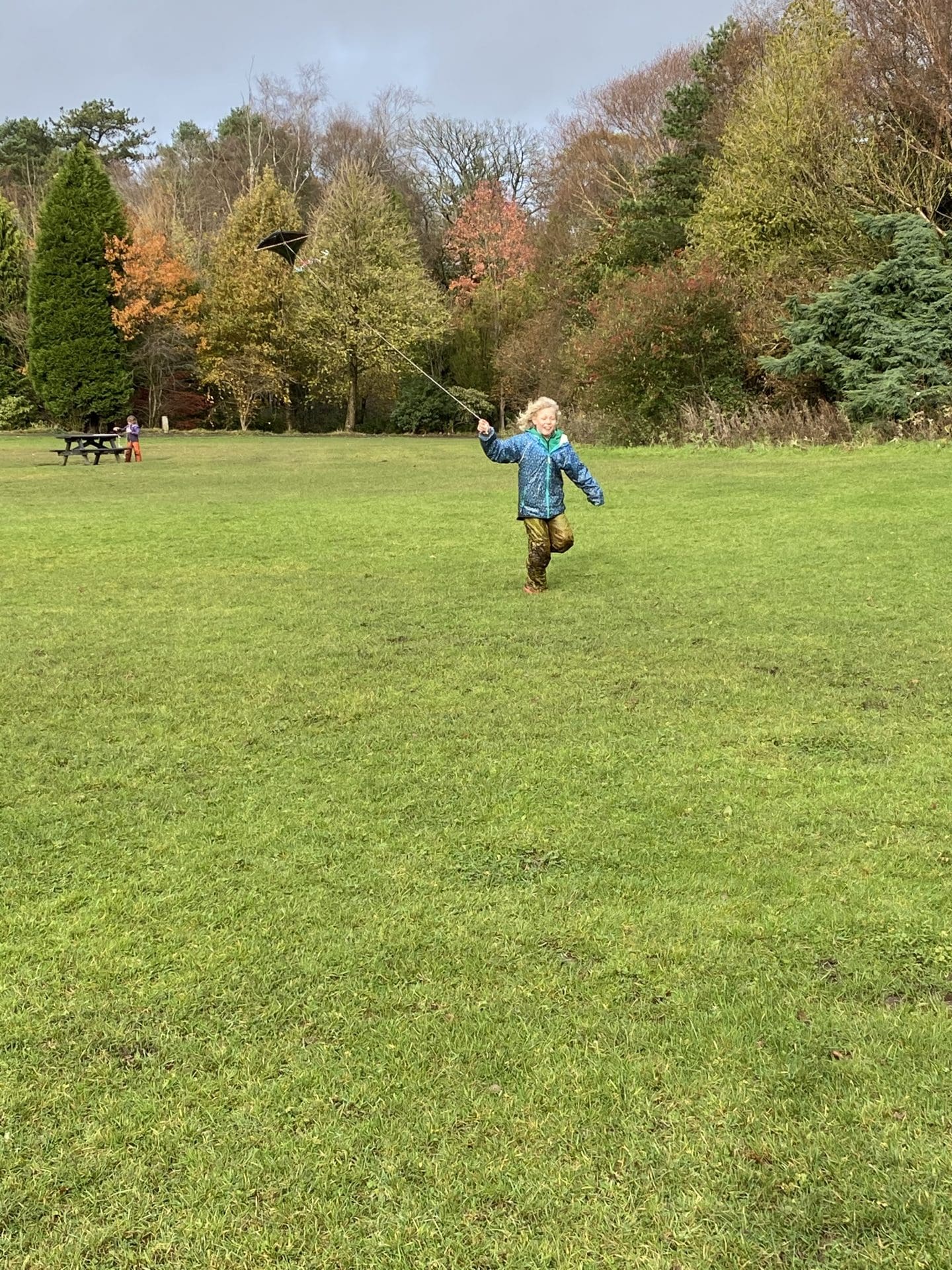 Another week we did an air pressure experiment using birthday candles, coloured water, a small plate and a jar. Put a candle in the middle of the plate in a little bit of bluetack, pour water in the plate, light the candle and places the jar upside down over the candle. The jar appears to suck in water as the candle then goes out.  This is because when the candle goes out the air then cools and contracts creating a weak vacuum (low pressure) in the jar and the high pressure on the outside pushes down on the water until the pressure is equalised in the jar.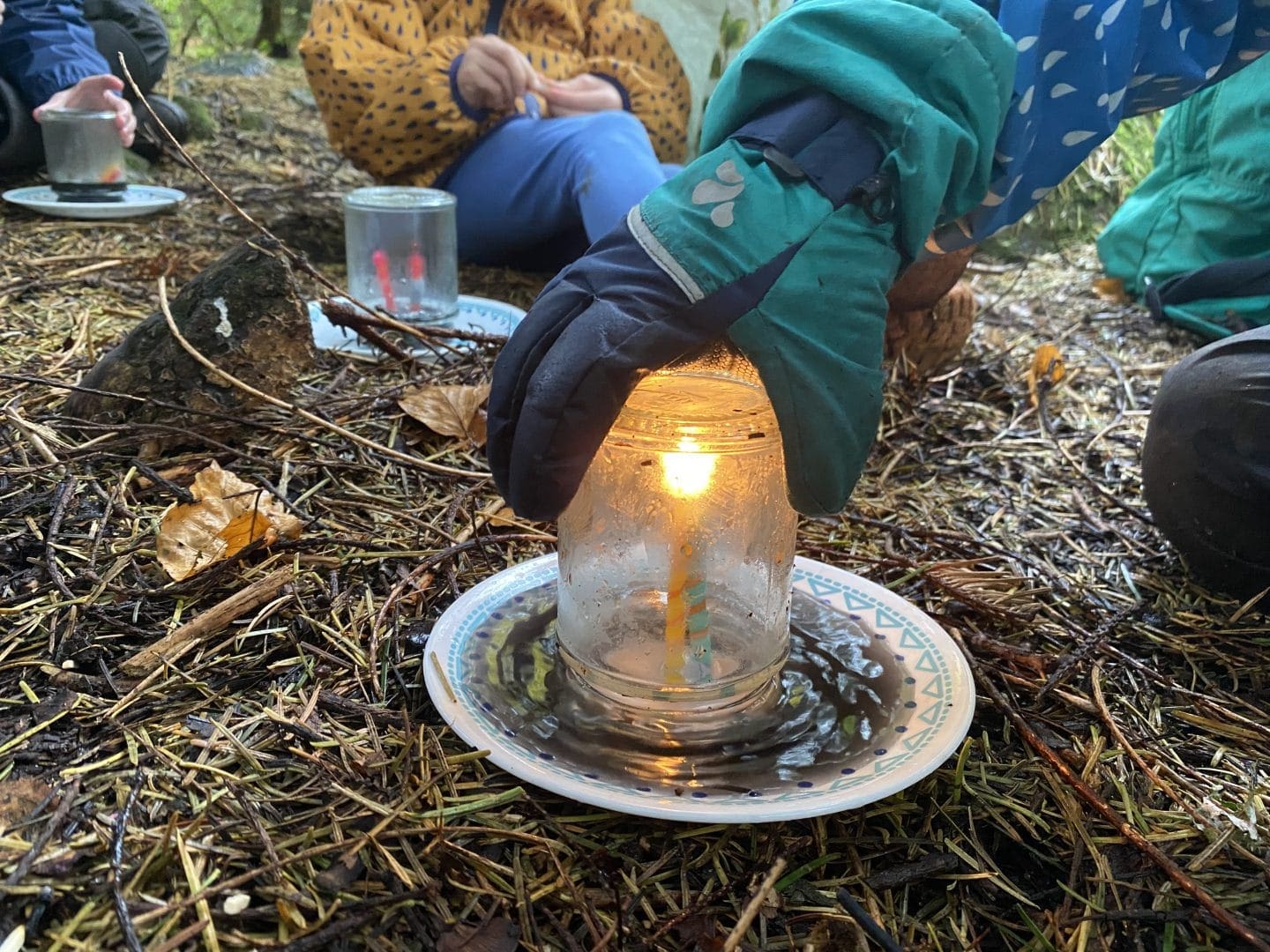 With lots of new home educators there have been many new one-off groups set up.  We've taken advantage of this and have enjoyed meeting some new people and trying out different groups.  One of the recent groups we went to was with Wildside Nature, a business run by a zoologist to help kids learn about different animals in a fun way.  The kids were outside for several hours whilst he played various games to explain how 'Halloween' animals live.  There was plenty of laughs as they pretended to be bats, frogs, and spiders!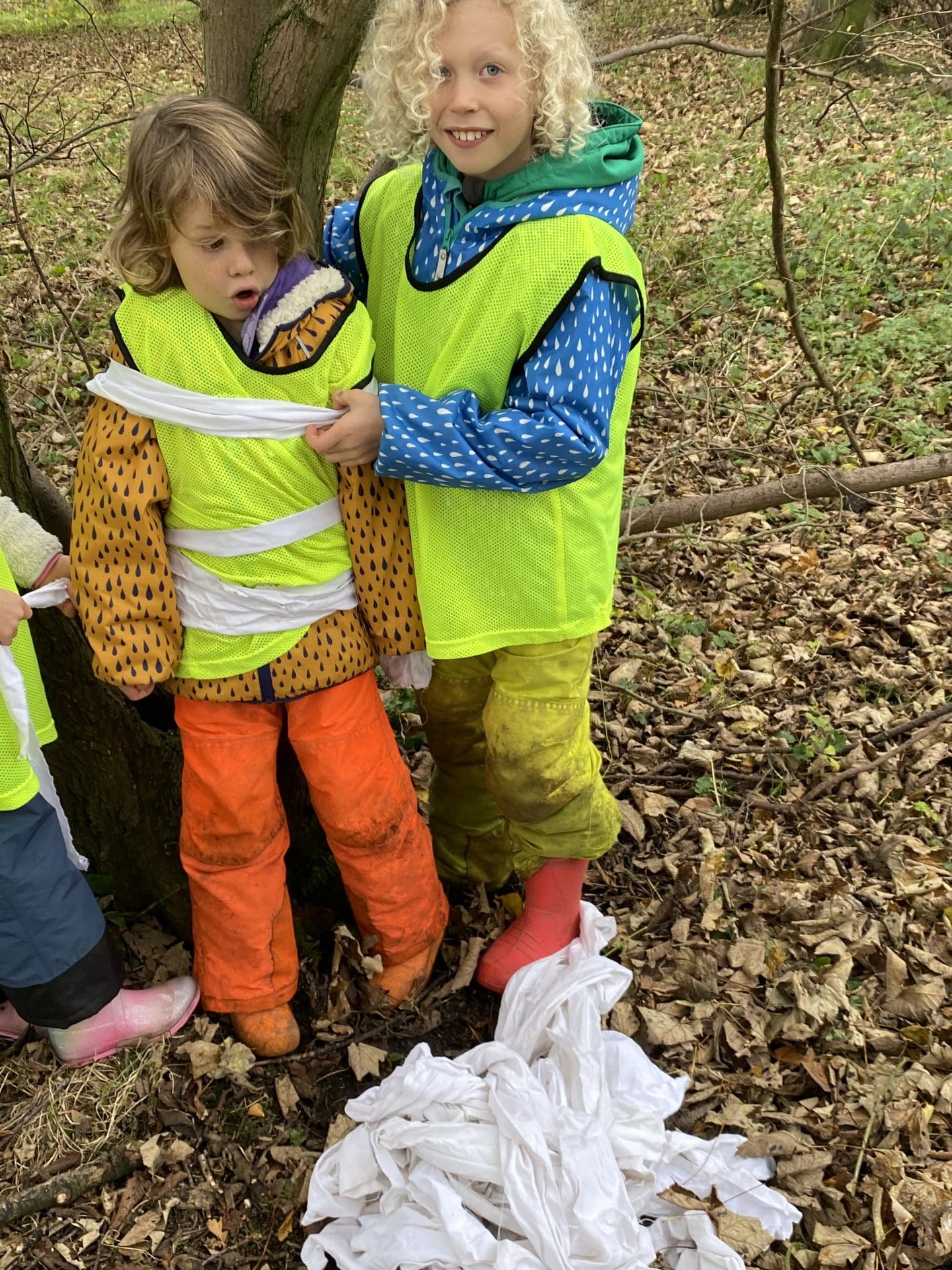 Another one-off walk/talk that we took part in during October was a fungi foray.  We walked around the Craigmillar Park with a fungi expert to find out more about different fungi's and attempt to ID them!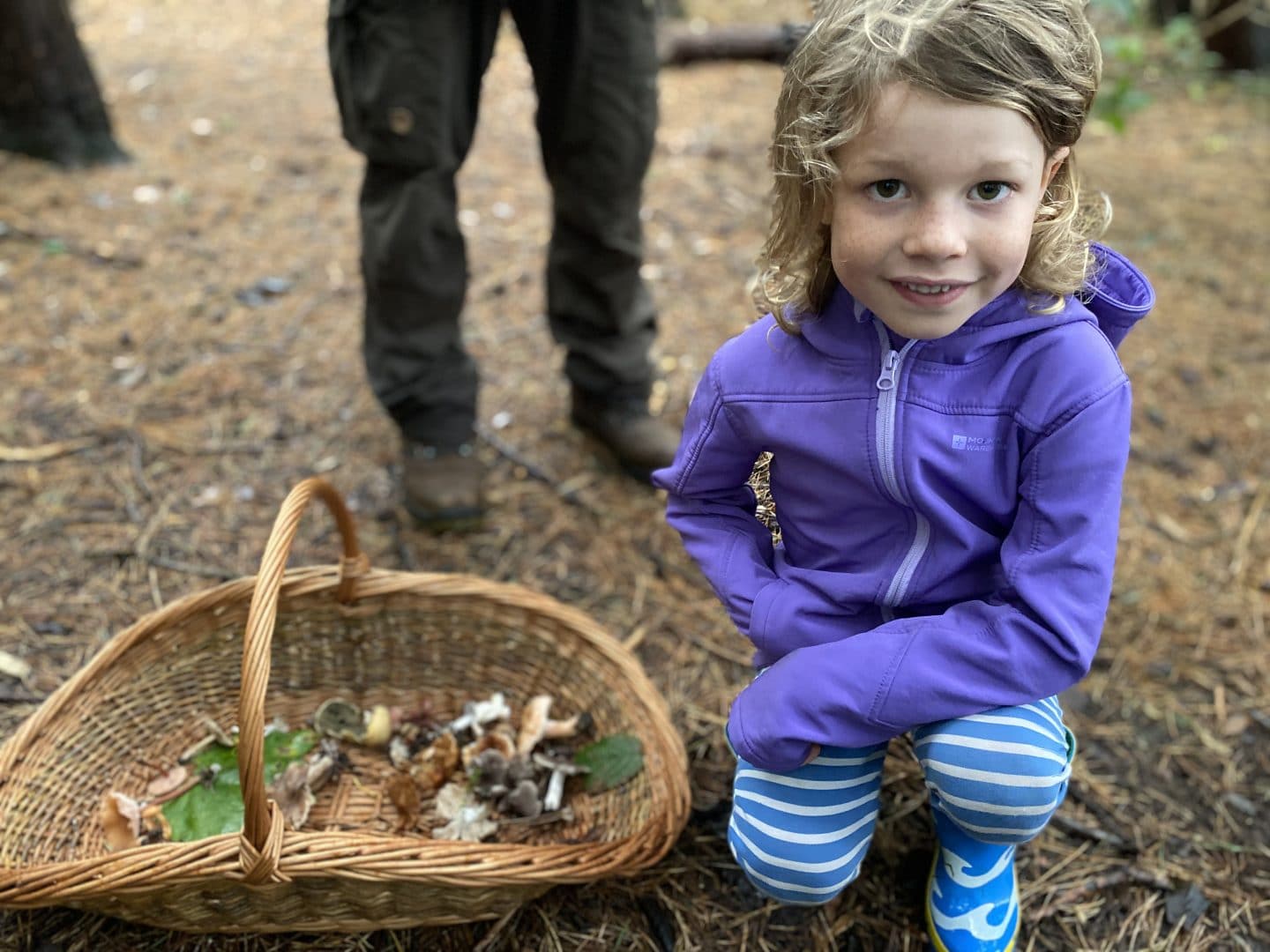 Of course no month of science is complete without adding in the Lego building my 9 year old loves to do!  He's built a variety of things out of his Lego and his brother's old Duplo too.
History
Our history this month has as usual been dominated by the podcast History Storytime.  It's a great kids history podcast produced by two young girls and their dad.  The children love to listen to each short 10 minute podcast and learn so much from them.  We've listened to all the past episodes and have been repeating a few of the kids favourites.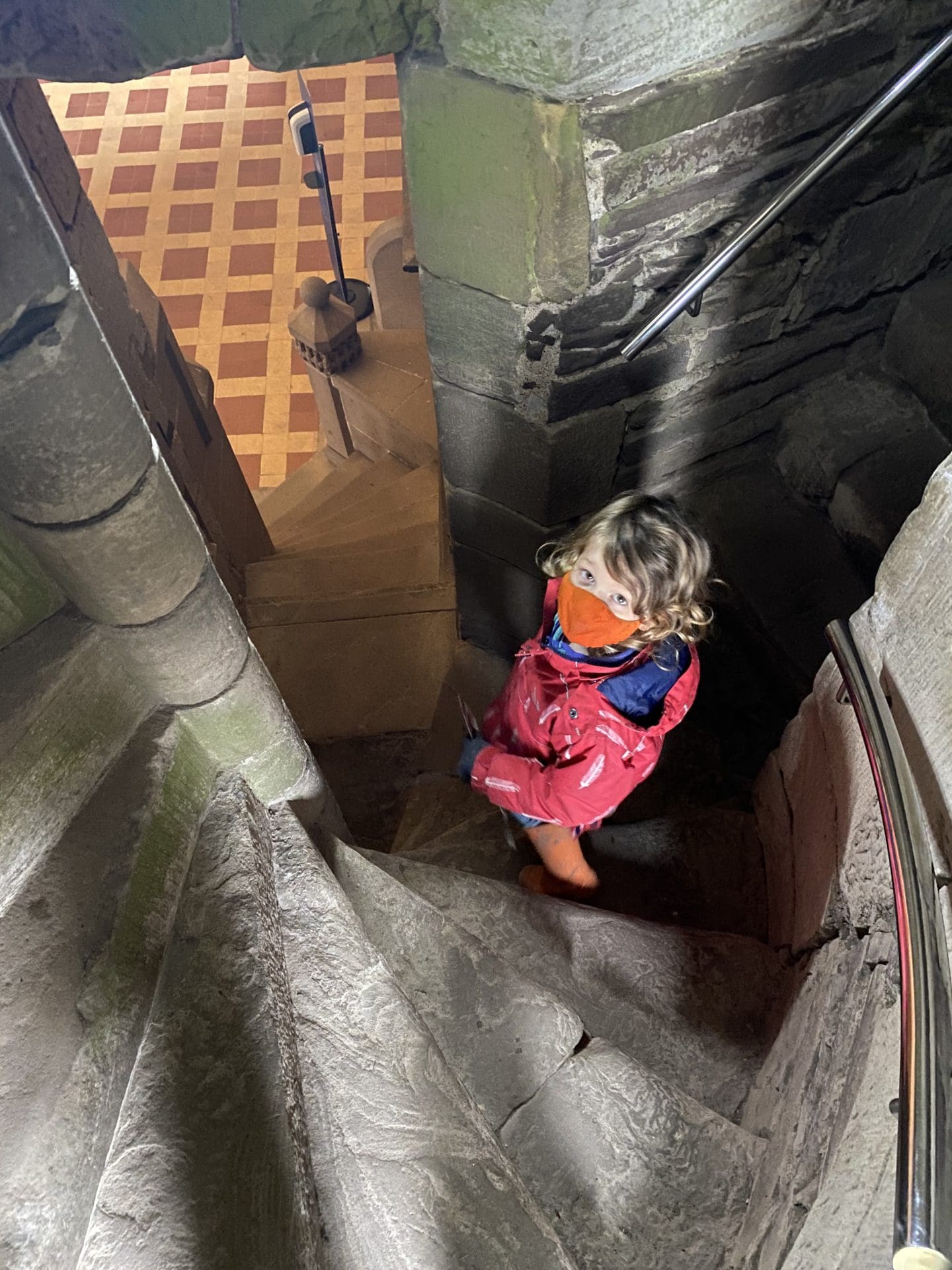 Doune Castle isn't too far from us and we chose to visit on a weekday when it would be quieter and let the kids explore.  This is the first place we've visited indoors, so it was the first time wearing masks for more than 5 minutes for the kids.  They enjoyed the quiz and had fun despite having to wear a mask, which is great considering my eldest hates wearing one.
The children have been fairly interested in WW1 and 2 this month. We've discussed how the wars began and what it was like to be fighting in the war and have looked at various war memorials that we've passed this month. The kids have also been playing 'wars' a lot with many shouts of 'kill the central powers'! Not exactly true to history, but I admire the effort!
English
The children often like to sit and listen to us reading stories or non-fiction books.  The Usborne lift-the-flap books are a favourite at the moment with both the WW1 and 2 books being read several times.  They still enjoy reading the periodic table lift-the-flap book together too.  My 6 year old has enjoyed me reading unicorn and mermaid books as usual and the 9 year old has been listening to his dad read a David Walliams book.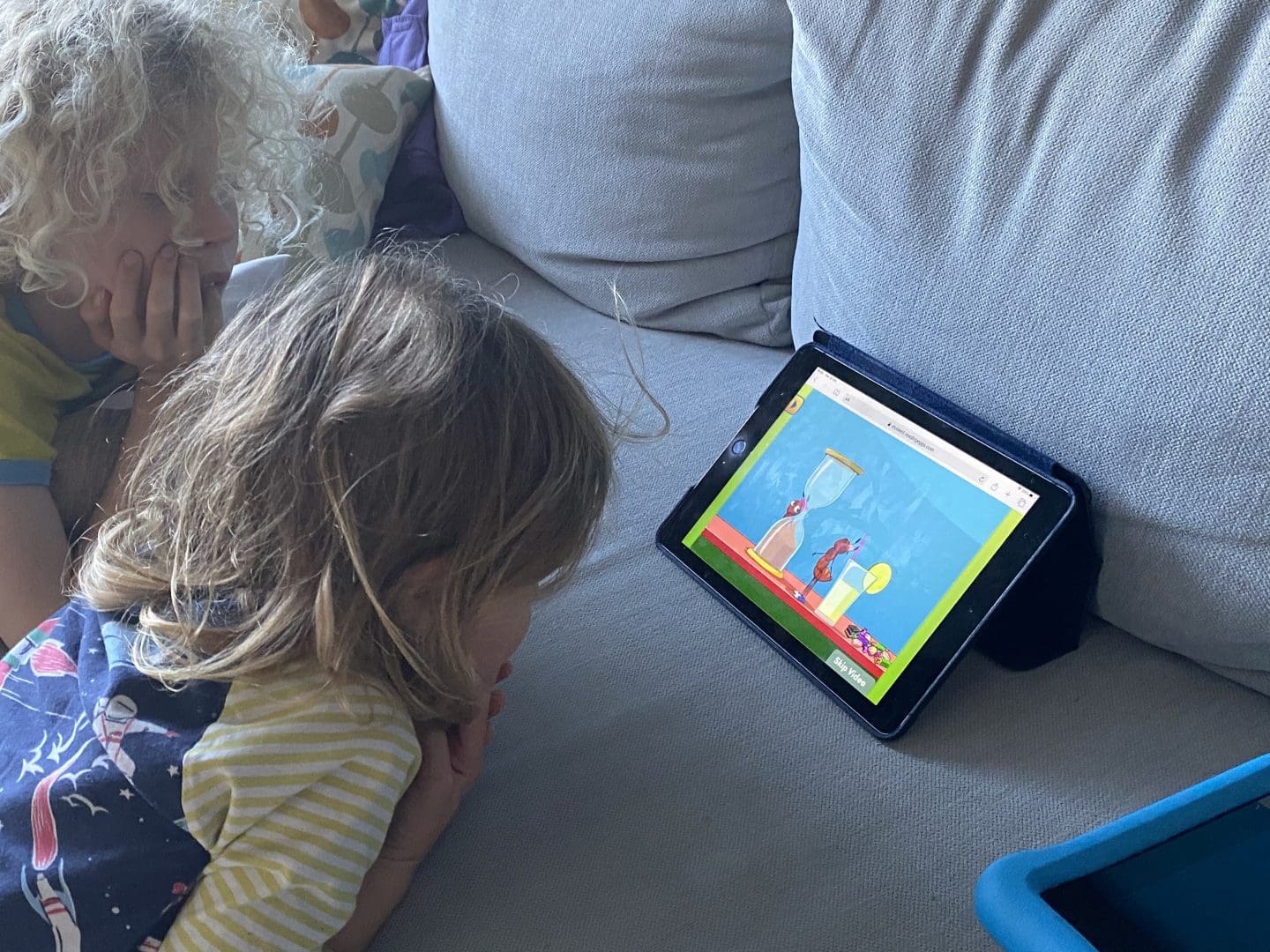 Both have completed some more sections of Reading Eggs and Reading Eggspress.  The eldest has read some shorter books himself, although he's at an inbetween stage or reading ok in his head, but being overwhelmed by too many words on a page.  He's getting there in his own time though.
Both children have been requesting a few different books from the library which we can collect with social distancing.
Maths
Board games are always a favourite activity in our house.  My eldest has been especially enjoying Shut the Box and Ticket to Ride, whereas the youngest like Sleeping Queens.
I've also been playing Times Tables Rockstar music to help times tables sink in.  As they're quite catchy it even helps me remember my tables!
Geography
The table mats on our dining table include one with world flags and another with a world map.  So the children can spend time analysing the mats whilst eating!  They especially love looking at the flags and are fairly good at pointing out certain countries on the maps.  We also have an interactive globe that they mostly use to play different countries National Anthems.  But it has also helped them learn the location of the different countries they play.
The Purple Rocket Podcast has story episodes called Grandpa's Globe which the kids enjoy.  They listened to the second series this month and loved learning more about different countries as well as the adventure too.
Unstructured Play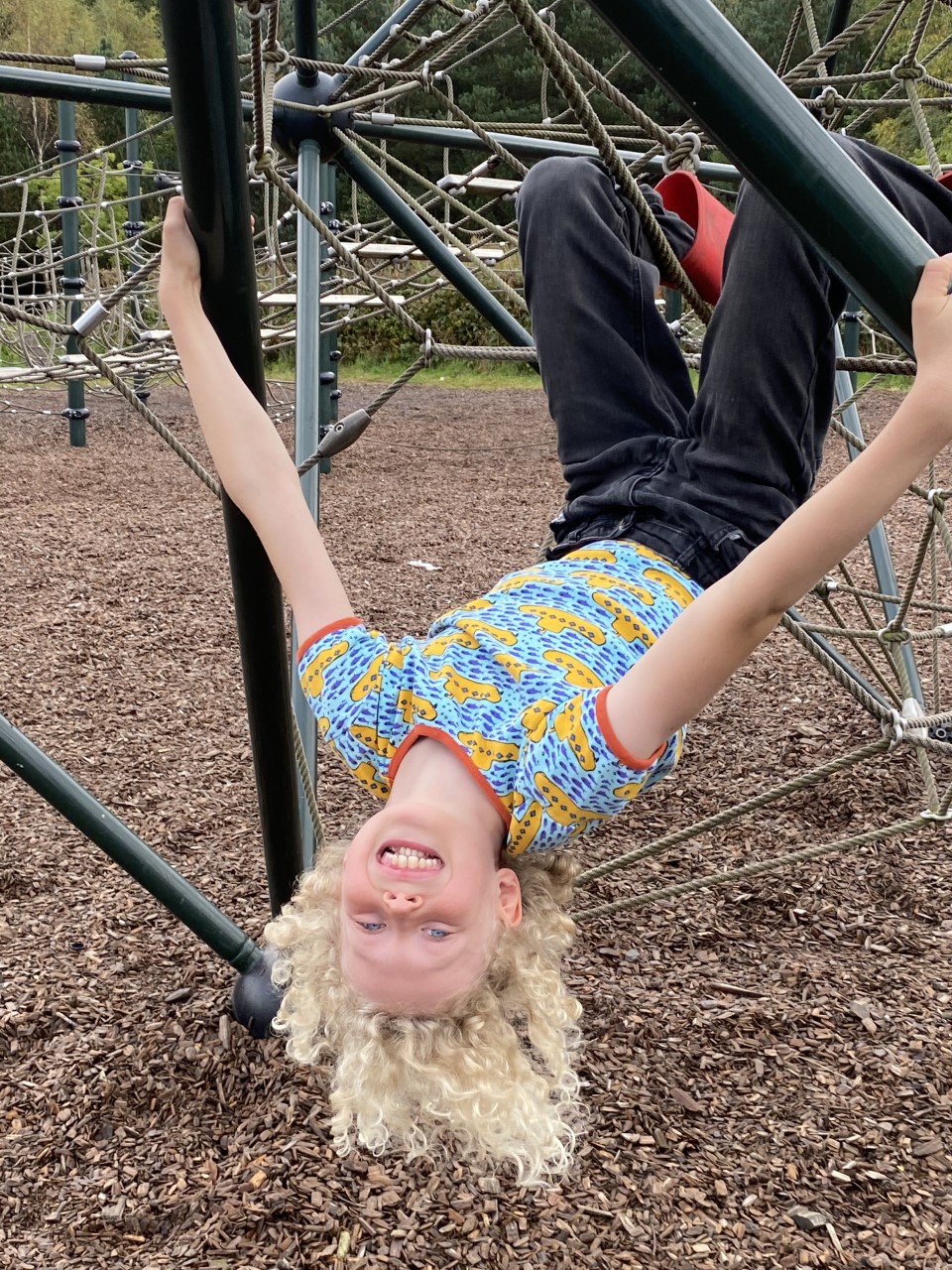 Most of the kids play is unstructured with the children making up their own games to play at home and with friends.  It usually includes a lot of climbing of trees, rocks and play equipment and running around chasing or rolling on the ground!
The kids play with friends is definitely unstructured (no parental direction), but at the moment it can often include parts of WW1 with allies and central powers included in the play.
Exercise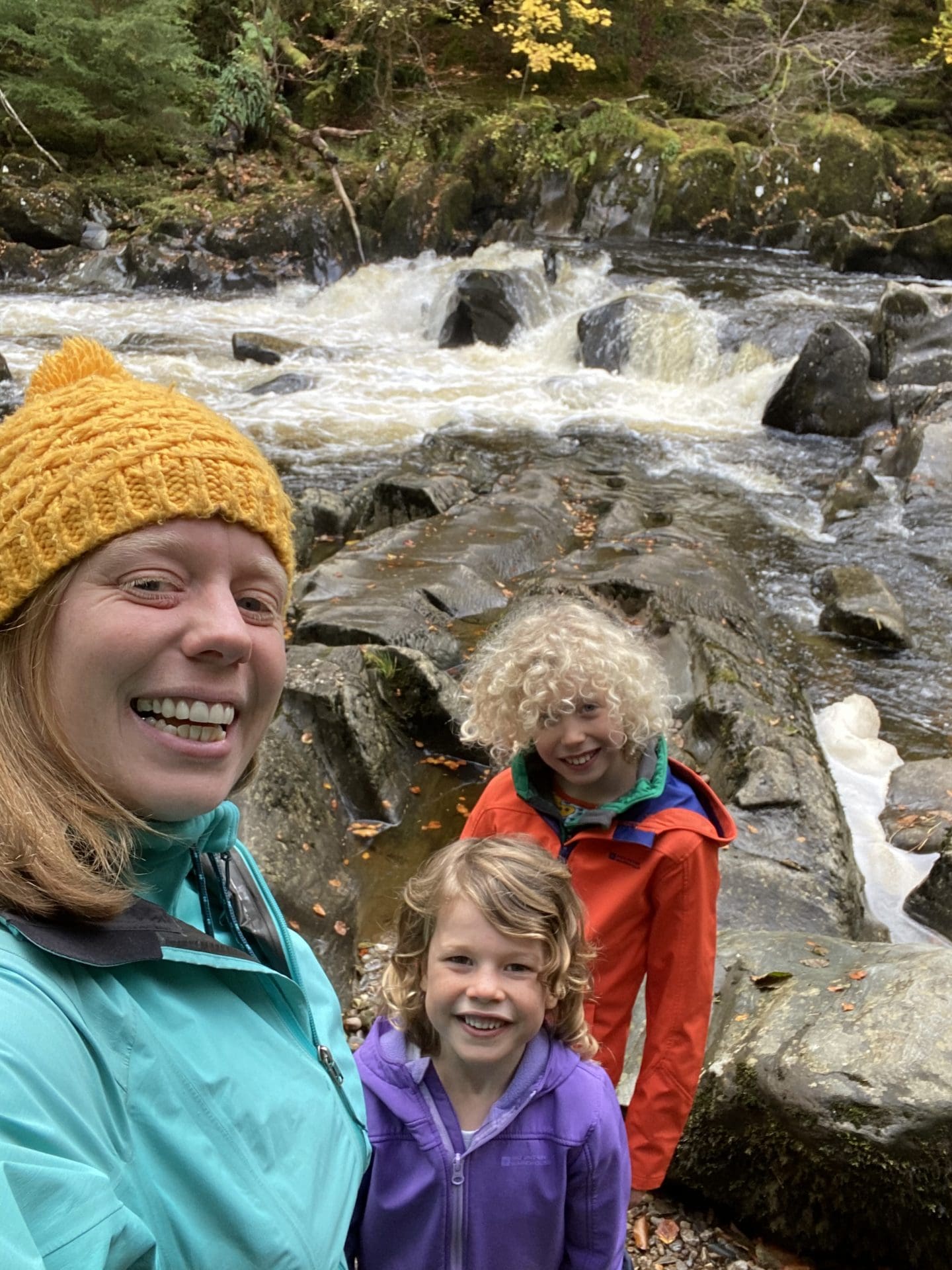 The kids virtually never stop with running around and plenty of movement! This month we have been cycling, lots of walks including a lovely walk at the Hermitage, Dunkeld.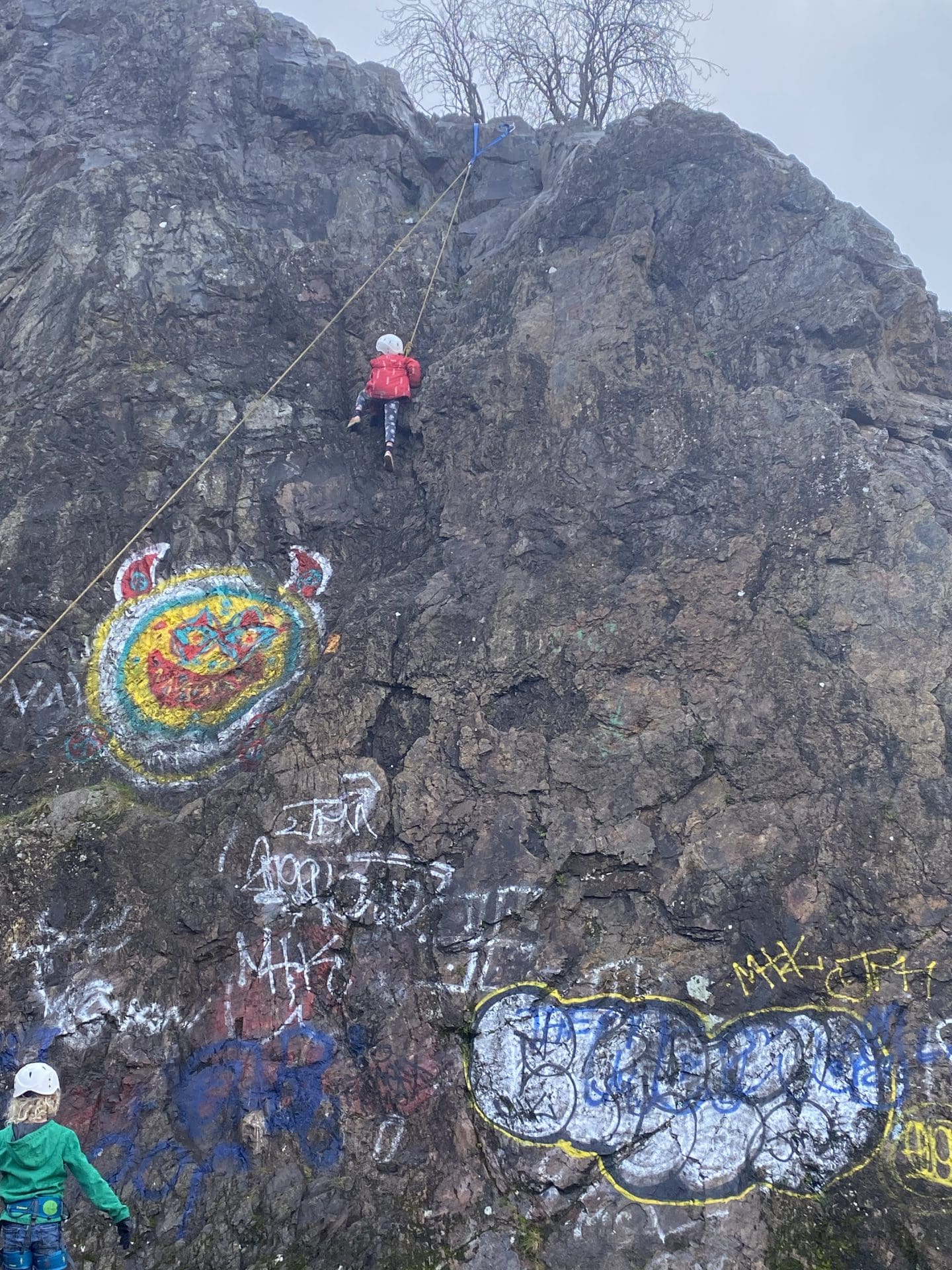 At the beginning of the month we went to a home education outdoor rock climbing group.  Which was great as our youngest got up the courage to get to the very top and the eldest just had fun doing it again (he has longer limbs, so it's easier for him!).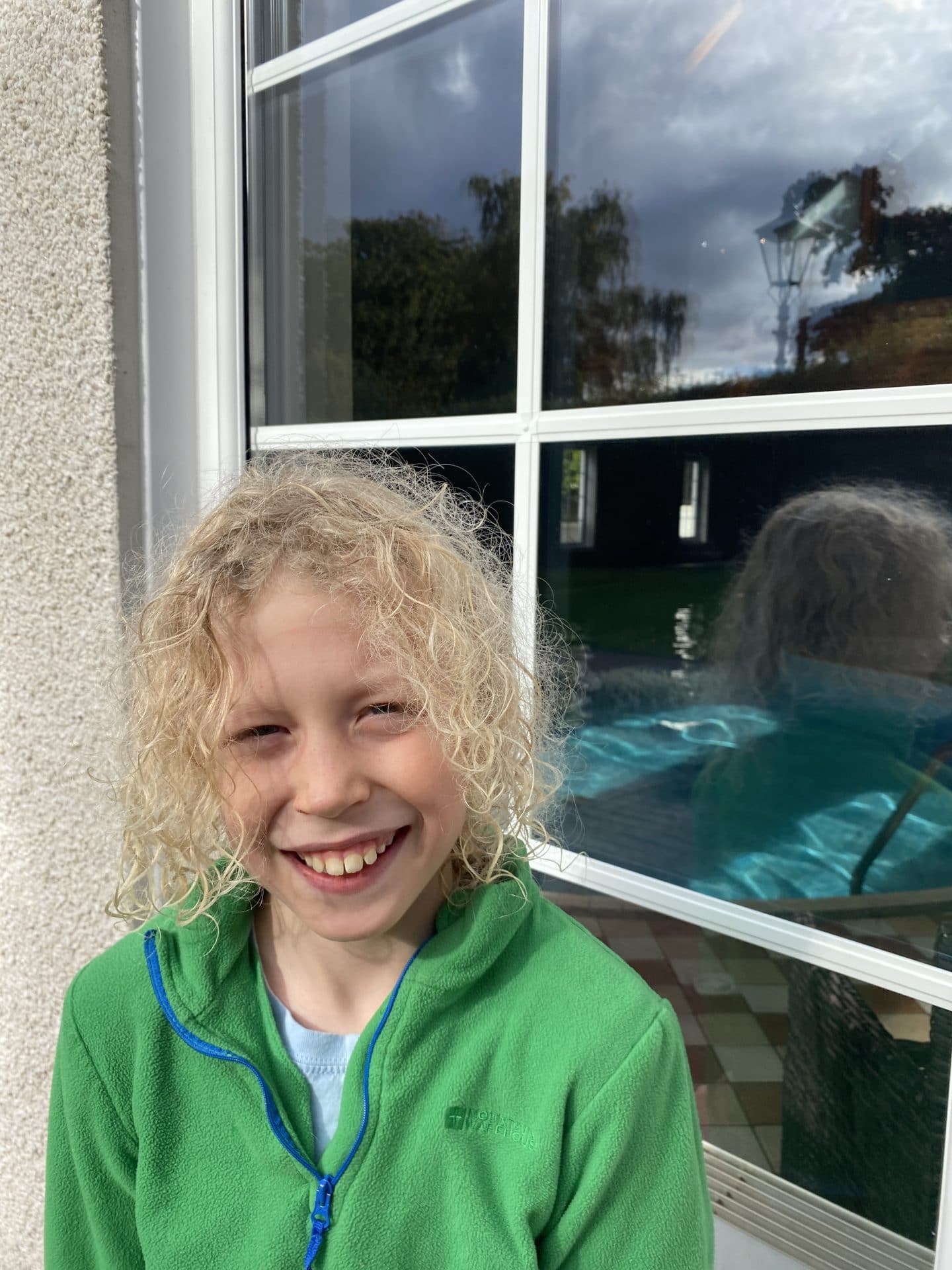 Although the usual swimming lessons haven't restarted I've enrolled the kids on private 1-2-1 sessions locally.  They have been mostly enjoying them as it's the first time they've been properly swimming since March!
Our 6 year old's ballet and tap dancing classes have begun again, so he's very happy.  He absolutely loves dancing and has been missing it over the last few months since it finished.
Both children go to a multisports and dodgeball class as well.  Their favourite is dodgeball where they come out beaming after all the fun they've had!
Music and Art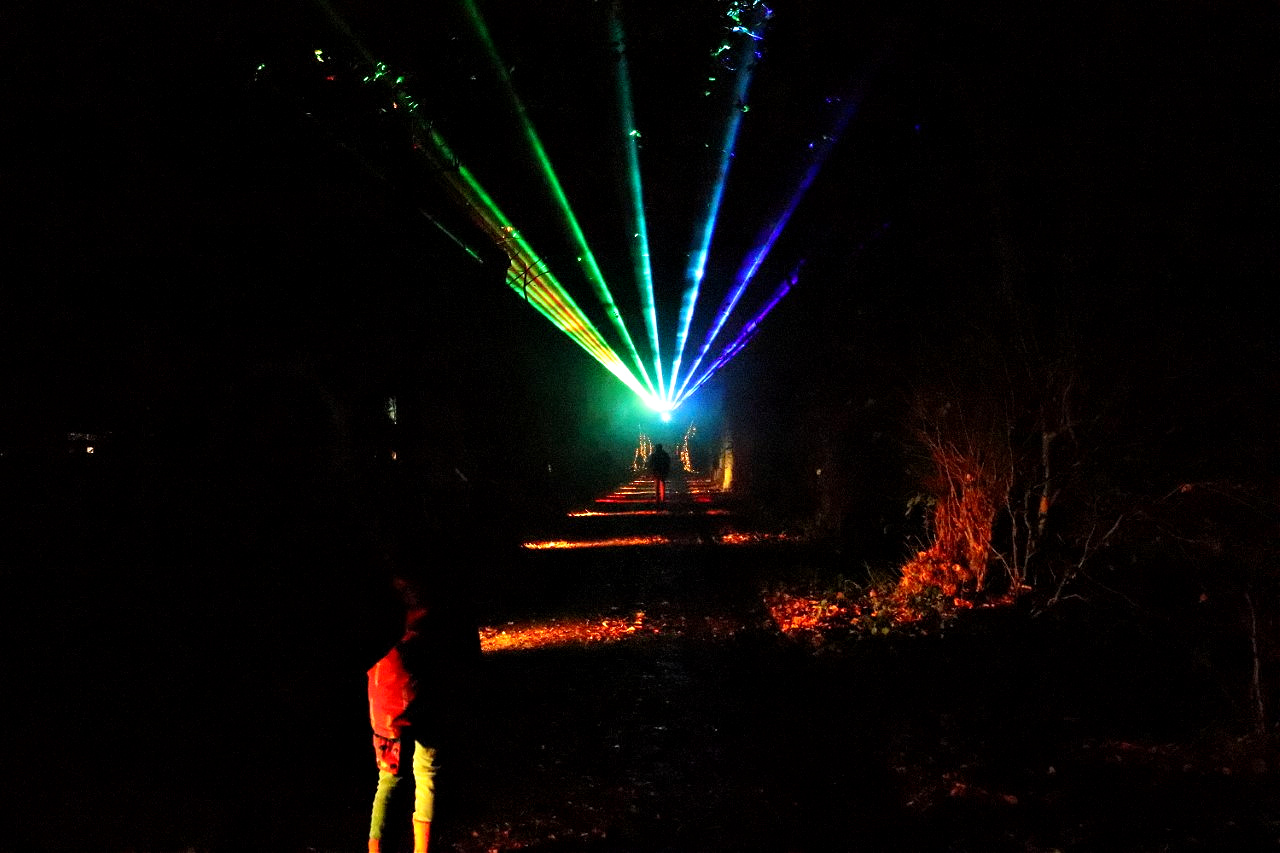 We visited Wondrous Woods at Hopetoun House, which is a beautiful light trail.  A mix of light and sound that the kids really enjoyed, it was definitely a work of art with light!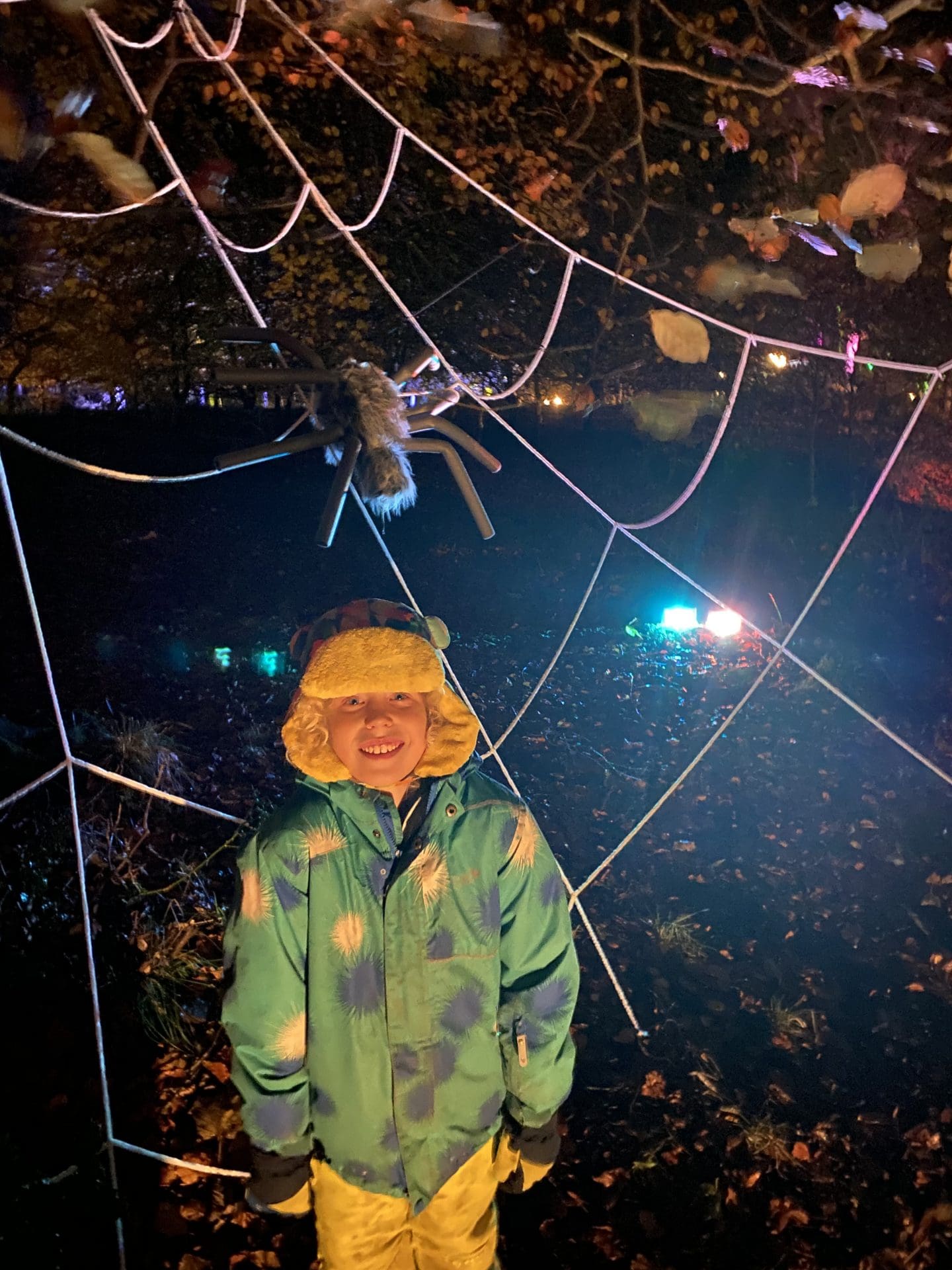 The 6 year old also took part in a Halloween themed theatre and light trail with his local drama group.  He had to play a Disney villain and sang several songs from Disney films including Beauty and the Beast, Cruella De'Vil, The Little Mermaid and Moana.  Along with singing there were plenty of dancing and fun movements too.
Pumpkin carving is art right?!  The children helped clean out and designed two pumpkins each.  Although we did most of the cutting with knives, rather than the kids.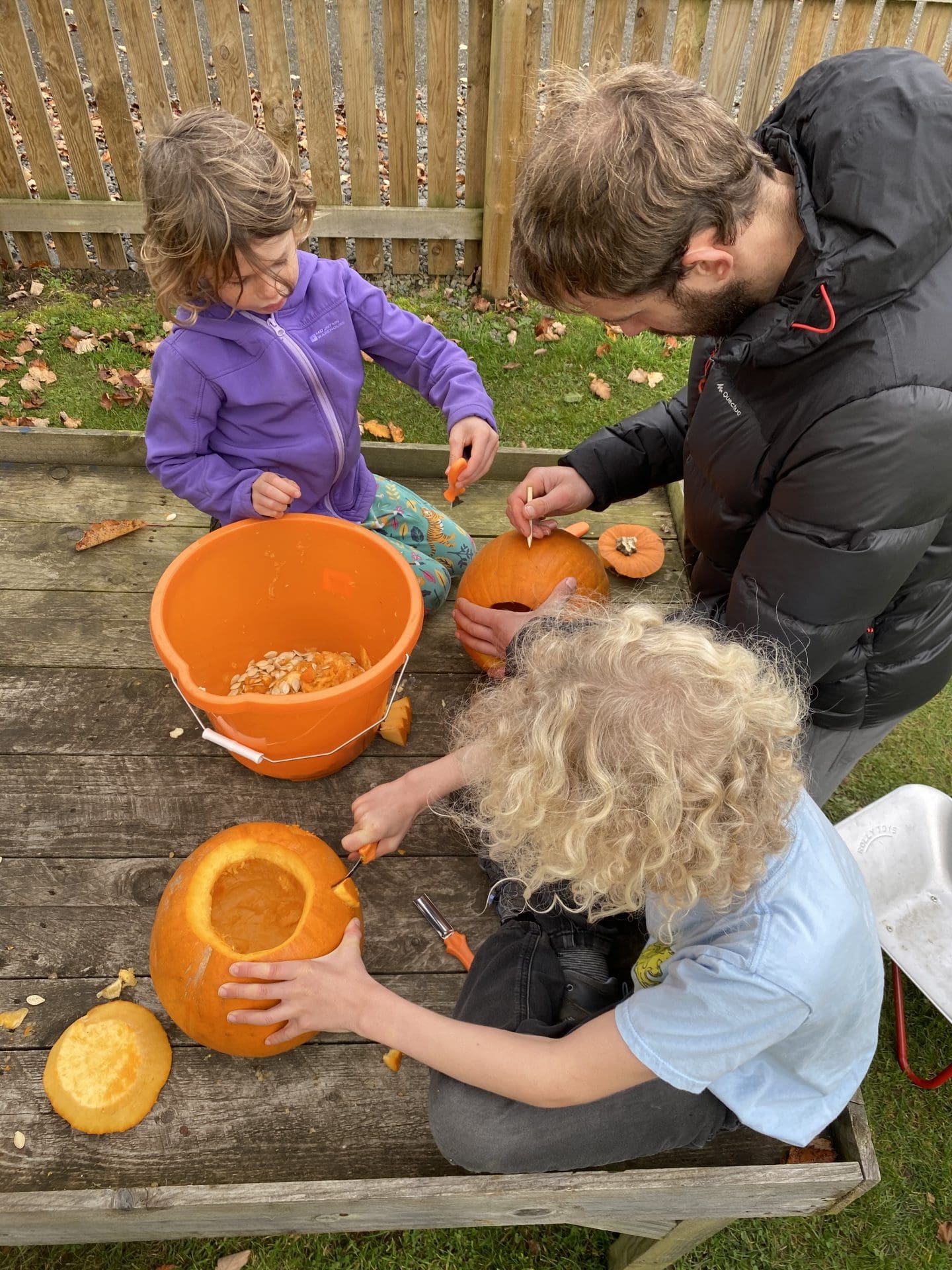 We had some fun painting shells too, my parents gave me a pile of scallop shells (I asked for 1 or 2 as soap dishes!) so we decided to paint some of the others!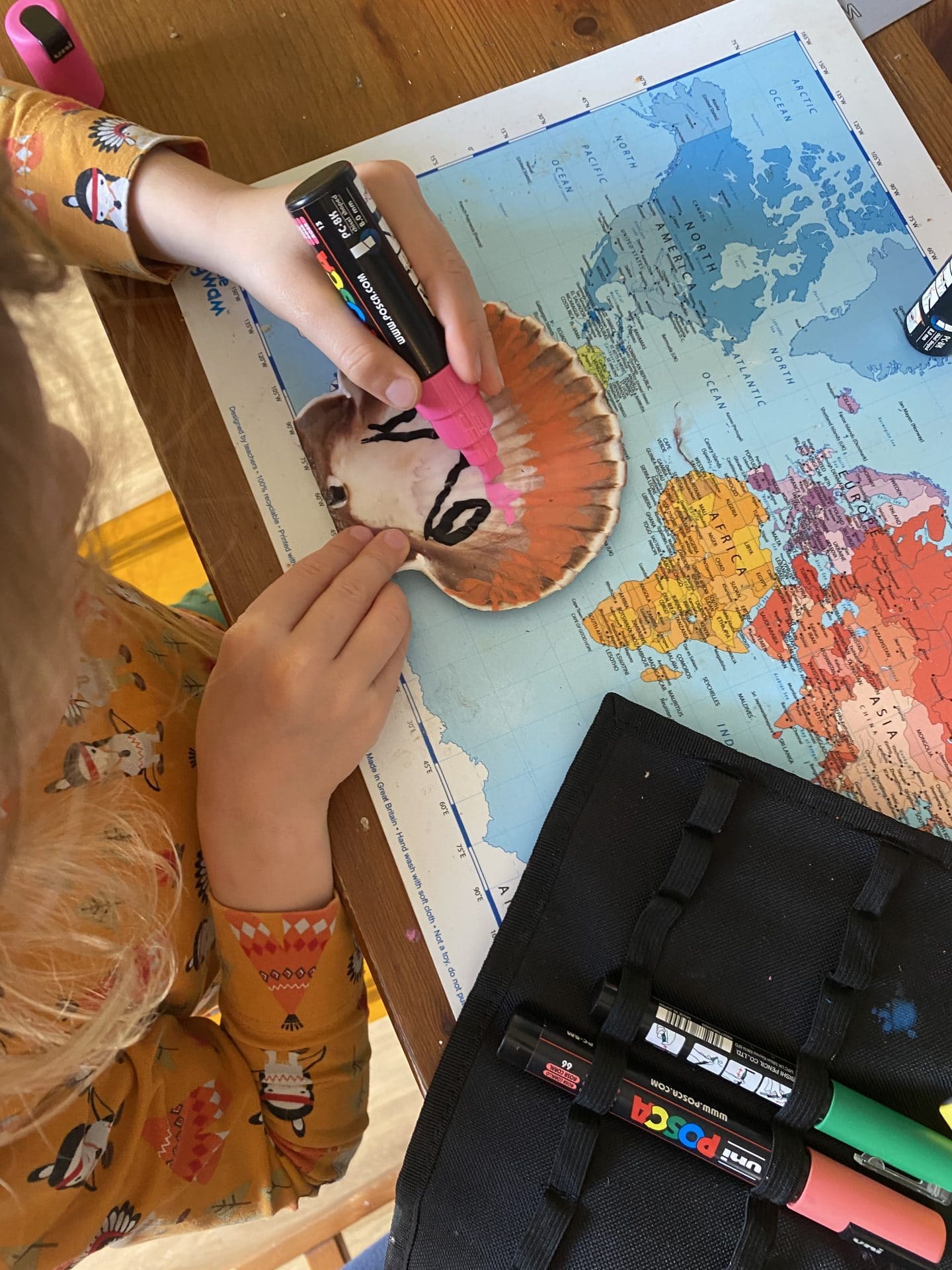 Clubs and Groups
Our 9 year olds Cub Scouts has restarted and he's been very happy to get back into it again. They did a couple of outdoor sessions and then they were able to be indoors again.  The 6 year old is due to begin Beavers at the beginning of November, which has been delayed from earlier in the year.
As mentioned above our 6 year old has been doing shows for his drama group and has several more Christmas activities planned.  He loves being on stage and is very excited about it all!
Other groups include the 6 year olds ballet and tap dancing and both children go to multisports and dodgeball.  We also meet with home education friends once a week for science group and occasionally for other one-off or monthly home education groups.
Pin For Later