Kids Educational Board Games
We very much enjoy our board games here (educational and not!) and have a lot of great games for logic or reasoning.  My youngest LOVES Zombie Kidz Evolution where you need to rid the board of zombies and lock the gates to win.  I think his favourite thing is that after so many games you get to open an envelope and that adds a new dimension to the game.  The eldest enjoys codebreaker, another fab logic game and top trumps, which can be brilliant for learning a whole host of things.  But sometimes it's good to know what other educational aspects our board and card games have for home education.
I've listed some of our favourite educational board games and card games in our collection.  I also added a couple of bonus games at the end which looks amazing, but we don't yet have!  You can also consider more reading and spelling games such as Scrabble, Boggle and Bananagrams, but my two aren't as interested in these.  So they're not in our collection or list below.
Monopoly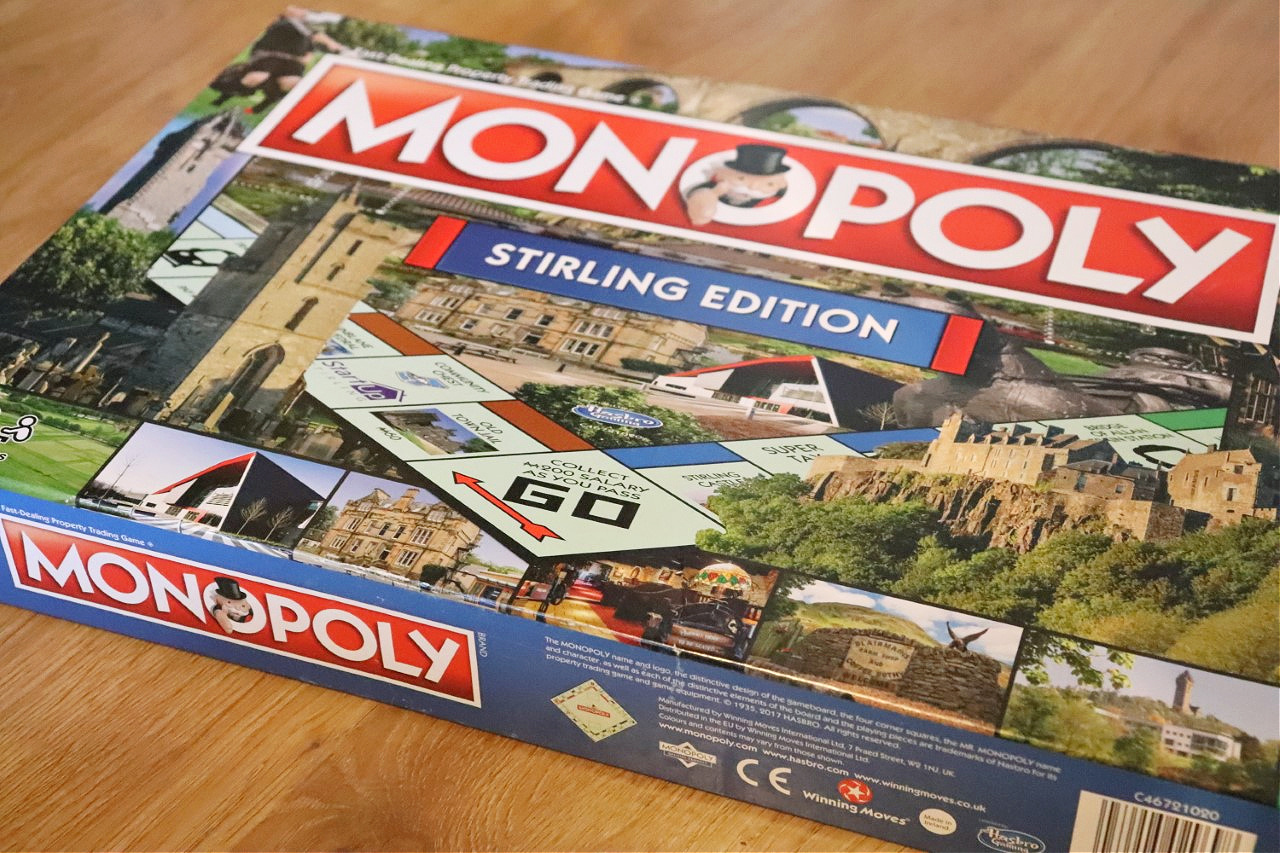 Starting with an obvious choice from our educational board games; Monopoly.  EVERYONE in the UK (and further afield) know about Monopoly and the family dividing ability it has.  However, if you play the game with a time limit it can make it a little shorter and a bit less divisive.  With 1-1.5 hours you can play a decent game and get a few hotels on the board, but without anyone getting too upset.
The game clearly helps children with money counting skills, but also simple addition and multiplication skills.  It's a mix of maths and logic, with skill in deciding when to save your money and when to spend it too.  We have two editions of Monopoly, the traditional game I have had for years and the newer Stirling city version that the kids wanted.
Pop To The Shops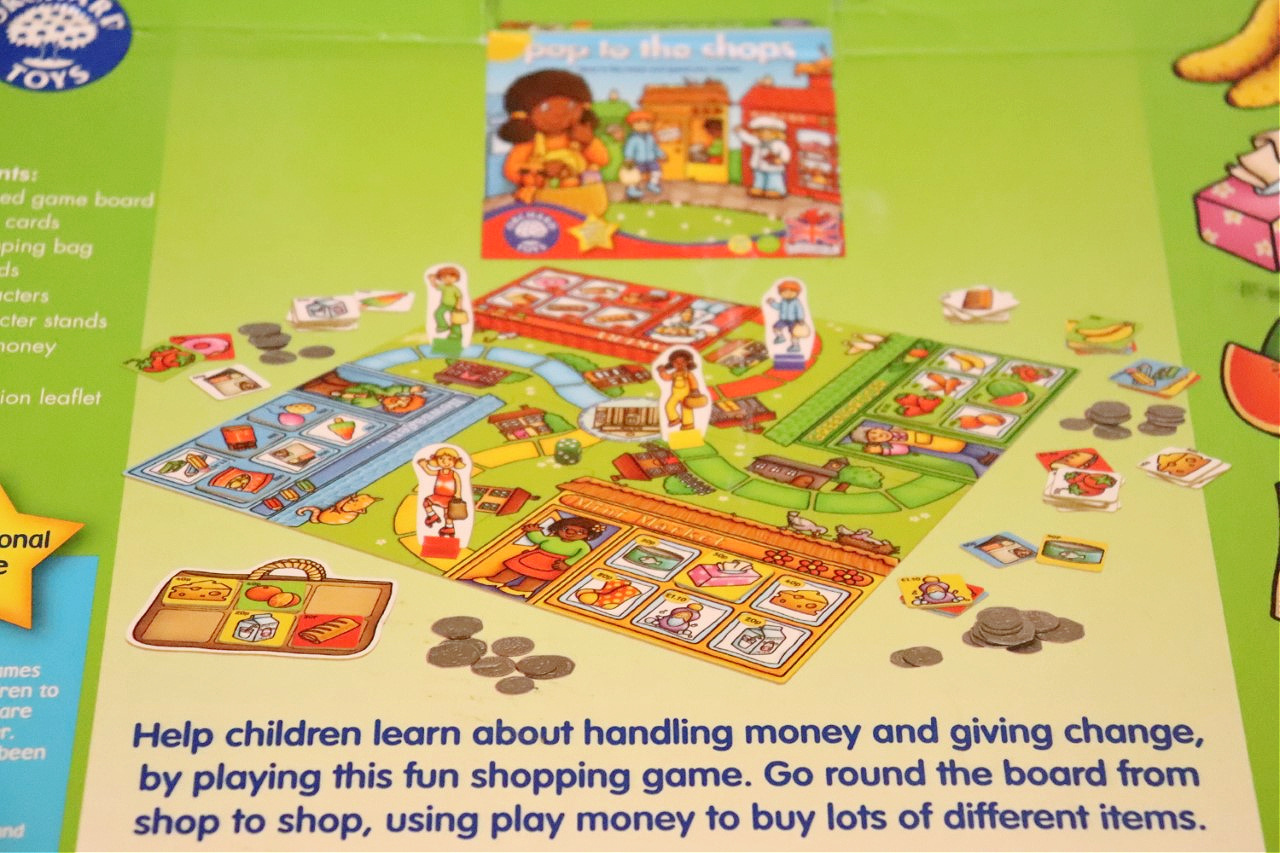 Orchard Toys produce some great games for kids to learn.  A lot of the games are aimed more at younger children, but Pop To The Shops seems to last a bit longer and the kids still enjoy playing it now they're older.  The premise of the game is to be the first to fill your shopping basket with 6 shopping items.  Using the dice you move across the board to the correct shop, gaining money for passing the bank in the middle (similar to Monopoly's 'passing go' system).  The children are required to count coins to buy items and give change to those buying from their own shop.
I would say this is aimed at younger primary aged children, a bit of an early game before they get into Monopoly!  It's a great maths game with basic counting using dice and coins.
Planet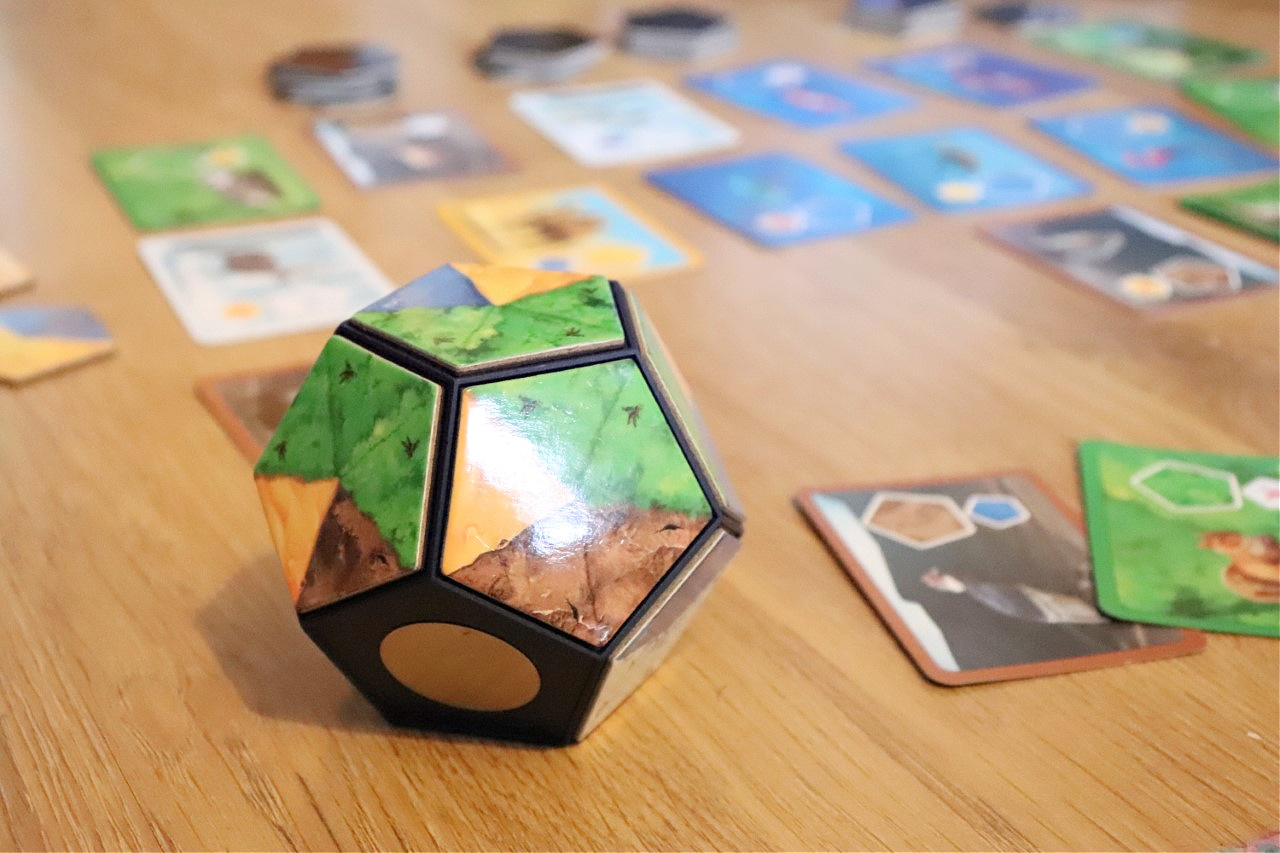 I love this game, but have also been lucky to have won it a fair bit!  The kids are less keen, but that may be because they haven't managed to win so often.  It's a lot about strategy and placing habitats on a magnetic ball. The ball has 12 sides and you take turns to place a magnetic tile onto one of the spots on your planet.  The idea is to have the largest amount of the correct habitats to earn the different animal cards that are placed in front of the players.  It sounds a bit complicated, but it's really not once you get going!
This is great to help with manipulation and correctly counting habitat area, working ahead to see which types of habitat would be useful and what types of animals would be best to gain.  During this the children can learn about different animal habitats and suitability.  They question why certain animals don't like to be beside other habitats and basic maths counting.
Shut The Box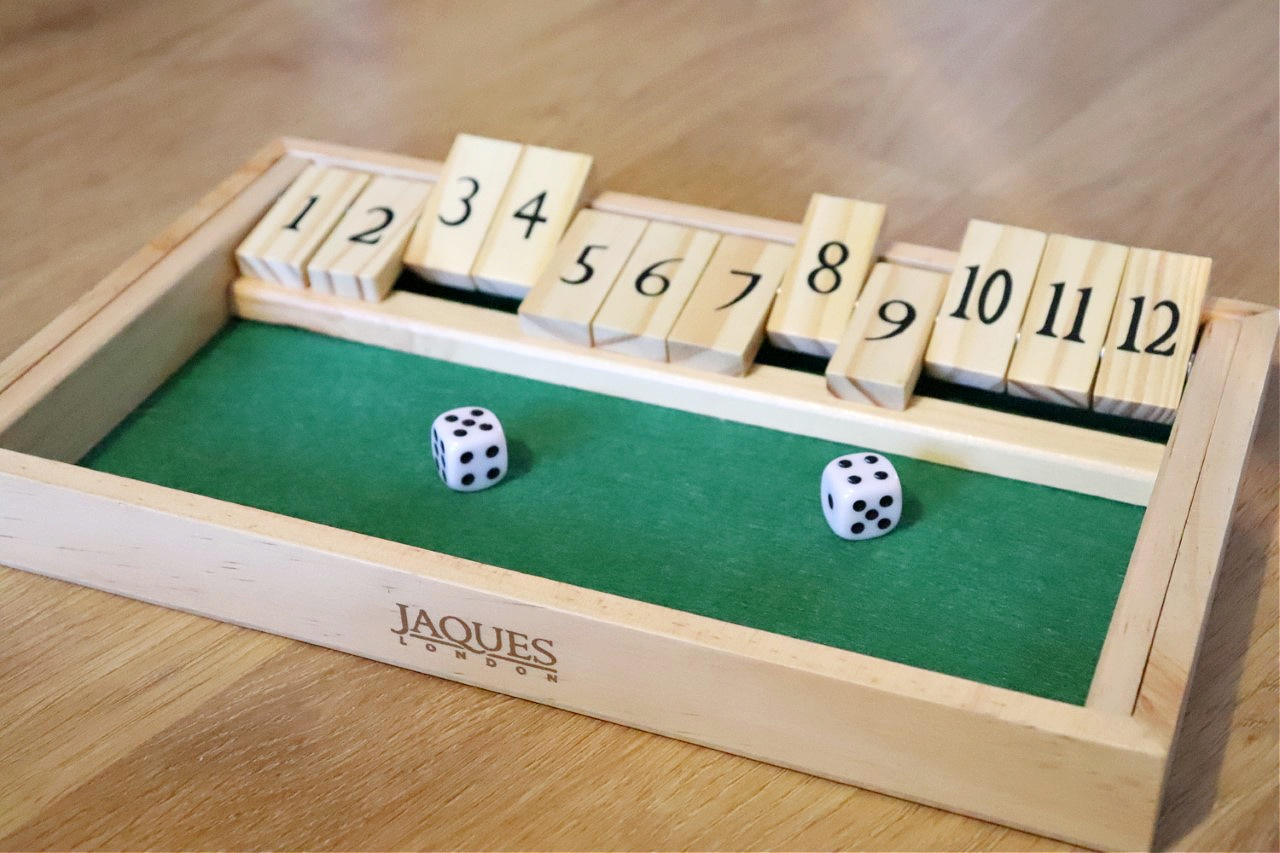 A rather old game that many people used to play as children.  Shut the box is simple.  You roll the two dice and can put down as many of the numbers that are in the up position using whichever way of dividing the total number on the dice as you choose.  For example you may role a 6 and a 3, that gives a total of 9.  You can then put down 9, or 8 and 1, or 7 and 2, or 6 and 3, or 5 and 4.  However you can only put down any numbers that are still in the up position.  After a few roles of the dice you are limited to the combinations of numbers you can put down.  Eventually you roll dice and can't put any numbers down.  This is when your turn ends and you add together the remaining numbers to get your score.  The winner is the person with the lowest score.
We love this game for basic maths skill and that it can also be played alone to beat your own score.  There is some skill involved in which numbers to put down first, with the higher numbers being preferential to put down and lower your score.
Sleeping Queens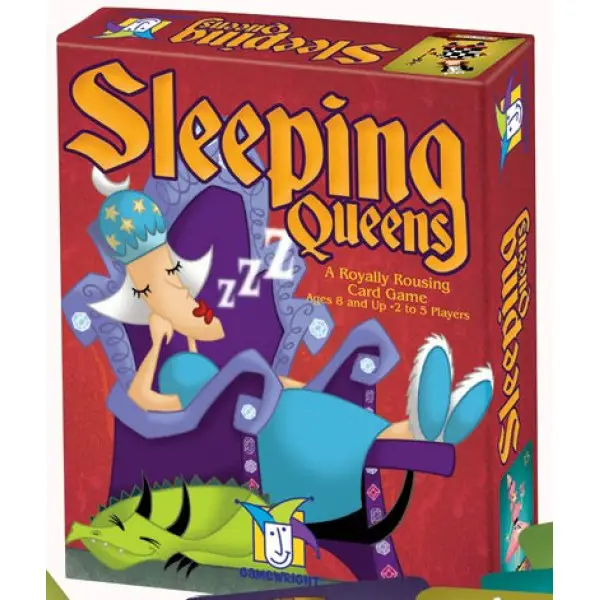 The first card game in our list, Sleeping Queens is a great one for all ages.  Our youngest started playing this game at 5 years old and it has been a favourite of his ever since.  The game is simple, you have a hand of cards and the aim is to 'wake up' (turn over) 5 queens or 50 points worth of queens.  The first to wake the correct number or get the points wins.  However, to get the queens you need to have a king in your hand and protect your queens from knights and spells with dragons and magic wands!  It's such an easy game to play and very portable being a card game too.
The educational side is simple maths.  You can put down numbered cards to pick up new ones (hopefully revealing a king).  But if you can make a sum using 3-4 cards then you can pick up more cards.  For example you could lay down a 3, 6 and a 9 as 3+6 = 9.  The player does need to say the sum out loud and then can pick up the number of cards they place down.
Kingdomino
Kingdomino is a tile laying game, similar to Catan, this is fun for kids and adults to play.  Through the game you build your own kingdom by claiming different tiles and placing them in a 5×5 grid shape.  To gain points you need to lay tiles that have crowns in your kingdom and you get points for the number of tiles multiplied by the number of crowns in that habitat.  So it's quite easily a maths game, practicing multiplication and addition to work out the winner of the game.
Ticket To Ride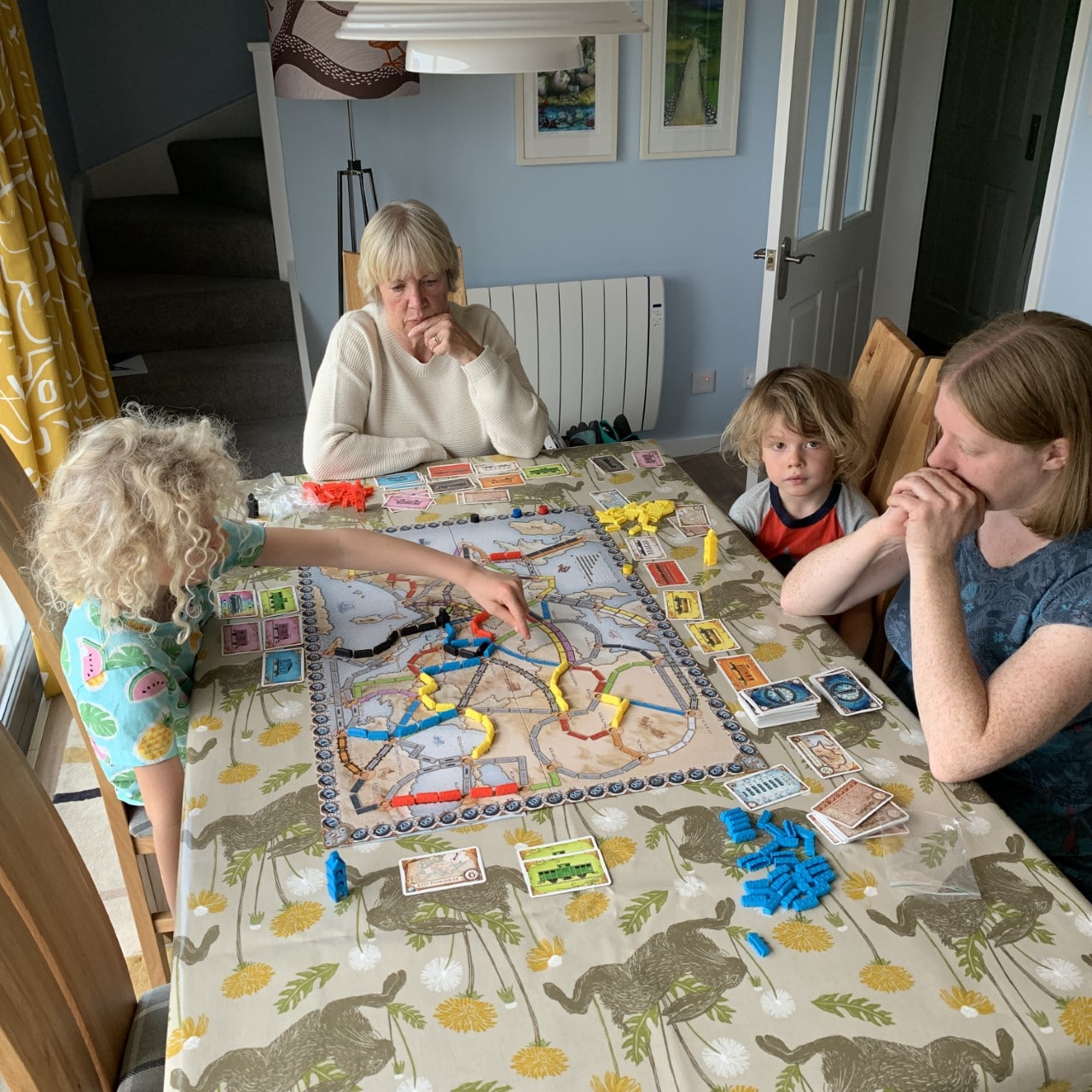 My eldest has always been a huge train fan and he's loved playing Ticket To Ride, although I have to say it can take 1-2 hours to play.  Children 7-8+ can play on their own, all their tactics may not be quite as good yet (be kind!).  There's a variety of rules, but the basic premise is to complete journey's on the board from one city to another according to the ticket cards you have.  You get points for the number of train carriages you place down on each turn and extra points for completing a journey.
This is a clear mathematic and logic game, however as the maps are based on actual countries then it also has a lot to do with geography.  Our game here is the Europe version and although the city names do not quite match present day names, it's fairly easy to work out their current names.  You can use the game to work out where you are in Europe and discuss the different countries with the kids.  There are lots of other different boards from Nordic countries to USA and Asia.
Maponimoes
This is another geography themed game and the second card game in the list.  Each card has a different country and the flag, the aim of Maponimoes is to place all your cards on the table next to countries that are actually beside them in reality.  The countries in our set are all from the European continent and have the countries they are beside listed around the edge of the card (you can get different continents and country games).  This makes it a little easier to place the cards.  When the cards are all laid down it doesn't form a map of Europe as cards don't have to be place on the correct side of a country.  But it does help children understand the matching flags and countries, with some knowledge of which countries are next to each other.
Horrible Histories Board Game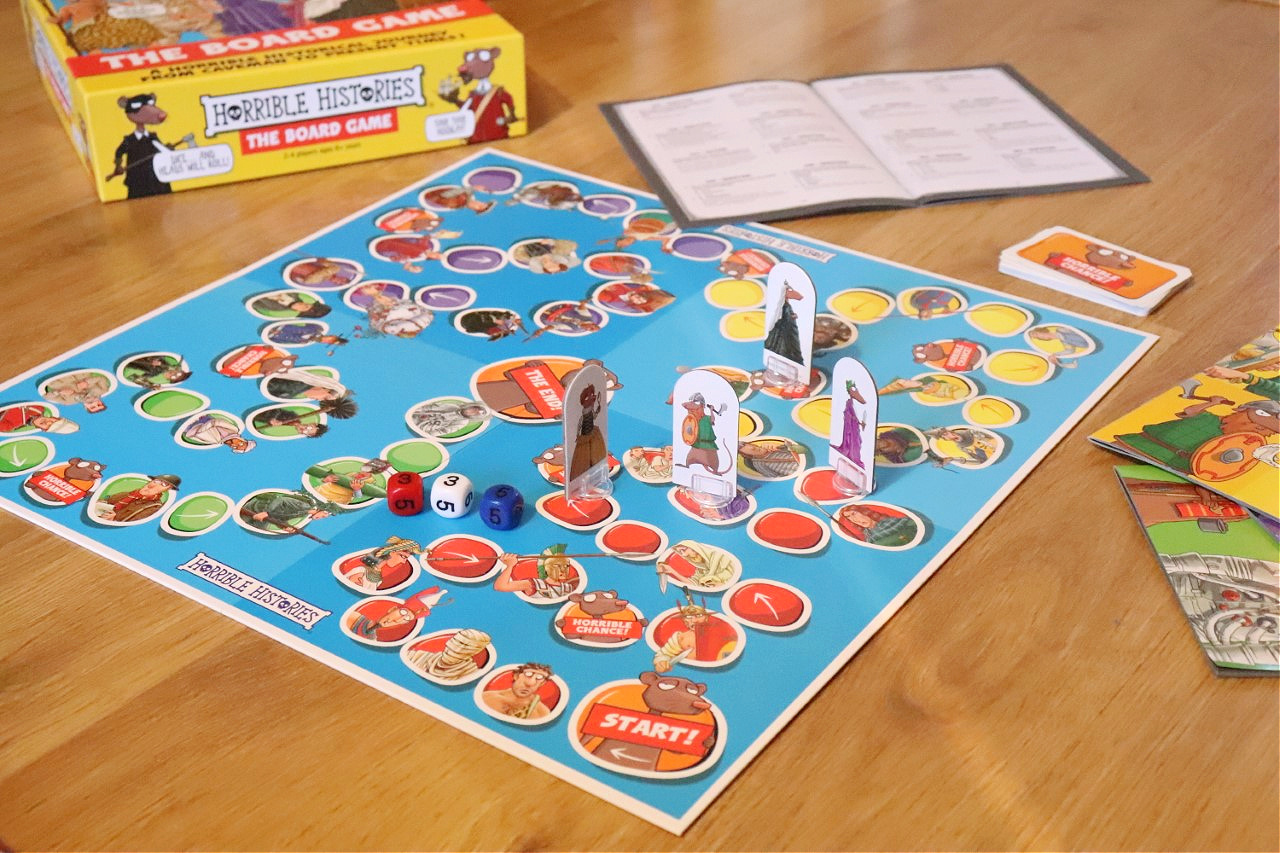 Horrible Histories is the only educational history based board game we have, but it's actually a great one for older primary aged children.  The game board is basic, you follow a path and either answer questions in the booklet dependant on the dice numbers.  There are a lot of questions in the books so you can play this a fair bit before you get the same questions.  Being a horrible history game many of the questions are meant to be gory or disgusting and you certainly won't know them all.  It brings some of the famous characters of history to life and some interesting historical facts from the UK and Europe.
Sushi Go!
The aim of the game Sushi Go is to get the most points using combinations of cards with different types of sushi.  It take a little time to work out which combinations of sushi are the best for points.  There are 3 rounds in a game and at the end of each round you need add up the points.  So it's a good game for learning long addition and also multiplication of smaller numbers.
This is a fun and quick game, great for maths and also for those who like sushi!
Hexago Continuo
Hexago Continuo is the game that is a bit like heaxagonal dominoes.  You get points for any matching numbers or colours and double points if both match.  It's fairly easy to understand, but the tactics can take a bit longer to get the hang of though!
Of course the main educational aspect of this game is maths, with plenty of scope for addition skills.  For younger kids it is definitely useful to have a pen and paper available to help with addition and keeping track of scores.
Times Tables Heroes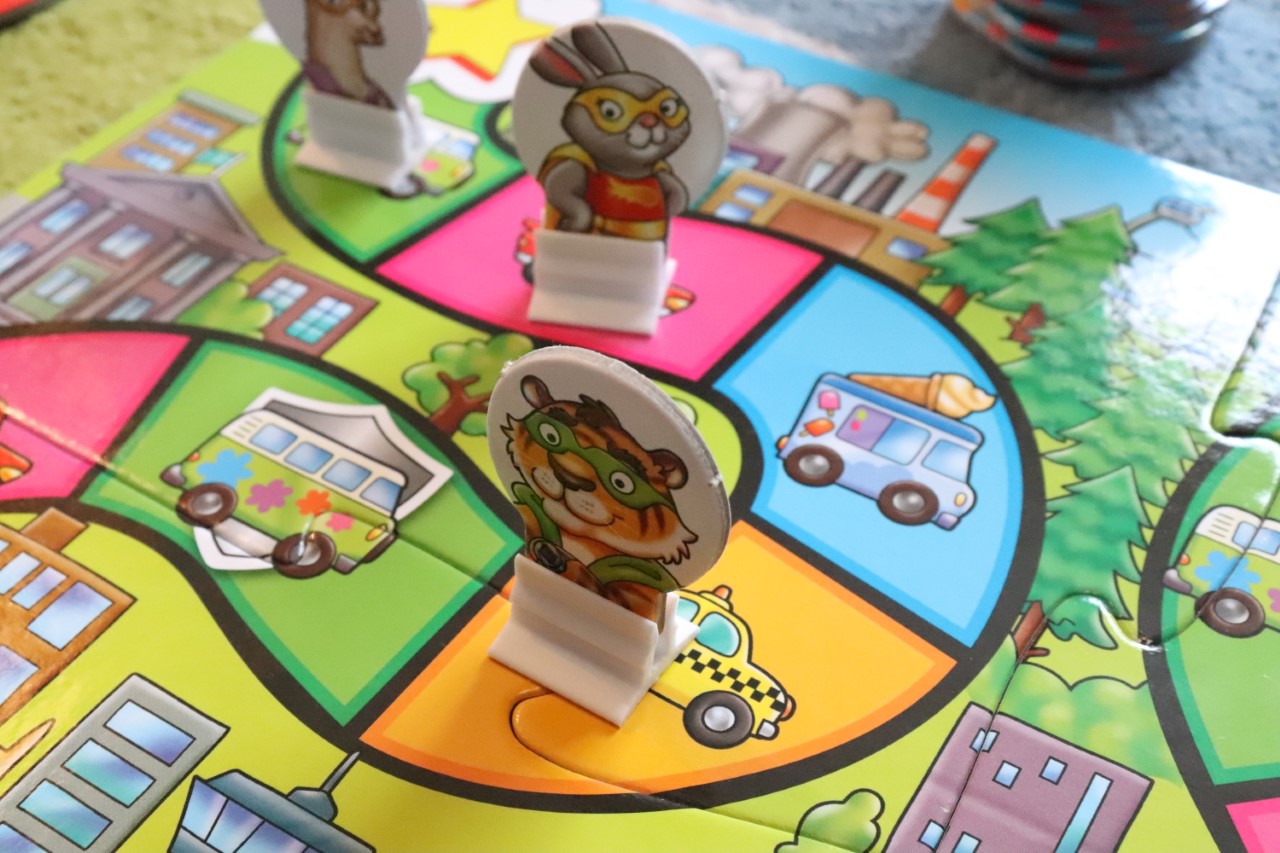 Times Tables Heroes is another Orchard Toys game (they have lots of great Educational board games).  It's a simple game, but great for kids practising times tables.  The aim is to be the first person to get to the end of the road and beat the robot monster.  Each character has special super powers which the players can use to defeat monsters and fix problems in the city.  This make it particularly fun for imaginative kids!
Instead of rolling dice to move forward, you spin two discs multiply the 2 numbers to work out which coloured square you move to next.  You can choose from an easy disc with just 2, 5 and 10 times tables, or from another disc with all the tables.  For those who are still learning there is also a board with all the answers to the tables to check they are right.  It's a great game for primary aged children.
Battleships
At first glance you could be forgiven for not thinking Battleships is very educational.  It's just blowing ships out of the water? But it's amazing to help children work out how to read maps using grids and coordinates.  In battleships you choose the letter and number on the grid to send a missile at your opponents ships.  This is easily transferred to map coordinates too.  My son easily transferred these skills across to maps at age 8, mainly as he was very proficient in playing battleships!
So battleships is great for geography and map reading skills.  Even adults enjoy playing it, so I would say this is suitable for all ages.
Wingspan
Wingspan is one of the games we don't have yet, but I really want to get at some point!  The main game is based on North American bird species, although there are now several expansion packs, including one for European bird species.  This looks like an awesome game to learn about different bird species, although it does appear to be aimed at children around 10+.  I imagine younger kids could probably play it with help.
I've never played, so I don't know the rules myself.  However, reading about it online you are a bird enthusiast looking to attract different bird species to your network of wildlife reserves.  You gain food tokens, lay eggs and expand your bird collection (the tiny eggs look very sweet!).
Of course this game is perfect for learning about ecology and birds species.  I'm hopeful that when we finally get this game the kids will get quite proficient at identifying birds and have more interest in spotting them outside.
Evolution The Beginning
I love the look of Evolution the Beginning.  It's aimed at primary aged children and is brilliant for bringing up discussions on evolution.  You can learn what features are useful in staying alive and evolving into new unusual animals.
This is clearly a great science and history educational board game, discussing how animals have evolved and how future animals may evolve to their environments.
Pin Kids Educational Board Games For Later