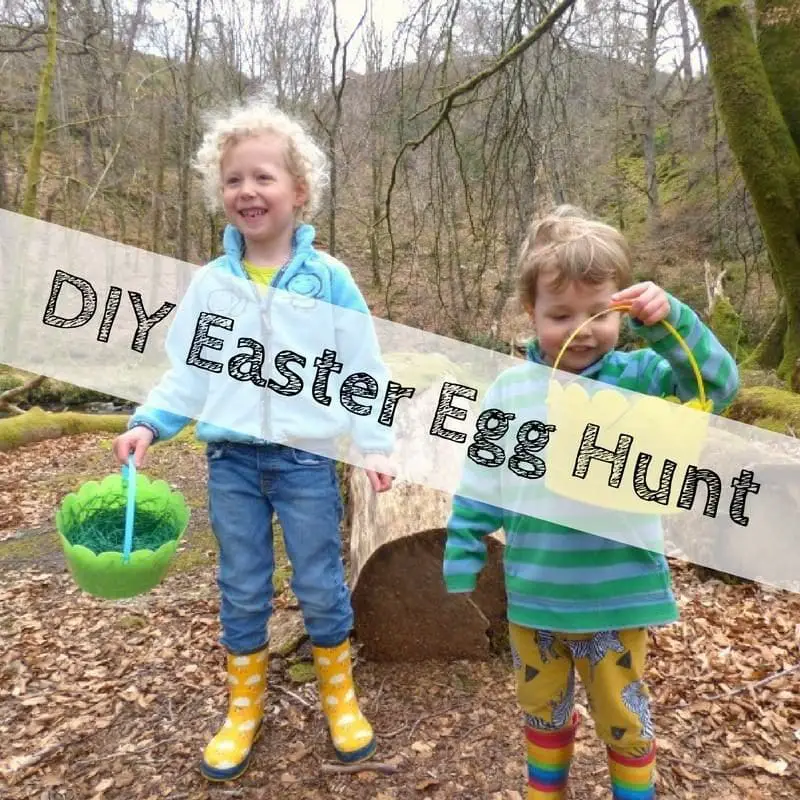 Last week we were challenged to our own DIY Easter egg hunt by Cadbury's. So on Sunday we set out to a local woodland area and whilst the boys played by the river I hid the eggs in the trees.  A quarter of British families say taking part in Easter Egg Hunts is their favourite thing about the Easter holidays.  It seems that we are no different, we love egg hunts!
What You Need
There are some obvious items that you will need for an Easter egg hunt and first is definitely the chocolate. We had a variety of chocolate eggs, from mini Creme Eggs to small hollow Cadbury chocolate eggs.
You are also going to need to something for the kids to collect their goodies along the way. You can use anything from bags to baskets to carry the loot, although make sure they are deep enough so the eggs don't fall out. We filled our baskets with green shredded paper to make it look a bit like grass or a birds nest.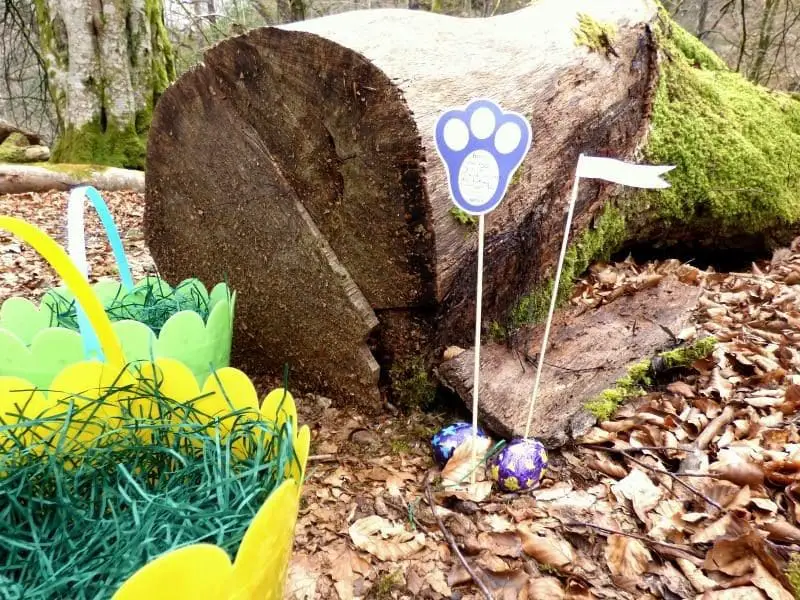 Clues are optional, but they are excellent at extending a hunt for older children. For younger children it may be easier to just hide the eggs in plain view for them to gather. We printed out a few of the pre-written clues from the Cadbury website and made up some of our own clues too. I was impressed at my husbands amazing clue creating abilities!
Also optional is a 'grand prize' at the end of egg hunt. This could be a larger egg for each of the children or like us a bowl full of different types of chocolate eggs. I made a papermache bowl in the shape of a cracked egg, which the boys were ecstatic to find.
Setting Up
The most important thing to remember when setting up the hunt is to remember where you hid the eggs. It is a good idea to write down where all the eggs are hidden, especially if you want to avoid tears when they appear to have disappeared forever!
If you are using clues, follow them the same way as the children will. Put the first clue in the starting position, read that clue and then put the next clue where it tells you and so on. I also left a couple of eggs at each clue for the children to find.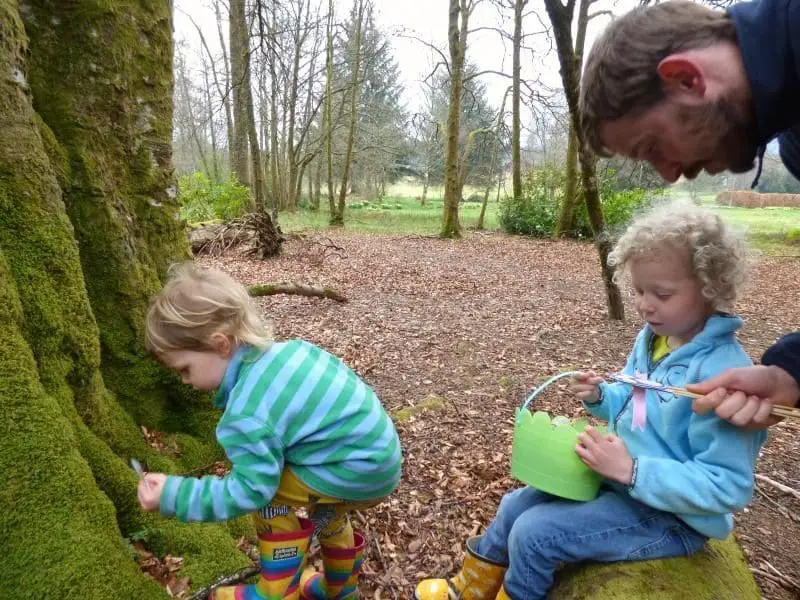 Don't forget to hide the 'grand prize' fairly well so they don't find it before the end!
Let The Fun Begin
Call the kids over, hand them their baskets and let the fun begin! As neither of our boys can read yet, daddy read the clues for them and they had great fun racing to the next stop to fill their baskets and find another clue.
I loved watching them race away across to the next clue and the delight on their faces as they found yet more chocolate. Of course they were clearly amazed at the giant cracked egg bowl of chocolate eggs, although they know that that is for sharing with mummy and daddy, ha ha!
We vlogged about our Easter Egg Hunt, watch the video below to see what we did and head over to You Tube to comment and give us a thumbs up!
Fun Facts
As it's Easter and I love chocolate and interesting facts, here are a few great Easter themed facts for you:
Over 255,000 Cadbury Easter Eggs are created every day at the Bournville factory! I can't believe it's that many, I wonder what the average number of chocolate eggs per person is?!

All of those Cadbury eggs created in just one day at Bournville, stacked one upon another would be as high as 98 Eiffel Towers!

The first Easter egg made by Cadbury appeared on the production line in 1875. They consisted of a dark chocolate shell, with a smooth shell and decorated with chocolate drops and dragees.

The Creme Egg is the most popular Easter egg sold by Cadbury, closely followed by my personal favourite, Mini Eggs.
Are you having an Easter Egg Hunt this year?
Pin For Later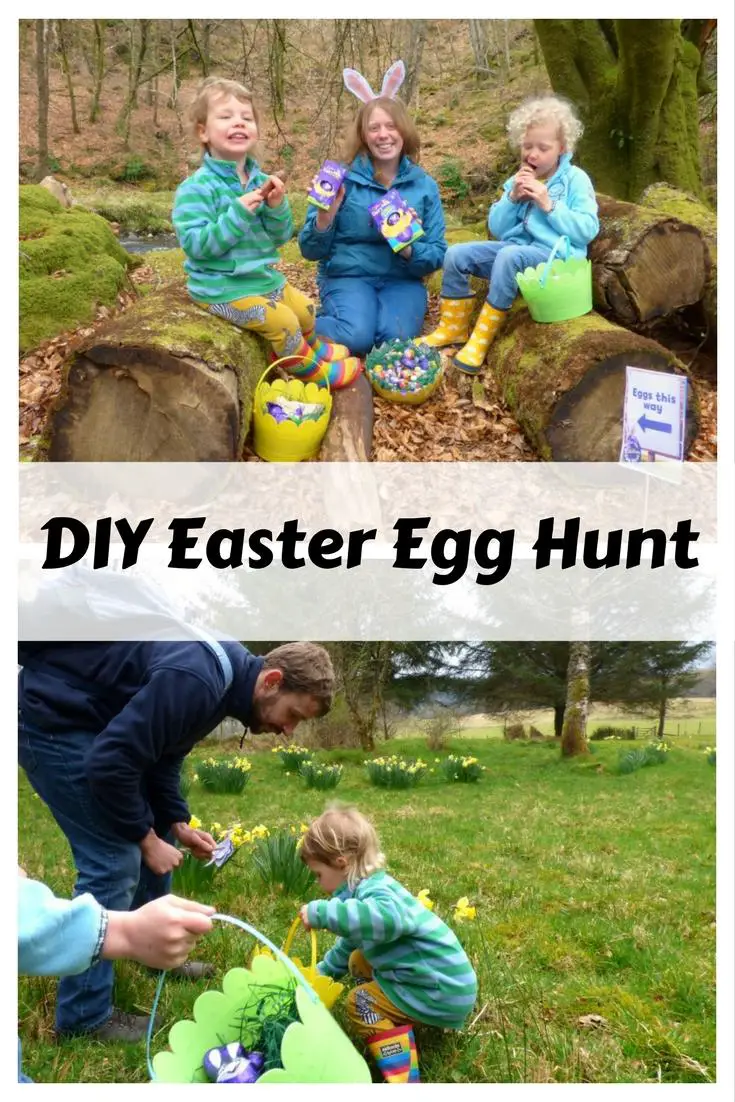 * This is a collaborative post.