May contain affiliate links.
Ancient China For Kids
Over the last few days the children have been working on an Ancient China mini project.  It's given us a bit of a focus during this difficult time and we're going to continue on with other projects. Their next choice is Space.  Ancient China for kids is pretty simple, there's so many different things you can include.  We chose to stick to the Silk Road, Great Wall of China and Terracotta Warriors.  But also added in a few bits about pandas and modern China too!
Books To Read
I've bought a few of the Usborne See Inside books over the years and was quite happy to spend a little money on the Ancient China see inside book.  It's great for getting across the major points of the topic; with information about the different emperors, how they lived, the Silk Road and the Great Wall.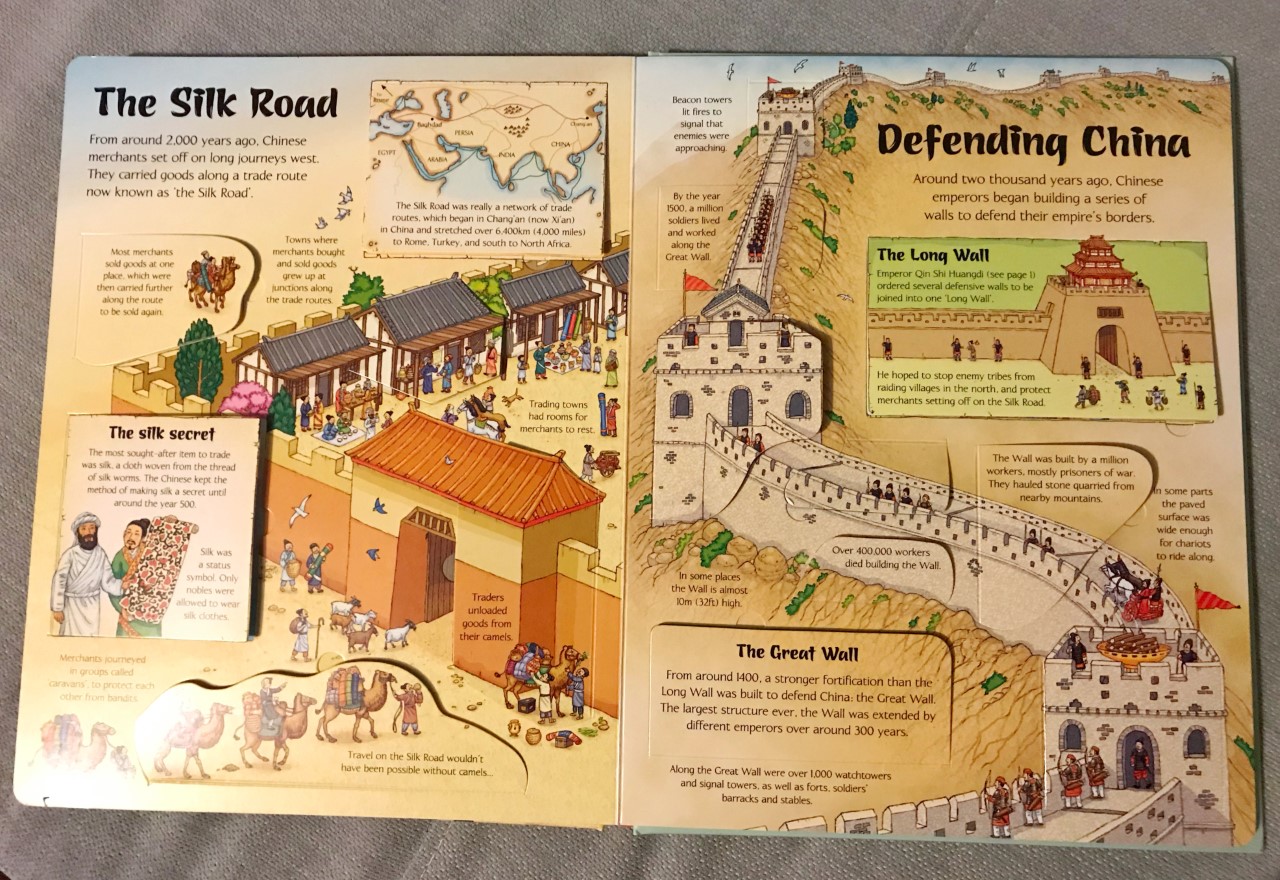 We have a couple of other Chinese books and one of my favourite is Julia Donaldson's version of the Magic Paintbrush.  It may be aimed at younger children, however the rhyming and engaging story is actually quite good for inspiring children's imaginations.  My 6 and 8 year old's still love the book, even if it's quite short for their age group!
The next book I would recommend is Ruby's Wish, a book set in China about a young girl called Ruby.  Ruby wanted to attend university like the boys in her family and not get married as was expected at this time.  A very inspirational story about never giving up and great to show that girls shouldn't be held back.
Finally is the story of the Chinese Zodiac, with beautiful illustrations.  The story is well know, but this particular book is set out beautifully with the different illustrations of the animals and emperor.
Online Resources
There are a huge amount of resources you can find online.  We chose to watch several YouTube videos about the Great Wall and Silk Road, some were better than others!  These are our chosen Ancient China for kids videos that we watched on YouTube:
This Ted Ed video about the history of the Great Wall of China was both informative and fun to watch for the kids.  They also like this other Ted Ed video about the Silk Road.  Another old but good silk road video was this one from World Ahoy.  We also learnt a little about Panda's from this short video.
We also created our own China Lap Books using Twinkl's resources.
Printable Sheets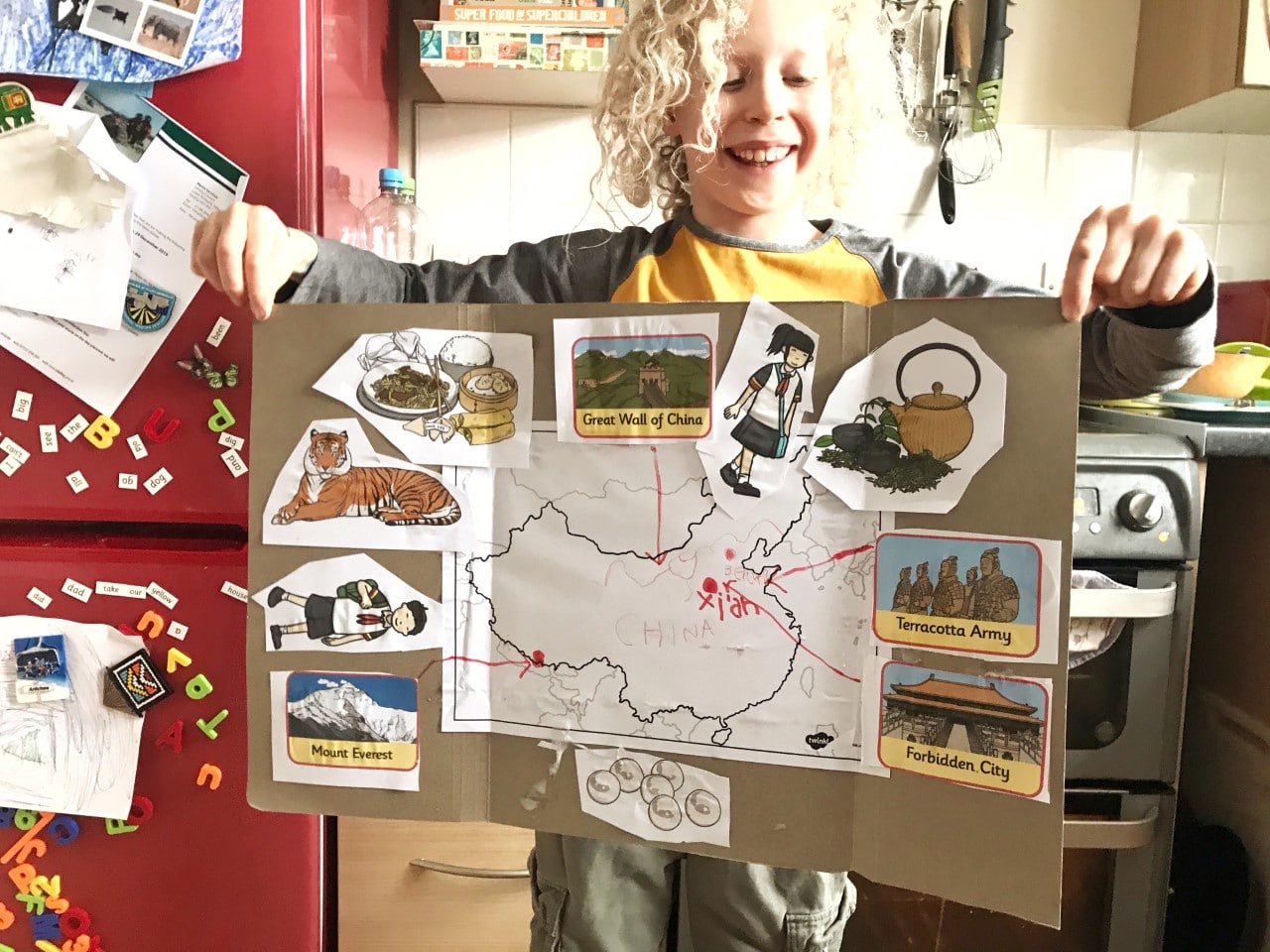 Using the lap book printable sheets from Twinkl the children made their own style of lapbook with a map of China and showing locations of famous sights.  You can add more information by adding more written sections.  However, neither of my two are very interested in writing at the moment.  So it's good to get them to even write down a few names and places. The base for the lapbook is a carboard pocket folder that I've cut open into a book shape.  And yes, the Terracotta army and Forbidden City are the wrong way round here, we've corrected it since!
Art, Crafts and Food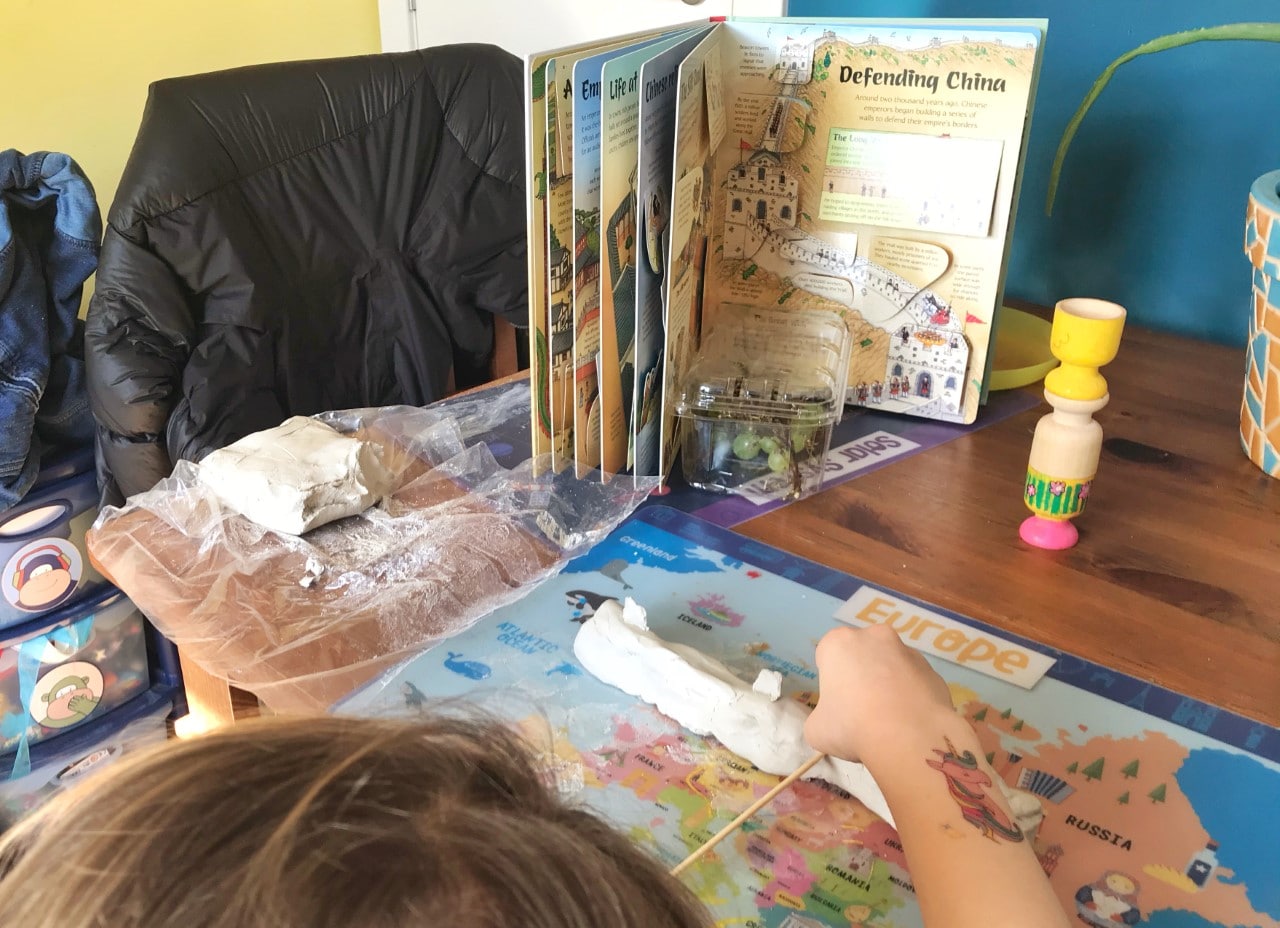 We learnt about Chinese lettering and favoured colours, then whilst listening to Chinese music the kids created some crafts.  First they made their own Great Wall's with the youngest making one out of clay and the eldest using small wooden blocks which he painted to look like the wall with watch towers.  Littlest also made his own panda out of clay too, which looked pretty cute!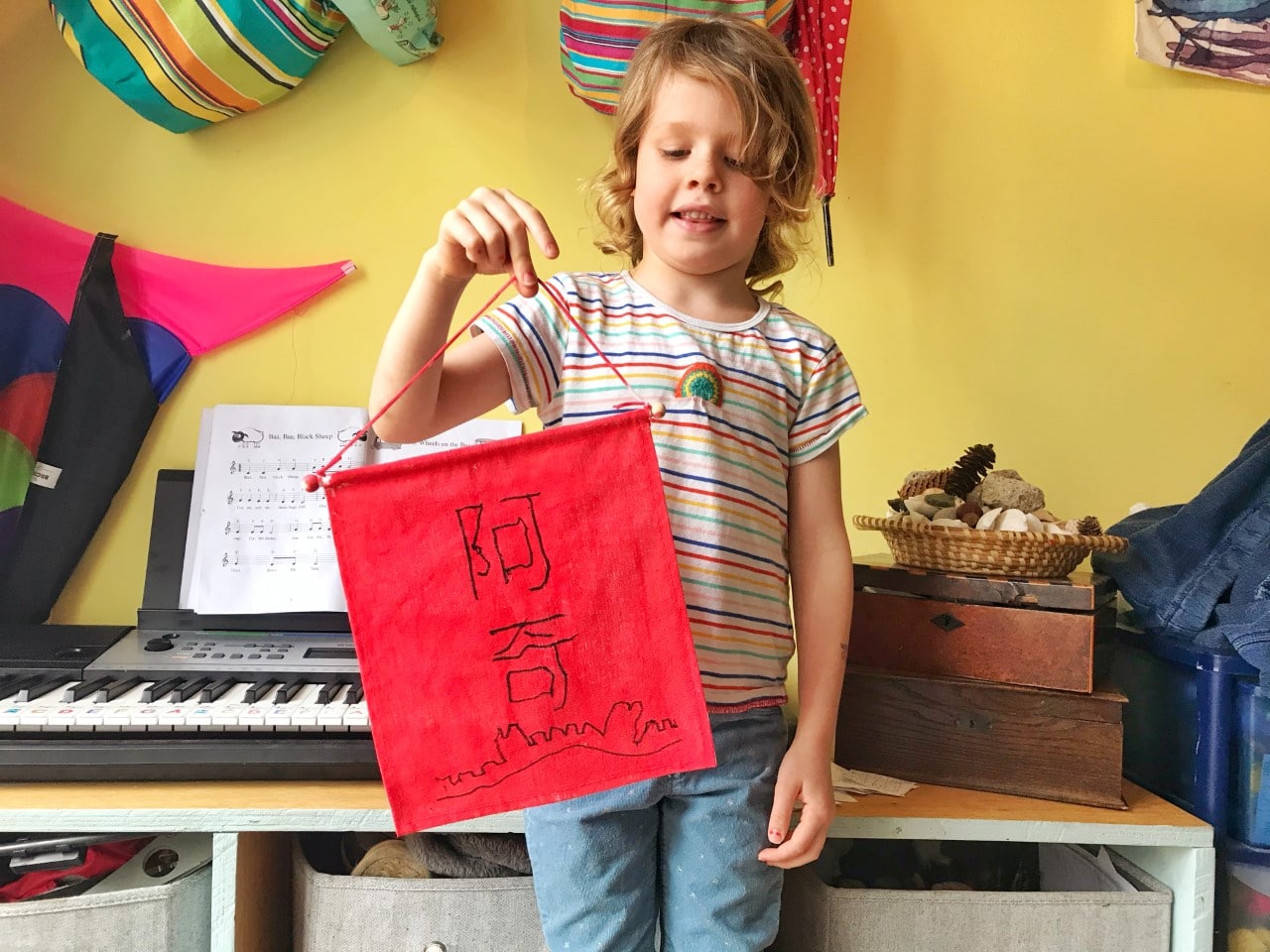 Both my kids love Sushi, not technically chinese, but as it is a rice and fish dish we used that as a food for this topic. Mainly as I couldn't get anything to make dumplings or similar during the pandemic lockdown and already had sushi ingredients in the cupboard!
Next the kids made their own banners which we bought from Baker Ross, painted red and once dry used a black paint pen to draw the chinese letters and a picture of the Great Wall of China.  They especially loved this one, both have them hanging in their rooms now.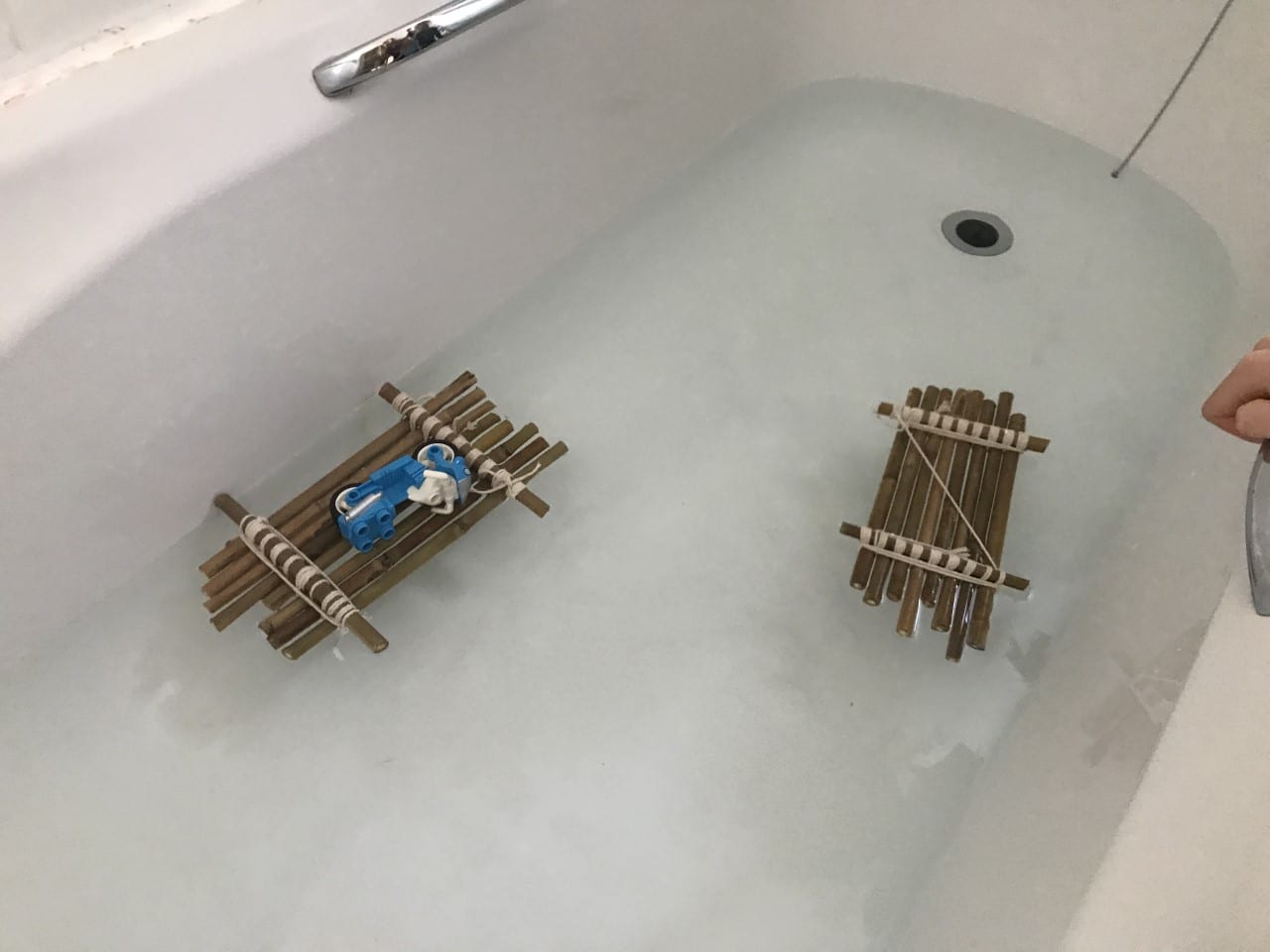 The final craft was also a bit of technology related to Chinese modes of transportation and Panda's!  The kids made bamboo rafts with help from their dad, using a similar technique to traditional ones on rivers in China.  Plus bamboo is eaten by panda's, so double points for this craft!
Pawprint Badges
At the end of all the Chinese and panda related fun both kids were awarded with their Pawprint Panda badge.  The badge comes with a challenge pack, for children my age they are meant to do 4-5 different tasks.  We added in a few of our own too, so they learnt about both pandas, modern and ancient China.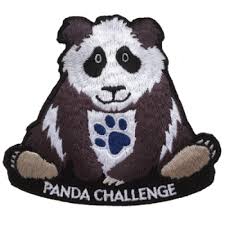 They love collecting their badges!
Pin For Later