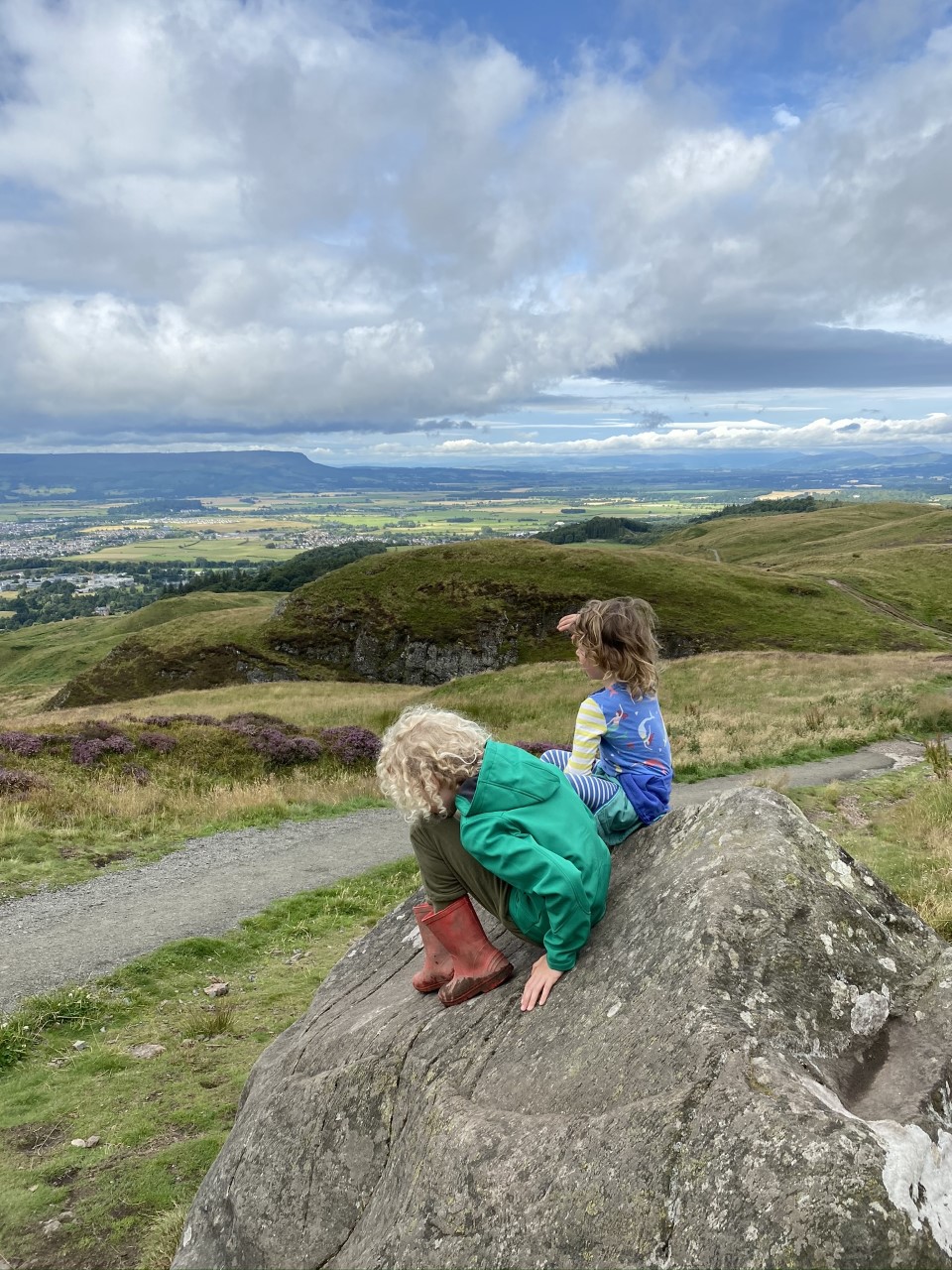 Dumyat Hill Walk updated in August 2020
Dumyat Hill Walk
We have visited Dumyat many times over the years, our first visit with both of the children was back in May 2016.  The children were aged 2 and 4 on their first ascent, with littlest being carried a lot of the way up the hill.  Dumyat hill walk is a great one for younger kids as it really doesn't take long to get to the top.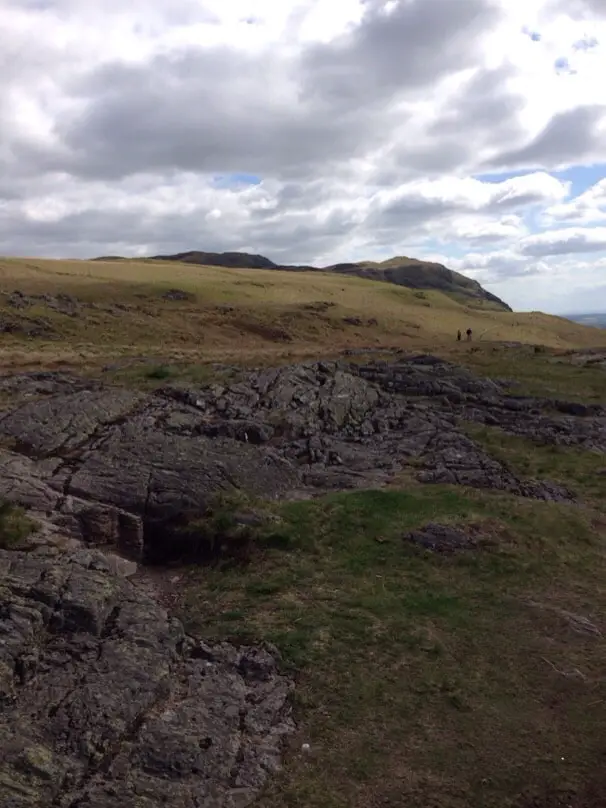 The Climb Up, Dumyat Hill Walk
Dumyat is a small hill in the Ochils, only 418m high, but it still has amazing views across Stirlingshire and Clackmannanshire.  It's situated at the Western end of the Ochils and can be climbed from a small car parking area just over 150m high.  This makes it an easier climb for little legs.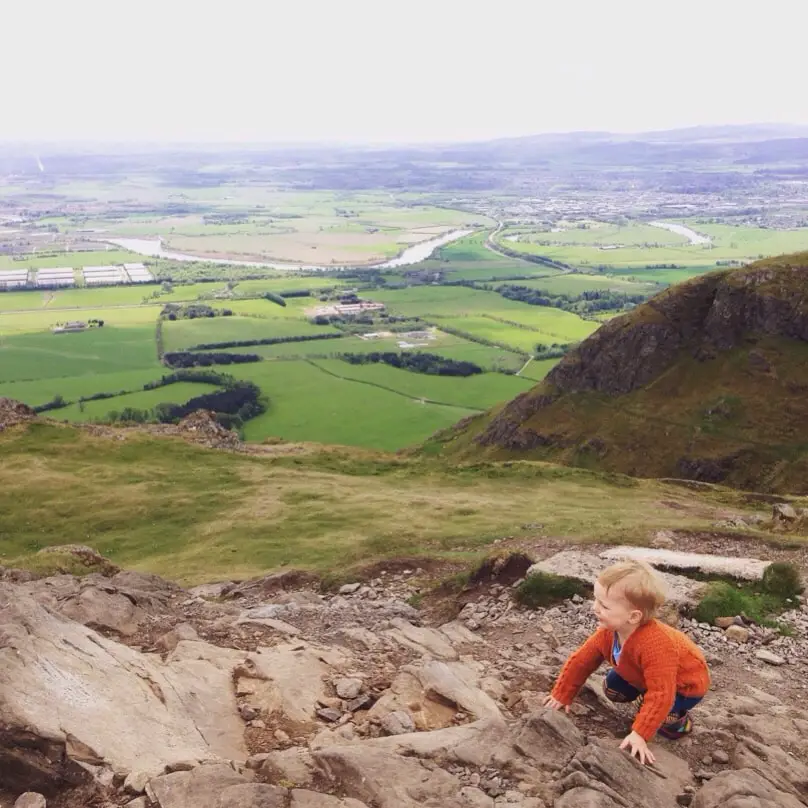 When littlest was 2 he decided he wanted to walk all the way himself, 'my walk!' may have been shouted a few times.  He did manage a fair uphill section from the car, but he was rather slow.  I knew if we walked too slowly his big brother might flag and say he was too tired to go on.  So after the first half hour of walking uphill, we stopped for a snack and I put him on my back.  Distracting him by showing him the dogs and bikes going past.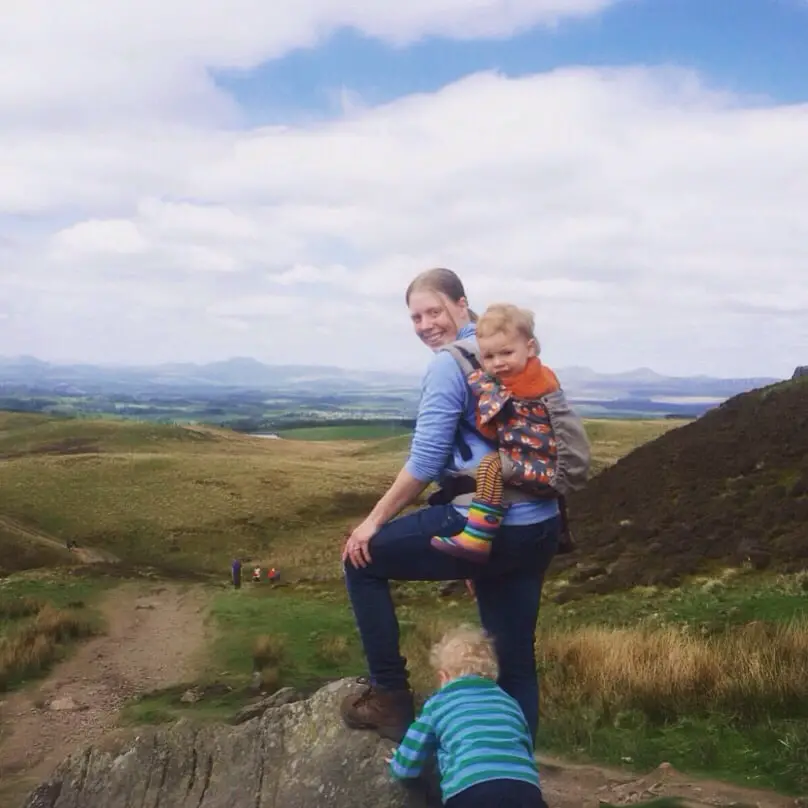 At 4 years old most children can make it up Dumyat themselves.  Then at 6 years old they will probably be faster than their parents! Running ahead of them up the hill!  On our original walks the path was very boggy in areas, but the path has been upgraded in recent years.  It's now a gravel path almost the whole way up.  With just a few rocky sections nearer the top.  A lot better for the environment, although not as exciting for my kids (they do love a squelchy bog!).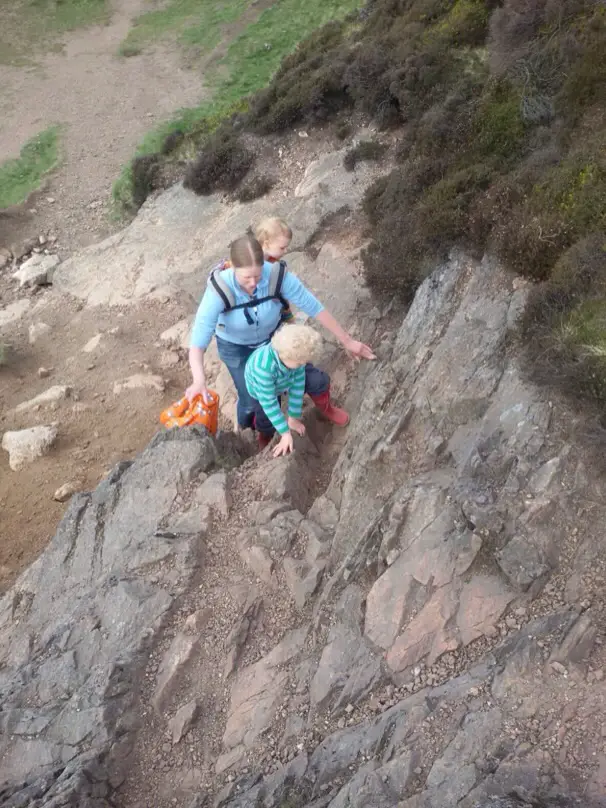 Views From The Top
At the top of Dumyat there is a trig point and metal beacon (erected for the Queen's Silver Jubilee in 1977). There's plenty of space to have a picnic at the top or shelter a little further down from the top out of the wind.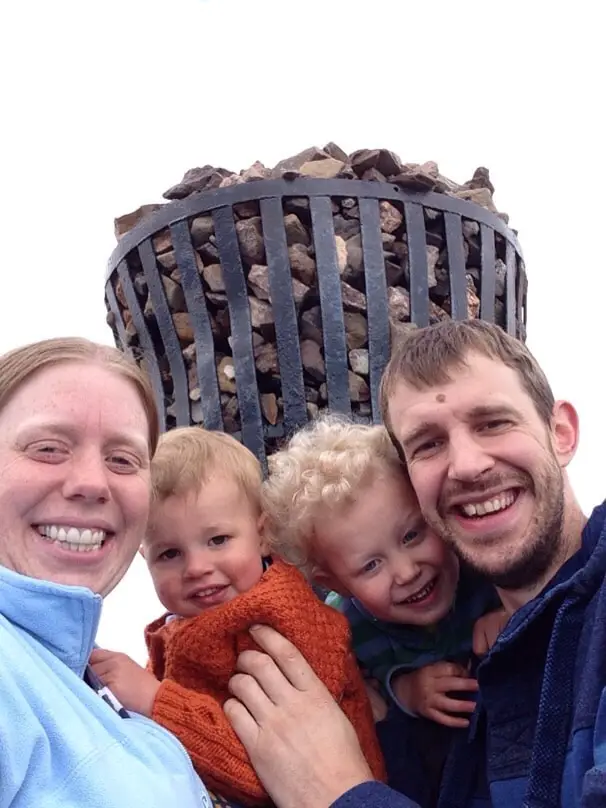 The views at the top are fantastic, you can see a long way on clear days. Take the time to spot local landmarks such as the river Forth, Wallace Monument and Stirling Castle.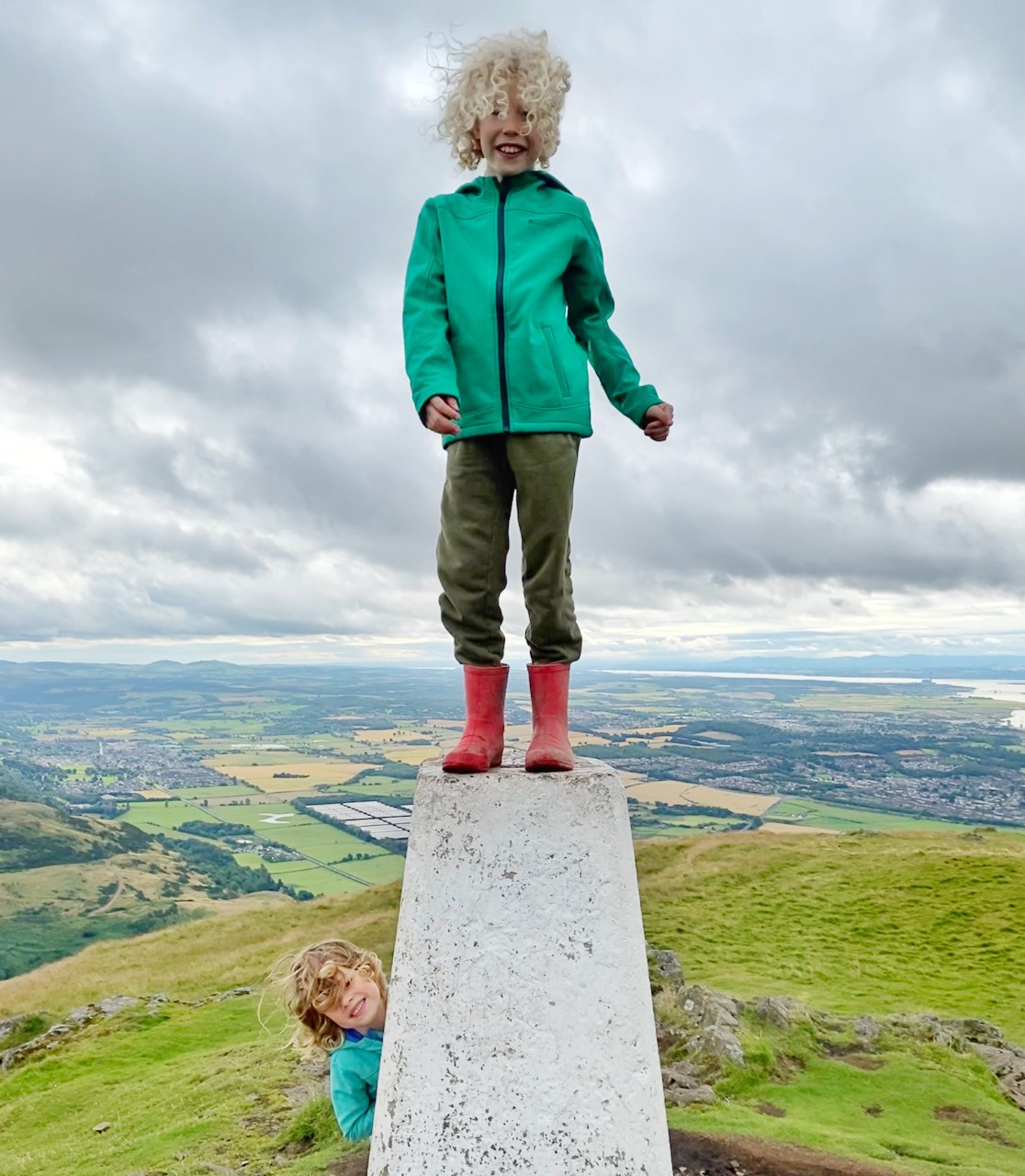 The Way Back
The walk down is easier for little legs, our then 2 year old walked down most of the steeper part.  However, you may find it easier to pop them on your back for a bit more speed down the hill.  At 2 years old our littlest spent a lot of time 'fixing' the grass 'train tracks' by sprinkling more grass in the worn areas.  So I put him back in the Tula carrier where he fell asleep!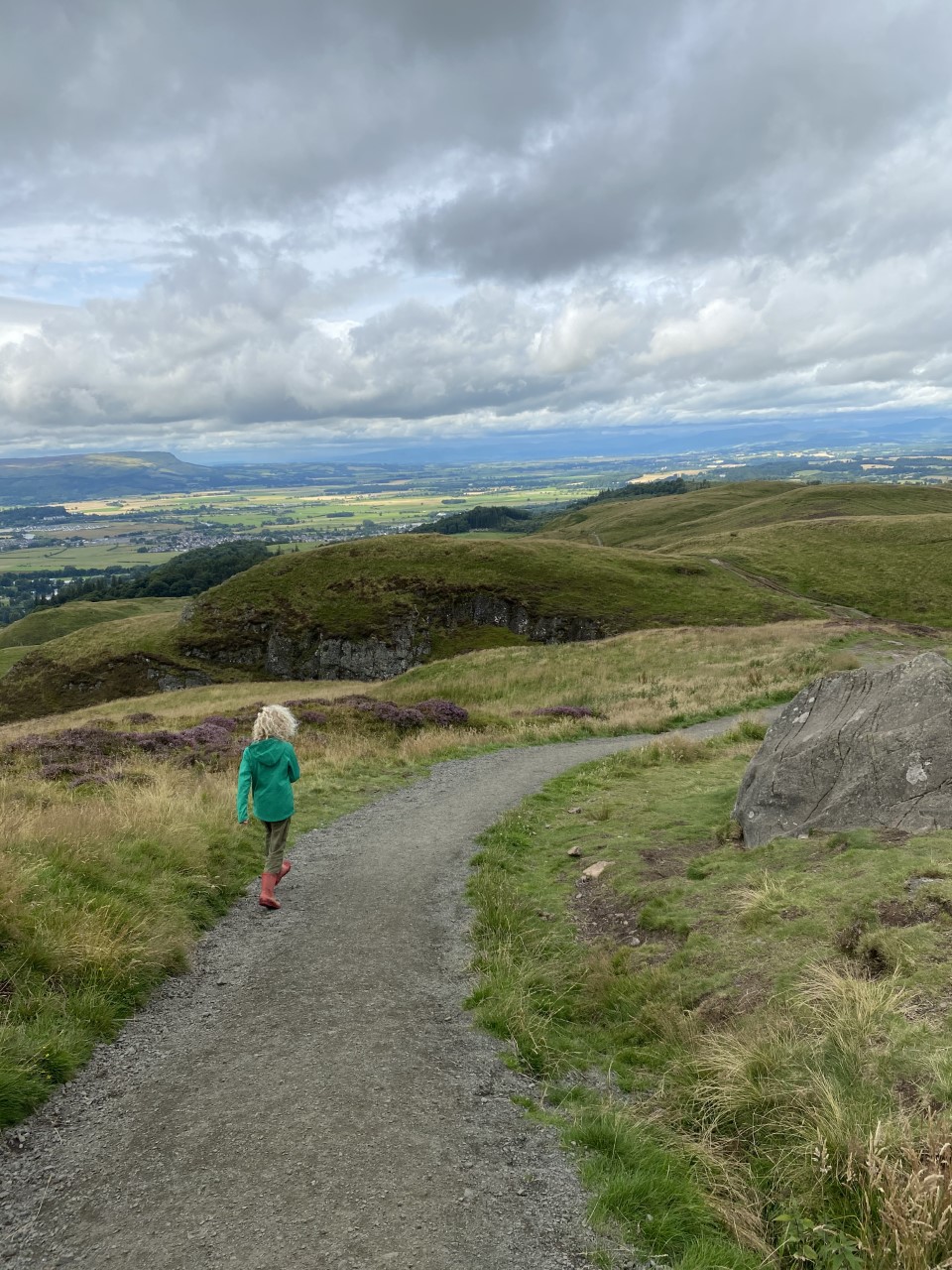 Dumyat is a great hill to get younger children used to hill walking.  It's also a good walk for an early morning or late evening as it only takes around 45 minutes for older kids.  It will probably take another half hour or so for little ones.  The perfect way to tire them out before bed!
Pin Dumyat Hill Walk For Later