Extremely late home education diary this month as I completely forgot I hadn't already completed this post, whoops! You'll find it fairly brief (as I'm working out everything we did from photos!!), but hopefully it will give you an idea of our typical summer months.
Science
We've travelled around to various places in Scotland this month, including the wonderful island of Skye. Whilst on Skye we stopped off at Staffin to spot the dinosaur footprints left in the rock. We could tell the difference between the sedimentary clay-like rock and harder rocks around them. The kids had fun looking at the rocks trying to decide if it was a footprint of not!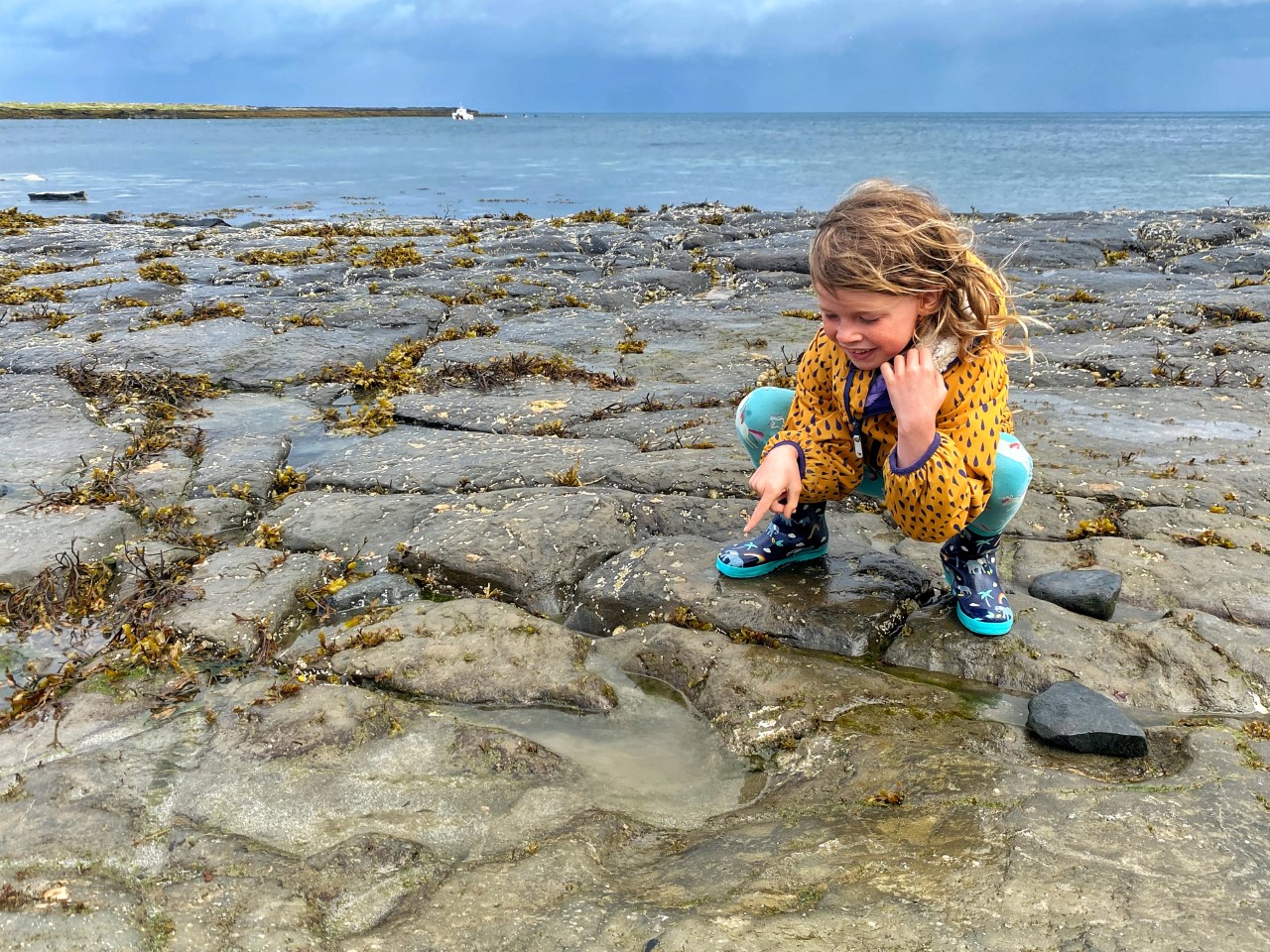 Whilst on Skye and also visiting the Isle of Iona at the end of the month we had lots of fun playing with rocks. On Skye there is the coral on the coral beaches to the North, which the kids tried making 'castles' with, but just ended up as mounds. Then on Iona at St Columba's Bay we found lots of beautifully rounded pebbles. The children know it's the action of the water and the rocks tumbling together that round them off. However it was also fun to spot the different colours of rock, especially the Iona marble fragments with specks of Serpentine. Another time we will walk out to the old marble quarry to see where it was quarried.
As always on our walks we often see wildlife. It might not be as spectacular as otters, whales or wildcats, but even the tiny insects are fun to inspect. This is how children with a love for nature are helped to understand ecology and biology! It's great to see them getting down on their knees to inspect different beasties.
Engineering
The eldest has also been having fun making new Lego contraptions. Although I have asked him to tidy up his room recently and we've discovered even more boxes of jumbled Lego that he can build with! One day I will help him sort it all out again so he can find the pieces more easily, he loves building his own designs of transportation and buildings!
We also bought some mini domino playing pieces for building domino rally's. Annoyingly we haven't got them right all the time, but are working on a good chain reaction. If you have any tips for building these, let us know!!
Podcasts
Science podcasts are prevalent in our every day life as always. The kids love learning about science and know a surprising amount despite never being 'taught' science. A lot of this is learnt from podcasts, such as 'Tumble' or 'Wow in the World', which have some great shows to explain difficult science concepts to children in a fun manner.
History
Both children have taken a real interest in history over the last few months. This month was no different! Their interest has been piqued by a few things, including podcasts 'History Storytime' and 'National Geographic Greeking Out'. Both these podcasts are great for making history come alive through stories. The children are quite good at identifying the Greek gods and famous myths now. We've listened to the currently available series several times over and they are excited for October when the new series will be released!
At Skye the children saw the dinosaur footprints mentioned above. But we also stopped on the way to visit Eilean Donan Castle, which is still in good condition and used as a holiday home by the current owners (MacRae's) and family. It was an interesting visit and particularly interesting to see how it feels to be in a castle that is in a 'liveable' condition.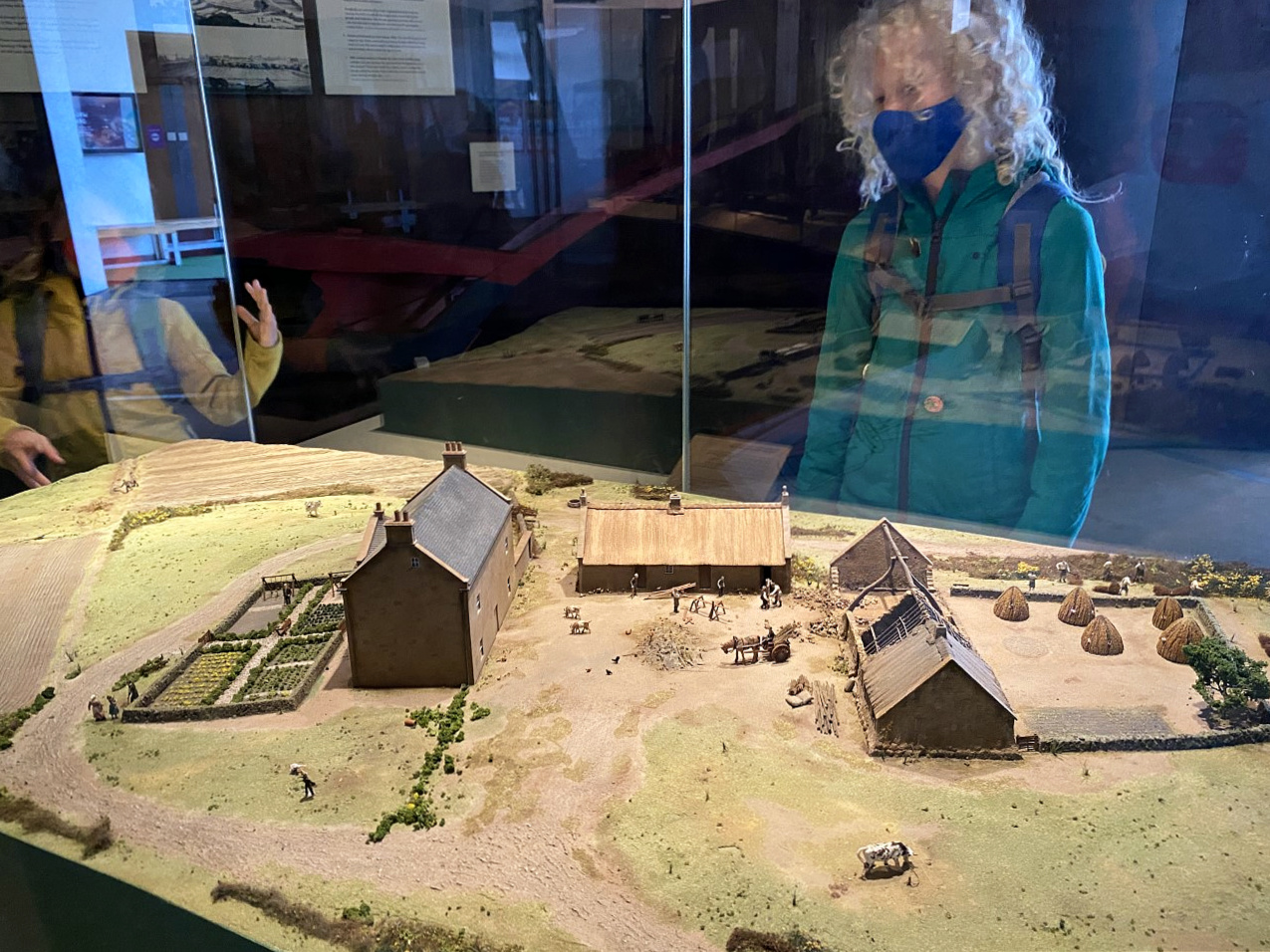 We visited the National Museum of Rural Life, one of the National Museum's of Scotland. It was great to see how farming life has changed over the years From the tools of the land to the family life and wildlife. My eldest was particularly interested in the different types of tractors.
Another visit took us to Stirling Castle. Somewhere close to where we live and that we've visited many, many times before. However I always find it interesting that we find out at least one new piece of information every time we visit. On this visit we found out about the witch marks on the large wooden doors outside the royal apartments. Symbols with A and M were apparently common to ward off witches! We also found out that the the Stirling heads had several Hercules roundels as the King at the time saw Hercules (or Heracles to use his correct Greek name) as someone he admired and was considered inspirational.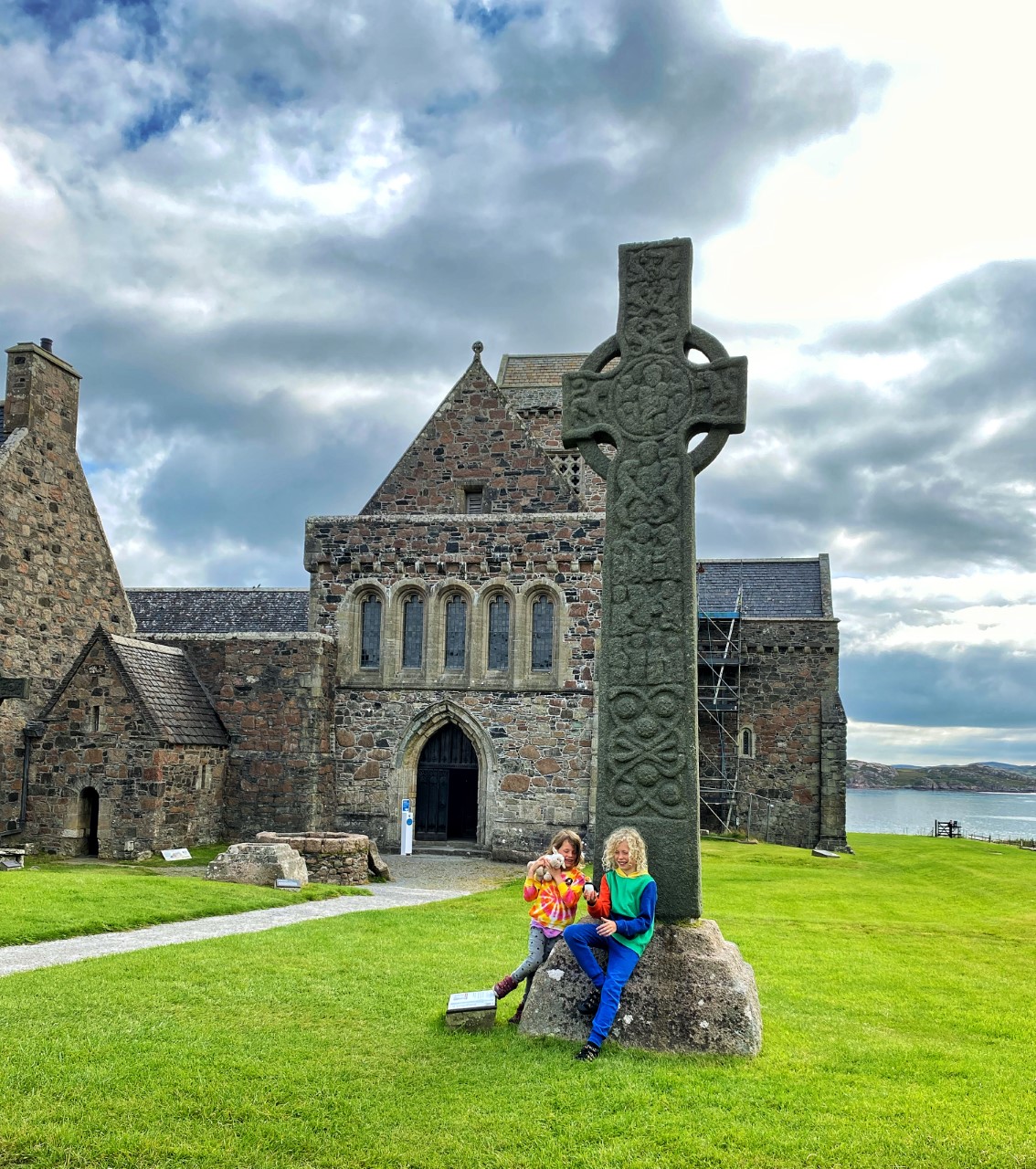 Our visit to Iona brought about some more learning via Iona Abbey and St Columba. Although we're not religious at all I think it's important for the kids to understand different religions and why we should respect others beliefs. Although the abbey itself wasn't particularly interesting to the children, they did find some interest in the stories of Viking attacks! The other thing that interested them was that St Columba had been sent away from Ireland and was told not to settle anywhere where he could still see Ireland! The kids tested this by looking South to Ireland from St Columba's bay. We also learned about the pilgrimages people had taken to visit Iona Abbey, often landing at St Columba's Bay and stopping at various crosses along the way to pray.
Geography
It's been easy to learn Scottish geography this summer with our travelling around! The kids seem to be getting a better understanding of where things are. Although to help this more I am planning to get a Scotland map for the wall, where we can mark our trips and significant places together.
Geography includes physical geography, which is the formation of different landscapes. Places like Fairy Glen on Skye, shapes of islands and the geological formations we see are all part of this.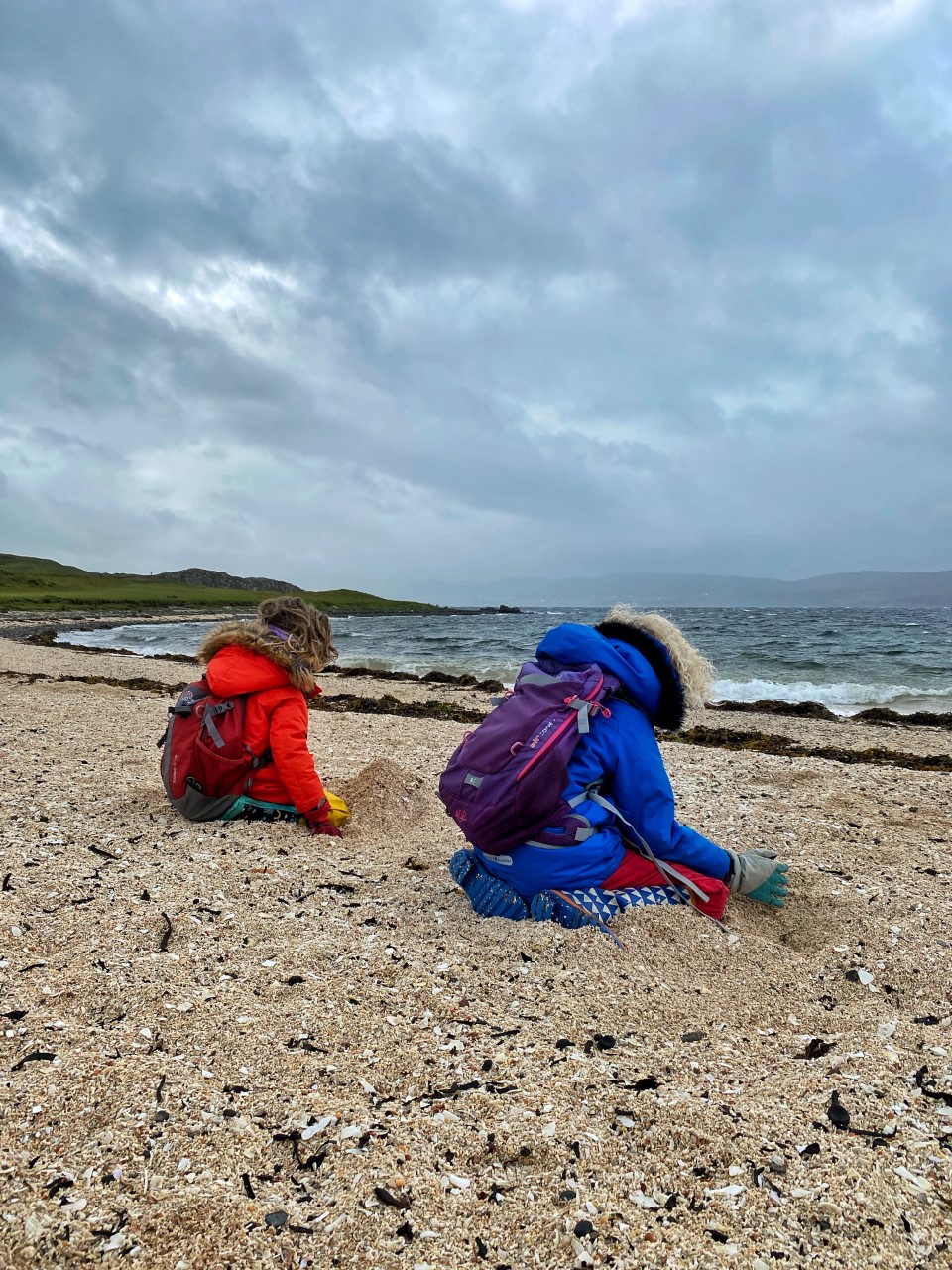 We've also had a lot of interesting weather this month. Which is another aspect of geography. They were particularly interested in the strong winds we had on Skye! We'll have to look a bit more at weather patterns next time we have unusual weather I think!
Aside being outdoors, the kids also have a good idea of the countries and continents. It's great to see them speak about the different countries they would like to visit or pointing out famous landmarks around the world. The eldest also likes to identify the flags of all the countries too. This is mainly through having a giant world map above the kitchen table and place mats that have flags and other maps. The 9 year old is also interested in spotting the capitals of the countries too.
English
The 9 year old has been working on reading different books and often just likes to read whatever signs are around. He happily lets others know he enjoys reading and will sit there with a good book and read it all through within a couple of hours. Much to the annoyance of his brother who just wants to play and not wait for him to finish the book!
I also read to both children everyday, sometimes fiction and sometimes non-fiction. Whatever they decide to choose! The youngest has also begun practicing Reading Eggs a little more. He knows his letters and can spell short words, but he's not got the real motivation to learn to read yet.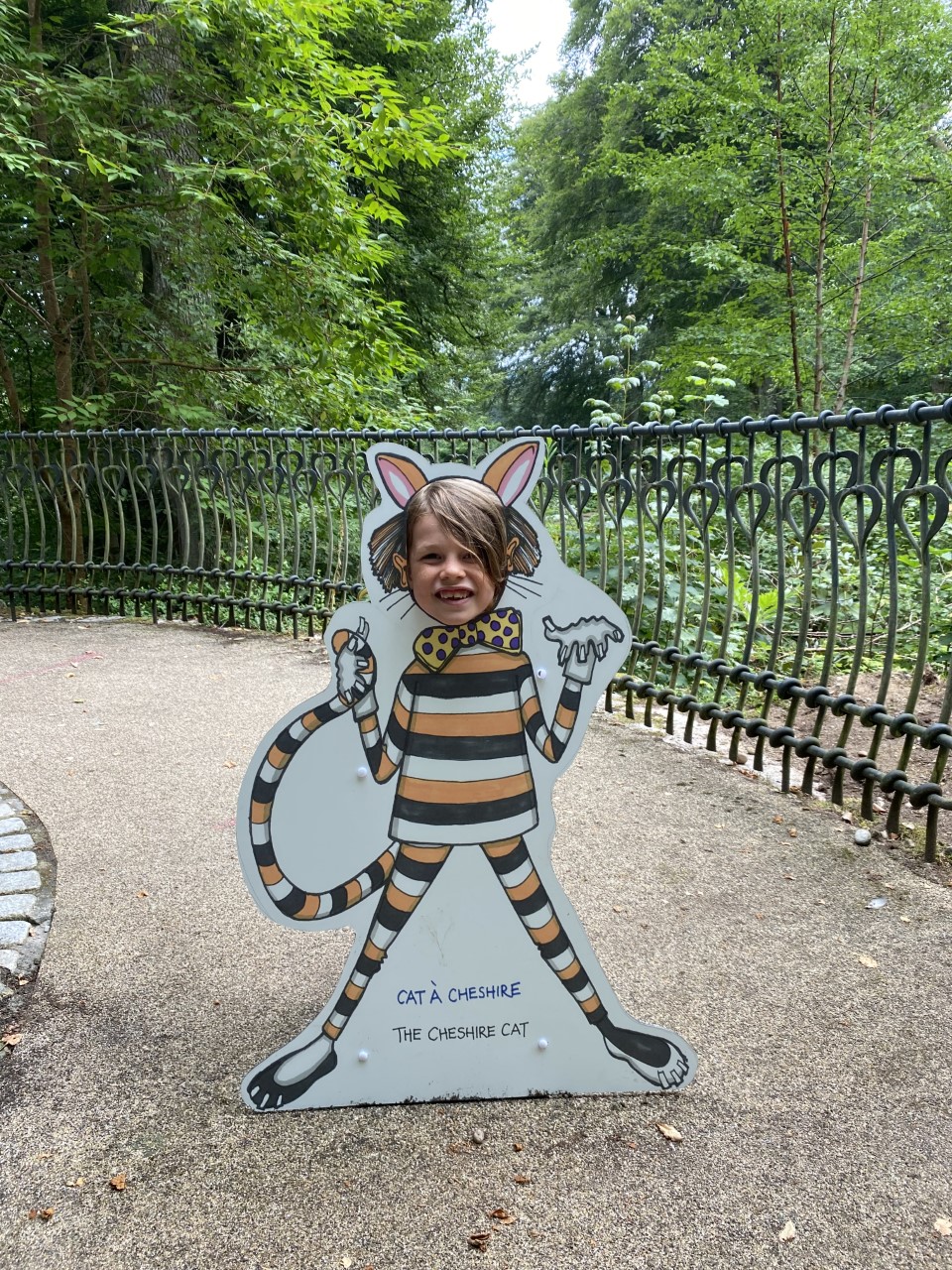 Whilst my mum was visiting we booked tickets for the Alice in Wonderland and Wind in the Willows shows. Alice in Wonderland was great to listen to and the narrator also read it in Gaelic, so the kids learned a few words of Gaelic too. Wind in the Willows was a fantastic show, with a great cast. Nice to see stories come to life through outdoor theatre!
Maths
We've been reading a little of the next Life of Fred books, a maths series that is great to teach maths concepts in a different way.
Our other maths source's have been playing board games and baking this month. Measuring ingredients is always a fun way to learn maths. Plus they are interested in diving treats equally, so fractions come into play too!
Music and Arts – Home Schooling UK
As mentioned in the English section above we've been to a couple of outdoor theatre shows in Perthshire. These were great for both music and the arts. We also went to a few Edinburgh Festival shows, the favourite being Elliot Bibby's Leftover Lunch and Captain Breadbeard. Both were comedies and the kids loved watching them!
Art has also included drawing and making a few craft items.
Exercise
The kids have had a plenty of exercise this month, starting the month off with a visit to Gigha. We always spend a lot of time walking and cycling around the island. The kids like to ride their bikes along the roads whilst we will walk behind.
Visits to Gigha always mean the kids get their wetsuits on to play in the sea. They love the water and splash around or swim for ages. It's definitely one of their favourite activities in warmer months. They've been known to play in the water up to November, so I don't think this will be the last time. We also went swimming at Elgol on Skye too, with the stunning Cuillin mountains behind us.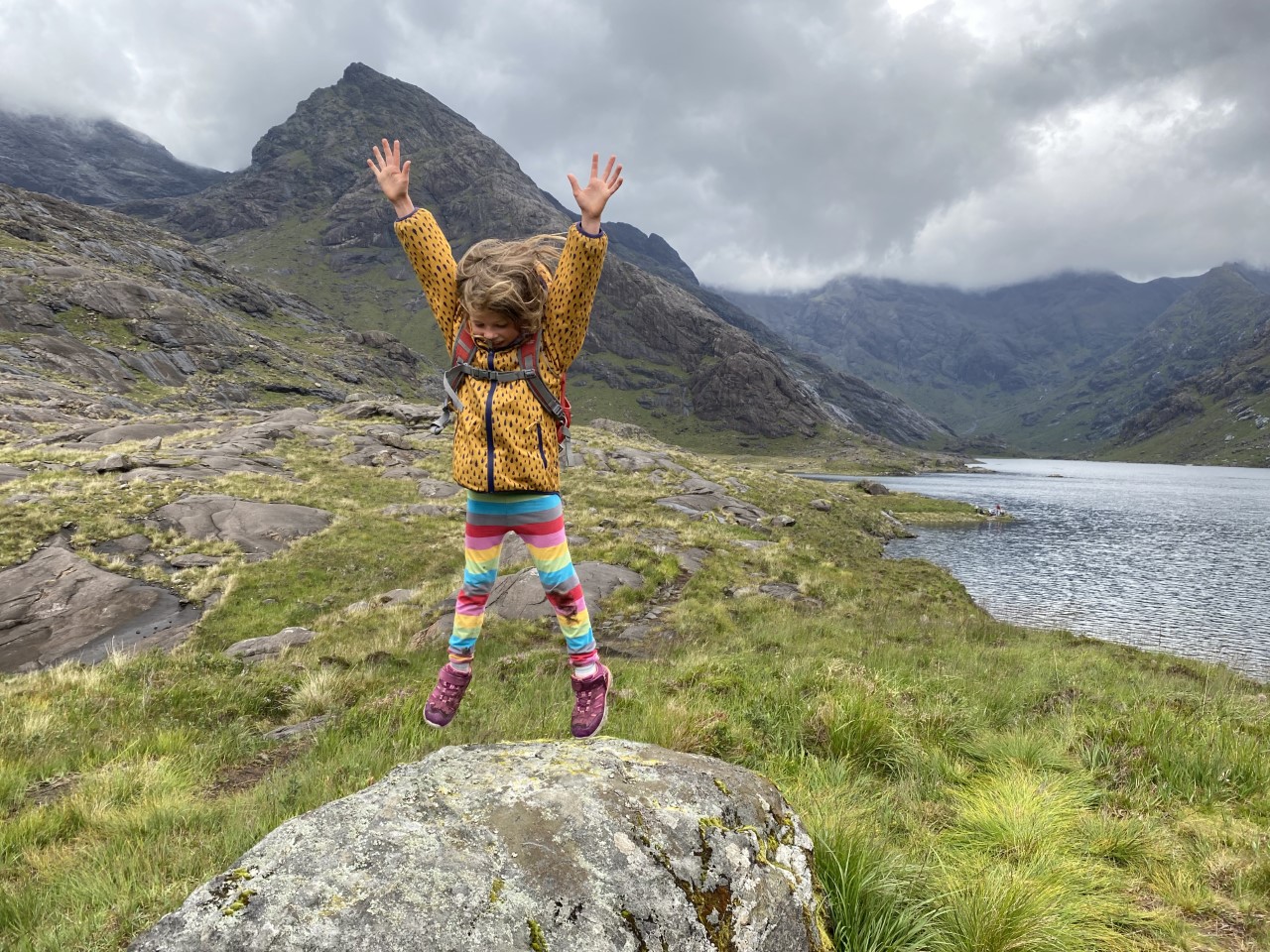 Walks have also included a walk at the end of Loch Coruisk, although next time I want to walk all the way round. We didn't realise that it would be easily doable for our kids. Another good walk on Skye was to Neist Point lighthouse, a very steep hill down and back up!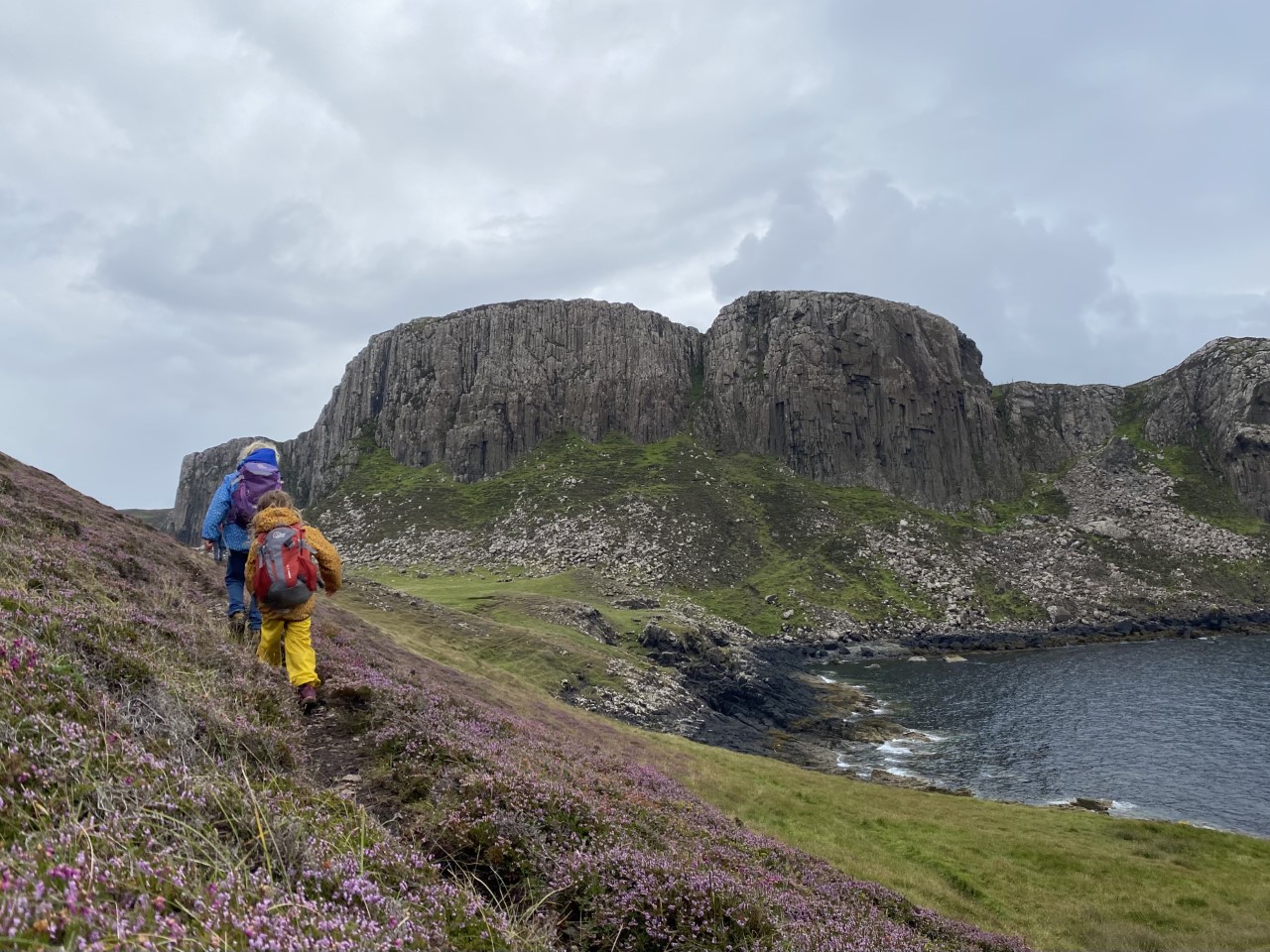 Although my favourite walk on Skye was definitely to Huishnish. It took us down a steep rocky path to the peninsula at the North of Skye, which had amazing views across to Lewis and Harris.
We also managed several walks and cycles on the Isle of Iona. Plus more swimming in the sea in the beautiful sunshine. I love that the kids are old enough to go further on walks now!
Unstructured Play – Home Schooling UK
Unstructured play has included playing with friends both at home on our street and other home ed friends at different meets or play dates.
The kids can also play together really well (at times!) and have had plenty of unstructured play together whilst playing on beaches and at home with their toys.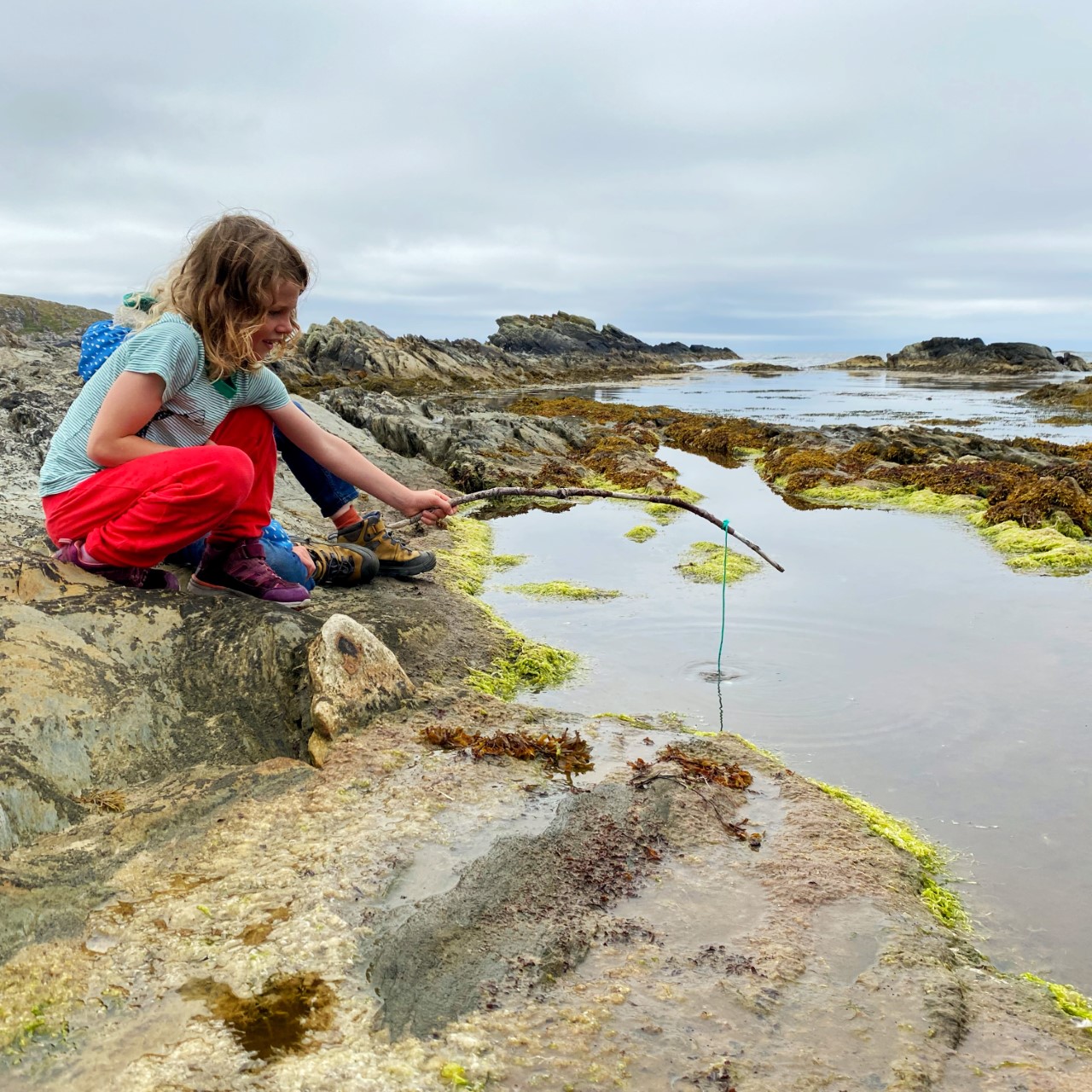 Clubs and Groups
Some of the kids clubs and groups have started back after the summer holidays this month. This included their Beavers and Cub Scouts groups, gymnastics and drama for the youngest, plus dodgeball for both of them. We've also chosen to stop our eldest's swimming lessons as he can swim well now and doesn't need to perfect his strokes, but the youngest will be going for a bit longer yet as he can't swim unaided. We are trying to book somewhere to swim each week, but it's proving to be more difficult than imagined!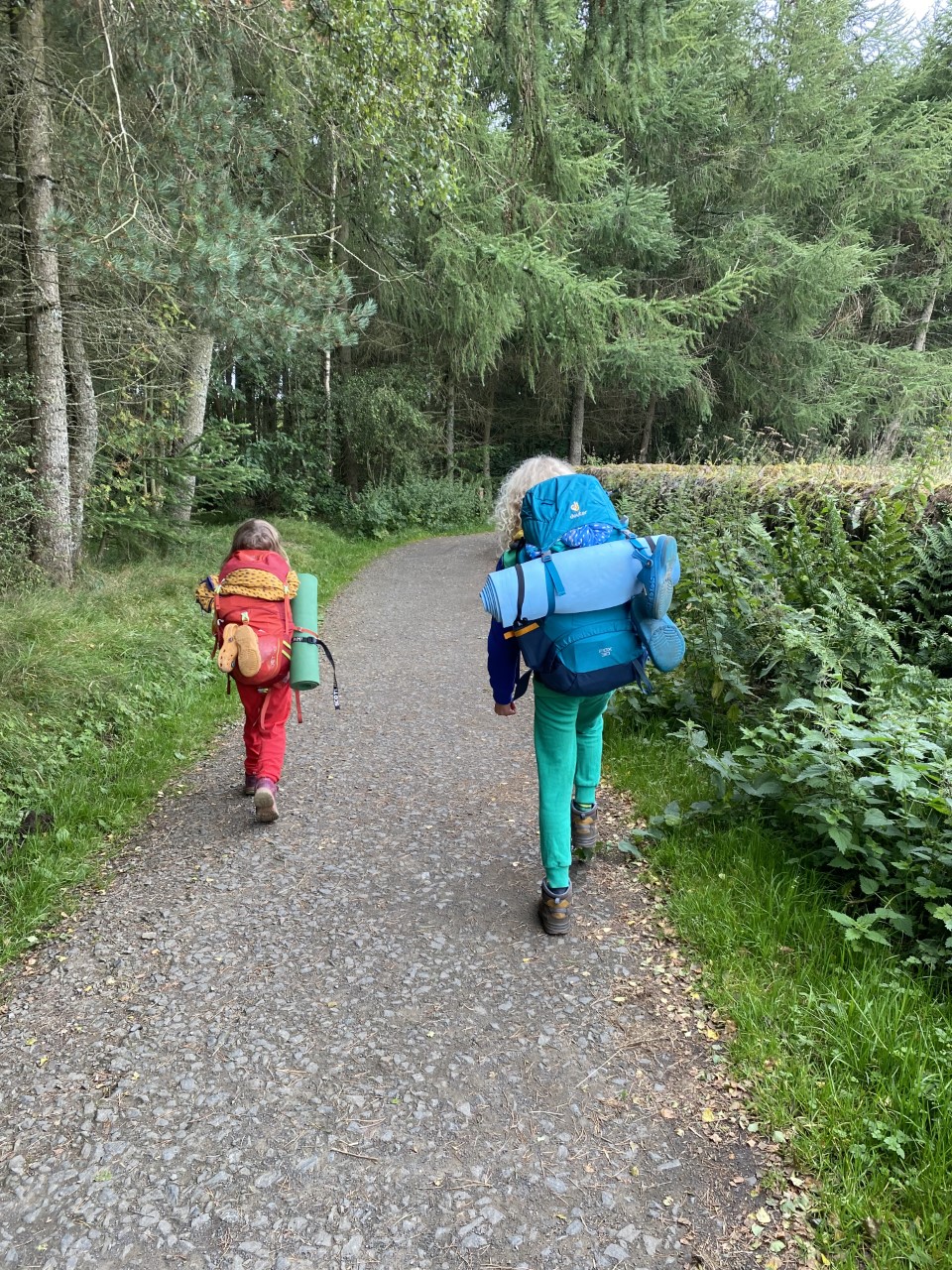 We've also had some of our home ed meets start back. Plus a night away with home educated friends camping to celebrate 'not back to school'.
Read More Home Education Posts
Pin Home Schooling UK For Later