Home Education Diaries
I'm feeling excited that spring has finally arrived, the warmer and brighter weather certainly banishes the winter blues!  With the end to lockdown finally in sight (26th April in Scotland) we're feeling optimistic about the rest of the year.  It's been pretty rubbish to not have our usual home education groups and friends throughout lockdown.  So we are excited to get some normality to the kids education again in April, knowing that their schooled peers were allowed back to their education (indoors!) in February.  Two months earlier than home educated kids in Scotland are. This is despite numerous emails from many Scottish home educators to the government asking why we can't meet in groups outside again yet.
Anyway, we have still been doing a lot this month and making the most of the nicer weather for some longer walks around the countryside.
Science
The kids favourite things to do often relate to science, probably because science covers a vast number of topics.  The usual Lego and K'Nex building has been going on, with the 9 year old creating various new creations from his imagination.  He's getting quite good at manipulating the K'Nex pieces into the engineering projects he designs.
Outdoors we've been watching the frog spawn in various pools and ditches develop.  Including spotting mating frogs and toads, looking at the difference between frog and toad spawn as well as spotting our first tadpoles at the end of March. You can see the strings of toad spawn in the photo below, the kids were fascinated with them.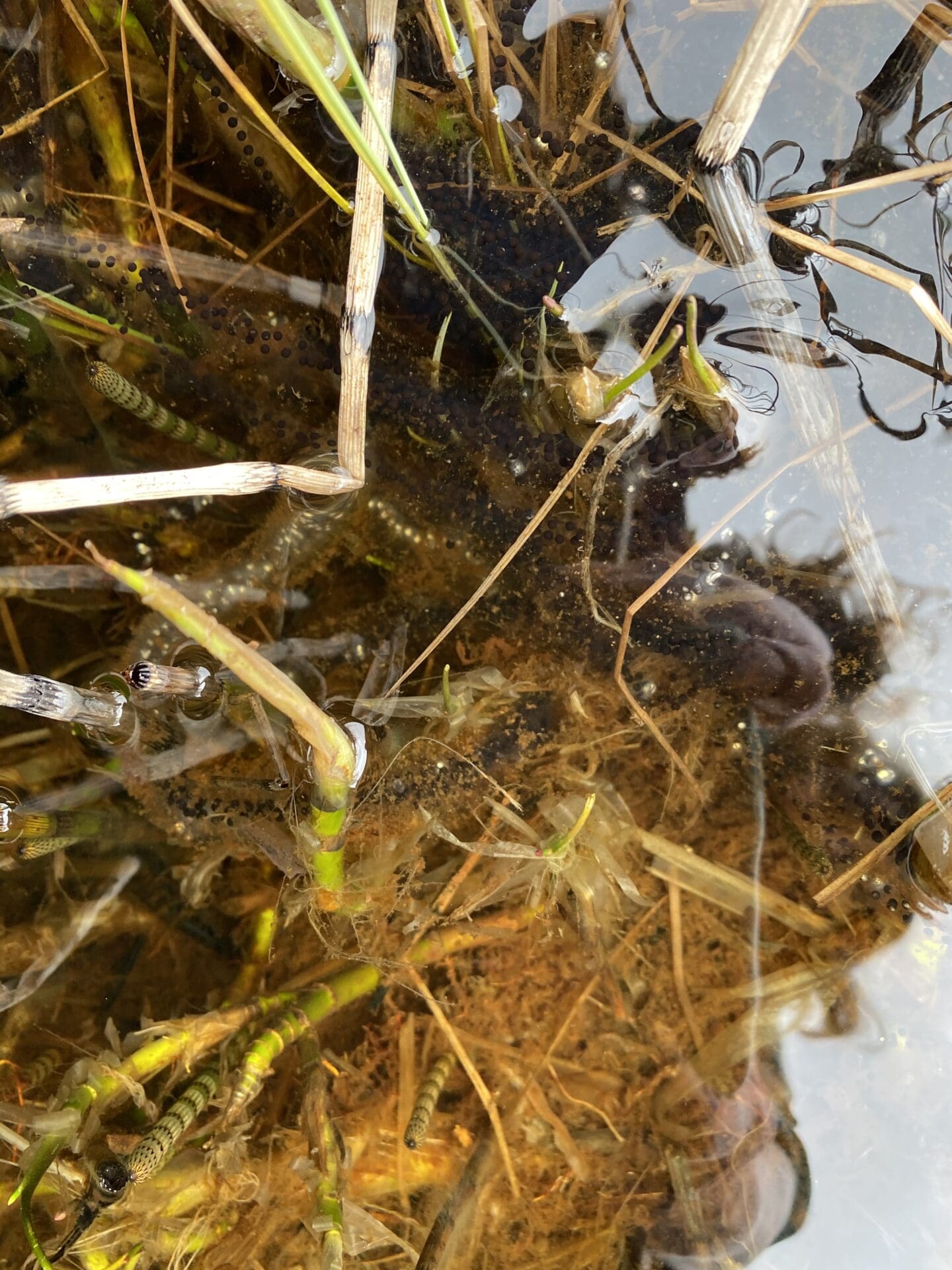 In the image underneath are tadpoles.  We thought it was a bit early for tadpoles considering it's going to freeze overnight again soon.  But hopefully they will survive!  We'll have to go back and investigate soon.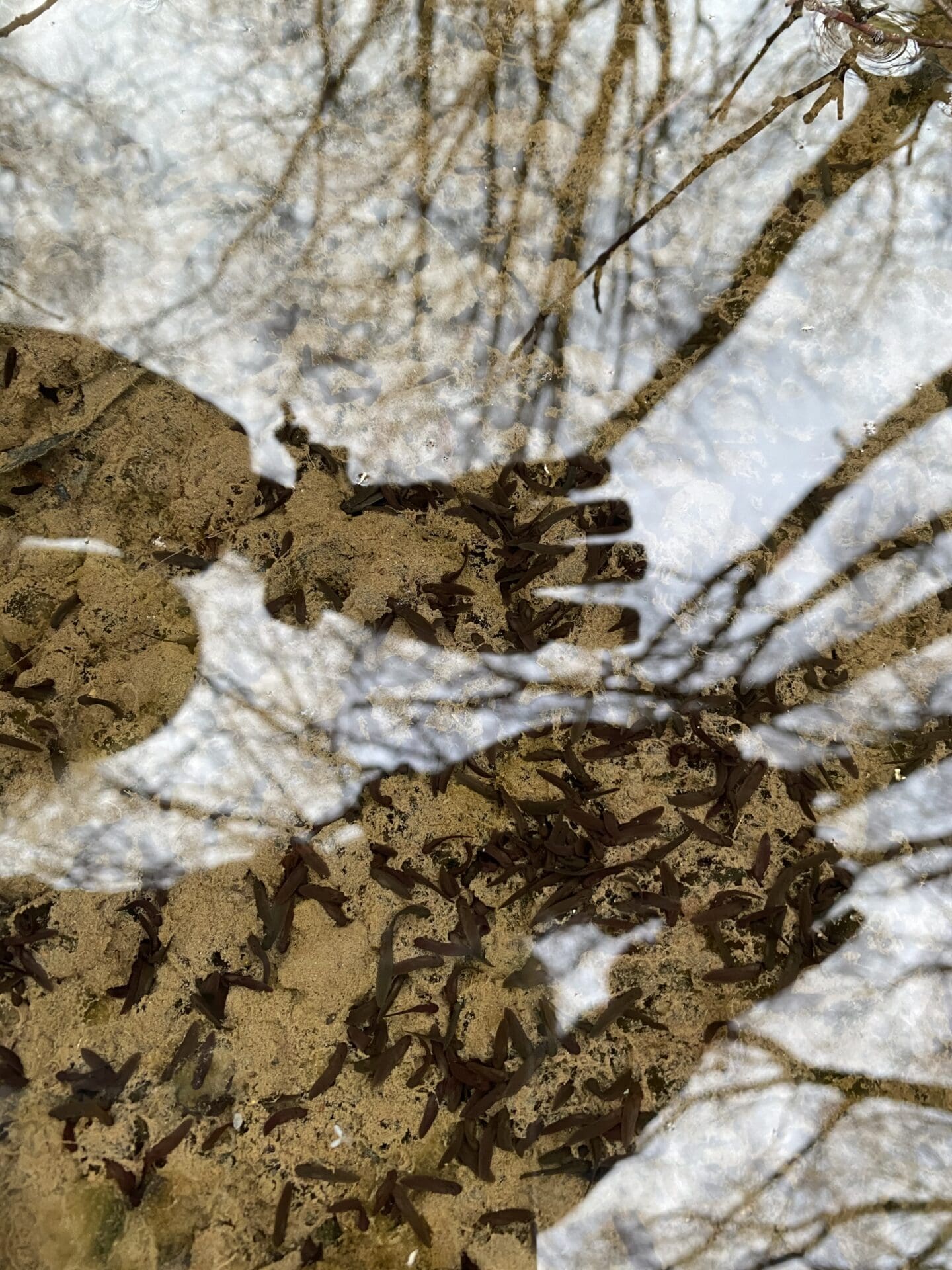 Whilst visiting Flanders Moss we also spotted lots of newts, water beetles, floating spiders and more frogspawn!  We are hoping to go back soon to see what else is there! Hopefully we can do some pond dipping with permission.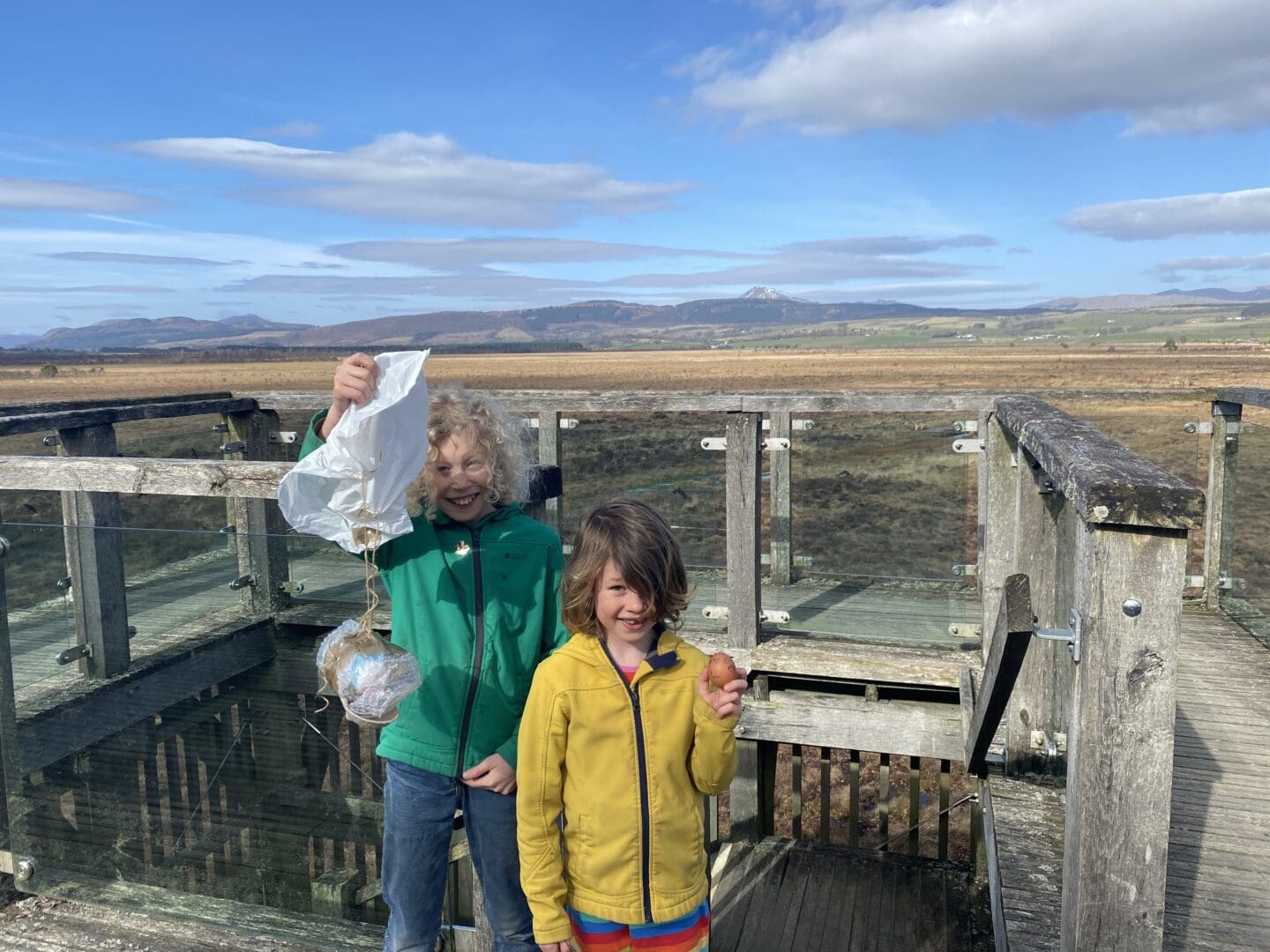 At Flanders Moss we also decided to carry out a gravity science project – the big egg drop!  I'm sure most kids have tried this at some point, we've done it before.  But it's always a fun 'eggsperiment'!  They tried various different contraptions for their eggs.  Each egg was given a face and personality before being thrown off the tower.  Fortunately all survived, but I'm sure that's because they wouldn't let them hit the harder wooden platform and only the scrub!  There were parachutes and parachute bags, as well as very well wrapped eggs in tissue boxes.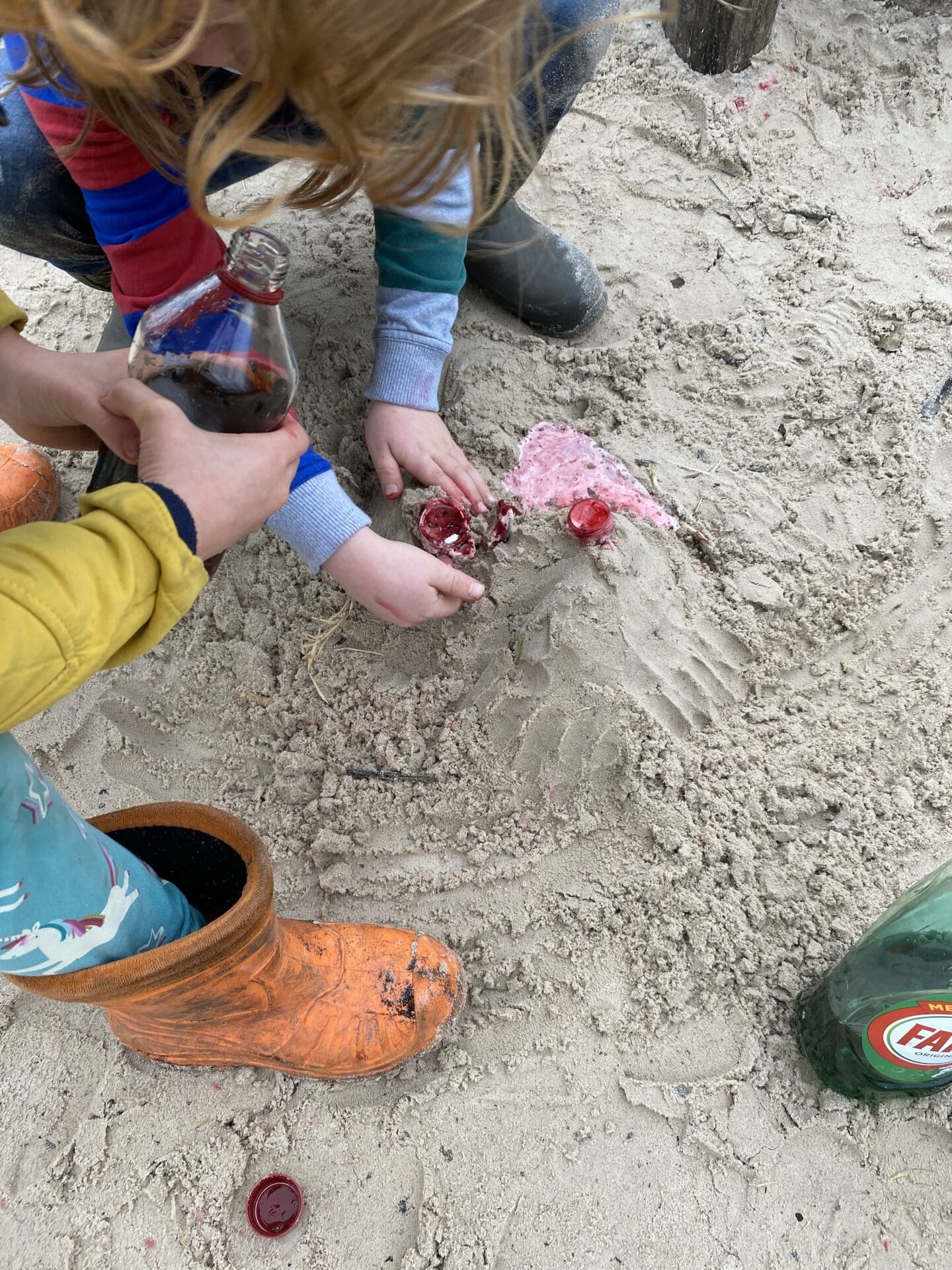 The youngest has been having particular fun recently with vinegar and bicarbonate of soda at home.  So we upped this a level and made volcanoes in the sand at the park with friends.  They also used washing up liquid and red food colouring, leaving the sand pinkish, hopefully it's washed away by the rain easily!  The eldest had fun making the volcanoes different shapes and digging trenches to direct the flow of 'lava'.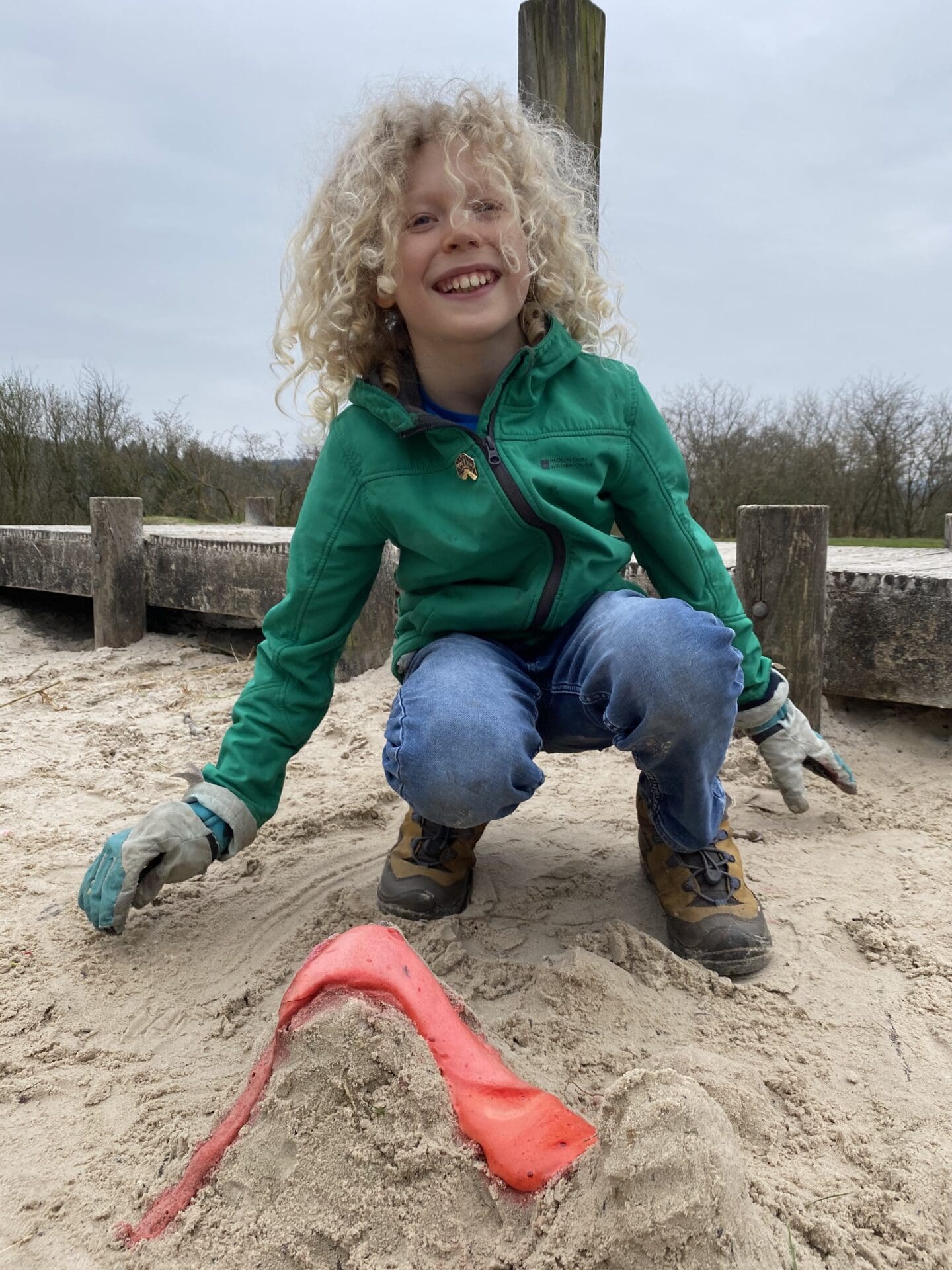 On one of our recent walks we found a section of beaver activity causing flooding to the path.  European beavers were released into an area of Argyll in Scotland, but there are also around 150 other beavers who are escapees from private collections.  The area we visited had a lot of beaver gnawed trees and branches, with the particularly impressive tree below.  We assume that the tree was cut down by humans to prevent blocking the path or it accidentally falling on someone before the beavers had finished gnawing it through!  They had also built a dam on one end of the burn causing the flooding.  Again the humans (I'm not sure if it was the council!) have mitigated this by putting a plastic pipe through the dam to let some water through.  I'm wondering how long it will be before the beavers block the pipe up too!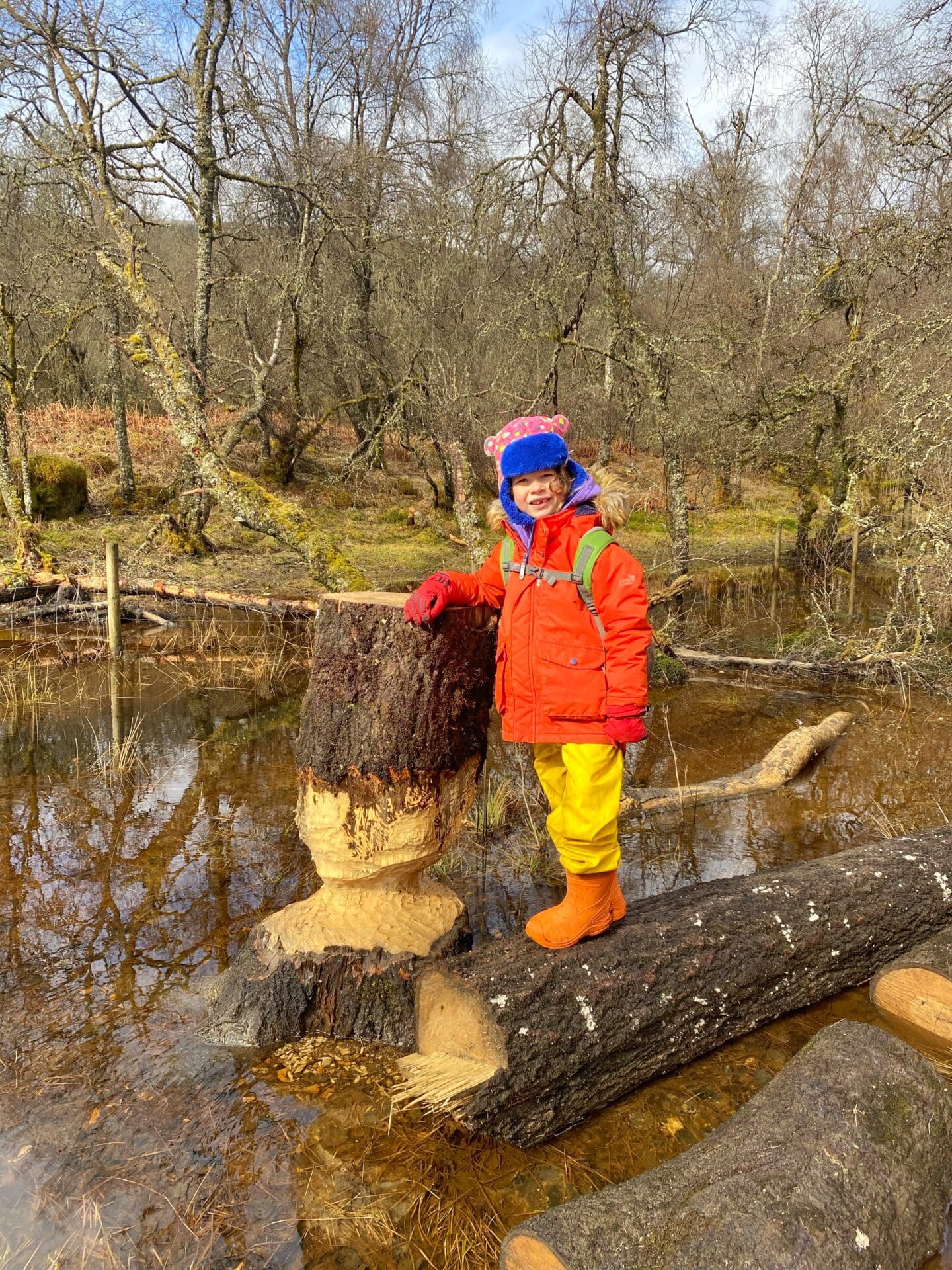 The kids have been enjoying the Let's Go Live shows again with Maddie Moate and Greg Foote.  They were on throughout lockdown, but as the schools are now back they have finished again.  The kids are hoping for a few 'Out and About' special episodes again soon.  We highly recommend the shows, they can be watched on YouTube for free.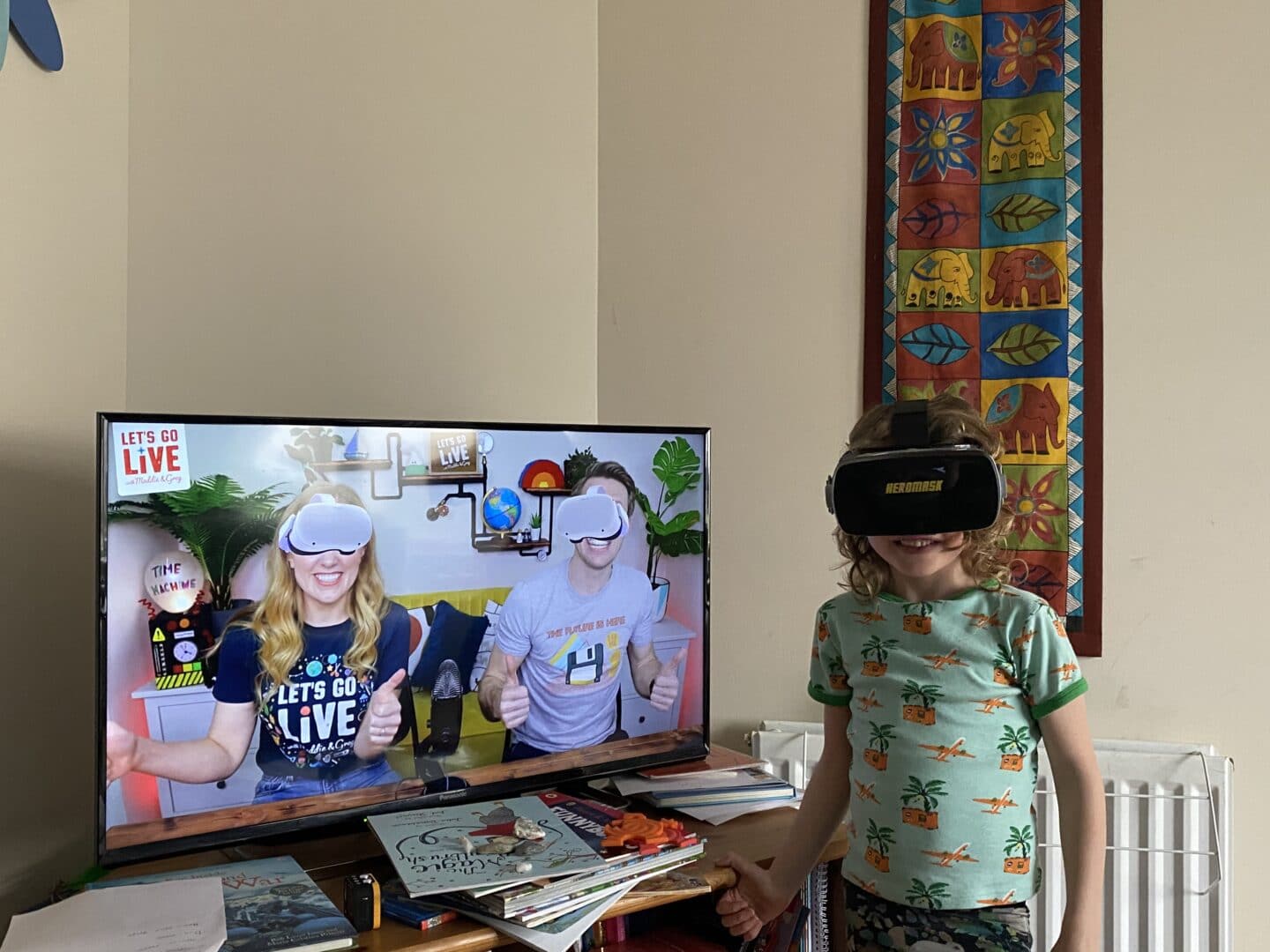 At the end of March the kids took part in a basic kids first aid course.  They absolutely loved it and have been practising wrapping bandages on their teddies ever since!  They've also taken great pride in taking their first aid kits out with them on walks 'just in case'!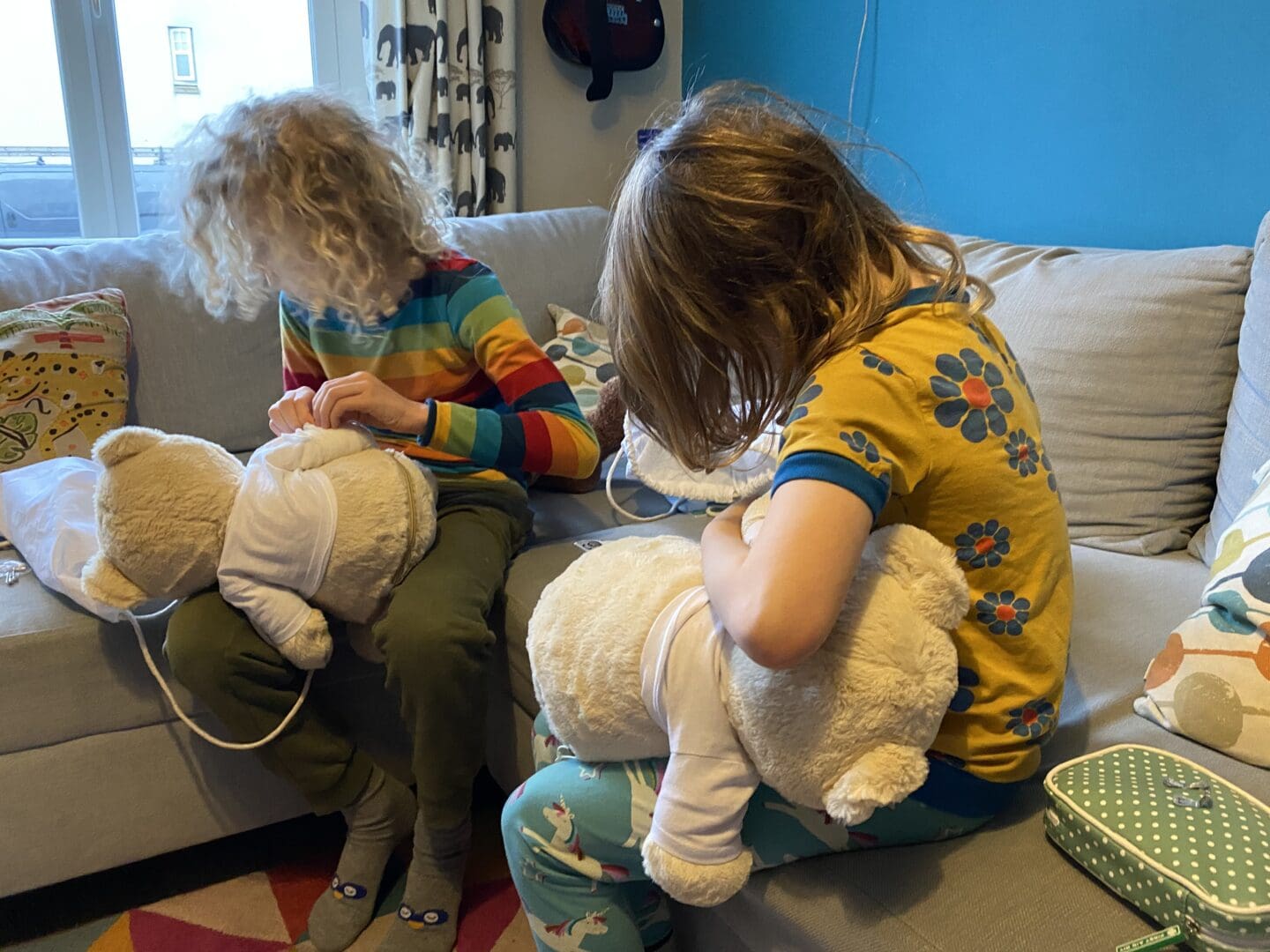 As usual the kids listened to their favourite science podcasts, Tumble and Wow In The World.  Both are great fun and very interesting.  We've also been watching the Chris Packham Animal Einstein's series, which has been very interesting for both the kids and I!  Another favourite science based programme is The Magic School Bus on Netflix, we discovered it through the books that the kids love.  But there are so many more shows than books, covering everything from simple machines (levers etc) to how schools of fish communicate.
History
Both of our children love books and history books are always exciting to them.  They love to learn about the history of the world and so I bought a few new Usborne history books for them.  The eldest chose to get the Great Fire of London and Titanic to read and the youngest is enjoying the Greek myths, including Pegasus.  The 9 year old reads these books himself, whereas the 7 year old still likes to just look at the pictures and asks me to read it to him when he's ready.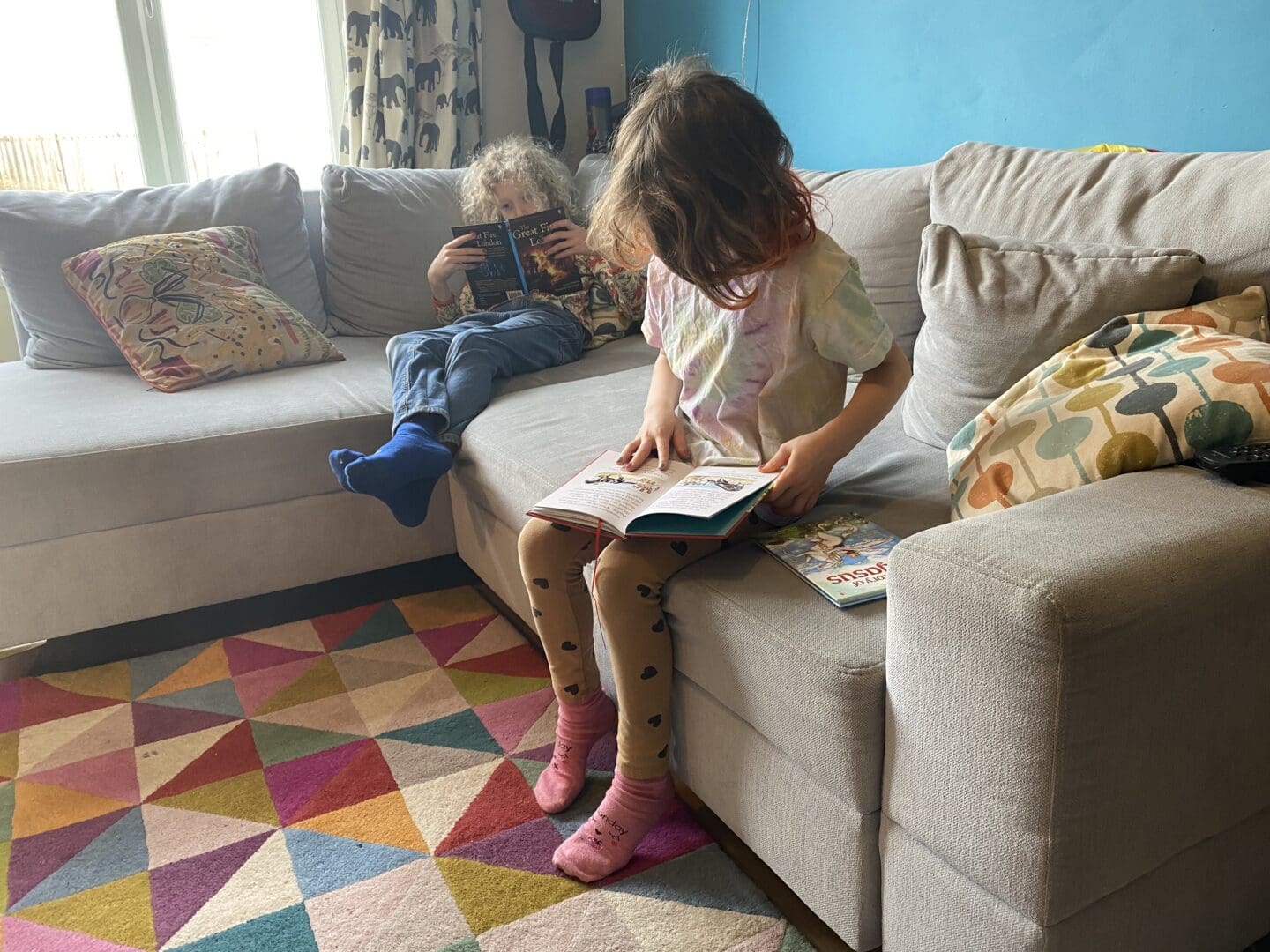 The History Storytime podcast is always a favourite of the children's.  Every Monday there is a new podcast episode to listen to and as patreons they get extra episodes to listen to as well.  There have been lots of great episodes recently including 3 episodes on the life of Napoleon and a story about Helen Keller.  If you want your children to be interested in history then this is definitely a great podcast to listen to, it's mostly narrated by two girls aged 5 and 7, which makes it more accessible to kids.
On our walks we've also been looking at lots of history, especially railway lines!  Many of the walks we've been on recently include parts of old railway lines, viaducts and this old station and platform below!  We've compared our pictures to black and white ones of them in use!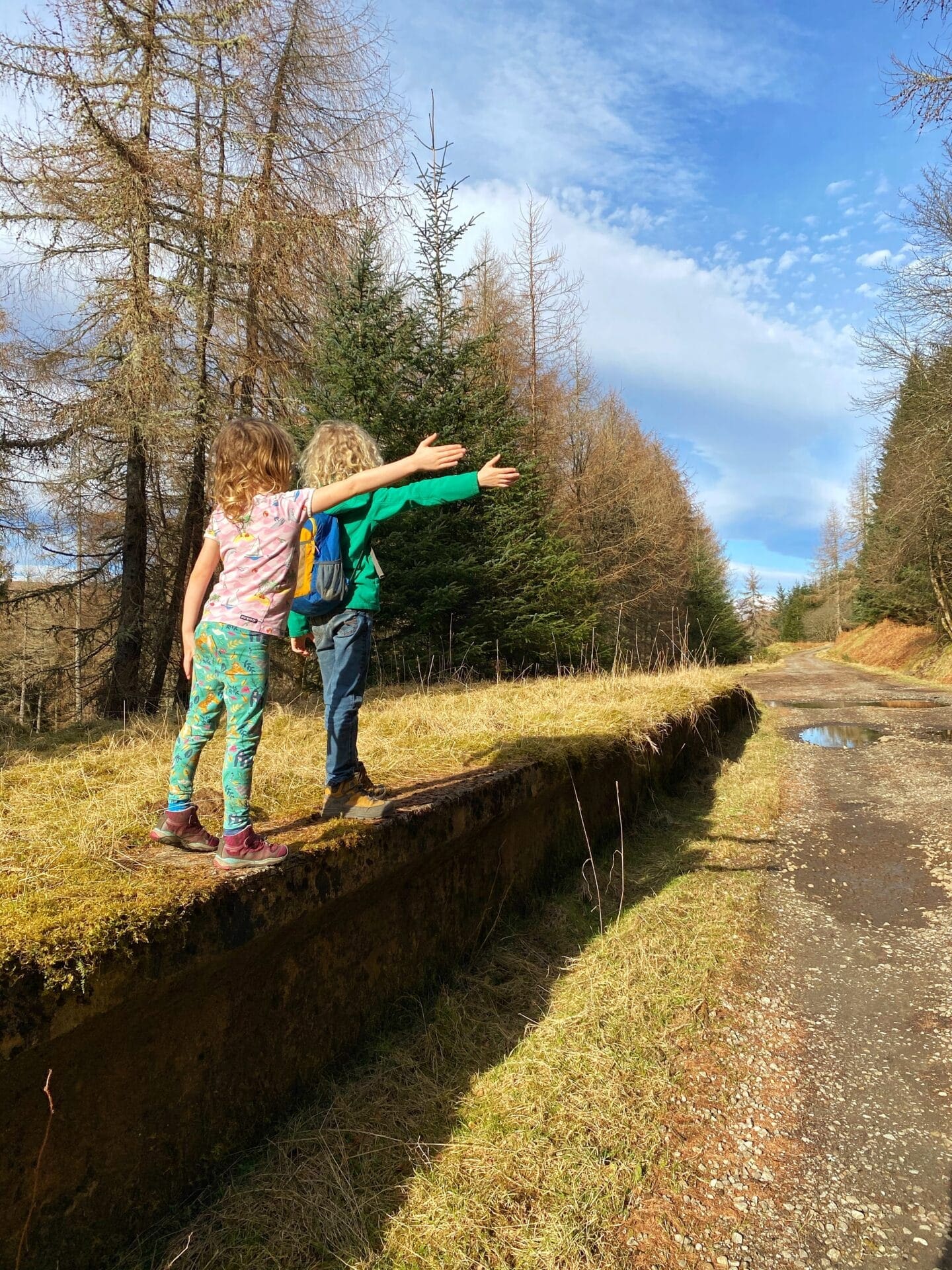 A shorter walk, but strenuous one over rough marshy ground was to visit these ancient rock art stones.  These lots of them hidden under thick moss and rushes.  To imagine the people sitting here on the hillside carving the circle into the rocks is amazing.  Funny to think at how much history is lying almost forgotten in the countryside.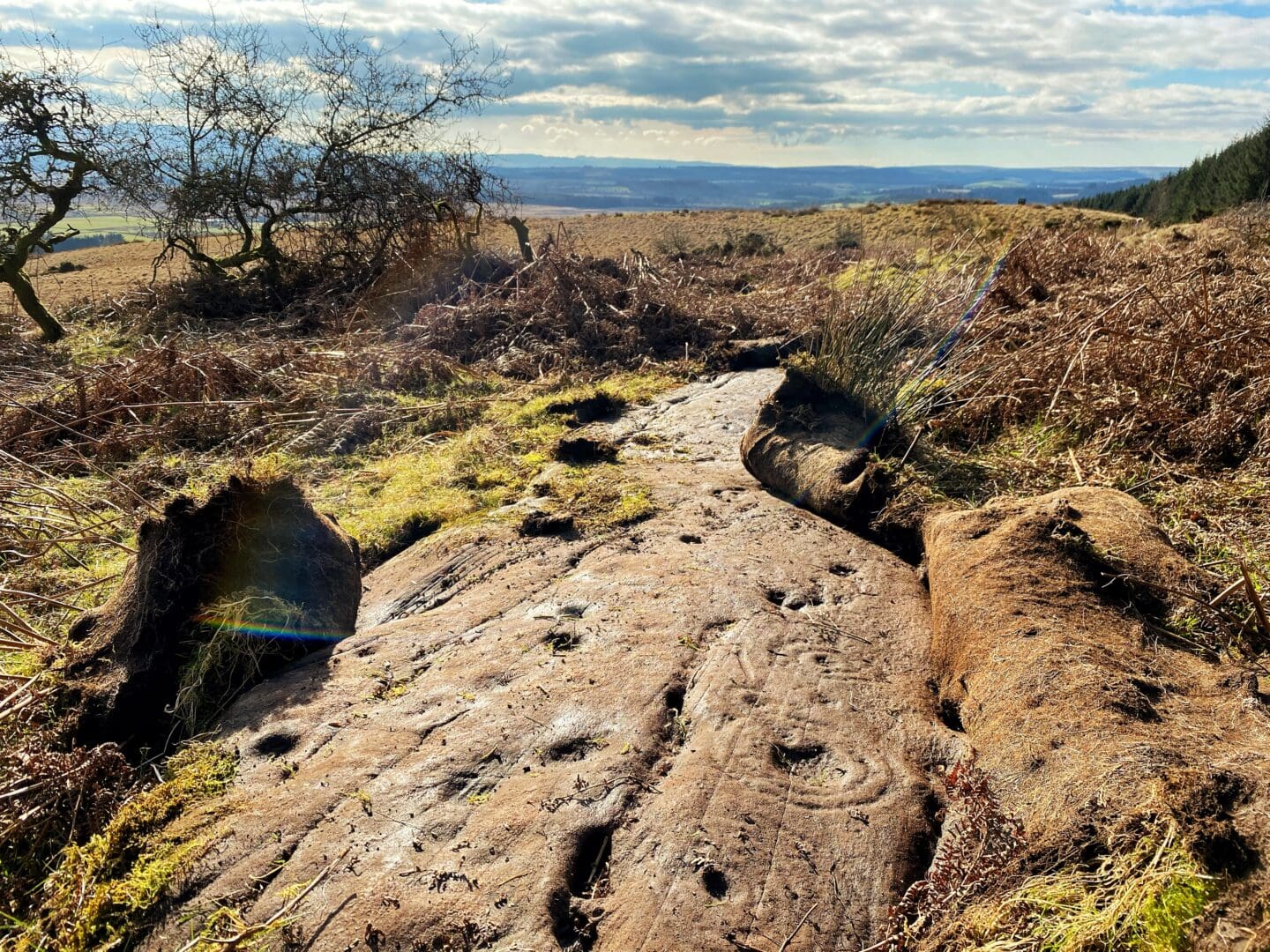 English
Neither of our children are brilliantly keen on writing.  But they have written a few things this month, including notes to us and writing cards for friends birthdays.  The eldest has spent some time drawing pictures too, which of course helps with pencil control.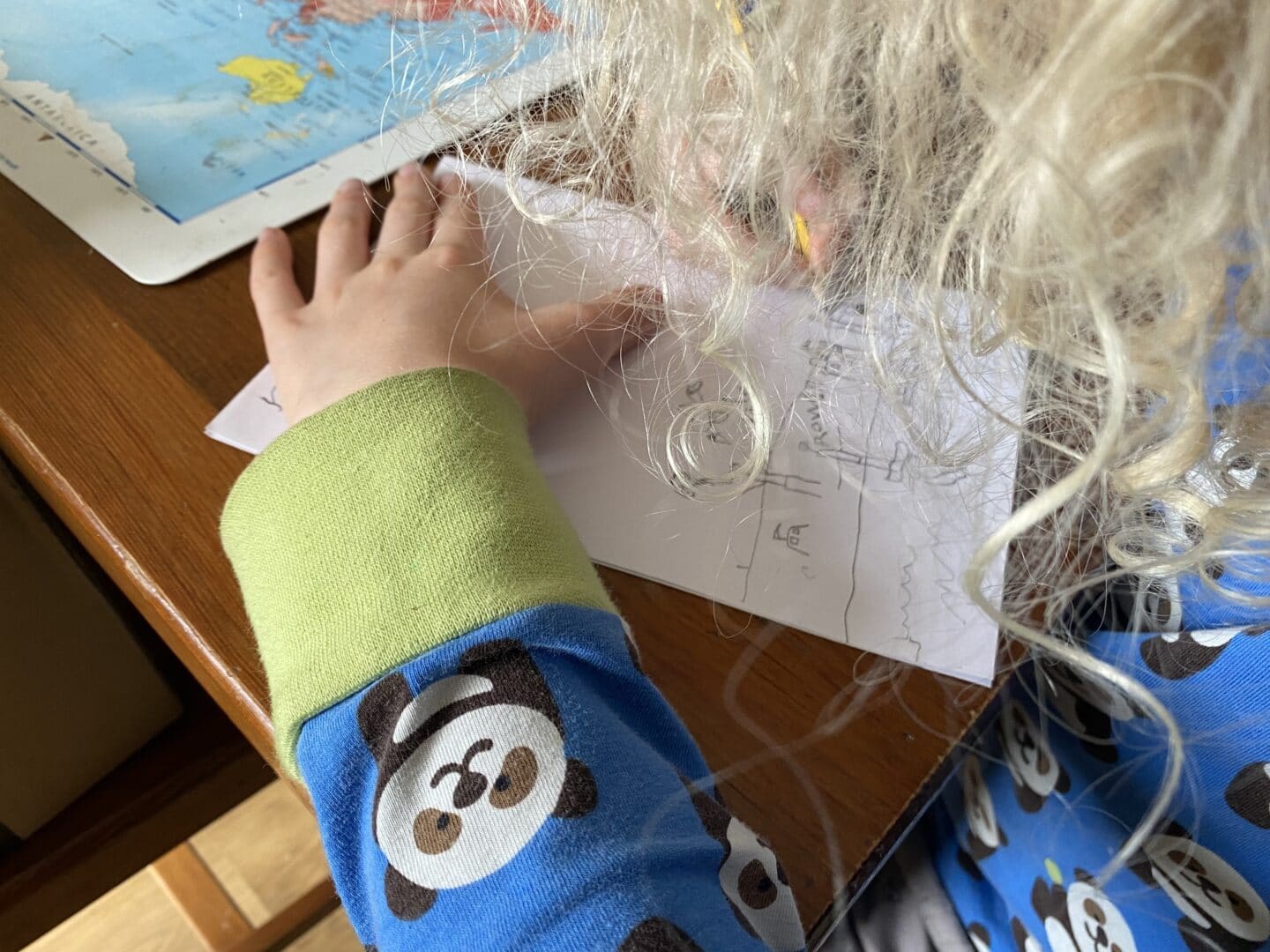 Both children love to sit and read books. The eldest actually reads and enjoys the words, whereas the youngest looks at the pictures to work out what is going on.  He does ask me to read them to him eventually, but sits for a long time looking at the books himself first.  Our 9 year old even corrected me the other day when I was reading to them and missed out a word! Ha ha!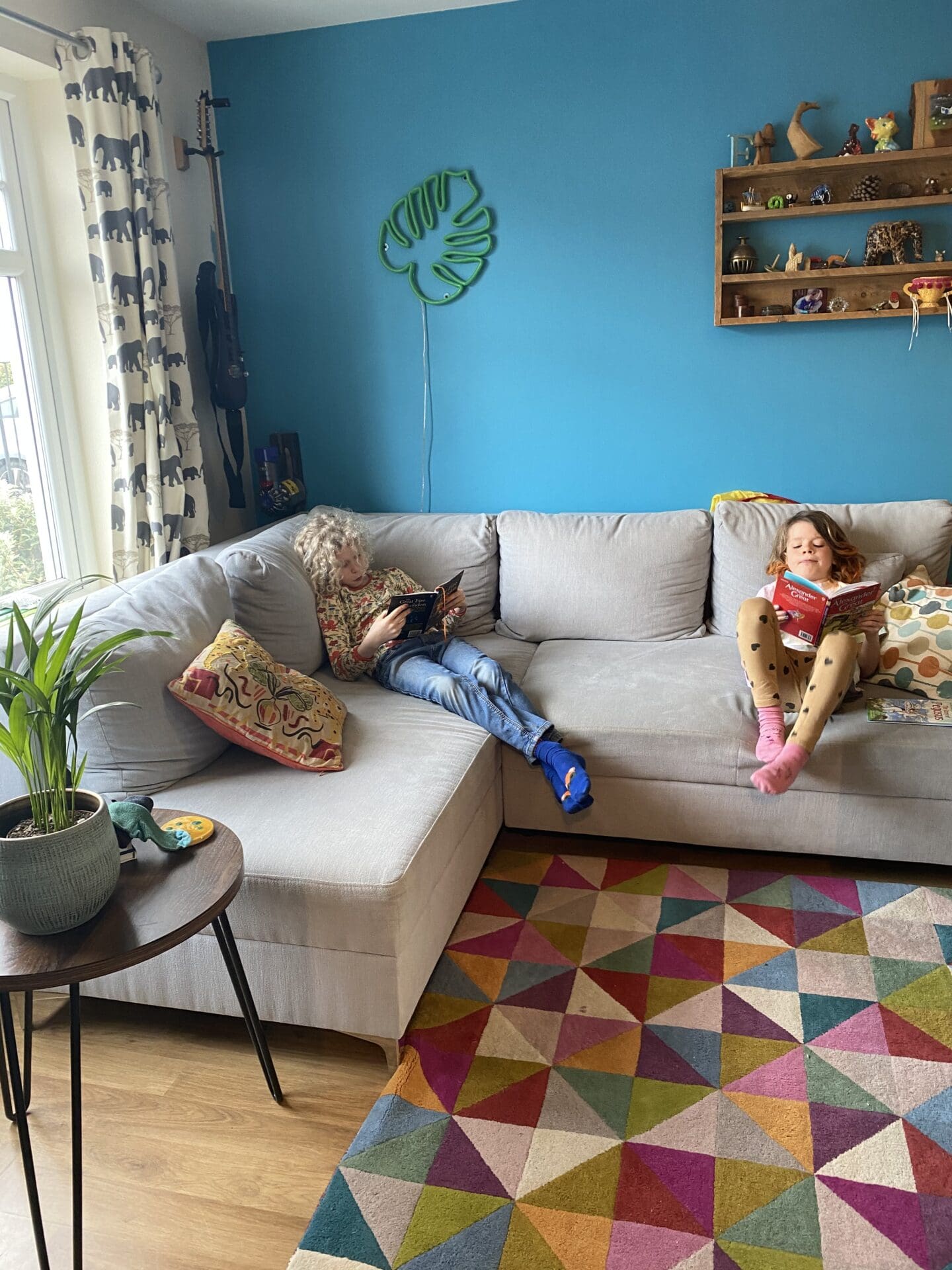 Maths
We took part in a home ed cooking challenge this month and our maths has mostly revolved around measuring ingredients!  They've made lots of amazing dishes from Sri Lankan inspired curries to Scottish cranachan below!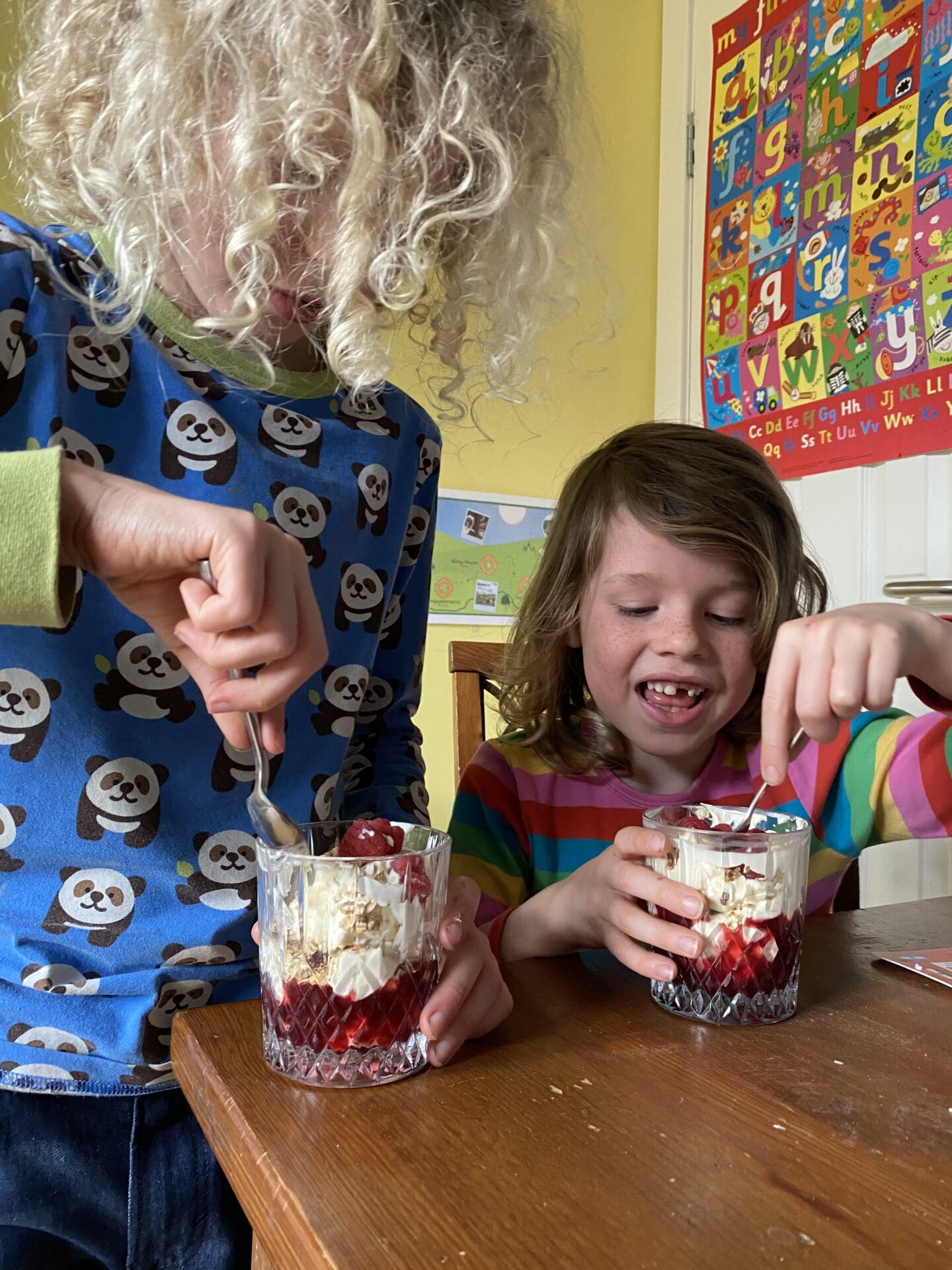 The final challenge was a showstopper dessert, which the kids decided would be a chocolate mousse cake.  It was huge and they were very pleased with their outcome!  It tasted delicious and was waaaay too large for just us!  But it was awesome to see their proud faces completing this challenge.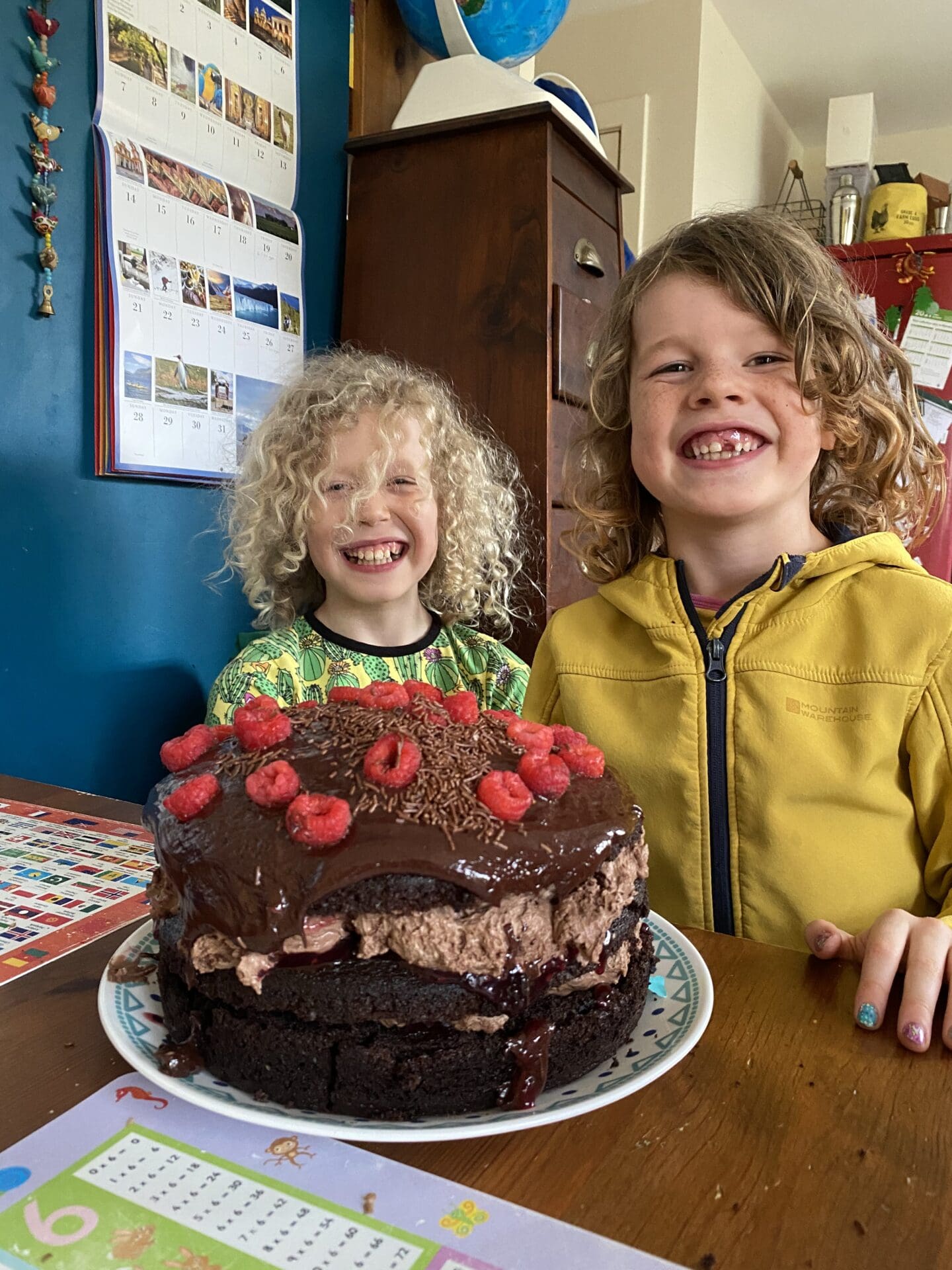 As mentioned above, not everything was savoury.  My 9 year old will be making the Sri Lankan curry again and both he and his dad loved the haggis sausage rolls he made.  It's been great seeing how good they are getting at an important life skill and also with their math skills required to cook.  We will be adding in a lot more baking and cooking I think!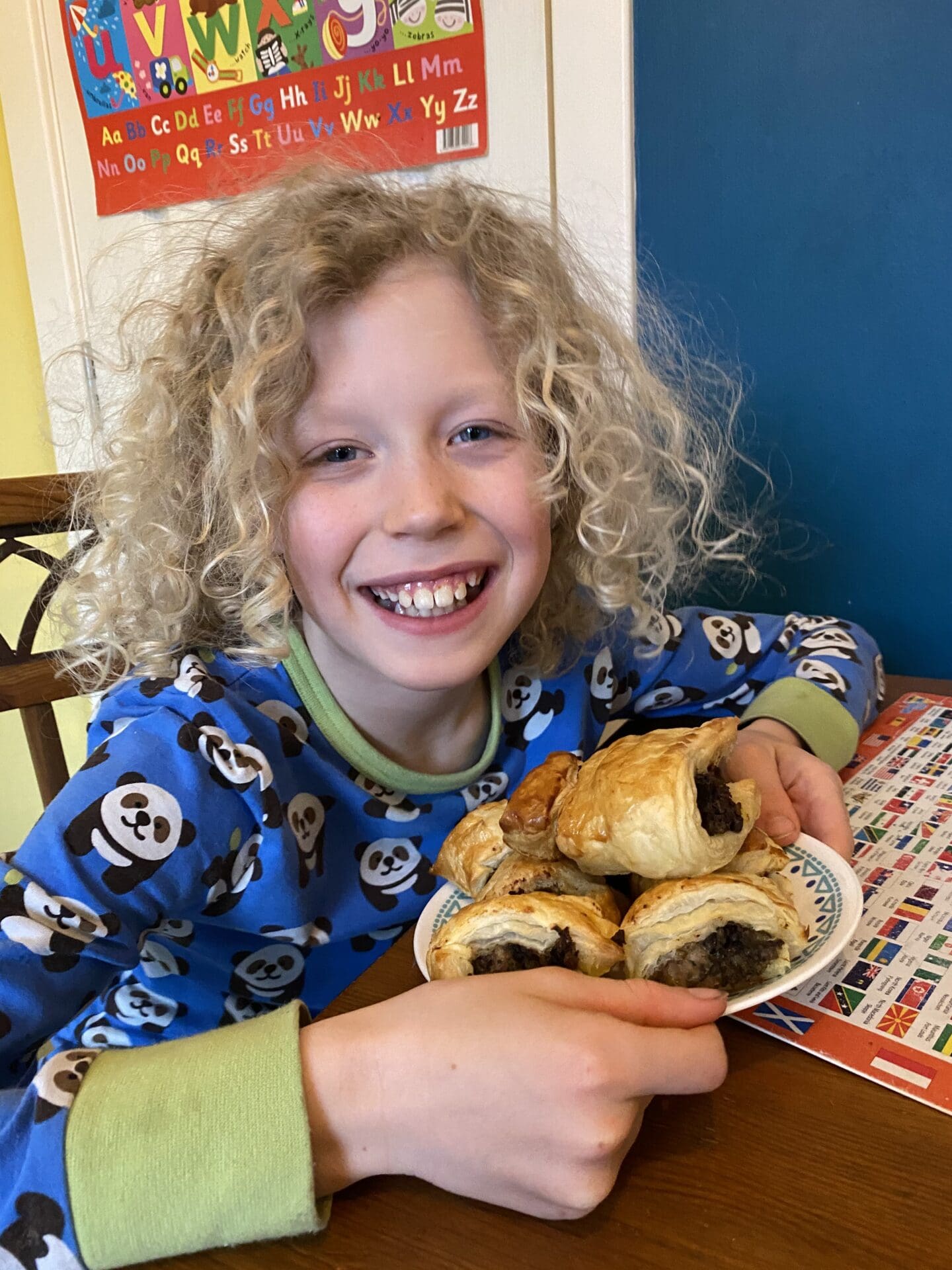 We've also played a fair few games this month, including Monopoly again.  Monopoly is clearly great for learning the value of money and addition/subtraction.  The eldest even won the game for the first time, it's usually me who wins (not that anyone is counting…).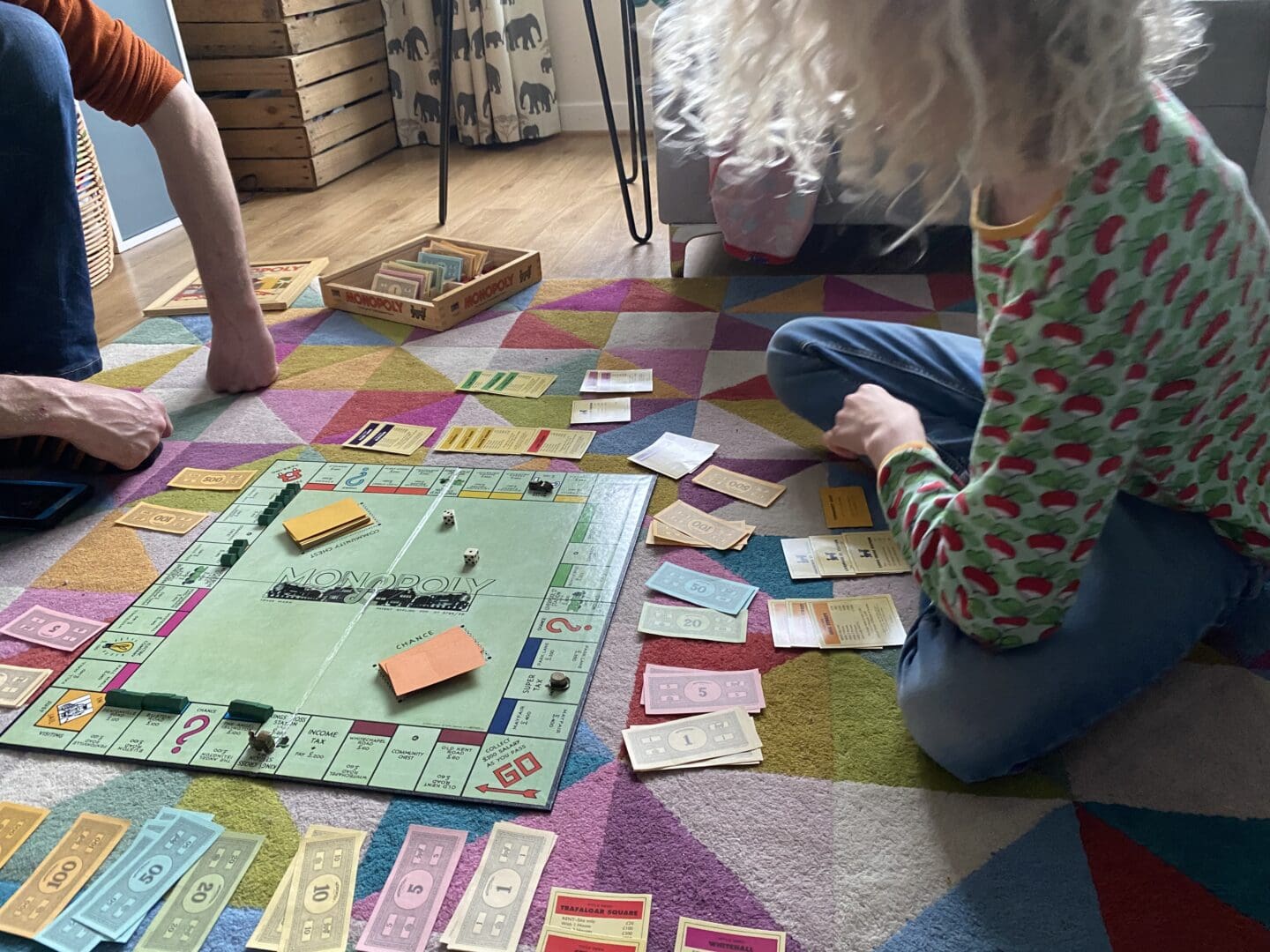 Geography
The kids love looking at maps and flags. We have a huge world map above the kitchen table which is often discussed at meal times as well as their own globe and maps in the downstairs toilet!  I absolutely love maps and globes so like to have them wherever I can get away with it!
We've always enjoyed spotting landmarks we recognise when out on Stirlingshire walks, but with some better height to our recent walks it's even easier to see how everywhere in our area connects.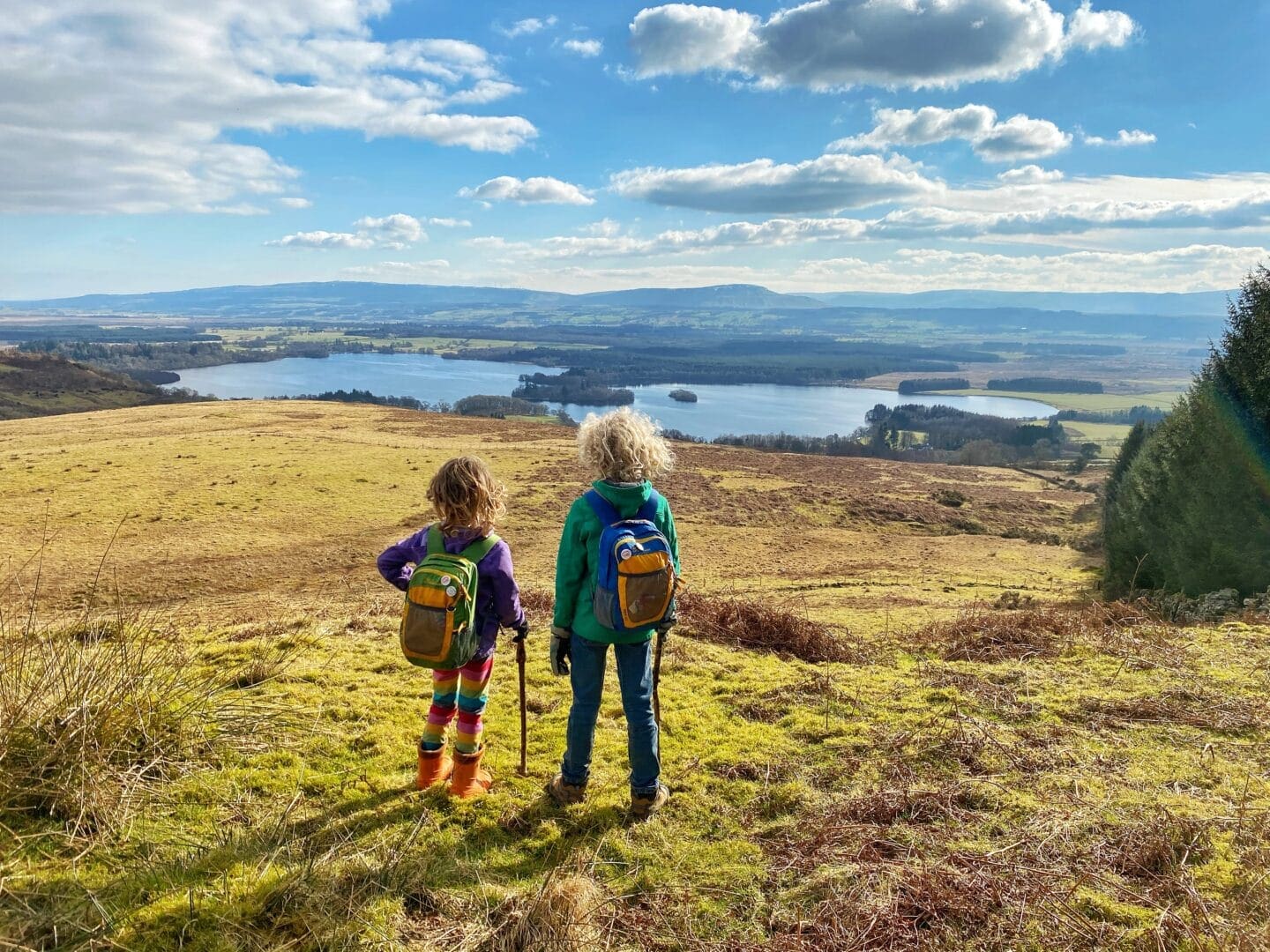 We've visited some stunning waterfalls and discussed glaciation on walks recently, plus looking at old areas people have lived.  Along with our other discussions on human geography that crop up from time to time.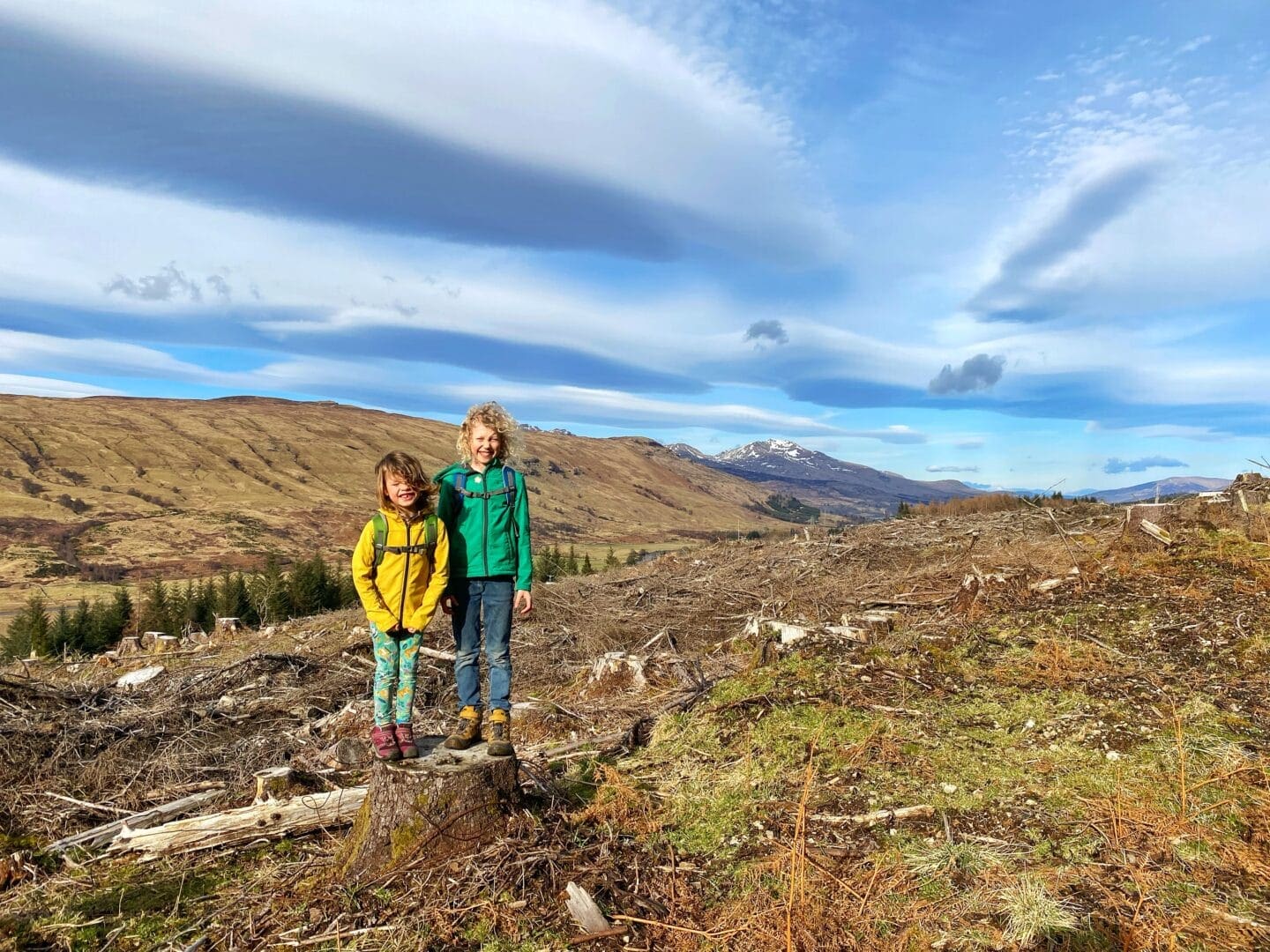 Unstructured Play
I think one of the reasons our walks often take longer than expected is because the kids can find something to play on or with wherever they are!  Climbing trees is an obvious one and I've had a fair few looks at me standing around randomly on my own, until they notice the kids up  a tree nearby!!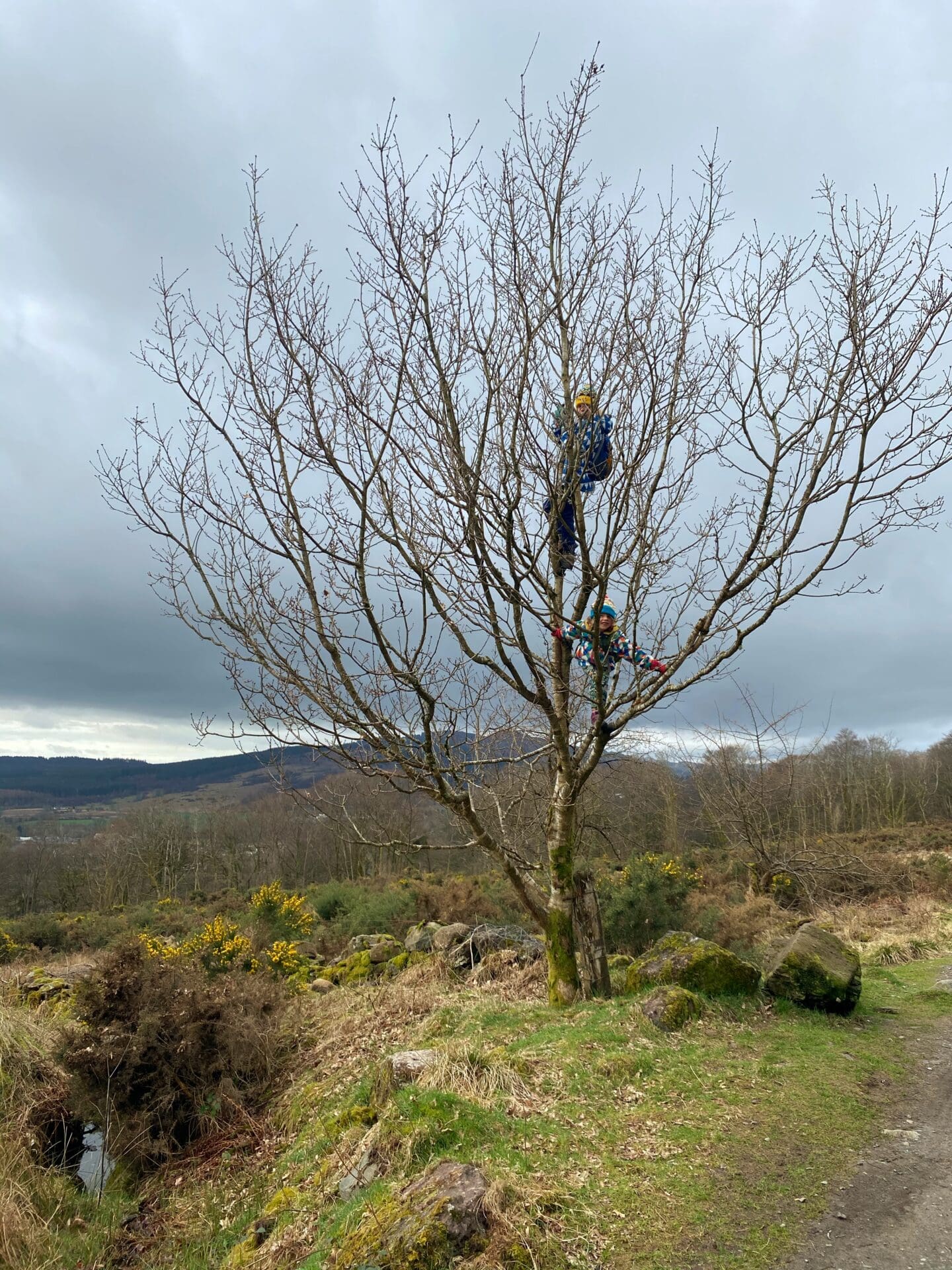 Unstructured play also includes making up stories together and just playing with sticks or whatever else the children choose to do.  It's amazing just how  many ways they can play without any 'thing' at all.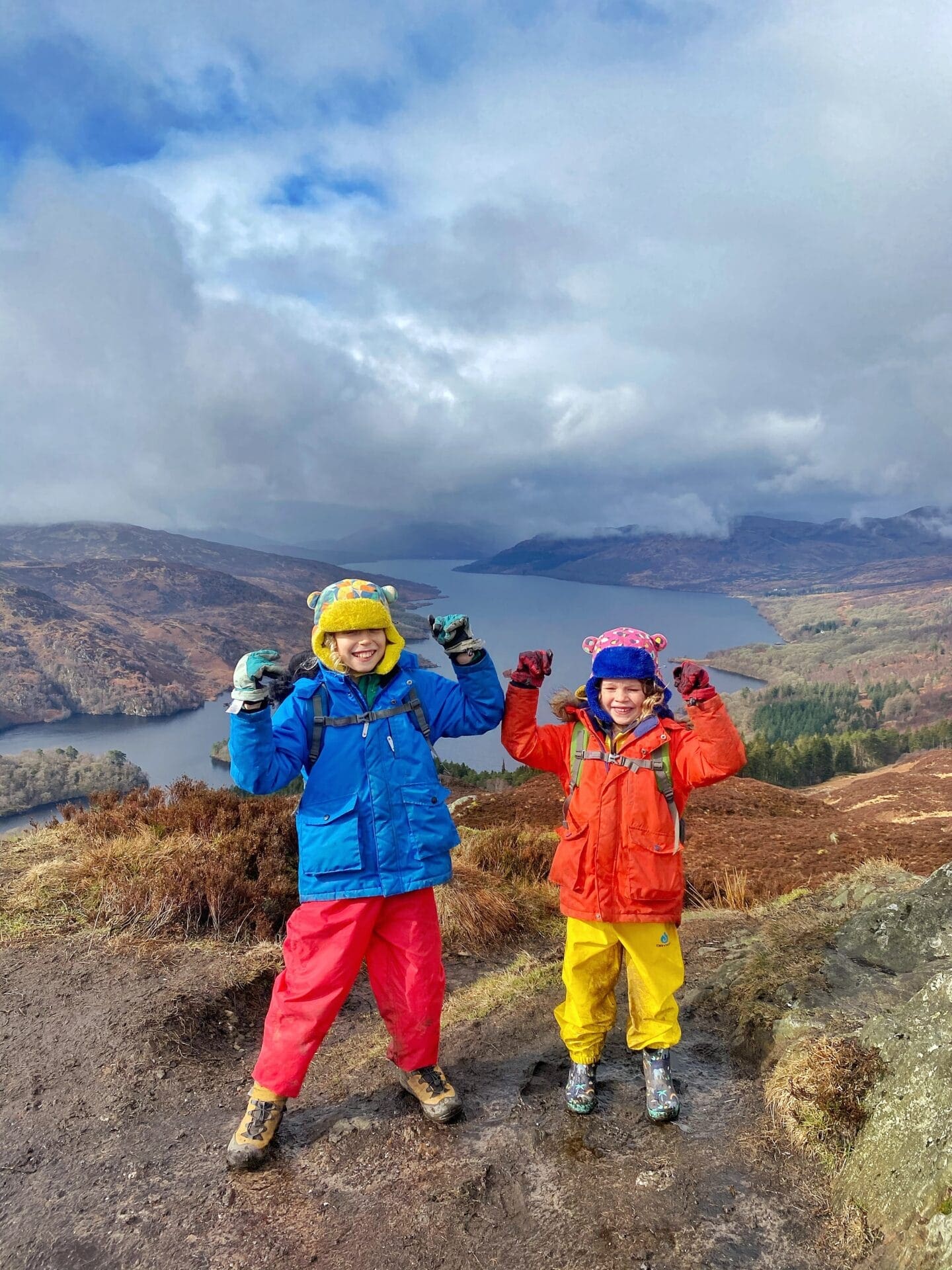 Exercise
We've been on many walks, mostly around 5-7 miles long.  The kids are coping easily with these length walks now and so we'll probably increase the length again soon. Well, after the school Easter holidays as they are enjoying having their friends on the street to play with during the day again.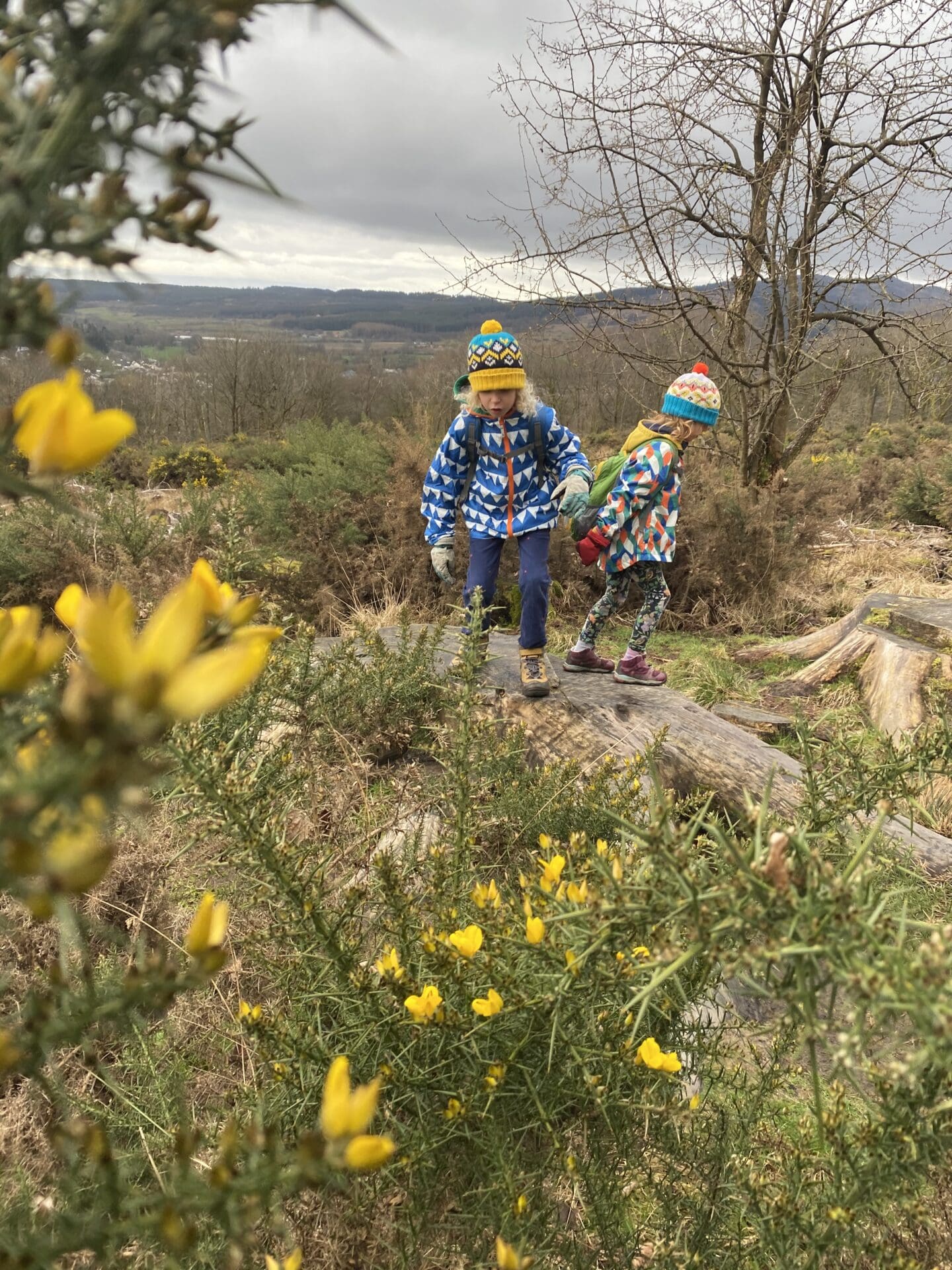 I prefer longer walks in exciting places, but sometimes the kids just want to ride their bikes to the park.  Which is also ok and so we cycle tot the park too. Of course it's more exciting if the dirt bikes are out on the track on the way to watch!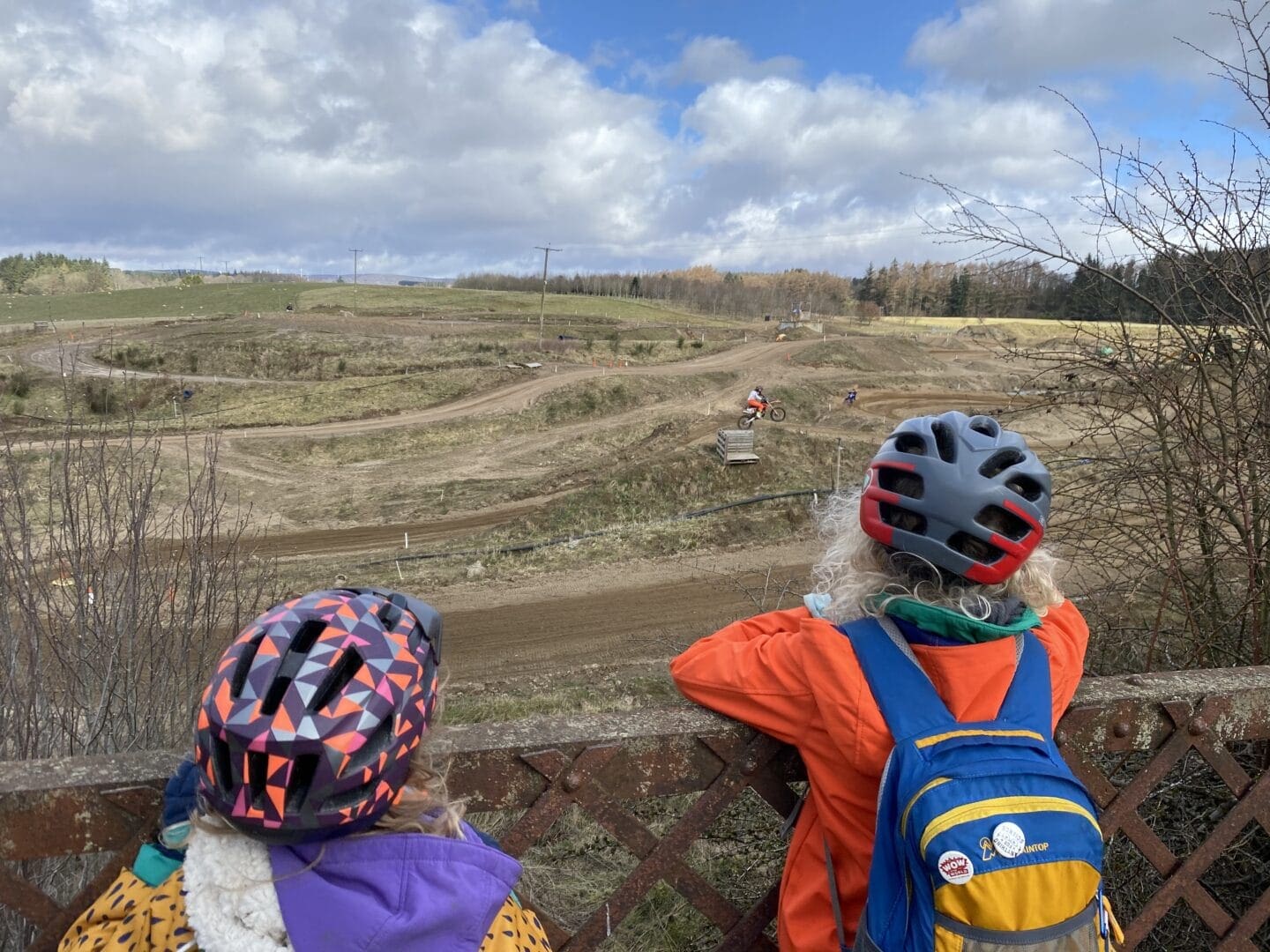 They certainly get plenty of exercise throughout the week and are very rarely indoor for more than an hour or two during the daytime!
Music and Art
Neither of the children have been playing their musical instruments much.  However they have been enjoying listening to music and the youngest especially loves to dance.
His dance group is currently closed until the end of April, but he's had fun learning dances for his drama groups distanced show.
Clubs and Groups
The eldest has had his Cubs online for most of the month, although the last two weeks were outdoors due to the change in guidance.  Unfortunately the youngest's Beavers weren't back online or in person, hopefully this month!
The 7 year old has enjoyed his drama groups online rehearsals for Annie.  I'm amazed at how quickly he learns and remembers the dances for the show.  We had to film it all ourselves on phones and then send it to be edited together into the film.  Some is shot indoors and others outdoors against brick walls etc. It's not easy making a small town look like NYC!  We can't wait to stream it at the end of the month!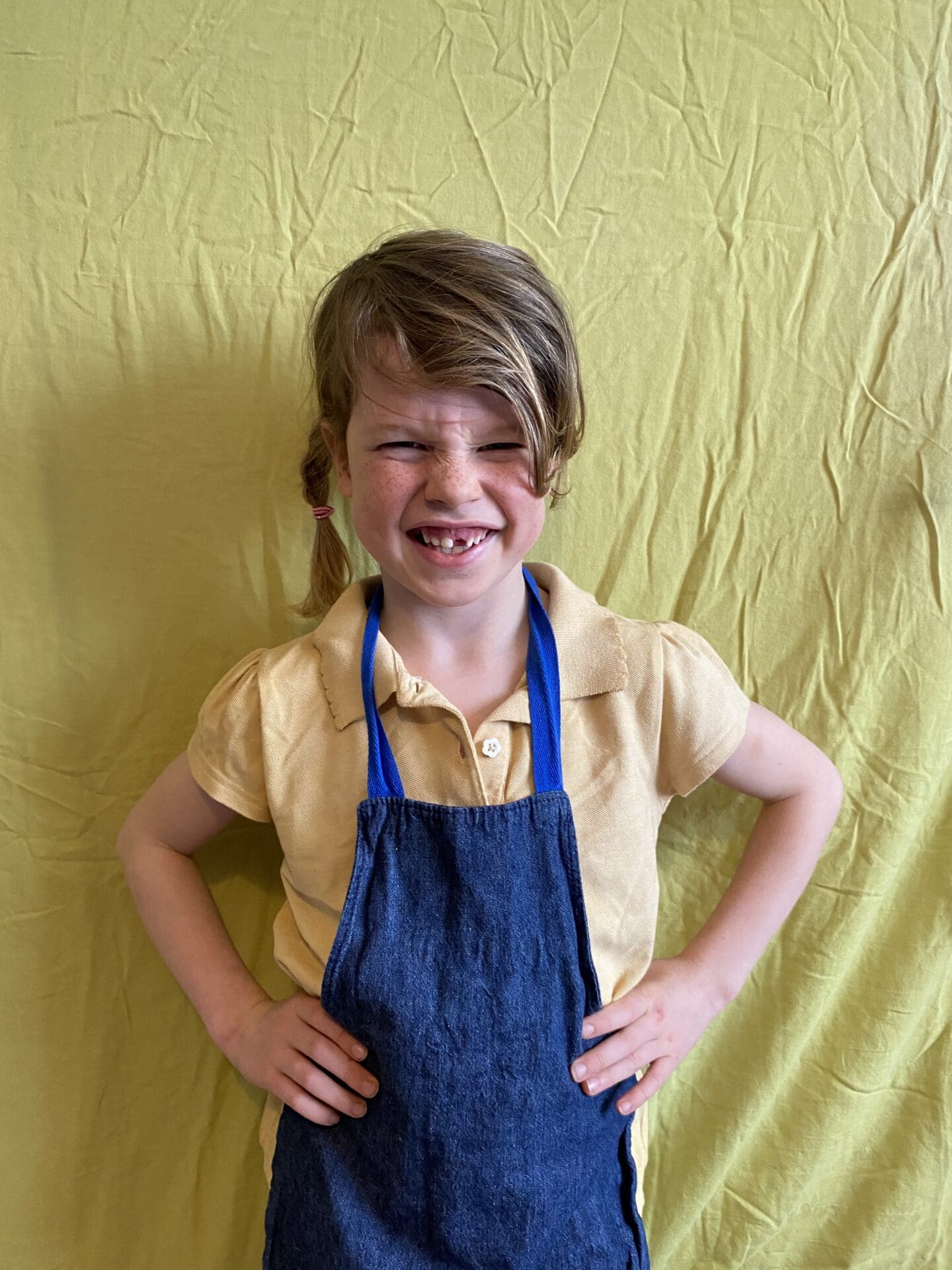 He has also recently had some gymnastic sessions outdoors, which has been lovely for him.  He's very keen on anything requiring coordinated movement.  Not like me at all!!
Fingers crossed for more of their groups to open up at the end of April with the changes in Scottish guidance.
Pin March Home Education Diaries