Which Scottish Road Trip?
Scotland is a beautiful country with so many gorgeous nooks and crannies to explore.  You can choose various modes of transport, but one of the best ways to explore long distances is by vehicle.  A Scottish road trip can be a great way to follow tourist roads or explore further afield.  It's not exactly easy to use public transport in some areas, so a vehicle is a must when you get away from the bigger cities.  Enjoy reading through these Scottish road trips, hopefully one will inspire you for an upcoming trip!
For more ideas on places to stop off on road trips in Scotland check out this post.  Or if you like to go wild swimming, or just a paddle with the kids, have a look at these Scottish wild swimming locations.
North Coast 500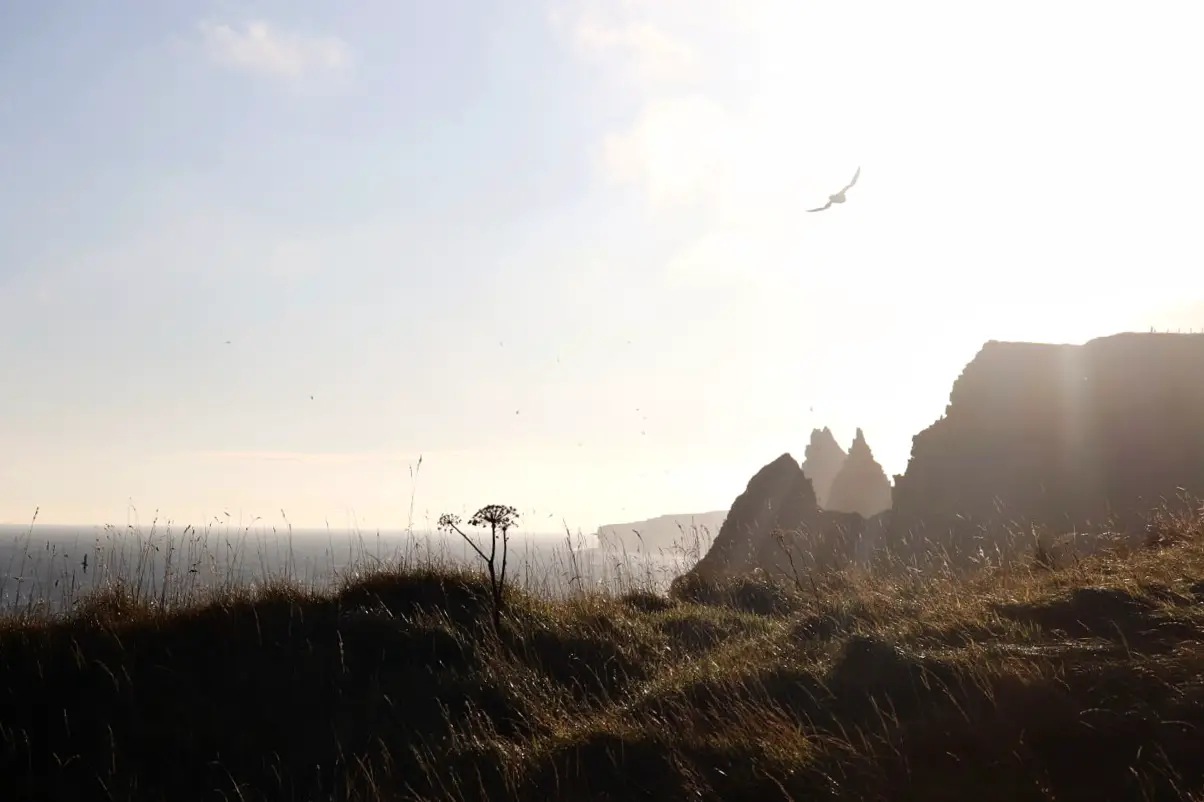 The North Coast 500 is now a well travelled route, normally starting and finishing in Inverness.  There's a lot of potential stops along the way, although you would need a very long time to see everything!  Check out this post here for more about the best of the North Coast 500 itinerary.
Starting at Inverness most people head anti-clockwise around the route.  Although there's nothing to say you can't head round the route clockwise!
East Coast
Visit Inverness castle and look out for dolphins at Chanonry Point and then head North toward Dornoch and Wick.  Visit broad stretches of beach at Dornoch and take in beautiful castles and ancient archaeological remains on the way to Wick.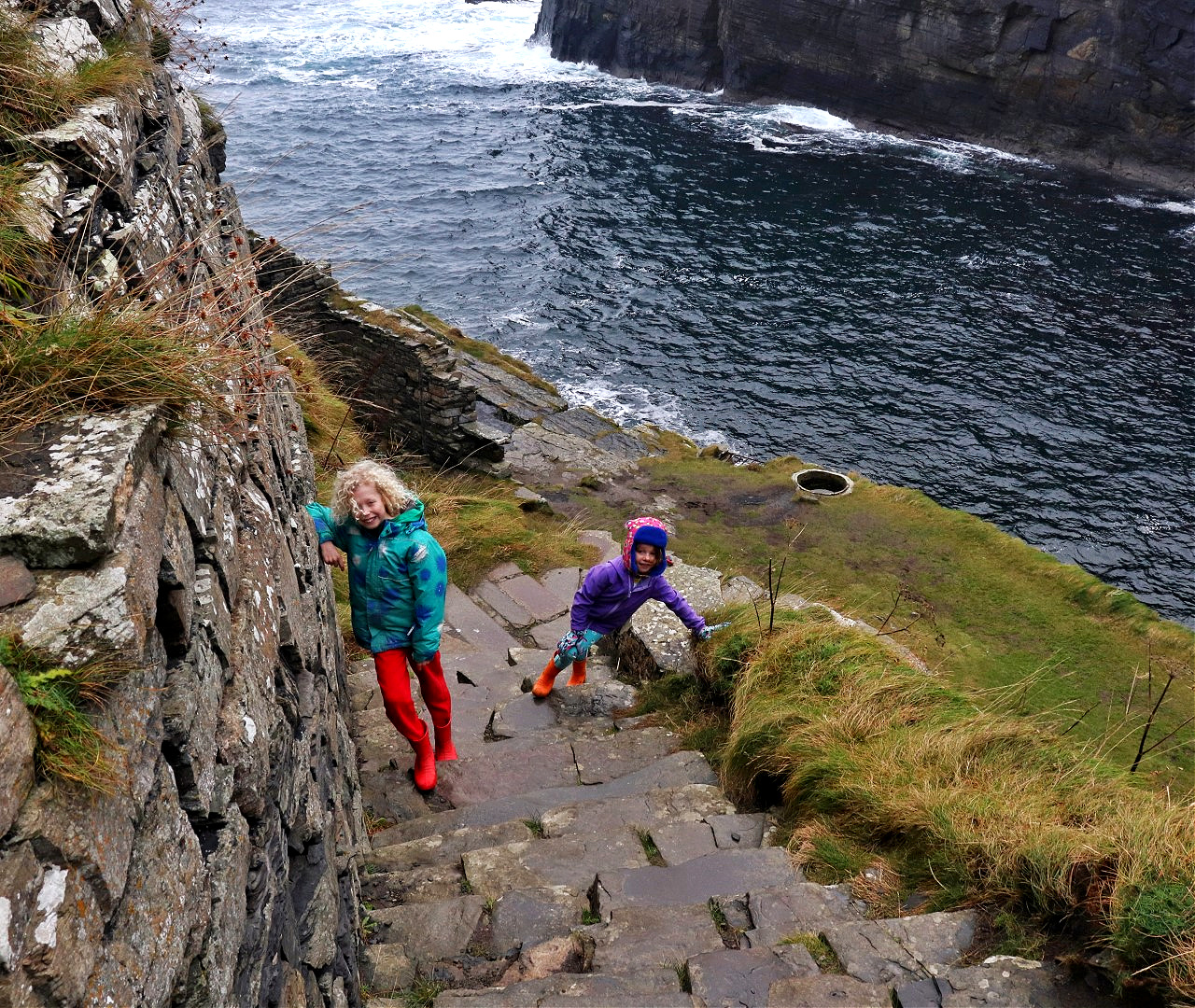 Walk the 300+ Whaligoe steps to the old harbour below and visit John O'Groats to get a photo beside the sign posts.  From here you can head to the awesome geological features of Duncansby Head or to the actual most Northenly point of Dunnet Head.
North Coast
Along the Northern coast of Scotland are plenty of beautiful sandy beaches and Smoo cave is always a hit.  Try a zipline at Durness, over a beautiful beach, there are even places offering horse riding along one of the beaches!
West Coast
Heading down the West coast are plenty of stunning beaches and rugged walks.  Take a boat trip to the summer isles and walk along the streets of old small towns and villages.  Pop into Inverewe Gardens to spot tropical plants and drive up the famous Bealach na Ba road at Applecross.
Finally visit the iconic Eilean Donan castle before heading toward Inverness via Loch Ness to see Nessie and Urqhuart Castle.
There's plenty to visit along this iconic loop, although you will need to check museums and activities are open before visiting.
Southern Scotland Loop
This loop takes you around both the East and West coastlines of Southern Scotland as well as through the lowland hills.  There is plenty of places to visit.
West Coast
Starting in Ayr you can visit Dean and Culzean Castles, travel South and visit the beaches of Girvan and Ballantrae and find the cave of the mythical cannibal Sawney Bean.  Take in a few museums at Stranraer and the beautiful Castle Kennedy Gardens.
From Stranraer to Dumfries you follow the A75, which takes you past some great attractions including the Galloway Forest Gateway Centre, gem museum, several castles and the Cocoabean company where you can make chocolates!  Dumfries has lots of museums and fantastic farm parks for kids.  From here you can travel further along the A75 to Gretna, visiting the Devils Porridge museum.
Lowland Hills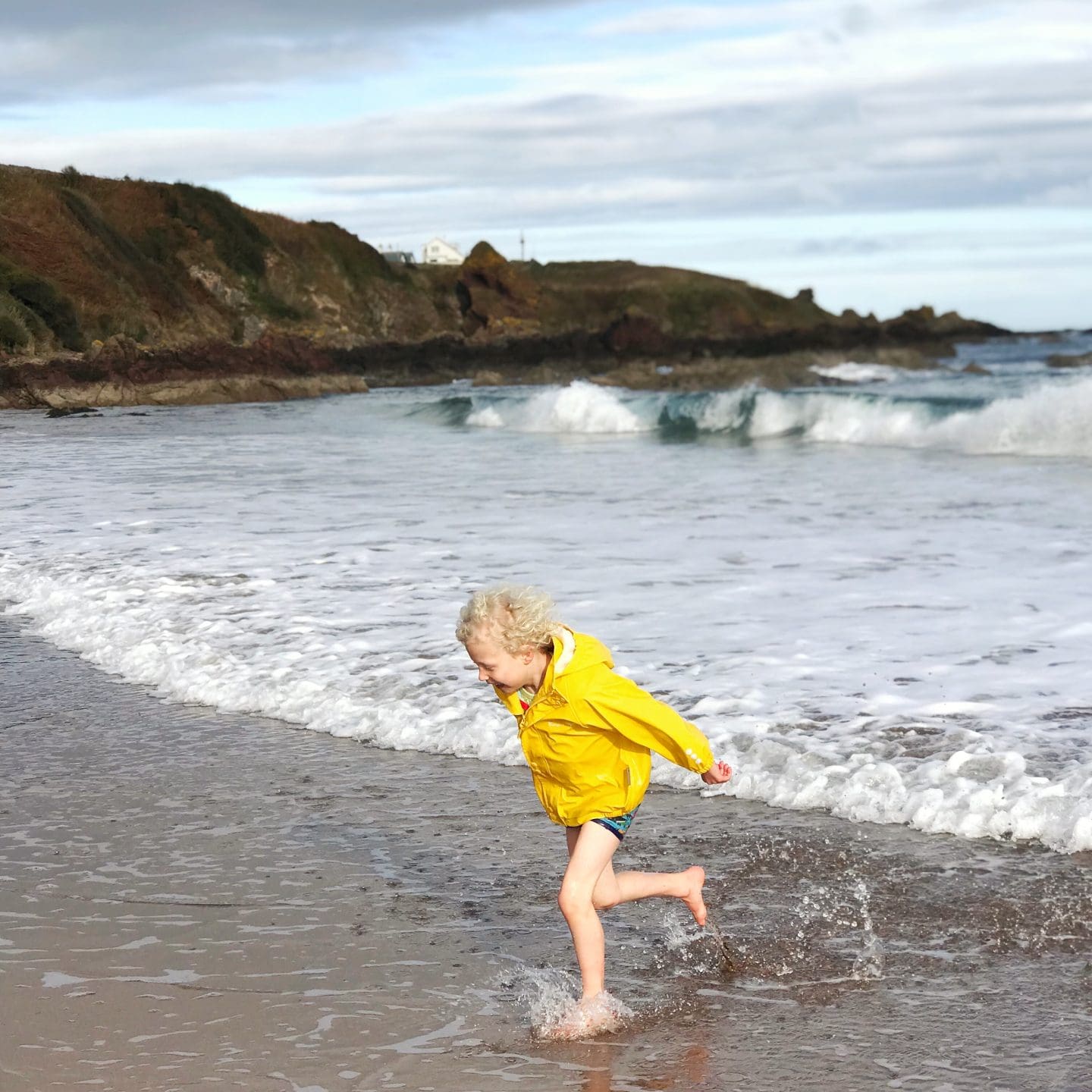 Follow the A7 up to Hawick stopping to admire the lowland hills and visit Gilnockie Tower.  From here follow the A698 toward Kelso and North East to Coldingham on the East coast.  Kelso has a beautiful ruined abbey in the town along with several castles and plenty of walks nearby.  At Coldingham you'll find a fantastic sandy beach with a surf school, plus the RSPB reserve at St Abbs Head.
East Coast
North to Dunbar stopping off at beautiful bays and sandy beaches along the way.  A favourite of ours just North of Dunbar is Seacliff beach, where you can also visit nearby Tantallon castle and book tour to Bass Rock from North Berwick's Seabird Centre.  After this little detour is a drive toward Dalkeith, which has a fantastic country park with a huge adventure play area for kids.
Edinburgh to Leadhills
Follow the Pentland Hills South (stopping for skiing or tubing at Edinburgh's Hillend ski slope) toward Biggar, where you can visit a surprising number of museums in the small town.  There is also a quaint puppet theatre that will entertain everyone too!  Half an hour South West of Biggar is the small village of Leadhills.  Leadhills is, as the name suggests, a lead mining village.  There is a brilliant little museum here and you're able to pan for gold and get tours into the mining tunnel.  Don't visit during winter weather as it's the second highest village in Scotland and receives heavy snow!
From Leadhills it's back toward Ayr via Crawick Multiverse and some more beautiful lowland landscapes.
Loch Lomond and Kintyre
This road trip along Loch Lomond and Kintyre is perfect to explore the shore of the famous loch, as well as some lesser known locations on Kintyre's West coast.
Loch Lomond to Crinan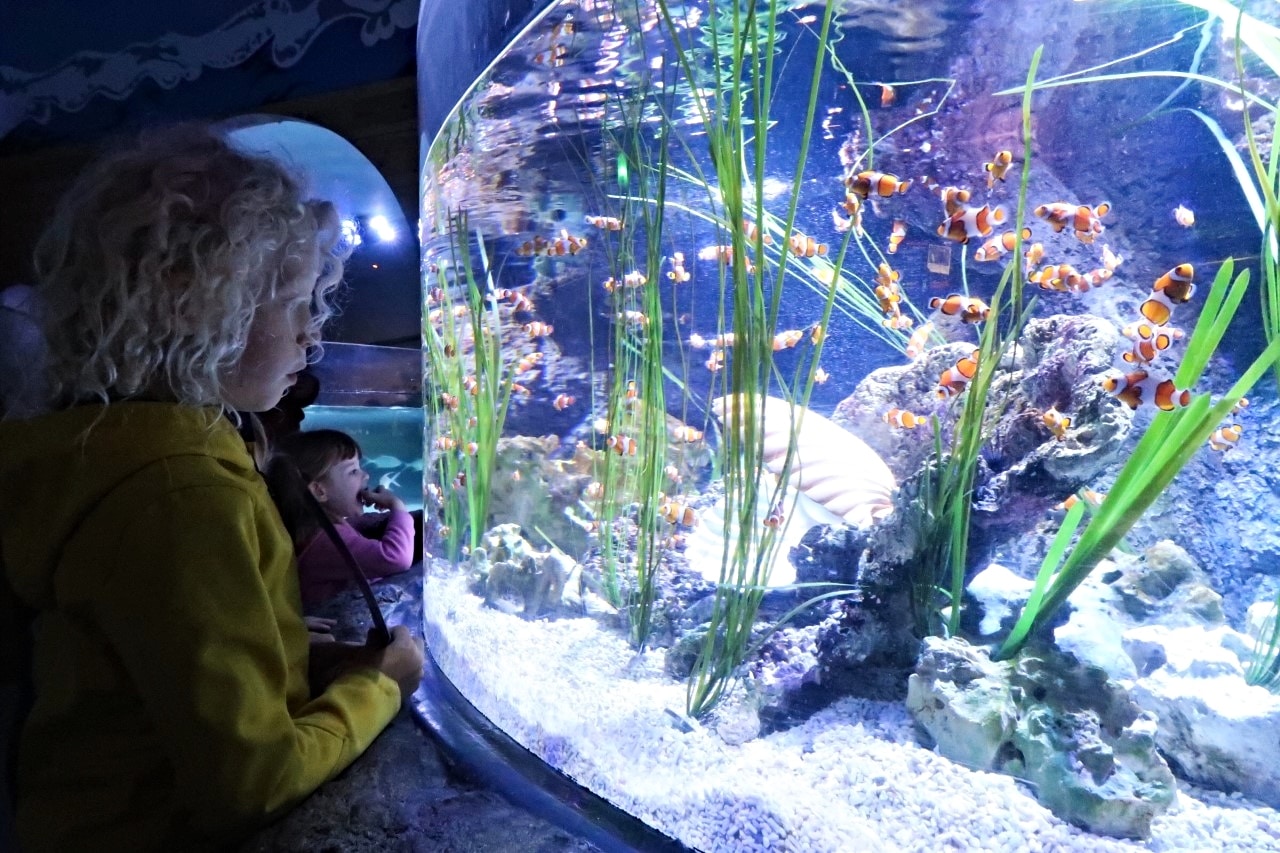 This route begins in Glasgow, travelling up to Balloch at the Southern end of Loch Lomond.  Where you will get the first glimpse of the famous loch and can take a boat trip out onto the loch or visit the aquarium at Loch Lomond Shores.  Following the West coast of the loch North you can visit Luss (a quaint village featured in the TV show Take The High Road), although it is often very busy!
Part way up Loch Lomond at Tarbert you will head West toward Loch Long and then up to the Rest and Be Thankful.  Stop at the top of the Rest and Be Thankful for a view down the valley and then drive down toward Cairndow on Loch Fyne.  There are several great stops along Loch Fyne, including Ardkinglas gardens (also has a Grufallo trail in Scots, great cafe at the Tree Shop (fab gifts too!) and the Loch Fyne seafood restaurant. The latter is where to head for amazing Scottish seafood!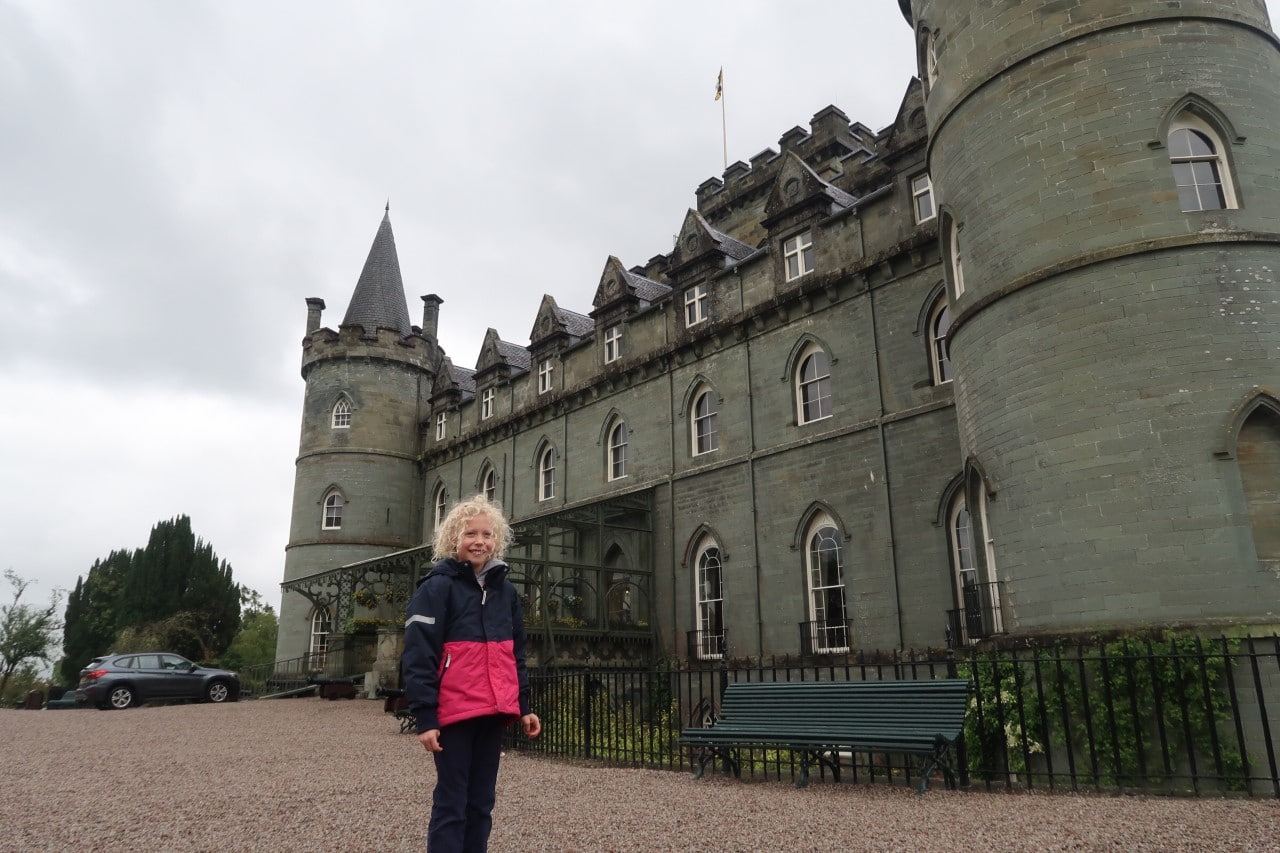 Round the corner is Inverary which despite being small has lots to see, with Inverary castle and gardens, Inverary jail and lot of lovely shops and cafes.  Continue towards Lochgilphead, stopping at Auchindrain to see what life was like here in the past.  On the way out of Lochgilphead you will enter the village of Adrishaig where you can find the Crinan canal.  The Crinan canal is fairly short, but an easy way out to the West coast by boat!  There's a visitor centre, walk or cycle along the tow path and you can book a trip on a boat too!
Kintyre Peninsula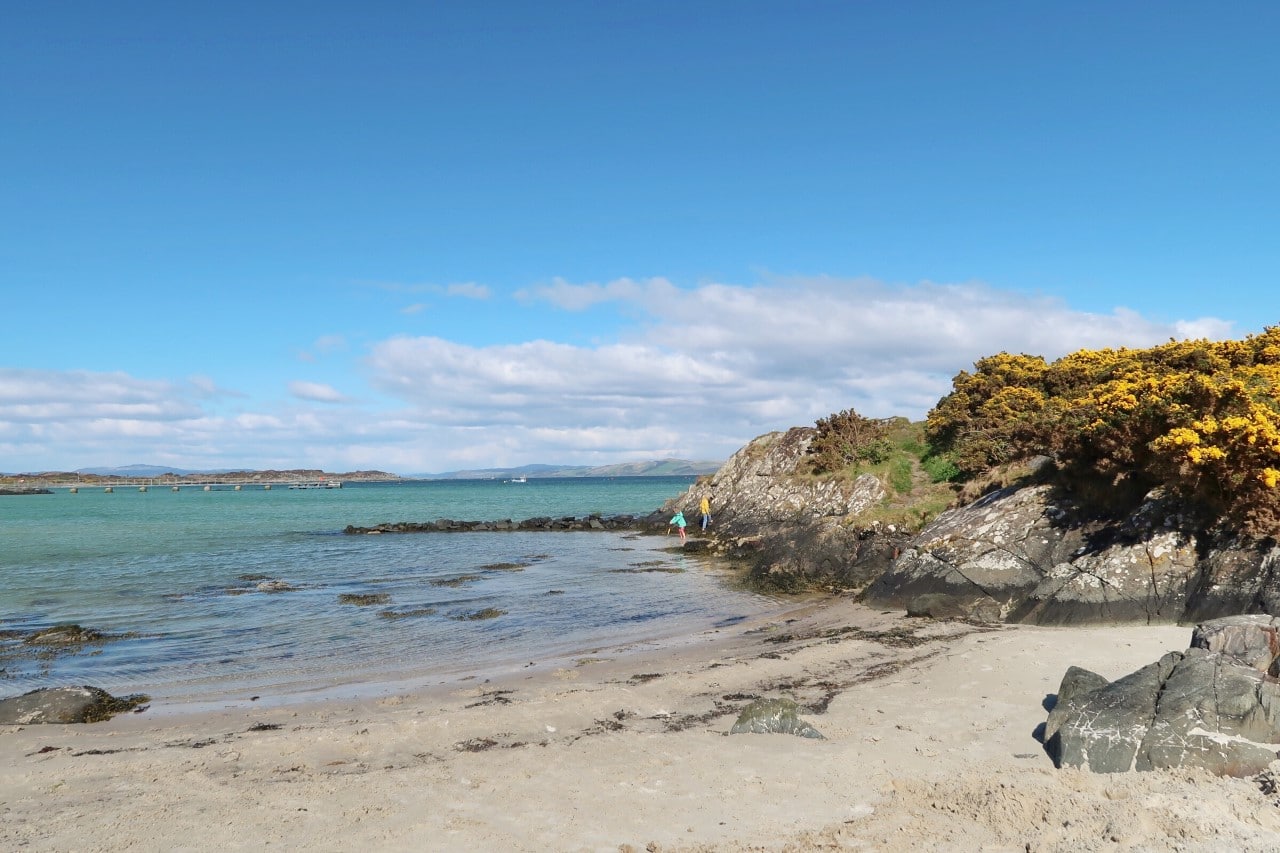 At Tarbert, yes another one (an old viking name for narrow strip of land where they carried boats over), there is the ruined Tarbert castle.  This has a royal connection to King Robert the Bruce and worth a visit for the beautiful view.  Only half an hour away you can catch a ferry across to the little island of Gigha.  Only 20 minutes from the mainland it's great for day visits as pedestrians or cyclists with beautiful beaches and friendly locals.
At the South of kintyre you will find Campbelltown.  From here you can catch a ferry to Ardrossan on the mainland or head North on the East coast of kintyre to Claonaig and catch a ferry to Lochranza on the Isle of Arran.  It's only half an hour to Arran on the ferry, where you can visit standing stones, Kings Cave (Robert the Bruce again!), catles, forests and watch seals and otters play.
Catch the ferry back from Brodick to Ardrossan, within easy driving distance of Glasgow if you need to drop off your vehicle.
From Fife to Angus
Start off this road trip by crossing the famous Forth Road Bridge, looking over to it's even more famous big brother, the Forth Rail Bridge.  You enter into Fife at North Queensferry, which is the location of Deep Sea World (aquarium).  It's right beneath the Forth Rail Bridge, so great view of the bridge as you drive underneath!
Fife
Once you have finished exploring the aquarium head East along the coast to Elie.  A beautiful little seaside town with a great beach.  However, for adventure seekers the chain walk on the cliffs West of Elie are a must, just check the tides before going!  Continue up the coast East toward Anstruther where during the summer season you can take a boat trip out to the Isle of May.  North of the village is the Secret Bunker, Scotland's secret Cold War underground nuclear command centre.  If you have time head to Dunino Den for a quick visit of an ancient Pictish worship site, which is certainly very magical!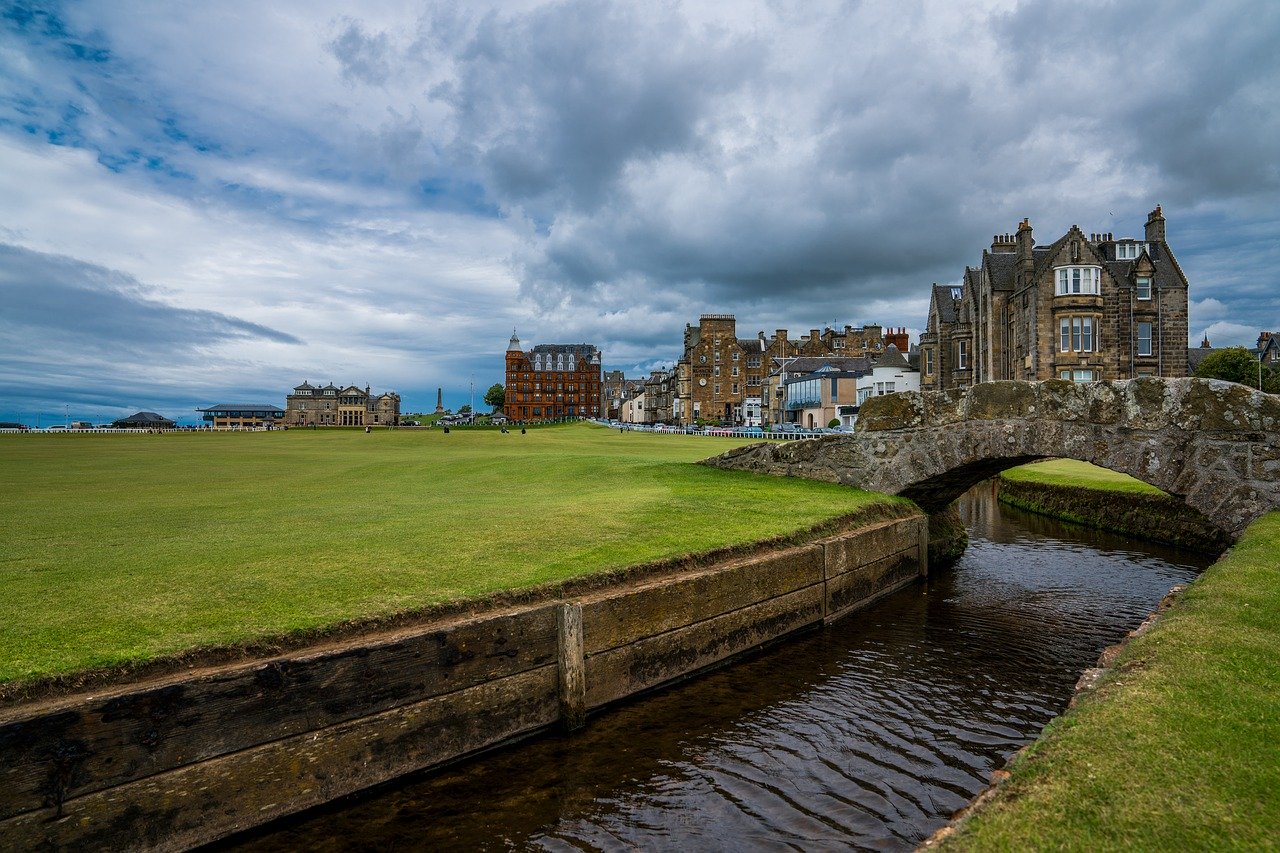 Next stop is the well known town of St Andrews, with several noteable places to visit.  The castle is a favourite place to visit, don't miss the tunnel under the castle dug during a siege.  As a university town there are plenty of eateries to visit and beautiful stone university buildings.  To the North of the town is the gold course and of course the long stretch of sand, which is perfect for a walk or swim.  Head to Blown Away to experience some more fun aspects of the coast, with land yachting, surfing, kayaking and paddle boarding.
North along the coast of Fife is the National Nature Reserve of Tentsmuir with a combination of forest trails and open sand dunes. The perfect place for a family walk with plenty of bird life and even the odd seal!
We can now head West inland toward Cupar, which has several notable attractions.  Cairnie fruit farm is a great hit with all the family during the spring and summer.  You can pick your own fresh fruit, get lost in a maze and the kids can play in the outdoor play area.  Nearby is the Scottish Deer Centre where you can meet various deer specie and birds of prey.  A little further West is Fife Zoo, a small intimate zoo with animals kept for conservation purposes such as lemurs and agoutis.
Dundee City
It's now time to leave Fife and head into the city of Dundee. Here are a variety of places to visit including the Discovery museum (the ship that took Scott and Shackleton to the Antarctic), the new Victoria and Albert musuem, a small science centre that's great for kids and the Verdant Works.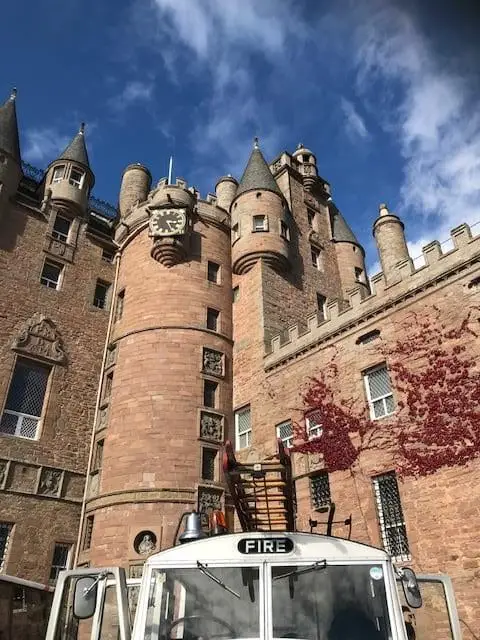 Twelve miles North of Dundee is Glamis Castle, settled in the beautiful Angus countryside.  It's a stunning castle with red stone work that looks beautiful in the sunlight.  At the castle you can visit the gardens and explore the castle before grabbing some delicious food in the tearoom.
Angus
Head up to Montrose basin to watch the wildlife at the Montrose basin reserve, great for birdlife. There is also Montrose Basin Air Station Heritage Centre nearby and of course Montrose beach.
Before you had back down South stop in at Kirriemuir to find out more about JM Barrie (author of Peter Pan) at his birthplace. You can visit the house he spent his early years in and also get a photo taken by the Peter Pan sculpture in the centre of Kirriemuir.
For anyone wanting a last trip into Scottish wilderness before going home, head up to Glen Clova.  It's a well renowned glen for it's great walks and views.
Mountains to Coast
Travel from the Cairngorm mountain range across to the East coast of Scotland with this mountain and coast road trip.  I'm assuming you will be starting from either Glasgow or Edinburgh and so it's best to head up toward the A9 to Pitlochry for your first stop.
In Pitlochry there are lots of wonderful local shops on the high street to visit.  However you will need to head out of town to visit local distilleries and lots of beautiful walks in the surrounding woodlands.  If you are visiting during October – November make sure to book (well in advance!) tickets for the Enchanted Forest light show that takes place every year at Faskally Wood.  Every year it gets even more dramatic and you won't find another light show in the UK as amazing as this!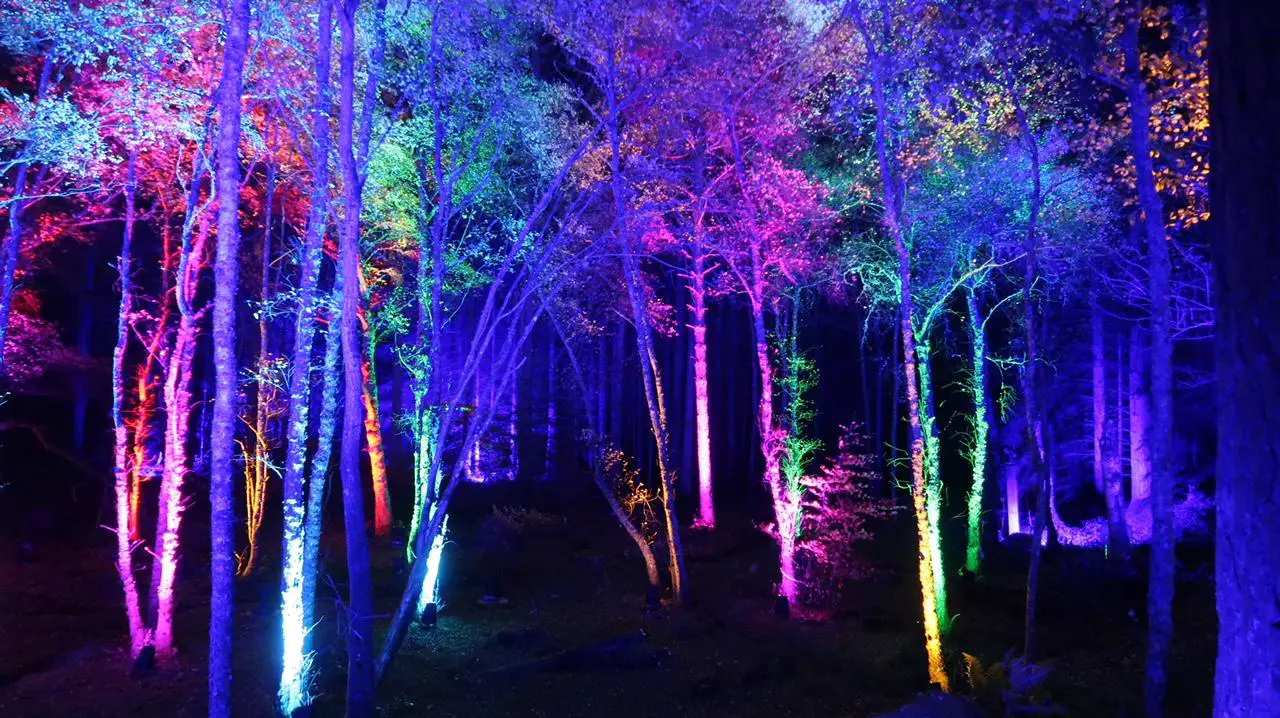 Cairngorms
Stay on the A9 heading North to Aviemore where you can finally enter into the Cairngorm National Park.  Aviemore is loved by the Scots just as much as foreign visitors.  The town has a host of visitor attractions from steam train rides and reindeer to meet, to beautiful walks in the hills and lochs.  Loch Morlich is the place to head for watersports and Rothiemurchus estate has stunning walks.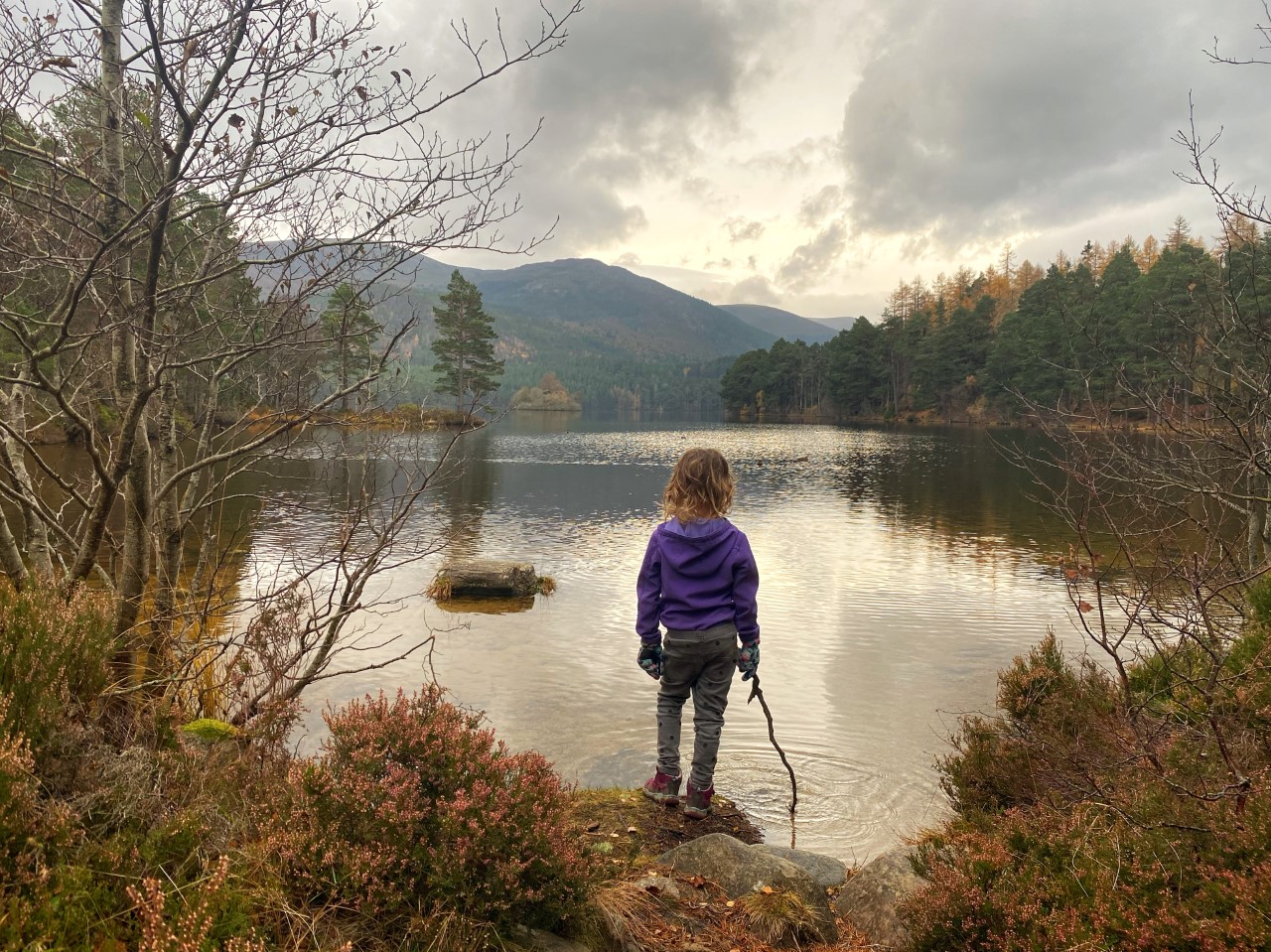 Leave the A9 behind and head along smaller roads to the highest village in the Highlands.  This is the perfect place to explore more distilleries along the Speyside malt whisky trail and Glenlivet Estate.  Explore the Glenlivet bike trails, walk in the Cairngorms and in winter enjoy snow sports on the mountains.  Or you can head to Corgarff Castle to find out why the military used it as a base to stop smugglers!
Head South along the snow roads to Braemar, location of Mar Lodge (often used in Spring or Autumn watch).  Braemar is a picturesque little village with a fantastic castle.  It's also the famed site of the Royal Braemar Highland Gathering, the summer highland games that are frequently attended by the queen.  It's also a good base for skiing in the Cairngorms at the beginning of the year.
East of Braemar is the location of Balmoral Castle, owned by Queen Elizabeth and where she visits when in Scotland.  There are also guided tours of the castle at Blamoral and jeep safari tours.    Travelling East along the A93 to Banchory and Crathes there are plenty of castles to visit including Crathes and Drum castles.  Take a ride of the Royal Deeside Railway and then have a shot at the Go Ape ropes course at Banchory.
Aberdeenshire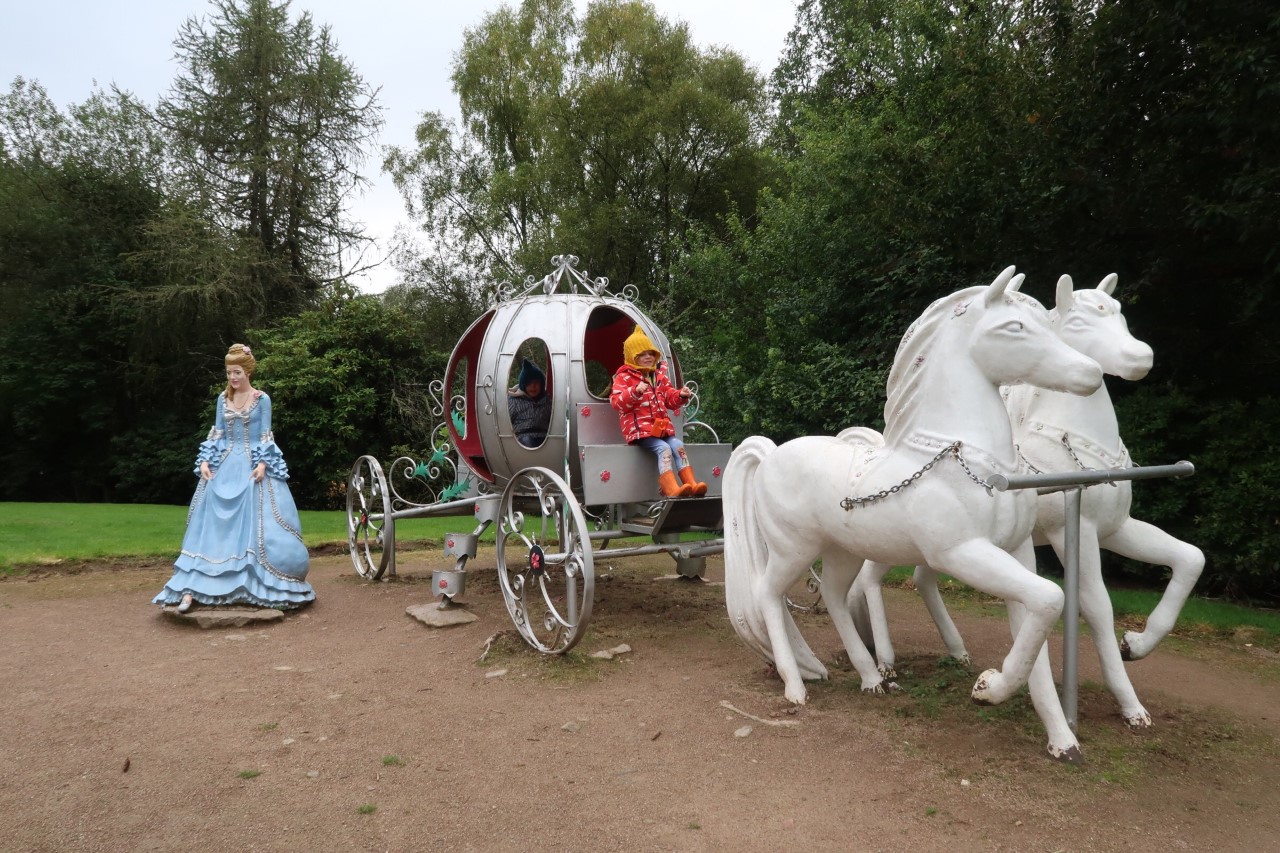 Keep heading toward Aberdeen choosing the A957 and then the B9077 Eastward and you'll find a great kids attraction, Den and The Glen.  Storybook glen is an outdoor parkland filled with characters from storybooks alongside play equipment too.  If it's wet there is a huge softplay area to visit too.
Take the road to Stonehaven on the coast where there is the magnificent Dunnotar Castle standing precariously on the cliff edge.  Do be aware that it is often closed on windy days as it's too dangerous.  Don't forget to pop into Aunt Betty's for a very tasty ice cream whilst you're in Stonehaven!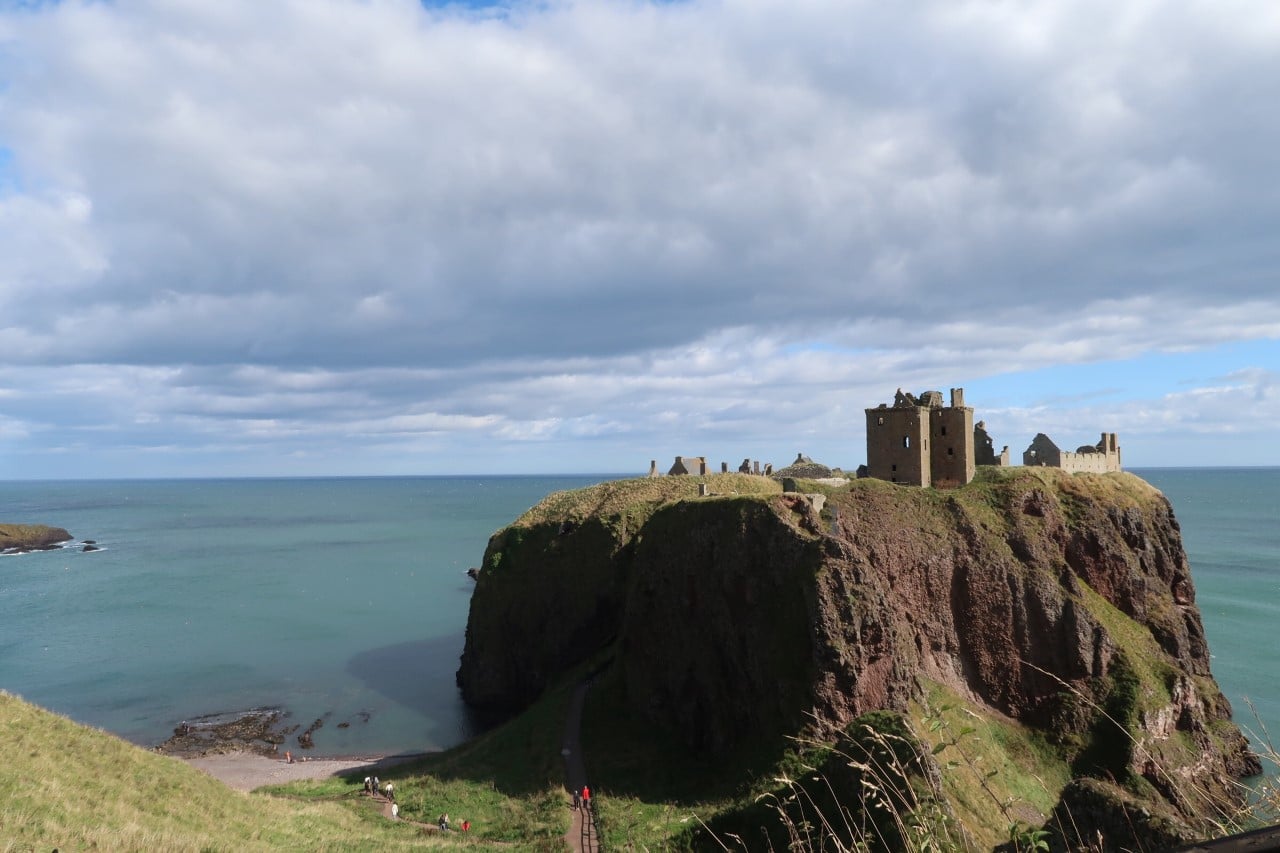 Follow the coast South to St Cyrus, a stunning 3 mile stretch of sandy beach that is also a National Nature Reserve.  Bring a wetsuit to jump in the waves or stroll along the many trails in the reserve spotting insects, flowers and bird life.
Long Hebridean Road Trip
There are two ways to do the Outer Hebrides, the first longer trip includes the islands of Lewis and Harris, all the way down to the Uist's and Barra.  The other shorter version misses out Lewis and Harris.
The long Hebridean road trip begins at Ullapool where you will need to catch the ferry over to Stornoway.  It's a 2 hour 45 minute journey across the Minch, but keep an eye out for marine life as it's quite possible to see dolphins and whales from the ferry.
Isle of Lewis
In Stornoway there are various museums including Lews Castle which has different exhibitions throughout the year and is home to 6 of the Uig chess pieces (found on a beach and thought to have belonged to vikings).  They have a great display about local history that is fascinating for adults and kids alike.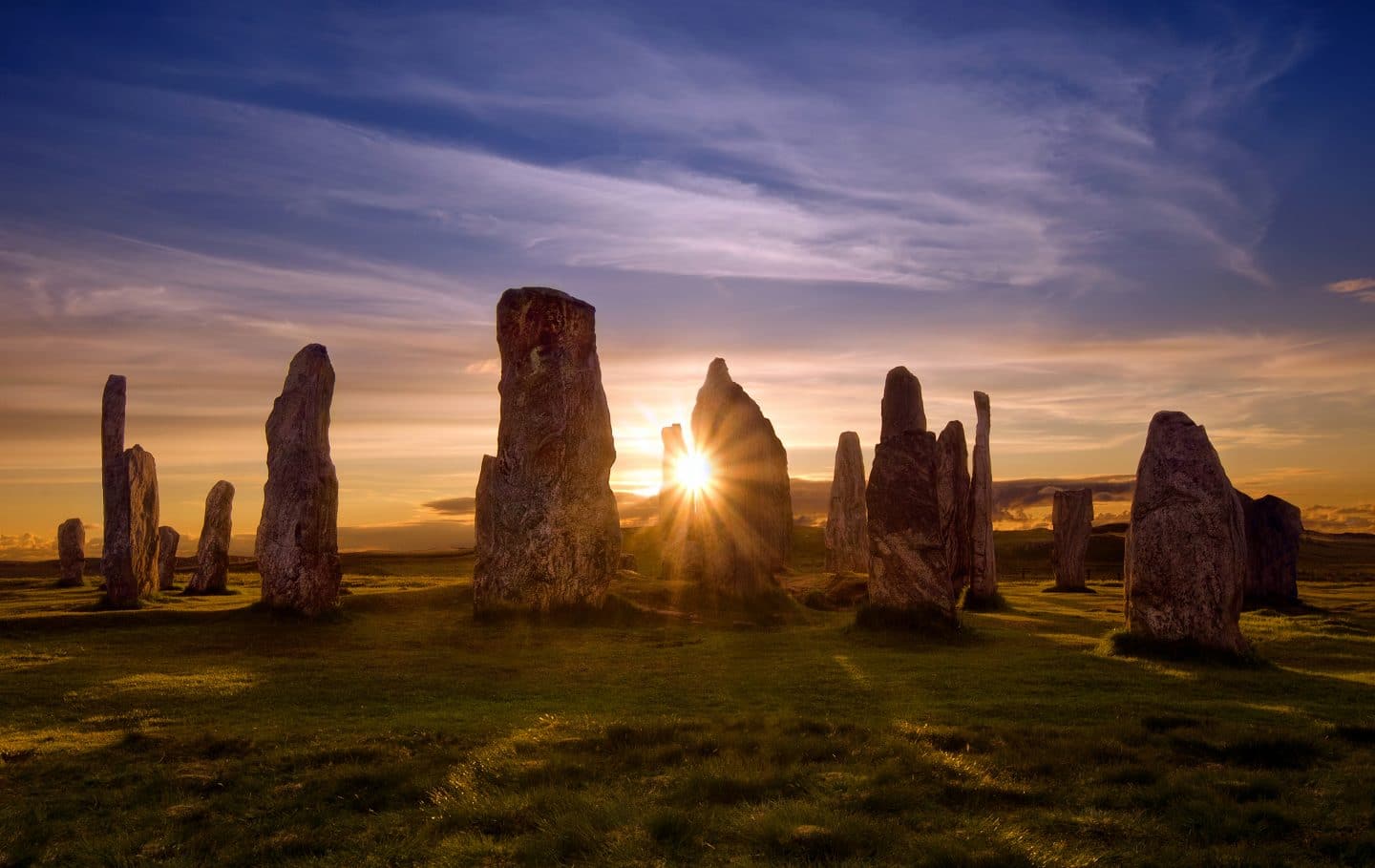 Out of Stornoway there are many fantastic attractions on Lewis.  From the beautiful beaches (highly recommend Dalmor beach and Uig Sands) to historical sites of Callanish, Dun Carloway Broch and blackhouses. Of course there is the amazing wildlife too, take a boat trip in the summer or try heading to the Butt of Lewis to watch dolphins.  This Hebrides blog post has some great ideas of places to visit on Lewis.
Isle of Harris
From Lewis you head toward Harris, technically it's joined to Lewis, but it really does have a different feel!  Whereas Lewis has wide open flat peat bogs, Harris is a rugged mountainous island.  Harris has a few interesting places to visit including the Isle of Harris Distillery, the Harris Tweed shop and boat tours to the Shiant Islands.  The main thing to do in Harris is to explore the outdoors, climb Clisham, play on the many white sand beaches (Luskentyre being a favourite!) and walk along the variety of paths including a great walk around the island of Scalpay.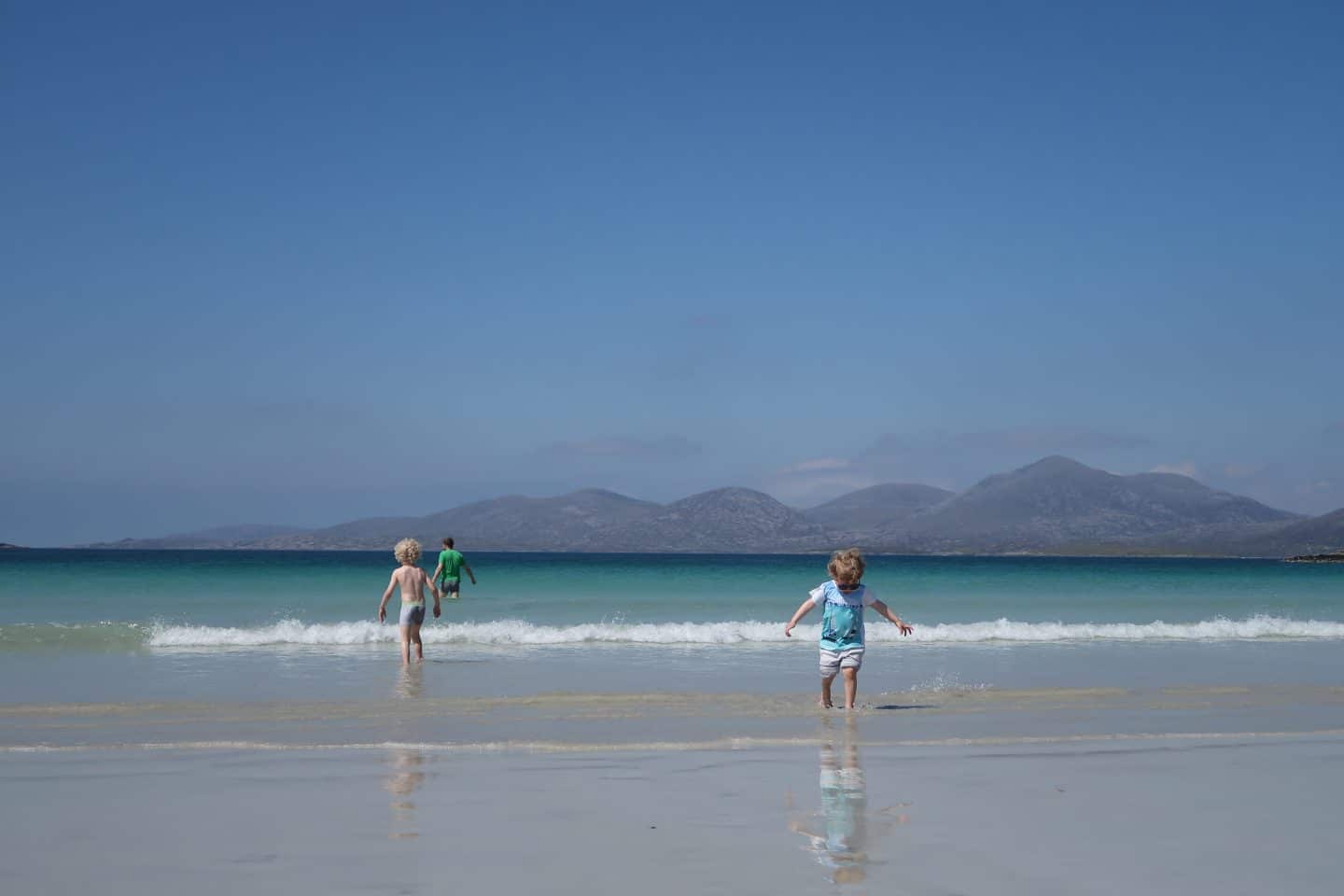 From Harris you will need to catch a ferry over to Berneray, a small island connected to North Uist.  The Islands in this chain, Berneray, North Uist, Benbecula, South Uist and Eriskay are all joined by a road and bridges.  You probably won't necessarily realise you are passing from island to island!  It does make it much easier to explore.  It's best to choose a base in the North of the islands to explore and then a second one further South.
Uists
The Uists have such beautiful landscapes and stunning windswept, white sand beaches.  One of the best beaches has to be the sweep of white sand at Balranald, which is also part of an RSPB reserve,  Look out for seabirds nesting and listen to the calls of the Corncrake from surrounding farmland.  If you're really lucky you might even spot a corncrake!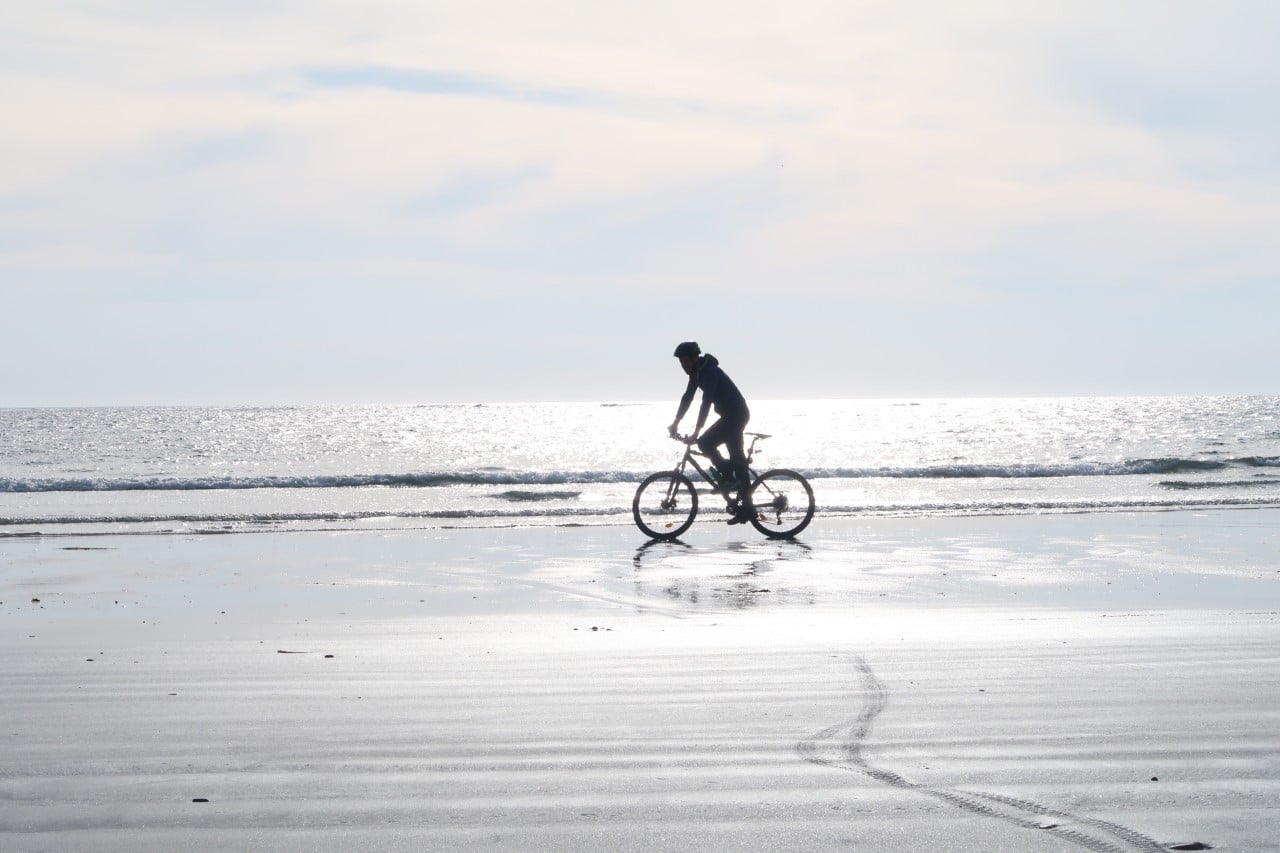 This stretch of isles also has some great museums including Taigh Chearsabhagh Museum and Kildonan Museum, both have great exhibitions about island life amongst other things.  There is plenty of wildlife around the islands from otters and birdlife to seals and whales.  You can take boat trips to try and spot wildlife at sea or just enjoy the beautiful walks along the coastlines.
Barra
From Eriskay take the ferry across to Barra, which is also connected to Vatersay by road bridge.  Barra is a small island and you can fairly quickly drive around it's 13 mile circular road.  One of the highlights of travelling around Barra is watching the small planes landing on the beach – the world's only tidal beach runway that has scheduled flights.  The beach is also a great cockle picking area, but you must look out to see if the wind socks are flying before heading onto the beach.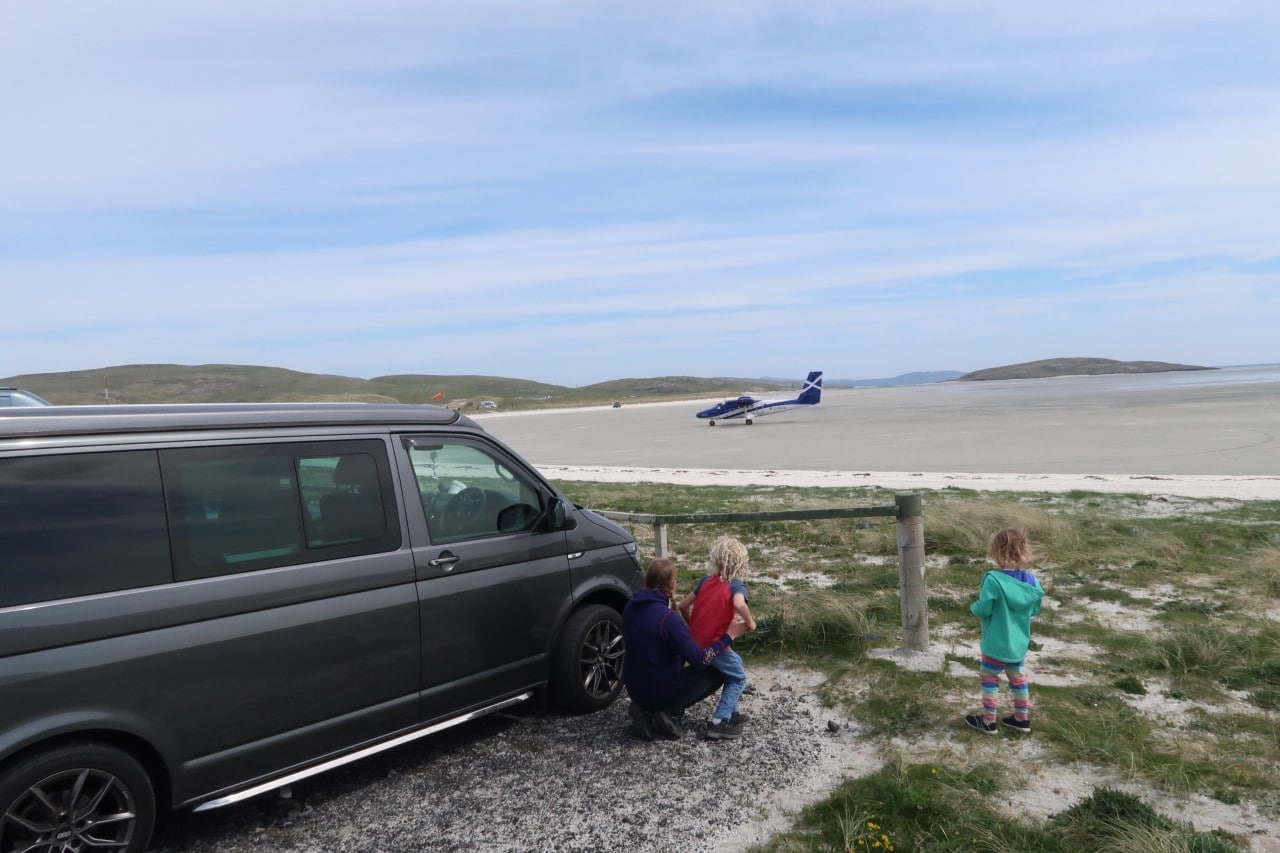 Another great place to visit on Barra is Kisimul Castle, you catch a small boat from the aptly named Castlebay.  The Heritage centre at Castlebay is also a great place to visit and you will find plenty of walks across the island and many historic sites including brochs that show little remnants.  You can also head across to Vatersay to visit the twin sandy beaches, great for body boarding and surfing!
From Castlebay you take the ferry back to Oban.  An almost 5 hour journey, but it's worth getting up on deck during the crossing to look out for marine life. It's not unusual to see dolphins in the wake of the ferry.
Once you're back in Oban it's easy to continue on your journey through Scotland.
Shorter Version Hebridean Road Trip
For this version of the Hebridean road trip you begin in Skye and miss out the isles of Lewis and Harris.  The rest of the journey through the Uist's and Barra remains the same.
Isle of Skye
Skye is a well know Scottish tourist destination and can be quite busy during the summer months.  Despite it being busy it's still worthwhile stopping off at a few places on the way. Eilean Donan castle is a well known landmark in Dornie, not far from the bridge over to Skye.  Once you're over the bridge onto Skye there are a few good destinations to stop on the way.  Sligachan is the gateway to the Cuillins and even if you only stop to look at the view from the little bridge, it's worth stopping to look!  The Sligachan Inn has great food and drink if you need to stop for lunch.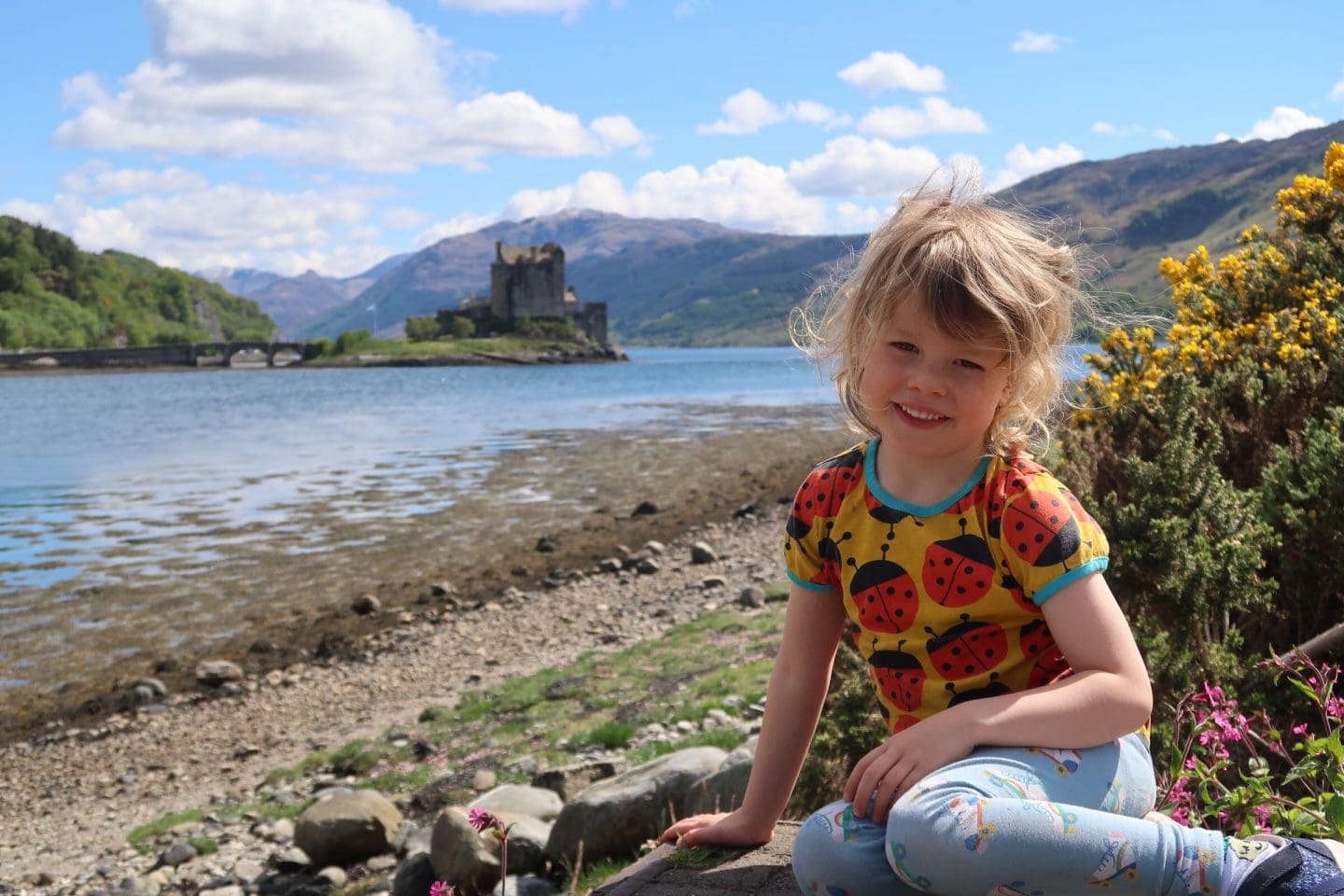 Continue North toward Uig, if you have time take a detour to the mysterious Fairy Glen.  There are no fairy stories associated with the glen, but it definitely has a rather ethereal feel to it.
Uists and Barra
Catch the ferry from Uig to Lochmaddy on North Uist.  Continue along the same route as described in the longer version of the Hebridean road trip.
Scottish Lochs and Mountains
North Along the A82
Starting at Balloch on the Southern end of Loch Lomond this trip takes you on a tour of the 4 corners of the middle of Scotland.  Balloch is a great starting point where you can visit the loch and get boat tours on the Southern end of the loch as well as a fab aquarium to visit.  Drive North along the A82 stopping to visit Loch Lomond's Western shores to admire the loch at Tarbet or Inveruglas pyramid sculpture and then visit the Falls of Falloch to stretch your legs (limited parking).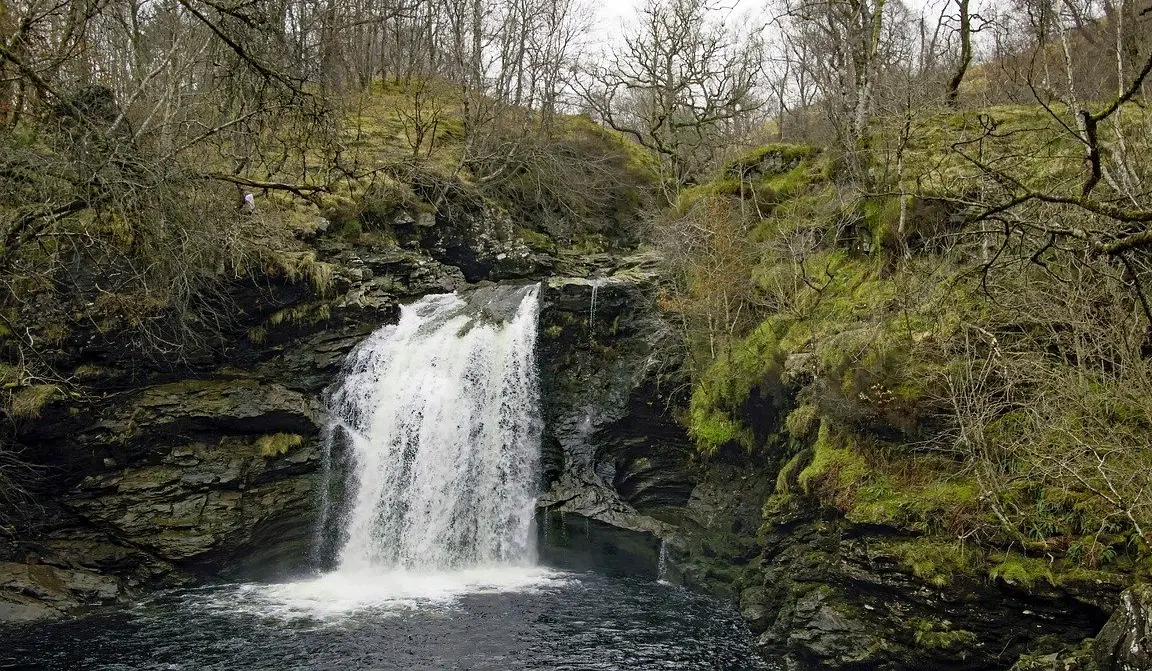 The A82 continues up to Crianlarich and then Tyndrum which is home to the famous Green Welly Stop.  Just off the A82 North of the Green Welly is the Bridge of Orchy, which is a beautiful river to walk along.  There are also plenty of places to wild camp along the river, although it can get busy during the summer.
Glencoe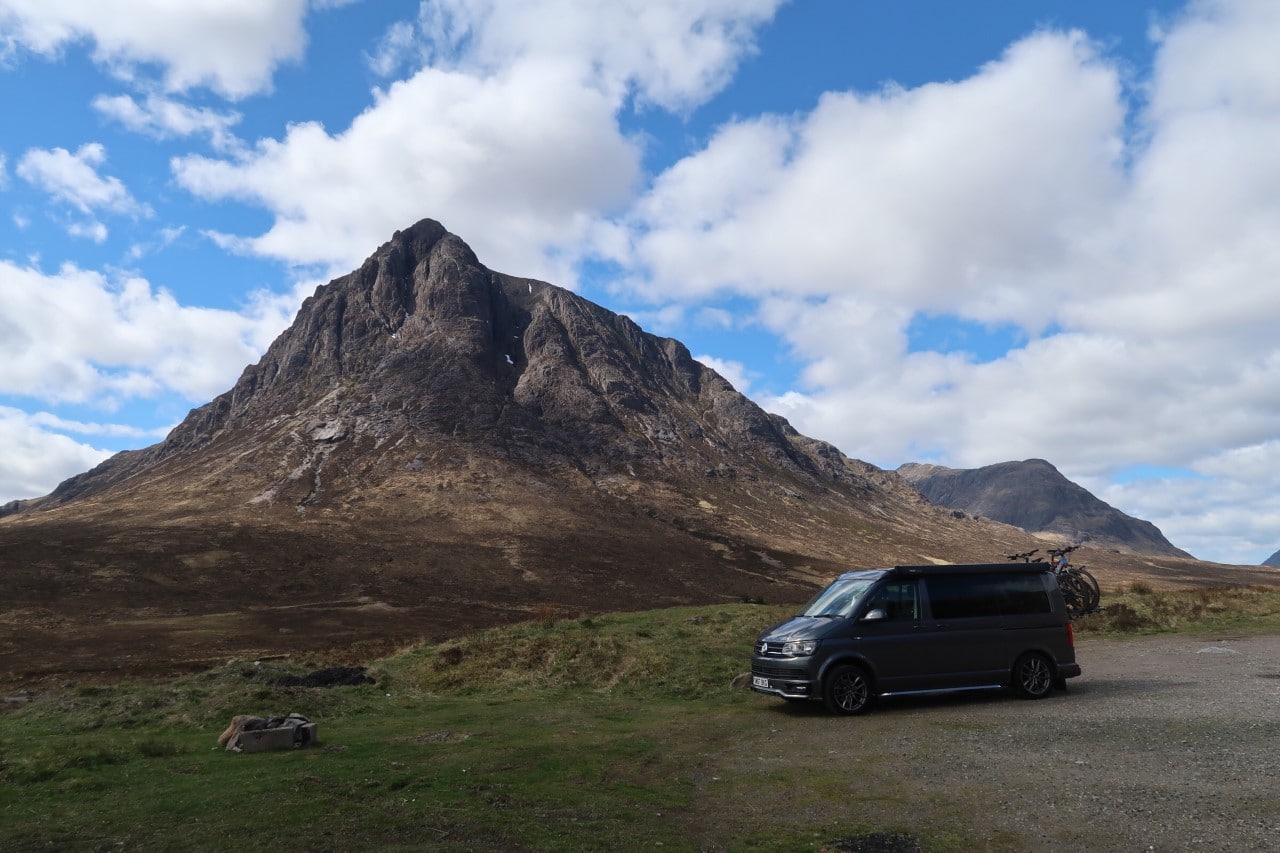 You will pass through Rannoch moor and on to Glencoe.  Before you enter Glencoe you will see Glencoe mountain resort where you can ski and snowboard in winter.  During the summer you can still use the chairlifts, along with trails for biking, a tubing area and take part in a treasure hunt!
Glencoe is famous for awesome mountain ranges, perfect for walking, but make sure you bring clothing for all weathers, mountain weather can change very quickly!  Also in Glencoe is the visitor centre which tells you a little more about the glens history.
Fort William
At Fort William you will see Ben Nevis looming in the background, a great climb in good weather.  If you choose to climb the mountain make sure you are dressed sensibly and take food and all weather clothing.  Some people have had to be rescued from the mountain simply from not being prepared for being on a mountain!  At Fort William you stay on the A82 to Spean Bridge and then to Laggan and cross the swing bridge at the end of Loch Oich.  If you are lucky a boat might be coming through the swing bridge so you can see it in action!
Caledonian Canal
A little further along the road at Invergarry is Invergarry Castle, a ruined castle beside the loch.  You cross back over to the other side of the glen at the canal at the top end of Loch Oich.  If you would like to stretch your legs on a walk there is a car park before you cross the bridge and various trails.
Fort Augustus in the next large town, although very tourist'y' you are likely to find somewhere good to eat for lunch.  Or get a takeaway to enjoy alongside the locks connecting River Oich to Loch Ness.  You might also like to visit the Calendonian Canal centre or take a cruise on Loch Ness from here.
Loch Ness
Continuing along the A82 (it's a long road!) beside Loch Ness keep an eye out for Nessie.  Although you may be safer to stop at Urqhuart Castle instead of watching from the winding road!  Urqhuart Castle is famous for it's location, but also the history.  You can find out more about it at the visitor centre.  You can also get down to the shoreline here too.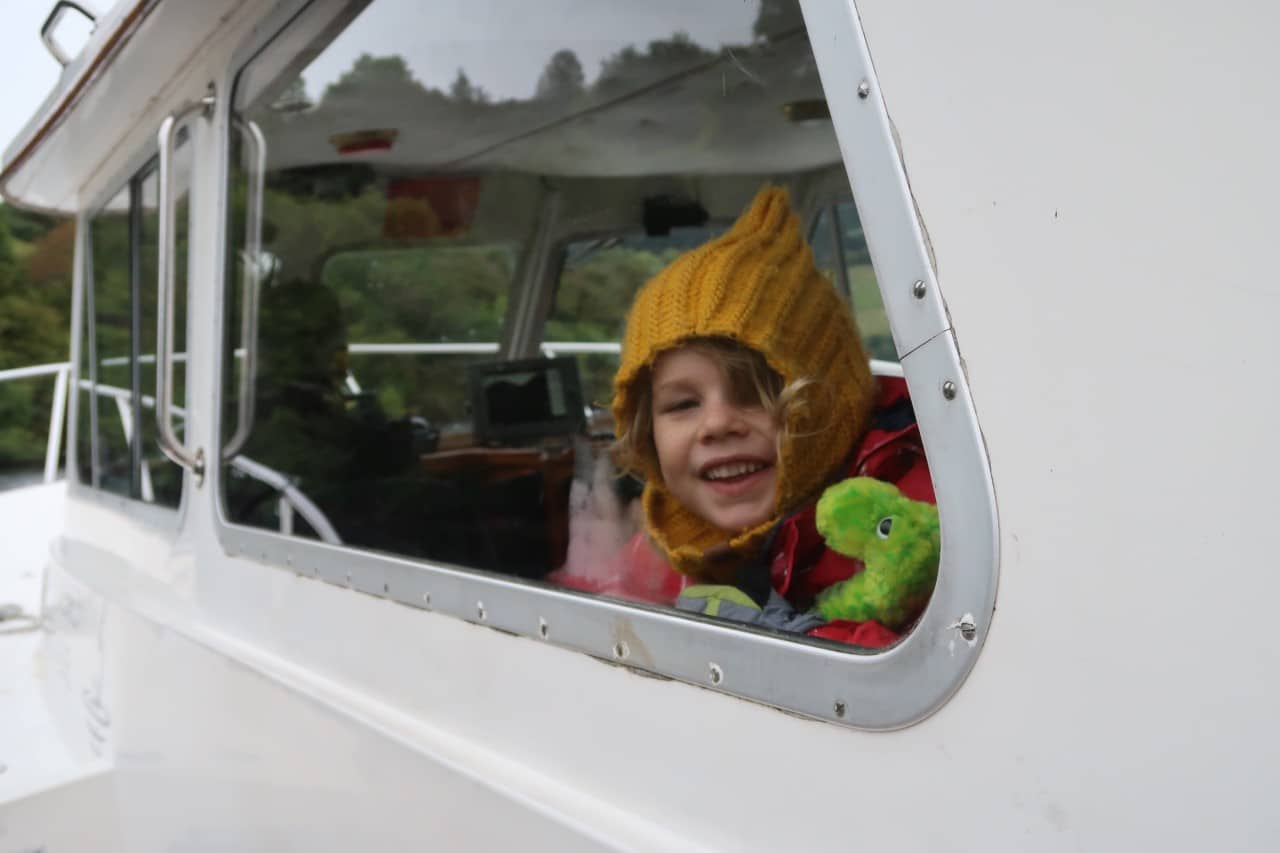 Next stop is just along the road at Drumnadrochit, where there are not 1 but 2 Nessie museums.  One is more factual about the history of the search, the other is more a take on the myth itself.  Both are worth seeing to learn more about Nessie.  It's also possible to get a boat out onto the loch here to search for Nessie too.
Head on to Inverness, the capital of the Highlands.  From here you can spend timing visiting the castle, spotting dolphins in the firth and wandering around local nature reserves. It's not too much of a detour to visit Culloden battlefield from here too.
Perthshire
Swapping roads, the A82 for the A9, you will follow this all the way down to Perth.  On the way there are plenty of sights to stop at, including several distilleries, the Highland Wildlife Park, Highland Folk Museum at Newtonmore, Landmark Adventure Park (a hit with the kids!) and Aviemore with stunning walks, reindeer and steam train rides.
Just North of Pitlochry is Blair Atholl, where you can visit the majestic Blair Castle for a tour or walk around the gardens.  Pitlochry is home to more distilleries and also the location to get the bus to the Enchanted Forest during the autumn (tickets must be bought well in advance!).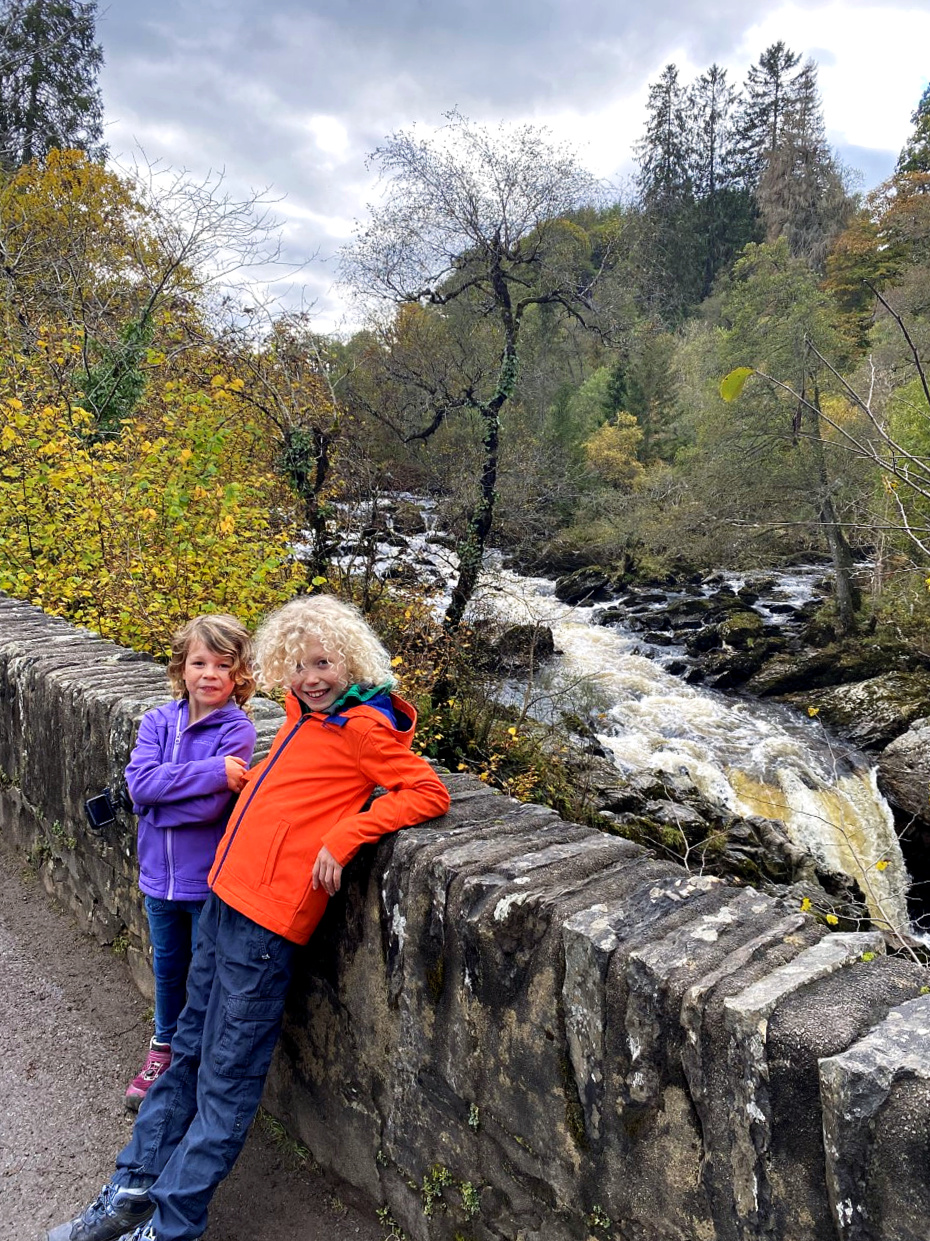 Dunkeld is another pretty town with lovely shops and walks along the river or woods at Birnam Beeches and at the Hermitage over the road.  The Hermitage has several paths, with a folly beside the waterfall and the old hermits cave to explore on the way to Rumbling Bridge further up the river. A very special place for us as this is where my husband and I were married, in the folly overlooking the waterfall!
A little further down the A9 takes you to Perth, a great city for a wander and home to Scone Palace.  Scone is where the original Stone of Destiny began, before being stolen by King Edward I and taken to London.  The stone was eventually returned in 1996 and now sits with the Scottish Crown Jewels at Edinburgh Castle.
From Perth the A9 takes you as far as Dunblane (another small town noted for the birthplace of Andy Murray) before changing to the M9 motorway.  You can choose to follow the M9 down to Edinburgh or head across country back to Balloch where you began.
Northern Isles
The Northern Isles may seem barren and remote, but you will them full of history, wildlife and friendly locals.  I must admit I love the distinctive Orkney accent after making 2 close Orcadian friends whilst at university.  I've visited Orkney a couple of times and absolutely love it's history and beautiful rugged landscape.
Orkney Islands
To get to the Northern Isles there are two options of ferries, either from Aberdeen or Scrabster.  I recommend taking the ferry from Aberdeen on the way to Orkney, landing at Kirkwall.  Kirkwall is the main town on the Orkney's, but you won't want to stay too long!  There's so much else to see.  Kirkwall does have an impressive cathedral, St Magnus Cathedral and the ruins of Earl's Palace beside, which definitely worth an explore.  Also make sure to visit The Orkney Museum for more about Orkney's unique history and culture.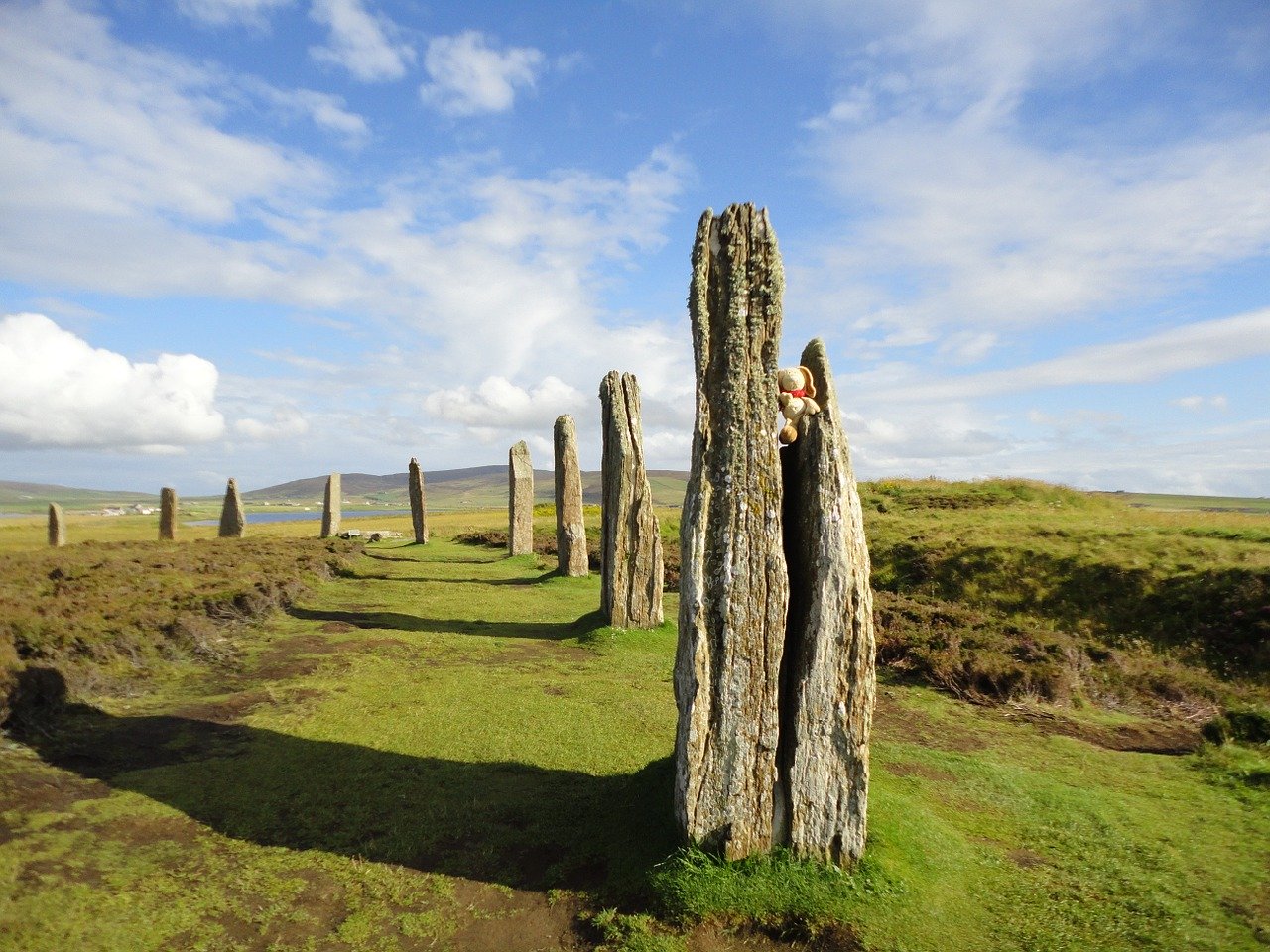 On the mainland there is a loop road that goes all the way around Orkney, which is completely full of interesting places.  I can't imagine I would cover them all here, but you can read more about Orkney for kids here and the importance of Orkney in WW1 and WW2.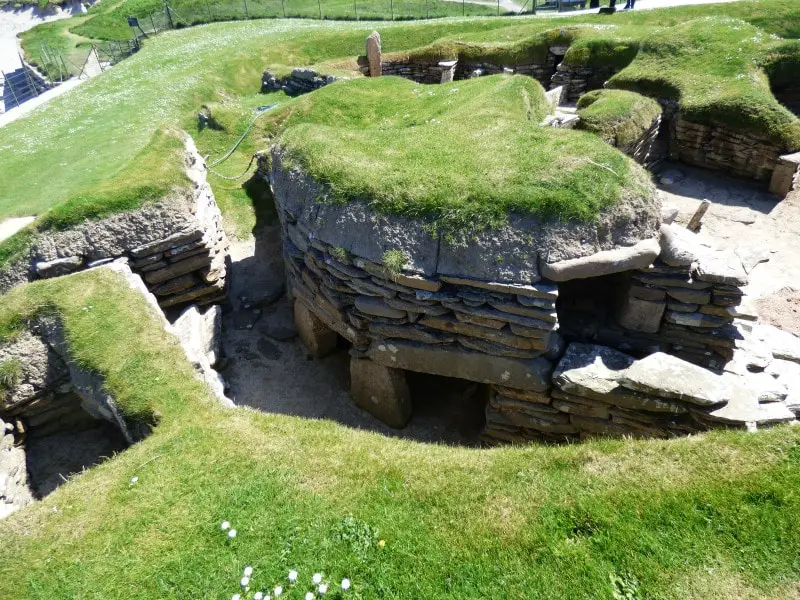 Highlights on Orkney include the barriers connecting the Southern islands of the Orkneys to the mainland (along with sunken ships half visible in the water), stone circles such as Ring of Brodgar, Skara Brae village, Brough of Birsay and Tomb of the Eagles.  You will definitely need to visit the many beaches on your trip too!  However, as the Orkneys are made up of over 20 permanently inhabited islands you definitely need to get a ferry across to visit some of the smaller isles not connected by road.  Hoy is an easy day trip from the mainland with some great culture on the war and also the Dwarfie Stane (an ancient tomb).  You can also walk up to see the Old Man of Hoy (a sea stack) on a coastal path or head over to Rackwick Bay to play at the rocky beach.
Shetland
From Orkney you can catch another ferry North to Lerwick in Shetland. Like Orkney, Shetland has a huge amount of historical sites to visit as well as plenty of wildlife havens.  If you enjoy watching bird life then Shetland is the perfect place to visit, with Sumburgh Head the place to go for puffins, razorbills, fulmars and guillemots in the breeding season (as well as the best place for sea mammals).  There are two National Nature Reserves at Noss and Hermaness.  Noss is a 10 minute ferry journey from Lerwick and then a 4 mile journey across the island of Bressay and a final 200 yard ferry across to the Isle of Noss.  The journey is worth it to visit the thousands of gannets, fulmars and guillemots during the breeding season – the noise is said to be astounding!
Hermaness NNR is easier to access and you will find Great Skuas gliding overhead, puffins, fulmars, kittiwakes and gannets on the cliffs.  It's also the home of Muckle Flugga sea stacks.
Mousa is another great place to visit if you are interested in birds.  Here you can stay overnight to listen to the Storm Petrels as they arrive back to the ruined broch they call home.  It's an eerie sound and definitely worth visiting if you have time.
Aside the birdlife the big attraction on Shetland are the rugged unspoiled landscape with plenty of stretches of sandy beaches.  You will find a huge amount of historical sites from Jarlshof prehistoric and norse settlement to various brochs, forts and museums about the islands history.  Most sites are on the mainland, but to get to the Northern Isles you will need to take a ferry or two.
Once you have finished on Shetland you can get the ferry back to Aberdeen.
Route of Central Castles
Everyone know that Scotland is famous for it's castles.  Not many are lucky enough to live in one, but there are plenty thoughout the country to visit.  Some castles are privately owned, whereas others are owned by Historic Scotland or the National Trust for Scotland in Aberdeenshire.  Check which castles you want to visit and it may be worthwhile buying an Explorer Pass or membership (you can cross over membership of the English National Trust for NTS and discounts using English Heritage at Historic Scotland sites).
Edinburgh Area
Start your central Scotland castle road trip at Edinburgh Castle.  Edinburgh castle has been used as a home to kings and queens for centuries, although it's more recent use was military and a lot of the original decor was destroyed during occupation by Cromwell.  Edinburgh is also where you need to go to visit the Scottish crown jewels and Stone of Destiny.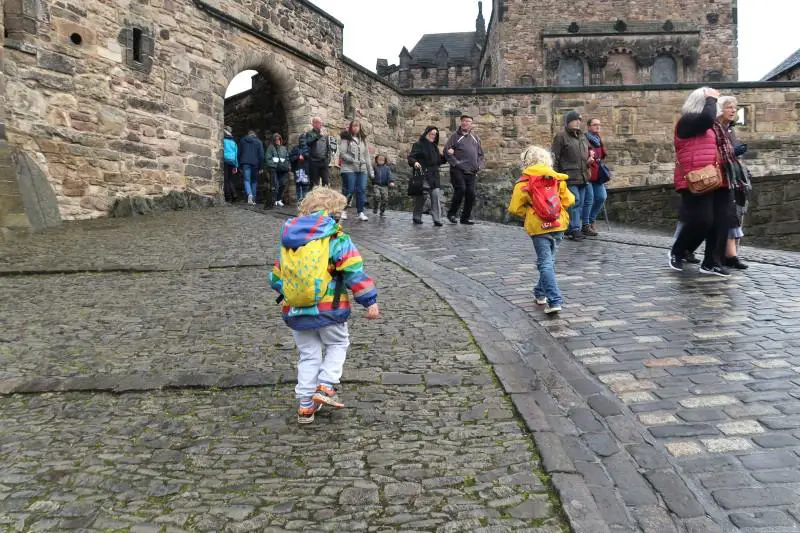 A lesser known castle in Edinburgh city is Craigmillar, this should definitely be on your list of castles to visit.  Craigmillar is in ruins (like most of Scotland's castles), but has a fantastic history including visit from Mary Queen of Scot's.  The beautiful old Yew trees within the courtyard are said to have been planted in Mary's honour.  Although it's unknown how old the trees are it's a lovely thought to imagine Queen Mary walking through the gateway and touching the young saplings.
From Craigmillar you can head East toward Direlton Castle, which is hidden amongst the trees and behind a large stone wall in the pretty little village.  You can park beside a small play park beside the castle.  When you go inside it's the gardens you will see first and despite being rather little of the castle left thanks to Oliver Cromwell, it's still an interesting castle to visit.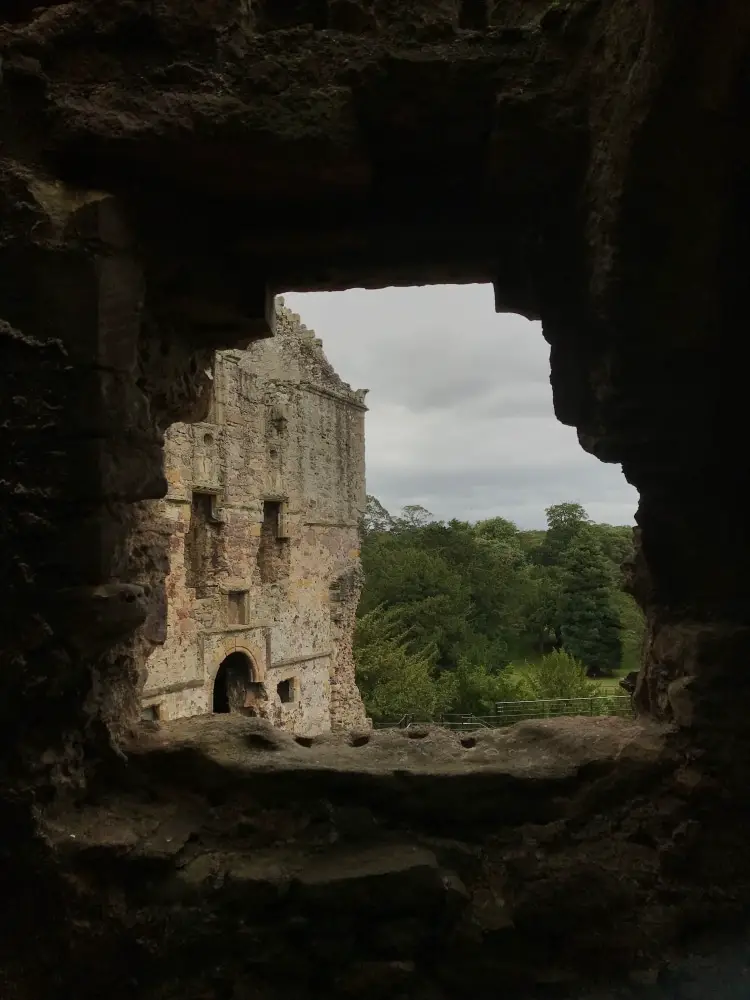 Just a little way East of Direlton is Tantallon Castle.  Perched precariously on the cliff edge with some of the castle already lost to the sea, it's another castle that suffered under Cromwell's sieges.  Climb up the curtain wall and survey the sea out toward Bass Rock, a brilliant view!
West Lothian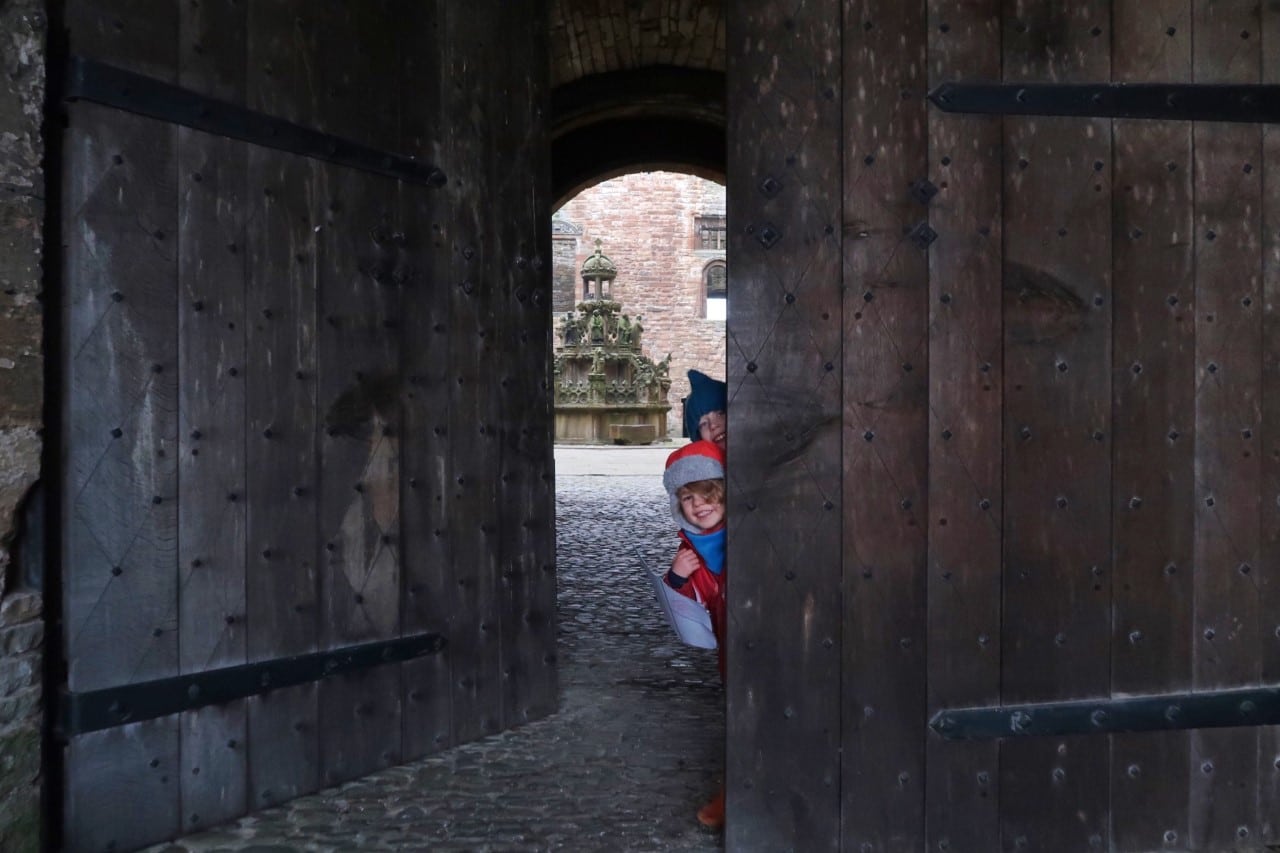 From Tantallon go back West of Edinburgh to visit Linlithgow Palace and Blackness Castle. Linlithgow Palace is where Mary Queen of Scot's was born and a home to many other kings and queens of Scotland.  The fountain in the courtyard is stunning and if you visit during summer don't miss the jousting event that takes place on the Peel outside.  Blackness Castle is an unusual shape, almost like a ship jutting out into the Firth of Forth.  It was originally a royal castle that was then turned into a prison and garrison fortress.  The castle is well positioned by the sea with incredibly thick outer walls to protect from attack.  You can also see across to the Forth Bridge from the castle.
Fife Castles
After staring out at the Forth bridges from Blackness, head over the road bridge to Fife and the castle of Aberdour.  Aberdour Castle is one of Scotland's oldest standing masonry castles.  With over 500 years of nobility living in the castle it has been extended many times.  The castle is now in ruins, but it's still possibly to enter some of the rooms and explore the terraced gardens and beehive doocot.
North of Aberdour is Loch Leven, with the forbidding Loch Leven Castle on an island in the loch.  The only way to visit the castle is by boat, but be aware that this must be booked in advance and can be cancelled at short notice due to weather or technical difficulties.  Loch Leven Castle is famous for being Mary Queen of Scot's prison before her exile to England where she was later executed by her cousin Queen Elizabeth 1st of England.
Clackmannanshire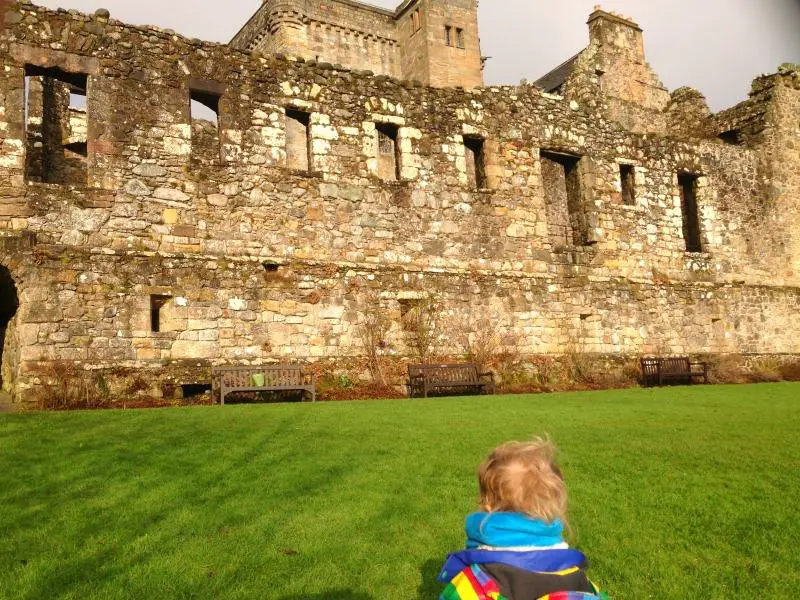 From here travel West along the A91 to Castle Campbell, a rather atmospheric hillside castle.  A small castle it is well positioned for fantastic views on clear days and even has a 'loggia' which is usually seen on grand houses in the warmer countries of Italy and Spain.  The tower house is well preserved and dates back to 1400's, with a particular fantastic view on the rooftop.  The terraced gardens a perfect for a picnic and you can walk through the rugged Dollar Glen below.
Stirlingshire Castles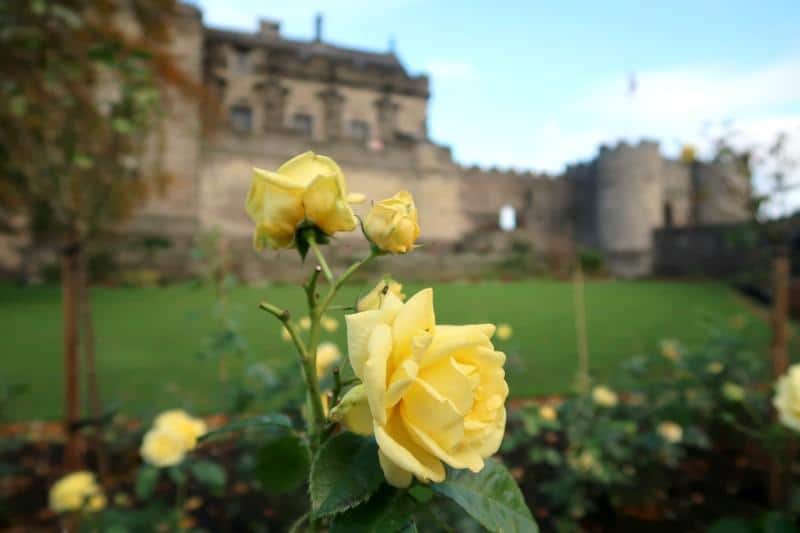 Further along the A91 you will arrive at Stirling and head up to Stirling Castle.  This is definitely one of my favourite Scottish castles for it's size, history and amount of time you can spend exploring!  I always say if you only have time for one Scottish castle, this is the one to choose!  Until the union of the crowns almost every Scottish monarch either lived, died or was crowned at Stirling Castle.  You can easily spend the majority of the day here exploring the castle and listening to the costumed characters.  It's also a great view point over to the Wallace Monument (a nice detour to learn about Wallace, Andrew Moray and the battle of Stirling bridge).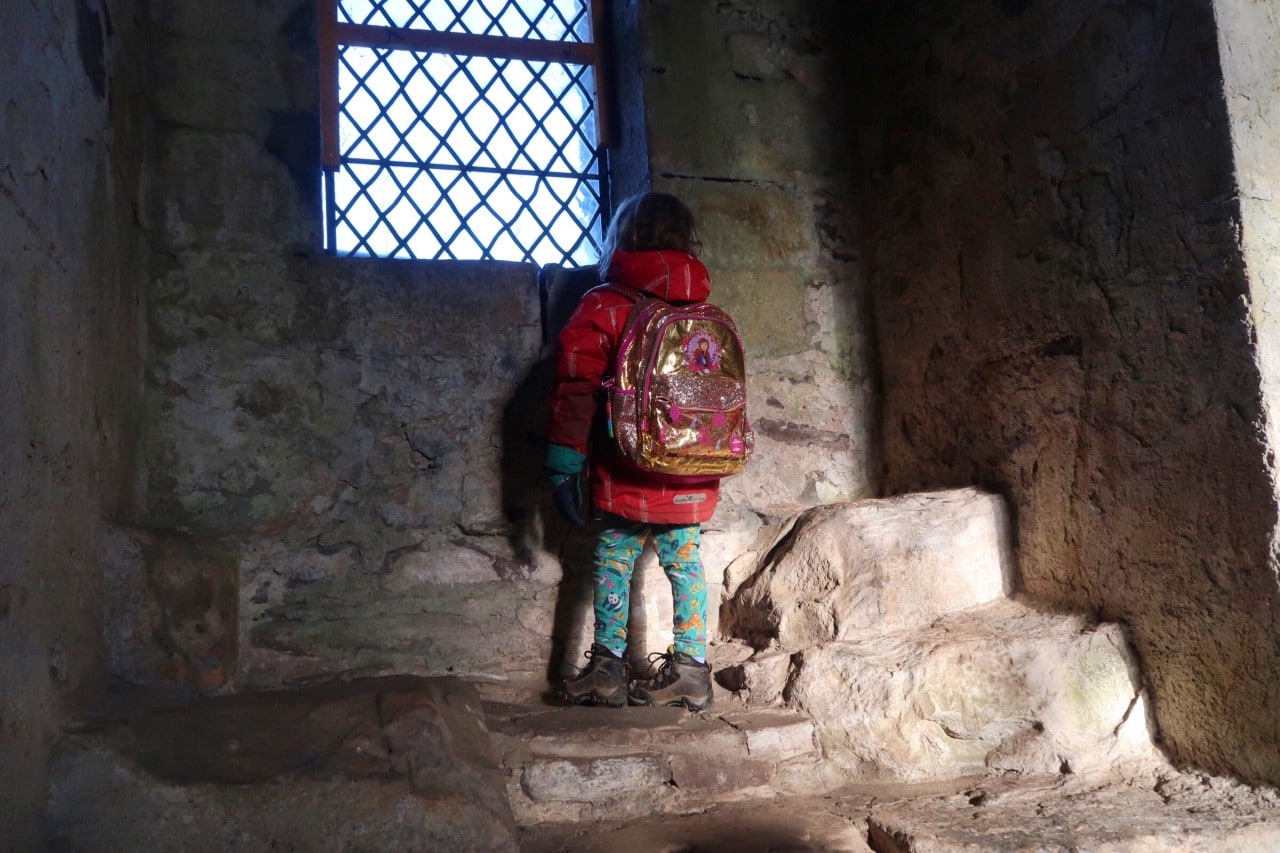 Doune is the next castle on the list and most famous for it's role in several films and television programmes, including Monty Python's Holy Grail (you can buy coconut halves in the castle shop!) and Outlander.  It's a lovely little castle with some great walks along the river too, keep an eye out for otters (and trojan rabbits!).
Glasgow Area
From Doune you travel past Loch Lomond to Dumbarton Castle in the West of Scotland.  On the way you may also be interested in stopping at Balloch Castle on the shores of Loch Lomond.  However you can't enter the castle, but the gardens are free to wander around, as well as a lovely play park for the kids.  Dumbarton Castle is was once a gateway to Scotland from the West and was under siege by the vikings for 4 months!  It was also here that William Wallace was caught by the keeper of the castle and sent to England for execution. Later the castle and Dumbarton Rock was used as a garrisson fortress and saw military action as recently as WWII.
The next castle on this tour is at Bothwell, South of Glasgow.  Suffering multiple sieges during the Scottish War of Independence, Bothwell Castle was rebuilt in 1362 by the 3rd Earl of Douglas after passing between Scottish and English hands during the wars.  The castle is very impressive even in ruins and is in a tactical position in a meander of the river Clyde.
Craignethan Castle
The final castle on this tour is at Craignethan, just 30 minutes South of Bothwell Castle.  Built over 200 years after Bothwell Castle, Craignethan is a great example of a residential tower house with an unusual artillery fortification.  Sir James Hamilton of Finnart became a close friend to King James V and became the architect for the king supervising royal building works at Linlithgow Palace, Stirling Castle and Blackness Castle.  All of which you will have visited on this tour.  Unfortunately for Finnart he was executed by the king in 1540 on suspicion for plotting against the king.  Unfortunately after a siege in 1579 the castle was destroyed to prevent it being used as a defence.
From here it is easy to continue into the South of Scotland or head back toward Edinburgh depending on the rest of your itinerary.
Pin Scottish Road Trips