North Coast 500 Itinerary
The North Coast 500 is now a well travelled route, normally starting and finishing in Inverness.  There's a lot of potential stops along the way, although you would need a very long time to see everything!  With kids it can take a little longer as they won't want to stop and get out for a short time several times a day.  Instead it's best to choose a North Coast 500 Itinerary that has a few key stops each day with plenty of time to play freely at beaches, parks and other fun experiences.
You may also need to check daylight hours depending when you travel. In the summer there is plenty of time to visit lots of stops, however in late autumn or early spring the hours of daylight are a lot shorter.  So you will have less time to see the sights.
Here is my North Coast 500 itinerary with the kids.  Pick and choose from these ideas dependant on the time you have to travel.
Inverness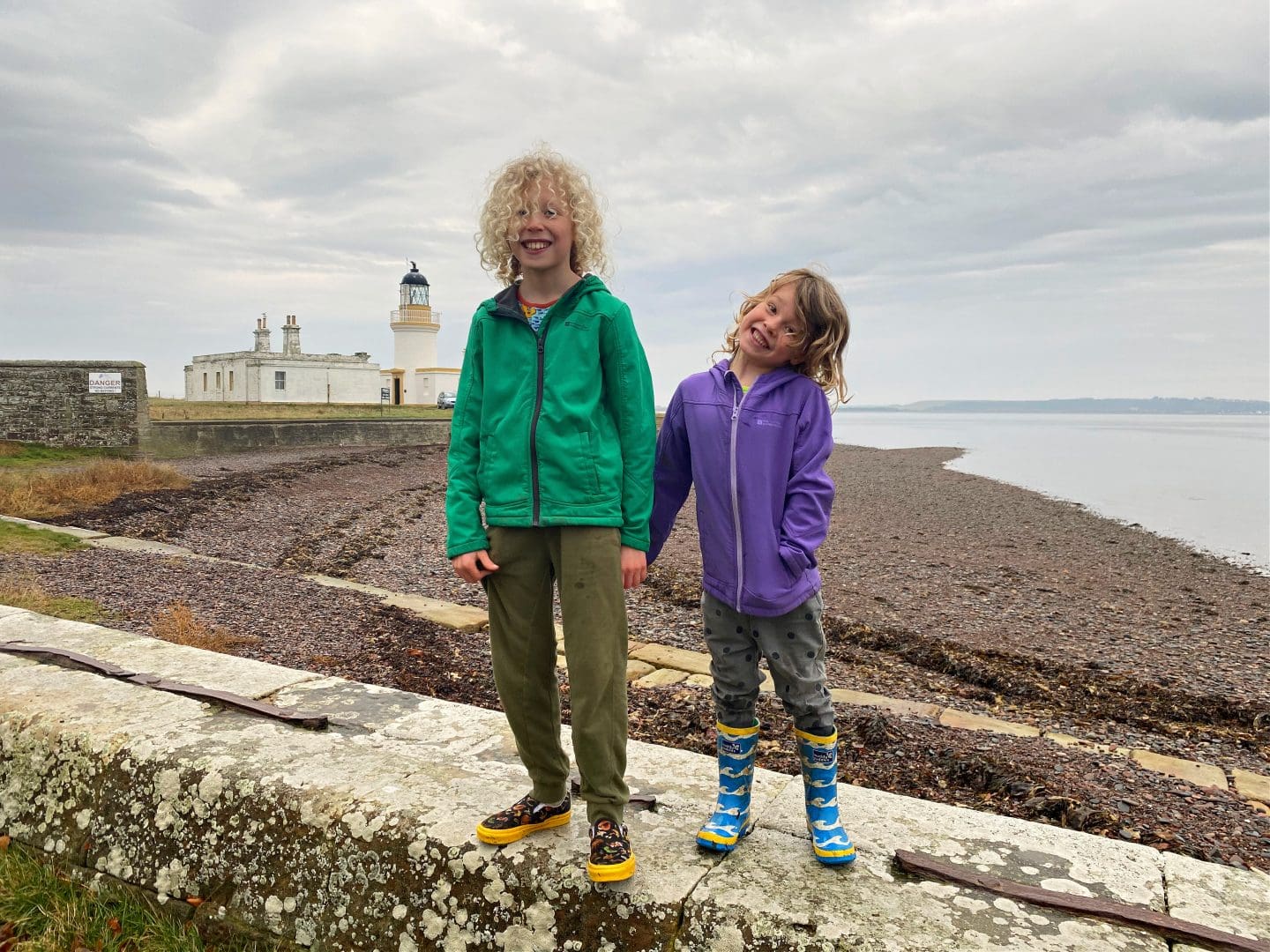 First stop is Inverness, where you can visit Inverness Castle and Inverness botanic gardens as well as several nearby museums.  You can even watch for dolphins at Chanonry Point (best seen on a rising tide).  On the way back to Inverness from the West coast you can also visit Loch Ness, take a boat trip along the Caledonian canal, look for Nessie and visit the famous Urqhuart Castle.
Dornoch
North of Inverness you arrive at Dornoch, where there is a long sandy beach to walk along.  You can also visit the remains of Skelbo castle, walk through Skelbo woods and admire the sculptures. To the East you can detour off the main road to visit the Falls of Shin (beautiful waterfall and a great place to watch salmon leaping).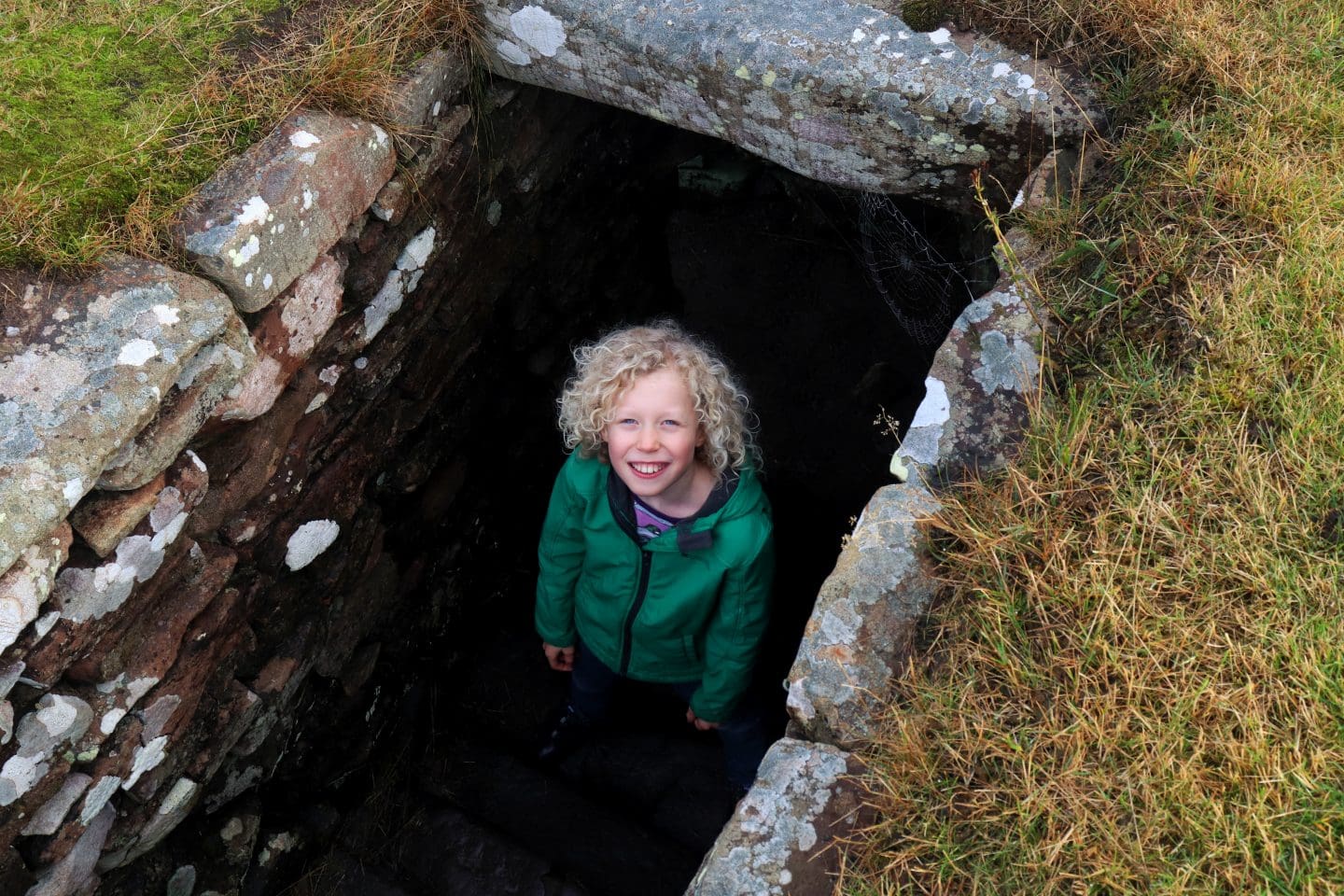 Further North of Dornoch is the village of Golspie where there is another long stretch of beach, Dunrobin Castle and gardens (more of a stately home), plus a ruined broch – Cairn Liath.  Slightly further North of Cairn Liath you will find Badbea clearance village and learn about the history of the Highland clearances.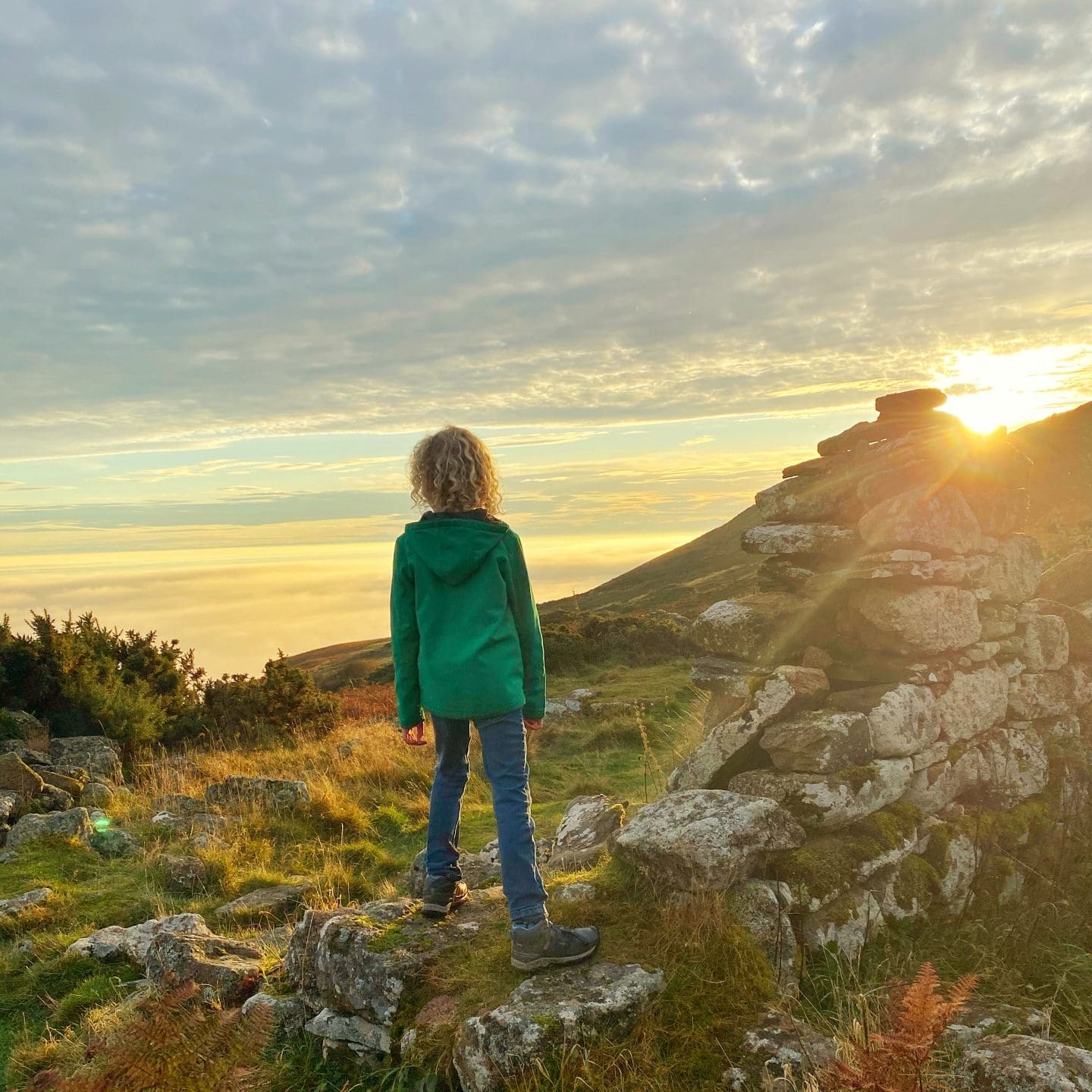 You will also find several fantastic museums along this stretch, including Laidhay croft museum and Clan Gunn museum.
Wick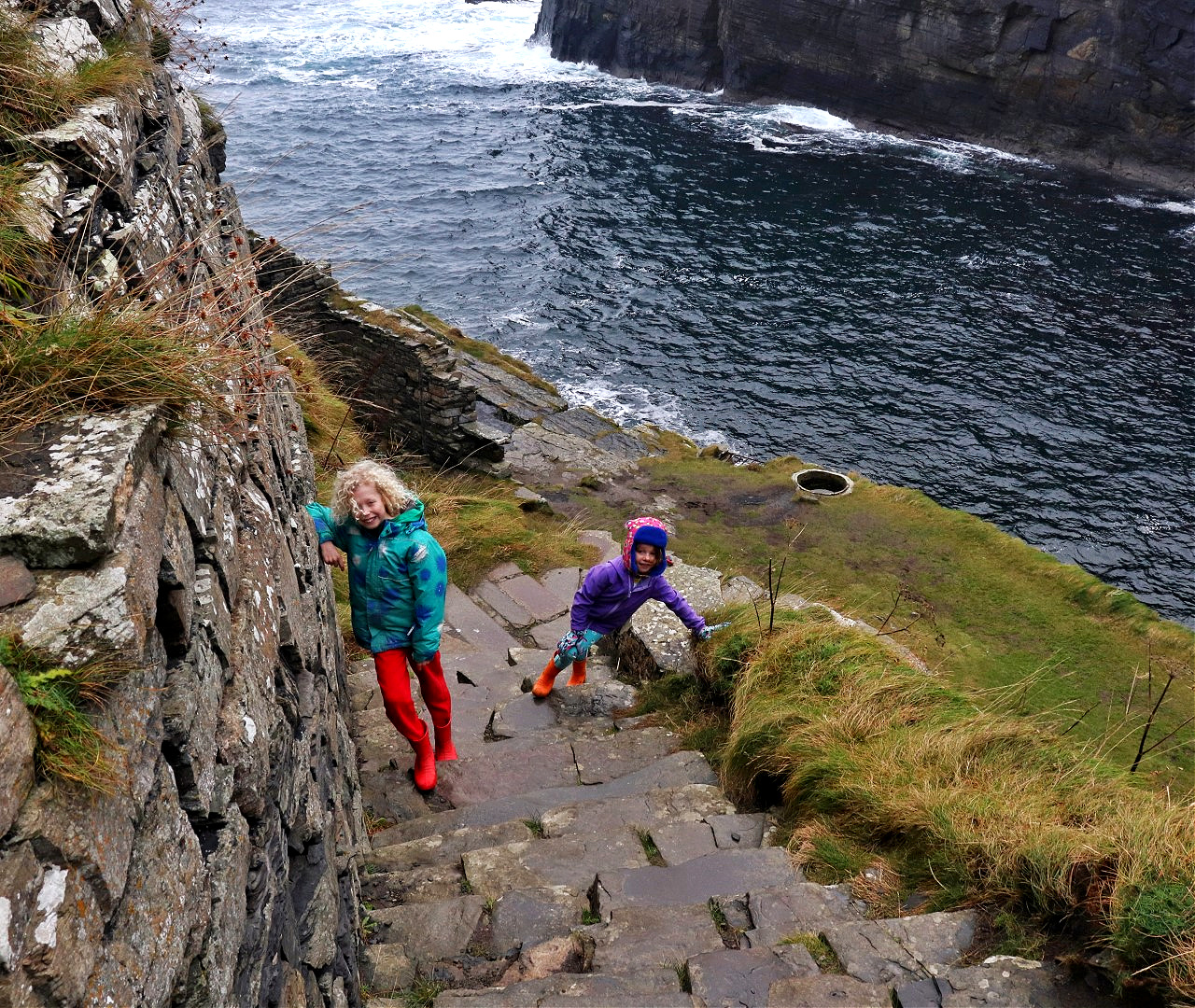 The next town is Wick, to the West you can detour off the A9 to visit the magnificent Camster Cairns.  Camster cairns are two large neolithic chambered cairns, that are rather impressive to look at.  Just South of Wick are the famous Whaligoe steps (a must do stop on the North Coast 500 itinerary), which lead down to an ancient harbour.  There are 365 to descend (and return back uphill again!).
Another good place to visit local archaeology is the Yarrows archaeological trail.  Amongst the archaeology you can visit neolithic chambered cairns, a broch and standing stones.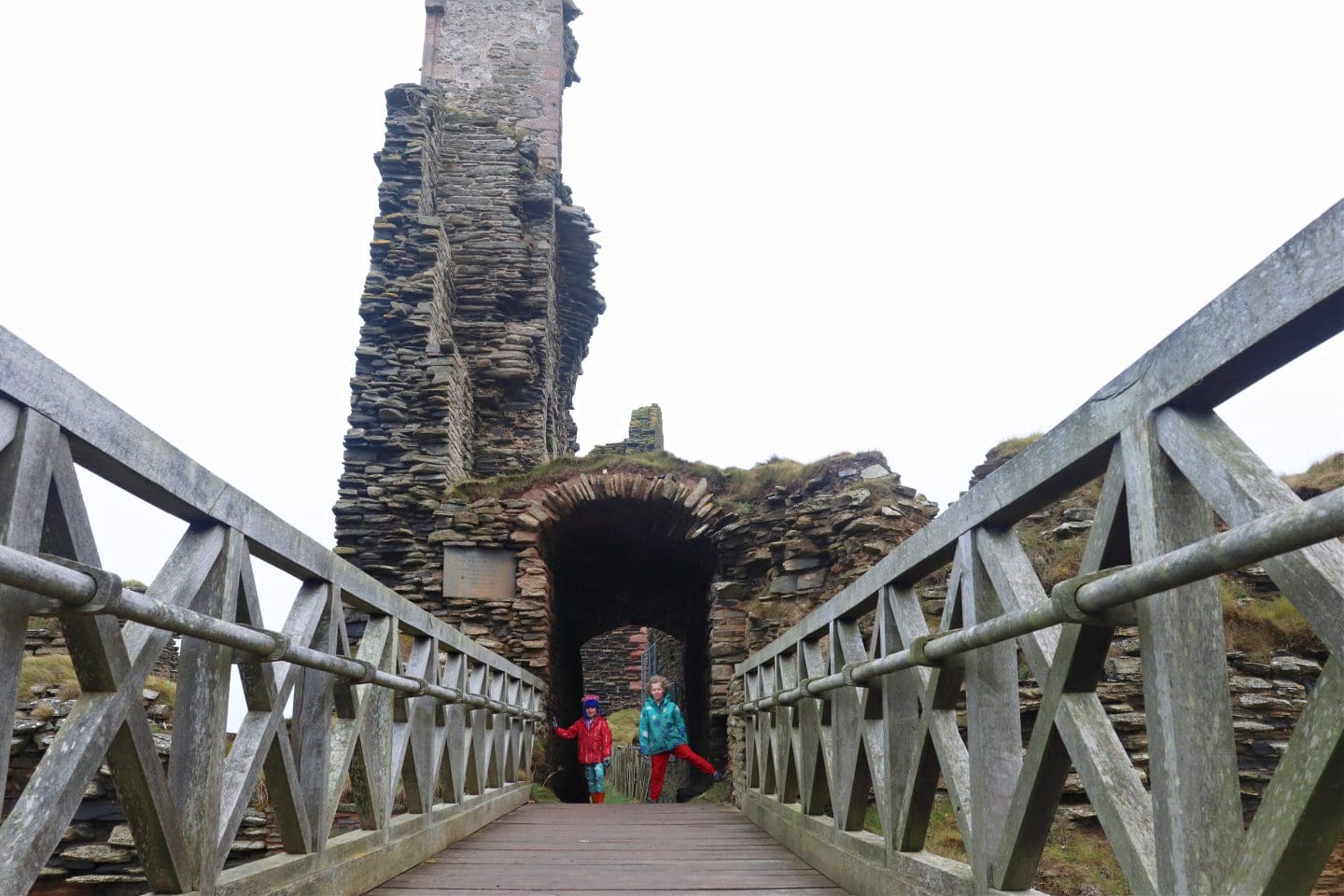 Just North East of Wick is Noss Head where you can walk along to the ruins of Castle Sinclair and look out at the sea from a nearby lighthouse.  You can't visit this lighthouse, but it is possible to stay in the keepers cottage as a holiday house!
John O' Groats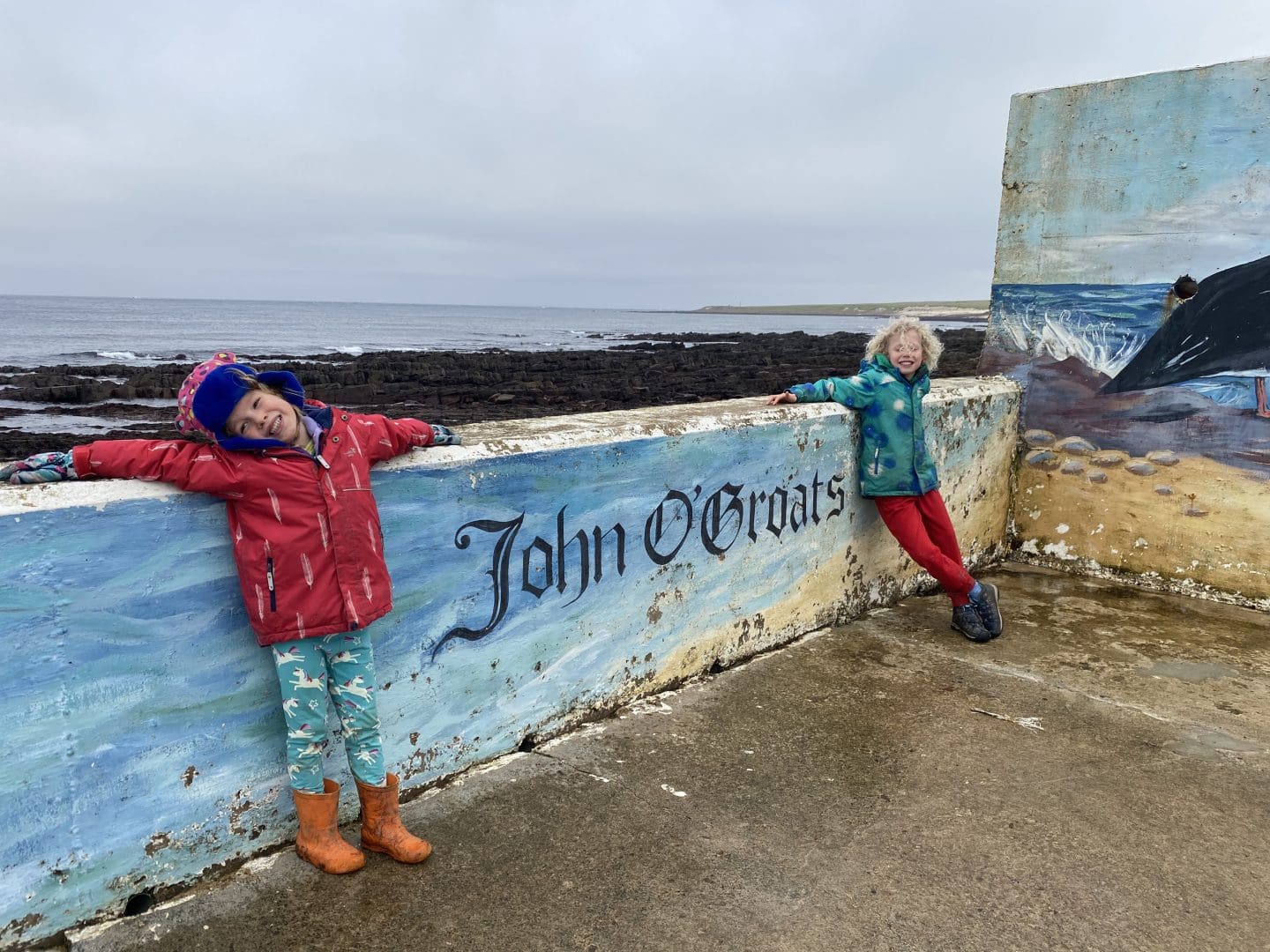 Of course you need to visit the signpost that heralds your location at the North of mainland Scotland.  However, contrary to popular belief this isn't actually the most Northernly point in Scotland.  You need to head over to Dunnet Head, West of John O'Groats to be at the very North of the country.  Dunnet Head is the home to many seabirds and also a nearby beautiful beach to the West of the village of Dunnet.
East of John O' Groats is Duncansby Head stacks and lighthouse.  The sea stacks are a rather awesome geological landform, plus the Thirle door is an arch way carved into the cliffs beside the sea stacks.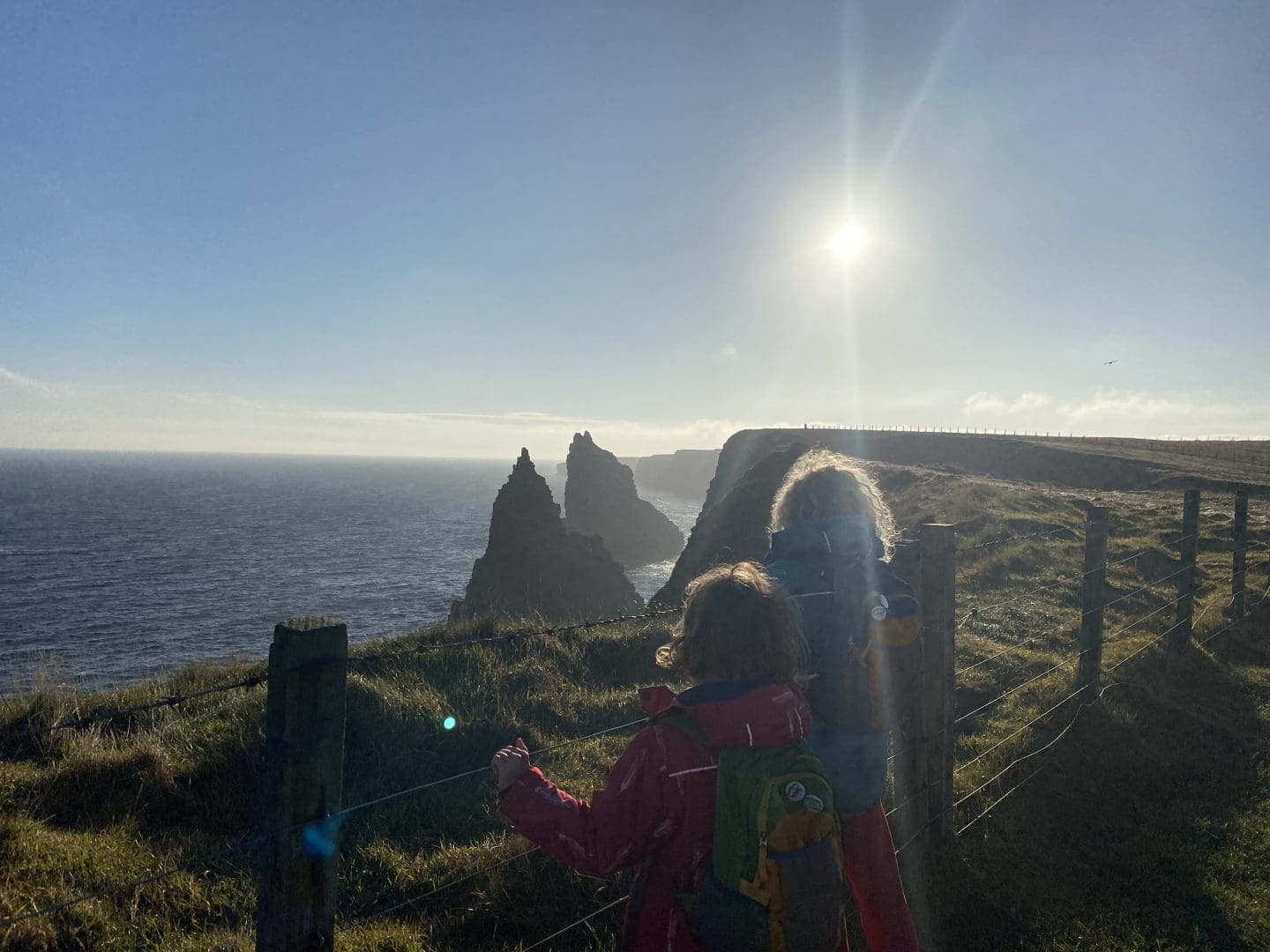 West of John O' Groats is the Castle of Mey and Gardens.  Only open in spring and summer, you can enjoy the beautiful mansion castle, gardens and tea shop during your visit.
Thurso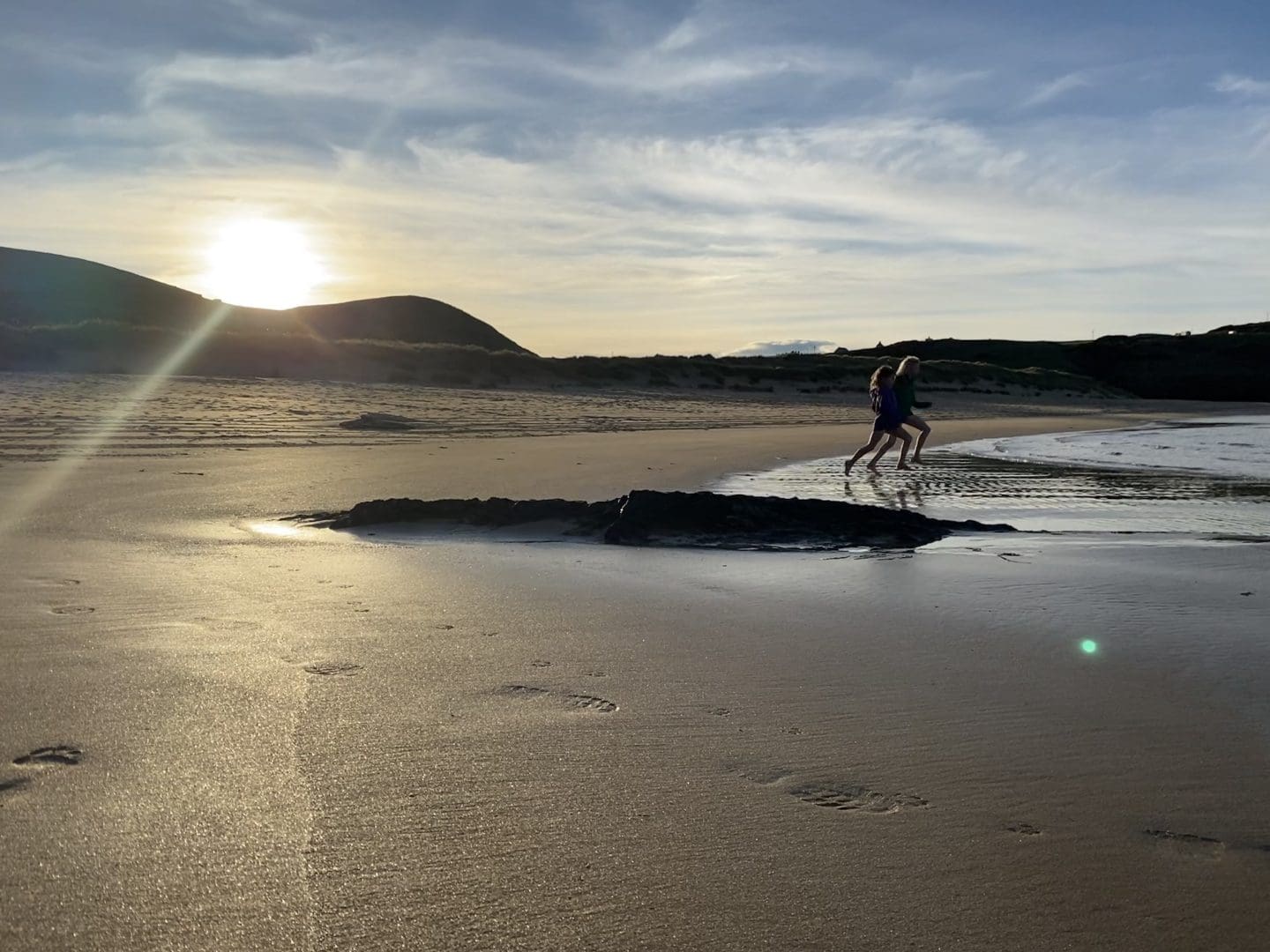 On the way from Thurso to Tongue you will find several beautiful beaches, including Melvich, Strathy and Bettyhill beaches.  For a more sheltered walk you can head into Borgie Forest to shelter from rain and wind.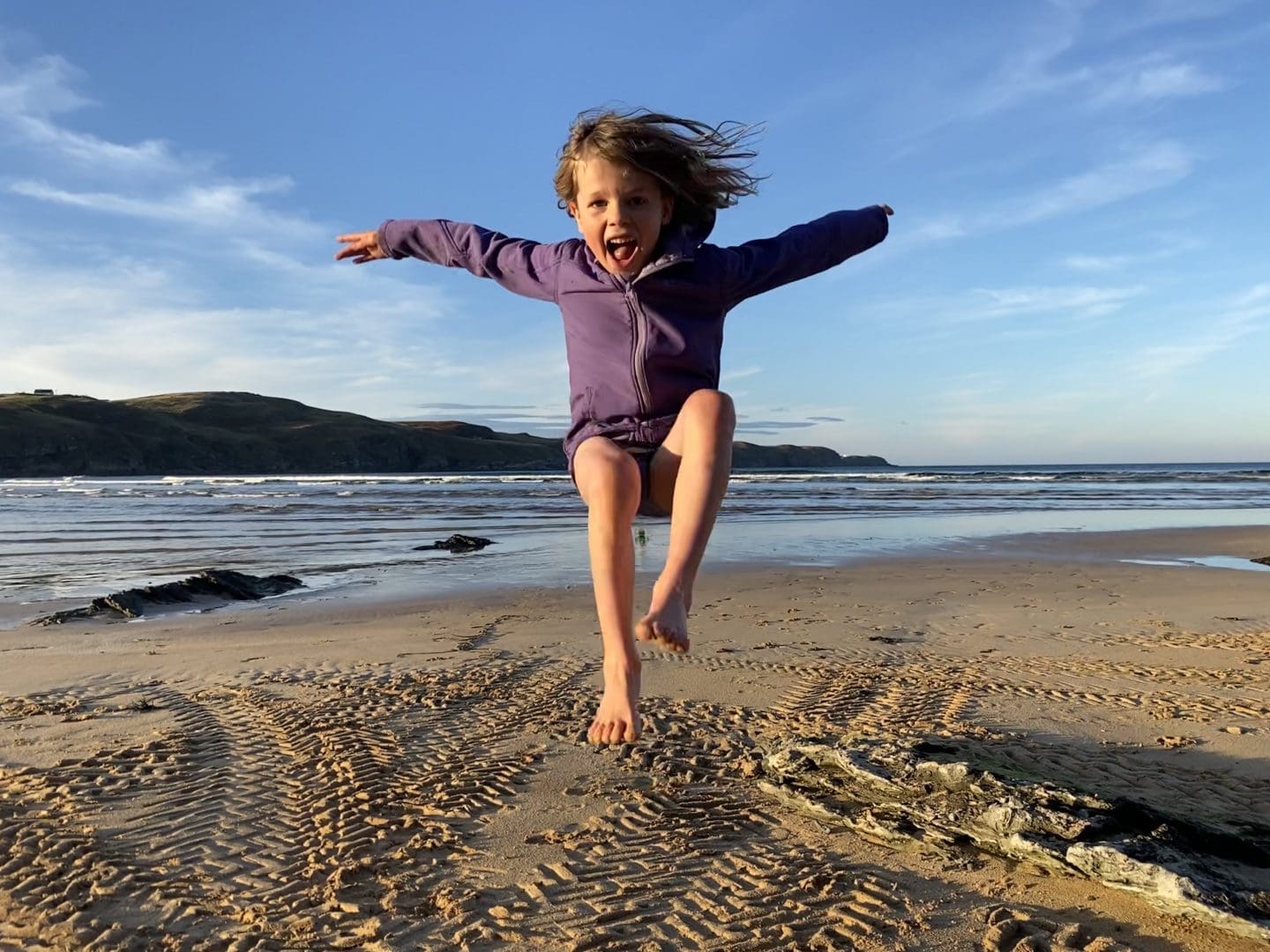 Strathnaver museum in Bettyhill details the history of the highland clearances and Clan Mackay.  The ancient Farr standing stone is located nearby.
Durness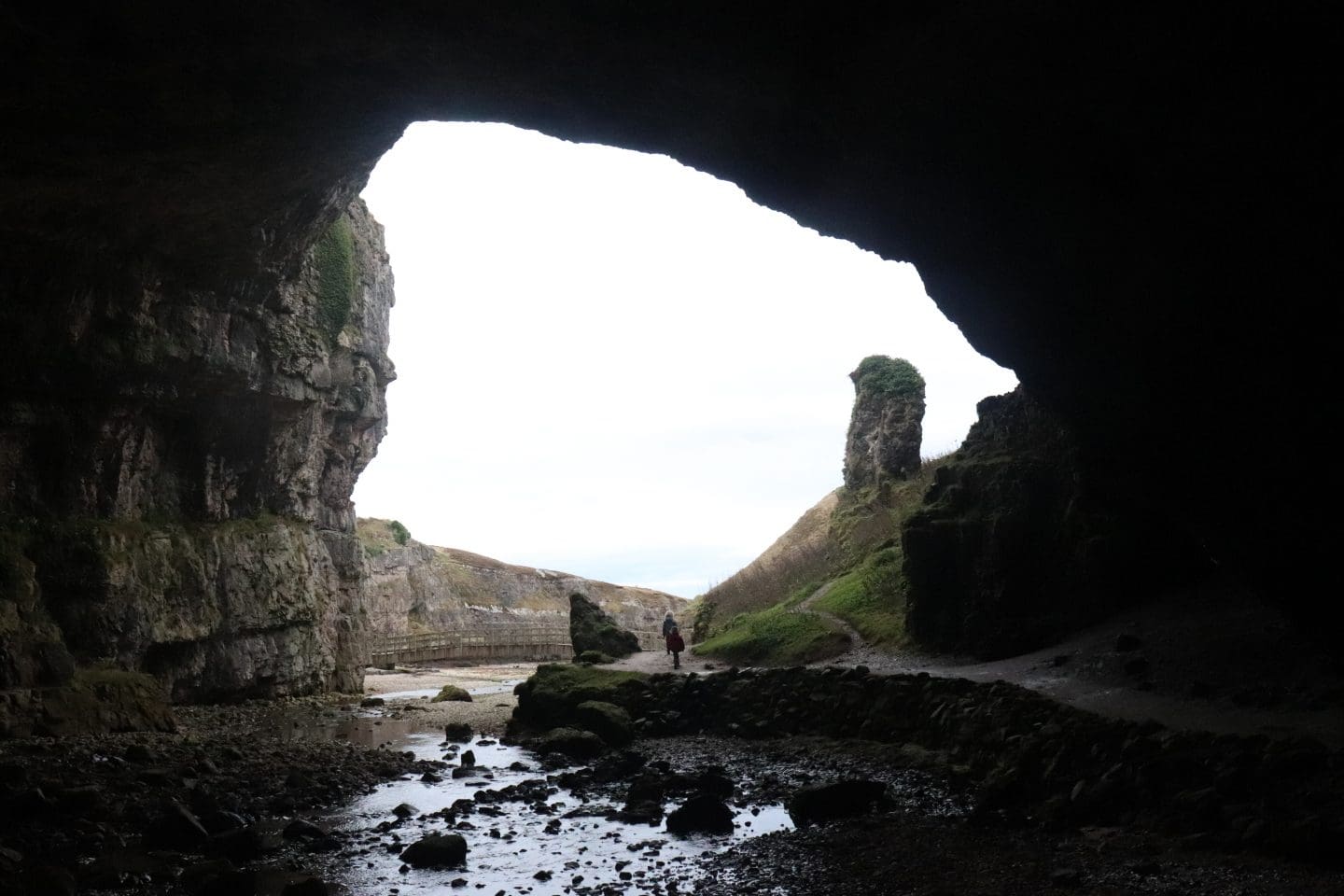 Near Durness is the well described Smoo Cave, a huge cave which you can walk part way into.  During summer you can also take boat trips further into the cave.  Nearby is the Golden Eagle zipline which is open from spring into autumn, where you can fly across a beautiful highland beach.
The beach Sango Sands is well renowned for it's beauty, although it's beside a caravan park and can get busy during the summer months.
West of Durness is a small craft village called Balnakeill, which also has Cocoa mountain.  Cocoa mountain is the place to head for delicious hot chocolate!
Ullapool
Travelling South down the West coast from Durness you will find plenty of great beaches along the North Coast 500.  From the stunningg Old Shoremore beach and the remote pink sands of Sandwood Bay beach to the beautiful Achmelvich beach you'll find plenty of space along the sands.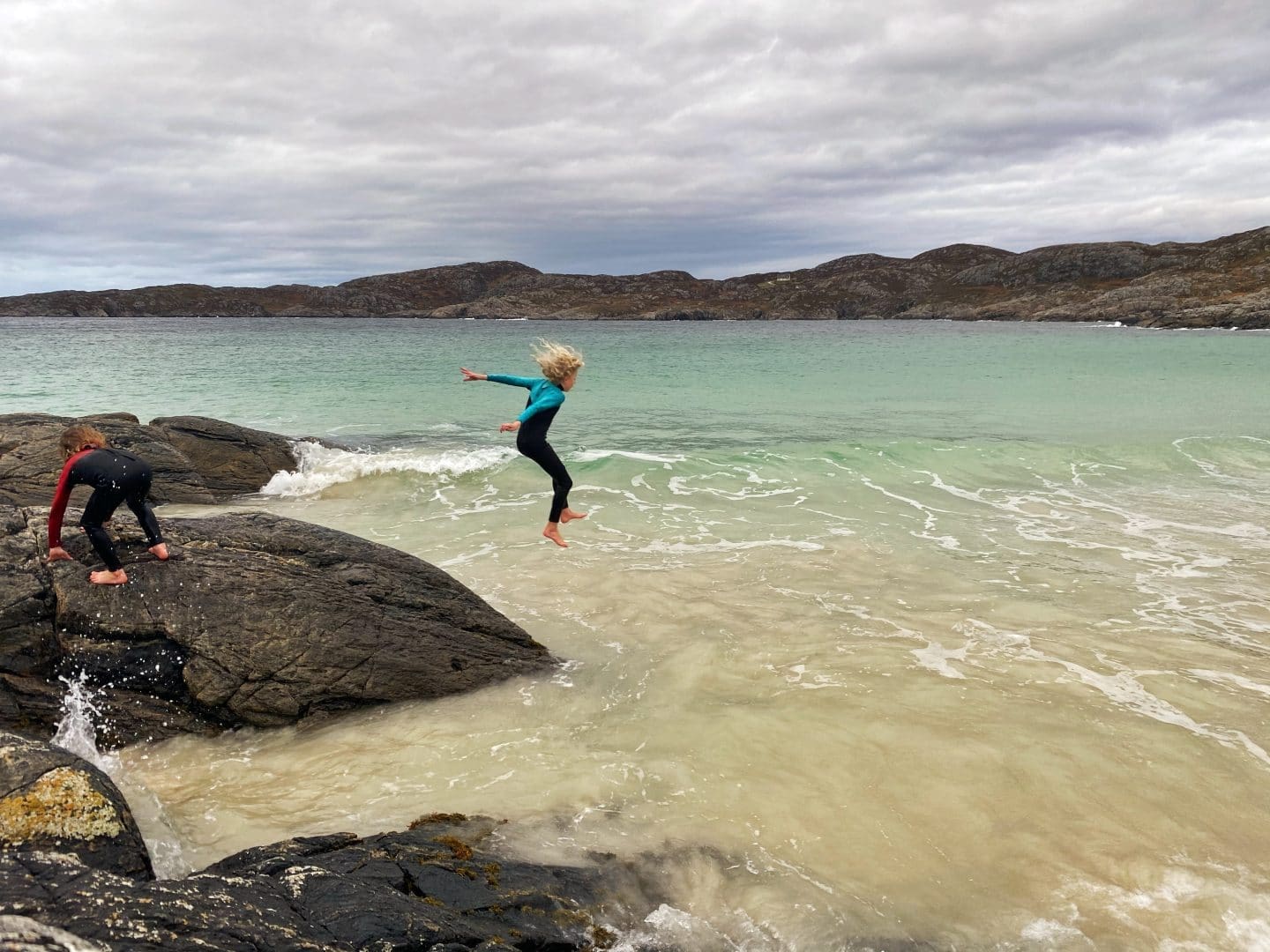 On the road to Ullapool you will find beautiful landscapes and plenty of history.  On Loch Assynt you will find Ardvreck Castle, dating back to 1490.  The castle was owned by the Macleods, but was later captured by the Mackenzies of Assynt. Only a small part remains of the castle now, along with the later Calda House that lies in ruins after a fire.
On the way South toward Ullapool you will come across many different signs in laybys for the North West Highlands Geopark.  The landscape around here is amazing and it's well worth stopping at a few places to find out more.  You can also walk up to the bone caves where ancient animal bones were found.  The caves may well have been used as shelter by humans too.  Bring a torch to explore the caves thoroughly, especially if you have explorer kids like mine!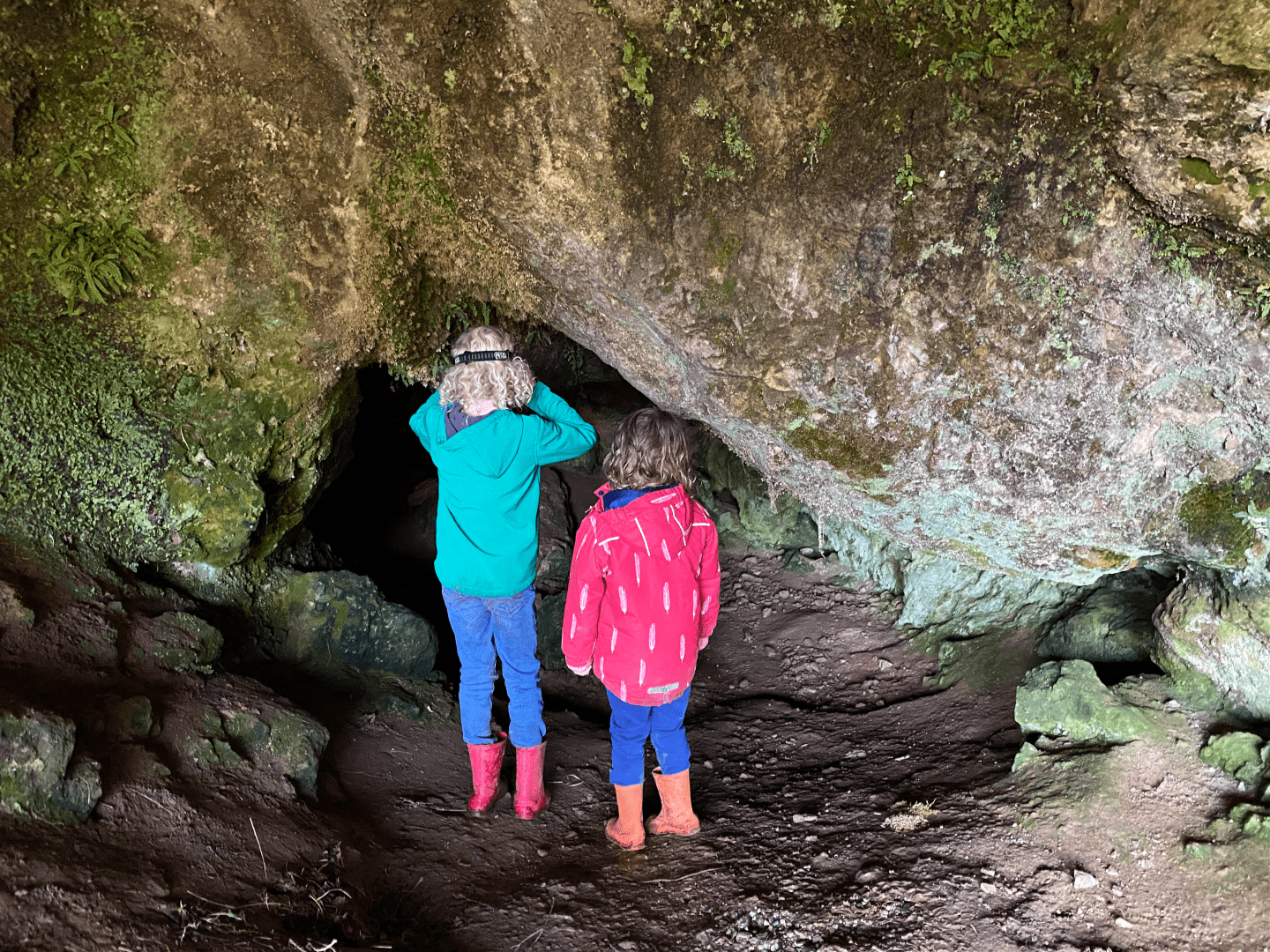 Further along toward Ullapool you will find Knockan Crag.  A must stop visit to find out more about the fascinating geology of the area.  There are plenty of information boards and sculptures to discover along the trails.
Gairloch
To get to Gairloch from Ullapool you will pass Corrieschalloch Gorge.  It's a deep ravine with a suspension bridge and viewpoint.  The kids will love running across the bridge and looking down at the waterfall below.
From here it's a beautiful drive along the coast, with plenty of small villages and beaches to stop at to stretch the legs.  Mellon Udrigle is a short drive off the main road and a great beach to enjoy the views of the mountains over the sea.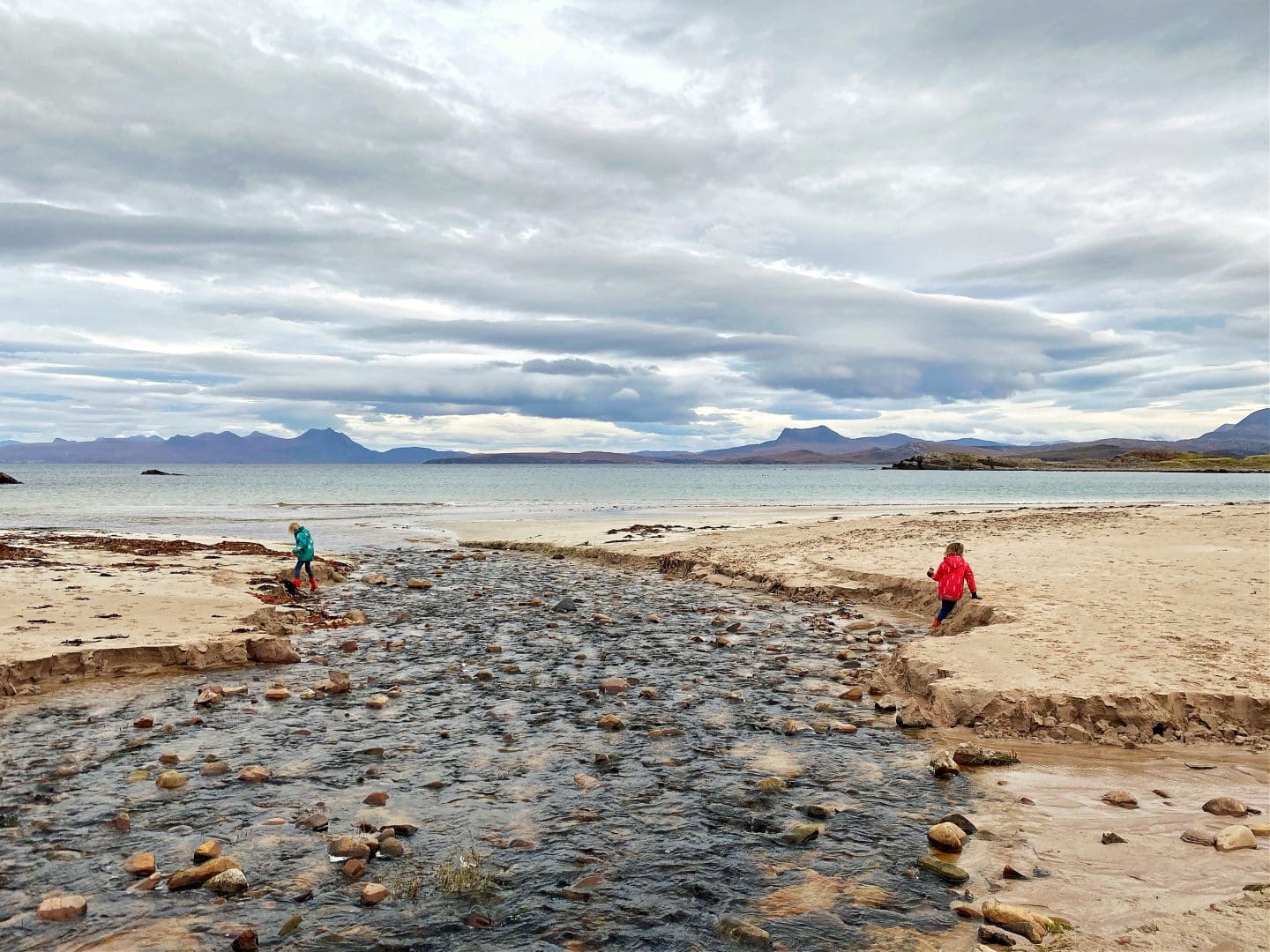 Just before you get to Poolewe you will find Inverewe Garden, where you can explore the unusual plants, spot Scotland's Big 5 animals or take a boat trip around the peninsula.  A great stop for summer adventurers.
At Gairloch you can visit the local museum and let the kids run riot along the stretch of beach or take a trip out to sea on a glass bottomed boat!
Applecross
On the way to Applecross you will pass the stunning Beinn Eighe National Nature Reserve.  There are several trails in the NNR, make sure you are well prepared if you choose to climb Beinn Eighe.  It is a mountain and will take several hours to reach the top and return, the weather can also be unpredictable.
The A896 is a very slow road, despite not looking long on the map it is a potholed and windy narrow road.  I suggest not driving it at night in torrential rain as happened to us!  During the day the scenery along this stretch to Torridon and Shieldaig is stunning.  You can follow a longer route along the coast to Applecross or follow the pass across as described below.
Applecross is well known for it's dramatic road to the summit of the pass.  Treacherous in the winter months and not suitable for motorhomes at any time of year, mainly due to the incredibly tight twists and bends as the road weaves it's way up the hillside.  I've never visited the pass when it hasn't been shrouded in cloud.  But I've been told that there are magnificent views from the summit on a good day!
The village of Applecross is friendly and has tasty food and a lovely stretch of sand.  For larger vehicles it's recommended to visit using the longer route through Shieldaig.
Dornie
From Applecross most people head back to Inverness via Achnasheen and Garve.  However if you have your own vehicle it can be easier to just head South on the West coast.
I would recommend at least a visit to Dornie to visit Eilean Donan castle and perhaps a quick trip across the bridge onto the Isle of Skye.  This would be a great side trip after the NC500!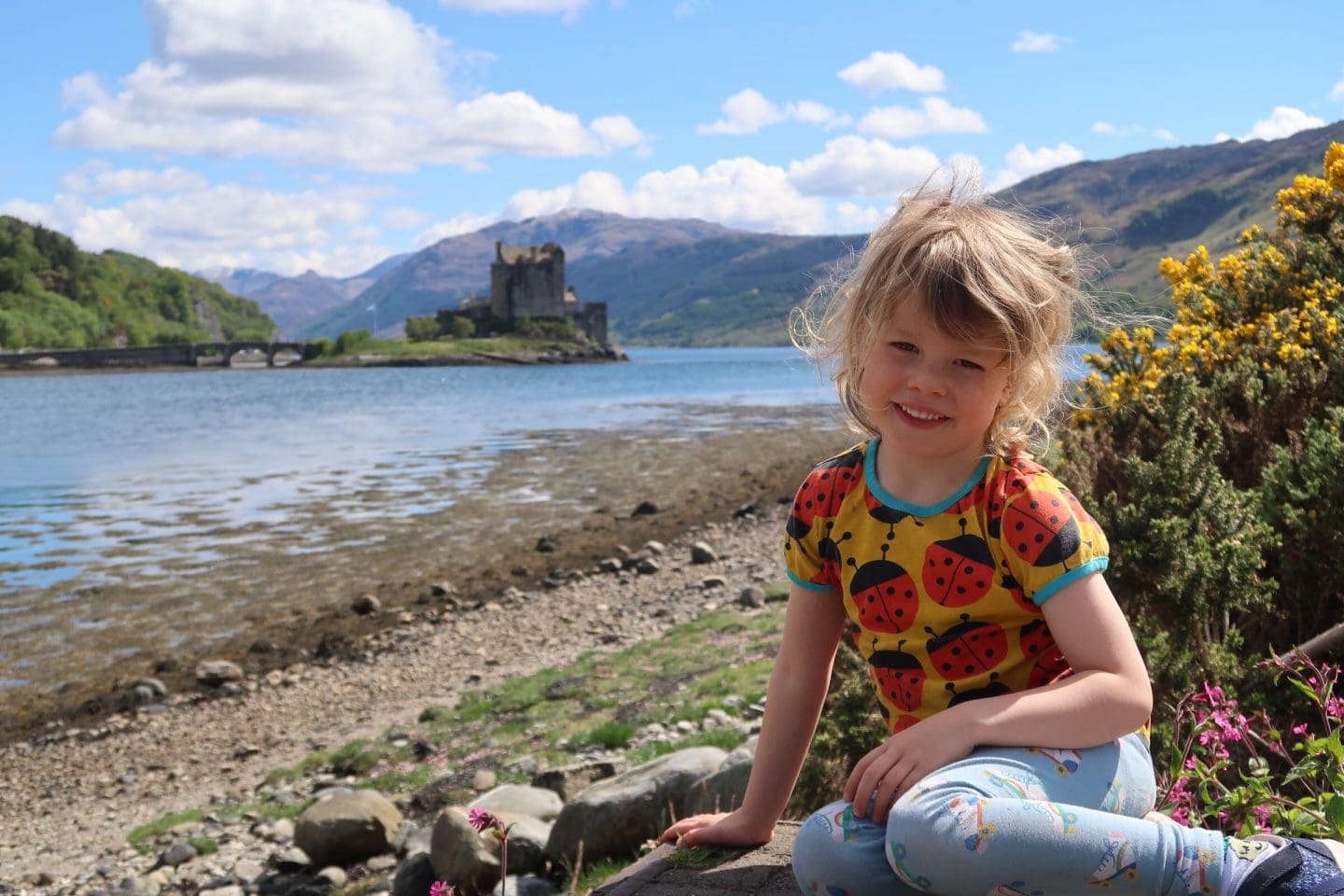 Read More Scottish Travel Posts
Pin the NC500 Itinerary With Kids