Scottish Family Roadside Stop-Offs
I'm sure most people reading this will be looking to discover exciting places as part of their road trips in Scotland.  I know that Scottish roads can be rather slow at times and most people will want to stop-off on the way to their destination.  So I've listed good family stop-off areas on the major Scottish roads.  Some stops are short, where others you may want to stop for an hour or two to let kids stretch their legs.
Excluded from the list is the North Coast 500 as it's well documented already.  Plus a lot of the locals find that the road is already too busy for local infrastructure in the North!  There also plenty of stops not included, such as those beside lochs and beaches.  You should easily be able to find these by parking on coastal or lochside laybys.
I will be adding a map to this post in the near future, but this is quite time consuming, so please bear with me!
**Please check if places are open before visiting, many may have changed opening hours or are currently closed due to Covid19 **
North Scotland
A830 (Fort William to Mallaig) – Road Trips in Scotland
Fort William to Mallaig is a beautiful drive, the stunning views may not enthrall your kids though.  So it's a good idea to stop along the way and let them stretch their legs.  There are plenty of laybys to stop in for a short break, but if you want a proper place to stop then I recommend Glenfinnan.
Glenfinnan Viaduct and Monument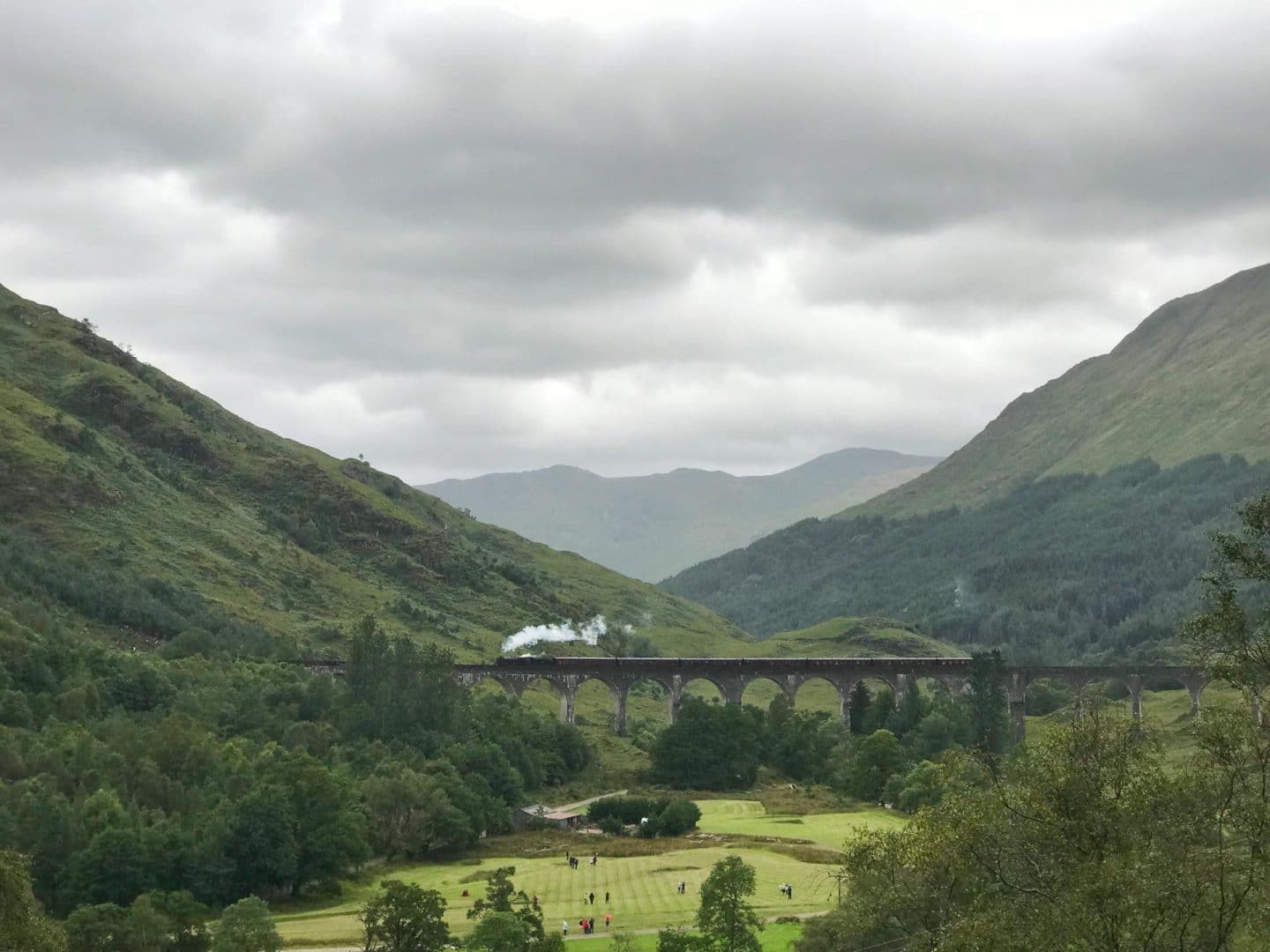 The Glenfinnan viaduct is currently most famous for being the bridge in Harry Potter where the Hogwart's Express passes over.  For this reason any available parking space is taken when it's time for the steam trains to pass!  It's best to check ahead and time your visit at least an hour before the train arriving.  This will not only give you a chance to find a parking space, but you can also have a bite to eat at the cafe, visit the Glenfinnan monument (a monument to the Jacobite army that landed there) and learn about the Jacobite's in the small museum.  Then work your way to a good view point above the visitor centre, which is only a 10 minute walk uphill, to view the steam train passing.
A82 (Glasgow to Inverness) – Scotland Road Trips
The A82 stretches all the way from Glasgow to Inverness. It will take around 4 hours (traffic dependant) to drive it all without stopping.  So you can probably stop 2-3 times at some of the suggested places below to stretch your legs.  There are plenty of beautiful areas to drive through, with famous scenery such as Glencoe and Loch Ness to enjoy.
Balloch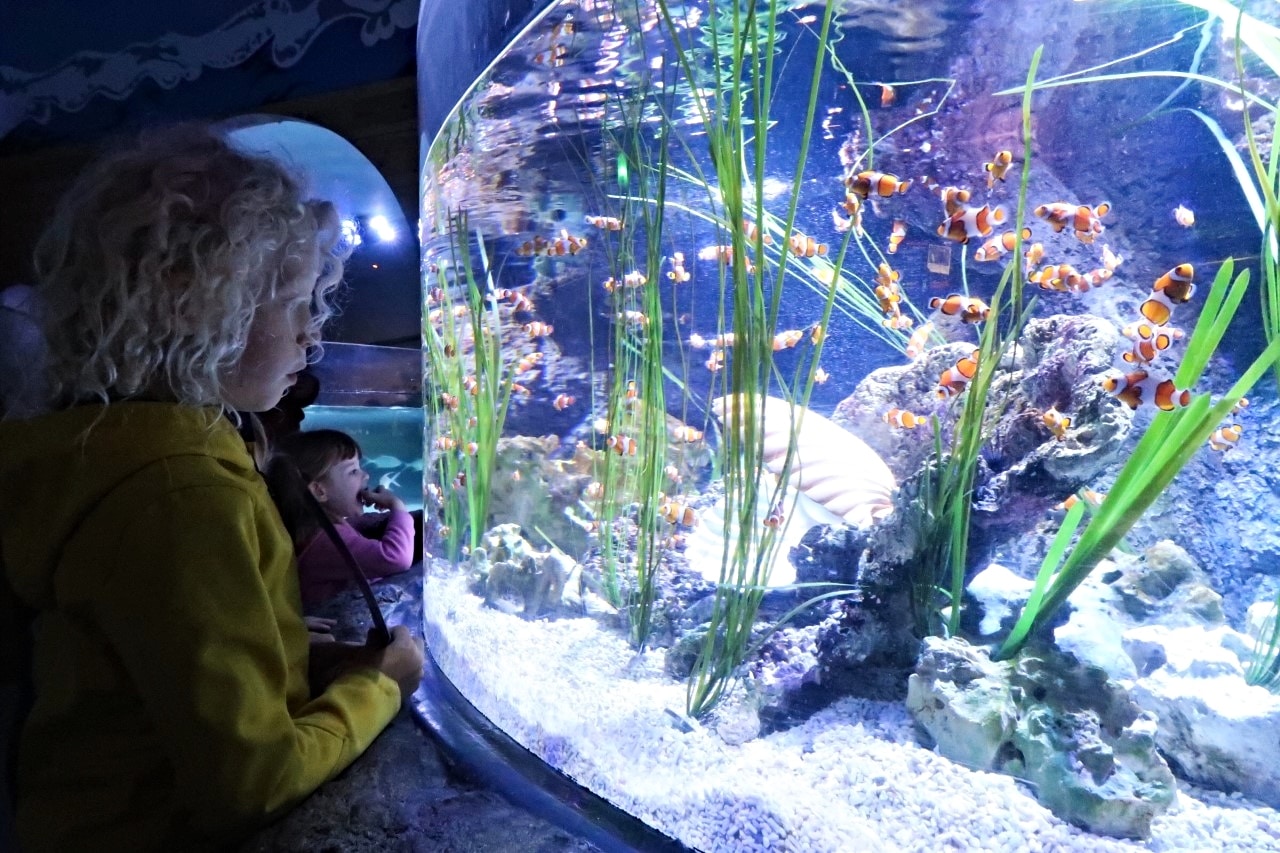 Balloch is the small town at the South end of Loch Lomond.  It has several places to stop and visit, including Balloch Castle and Lomond Shores.  Balloch Castle is on the South East side of the loch, with beautiful gardens, a small kids play park and access to shores of the loch.  Loch Lomond Shores is on the South West side of the loch, with an aquarium, shops, play park and cafes.  You can also hire a pedalo or take a tour on Loch Lomond.
Falls of Falloch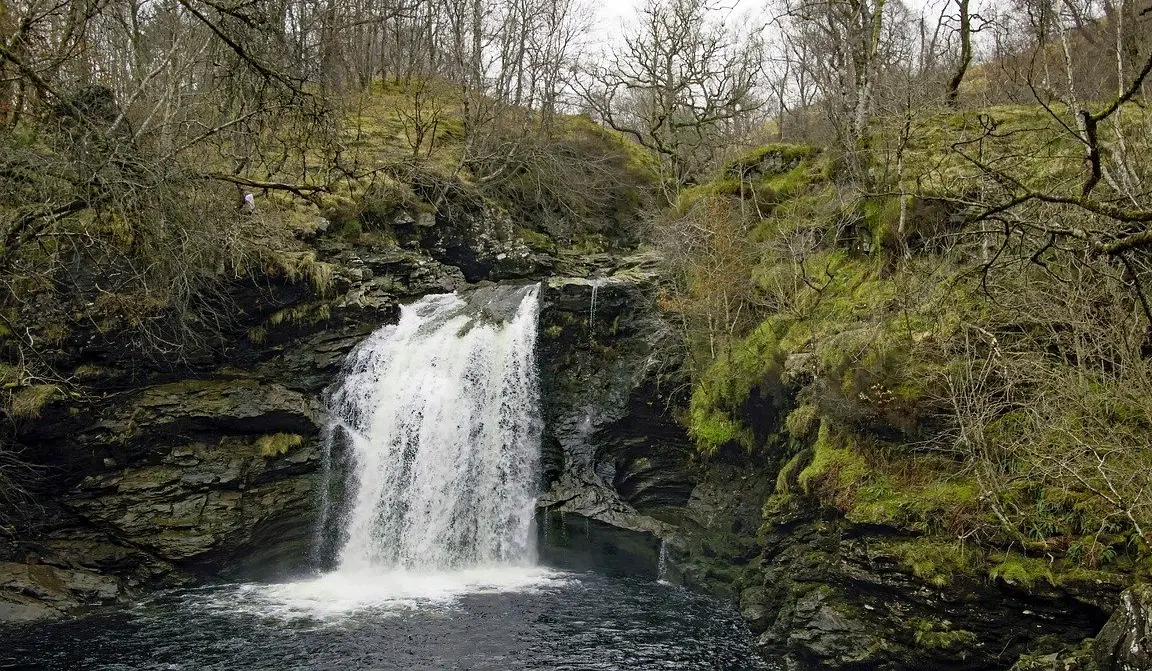 The Falls of Falloch are conveniently located right beside the A82.  It can get busy during peak times, plus the car park is rather small, but a great stop during the week or outwith local school holiday dates.  You can view the falls through an art installation or walk to the pool at the bottom.  A nice place for a hot drink and to stretch your legs!
Green Welly Stop
In Tyndrum the place to stop is always the Green Welly!  The car park is large and often busy, but there's usually plenty of spaces to park.  The Green Welly has toilet facilities (go in the back beside the coaches if you're just heading to the toilets), a restaurant, shops and ice cream!  Good to buy some last minute things for your holiday or souvenirs on the way home.
Glencoe visitor centre
Just before you leave Glencoe North on the A82 there is the Glencoe visitor centre on the left hand-side. There is a cafe, shop, toilets and a great exhibition and film screening area to learn more about the history of Glencoe.  If you have more time you can also opt for a Landrover safari to get a completely different view of the glen and of course wildlife.
Fort Augustus
Another popular tourist spot, Fort Augustus is an ideal place to stop and stretch your legs.  Walk along the canal and watch the boats navigating the locks on the canal and look round the Caledonian Canal Centre.  The new canal centre has a cafe, shop as well their exhibits on the canal.
Urqhuart Castle
Follow the A82 along the North side of Loch Ness until you arrive at Urqhuart Castle.  The castle is a well known landmark on Loch Ness and a great place to explore the history or the clans people who once lived there.  As the castle is right beside the loch, you can also get down to the loch side to look out for Nessie!
Nessie Museums
A little way along the A82 from Urqhuart Castle at Drumnadrochit are the Nessie museums, there are two to choose from (or visit both!).  The museums are very close to each other, on the left (just off the A82) is Nessieland and the right is the Loch Ness Centre.  Nessieland is all about Nessie herself and the various sightings.  Whereas the Loch Ness Centre focuses more on Loch Ness and the history of the searches.
A90 (Perth to Fraserburgh) – Road Trips In Scotland
This road through Perthshire to the North Eastern corner of Aberdeenshire is pretty, but fairly flat compared to other areas of Scotland.  The roads are mostly wide and a lot of the A90 is a dual carriageway.  So you will most likely want to stop to get a break from the monotonous road!  Fortunately there are plenty of great stops.
Glendoick Garden Centre
This is always a nice quiet spot for a bite to eat and a wander around the Glendoick gardens outside. You can also find some great buys in the garden centre too.  The toilets are available to be used by people not visiting the cafe too.
Dundee Museums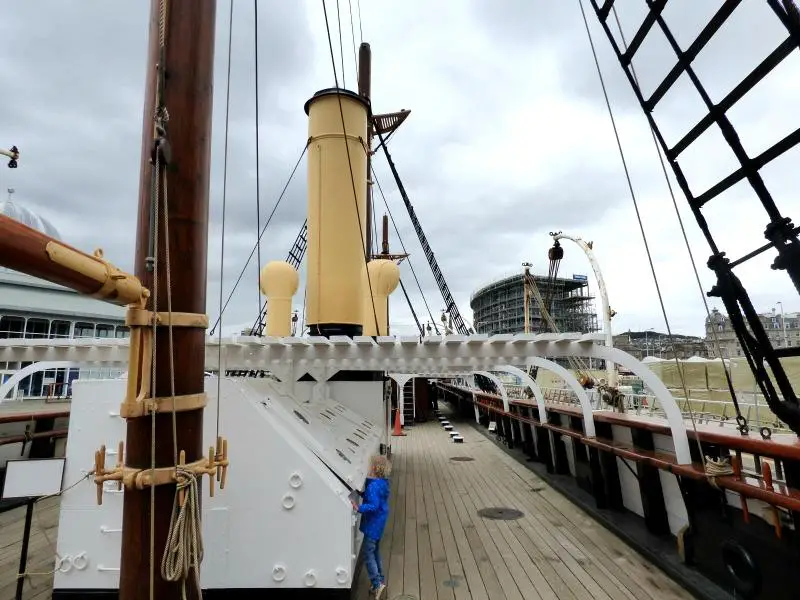 The A90 runs straight through the outskirts of Dundee and it's not too much of a diversion to park in Dundee to explore.  There are several different museums to choose from, including; Discovery Point (our favourite!) with RRS Discovery, Dundee Science Museum, V&A museum and Verdant Works.  An easy stop with something for everyone!
Caledonian Railway, Brechin
The Caledonian Railway is a 4 mile branch line featuring historic steam and diesel hauled trains.  The railway is run by volunteers and various trains run throughout the year between Brechin and the Bridge of Dun countryside stop.  Check their website for details of which days trains are currently running.
Aunt Betty's, Stonehaven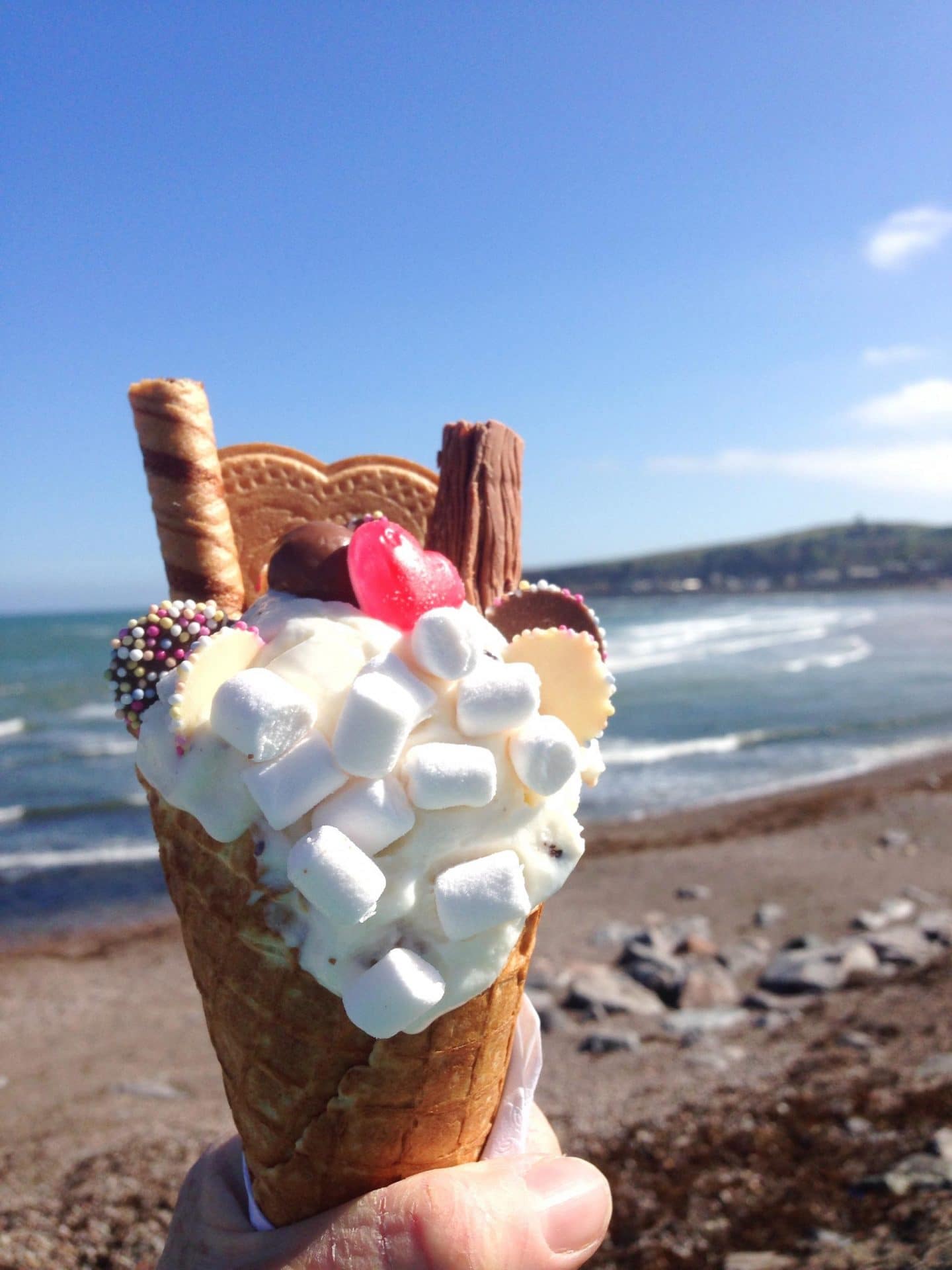 If you are craving an icecream by the sea whilst driving by Stonehaven, pop into the town to Aunt Betty's.  Located at the Northern end of Stonehaven's promenade, it's the perfect place for a delicious ice cream!
Dunnotar Castle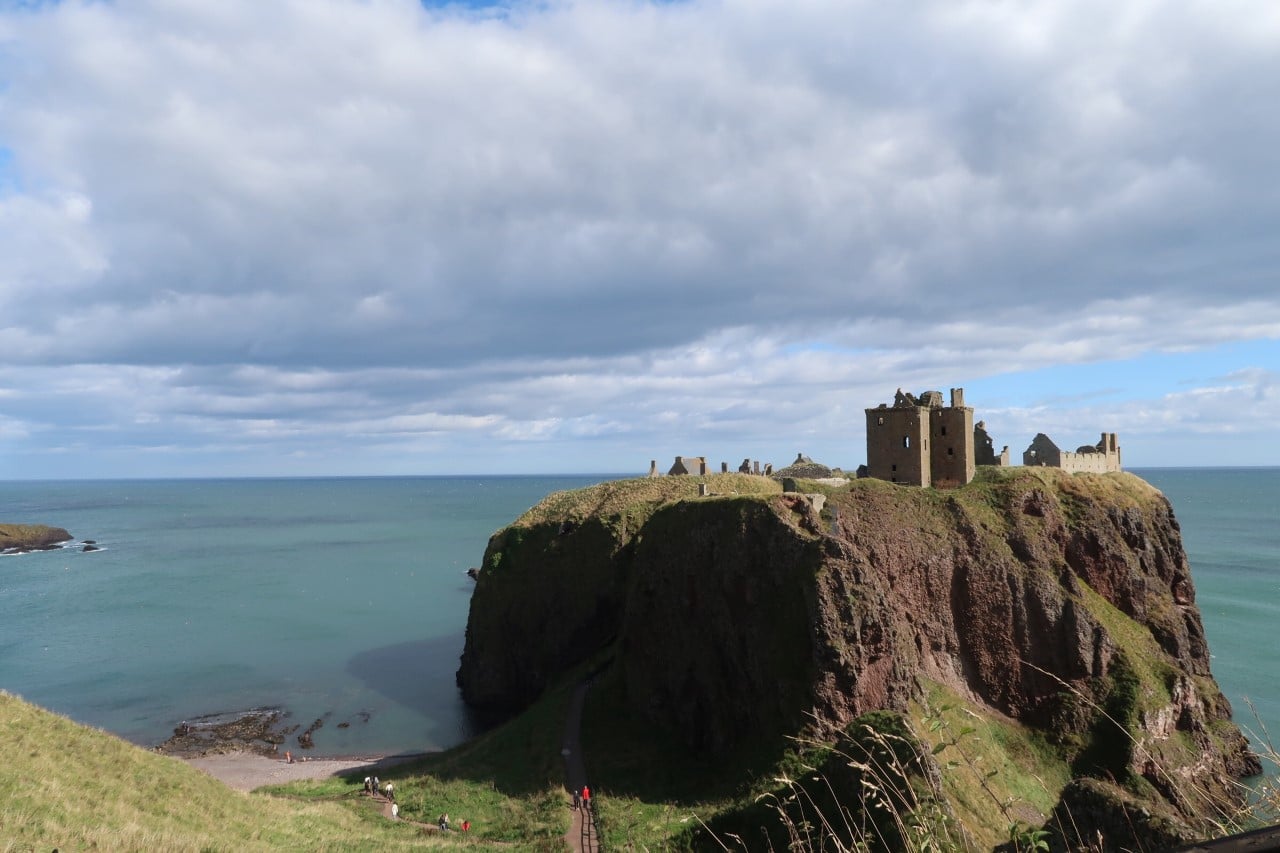 Just off the main road toward Stonehaven is the impressive Dunnotar Castle.  With a long history and a stunning view this is the perfect place to stretch legs and minds.  If you still have time to spend after you've visited the castle, head down to the beach below for a paddle in the chilly sea!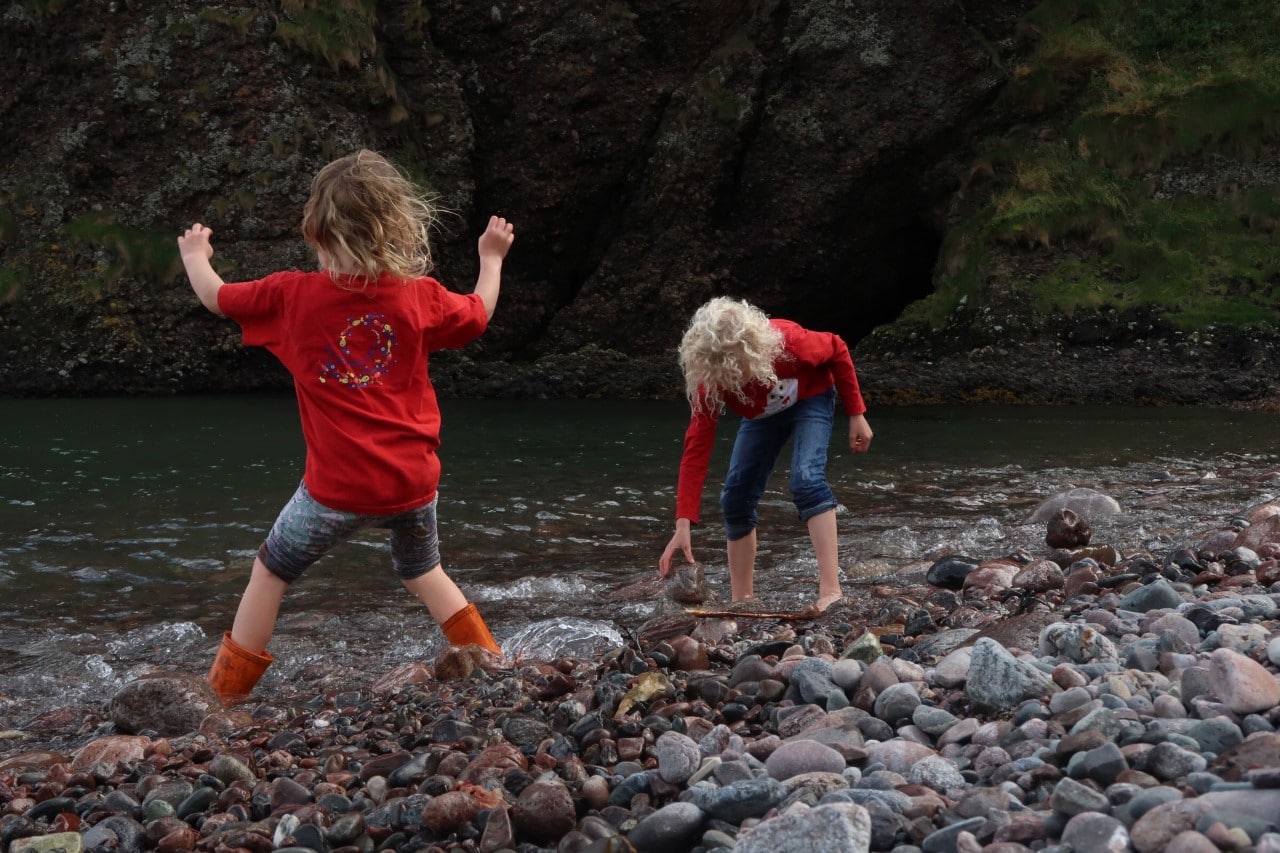 Storybook Glen
Heading West from the A90 at Aberdeen you will find Storybook Glen.  In a rather strange world of nursery rhymes the adults will have just as much fun identifying the different characters as the kids!
You will also find a soft play and castle next door for rainy days.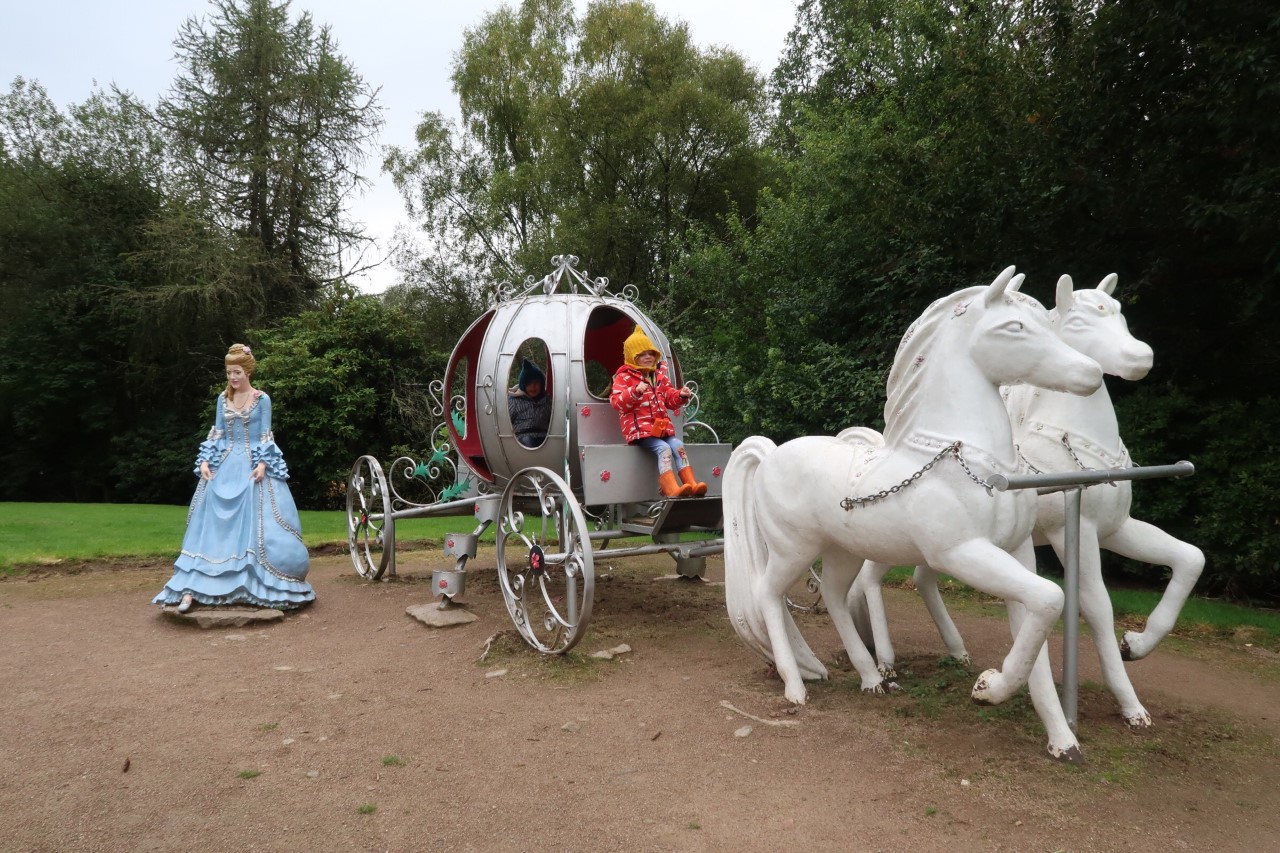 Balmedie Beach
Just North of Aberdeen is Balmedie Country Park and beach.  It's a long stretch of beautiful sandy beach with plenty of space to walk along away from others, stretch your legs and dip your feet in the North Sea.
Cruden Bay
Further North, just off the A90 is Cruden Bay, another pretty stretch of sand to enjoy.  It's just South of Slains Castle, so could be a nice stop for an explore of both.
Slains Castle
North of Cruden Bay are the remains of Slains Castle.  A rather foreboding looking castle against the usual grey skies, looking out toward the sea.  It's a mish-mash of different ages, although I'm not sure there are many boards explaining it's history. You can park beside the castle or walk from Cruden Bay.
A96 (Aberdeen to Inverness) – Scotland Road Trips
This is a less travelled road in Scotland, but has plenty of beautiful scenery.  From flat farmland and forested areas to the beautiful Moray coastline.  There are plenty of great stop-offs along the way!
Gordon Castle
Just outside Fochabers is Gordon Castle.  The castle itself is for exclusive hire as a holiday property so you can't go inside unless you're hiring it.  But there are beautiful gardens, a children's play area and children's trails to follow.  There is also a cafe and toilet facilities.
Brodie Castle
Brodie Castle is East of Nairn and a lovely place to stop and visit the gardens or children's play area.  It's an NTS property, which means they take English NT membership cards too.  Castle entry is by tour only, so make sure you book in advance.
Nairn Beach
Nairn is located on the Moray Firth coastline, with a beautiful stretch of beach.  You can see across the firth to the Black Isle and the firth also has it's own resident dolphins that you can sometimes spot too.
Culloden Battlefield
Just East of Inverness is Culloden battlefield, another NTS property.  There is a very extensive visitor centre which goes into great detail of what happened in the lead up to the battle as well as the battle itself.  You can also walk out on the battlefield itself, around the many paths and stones to remember the clans who fought.  There is a large cafe area, toilet facilities and shop too.
A9 (Dunblane to Thurso) – Scotland Road Trips
The A9 is a famous road that stretches from Central Scotland all the way to the very North of Scotland.  It's a stunning route with plenty of gorgeous scenery to see along the way.  However do be aware it can also be a dangerous road with some scary driving!  You definitely have to be fully awake and aware whilst driving along here, so make sure you have plenty of stops.
Huntingtower Castle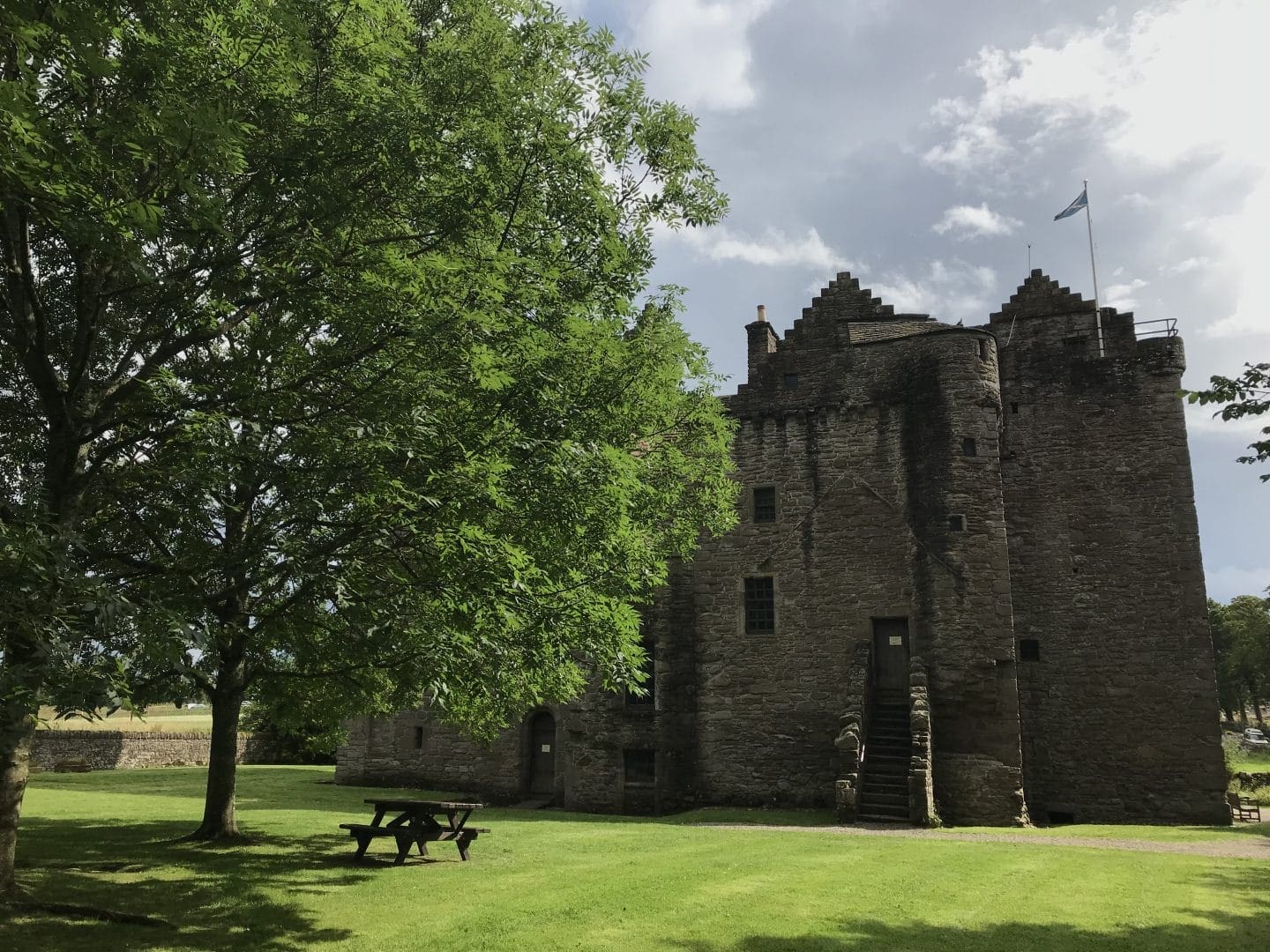 The castle often seems quiet when we visit, I think it's not as well known as others in the area!  It's easy to get to, just off the A9 and opposite the Dobbies Garden Centre.
The Hermitage
We have a bit of a soft spot for the Hermitage, near Dunkeld.  It's right beside the A9, but the folly is also where we had our wedding ceremony!  There a plenty of beautiful walks through forests and along the river, but some of the best views are from the little folly overlooking the waterfalls and bridge.  It's an NTS site so parking is free for members.
Blair Castle
A little way off the A9 North of Pitlochry is Blair Castle.  You can arrange guided tours of the castle or explore the grounds and adventure playpark with the kids.  There is also a restaurant and gift shop too.
Highland Wildlife Park
North of Newtonmore is the Highland Wildlife Park, it's probably more of a day trip, but the kids will love it if you can fit it in!  Here you can find animals such as polar bears, wolves, elk and Scottish wildcat.  The wildlife park is part of a conservation scheme that helps endangered animals, including the Przewalski's horse which was once extinct in the wild.  After a breeding and re-introduction programme the species is now doing well in the wilds of Mongolia.
Strathspey Steam Railway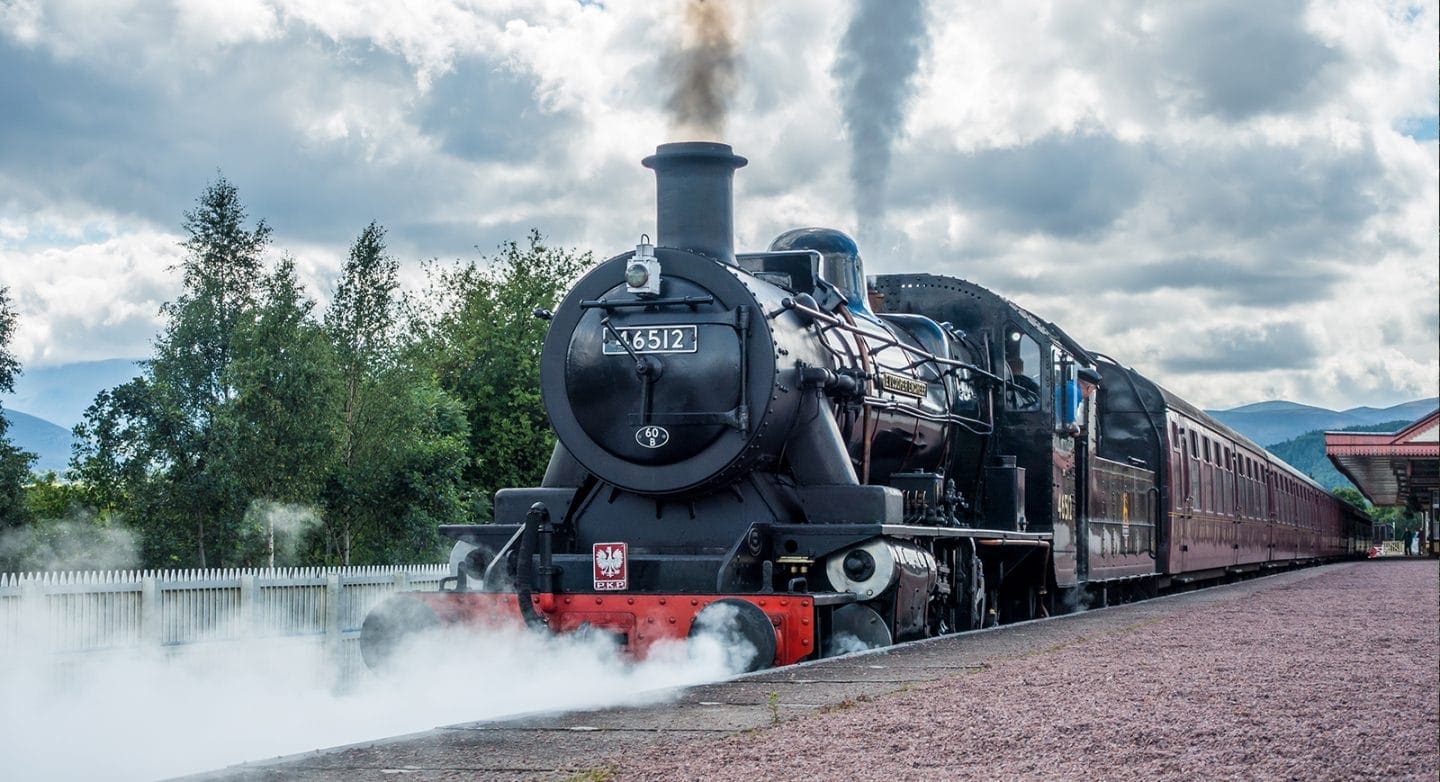 The Strathspey Railway is located in Aviemore, just off the A9.  You can book tickets and simply stay on the train to the end of the track and back.  If you want to stretch your legs then you can get off at Boat of Garten station for a wander before returning to Aviemore again.
Landmark Forest Adventure Park
Another attraction near Aviemore and probably more of a day visit.  However, if you are only going a short journey North or South around Aviemore then this might be the perfect stop for you. Check Groupon and other voucher sites before you visit, there are sometimes good deals to be found!
Landmark has plenty of adventure play and exploration areas for the family to enjoy.  It's a great place to visit with the kids!
North Kessock – Dolphin spotting
Inverness looks over the Moray Firth and it's well known for it's resident dolphin population.  There are various points along the firth that you can see dolphins, with North Kessock being the closest to the A9.  You can stop for a picnic and watch the water for any dolphin activity.
Cairn Liath
This ruined broch still has a lot to explore, plus the views from the broch across the North Sea are amazing on a clear day!  The car park is signposted beside the A9 (between Golspie and Brora) and easy stop for a break from the tedious journey to the very North of Scotland.
Laidhay Croft Museum
Open from Easter each year, the Laidhay Croft Museum, North of Dunbeath, is a fantastic wee gem to explore how crofters lived in the highlands. There is also a little tearoom to grab refreshments.
East Scotland
A91 (Stirling to St Andrews) – Road Trips In Scotland
From Stirling, the gateway to the Highlands, across to St Andrews in Fife is a shorter route, but with so much stunning scenery you are going to want to stop off to appreciate it!  With castles and wildlife, there's plenty of choice!
National Wallace Monument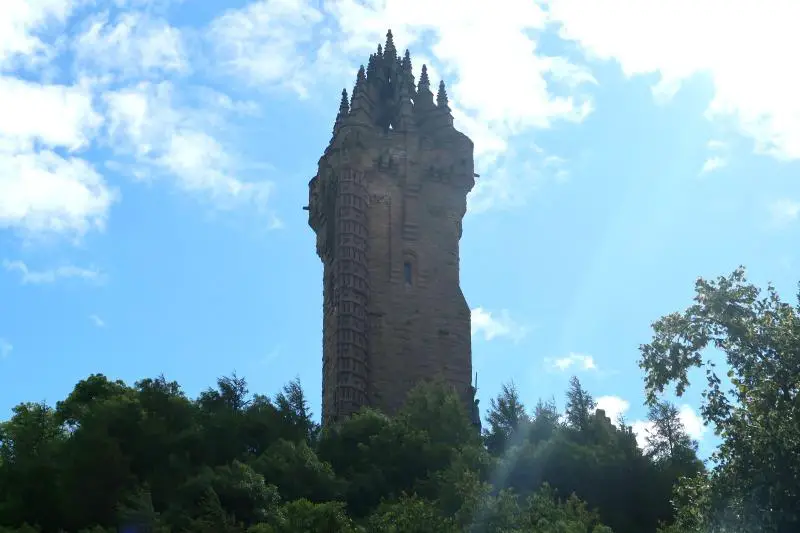 The Wallace monument is just on the way out of Bridge of Allan and a great stop for kids and adults.  There is a walk up to the monument with a sculpture trail, so it's great to motivate kids to climb the steep hill.  If you can't walk up the hill there is also a minibus which is free to use if you buy tickets for visiting the monument.
Inside the monument are several different rooms discussing the history of William Wallace, the Battle of Bannockburn and the tower itself.  However the best part may be the amazing view from the crown at the top of the tower!
Castle Campbell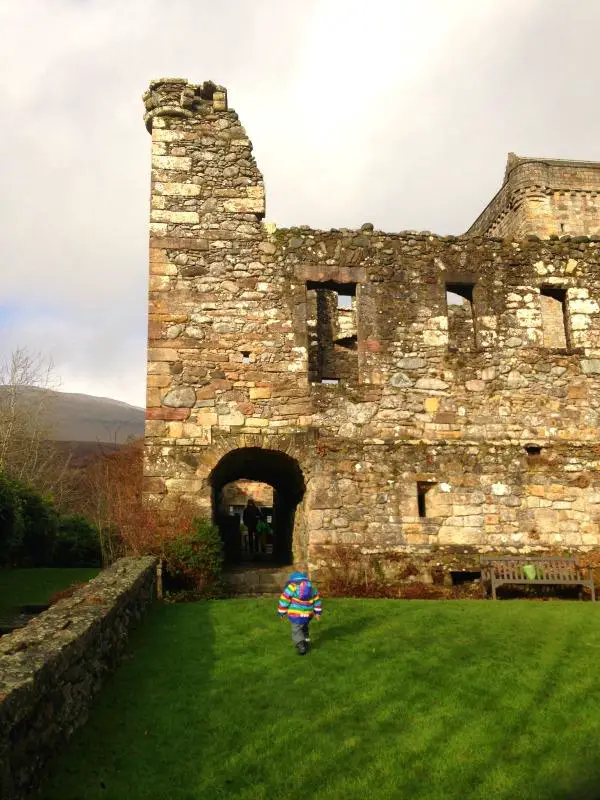 Just up the hill from the A91 in Dollar is Castle Campbell.  It's a small ruin, which doesn't take too long to explore.  If you have kids with a good imagination then they may well have a good game of being knights or Queens and Kings.  As with most Historic Scotland properties you can also get a quiz to complete with the children.
If you still have time after visiting the castle, have a walk around the gardens below the castle.
Japanese Gardens, Dollar
Also near Dollar are the Japanese Gardens.  They are rather picturesque and definitely insta worthy, as well as a good stop for the kids.  You can get something to eat at their tearoom and toilet facilities are also available.
Burleigh Castle
A historic tower house on the edge of the small town of Milnathort.  During the summer months you can access inside the tower, otherwise you can only visit the outside of the castle.
Loch Leven Castle
Famed for holding Mary Queen of Scot's prisoner, Loch Leven castle is a great place to stop for an hour or two.  You need to get a boat to the island, which makes it even more fun!  Wander around the island and soak up the history.
The Scottish Deer Centre
Beside the A91 at Bow of Fife is the Scottish Deer Centre.  Despite the name there is a lot more to do here than just see deer.  You can take part in trailer rides, visit the adventure playground and see lots more animals.  There's plenty here to keep everyone busy!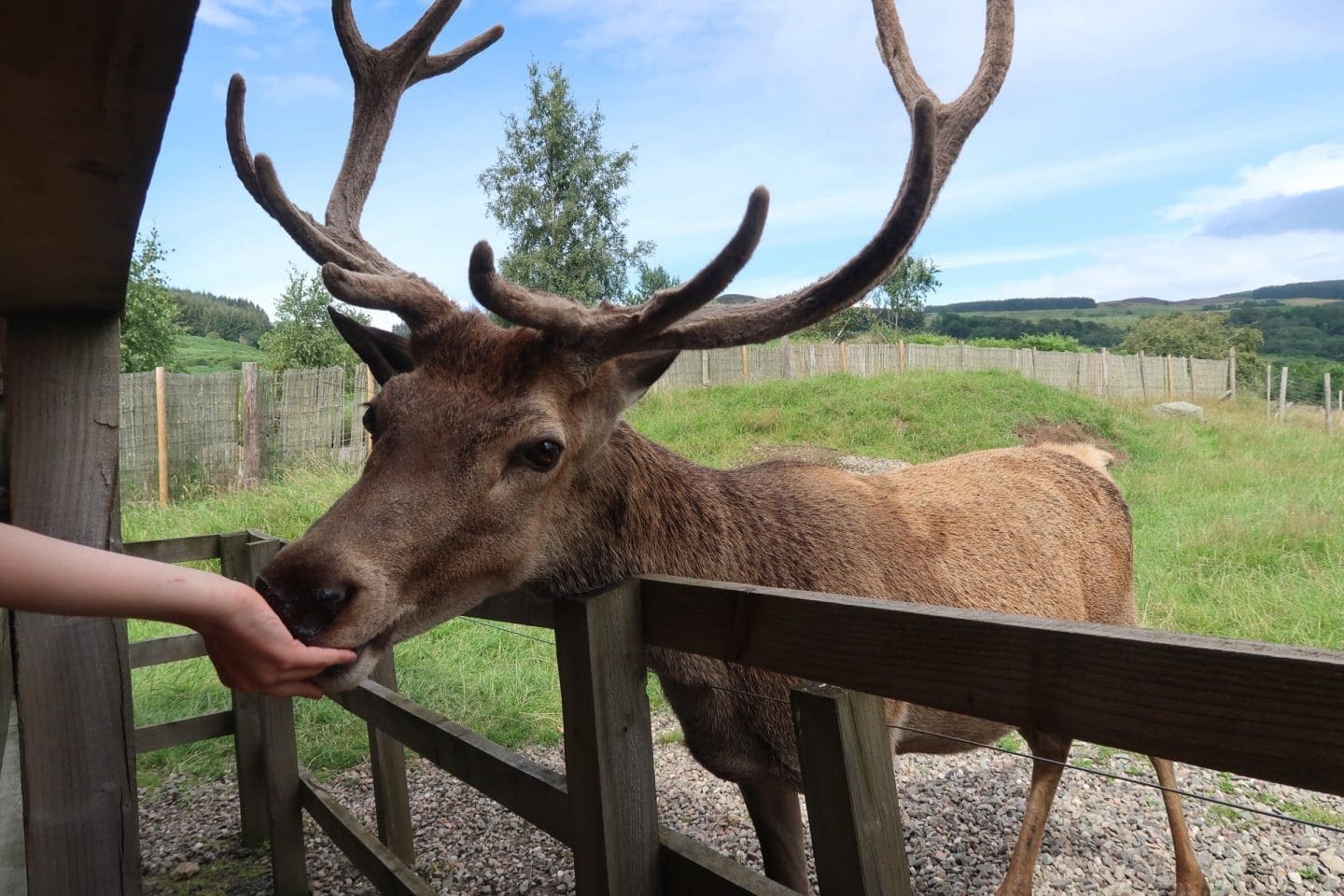 Cairnie Fruit Farm
During the summer months Cairnie fruit farm has delicious berries to pick.  They also have a fantastic maize maze that everyone will enjoy exploring and getting lost in.  Of course the cafe is also a welcome sight for those hungry tummies!  During autumn this is the place to go for pumpkin picking in Scotland and Halloween fun.
Central Scotland
M8 (Edinburgh to Glasgow) – Scotland Road Trips
Most road trips in Scotland will include the M8 to get between Glasgow and Edinburgh. The M8 is a pretty short and fast road, so you aren't likely to want to stop for long.  However, shorter legs may still appreciate a stop or two on the rather boring and built-up road.
Polkemmet Country Park (Junction 4A)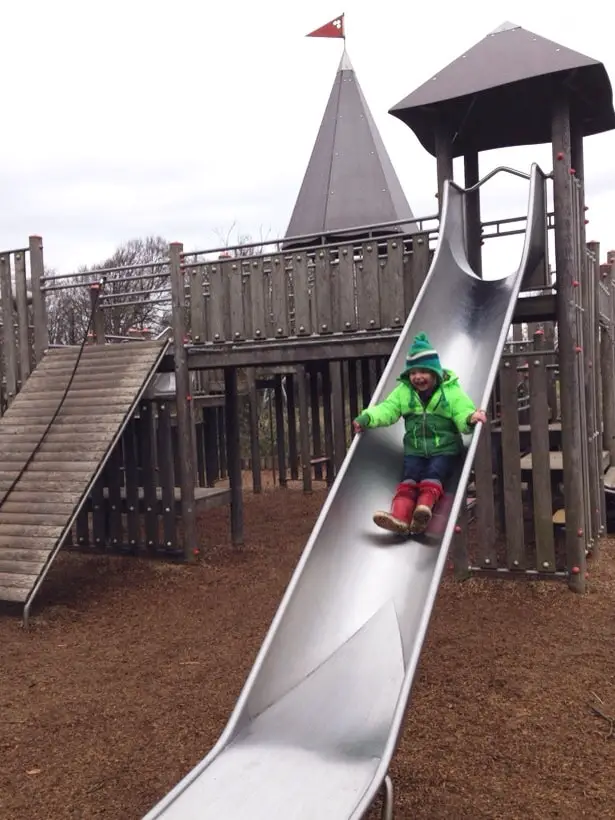 Polkemmet country park is only a small area off the M8, but it's perfect for children craving some time outside.  There's plenty of space for them to stretch their legs and play in the park.  You can also grab a bite to eat from the visitor centre in the park and even visit the Scottish Owl Centre.
Ratho Climbing Centre (Junction 2)
On a wet day it might be an idea to book Ratho climbing centre's clip 'n climb session for the kids.  They get time to climb on the different walls and you can also get something to eat at the cafe upstairs.  For younger kids there is a softplay.  The main climbing area is set in an old quarry and if you have experience you can book the regular rock climbing area.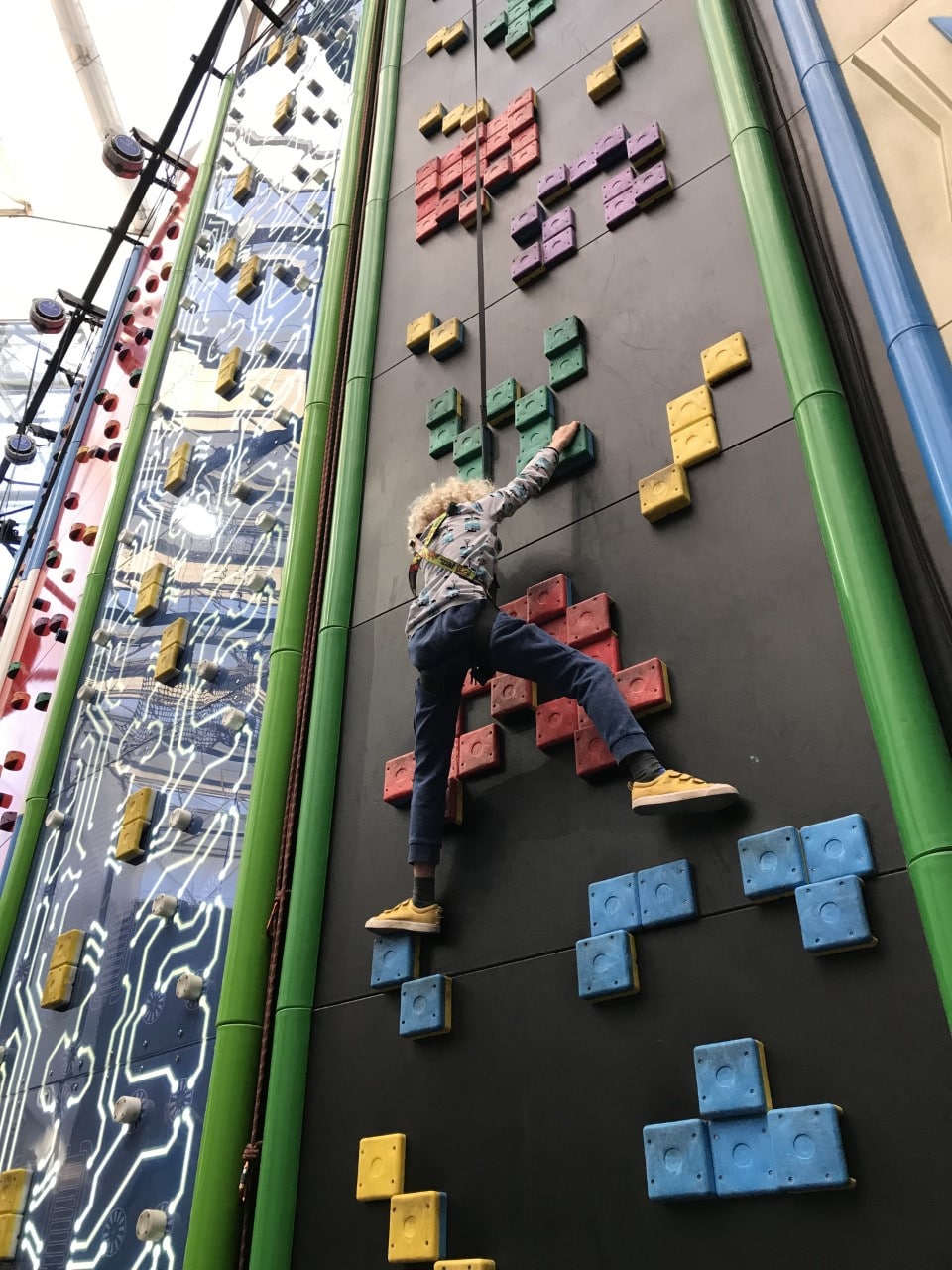 M80 (Stirling to Glasgow) – Road Trips in Scotland
A fairly quick road, but if you are heading further away for road trips in Scotland, or just want somewhere to stop off, here are a few ideas!
Adventure Planet Softplay (Junction 4)
This is a large softplay in Cumbernauld, easily accessed from the M80.  There is a smaller softplay area for younger kids and a larger more complex area for the older children.  There are also some great slides that are only open after school hours or on school holidays and weekends for the older children too.
Palacerigg Country Park (Junction 5)
Palacerigg country park is a little way up the hill from Cumbernauld in the countryside.  It's has lots of lovely walks and visitor centre open from 9am-5pm
World Of Wings (Junction 5)
World of Wings is a bird of prey activity centre not too far from the M80 in Cumbernauld.  You can visit the birds and watch the public flying display.  There is also a cafe to grab lunch or snacks.  Please note it's shut on Tuesday's and Wednesday's.
M9 (Edinburgh to Dunblane) – Scotland Road Trips
Another road that isn't particularly scenic or long, but there are several stop-offs that may just make the journey easier!
Blackness Castle (Junction 3 or 2 dependant on direction)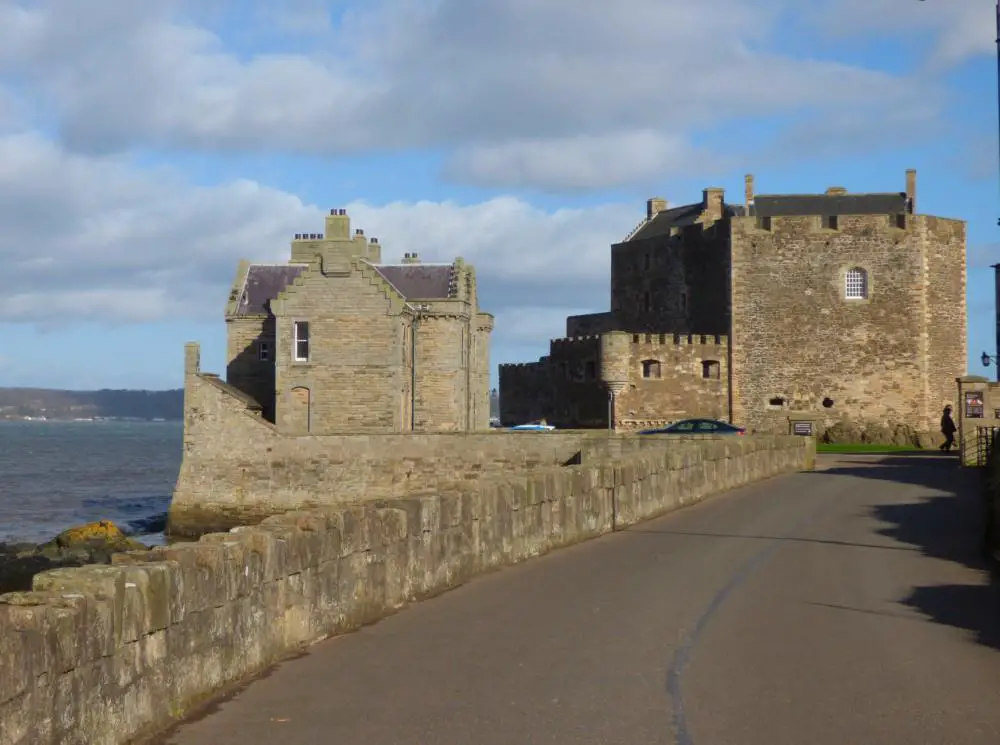 Right on the Firth of Forth, Blackness Castle is a great place to explore.  There are great views across the firth to the Forth crossings and it's a very interesting building in it's own right.  It's around 10 minutes from the motorway on smaller roads.
Linlithgow Palace (Junction 3 or 4 dependant on direction)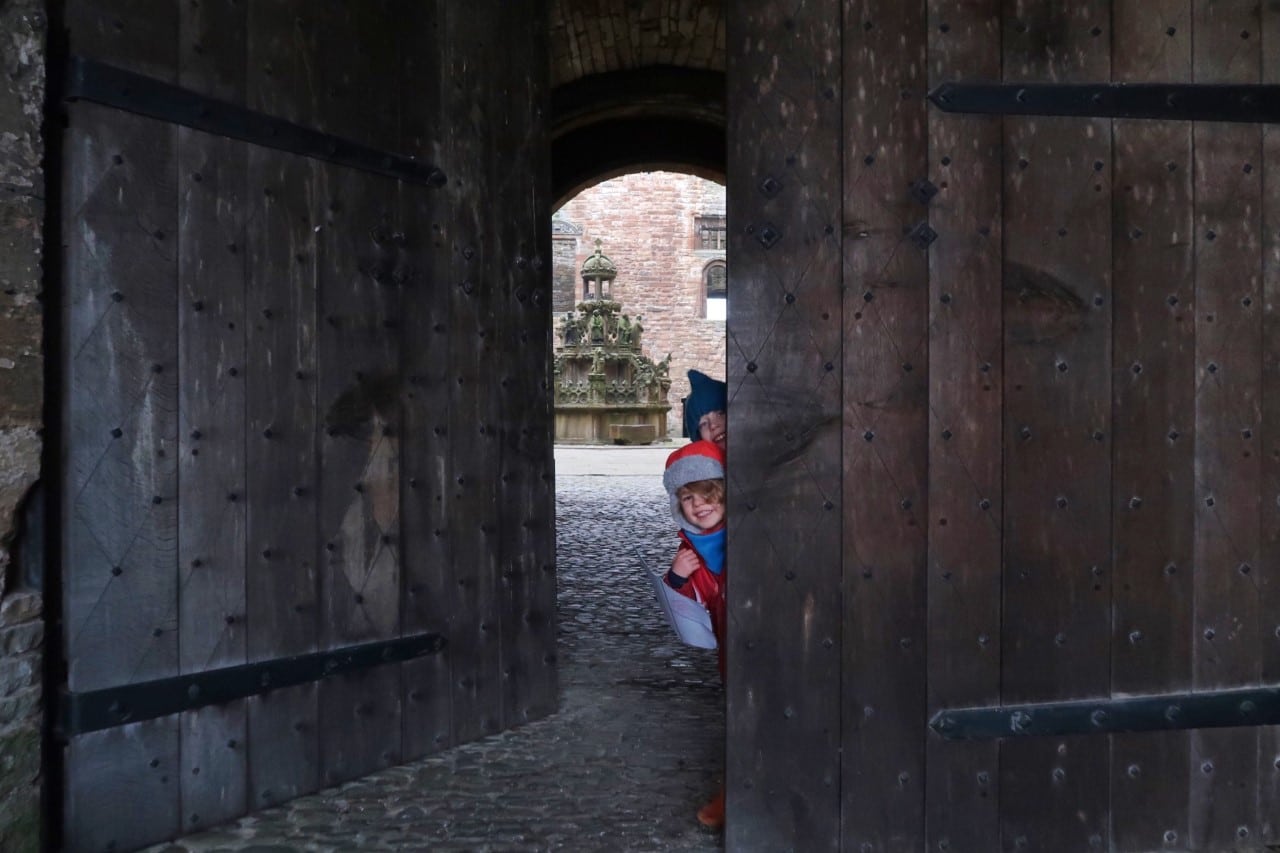 The birthplace of Mary Queen of Scot's, Linlithgow Palace is a fun place to explore.  Aside the Scottish royal connection, the building itself is very interesting and St Margaret's bower has amazing views.  There are a lot of steps, so the kids will certainly get plenty of exercise here!
Outside the castle is the peel, where there are great grassy hills to roll down and you can walk around the loch.
The Kelpies and Helix Park (Junction 5 or 6 dependant on direction)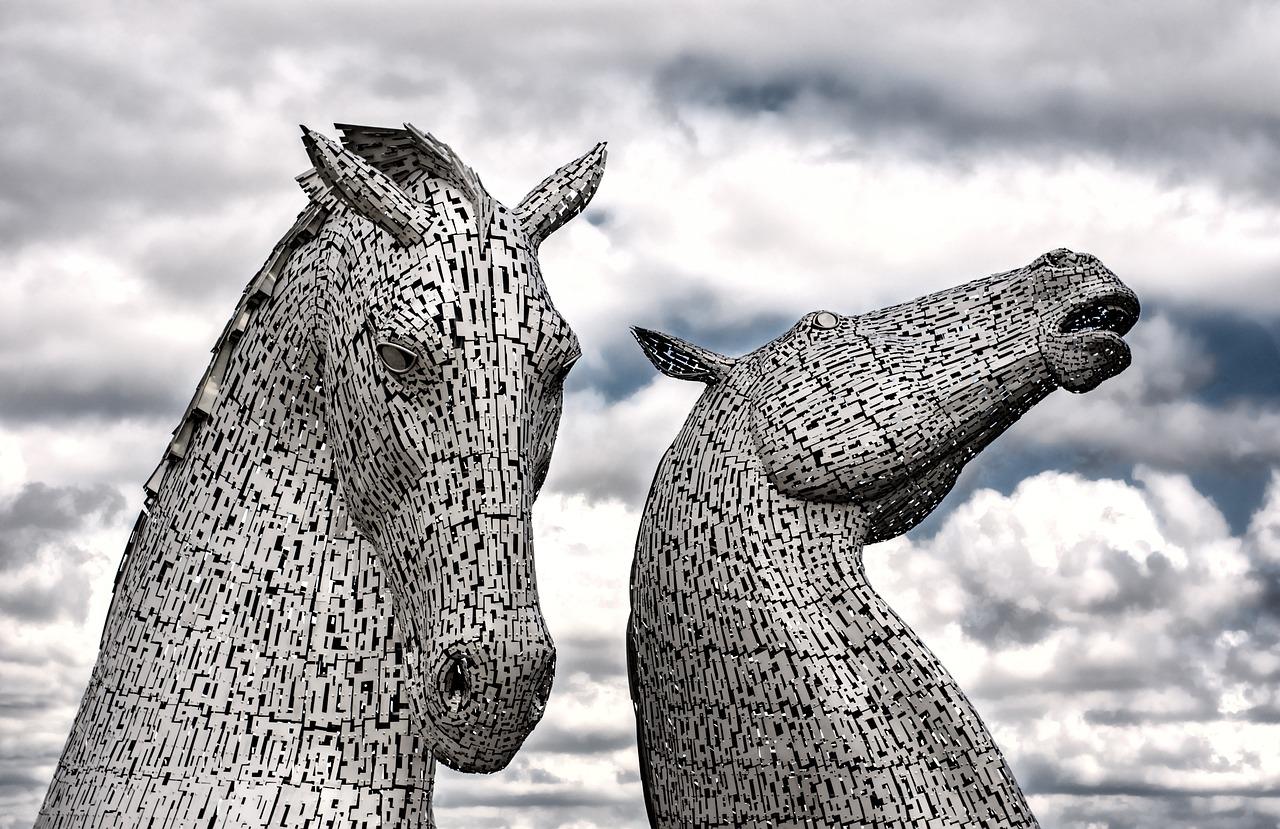 A popular place to visit is Helix Park and the Kelpies.  You will probably have noticed the Kelpies if you have previously driven down the M9 beside Falkirk.  The giant horse heads are spectacular to see up close and the visitor centre has an interesting video and lego to play with.
The kids play park is further up from the Kelpies and with wide open paths it's perfect for scooters and bikes.
Plean Country Park (Junction 9)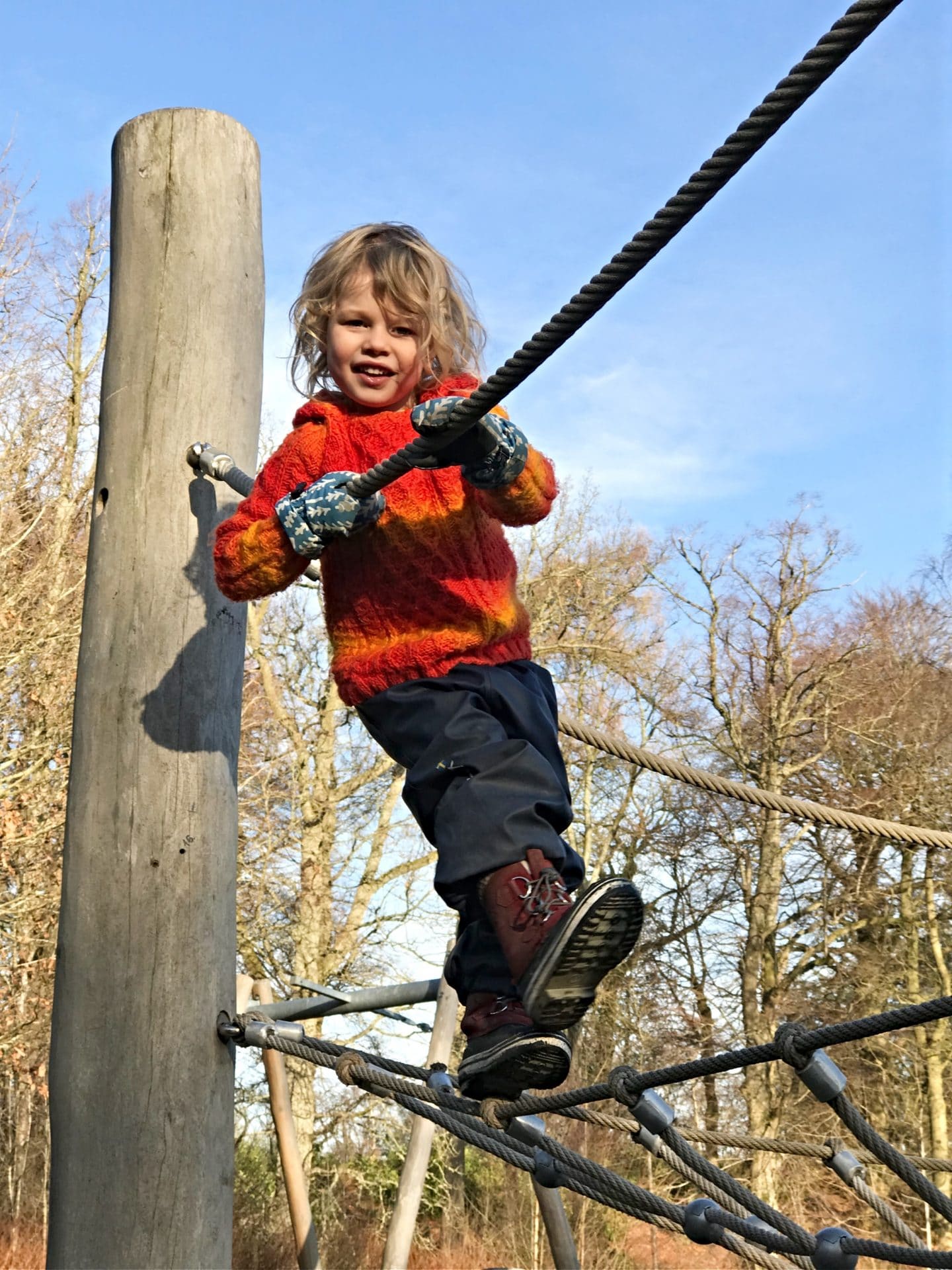 A small country park with a large ruined mansion in the centre.  There is a good size children's play park with a flying fox and plenty of walks around the park.  Most of the paths are quite good for bikes or scooters.
Stirling Castle (Junction 10)
When you are driving toward Stirling on the M9 you'll no doubt notice Stirling Castle.  It's only 5 minutes from the motorway and a great castle to visit, we prefer it to Edinburgh!  There's loads of interactive kids things inside, plus plenty of gardens and walls to run around and clamber on.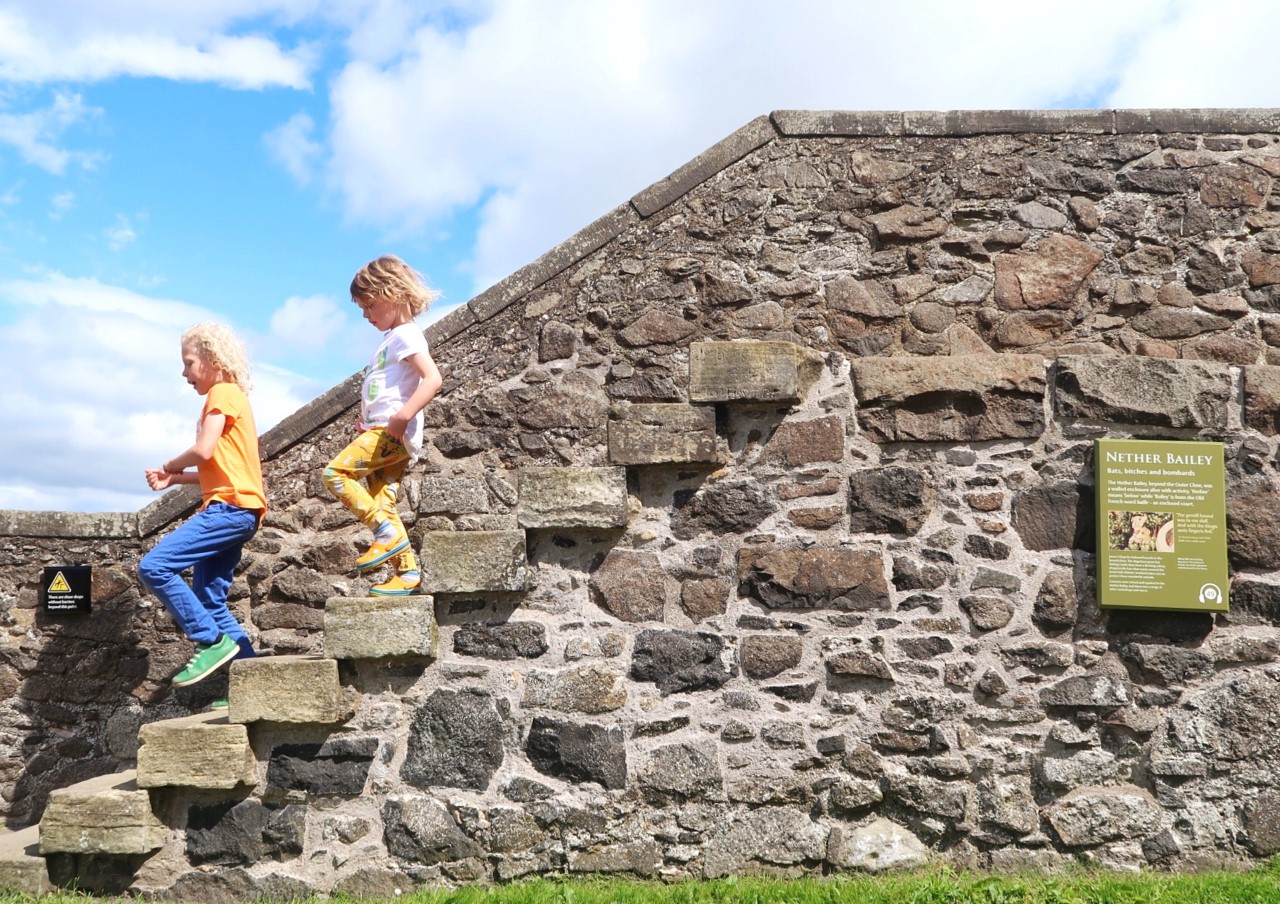 West Scotland
A83 (Arrochar to Campbeltown) – Scotland Road Trips
This is a long and arduous road, where you bound to get stuck behind a vehicle slower than you.  However, the scenery is absolutely stunning and you will definitely want to stop to stretch legs, find a toilet and just admire the landscape.  There are more than enough places to choose from along this beautiful stretch of road!
Rest and Be Thankful
Although there's not a huge amount to do a the Rest and Be Thankful, it's a great viewpoint over General Wade's military road.  There are generally snack vans around where you can get something to eat too, but not toilet facilities.
Ardkinglas Woodland Gardens
Not far from the A83 on Loch Fyne are the Ardkinglas Woodland Gardens.  The gardens are lovely to just walk through or younger kids may enjoy the Gruffalo trail in Scots.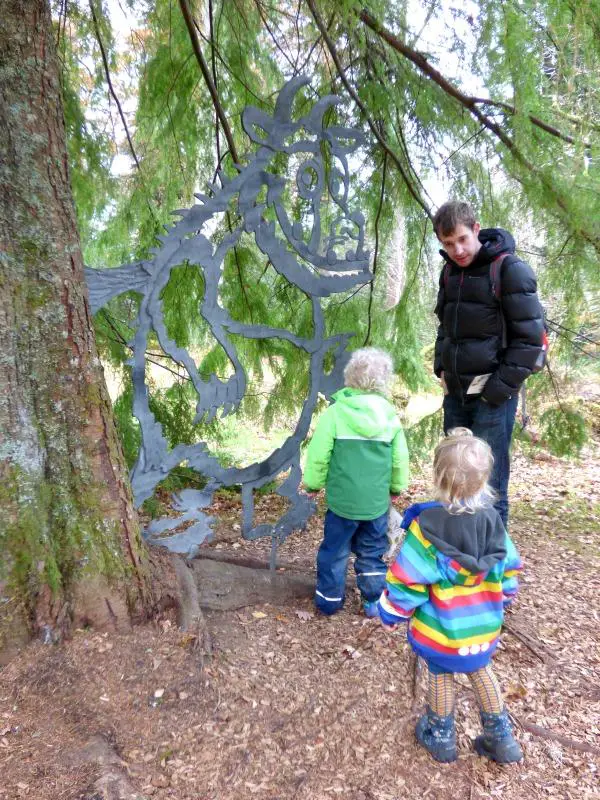 The Tree Shop
The Tree Shop is essentially a garden centre, however it also has a great cafe with delicious food, tables both inside and out.  The shop has some quirky things and if the kids are bored in the car, buy one of the many Scottish themed sticker, story or activity books.  Toilets are free to use and there is a huge car park.
Inverary Castle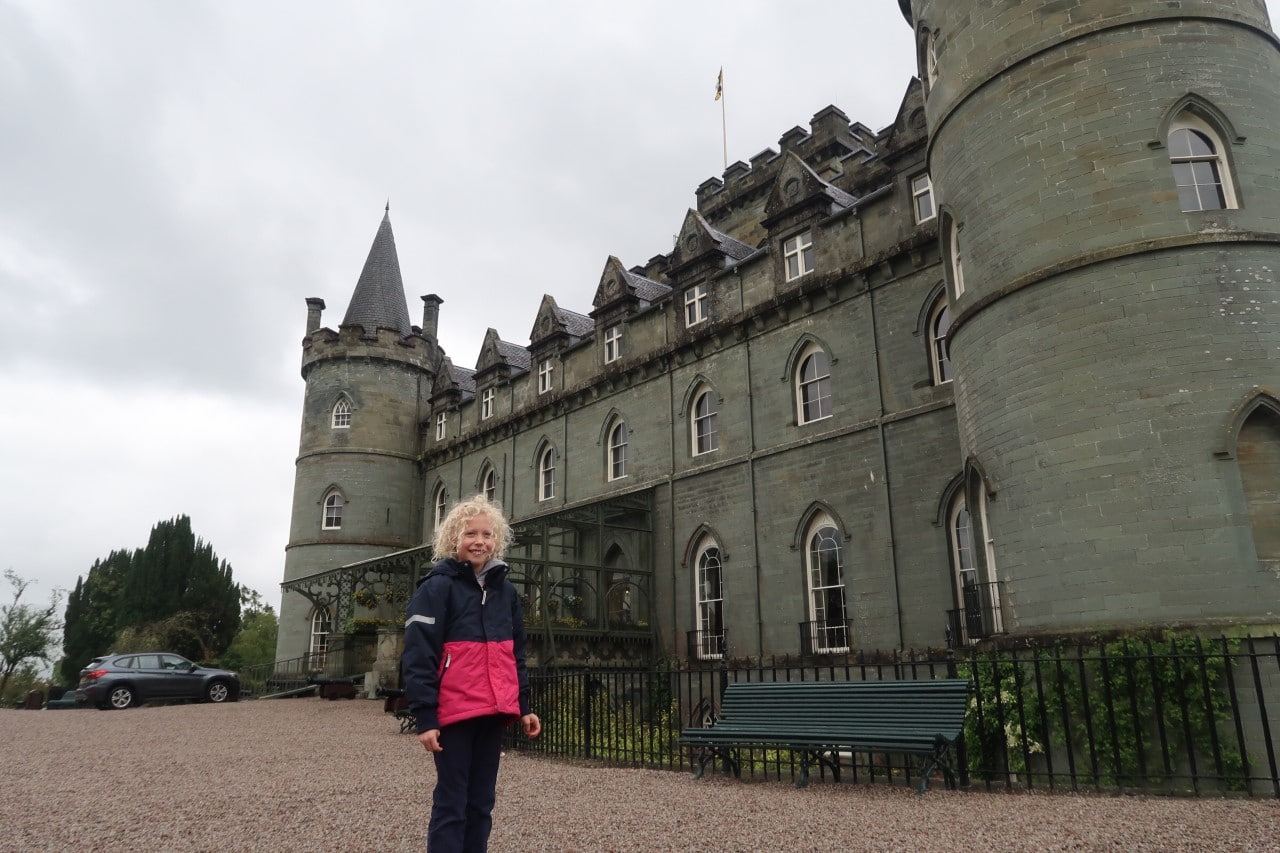 It is a lovely place to stop enroute to the West coast.  Although it's called Inverary castle, it's really a large mansion house which you can explore.  The kids are given a little scratch card type quiz to complete and there's a cafe and toilets too. The gardens are meant to be lovely as well, although we haven't made it round the grounds yet!
Inverary Jail
Inverary jail is another worthwhile stop in Inverary. The old jail has had some interesting occupants and a lot of people in the wrong place at the wrong time.  Many former prisoners probably hadn't done anything more wrong than stealing bread as their family were hungry.  It's interesting for families to visit, although the section about torture etc. might be worth skipping for more sensitive children.
Auchindrain Open Air Museum
Just outside Inverary is Auchindrain open air museum.  Where you can look inside old crofts and other buildings as they would have once been.  A great place to stretch legs and get some fresh air.
Crarae Gardens
This beautiful garden is an exotic himalayan like garden in Argyll.  With rocky gorges, wooden bridges and sprays of flowers, it's a beautiful stop off for a rest.  Crarae Gardens is signposted just off the A83, very easy to find.
Crinan Canal, Adrishaig
Stop at Adrishaig to visit the Crinan canal and the Egg Shed Interpretation centre.  Walk along the tow path and look at the locks or even get the bikes out for a cycle.
Royal Castle of Tarbert
The little town of Tarbert on the way down Kintyre peninsula is a great stop off point for lunch.  The castle above Tarbert is actually a royal castle that was once used by King Robert the Bruce as a gateway to the Western Isles.  It makes for a good place for the family to explore.
Ballochroy Standing Stones
You will need to find somewhere off the road to park (not in front of gateways or entrances to farms).  Just South of Clachan, it's a short walk up to this set of 3 standing stones.  Particularly beautiful on a midsummer eve with the Paps of Jura visible across the sea behind the stones.
Westport Beach
Just West of Campbelltown airport is Westport beach.  It's a long stretch of sandy beach with plenty of room to play, run and splash in the ocean.
A87 (Invergarry to Uig, Skye) – Road Trips in Scotland
Heading away from Loch Oich and onto the gorgeous Isle of Skye, you will find it a slower road.  However, no road trips in Scotland are complete without visiting at least one of our islands.  Fortunately Skye is very accessible by vehicle.  There aren't many areas to pass other vehicles, so chances are you will get stuck behind someone slow.  Fortunately there are lots of places to stop and admire the scenery or go for a walk.  There are also plenty of places to stop in laybys beside lochs and the sea, which aren't listed below.
Loch Cluanie Viewpoint
At the Eastern end of Loch Cluanie is a great viewpoint to look out over the loch.  A short stop to stretch legs, but more for the stunning views!
Eilean Donan Castle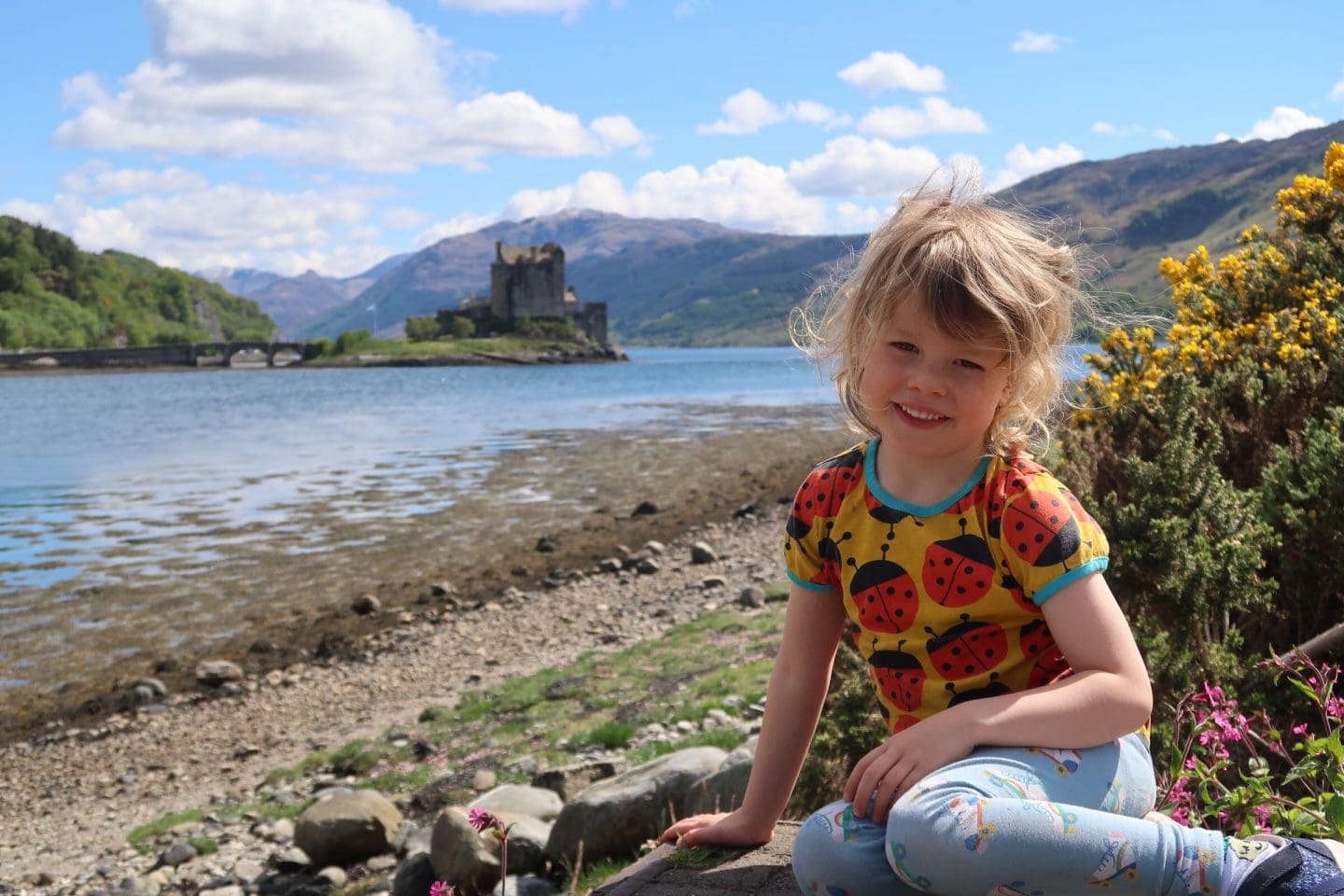 Eilean Donan castle in known throughout the world and one of the most common Scottish landmarks promoting Scotland.  It's position beside the water and across a bridge makes it quite a photographic spot.  It's right beside the road so easy to access.
Lochalsh Woodland Park
Close to Skye Bridge at Balmacara is Balmacara Estate with Lochalsh Woodland Gardens.  The woodland gardens are a good stop for a wander and break before continuing on into Skye.
Sligachan Old Bridge
The old bridge at Sigachan is a picturesque rugged area of Skye, that is perfect for stopping for taking photographs.  Kids may also like to run around the paths or play by the river before heading further on their journey.
The Lump and Apothecary Tower
The walk up to the Lump at Portree is only around 30 minutes, great for shorter legs!  The apothecary tower is a great viewpoint out to sea and was originally used to indicate that Portree could offer medical supplies.  An interesting walk from the town.
Falls of Rha
A lesser known waterfall at Uig in Skye.  Although the Falls of Rha is not well known, it's easy to find and particularly impressive after heavy rainfall.  A good place to visit whilst waiting for the ferry from Uig.
Fairy Glen
The Fairy Glen at Uig is very popular with tourists.  It's a very strange looking valley which you could just imagine fairies hiding in.  There is a large stone spiral below 'castle' Ewan (a rock formation likened to a fort).  Tourists often move the rocks to make their own sculptures, but this is considered vandalism by locals, so please don't move any rocks.
Southern Scotland
A1 (Edinburgh to Berwick-Upon-Tweed) – Scotland Road Trips
Going South along the A1 is fairly quick and easy. You will most likely enjoy the beautiful coastal views and want to stop off to enjoy the views.  Fortunately there are plenty of places to enjoy this stretch of road. This is the most common direction for road trips in Scotland to start.
Portobello Beach
The beach at Portobello is a long stretch of sand running below the promenade.  You can grab some lunch at one of cafes dotted along the promenade and just enjoy running around the wide open space of the beach.  There is also a small kids play park off the promenade.
Newhailes
Newhailes House is a NTS owned palladian villa, set in beautiful gardens.  You can explore the house or the kids may be more interested in visiting the new Weehailes playpark.  It is fantastic for kids to play in!  There is also a cafe that would be great for lunch or a snack after exploring.
Dalkeith Country Park
The country park at Dalkeith is large enough for a good walk or cycle for the kids.  There is also a great courtyard with various eateries, where you can get a delicious meal and a fantastic adventure playground for kids, Fort Douglas.
National Museum of Flight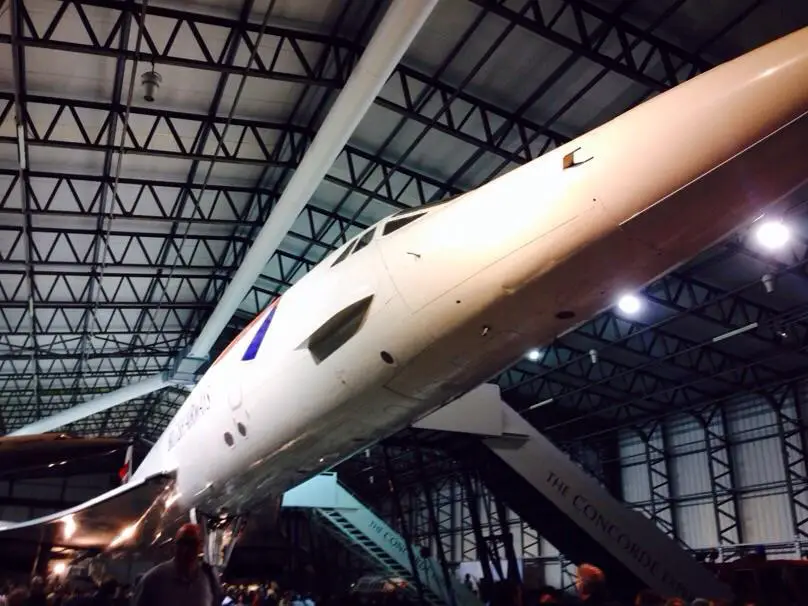 The National Museum of Flight is a great place for wet and cold days, where you can hide out in the different buildings at the Museum.  There are plenty of aircraft to discover, many that you can board and see what they looked like!  The mighty concorde is one of those aircraft!  There are also interactive exhibits for the kids too.
Eastlinks Farm Park
Eastlinks Farm Park is just North of the A1 at Dunbar.  The farm park has plenty of different play areas both inside and out. There are also animals to see and a train safari!  There is also a cafe for meals and snack, plus toilet facilities.
Coldingham Bay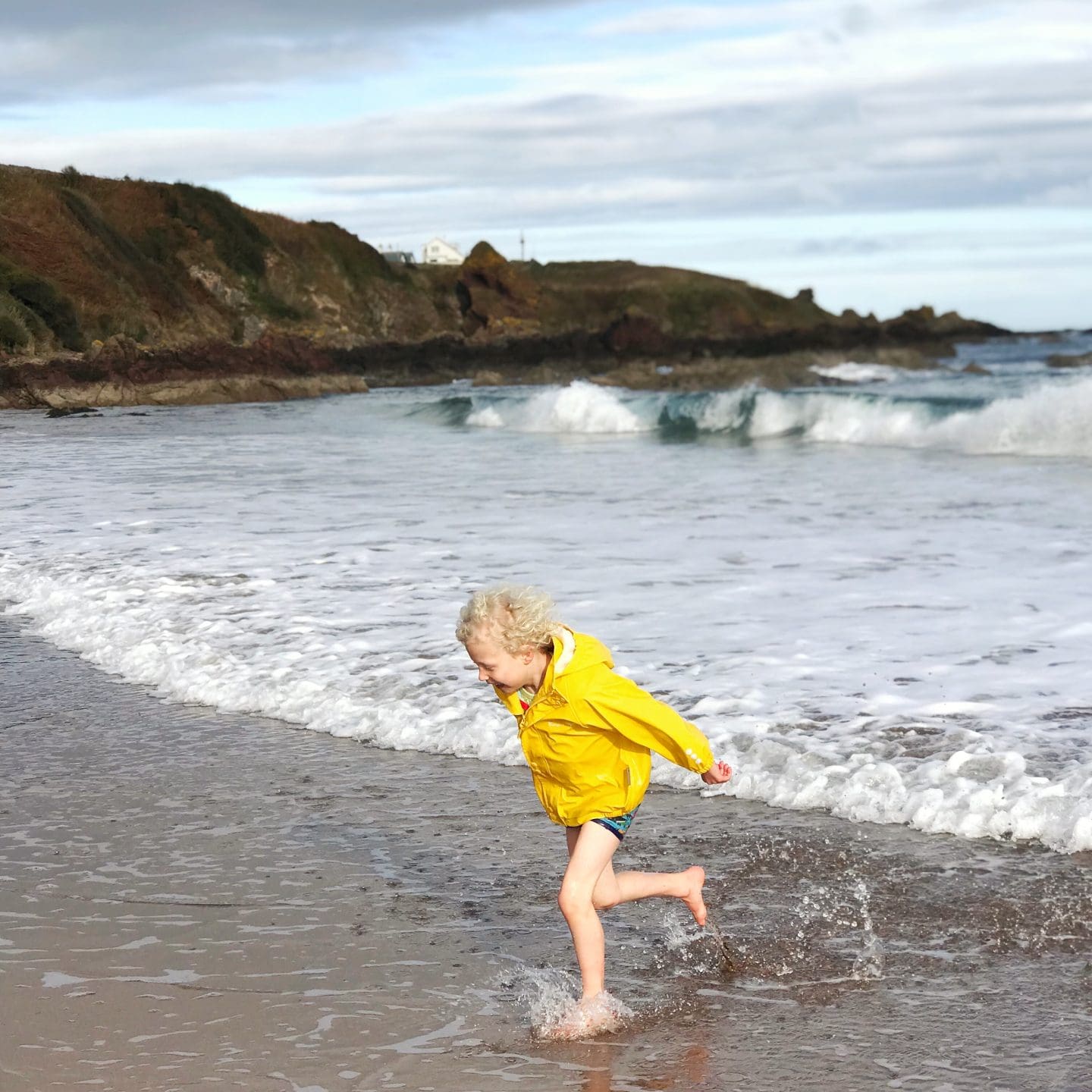 The beach at Coldingham is just below the car park and surf shop.  The whole family will have a great time playing at the beach and on warm days you will find it quickly gets busy. There is also a small cafe and toilet facilities available.
St Abbs Head
A beautiful walk along cliff tops (perhaps not suitable for younger children who may run off).  The walk runs along the cliff edge and back through farmland, great for seeing a variety of seabirds throughout the year.  Check out the St Abbs NNR leaflet here.
A7 (Edinburgh to Canonbie) – Scottish Road Trip
Another road heading South (there are a few of these!) in Scotland for a road trip.  Mostly walks and country parks as this road only goes through a few small towns, the rest is farmland, hills and forests.
Gilnockie Tower
Nobody knows who built Gilnockie Tower, but it must have been for a rich borders family.  The tower is associated with Johnnie Armstrong, a Scottish raider.  You can find out more about the tower and Johnnie by visiting the tower.
Hawick Museum
Hawick musuem was created in 1910 as a place to show objects and works of fine art from around the world.  There's also an exhibition for Jimmie Guthrie and Steve Hislop, two motorcycle champions who died tragically.  There's also a room about the wars, a school room and park room with family activities.
Salmon Leap Walk, Selkirk
If you stop in Selkirk for a break, there is a lovely walk along to the Salmon ladder on the weir.  Follow the route suggested on this post here.  You can get a map of the walk by clicking on the map section in the box on the right handside.
Gala Policies Community Woodland
Gala Policies is part of a community woodland that was once owned by Hugh Scott the Laird of Galashiels.  The local council bought the woodland in 1974 and there are now paths and tracks to follow in the woodland.  You can get a map of Gala Policies here along with other local Galashiels walks.
Vogrie Country Park
Vogrie Country Park at Gorebridge as a good park for walking and cycling.  There is also an adventure play park and an indoor soft play at the Treetop cafe.  You can find out more about the country park and other Scottish country parks in this blog post.
Gore Glen Woodland Park
Gore glen was once used by miners with the deepest pits in Easter Scotland.  The water from Gore Water was used to run the nearby gunpowder mills supplied by the mines. It's now a beautiful woodland park full of wildlife and nature, alongside the historic use.  You can find a leaflet about Gore Glen here.
Butterfly and Insect World
Head over to Butterfly and Insect World on the outskirts of Edinburgh to warm on a cold or wet day.  The hot and humid butterfly greenhouse is great fun for kids.  It feels like a jungle and you can spot lots of types of butterflies.  There are often insect handling sessions too.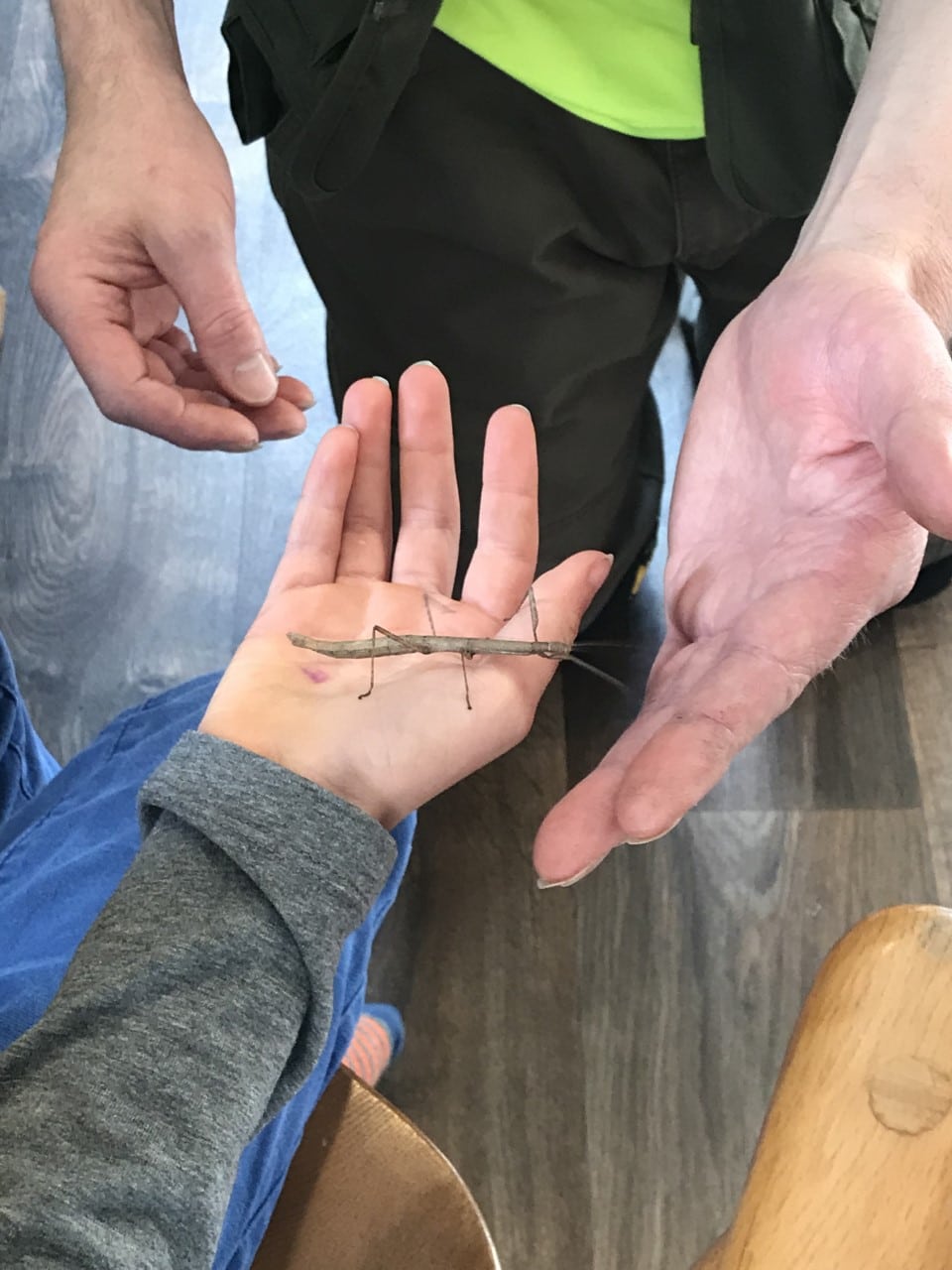 A68 (Edinburgh to Jedburgh) – Road Trips in Scotland
The A68 runs South between the A1 and A7, crossing the English border South of Jedburgh.  It's a great scenic route to take if you don't want to take the usual A1 or M74 North into Scotland. This isn't the most common way to head on a road trip in Scotland, but still great scenery.
Crichton Castle
Crichton Castle is a 14th century tower house sitting above the River Tyne.  It's one of the oldest surviving tower house's in Scotland.  An unusual diamond faceted facade is within the courtyard area, not seen anywhere else in Scotland.
Thirlestane Castle
Just off the A68 in Lauder is Thirlestane Castle, the home of the Maitland family who had connections to Mary Queen of Scots.  You can visit the castle in small tour groups and the gardens are lovely to wander around.  There is also a small tearoom.
Scott's View
The scenic view from this point was one of Sir Walter Scott's favourite places to visit and reflect.  It's a beautiful view and certainly easy  to understand why Scott liked it so much.
Border Berries
From late June to mid-August you can visit Border Berries to pick soft fruit and peas.  It's a short season, but a great stop off for a tasty snack on the way through the South of Scotland.
Scottish Borders Donkey Sanctuary
The Scottish Borders Donkey Sanctuary is a great place to visit rescued donkeys.  They also have llamas, goats, sheep, pigs and ducks to visit.
A77/M77 (Glasgow to Stranraer) – Scotland Road Trips
Ayrshire has a stunning coastline, where you will find plenty of places to stop-off for a walk or cafe stop.  The scenery can be rather spectacular for road trips in Scotland too.
Waulkmill Glen, Ryat Linn and Balgray Reservoirs
The 3 reservoirs are just outside Glasgow and have a loop trail of 9km.  It's flat and easy for kids to cycle and walk, but also good for a spot of bird watching.
Whitelee Windfarm
Whitelee is the UK's largest inshore windfarm, only 20 minutes from the centre of Glasgow.  There are 130km of free trails to explore and a free visitor centre to learn more about wind turbines.
Dean Castle Country Park
Another great country park to visit, check out my Scottish country parks post here.  At Dean Castle you can explore the 200 acres of grounds in the middle of Kilmarnock.  There is an adventure playgorund and urban farm to ejnoy or stop at the Treehouse cafe for something to eat.
Souter Johnnies Cottage
Souter Johnnie was immortalised in Rabbie Burns famous poem Tam o' Shanter.  Exploring the shoemakers cottage with changing exhibitions.  An interesting historical stop-off between Girvan and Ayr.
Girvan Beach
A wide open beach with plenty of room for kids (and dogs!) to run.  There are views across the sea to Ailsa Craig, although look out for seals bobbing in the sea.
Sawney Bean's Cave
The mythical cannibal is said to have lived in this cave with his 48 children. Scot's children from Ayrshire and Glasgow areas were often scared by this tale over the years.  It's said that Sawney Bean and his wife murdered and ate over 1000 people over their time in the cave.  There's no evidence this was anything but a 'bogeyman' story, but still a fun cave to visit!
Ballantrae Beach
The beach at Ballantrae is made from beautiful rounded pebbles.  It's not a tourist beach, but the sound of the pebbles being washed up and down the shore is incredibly soothing.  You can also spot quite a few pieces of seaglass along this stretch.
M74/A74 (Glasgow to Gretna) – Road Trips in Scotland
The M74 is the usual route North from the West of England, heading straight up from Carlisle.  It's a fast and easy motorway, but there some nice stop-offs along the way too.
Strathclyde Country Park
Strathclyde Park is a country park around a large loch.  There are often watersports out on the loch, plenty of places to walk, cycle and run.  There are outdooor play areas for children and next door is M&D's theme park.
Chatelherault Country Park
Another great country park just outside of Hamilton, not far from the M74.  The 18th century hunting lodge is the centerpiece to the beautiful woodlands and parkland.  There is also a great kids adventure play park, visitor centre and cafe.
Thomas Carlyle's Birthplace
The famous academic Thomas Carlyle was born in this small house in Ecclefechan.  At 13 he walked the 84 miles to university and made a name for himself as a writer, philosopher, mathematician and historian.  Learn more about what his early life was like at this NTS property.
A75 (Gretna to Stranraer) – Scotland Road Trips
Heading toward Stranraer is where you will find a lot of people enroute to Northern Island.  The Stranraer ferry is rather regular and you will notice ferry traffic heading East with several lorries in convoy! It should be a bit quieter heading West, but you can also find some fantastic family friendly stop-offs for Scotland road trips.
The Devils Porridge Museum
The Devil's Porridge Museum is an award winning museum about the 2 world wars and the Cold War.  There are lots of interactive kids activities, dressing up, stamp trail and a kids zone.  There's also a cafe and toilets.
Walks Around Annan
Annan is a beautiful old town with plenty of walks to choose from.  This leaflet about walking in Annan gives details of several good walks including through woodlands and along the Solway Firth.
Dino Park
Explore Dino Park with the kids and enjoy seeing all the different types of dinosaurs.  The kids can dig for fossils, go on a bouncy dinosaur and explore the treehouse.  The kids will love it and for little ones there's an indoor dino soft play area.  There's also a cafe and gift shop.
Dumfries and Galloway Aviation Museum
A must for any plane enthusiast!  The volunteer run aviation museum has plenty of planes to explore on this old WW2 airfield.  Choose from plane and helicopters to explore outside as well as smaller objects inside the control tower.
Dumfries Museum and Camera Obscura
The Dumfries museum tells the history of the local area.  Look out for fossil footprints, stone carvings, tools and weapons of the earliest people in the area.  There is also the camera obscura built into the top floor of an old windmill tower in 1836.
Robert Burns Centre
An exhibition about Robert Burns and his later years spent in Dumfries in the 18th century.  There are museum trails and fun activities for the kids around the exhibition.
Dalscone Farm Fun
Just off the A75 at Dumfries is Dalscone Farm Fun has large outdoor and indoor farm play areas.  Children can enjoy pedal go-karts, bumper boats and trampolines outside, whilst indoors there is a huge soft play area.  Of course there are also the animals to visit and a cafe too.
Threave Castle and Gardens
The island fortress of Threave is on the banks of the River Dee just North of the A75 at Castle Douglas.  The area is well known for it's wildlife, keep an eye out for otters and ospreys in the river as well as plenty of insects.  Threave Estate is also a bat reserve with 8 resident bat species, with information signs around the estate to discover more.
The Cocoabean Company
Between Castle Douglas and Cardoness is the Cocoabean company, on the outskirts of Twynholm. The Cocoabean company has workshops for families, along with indoor and outdoor play areas.  There is also a chocolate themed cafe.
Cream o' Galloway
At Cream o' Galloway you can take part in an ice cream making workshop and then let the kids run wild outside in the adventure play area or the indoor softplay for younger kids.  Beside the soft play is a cafe area, perfect for a family lunch before making ice cream together!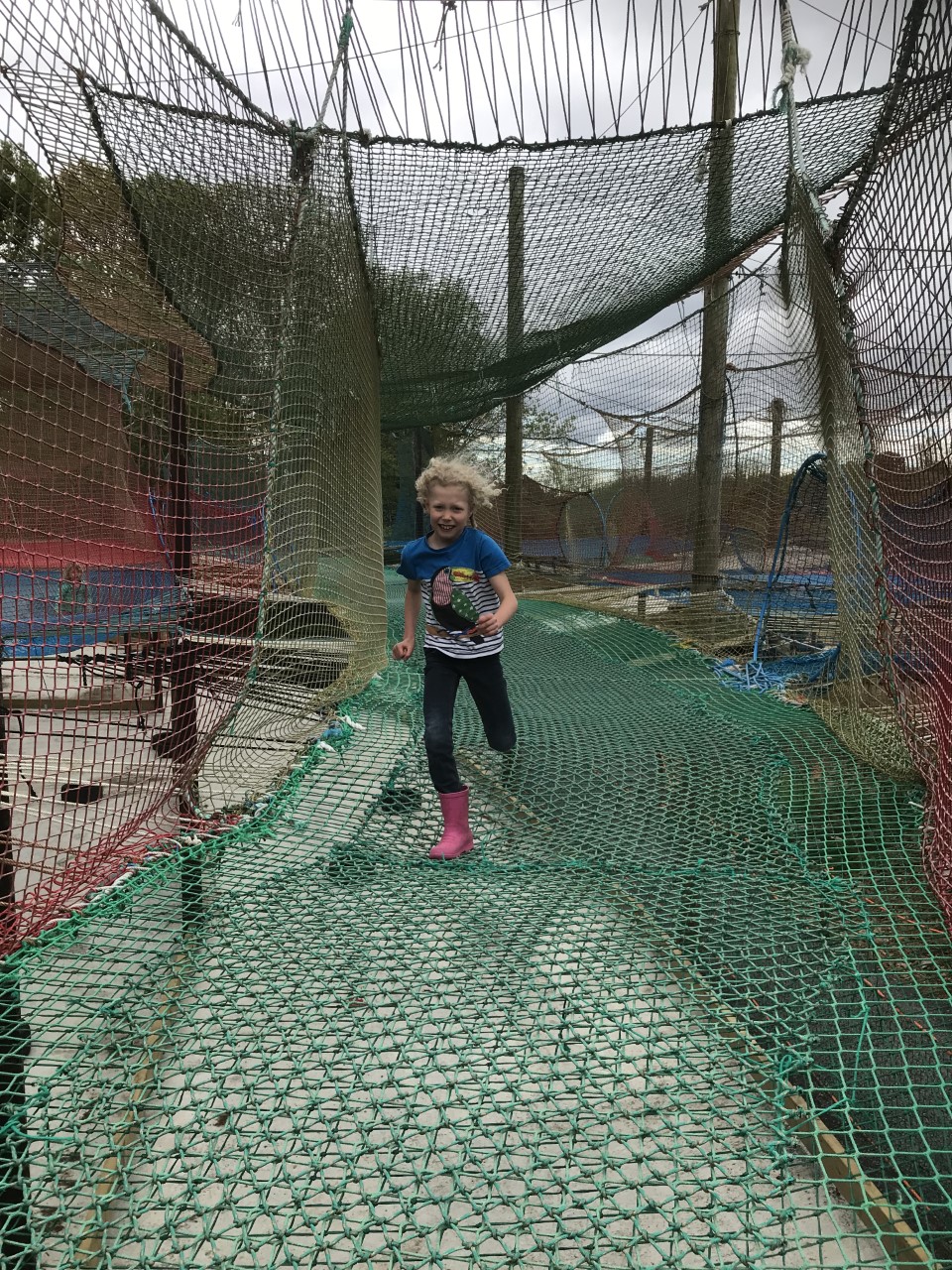 Cardoness Castle
Cardoness Castle is a tower house that was built by the lawless McCullochs.  The castle is just North of the A75 near Gatehouse of Fleet and easy to find. Explore the castle and take in the magnificent views across the Solway Firth.  Or head down to look at the well preserved pit prison!
Carsluith Castle
Carsluith Castle is right beside the A75 and easy to get to.  The castle is in an L-shape and was once the home of the Broun family from the 1500's, although there may have been a tower here earlier than this.
Gem Rock Museum
The Gem Museum at Creetown is right beside the A75.  With plenty of crystals and gems to look at and a crystal cave to explore, the whole family will love it.  In the Professor's study you can find out how rocks were formed and when they were first polished into art.
Kirroughtree Visitor Centre
Visit Galloway Forest Gateway visitor centre.  There are adventure play areas, cycle paths and mountain bike trails to explore the forest.  There are also red squirrel and bird hides to spot wildlife from.
Castle Kennedy Gardens
Just outside Stranraer are Castle Kennedy gardens, a 75 acre sculptured landscape around the castle ruins.  The gardens are over 300 years old and full of beautiful plants and wildlife.  Spend some time on the many walks and paths around the gardens.
Pin Road Trips In Scotland Stop-Offs