The Best Places For Paddling and Wild Swimming Scotland
Scotland has so many fantastic places to paddle with the kids or go for a swim with a friend. There's no trespassing law in Scotland so you can theoretically wild swim or paddle in any loch or river.  However do think about your safety and the safety of others when planning where to visit (avoid marinas and areas of strong currents).  Make sure your car is parked in a safe layby or car park, not on the edge of narrow roads obscuring others view of the road ahead.  Some of these locations would be great for families, others should only be undertaken by strong swimmers.  Please use your common sense when making a decision of where to swim.  If you are not used to cold Scottish waters you may like to use a wetsuit.  Read on for the best places for paddling and wild swimming Scotland.
Faerie Pools, Skye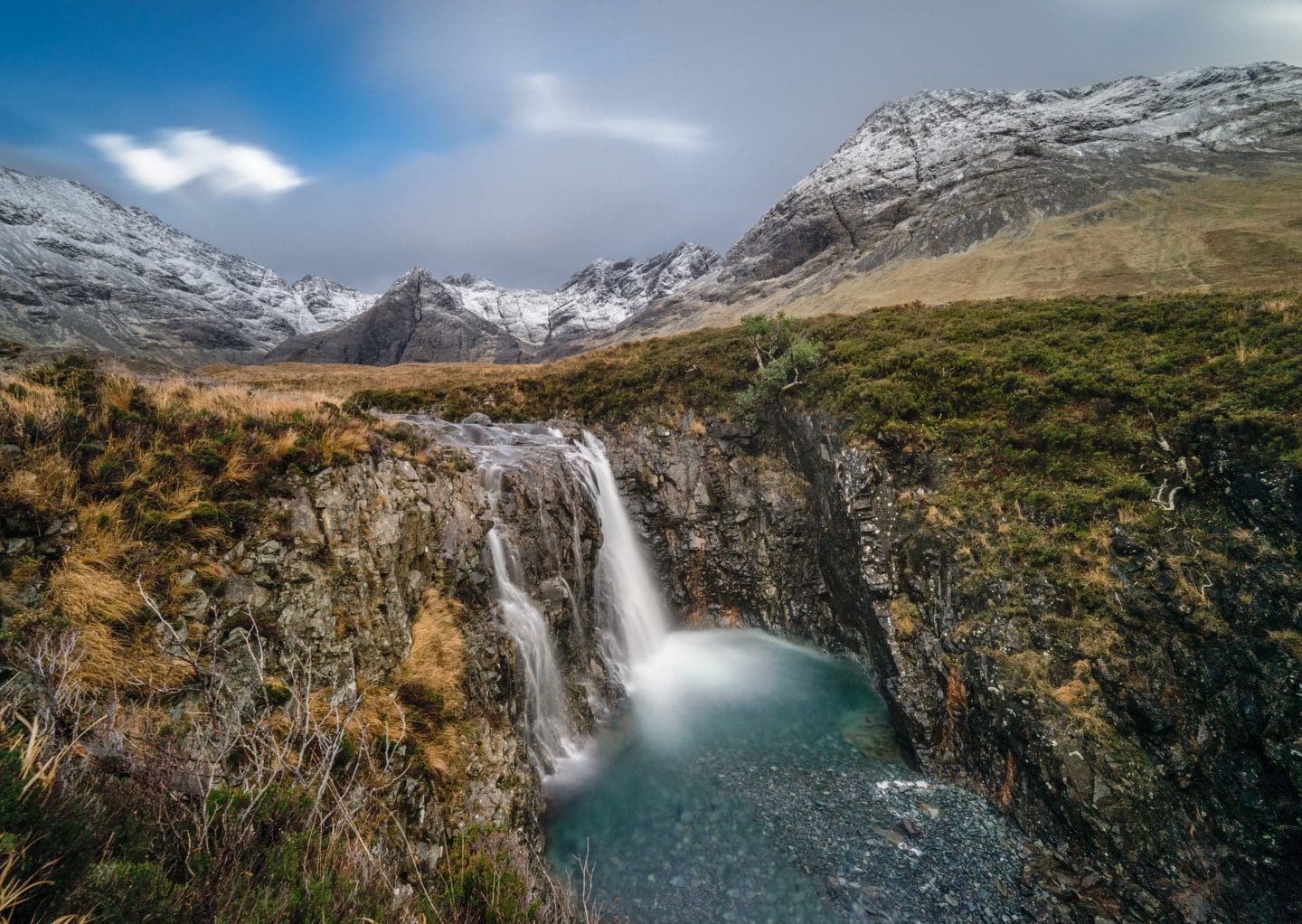 The Faerie pools are a well known location for wild swimming on the Isle of Skye.  They do require a little bit of walking to get to, around a 40 minute walk from the car park located in Glen Brittle.  It's a beautiful walk below the majestic Cuillins and the walk is certainly worth it when you get to the stunning blue pools.  Be aware that the pools will be very cold throughout the year, so a wetsuit can be a good idea.
The first pools you arrive at are the deepest with a waterfall too.  You can work your way up the river visiting different pools along the way, with a great underwater arch for the brave adventurers to swim through!
Where: Glenbrittle, Isle of Skye.
Parking: Glenbrittle, park at the gravel Foresty Comission car park signposted as Glumagan Na Sithichean.  It also mentions Faerie Pools on the sign too.
More Information: Click here to go to Isle Of Skye walks.
Paradise Pool, Bridge of Allan – Wild Swimming Stirling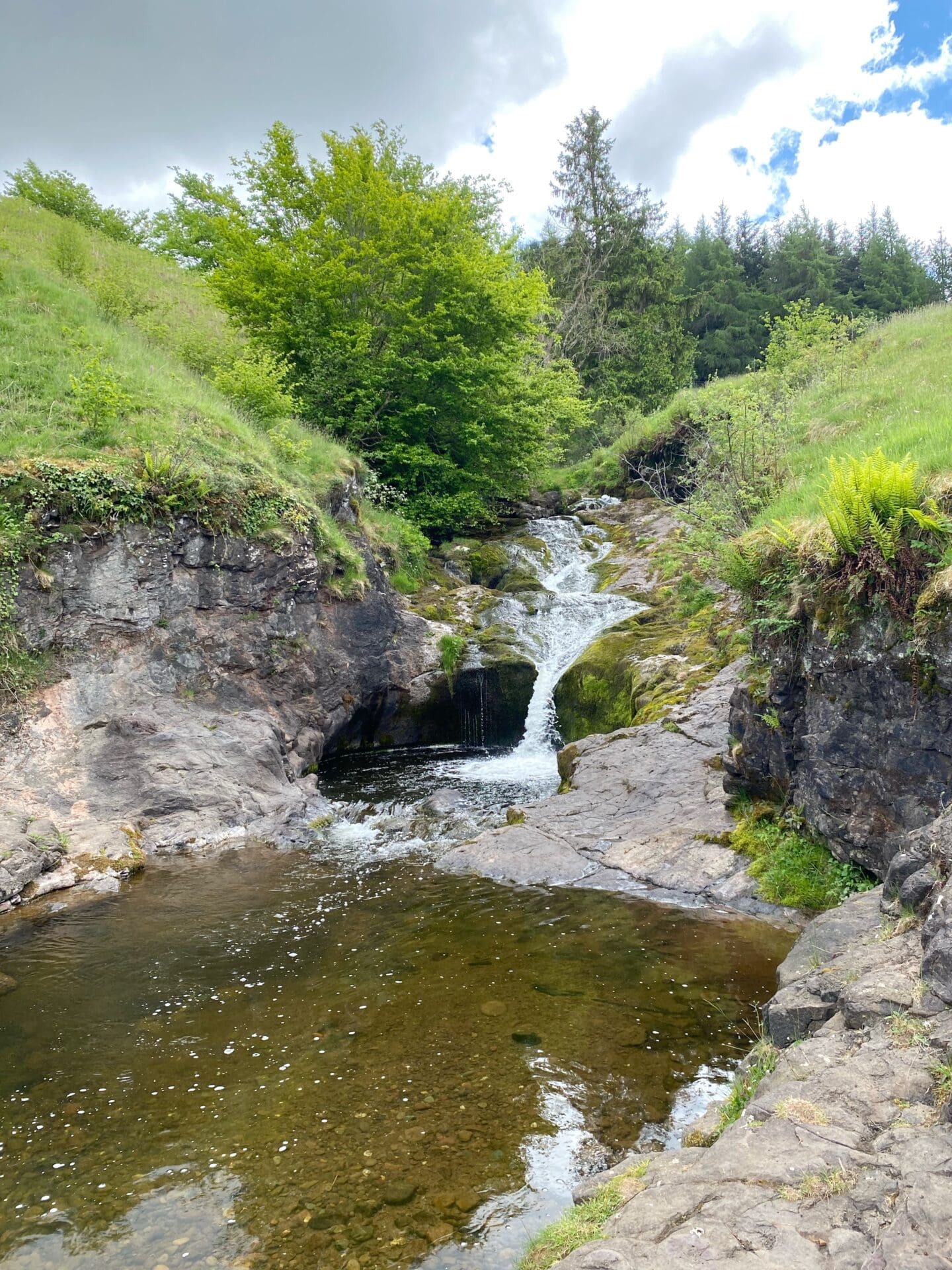 Paradise pools on Sherrifmuir are locally known as the Devil's Bucket, the perfect place for wild swimming Stirling.  The pools are a good size for a swim and the pebble beach is good for kids who want to paddle or throw stones in.  For the brave you can slide down the rocks above into the pool, a great wild water slide!
Where: Sherrifmuir, between Bridge of Allan and Dunblane.
Parking: No specific parking location, however you could safely park in the gravel car park opposite the Sherrifmuir car park, then walk down below the electricity lines.
*Don't park in passing places.
More Information: Check out Wild Swimming UK page here.
Loch Venachar, Callander – Wild Swimming Stirling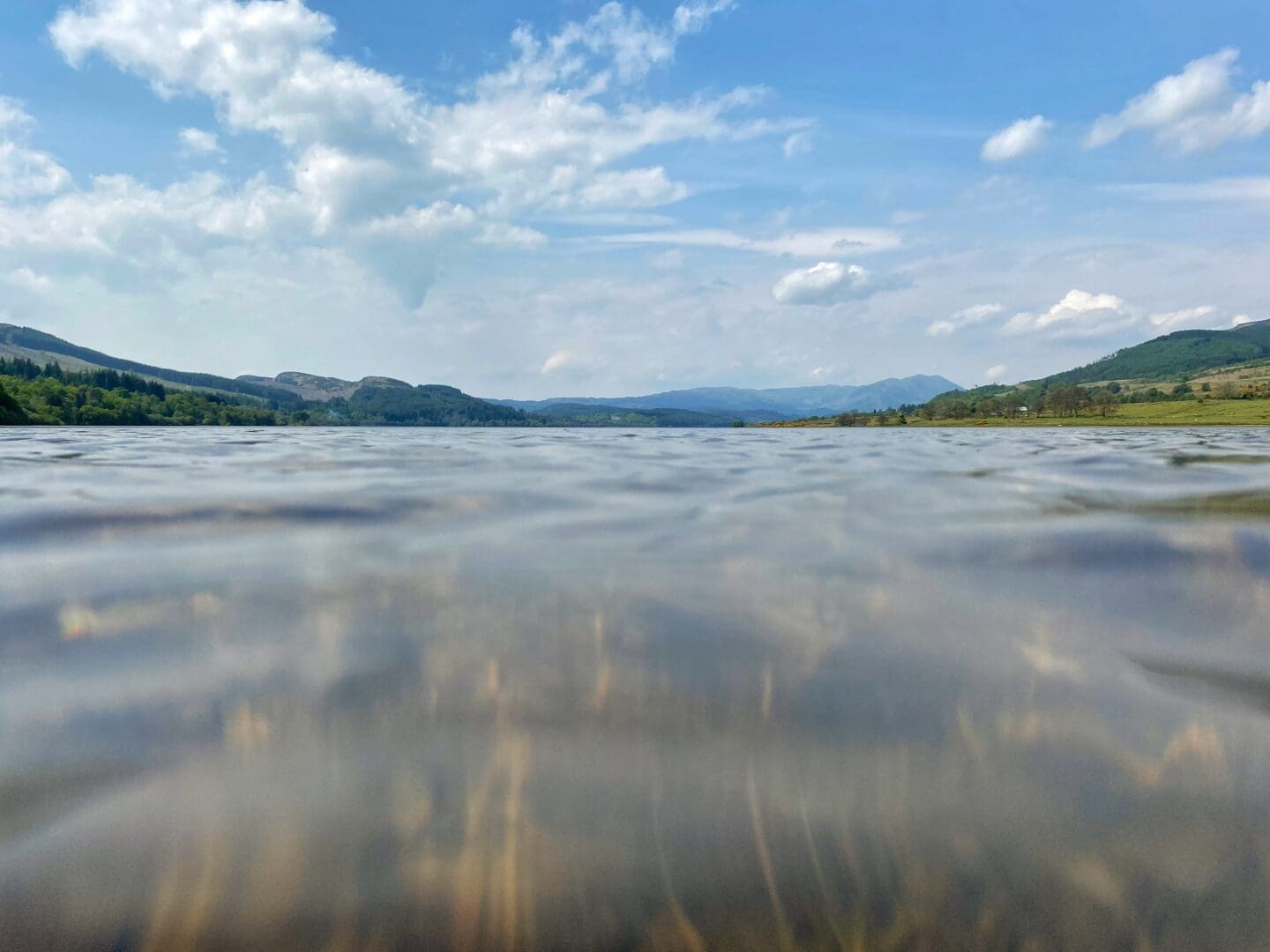 Loch Venachar is one of the many beautiful lochs around the Trossachs.  This loch is perfect for kids to paddle in, throw stones in from the shores or even kayaking across it's waters.  It's also a great wild swimming location in Stirlingshire, you may well see others out swimming on the loch too.
Please note that within the National Park there are camping management areas and you will need a permit to camp here.
Where: Near Callander, Stirlingshire
Parking: Head out of Callander along the A81 and take a right at the roundabout (signposted for Callander Holiday Park), continue along this road until you reach the Invertrossachs car park on your right beside the loch.
More Information: Head over to Loch Lomond and Trossachs National Park page.
Soldiers Leap, Killiecrankie
For wild swimming Pitlochry you could do worse than visiting Soldier's Leap at Killiecrankie.  It's said that a government soldier evaded capture here by jumping 18ft across the River Garry.  It's also the perfect place to swim in the large, still river pool.  There is a white pebble beach on the far side and the railway line passes above to the left.
Where: Killiecrankie, Pitlochry.
Parking: £3 parking at Killiecrankie Visitor Centre.
More Information: Head over to NTS to read more.
Bathing Pool, Glengorm Castle, Mull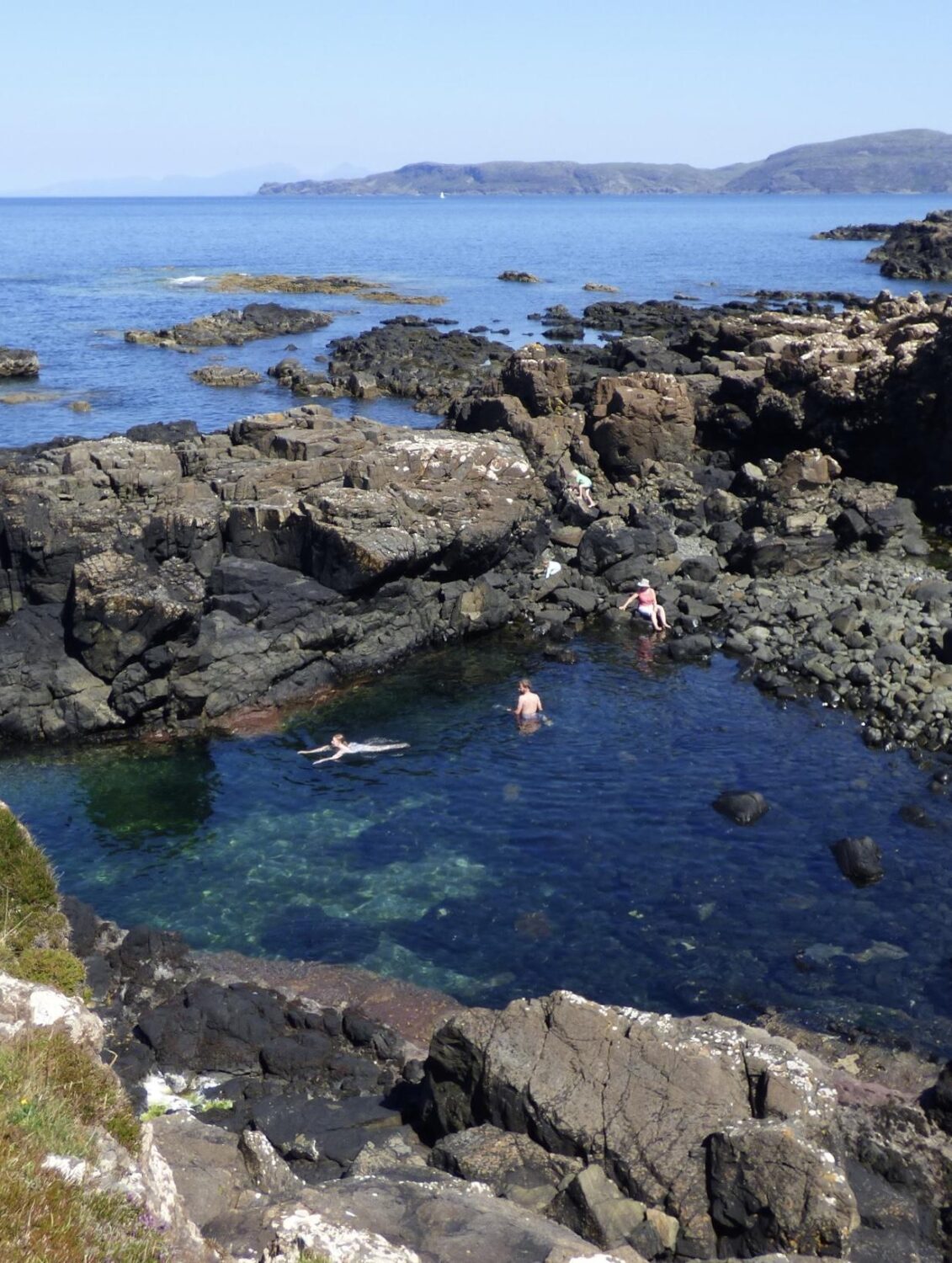 Wild swimming on Mull is plentiful.  There are plenty of perfect white sand beaches to discover.  The picture above is a calm sea cove just a short distance away from the bathing pool itself which is in a more open area of coastline.  I personally preferred the cove pictured above, but it's good to have options!  It's an easy and interesting walk from the castle, past standing stones and to the old fort. Both our children aged 4 and 6 at the time managed the walk easily.
Where: Below the old Fort Ara, a short walk from Glengorm Castle on the coastline.
Parking: At Glengorm Castle.
More Information: Walk Highlands describes the walk in great detail here.
Langamull Beach, Mull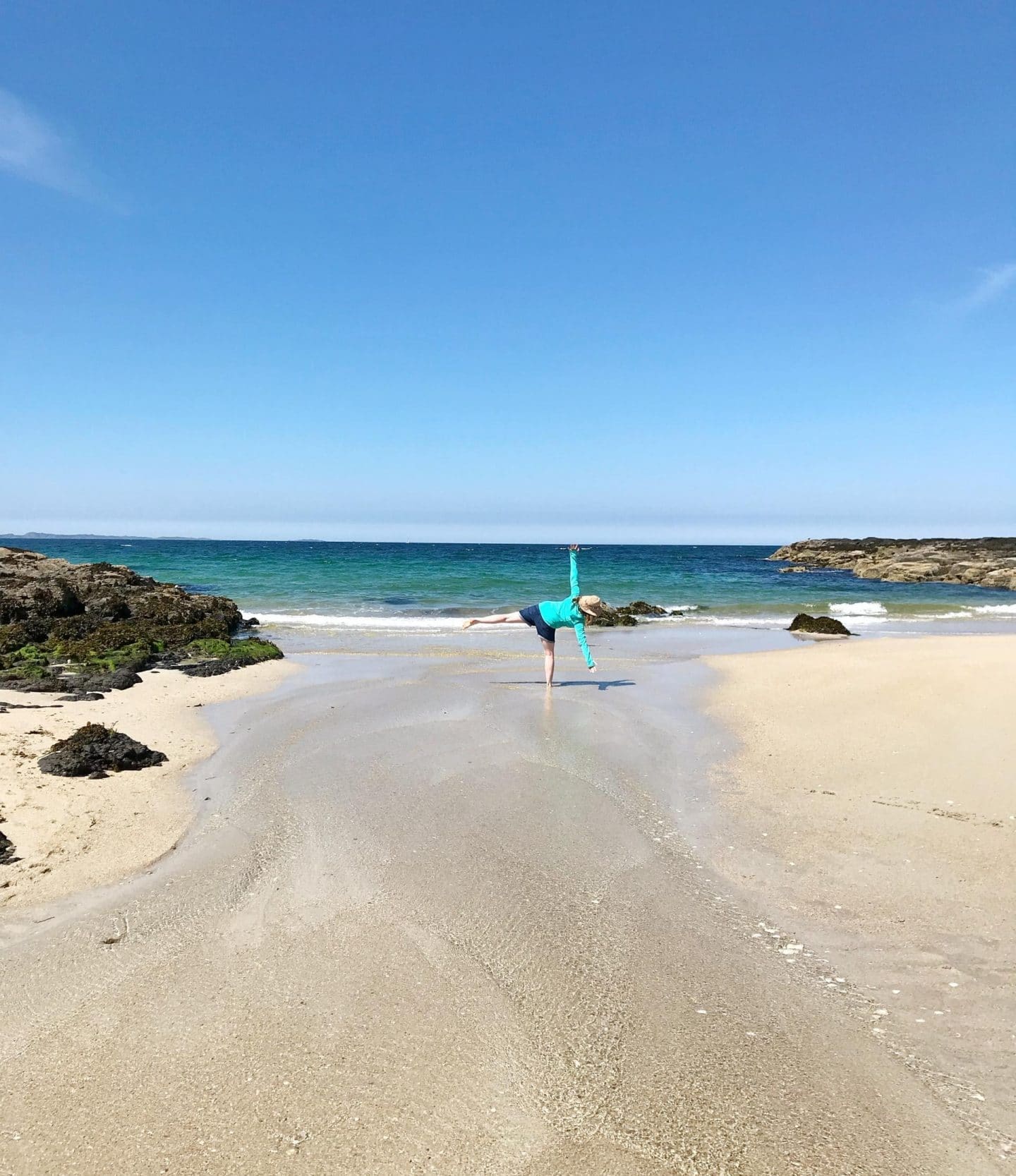 This secluded white sand beach and turquoise waters is stunning.  We visited Langamull beach several times on our last visit to Mull and as it is a 4km walk to the beach it was almost always devoid of other people.  Even on a warm day in July!  The sea itself it great for swimming in and splashing with the kids.  Although there's also a small sandy pool above the rocks on the left as you approach the beach (pictured below).  As it's fairly shallow it can be quite warm in comparison to the sea and great for kids to swim and paddle in!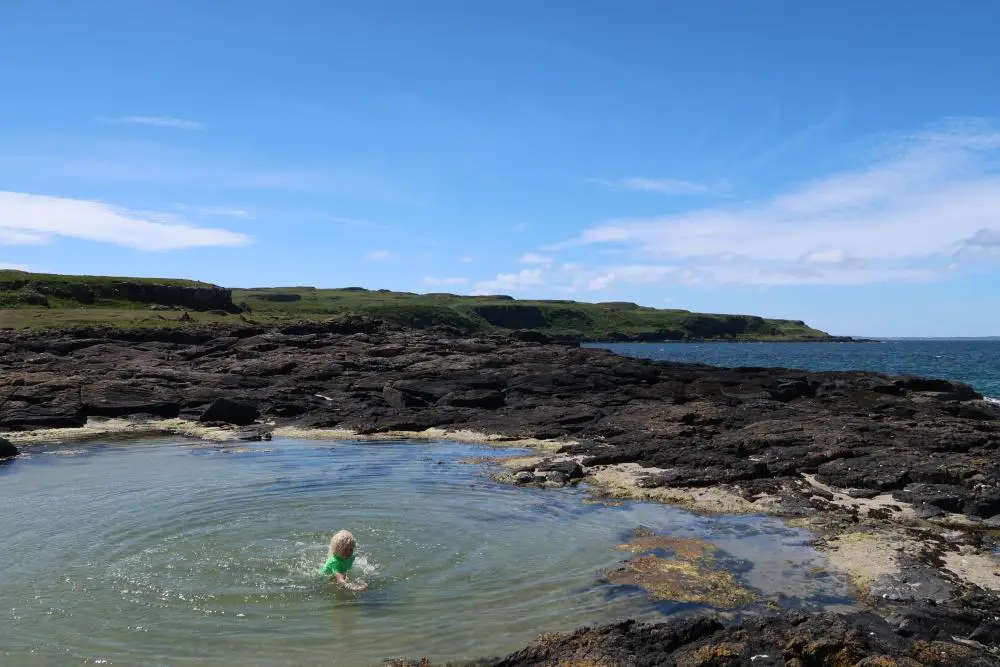 Where: The walk to the beach begins on the road toward Calgary Bay, Mull.
Parking: At the Forestry Enterprise car park between Dervaig and Calgary Bay.
More Information: The Isle of Mull website has more information.
Cambus O'May, Ballater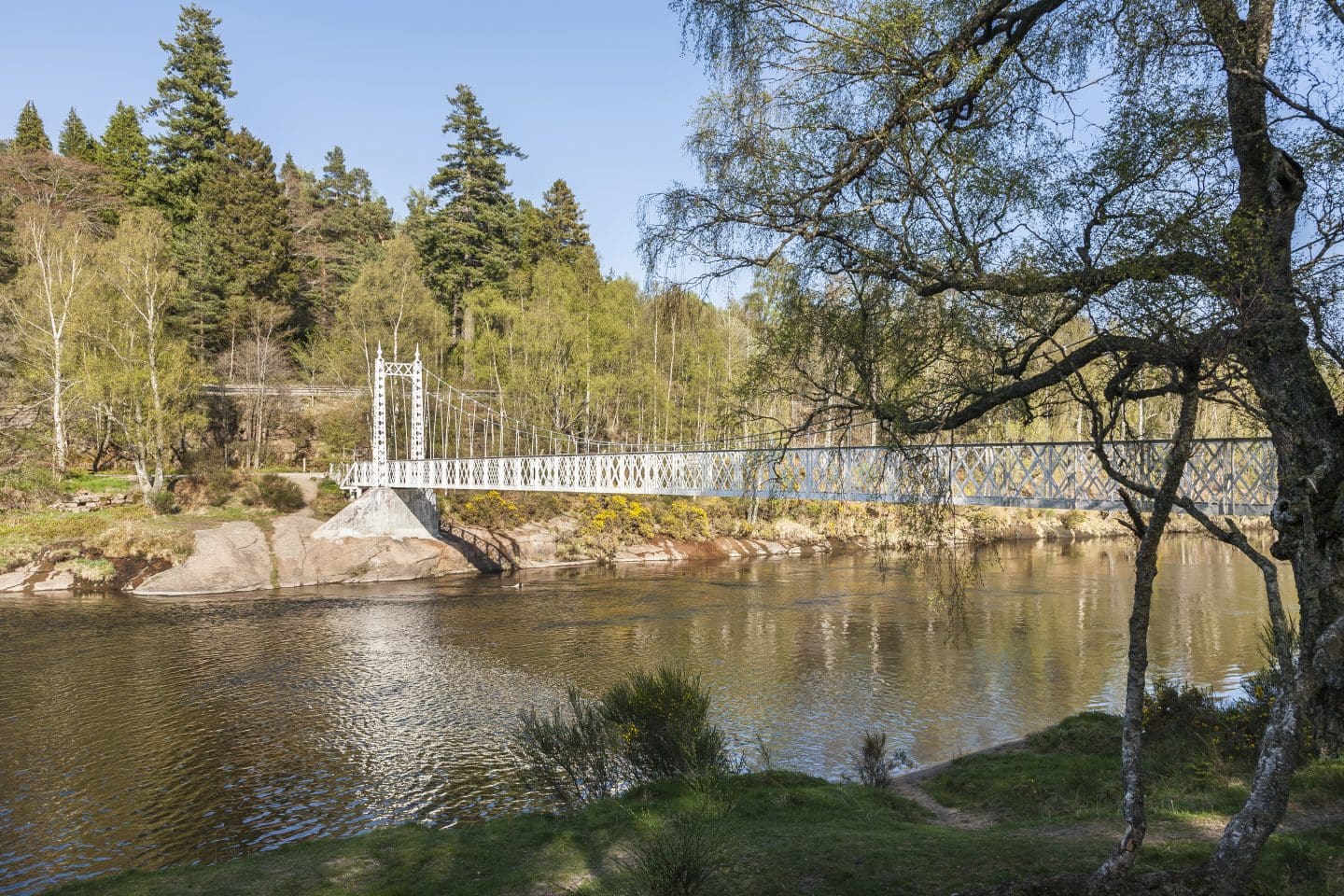 Wild swimming near Aberdeen is plentiful, there are a lot of beautiful rivers and coastline too.  However the Cambus O'May has a beautiful spot below the suspension bridge over the River Dee.  A large shelving pool is perfect for family swimming and water play.
Where: Off the A93 East of Ballater
Parking: Follow the A93 East of Ballater and you will find the well sign posted Forestry and Land Scotland car park before you reach Dinnet.
More Information: Head over to the Forestry and Land Scotland website for more information.
Rob Roy's Bathtub (Falls of Falloch), Crianlarich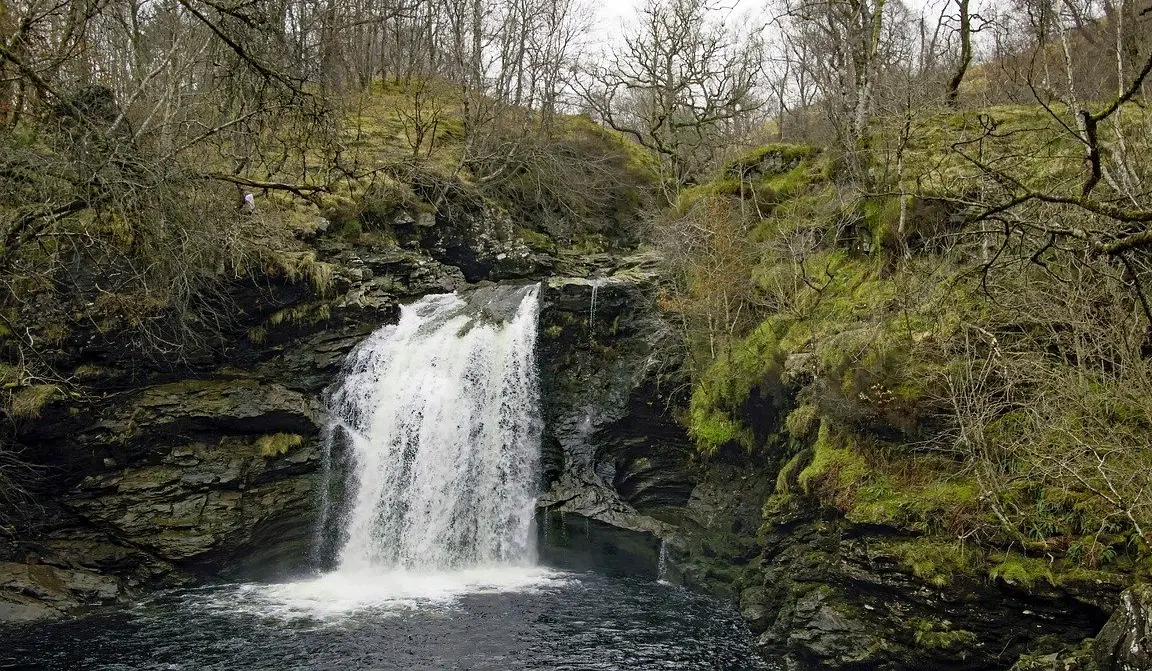 Rob Roy's bathtub is a deep pool below the Falls of Falloch and relatively popular area for wild swimming near Crianlarich.  It's right beside the A82 so in the summer holidays and on sunny days it can get very busy very quickly!  I would recommend arriving early if you are visiting in the holidays or a sunny day.
It's a great location for fantastic photographs too!
Where: Falls of Falloch, off the A82 3 miles before you reach Crianlarich
Parking: There is a small well signposted car park off the A82,it gets full quickly on sunny days and holidays.  DO NOT park on the A82, it's dangerous and illegal.
More Information: Head over to Loch Lomond and Trossachs National Park for more information on the area.
The Witch's Cauldron, Spean Bridge
North of Spean Bridge between Loch Arkaig and Loch Lochy is the Witch's Cauldron.  It consists of several pools and a waterfall to explore beside the roadside. The pool is said to have drowned a witch who had cast a spell on a local landowners cattle.  Suddenly, with the witch dead, the cattle were no longer ill!
This is a secluded spot and it's the perfect place for a swim and picnic.
Where: Follow the road West of Clunes (above Loch Lochy on the road to Loch Arkaig) and park in the layby at Eas Chia-Aig falls.
Parking: Layby at Eas Chia-Aig waterfall.  Don't park on the road.
More Information: There's a great description of the Witch's Cauldron in this article.
Loch Maree and the Islands, Kinlochewe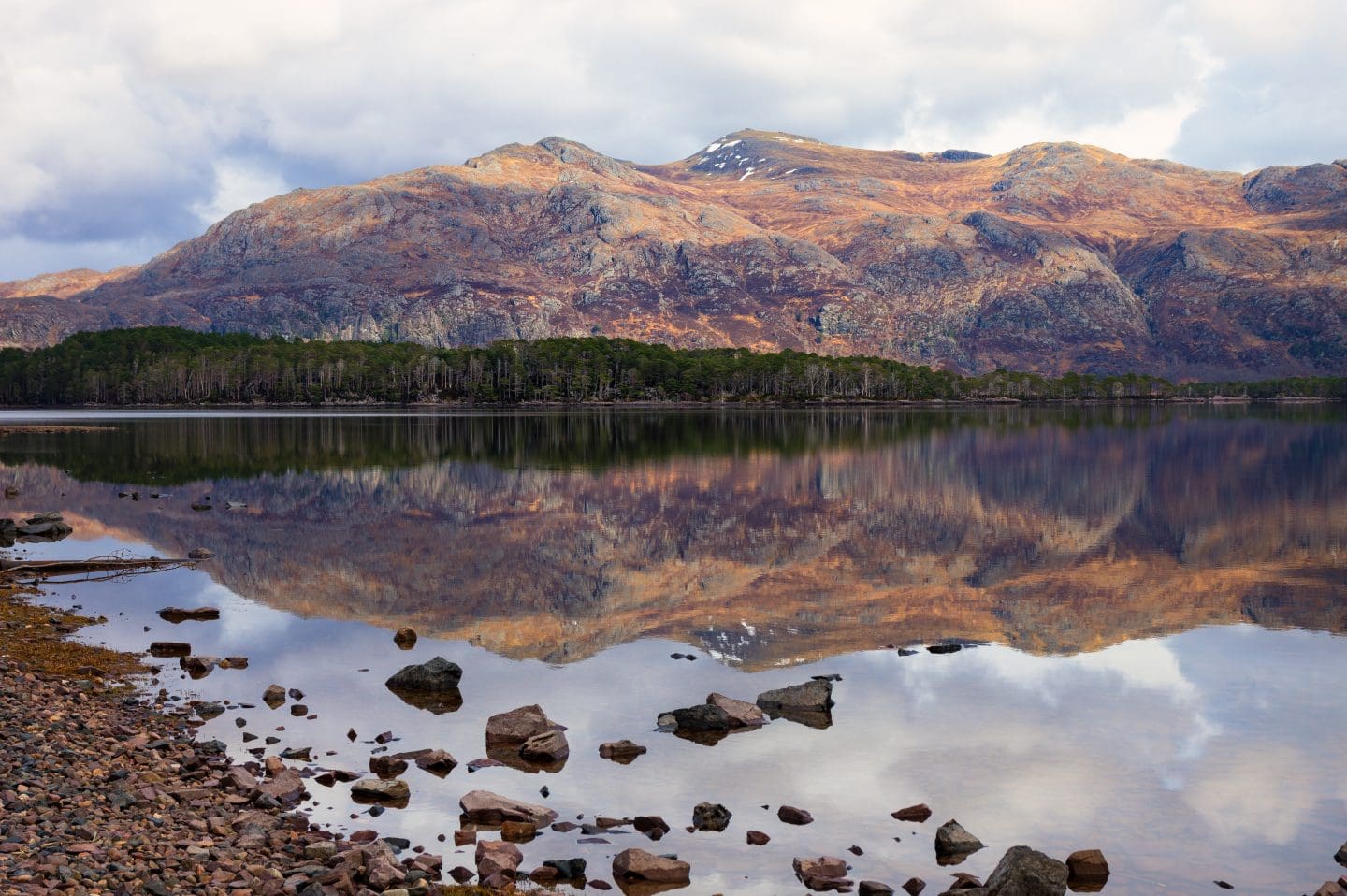 It might be chilly in the highlands, but you can still find great wild swimming locations.  If you're cold don a wetsuit, but otherwise just enjoy the stunning scenery as you swim in the beautiful Loch Maree.  There are several beautiful islands on Loch Maree with ancient pine forest, they vary from a 50m to 100m+ from the shoreline, so you can easily swim to them.  The shores are perfect for kids to swim and play in too.
Where: Follow the A832 West from Kinlochewe along Loch Maree.  Park in a layby before you reach the Old Mill Highland Lodge.  Walk along the peninsula toward the islands around the loch.
Parking: A layby on the A832.
More Information: For more information, check this page here.
Doune Castle, Doune – Wild Swimming Stirling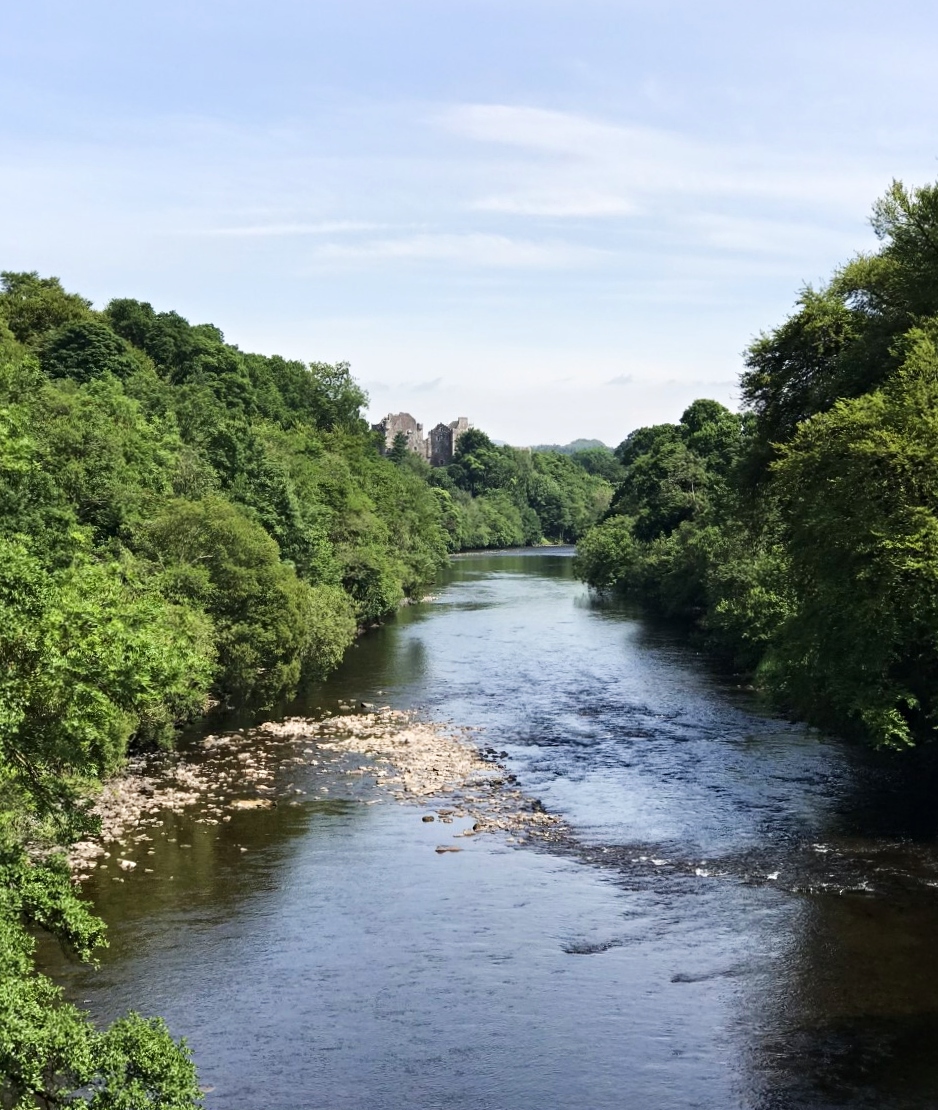 There are two different areas near Doune Castle to swim.  You can head over to the castle and walk down to the river from there, finding several good swimming areas below the castle and a little further along to the East.
Alternatively you can park on the other side of the river off the A84 and walk through the tall metal gates past the old estate entrance cottage.  Follow the path straight on until you get to a t-junction and then turn left toward the river.  You will find benches and a fishing hut which is a good spot for a swim.
For children who can't swim well, head through the woods toward Kilmadock cemetry (on the Doune side of the stone bridge over the Teith), you will find some great spots to get down to the river once you are beside the fields (pictured below).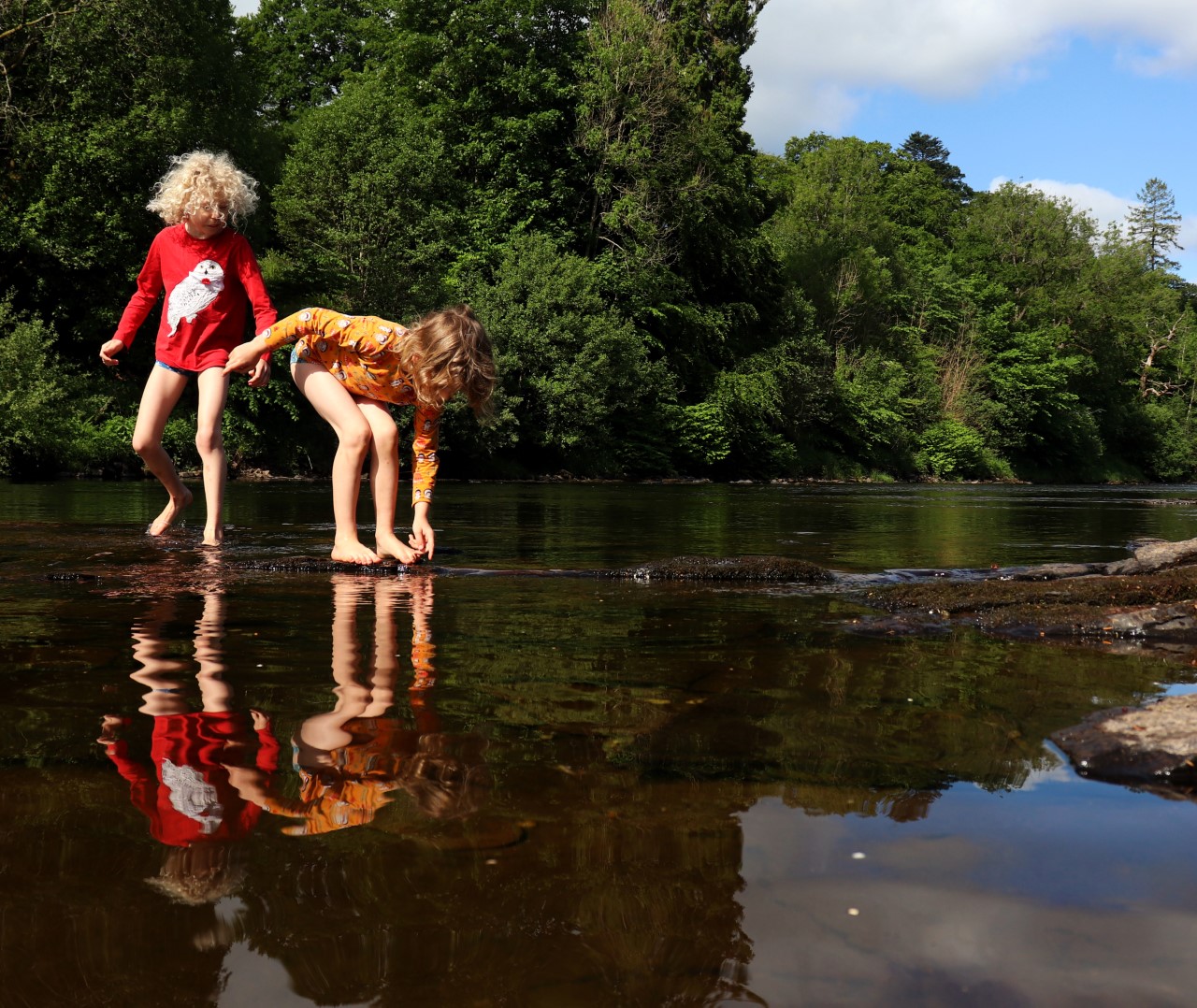 Where: Doune, Stirlingshire
Parking: On the way out of Doune (toward Blairdrummond) cross over the narrow stone bridge over the River Teith and park on the left in the area beside a metal fence and old estate cottage.  Or park at Doune Castle car park (charges may apply).
More Information: For more information about Doune Castle visit here.
Ardminish Bay, Gigha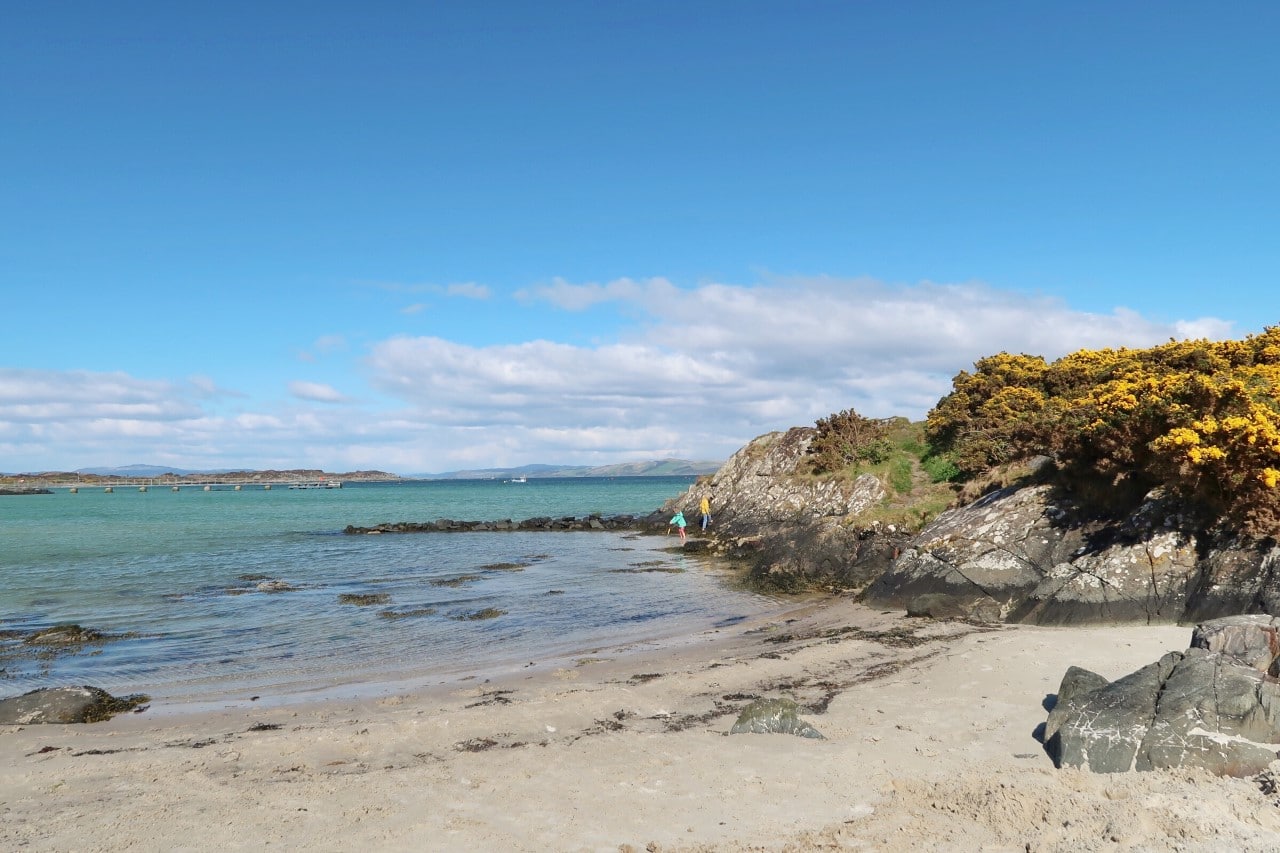 Gigha is a beautiful place to visit, with white sand and azure waters, you can easily forget you're in Scotland!  Well, until you consider the temperature anyway! It's only a 20 minute ferry journey from the mainland, so it's doable in a day.  The ferry arrives in Ardminish Bay, which is incidentally also a great place for a swim.  Those who aren't good with deep water, will enjoy being able to stand up across most of the bay between the ferry pier and the Boathouse restaurant.  You can also swim under the pier to where the sail boats dock to reach another little beach just round the corner.
The water is perfect for the children to play in too, bring a wetsuit for them if they get cold.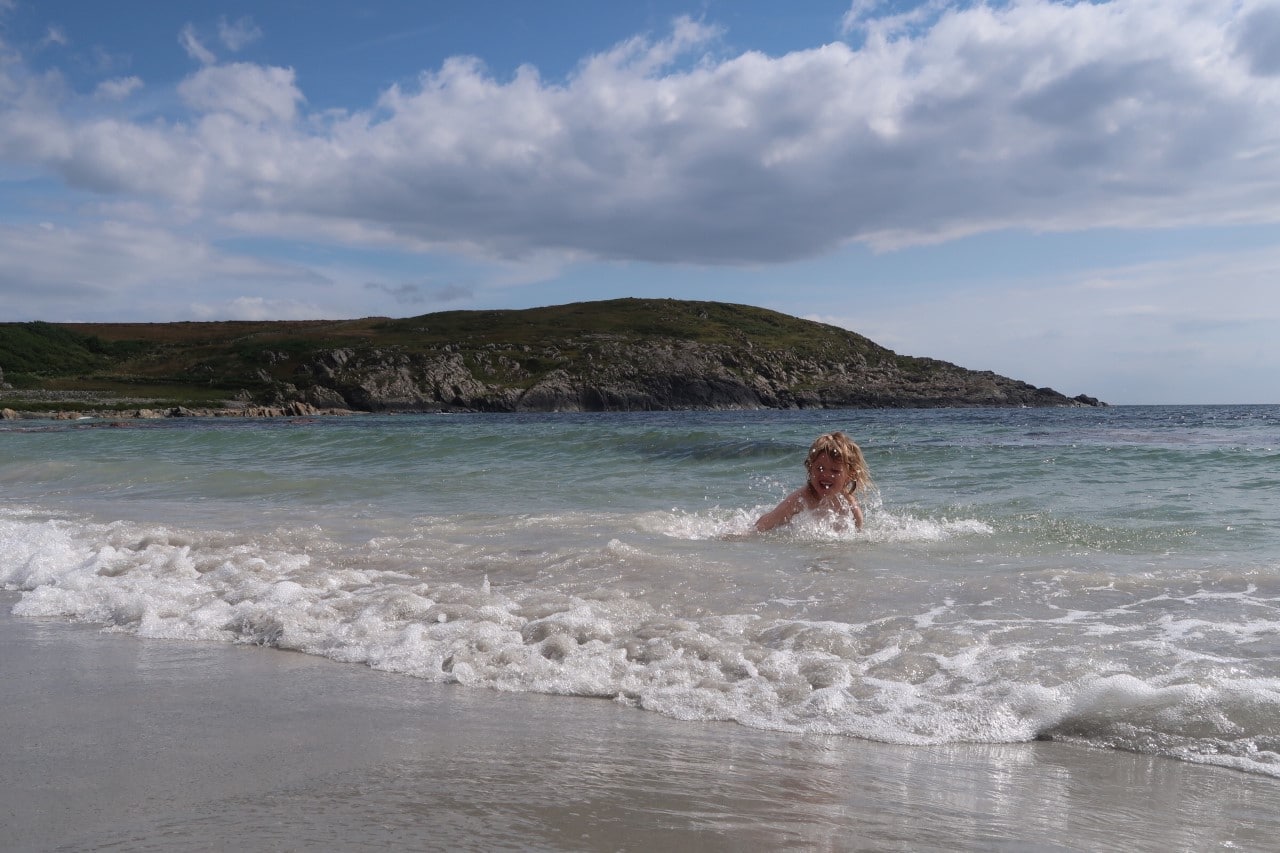 Where: Gigha, Kintyre peninsula
Parking: Ferry car park or opposite the hotel (or leave on the mainland and walk/cycle)
More Information: Read more about Gigha here.
Loch Coruisk, Isle of Skye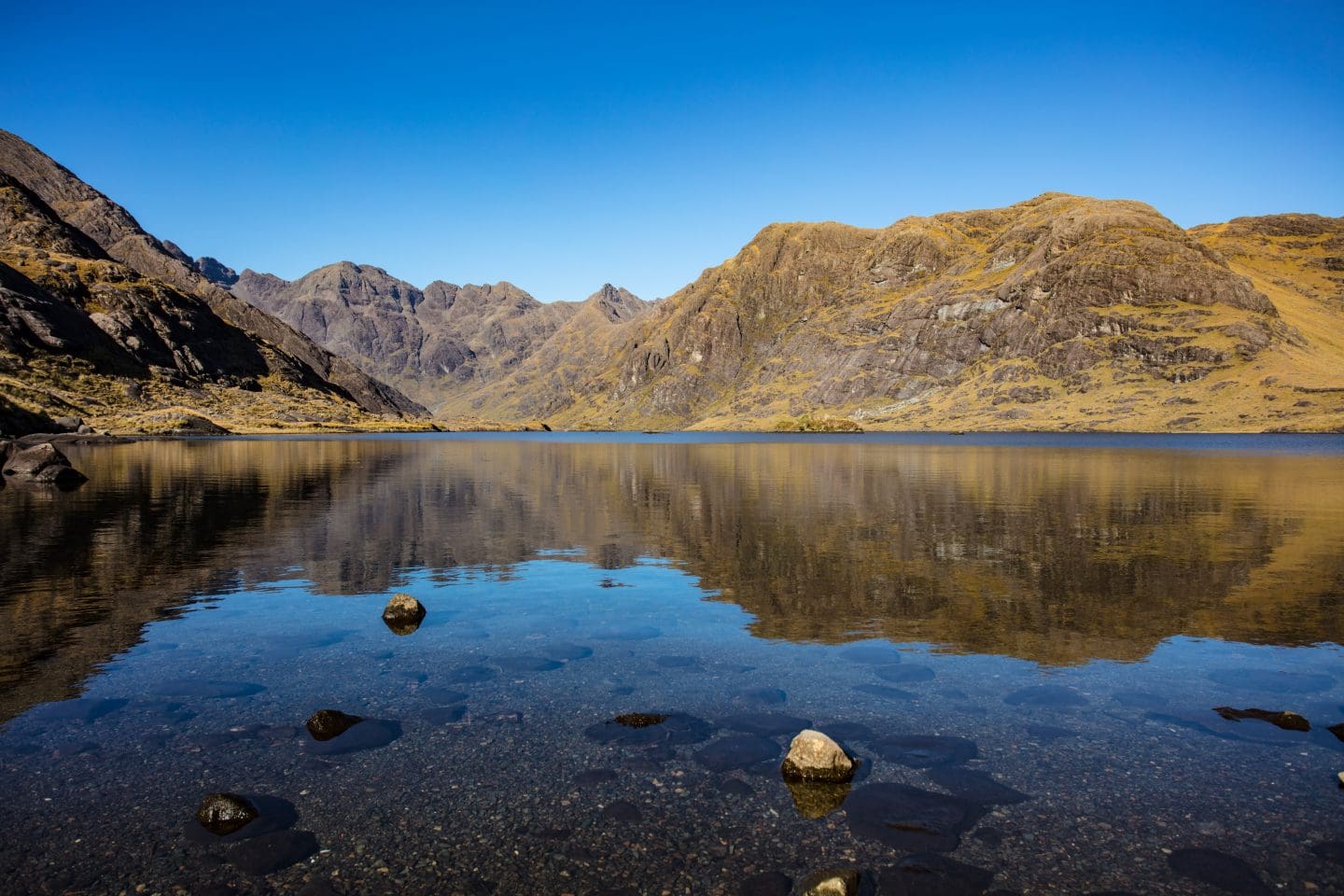 Difficult to get to, but worth it for the stunning scenery!  This is definitely a secret wild swimming spot in Scotland, mostly as it's only accessible by boat or a long walk.  Once you get to Loch Coruisk you can swim in the beautiful environment, with the black cuillin ridge to the North of the loch.
This is an ideal place for a secluded swim and picnic.  Don't forget to get back in time for the boat!
Where: Starting point for the walk or boat trip is at Elgol.
Parking: Park at Elgol. You can either get to Loch Coruisk via a long walk in from Elgol or take a boat from Elgol and short walk in.
More Information:  Head over to this page for more information on swimming at Loch Coruisk.
Loch an Eilein, Rothiemurchus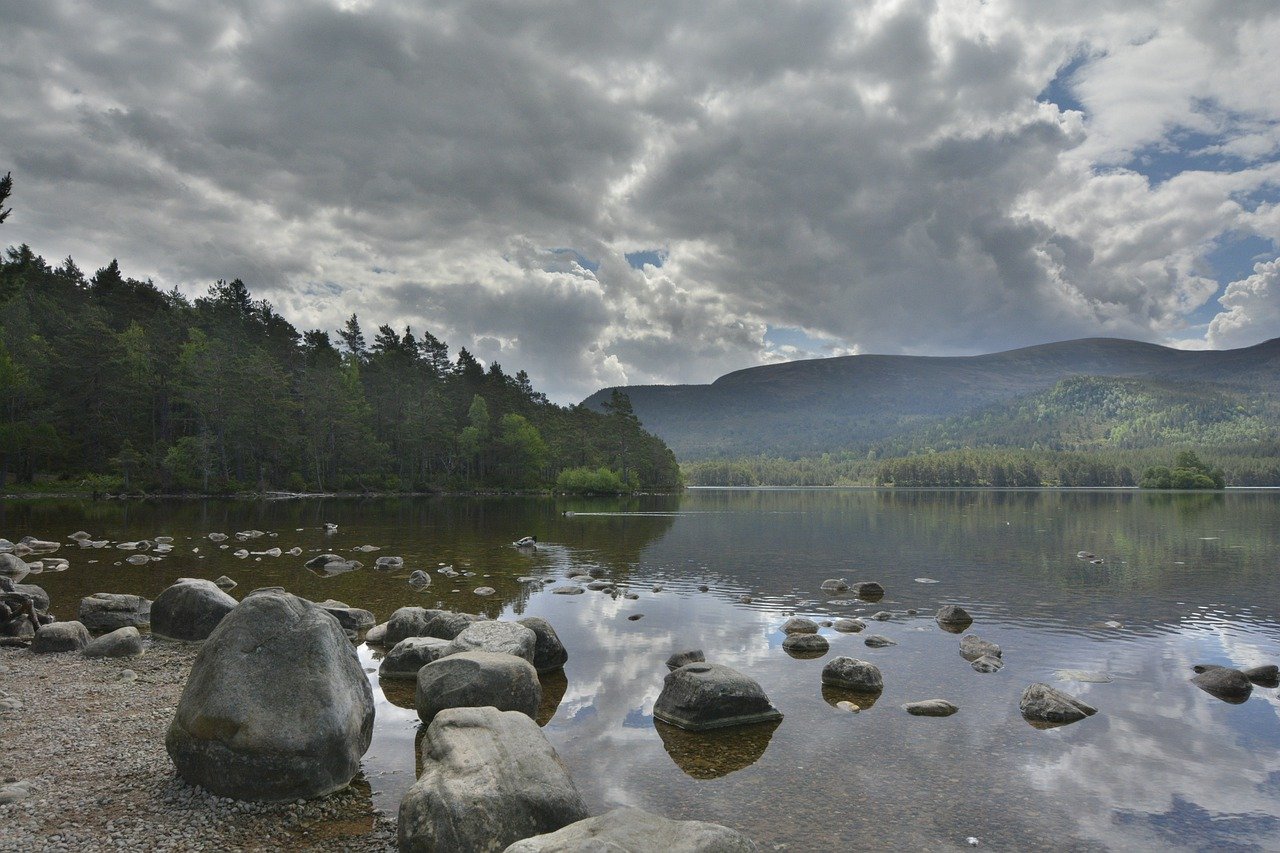 Loch an Eilein is a beautiful loch with a rugged ruined castle sitting on a small island.  It's a great place for a swim into the slowly shelving loch, with surrounding forests.  Perfect for kids to swim in too, as it's shallow by the pebbly beach.
Where: South of Aviemore is Rothiemurchus, follow the A970 South past Spey Lodge and turn left toward Loch an Eilein.
Parking: Car park just off the road as you approach Loch an Eilein
More Information: Check out the Rothiemurchus page here for more information on the area.
Loch Ard, Aberfoyle – Wild Swimming Stirling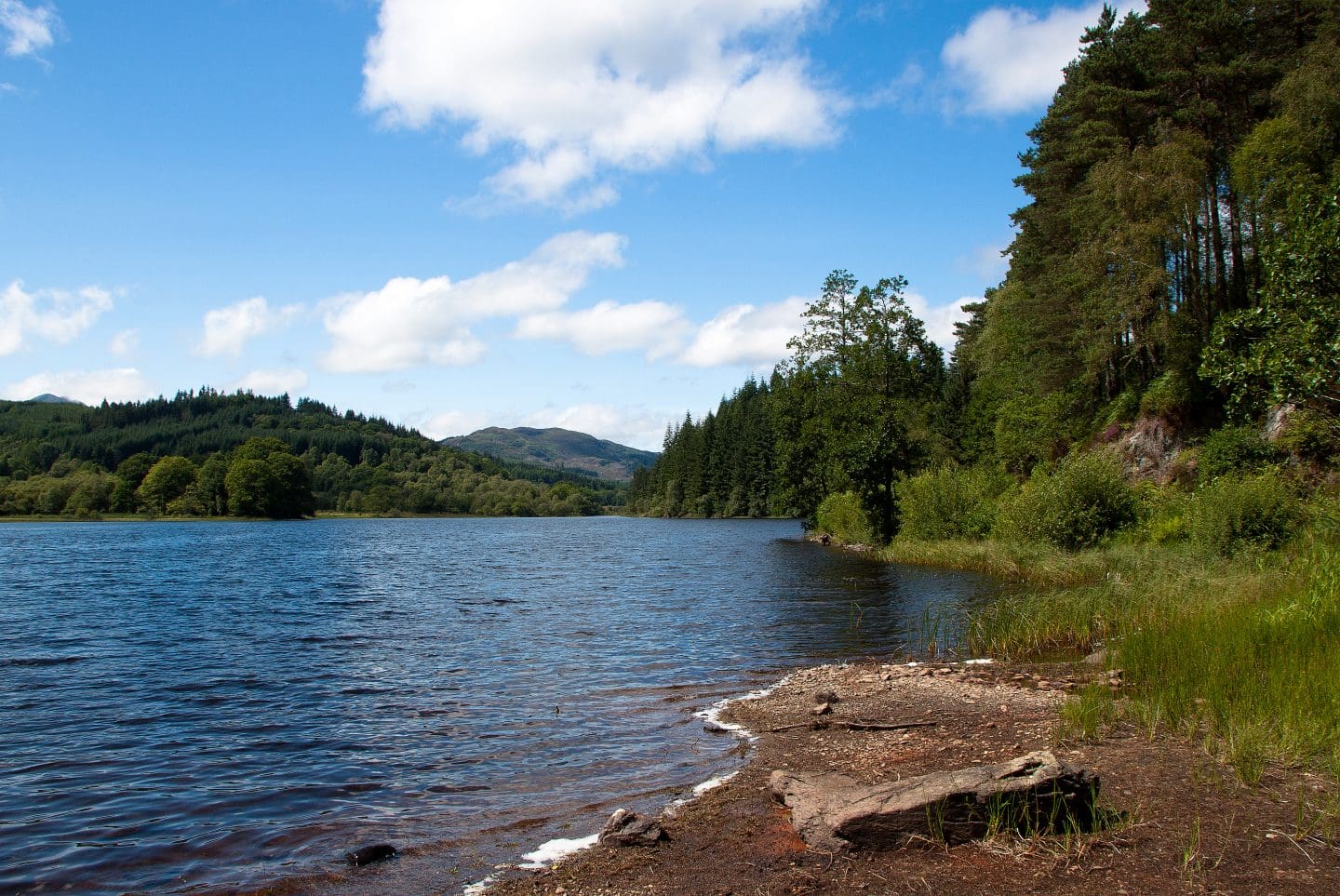 Loch Ard is a small loch that isn't as deep as others nearby, so the water can be a bit warmer.  No motor boats are allowed on the loch, only sail boats or kayaks/canoes, so it's a very safe loch for swimming in.  There are various walks around the Southern shores, but the best entrance points for swimming are off the road on the Aberfoyle to Stronachlachar road.  Park in the layby opposite Rob Roy's cave on the other side of the loch, or the layby at the water sports centre.
Where: Aberfoyle, Stirlingshire
Parking: Park in the layby opposite Rob Roy's cave on the other side of the loch, or the layby at the water sports centre
More Information: This map shows the loch, walking trails and other information.
Glen Rosa, Isle of Arran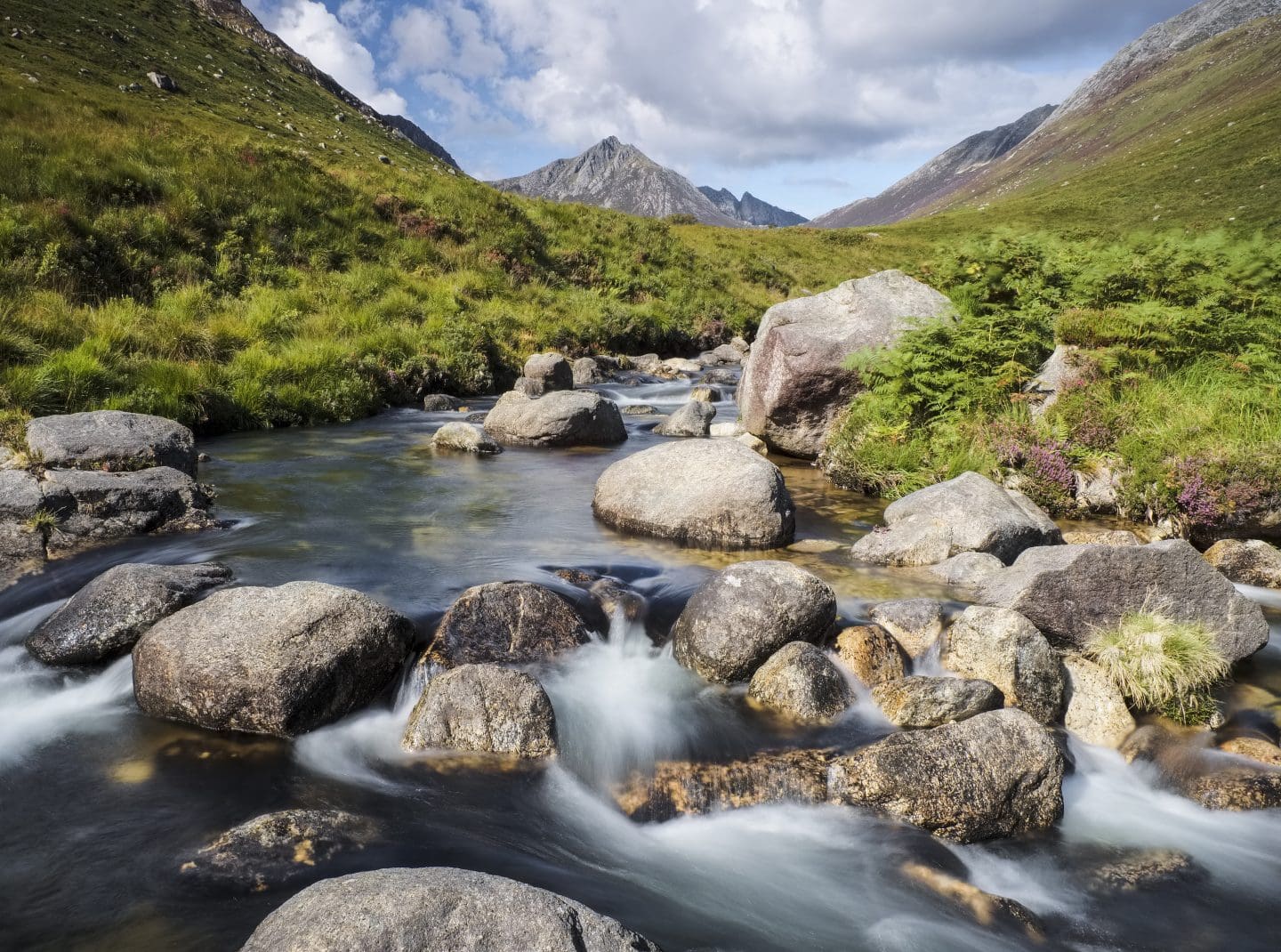 Wild swimming in Arran mainly consists of the beautiful coastal waters, however there is one particularly beautiful pool you may enjoy.  On Glen Rosa you can walk up the burn to the 'blue pool', identified by its distinctive blueish tint and a large boulder sitting next to it.  The pool is deep enough to jump into and quite refreshing after the walk up.
Where: Brodick, Isle of Arran
Parking: At the bottom of Glen Rosa there is an area to park, alternatively walk from Brodick.
More Information: The walk up Glen Rosa is described well in this article.
Quarry Pools, Easdale Island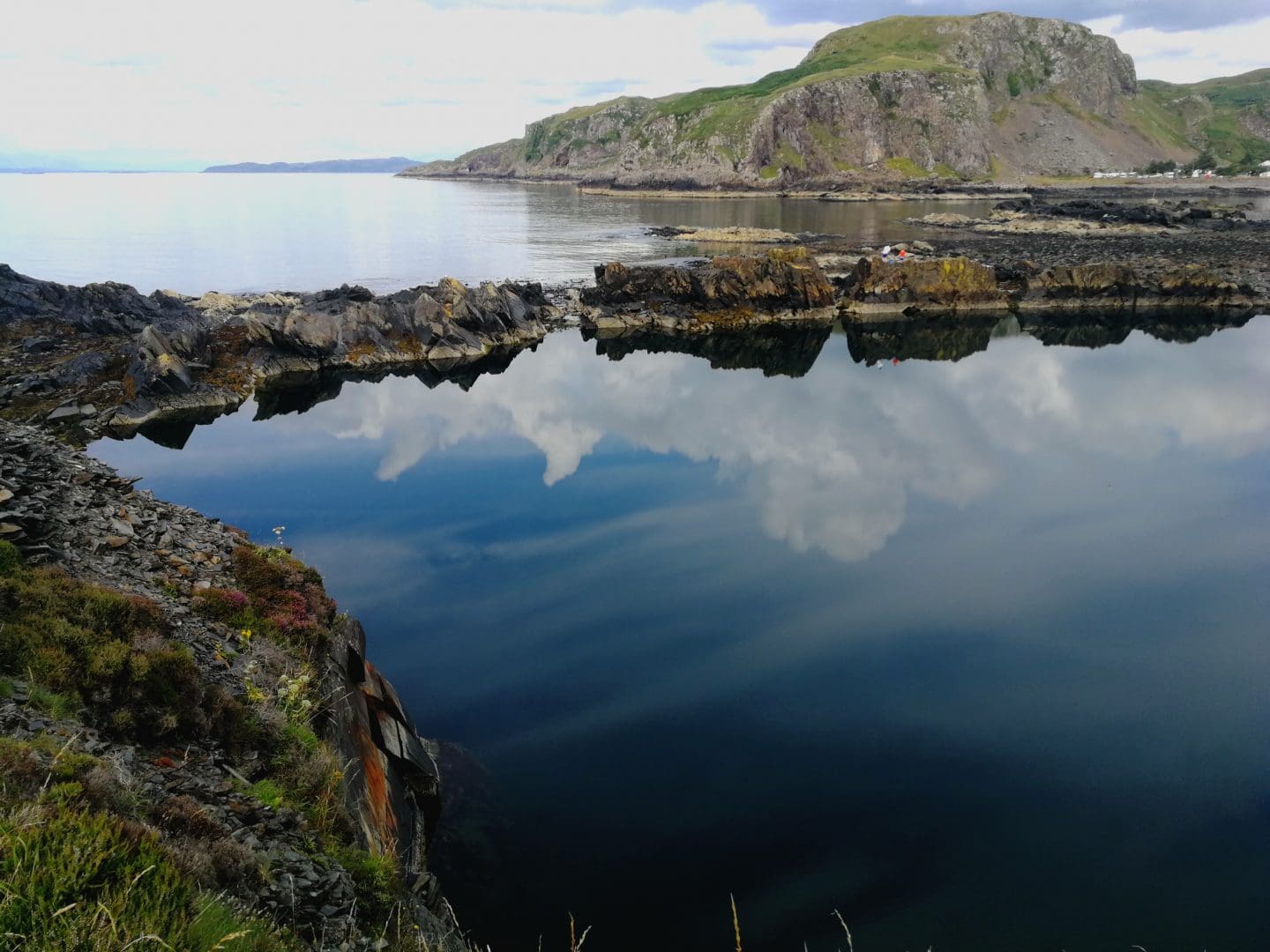 Unique wild swimming locations in Scotland include the abandoned slate quarries at Easdale.  These pools offer a great place for a swim and one is particularly good as a pool with a shallow end and deep end.  No vehicles are allowed on the island so you will find it quiet and peaceful, the perfect place for a swim and picnic.
Where: Easdale island is a short ferry ride from Seil Island, South of Oban.
Parking: Elenabeich car park on Seil Island.
More Information: Visit Easdale website for more information.
Camusdarach Beach, Arisaig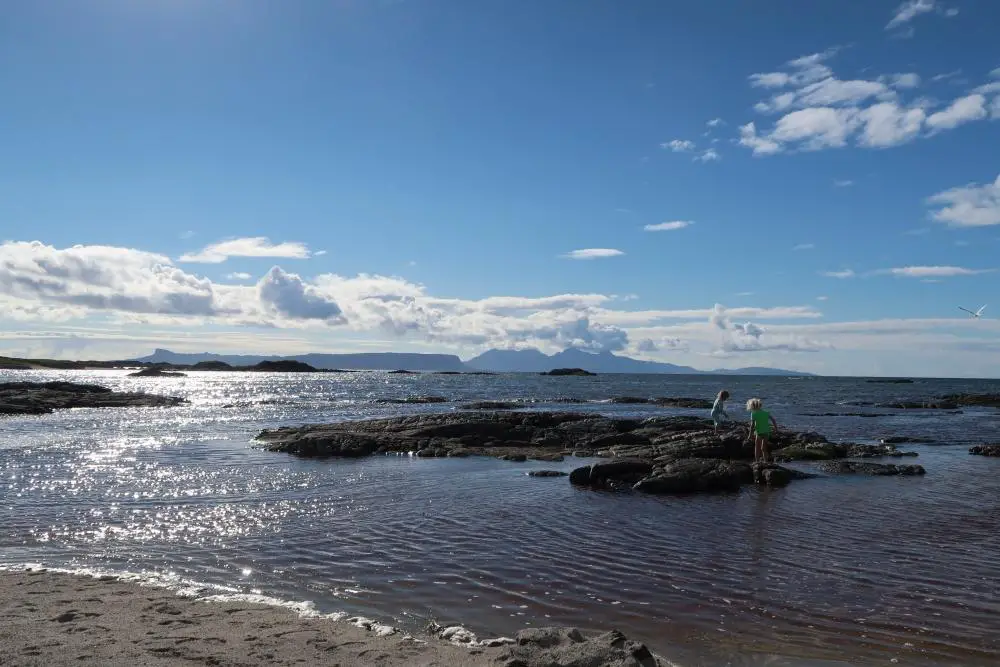 Scottish beaches are ideal for families to paddle and swim in the water and Arisaig has to be one of the best on the mainland.  Camusdarach beach stretches out with white sand and dotted with rocky outcrops (perfect for exploring!).  With views out to Eigg and Rum you will have the perfect view for your swim, even if it is a little chilly!
Where: The B8008 between Mallaig and Arisaig.
Parking: You can camp at various sites between Mallaig and Arisaig, but for day trips find a layby along the B8008
More Information: Read more about what else to do with a 3 day Arisaig itinerary here.
Luskentyre Beach, Isle of Harris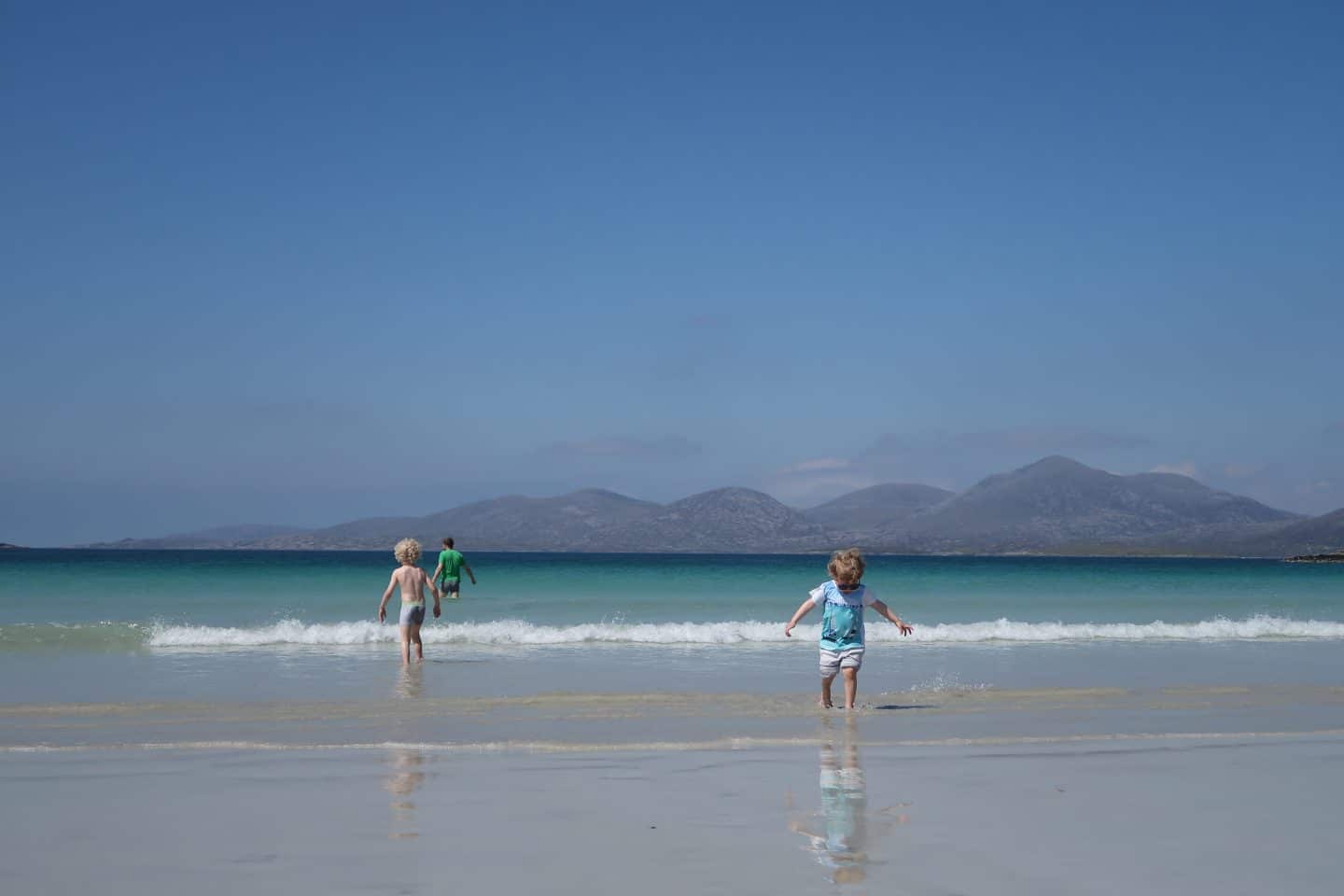 The Hebrides has miles of stunning beaches to visit and one of the longest and prettiest beaches is Luskentyre, on the Isle of Harris.  You get a brilliant view out to Taransay and a stunningly turquoise sea.  It's an idyllic location for a swim and picnic, perfect for families.
Where: Isle of Harris
Parking: You can park at the car park at the top of the one-track road off the A859.
More Information: For more information on Luskentyre beach head over here.
Balranald Bay, North Uist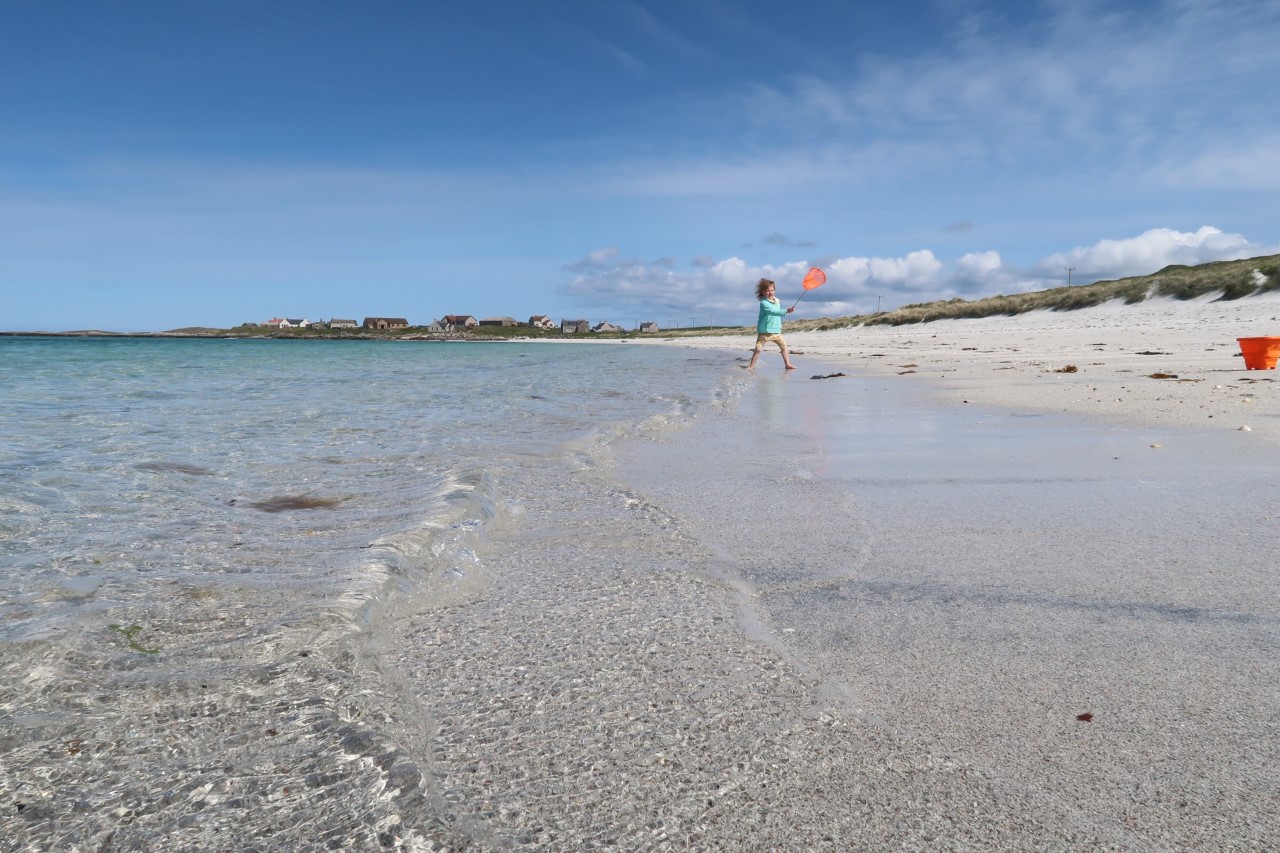 Remote wild swimming locations can be found throughout Scotland.  But where could be better than a stunning silver sand beach with clear waters, reminiscent of the Caribbean. Well Balranald beach is just that and even in the summer it isn't that busy.  It's right beside a lovely campsite, which is great as you will need somewhere to stay whilst visiting the islands.
Where: North Uist, Outer Hebrides
Parking: At the RSPB car park (possible fees)
More Information: Visit Scotland have more information here.
More Scottish Posts To Intrigue!
Pin Wild Swimming Scotland For Later