Pack A Picnic And Head To The Beach
The majority of children love a picnic, especially when it may also contain some tasty treats!  Taking it to the beach is such a traditional and fun day out that most British families like to do at least once in the summer.
Bug Hunting
You don't need any special equipment for bug hunting.  Hands are enough to search under rocks and pick up tiny creatures!  However, if you are worried about your child being heavy handed or not sure about picking up the bugs then a plastic spoon and small box to keep them captive whilst you study the beastie will be sufficient.
Check out the Woodland Trust's minibeast hunting checklist if you want a good ID sheet.
BIG Outdoor Painting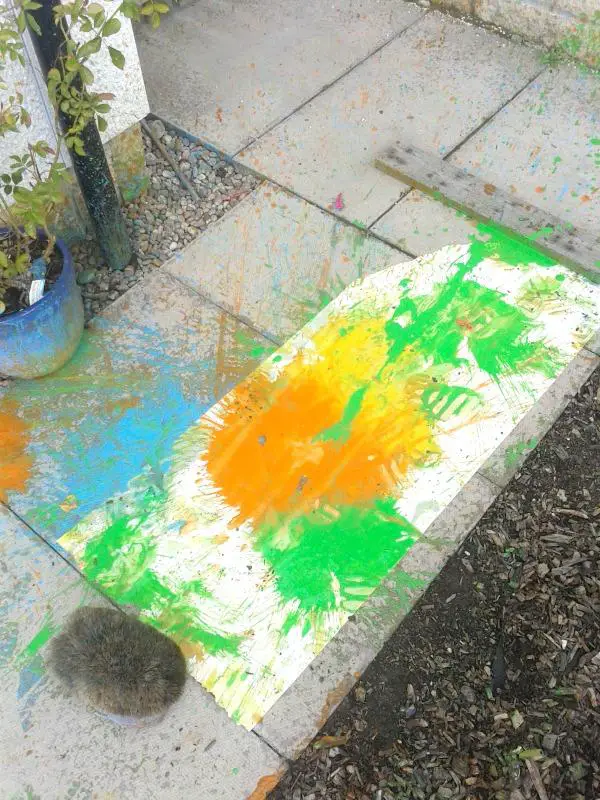 If you have any rolls of paper for kids easels then they are perfect for this project.  We tend to use the rolls of paper from Ikea (the back of unused wallpaper works well too).  Or you can sellotape smaller sheets of paper together, lay them on the ground or attach to a fence or wall and then let the children attack it with paint.  Throw paint filled water balloons, water pistols filled with slightly diluted paint or traditional brushes.  Whichever they choose it will be great fun and they will probably ask for more paper!
Invite Friends Around For a Mini Garden Disco
Invite a few of the kids friends around and play music in the garden for them to dance and sing along to.  Younger children love action songs and Moana or Frozen are particular popular in our house.
Don't forget a few snacks and plenty of water too if it's hot!
Explore A Forest
Visit a local forest and let the children explore to their hearts content.  Climb trees, paddle in streams, search for squirrels and taste test some edible plants (make sure you know which are edible first!).  There is plenty to do in a forest!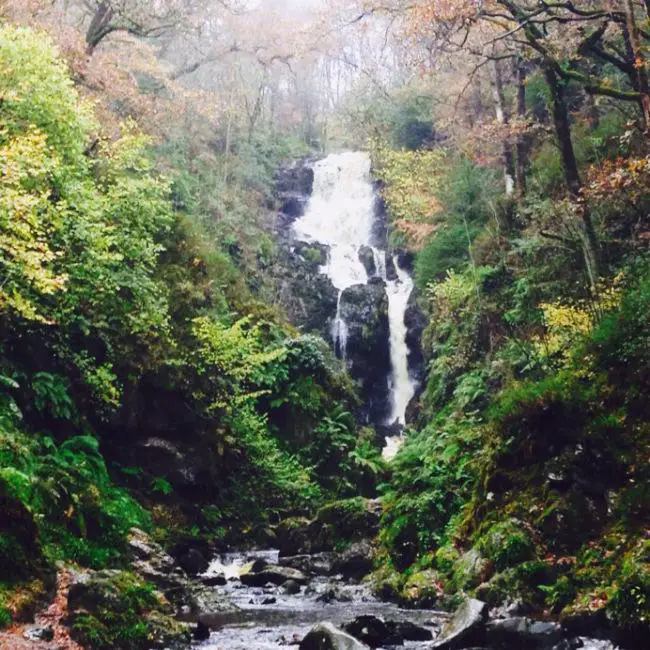 For older children or groups of kids you can play games such as Blind Man's Tree.  This is where one child is blindfolded, led to a tree, they inspect the tree by touch and then are led back to the initial spot and spun round 3 times.  When they take the blindfold off can they identify which tree they met?!  There are plenty of other great forest games that I will need to write up soon.
Family Bike Ride
Nice and simple, but cheap and a popular family activity.  The UK has so many cycle paths thanks to lot of great initiatives including SUSTRANS.  Check out these maps for cycle routes near you.
Papier Mache Sculpture
I am assuming that you will have newspaper, glue and paint for this one.  If you don't they are still relatively cheap to  buy and you can create some great pieces of art.
Paper mache is very simple, glueing paper over paper until you have the form you want.  You can start by screwing up ball of paper and sellotaping together to create the basic shape to paper mache over.  Or you can use something like a balloon or a bowl to paper mache over.  Balloons are great for creating hollow shapes for pinatas or piggy banks.
Have a look on YouTube for some ideas on how to start a paper mache project.
Camp In The Garden
We love to go camping, but if you don't have time to get away for a night or two, then set up the tent in the garden.  The kids will love the thrill of sleeping beneath the stars, but you are still able to make use of all the home comforts.  It also means a lot less packing too!
Search For Nocturnal Visitors
This is something that we have been meaning to try out for a while.  Before dark, put out a tray of sand smoothed down and a little bit of food in the middle.
The next morning check the sand for footprints.  You can use this track ID sheet from the RSPB to identify the tracks.  If you're quite keen you can also pour plaster of paris onto the tracks and make permanent prints.
Go On A Dinosaur Hunt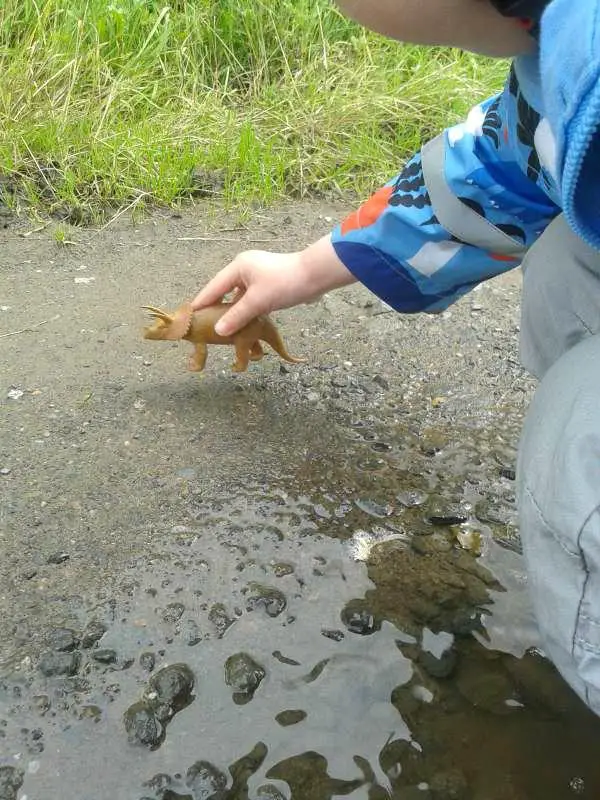 Collect together as many of the kids dinosaurs (or any other small toy collection) as you can.  Then hide them around the garden for the kids to find, make a note of where you hide them so they don't lose any precious toys!
Bat Walk
Go out when it starts getting dark (August is a good time) and look up for bats flying above your head.  The best places to go are broadleaved woodland with open areas, canals, rivers with smooth sections or around farm buildings.
Scavenger Hunt Explorations
You can easily make up your own scavenger hunt or print one off from The Woodland Trust here.  We have had a great time in the past making up scavenger hunts for the children, they are so easy to do!
There are loads more ideas that are free and I will be adding them on to this post throughout the summer.  So please check back in a couple of weeks for more ideas!
Pin For Later