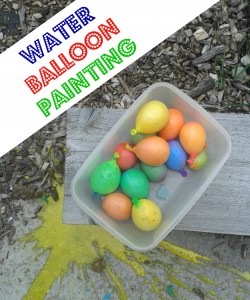 Yesterday we spent the afternoon making process art with water balloon painting!
It was so much fun, but very, very messy, as you more than likely would expect with exploding balloons full of paint!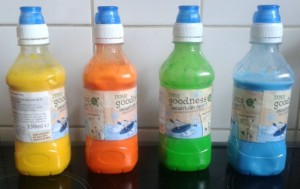 First off you will need water bottles with sports bottle lids, fill them half with paint (I used poster paint) and half with water, shake around to mix and then put a water balloon over the spout and squeeze the water-paint mix into the balloon.
You will need to fill up with quite a bit of mixture.  I filled ours up a little, but as I was afraid of them bursting inside I didn't put in too much, however this meant they were quite hard to burst outside and there were a lot of bouncing balloons that took several attempts at throwing to burst.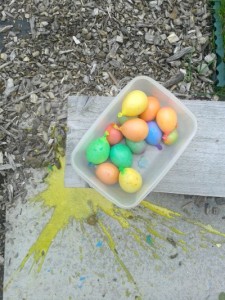 Find an area of the garden to lay down a large area of paper, weighted down on either side.  O stood on top of our climbing frame to get a bit of extra height to throw the balloons from and this worked quite well (although not all his balloons hit the paper!).  Unfortunately no pics of O throwing the balloons as they were on my mum's camera that I'm borrowing, but the SD card in the camera isn't working.  Will swap it for my own SD card next time.
Then just throw the balloons at the paper and watch them burst with colour!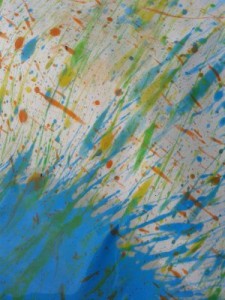 The squeals of delight as they burst were great!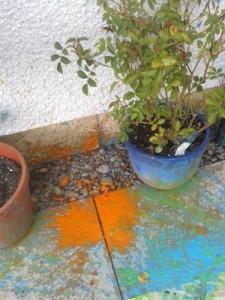 Of course you're going to have a colourful garden after this and so we got the hose out and hosed down everything afterward, which resulted in two soggy wet boys as well, not that they minded.
Do you like getting messy?!
J x