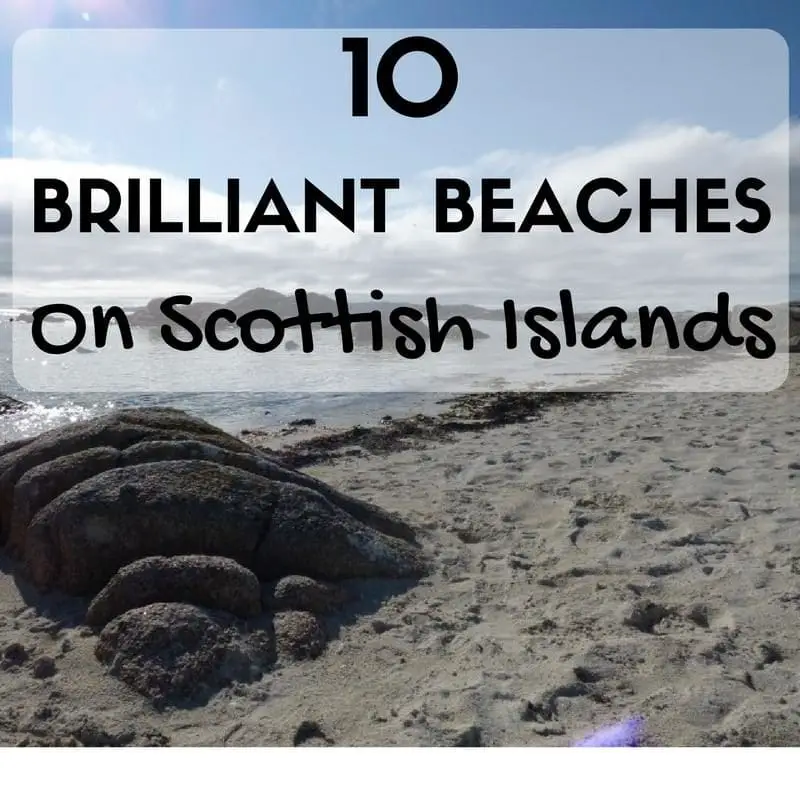 There is no doubt that we love visiting the Scottish islands.  We managed to visit 3 islands last summer, as well as an extra visit to the west coast at Arisaig.  When you're staying on the isles you'll never be too far away from a beach and on a sunny day you could mistake yourself for being in the Mediterranean with white sands and turquoise seas.
Over the years I have visited 16 of the Scottish Isles, which doesn't seem very many to me!  I am hoping to visit many more with my family in tow over the next few years.  One of our favourite places to stay is right beside a sandy beach.  When the boys wake up early we can quickly get dressed, eat breakfast and head down to the beach to play in the sand, climb rocks and run away from the waves.  Of course it's unlikely to be as warm as the Mediterranean, but you can still have a fantastic time on a Scottish beach.
This is a selection of my favourite beaches that we have visited and some others that we haven't yet made it to, but are looking forward to checking out.
Luskentyre, Harris
Luskentyre is a gorgeous beach on the west coast of Harris, with a stunning view out across to the island of Taransay.  My dad and I camped in the dunes on the north side of the beach whe I was younger and hoped to get out to Taransay, but unfortunately we weren't able to.  It's still on my list of islands I need to visit!
The beach itself is huge at low tide, when you can walk from one side to the other and when the tide is high there is a small river running down the centre.  The beach is backdropped by mountains and the white sands are gorgeous against the turquoise sea.
Traigh Iar Beach, North Uist
Traigh Iar Beach in the North West of North Uist is a long stretch of white sand.  The beach is bordered by a beautiful machair that boasts gorgeous wildflowers in the summer, including some rare orchids.  Bring your wildflower ID book with you here and lie down amongst the flowers to se how many species you can spot.
Fidden Farm, Mull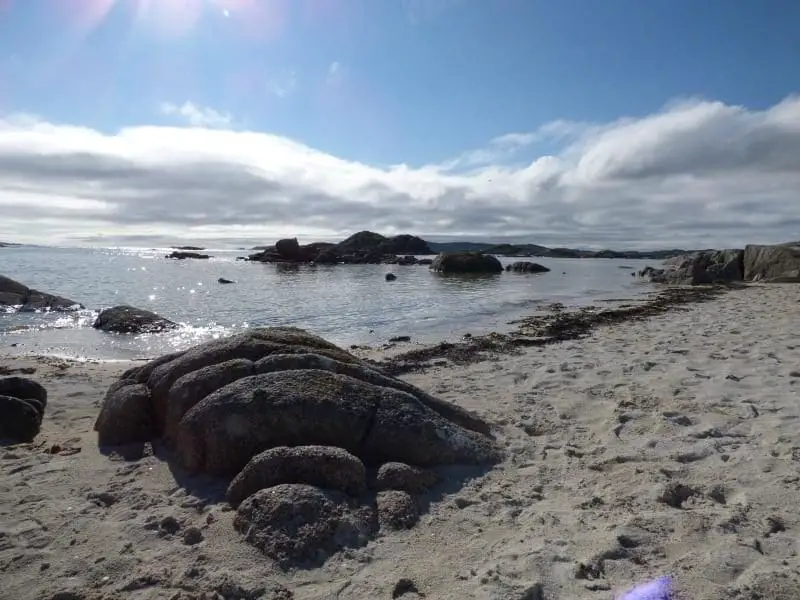 I have mentioned Fidden before when we camped at Fidden Farm in May 2016.  It's a working farm, but also a campsite with a gorgeous white sand beach with oh so many smooth rocks to climb on and over.  The kids loved it to dig and climb and fish with their nets.  We loved it for the amazing views, rocks to climb and the peacefullness.
The Big Strand, Islay
Islay is hopefully going to be one of our island destinations this year.  The whole island is beautiful, but the Islay beach we have been told is the best to visit is the Big Strand, a 7 mile long stretch of sand.  There are a few rivers along the stretch of beach, which means you may need to come off the beach to cross them (depending on the rainfall).
With such a long beach you're bound to find a place to yourself and enjoy the peace and tranquility of the island, although it's likely to be quite windy too.
Rackwick Beach, Hoy
When we visited Orkney last summer, Hoy was on our list of places to visit.  As well as the Dwarfie stane and the Old Man of Hoy, Rackwick beach is a great place to visit.  When we initally arrived the beach consisted of a long stretch of round boulders and pebbles, but as the tide went out the sandy beach below appeared.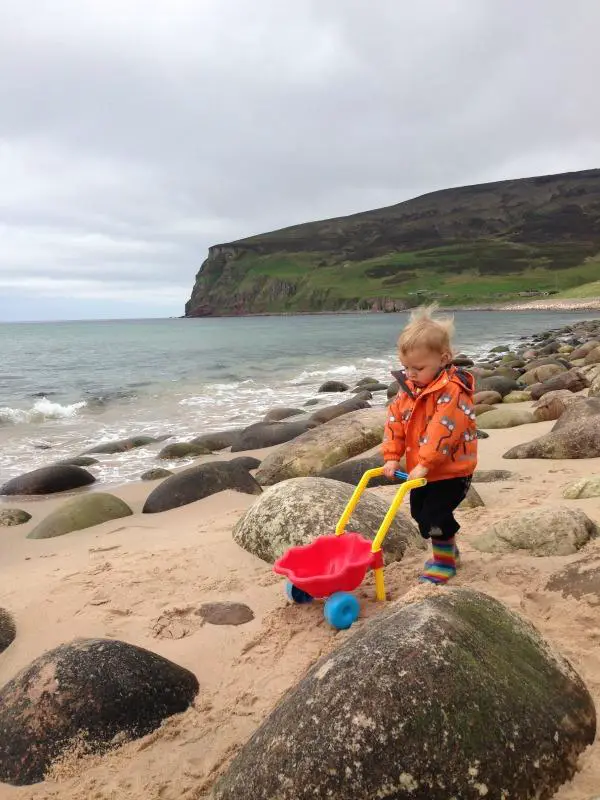 Rackwick is framed by the cliffs on either end of the bay and is a pretty stunning place to visit.  Our kids had a great time on the sand and we loved jumping on the rocks and seal spotting.
Crossapol Beach, Tiree
Tiree is another island we're hoping to visit this year.  It's a ferry ride from Oban and very near to Coll, you can visit them both using Calmac ferries island hopscotch ticket number 19 or you can fly to Tiree landing on the beach.
Crossapol beach is on the south side of the island and is a perfect length of white sand, fantastic for shell spotting. It's also well known for being an excellent windsurfing spot.
Sands of Breckon, Yell
This is another stunning white sand beach, but this time it's situated in the far north of Scotland, in Shetland.  The beach also has some scattered remnants of pre-Viking and Viking settlements, which add a little extra interest to the visit.
We've never visited Shetland, although it's definitely on my to-do list and I have heard so much about it's gorgeous coastline from friends and family who have previously visited.
Dunvegan Coral Beach, Skye
Skye is an island I have visited many times, for both leisure and work, it's such a stunning location in many ways, from it's coastline to it's rugged landscape of the Cuillins and the Old Man of Storr.  There are many lovely beaches here, although my favourite has always been the coral beach at Dunvegan.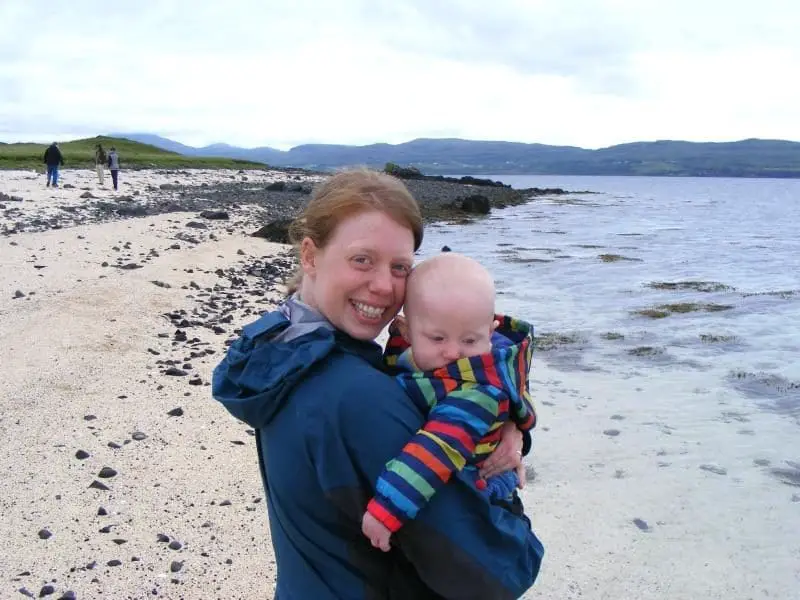 This is not your standard sandy white beach, it's actually filled with fragments of sun bleached dessicated algae, there are still quite a few large pieces left.  It's a nice spot to explore with children, including a small grassy mound to climb beside the beach.
Bostadh Sands, Great Bernera, Lewis
Whilst visiting Lewis and Harris with my dad, pre-kids, we discovered the beautiful little island of Great Bernera.  We actually wild camped on a nearby area of coast and walked along to the beach the next day.
During a wild storm in 1993 a previously unknown iron age settlement was uncovered beneath the sand.  There is now a replica house stood nearby, which can be entered at certain times.  We weren't there when it was open, although it looks like a great house to explore.
Balnahard Bay, Colonsay
Balnahard bay has stunning views across to Mull, Scarba and Jura from it's beautiful sandy beach.  It's also a great place to walk to the Northern most tip of Colonsay to visit the natural stone arch.
Pin For Later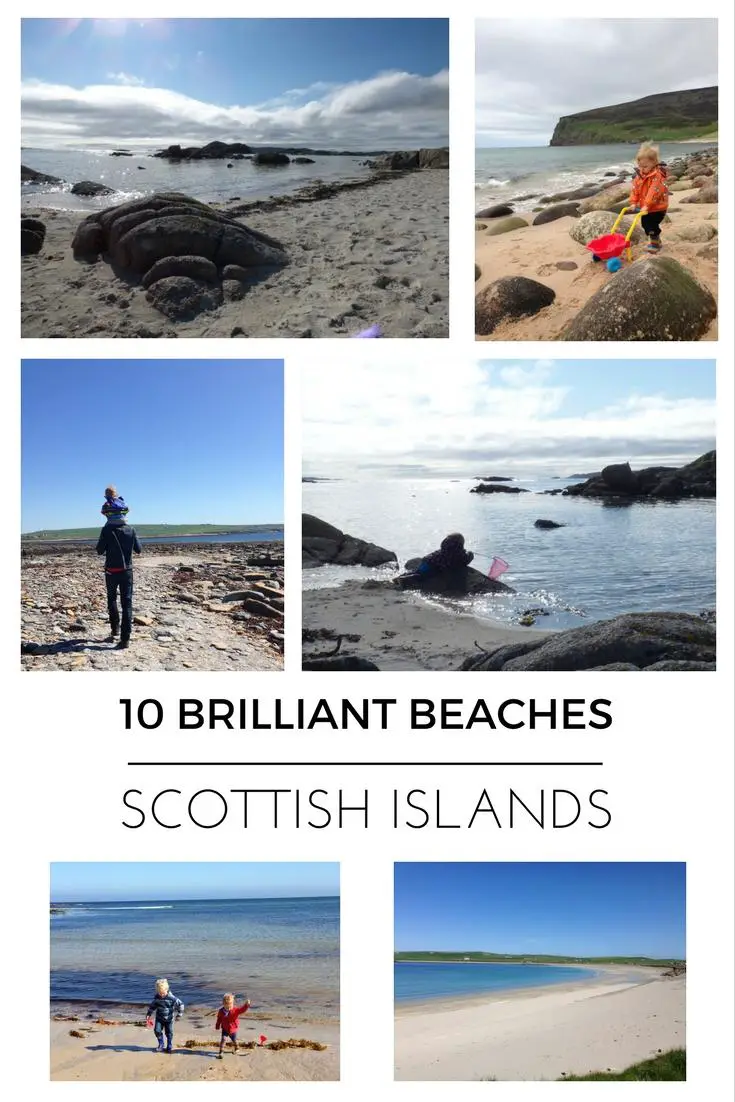 What is your favourite Scottish island beach?
*Please note that there are plenty of other gorgeous beaches in the isles that we haven't discovered or heard of yet, but they will be an amazing surprise when we do!  I might even need to do another beach post when we do.