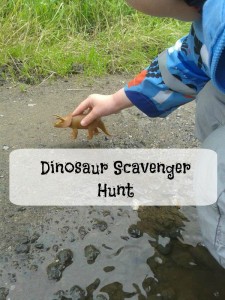 I'm not sure where summer has gone, but we're still getting outside, despite the wet weather.  The rain eased this afternoon so we headed out along some country farm tracks to get the boys out of the house for a while.
I made a little 'dinosaur scavenger hunt' for the boys to do and took 3 of their dinosaur toys out with us.
When we got down to the quiet country farm tracks I gave O and A the dinosaurs and we started the scavenger hunt.
Their first task was to find food for the hungry dinosaurs, so of course they had a tasty meal of leaves.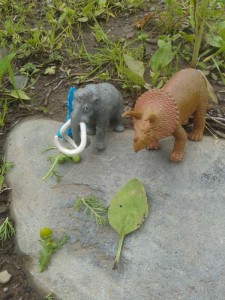 After all those leaves the dinosaurs were thirsty, so the boys next task was to find some water.  O immediately plunged them into the nearby puddle, A thought this looked fun and put his in too, even though he had no idea what was really going on and then spent the rest of the time jumping in puddles!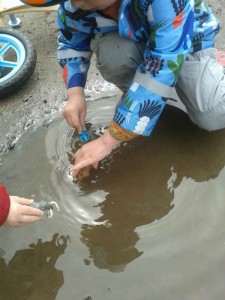 O's third task was to find somewhere for the dinosaurs to play, the obvious choice for him was splashing in the puddles.  He spent ages putting his dinosaur in and out of puddles, getting muddy at the side and then splashing again.
The dinosaurs began to get a little concerned about the grey clouds and requested a place to shelter, so we made a little grassy house for them.
Clearly this was all too much for the dinosaurs, they were very tired and so O made some beds out of grass flower heads and the dinosaurs had a long sleep while the boys splashed in the puddles.
I made a printable PDF of our scavenger hunt list if anyone would like to print it for their own dinosaur enthusiasts.  Click the link below to download:
Do your little ones like dinosaurs?
J x