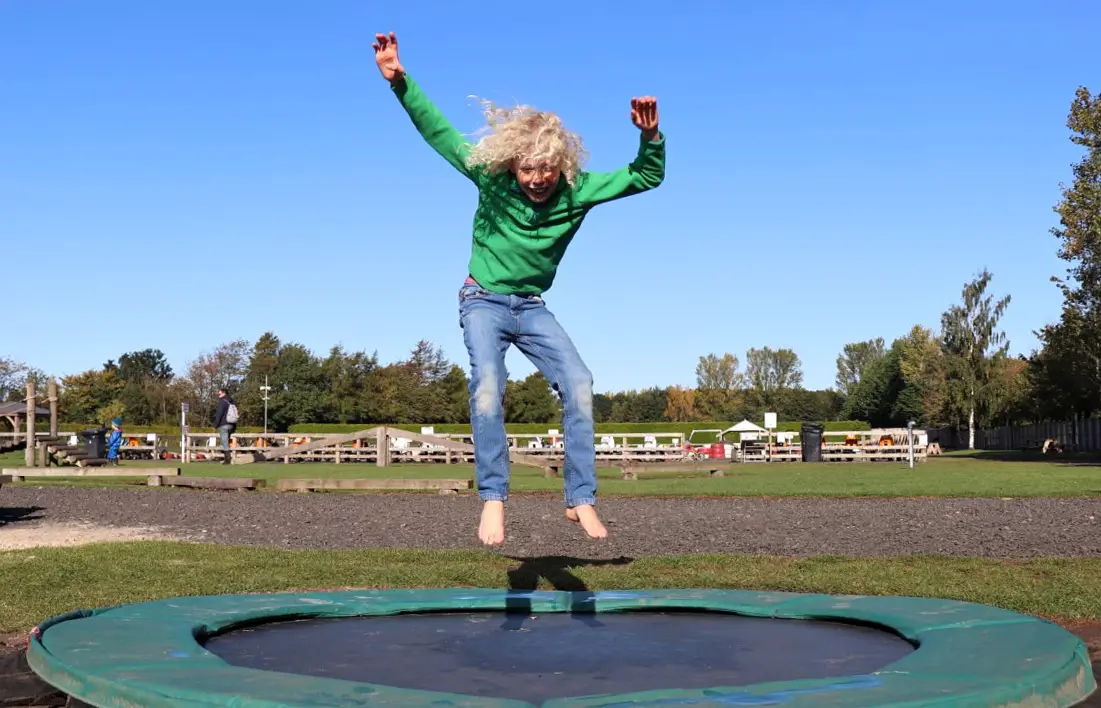 Conifox Adventure Park
We were recently invited to Conifox Adventure Park, which is located just 5 minutes from Edinburgh airport.  We have never been before and although things are a little different at the moment we had a lovely day out!
They are also in the process of creating a huge softplay and indoor event building beside the adventure park.  Looking at the plans outside it should be a pretty awesome softplay, fantastic for wet days next year.
Kids Adventure Play Area
We arrived at 10am on a week day, of course it was quite as most bigger kids are at school.  The benefits of home ed!  It got busier when kids arrived after school, so I imagine it could get quite busy at the weekends.  Although numbers are currently limited through the booking system.
Go-Karts
The first things the children wanted to do was play on the go-karts.  They both love go-karts so this was going to be a clear winner!  Before they could have a go the current rules mean that they have to wipe down the steering wheel/handles, brake and back of the seat with the antibacterial spray and blue roll provided.  There was also plenty of hand gel available too.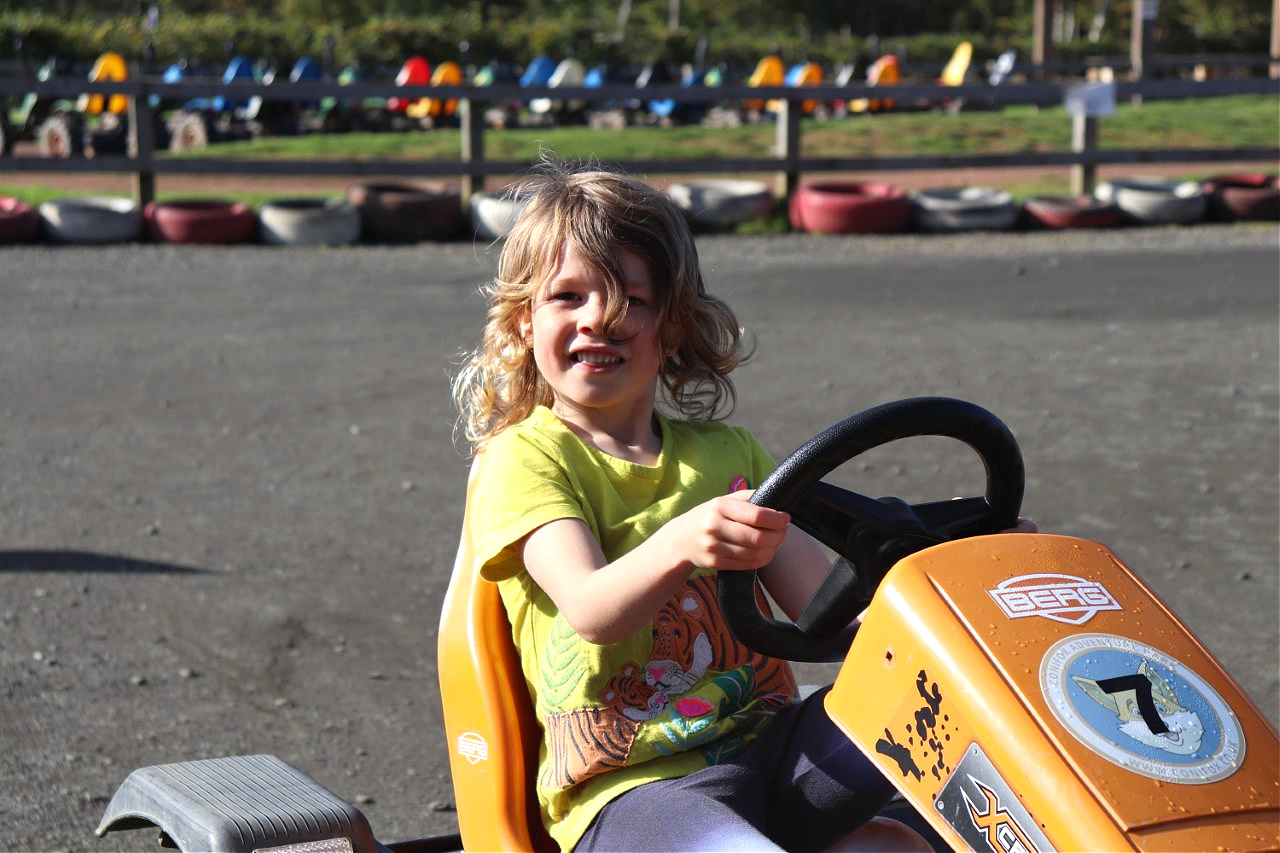 The go-kart are has larger go-karts for kids 8+, as well as two seaters for parents or older siblings to pedal younger ones round.  There were also much smaller go-karts for preschoolers, which is good to see!  Often when the kids were younger we had to push them round on go-karts at other adventure play parks, which is definitely not easy!  So it was nice to see that younger ones are provided for too.
Beside the first go-kart area is a second with tractor go-karts.  They also had double seats on some of the tractor go-karts too, so little tractor fans had a chance to go round the track.
Games Area
It was a beautiful sunny October day, the blue skies were gorgeous to see.  After the kids had finished on the go-karts they then chose to play chess!  They have an absolute love of board games of all types, so this wasn't surprising.  However we haven't taught them how to play yet.  But they were adamant we should play, so my husband and I showed them the different pieces and what moves each could make.  Our 9 year old picked it up pretty quickly and both have asked to get a chess set to play at home.  Clearly it's going to be a bit smaller than this chess set…
There are also two connect 4 games in this area too.  Littlest and I played a game, although most younger kids just had fun playing with the game pieces.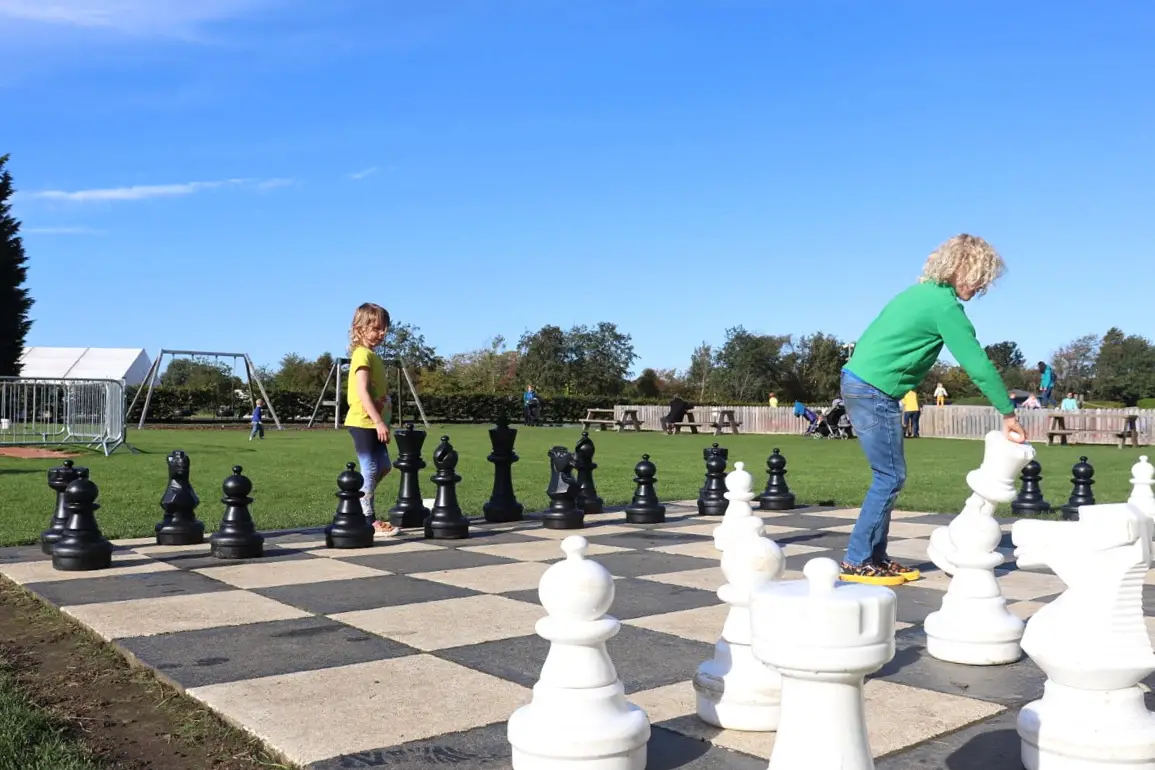 Bouncy Pillow
The big inflatable bouncy pillow is always fun to use up energy and practice their jumps and rolls down the side.  They kept coming back to the pillow for more bouncing throughout the day.  For more bouncing there are trampolines beside the bouncy pillow, perfect for smaller children to bounce on when the inflatable pillow is a bit full.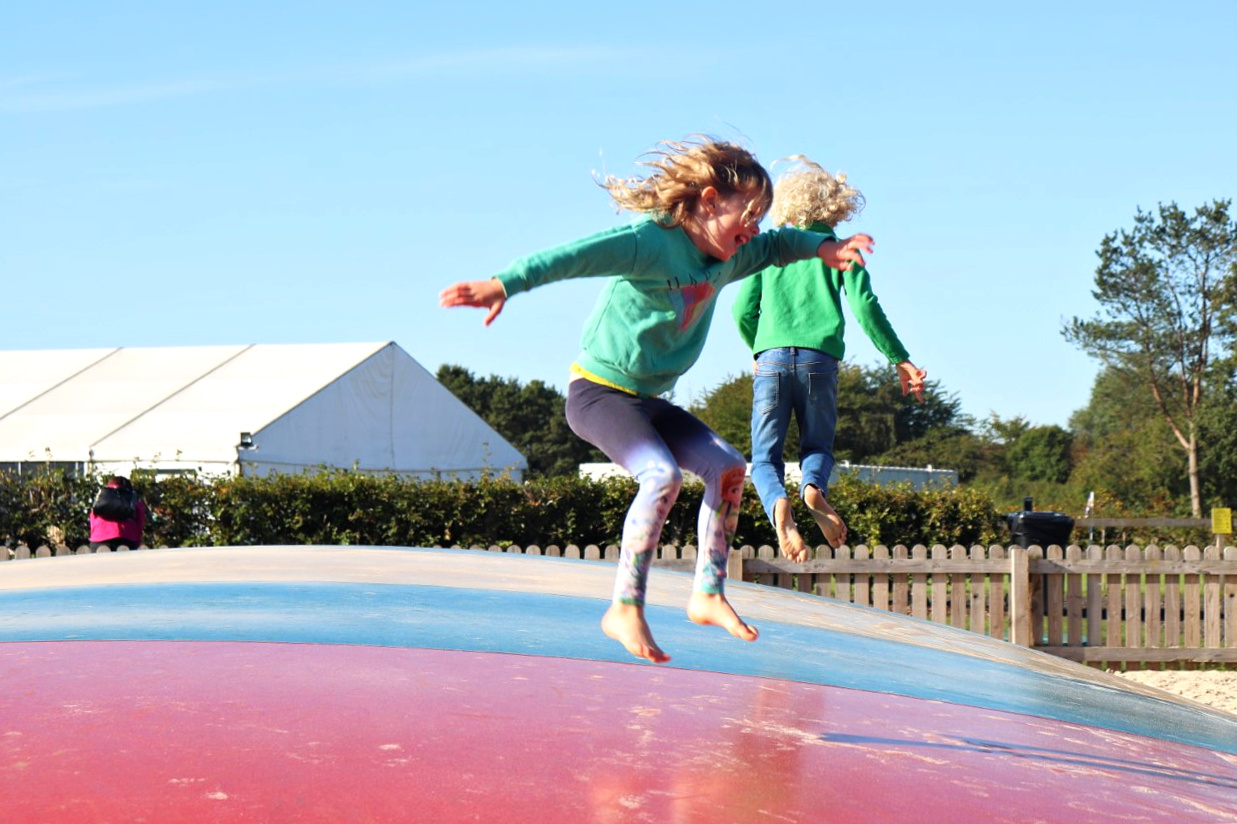 Our 6 year old has recently learnt to swing by himself so he headed to the swings a lot throughout the day as he's pleased with his new skill.  There are also tyre swings and the big basket ones too.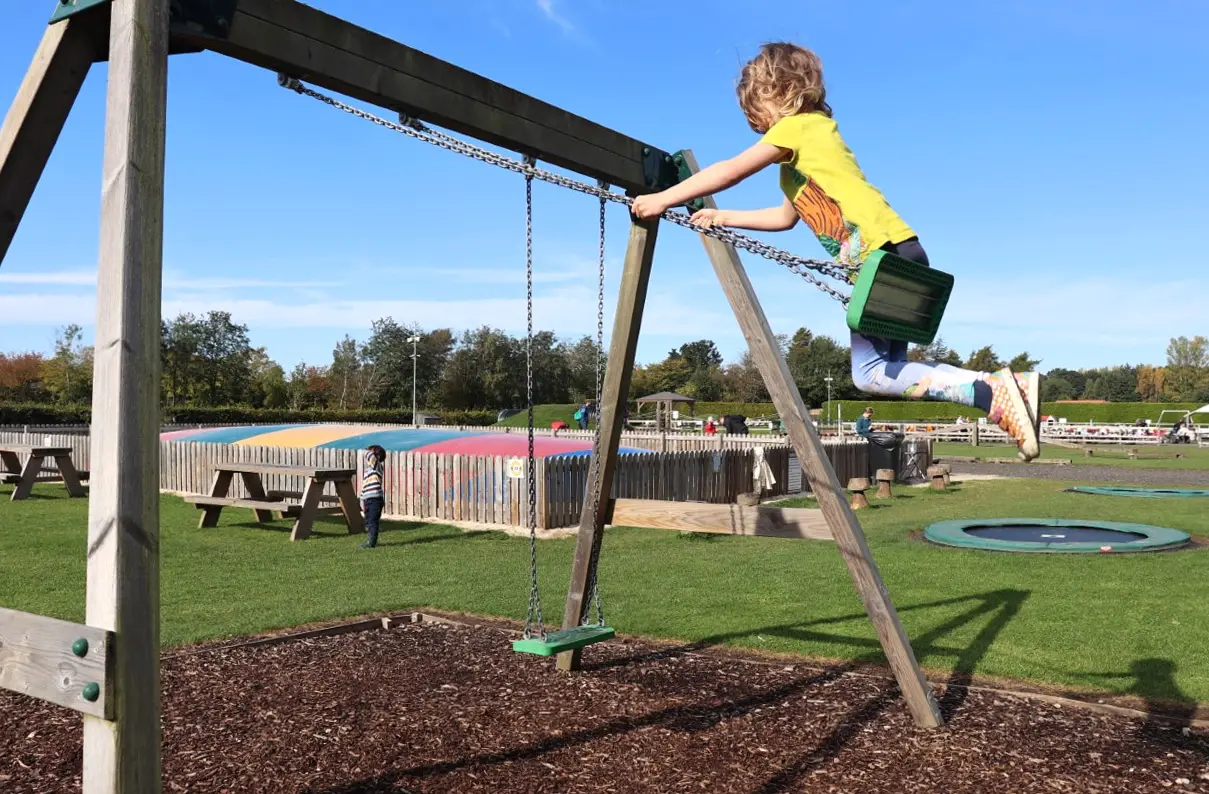 Younger Kids Area
Behind the go-kart area are smaller ride-on's for toddlers and pre-schoolers, along with a sand pit and other activities for smaller children.  As we were there during the day this was the busiest area as most kids were young.  Our children weren't interested in looking at this area, but the smaller children seemed to enjoy it!
Beside the bouncy pillow is a balance beam obstacle course, wobbly bridge and tunnel to play on.  It's great for imaginary play, pretending there are sharks and crocodiles trying to attack!
Football Golf
On the other side of the main activity area is a large grassy football golf field.  There were plenty of footballs around, although we were a little confused to where the start of each hole was to be from and spent some time running around looking for the starting positions.  It might be a good idea to have a large map of the field beside the golf, with the locations of the starts and flags for each hole.  Our 6 year old absolutely loved completing the course!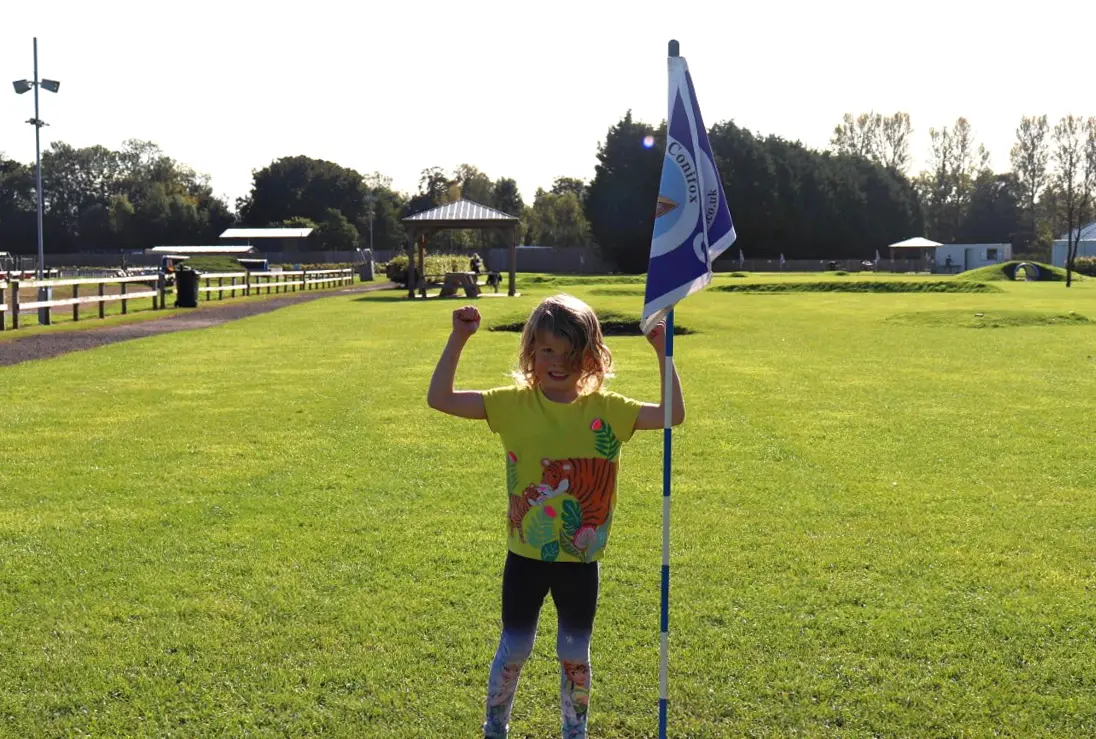 For more ideas of where to visit with kids in Central Scotland check this post out, 70 Places to Visit With Kids in Central Scotland.
Other Services
The Stables Bistro isn't currently open, although I'm sure this will change next year.  Instead there is a small building behind the football golf with hot drinks and snacks.  We didn't buy anything, although it did seem to be fairly busy with people buying coffee's throughout the day!
Beside this is a large building with men's and women's toilets, there's antibacterial gel outside to clean your hands before going in and out of the toilets.
Pin Conifox Adventure Park For Later