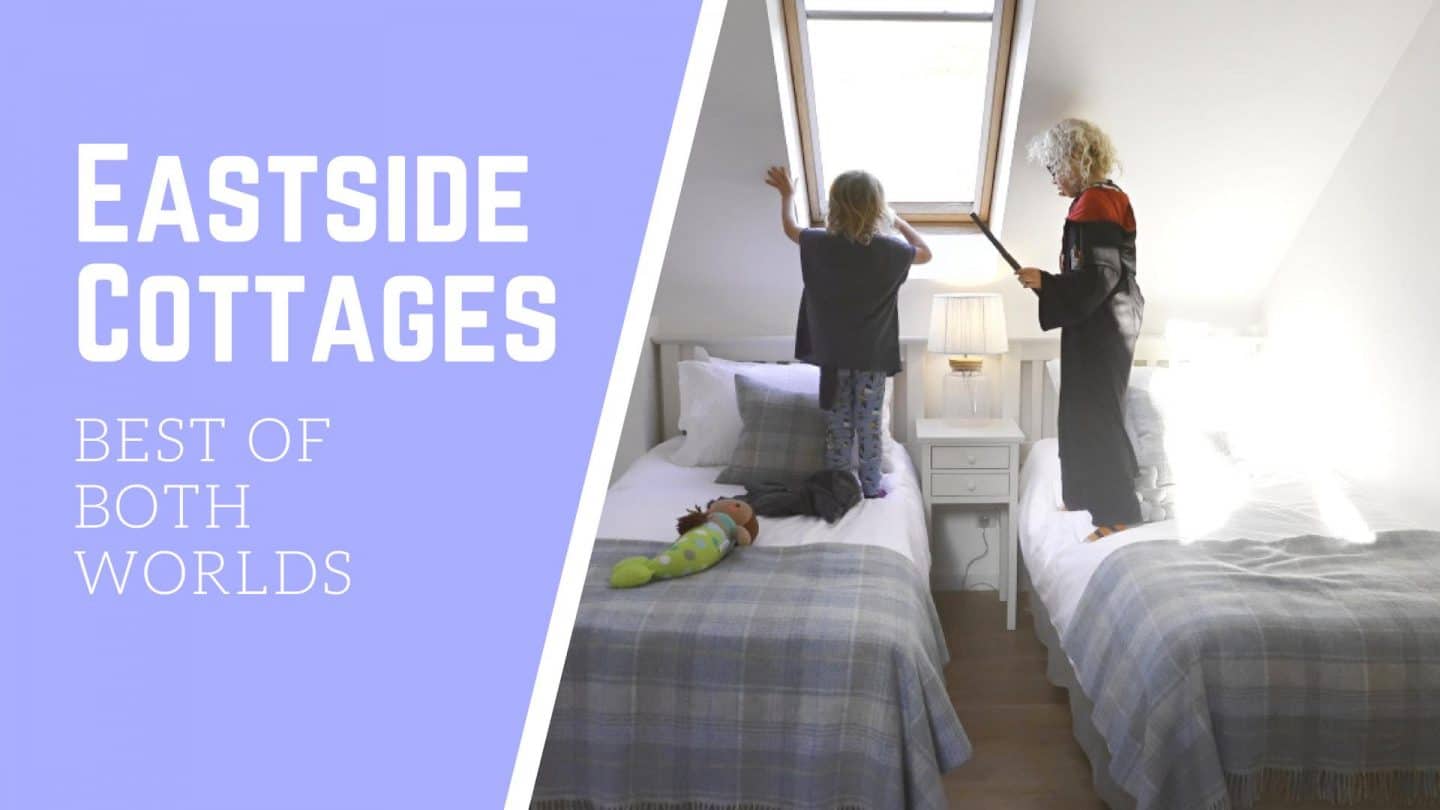 At the weekend we stayed somewhere extra special, a little gem of a cottage in the Pentland Hills near Edinburgh.  Eastside Cottages really feel like the middle of nowhere, but at the same time it's only 15 minutes from the edge of Edinburgh and so easy to get around the central belt and Borders areas.
In The Hills
On our first day we went for a late afternoon walk up the hills behind the cottages, energised by a quick scone in the cottage first!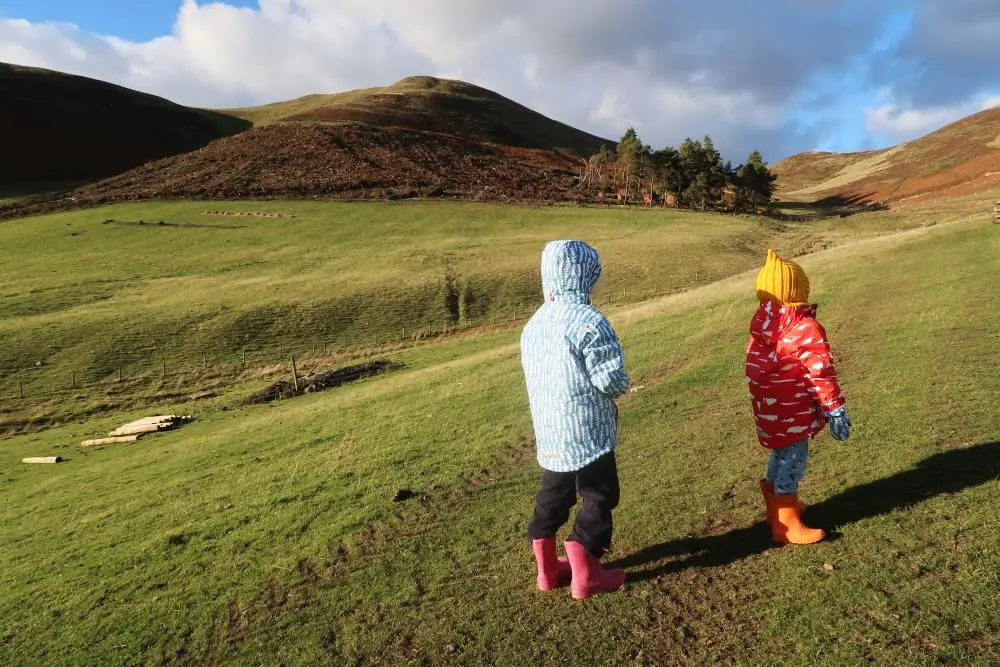 It may have been a bit chilly when we started out, but we soon warmed up climbing up the path to the Kips above Eastside Cottages.  Our two aren't used to walking up hills, mainly as they love cycling so much, we tend to go for that instead.  But being in the hills convinced them it was actually fun to get to the top.  Plus it's really not that far, even for little legs like our 4 year olds!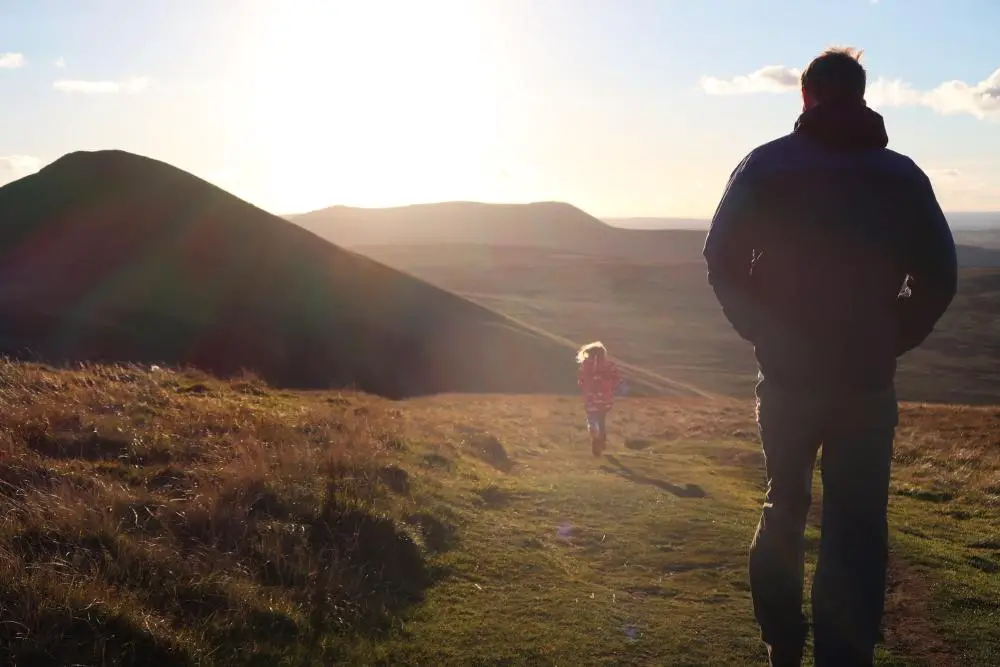 You can see all the way across to Edinburgh, the Forth Bridges and airport, two planes flew low down and landed at the airport whilst we watched from the top of the hills.  The boys were also fascinated at watching the rain falling in the distance, when the rest of the sky was blue!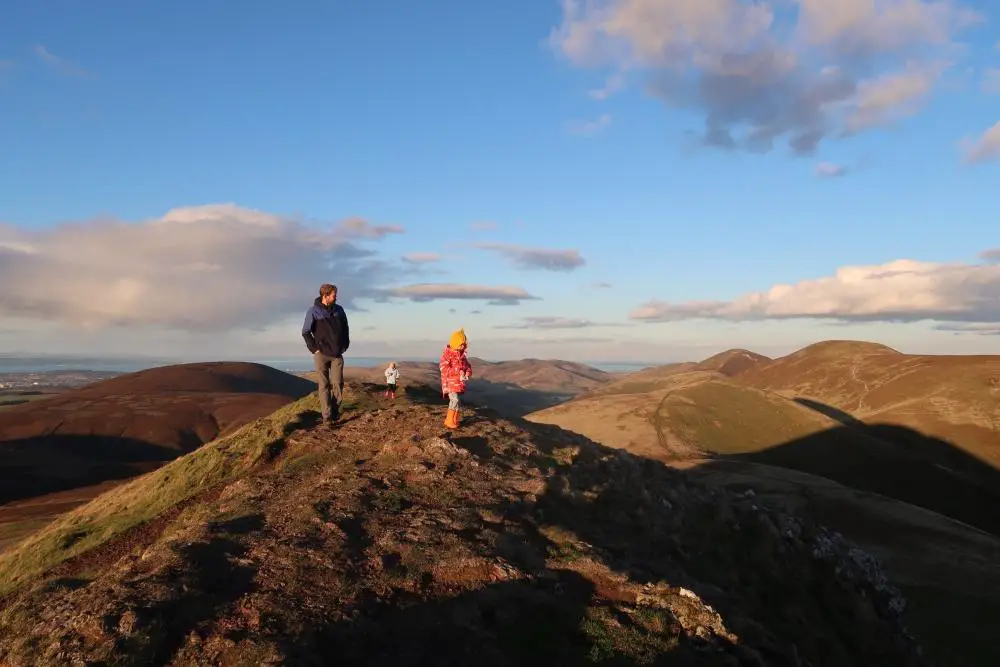 Of course it's a great vantage point to see down to the cottages too, watching the tractor moving around and horses trot along the track.  We had great fun sitting and watching.  But it was late and the sun was going down as we were at the top, so after a quick break we were on our way back down ready for dinner.
We would definitely have loved to spend more time in the hills, walking and exploring different paths.  Unfortunately the weather was just not that great and the wind and rain put us off.  Our 4 year old was desperate to go back up the hills again, so hopefully we have a hill walking convert now!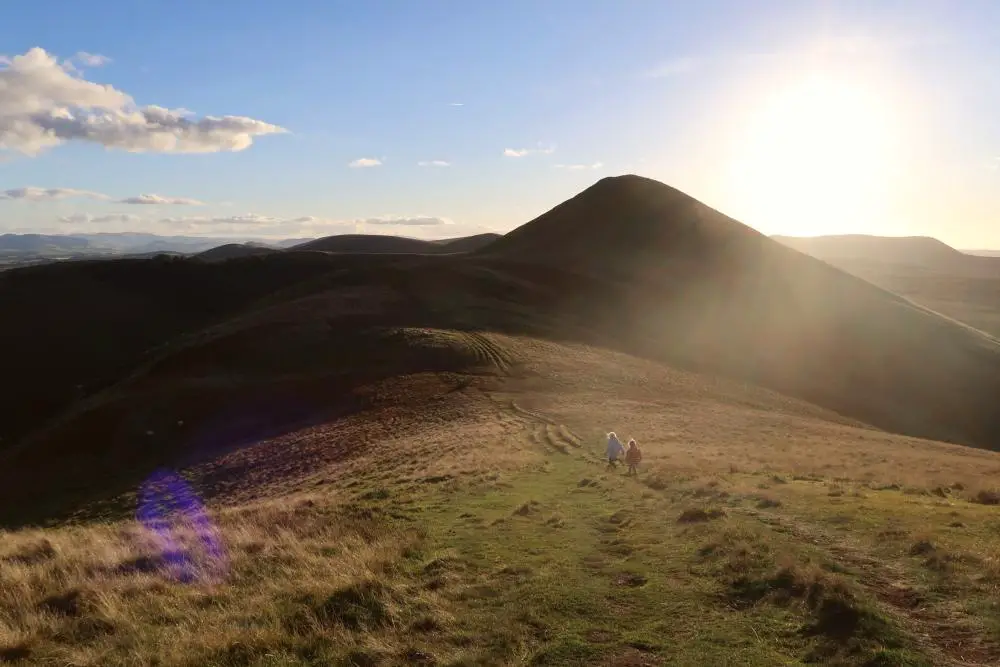 Eastside Steading
We stayed in the lovely Steading at Eastside Cottages. A beautifully converted hay shed, which now has 2 bedrooms and can sleep 4 people comfortably.
As you walk in the door there is a downstairs toilet and shower to your right and then space to hang jackets before you arrive in the open plan kitchen/dining/living area.  The kitchen is my favourite colour, blue of course, and in a farmhouse style with large belfast sink.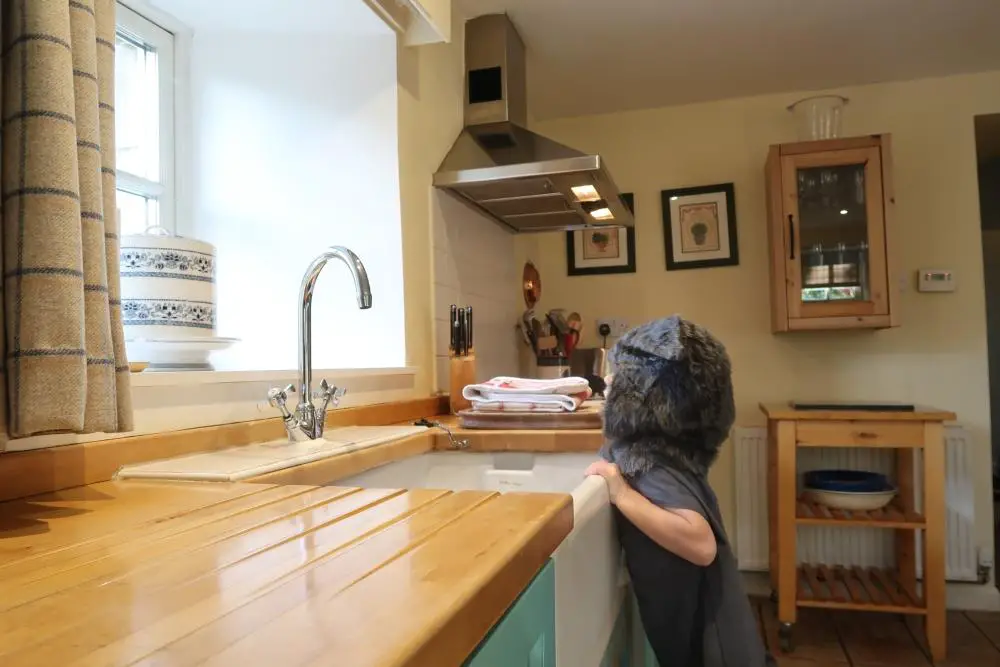 A dining table is between the kitchen and living area, plenty of room for four of us.  We had a delicious meal ready to cook from the fantastic COOK based in Edinburgh's Morningside.  More on that below.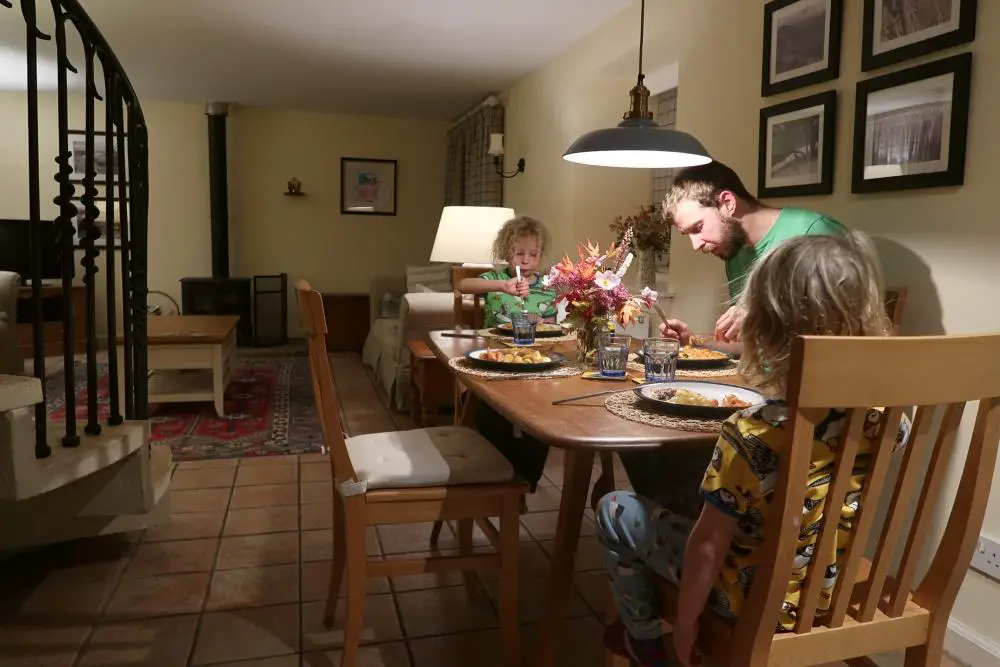 Then you walk into living area with two cosy sofas and a wood burning stove.  There is also a television, but we were too busy to use it during our stay!  All the furnishings are modern, yet traditional and make the rooms feel very warm and cosy.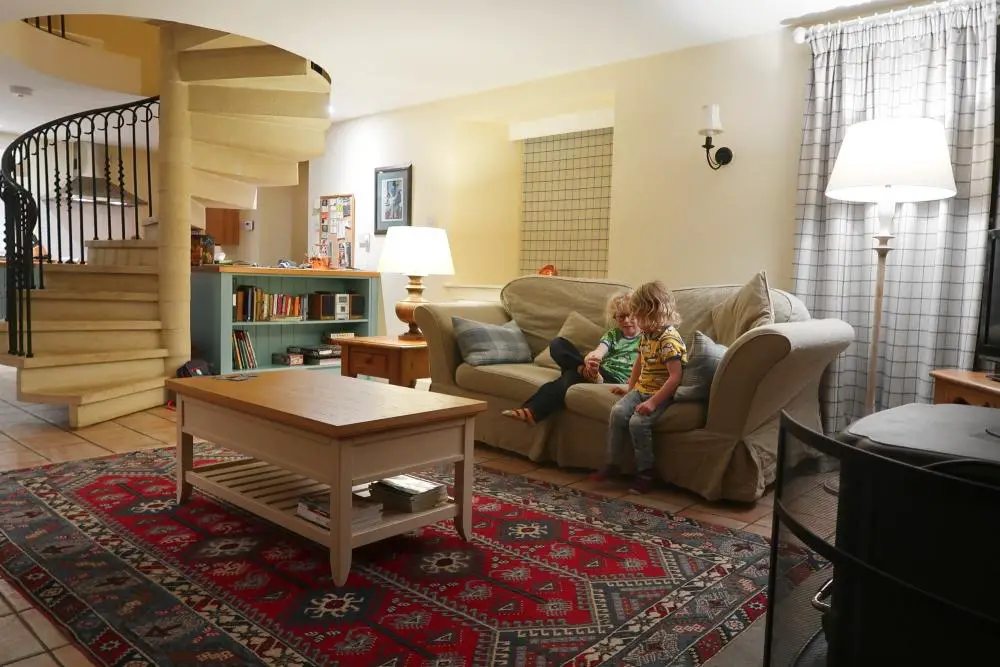 Of course the main feature downstairs is the awesome spiral staircase, which for our stay turned into Gryffindor Tower for Harry Potter shenanigans.  Wingardium Leviosa!!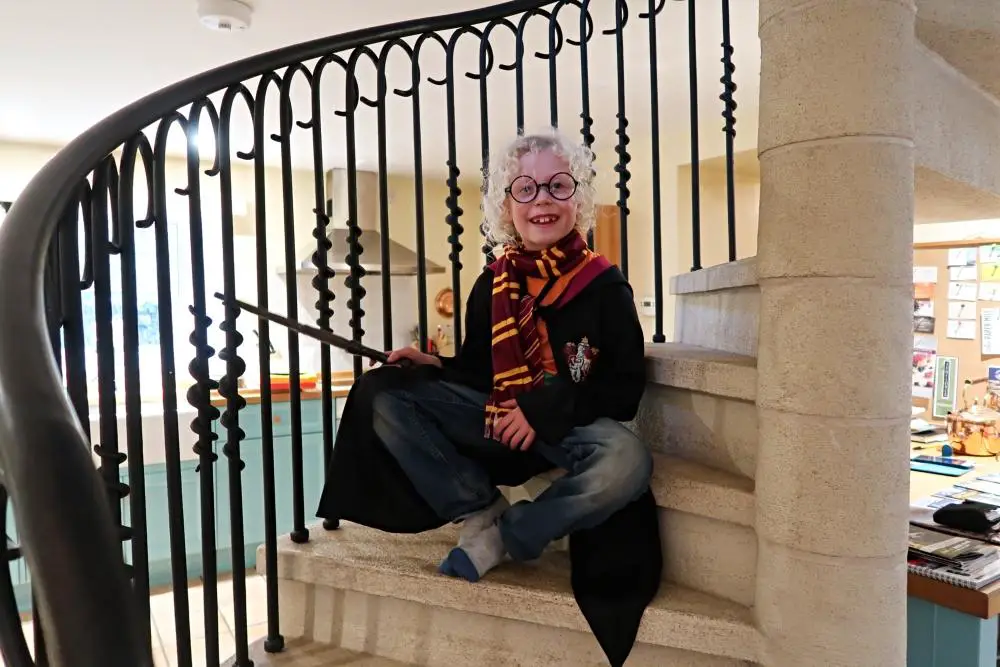 Upstairs is a bathroom and toilet, a double bedroom and a twin bedroom.  In the evening there is a really clear view of the night sky too, so our eldest enjoyed peeking out the upstairs landing window at the stars on the Saturday evening.  We could spot Orion, the seven sisters and plough.
Our bedroom had a double bed with nightstands, space for hanging clothes and a dressing table with mirror.  Littlest like to brush his hair, which is strange considering how tangly it always is! Ha ha!  I love how he was pulling faces when I took this photo of him at our mirror!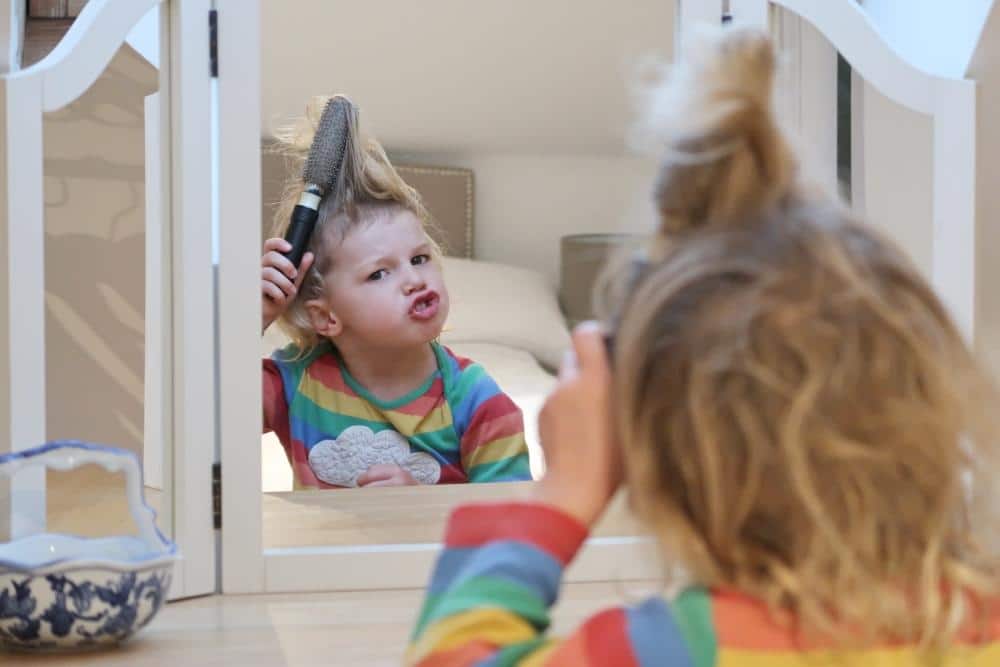 Our bed was just big enough for littlest to crawl in with us in the early hours of the morning, but our 7 year old loves a good cuddle in bed too!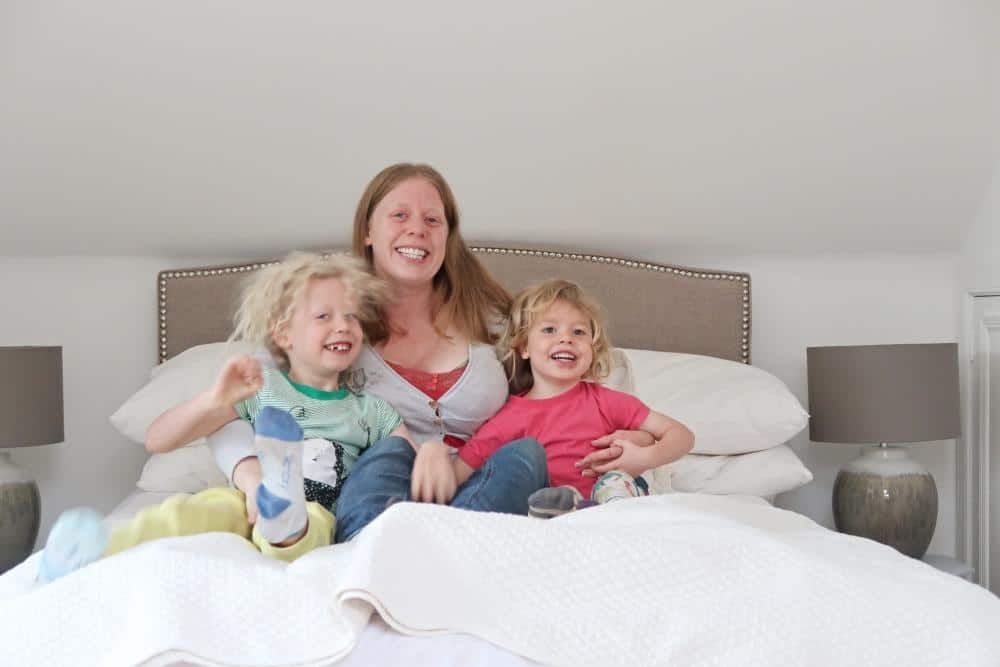 Across the landing is the twin bedroom, perfect for the kids.  Two single beds, a cupboard and dresser, so plenty of room for storage.  Our youngest has a habit of rolling out of bed, so I filled the raised alcove beside his bed with cushions just in case.  It worked well and he loved his comfy bed.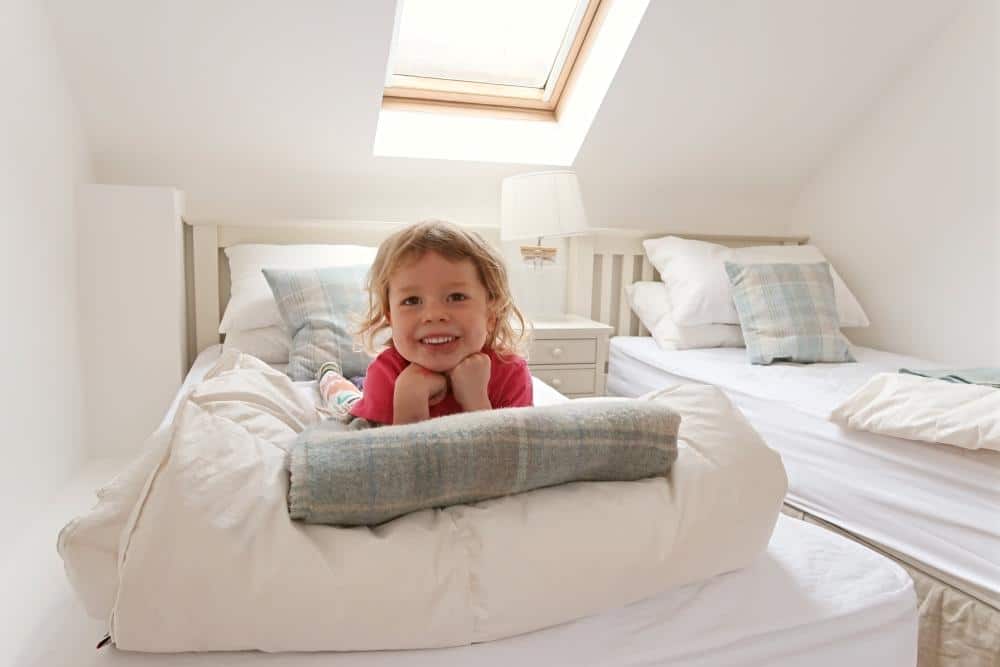 Of course they had to play their Hogwarts game upstairs too, looking out at the mini wind turbine. Not sure what part of Hogwarts has a turbine, but who knows!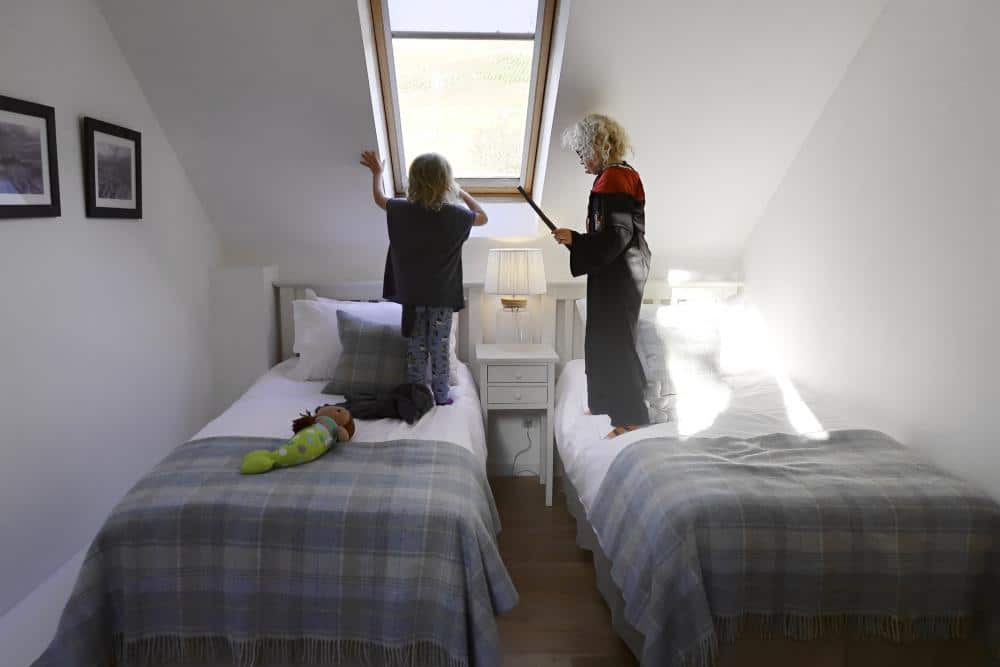 Outside there is a lovely garden that the kids would have been out in a lot if the weather had been better.  Perfect for picnics and barbecues!  There's also a sheep pen at the back of the property, where the kids were excited to see the sheep in on the Sunday morning, not sure the sheep were so keen on being watched.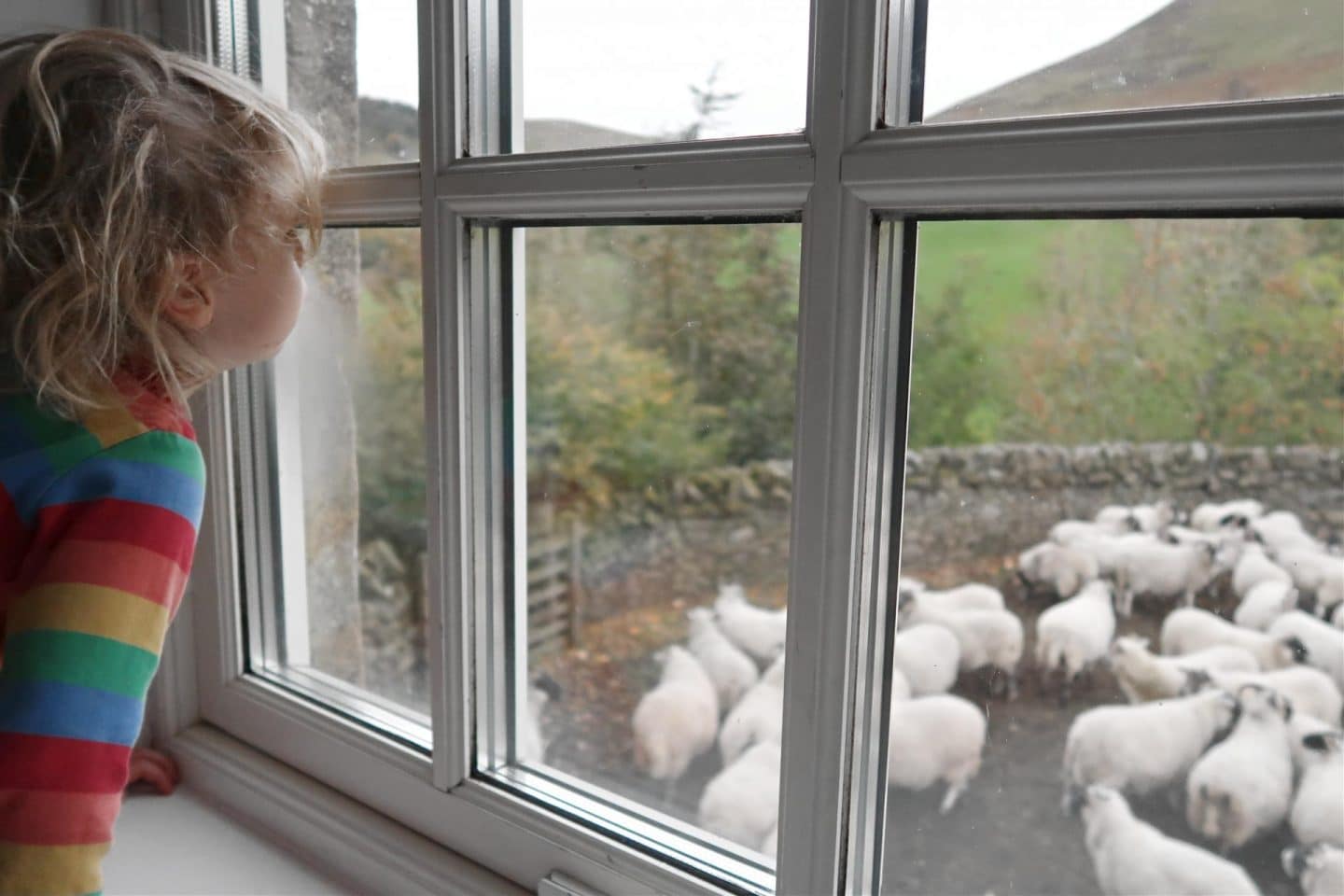 COOK Meals
Eastside Cottages are within the delivery area for COOK Morningside, Edinburgh.  So we were delighted to receive a delicious meal for the four of us ready to cook from frozen.  The idea behind COOK is that the food is prepared the same way as you would homemade food and the frozen so you can enjoy it whenever you want it.  I don't think they have tasted my home cooked food, as my vegetarian lasagne is nowhere near as tasty as this one from COOK was!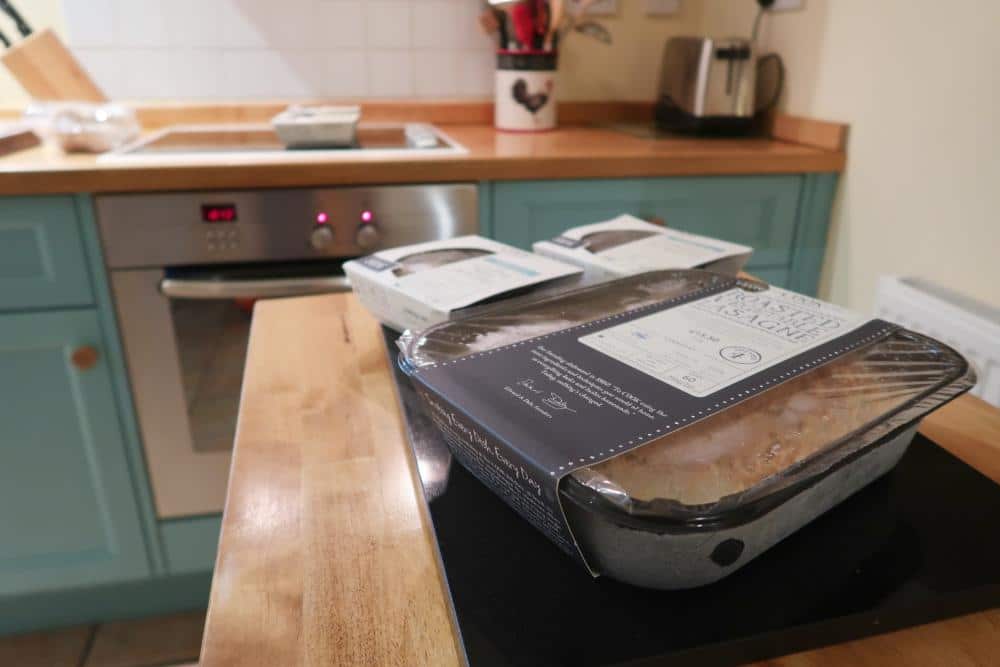 Our main course was the Roasted Vegetable Lasagne, Chantenay Carrots and Roasted Potatoes.  All amazingly delicious and flavoursome, so tempted to just buy this every week to be delivered to our house! Ha ha!
Dessert was my favourite though, probably because I have such a sweet tooth!  Chocolate and Raspberry Roulade, which was filled with delicious raspberries and cream, mmmmmmmm.  I could do with another of those!
You can check out COOK here, it's also available and other cities around the UK.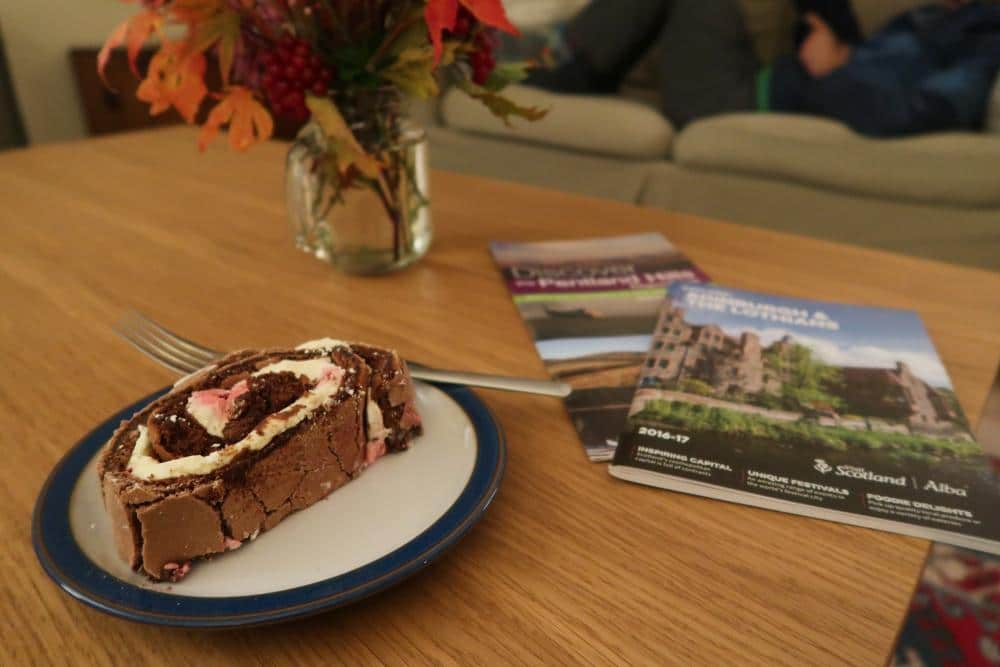 Local Area
You could easily spend a lot of your time at the cottage exploring the variety of walks around the area.  We loved getting up to the top of the hills behind the cottages and we would all have loved to go a bit further.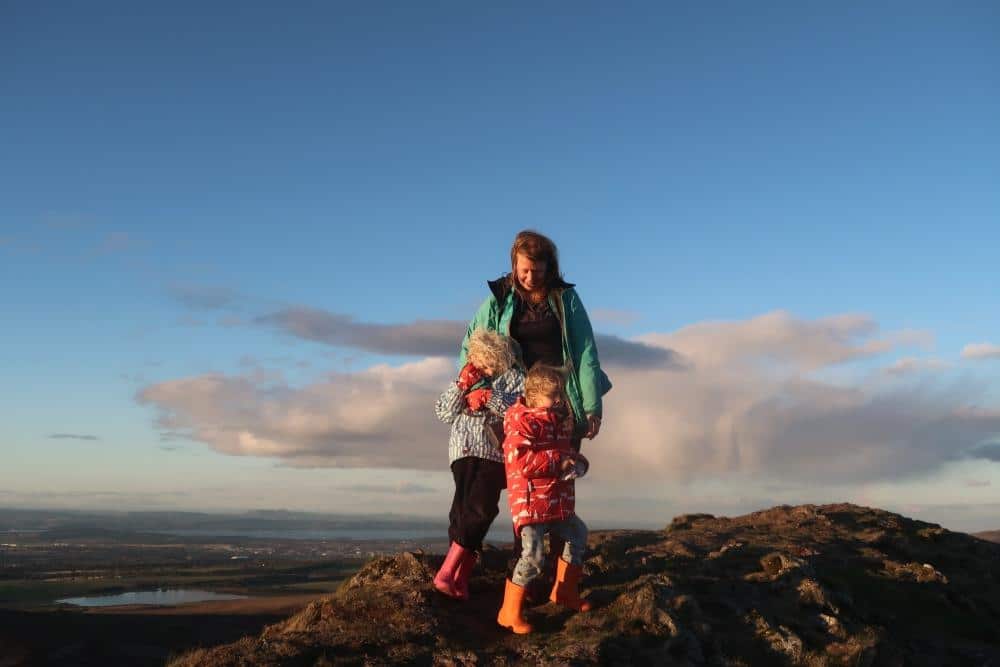 There are loads of other places to visit with an hour of the cottages, you can easily travel to both Edinburgh and Glasgow, the coast over in East Lothian, down into the Scottish Borders and over toward Biggar in South Lanarkshire.  Activities can vary from leisurely walks along beaches and in woodlands, visits to museums and sculpture parks or surfing, biking and skiing.  There is easily something for everyone in the local area!
We often visit Edinburgh itself on the train from Stirling, so for our time at Eastside Cottages we chose to do things we wouldn't normally come down for.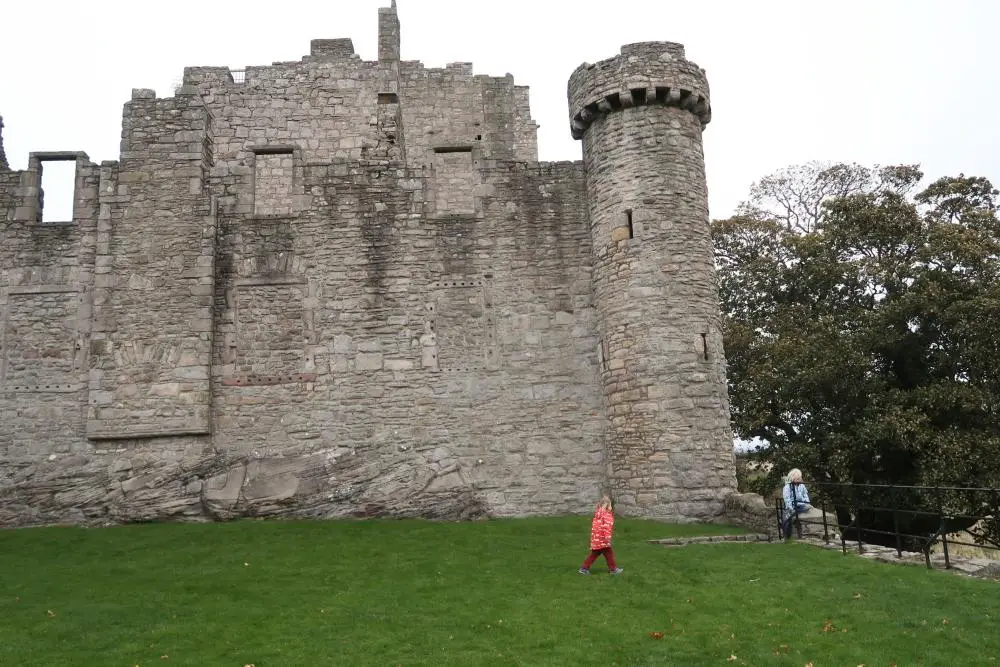 First of all we visited Craigmillar Castle on the edge of Edinburgh, perfect for historical explorers, with lots of nooks and crannies to explore.  The Yew trees within the castle may actually have been there when Mary Queen of Scots visited the castle!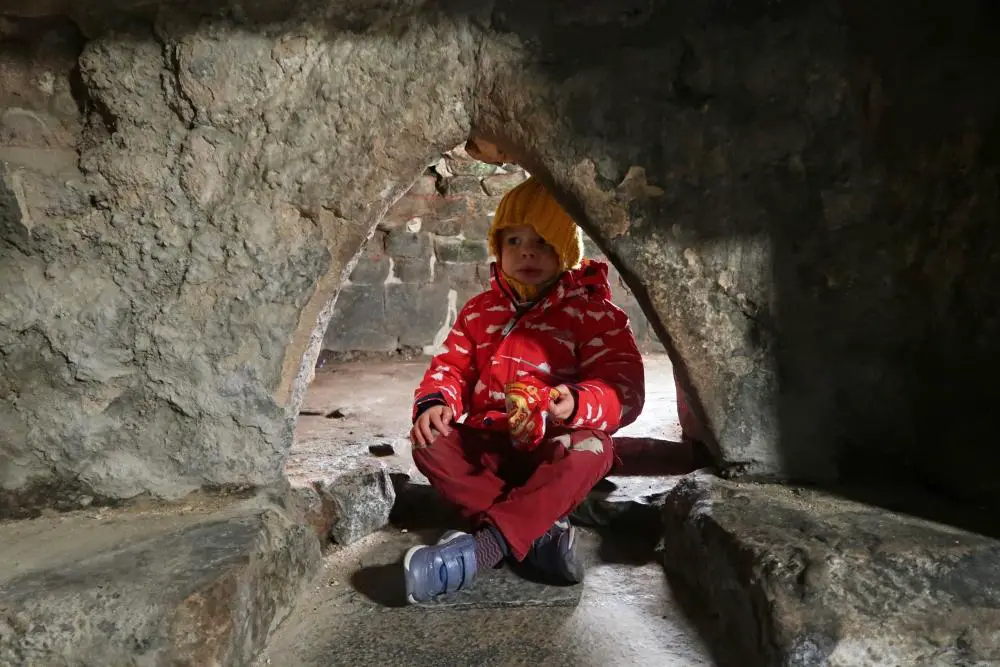 Next we headed over to Midlothian Ski Centre for a spot of tubing.  Basically a big inflatable inner tub that you sit in and slide down a dry ski slope!  You can take part from 4 years old and there is even a special travelator to take you back to the top.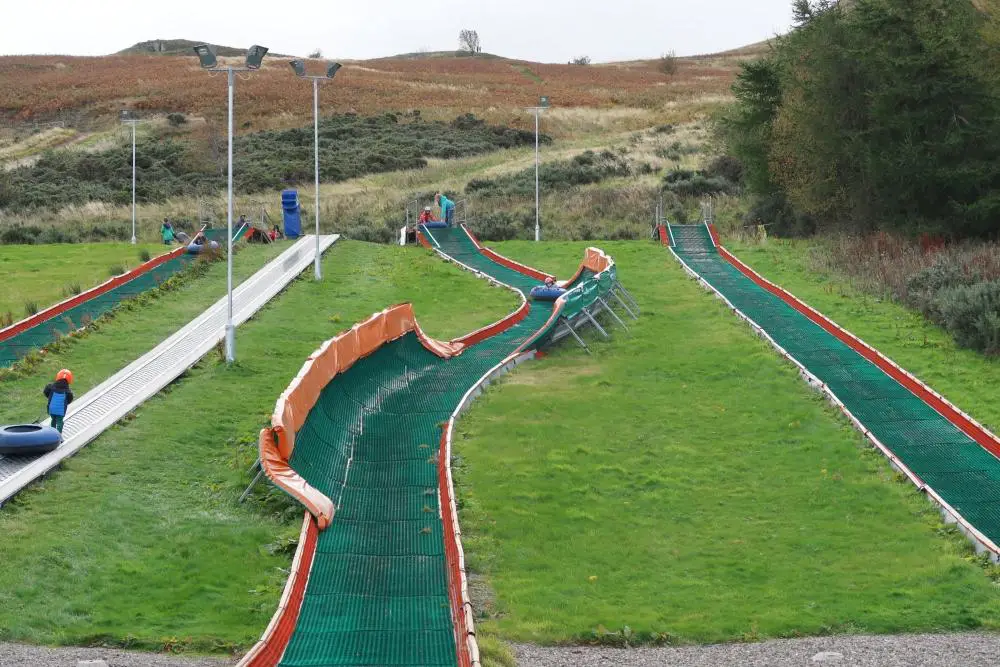 Just beware of windy days, our inner tubes tried to fly away a couple of times and the rain makes them go a lot faster than you would expect!!
Our final stop was the Restoration Yard at Dalkeith country park, for a late lunch and playing at Fort Douglas.  The food at the cafe of Restoration Yard is amazing!  Delicious and great service.  But the boys favourite part was racing about the fort, with it's bridges, zip wires and slides.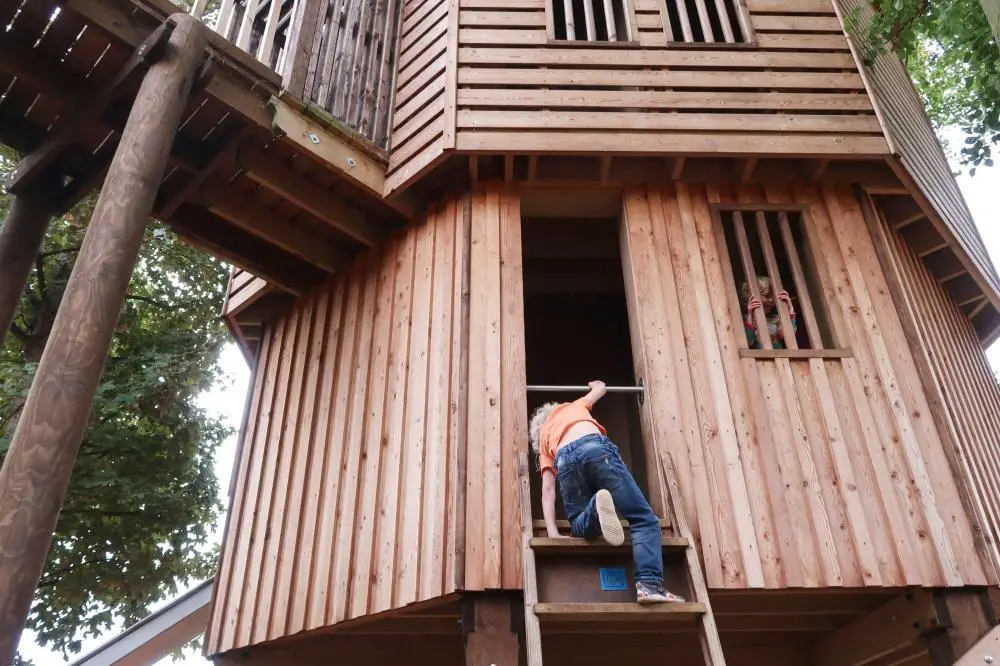 Perhaps one of the coolest thing at the fort is the wire tunnel that goes under the bridge at the entrance.  My 7 year old was straight into the tunnel to hide under the bridge, and my 4 year old followed a few minutes after.  They quite happily played in the tunnel for ages! Ha ha!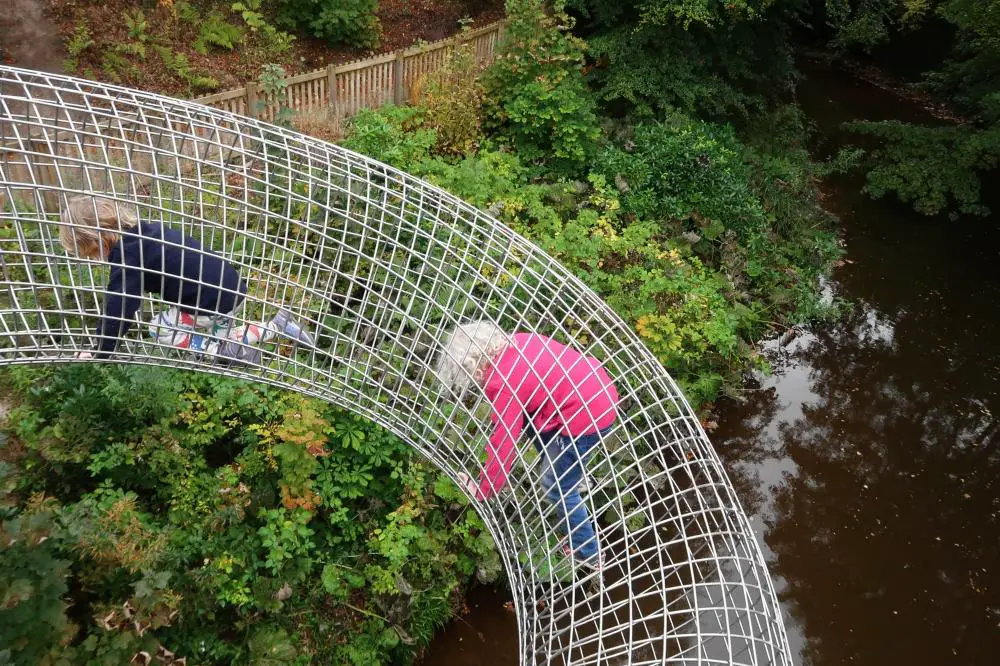 Eastside Cottages are located in the perfect setting within the stunning Pentland Hills and easy driving distance to a variety of attractions.  The steading where we stayed is the perfect size for families and great in any season, the wood burning stove makes it a cosy place to stay even on those cold winter nights.  I'll definitely be recommending Eastside Cottages to our friends!
* We were hosted by Eastside Cottages for the purpose of this post, however all opinions are my own.