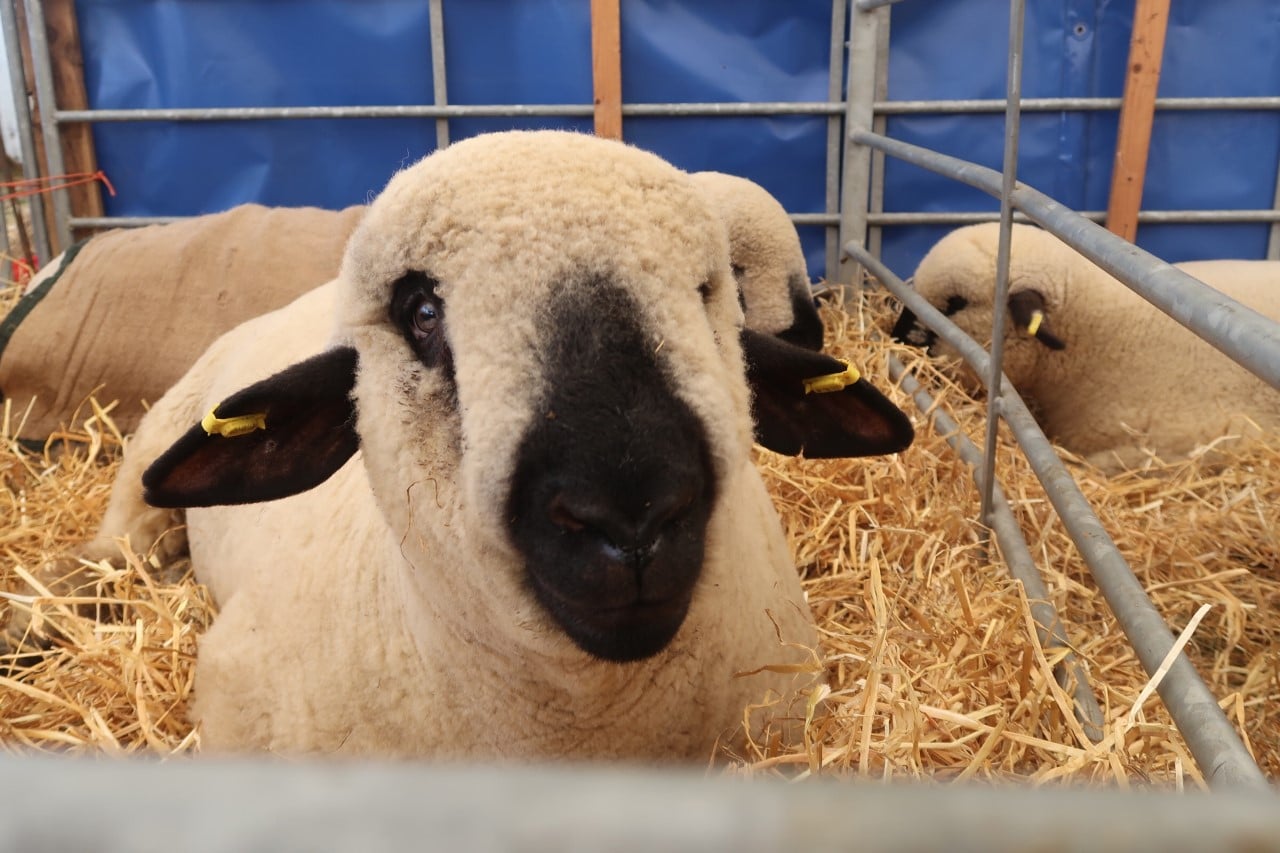 We were gifted tickets for the purpose of this post
Despite being Scottish born and bred, I have never visited the Royal Highland Show until this year.  I don't even have the excuse of living too far away, we're only a 35 minute drive up the road from Ingliston, but the kids and I have never been.  I'm so glad we made the effort to go this year and the kids had a fantastic time, asking when the show will be on again so that they can visit, which is definitely high praise in my eyes!
As kids under 15 get in free, you only need to worry about the cost for the adults and parking if you are taking the car.  You don't even need to bother with the car, as there are plenty of options for public transport too.  Check out the RHS travel page to find out more about how to access the event.
So what is the Royal Highland Show actually about?  Well first and foremost it is a 4 day long agricultural show, with plenty of animals to visit in their pens and judging to be watched in the arenas.  But it has grown into so much more and now covers a huge range of countryside activities, both working and recreational.  The show is split up into various 'areas' of interest, including the 'Countryside area', 'Lifestyle Village', 'Outdoor Lifestyle', 'Crafts Zone' and 'Agricultural Zone'.  Alongside this there were plenty of leading food and lifestyle brands dotted around giving away plenty of free goodies.
Countryside Area
We parked in the West car park and so entered into the countryside area first.  This was great as I knew one of the places the boys would be particularly interested in was the honey tent!  Inside the tent was a huge array of bee themed fun and facts.  We entered into a huge tent that had bees projected around the walls, as if we were in their hive.  Then spotted the queen bee in the real hive and learned what she and all the worker bees actually did.  Next up was beeswax candle making for the kids and honey tasting!  We went back to the tent again before we left so the kids could test the honey a second time!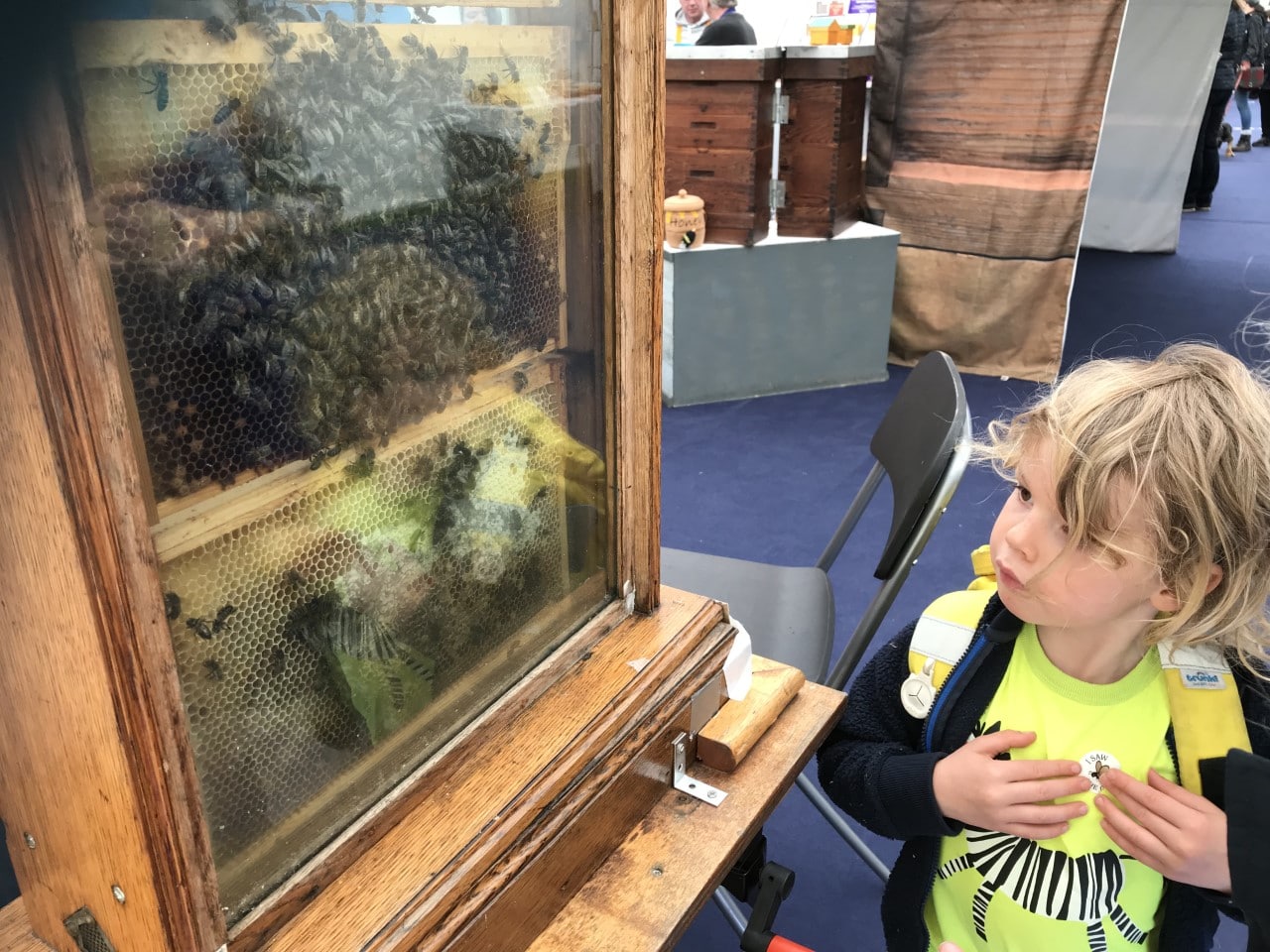 There are quite a few different shows throughout the day, including a demonstration about ferreting which we happened upon.  Bush skills and archery were going on in a tent nearby and I was personally quite interested in the natural dyes being used in the rural skills marquee.  In the same area we found a tent for bike trails in the local area and the boys had a quick go on the available bikes to test their skills on the small ramps.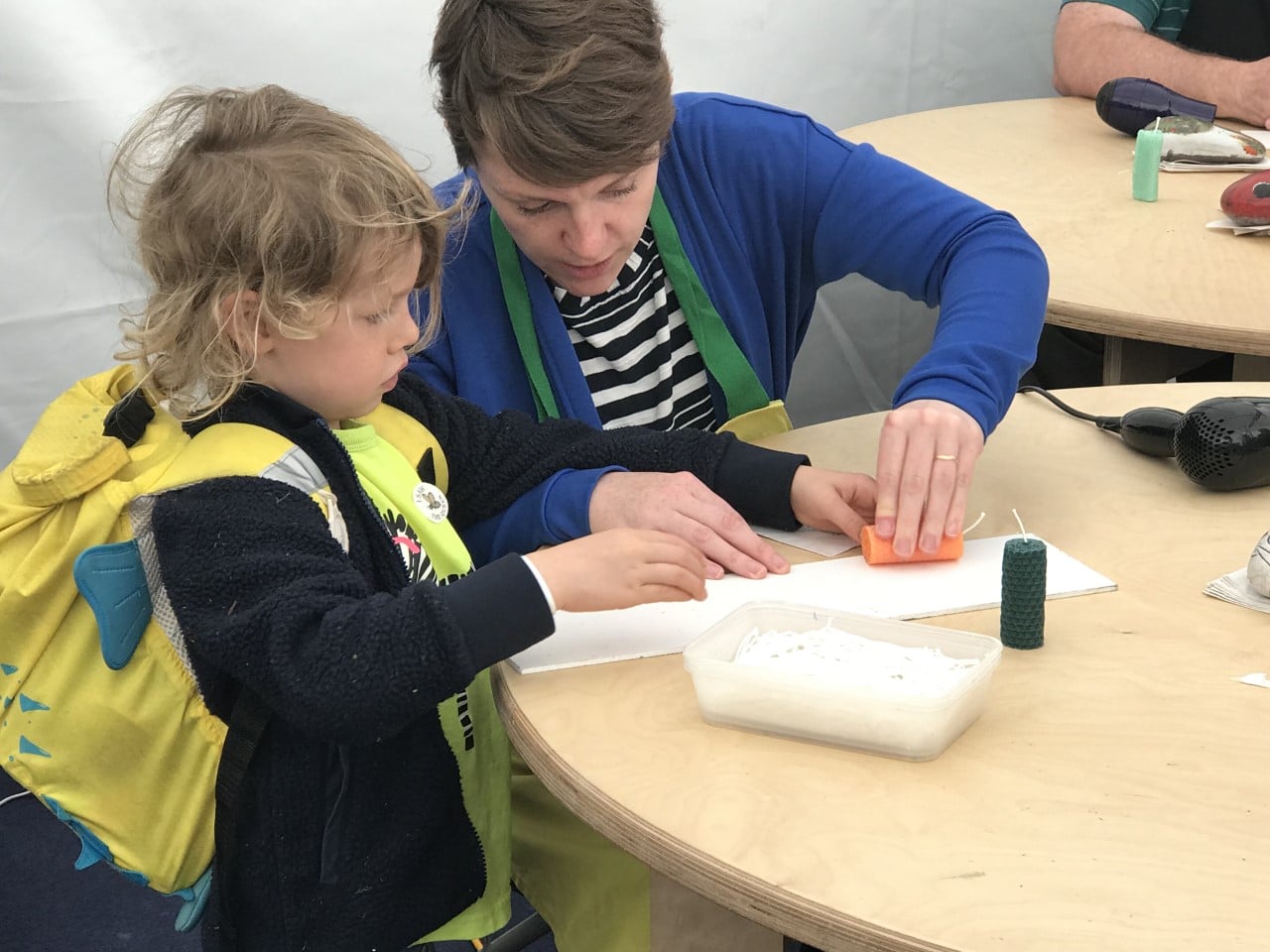 We missed a chunk of the countryside area around the poultry marquee and apparently there were Birds of Prey nearby too.  But with the size of the show you are inevitably going to miss some parts if you are only there for 1 day.
Lifestyle Village
We only walked along one of the avenues in the Lifestyle village, it was mainly shops for buying outdoor clothing and footwear.  We didn't spot anything the kids were particularly interested in, aside some fairground style games.
If you have older children or are looking to do a little shopping whilst someone else is looking after the kids, then this will be the area you want to visit, with plenty of great shops to browse!
Outdoor Lifestyle
This area was where my eldest really wanted to visit as it's home to the forestry arena and the 100 years of forestry display.  My husband trained as a forester and is now an arborist, so the children were keen to see some of the machinery used here.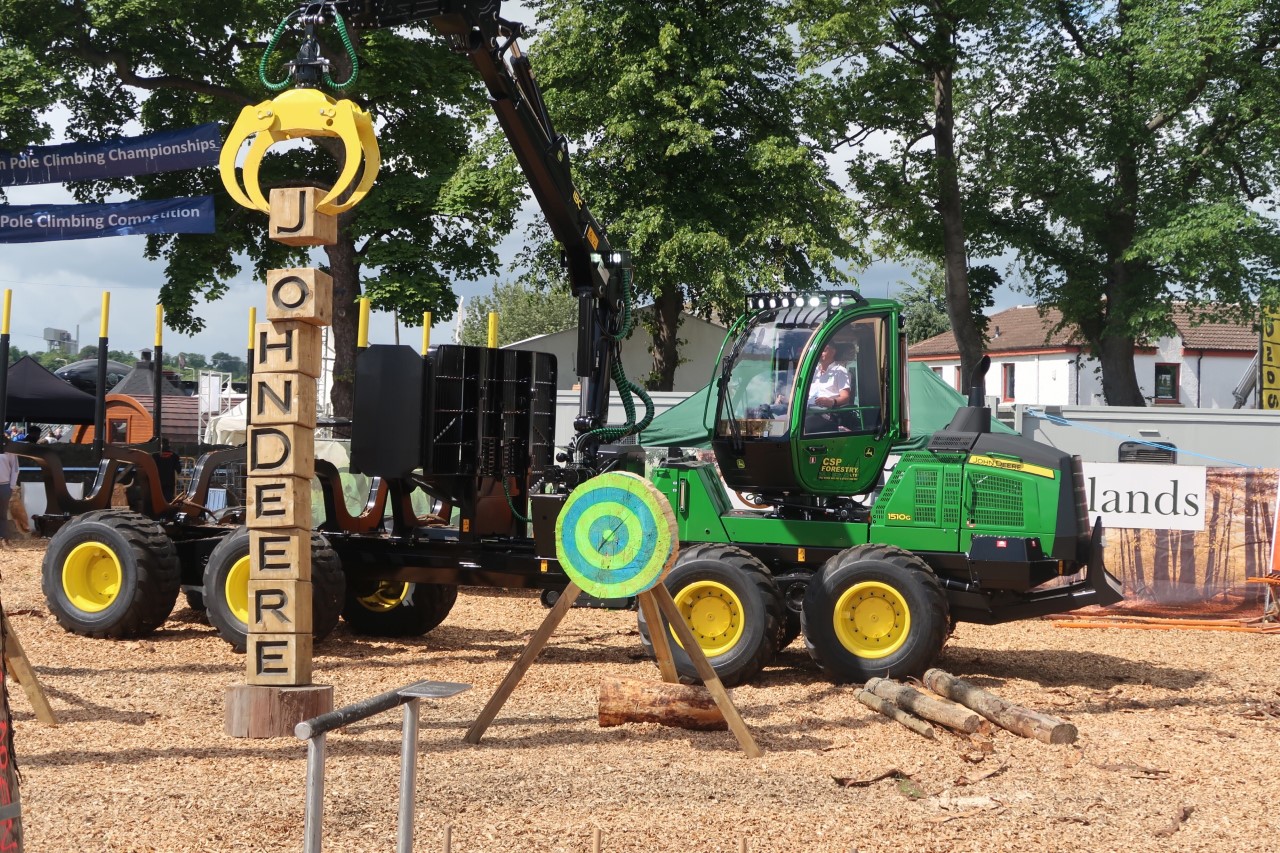 When we first arrived at the arena there was a display of axe throwing at targets and then a horse logging demonstration, which was interesting to watch.  After this it was time for the big machinery to show off, with a John Deere forwarder demonstrating it's capabilities.  The best part of this for the audience was watching the forwarder carefully spell out John Deere in large blocks stacked precariously one on top of the other.  Pretty impressive skill from the operator!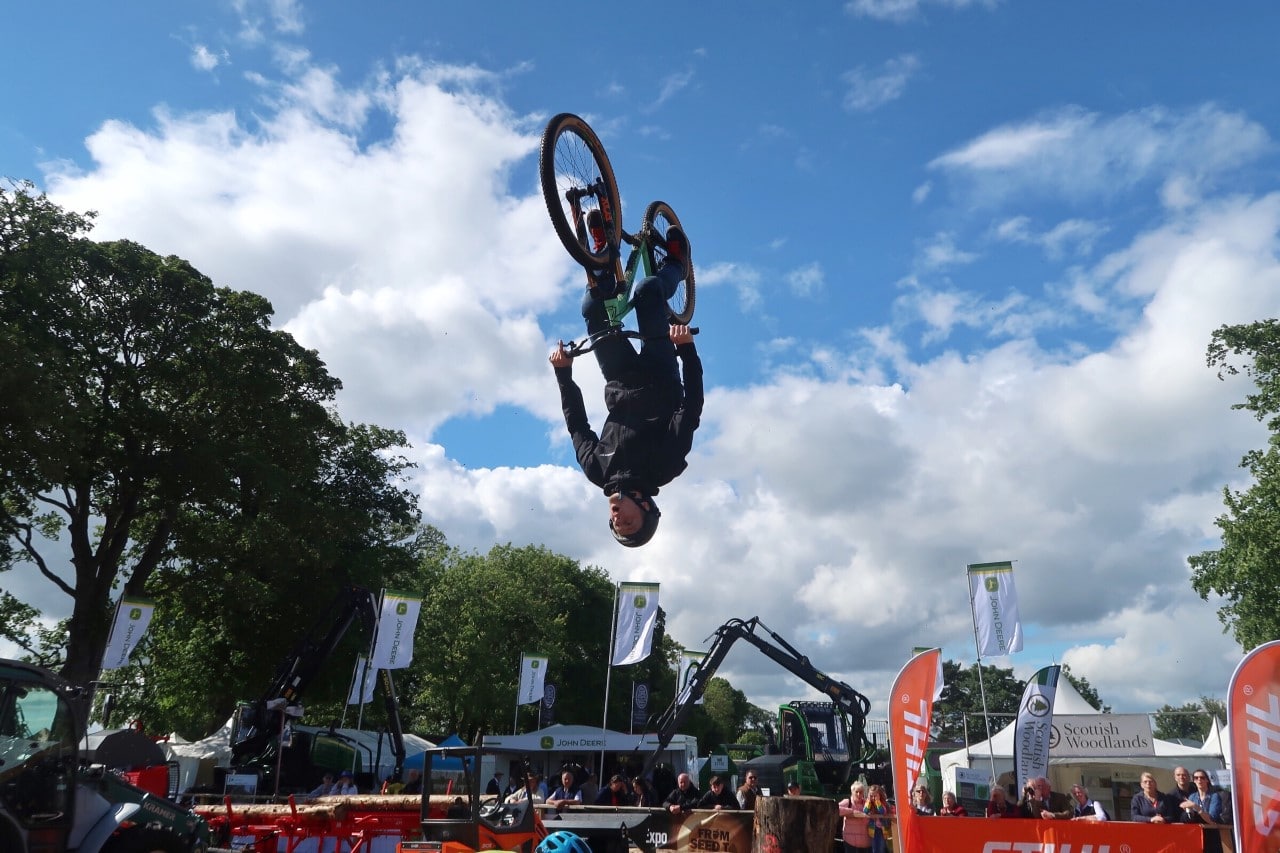 Whilst all of the forestry displays were going on the children had noticed to cyclists setting up equipment in the arena too.  Not long after the John Deere demonstration they had the chance to show off their own abilities, which were really rather impressive.  There were jumps from platform to platform, up large tree trunks and flipping upside down in the air and landing gracefully!  We came back to watch the bikes a second time on the way back toward the car and despite the ground being wet after a shower, they still managed a very impressive show with no mistakes!
Crafts Zone
The crafts zone was my own personal choice and although the kids didn't initially want to go in, they were pretty impressed by what they found inside.   A huge array of beautiful artwork in the form of paintings, jewellery, woodwork, paper cuts and stone carving among other things.  The children particularly loved the tactile nature of the carved pebbles and I spotted quite a few pieces of fused glass and felt work.
If you are interested in crafts, even just a tiny bit, then you will definitely enjoy looking through all the stalls in the craft tents.
Agricultural Zone
I can't say I'm hugely interested in agricultural machines, but my children, especially the 7 year old like to look at them.  If my husband had been with us we would have spent a lot more time in this area, but instead we just walked through on the way to see other tents.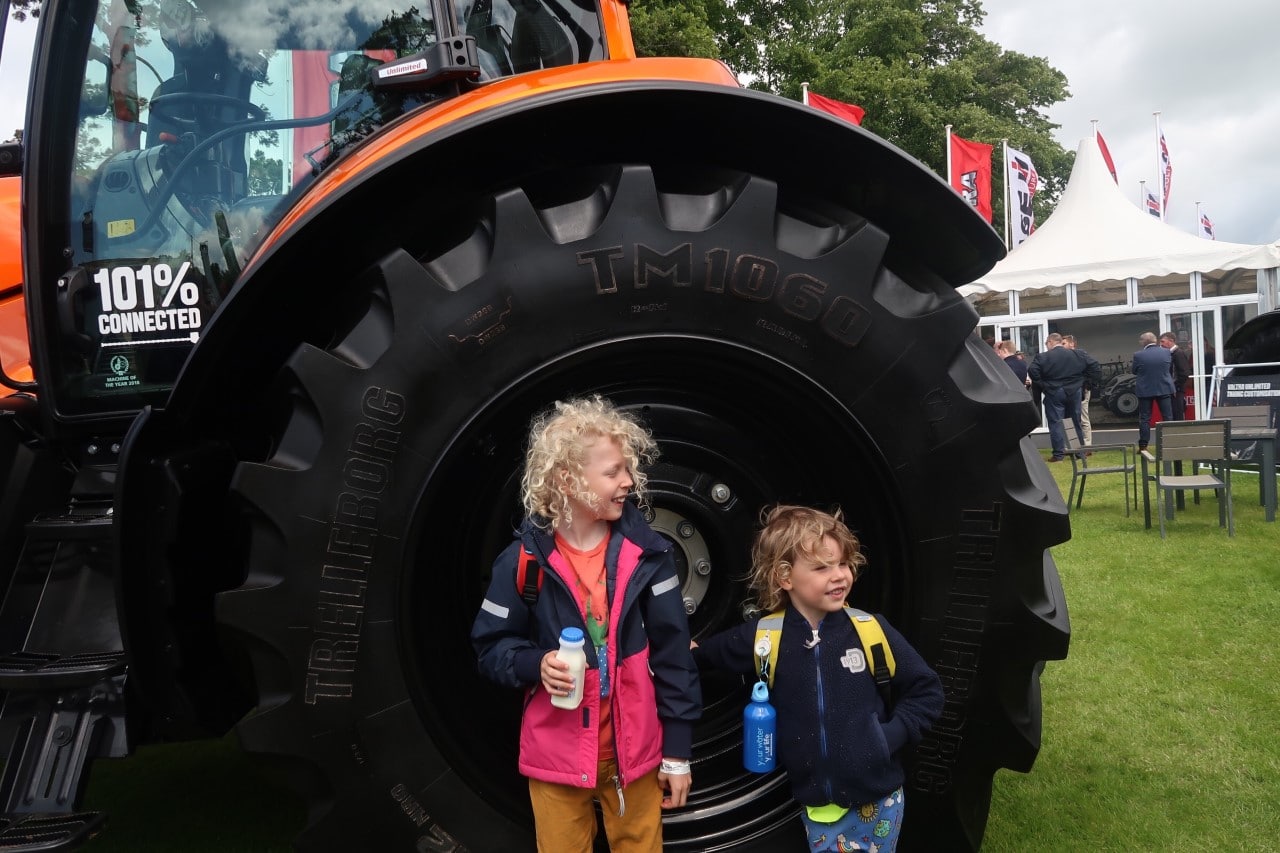 The agricultural zone has a HUGE variety of vehicles, from telehandler's and tractors to quad bikes and combines!  You can wander through and get up close to all the vehicles, if you are really interested you can also ask to sit inside the vehicles.   However, I assume this is only for those actually interested in making a purchase!
If you or the kids like farm vehicles, then you can wander to your hearts content around this zone!
Educational Marquees
There is no specific 'education' area, but we found several tents aimed at education, including the Scottish agricultural college and the RHET marquee.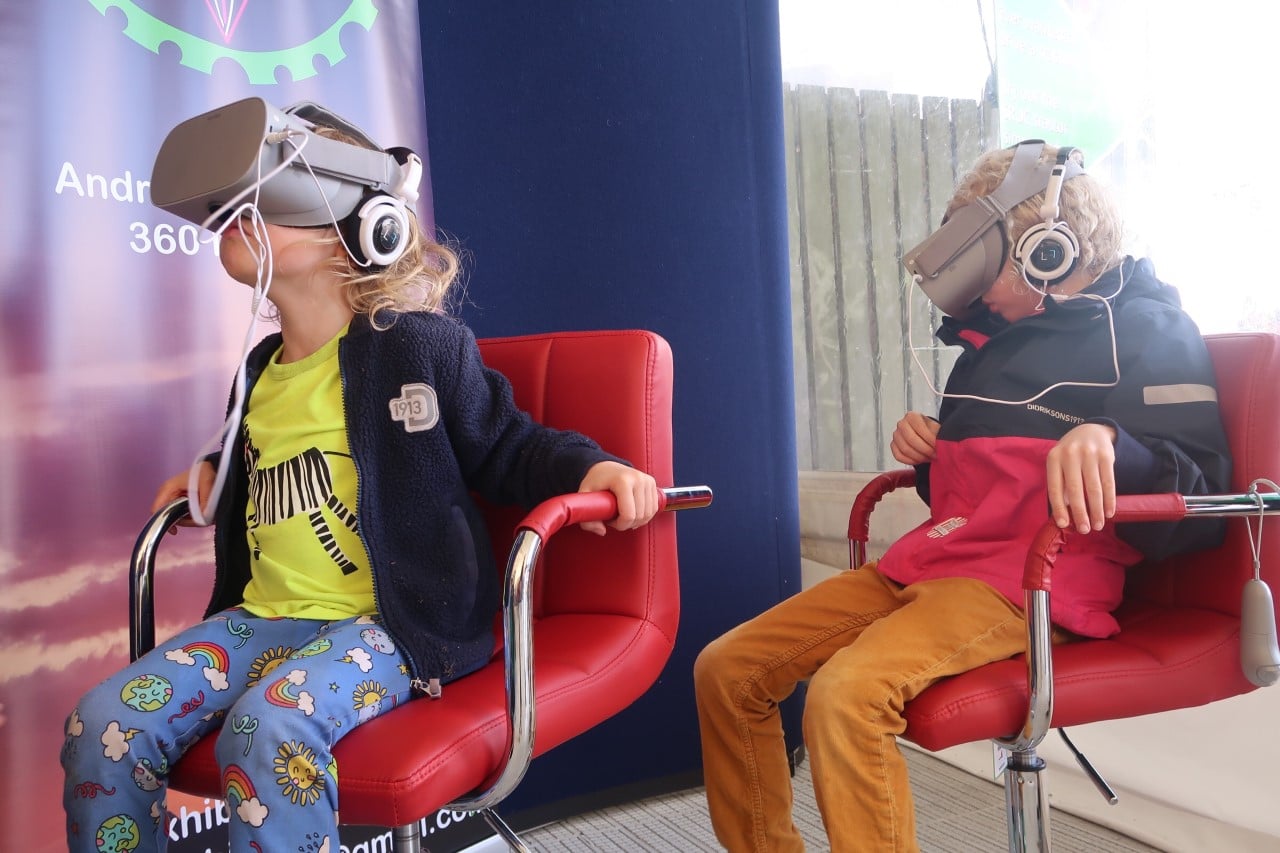 The Scottish Agricultural College had an interactive tractor cab outside their marquee, where kids could try their hand at tractor driving.  Littlest decided this was so he could decide whether he wanted to drive tractors when he was older!  Inside the marquee were smoothies and delicious tasters, including parliament cake, which was delicious!  Plus the kids had a chance to fly a drone on a giant computer screen and explore a farm inside a VR headset.  I always love watching people wearing VR headsets, as they slowly turn around, look in all directions and even reach out tentatively to touch things!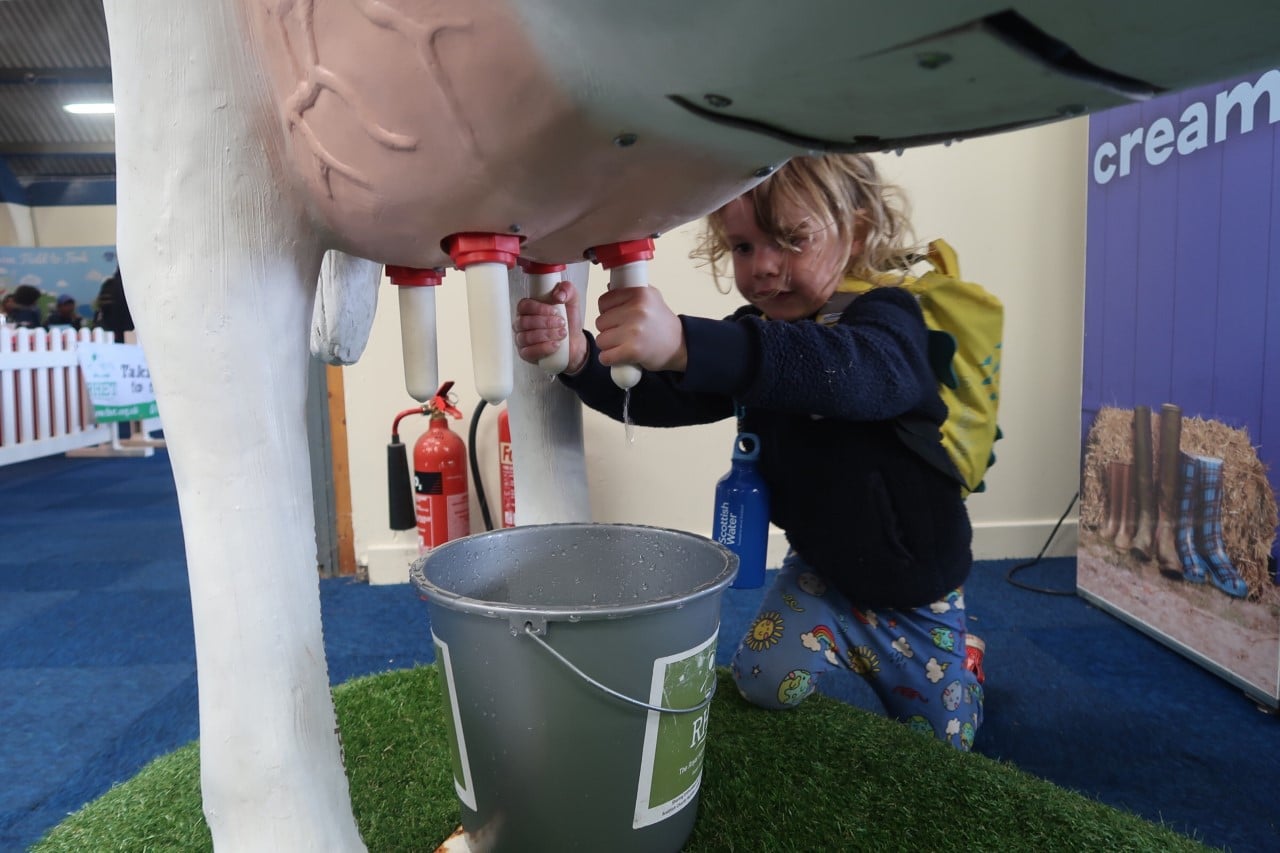 The RHET Discovery Centre is for children to try out a variety of hands-on activities and groups can book guided tours and sessions.  There were quite a few school groups there on our visit, hats off to those in charge as I can't imagine taking a large group of kids somewhere that can be so busy!  We tried our hand at milking the dairy cow and the kids were given a small carton of milk each as a reward, plus pedalling bikes to get an interactive cattle display working.  There was plenty more to see in the tent, but perhaps it's better to visit on one of the weekend days when the school kids aren't there?
Animals
You can watch the animals being judged and walking around the grandstand during the competitions, or you are welcome to wander around the pens.  The cattle and sheep are in separate areas of the show ground and you can also head over to watch the sheep shearing, which we managed to miss somehow!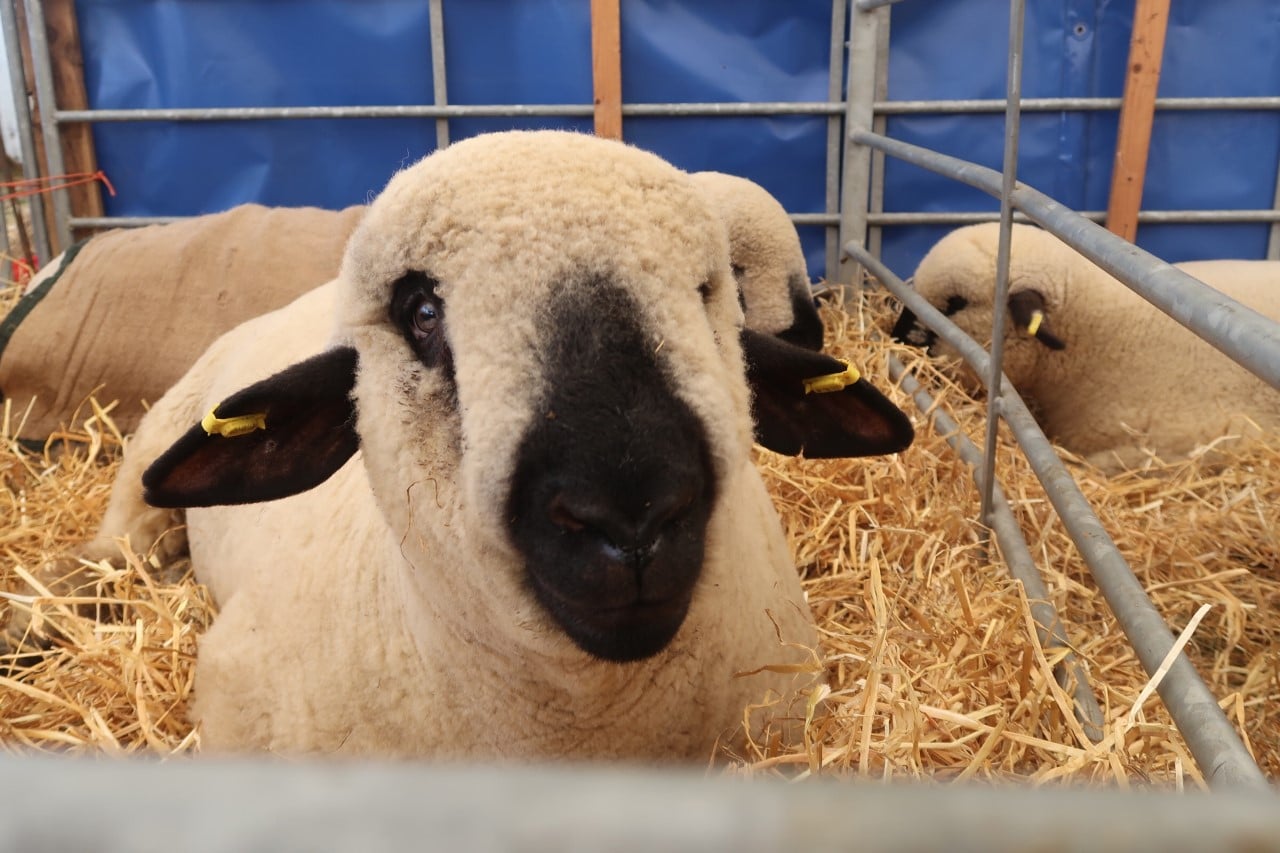 The kids did enjoy a visit to the Forge, where the horses were being fitted for horseshoes.  It was quite warm, if a little bit smelly in there, but interesting to see how the shoes were forged in the fire.  Another area of the show ground is set aside for the equestrians and a perfect area to watch whilst the kids have a snack.  The riders are all very talented and the kids enjoyed watching them make their rounds of the field.
Foodie Fun
The Scottish Larder marquee is where all the cheese and other items are judged, but you can also buy plenty of different types of produce.  The kids and I had great fun testing the different cheeses, crackers and preserves available.  Although we did end up in the larder due to a heavy shower and it got pretty busy in there!
Lots of big brand supermarkets were at the show, each of them with many plates and bowls or taster food to try.  At some there were competitions to find the difference between branded products and supermarket own, others had cooking demonstrations, which even gave my eldest a chance to try steak for the first time!
Almost all the supermarkets had Scottish strawberries, so we pigged out a lot on those, as well as crisps, biscuits and cheese!  It was interesting to see such a variety of food and the kids weren't too hungry after all the tasters!
Hints and Tips
Don't buy the kids lunch!  Seriously, just bring some snacks and refillable water bottles.  There are various points to refill your water bottles around the site and the kids even got a free Scottish Water mini water bottle for filling in a survey for Scottish Water too!
As for the food, there are delicious meals, but they are expensive (around £8) and if you know your children aren't likely to finish a meal then it's simply not worth it.  Just head to the Scottish Larder area or to one of the many supermarket brand marquees where you can test hundreds of different types of foods and snacks.  I had spent money on the kids lunch as they had already gone through all our snacks, but they only ate a tiny bit of their meals.  Yet an hour later they stuffed themselves with meat, crackers, cheese, strawberries, crisps and sweet food in the marquees!  So my biggest tip would be to find the food tents when the kids are getting hungry.
Plan where you would like to go in advance.  As I mentioned before there is just too much to see in one day.  Find out what the kids want to see and choose your own favourite points of interest.  Then plan a route so that you hit each of these and perhaps discover some more places in-between.
The next Royal Highland Show is from the 18th-21st June 2020.