Wildlife in Scotland
If you visit Scotland then it's likely you are going to want to see some of the beautiful landscapes and heritage our country has.  However most people also want to find places to watch wildlife in Scotland.  We are lucky to have a lot of fantastic fauna to spot, even if you are planning to stay in more tourist'y' areas!  Keep reading to find out what animals you can see and where to spot them.
Best Places to See Puffins in Scotland
Puffins are always a favourite bird to spot in Scotland.  Their multi-coloured beaks and adorable nature are a huge hit .  Fortunately there are various places that you can watch puffins in Scotland.  If you are visiting the East coast near Edinburgh or into the Kingdom of Fife then the Isle of May is a good bet.  You can book a place on a boat from either Anstruther in Fife or from North Berwick.
On the West coast a good place to take a boat trip from is the Isle of Mull.  Boats travel from Tobermory to the Isle of Lunga in the Treshnish Isles, where you can easily walk just a metre or so away from the puffins.  You can also visit the island of Staffa from either Tobermory or Fionnphort, where there is a much smaller colony of puffins.
Other good spots, but further North in Scotland are Handa Island (accessed by boat from Tarbet on the NW coast) and Sumburgh Head in Shetland.
Where to Spot Otters in Scotland
You can find otters throughout Scotland and can easily be lucky to spot one at the edge of a loch or river if you are quiet. Of course this is easier said than done!  There are no guarantees with otters, although if you ask locals they may be able to help you.  If you can find out which areas otters are frequenting, then head there at dusk or dawn to look for them. The Outer Hebrides, Isle of Mull and Shetland Isles are all popular places for otter spotting.
One well known area to see otters is from an otter hide at Kylerhea on the Isle of Skye.  Otters are often seen swimming around the shoreline there and many people visit in the hope to see them.  However, as before, you can't guarantee seeing them, even at the hide!
Places to Find Seal Colonies in Scotland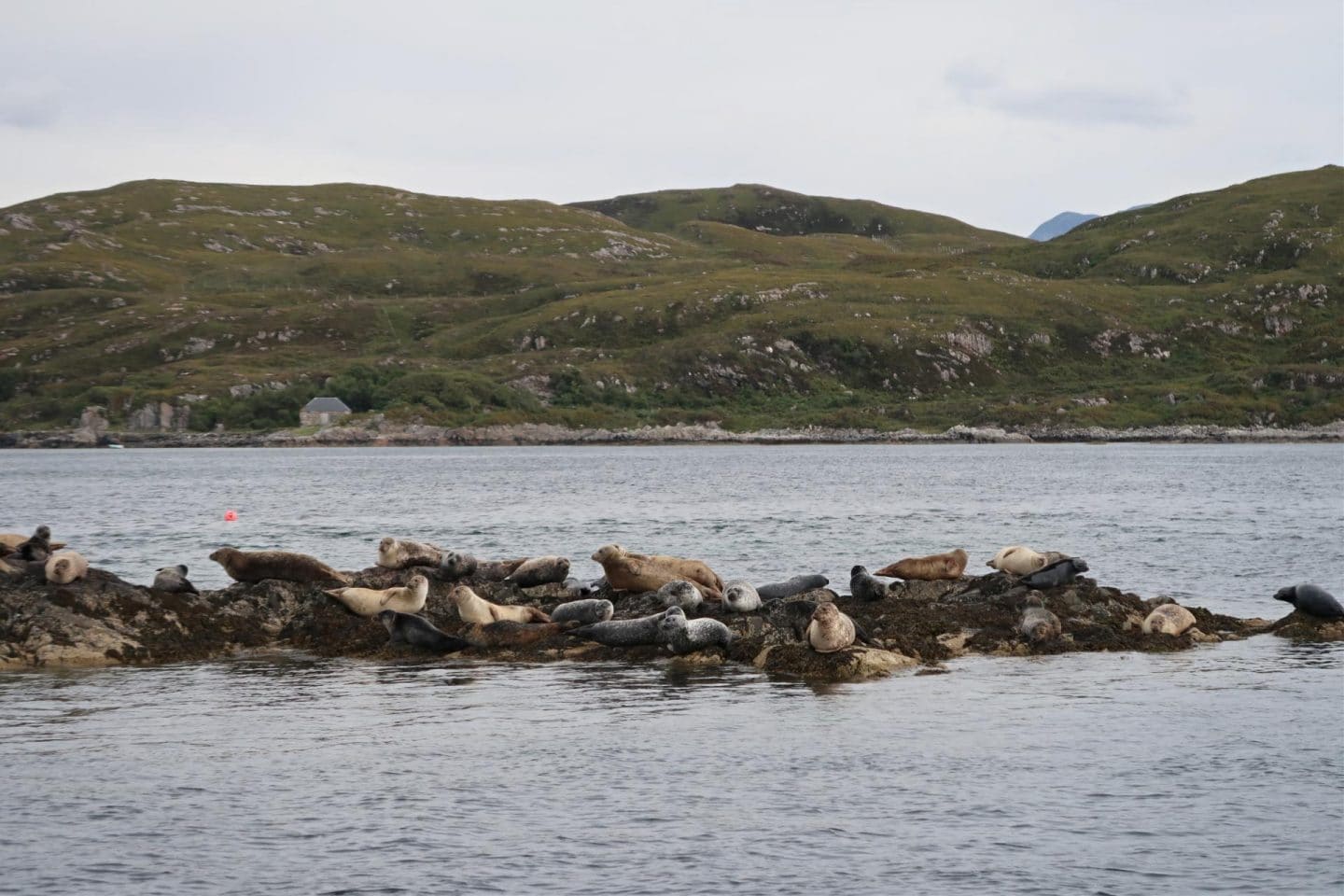 Seals can be found all around Scotland's coastline, so you are likely to see one bobbing around offshore fairly easily.  Often seals haul out on rocks on the West coast and are best seen by boat or kayak.  Although there are a few places around the country where they haul out on beaches.
You can find both harbour seals and grey seals in Scotland. Around 90% of the UK's grey seals breed in colonies in Scotland and the harbour seal is endangered, so they are both rather important European species.  The grey seal is distinguishable by being much larger with an oval head and 'roman nose' when compared to harbour seals.
There are lots of places to spot seals, but some of the best haul out sites include St Abb's Head, Culzean Country Park, Tentsmuir NNR and the Moray Firth.  However, you should never get too close to seals hauled out as you can startle them, which is especially dangerous when pups are around.  The best way to see seals close up would definitely be by the water in a boat or kayak.
Best Place to Spot Sea Eagles In Scotland
White Tailed Sea Eagles were reintroduced to Scotland's West coast between the 1970's-1990's and to the East coast in 2007.  Since then they have been very successful in establishing themselves as a key Scottish bird species.  They are fairly easy to spot when driving around the Isle of Mull and many boat trips around Mull will point the sea eagles out to visitors. You may also be able to spot them along the Fife and Angus coastlines.
Mull also has a viewing hide for sea eagles, you can find out more here.  In winter the sea eagles can be seen throughout Scotland, particularly attracted to larger lochs such as Loch Leven.
Where to find Red Deer in Scotland
Red deer are found throughout Northern Scotland, although the best place to spot them would be the highlands or on the Isle of Rum.  Most people are keen to see red deer during rutting, when the males have a distinctive bellowing sound.  The best time to visit for this is between September and early November.
Although red deer can be spotted throughout the highlands and you may be lucky in seeing them whilst walking, it may be useful to go on a red deer safari with Highland Safari's or similar. If you do see red deer fighting please keep your distance, they are wild animals and can be dangerous.
The Best Place To Find Beavers in Scotland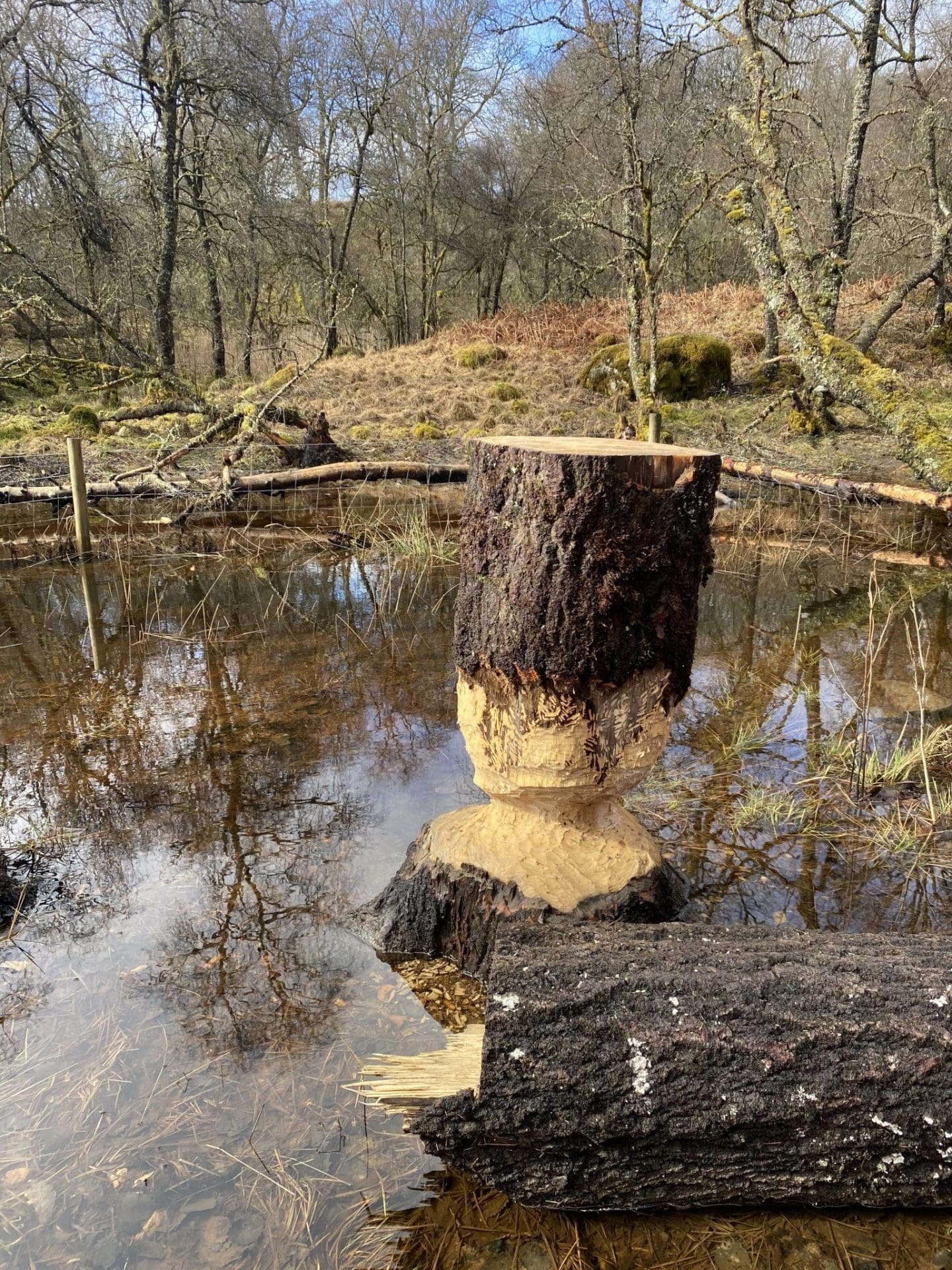 Beavers were reintroduced to Argyll in 2009 and you can visit Knapdale to see signs of beaver feeding and if you're lucky spot a beaver too!  There are currently guided tours in the evenings during summer to try and spot the beavers, so this could be a great way to actually see the beavers!
Alternatively they are other areas around Scotland where the Eurasian beaver has escaped from private collections.  The river Tay and tributaries are one area. Although we've also spotted beaver activity on the cycle path at Lochearnhead and along the walk behind the Crieff Ceramics and Bennybeg nursery near Crieff.  You are mostly looking for the distinctive bite marks on trees and young trees chopped off at angles with clear bite marks.  You can find lots of pictures of evidence online to help you identify evidence.
Places To Spot Golden Eagles in Scotland
Although white tailed sea eagles are well known on the Isle of Mull, you may not realise that you can also spot golden eagles there too.  Head to Ben More on Mull for the best possibility of spotting the elusive golden eagle.
Other good areas to watch golden eagles include the hills around Gairloch, Beinn Eighe National Nature Reserve and the Cairngorms. Check ID guides as (especially in white tailed sea eagle areas) they are easy to mix up with other raptors.  But once you've seen a golden eagle you will be impressed!
Easy Places to Watch Red Squirrels – Watch Wildlife in Scotland
Red squirrels are one of the most iconic Scottish animals, everyone wants to see one.  Fortunately it's really not that difficult!  There are various places around Scotland where, if you sit or walk quietly you will see red squirrels.  I say sit quietly as this is one of the best ways to see red squirrels is to sit quietly in a spot well known for red squirrels, check the red squirrel sightings map here.
One of our favourite spots to see red squirrels is the Lodge at Aberfoyle.  It's very rare that we don't see red squirrels either at the squirrel hide or in the woods (despite having noisy children!).  Other good spots include Galloway Forest Park, Blair Atholl Estate, Carnie Woods and Huntly Peregrine Centre.  Keep an eye out for movement whichever woodland you are in and you just might see a squirrel scampering in the woods!  You can also spot red squirrels online with the Balmoral red squirrel camera.
Pine Marten Spotting Areas in Scotland
Who wouldn't love to see an adorable pine marten in the wild?  Some lucky people in the highlands even have them visiting their gardens!  However, you can also attempt to spot pine marten at one of these great locations.  The Aigas Field Centre have paid tours that can include visits to their pine marten hides.  The Cairngorms are well know for their pine marten populations, Speyside Wildlife hide is recommended by many, but as with Aigas this does have a cost.
If you don't want to pay for a tour to take you to a wildlife hide, then try visiting popular pine marten areas at dusk or dawn.  You can also try talking to locals and get information on where they have recently been seen.
Where to See Badgers – Watch Wildlife in Scotland
There is something very iconic about badgers and their behaviour.  They are enjoyed by many and fortunately you can spot them at many places throughout Scotland.  Badger sets are very common, but as badgers are nocturnal you will need to visit in the evening around dusk for the best chance.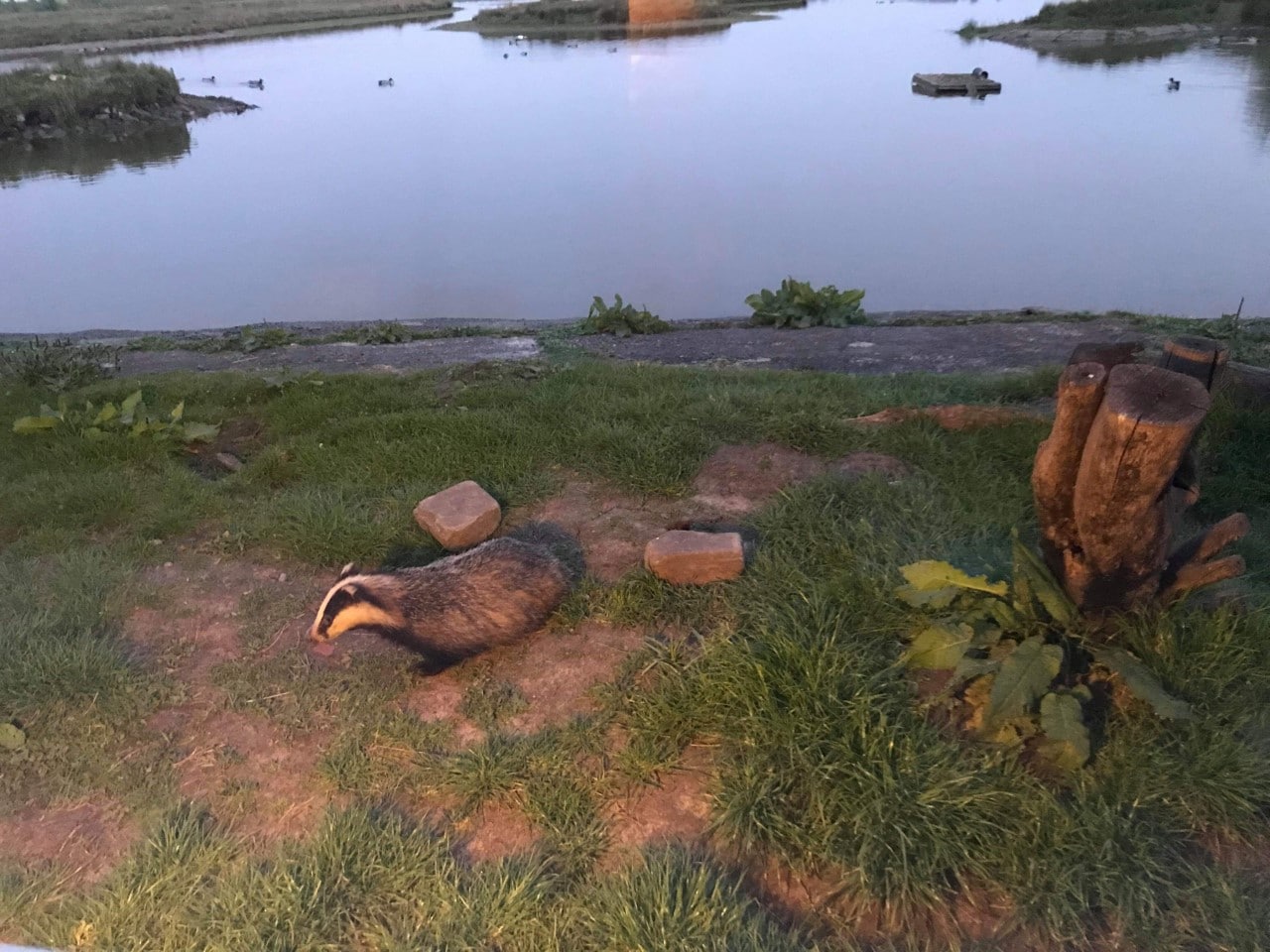 There are various locations where you can pay for tours to visit badgers in protected areas.  You can stay in the lovely farmhouse at Caerlaverock WWT reserve, which has a built in badger watching conservatory!  Every day the staff leave food out for the badgers in various places in front of the conservatory area looking over the pond.  Then each evening a badger or few will come along to find the treats left out.  It's fantastic to watch them whilst sitting in your pyjamas!
Alternatively you can pay for a badger watching tour at a local set in the woods beside New Lanark.  Or visit the Boat of Garten wildlife hide for an almost guaranteed badger sighting! Make sure you wear clothes that don't rustle too much or you'll scare away the badgers!
The Best Places to Watch Whales and Dolphins in Scotland
Around Scotland you are most likely to spot minke whales off the Western Isles, orca's near Orkney and Shetland and bottlenose dolphins around both West and East coasts.  There is also the possibility of seeing porpoises, common dolphins, white-beaked dolphins and Risso's dolphins.
From personal experience one of the best boat trips where we saw cetaceans was the boat from Arisaig to Eigg.  It's a small boat that takes you out to the island, but on the way we spotted minke whale, dolphins and porpoises.  Certainly a good reason to head to Eigg, even before you consider the beautiful landscapes awaiting you on the island!  In Stornoway you can take the Hebridean Adventures boat for a day trip whale and dolphin spotting.  From Gairloch you can go out on a boat trip with a marine biologist spotting cetaceans amongst other species.
There are plenty of other boat trips around the islands and coast too, so keep an eye out for signs and check reviews.  It's also possible to spot dolphins from the coastline in various parts of Scotland.  Check this post out for free dolphin spotting locations in Scotland.
Best Places to See Basking Sharks in Scotland
I would absolutely love to see a basking shark.  However, the thing with basking sharks as you normally only see the fin of the shark, so you don't get a sense of just how large these gentle giants are.  Yes, they are gentle giants, these sharks feed on plankton and will not purposefully harm you.  Instead of just taking a trip to spot them, try swimming with them instead!!
The best way to see basking sharks is to go on a tour with Basking Shark Scotland.  They know the areas around Mull and Coll where you are likely to see Basking Sharks, you can also snorkel with the sharks to see what they look like below the surface.  If one day isn't enough for you they also run multi-day trips which gives you more chances to spot the basking sharks!
Pin Best Places to Watch Wildlife in Scotland