When visiting Mull, most people choose to concentrate on either the North or South of Mull. You could easily spend a week in either location (we certainly have!). But it's also possible to road trip around the whole island in a week. This itinerary starts in the North of the island and finishes back at Craignure. You can also add a few days over on the Isle of Iona if you have time too.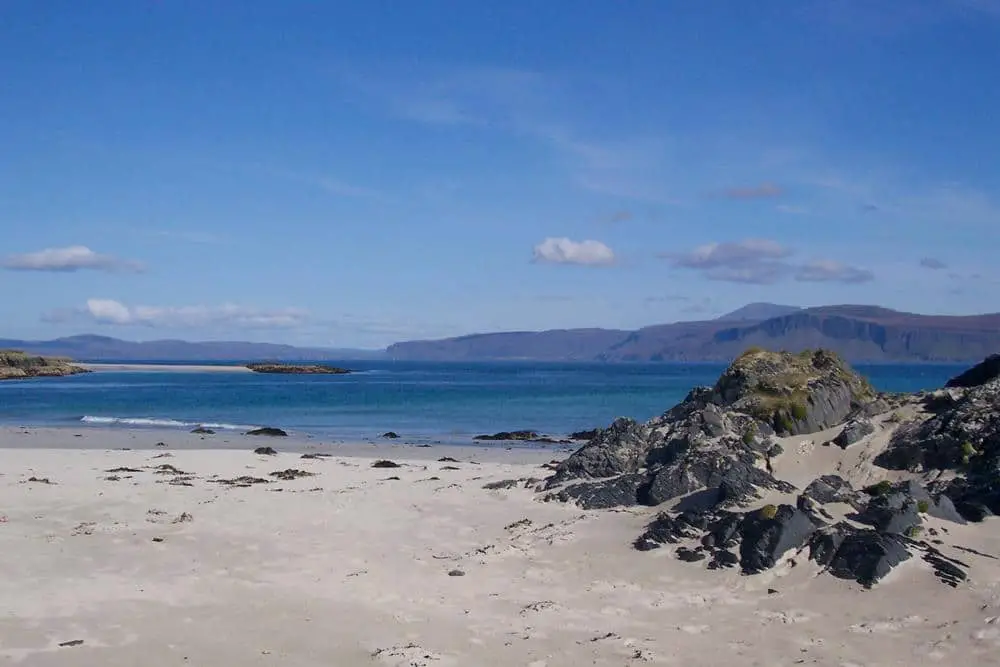 Keep an eye out for Sea Eagles, often seen around the island and also there are many cetaceans to spot in the sea. If you're interested in wildlife I definitely recommend a visit to Mull Eagle Watch and a boat trip from either Tobermory or Fionnphort to look for wildlife (Lunga is popular to visit the puffin colony).
Arriving In Mull
There are two easy ways to get to the Isle of Mull, either a ferry from Oban to Craignure or the ferry from Lochaline to Fishnish (just North of Craignure).
Most people choose to go from Oban to Craignure as they have the larger car ferries and both car and pedestrians can be booked onto the ferry months in advance. Oban is also only just over a 2 hour drive from the Central belt of Scotland. So you can easily fly into Glasgow, hire a car and drive to Oban to catch the ferry. If you prefer public transport the train terminal in Oban is right at the ferry terminal. So you can easily get a train from Glasgow to Oban to catch the ferry, It's a pretty beautiful train journey by lochs and through forests too.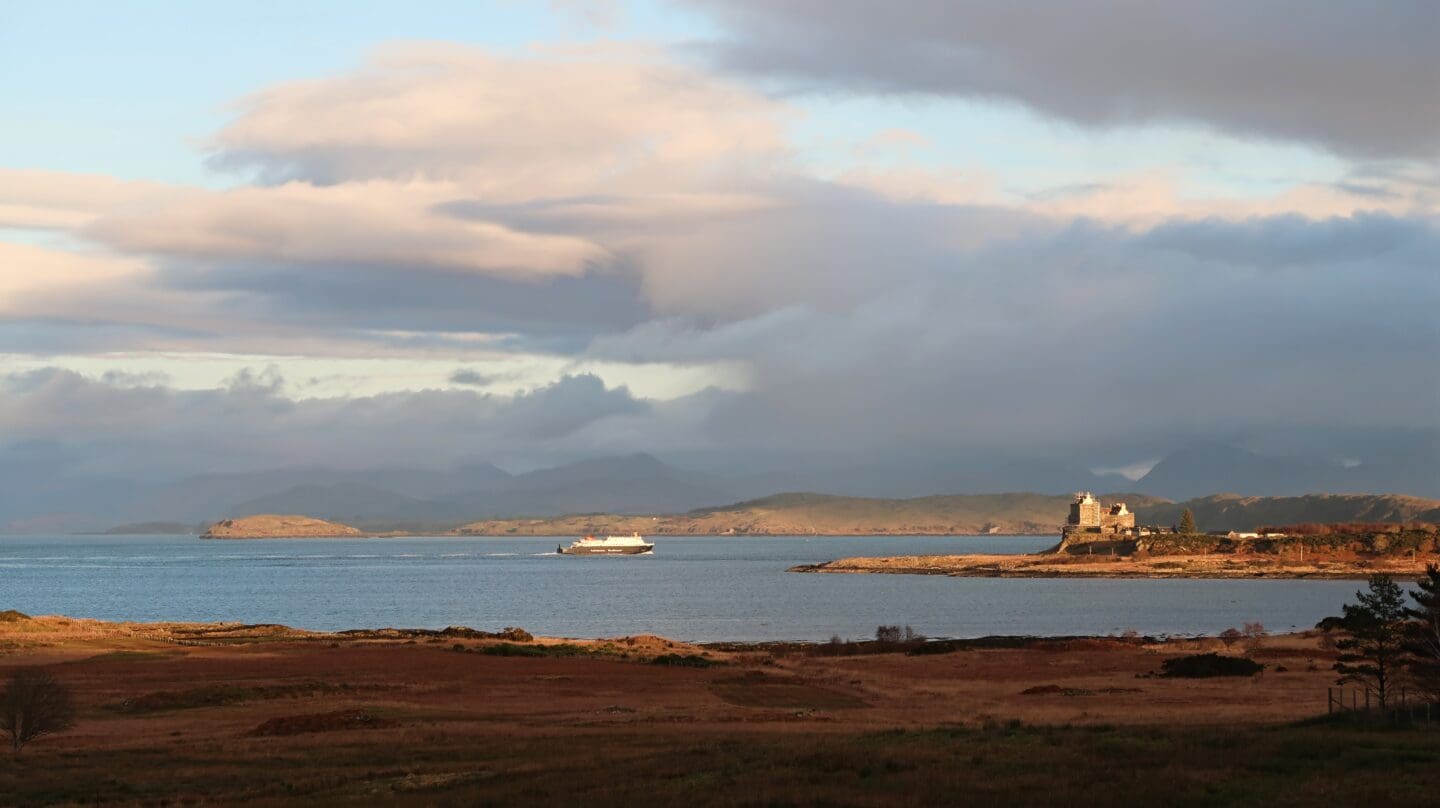 The Lochaline to Fishnish route is not bookable and a much smaller car ferry. It's only a 40 minute wait for the next ferry if you can't get on the first one. It tends to be busy when the Oban ferry is cancelled and people are trying to get home to Mull. At other times you don't need to wait long at all. This ferry is best if you're not sure exactly which day or time you want to travel to Mull or if you were exploring further North in the Highlands.
There is also the alternative route of Kilchoan to Tobermory, although Kilchoan is quite far out of the way by car. If you are visiting the area around Kilchoan (there is Ardnamurchan Lighthouse, beautiful beaches and an ancient supervolcano crater) and want to go to Mull afterward, then this would be the best route.
Tobermory and North Mull
The colourful houses of Tobermory were immortalised in the kids Television programme Balamory. You will most likely want to wander along the harbour front admiring the colourful houses and getting a few photos. There are plenty of gift and craft shops, plus cafe's and musuems. Also, don't miss the Tobermory aquarium, it might be small, but it's interesting for all ages!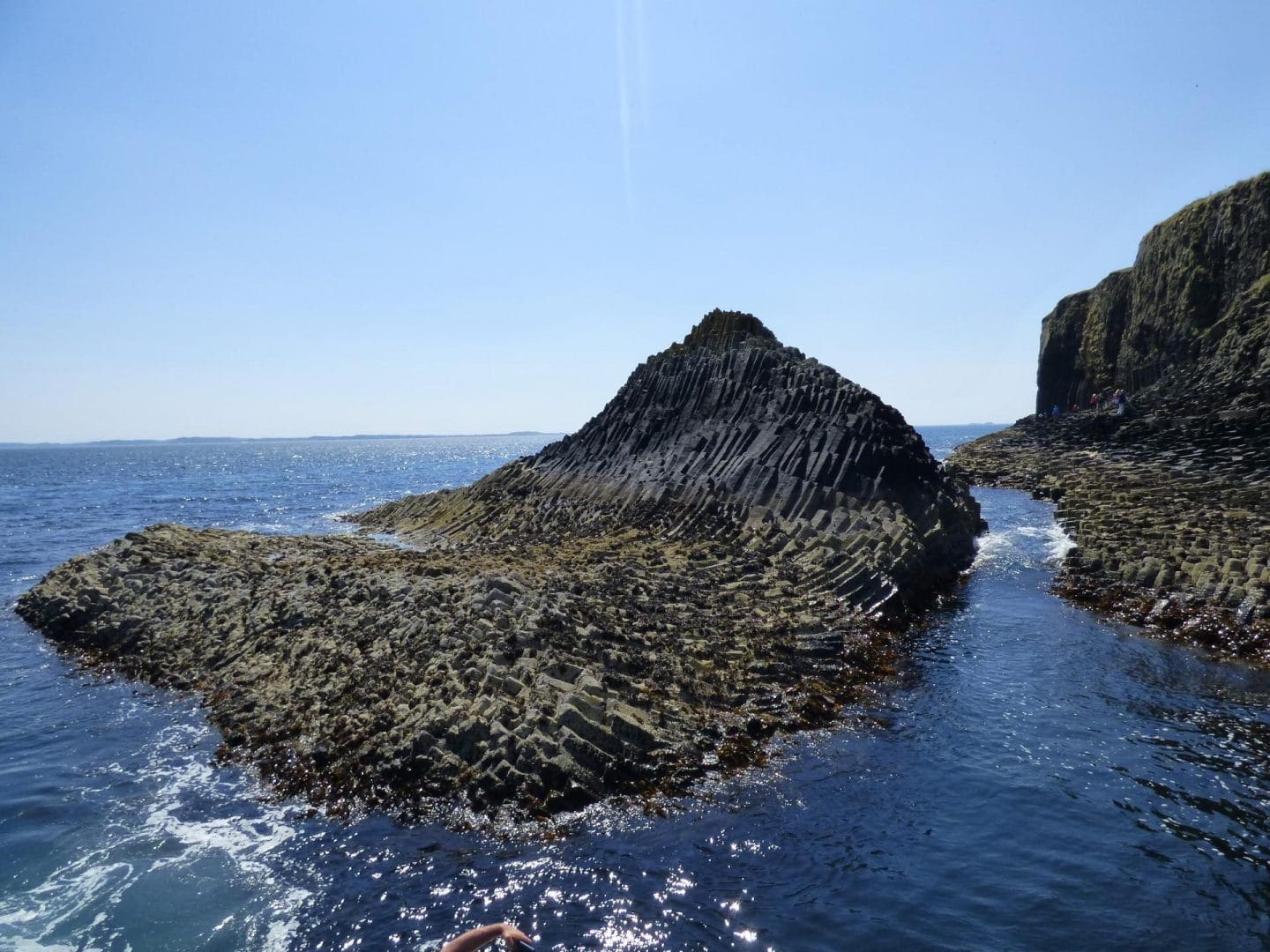 From Tobermory you can take a boat tour to the Isles of Staffa and Lunga. Staffa is the home of Fingal's Cave, rather awesome geological structures similar to the Giant's Causeway. On Lunga you will find a puffin colony, alongside other seabirds, that are so used to humans you can be within a metre of them! Keep an eye out for dolphins and whales on the boat trip too.
There's lot of fantastic things to do with kids on the Isle of Mull. From castles and beaches to islands and wildlife. It's in the North of Mull that you will find some spectacular beaches, including Langamull and Calgary. Langamull requires a little walk into the beach, around 2km, but it's worth it for the lovely quiet beach. Calgary is a lot busier, but it's huge so can fit many people in! Have a look at this post for more ideas of things to do with kids on Mull.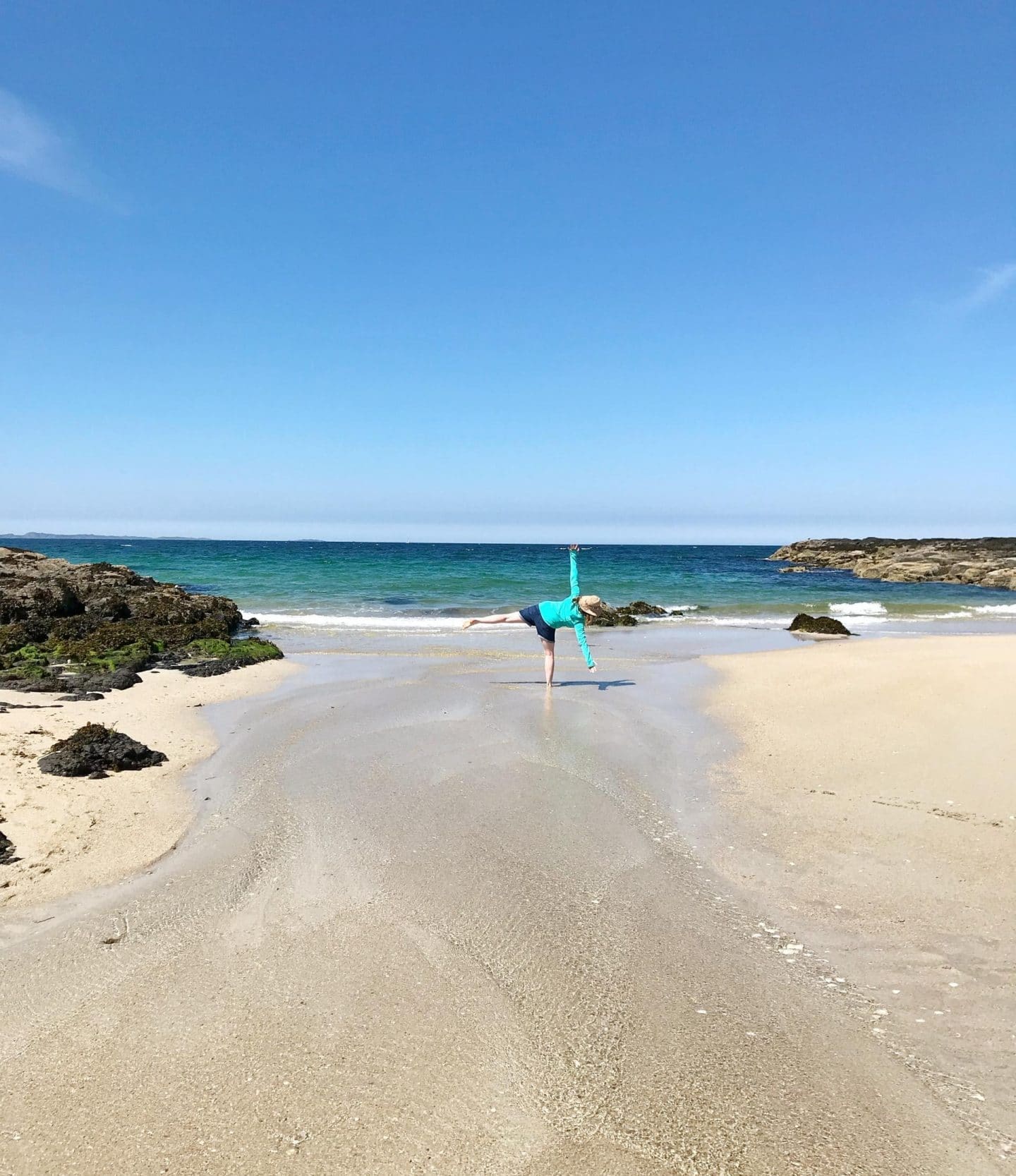 From Tobermory you head North West visiting Glengorm Castle (some lovely walks and standing stones) various beaches and of course the Calgary Art Trail. On the West coast you will look across to the isles of Ulva and Geometra. Hop on the ferry (a small pedestrian only boat) across to Ulva to explore the island and find out where David Livingstone's father's family lived. The Boathouse is also renowned for it's delicious seafood meals, definitely worth stopping after your walk before getting the ferry back to the mainland.
From Ulva journey South toward Loch Scridain, on the way stop off to look at the stunning views or walk along to the fossil tree for a refreshing hike.
South Mull
In South Mull continue West toward Fionnphort. There are many lovely small villages stop at as you progress along the road. Stop to walk along to the Carsaig Arches or Uisken to visit the nearby beach.
At Fionnphort you can book a boat tour to visit Staffa and Fingal's Cave or across to Lunga. It's also where you catch the ferry over to the Isle of Iona (park at the free car park by the Mull Makers building, just on the road to Fidden Bay. Fidden Bay has a great campsite right on the beach, which we love for families.
There are a few shops and a post office in Fionnphort, but the main highlight is for boat trips and access to Iona. From here head back East toward Craignure. On the way don't forget to take a diversion down to Lochbuie, there's a little café, public toilets and a walk along the coast and up to the standing stones. It's an interesting afternoon walk!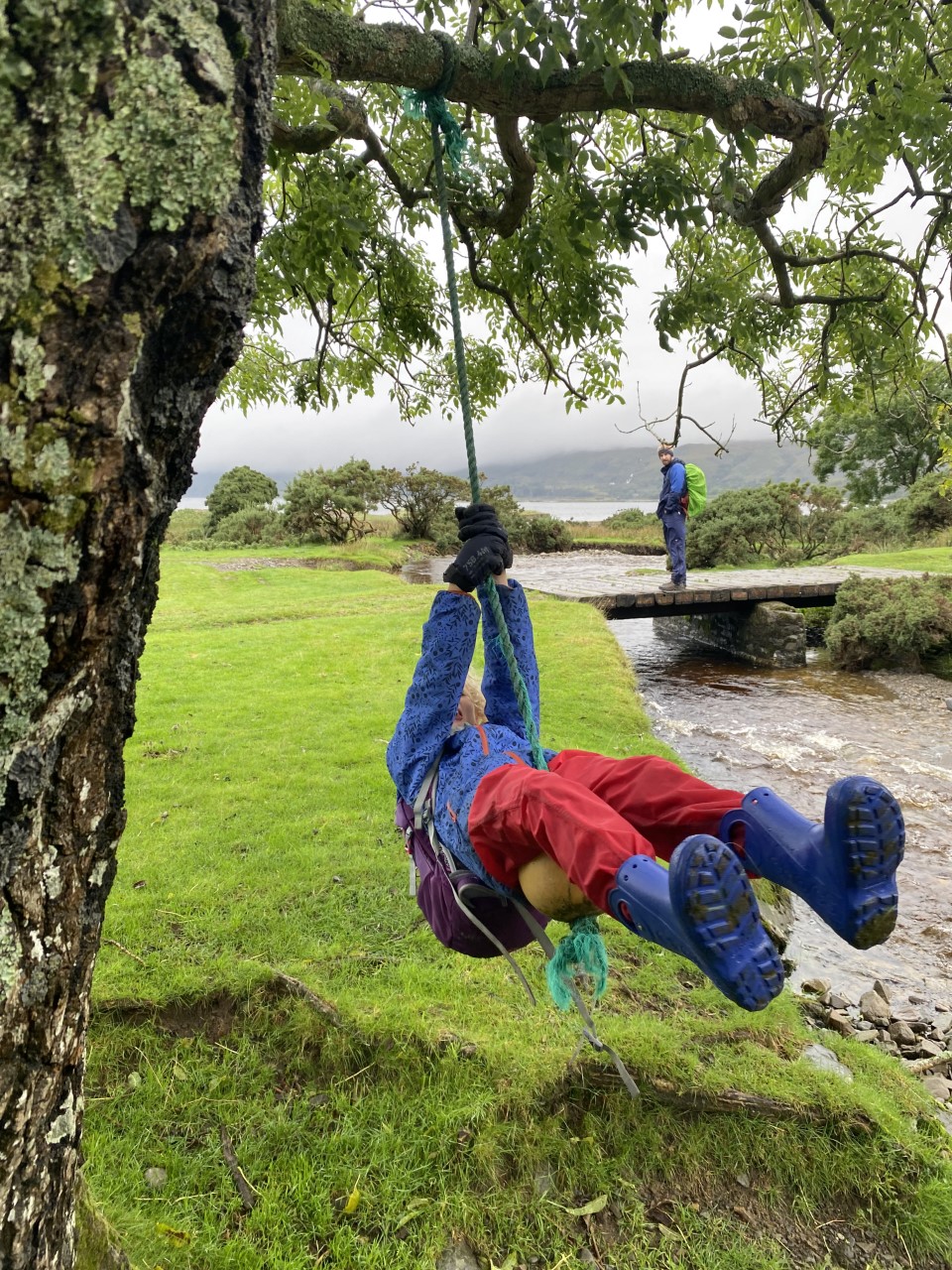 Before you get back to Craignure there is one more place to stop, Duart Castle. It's in a perfect spot to admire the surrounding landscape, with plenty of history to learn about.
Take the ferry back to Oban or head over to Lochaline to travel further North in Scotland.
Isle of Iona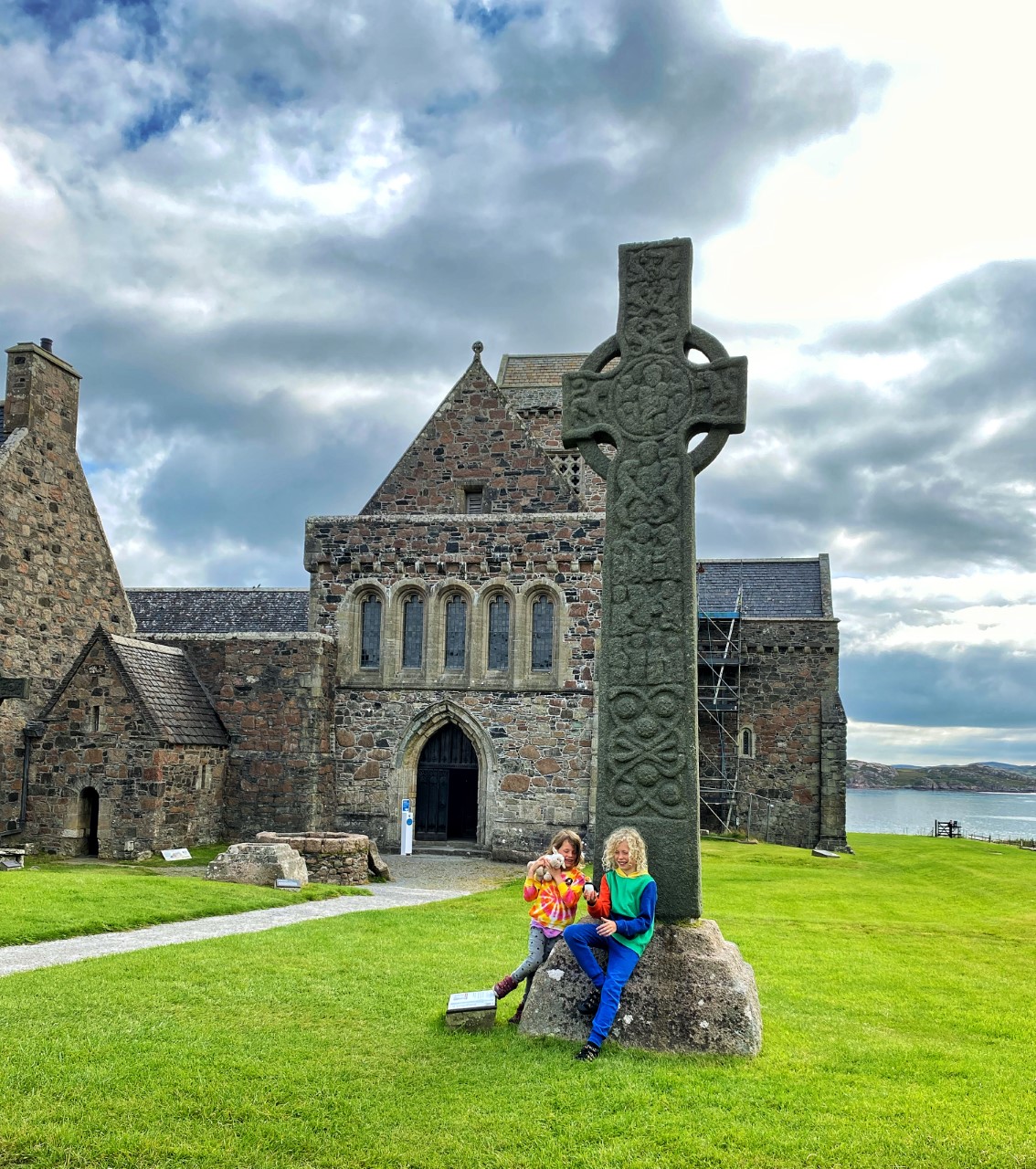 A stop on the Isle of Iona is definitely a must when visiting South Mull. You can just pop over for the day to visit Iona Abbey or one of the beaches. However I personally recommend that you spend a few days on the island to really explore.
Check out this post for a complete guide to the Isle of Iona.
Read Other Scottish Island Posts
Pin Isle of Mull Itinerary