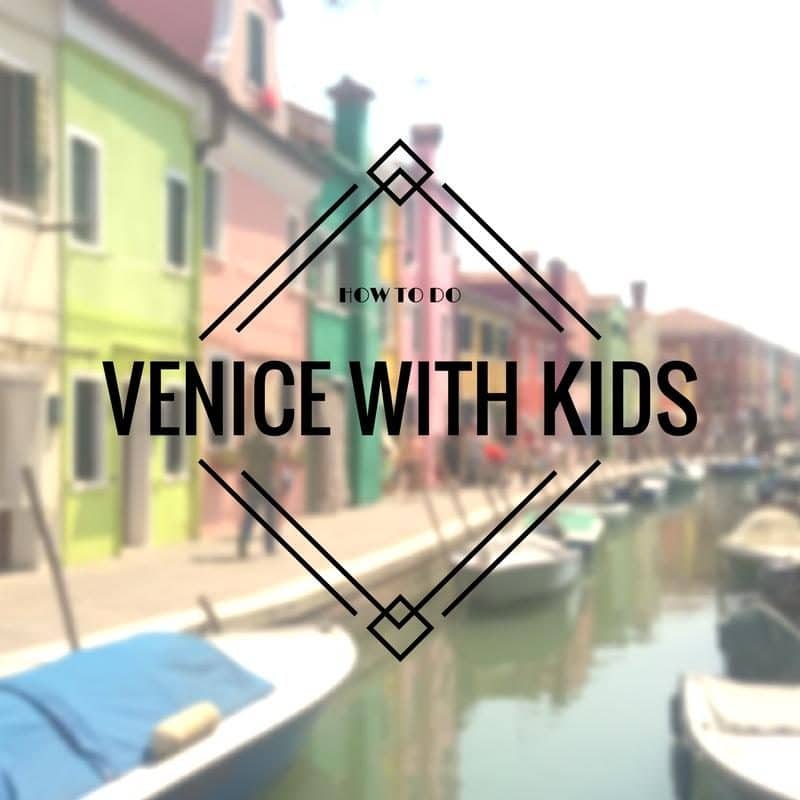 Venice does at first glance seem to be a city to visit without the kids, however that does mean you can't bring them.  You would be surprised at just how easy it is to visit Venice with kids in tow.
Where To Stay With Kids
For a cheaper option for young families, consider a camping village on the coast near Venice.  We were camping in a small village, Ca'Savio, near the bottom of a peninsula to the North East of Venice.
The campsite was situated in a great place, a 2 minute walk from our tent to the beach.  Every morning, but one, was spent playing on the sand and in the sea. As the boys were up at 6am (as usual!) we were at the beach before the crowds and heat.  This also had the bonus of leaving when most people were arriving, so we had plenty of time to see some of the local sites.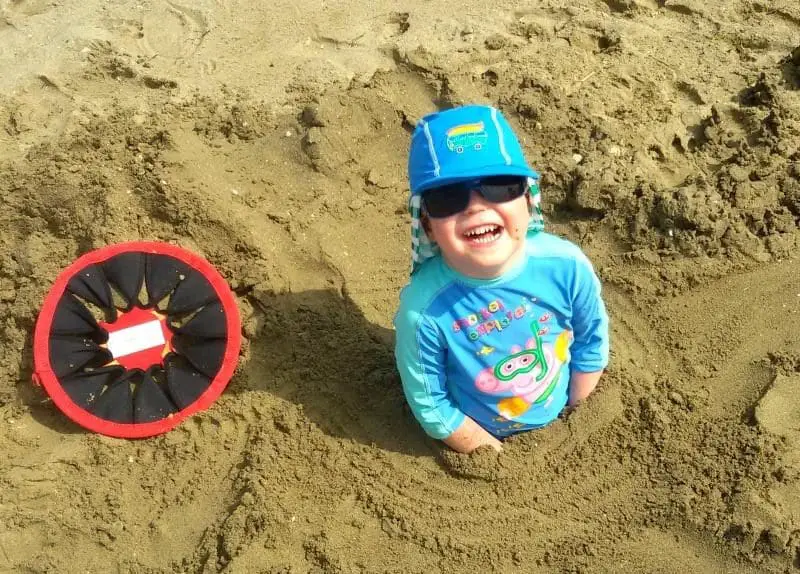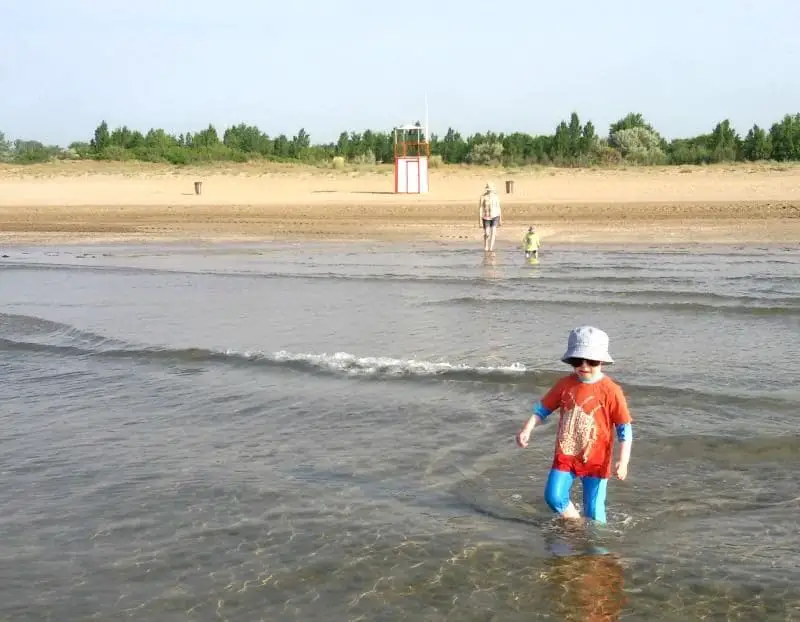 Water Taxi Fun
Of course, one of the first trips we had to make was to Venice itself. We took a boat from Punta Sabionni, a small port town, to Venice. The boat we took was a tourist boat, that you had to return on at a set time, which was a little annoying. We realised on later trips that we should take the local water taxi, vaporetto, from the town of Treporti instead. You can buy an adult day ticket (under 6's are free) for 20 Euros, which allows you unlimited use of most vaporetto routes (except the vaporetto to the airport) for 24 hours. It was a much better deal than the tickets we bought at Punta Sabionni.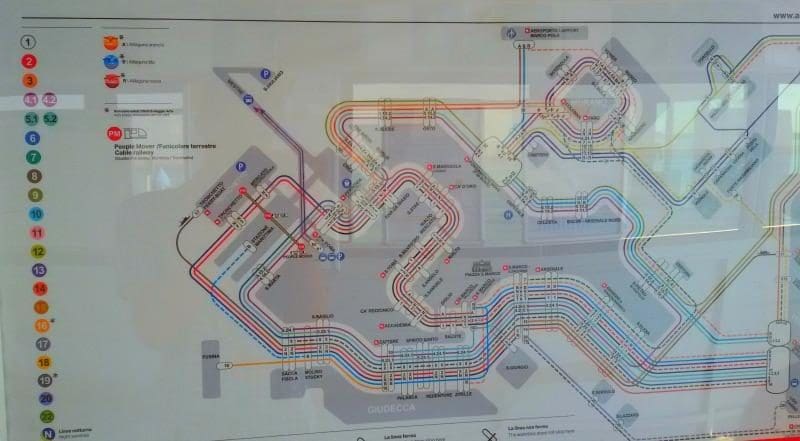 Important Lessons In Venice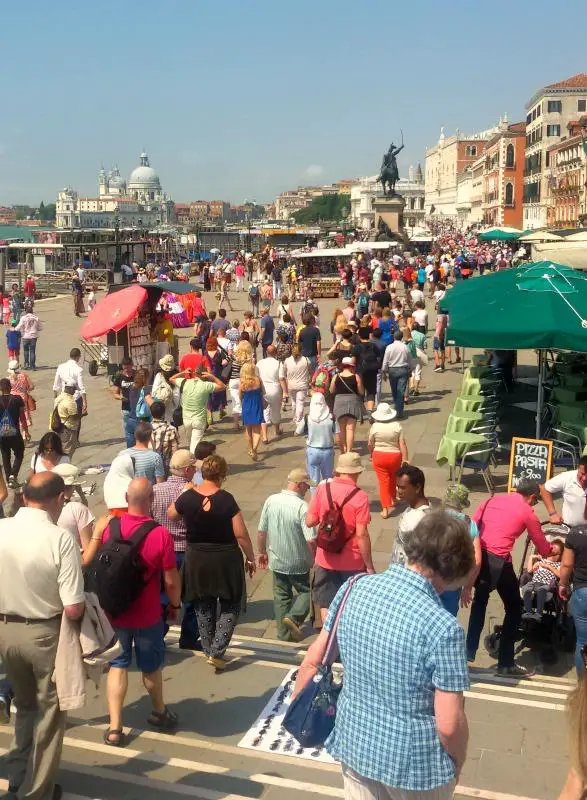 Venice was very busy, little stalls everywhere selling tourist'y postcards, hats, selfie sticks and snacks. We walked over several bridges along the Grande Canal to San Marco to look at the Basillica and Doge's Palace, which looked amazing, but we didn't venture inside due to hot and grumpy children. O decided he was hungry every 20 minutes and we learnt our 2nd important lesson – bring lots of snacks! He didn't want any of the snacks available on the stalls, so the following trips to Venice required many snacks that we knew he would eat.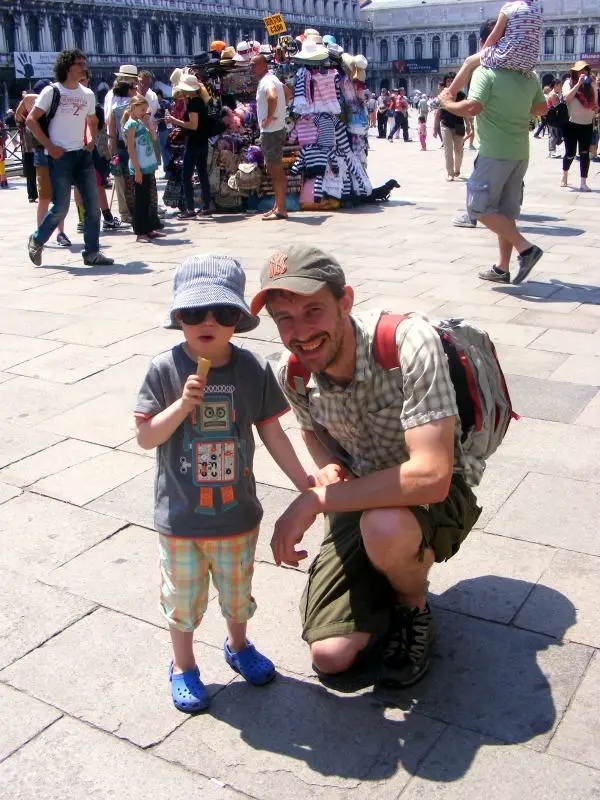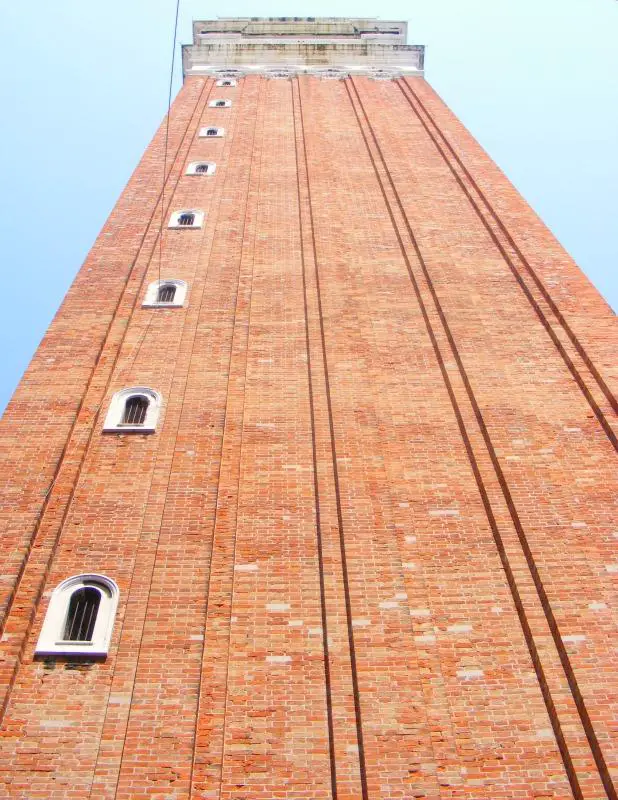 Gondola Trips
In San Marco we bought a sandwich each to eat, the boys sat down for a while, until A got bored and started wandering around a little. We had a look at the shops around the piazza and found a little area at the back of the square where O had great fun watching gondola's coming and going. This leads to another good tip for those taking smaller children to Venice.  The gondola's and other boats are quite fascinating to watch and it's easy to entertain the children for quite some time standing watching them. Whenever A decided he wanted to breast feed it was easiest to sit on the steps of a small bridge while eldest and daddy watched the boats pass by.  Then when O wanted to sit on the steps and eat another snack, littlest would wave at the gondola's with one of us.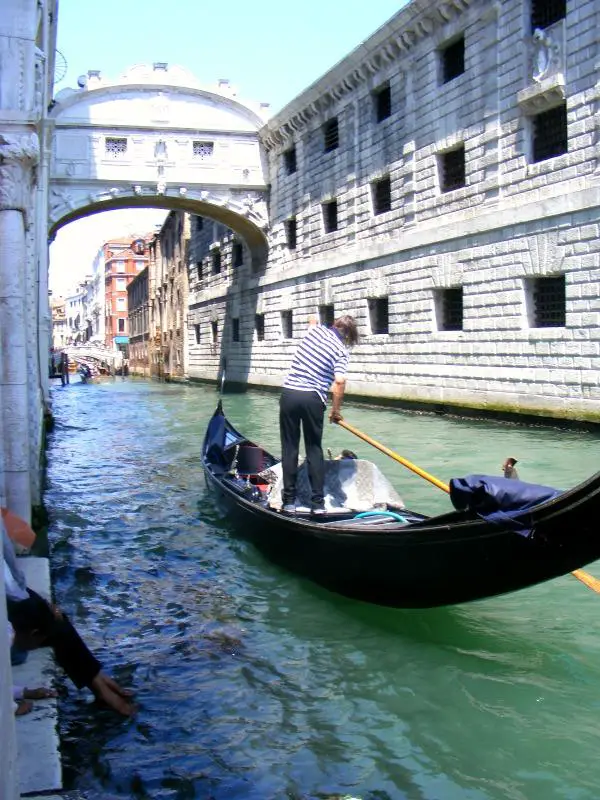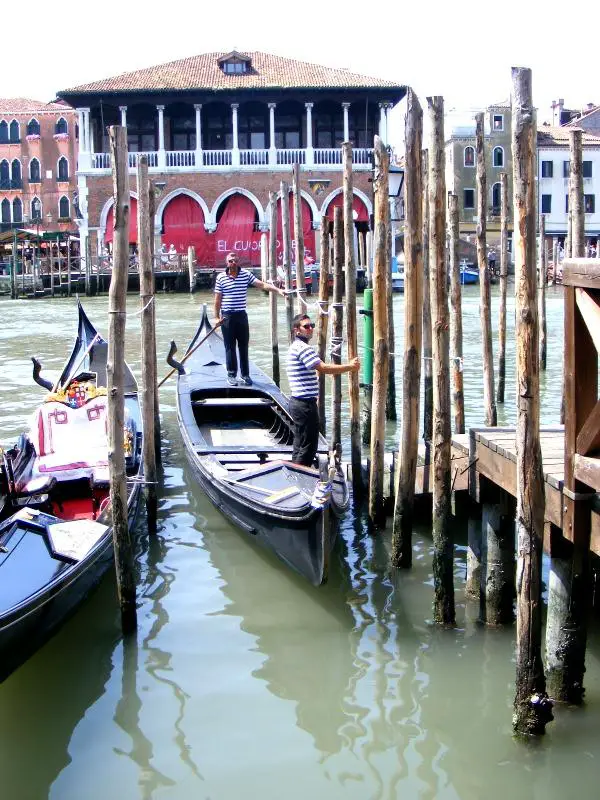 Our three year old was quite interested in the vaporetto's and was happy enough getting different boats along the canal. We even took a traghetto (basically a less fancy gondola) across the Grand Canal, which he loved.  It was also a lot cheaper than an actual gondola trip (around 80 Euro's for half an hour on a gondola, compared 2 euro's each for the traghetto, 1-2 minutes). I didn't think we would manage an entire trip on a gondola anyway, particularly as the one year old wasn't a huge fan of sitting on boats!
Rialto Market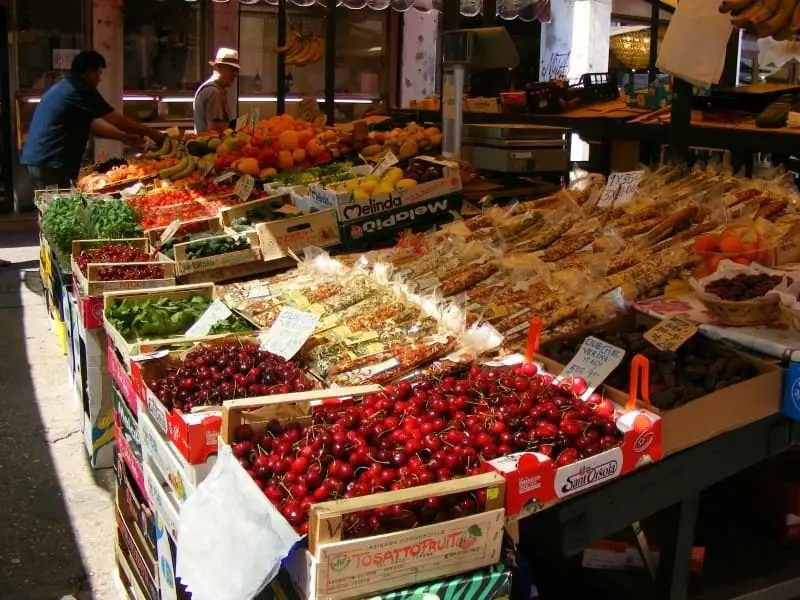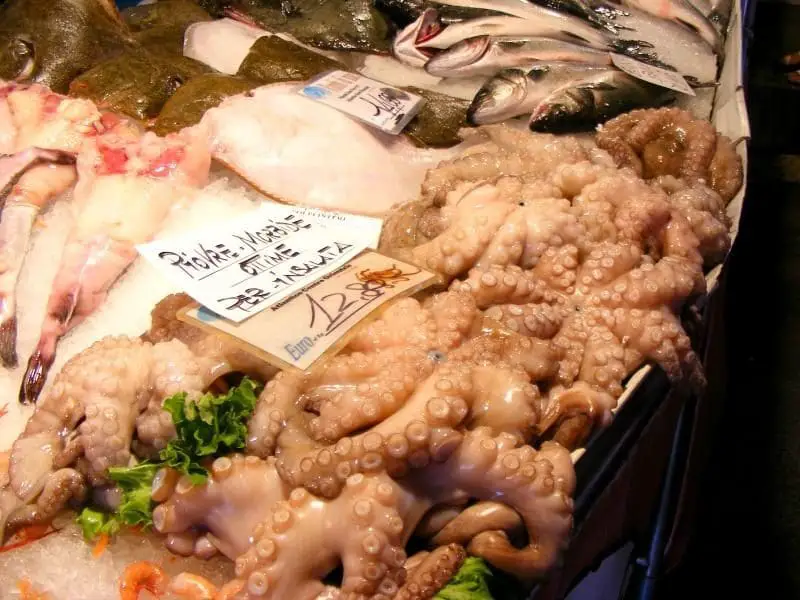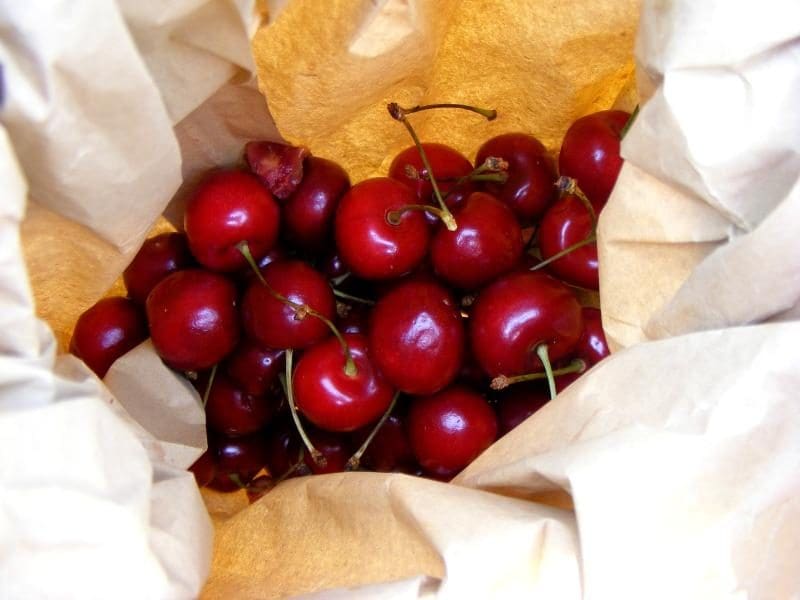 Rialto market was great to wander around. I loved looking at the fish market, so many different types of fish, octopus and squid.  If it wasn't such a hot journey on the boat back to the camp site I would have bought some. Eldest was fascinated by the live snail's in a crate, some were trying to escape and succeeded (freedom!).  But he didn't want to eat those and chose some cherries and an apple from the fruit market to eat instead.  The cherries were delicious – I managed to eat most of them!
Peggy Guggenheim Art Gallery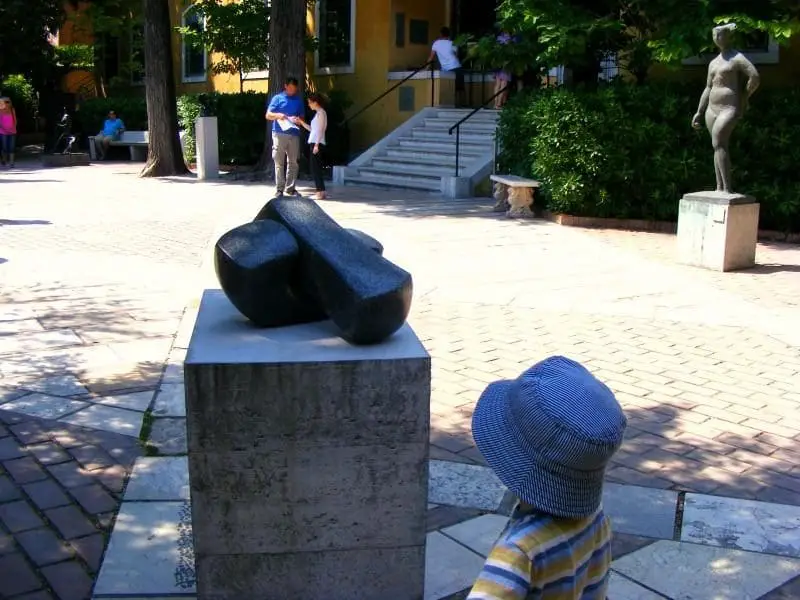 I really wanted to visit the Peggy Guggenheim whilst in Venice, an art gallery, located on the opposite side of the Grand Canal from San Marco. We made it there ok, but after an initial faff of being told we couldn't go in with A in the Connecta carrier on my back, we were finally told it would be ok if he was on my front instead. Initially they were telling me that I couldn't carry him in at all, which would have been awful, he would much more likely destroy something on the loose! Unfortunately littlest was just too loud inside the gallery itself and I only managed a quick look around, although I would have loved to spend longer looking at the Jackson Pollock's.  At 3 years old our eldest was much better, he couldn't look around lots of paintings at once, but he was happy to look at a few and telling us what he thought they were meant to be and which colours and shapes he could see.  Then he would go outside and play in the sculpture garden for a little while before going back in again to look at a few more paintings. I'm glad O got to see some of the abstract paintings, as I really wanted him to understand that art doesn't have to be an exact replica of what you're drawing, but you can draw an impression or even a feeling of whatever you want. He has been getting a bit upset recently and telling me he can't draw as his drawings are still random scribbles, dots and lines, not anything like he wants it to be. Hopefully this will help him!
Belluno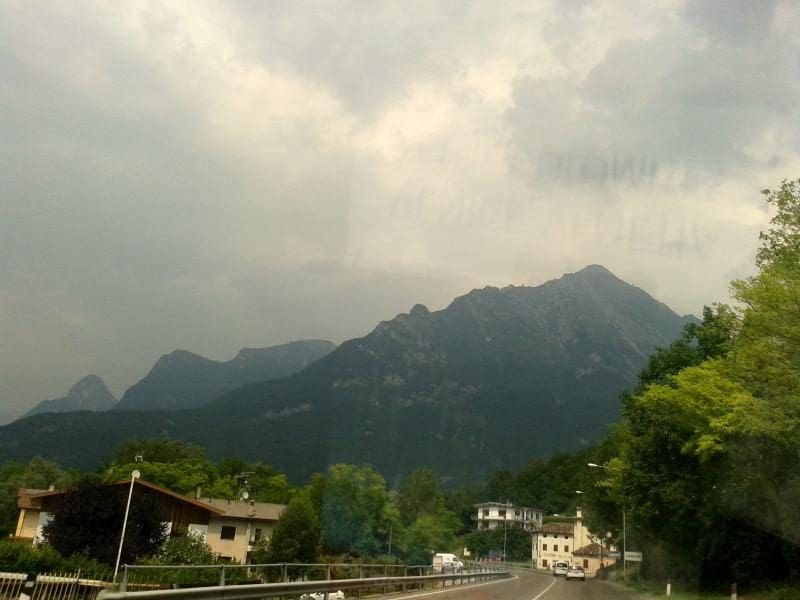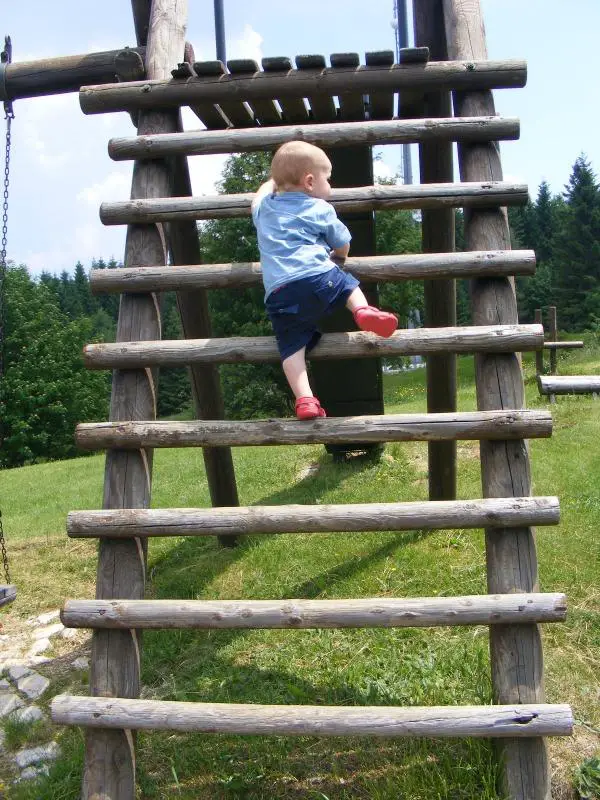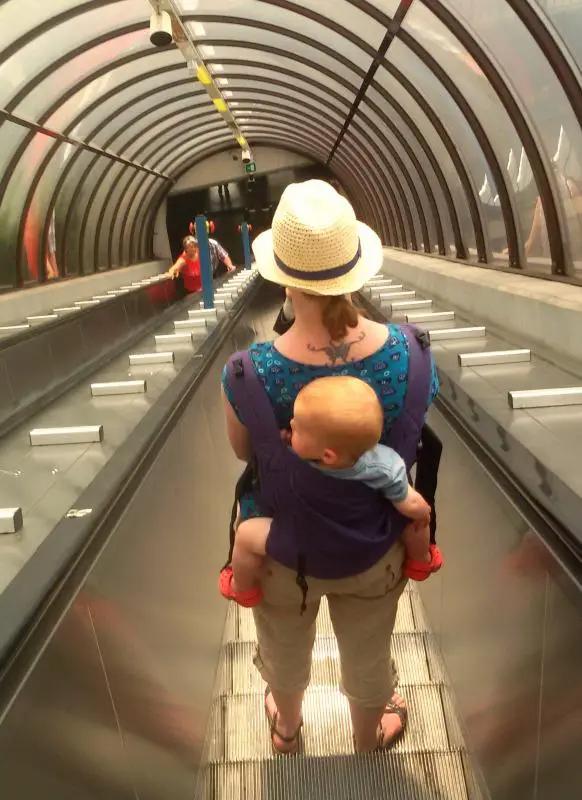 Aside Venice, we also went North to Belluno on the Autostrada (remember to bring change for the Autostrada, they have toll points as you enter and exit the road) to see the dolomites, but the day was so hazy we couldn't see the mountains very well at all. The drive up to Belluno was pretty impressive, as you can see the mountains looming over you and the tree lined valleys are beautiful. There are a few areas around Vittoria Veneto where you can go cycling and walking with a view of the mountains without driving too much further North.
Sea Life Centre
If you're travelling with young kids then I would also recommend visiting the Sea Life centre at Jesolo. Children under a certain height a free, so again we only had to pay for us adults. The talks and rock pool handling sessions are all spoken in Italian and English.
Gulliverlandia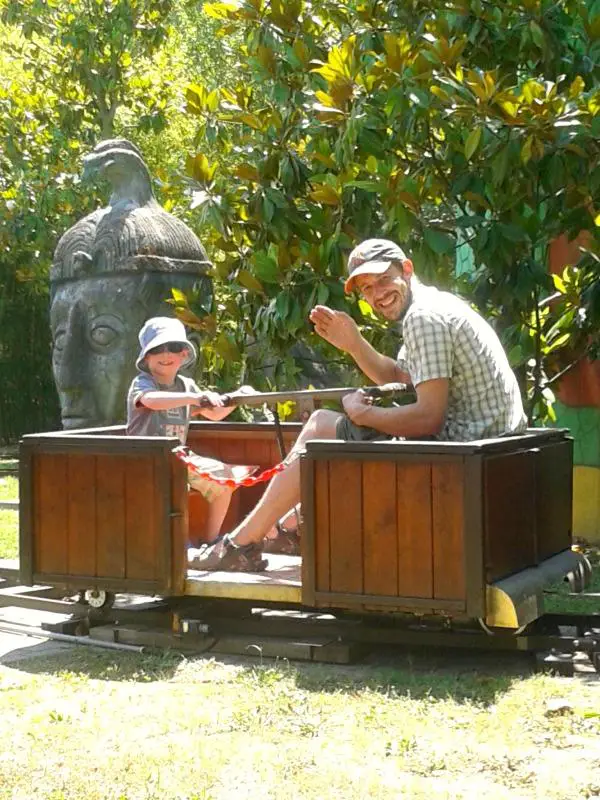 We went a little further afield to Gulliverlandia, in Lignano Sabbiadoro. This is a mini theme park, which was great, although extremely quiet. They have a small aquarium area, sea lions, a circus with clever Macaws, log flume, racing cras, cozy coupes, train rollercoaster, sack slide, merry-go-rounds, old fashioned train 'tour' and a dinosaur area. There was enough there to keep us occupied all day, although it would be better for kids 4 and up. Next door is Aquasplash, a water park and further along the road is Parco Junior, which may have been a better choice for younger children, but we didn't know about it until we were leaving Gulliverlandia.
Lio Piccolo Cycle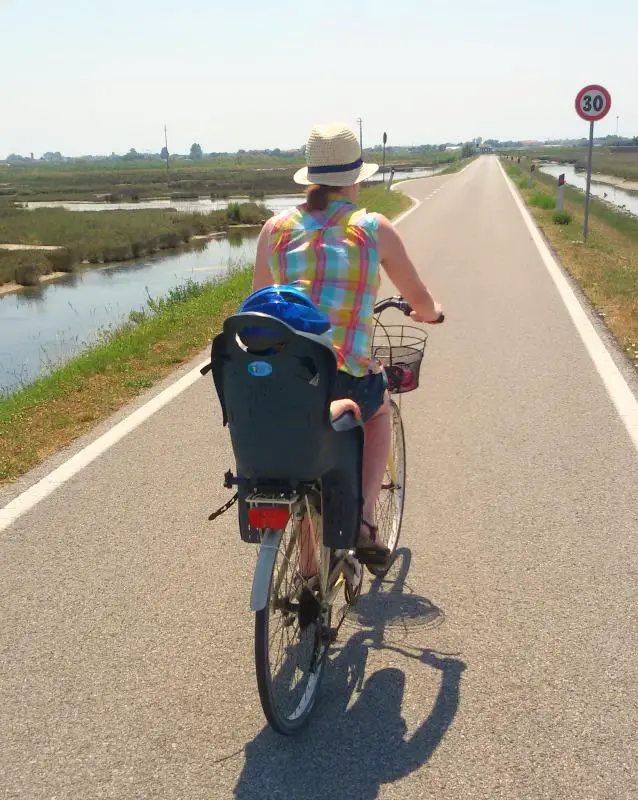 There were many places where you could hire bikes in the area around our camp site. We hired some on the camp site with kids bike seats and went for a cycle west along Lio Piccolo to have a closer look at the lagoon marshland, wildlife and have a little picnic. So easy to cylce along the flat roads! Not like the hills we have in our home town!
Murano and Burano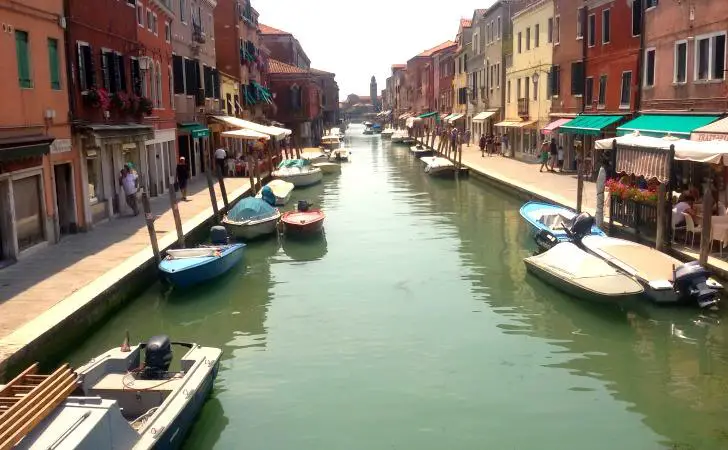 Of course we also took a trip to the islands of Murano and Burano in the lagoon. Murano is home to Murano glass, beautiful colourful pieces of art, jewellery and functional bowls, glasses and vases. You can visit the furnaces (normally viewed through the shop area) and watch the artist blowing colourful glass in exceptional heat. I don't know how they do it, it's hot enough as it is without standing beside a furnace all day long! I would have loved to wander around a little more, but children were getting a little grumpy, so we just had a look at a little canal and bought some souvenirs to take home.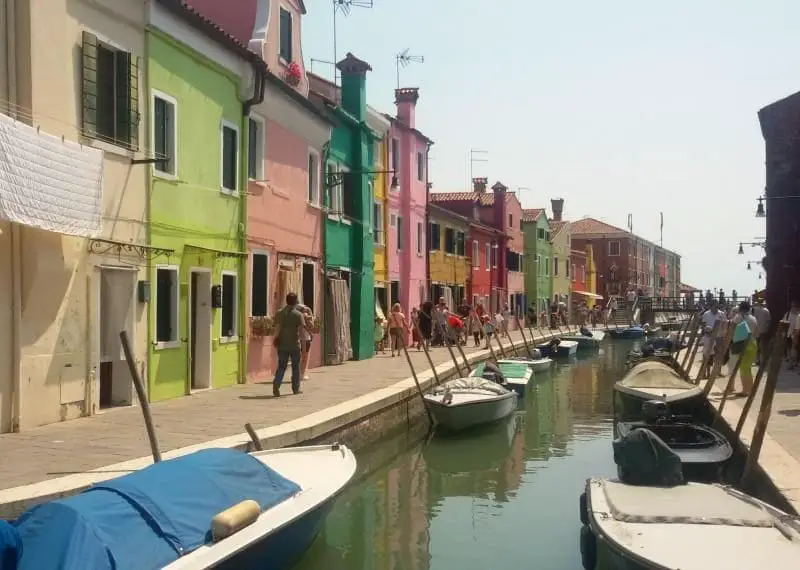 Burano was quite close to Treporti, where we left our car. We stopped there for a Gelato and a wander around the island. Again, we didn't get far before Mr 3 year old decided he was hungry (you would think we didn't feed him!). So along a little canal we bought him a biscuit to eat on the steps of a bridge whilst we took it in turns to have a little wander and look around a few shops. The canal was lined with colourful houses and looked quite beautiful, although the entire island was filled with tourists and a lot of selfie takers, who were quite amusing to watch.
Verdict
All in all we had a lovely holiday, the highlights for O seemed to be the beach, pool and gelato. Although I would love to visit Venice and the islands again. Either when the boys are old enough to appreciate it a bit more or when they have left home and Chris and I can go alone!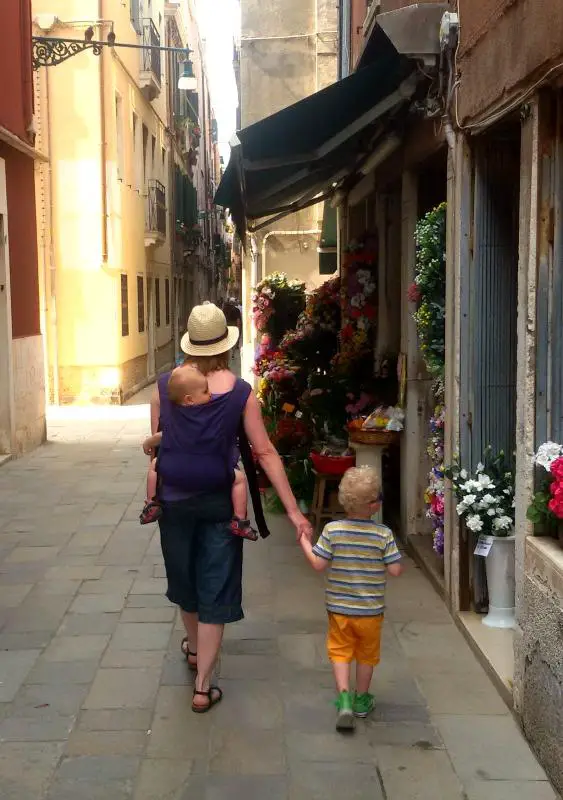 One last tip, don't take a buggy into Venice, there are so many bridges, you'll find it quite difficult bumping it up and down steps the entire time. You can easily get around on the vaperetto's if you have kids who are happy to stand and walk short distances from the boats or take a baby/toddler carrier with you. I carried littlest  (17 months old) the entire time on my back in a Connecta Solarweave, which was great and thin enough to keep him cool. Chris even carried our eldest (3.5 years) on his back for a short while on the way back to the vaporetto using a preschooler Rose and Rebellion carrier that we borrowed from a friend.
Venice was brilliant and it's only a 2 hour train journey to Florence, which would be great for a multi-city break.  or Have you plans to visit Venice with kids?
Pin For Later