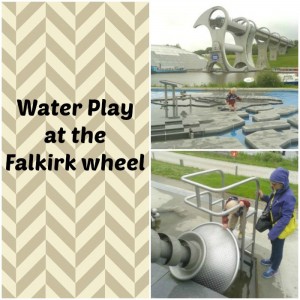 On Thursday it was my birthday and my parents took my boys and I for a day out at the Falkirk wheel.
If you have never heard of the Falkirk wheel before, it's the world's only rotating boat lift, built to replace a section of the canal that had 11 locks to climb the hill.  Although it's used as a tourist attraction, it's main use is simply to lift boats up or down the shift in gradient of the  Canal.
I booked tickets for the boat trip in advance, so of course a short trip on the wheel and back was first.  The boys were both interested in what was happening and O spent a lot of time standing at the front watching what was happening.
After the boat trip and a quick bite to eat in the cafe we walked over to the water play area.
We started with the area of water that had a map of Scotland made out of stone, the 2 major canals (Caledonian and Forth & Clyde), raised areas with water pouring out the top for the mountains and a wheel where the Falkirk wheel was on the canal.   O copied another small child and took off his trousers, socks and shoes and went in for a play! I was quite surprised as it was rather chilly!  The map was great, but the sluice gates didn't open properly and there was nothing to pour water into the channel to spin the wheel, which was a shame.
Next we headed over to an area with lots of metal devices to shift the water up the hill.  There was a bike that should pump water into the small lock system that you can work yourself, but with no chain on the bike this section was redundant.  Next was a spiral that could catch the water as you turned it, fast, and lift it up the hill into the next pool.
Our favourite was the Archimedes screw that you had to spin to move water from the bottom, up the screw into the top pools.
Another fun section is where you stand on a platform and move it side-to-side to pump water through a fountain, great for soaking unknowing friends and family!
There were another couple of sections that looked great, but weren't working either.  This was a shame, as it's a lovely idea and very educational and fun, but half the activity sections weren't working.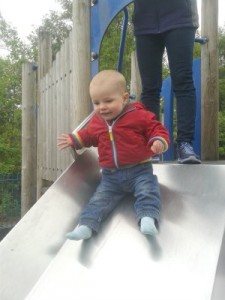 After this we went down to the park area and let the kids run off some steam there.  Of course O went back into the water again later before it was time to go and pick Daddy up from work!
Have you been on a canal recently?
J x