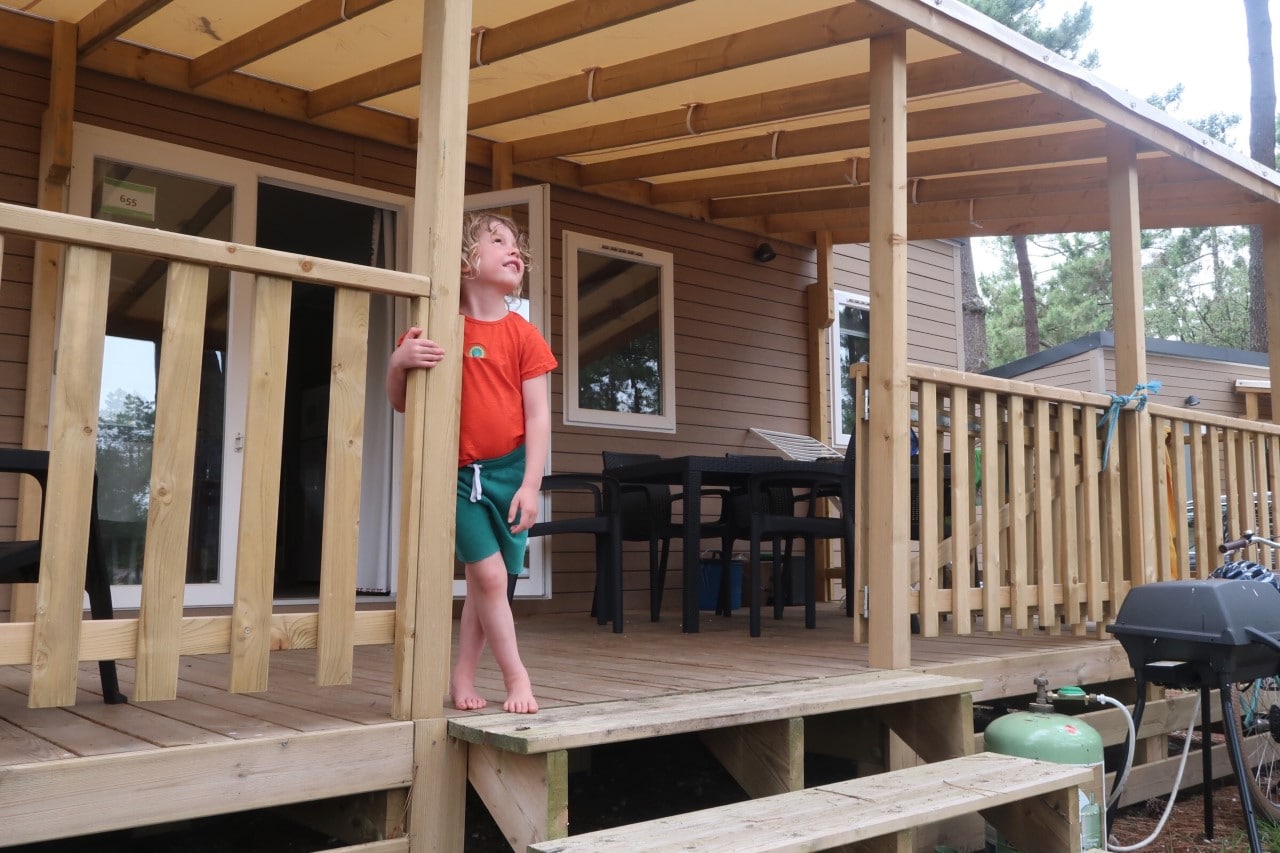 *We were gifted our stay at the campsite in return for this honest review.
Whenever we go on holiday I really relish being able to explore the area around where we are staying.  I'm not one for staying in one place for a week, as I am just too curious for that!  However, whilst visiting Cote d'Argent campsite at Hourtin Plage I realised that we didn't need to travel far to find adventures during our stay.  There are plenty of activities within cycling and walking distance to keep the kids busy for a week.
Cote D'Argent
At the entrance of the Cote D'Argent campsite there is the usual reception area, along with a shop, restaurant and an area for older children  with arcade games and pool tables.  Further into the site you will find several play parks and the swimming pool area.
The shop is a good size and has most of the basic items you may need for cooking, although there are a couple of bigger supermarkets at Hourtin, 10 minutes drive away.  A few minutes walk outside the campsite will also bring you to various shops, that include a greengrocers and bakers, so you should be able to find everything you may need close by.
We visited the restaurant a couple of times during our stay (it's mostly pizza and seafood), although in the evenings it isn't open until around 7pm, which is quite late for our children, but standard for Europe.  This is the main reason we tend to eat lunch out and dinner at home when we are self catering!  During the main summer season there is a show at the restaurant, so although we were too early (late June), we did get a few previews when the group was rehearsing.  They were very professional and sounded amazing!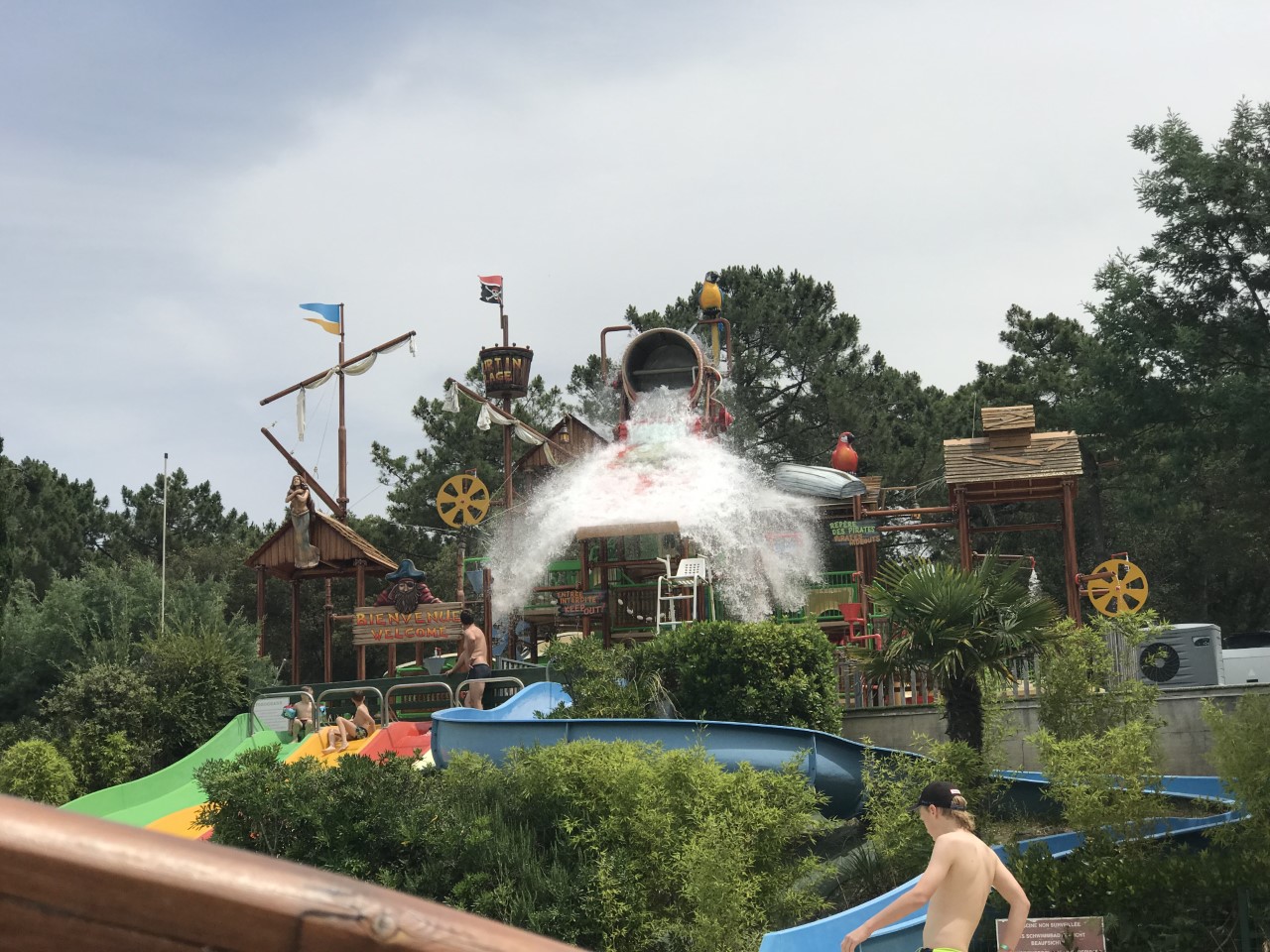 The swimming pool is the highlight of the park, with 2 pool complexes, a heated pool with cover, various slides and the Aqua Pirates fun park that has a variety of slides, water works and cascading water.  Our 7 year old loves the different slide and had great fun trying them all out and even our younger more water-shy child tried some of the slides and enjoyed playing in the Aqua Pirates fun park.
When it's a little cooler then the park is a good place to let off steam.  With several areas suited to different age groups, the kids will find something that's suited to them.
Hourtin Plage
There's no cycle hire on site, however you can hire bikes just a few minutes walk away in Hourtin Plage.  The bikes might not be quite the same as the ones you have at home, think curved hipster handlebars and rather large seats!  However they are very comfortable and great for cycling around the park, town and along the many bicycle tracks nearby.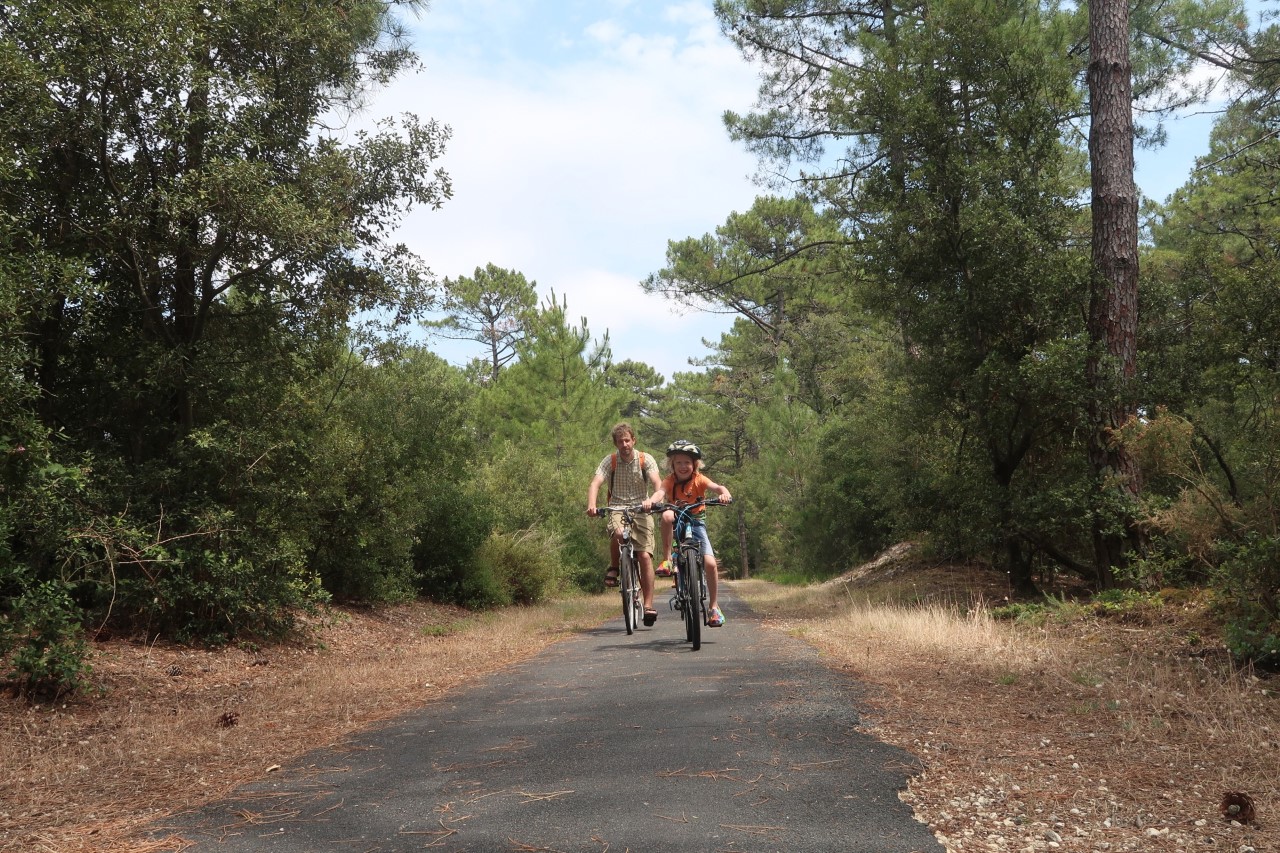 The people who you hire the bikes from can give you a map with directions of which cycle paths are suitable for you and your family.  As we had younger children she pointed out a nice route to Lac d'Hourtin-Carcans, which was 10km away and easy enough for a day trip.  We headed out and the kids did brilliantly, although were very ready for lunch when we arrived at the lake.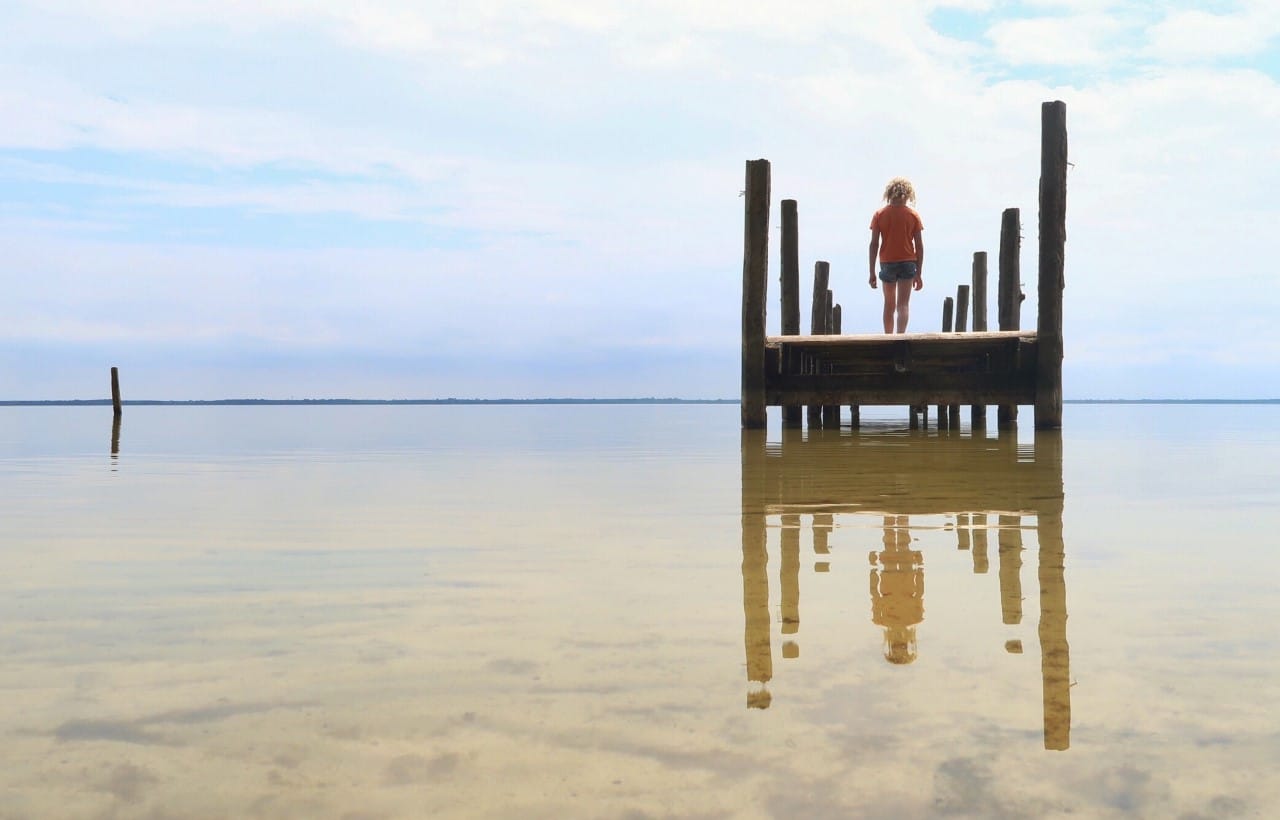 On the way back we chose a slightly easier route along a tarmac road and encouraged the children with a reward of an ice cream when we arrived back!  It's a really worthwhile spot and we all had a great time cooling off in the lake and playing by the pier.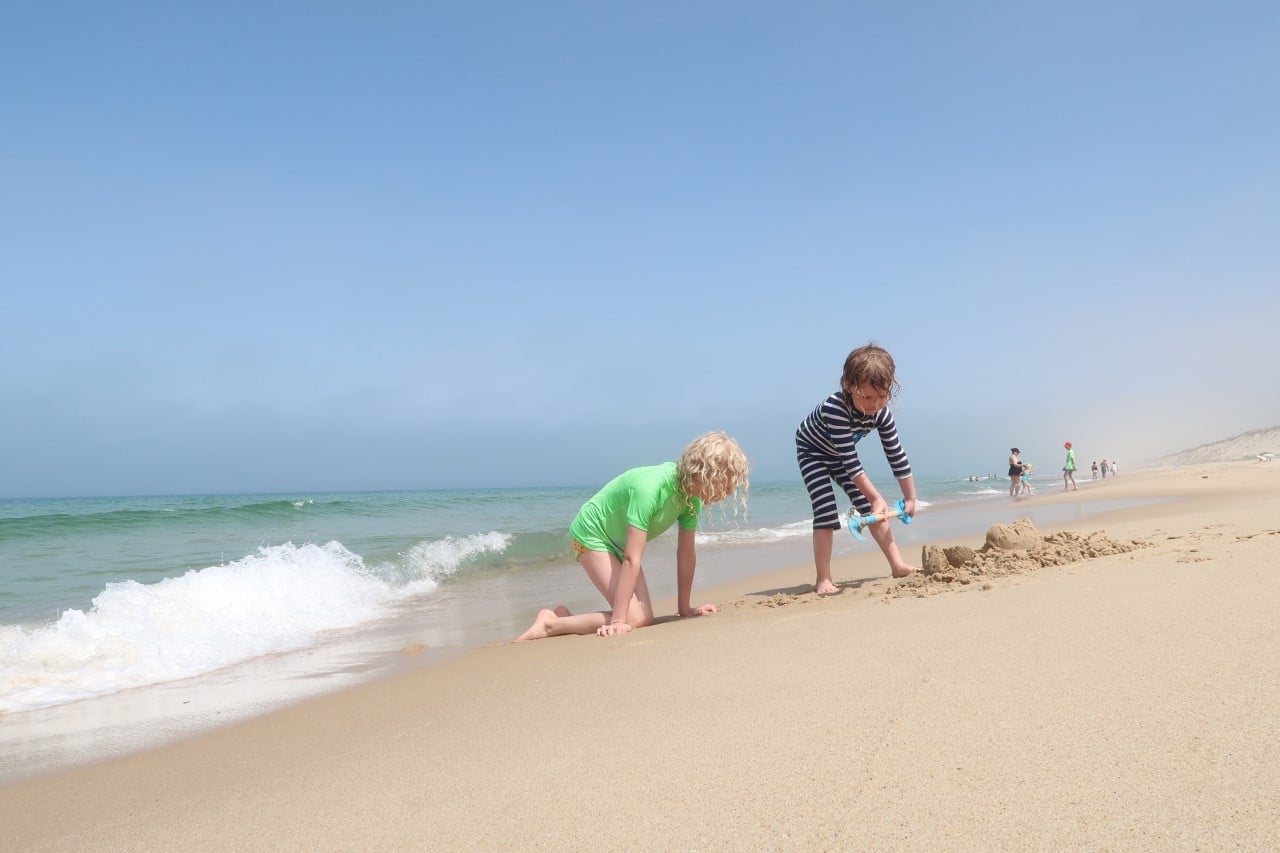 The main attraction of Hourtin Plage is the beach, which is exactly what 'plage' means in French.  The beach stretches out into the distance with beautiful white sand and large dunes towering behind.  You can take part in a surf school or hire boards from one of the shops to practice body boarding or surfing.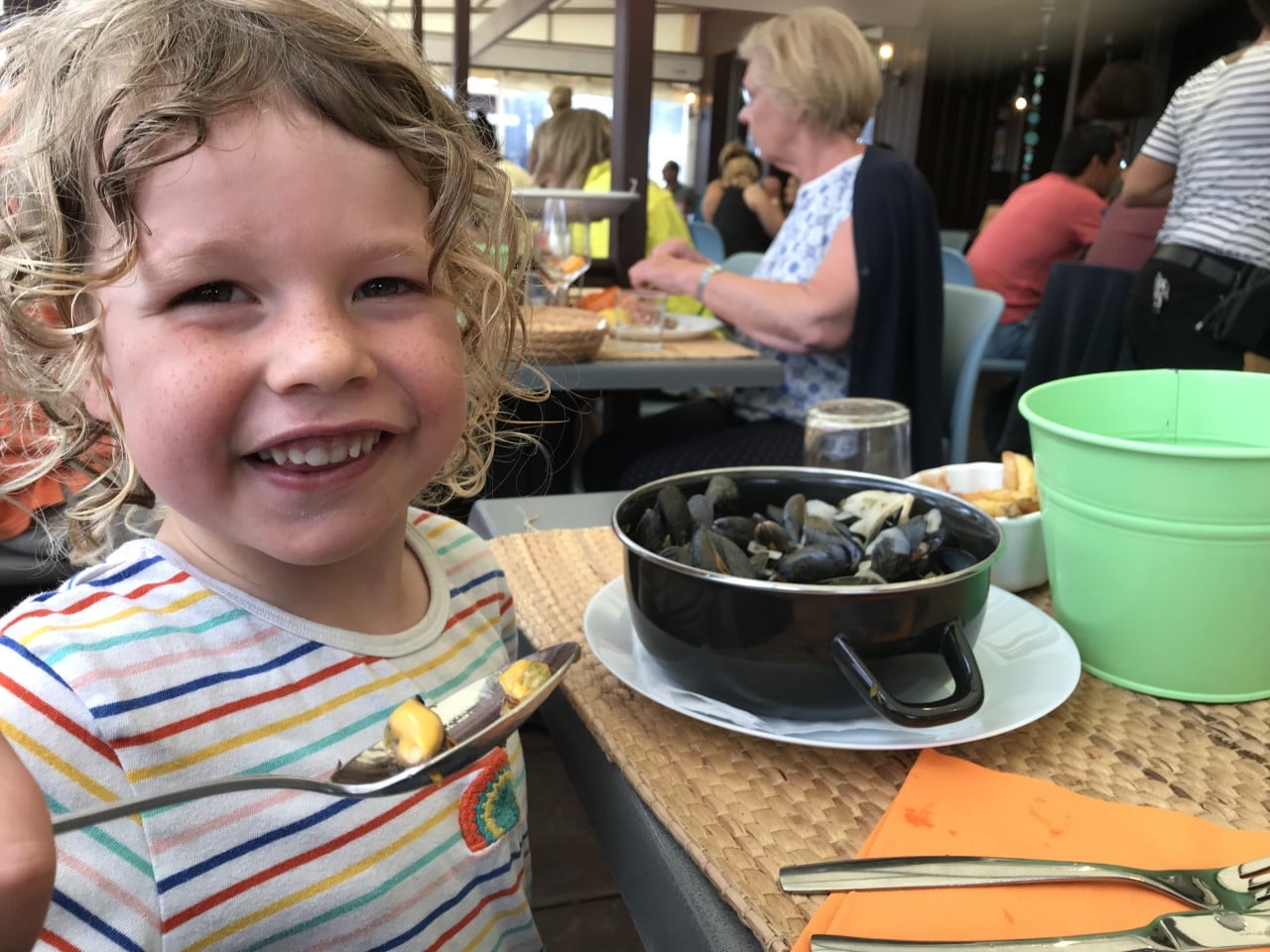 There are several other cafes and restaurants towards the beach in Hourtin Plage, we particularly liked the one closest to the beach car park which has great seafood as well as pizza, burgers and other dishes.  You will find more than enough places to choose from whatever your tastes.
Eurocamp
Arrival
At most other Eurocamp sites we have to register at reception, however for Eurocamp customers at Cote D'Argent you have to go directly to the Eurocamp office to register.  Although the office was empty, there was a number to call for arrivals and they came straight over to check us in.
We were earlier than the stated arrival time, but as our accommodation was ready we were shown on a map where it was and headed straight over.  To get through the gates you need a key card from your Eurocamp rep, which is only given after you pay a 20 Euro deposit.  This is placed in a sealed envelope and returned to you at the end of your stay.
Although our home was right at the back of the site, it still wasn't too far to walk to the swimming pool and shop.  You could easily arrive and go straight to the pool with minimum time in your accommodation!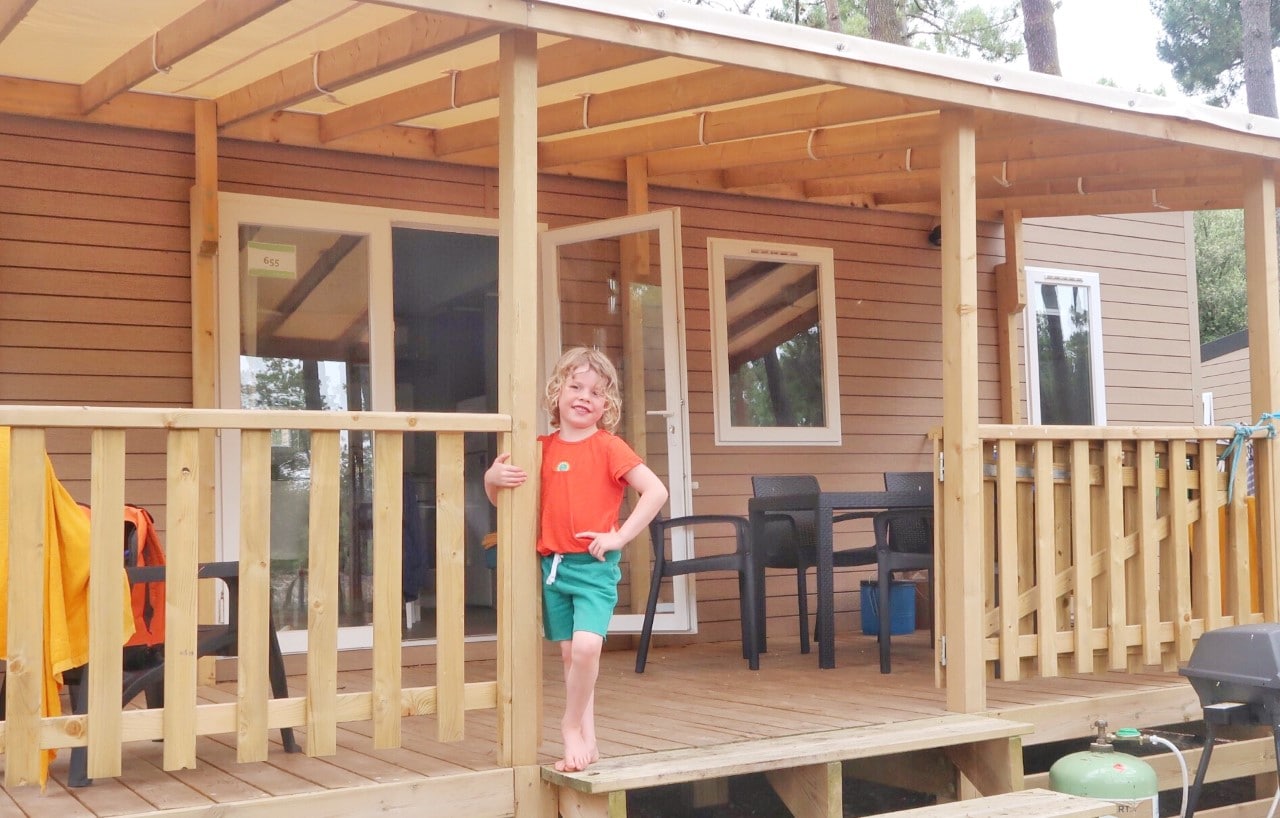 During booking we had requested Welcome Package and Essential Package.  These include kitchen items such as sponge, bin liner and washing up liquid (Essential) and coffee, tea, jam, water and wine (Welcome).  They make it a little easier to have a few things ready for your arrival after all the travelling!
Home
We were in the Eurocamp Azure, which has 3 bedrooms, 2 twin rooms and one double bedroom.  There is a separate toilet to shower room and a main living space with a sofa, dining table and kitchen.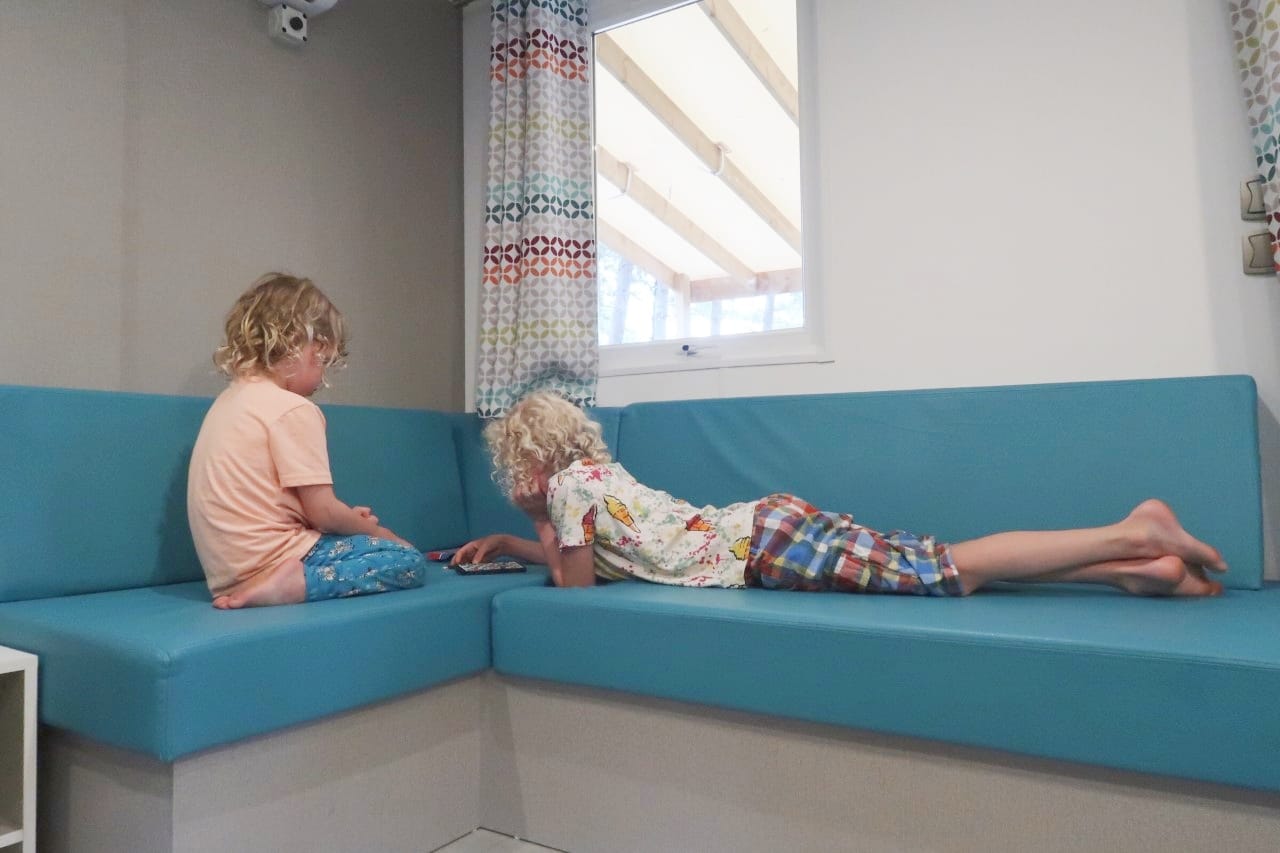 The beds were comfortable and we had crisp clean sheets to use.  At night the air conditioner was essential, the only way to keep it cool enough to sleep!  My only downside to the beds is that the pillows are practically non-existent, I do like a proper pillow to lie my head on.
There is plenty of storage in the bedrooms with both cupboards at the bottom of the bed and a long cupboard above the bed in the double room.  Plus the space under beds for storing suitcases.  We had no problem finding a space for everything.
It takes a little while getting use to a toilet separate from the sink in the shower room, but after a couple of days it's fine.  The shower was great and although not quite the same as a power shower it was strong enough to get properly clean!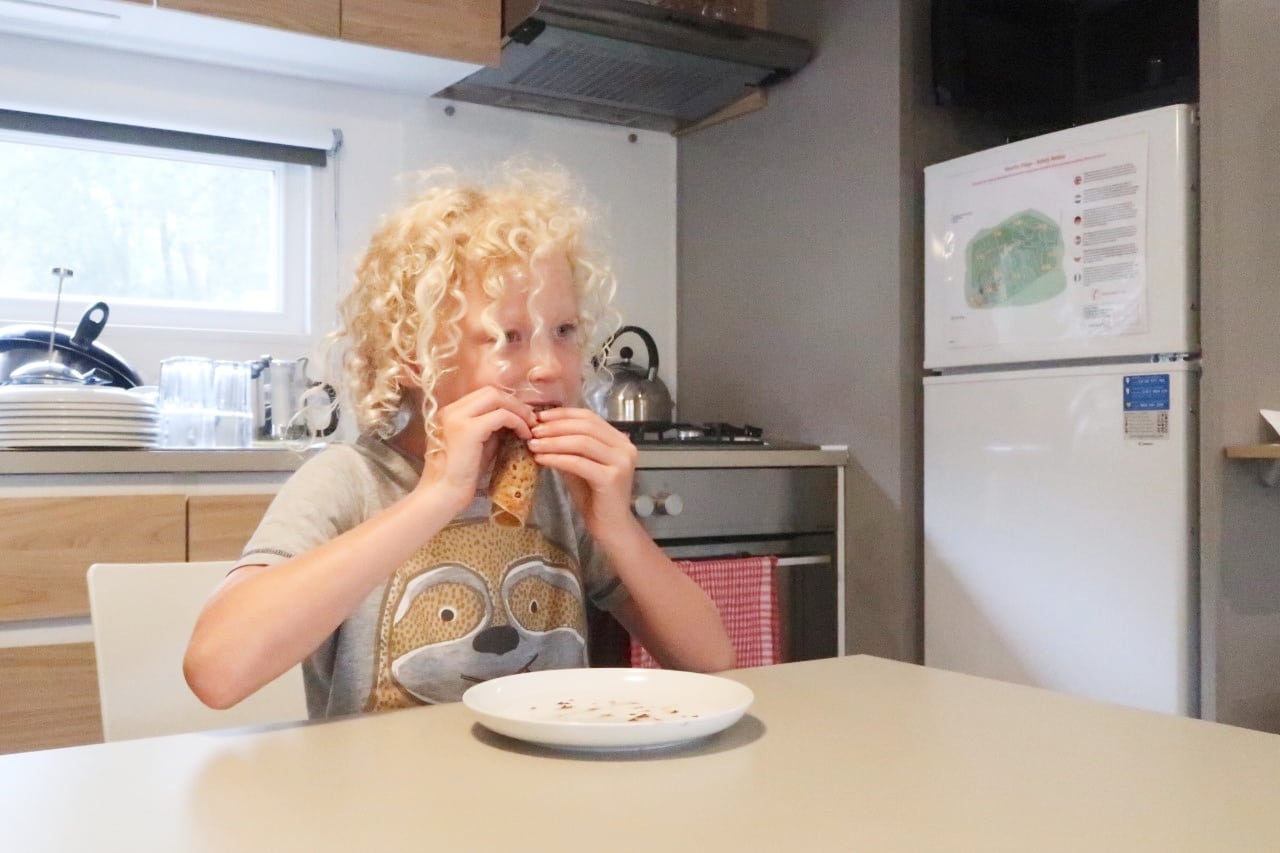 Outside is a decking area with table and chairs.  It's the perfect place for breakfast and dinner, plus you can use the barbecue to cook on outdoors, although maybe don't hang up the swimwear to dry whilst you cook on the barbecue!
Departure
At the end of your stay you simply need to meet the Eurocamp rep to give your gate key back and regain your deposit.  To get out the park you will need to ask the reception staff to let you out.
Make sure the property is cleaned before you depart, put rubbish and recycling in the bins nearby and leave the door key on the table.  Nice and easy!
Verdict
We had a fantastic trip to Cote D'Argent campsite and would definitely stay again.  There was plenty for the children to do in the campsite and within cycling distance for short legs.  The combination of relaxing at the park and trips out on the bike and to the beach really help make this a fantastic family campsite.
If I've missed anything out that you would like to know, please do get in touch!
Pin For Later