This time last week we were in the beautiful city of Paris and enjoying the gorgeously warm sunshine.  It always amazes me at how quickly we settle back into routines again when we get home.  This time we did have some help at keeping our bedtime routines with connecting family rooms.
I think connecting rooms must be my now favourite thing when travelling with kids.  They can sleep in one room whilst we can relax for the evening in the other.  There's no need to sit in the dark or hide out in the bathroom whilst they go to sleep!
Location
Novotel is a well known hotel brand with hotels in over 60 countries.  There are several different Novotel's in Paris and we stayed at the Novotel Paris Gare Montparnasse, which is located on the left bank and a 15 minute walk from the Eiffel Tower.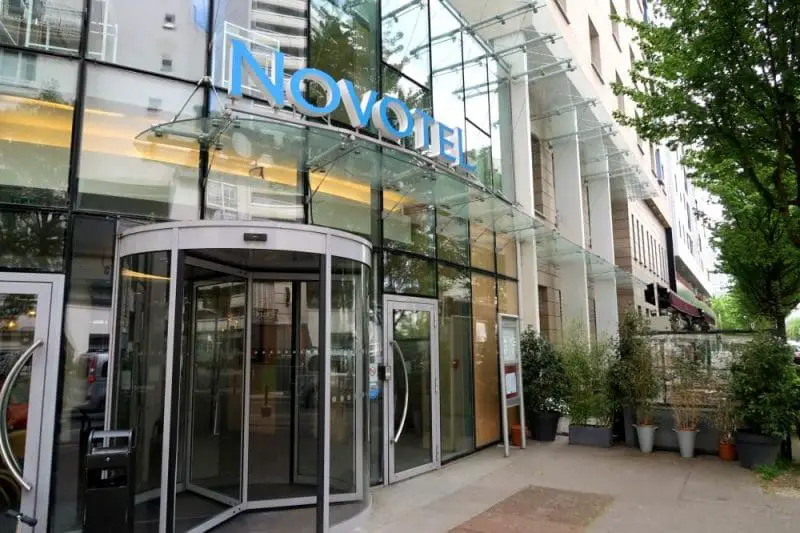 We were definitely close to the centre and the nearest Metro is only a 5 minute walk from the hotel, giving you access to Paris' extensive underground network.  We could easily be on the other side of Paris in 15 minutes!  The hotel is in a quiet neighbourhood, which is perfect for families like us who aren't used to the noise of city living.
We chose to take a taxi from the airport to the hotel, which was around an hour drive through the city.  Our taxi driver was great and pointed out all the landmarks, including the Arc De Triomph as we nudged our way through traffic.  When getting a taxi to the hotel head out to the designated taxi rank outside the terminal building (Terminal 2D) and the flat fare for the journey to the left bank is 55 Euros.
On our return to the airport we had plenty of time so we chose the (slightly) more complicated journey by Metro and train.  It's a lot cheaper as it's the cost of a train ticket to zone 5, which for our family worked out at just over 30 Euros.  We did need to change once at the station Gare Du Nord to the RER train, but it was fairly straightforward.
There's also a car park at the hotel if you wish to drive over to the hotel, I know a lot of people from Southern England may drive over to France rather than fly like us.
Family Stay
On arrival the reception staff will quickly check you in and hand you your keycards for the room.  Then it's upstairs to find your room.  The staff clearly knew we would be reviewing the room and had left us a wonderful welcome of balloons throughout the family rooms.  The boys were thrilled with this and jumped about the beds gathering balloons.  Although not everyone gets this type of welcome, it certainly makes for good photo props!
The family rooms have a connecting door, but were both pretty much the same.  They each had one double bed and one sofa that was folded down as a bed, a toilet room and a shower room.  If you require a cot for babies or toddlers then you can simply request one when you book your room.
Wifi is also free to use and was a decent speed for us.  Although we brought a European pin plug for our devices, we didn't use it as much as we assumed as our phones and iPad could all be plugged into the USB ports in the bed head.  Little things like this make it a lot easier!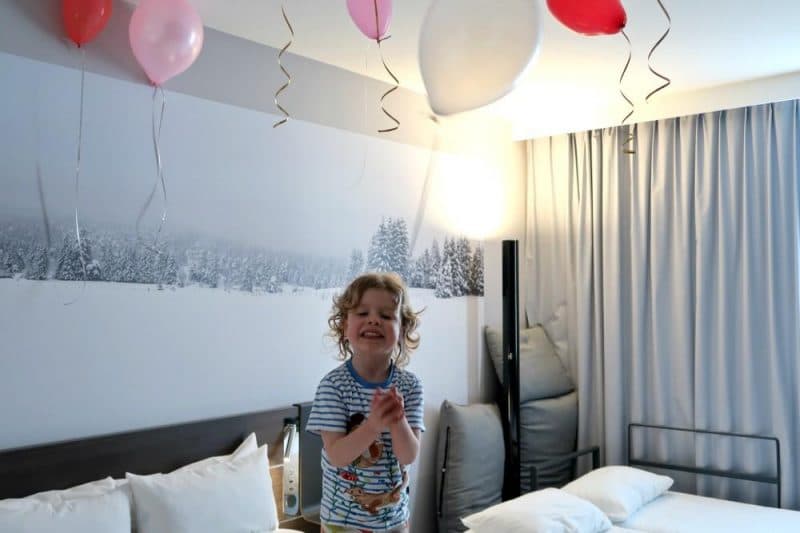 The shower is a waterfall style one, which although isn't as powerful as I'm used to is lovely to stand under!  There's also a separate head for a more powerful nozzle that can be removed from the stand if you are trying to shower without getting your hair wet.  It's also great for cleaning dirty feet from walking around in sandals all day!
As with most hotels these days you are suggested to leave towels hanging up if they aren't dirty, to save on water and electricity.  The sink and mirror above are great, I especially loved that the mirror had a special de-misting section so you could still use it even if the shower had just been on.  The only issue for a family is that younger children can't reach the sink themselves, my 4 year old always gets annoyed at this as he has to ask us to lift him up to wash hands.
I love that Novotel provide some delicious looking toiletries to use.  The avocado soap was fantastic and I couldn't resist smelling it to see if it resembled avocado.  It's nice to see natural ingredients being used, rather than the normal chemical type of toiletries that are never good for sensitive skin like mine!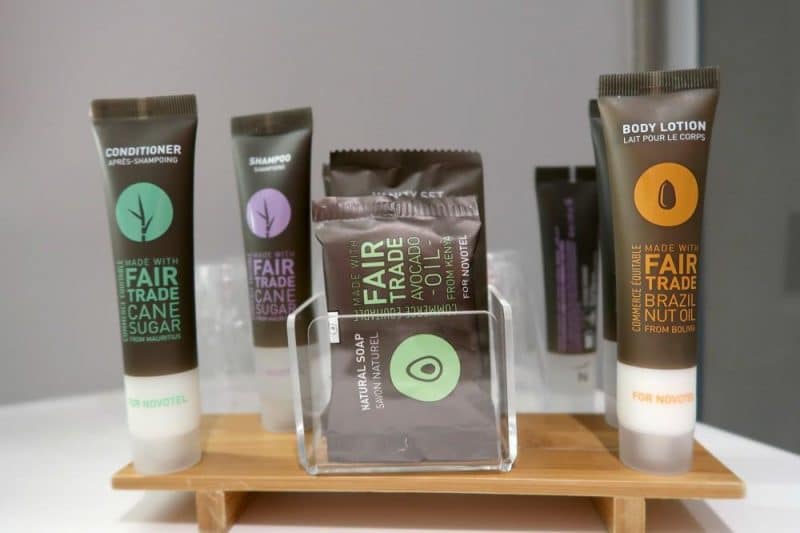 Each room is also supplied with a coffee machine and a kettle to brew tea.  I don't drink either, but my husband enjoyed the hot drinks.  He has multiple cups of tea and coffee a day so I think the weekend was a bit of a detox with only the 1-2 cups!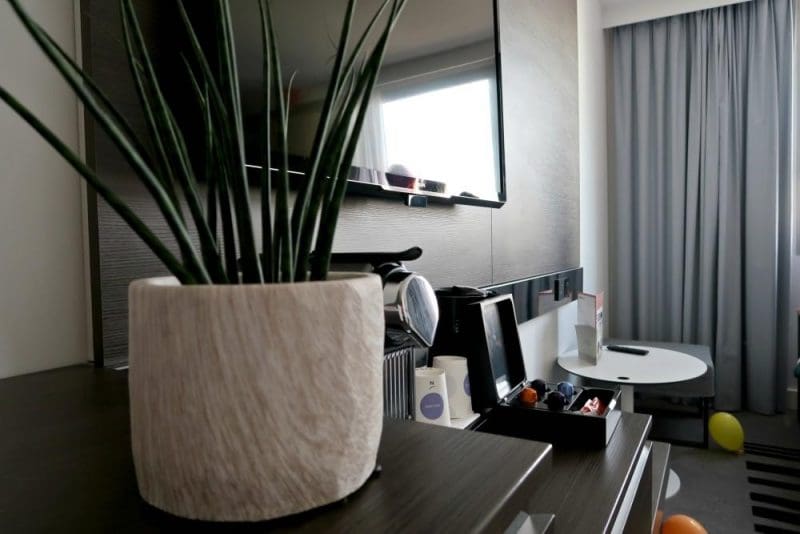 The room service menu looked great and we definitely considered that in the evening when the kids were feeling too tired to go out.  We didn't use room service in the end, but the pricing seemed pretty reasonable for the usual city prices and there's a children's menu included in the room service too.
We had dinner downstairs at the restaurant two evenings during our stay.  Our children are used to eating at around 5.30 – 6pm, which I think is a bit earlier than families in France.  It did mean that we didn't need to worry about our children being too loud as the restaurant was fairly quiet!
The children's menu was reasonably priced and included a main meal, drink and dessert.  They were very accommodating when we asked for spaghetti and bolognese separate for our 4 year old, which is always nice to see.  I personally love fish so chose Sea Bass the first night we ate at Novotel's restaurant and a Salmon and quinoa salad the second.  Both were absolutely delicious!
Breakfast is in the same area and can be very busy. There is a continental breakfast of cereals, pancakes, waffles pastries, bread and cheese as well as cooked breakfasts available.  Everyone found something that they enjoyed eating and went back for second helpings.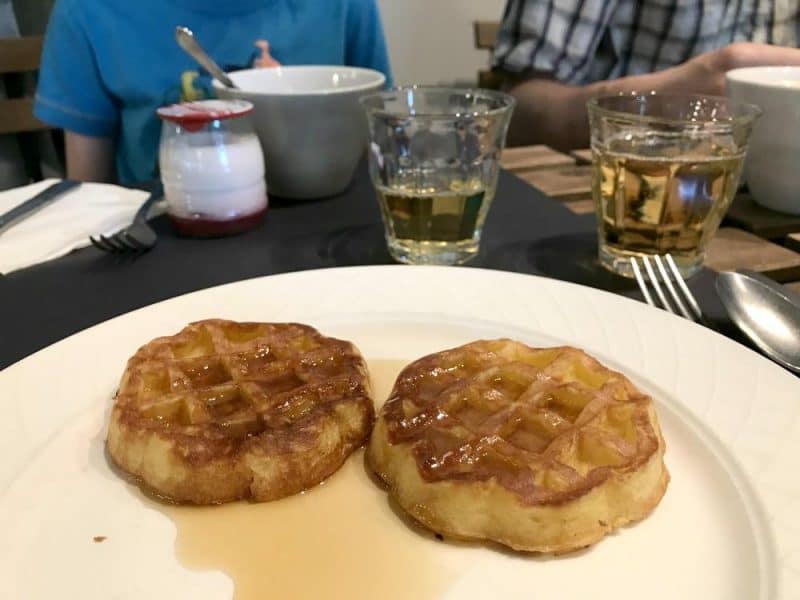 We were there over a weekend and there were many families, so the boys were thrilled to see some kids entertainment whilst eating their breakfast.  On the Saturday it was someone dressed up in a PJ Masks costume, unfortunately neither of my children like people with their faces covered like that!  They were fine watching from a distance, but it was the Sunday morning when a balloon modelling pirate arrived that they were most thrilled.  Each was given a balloon sword and they were so pleased to play with them in the hotel room after breakfast!  Littlest did try to take his home in the suitcase and was a little disappointed when it had to be left.  We'll need to work out how to model our own balloons at home!
Verdict
The Novotel Paris Gare Montparnasse is a perfect hotel for families.  It's close enough to the city centre to make it easy to walk or take the metro, but far enough out to be quiet during the evening.  The connecting family room makes it a lot easier for families to get a good night sleep and also let the grown-ups stay up later without worrying about waking the children.
We loved our stay at Novotel in Paris, it really was a fantastic place for us to stay.  The rooms are fantastic quality with everything you need and the staff are friendly and helpful.  We would definitely stay here again and will be recommending it to our friends.
* We received this stay free of charge for the purpose of this post, however all opinions are my own.