We're well and truly into the summer holidays now up here.  With another 2 short visits to the Scottish islands and trip to Villa Pia in Italy, we've been enjoying travelling this month!  We're back home for a few weeks now and I've spent my time booking the kids into their various classes and groups for term time.
This is what we learned this month.
Home Education
Science
As per usual, science was one of the mainstays of the months home education.  With good reason of course, it includes so much more than 'just science'.  It can encompass maths, english, art, geography and history, so a fantastic way to learn!
I started up a 3 month subscription with Kiwi Crate for the boys. It's quite expensive so I didn't want to buy too many months at once in case they didn't enjoy them.  However, the kids are excited and interested in every single box that they've received through the door.  This month they had two to complete because we didn't have much time to complete it last month!
The first Kiwi Crate was an arcade claw, which meant the 5 year old had to make some pom pom monster prizes and a claw using the wooden pieces, elastic bands and string.  It worked brilliantly and he was delighted with the result.  His older brother also had an arcade themed box with the Tinker Crate, but his was a catapult style game that you shoot balls into the holes and challenge someone to play you!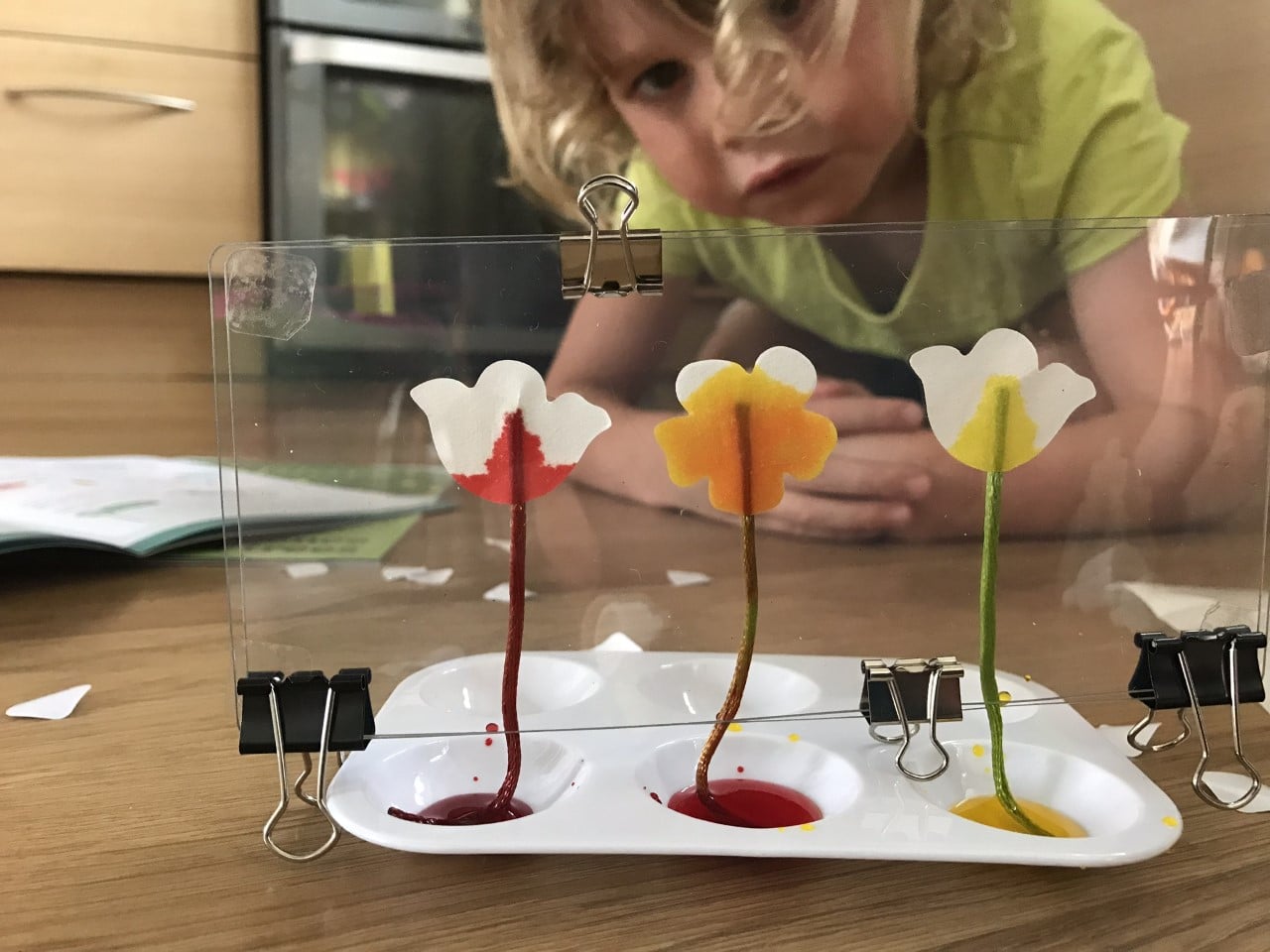 The second lot of crates at the end of July were a planetarium themed tinker crate for the 7 year old, which looks great in the dark!  Plus a tree exploration Kiwi Crate for the 5 year old with capillary action using dye and a tree balancing game to construct.  Both were thrilled with their boxes and creations, plus plenty was learnt about the scientific background too.
Our 7 year old has been saving up any money he's been given to buy a new Lego kit and he chose to spend it this month on a Police lorry from the Lego City range.  A couple of hours later and he was finished, he certainly is quick at constructing them nowadays! We also gave him a Klutz Lego gadget book, which we took on holiday to his grandparents.  The book was a great hit and he spent ages making each and every gadget in the book, including testing out the whisk with a hot chocolate!
Whilst on our last trip across to the Scottish West coast we were lucky enough to watch a Minke whale just off the coast feeding on fish with gannets diving into the water all around.  With a dead gannet on the beach to examine too, it was an interesting day out!  The previous day we had also seen another Mink on the rocks at the beach, spotted by the 7 year old.  Not a native animal, but an interesting aspect to discuss about introducing non-native species into our environment.
To add on to our wildlife watching we've also been watching the Planet Earth II series, with Islands, Jungle and Deserts covered.  Another David Attenborough documentary was requested by our 5 year old – Life of Plants: Survival.  A much older documentary, but the kids seem quite interested, especially when they saw the carnivorous plants!
We've continued listening to our usual science podcasts of Wow In The World and Science Adventures for Kids.  Youngest's favourite part is to tell everyone that a giraffe's kick can kill a lion!  Our eldest prefers the Wow In The World episodes and has been requesting to hear the one about carbon capture and global warming most often.  They've also learnt about brain freeze, non-melting ice cream, the Mars Rover, Koala's, Sloth's and Echidna's!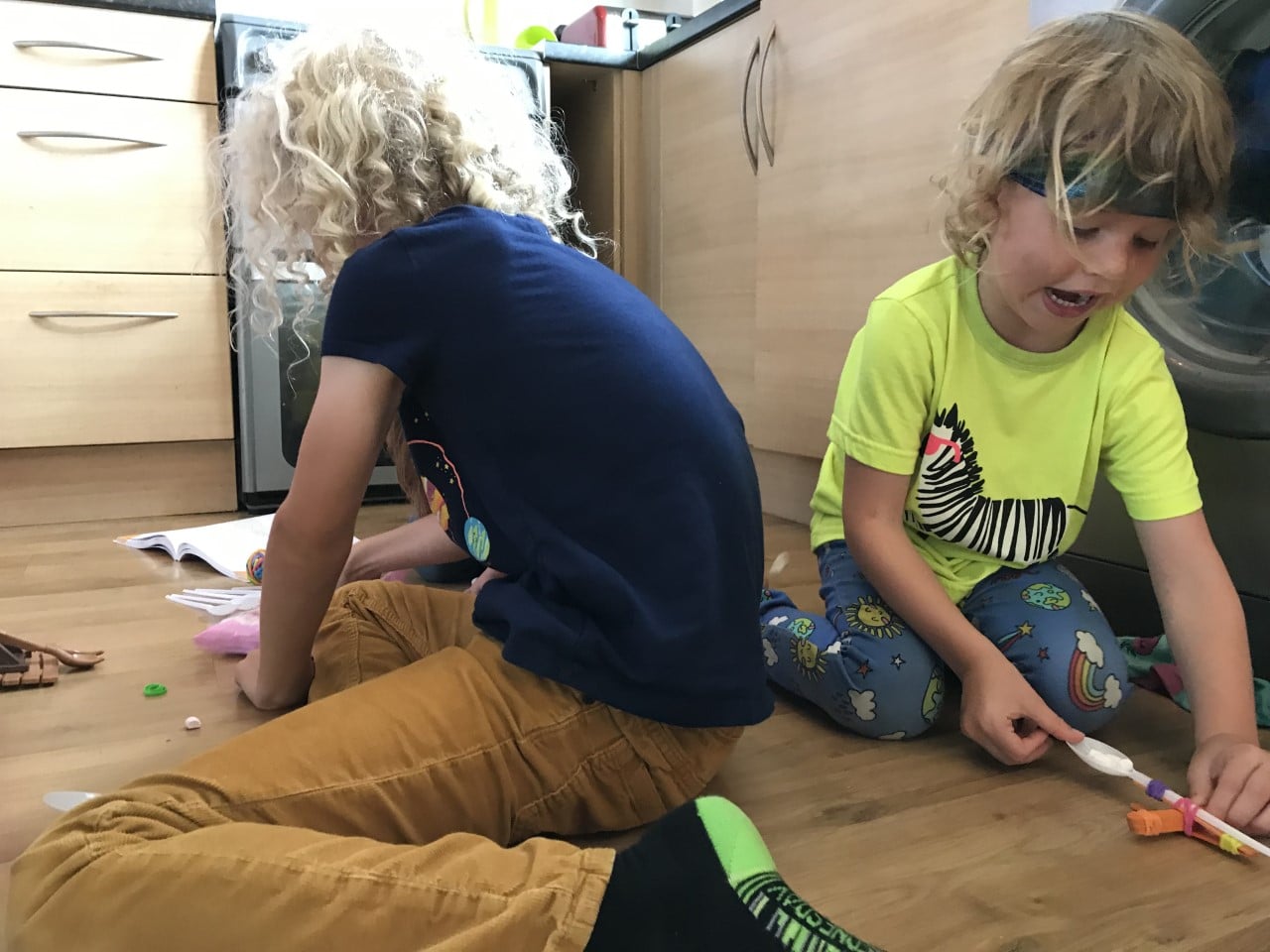 We've had our usual science meet up's with friends this month, the first creating catapults out of wooden lolly sticks and elastic bands.  We did initially try using marshmallows to shoot, but the kids just aimed them into their mouths rather than across the room to test accuracy!! So we switched to pom poms instead, ha ha!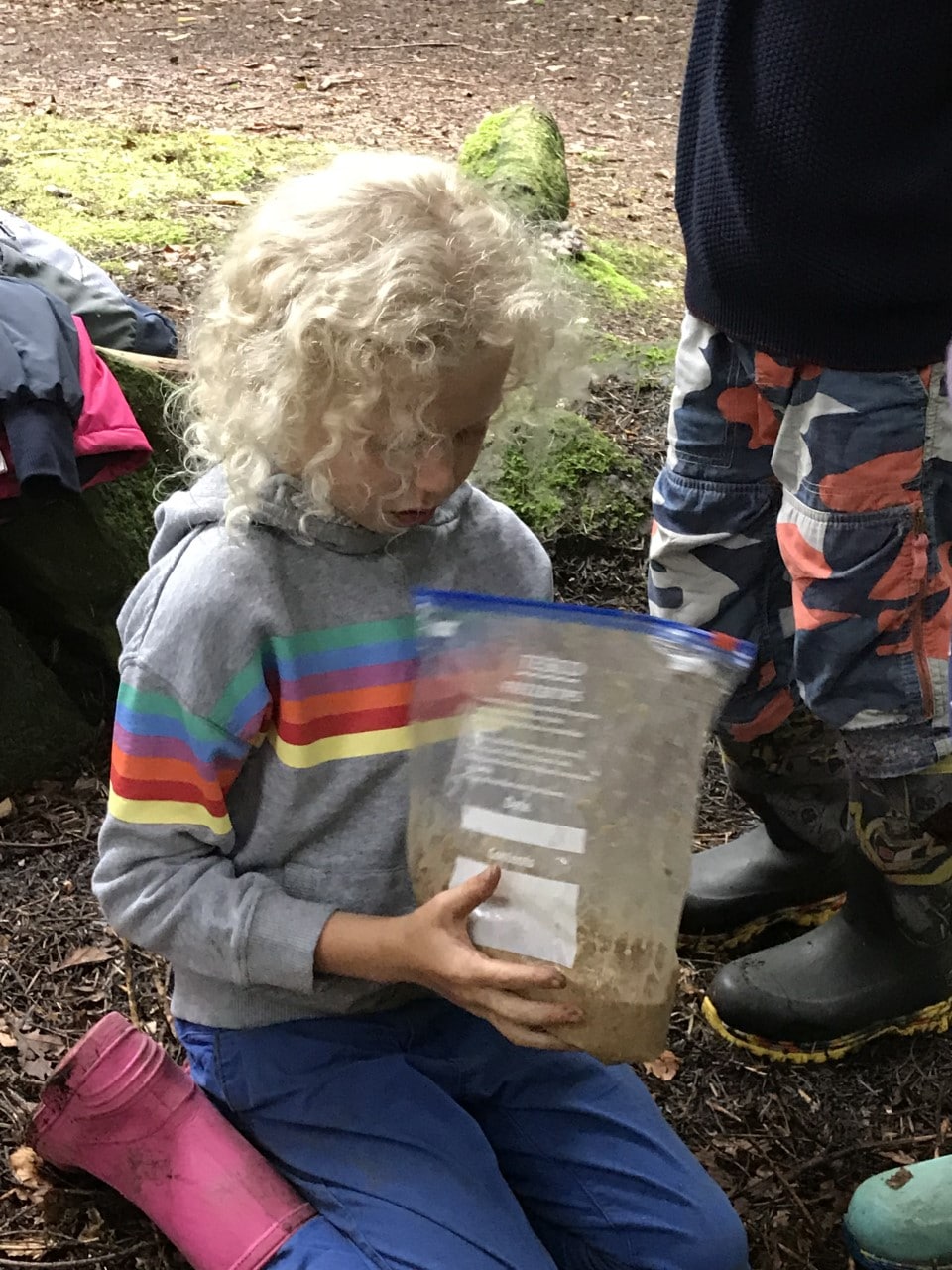 The second group we learnt about the science of poo, which of course was right up the kids street!  They ate edible poo (it really looked authentic!!) and made their own poo from mashing up food to passing it into the stomach and squeezing through intestines made of tights.  Finally squeezing it out of a plastic bag as the finished 'poo' product.  Poo science is definitely something the kids won't forget.
Unstructured Play
The children have had great fun with plenty of time to play with friends.  As it's the summer holidays they've had lots of friends who go to school to play with during the day, which they're making the most of.  When it's been sunny they're out on the street with bikes, scooters and skateboards having a great time!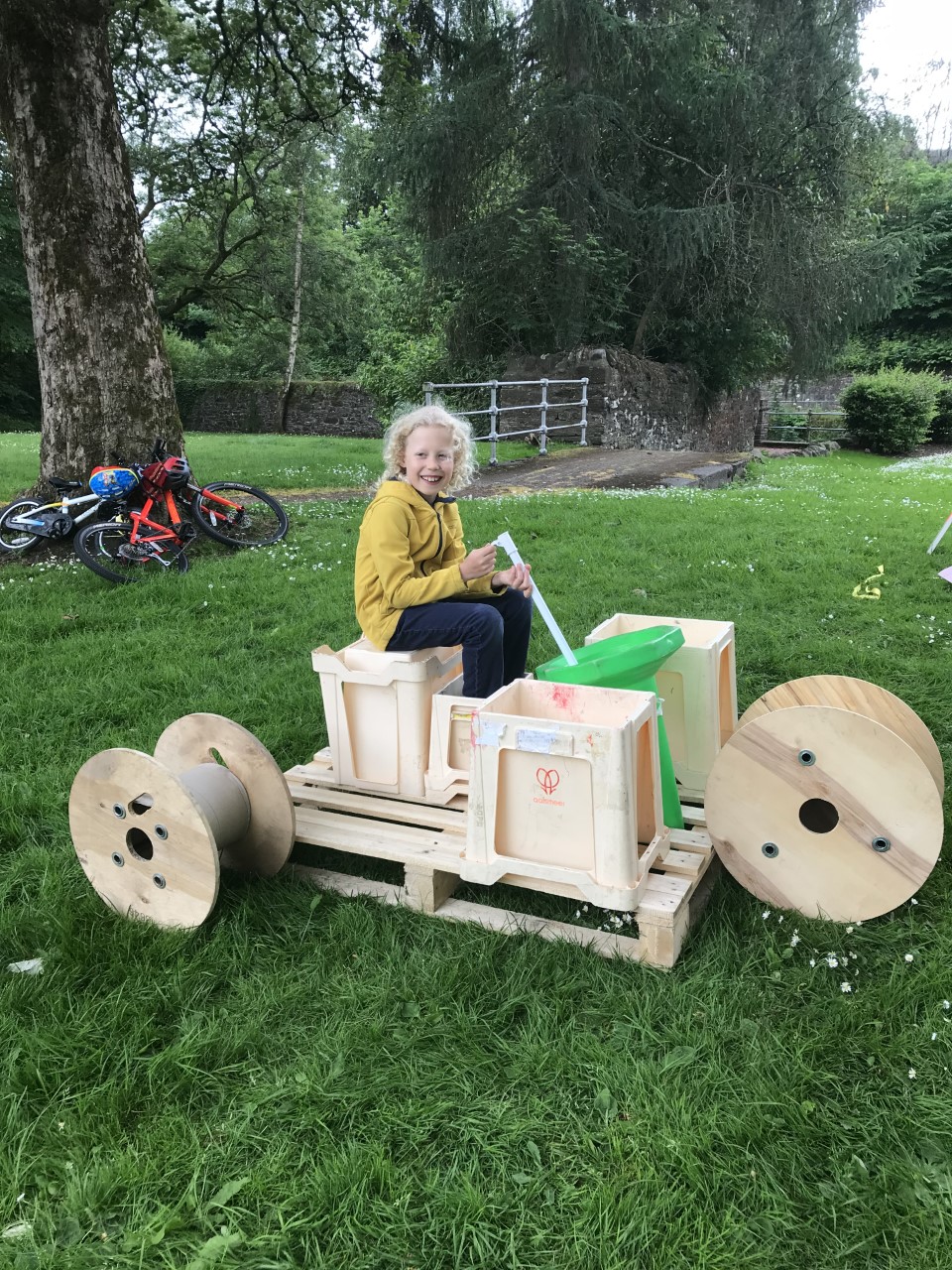 Whilst at a local play at the park day they both particularly enjoyed the loose parts marquee where they could make whatever they wanted from the bits and pieces available.  It was great to see their imaginations take hold on their projects.
We spent some time on the West coast of Scotland playing on the beaches, climbing rocks and the children made some new friends to lay with when they were there too.  They also had great fun playing with children at Villa Pia in Italy, where we spent the week together with lots of other lovely families.
Reading and Writing
We're still taking part in the library reading challenge and the boys are soon to move onto the 3rd and final stage, with just one more book to read to complete it.  Littlest has mostly focused on the Rainbow Magic fairy books, whilst our eldest has tried various books including some of the Dirty Bertie ones that he hasn't read before.
We've also been reading some of the One Third Stories books that I bought as a subscription for the kids.  We started with a book about dinosaurs and shoes and are now onto another book about a monster baby.  I've also been learning Spanish myself with the Duolingo app (which is free!) and youngest has been listening and learning words from that too.  It's a great app, although any children using it would need to be able to read in English first.
Mathematics
Maths has included various science activities above, as well as plenty of board games and general counting/multiplication in every day life.
Exercise
Throughout the summer holidays I've signed the boys up for extra 1-2-1 swimming lessons to help them improve on the skills that aren't quite there yet.  For littlest that is putting his head under the water, which he has ALWAYS refused to do.  But if you were watching my Instagram stories earlier in July you would have noticed that he managed it on his first 1-2-1 lesson!  Since then he's improved to swimming a short distance under water, success!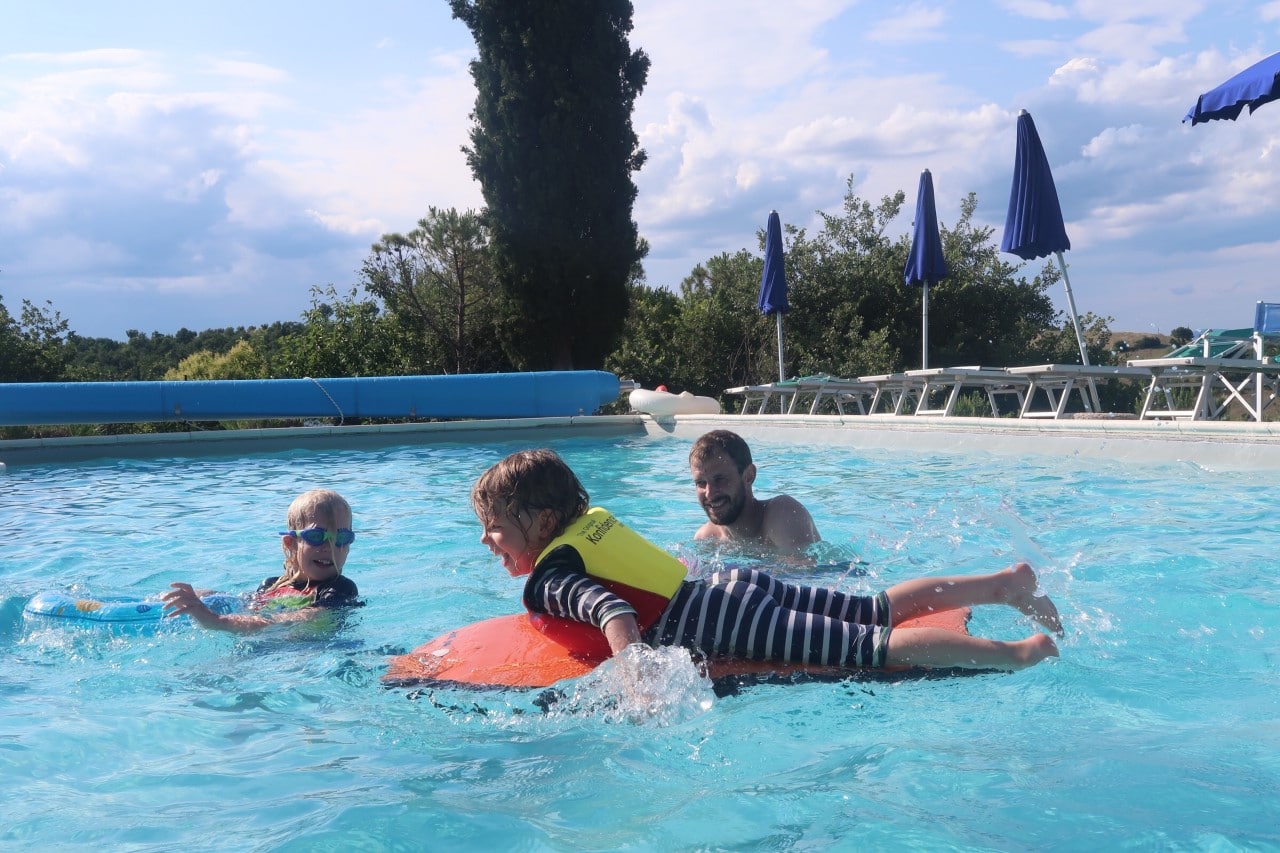 Our 7 year old can already swim, but he's been practising his breathing and arms movements. He has a tendency to stop swimming whilst he breathes, but he's getting much better now too. We also had plenty of time to practice swimming whilst on holiday at Villa Pia too.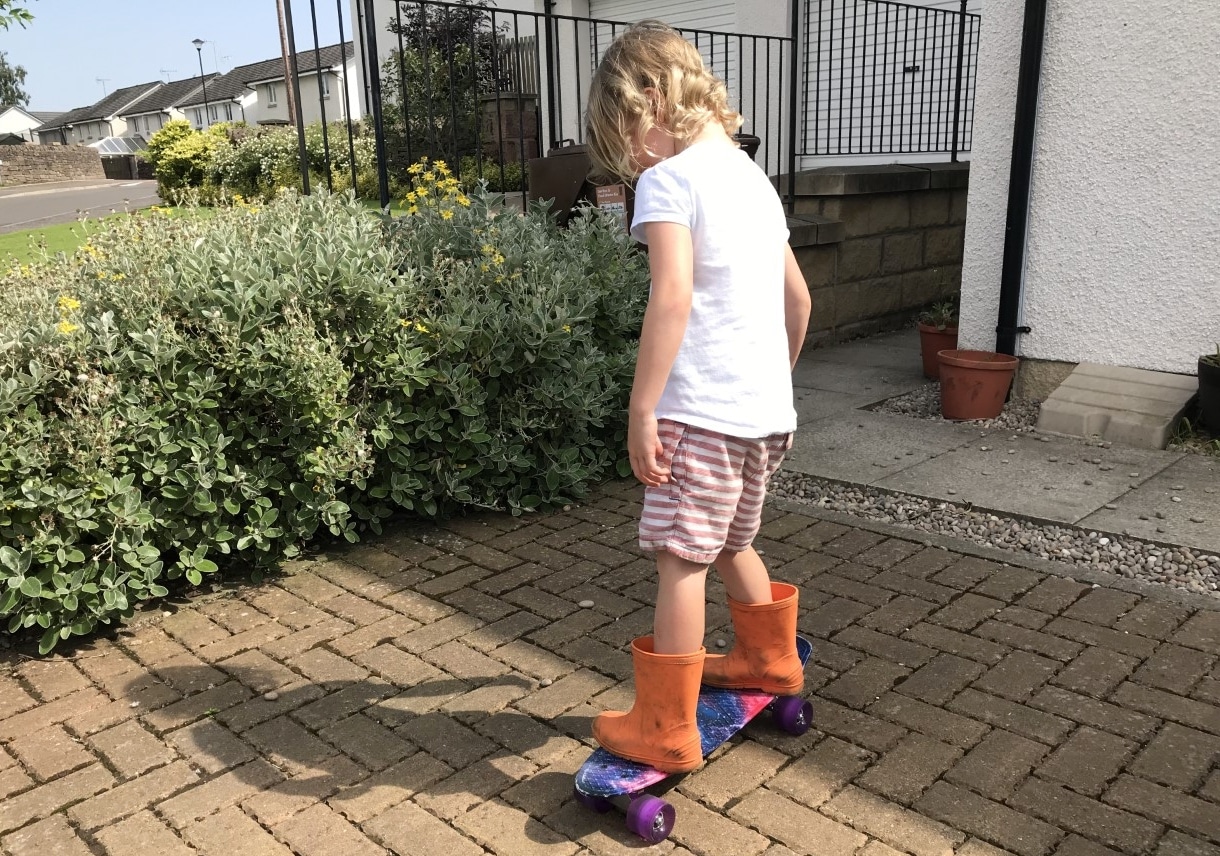 The 5 year old has been practising with his skateboard outside on the street, getting his balance, although he's determined to learn 'tricks' soon.  They've also had plenty of time out on their bikes and scooters with friends on the street.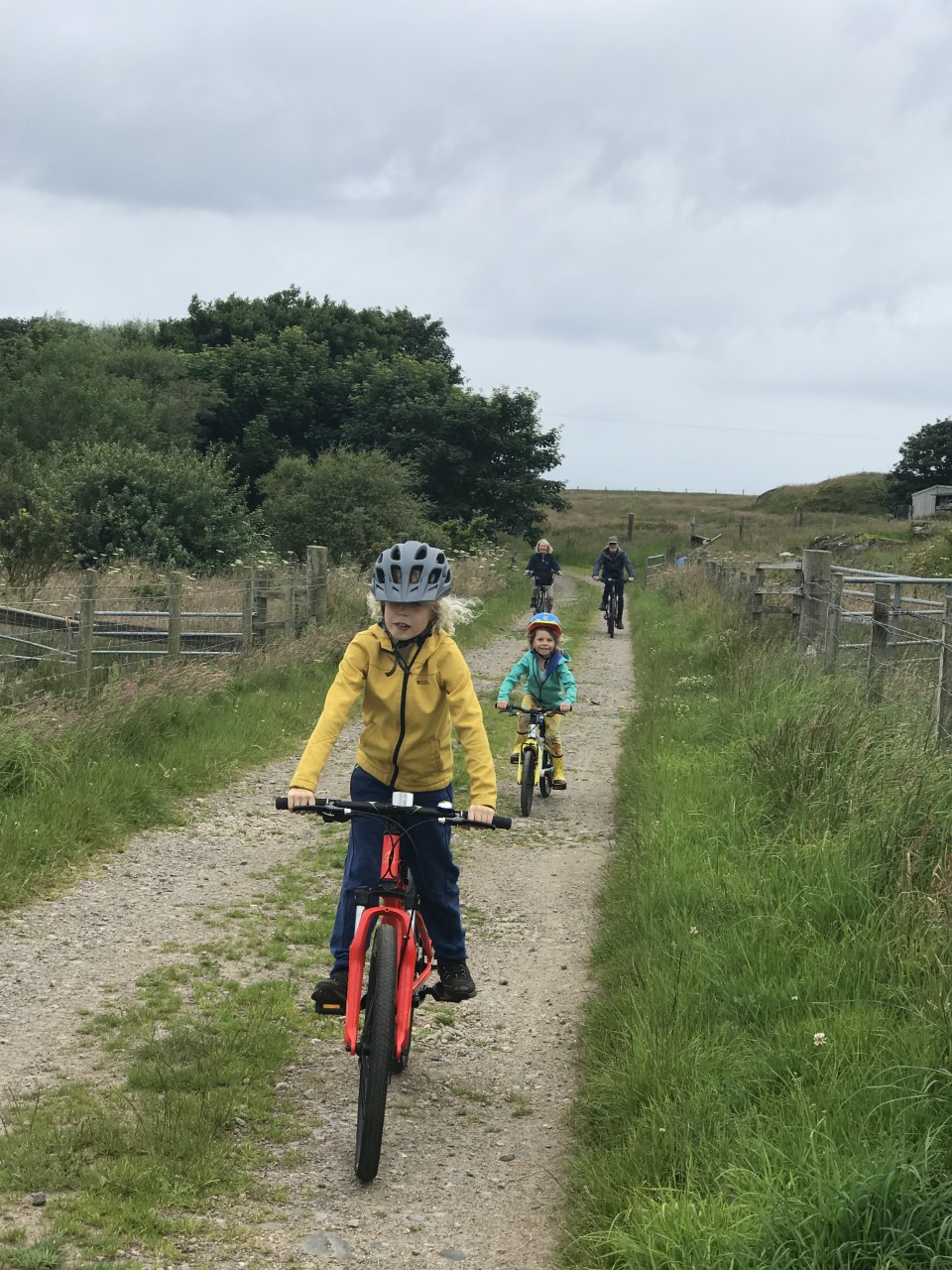 Whilst we were on Gigha there has been a lot of time on the beaches, climbing rocks, splashing in the sea, practising long jump on the sand and generally tiring themselves out.  We also spent a lot of time cycling there as the island is only 7 miles long, which is easy for young ones to cycle on.
History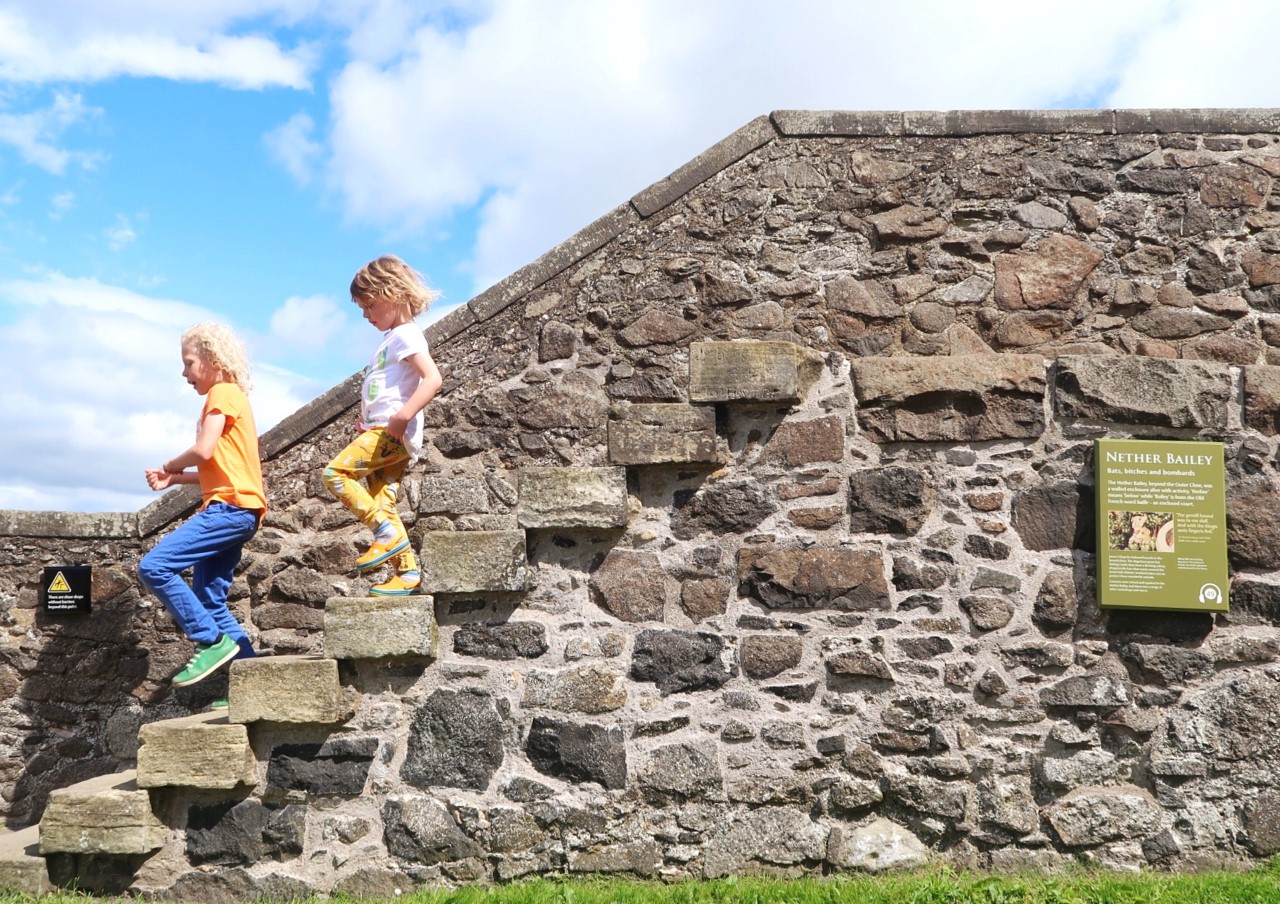 We've visited Stirling castle twice this month, it's always a favourite place of our children to visit, plus it's really close by!  We've had a Historic Scotland card for years and definitely get the most out of it with our visits to different castles around Scotland.
Whilst we were in the beautiful town of Anghiari in Tuscany, we visited a great little museum that discussed the Battle of Anghiari, including the history of the town and why the two armies were fighting.  It also included the Leonardo Da Vinci drawings of the battle, which he was commissioned to do, although he never completed them.
Whilst on our way to Villa Pia from Florence, we stopped at Arezzo for lunch.  After the thunderstorm had finished we wandered around to the amphitheatre and museum which was filled with plenty of historical items.  The children were given a sheet of items to find around the museum, which was interesting and helped them learn a little more about the history of the items.
The children enjoyed making a Viking ship this month, painting it to the colours they thought fit, whilst learning more about Viking life through a couple of Viking YouTube documentaries.
Geography
We've been receiving a Geo Journey subscription for a few months now, including Italy, Japan and USA.  This month's country was Netherlands, which was great as we had stopped there to change planes on the way to and from Italy!  The boys both helped to put the stickers on to the pages and learning about the Netherlands and what it is famous for.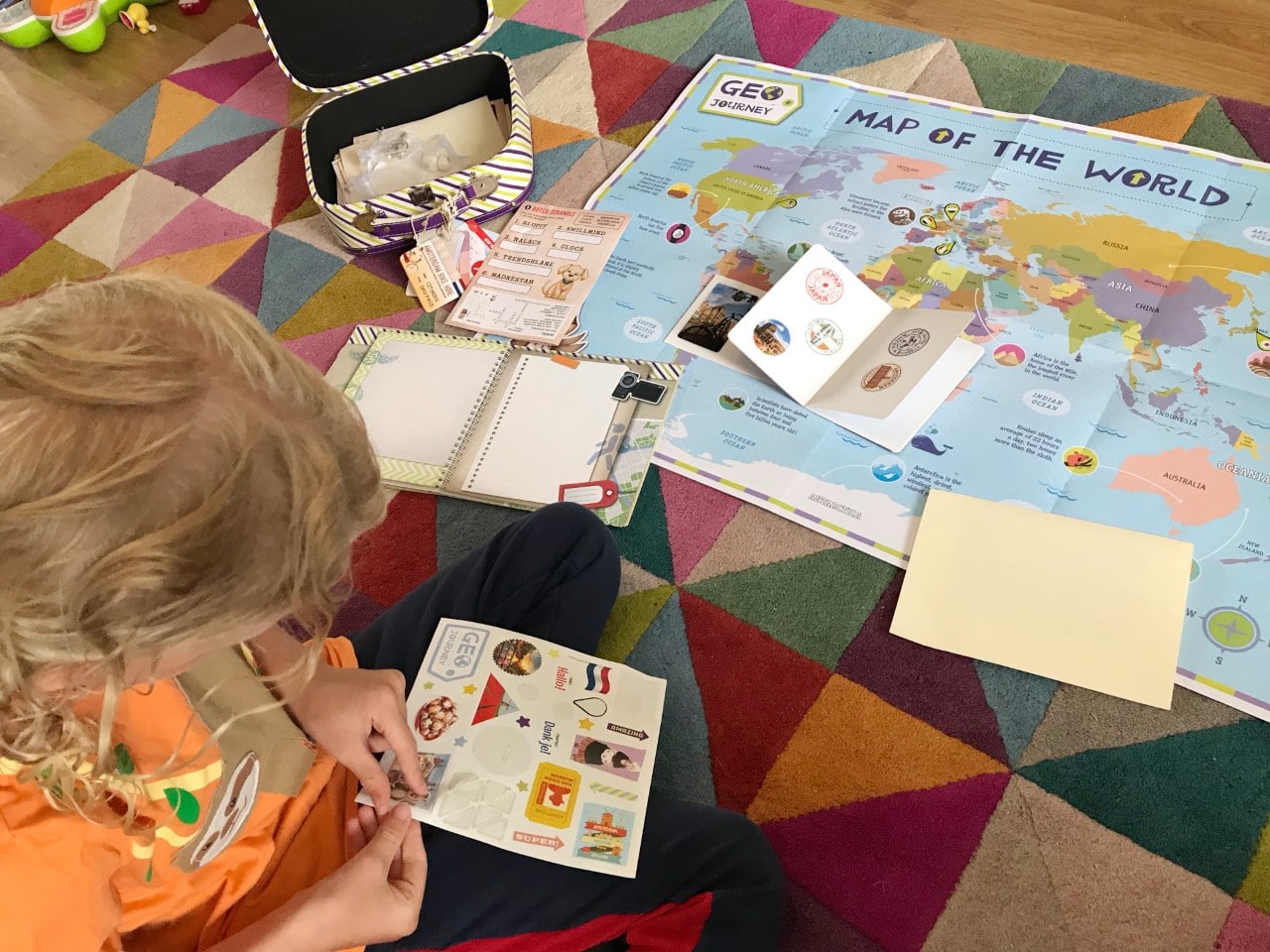 As we were only 2 hours from Pisa when in Italy, we had to take a trip to visit.  Although we never managed to get up the tower (much to littlest's disappointment) it was still great to see it up close and look at how tilted it actually was.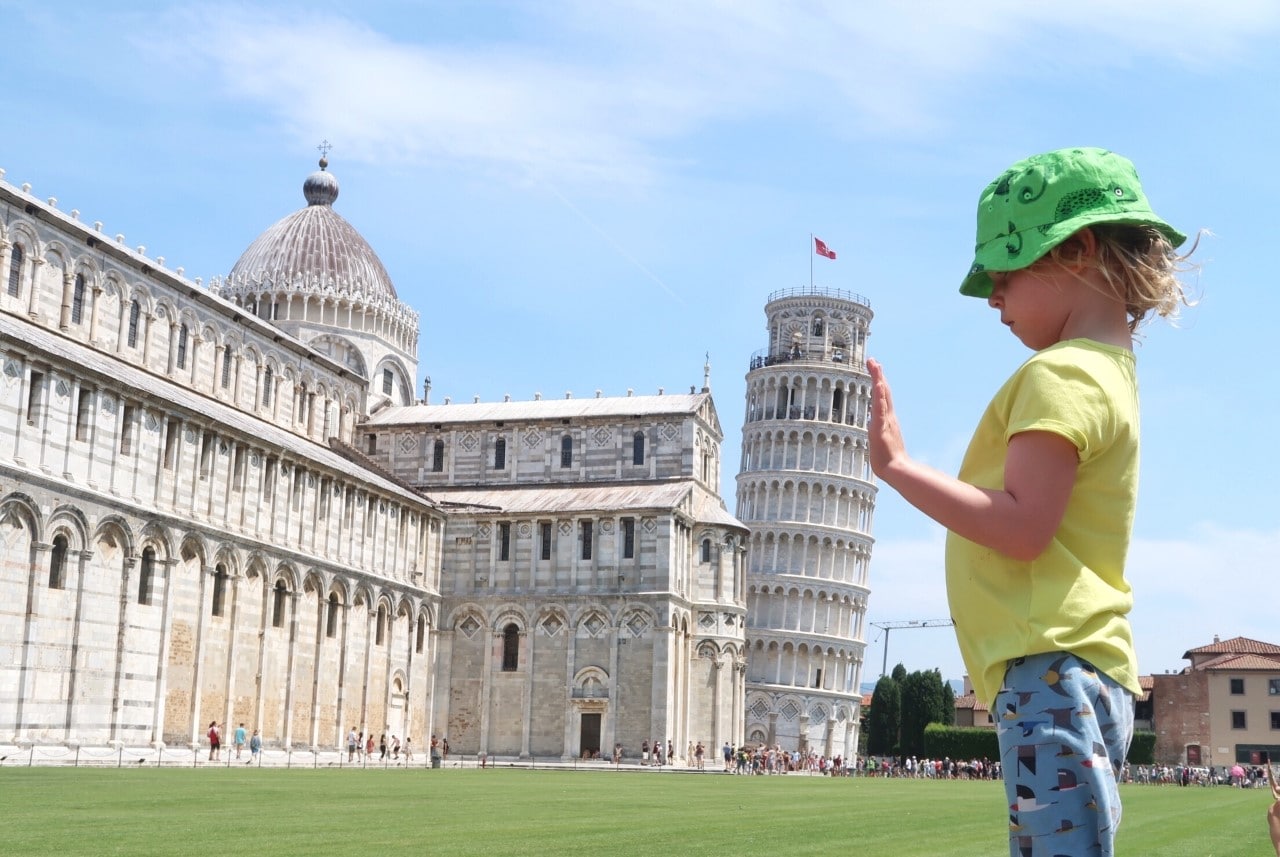 We've also been playing a few map and flag games to help the children recognise country flags and where the countries are on the map.
Music and Art
As usual the children have enjoyed playing the keyboard and have now started a pots and pans band most afternoons… Not quite sure of the tune of the pots and pans, but they are enjoying making 'music' anyhow!
We've also managed various painting, including their Viking ships and a couple of art classes for our 5 year old whilst in Italy.
Our youngest has also been having a great time dancing to his music and both children enjoy putting on 'shows' together, which is fun to watch!
Pin For Later