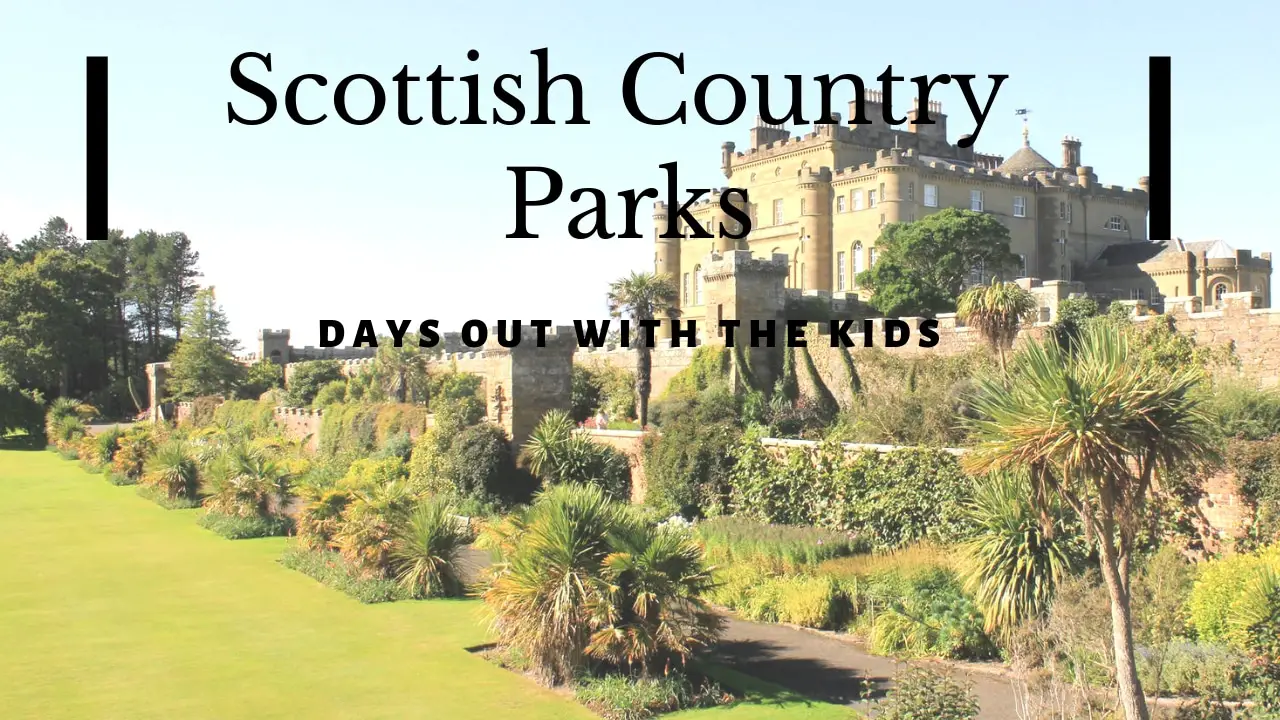 Scottish Country Parks are great for family days out and most are low or no cost.  We've visited quite a few ourselves, although some of the further afield ones we've missed.  Lots of people from all over the UK, enjoy spending time up here for their Scottish holidays.  Please make sure that you follow the rules of wherever you are visiting.
Leave a comment with any other country parks, Scotland, that you would recommend!
Country Parks In Scotland
Glasgow Area
Glasgow area includes Scottish country parks further North toward Loch Lomond as well as the area around Glasgow itself.  There are plenty to explore, with Mugdock being one of the largest Scottish country parks to explore!
Mugdock Country Park
Mugdock Country Park is located just North of Milngavie and has over 270 Hectares of woodlands, moors and heathland.  There are 2 castles, a loch and a walled garden, all perfect for exploring with kids!
There are 2.5 miles of path suitable for cycling and you can even hire bikes or get yours fixed at the cycle centre in the Stables Courtyard.  You can also visit the visitor centre to pick up one of the trails or activity sheets available, including; summer tree trail, history trail, orienteering course and scavenger hunt.
Beside the visitor centre, children will also enjoy the playpark and adventure trail, plus there are several places to eat and even a craft shop to check out.
Balloch Castle Country Park
Balloch Castle Country Park is situated on the South East side of Loch Lomond in the small town of Balloch.  It consists of over 200 hectares of woodland, gardens, palyparks, parkland and shoreline.  A fairy trail has been established by carving fairy houses and other things into tree stumps around the park, you can find the fairy house locations here.
It's a great park to enjoy the gardens and loch as well as letting the kids run wild in the open spaces.
Calderglen Country Park
Located to the South East of East Kilbride, Calderglen country park doesn't only just have beautiful grounds to walk through.  Calderglen also features a children's zoo and tropical glasshouse.
Enjoy lunch or a snack in the cafe and let the kids run wild in the play park.  You can even play a spot of golf on the 18 hole golf course.
Chatelherault Country Park
This unusually named country park gets the name Chatelherault from the title given to James Hamilton 2nd Earl of Arran who helped to arrange Mary Queen of Scots marriage to Francis, Dauphin of France.  James' new title of Duc de Chatellherault was derived from the French town of the same name.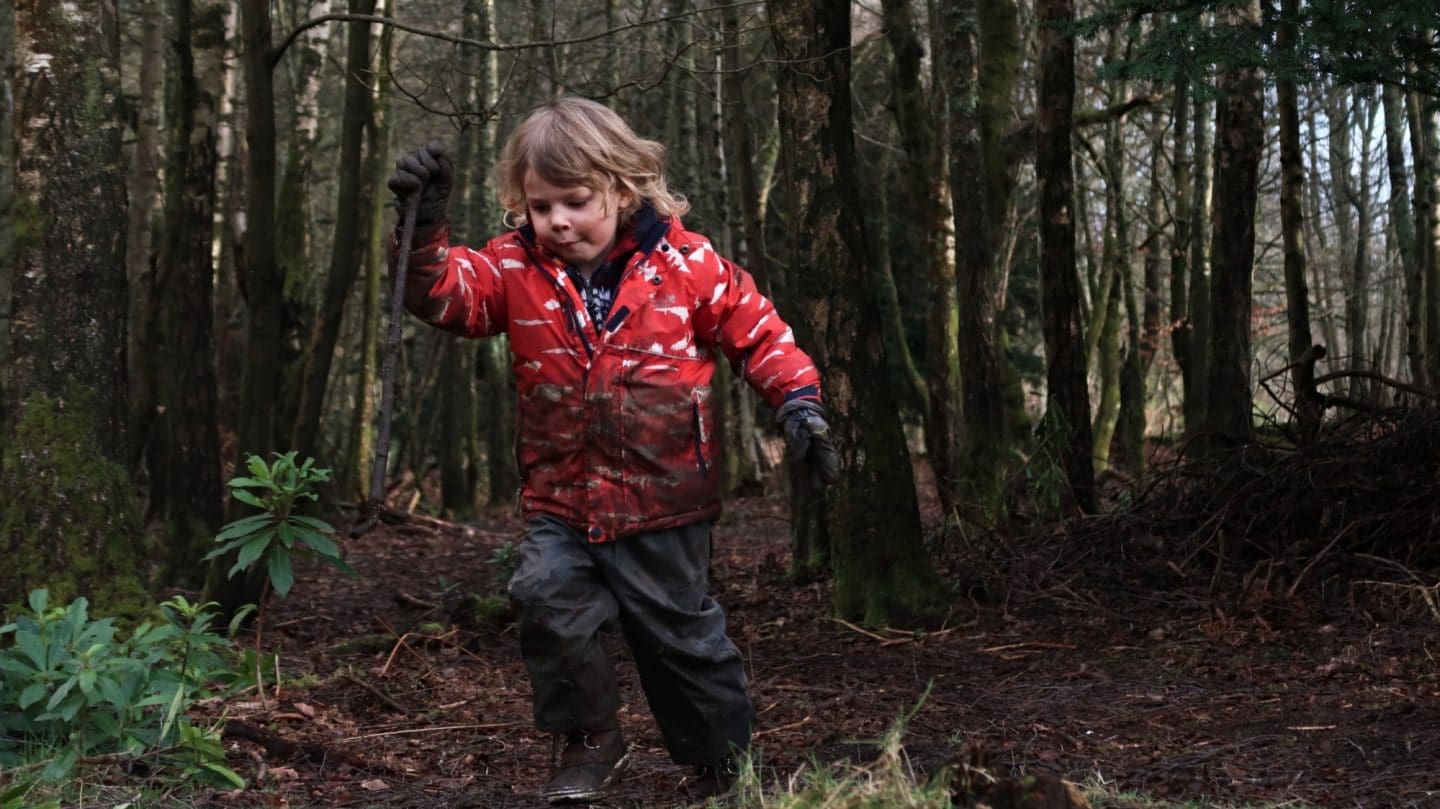 The country park features 500 acres of countryside and woodlands, including over 10 miles of routed pathways.  There is an adventure playground (updated since I used to play there as a child!), picnic facilities and an 18th century hunting lodge.  The visitor centre with cafe and gift shop is open daily and a great place to take the family for a walk or cycle.
Pollok Country Park
Pollok Country Park is Glasgow's only country park and boasts 146 hectares of woodlands and gardens.  The perfect place for visitors to enjoy the quiet surroundings.
There are lots of activities to do including a heavy horses, sawmill, walled gardens, play parks, riverside walks, highland cattle and an orienteering course (maps can be picked up from the managers office).
The Burrell Collection and Pollok House are also located in the park, great for wet or cold days.
Strathclyde Country Park
Strathclyde country park is located in the predominantly built up area of Motherwell, with the M74 running along one edge of the park.  However, it's a 400 hectare area of countryside popular with thousands of locals for walking, cycling and water sports.  I personally learnt to kayak on the loch here and remember many happy walks with my parents and grandpa.
There are some great play parks and it's the perfect place for kids to learn to ride a bike or for feeding the ducks and swans.
Edinburgh Area
Although there are no Scottish country parks within Edinburgh itself, there are plenty in the surrounding area.  Have a wander around Dalkeith country park and enjoy the delicious food at their cafe. Or take the bikes for a day out cycling around Beecraigs country park.
Beecraigs Country Park
Above Linlithgow in the Bathgate Hills is Beecraigs Country Park, a large forested country park with a fantastic play park for the kids, plus plenty of paths to walk and cycle along.  There's also a great mountain bike track network throughout the park (check out the links to maps here) and a skills area near the Lochshore car park.
Head over to the visitor centre to find out more about the park and grab a bite to eat at the cafe.  Don't forget to visit the animal attraction of farm animals and take in the view across the loch!
Roslin Glen Country Park
Just South of Edinburgh is Roslin Glen Country Park, a beautiful area of countryside with paths along to several building of heritage significance and beside the well known Roslin Chapel.
The park is run by the ranger service who also have free resource boxes available to everyone to try out pond dipping, mini beast hunting and other nature activities.
Almondell and Calderwood Country Park
Located in West Lothian, the Almondell and Calderwood Country Park has a great visitor centre in old stables building.  The visitor centre includes a number of aquariums featuring local wildlife and interpretation boards.  There is also confectionery and hot and cold drink machines available.
There are a variety of walks through the park, all can be found on the map available at the visitor centre.
Dalkeith Country Park
At Dalkeith there are plenty of trails to walk, run and cycle around the country park.  The restoration yard has delicious food and fantastic shops, plus you can pay to enter Fort Douglas and adventure play park with a recent new addition of the Sky Maze in 2019.
Vogrie Country Park
West of Pathhead is Vogrie Country Park, complete with woodland and river walks.  There are 11.5 miles of paths throughout the park and a golf course where you can book a game.
With a cafe and an adventure play park you can have a great day out with the family, plus there are often ranger led events and a minaiture railway during the summer season.
Ayrshire
On the South West coast of Scotland, Ayrshire has several fantastic Scottish country parks.  The most well known is probably Culzean Castle country park, where you can explore the parkland and let the kids go wild in the play parks.
Dean Castle Country Park
Beautiful walks and a 14th century castle feature at the Dean Castle country park.  The walks through the woodlands are stunning and there is a great play area for the kids along with a rural life centre explore.
There is an urban farm paddocks with Eriskay ponies and Hebridean sheep and during the summer you may spot dragonflies and herons on the water.  If you are hungry then head across to the Castle Kitchen Cafe for tasty food!
Culzean Castle & Country Park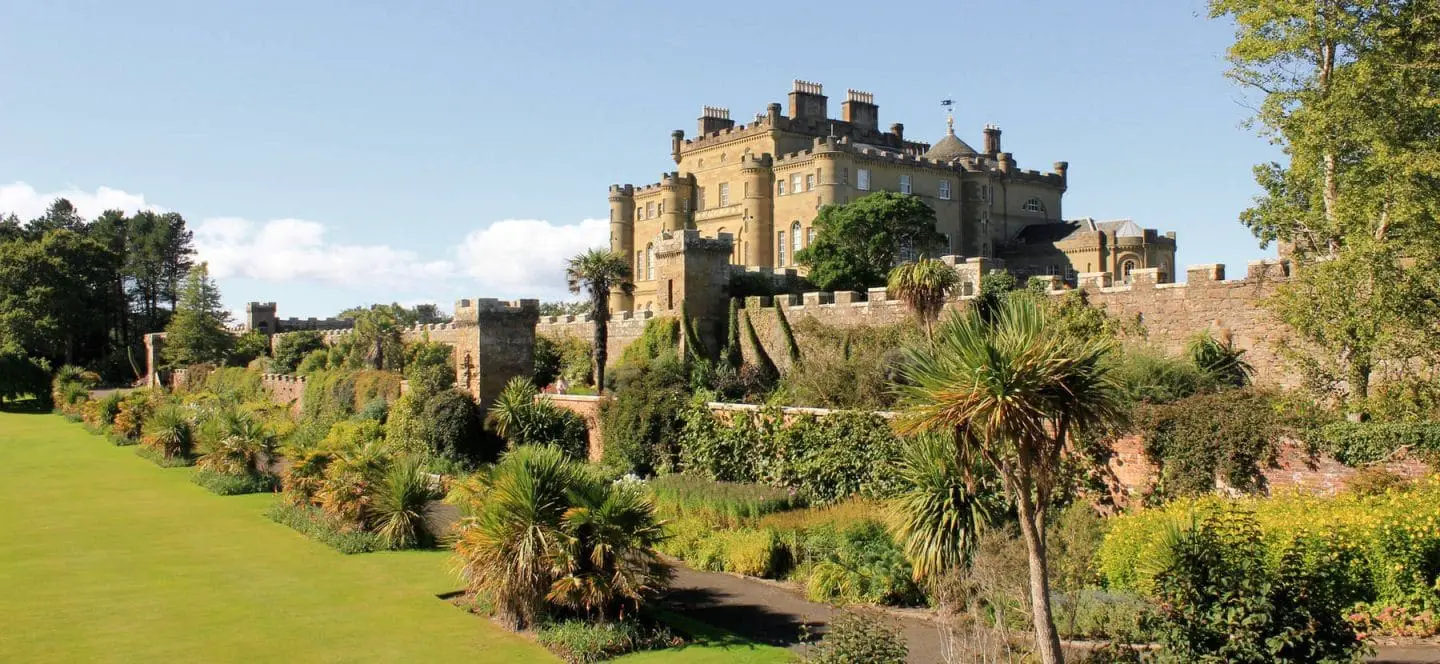 Culzean castle was built for the 10th Earl of Cassiss, David Kennedy, and is the main feature of the estate proudly sitting on top of the Ayrshire cliffs.  Surrounding the castle are a mixture of woodlands, stunning gardens, beaches and a swan lake.  There are many different follies to find secreted away in the grounds and a huge deer park, that also had llamas and Highland cows.
For the children there is also the brilliant Culzean Castle play park, Adventure Cove, and Wild Woodland areas.
Brodick Castle Country Park
Sitting on the outskirts of the small town of Brodick on the Isle of Arran, Brodick Castle country park has amazing views!  First you will need to get there, the usual route is by ferry from Ardrossan.
There is over 10 miles of waymarked trails around the country park and you can even see red squirrels at the countryside centre.  The castle itself is great for a visit and children will enjoy the Isle be Wild adventure play park too.
Fife and Clackmannanshire
There are only 3 Scottish country parks in Fife and Clackmannanshire, but there's still plenty to explore within these parks.
Gartmorn Dam Country Park
Gartmorn Dam Country Park has a lot of history to discover as well as exploring nature.  The dam itself was created as part of the mining system, with various bings and pump house still visible today on the south shore of the dam.
There are various walks around the park, including a Site of Special Scientific Interest (SSSI) for wintering birds.  If the kids aren't keen on walking you can easily take the bikes for a family cycle round the dam.
Townhill Country Park
The Townhill Country Park is split into three sections; the Town loch, village park and Town Hill Wood.  You can walk all the way around the loch and spot various bird life including swans and ducks, there's also a water skiing training site.
The woodland has a great network of paths and the village park has a kids play park along with a miners memorial garden, edible garden and cycle training area.
Craigtoun Country Park
Craigtoun country park near St Andrews in Fife has loads of things to keep everyone entertained.  All year round there is an adventure play park, zip lines, trim trail, trampolines and a variety of paths around the park.
From 30th March seasonal attractions are also open.  These include a miniature railway, tractor rides, boats on the lake, crazy golf, putting, bouncy castles and pedal cars (under 7's only).  There's also a cafe with drinks and light lunches available during the summer season.
The country park has been around since 1947 when the Melville family sold the estate to Fife county council and since then the country park has blossomed.
Stirlingshire and Falkirk
In our own area of Scotland there are only 2 Scottish country parks, but both are great for families and plenty to explore outwith the play parks.  Most people on their holidays in Scotland will visit Edinburgh and the highlands, but it's worth stopping in Stirling and Falkirk en route.
Muiravonside Country Park
We've visited Muiravonside country park several times last year and it's a lovely park to visit!  There's 170 acres of land to explore, including a farm with a variety of animals to discover.
There is also a small visitor centre, cafe and a play park for the kids.  The sculpture and poetry trail meanders around the park from the main car park to the visitor centre, the kids really enjoyed exploring the different sculptures on the way round.
Plean Country Park
Just outside Stirling is the lovely Plean Country Park, with plenty of paths through woodland and grassland habitats.  A great pond for a spot of pond dipping in the summer and Horse Chestnut trees to collect conkers in the autumn.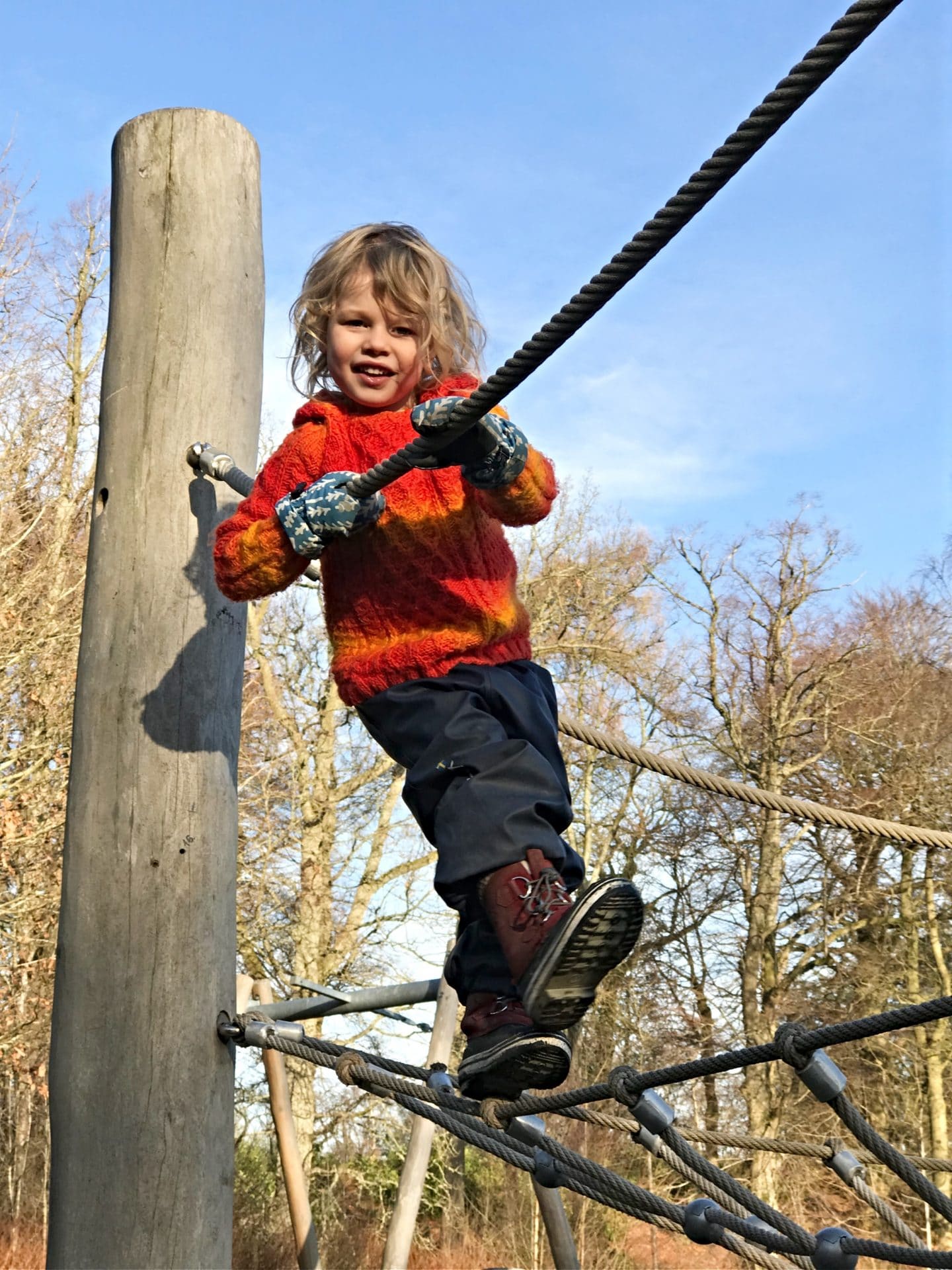 Of course for the kids there's also a fantastic play park, which I know my two can spend hours in!
Aberdeenshire and Angus
A large area of beautiful countryside, Aberdeenshire and Angus has several great Scottish country parks to visit.  Which is your favourite?
Crombie Country Park
Near Carnoustie is Crombie Country Park, which features a stunning loch with surrounding woodland areas.  There's a visitor centre 10 minutes from the car park and several different surfaced paths through the woodlands for walkers and cyclists.
After an explore of the woods the children may enjoy a play in the adventure play park and make use of the barbeque/picnic areas.
Forfar Loch Country Park
Another beautiful country park with a loch at it's centre.  Forfar Loch country park is beautiful grassland and woodland area at the edge of Forfar.  The path around the loch is accessible to all and is approximately 2.5 miles long.
Although there is no cafe in the park, it's a short walk into the town.
Balmedie Country Park
Although it's considered a park, Balmedie Country Park has none of the usual country park amenities like a cafe or play park.  Instead it has a huge stretch of beautiful sandy beach and associated sand dunes behind.
A 1700m long boardwalk is there to assist visitors through the dune system to the beach area.
Haddo House & Country Park
In the grounds of Haddo House, near Ellon, is the beautiful Haddo country park.  The car park is free to use, although donations are welcome and you can pay for a tour of Haddo House.  However, the country park has free access 7 days a week.
You can walk for miles throughout the parkland, with a variety of features from the 1800's to spot along the way, plus plenty of wildlife.  There are 2 bird hides and a red squirrel feeding station.  Of course there is also a fantastic adventure playground for the children to burn off some energy.
Aden Country Park
Near Mintlaw is Aden Country Park, including the ruins of the former mansion house.  There are currently plans for a new exciting adventure park for the kids opening in spring 2019 with lots of fantastic new play equipment.
The country park also has Aberdeenshire's farming museum, Book of Deer visitor centre, cafe, arboretum and plenty of walks around the park.  A lovely place for a day out with the family.
Moray
There is only one Scottish country park this far North!  Read more below.
Roseisle Country Park
One of the furthest north country parks, Roseisle is near Burghead on the Moray coast.  Shelter from the wind in some of the wartime defences along the beach and learn more about the area's war time history.
Walk along the stunning coastline, explore the forests and have a picnic whilst the kids play at the park. You could easily spend a day getting lost in the woods and playing on the beach!
Pin Scottish Country Parks For Later
Enjoy your sunny Scotland holidays!  Pin the image below to save for later or head over to our Scottish holidays posts and see where else you can visit.