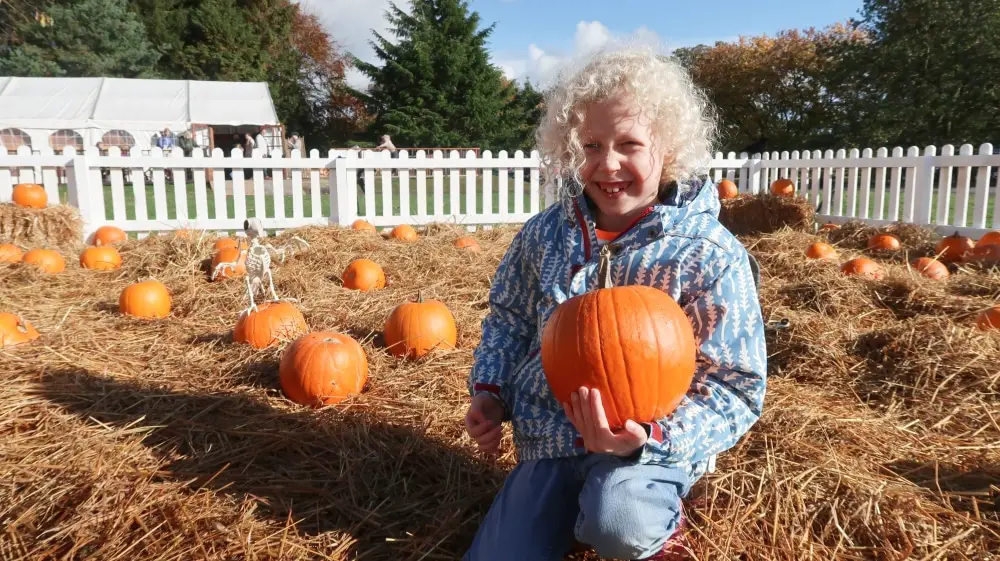 Although Halloween has changed a little from when I was young, some traditions are still around.  Children continue to go out guising (you only get sweets if you do a dance/joke/song etc. in Scotland!), we dook for apples and the kids love to dress up in different outfits.  Turnips used to be the vegetable of choice to carve, but nowadays everyone has a pumpkin.  Although we love our traditions everyone has to agree that carving a pumpkin is so much easier than caving a turnip! So we are quite excited that there are plenty of places to visit a pumpkin patch in Scotland!
I've been busy putting together a list of pumpkin patches in Scotland for 2020.  So if you would like to know where to find a pumpkin patch in Scotland, look no further and scroll down this list to your local area.
*if you know of any pumpkin patches that I've missed please do let me know*
PLEASE CHECK DATES/DETAILS ON LINKS BELOW BEFORE VISITING.  MOST LOCATIONS REQUIRE BOOKING THIS YEAR DUE TO COVID-19.
Pumpkin Patch Scotland
Highlands
Loch Ness Pumpkins, Corrimony, Inverness
Most of the pumpkin patches seem to be further South in Scotland, however for those in the Highlands there's Loch Ness Pumpkins to look forward to.  It's located just up from Drumnadrochit, so in a rather pretty area of our country too.  Book tickets to visit and pick your own pumpkins and enjoy the children's activities available.
Booking:  Essential, book via Eventbrite (tickets available from first week of October, check the Facebook page for details)
Opening dates:  Provisional dates are 24th, 30th and 31st October.
North East
Cononsyth Farms, Angus
Over near Arbroath in Angus is Cononsyth Farm, where there will be a pumpkin patch in October (date TBC).  Tickets for car parking can be booked via Eventbrite, check out the Cononsyth Farm Facebook page for more information nearer the time.
Booking:  Essential, via EventBrite.
Opening dates: October
Fairy Woods at Fedderate, Aberdeenshire
The lovely Fairy Woods at Fedderate near Mintlaw in Aberdeenshire will be open for pumpkin patch picking In the Aberdeenshire school holidays.  Children can choose between finding fairies and orienteering, then enjoying hot drinks, hot dogs and marshmallows around the campfire before exploring the pumpkin patch.
Booking:  Essential, bookings can be made by messaging Nikki on the Facebook page (link above).
Opening dates: 10-11th, 15-25th and 30-31st October.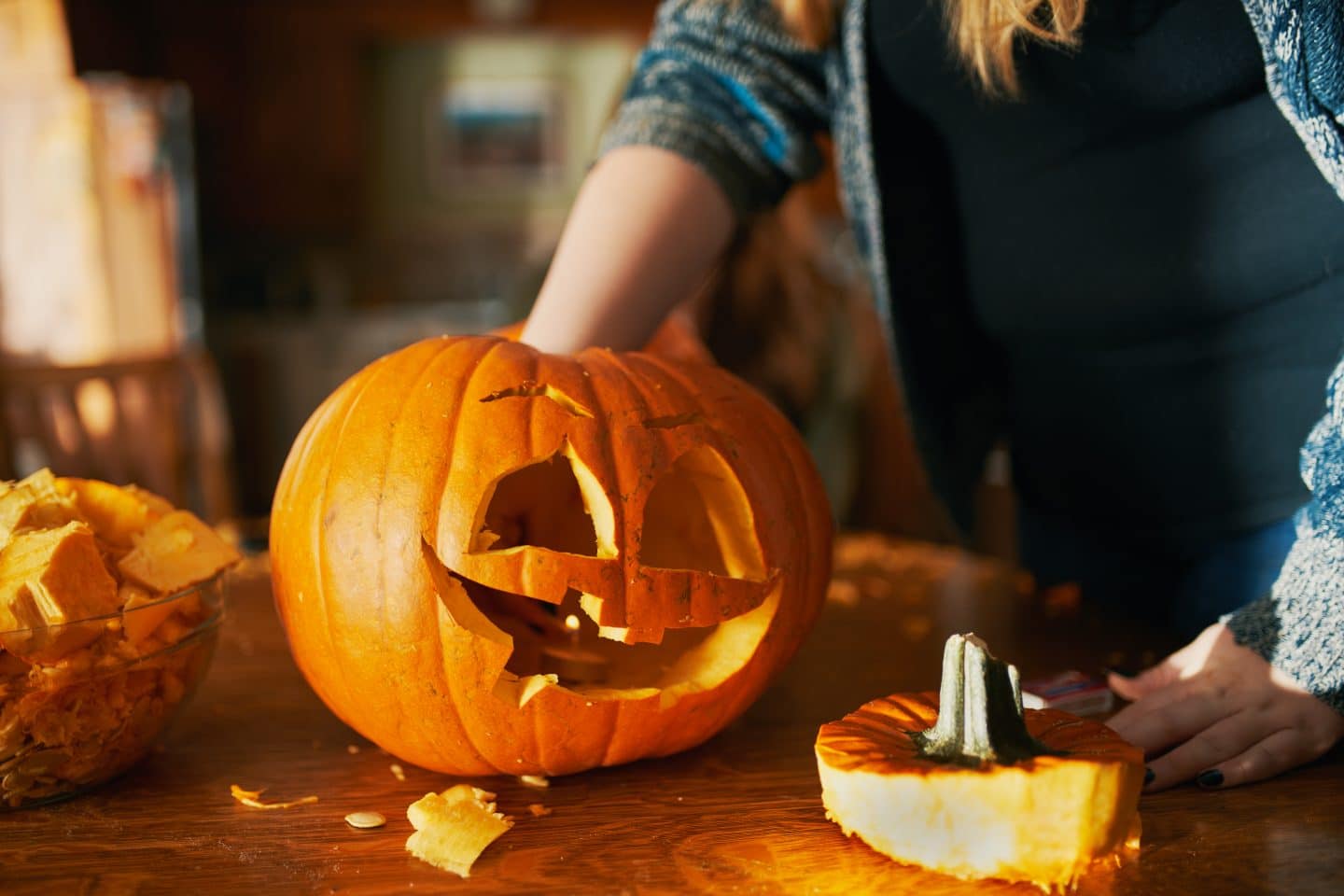 Westerton Farmers, Laurencekirk
Westerton Farmers near Laurencekirk will have a pumpkin patch at the farm as usual this year.  There will also be plenty of other stall holders and other fun farm activities.
Booking:  Required, information will be posted nearer the time.
Opening dates: 24th – 25th October, 10am-4pm
Wynford Farm Park, Aberdeen
On the outskirts of Aberdeen is Wynford Farm Park, which will have it's own pumpkin patch, dates are still to be confirmed.  Along with PYO pumpkins there will also be spooky activities for the kids to enjoy.
Booking:  Booking will be required.
Opening dates: TBC – Keep an eye on their website and social media.
Central Scotland
Arnprior Farm, Stirlingshire
One of our nearest pumpkin patches is Arnprior near Stirling.  As there is only a small area to park in you need to book a parking ticket in advance, redeemable against your pumpkins.  There are plenty of other activities for the kids and this year there is even a special ASN Friday.
Booking:  Essential to book in advance, costs £6 for a car and this can be redeemed towards the cost of pumpkins.
Opening dates: From 12th to 29th October, some times are already sold out.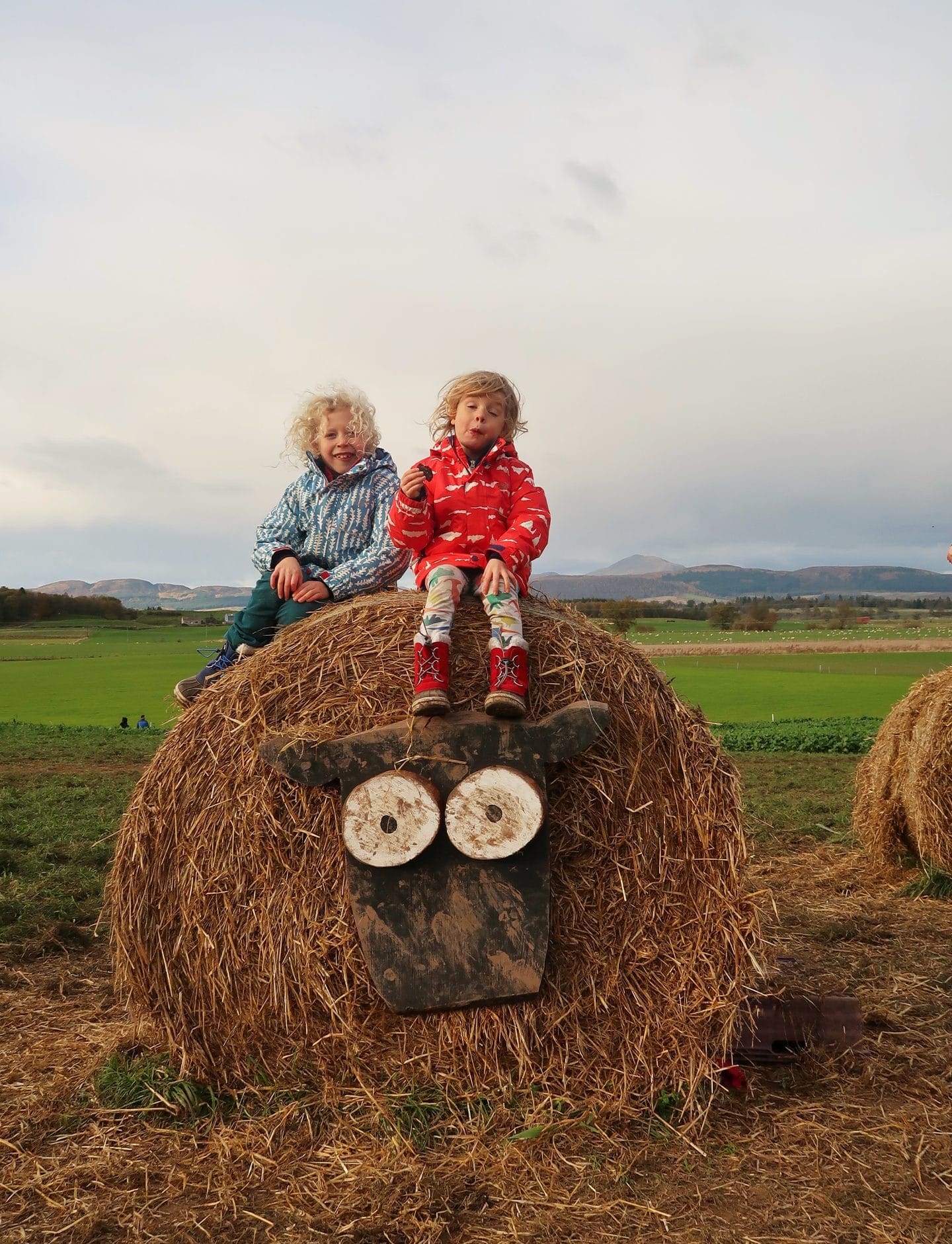 Blairdrummond Hallowild
We visited the awesome Hallowild at Blairdrummond last year and a had a fantastic time visiting all the animals and taking part in the spooky Halloween activities.  There was a great little pumpkin patch where you can buy your own pumpkin to take home and get Instagrammable photos! There are also spider hay bales and a marshmallow toasting area.
Blairdrummond's Hallowild is included in the usual ticket price, so simply book tickets in October to join in the fun!
Booking:  Tickets are available at Blairdrummond Safari Park's website from the beginning of September at usual price
Opening dates: TBC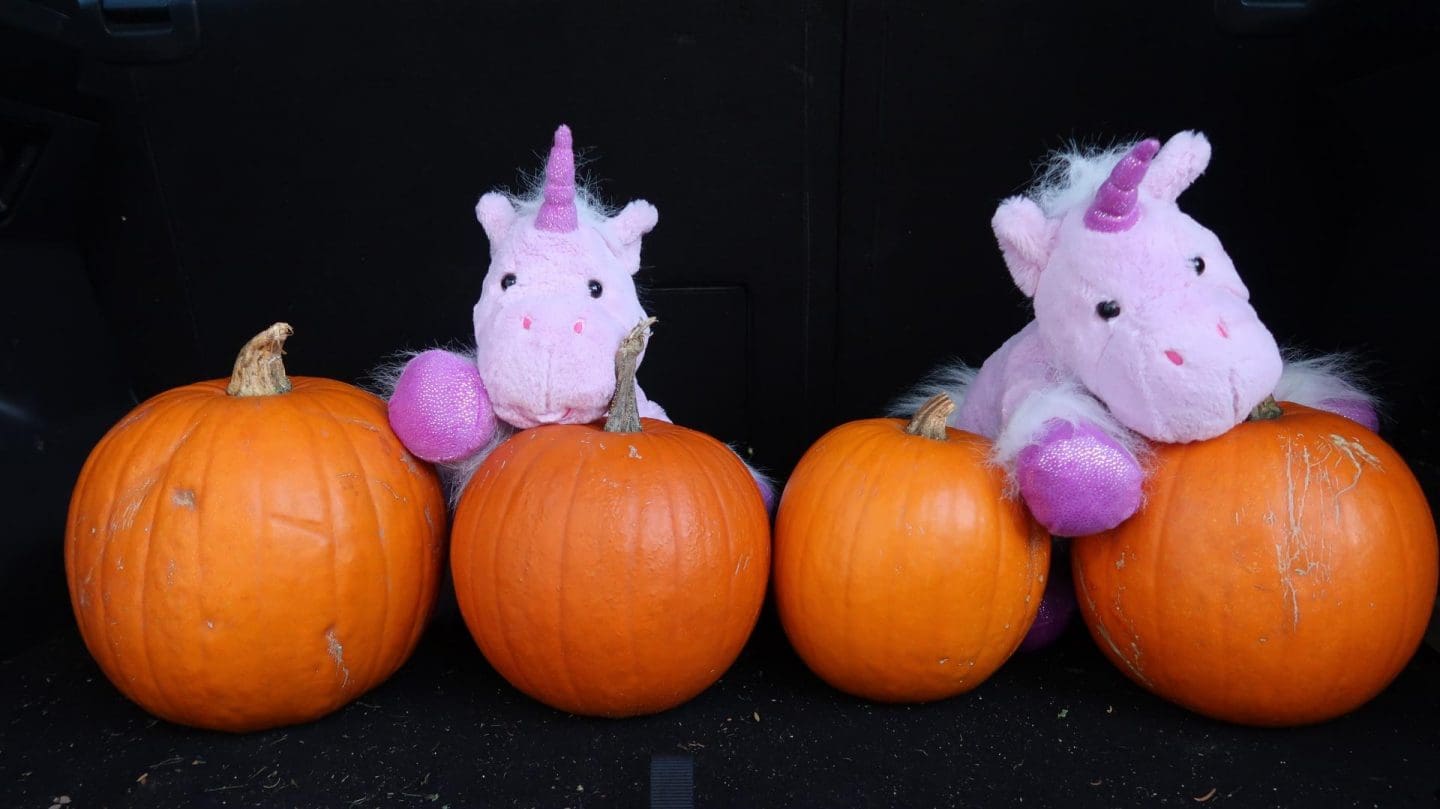 Broadslap Fruit Farm
At Dunnning in Perthshire you can visit the fantastic Broadslap Fruit Farm to PYO pumpkin.  Parking is free, but you will need to get a ticket from Eventbrite to guarantee a spot.  As well as pumpkin picking there will be other entertainment for families, keep an eye on the Broadslap Facebook page for more information!
Booking:  Booking required (keep an eye on their Facebook page above for more info.) and pay for whatever you pick on the day.
Opening dates: TBC
Narrowboat Farm, Linlithgow
A slightly more unusual pumpkin patch can be found near Linlithgow, at Narrowboat Farm.  Visit the pumpkin patch to pick your pumpkin and take part in the many activities around the patch or book in advance for carving workshops!  Be quick if you want to book as the tickets sell out fast!
Booking:  Booking essential.
Opening dates: TBC.
Eastern Scotland
Cairnie Fruit Farm, Cupar, Fife
Cairnie fruit farm in Fife is in their 21st season of pick your own pumpkins.  You may need to book this year (I'm waiting for confirmation) and then grab a wheelbarrow and head down to the pumpkin patch to PYO.  There will also be the usual great kids activities at Cairnie, including the Mega Maze (open until 31st October) and fun yard (which have a separate cost to PYO).
Booking: Booking may be required
Opening dates: TBC
Craigie's Fruit Farm, Edinburgh
Craigie's Fruit Farm on the outskirts of Edinburgh has pick your own fruit and veg throughout the year.  You can come along and pick your own pumpkins from the beginning of October.  Don't forget to check out their other autumnal produce, including delicious apples, perfect for dooking for apples!
Booking:  Required, tickets will be on sale from mid-September.
Opening dates: Open from the beginning of October (check website to confirm opening date) until Halloween.
Conifox Halloween Spooktacular
From Saturday the 17th October to Sunday the 1st November you can visit the Conifox pumpkin patch (5 minutes from Edinburgh airport) to pick pumpkins (£3).  Entry to the park isn't required if just visiting the patch, but to take part in the spooky trail it will cost £2 along with the park entry.
Booking:  None required for the pumpkin patch.
Opening Dates:  Pumpkin patch open from 17th October to 1st November 2020.
Eastlinks Family Park
Head down to at Eastlinks Family Park in October and choose your own pumpkin.  Then pop over to the workshop to design and carve your pumpkin!  There will be also prizes for fancy dress, a Halloween themed hunt and of course the ghost train!
Booking:  Required, tickets are on sale now.
Opening Dates:  Pumpkin patch open from 10th October to 1st November 2020.
Balgone Pumpkins, East Lothian
The Pumpkin project at Balgone farm is open on the weekends running up to Halloween.  Alongside pumpkin picking will be spooky lakeside walks searching for mysterious monsters (take photos of the monsters to win prizes!).  You can also venture down to the Crooked Cauldron to meet a witch serving delicious drinks and treats.
Booking: Book tickets now, tickets are required.
Opening dates: Open on 16th – 18th, 23rd – 25th and 30th -31st of October.
Kilduff Farm, North Berwick
If you're in East Lothian, then head up to North Berwick and Kilduff Farm for your own PYO pumpkin patch.  Guaranteed to be a good day out and you can also combine it with a refreshing autumn visit to the coast!
Booking: Book tickets (1 per person visiting, limited to 10 per transaction) from 1st September at 12 noon.
Opening dates: Open on 16th – 19th, 23rd – 26th and 30th -31st 10am – 4pm.
Pin For Later