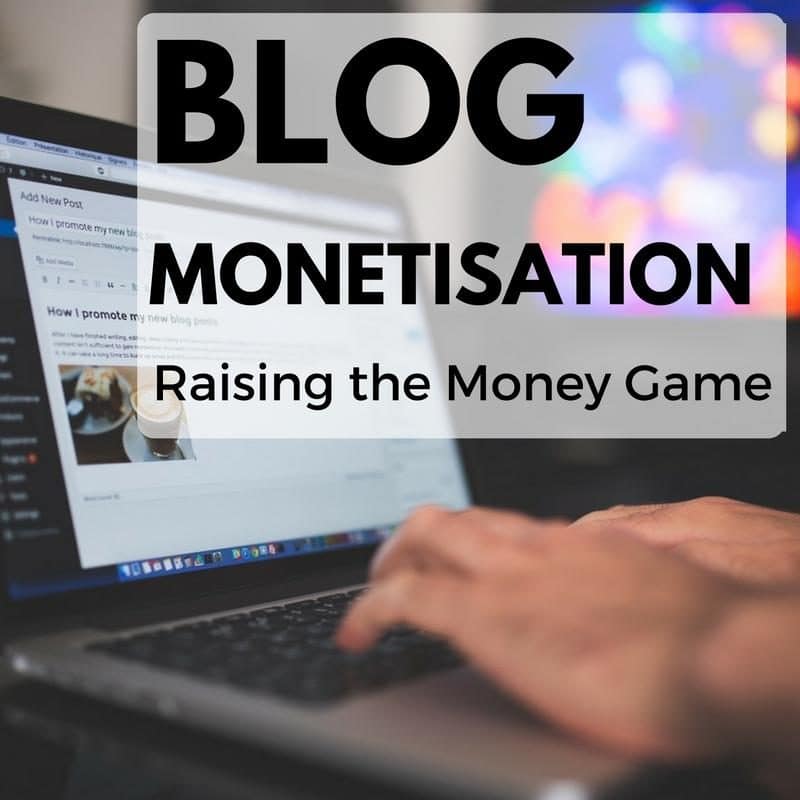 I know I'm not the only blogger who is raising their game in 2017, I have been talking to many blogger friends and they are all determined to make 2017 their best year yet.  I didn't initially get into blogging for the money, but as my blog has developed over time I have realised the potential and intend to increase my blogging income.  I know many people think that bloggers should be focusing solely on their own content and not writing so many ads and reviews for money, however there is a good reason that bloggers lean towards producing sponsored content.  Have a read of Danielle's blog post here to find out why she uses sponsored content on her blog.  If you are unsure whether you can make blogging a full time job, then perhaps a read of Emma's blog post here will be of interest.
Blogging Your Way To Riches
A recent purchase of mine has been Emma and Lynn's new book, Blogging Your Way To Riches, which is full of information on how to increase your blogging income and it has really opened my eyes about how to increase my blog income.  I won't go into details as to what they suggest, but there are plenty of hints and tips on how to increase your income through blogging and make blogging into a career.  They discuss how each of their blogs developed and how to network in the blogging world, helping you realise what content is important to your blog and how to capitalise on the different sources of blog income.  If you are serious about monetising your blog then this is really a must buy for the new year.
I currently earn around £1000 a month from my blog, however I intend to try and double this next year.  My plan is fairly simple, it doesn't need to be complicated to work, but positive thoughts will definitely help!  If you would like to read my good friend Leanne's post about blogging for a living then head over here.
Affiliate Links
My current blog income is mainly through sponsored blog posts, however I have just joined an affiliate network and hope to add some income via affiliate links in relevant blog posts.   This is complete new to me as previously I had regarded affiliate links as low pay and don't necessarily bring in much cash, however I have been informed by various other bloggers that it can actually bring in a significant income.  If you would like to read more about how affiliate links work, then check out Cat at Pushing the Moon's fantastic affiliate link blog post.
Sponsored Content
Sponsored content can take several forms, including campaigns for companies or charities, paid reviews, paid pre-written blog posts and paid links.  As my blog and social media presence has grown I have become increasingly picky on which sponsored content I will accept on my blog, this partly depends on price, but it is also important that it fits with my blog.  I will continue to accept sponsored content on my blog and look forward to seeing which exciting campaigns appear in my inbox this year.  One of my favourite parts of blogging is the sheer variety of campaigns that I get involved in each year, from working with charities such as Shelter to creating furniture out of wood flooring, it's such an exciting part of the job.
Writing Content For Publications
Another possibility for bloggers is writing content for other publications, both online and off.  It may bring in a good source of income itself or perhaps vouchers that can then be used towards household purchases or gifts throughout the year.  It's also good to add back links to your own blog to increase your DA (Domain Authority), which is often an important factor in how much companies will be willing to pay you.
Social Media Ads
Finally, social media, which is becoming a big game changer, especially when you have a large following on Instagram or Facebook.  However, the number of followers is not the only important factor, having good engagement is also incredibly important.  So please don't think buying followers is the way to go, it's pretty obvious when someone has thousands of followers but an extremely low engagement rate.  Takumi and Indahash are well known apps that give you the chance to get paid for Instagram ads, you have to specify your feeds theme, so you will only get offered campaigns that are relevant to you.
Buzoole is another little money earner, not big bucks, but if you have a good social media following on different platforms then you can join their campaigns too.  Every little bit adds to the pot!
Summary
So to increase my blog income in 2017 I will be:
Writing sponsored blog posts;
Writing for other publications;
Creating ads on my social media channels, particularly instagram; and
Using affiliate links.
We'll see how it goes this year and I will tweak my plans throughout the year depending on what is/isn't working.
What are your plans for blogging in the new year?
J x