Today is the 1st of December and officially winter, although here in Scotland it's been pretty wintery for quite a while.  It's also the time of year that we spend more time indoors and indulging in home comforts.
I'm loving having all the cosy blankets out again and of course the Christmas decorations give it all a certain sense of warmth and excitement in the lead up to the holidays.
But I'm sure we can all admit to a few guilty home comforts as well, whether it be a comfy pair of jogging bottoms or a dog chewed pair of slippers we should of thrown in the bin ages ago?!
For me it's a few things, my go-to pyjamas are rather old now, a bit thread bare and missing a button.  But as they're so comfy and great for breastfeeding I don't care, I'll happily change into them in the evening.  I also have a pair of slipper boots, which are lovely and bright and so fluffy and warm in the inside, but the sole is coming away from the foot and they are a little worse for wear, but they keep my feet warm and so I still love to wear them.  I hope I'm not the only one with a few guilty home comforts?!
Even though I may like wearing things that are past their best I am still grateful for the fact I have a home to live in and even if my night attire may be a little threadbare and slippers holey, I have a roof over my head to keep my family warm.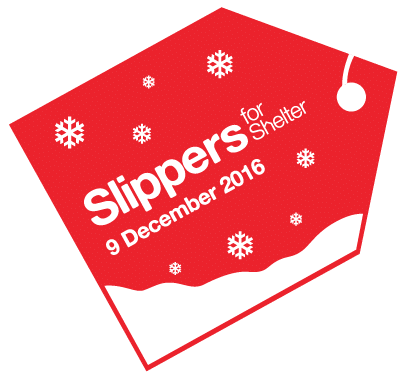 At Christmas this year over 120,000 children in Britain will be without a home, never mind a pair of holey slippers.  This is awful and I can't imagine what it must be like for them, so I am joining forces with Shelter to help raise awareness of their new campaign Slippers for Shelter.  Simply wear your slippers on the 9th December, whether you are at work, school or at home and donate whatever money you can here so that Shelter can help support those who don't have a home this winter.
Shelter are also be hosting a twitter party at 2pm tomorrow the 2nd December, so pop over and join in with the hashtag #slippersforshelter.
You can spread the word by posting a photo in your slippers on social media on the 9th December with the hashtag #slippersforshelter and encourage others to donate too.
J x
* This is a collaborative post.