I think everyone loves a good subscription box, but for the kids subscription boxes are like a Christmas present every month!  I love seeing their faces when they open up one of their monthly magazines or a subscription package that I have ordered.
My Pocket Money Toys
We were introduced the fab concept of a toy subscription box by My Pocket Money Toys.  Although it's not a new concept it is definitely different to other kids subscriptions as the toys in each box are quality items.  A lot of thought has been put into deciding which items should be used each month, including Galt, Orchard Toys and other great brands.
You can order one off boxes or subscriptions of 3, 6 or 12 months.  The boxes are split into three age groups; 3-5, 6-7 and 8-10.  We chose the gender neutral boxes, but you can specifically choose a boy or girl box if you prefer.  My eldest received the 6-7 year old box, which was perfect for him, even though he is only 5.  I do think the 3-5 year old box his little brother received would have been a bit young for him, so I'm glad we opted for the next one up.
The Unboxing
I should probably have filmed this bit, but the boys were too excited to get into the package and would only hold back for a few photos!  The shiny filler made the boxes look instantly intriguing for my two and they couldn't wait to dig out all the goodies inside.
Each box contained a card with a little note, a special sticker collecting card and sticker, a colouring sheet (Easter themed of course) and several wrapped gifts each.  The sticker card has 10 spaces and once all are filled you receive a special gift.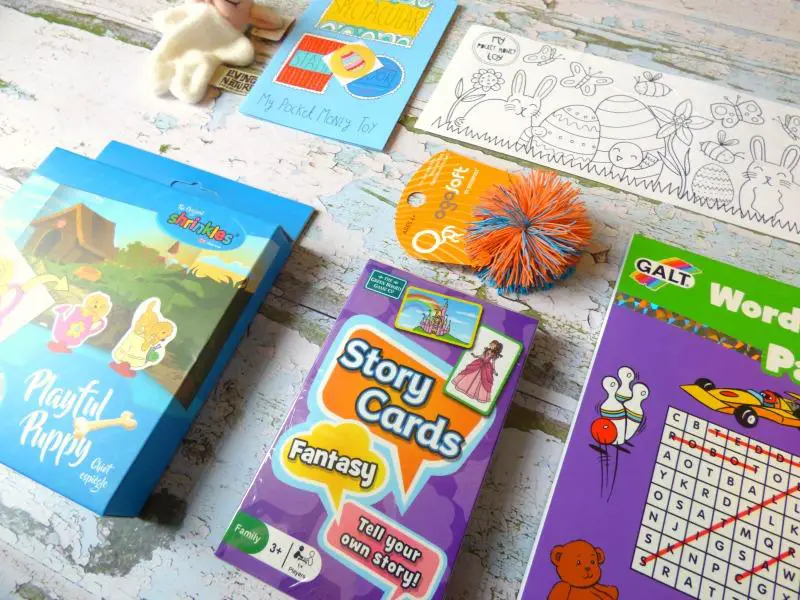 In the 6-7 year old box there was a Living Nature sheep finger puppet, Galt wordsearch pad, Green Board Game Co. story cards, OgoSoft ball and Shrinkles puppies.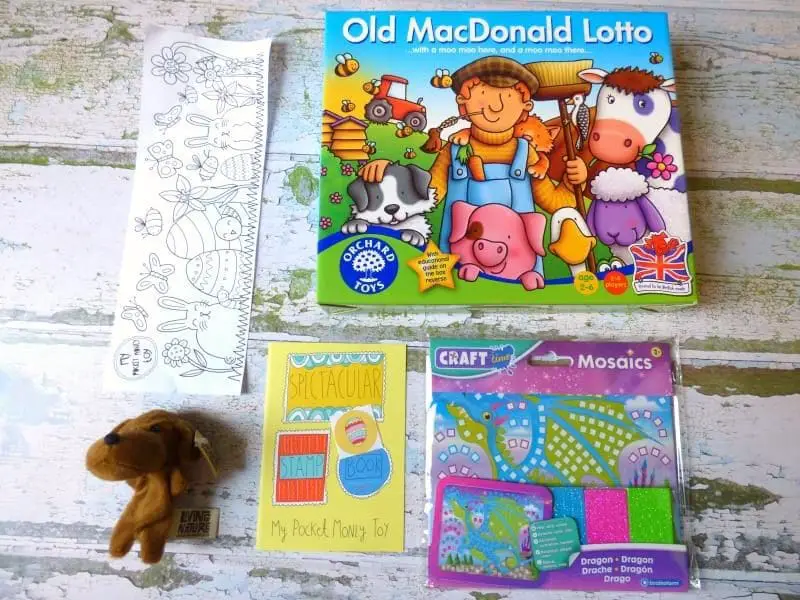 The 3-5 year old box contained an Orchard Toys game, Craft Time glittery dragon mosaic and Living Nature dog finger puppet.
I do believe that the value of the items is actually pretty good, considering that bought separately they would cost a significant amount more than the monthly box.  That's without considering the attention to detail with the packaging, note card etc.
The Verdict
Both boys were delighted with each gift they unwrapped and were keen to get each item out to play.  I was very impressed with my eldest when we took out the story cards and he started making up elaborate stories using the cards.  It really helps with him learning how to layout a story with a beginning, middle and end, plus it will help him gain confidence in telling us his ideas.
Littlest loved playing his new Orchard Toys game.  However he has surprised me with how good he is at creating the sticky mosaic.  I always think of him as the baby and don't always give him credit for the things that he is actually capable of.
I am very impressed at the quality of the items and how well thought out each age group's box has been.  This really would be a great gift for a child either as a one off or a longer term subscription where they can receive exciting new toys each month.  Each toy is not only engaging and fun, but has so many educational benefits too.  The story cards, word searches and lotto game have obvious educational qualities.  But even the shrinkles are excellent at showing a little science and are good for practising hand eye coordination when colouring.  The mosaic is brilliant at improving children's dexterity and hand – eye coordination placing the stickers onto the board.
There is also a place for these items when you are travelling and looking for things to keep them entertained on a journey or at the destination.  So the perfect gift for families who love to travel too.  Where would you take your My Pocket Money Toys box?
Pin For Later
* This is a collaborative post.