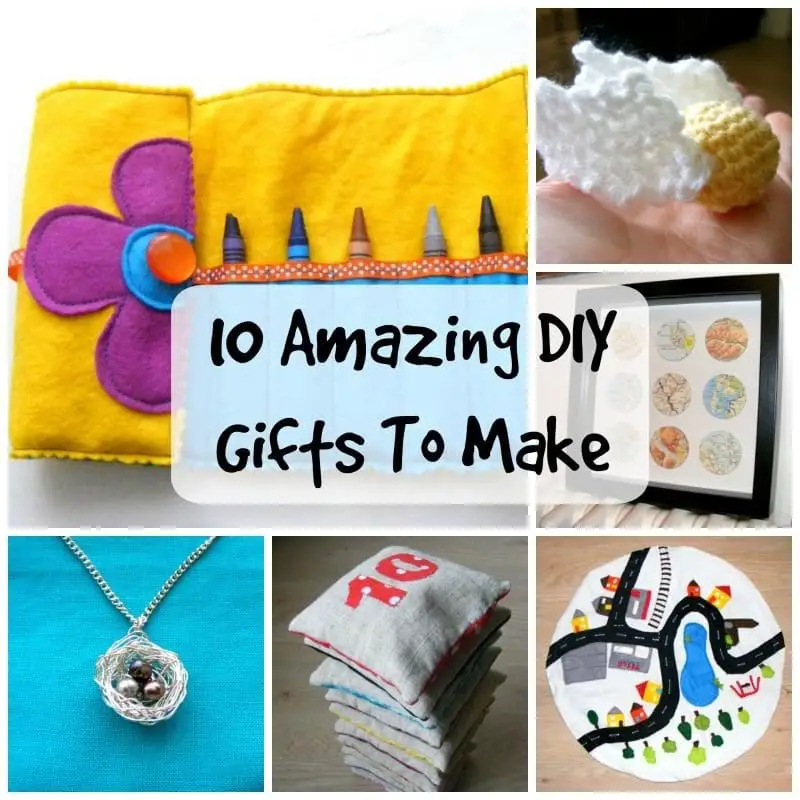 I doubt many people who read this blog know that prior to starting Monkey and Mouse I used to have a craft blog, which I stopped working on when Mr O was a baby.  I loved contact with other people with similar interests and I really enjoy spending time crafting different things.
I don't make nearly as much as I did then, but I do still love my crafts and after looking through some old photos of gifts I have made in the past, I created this list of handmade gifts for you to create.
1. Cake Themed Gifts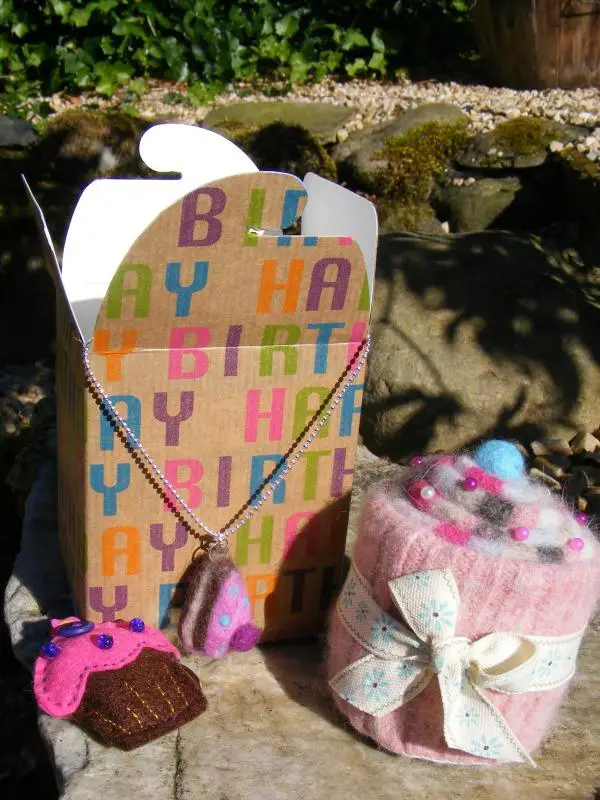 This consisted of a felt keyring sewn in a cupcake shape, simply cut stuff and sew.  A needlefelted cake slice necklace, if you have ever tried needlefelting thus will be easy to make! Use a little metal jump ring to attach onto the necklace.  Finally an upcycled jumper turned into a cake pin cushion, I can't find an exact tutorial online, but you basically roll up the felted jumper and use a cut off sleeve as a cake case.  Sew a circle of felt to the base, tie a ribbon round the outside and glue a felt ball on the top, ta-da!
2. Children's Crayon Roll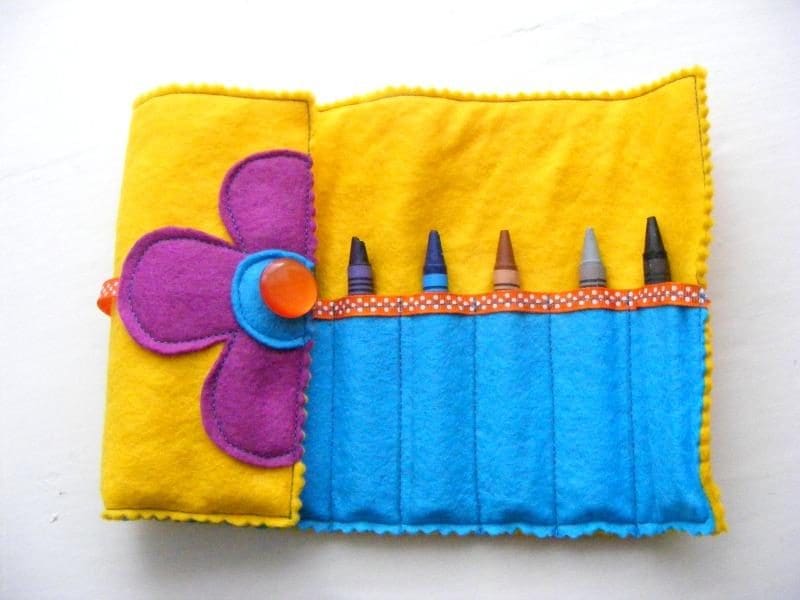 There are so many patterns for crayon rolls on the web, but you can probably work out how to make this one just by looking at it!  I love that as it was made of felt and didn't need to be bound at the edges, simply cut and sew the pieces together.  Check out this tutorial here for instructions.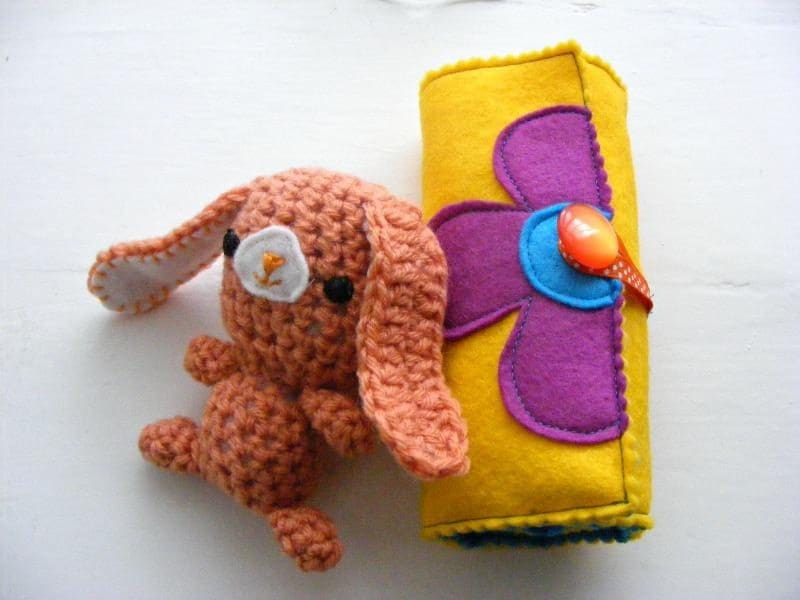 3. DIY Map Art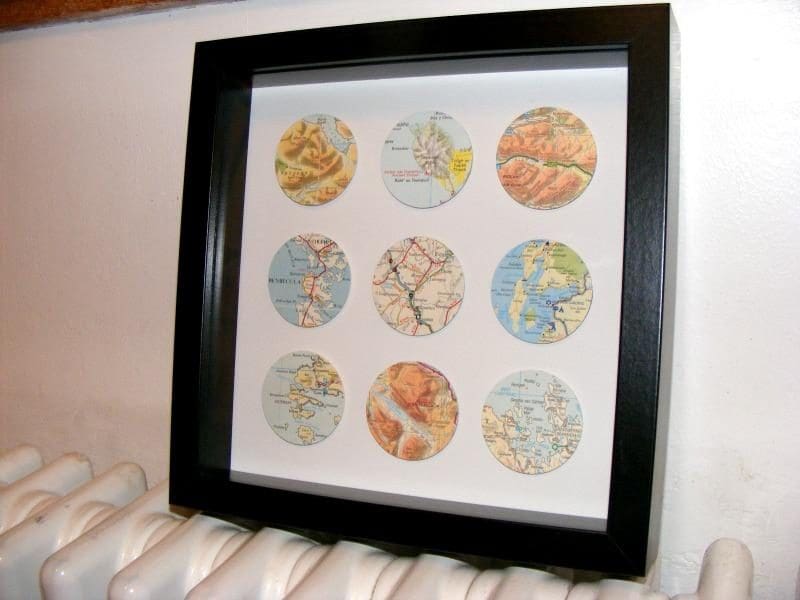 This one takes a little bit of precision and a lot of thought.  The thought is for deciding which locations are important to the recipient and finding them on a map (that you can cut out).  Cut out the area of the map and a good few centimetres outside it.  Use a circle cutter to cut out a circle from card and also from the map, glue together and dry flat.  Using foam double sided stickers stick onto the back sheet of card from a frame (I used a Ikea frame), this is the bit that takes precision. I measured exactly where the middle of each circle should be and then where the edges should be placed, it took some effort, but was worth it for the result.  My dad loved his present!
4. DIY Kids Learning Bean Bags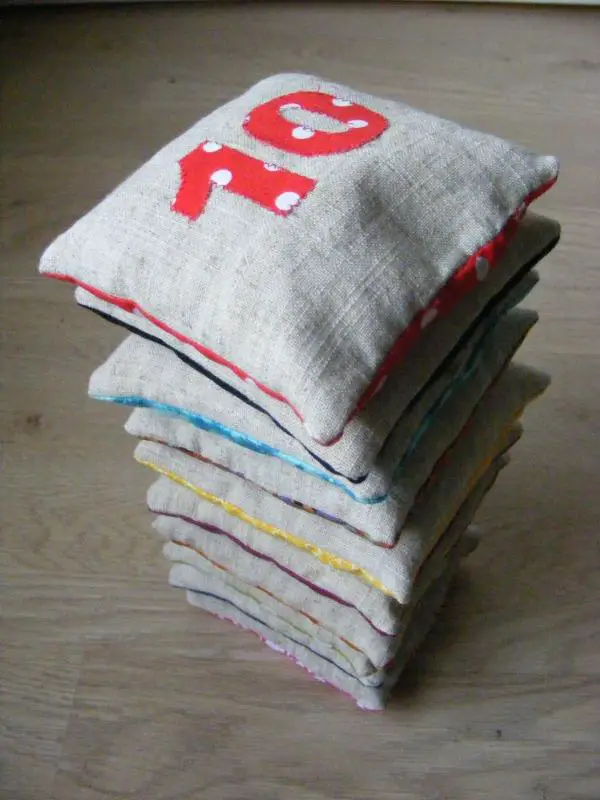 For a friends daughter's first birthday I created these cute bean bags out fo scrap fabric and soft hessian.  I love how they look and made a set for my sons birthday too.  It's easy for even a beginner to sew!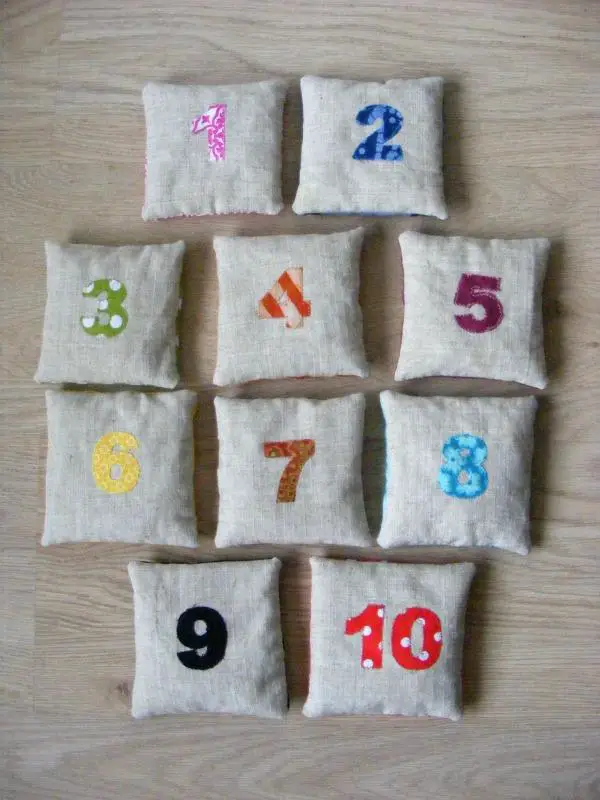 I chose to use a different colour for each so that the child could use them to learn colours and numbers.  They last fairly well too and just look nice as a set.  I'm pretty sure this was the tutorial I used.
5. Birds Nest Necklace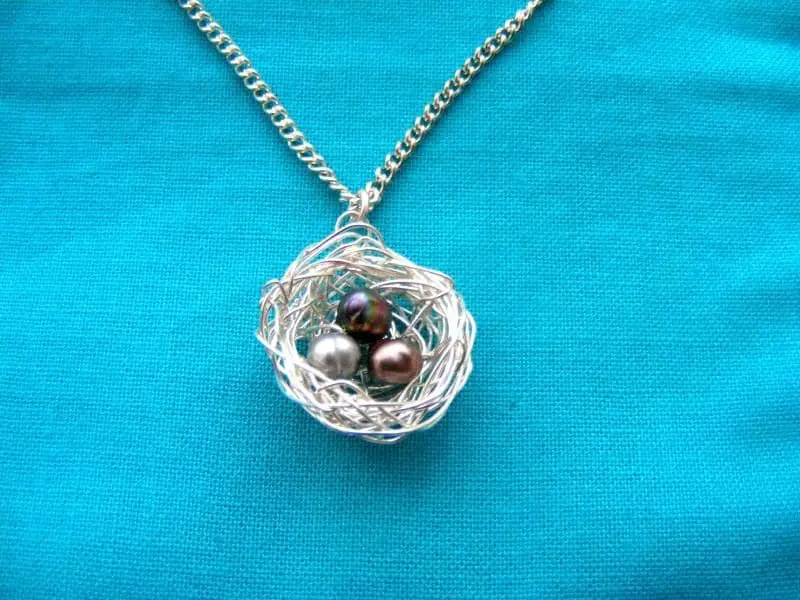 I have no tutorial for this one, but after seeing various examples of this necklace for sale I decided to use some silver jewellery wire and pearls to make one for a friends.  Really easy, you simply bend and twist the wire into shape and thread the pearls onto a different wire and tie into the nest.  All the materials are available from jewellery craft shops or online.
6. DIY Jewellery Roll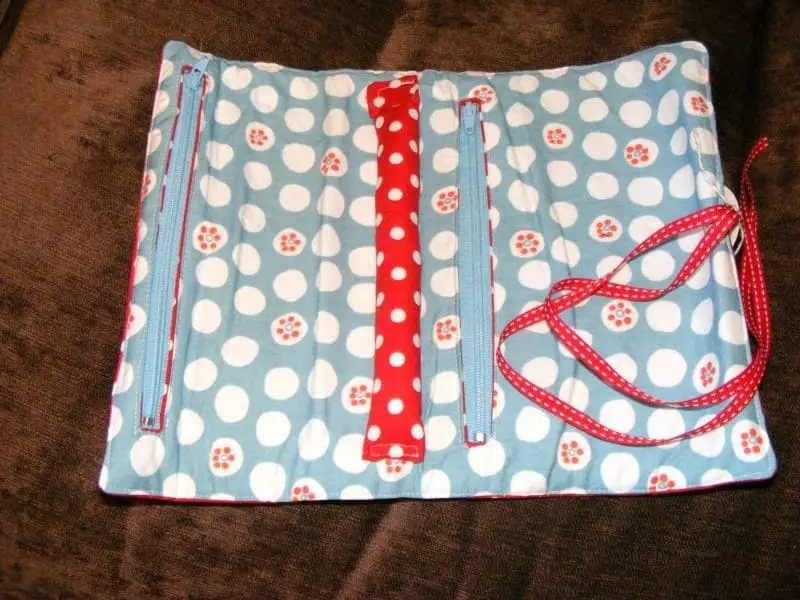 To go along with the above necklace I also sewed a jewellery roll for keeping jewellery in whilst travelling.  A perfect gift for anyone you know who likes to travel!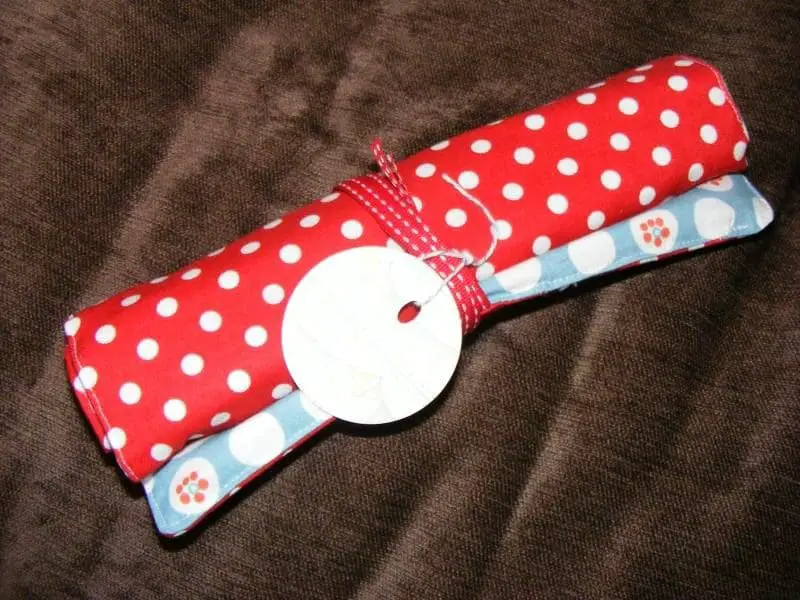 Check out this tutorial here for instructions to create a similar roll.
7. Crochet
There are so many things you can crochet and loads of free patterns if you look around the internet.  Check out Ravelry for free patterns on everything from slippers to golden snitches, there really is a pattern for everyone!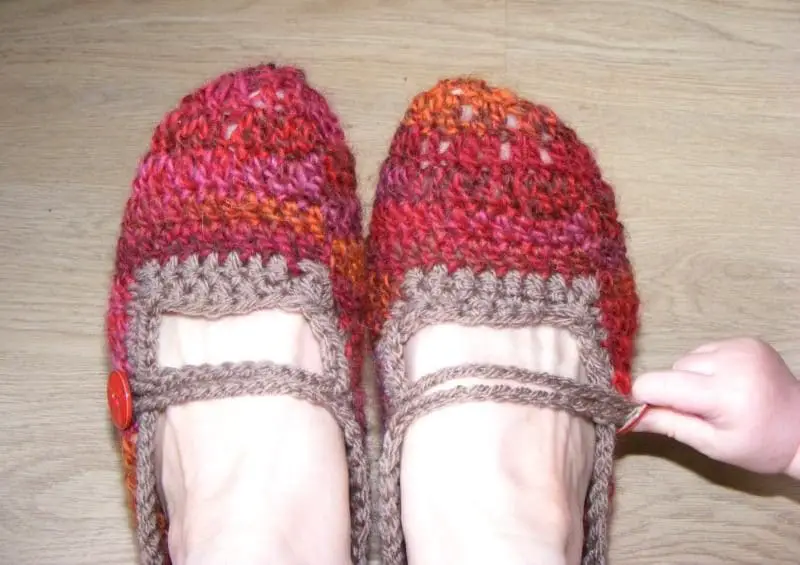 8. Road Mat and Bag in One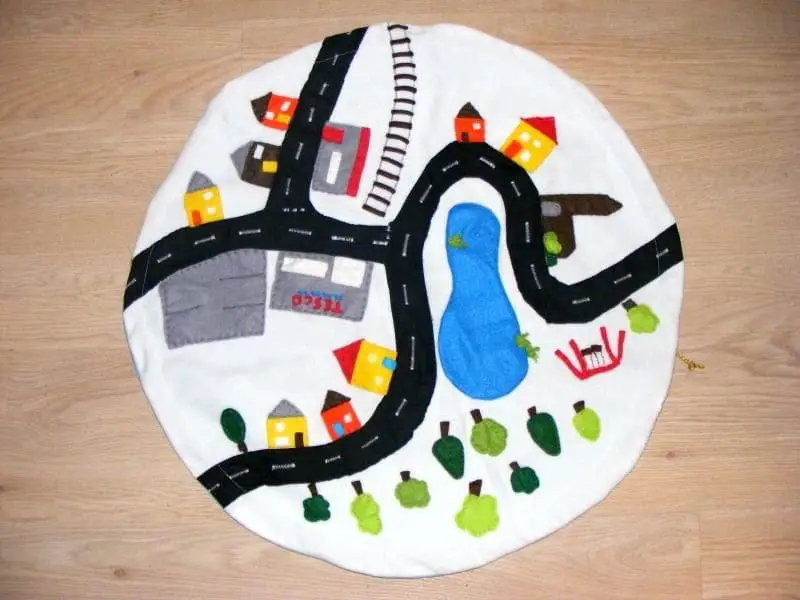 Apologies for the photo quality, I clearly didn't take such good photos back when I made this! It was for a friend's 2 year old.  I used a circle of felt and a circle of material on the back.  Sew on whatever roads you would like and embellish with everything you can think of! When you sew the outer fabric to the felt leave an inch gap around the hem for the drawstring casing and a small hole to insert the drawstring and pull it through.  Brilliant for keeping toy cars together.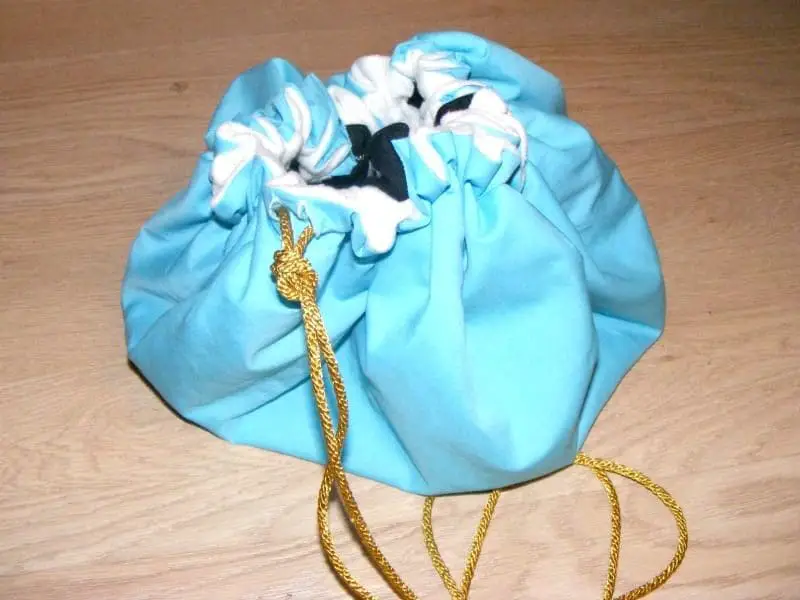 9. DIY Baby Tie Vest
Another simple project, buy a cheap plain vest top and cut a tie shape out of the fabric of your choice, iron onto a medium interfacing material, cut off any excess and applique onto your top.  Easy!  If you are looking for a actual toddler tie tutorial, there are loads of those around too, such as this one here.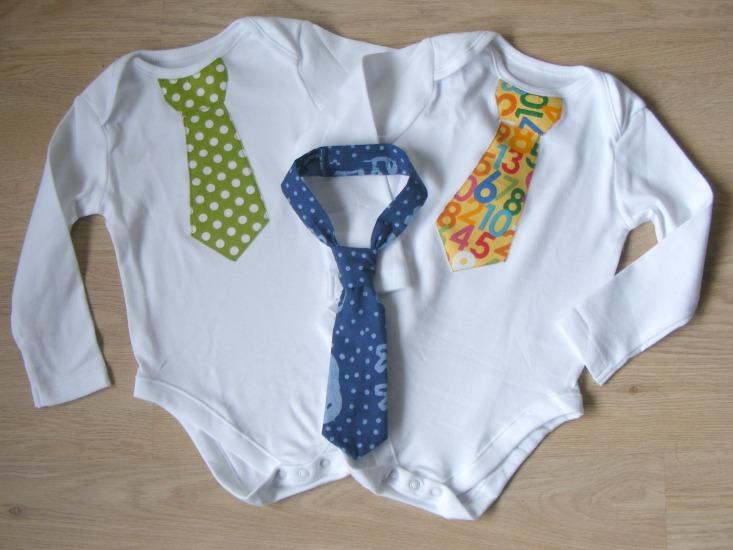 10. DIY Printed Stationery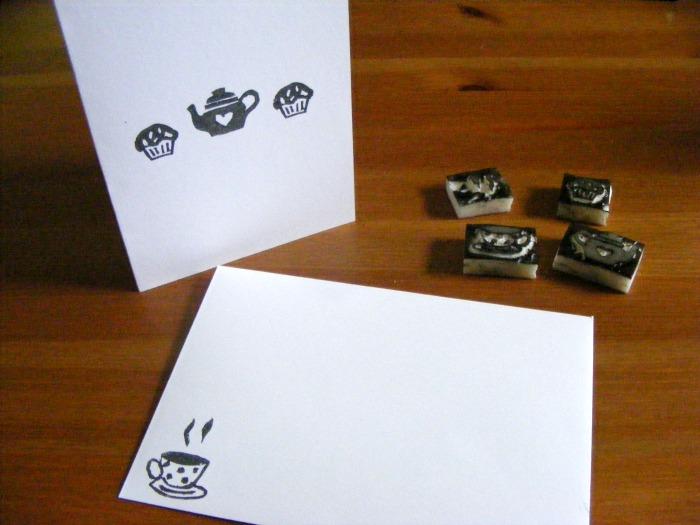 You can get packs of plain cards and envelopes cheaply, which are perfect for creating your own stationery.  There are thousands of tutorials online from marbling to printing.  Easy to create something unique for friends and family who love to write.
For this set I used a stanley knife to cut out pictures on rubbers (erasers) to print a design onto a set of stationery for a friends gift.
Bonus Gift Idea!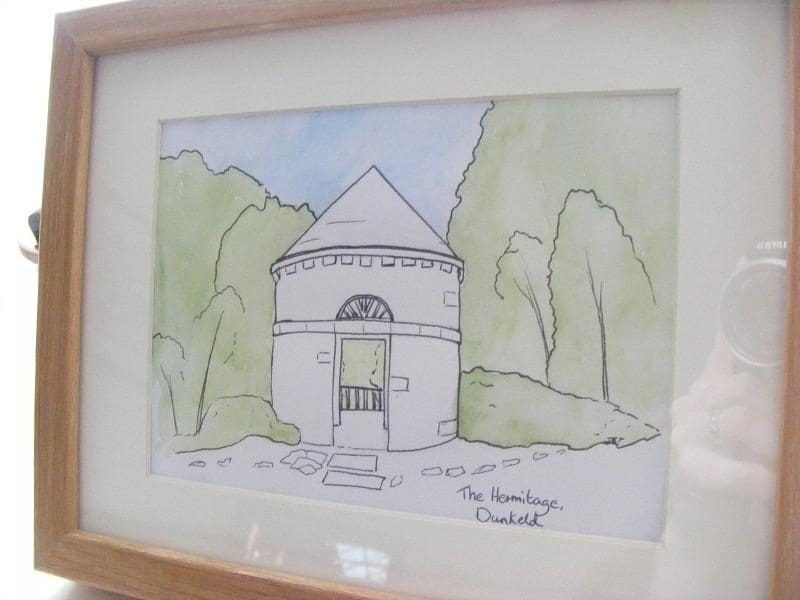 If you can create a line drawing then you can create a simple piece of art such as this.  I made this for an anniversary gift after seeing similar ideas where people have had their houses drawn by an artist.  This is where we were married and I just simplified a picture of the venue and used two colours of water colour to fill in the sky and bushes.
I hope this has given you some ideas of what to create for your family and friends this Christmas!
J x