For our eldest's 9th birthday we chose to celebrate at the gorgeous Harvest Moon Holidays Treehouses, near Dunbar. The site has the options to choose between beach cabins and treehouses that are just over the dunes from the sea.
Location of Harvest Moon Holidays
Driving along the A198 (just North of Dunbar) we turned off onto a small single track road. Winding along the bumpy road at a low speed we finally arrived at the car park signposted for Harvest Moon Holidays guests. Once parked you walk out onto the sloping grassland where the 7 treehouses are located.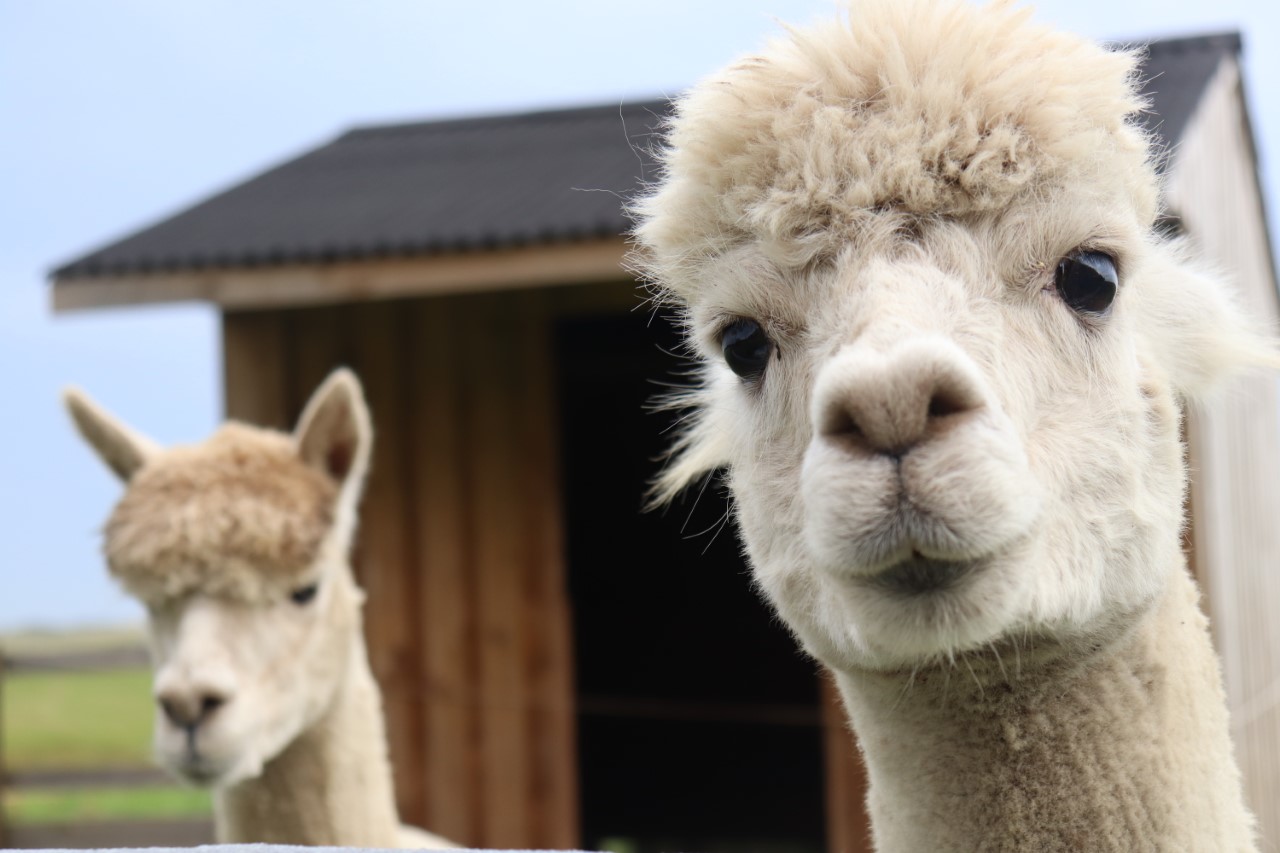 From here you can watch the chickens walking slowly around the treehouse area and the llamas trotting around their field beyond. The dune obscures the sea, but also provides a little shelter from the ocean breeze!
It's a short walk skirting around a little woodland to get to the dunes and across them to get to the stunning stretch of golden sand. The beach really does stretch for miles and you can also see the iconic Bass Rock, white with gannet excrement!
The Harvest Moon treehouses are located in a perfect position to get to both Dunbar and North Berwick. Either direction is a short drive and there's plenty of things to do off-site.
The Treehouses
You enter the treehouse via a wooden stairway onto a decking area with a table and chairs for alfresco dining. On one side of the decking is a kitchen area with table and bench seats. A wood burning stove is used for cooking on, it can take it's time to get going, but the hob heats up more quickly than the oven. We did manage to cook a pizza in the oven, so it does work! You can collect wood for the stove using a wheelbarrow provided from the wood stores near the car park.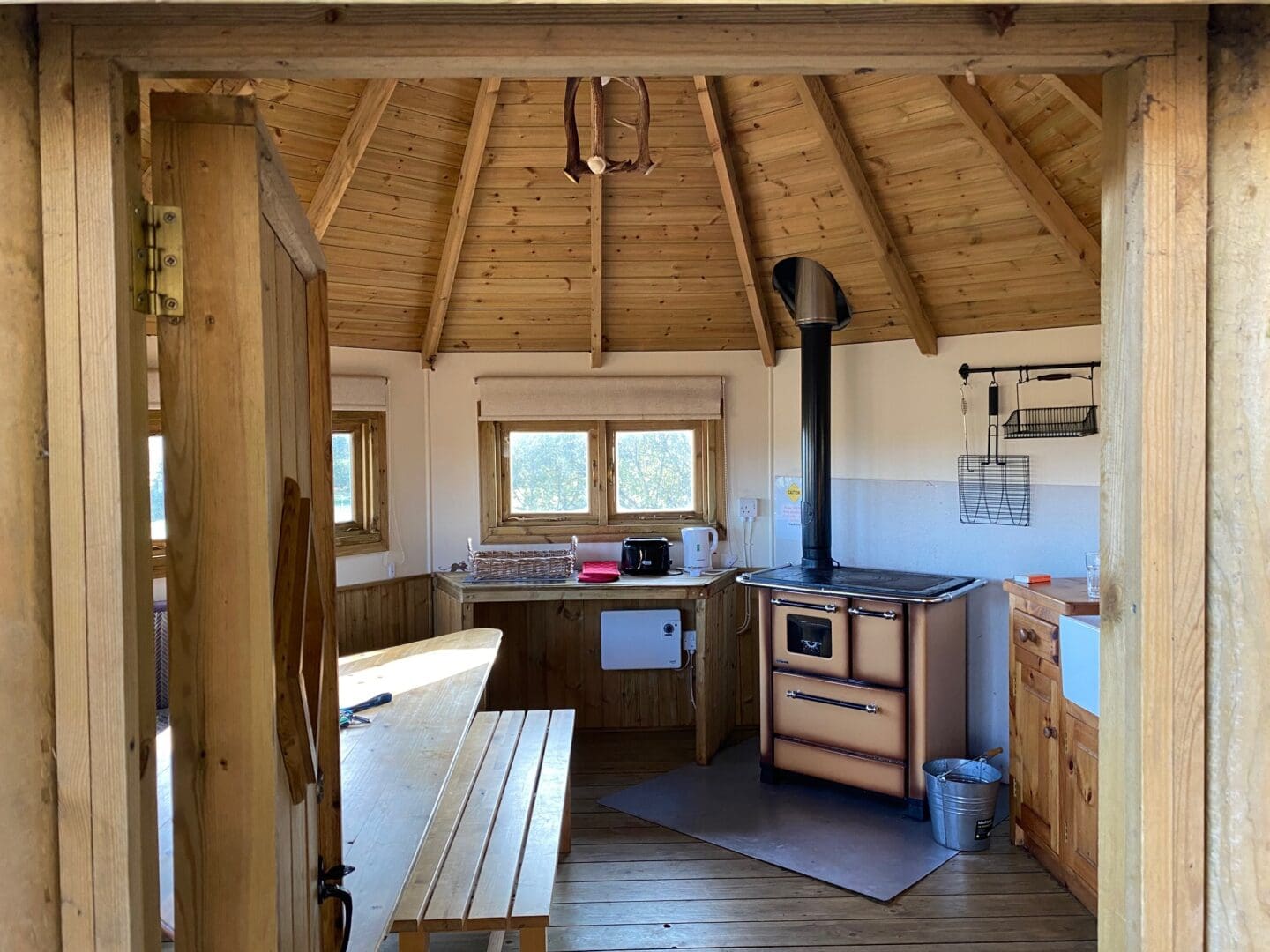 On the other side of the decking is a toilet and shower room. Then another door leads through to the bedrooms. There is space for 5, with a double bed in the first room and two bunk beds (bottom a double bed) in an adjoining room. You can also drop down the table in the kitchen to make another double bed for a total of 7 people staying in the treehouse.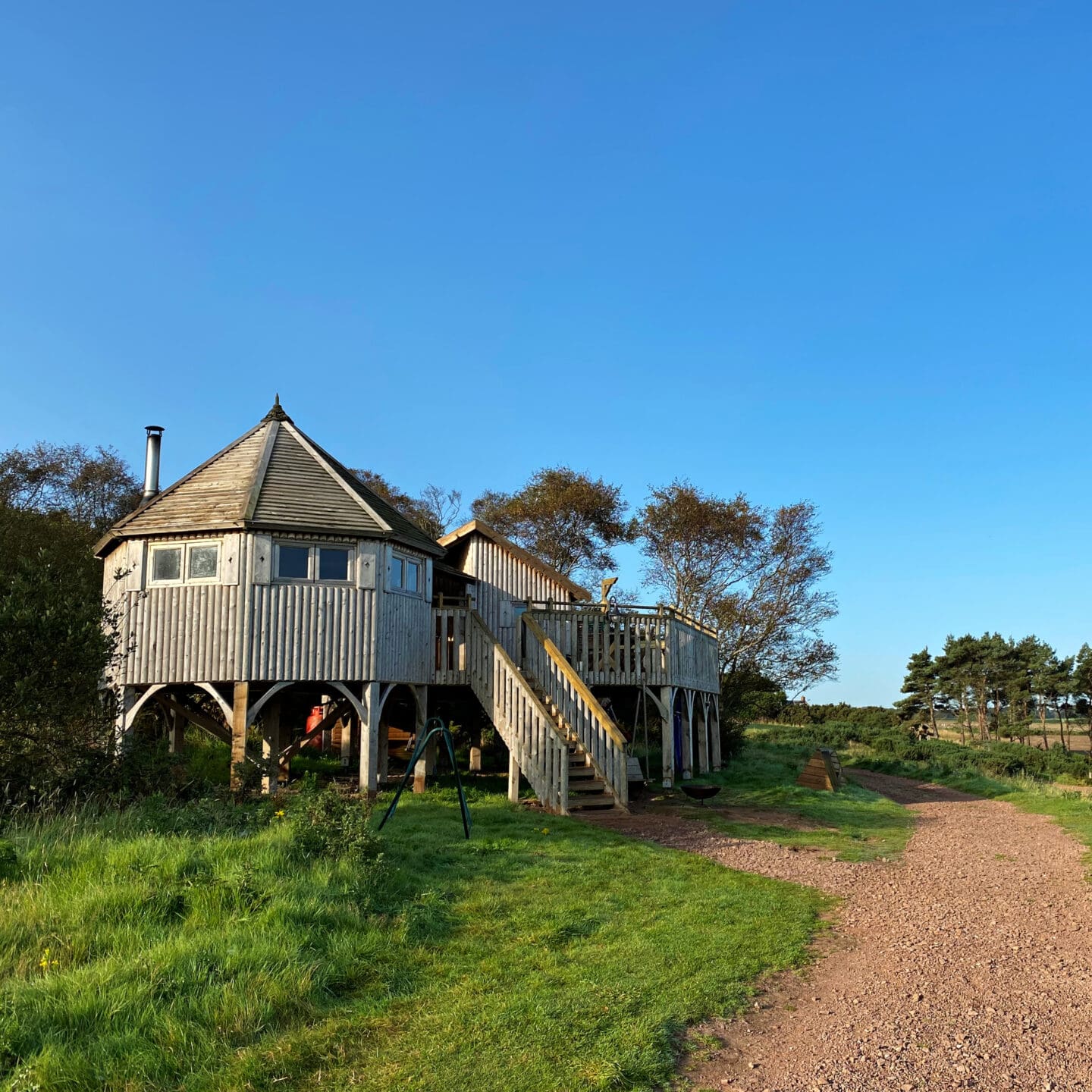 Everything was clean and tidy when we arrived, although you will find a few spiders and other beasties considering it's a wooden structure beside the woods! There is electric in the treehouses, with lighting and several sockets for charging phones.
Each treehouse is slightly different in what they have on the outside. Ours had a swing on one side and a swing seat next to the steps. Each home also has a hammock provided and bedding free of charge.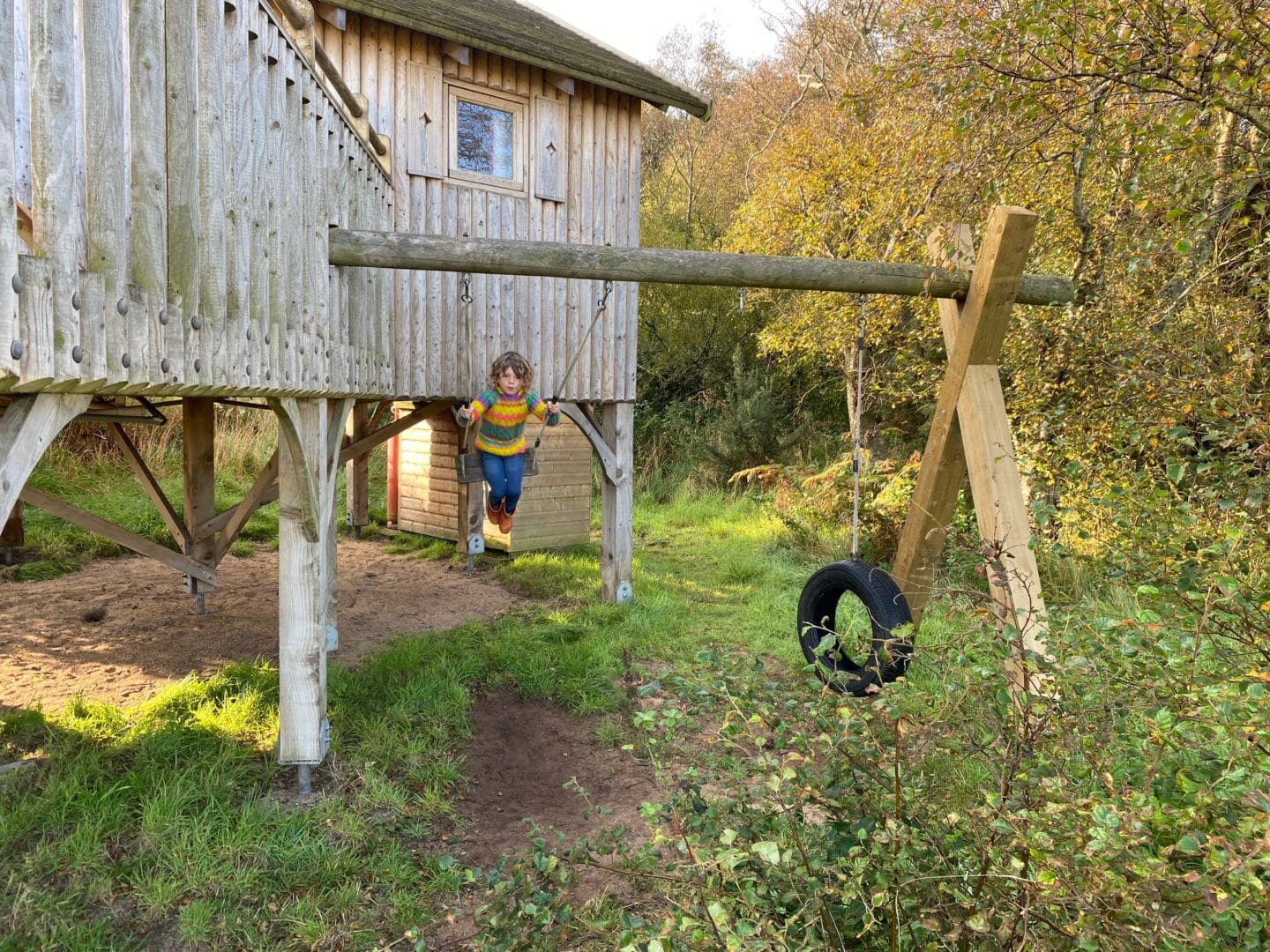 Every morning the person on site feeds the chickens and takes any willing guests down to feed the llamas. Our two loved feeding them, although the goats were rather excitable and butted the llamas out the way a few times! If you would like the chickens in a coop at your treehouse to collect eggs in the morning, then you can pay a little extra for this.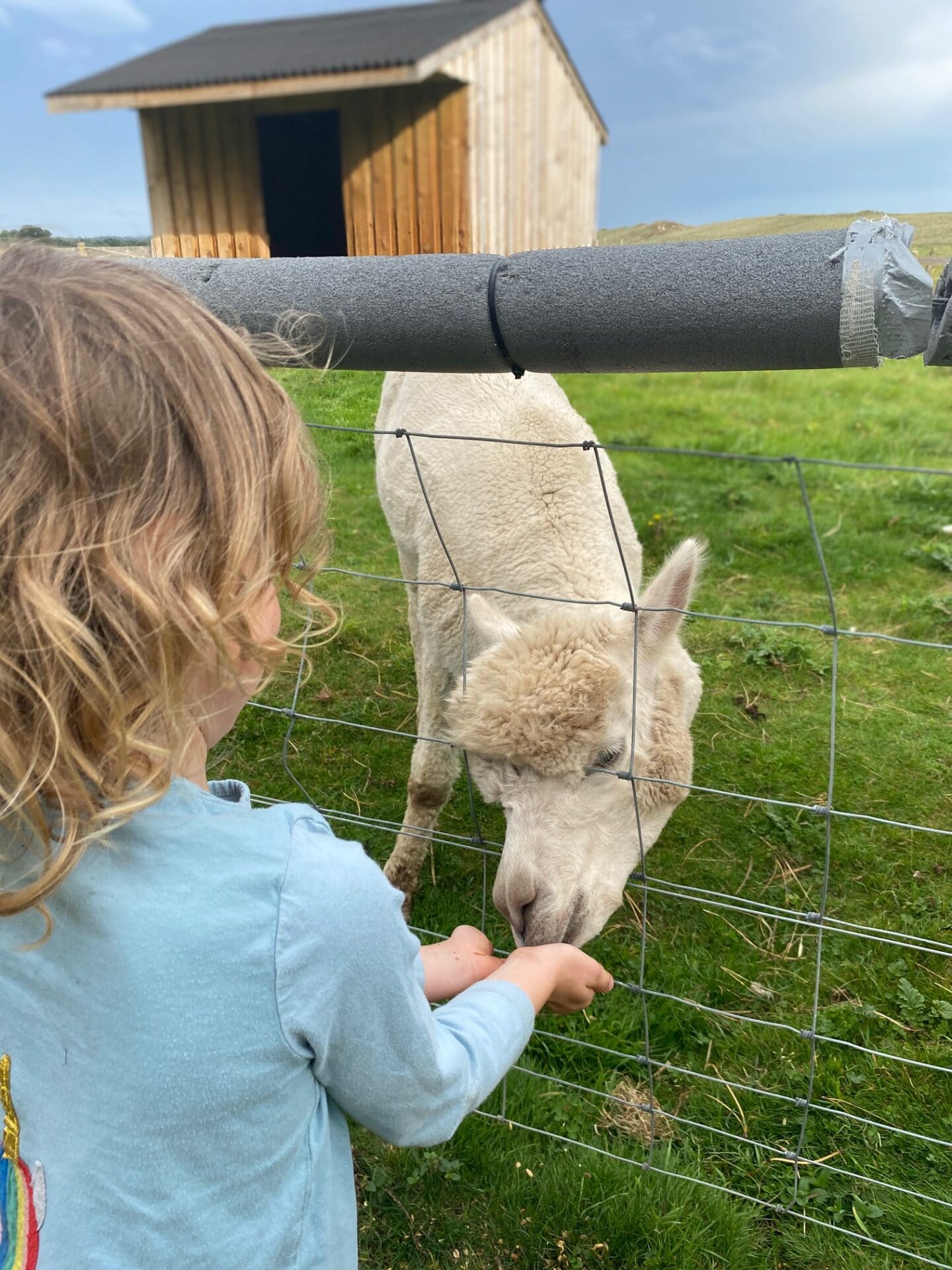 Cost
The price of a treehouse at Harvest Moon Holidays varies throughout the year, with midweek, weekend and weekly rates available. During the winter when the prices are at their lowest it's £400 for a weekend or £600 for a week.
In the summer (school holidays) the prices are at the highest of £750 for a weekend or £1250 for a week. We chose to visit in September, when the weather is usually still nice for a midweek stay at £680.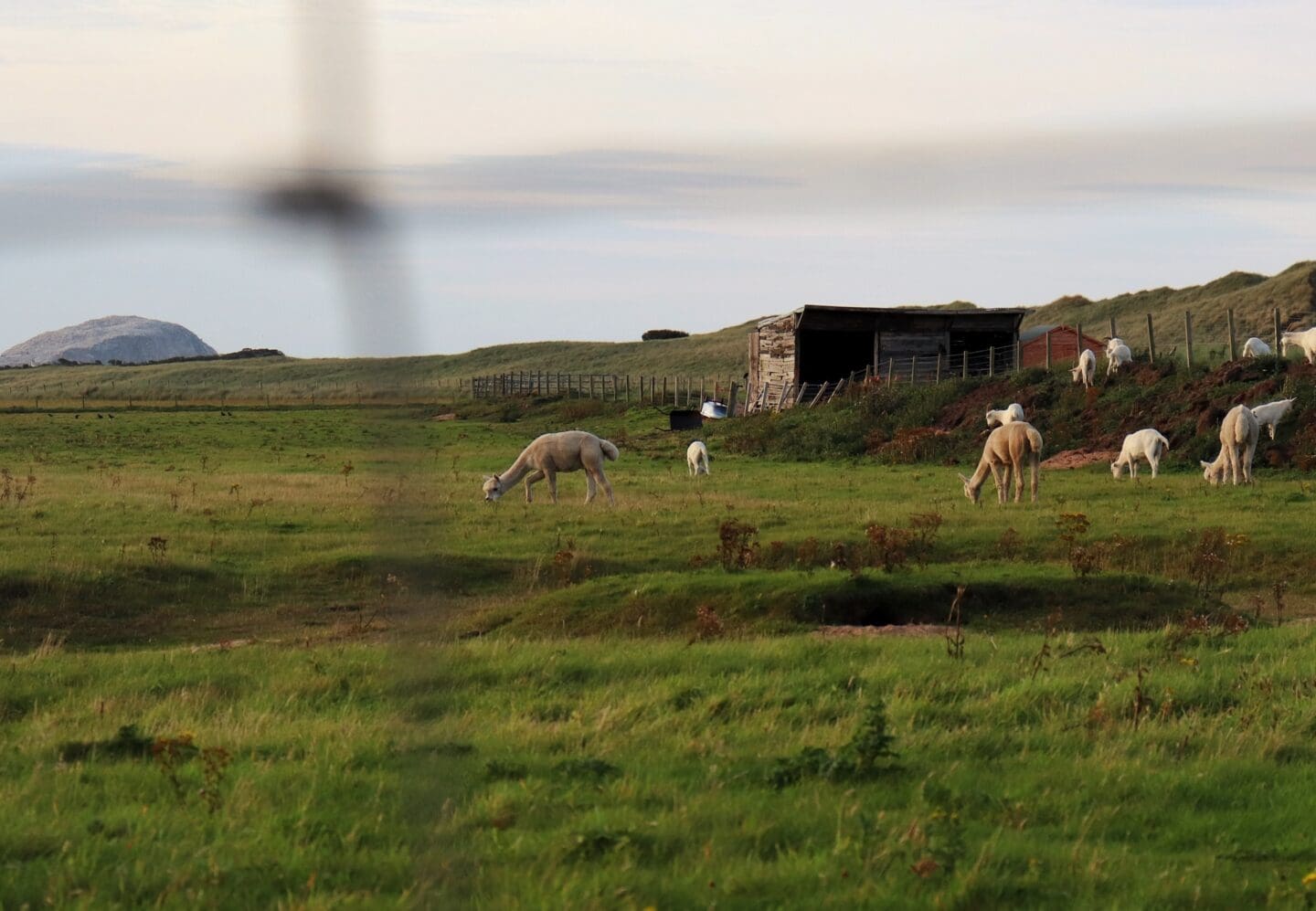 Optional extras include a towel package at £5 per pack, child's cot and high chair at £20, chicken coop at £10 per stay and outdoor cooking pot for £15.
My personal recommendation for best weather in Scotland is visiting in May or September. It's also slightly cheaper then too!
Things To Do Near Harvest Moon Holidays
Harvest Moon Holidays is a stone's throw from North Berwick and Dunbar, with lots of brilliant places to visit. It's also fairly close to Edinburgh for days out in the city too. Edinburgh has lot of restaurants, museums and of course the castle to visit, you can find out more about Edinburgh attractions here.
Dunbar has a great farm park called East Links Family Park, which has lots of great things for kids to play on and in. Favourites were the giant fort, mini golf, go-karts and the little train that takes you round to the animals.
There is also a lovely little musical woodland that is great to get away from the busier play areas. For children who love animals there are lots to visit and say hello to!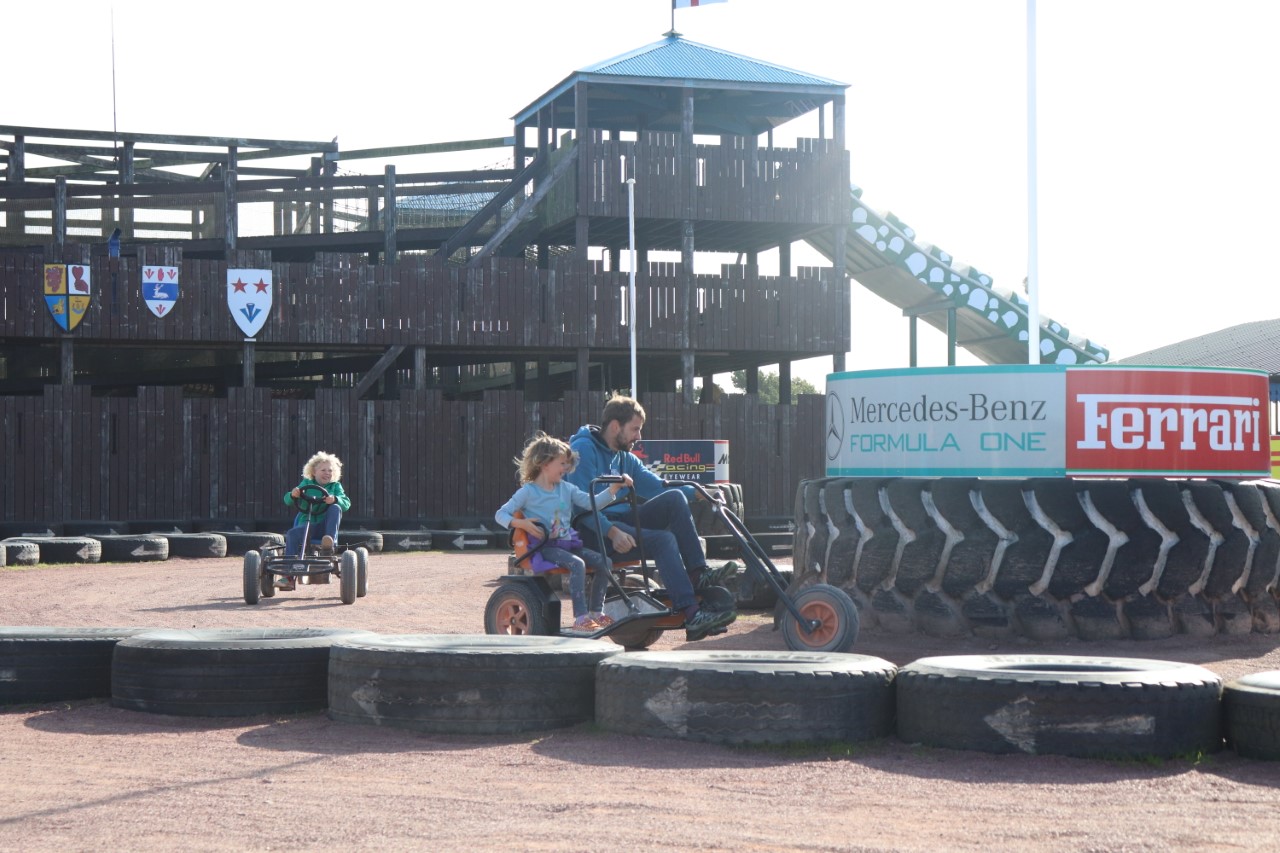 For younger kids Archerfield Walled Garden is a perfect afternoon out. Strolling through the gardens and watching the kids race about the fairy trail discovering sweet little fairy houses, it's a beautiful place. There is also an amazing little café and enclosed play area. So you can eat delicious food whilst the kids run off to safely play!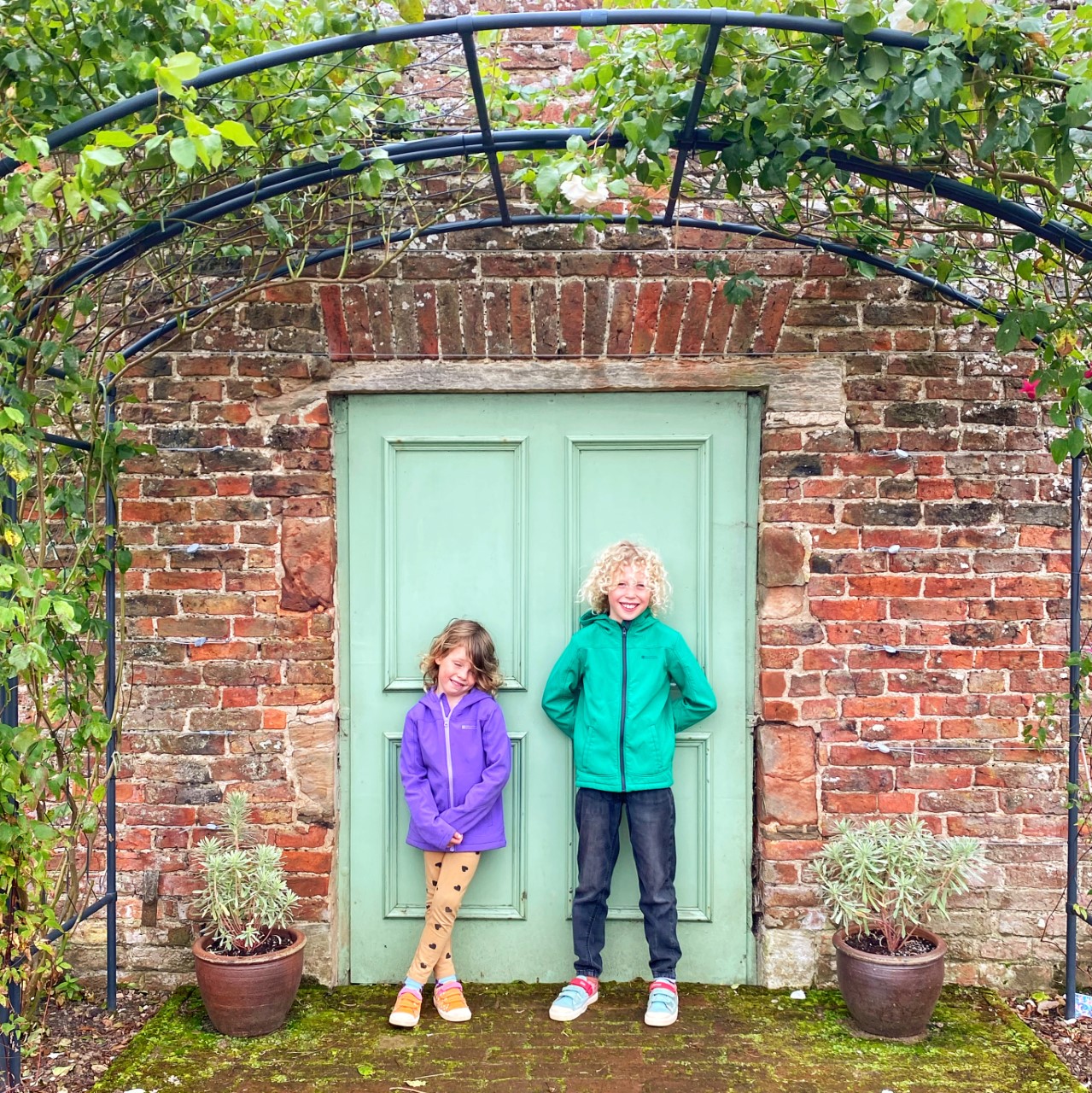 Tantallon castle is just South of North Berwick, standing out prominently on a cliff edge. The outer wall of the castle facing inward is still standing, however once you are through the outer wall you soon see just how ruined the castle is!
With fantastic views out to Bass Rock it's well worth a visit, particularly if you want some Instagramable shots!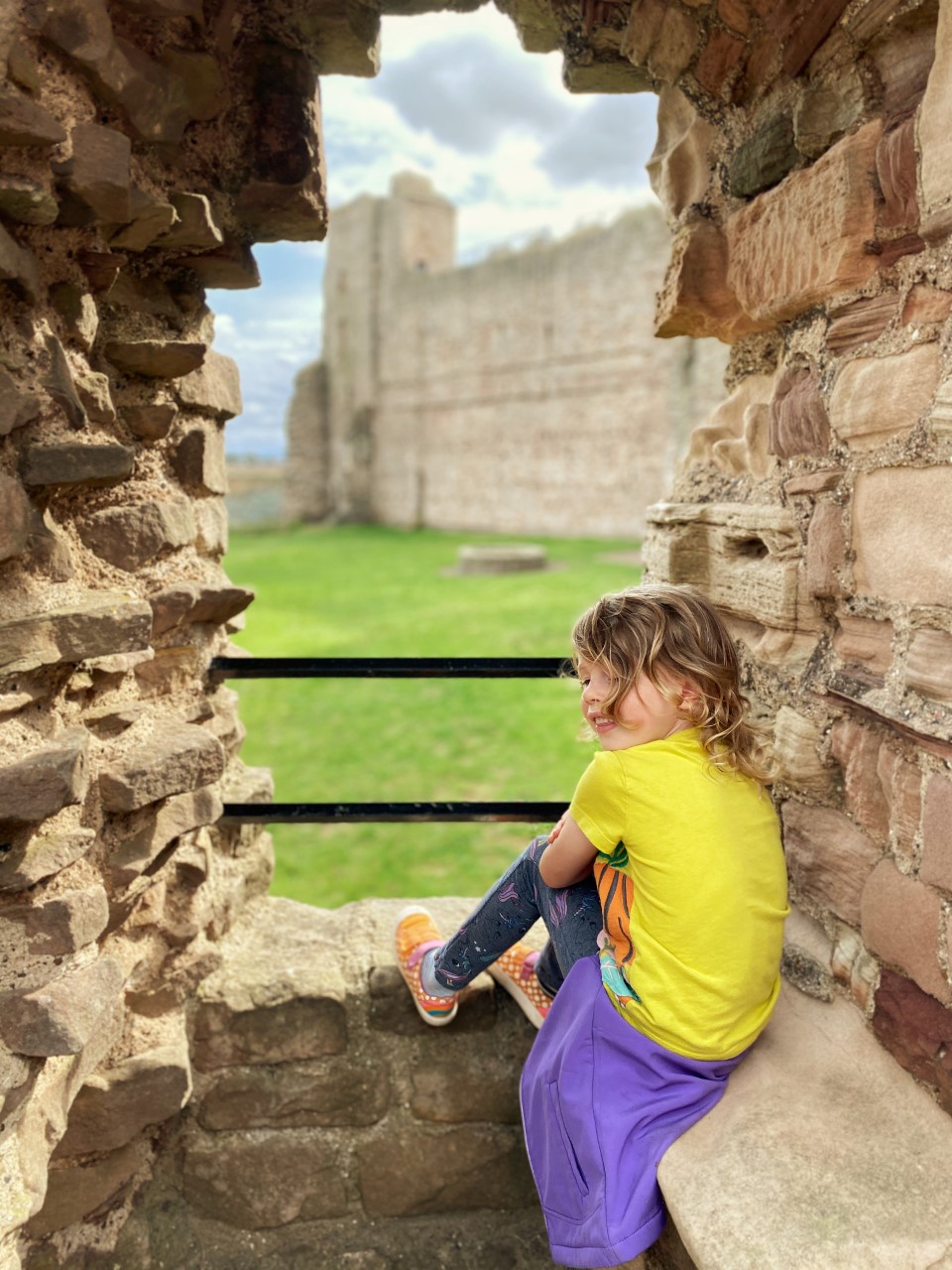 In North Berwick you will also find the Scottish Seabird Centre, which is very informative. Boat trips to Bass Rock, the bridges and to Isle of May can be taken from North Berwick. However, one of the best reason to visit this area is for the beaches!
The beach beside Harvest Moon Holidays is quiet and stunning, but we also love Seacliffe beach just South of Tantallon Castle. It costs a few pounds (take cash!) for parking, but is a great beach to visit. Yellowcraig is also considered a pretty beach worth a visit too.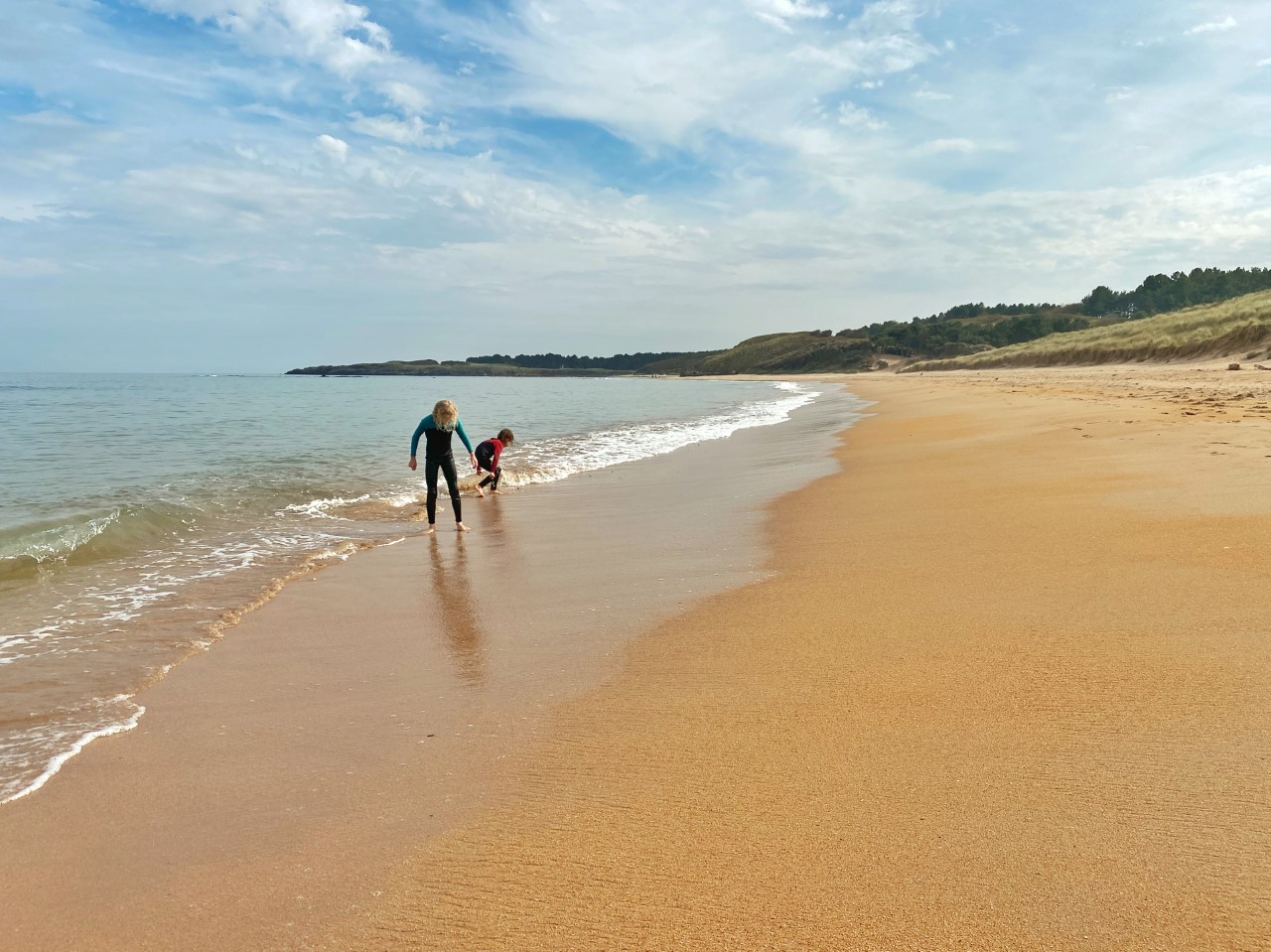 More Scottish Travel Posts To Read!
Pin Harvest Moon Holidays Review