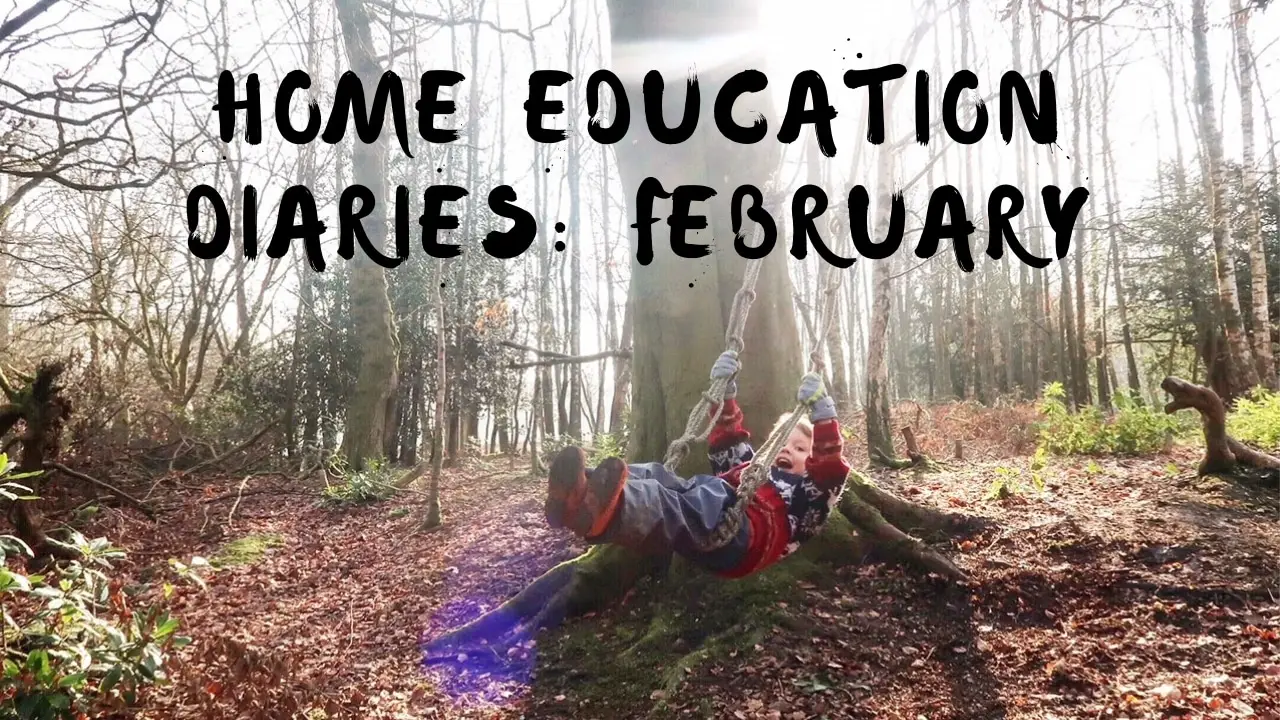 Well February was a weird month weather-wise wasn't it?  We were out in snowsuits at the beginning of the month and near the end we were in t-shirts!!  Glad things seem to be back to normal now. I felt quite uncomfortable about it being so warm earlier in the year, it's not exactly great for wildlife.  However, we did get quite a lot done this month in terms of home education.
So here's what my kids have been learning about in February 2019.
Home Education
Science
As per usual, science and technology seems to feature highly in our month, it's the children's favourite subject and can incorporate so many other topics, from maths and reading to history and geography.
Our 7 year old has spent time learning about the body and sewed together organs using a kit.  After he had finished sewing and sticking them to a body poster he chose to label all the parts of the body.  He can identify the different organs in the body and knows roughly where they are positioned and what all the main organs do.  Using the same kit we had fun making glow in the dark x-ray's and a DIY stethoscope, which we had to test out both when still and after running.
The eldest also completed two other kits, one to create a kaleidoscope and exploring patterns in mirrors and the other a spin art machine.  The spin art machine was his favourite project.  He enjoyed constructing the device and putting together the motor parts with some simple electronics and then actual art making was very addictive!  Dribbling paint on as it spins and uses centripetal force to create great circular patterns.  Even I sneaked a little go as it looked like such fun!
Centripetal force is something our 5 year old loves to discuss. He's pointed it out various times this month, from playing with his brother's spin art machine to spinning round a roundabout type piece of play equipment at the park.  He loves to see how the different things we are learning about can be applied to real life and often points these things out to anyone who will listen.
We booked an afternoon visit to see the Red Kite's (bird of prey) feeding at Argaty, near Doune.  You can book a visit any day for the talk and watch the birds being fed.   It was interesting to learn a little more about the birds, but the best part was definitely watching them swooping down and fighting over the meat.  The 7 year old decided Red Kite's were his favourite bird after that trip.
Both boys have been experimenting with Lego this month, littlest has made some flying vehicles, ensuring he has plenty of 'boosters'.  Whilst the 7 year old chose to make a train and various vehicles from fire engines to trucks he designed himself.  I think they've been more interested in experimenting with Lego this month since we bought a new tray storage system for our eldest's bedroom and spent time sorting all the Lego out into colours.  It's been a lot easier to find the pieces he needs for his various creations and it's fantastic for engineering and problem solving skills amongst other things.
Whilst visiting Blackness Castle we also visited the Lego exhibition there, which was interesting to see.  I was impressed at how intricate some of the pieces on display were and both children could identify a large number of the landmarks on display.  Although we all agreed that the fairground display was the favourite!
Another force that we have been discussing recently is air resistance.  We made parachutes at the park for peg people with some friends, comparing different materials for the parachutes on how air resistant they were.  Our various versions included fabric, paper, tissue paper, bubble wrap and plastic bags.  I explained how air resistance works on a parachute in combination with gravity and we also discussed whether smaller or bigger parachutes would have more air resistance.  It was something my eldest was very interested in and he had great fun creating a variety of parachutes.
Building on the cup and stick tower building challenge last month we experimented a little with blocks and sticks and also using larger sticks to build Leonardo da Vinci bridges.  They worked quite well at holding a few books up, but the boys were a little frustrated how they kept falling down after a certain number of sticks were added.
At home the 7 year old has renewed his interest in his snap circuit set, although I think we may need to buy a few new parts.  Some things don't seem to be working and that makes it difficult to create the electric circuits he wants.  It's interesting how you can build circuits that have sounds and lights by simply snapping them onto the base plate.  Definitely a great gift for children who like electronics.
As the weather has been quite mild our garden frogs have begun to appear.  We found two rather amorous frogs on the driveway, but were a little worried about the male as it had a rather bloody foot.  We helped move them to under the hedge so they weren't in full display to any passing birds.  We've also reinforced the frog lifecycle, although both children seem to know it quite well now.
Unstructured Play
As per usual we spend a large amount of time with the kids in unstructured play settings.  I always find it fantastic to see them run off to play for several hours with different groups of friends and see them problem solving together.  Of course there can be conflict, but mostly this is resolved by themselves or they come over for a quick cuddle and are back playing again 5 minutes later.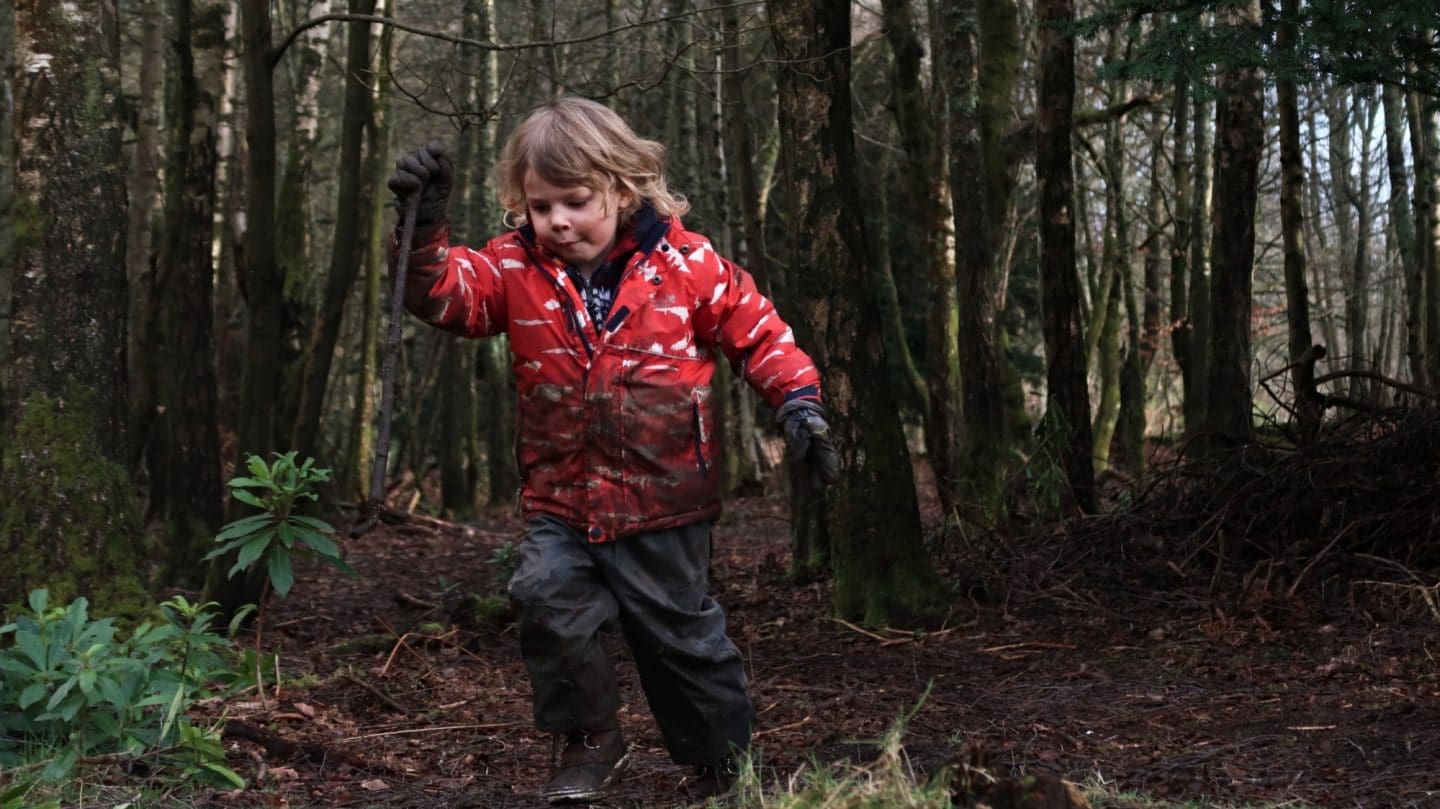 Twice a week we normally spend time in the forest, although sometimes we visit a park or something similar.  This time is mostly spent climbing trees, playing in a stream and pretending to be various big cats.  We also have a fire most days in the cooler seasons so we can cook lots of delicious things, plus keep us warm when it's chilly.
Reading and Writing
This month we have a read a variety of books together.  Eldest is still working on finishing the Goblet of Fire, although they seem to be reading it less, possibly because it's getting a little scarier near the end.  Youngest and I have been reading some of the Worst Witch series, plus they both enjoy the Storytime magazines.  Other books include Rosie Revere, Engineer and Ada Twist, Scientist, Once Upon a Wild Wood and Tidy.
We have a new Orchard Toys game called Spelling Magic, which definitely seems to be encouraging the children to sound out letters and create words.  Littlest also likes to practice sounding out words on his own, which is lovely even if he's not always quite correct.  The English language doesn't always spell things in the most obvious way!  Eldest is starting to appreciate that there can be silent letters at the start of the words or other letters in the words that don't always make sense if you are simply sounding out.
Our 5 year old is still working on writing anything legible, although he's pretty efficient at his capital letter now.  The 7 year old has been writing more, such as labelling organs and body parts on his poster and writing out certain words when he's up earlier than everyone else in the morning.
Mathematics
My husband bought a couple of mathematics posters for the kids from Aldi's.  So littlest has had fun using it to count to 100 and he is very almost there at recognising all the numbers.  It can be a little time consuming when he decides to do it just as we're going to bed though…
Our eldest's posters included a times tables poster which is good to remind him of the basic times tables he knows.  We've done a lot of the 2 times table already, although it's always been referred to as 'double' rather than 'times'.  We'll have to continue working on the other tables.
Our 7 year old learnt to tell the time a while ago, but as he hasn't been practising very much in recent months we're coming back to reinforce this skill.  I think we need to get his watch working again as I'm sure that will be more interesting than looking at normal clocks, especially if we need to check the times for catching trains!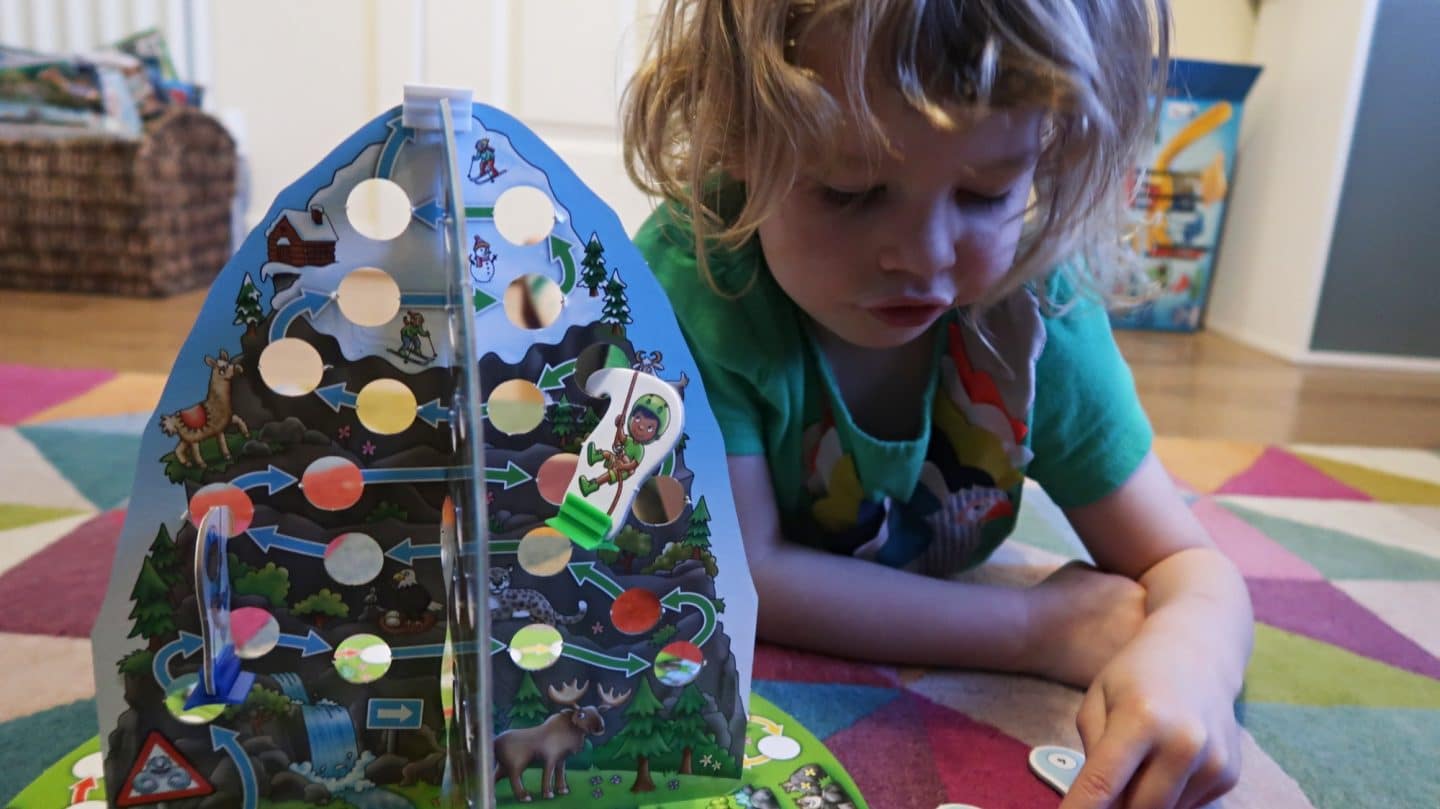 Another new Orchard Toys game is Counting Mountain, where you need to get your climber up the mountain first.  It's a great game and it's perfect for our 5 year old to practice his basic addition and getting the 7 year old to instantly recognise the number without counting up.
I came across a new app called Cool Maths, which seems like old school arcade games to me, but it's a lot of logic and strategy involved as well as numbers and skill.  Littlest particularly loves the motorbike game, which certainly requires a lot of skill to not crash and blow up!
Playing with shapes and patterns in the mirror and shape activity that came with eldest's kaleidoscope kit has been a fun bit of maths.  He can change the angle of the mirrors to see how that affects the shape too.
Exercise
As usual the children have had plenty of exercise, both unstructured and structured activities.  We have been riding bikes, playing at parks and in woodlands with friends and visiting The Lodge at Aberfoyle to play in the woods.
Classes include weekly swimming lessons and multi-sports classes for both boys, plus youngest also enjoys weekly gymnastics and ballet/tap classes.  It's been lovely to see how they have been developing through their swimming classes.  With eldest a confident swimmer (although nowhere near perfect in his strokes!) and littlest finally managing to jump in without holding hands (in shallow water) and swimming on his front and back using a noodle.
Littlest is also quite excited for his dance show at the end of the summer term.  He's been showing us the bumblebee dance, which includes a some wiggling of his bottom, which I'm sure will be adorable when we see them all dressed as bees on stage!
History
On a very cold day at the end of the month we visited Helix Park and the Kelpies.  It's great for scooters and bikes, but one of the children's favourite parts is to go to the visitor centre and watch the film about the history of Falkirk and the Kelpies. It's an easy to watch and short, but is fantastic at getting across the history from the first hunter gatherers to present day.
We also had a trip to the Riverside Transport museum in Glasgow and the Tall Ship behind.  The transport museum has a whole host of vehicles from the past, with particular favourites being the trains and model boats.  Although the boys do enjoy walking down the cobbled street and visiting the various shops along the way.  The Tall Ship has plenty of information dotted around the boat to explain how the crew lived and worked on the boat.  We've visited both many times before, but they still enjoy it!
Blackness Castle on the Firth of the Forth is also called 'the ship that never sailed' as it does appear to have the shape of the prow of a ship.  I do love visiting a good castle and Blackness never disappoints, although we've never managed to visit on a calm day!  The castle has been used as a home, a prison and by the military throughout the years and it's interesting to see ho each area has been utilised over the years.
Our 5 year old and I had a trip to the bookshop and got a little carried away with buying fantastic kids reference books.  The kids do seem to enjoy them as much as I do, which is a bonus!  I chose one about Shackleton's voyage to Antarctica, a lift the flap book about the Stone Age and history of inventions and vehicles book.  I think we need to visit the library next time rather than the bookshop, as I could spend a fortune!
Geography
As usual the boys enjoy looking at our globe and their foam map of Europe in my eldest's bedroom.  We also had a couple of geography based subscriptions this month; Geo Journey and Atlas Crate.
Geo Journey comes with a little case and a scrap book to put in all the information from each country.  It also comes along with a souvenir each month, which meant littlest got an Eiffel Tower keyring from France. It gives him a chance to learn a little more about each country that Geo and Atlas visit.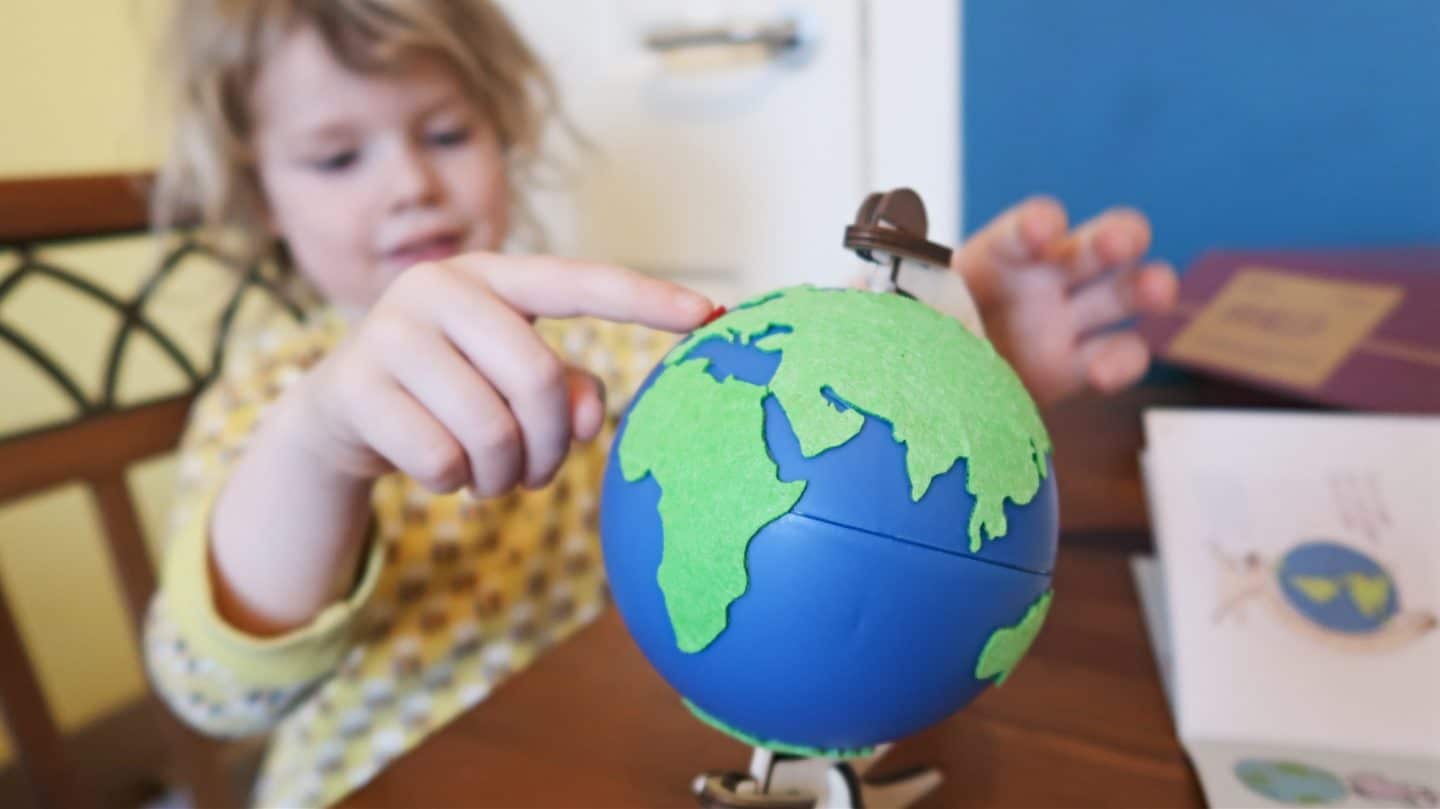 The Atlas crate had more crafts available, including making a globe and an information booklet.  Littlest also enjoyed the challenge of finding different shipwrecks and important places on the world map provided.
Music and Art
The children's keyboard is used every single day, with our 7 year old managing to play several tunes by heart and in time to the music on the keyboard.  Which is pretty impressive when you're non-musical like me!
They have also played a little with their dad's harmonica, which almost always sounds like they are playing an actual tune, ha ha!
Eldest has been drawing in his bedroom occasionally in the morning, when he's up too early and it's not time to go downstairs yet.  Mostly it seems to be Harry Potter themed, from Hogwarts and the Quidditch towers to the Hogwarts school emblem!  It's a little change from all the trains he normally draws!
As part of the subscriptions he's had, our 7 year old has made a kaleidoscope and a spin art machine.  The spin art machine is probably the favourite, which they both spent ages making and watching different art works be created.  They experimented with different colours and positions of paint as they played around with the machine.
So that's winter done for now, March is the first month of Spring.  We have lots of plans this month including a day in London for me and a trip to Tenerife for us all!  Hopefully it's going to be a great month!
Pin For Later