If you have driven up the M9 in Scotland recently you may well have passed two giant horse sculptures at the side of the road.  These are 'The Kelpies', 30 m tall metal sculptures that represent the mythological transforming beasts which possess the strength and endurance of 100 horses.  They are the gateway to the Helix park and the Forth and Clyde canal.
It took us a while to actually visit them, although we had watched them being built and completed whilst driving past on the M9.  It was over a year before we actually made the visit to see them up close!
It's now one of O's favourite places to go for a ride on his balance bike, zooming along all the paths and round and round the Kelpies themselves.
Of course he also always request a biscuit or an ice cream when we visit as well, I suspect that this has become a bit of a Kelpie tradition now and it won't ever be allowed to be forgotten!
You can also book a 45 minute tour to learn about the history and construction of the structures and of course get a chance to walk inside one of the Kelpies.  We haven't taken a tour yet, but it's on our list of things to do.
Aside the Kelpies themselves, there are private boats that can be watched sailing along the canal and going through the locks, many miles of paths to walk, cycle and scoot along and a man-made loch that you can hire pedal boats or kayaks on.
 There is also a great park near the loch, best for older children as everything is a little too big for smaller people to manage on their own.  We visited it once with our 3 year old and he got quite frustrated as things that he can do at other parks he can't here as the ropes are too far apart to reach or the ladder step too high from the ground to start.  It looks great for children around 5+, although there are a few wobbly animal things and a smaller slide that little ones can go on.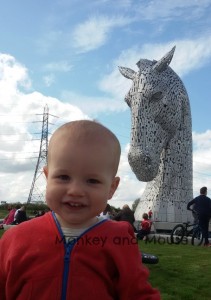 If you're ever in the Falkirk area, this is a great place for a family day out, with plenty to do to keep you occupied for the day.
Have you visited the Kelpies?
J x