Bee Activity Theme Day
A little while ago the kids chose to have a bee themed week to get their Pawprint bee challenge badge.  We only did one activity every day or so, but you could easily fit them into one bee fun packed day!  It's a great summer topic with the added benefit of watching bees out in the garden or local countryside.  Many of the activities were bee craft ideas, but we also had some more in-depth discussions and reading books too.
Here are our bee craft and activities ideas for a fantastic bee themed day!
Beeswax Candle Bee Craft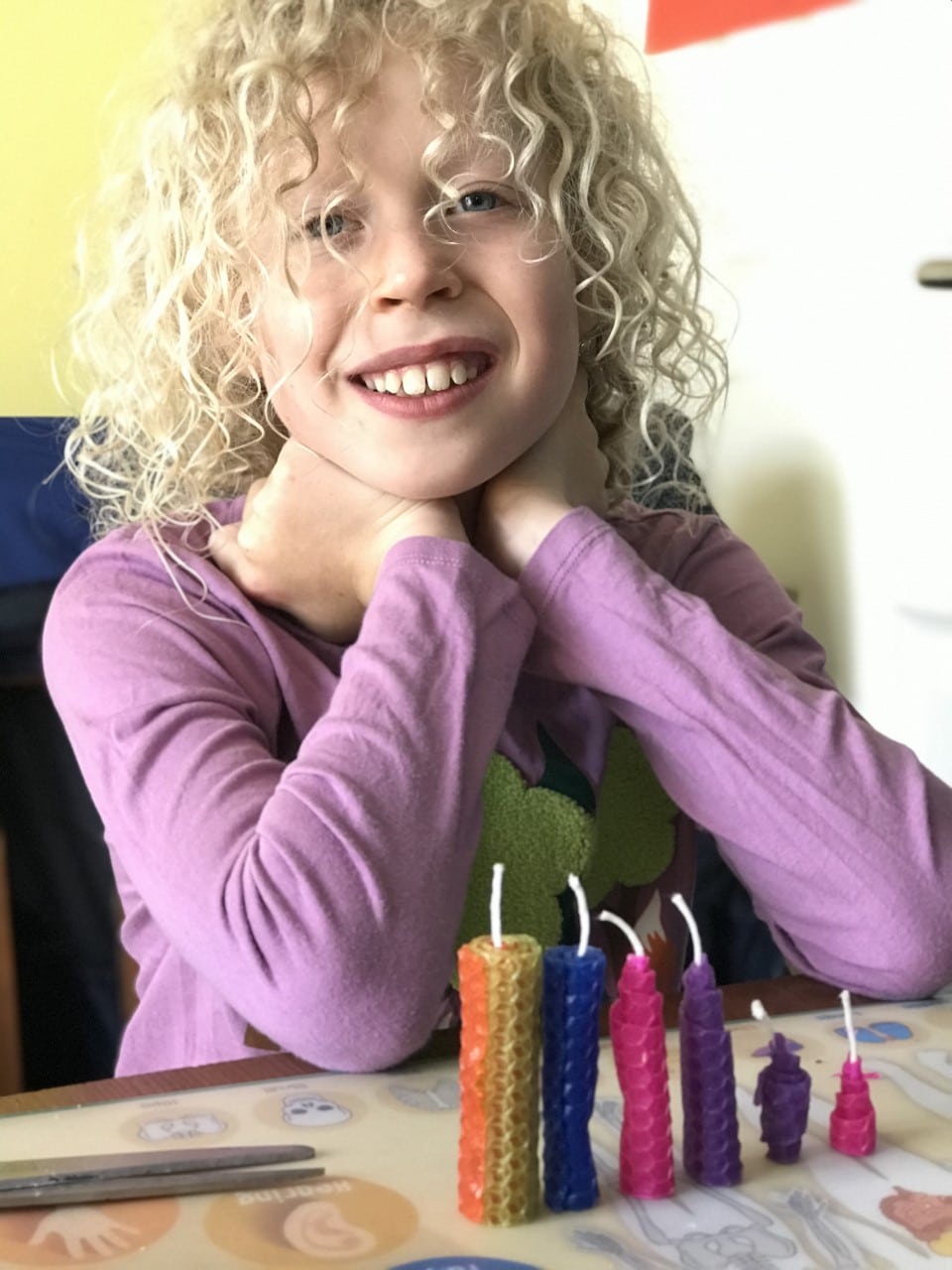 This is an incredibly easy DIY bee craft.  You can either buy a beeswax candle kit, such as these, or buy some wicks and beeswax sheets to do it yourself.
Once you have your beeswax sheets you can choose to cut them smaller or at an angle across the sheet to make a tapered candle.  Stick the wick down on the side you want in the middle and using a hair dryer gently warm the wax until it's pliable.  Roll the wax with the wick side first until it's in a candle shape.  Simple!
The kids loved making them, plus they're so simple you won't even need to help much.
DIY Bee Hive and Bees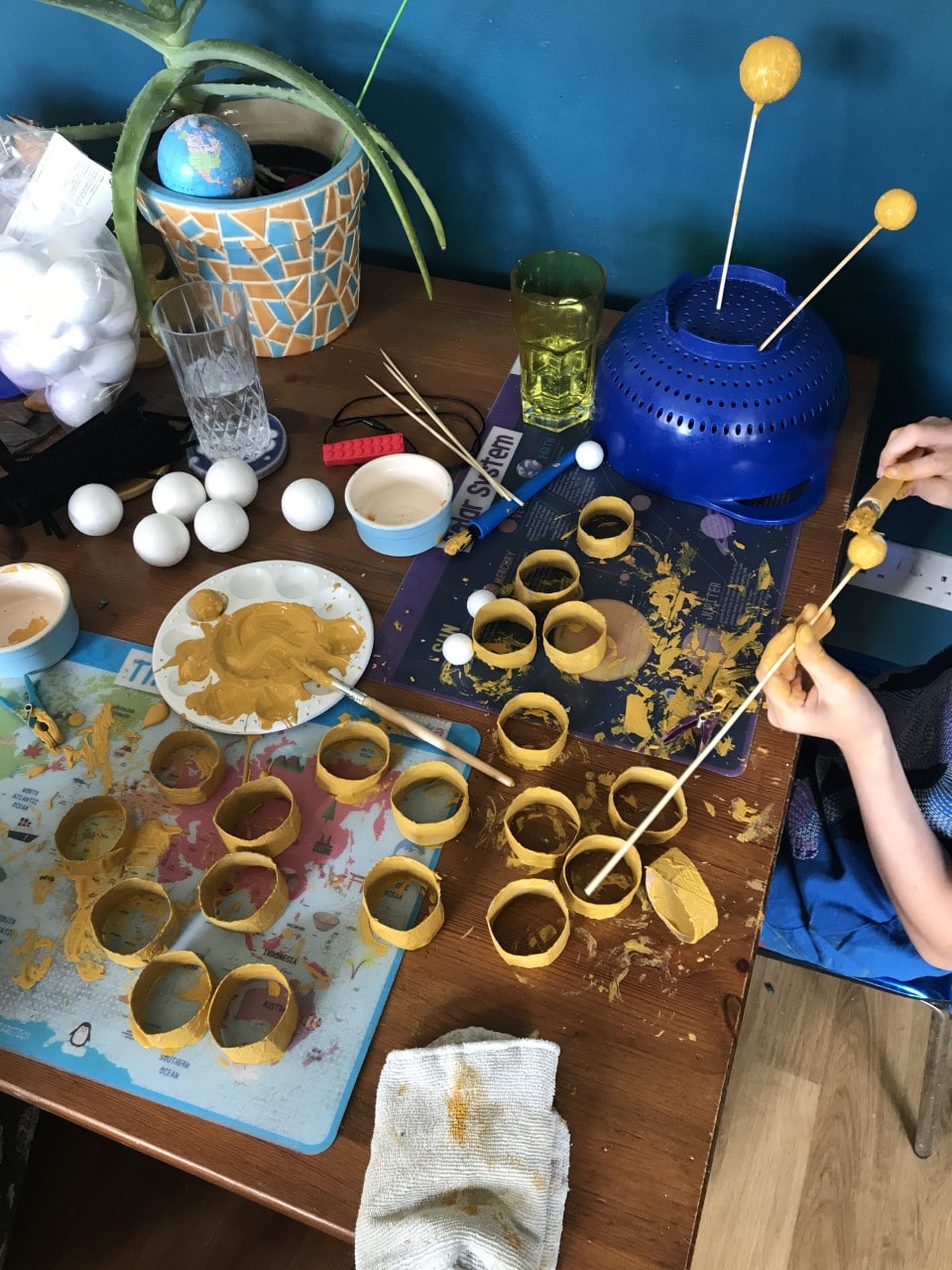 This bee craft is a bit more time consuming.  We cut toilet rolls into thirds and squashed them into hexagons.  The children painted each hexagon yellow and then stapled them together to make a hive.
The bees are polystyrene crafts balls painted yellow and wrapping black pipecleaners around them for stripes and legs.  You could add wings too, although we didn't bother.  Eyes can be painted on or you could use googly eyes.  Make sure your black pipecleaners are long enough to go all the way around your bees, some of ours weren't and it was very fiddly.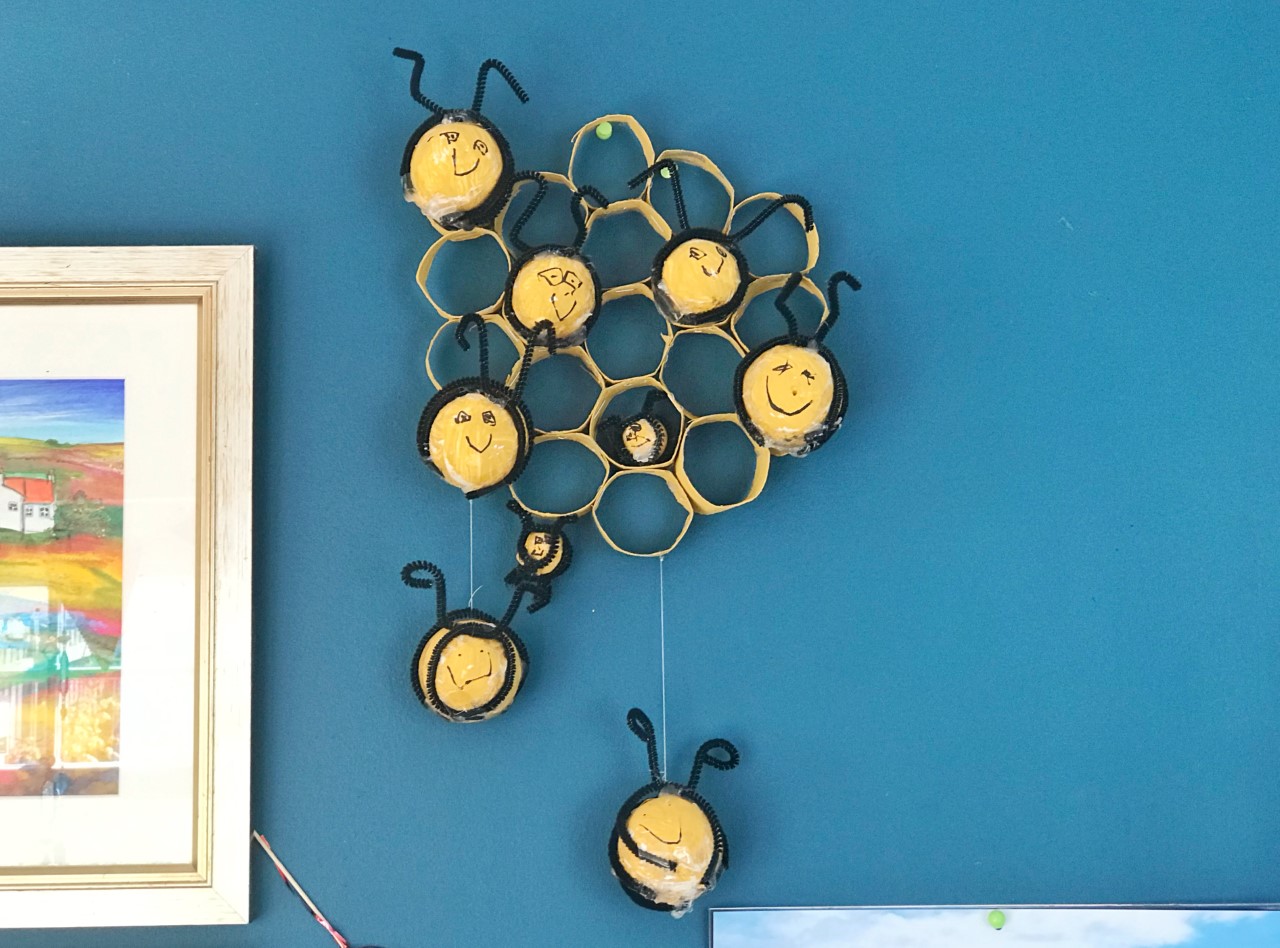 Beeswax Wraps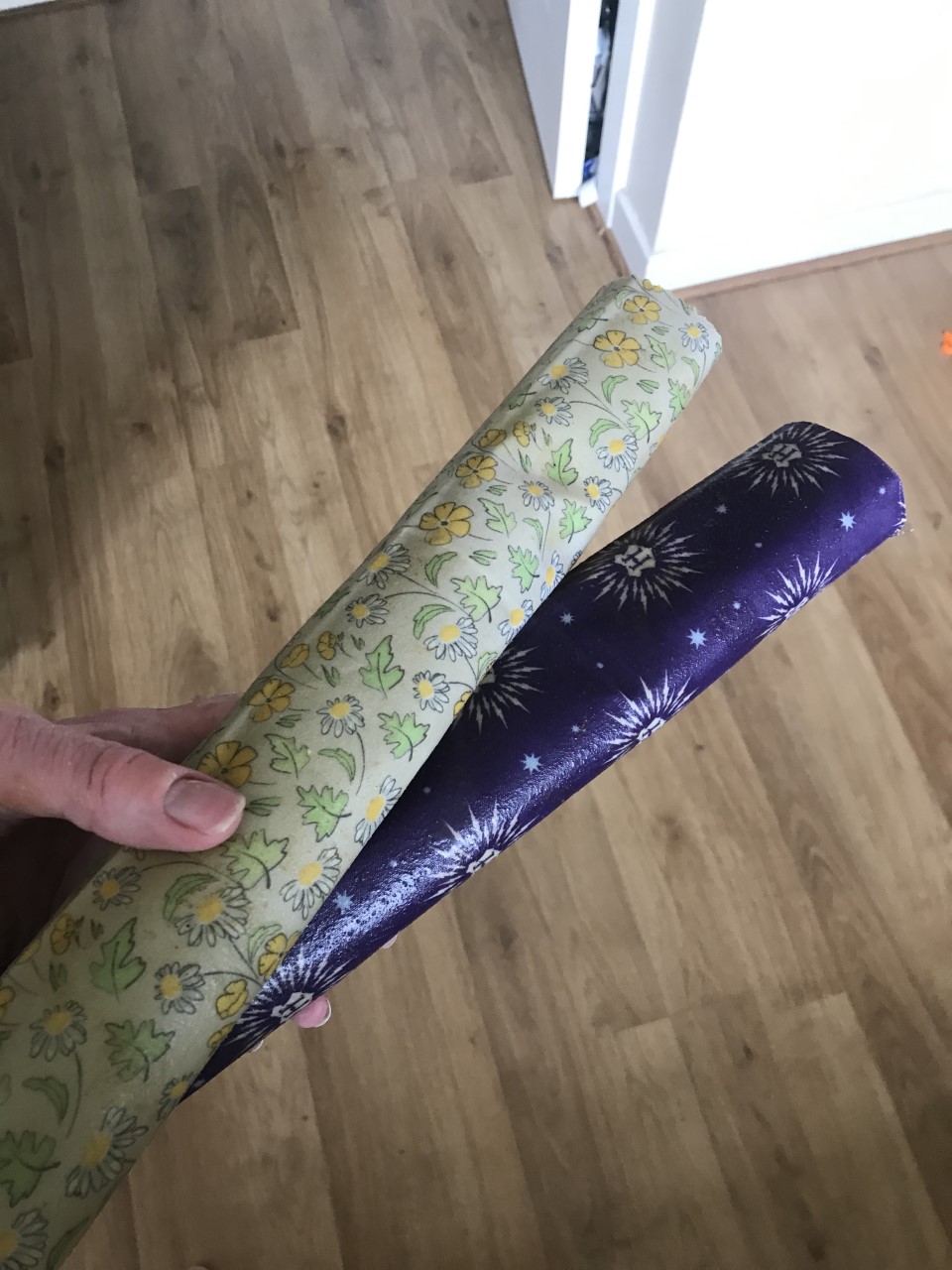 I'm sure you will have heard of beeswax wraps and no that they are simply a piece of fabric coated with wax.  However you shouldn't use beeswax alone, instead a recipe of beeswax, Jojoba oil and pine resin works best.
Head over to a Beautiful Mess for a full beeswax wrap recipe of how to make the wraps.  Although kids can help make a fair bit of the wrap process, including cutting fabric and measuring ingredients, all the oven work should be completed by an adult.
Seed Bombs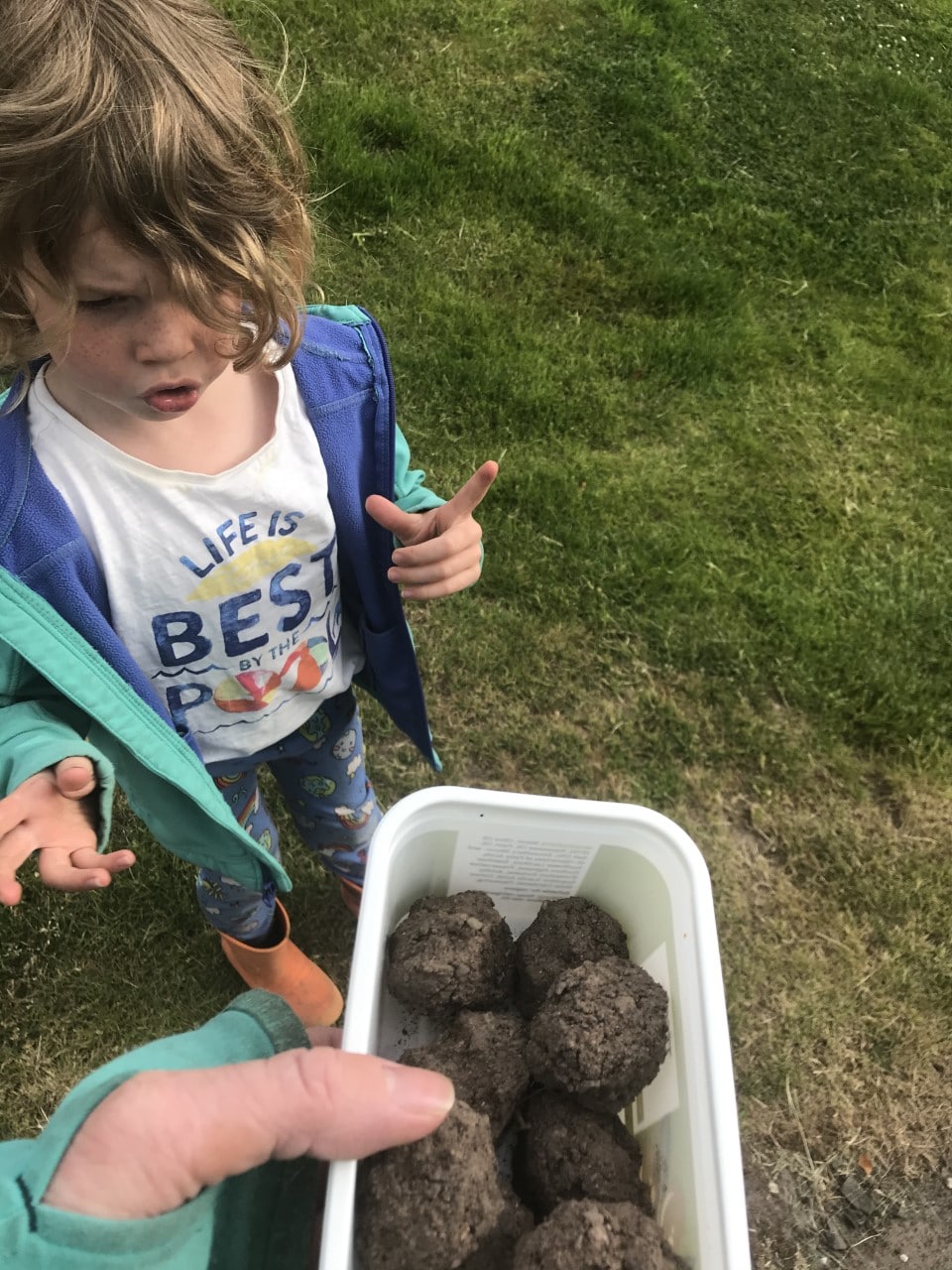 Our 6 year old was fairly adamant about how the seed bombs should be thrown in the patch of grassland nearby.  However he wasn't as keen to get his hands muddy in making them!  He did help make the first few, although he doesn't like getting his hands dirty for long.  So I finished forming the final seed bombs for him.
It's a good craft for summer, using bee friendly plant seeds.  Mix some garden soil with a little natural air drying clay (can be bought online here) and wet with water to make a mixture that can easily form into balls.  Using the palm of your hand form the mixture into a loose ball and sprinkle a few seeds inside before firming it up into a solid ball shape.
Allow the seed bomb to dry outside in the sun and once hard you can throw them into a wild area to grow!
Bee Search
Get the kids out into the garden or a local space with plenty of flowers and simply look for bees!  Take along a bee identification sheet to identify any bees you see, such as this one of the big 8 from the Bumble Bee Conservation trust or this bee ID guide from See Nature.
We've found that foxgloves are a good bet for bumblebees.  On our local walks we have spent a lot of time watching the bees going in and out of the different flowers on each foxglove.  In our garden it's the raspberries and blackberries that seem to have all the bee activity in spring and early summer.  Have a look outside and find out what the bees prefer near you.
Great Bee Themed Books and Videos
We watched several of Maddie Moate's bee keeping videos for a different perspective to the wild bees.  The kids found it very interesting, particularly when they swarmed.
We also have the Usborne Why Do We Need Bees? book, which despite being a lift-the-flap book was still in depth enough for my 6 and 8 year olds.  I also like the look of The Book of Bees for primary aged children.  For younger children this bee activity book looks fab, it's called What on Earth? Bees.
Pin Bee Craft and Activity Ideas For Later