Disclosure: The gifts by post were gifted for the purpose of this blog post.
Lockdown Gifts By Post
With lockdown set to be longer than first anticipated, I thought it would be great to put together a gift guide of gifts by post.  Some of the items here are letterbox sized, but as many are working from home I've also included some larger items too.  Everything in the gift guide has a purpose.  It might be to simply cheer someone up and show them you're thinking of them.  Or it might be to help them learn something new or have fun together.  I love that we can send random gifts by post to loved ones at times like this!
I hope you enjoy reading through and checking out some of these amazing ideas for gifts by post!
Gifts By Post For Adults
Escape Room Kit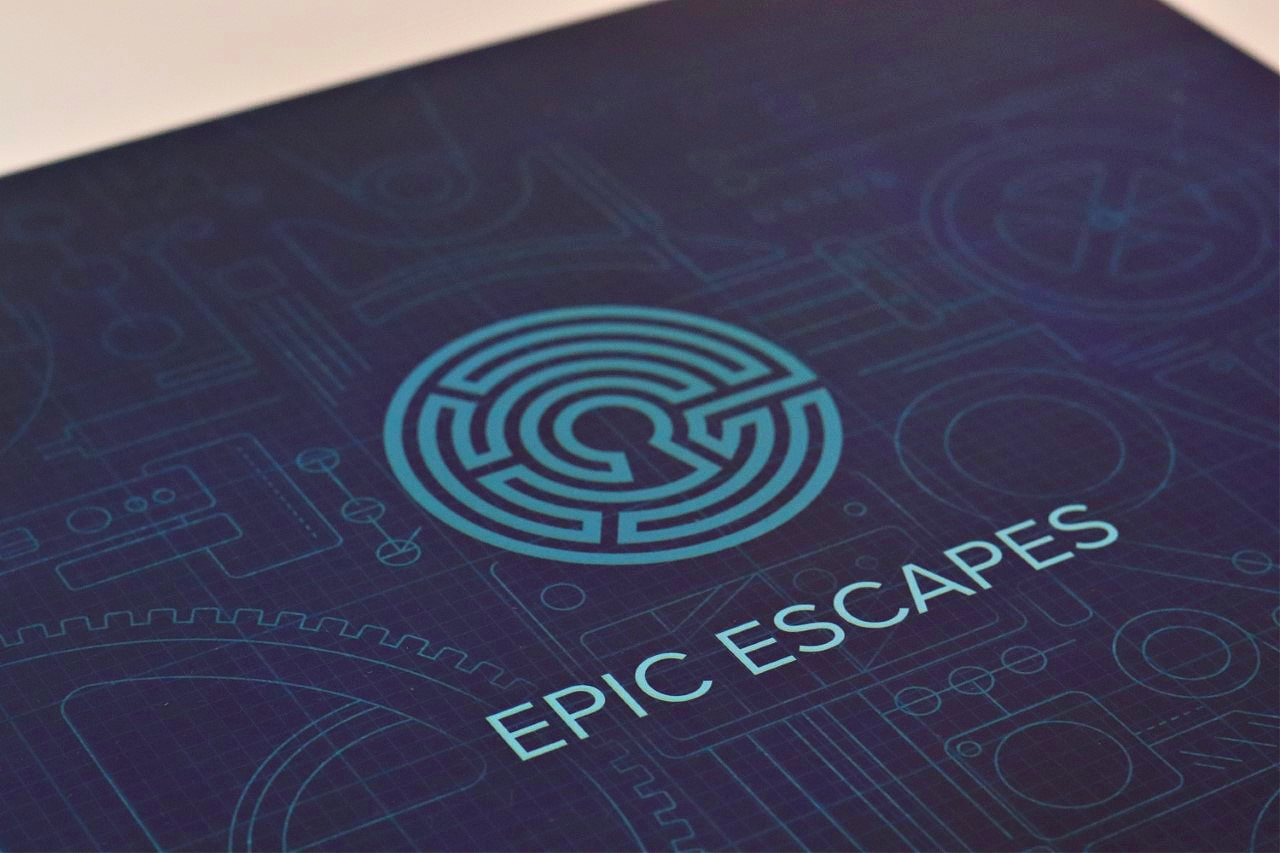 Life at home during lockdown can get a bit monotonous.  We are used to playing board games a lot, however it's fun to try something a bit different.  So instead of a board game we are trying out an Escape Room we can do at home, courtesy of Epic Escapes!
Epic Escapes games are a fun way to solve mysteries through a series of puzzles.  You do need to have 1 person to set up the game as the host, which can make it a bit harder to complete when you have younger children!  You can have 2-6 players along with the host and it arrives with 3 choices of games.  Starting at the easiest option of crime, you can try the other two out once you have finished the first.
The host is the person who sets up the clues and hides the puzzles, they can be present during the game to give hints but can't take part in the game itself.  Each of the 3 games can be played multiple times by different people (obviously not the same people as they know the answers!).  So it's definitely possible to play as a family and then give it to a different family to play when you're finished.
In 2021 Epic Escapes plan to create Expansion Packs, which means you can use your set for even more games!  You can also win a free box in their monthly competition here.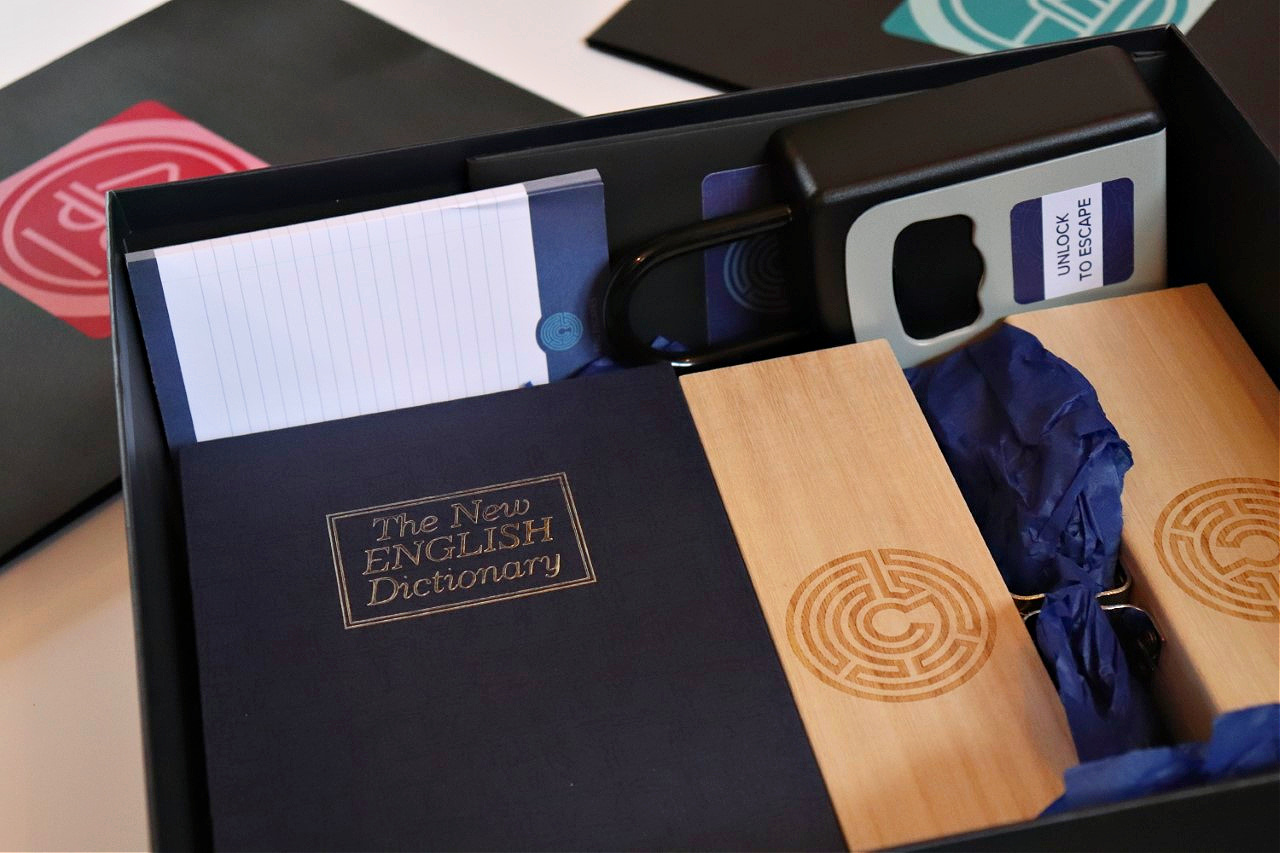 Cake By Post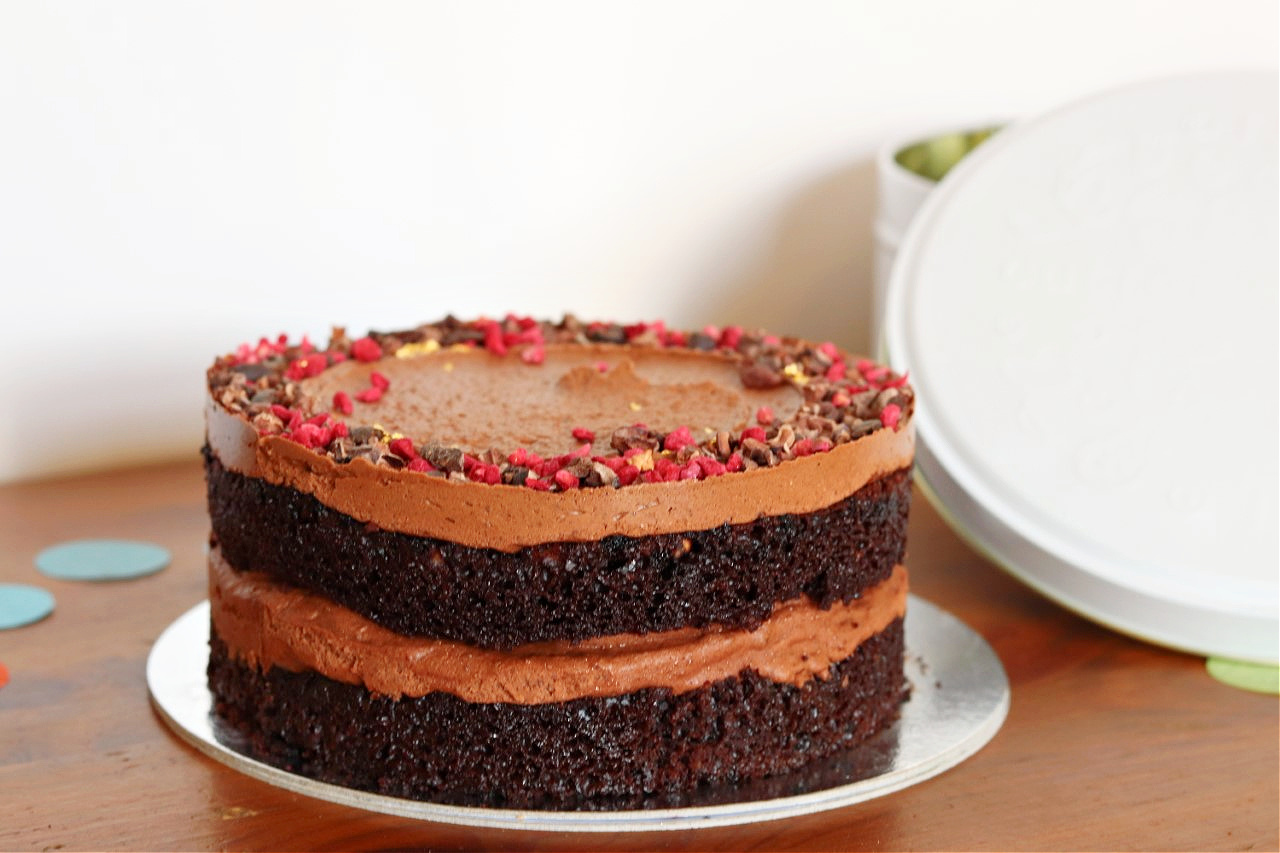 Cake by post.  Need I say more?! The pictures here look awesome, but they don't do this delicious cake justice!  I decided to go for the vegan chocolate fudge cake and I was definitely not disappointed.  The sponge was spongy and moist, the icing was mousse like (once warmed up out of the cold post van!) and it is incredibly chocolatey!
Plus it just looks amazing!  The cake is from Cutter and Squidge and arrived in a beautiful white tin inside an orange carboard box.  It was in perfect condition when it arrived.  The packaging stops it from getting damaged at all.  I can see this being the perfect cake to send for a birthday or anniversary (or just because they like cake!) as it looks so impressive.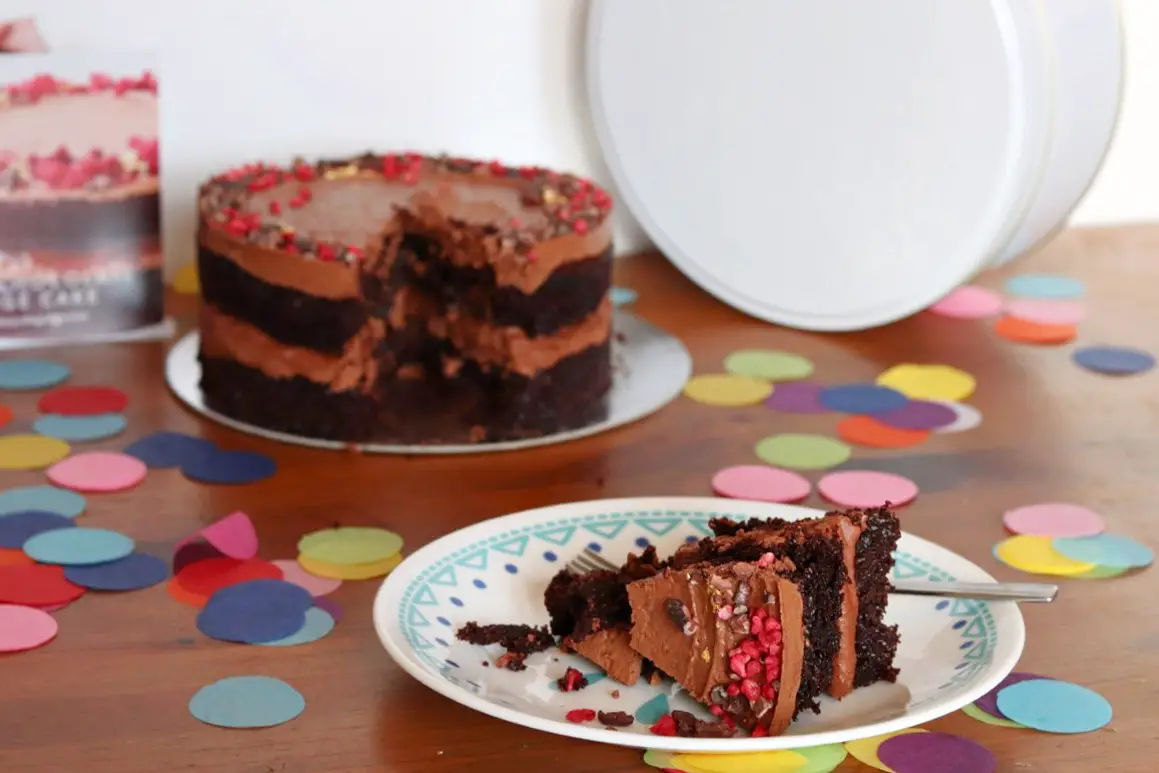 It was my youngest's birthday recently and I think he would have preferred this to the unicorn cake I made him.  It certainly was very tasty!  Perhaps we'll have to buy it for him instead!
The cake was decorated with cocoa nibs, dried raspberries and edible gold leaf.  It looked gorgeous as I lifted it out of the tin!  It still looked gorgeous up until we devoured it all a few minutes later.  Ok, we didn't eat the whole thing in one go, but it wouldn't have been difficult!
You can also buy other types of cakes and hampers, even afternoon tea.  Cutter and Squidge have a fantastic range of cakes, including vegan and wheat free selections.  I can guarantee you will be blown away by the cakes, we certainly were!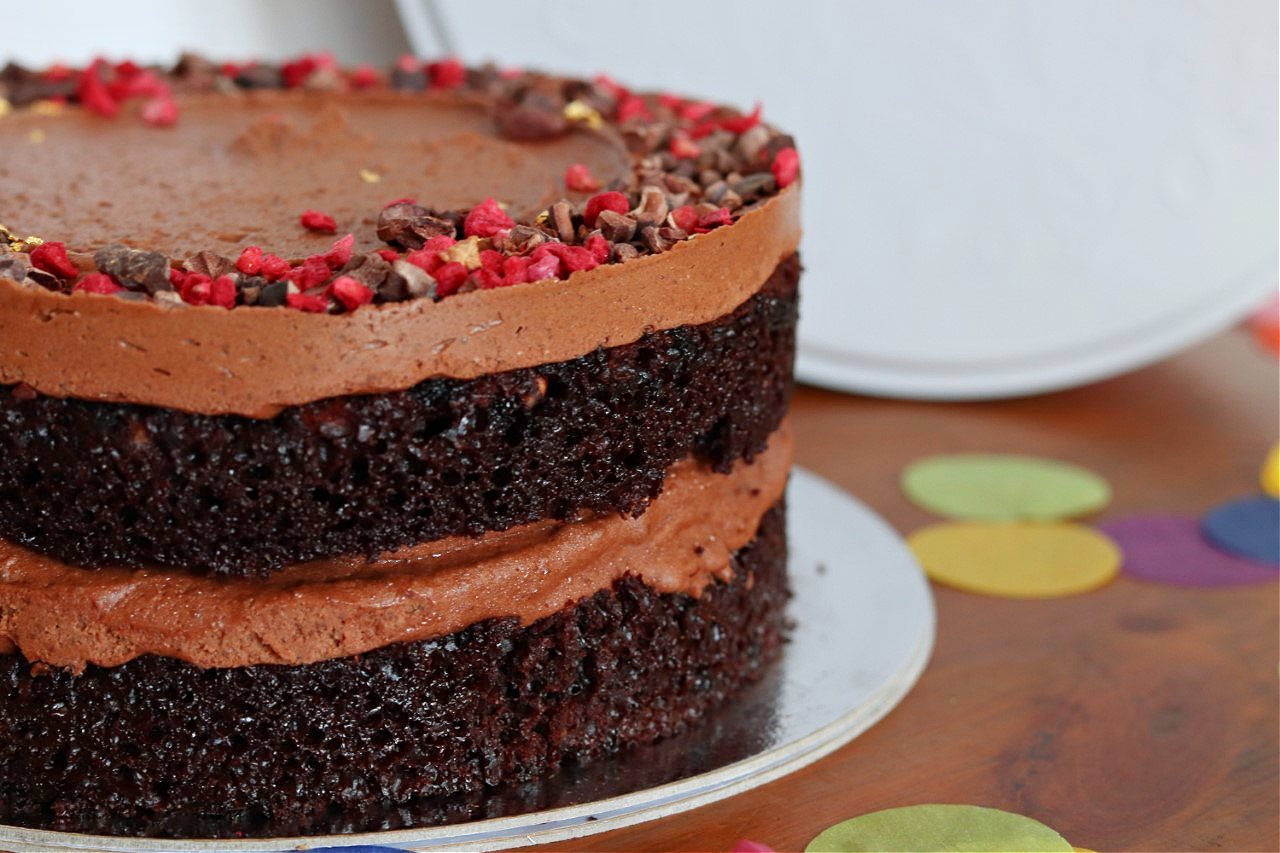 Spice By Post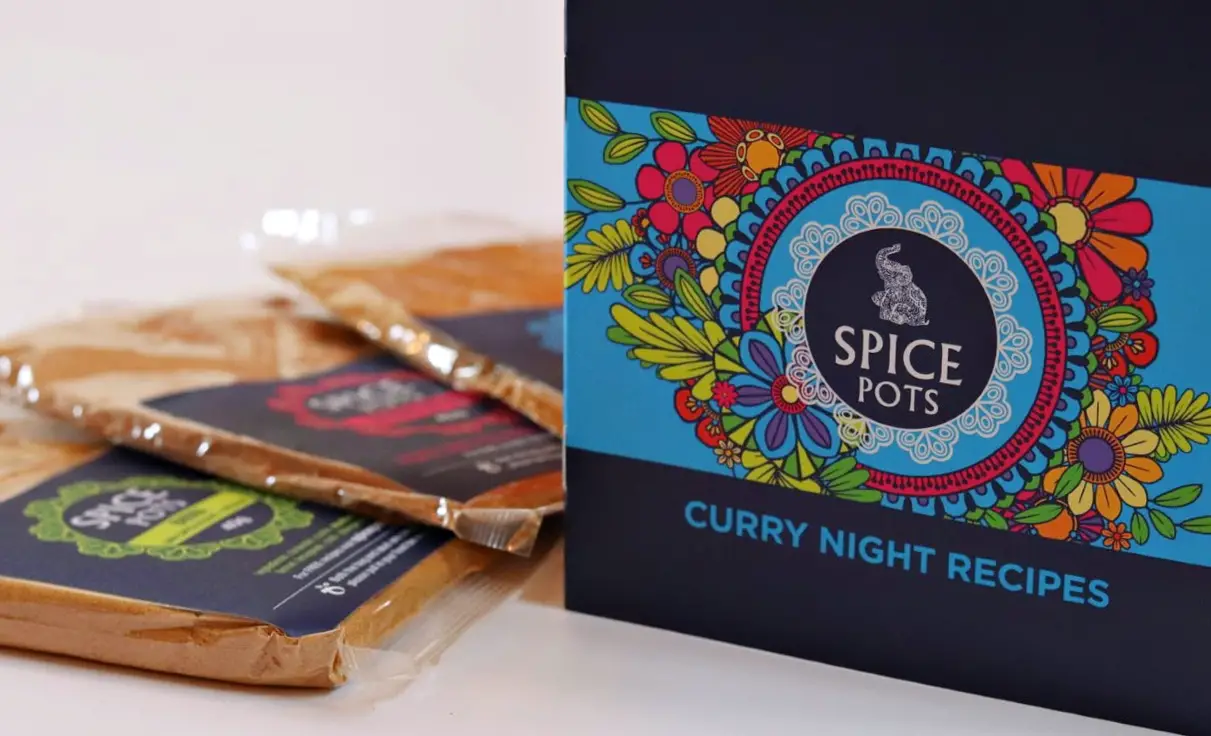 If your loved ones are missing your cooking or just getting stuck in a rut with meals, why not send a Letterbox curry gift?  Spice Pots has a large range of letterbox spice gifts, from the vegan gift box to the ultimate BBQ spice spice gift box.  Each letterbox gift comes with it's own recipe book.
With these spices you will be amazed at how good food can taste!  My husband chose to make a Chicken Tikka Masala with the Tandoori Masala Spice packet and it turned out really well!  He used the recipe book and improvised with a few ingredients that we didn't have.  He certainly enjoyed eating it and even the 9 year old had a taste.
This gift is the perfect size to fit through the letterbox.  So there's no need to worry about the recipient being in.  If you know of someone who loves a curry and is need of a pick-me-up, this is the gift for them!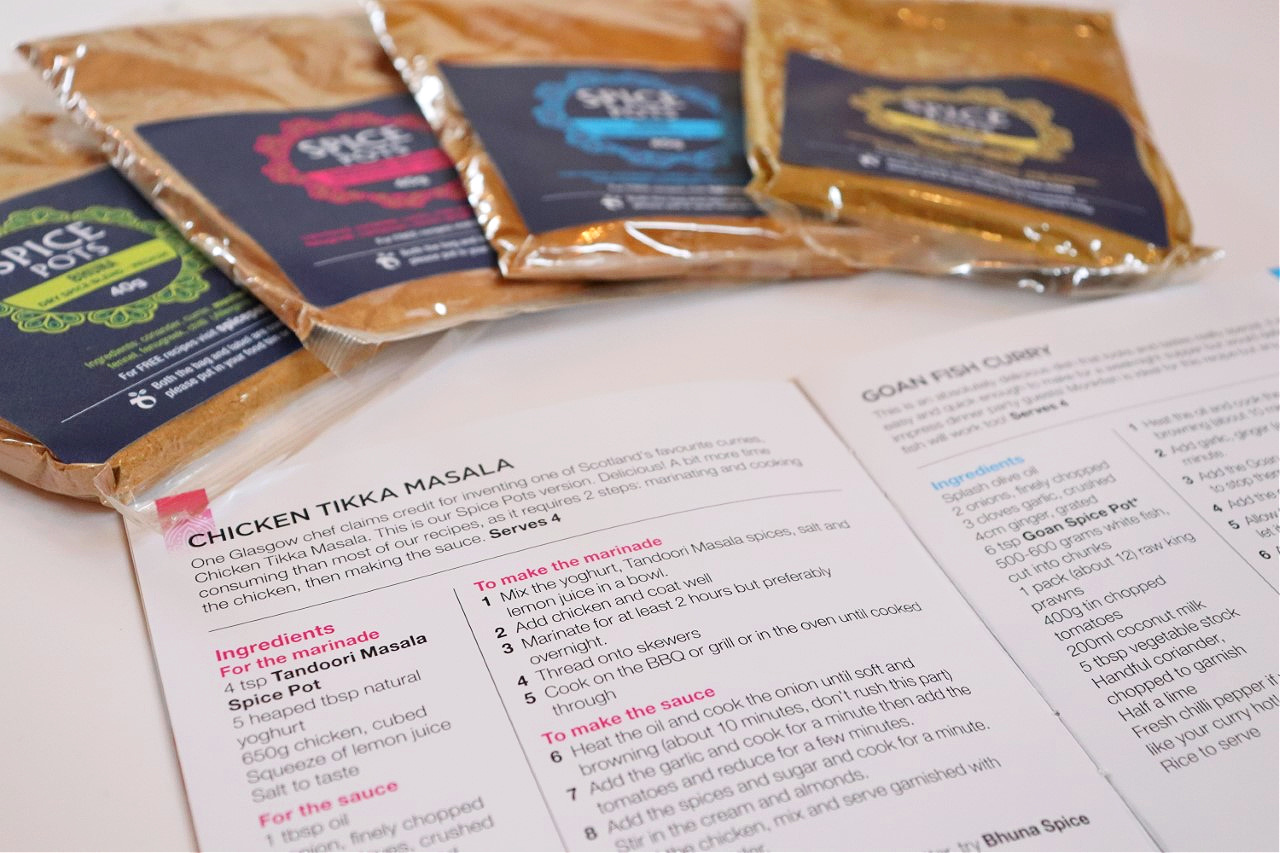 Cocktails By Post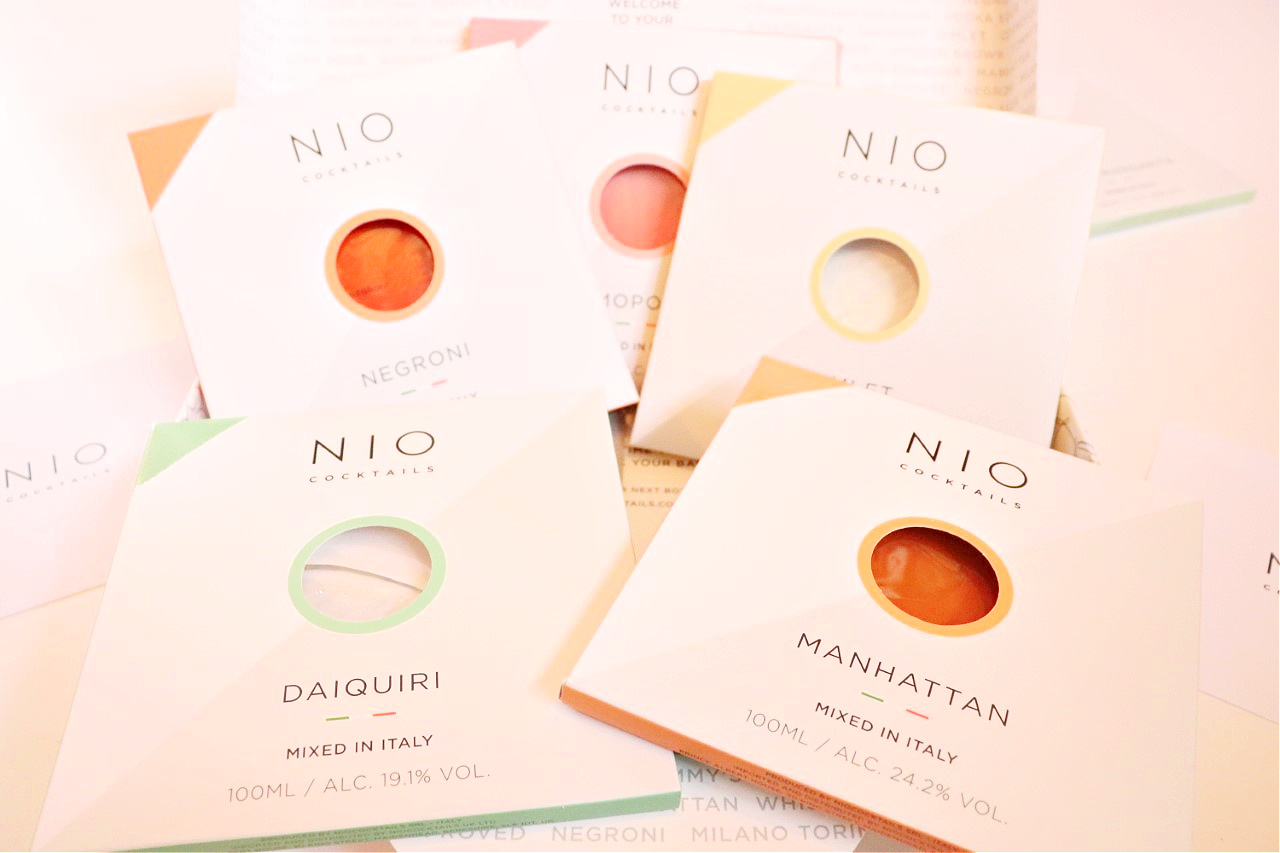 Cocktails by post may be something of a miracle to some people?!  But these cocktails are all boxed up in single serve flat packs, easily posted through the door.  The letterbox Nio Best Seller Box we received contains 6 different cocktails which you just need to shake, tear and pour into an ice filled glass.  Very simple to do!
This would be a fab way to have a cocktail evening with friends over Zoom or similar.  You could 'build your own boxes' of cocktails to send to friends before the evening Zoom event. Then everyone can enjoy some easy to make cocktails together as part of a lock down night-in!  A great we to have a distanced celebration too.  It would make a great adult birthday gift!
As mentioned this is the Best Seller Box, but you can also get a Whiskey Box, Sour Box or even a Dinner Party Box.  Find the boxes all listed here and get organising your next distanced 'night-in'.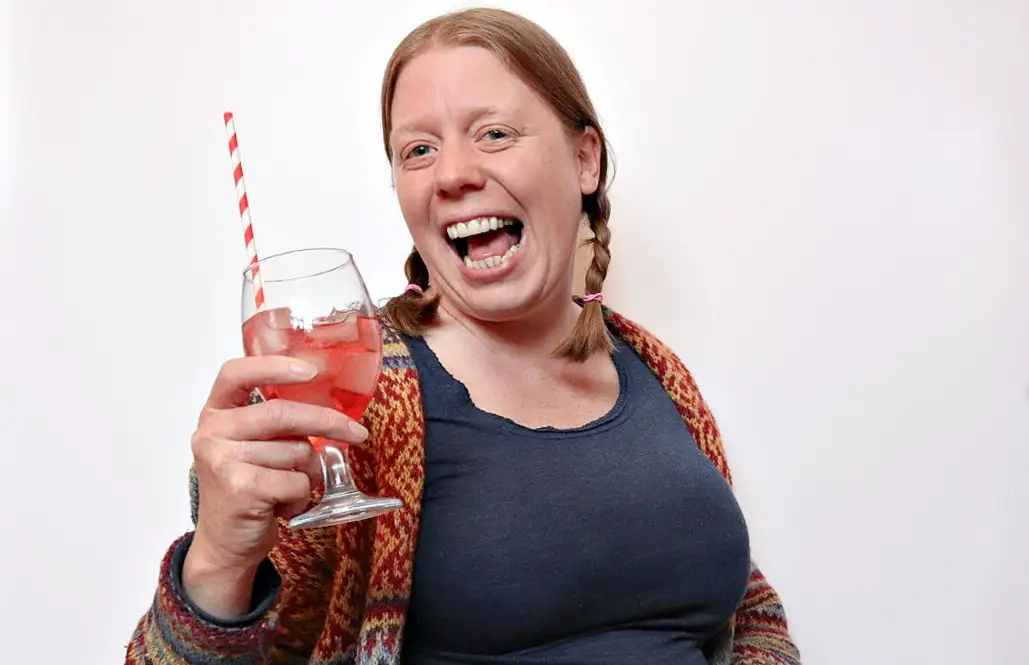 Cosy Accessories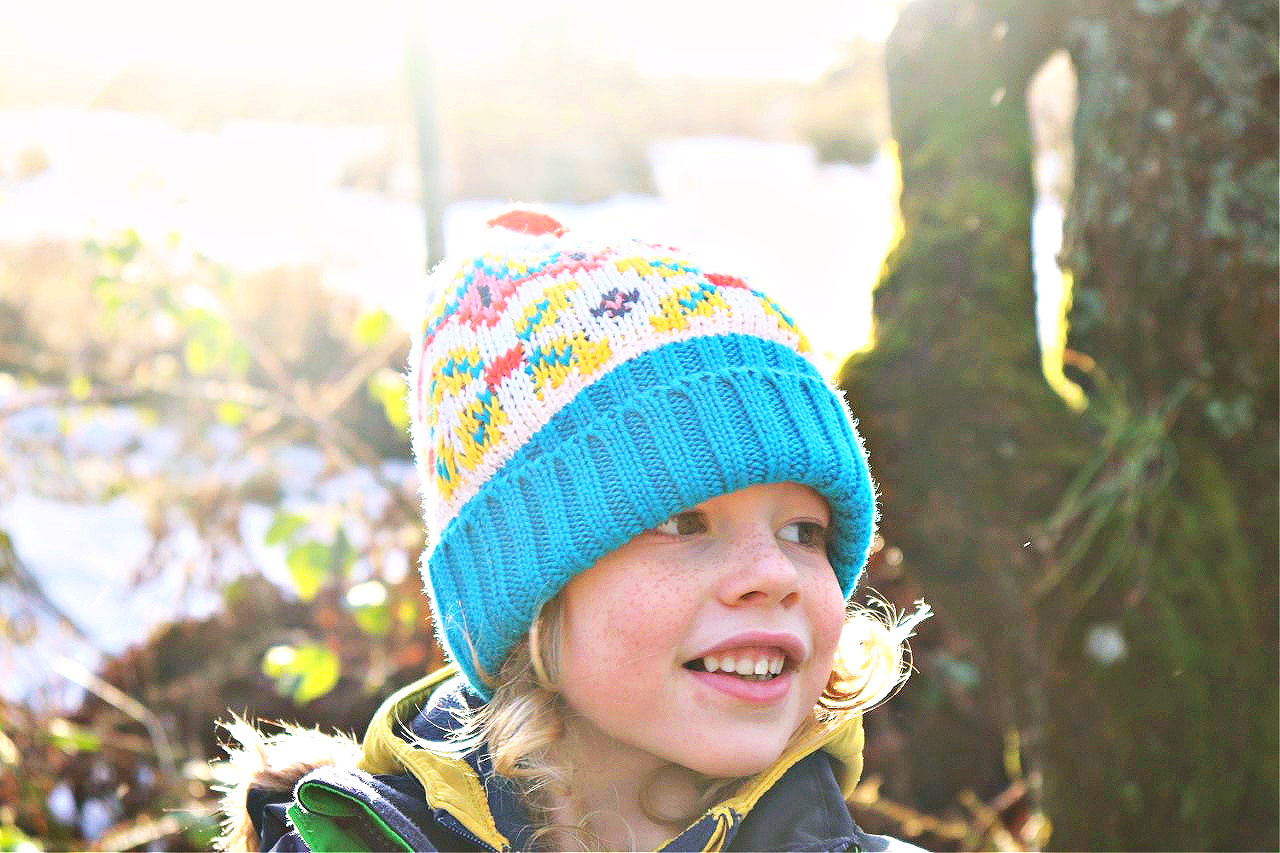 It's winter and of course it's a time for keeping cosy.  At this time of year a cosy hat or scarf makes a fantastic gift and we love these options from Frugi!  We've already had a fair bit of snow at the start of this year (we live in Scotland!).  So with the kids out several times a day playing in the snow I definitely need a cosy scarf to keep my neck warm (and keep snow balls out!).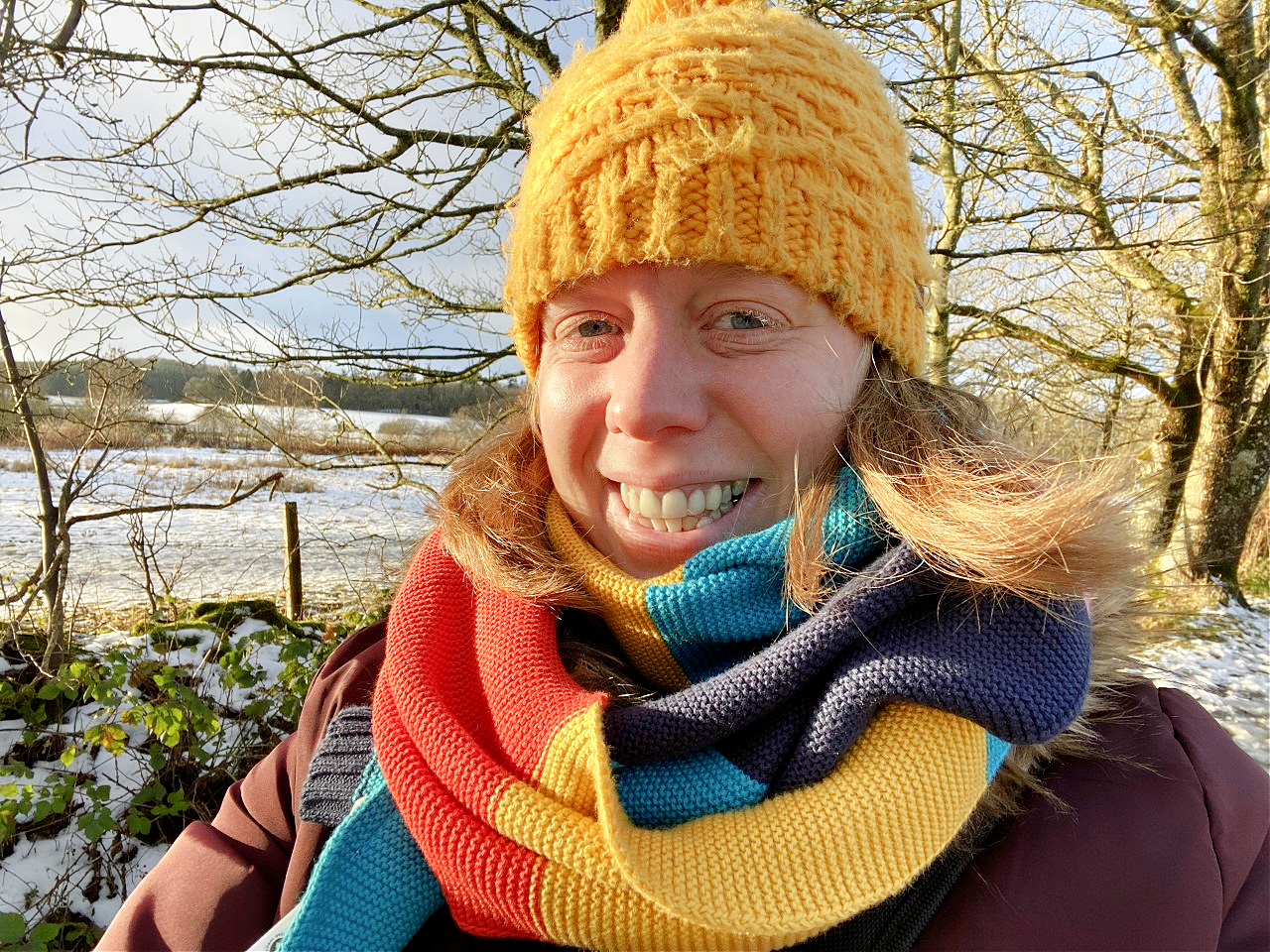 Frugi have a great selection of clothes and cosy winter items.  The kids hats are also from Frugi and have gorgeous patterns that also make the kids easy to spot when they're playing in the woods!  They soft and cosy, great for insulating little heads against the cold.  They are great quality and I'm sure they will last a few years!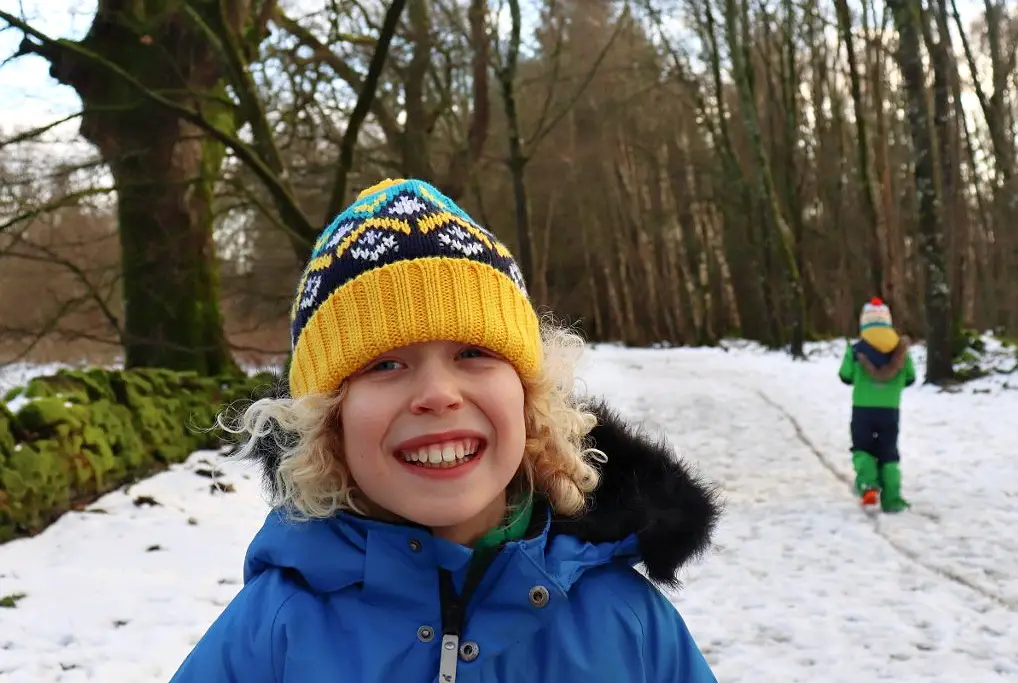 My scarf has large blocks of colour which are fantastic to brighten up these cold dreary January days.  It's definitely kept me warm in January so far!  You can also find lots of lovely jumpers and cosy gloves on the website too.
Flower in the Post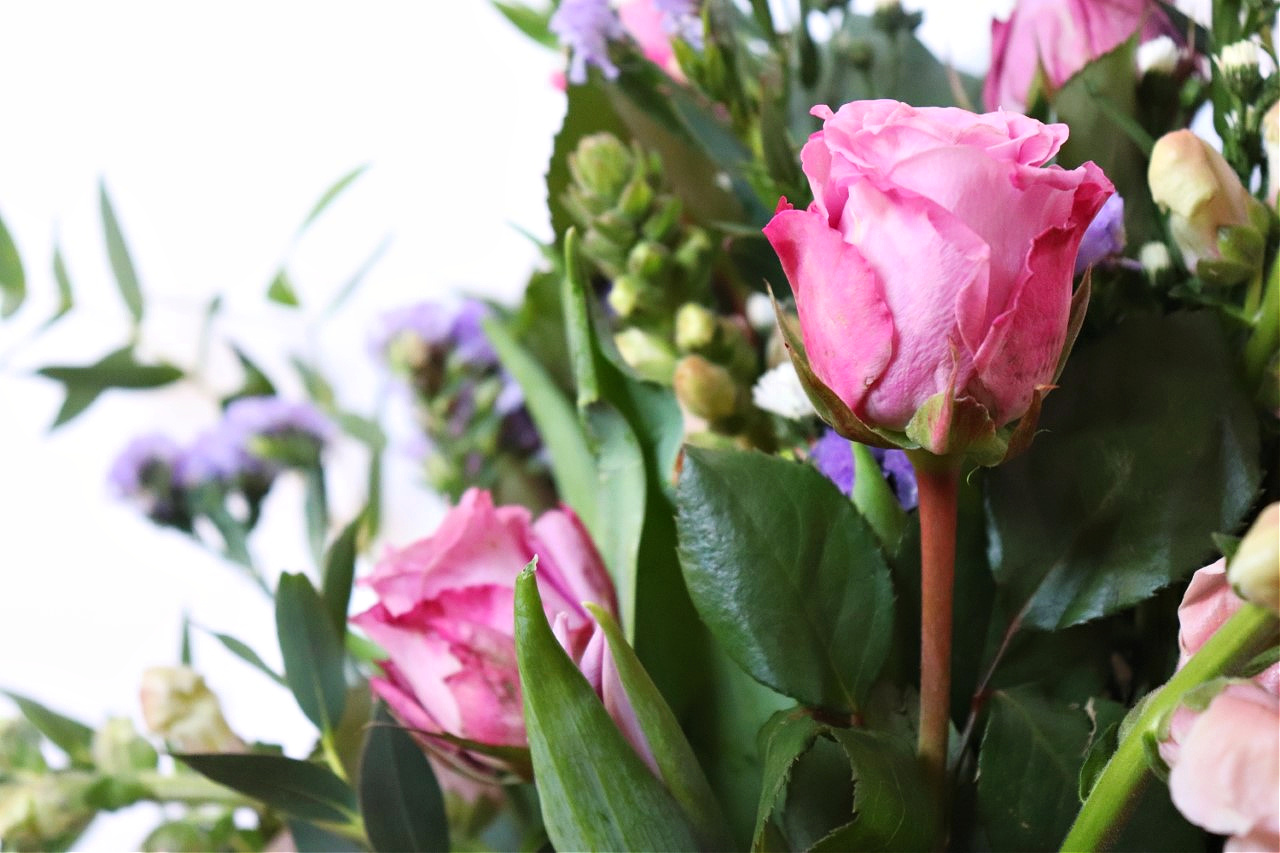 Flowers always brighten a dull day, so these gorgeous letterbox flowers from Bloom and Wild are perfect.  They can be sent to your loved one to show that you're thinking about them. Plus they last for at least a week, helping to remind them that you're thinking of them at this time.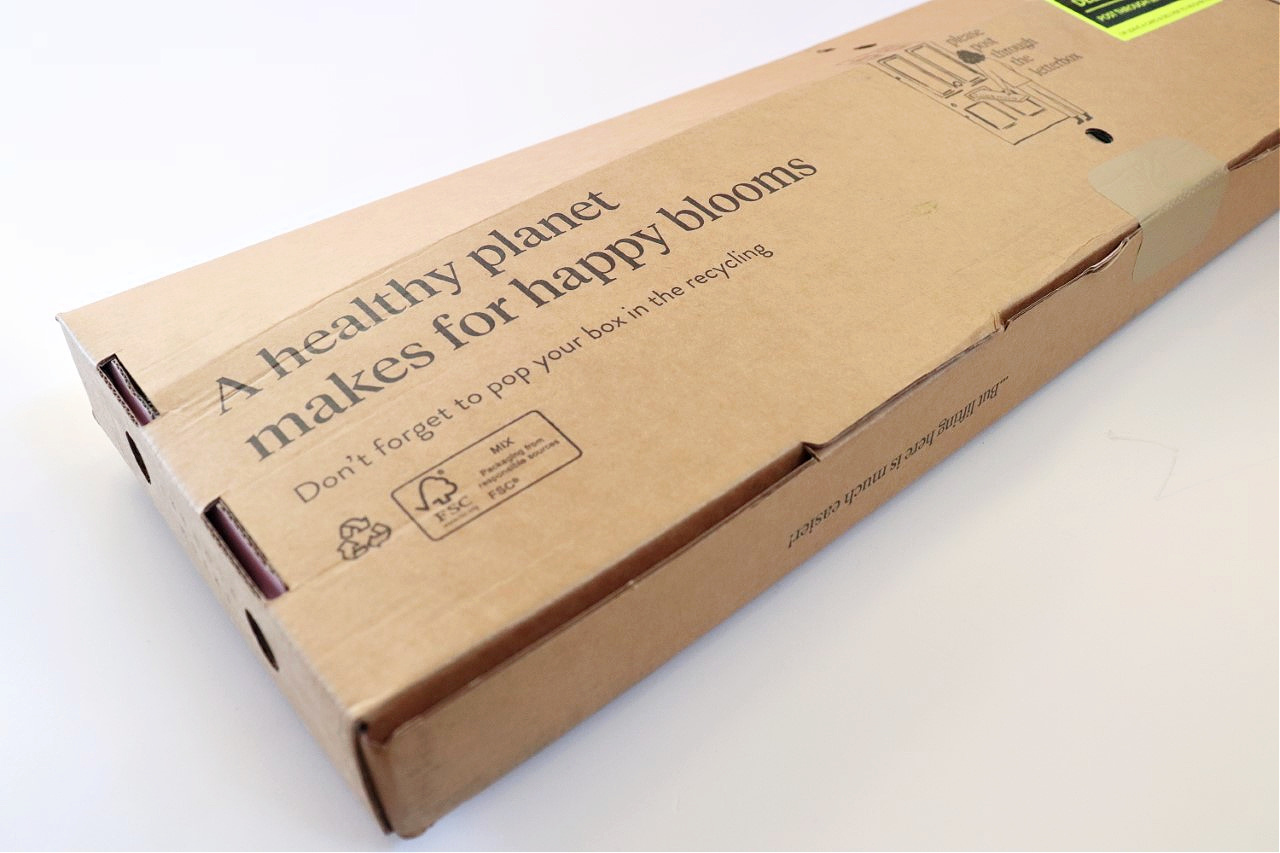 The flowers arrive beautifully packaged and in bud.  When I first took them out of the box they did seem flat and a little sad, but it didn't take long for them to perk up.  After 24-48 hours the flowers really start to 'fluff up' and are stunning to look at!  There's a huge choice of letterbox flowers at Bloom and Wild and new additions are added each season.  The boxes of flowers even come with styling tips to aid the flower arranging process.
This will definitely by my go-to for sending flowers from now on.  It makes it a lot easier when it can fit through the post box and there's no worry about being in!  Plus they are absolutely gorgeous and such great quality flowers!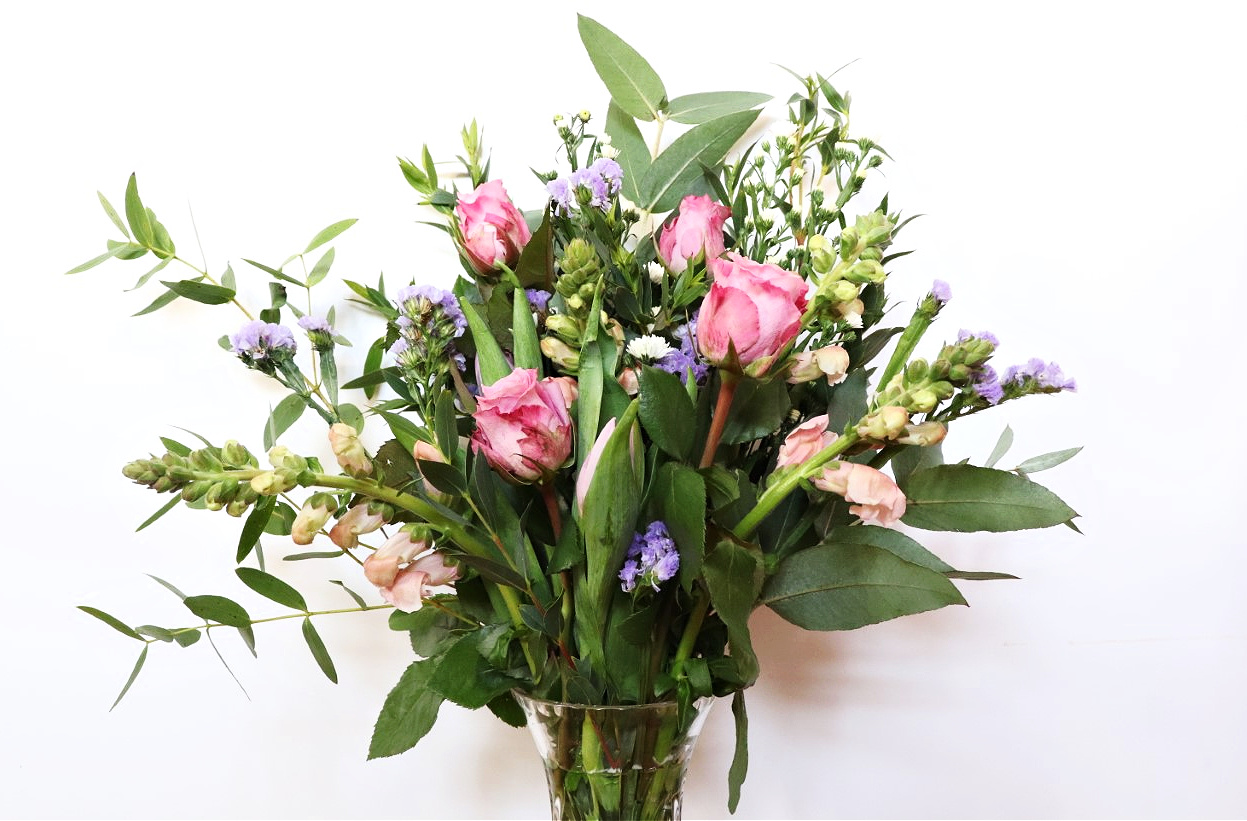 Gifts By Post For The Kids
Steiff 2021 Bear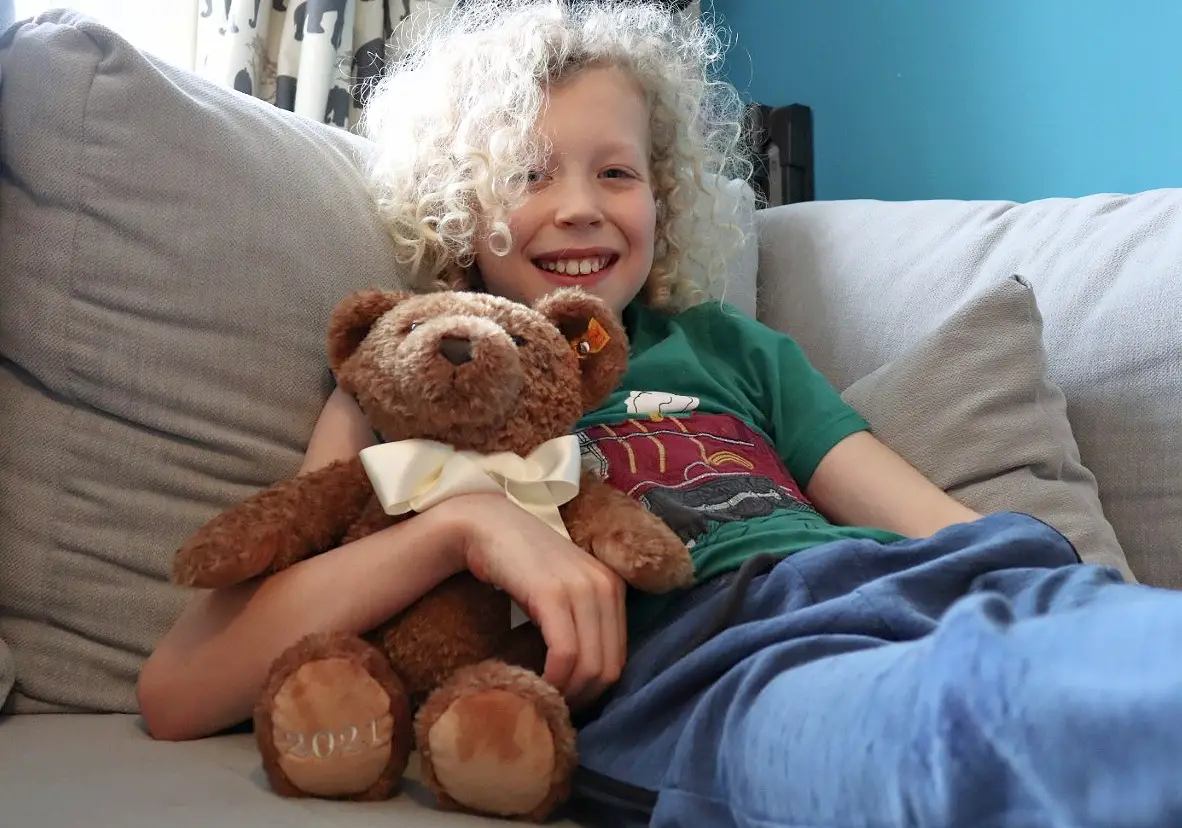 If you have a little one who needs an extra little bit of love at this time, a Steiff 2021 bear from steiffteddybears.co.uk is perfect!  The bears are soft and very well made and are great as heirloom items to pass on to the next generation.  It's lovely to be able to give them something to cuddle when they can't cuddle or even see in person their loved ones.
The Steiff 2021 bear is soft and cuddly with a satin bow and the Steiff tag in his ear.  The year is embroidered on his right paw and is, helpfully, washable at 30 degrees.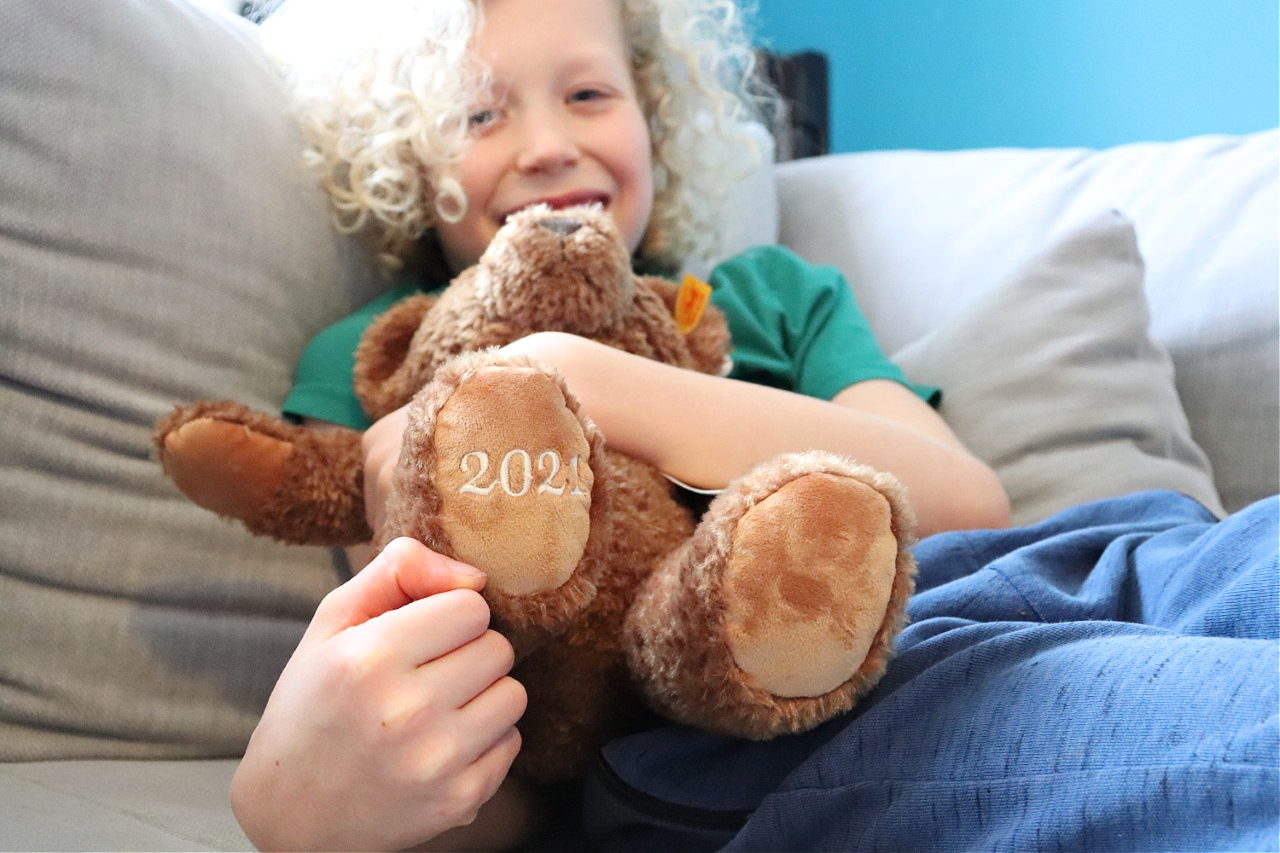 I can see this being a fantastic gift for a grandparent to give to their grandchild.  Every time they hug their Steiff bear they will think of their grandparent.  Knowing that they still love and care for them even if they can't see or cuddle them at this moment.
Definitely a great gift for children who like soft toys and need a cuddle!
Science Kits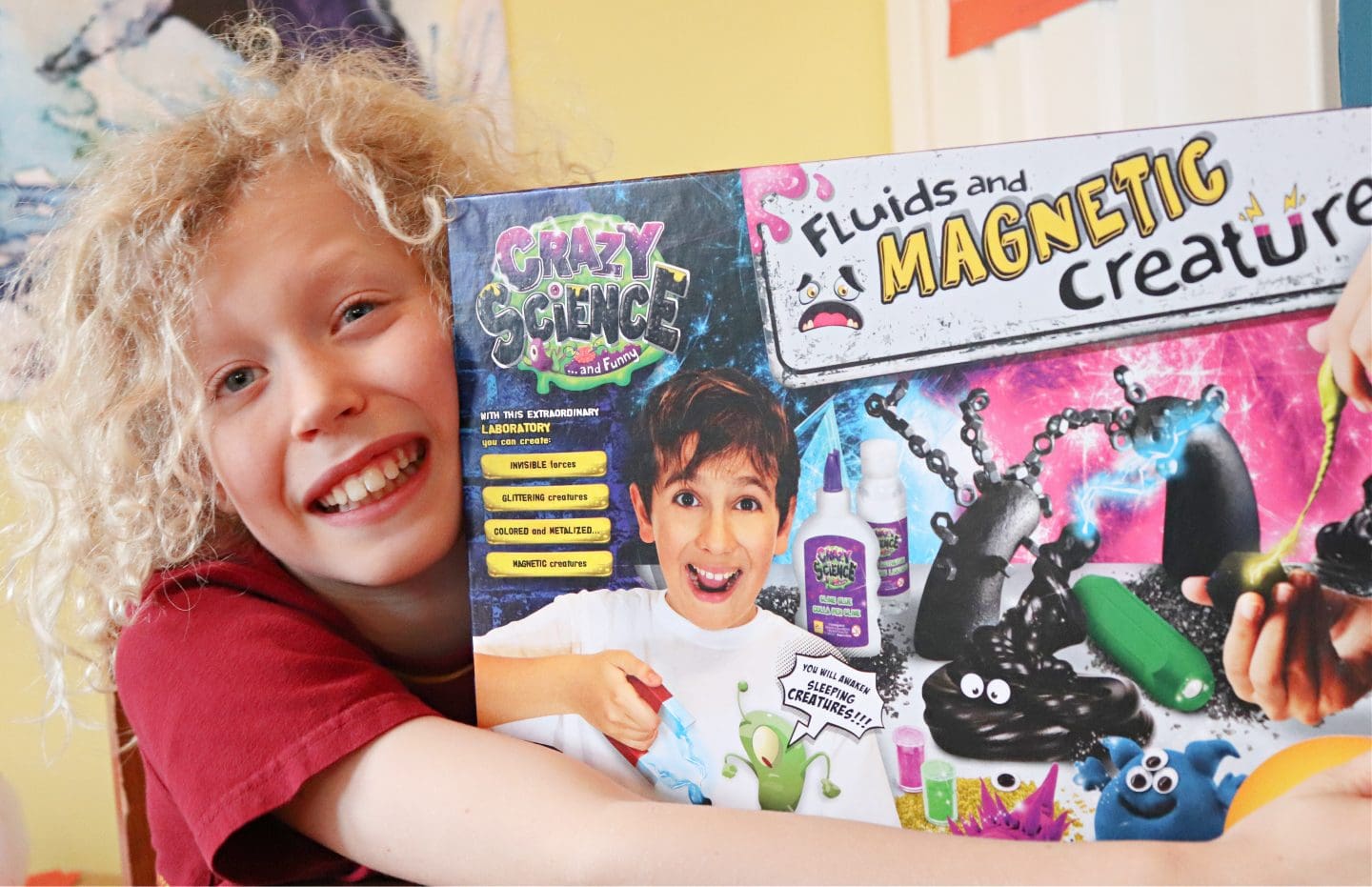 If your children need something to keep them busy, but have fun too, the science kits from toysandbears.com are excellent.  We were sent the fluids and magnetic set to try out and they are brilliant for getting the kids interested in science.  There are lots of great choices of Crazy Science kits including explosive experiments and slime laboratories. All of these are great at getting children excited about science.
The children have been learning about different forces recently, so this is a great addition to the topic.  Forces come into our everyday lives in so many ways, but magnetism is a particularly fun one for kids to explore.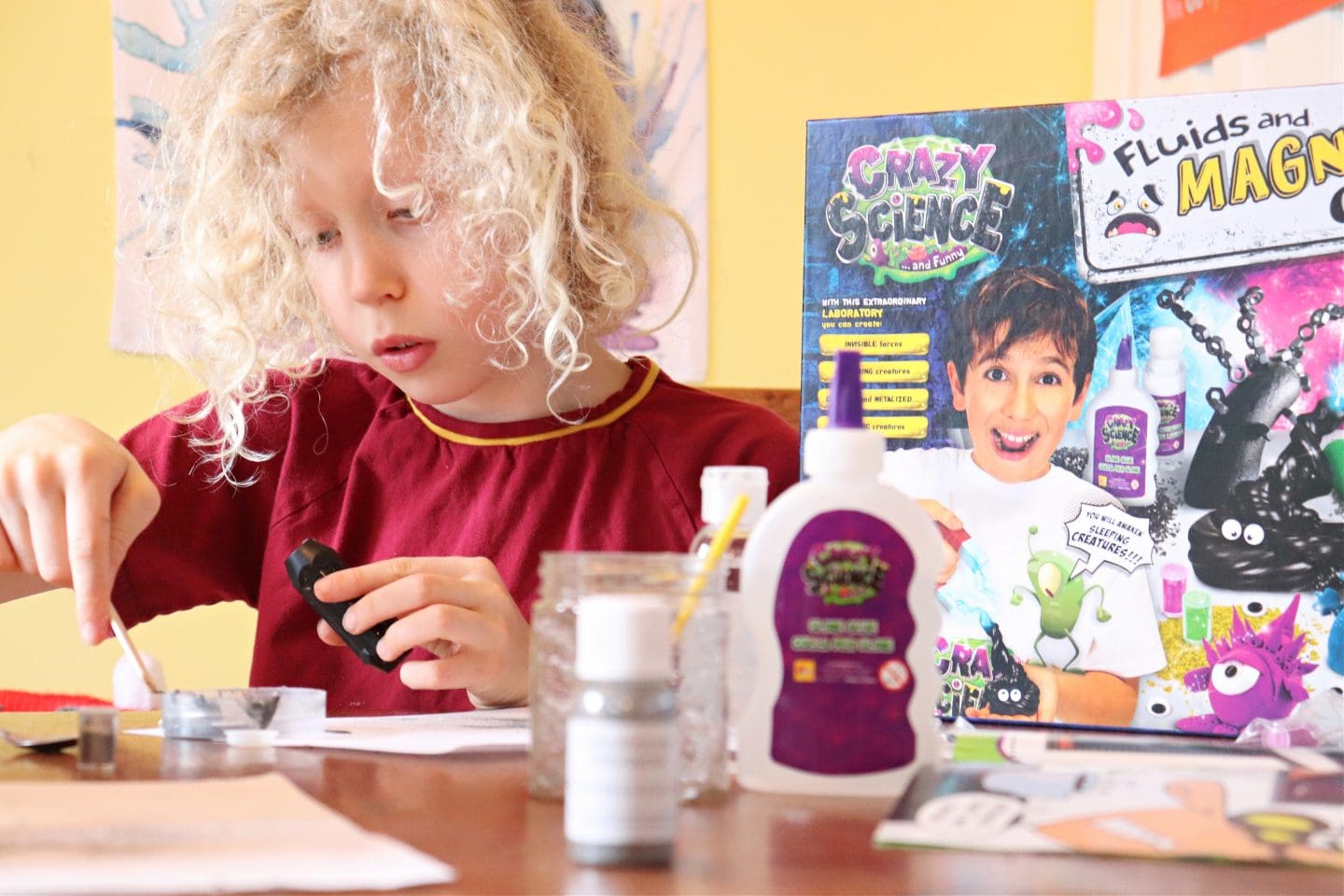 First the kids played with the iron powder and magnet and then they made the magnetic slime monsters which they had great fun with! The only thing we weren't so pleased about was the size of the box for the contents.  It seemed like a waste of packaging and could easily be half the size.
Educational Toys and Equipment
Lockdown is hard on everyone, but we can at least make learning more fun.  Winter time is perfect for early sunsets and dark clear skies, so looking at the night sky is a fun activity!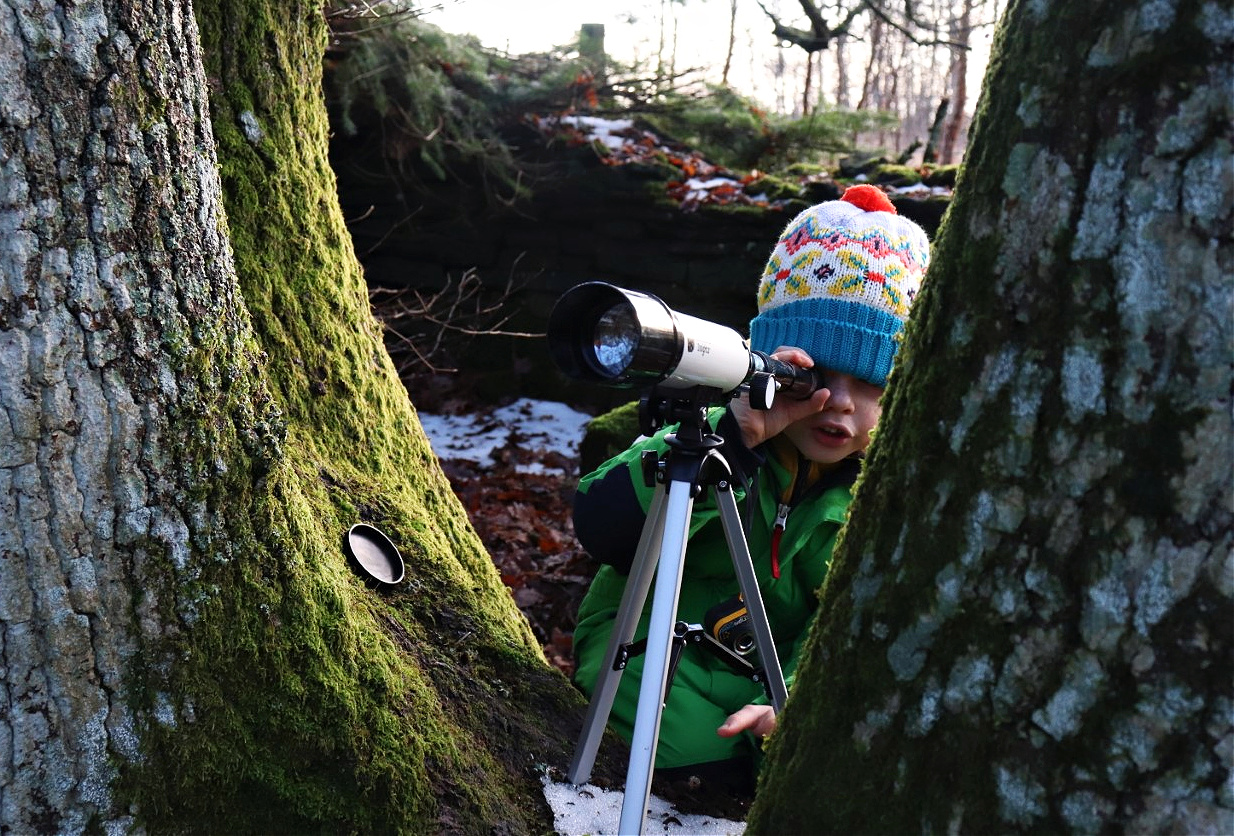 We were gifted this Geosafari Vega 360 telescope from Learning Resources, it's a great kids starter telescope.  We've had some fantastic views of the moon and enjoyed trying to get closer glimpses of satellites! This can easily be incorporated into bigger space themed topics with more details of planets or how the moon affects the earth.
The telescope is easy to set up, you just need to add the eye piece on and attach the tripod.  The tripod is a bit short for our liking, but it's still easy to use if you can find somewhere useful to set up.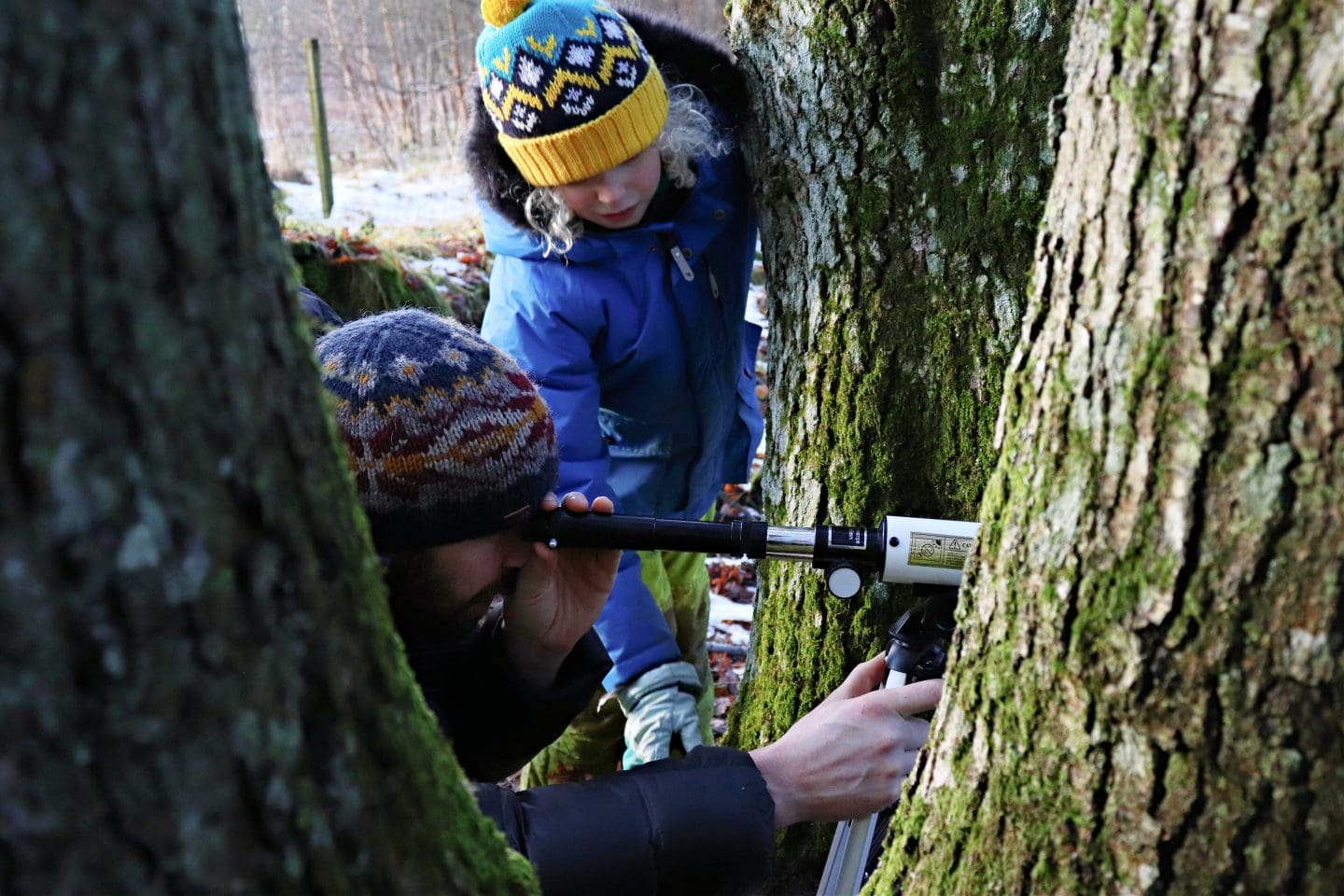 Alternatively you can use the telescope during day time to look at wildlife. We are taking part in the Big Garden Birdwatch this year and will use the telescope to help us see garden birds close up.  The good thing about the telescope is that it's easier to keep it still than a pair of binoculars, so much better for kids!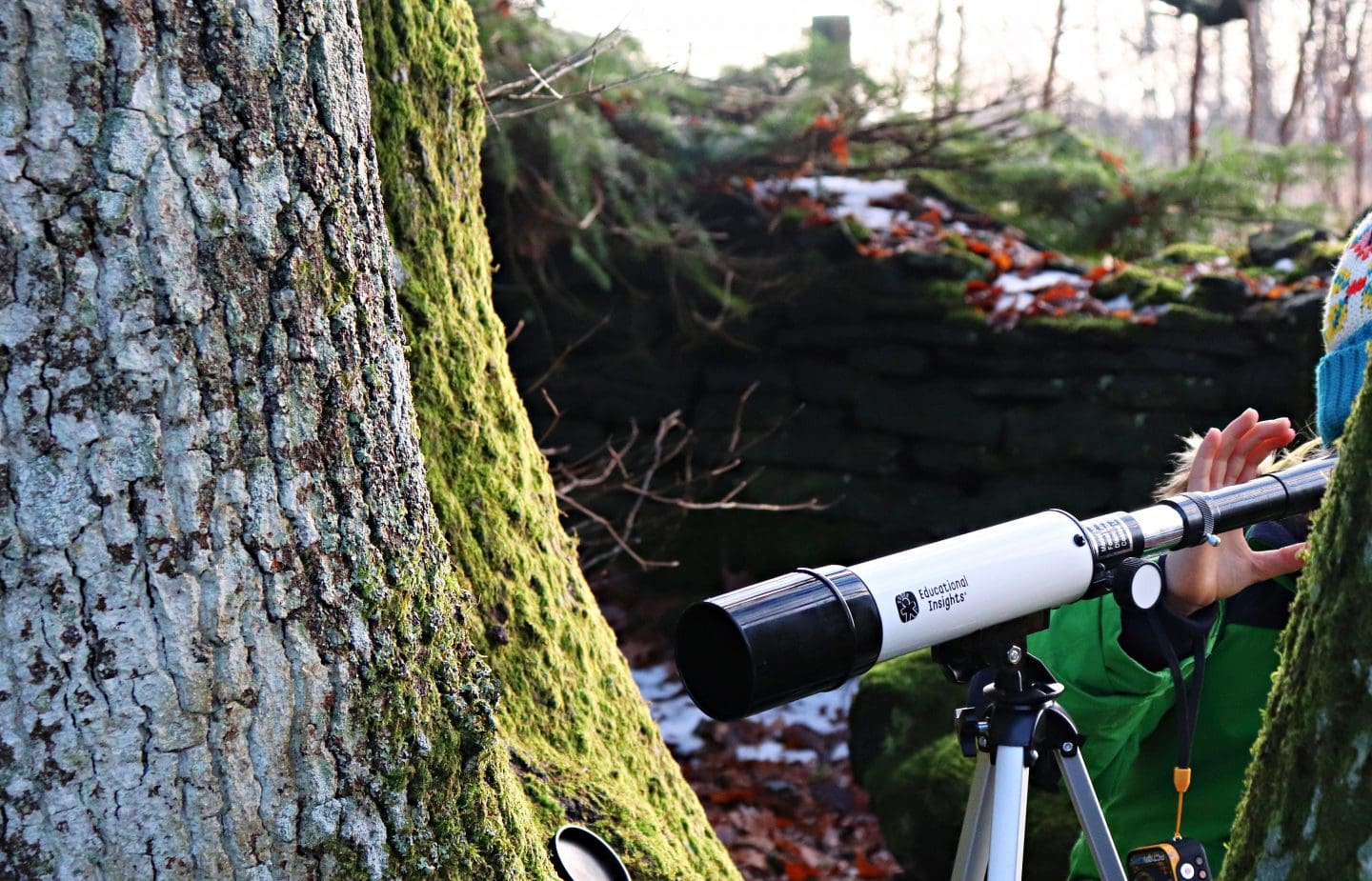 We are also doing the John Muir Award where we can use the telescope in the wild place we are exploring.  The kids love how grown up they feel with a telescope to spot birds, just like a real ornithologist!
Outdoor Toys
Keeping kids busy during lockdown is easy with the amount of free online and television resources.  However, it's also important to get out for exercise, which is why it's a great idea to send a lockdown gift that encourages time outdoors.
We're lucky enough to live in a town with a skate park and a nice slope on the street for the kids to play on their skateboards.  The youngest is especially adept at balancing and has been wanting a larger skateboard for a little while.  He can now keep up with his older brother on this brilliant new Rocket skateboard from Skates.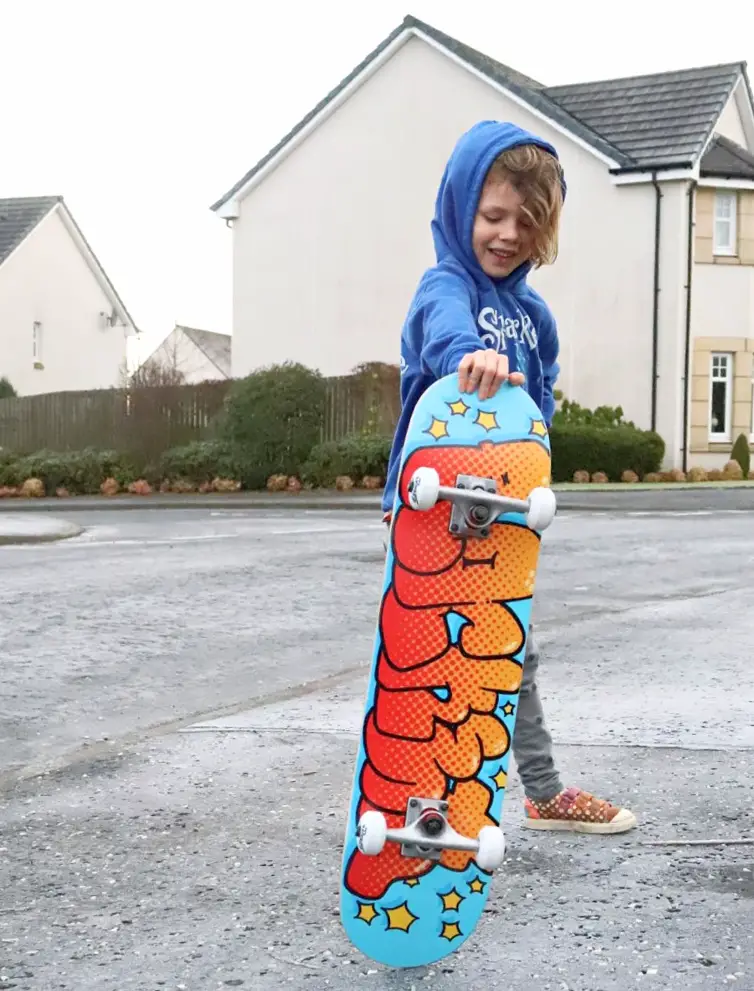 The skateboard arrived wrapped in plastic to protect it, but as soon as we had removed it the skateboard was ready to use.  Littlest was very excited and spent some time practicing indoors before taking it out to test it on the pavement.  We're lucky that we live on a street that's fairly quiet, so the kids can play on their skateboards at the bottom of the street together.  Unfortunately not this week as the weather has brought lots of snow and so we can't use skateboards!
I would definitely recommend a skateboard for getting kids to practice their balance and gross motor skills.  It also helps with concentration, after the kids have been out playing for a while they are more likely to concentrate on any projects their doing indoors.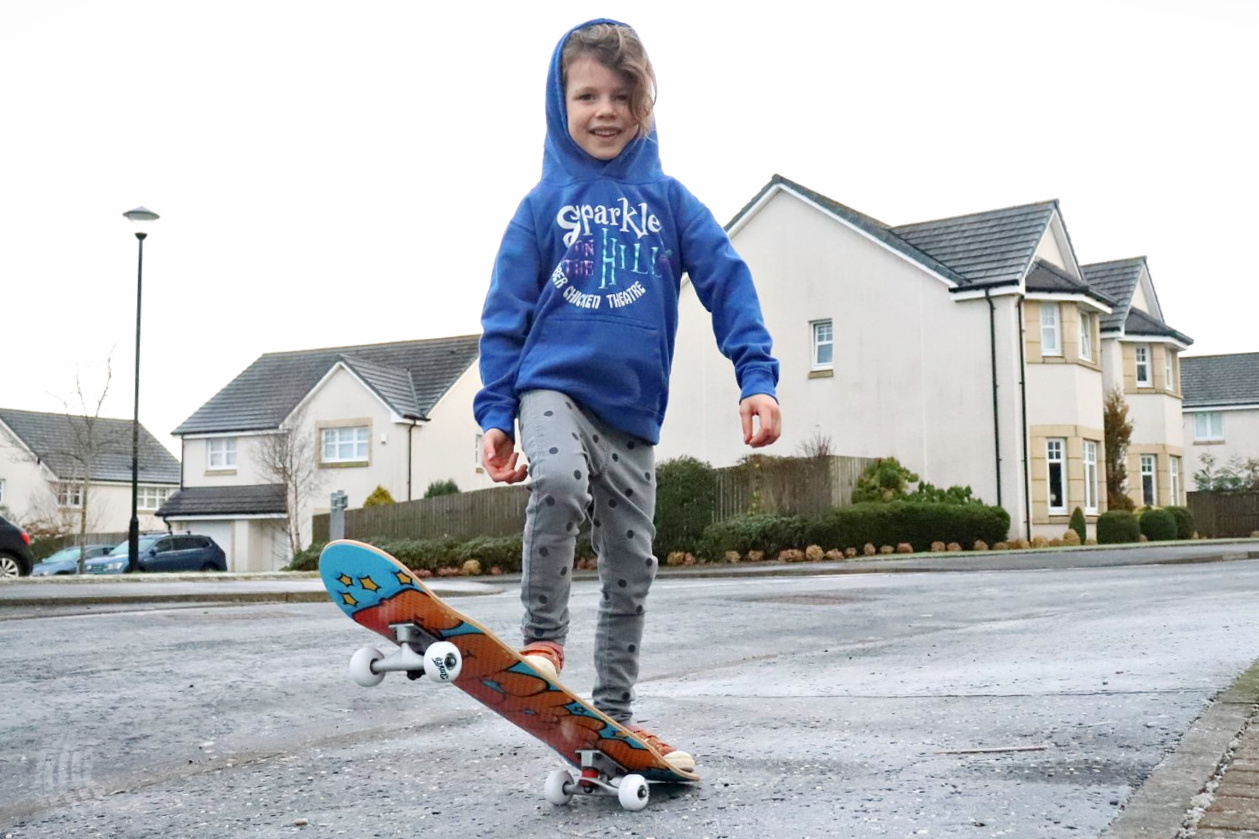 Pin Lockdown Gifts For Later