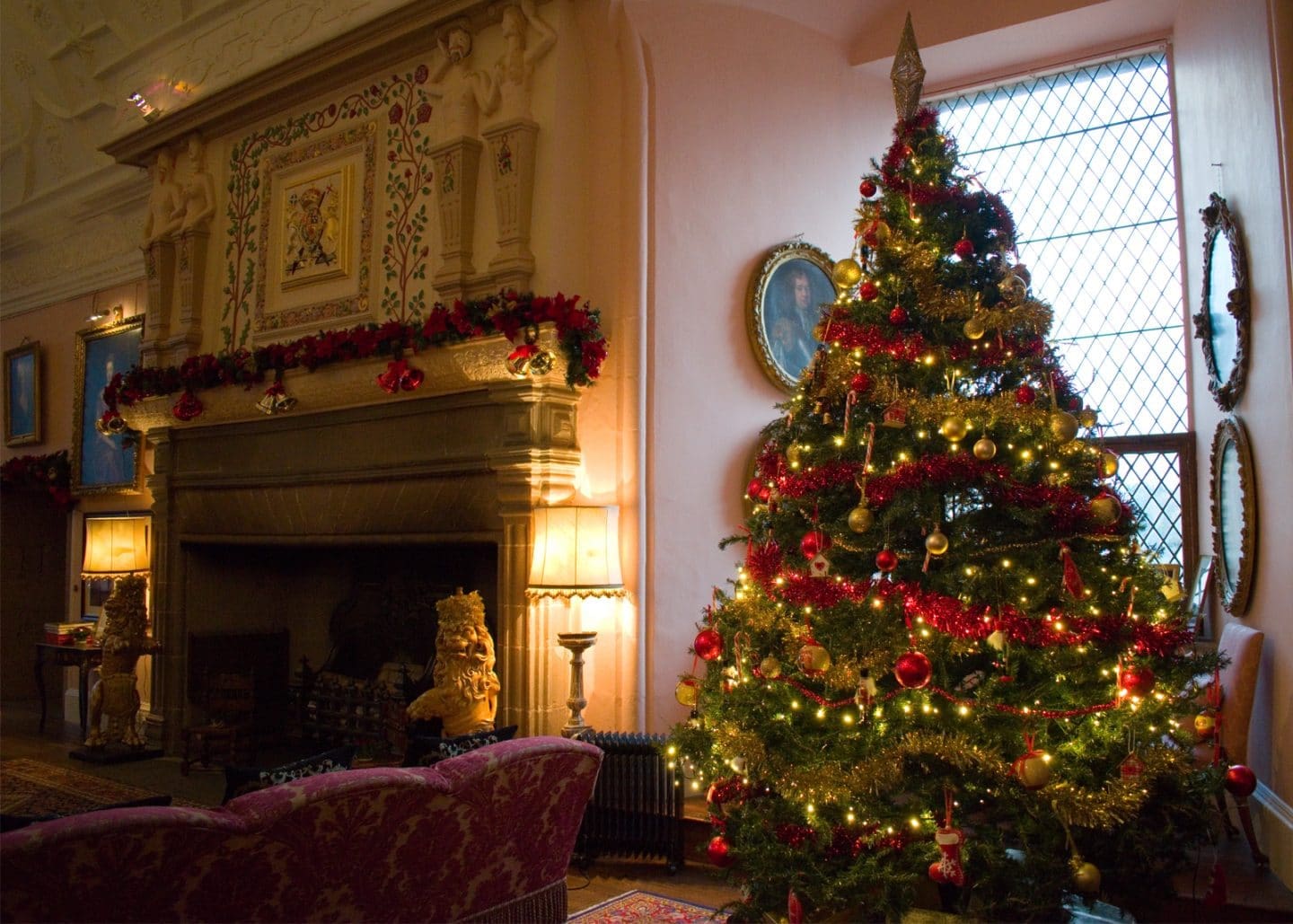 This year Christmas events in Scotland are looking a bit normal'ish.  There will definitely be less availability due to smaller group sizes, distancing and everything needing booked in advanced, but there's still more events open than in 2020.  Which is why I'm posting this now, simply so you can get organised and book all the activities the kids want to do.
*Please do check the website links to make sure the details are correct for dates and times, plus booking is essential for most events so please do check in advance.  I would hate for you to be disappointed on the day.
Central Scotland – Christmas Events
Beecraigs Festive Forest
2021 is the 2nd year of Beecraigs Festive Forest near Linlithgow.  This December, from the 3rd -24th, they will be hosting another sensory explosion of seasonal magic.  There will be a 1.7km illuminated trail throughout the forest, with special effects and sounds.  The trail will be open between 4.00pm and 10pm each day.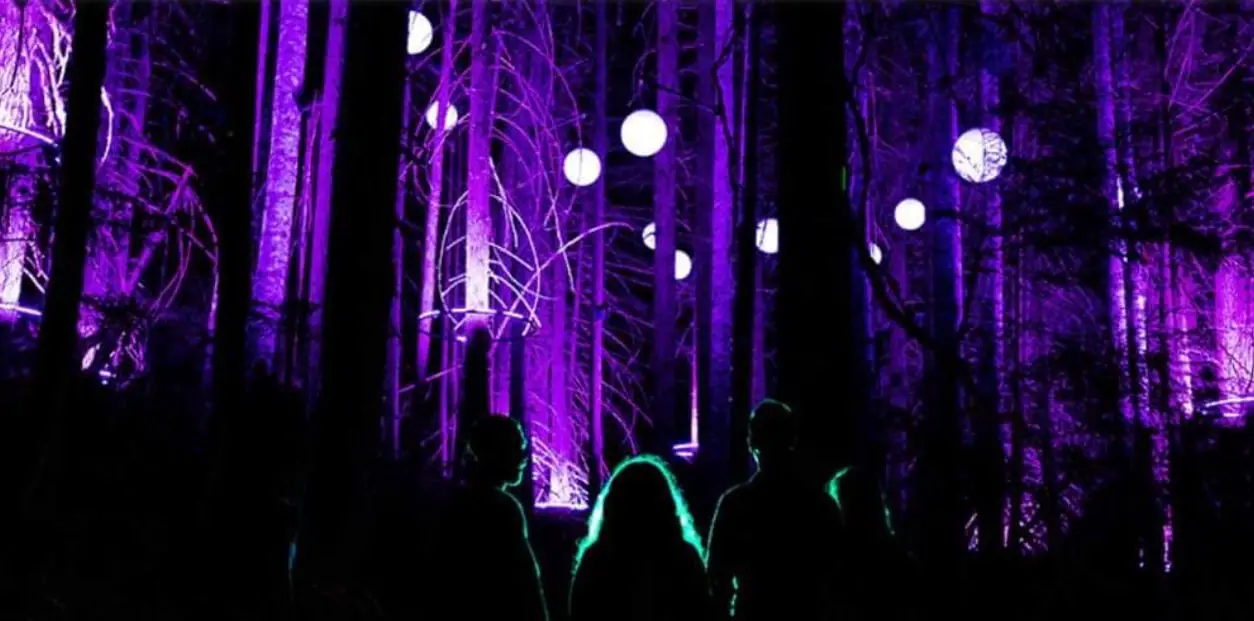 Along with the illuminations there will be a chance to post your letter to Santa, meet Santa himself in his special woodland grotto, plus hear him tell an enchanting story.  Each child will be a given a small gift when they visit Santa.  There will be plenty of other fun activities and surprises to expect too, with something for all the family.
As parking is limited you will need to buy a parking ticket or use the free shuttle bus from Linlithgow.  Booking is open now and is essential!
Bo'ness and Kinneil Railway
Santa trains are going ahead again this year with a slightly different approach.  Santa will walk down the aisle to wave at the kids, but won't be able to stop and chat with each child as normal.  Santa's helpers will deliver presents to kids at their tables.
Booking is essential, there are 4 trains (60 mins journey) each day and they run on the 3 weekends in the run up to Christmas, plus Thursday 23rd December.  Book tickets here.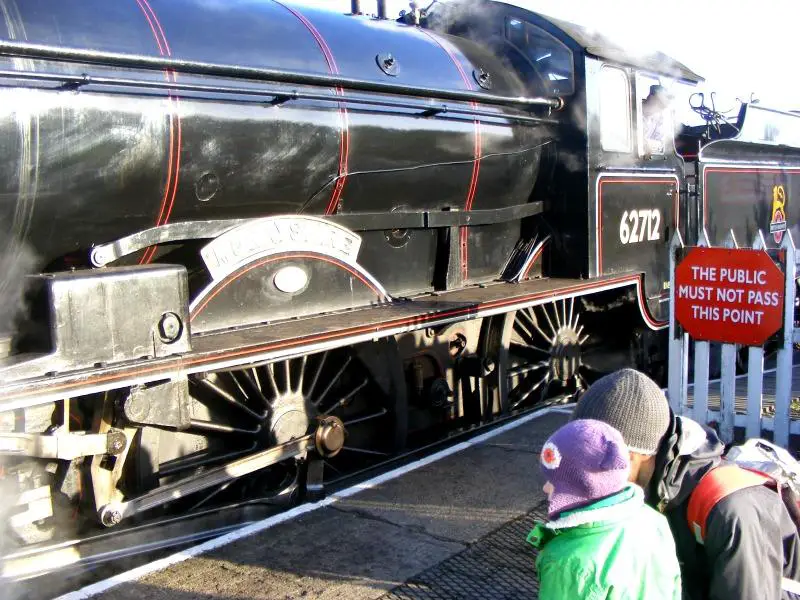 Santa's Woodland Experience
At North Ballochruin Farm by Balfron Station there is a fab Santa experience set in the Scottish woodlands.  We've visited for several years now and are looking forward to our visit again this year, now they are open again!
This year there will be a few differences, including masks to be worn on tractor rides etc.  However, it will be the same format of the children going on a tractor ride into the woods before walking along to Santa's log cabin to chat and receive a present.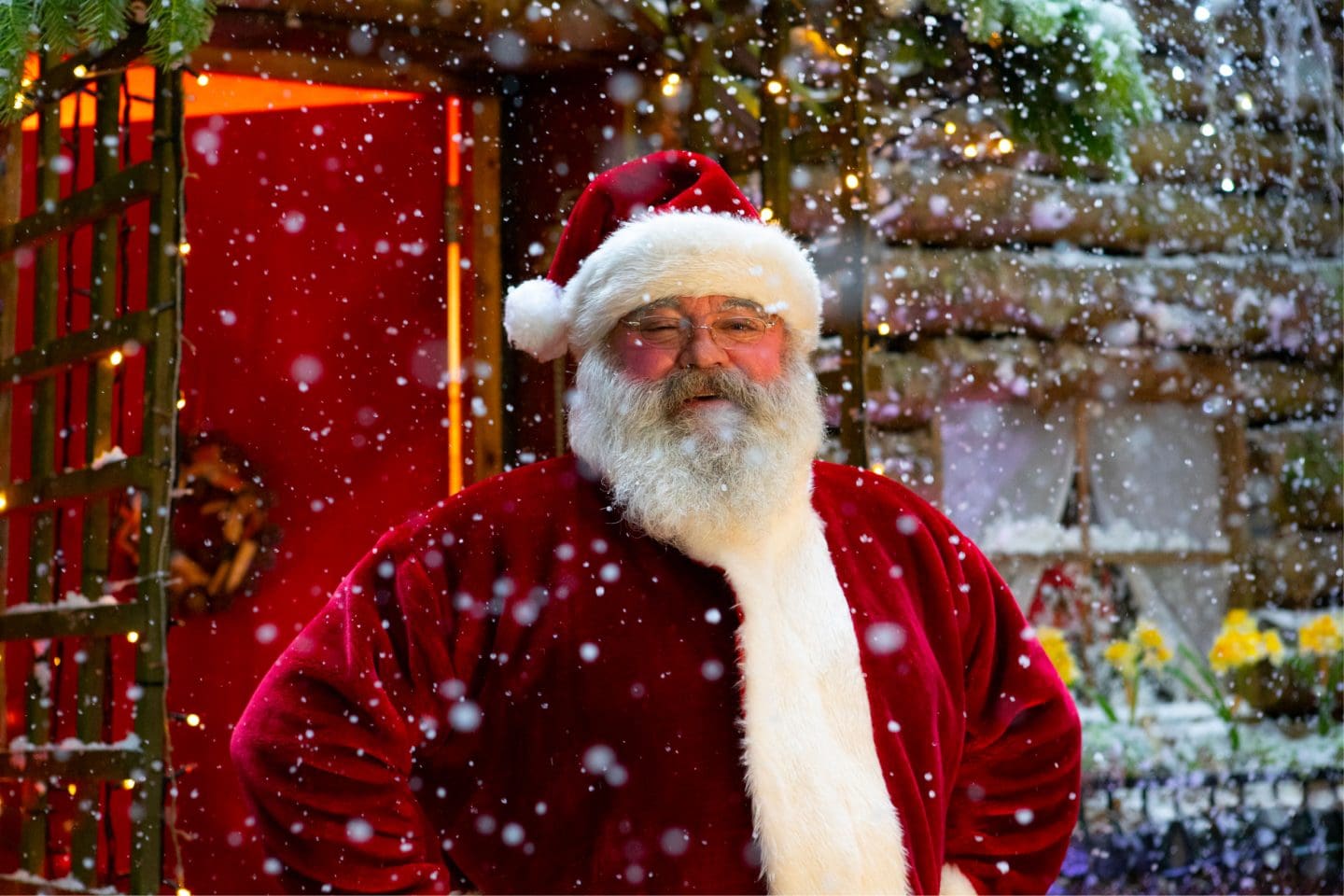 Check back at this link in September to book your slot.
Edinburgh's Christmas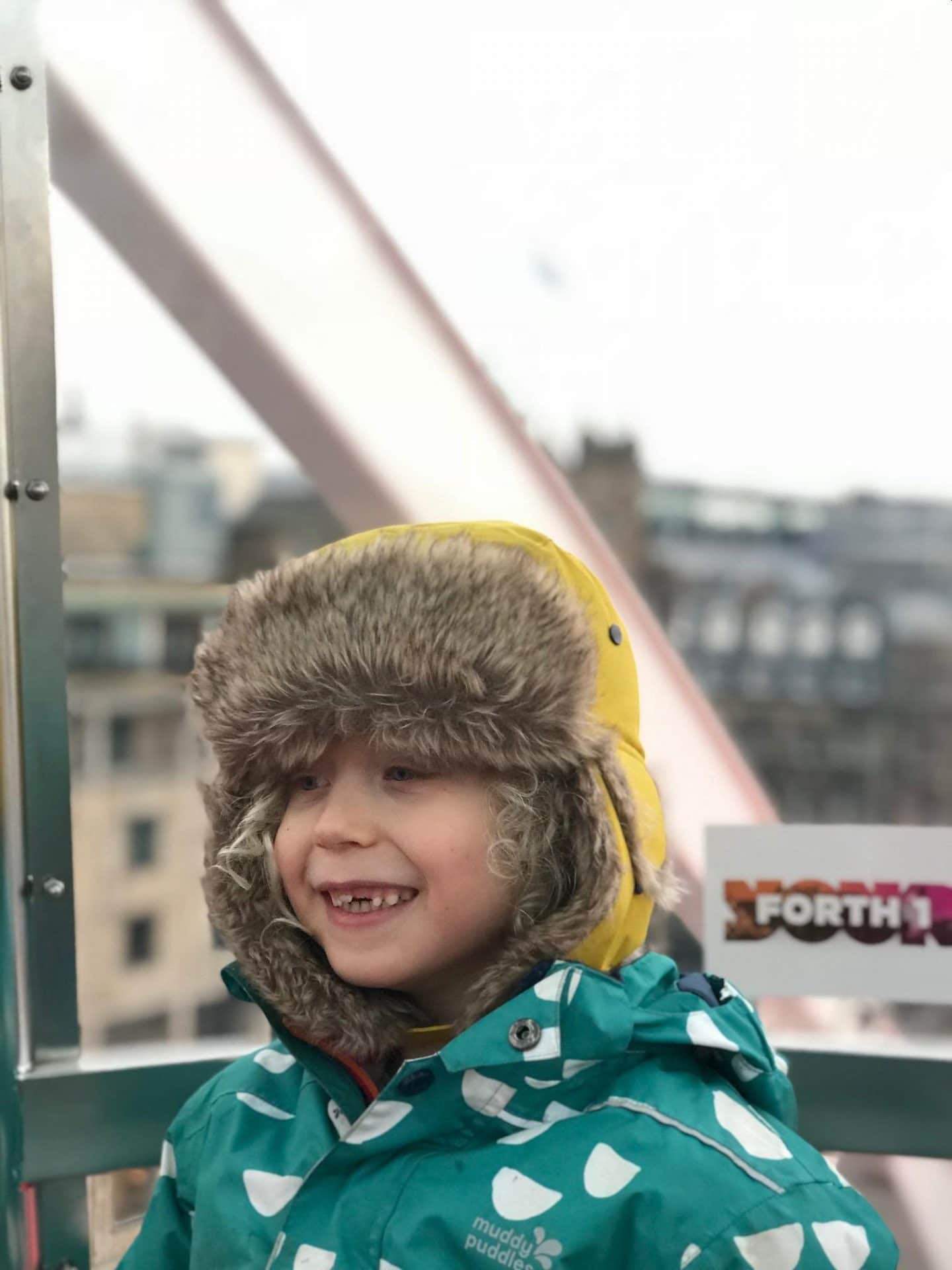 Edinburgh's Christmas is back on again this year, although I'm not quite sure what it will entail.  It will be run be Underbelly and is likely to include rides, ferris wheel, Christmas market and stalls in Princes Gardens.
Keep an eye on the Edinburgh's Christmas website for more information.  It should run from 20th November to 2nd January 2022.
Edinburgh Castle of Light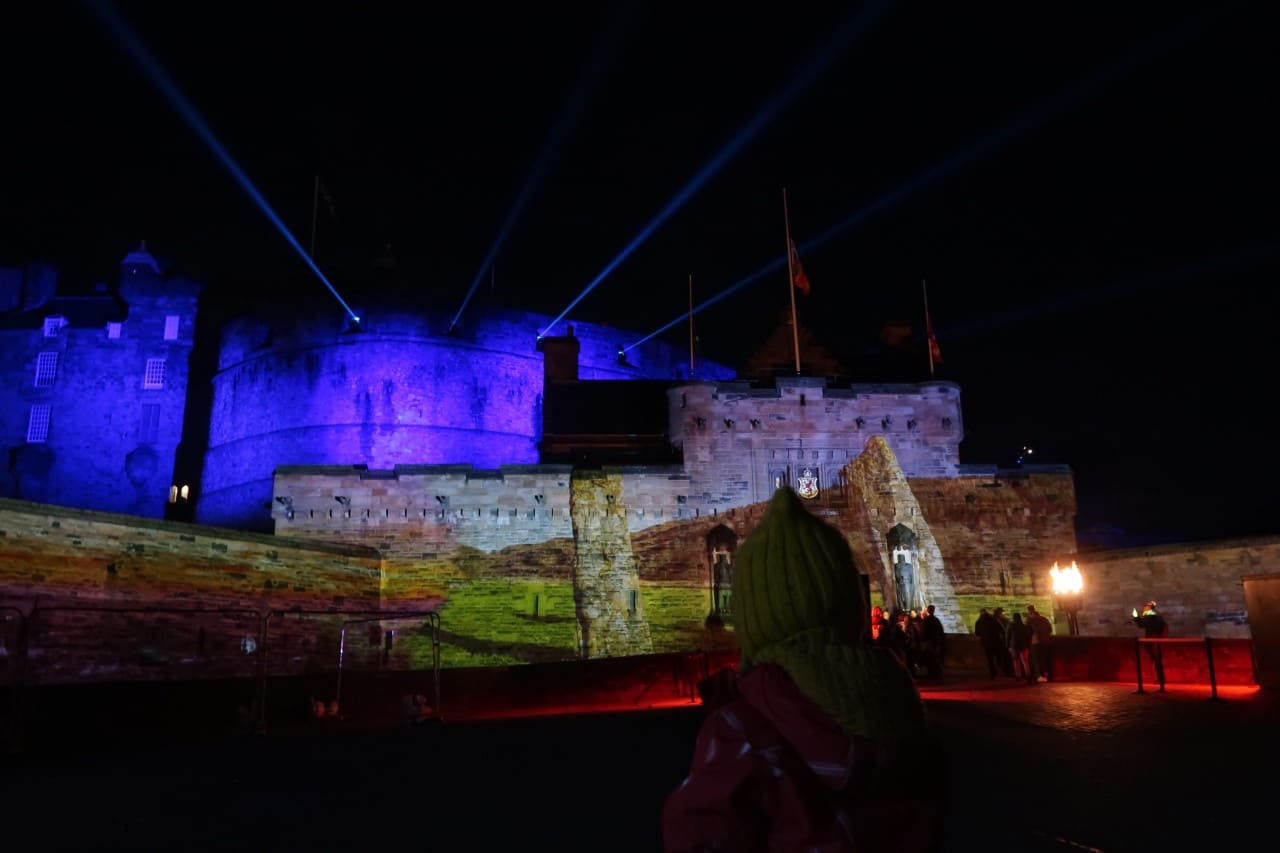 For the 2nd year the Castle of Light will entertain visitors to Edinburgh Castle.  The first one in 2019 was pretty amazing, so I can only imagine that the 2021 version will be even better!
Open from 19th November to 9th January, with discounts for Historic Scotland members.
Expect wonder, enchantment and a spectacle of colour this festive season as Edinburgh Castle, the defender of the nation, becomes the 'Castle of Light' once again.
Look forward to stunning visuals, state of the art lighting installations and Rex, the famous red lion, back to guide you. This year he's got some new friends with him to help you explore the hidden treasures of the castle. Watch as the untold history of this iconic landmark illuminates the very walls that saw it unfold. A magical experience for all of the family – prepare to be dazzled!
Glasgow Pantomime
According to the SEC website tickets for the Aladdin pantomime are on sale for the 11th-29th December 2021.
Much-loved funny man Corporal Gary McLintoch, otherwise known as the legendary Gary: Tank Commander is back by popular demand and joined by Still Game comedian and actor Gavin Mitchell, with comedian and singer Leah MacRae, to lead this year's wish-filled family pantomime, Aladdin. Gary plays Aladdin, Gavin is Abanazar and Leah is Mrs Twankey.
Packed with all the traditional pantomime ingredients SEC audiences know and love, Aladdin will feature laugh out loud comedy, incredible 3D effects, beautiful costumes and plenty of boos and hisses in a production packed with flying carpets, a wish-granting genie, an evil sorcerer and a plate or two of Gary's much-loved cheesy pasta.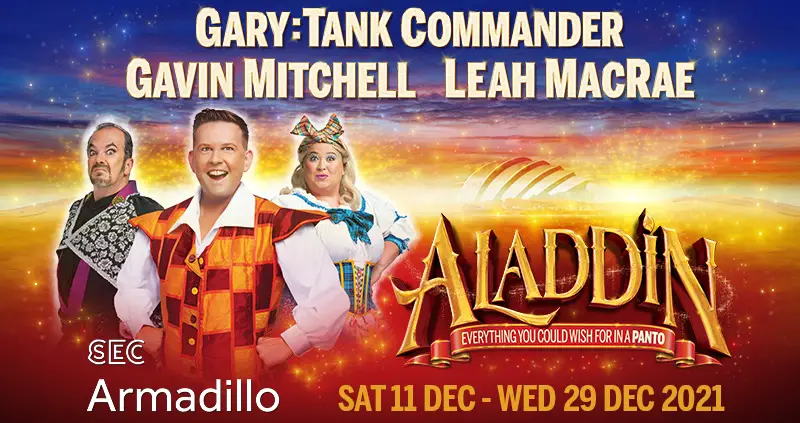 Irn Bru Carnival
The Irn Bru Carnival will be going ahead this year, from the 22nd December – 16th January.  The Irn Bru carnival is an indoor funfair filled with rides for all ages, concession stands and funfair games.
There will be Covid restrictions which may include proof of vaccine or negative test.

Tickets include 10 vouchers which can be used for the rides and also the funfair stalls too.  My two had great time in previous years, although littlest was a bit disappointed that he wasn't tall enough for some of the rides.  So make sure you check the height restrictions to warn younger children beforehand.  Book tickets for Irn Bru Carnival here.
Wondorous Woods at Hopetoun
This is the 2nd year that Wondrous Woods, at Hopetoun House, is open in Scotland.  It's more of an autumn trail than Christmas, but a good start to getting into the spirit of all things Christmas too!  They are open from October 21st to November 14th, where you can walk through the  300 year old woods on a stunning 2km trail.  Tickets are on sale now for this magical mystical journey!
Tickets are available to book here.
Christmas At The Botanics
Edinburgh Botanic Gardens will be continuing with their spectacular light display in 2021. It was pretty amazing last year, we had a great visit.  The trail is open from the 25th November 2021 through to the 2nd January 2022.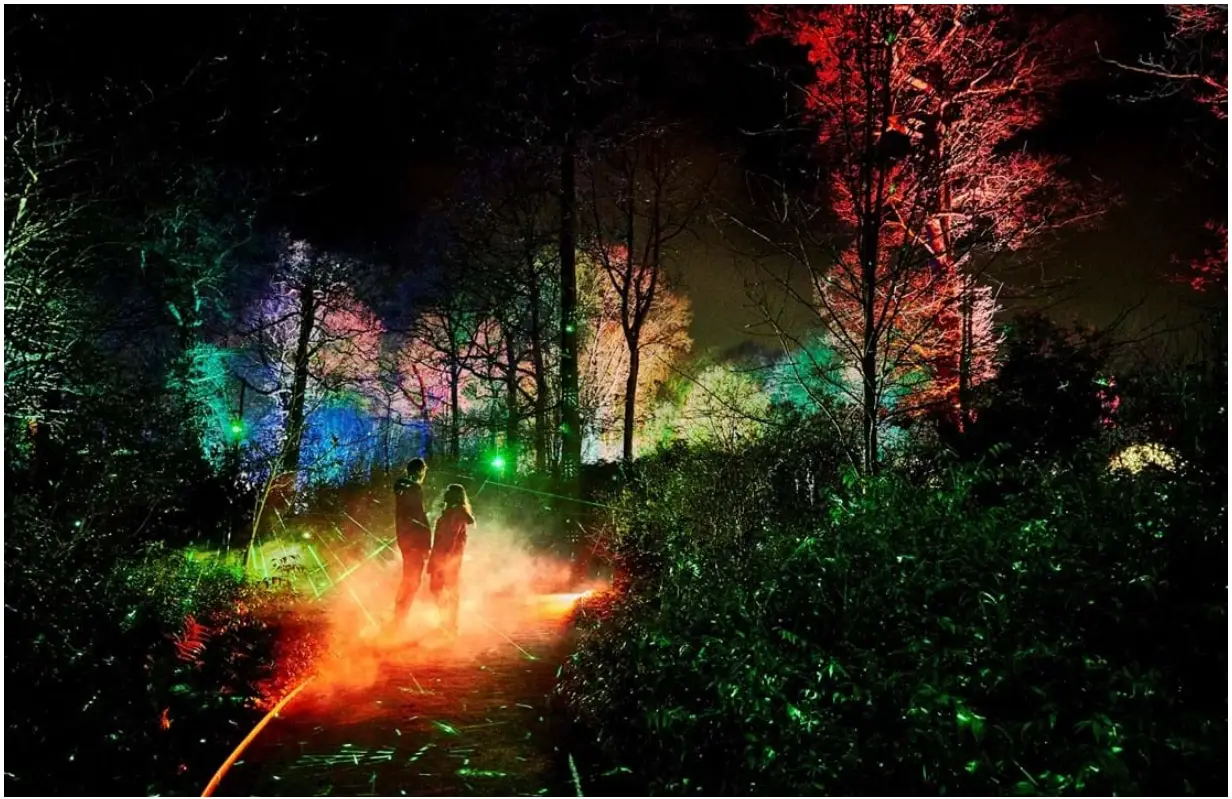 Along the trail there will be exciting illuminations, seasonal food and drink.  There will also be late night shopping in the RBGE shop.  There is on street parking at by the West Gate, or you can arrive at the East Gate by public transport.
Tickets can be bought online here.
Paraffin Pixies at Almond Valley
During December the Paraffin Pixies is back at Almond Valley, Livingston.  The paraffin pixies are back this year and you can follow the beautiful light trail searching for all the pixies at Almond Valley.
You can also see Santa's reindeer and play in the outdoor play space at the Paraffin Works (under cover).  You can also buy warm drinks and nibbles from the kiosk in the Orchard Barn.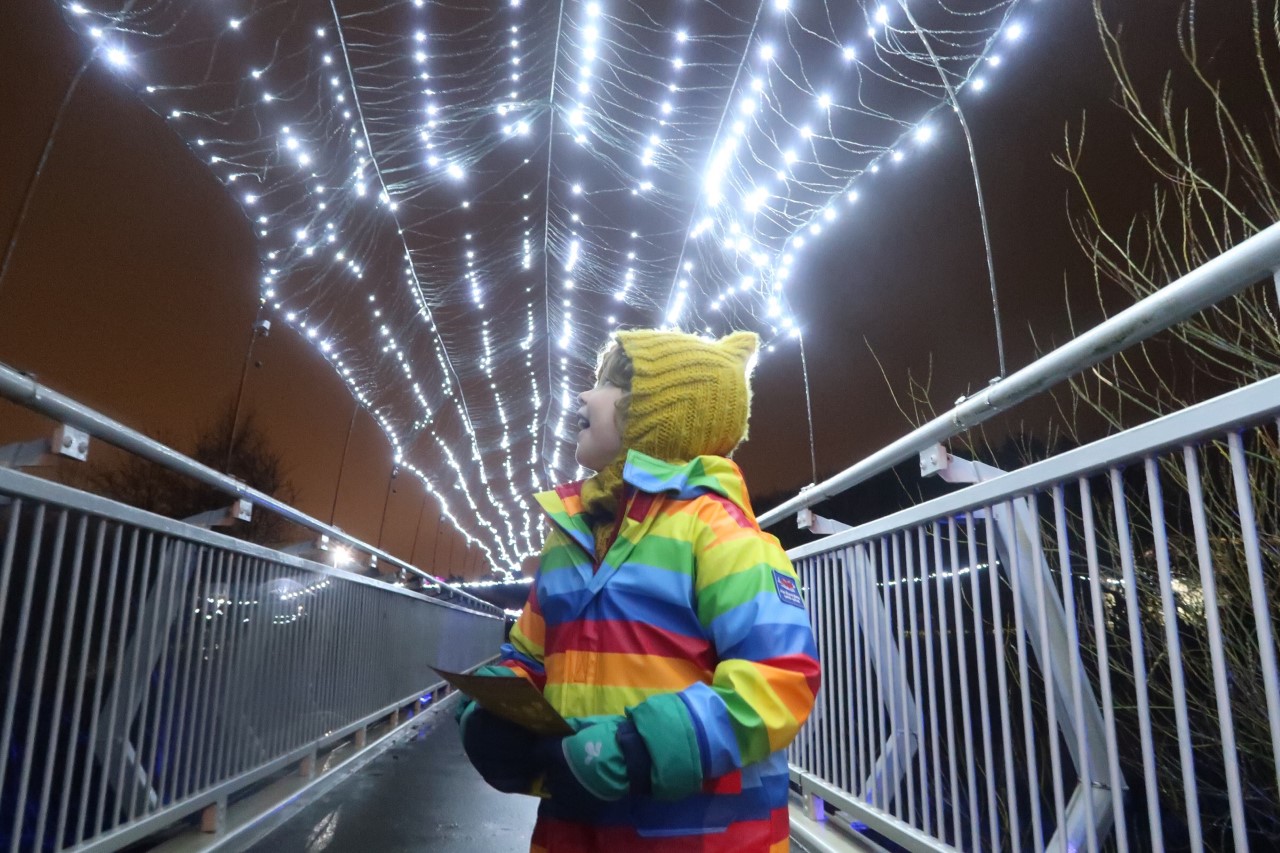 Spectacle Of Light At Dalkeith Country Park
This year the Spectacle of Light at Dalkeith Country Park will stretch along an illuminated trail winding beside the river with pixie lights and starbursts reflected in the water.  Enjoy the illuminated Fort Douglas and play under the stars, then have festive food and drink in the Restoration Yard.
The dates for the Dalkeith Spectacle of Light 2021 are not currently available, but keep an eye on this page for when they are released.
Five Sisters Zoo Illuminations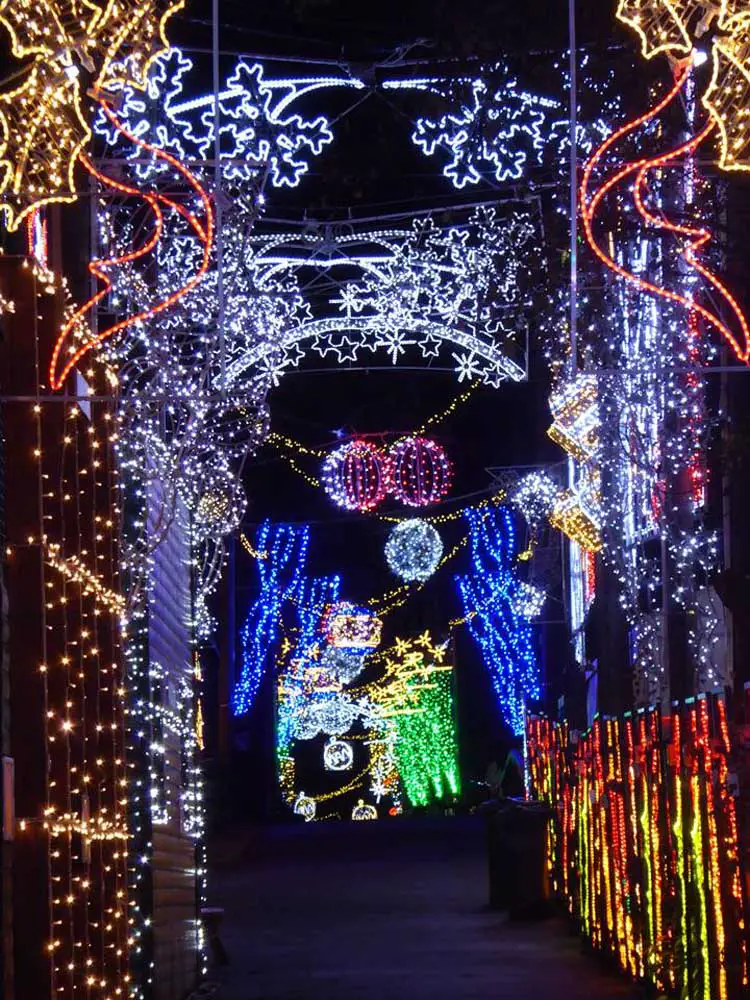 Enjoy stunning illuminations at Five Sisters Zoo in December 2021, dates are every Wednesday-Sunday from the 1st December-23rd December.   There will be light tunnels, life sized animal lanterns and a covered, heated bar area.  More details will follow on their website, tickets will are on sale now.
A Family Edwardian Christmas
Head over to Lauriston Castle Facebook on Sunday the 12th December 2021 for a fantastic online Christmas event.  There will be special art and stories streamed throughout the day on their Facebook page.
Southern Scotland – Christmas Events
Cocoabean Company, Twynholm
Head to Cocoabean Company, Twynholm for some Christmas fun!  On the lead up to Christmas is a advent calendar making workshop, festive afternoon tea and then throughout December (4th -23rd 2021) is Christmas at the Cocoabean!
Step inside the charmingly decorated main building for a delicious feast of breakfast, lunch or dinner and lots of festive activities for everyone on the nice list!
A child's ticket includes: A delicious meal, a visit to Santa's Magical Grotto, a Christmas gift, elf Activities in the North & South Pole, a mini Chocolate Workshop (with treat to take home)  and a family photo opportunity.
Adults are asked to stay at their table as much as possible throughout the event. Children will be accompanied and guided by their "elf" during all activities.
Heads of Ayr Farm Park Santa's Grotto
There's no information about whether this is going ahead this year.  I will update this if I find out any more information.
Traquair House Christmas Fayre
Last years fayre went ahead with Covid restrictions.  So although there is no current information available, it's likely that it will go ahead at the end of November.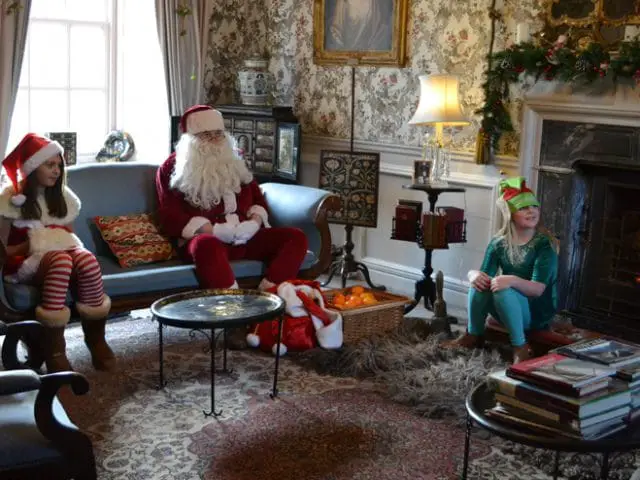 Northern Scotland – Christmas Events
Perth Christmas Wonderland
The Perth Christmas Wonderland will be running this year along a 1km route in Perth city centre. Tickets available for the 2nd -23rd December 2021.
This is a magical outdoor sound, lighting and effects Christmas extravaganza which will take place across the Norie Miller Walk and Rodney Gardens in Perth city centre. You will wander on foot through a one-way 1km route of the magically lit Christmas Wonderland that overlooks the picturesque Perth Riverside. Will you be able to spot Santa and his elves once you arrive? Listen out for the sleigh bells ringing!
Brodie Illuminated 2021
Near Forres is Brodie Castle, where you can enjoy Brodie Illuminated.  An awe-inspiring walk around the Brodie estate. Follow the illuminated pathways, through the Victorian shrubbery, around the outside of the castle and along the magnificent West Avenue, and see the highlighted trees and plants in a whole new light! Often un-noticed during daylight hours, the heritage estate's stunning plant and tree collection is fascinating to experience in this 'night time' way!
Family fun all the way – and tasty refreshments available each night too. Running four days each week (Wed to Sat) from Wednesday 3 November and until the final night on Saturday 27 November. New for 2021 – extended light trails, music and much more to make your evening that little bit more special
Caledonian Railway Santa Specials
Running again in 2021, with tickets on sale from the 1st of September. If your little one is train fan and you're up in the North East of Scotland then head across to the Caledonian Railway for the Santa Specials.  The trains start at Brechin and head up the track for 8 miles with a short stop at Bridge of Dun station and run on the 4-5th, 11-12th and 19th-20th December.
Every passenger receives a silver sleigh bell as the first gift of Christmas. Booking is essential if you want to guarantee a space on train.
Cairngorm Reindeer Christmas Fun
We couldn't have a Scottish Christmas round-up and not include Santa's fabulous reindeer herd up in the Cairngorms!
On December weekends in the run up to Christmas their Paddocks are filled with tinsel and decorations, there are extra crafting activities, and Santa himself comes to visit from 12pm – 3pm. They don't run a grotto as such – instead Santa wanders round the exhibition area greeting visitors as he goes (occasionally he even has chocolates to hand out!).
As always, around four of their beautiful reindeer will be on display, though please note that they are across the other side of a fence and we don't guarantee that they will come over to be patted.
It's £4 per person and 0-3 year olds are free.  Opening dates are 4/5th, 11/12th, 18/19th and 22md-24th December.
Oban Winter Festival
Back for 2021 is the Oban Winter Festival from the 19-28th November.  It's unknown exactly what to expect, but probably markets, ice rink and even reindeer!
Keep an eye on the Winter Festival page for more information nearer the time.
Rest Of The UK
To find out more about Christmas events in the rest of the UK, head over to Devon With Kids to find out about Christmas events in Devon or find about West Midlands Christmas events over here.  There are so many great events going ahead this year, despite Covid-19.  So have a browse and start booking your tickets before they run out!
Pin Christmas Events In Scotland 2021