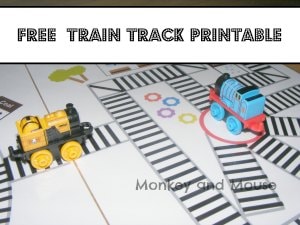 Whilst making some busy bags for the kids I looked for portable road printables and a train track printable that I could print out and laminate.  I found lots of free road printables, but no train tracks.  So I decided to make my own basic train track printable for my train obsessed pre-schooler and have laminated it with sticky back plastic.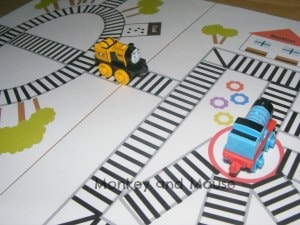 I've also uploaded a PDF of track for anyone else who would like to use it (I'm no graphic designer so please be gentle with criticisms!).
You can download the printable at this link here: Train track printable
The printable train track is the perfect size for the Thomas mini trains, which are fab for travelling.  We usually have a small ziplock bag containing the mini trains and then the train track sheets laminated on two A4 sheets and folded in half. It's the perfect activity t bring to the table whilst waiting for dinner at a restaurant.  Although I would perhaps write something on the back so it doesn't just look like a laminated white sheet when folded. As we did lose it in one restaurant whilst in Italy once!  They were sure they didn't have it until they let us check behind the reception desk and found it folded in half, just looking like a plain white sheet, rather than a train track as we had explained!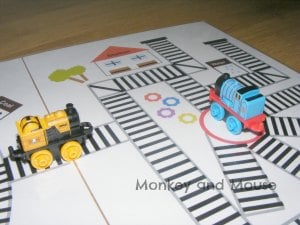 Hope this is of use to those of you with train fans!  Ours have certainly made use of it for many years.