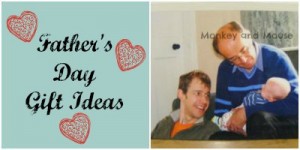 It can't escaped the notice of those UK readers that it is Father's Day here very soon (21st June).  There are cards and signs everywhere in the shops reminding us.
I have in the past made gifts for my husband, dad and father-in-law, but as the years have gone by it is sooooo hard to think about something to make or even buy them that they will like!  Men think they are easy to find presents for, but the men in my life are definitely not.  They typically buy anything they want and so I have to be quite creative in finding something they will actually use or want.
This Father's Day I decided to go down the sentimental route and order some personalised gifts from Snapfish, an online photo and gift shop.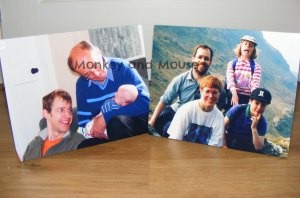 I loved these wooden photo panels and bought one each for my dad and father-in-law.  After a little while looking through photos I finally chose this one of my dad, mum, brother and I on a hill walking trip when we were children.  It remind's me of happy days as a child having fun with my parent's, I loved walking up hills together (yes I know I look like an idiot, no idea what I was doing!!).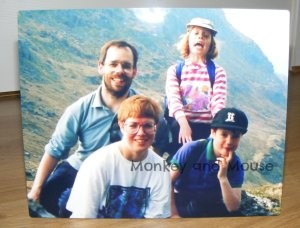 For my Father-in-law we chose this photo of my husband, FIL and O together when O was very tiny.  I love the looks on their faces, it's a perfect moment to capture.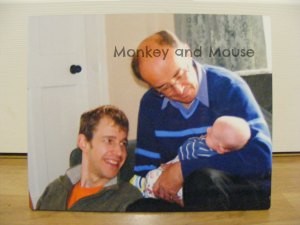 These photo panels are great quality, I chose photographs that weren't the best of quality (because those are the photo's I preferred) and they still look fab.  They are very sturdy and if you choose the larger panel it can be hung on the wall (although I'm sure you can add a fixing of some sort yourself if you want to hang the smaller versions).
For my husband I printed off several postcards with photos of him and the boys.  When they arrived I asked O to tell me what was going on in each photo and what he liked about it.  I wrote his answers in his own words on the back of each postcard, punched a hole in the top corner of each card and used a ring to keep them altogether.  I love this gift and can't wait for O and A to give it to their Daddy on Father's Day!
The postcards are perfect, great quality and very clear photos.  They were also quick to make with a variety of options to personalise them.
All these gifts arrived quickly and were well packaged.  I would definitely recommend using Snapfish for photo gifts, they have great quality products and great service.
What are you doing for Father's Day?
J x
Disclaimer: I was compensated for this honest review.  All opinions are my own.