Whilst I am away on holiday for a while I have a few guest posts lined up, please welcome Clare from Clare's Little Tots for a fantastic sensory bin idea.
Hello and thank you to Jenny for letting us come and guest post over on Monkey and Mouse. I'm Clare, a mum to 2 and a childminder and blog over at
Clare's Little Tots
.
Today I'm sharing a really simple Under the Sea Sensory Bin. I make a lot of these for the Little Tots as they offer so many learning opportunities as well as lots of creative and imaginative play. The Little Tots have been enjoying the book 'Commotion in the Ocean' recently so I decided to create their own mini under water world to further their interests.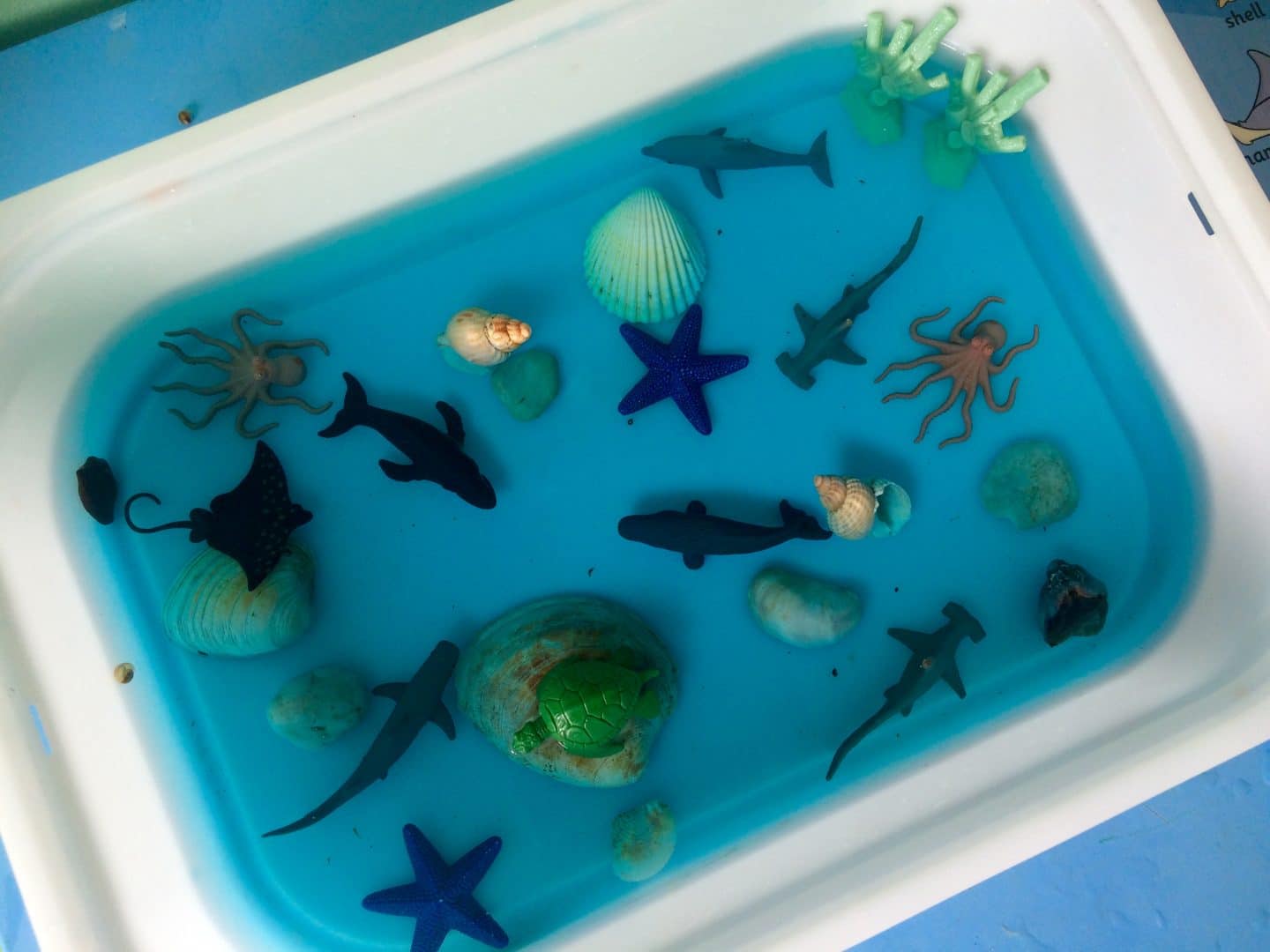 You will need: 
Shallow tray (this one is the storage draw from an Ikea unit)
Shells
Pebbles
Ocean animals 
Water
Blue food colouring 
To create this sensory bin I simply added the blue food colouring to a jug of water and mixed together before adding to the tray. I then added the shells, pebbles and animals and left on the table ready for play.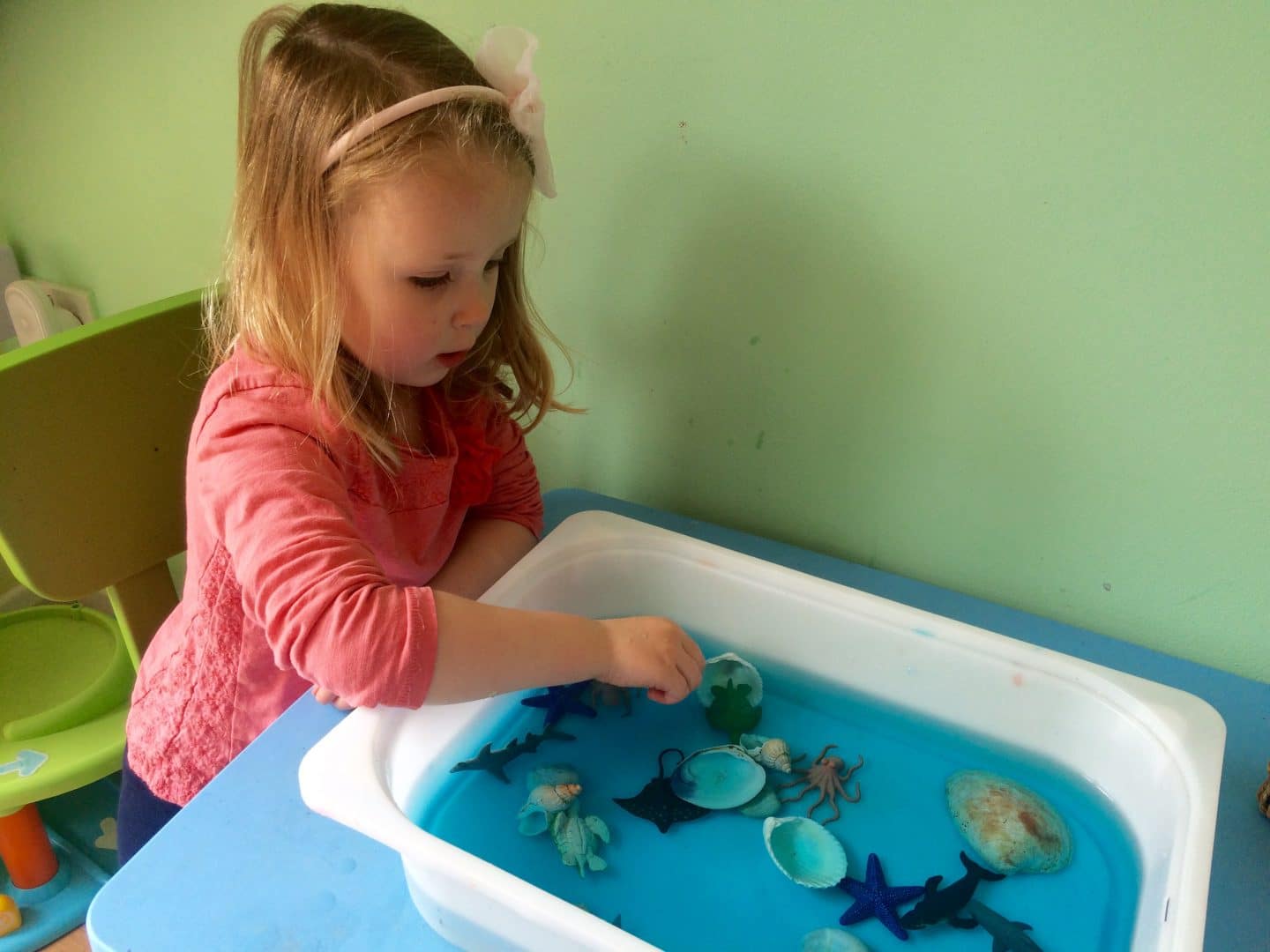 Georgia had half an hour to play with this by herself whilst the babies were sleeping and spent the time making up stories based around the animals and repeating lines of the book that she knew.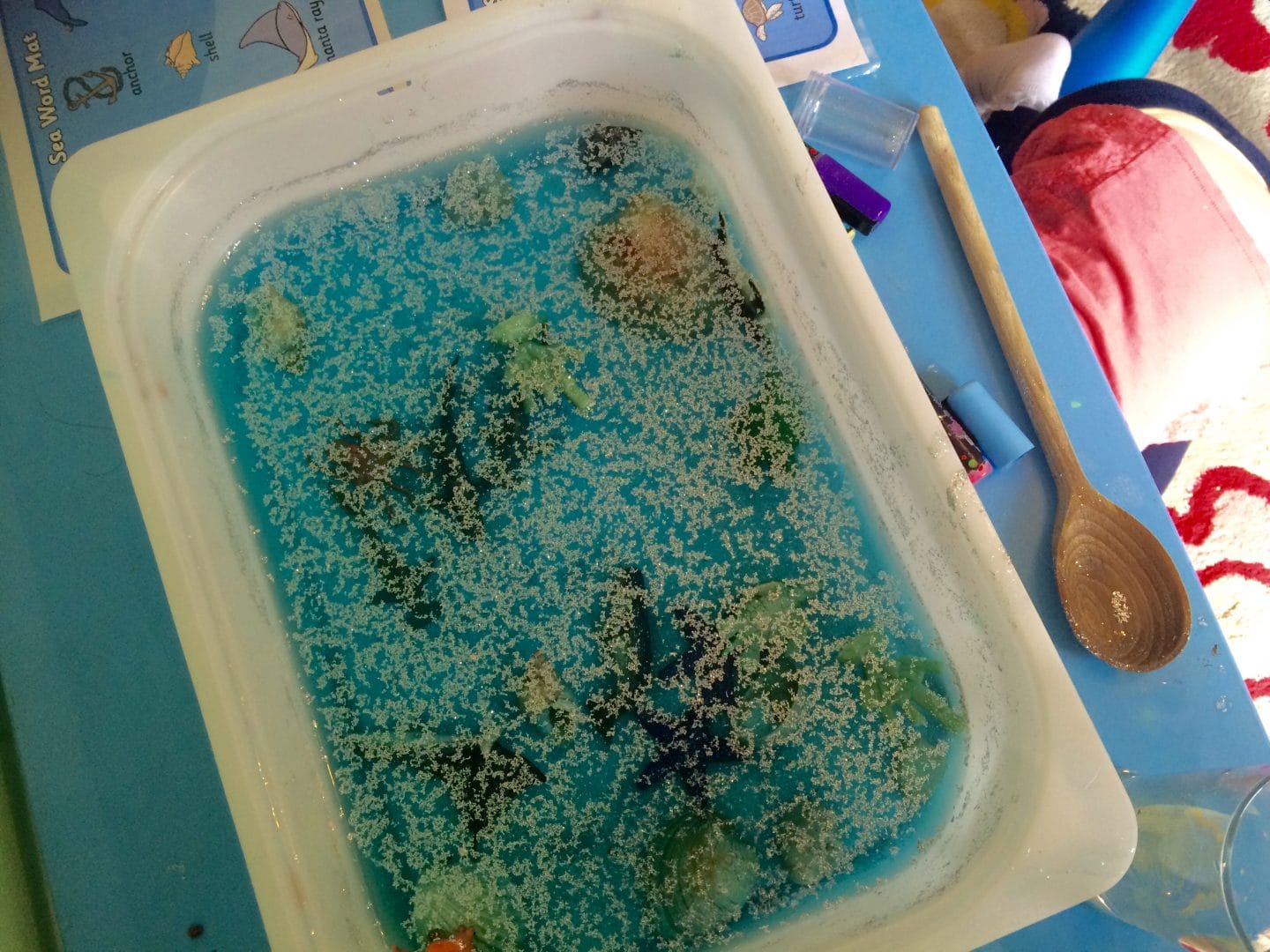 When I wasn't looking though she decided the ocean needed a bit more sparkle and emptied an entire pot of silver glitter into the water (yes that's her hiding under the table after she done it!). I nearly poured it away to start again but actually when the glitter settled to the bottom it looked pretty cool.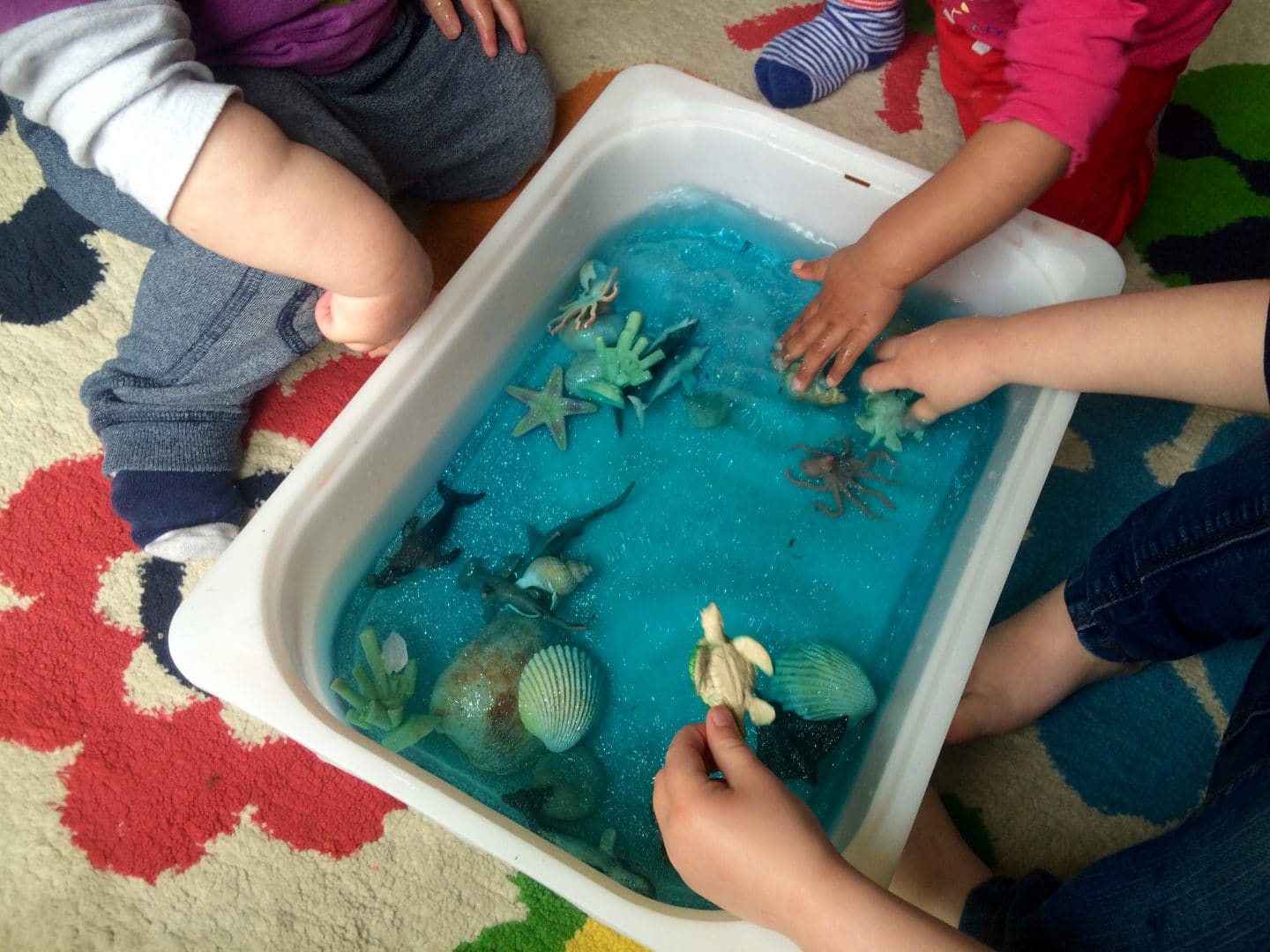 After nap time the 13 month and 16 month old joined in with the play. I placed the tray on the floor so they had easy access to it and they enjoyed splashing in it. Jack was memorised by the way glitter moved through the water then settled back to the bottom. They both then started to examine the objects in the water, picking each one up before placing it back again.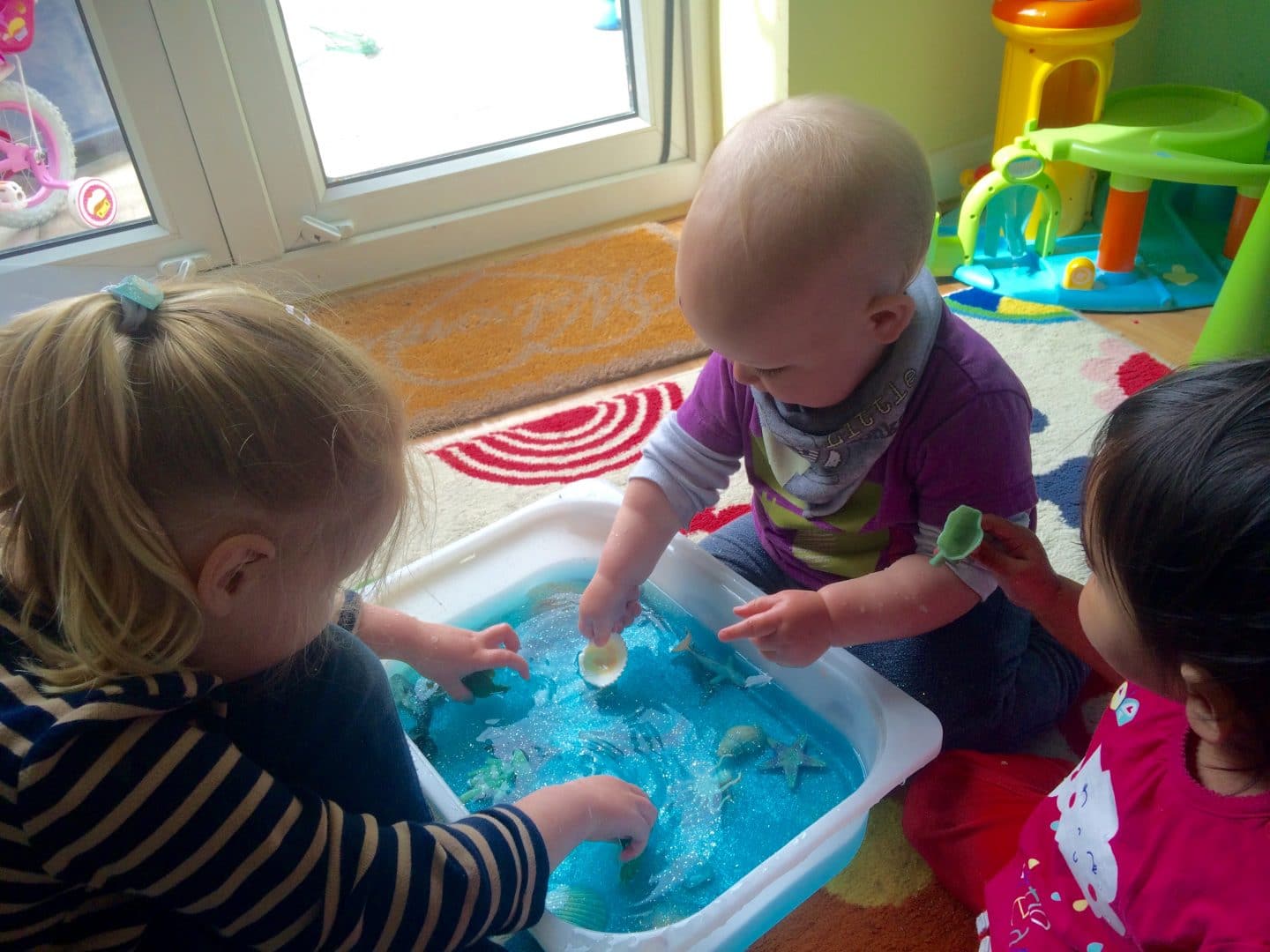 I also printed off (and laminated to protect it) this Commotion in the Ocean
word mat
from Twinkl. Georgia is starting to read so she enjoyed practicing the new words whilst the 2 year old I care for enjoyed matching up the animals to those on the mat as well as trying to say the words or each animal.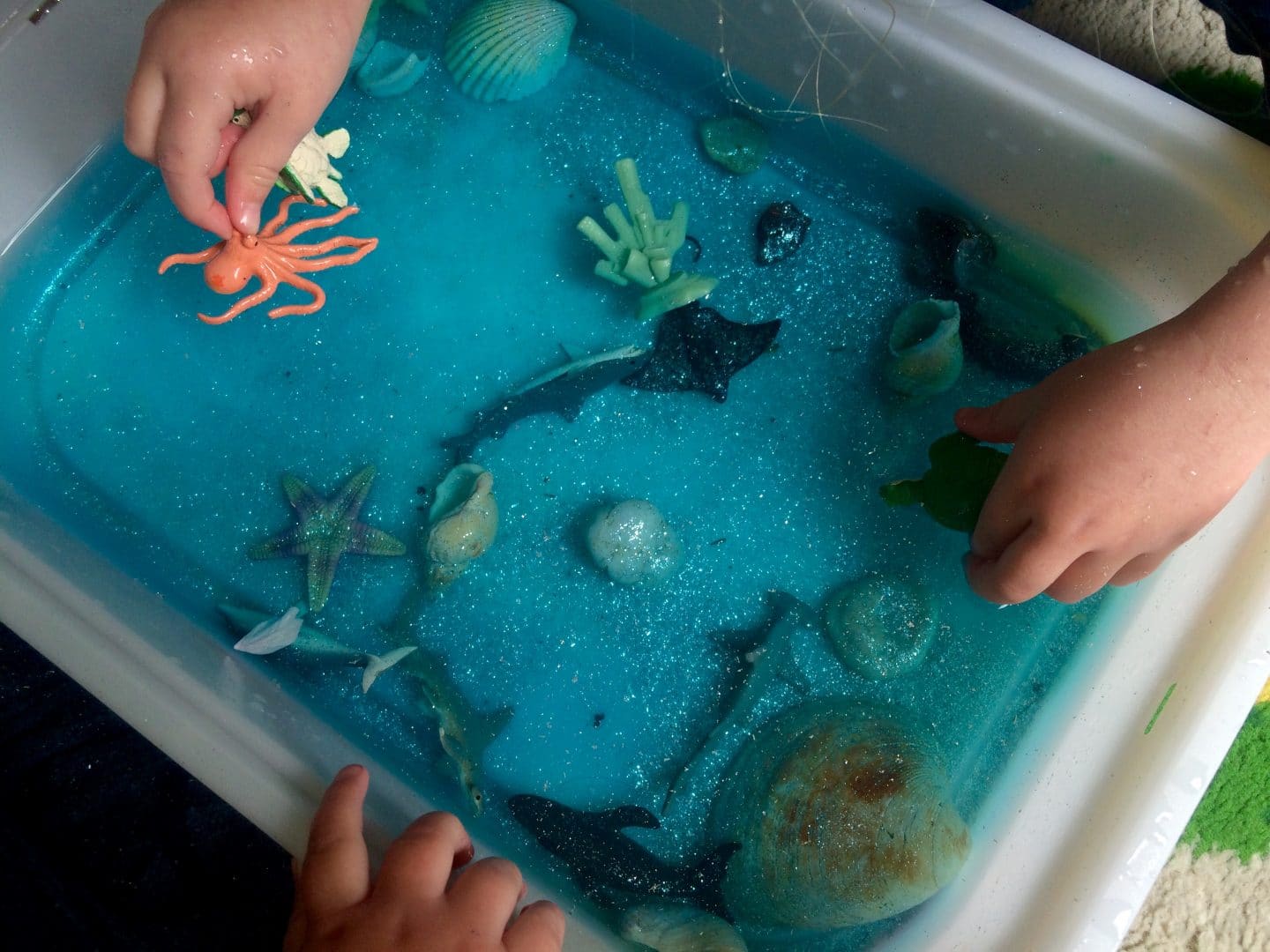 Do you make sensory bins for your little ones? I've shared lots more simple ideas for sensory bins plus the benefits of them and how to put one together in this post
here
. Don't forget you can follow us on
Facebook
,
Twitter 
and
Instagram 
where I share activity ideas for babies, toddlers and preschoolers.
Pinnable Image: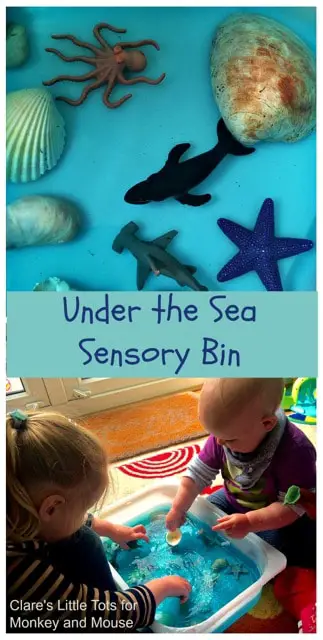 Thank you Clare for sharing this great sensory bin, I love that you combined the educational sheet with the water play, a fun messy play idea, which we'll have to try.
J x