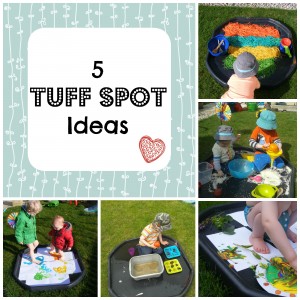 Have you got a Tuff Tray?  If you don't then head down to B&Q and pick up a cement mixing tray, exactly the same thing for only £15 last time I checked!  You can use them indoors and out, we mainly use ours outdoor as we have limited indoor space and it gets stored beside the shed easily.  We've used our Tuff Spot for lots of different play ideas over the last couple of years and here are 5 of our favourite Tuff tray ideas.
5 Tuff Tray Ideas
Coloured Spaghetti
Cook some spaghetti and separate it into different containers with some boiling water and food colouring to make colour baths, mix well and when cooled it's ready to set out to play along with various pans and utensils.  We use gel food colouring for a really bright colour.  The boys loved this, but be warned you will have spaghetti all over your garden if your boys are like mine! Fortunately the birds are quite happy at eating up the bits I missed picking up!
Rice play
I blogged about this recently, but had to include it here as it's so simple to set up and both boys played with it for ages!  Read more about this rice tuff tray here. For even more fun you can colour the rice!
Painting with Flowers
This was from a while back, but O loved it so much I thought I would include it here.  I covered the bottom of the tray with paper (taped down) and lay out some flowers and herbs and a small plate of paint.  O used the flowers and herbs to paint the paper.  If you have some big flowers like Gerbera's then they would make some pretty cool prints.
Conker and Water Play
Simply a bowl of water, conkers and ice cube trays.  O loved tipping the conkers into the water and scooping them out.  Placing them into the holes in the ice cube tray and then repeating it over and over.  Another simple idea, but it looks much more appealing set out on the tray!
Feet Painting
This one is good, but unfortunately a bit of a fail for me at the first attempt.  I put too much paint on the paper and A kept slipping and falling over!  So my tip to you is that you only put small amounts of paint dotted around the tray, not lots in a pile, that way they can make prints without slipping.
Yes they will get covered in paint. So try it on a warm day and have some water to play in after to clean up!
We have mainly used it for messy play, including this space tuff tray.  However I'm going to start setting up some small play fun with them soon. I have lots of ideas, so watch this space for more tuff tray ideas!  Also head across to Adventures of Adam for more Tuff spot ideas like this harvest tuff tray.
Let me know if you try any of these ideas!
Pin For Later