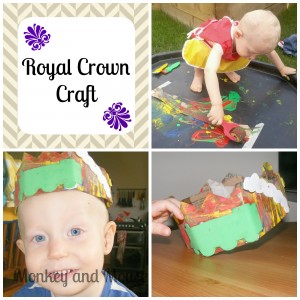 As royal baby number 2 has just been born I thought I would share a crown craft to celebrate.  This was a craft that O made a couple of years ago, just before he was 2 (love looking at old photos of him when he was wee).
You'll Need:
* Cardboard
* Scissors
* Paint
* Stapler/sellotape
* Sponges/roller
* Craft foam
* Glue
1.  Cut out a simple crown shape from cardboard, taped it down on the Tuff Spot and O used sponges and a paint roller to paint it.
2.  I then cut out a train shape and steam (he was obsessed about trains even then!) from craft foam and he glued them down onto the crown.
3.  Once it was all dry I measured it around his head and then stapled the two sides of the crown together, cutting off the excess.
Of course you can add whatever embellishments you would like including sequins, glitter and stickers.
Ta da, a cute crown!
I would love to see photos if you try making one too!
J x